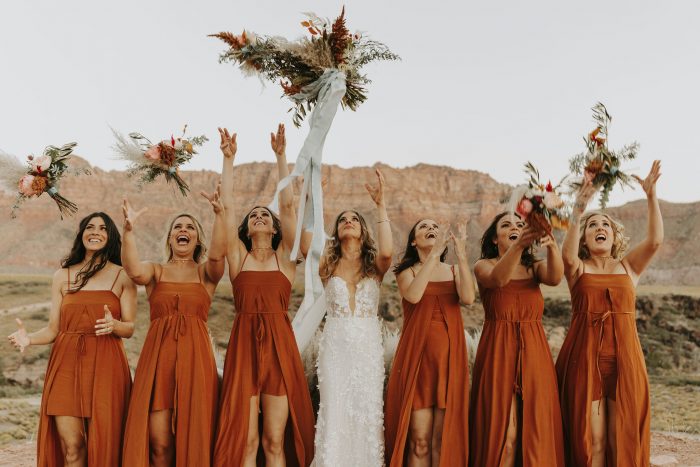 photo by Lauren Mihae Photography, bridesmaids dresses by Leave Her Wilder
It's 2019 and shopping for bridesmaids dresses has never been easier! To help you and your girls find bridesmaids dresses that fit, flatter, and make them feel like a million bucks, we've rounded up the best places to buy bridesmaids dresses online. These 16 retailers have the latest in bridesmaids fashion with styles to fit any wedding vibe as well as handy features like online showrooms, at-home try-ons, and even custom dresses made to your bridesmaids' exact measurements. What are you waiting for – let's go (online) shopping!
Top 10 Best Places to Buy Bridesmaids Dresses Online
Why we love them: BHLDN is Anthropologie's sister brand dedicated to all things wedding! You may know them for their trendy and often affordable bridal gowns, but BHDLN also has a stellar collection of bridesmaid dresses in a wide variety of styles from romantic to glitzy to boho. One of our favorite reasons to shop with BHLDN is their gorgeous bridesmaid separates, giving your girls a unique look with mixed and matched tops and skirts!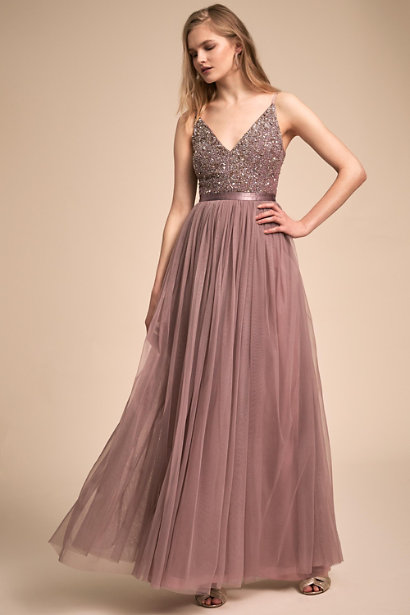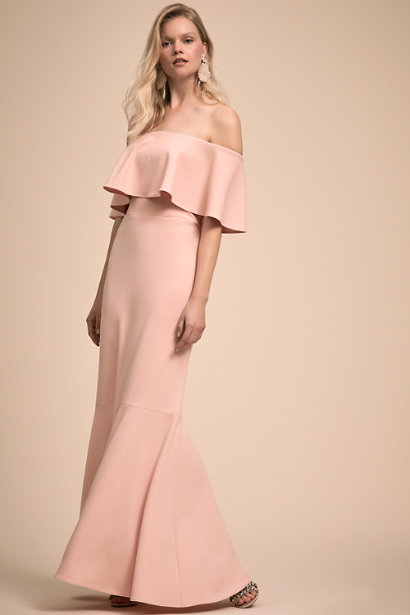 What we love about them: Known for their impeccable quality, Reformation takes a less is more approach to their bridesmaids' collection. The collection features seven gorgeous dresses that are available in a variety of beautiful colors. While bridesmaids dresses typically come with a steep price tag, Reformation dresses feel like a closet investment in a way most bridesmaids apparel does not. When it comes to quality, wearability, and timelessness, Reformation can't be beat!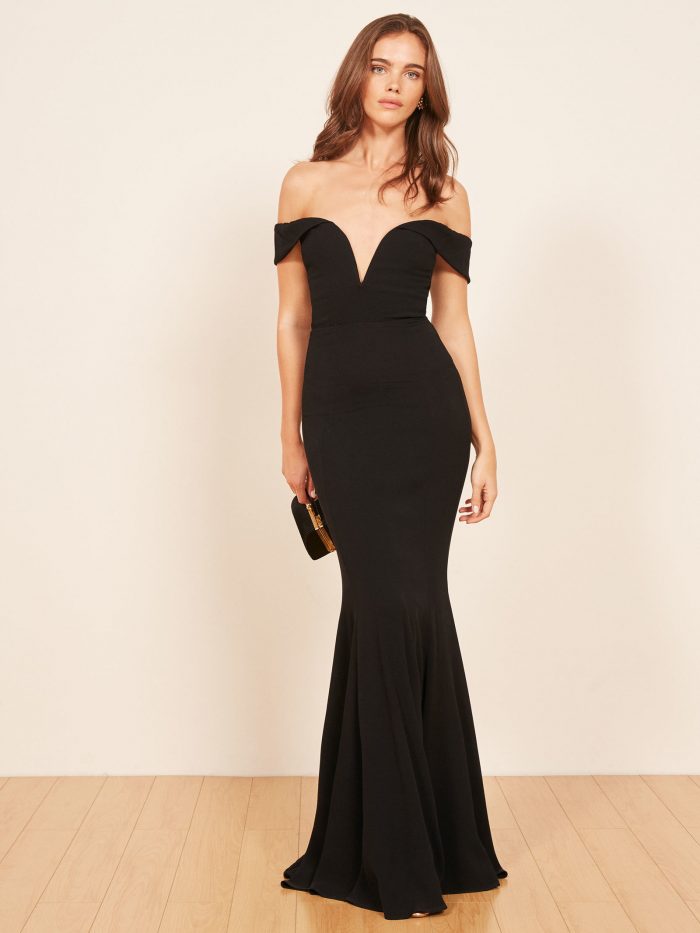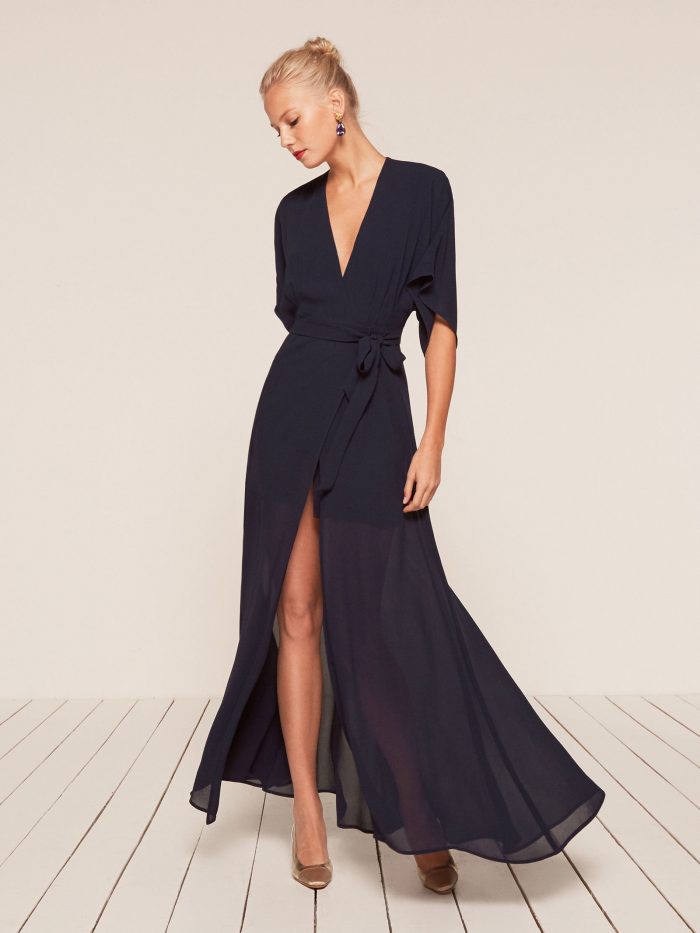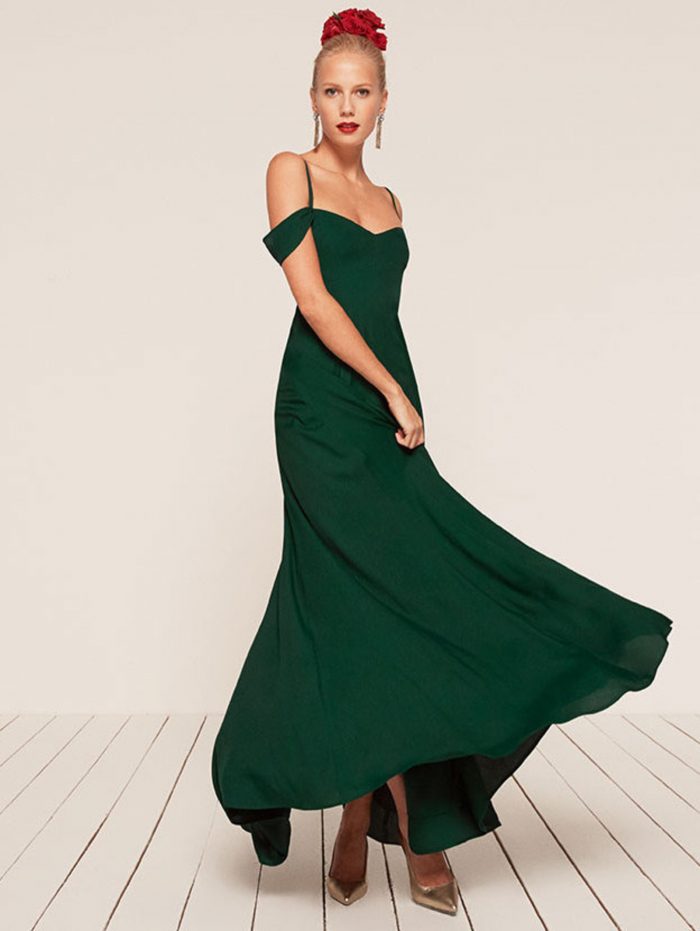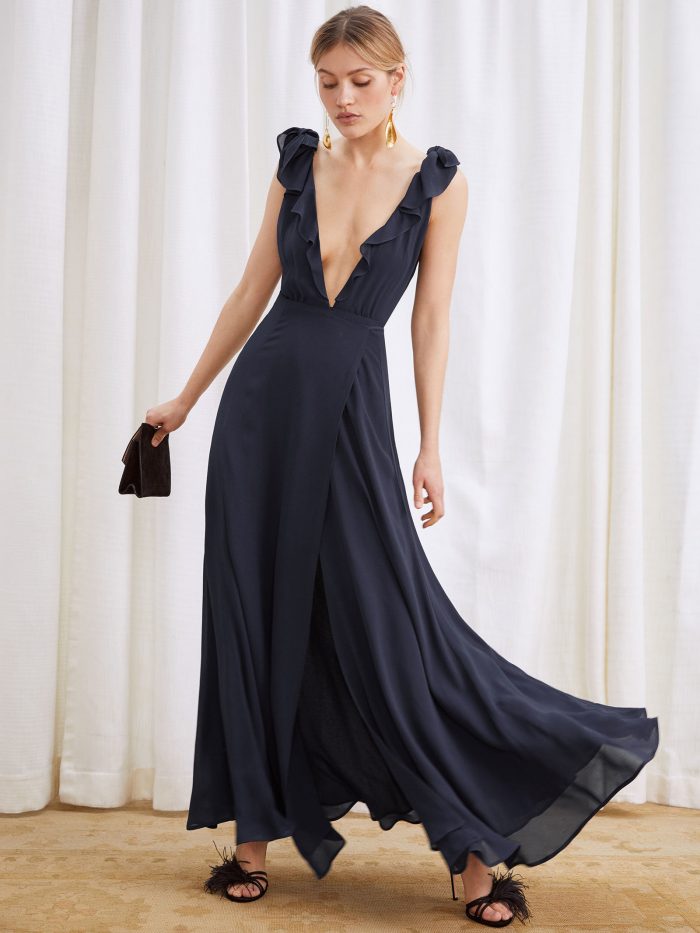 Why we love them: Show Me Your Mumu is our favorite shop for boho bridesmaids! Whether you're creating a boho look with different dress styles in a single color or mixing and matching a variety of style in complementing colors, we guarantee you'll love Show Me Your Mumu's trendy bohemian bridesmaids dresses as much as we do! Shop by color to help your girls choose the best style for their liking in your chosen hue.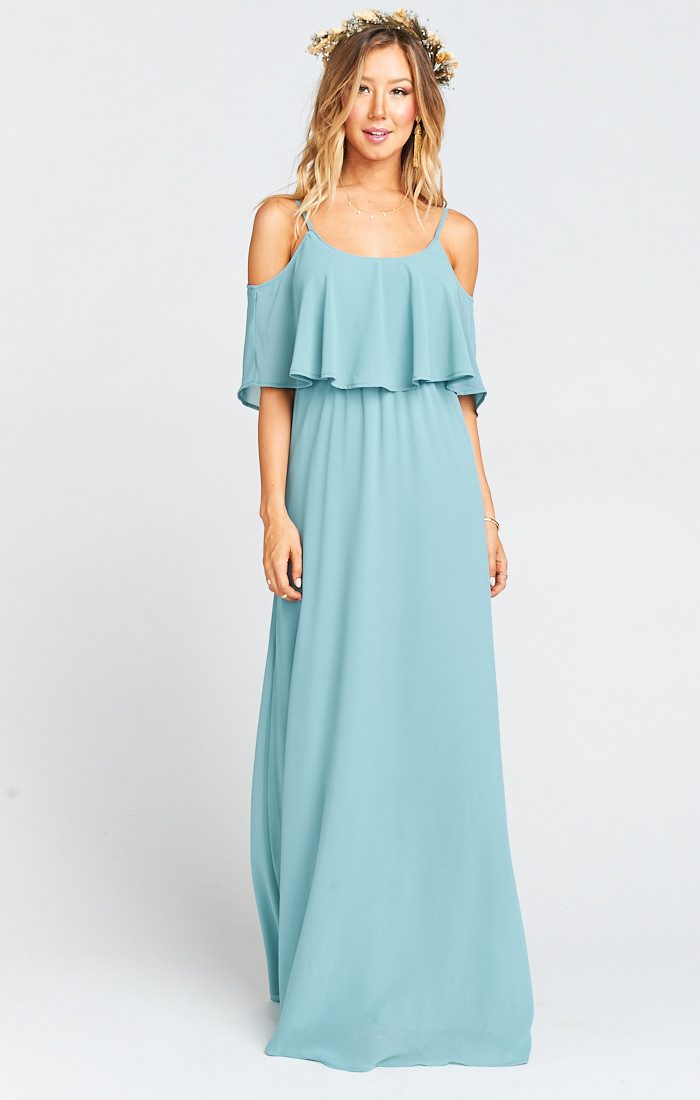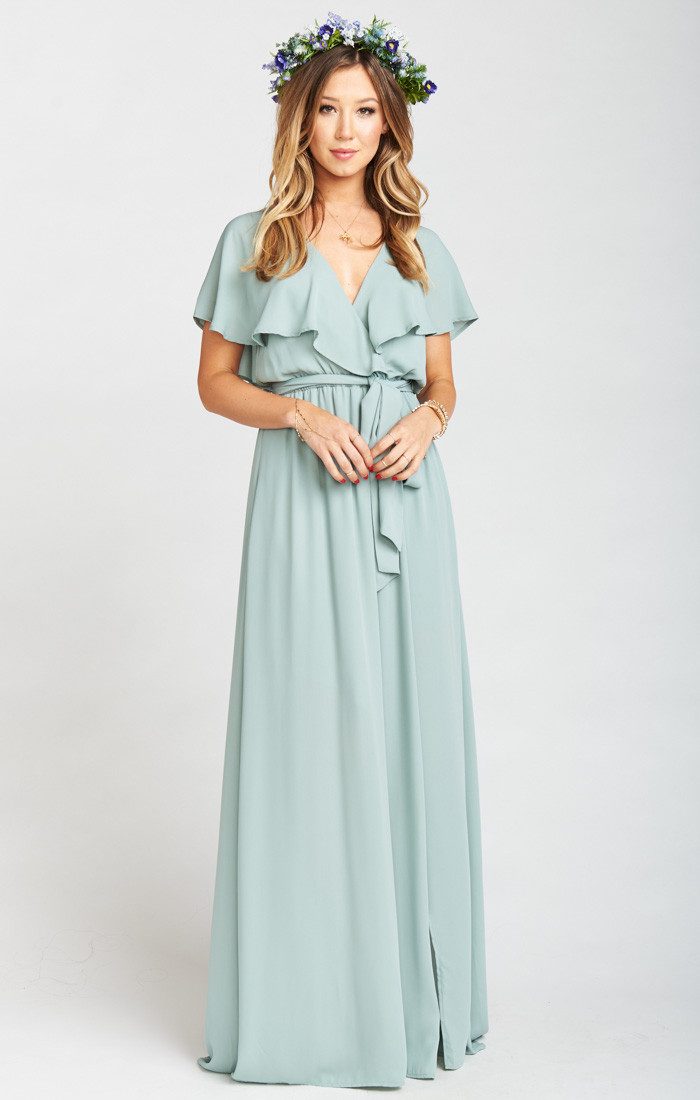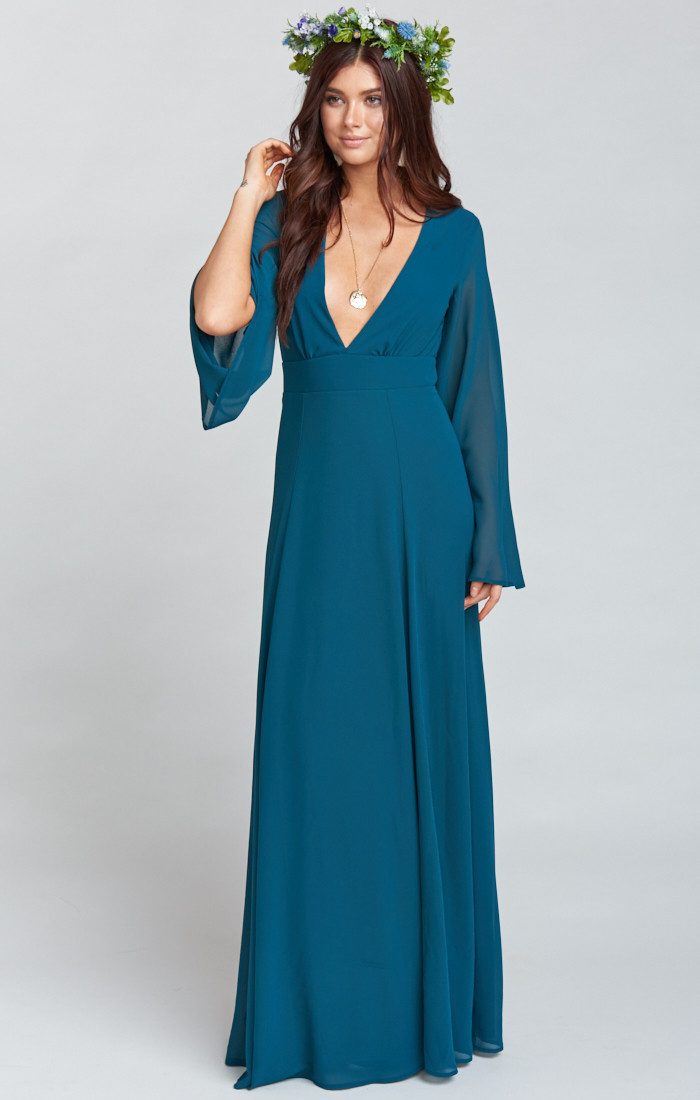 What we love about them: Having a glamorous or black tie wedding? Look no further for your bridesmaids' dresses than Adrianna Papell! These showstopping gowns have beading and sequins for days and will make your girls feel like a literal million bucks (without spending it!). There are so many stunning looks to be created with Adrianna Papell gowns whether you go for mixed metallics, a little embellishment on a romantic gown, or simply dramatic in matching pure gold sequin column dresses.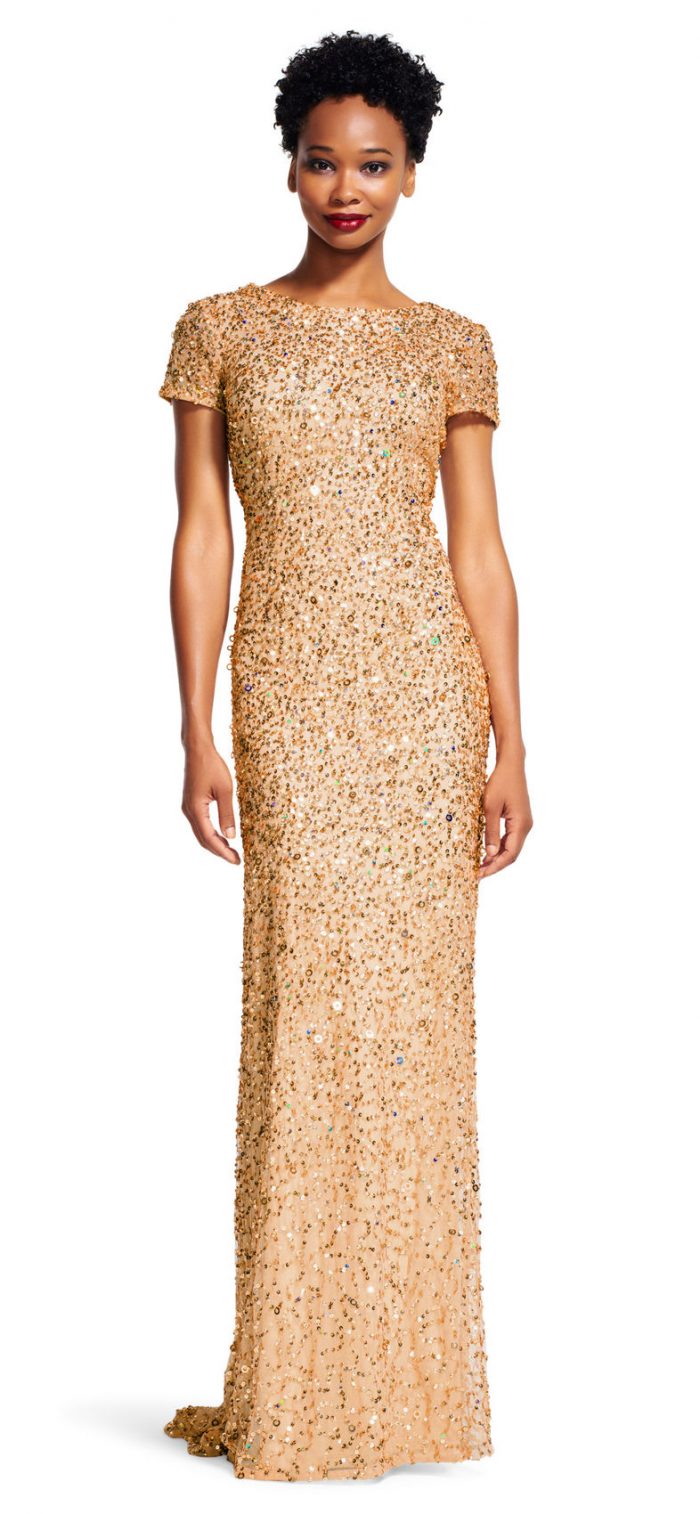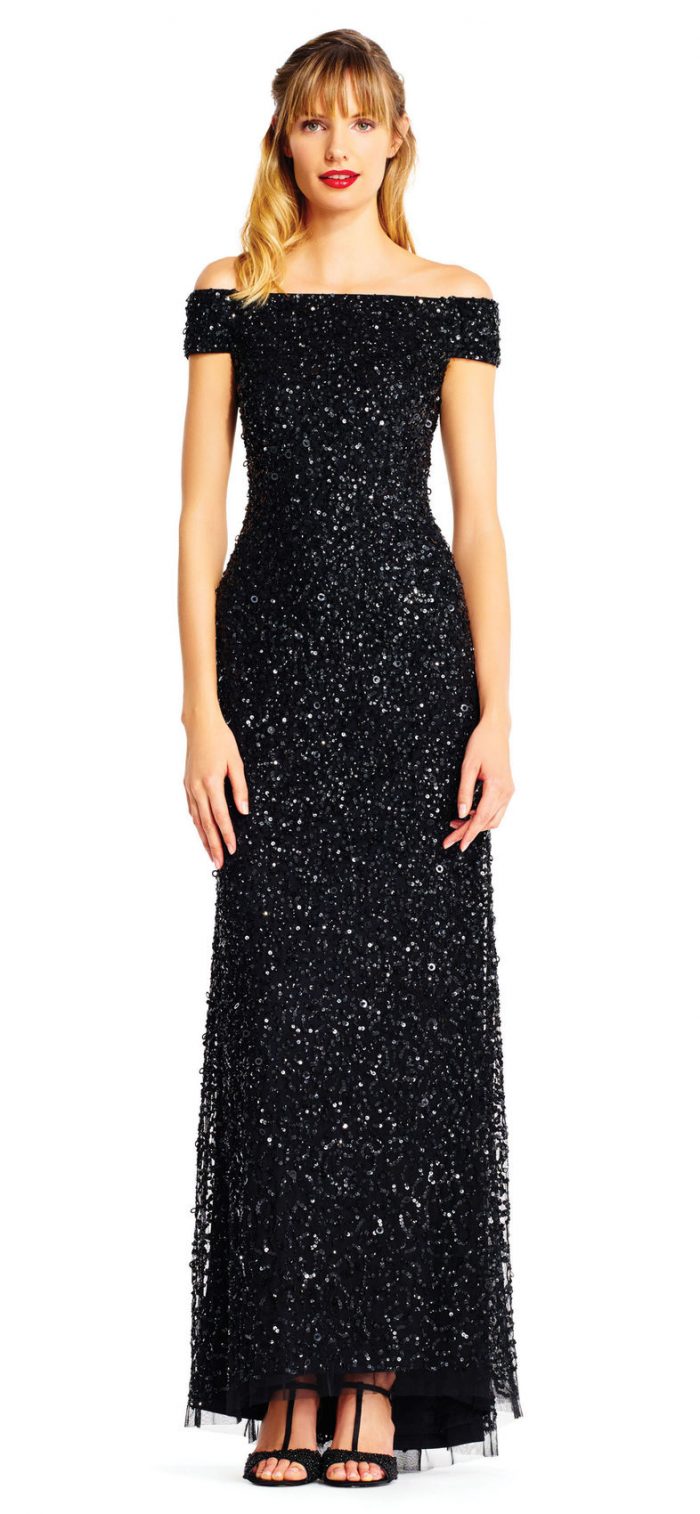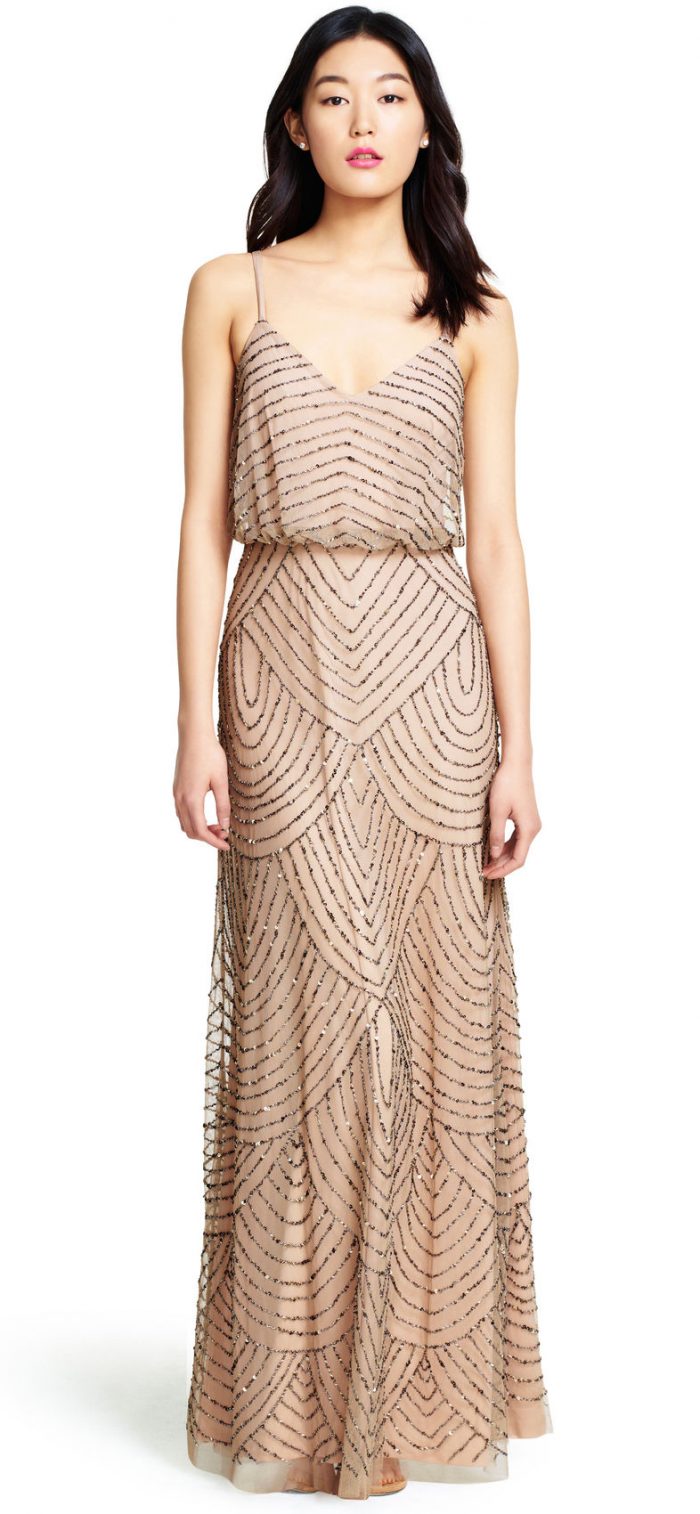 What we love about them: No matter what you're looking for in a bridesmaids dress, it's safe to say Nordstrom is truly a one-stop-shop for a huge variety of designers, styles, and price points. Many of the other designers and retailers on this list, including Adrianna Papell, Jenny Yoo, Dessy, Show Me Your Mumu, and Lulu's, are carried by Nordstrom, as well as popular designers like Dress the Population, Hayley Paige, Alfred Sung, WAYF, #Levkoff, and WTOO. Because Nordstrom has brick and mortar stores all around the world and offers alterations, they are a great option if you have bridesmaids coming from near and far!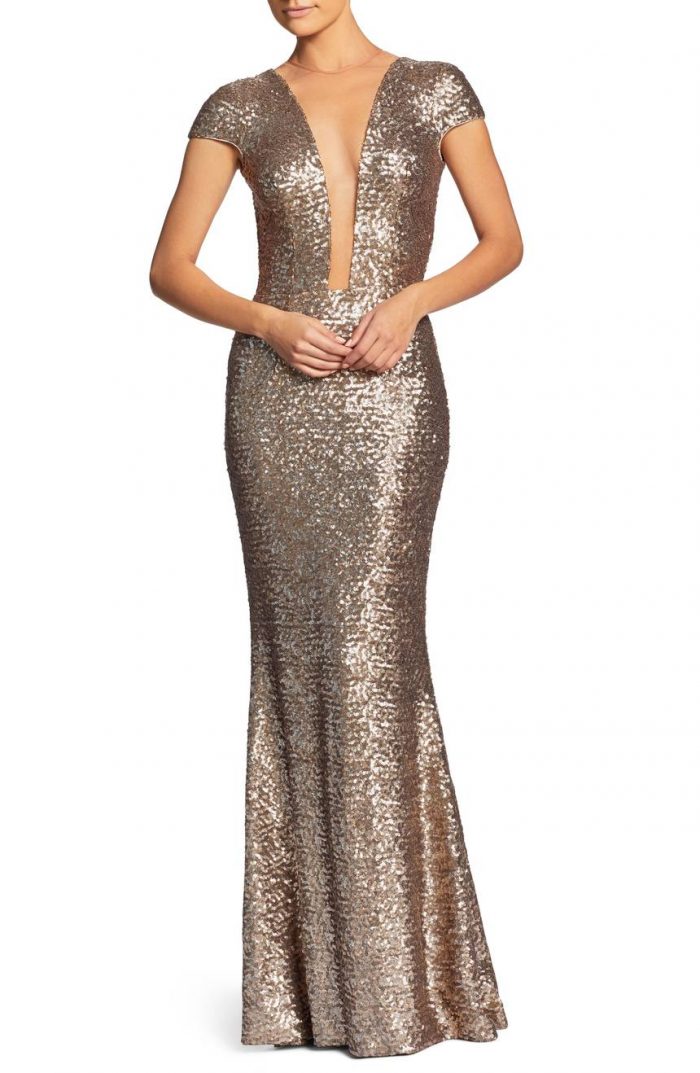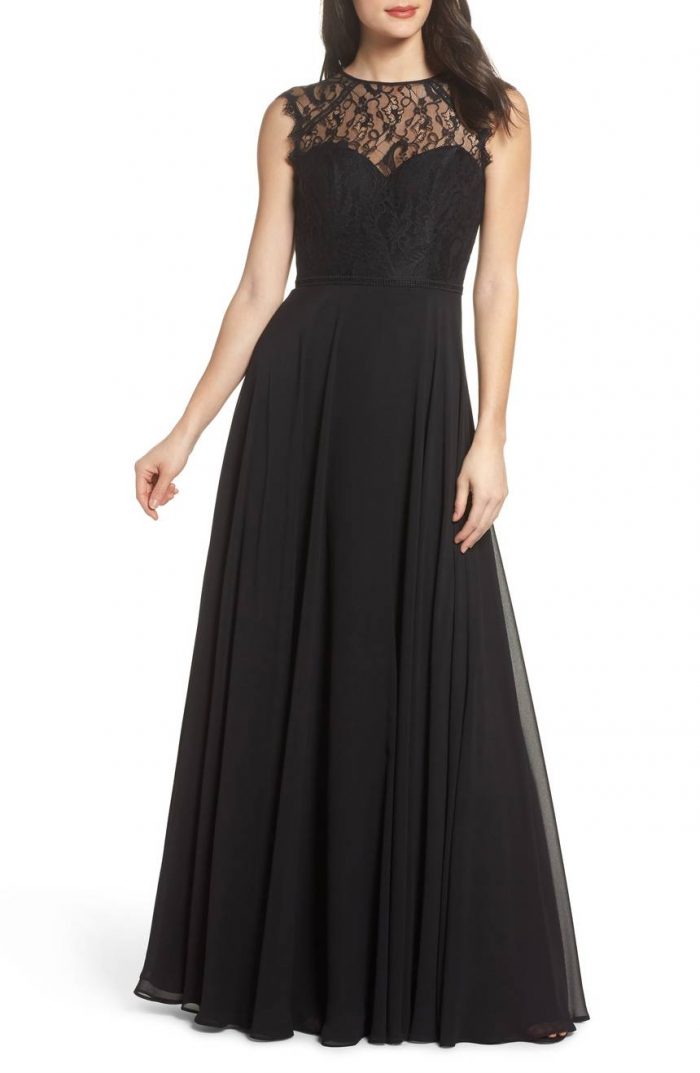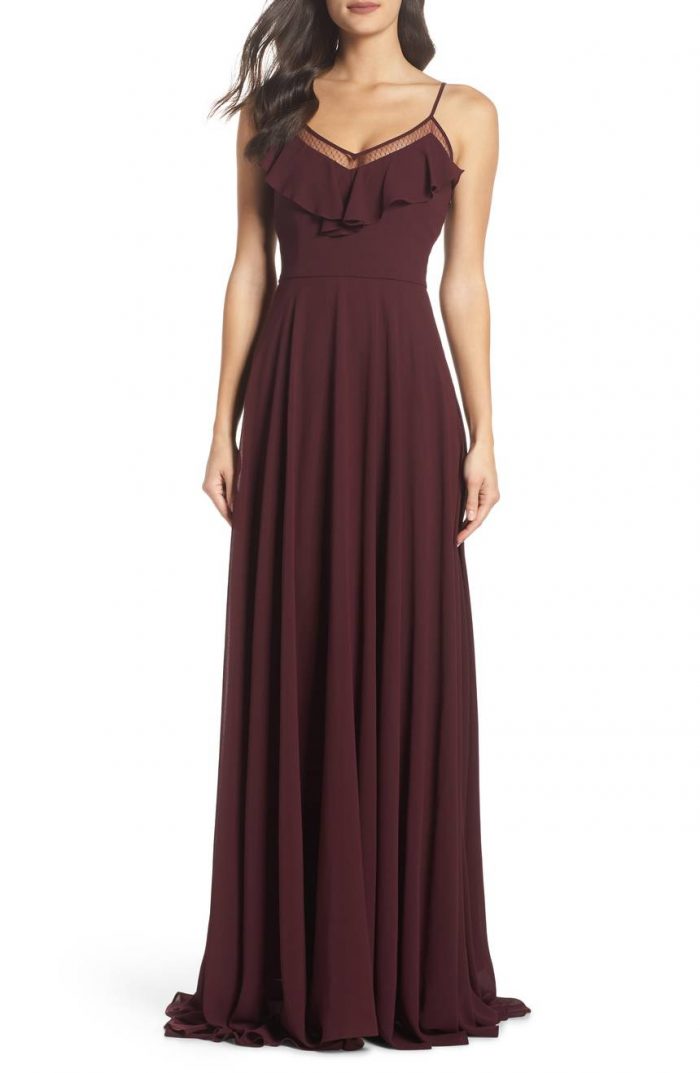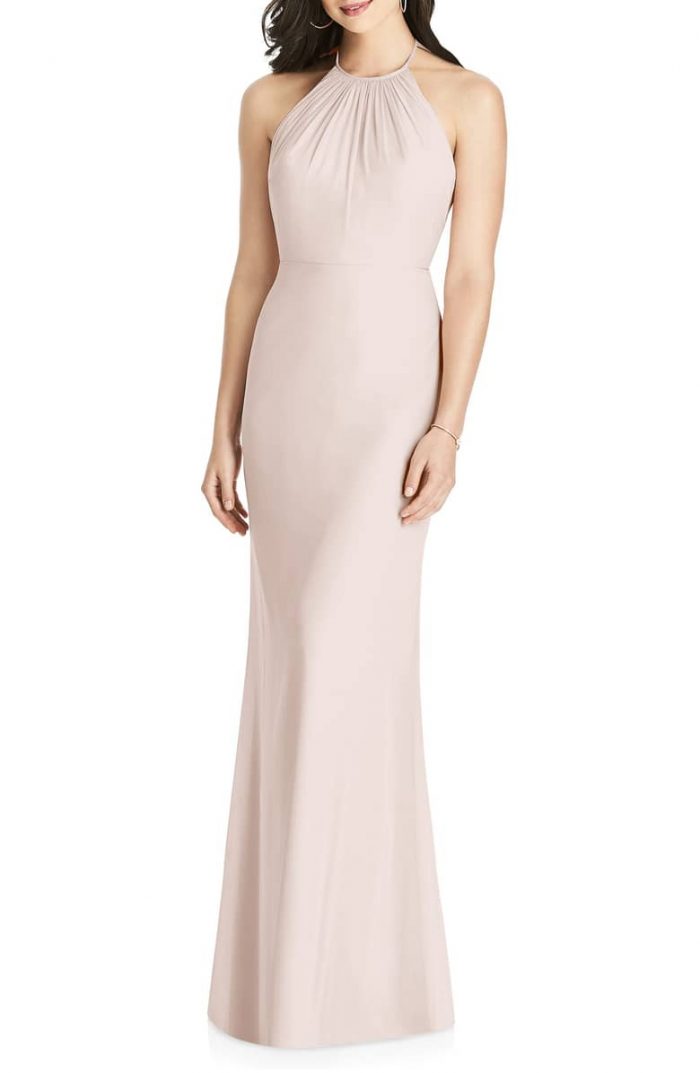 Why we love them: Dessy is an incredible resource for finding elegant bridesmaids dress styles by some of the top designers in the game: Alfred Sung, After Six, Jenny Packham, and even Dessy's own signature line. Each dress comes in a wide variety of color swatches, making it easy to mix and match styles in the same shade. Speaking of easy, our favorite Dessy feature is their interactive online showroom which allows brides to save their favorite styles and swatches and get the opinions of their 'maids via likes and comments. Dressing your bridesmaids has never been more simple!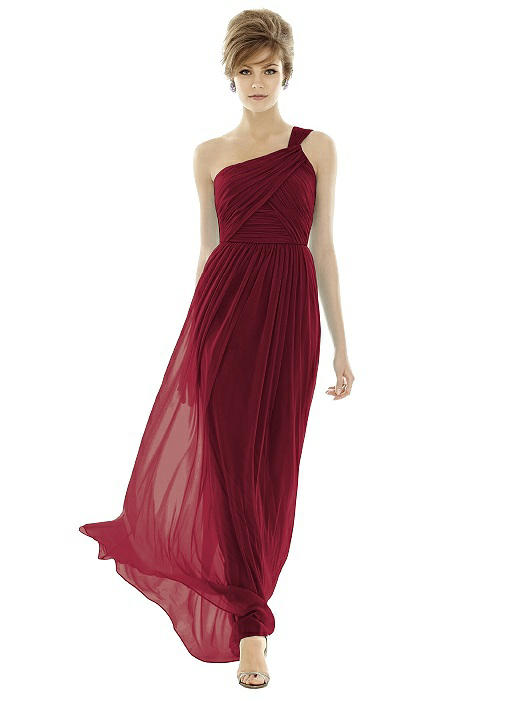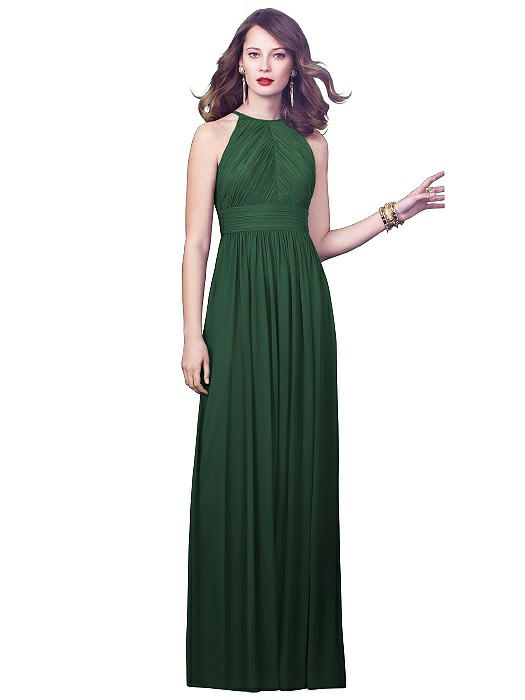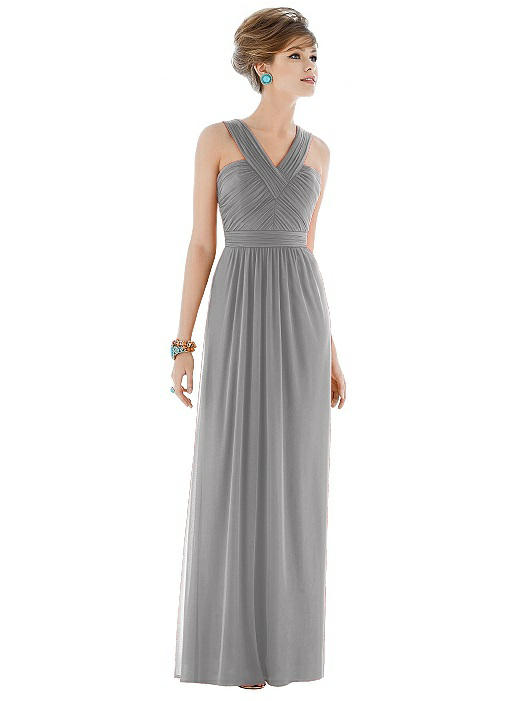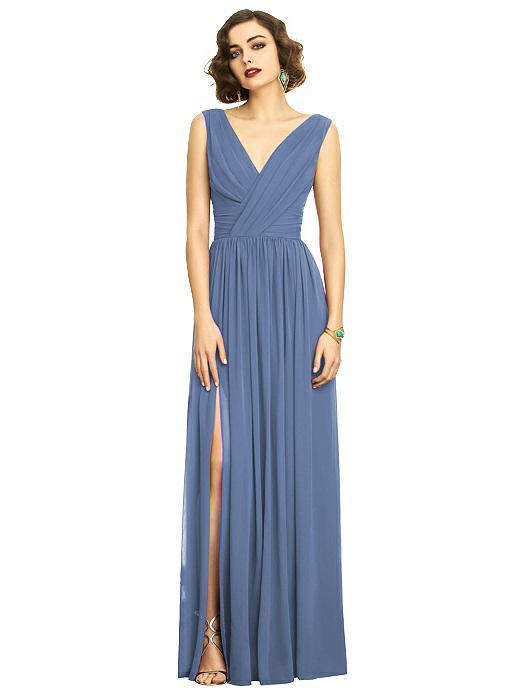 What we love about them: Elegant, romantic, and ethereal are all words we'd associate with Jenny Yoo, so if that's the vibe you're going for with your wedding, she's the designer for you! You're probably familiar with the Annabelle dress, which may just be the most popular bridesmaids dress ever, but don't miss out on the pretty florals and flattering silhouettes of Jenny Yoo's bridesmaid collection.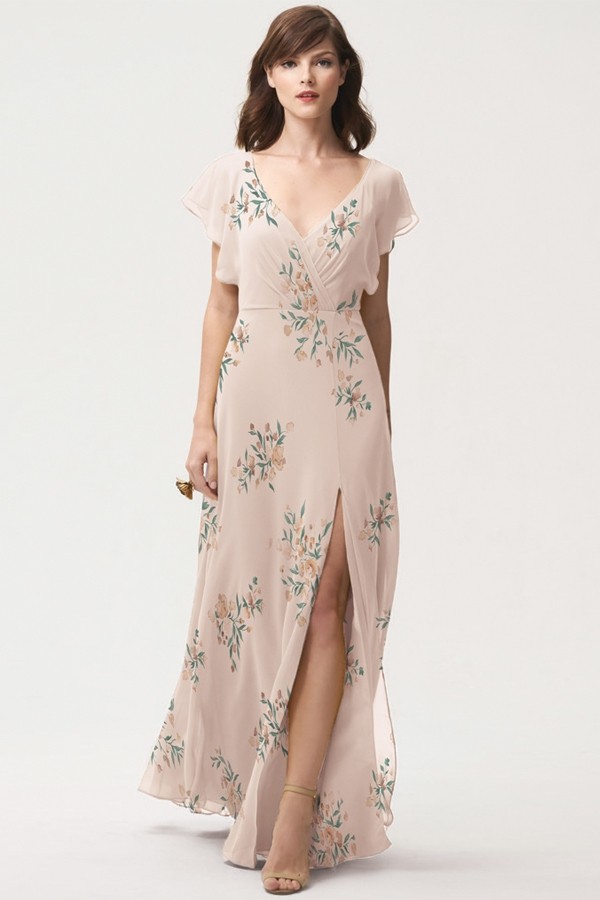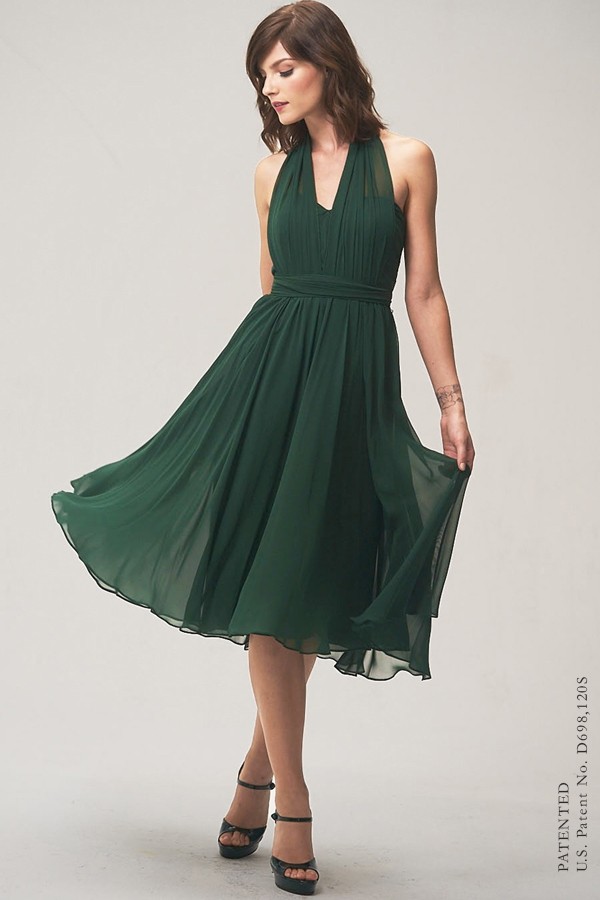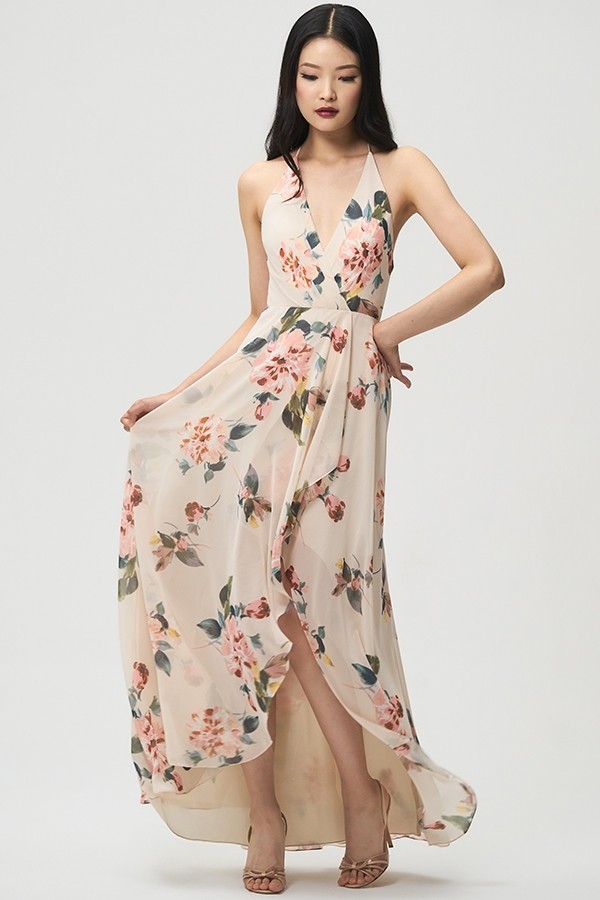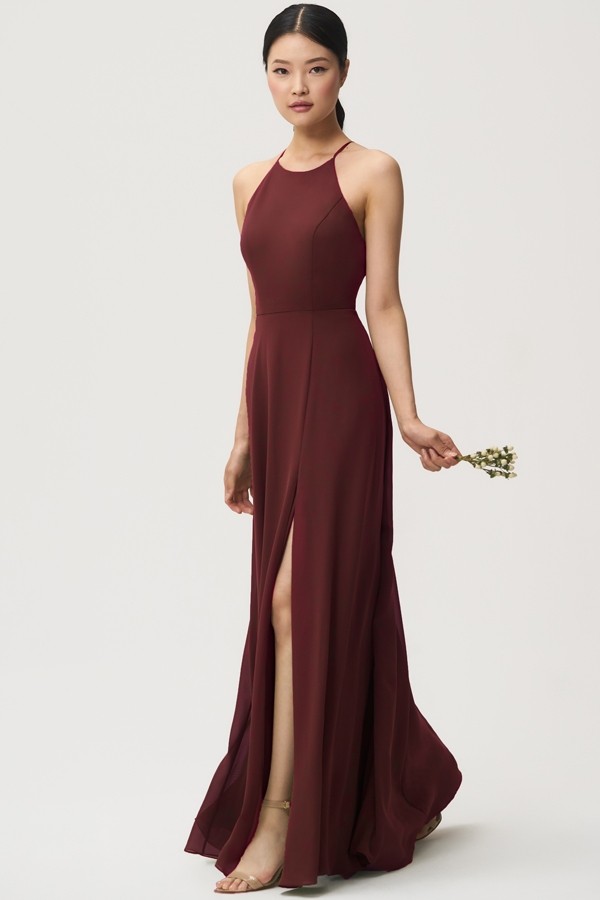 What we love about them: If you've ever thought to yourself "What if my favorite apparel store also carried bridesmaids dresses in the same style" then Lulu's is about to make your dreams come true! You will actually want to wear your bridesmaids dress from Lulu's again because it's less "bridesmaid" and more "super stylish dress." See what we mean?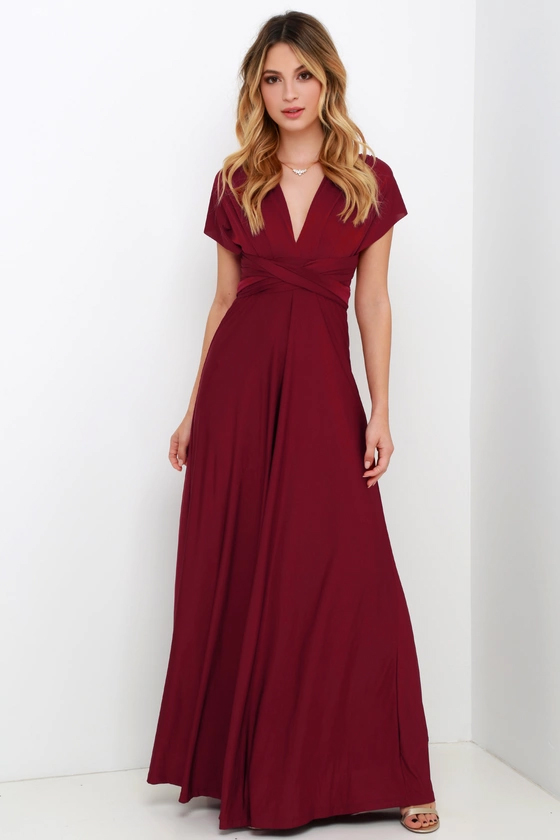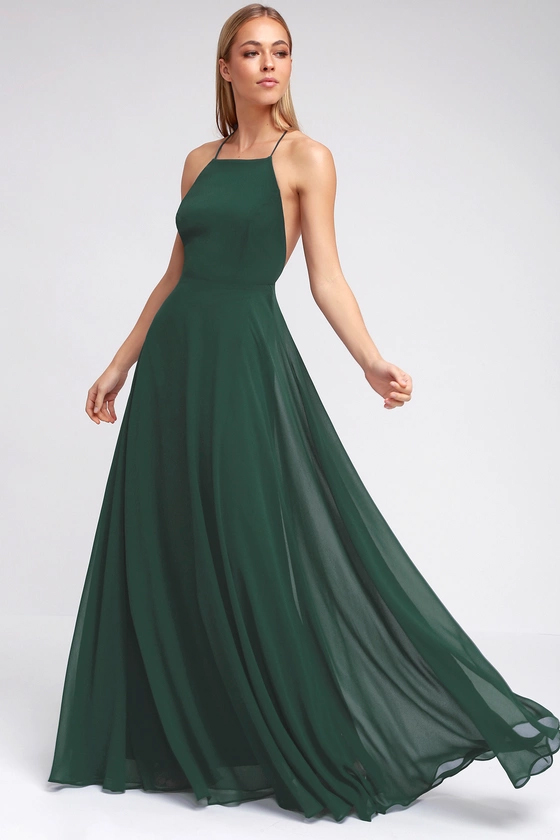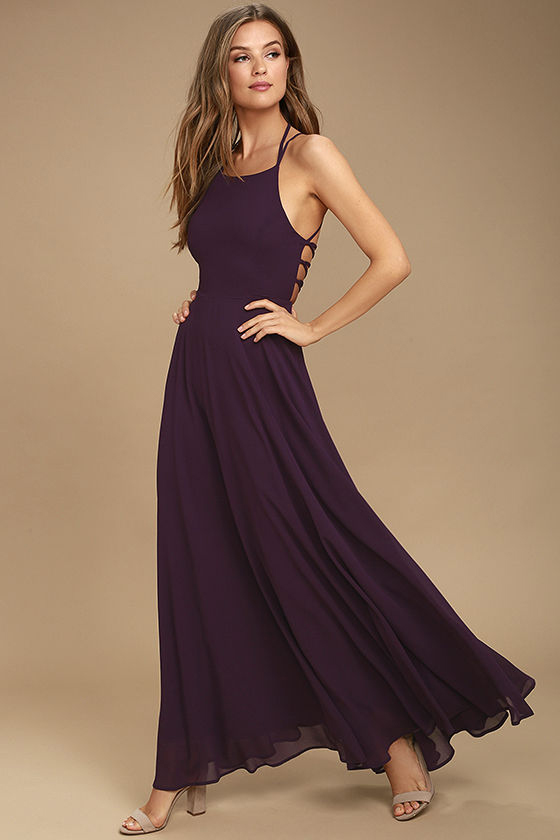 What we love about them: Our love of ASOS knows no bounds because they create clothing for everyone! Their special and extended size ranges also apply to bridesmaids dresses, including maternity, plus, petite, and tall options. ASOS gives your girls the chance to express themselves in unique dresses that fit their body as well as it fits their style.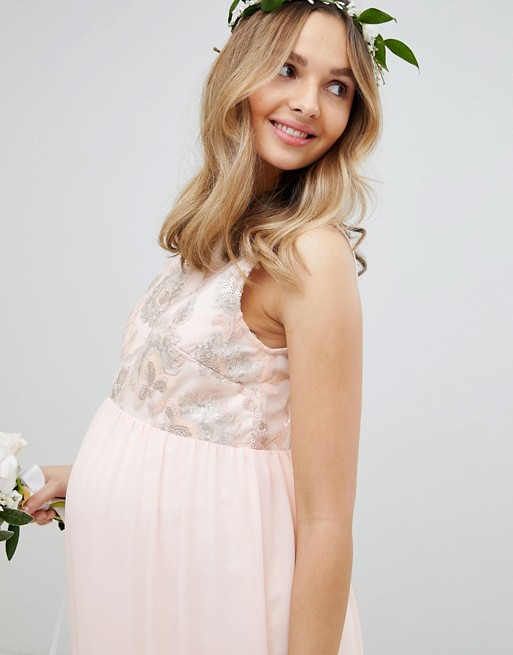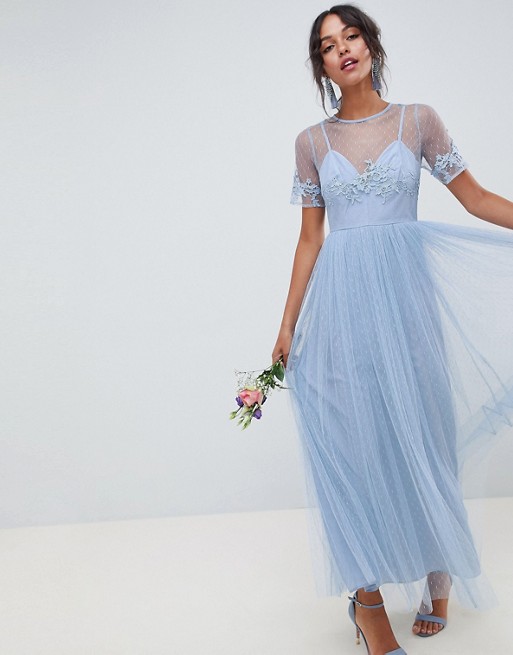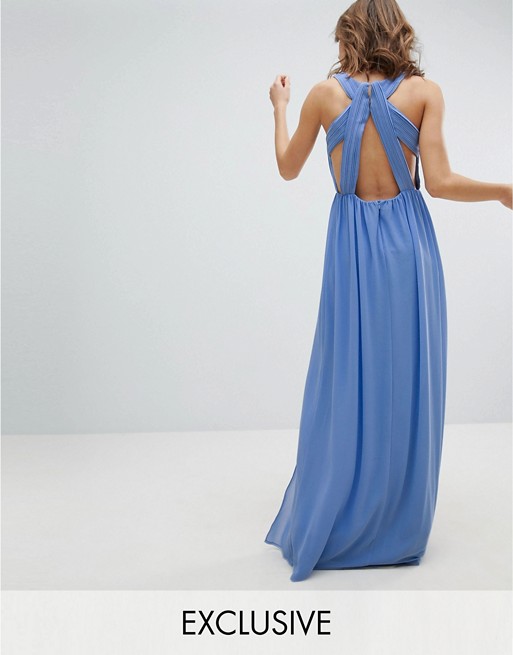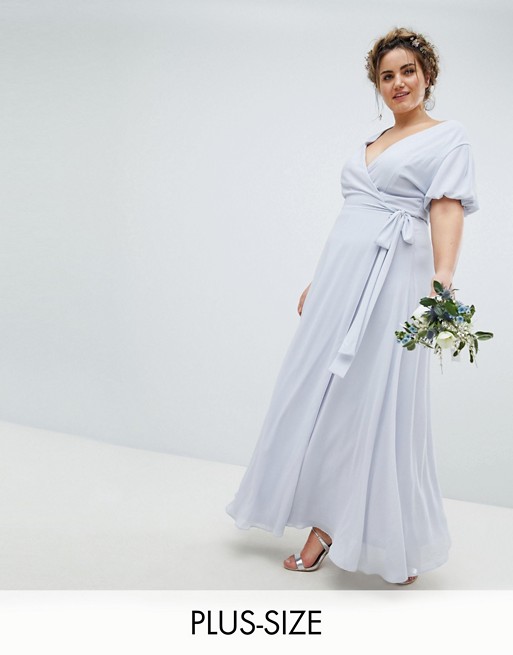 What we love about them: Long gowns not really what you have in mind for your bridesmaids? You're going to love Love, Bonito's LYLAS collection! From romantic short bridesmaids dresses to sweet bridesmaids separates, Love, Bonito's bridemaids' collection is filled with styles your girls will be genuinely excited to wear again.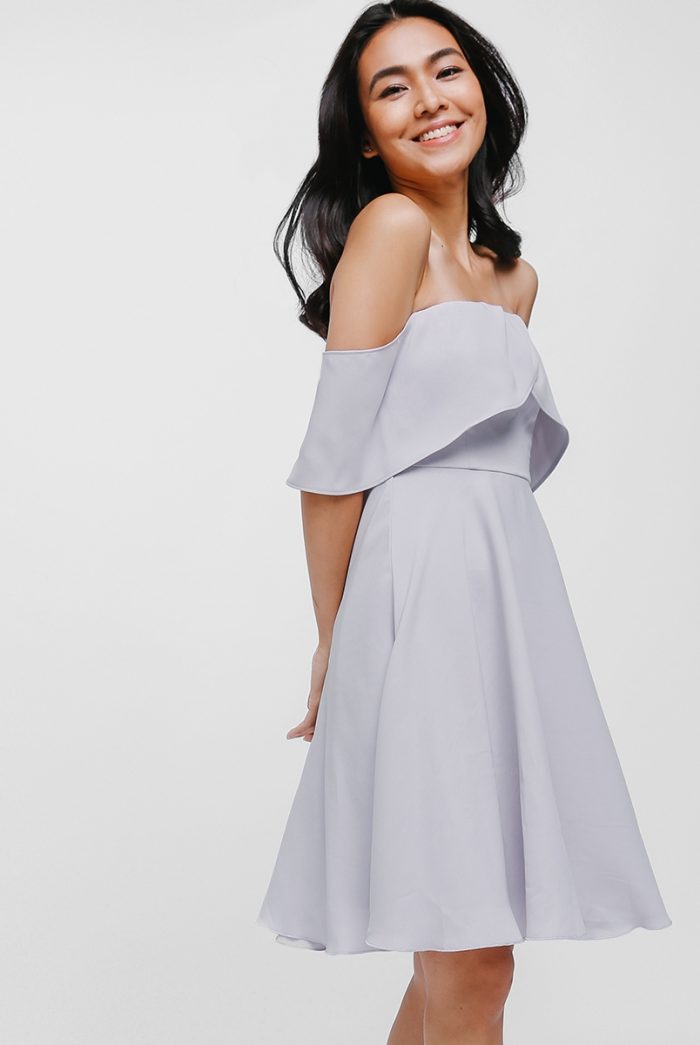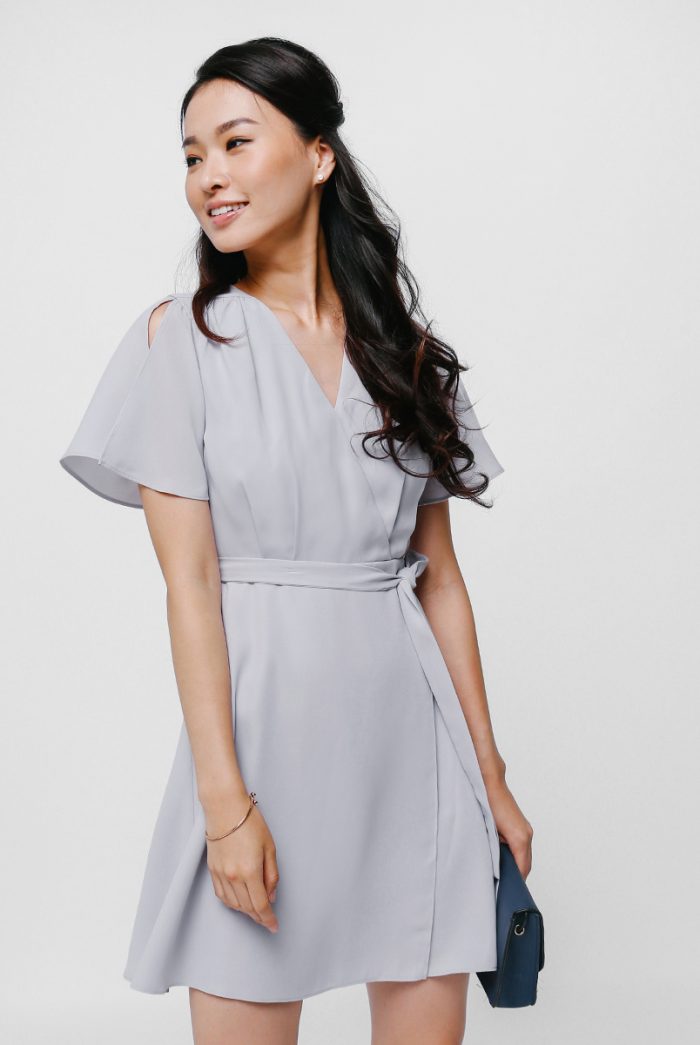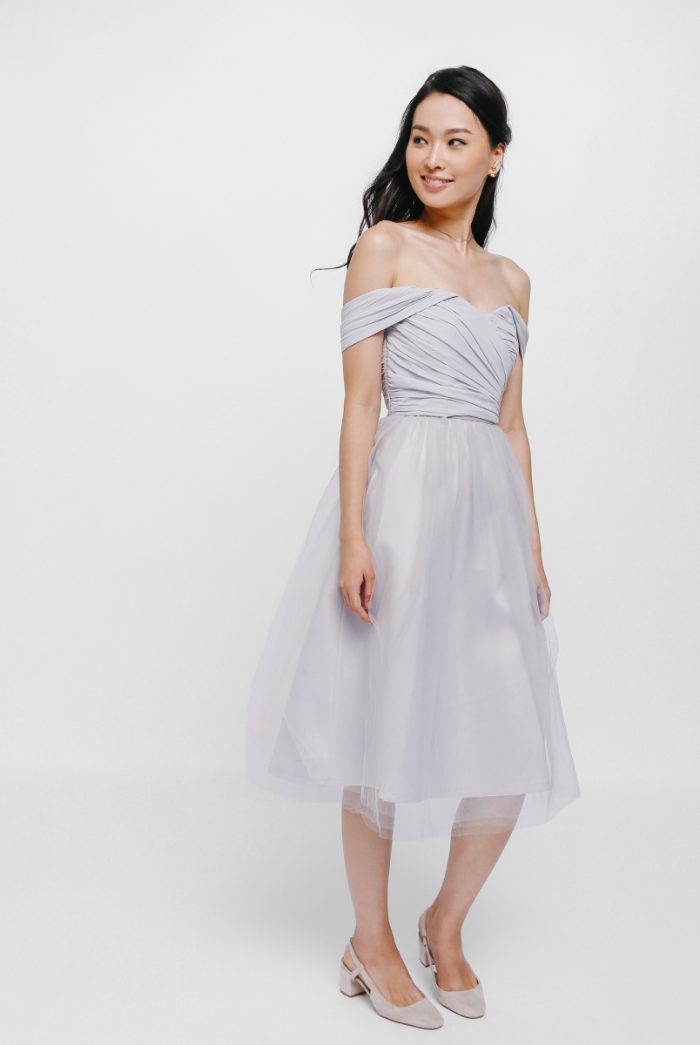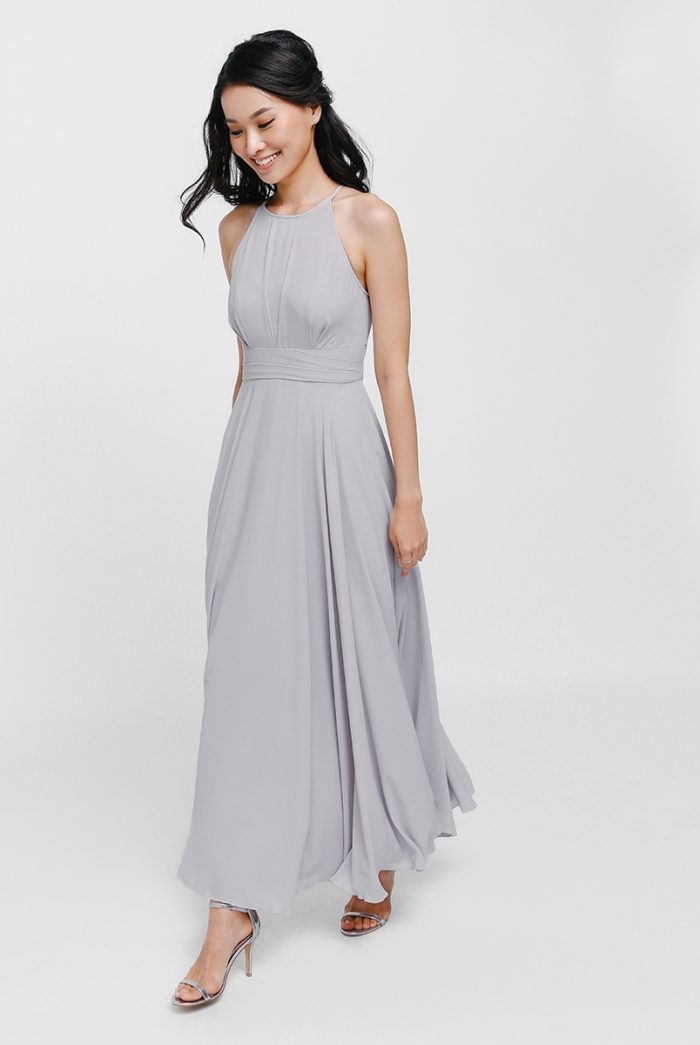 What we love about them: ModCloth is our go-to for all things vintage-inspired, whimsical, and cute – and it should be yours too! So it's no surprise that their bridesmaids' line is a retro lover's dream and filled with flattering fits. One of our favorite things about ModCloth is their extended range of sizes, going from XXS through 4X (2-26), meaning all of your girls can wear the same dress and feel amazing no matter their size.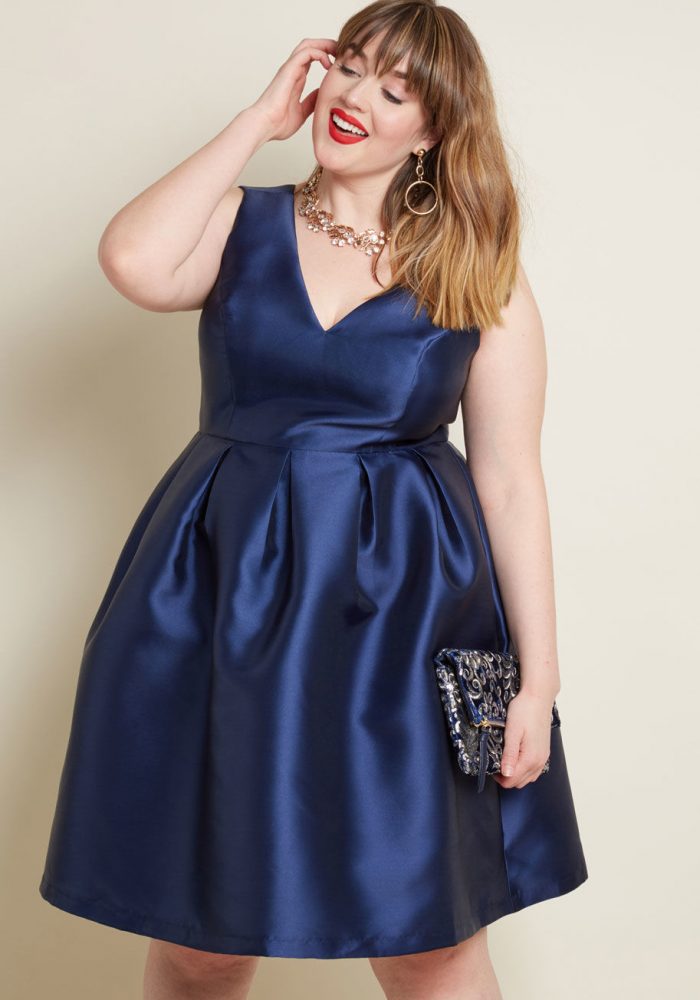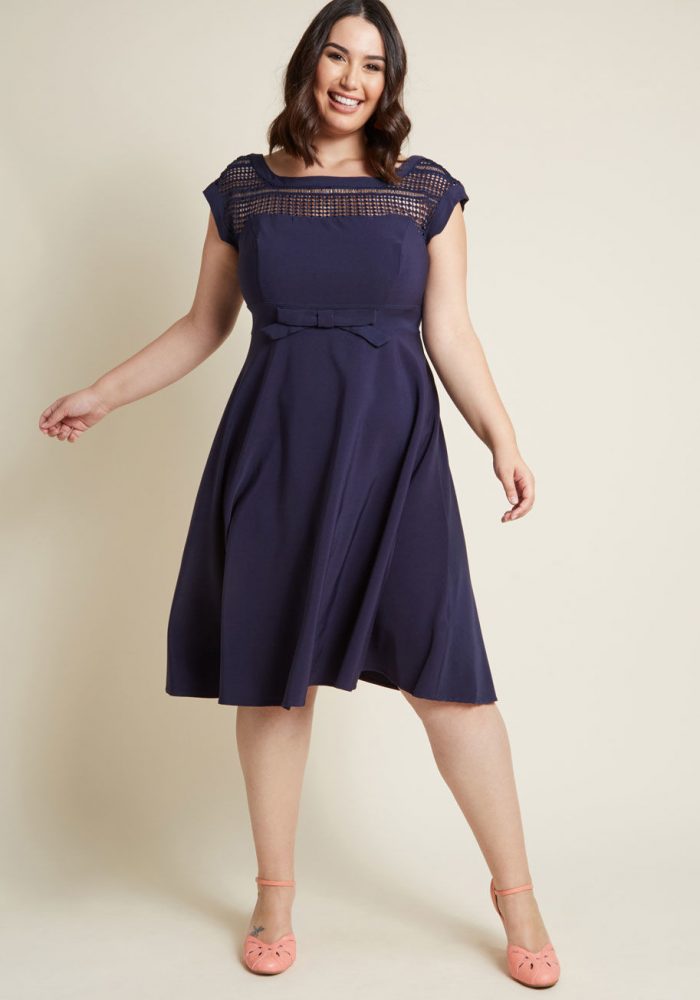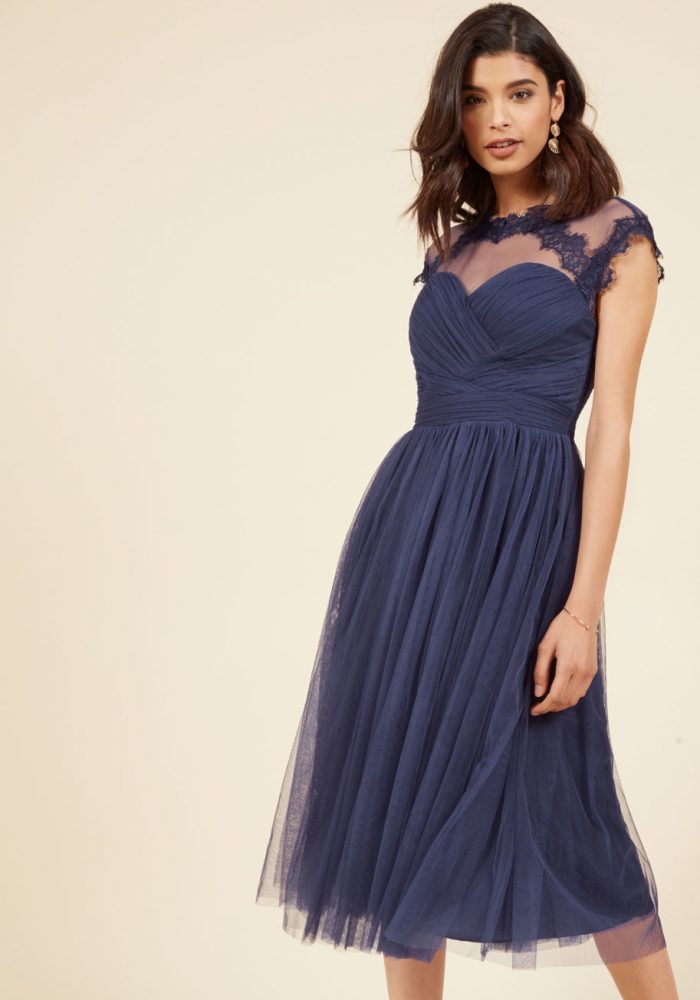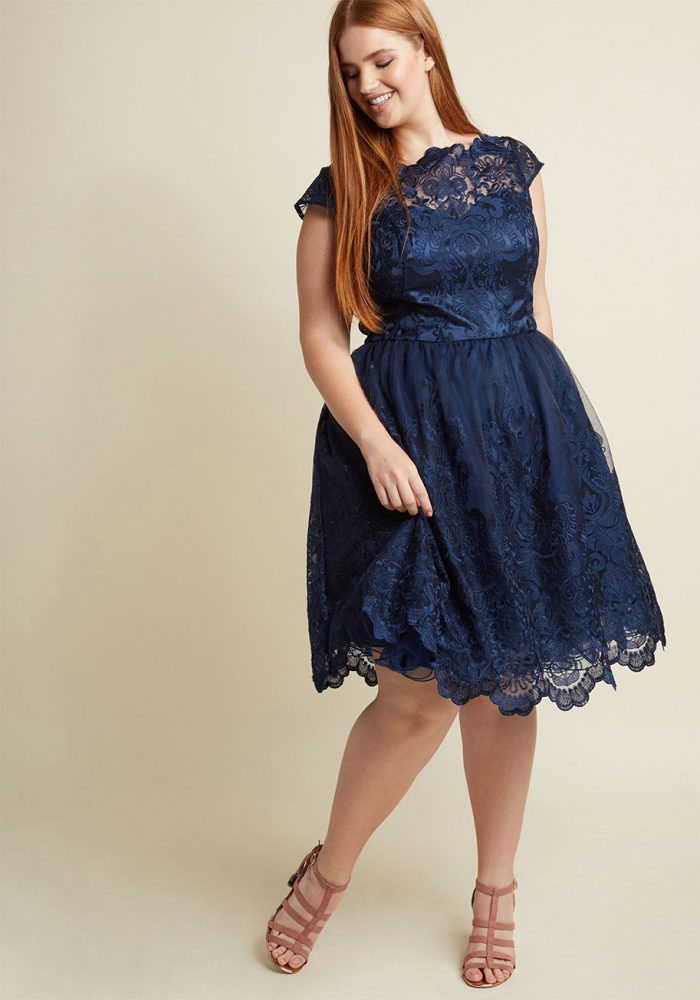 What we love about them: If you're not opposed to a little sex appeal in your bridesmaids' looks, Revolve has the bridesmaids dresses for your babes! Low backs, cut-outs, flirty ruffles, and strappy silhouettes abound in Revolve's selection of designer bridesmaids dresses. Don't see your size? Submit a special order inquiry and Revolve will contact the manufacturer to see if the item is available for special order! This feature is free to use and there is no obligation to purchase.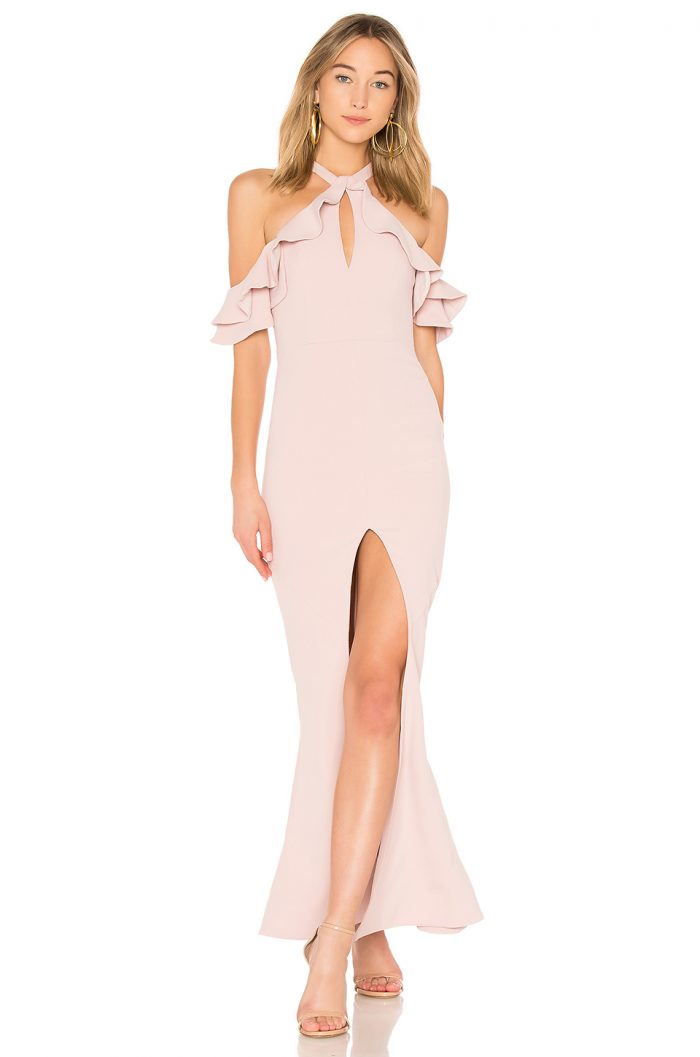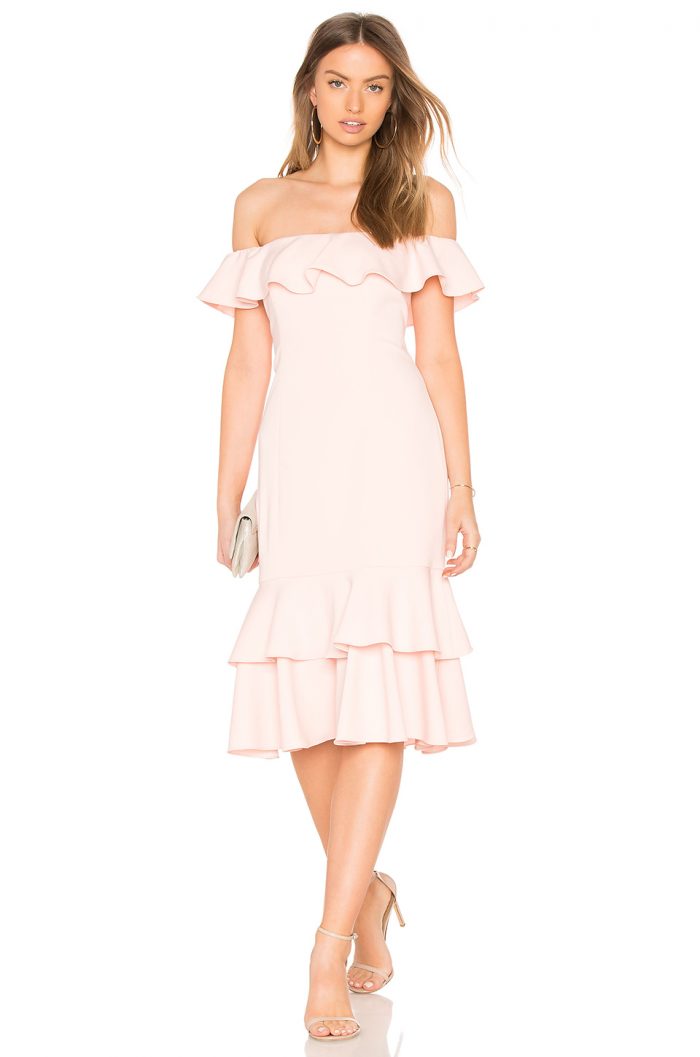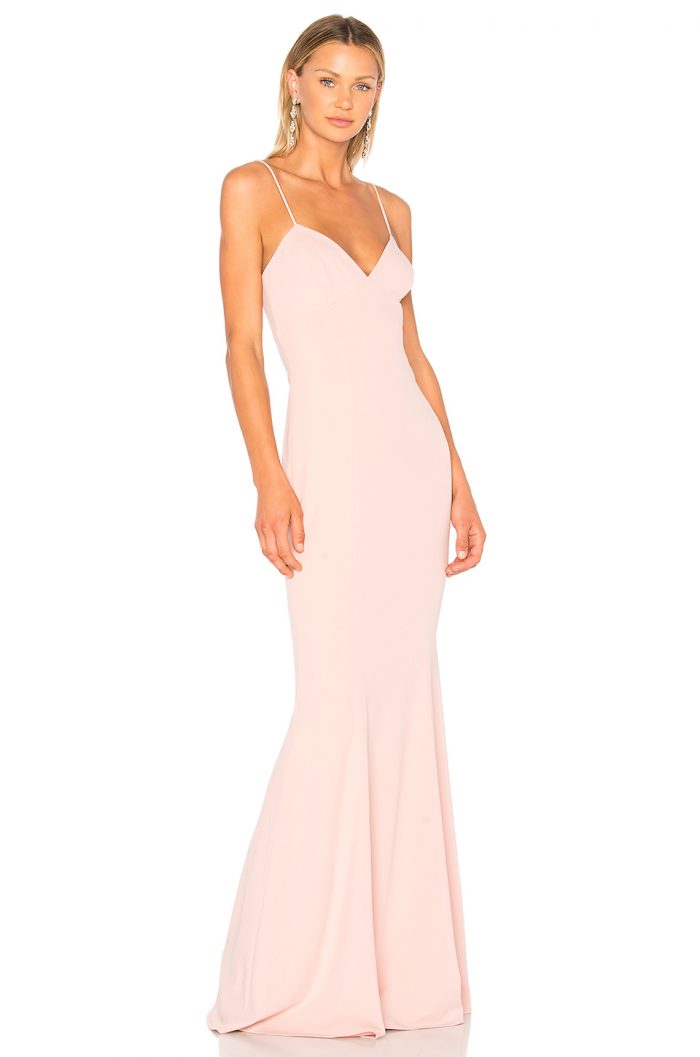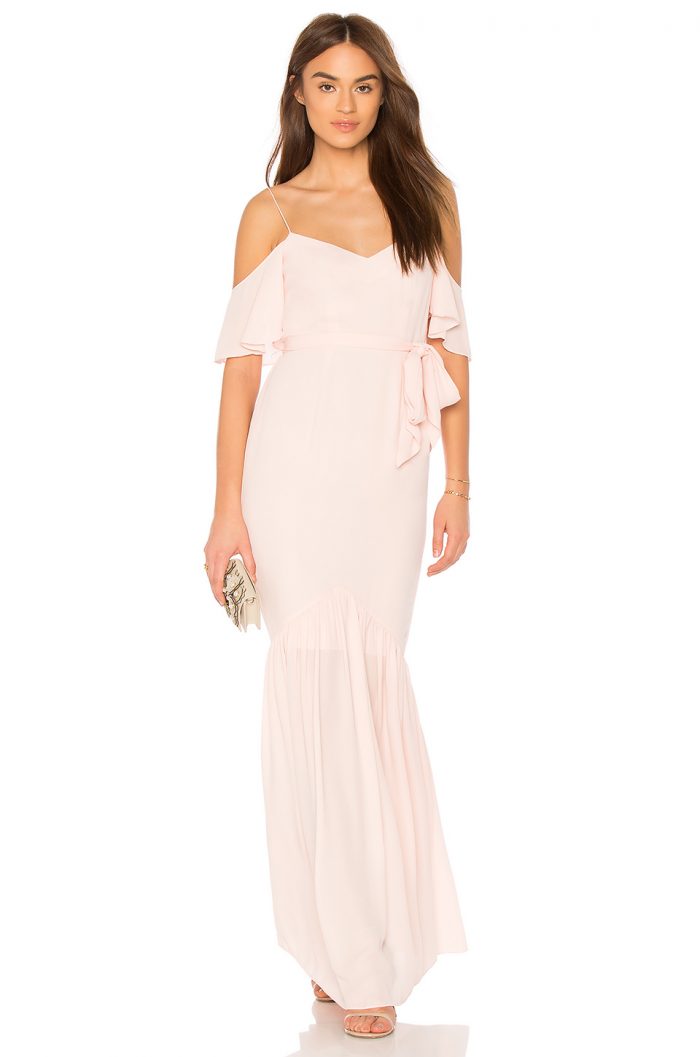 What we love about them: Hopefully you've taken advantage of using Amazon Prime for things like vitamins, iPhone chargers, books, and toilet paper, but did you know that you can ship yourself a bridesmaid dress overnight? Amazon's apparel department has become an excellent place to find exactly what you're looking for, often at an affordable price, so we're excited to see their selection of bridesmaids dresses follow suit! In addition to the Amazon Prime you know and love, Amazon has a feature called Prime Wardrobe that allows you to try on items for free at home for seven days.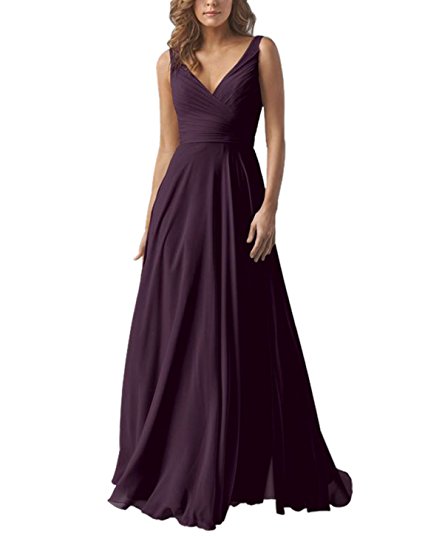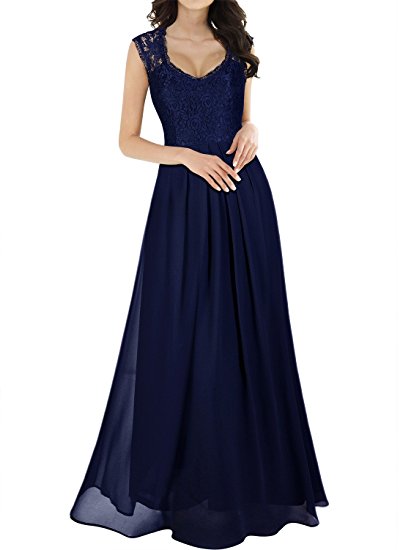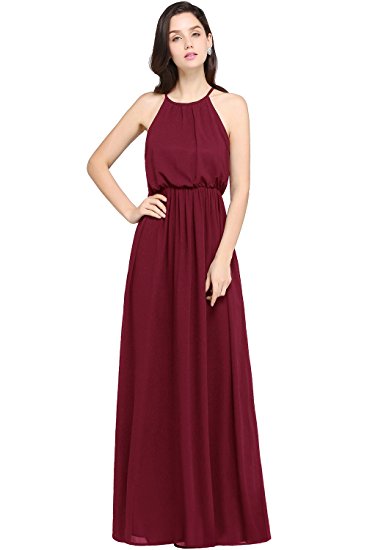 Now that you know the best places to buy bridesmaids dresses online, be sure to check out these 13 mismatched bridesmaids dress color palettes!
photo by Lauren Mihae Photography