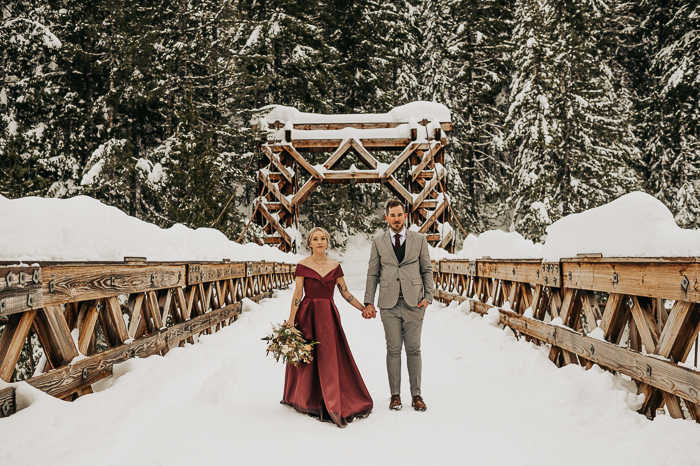 Lukas and Mallori already had their hearts set on their dream wedding location years before getting engaged, and when it came time, they tied the knot exactly where they envisioned they would years prior. From the snow-covered landscapes and enchanting pine forest backdrop to the picture-perfect Longmire Bridge ceremony and cozy cabin reception, this Mount Rainier micro wedding is magical all on its own.
The couple started the day with a first look, and it was the sweetest way to kick off such a romantic day. The bride had a standout moment in her burgundy wedding dress while the stylish groom donned a light gray suit with a matching deep red tie. Although it was chilly, they wandered around the mountain for a private toast and epic portraits after saying, "I do.".
Even with the constraints of the pandemic, they managed to pull off an unforgettable and safe weekend-long affair with their closest family and friends. And Junebug member Maggie Grace Photography captured every moment of it. Scroll through for gorgeous winter wedding photos guaranteed to make you swoon!
The Couple:
Mallori and Lukas
The Wedding:
Mount Rainier National Park, Washington, USA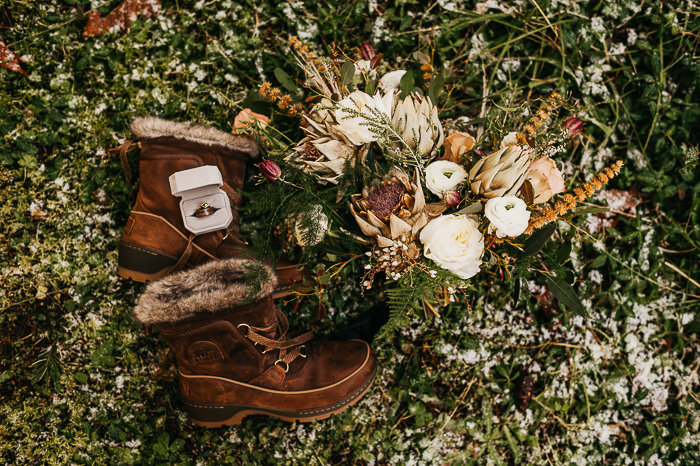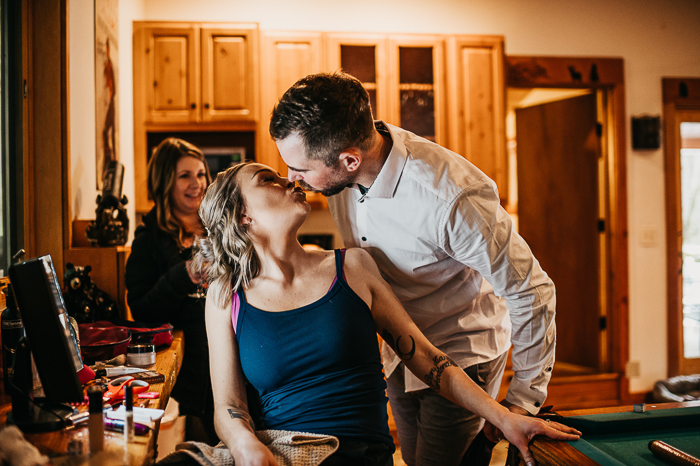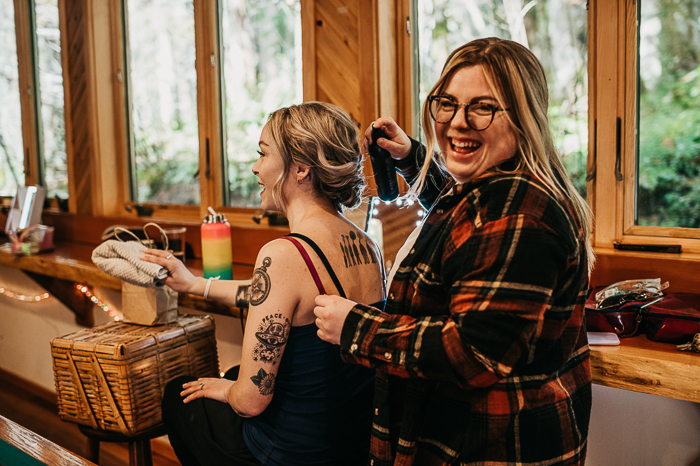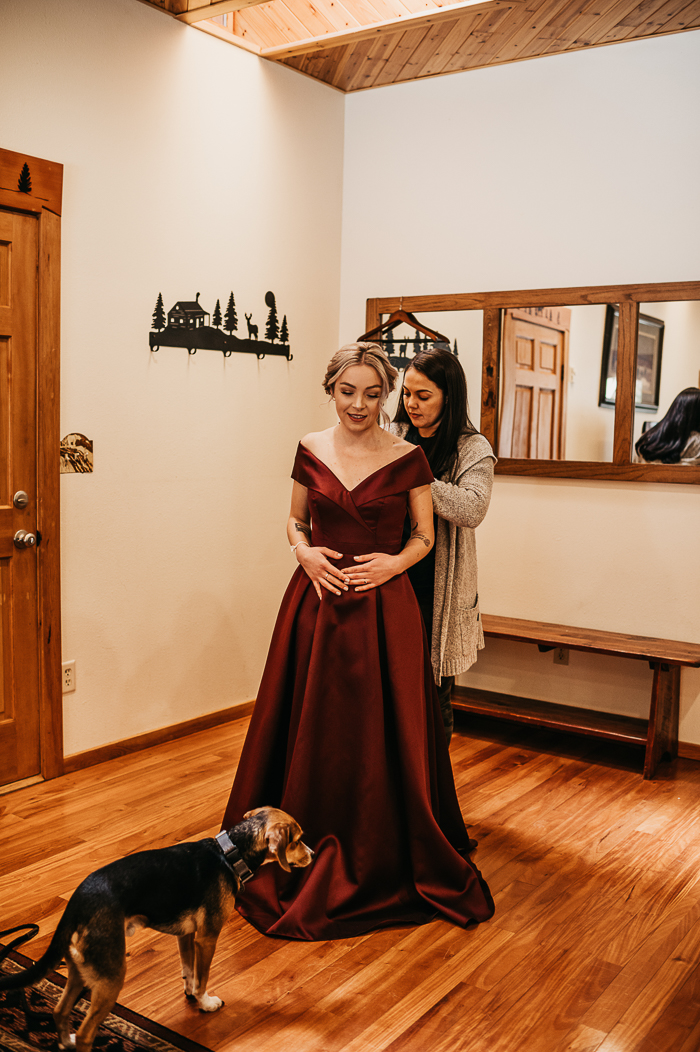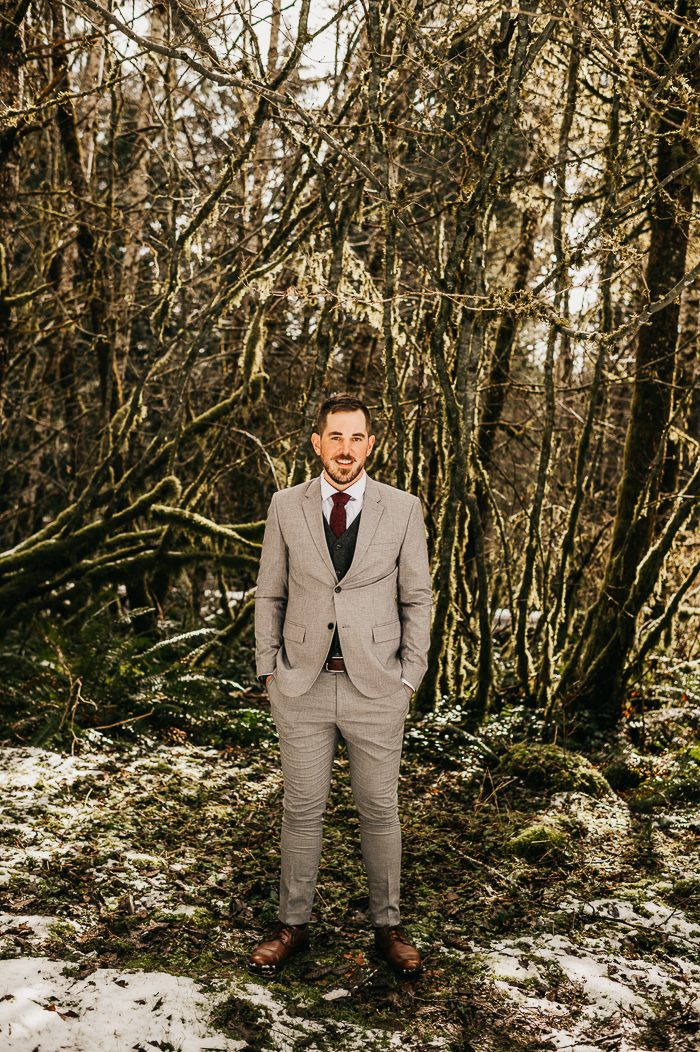 What Led Them To Have A Mount Rainier Micro Wedding
We chose our venue years before we were engaged. We were on a snowshoeing hike when we came across the bridge. At that moment, I turned to Lukas and told him this was where we would get married.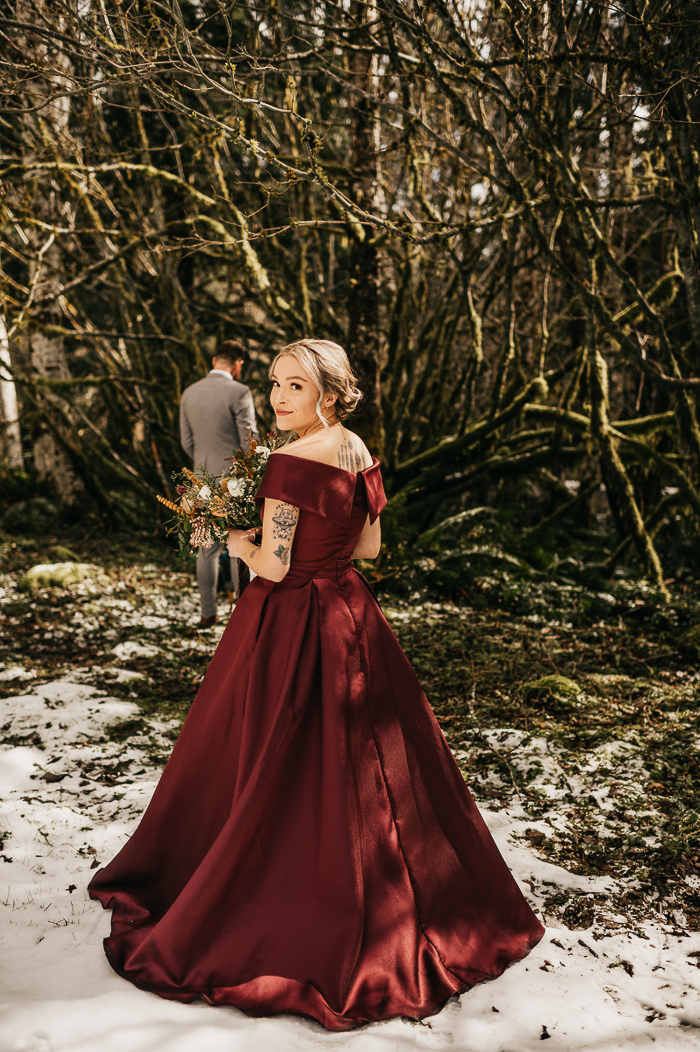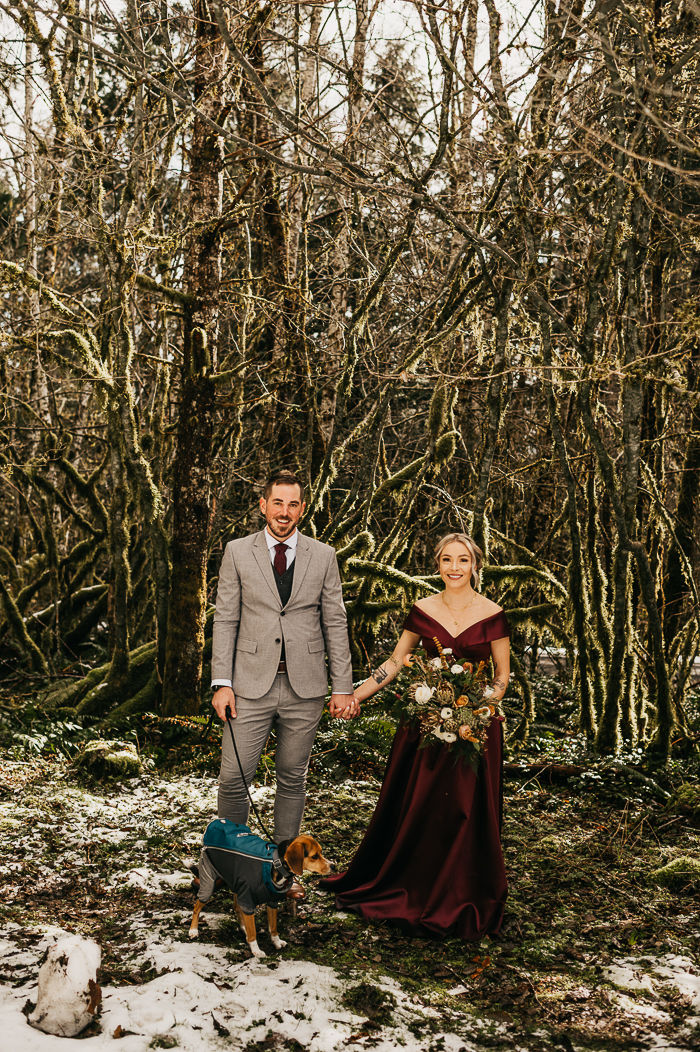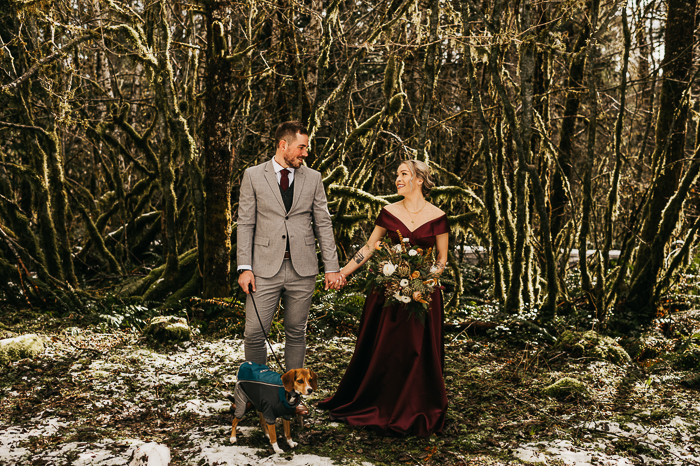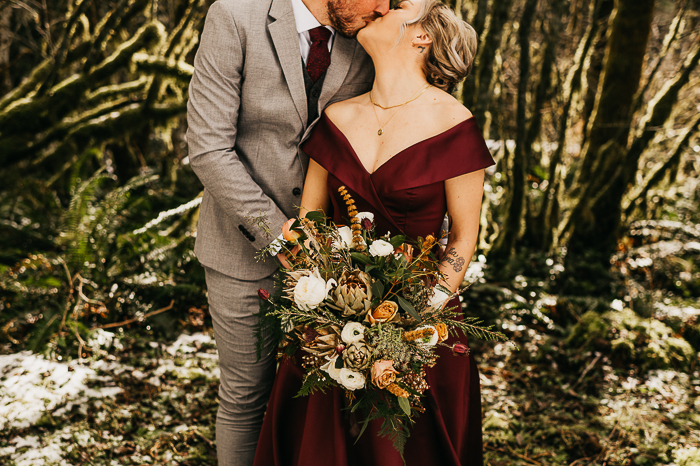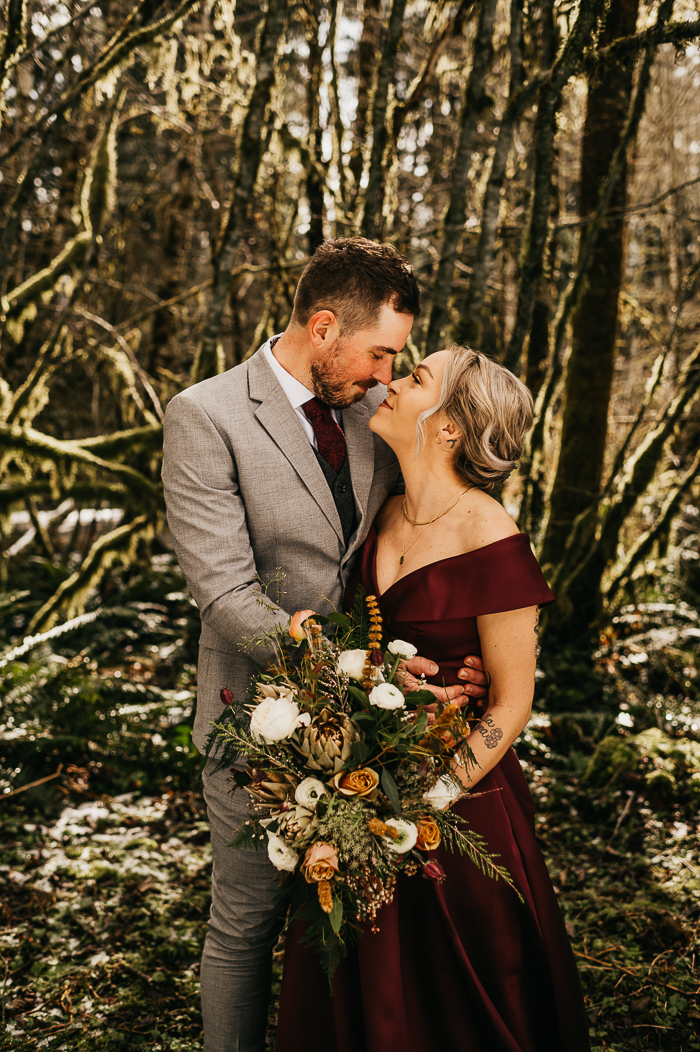 Having All Their Guests Tested So They Could Enjoy Their Wedding Weekend Without Worry
We are most proud that we had a very intimate wedding weekend in the middle of the pandemic and that we kept everyone safe and healthy. Our wedding was before vaccines, so we had everyone get tested. Because of this, we were able to provide a weekend full of laughter, hugs, and connection for the first time in what felt like an eternity.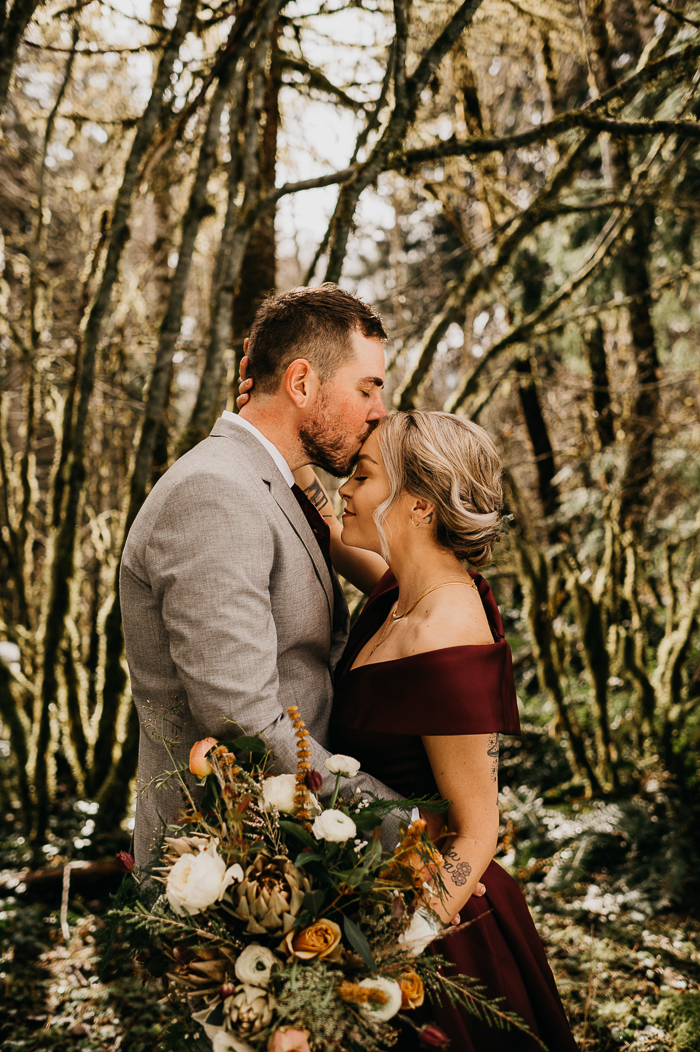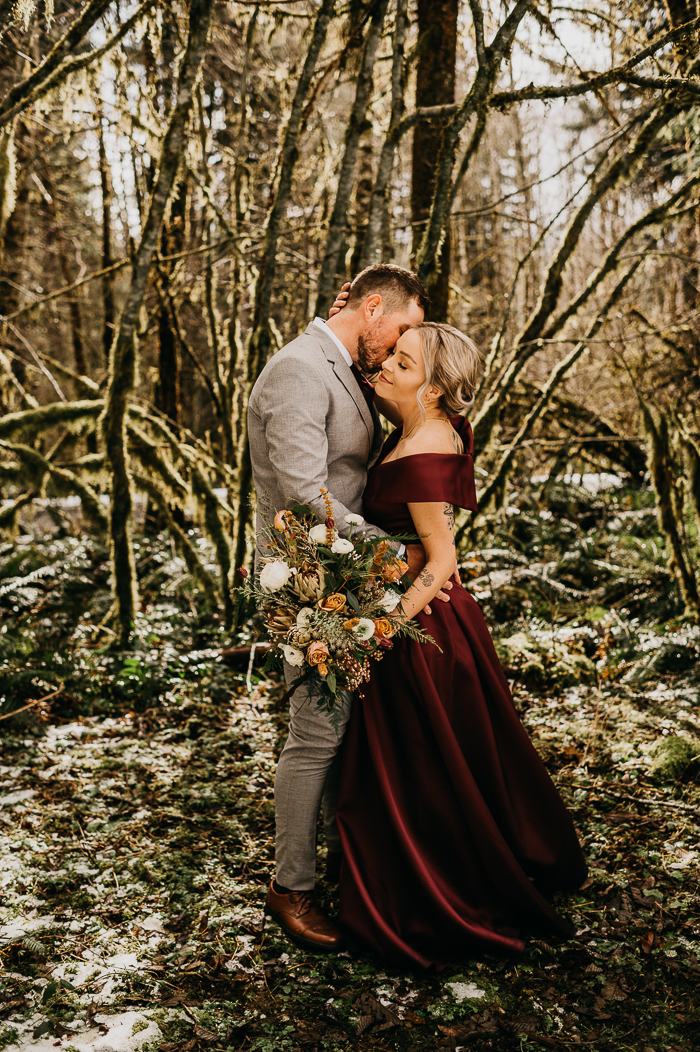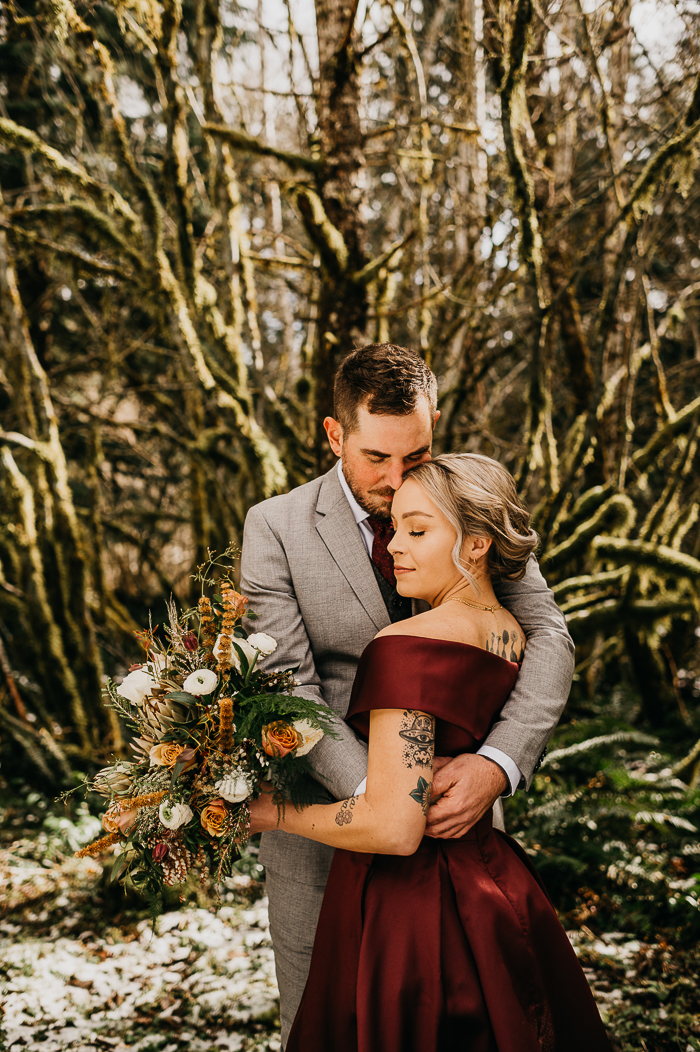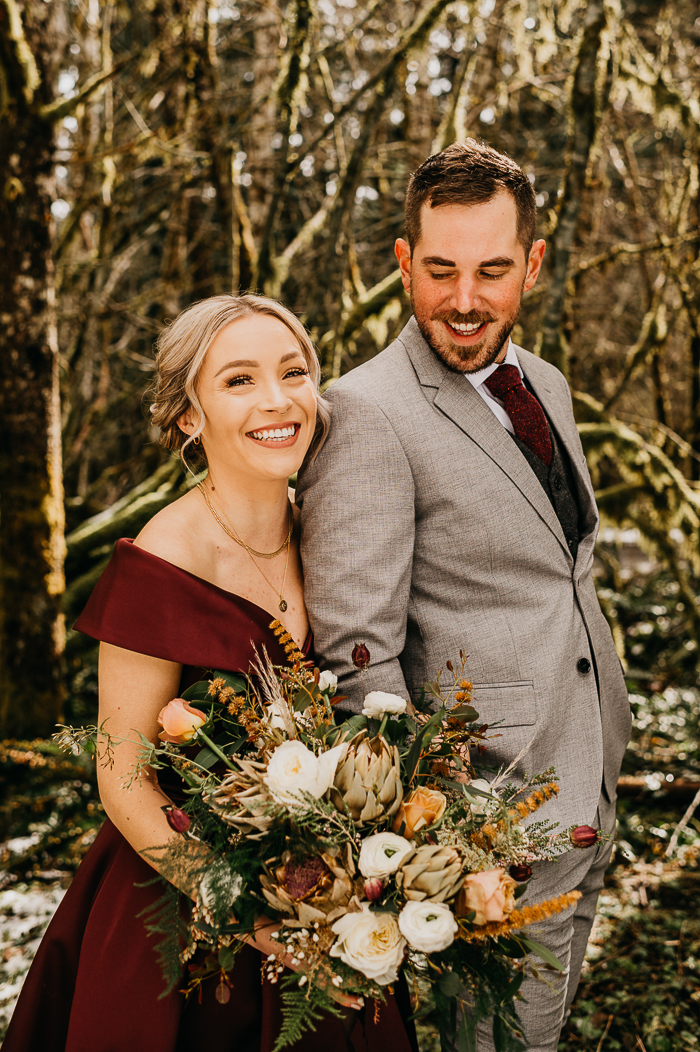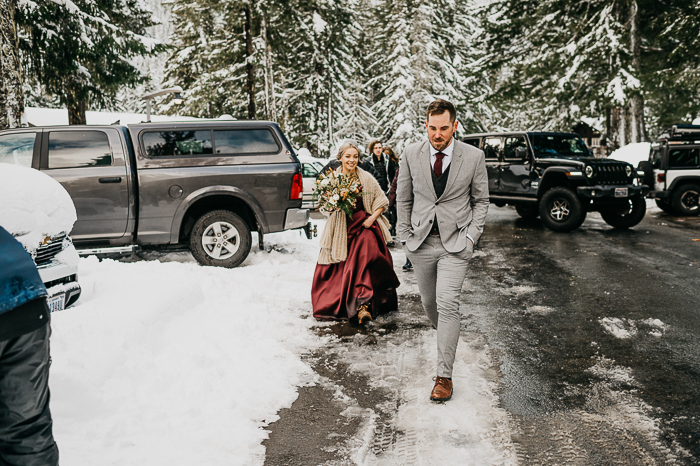 Ways They Personalized Their Ceremony
We personalized our ceremony by walking down the aisle together. We also asked Lukas's dad to be our officiant and wrote our own vows and spoke them to one another. And lastly, our ceremony was only about ten minutes in total.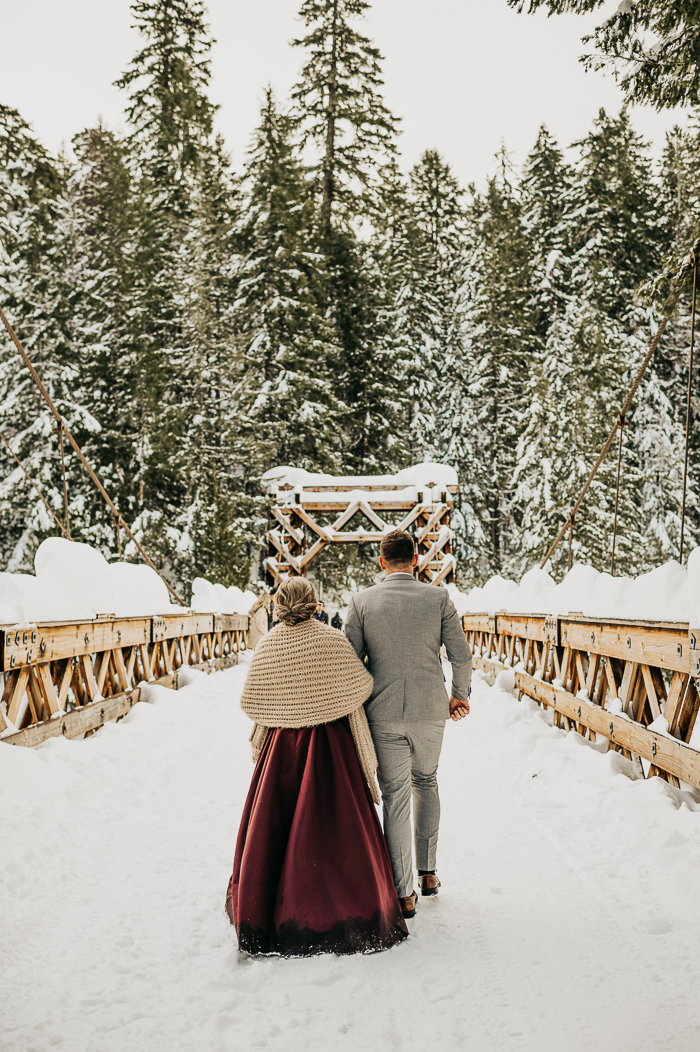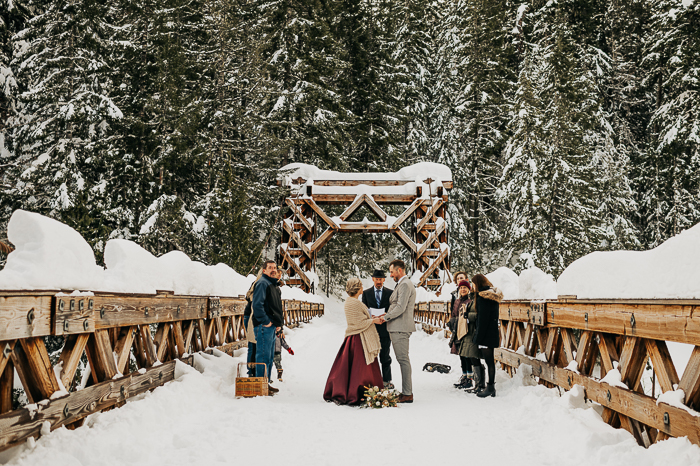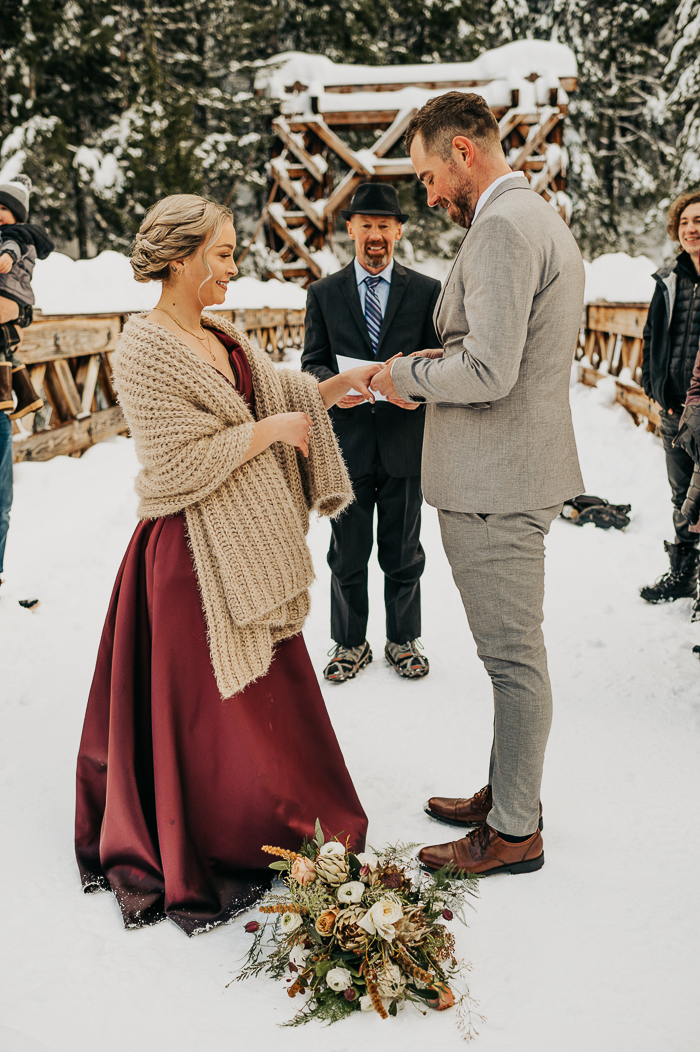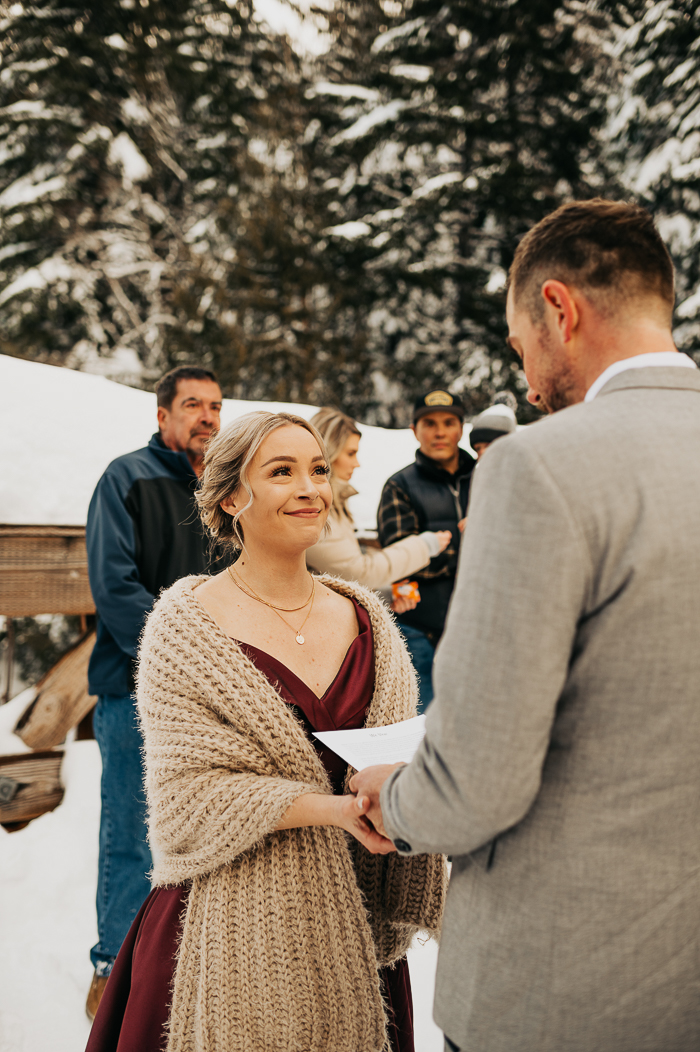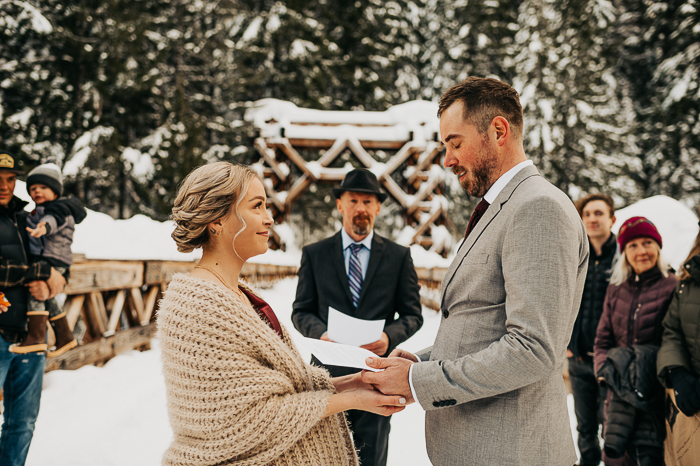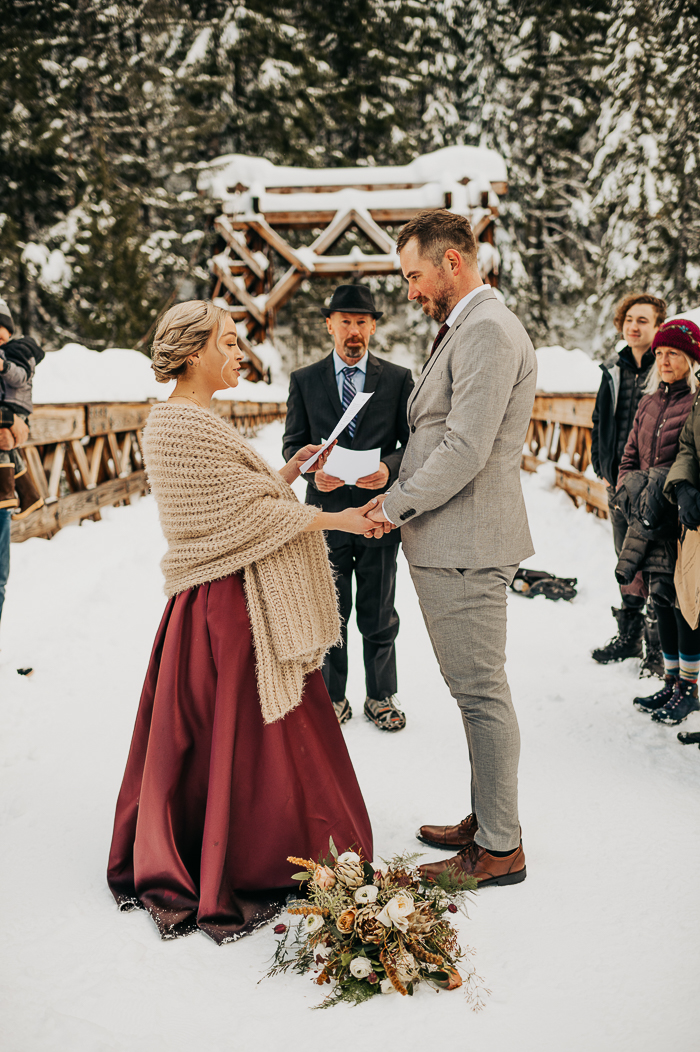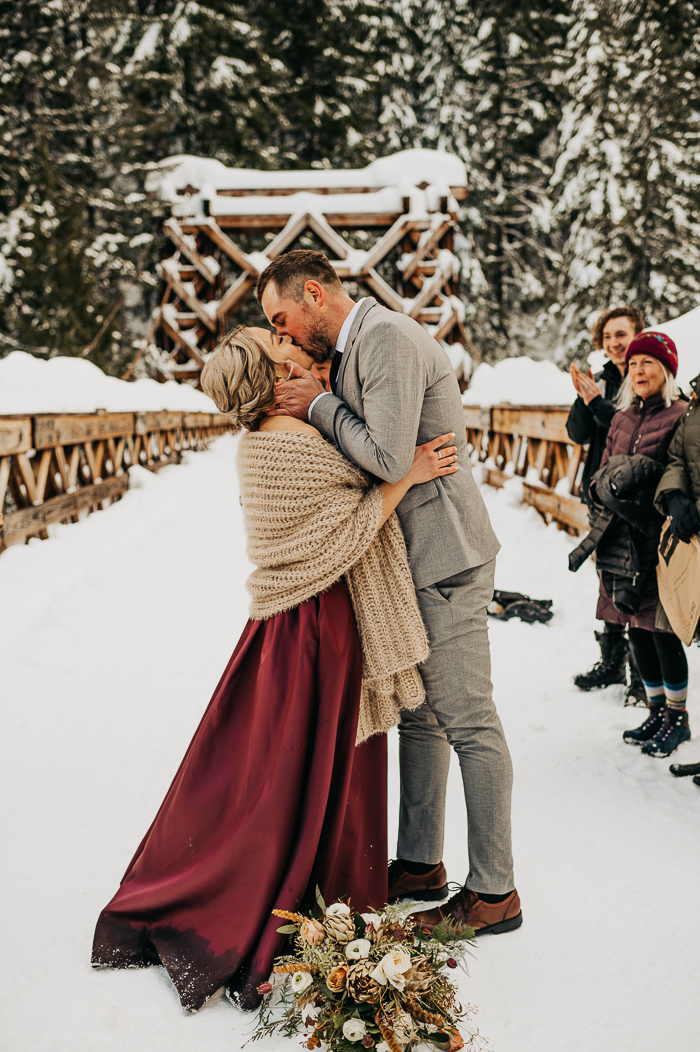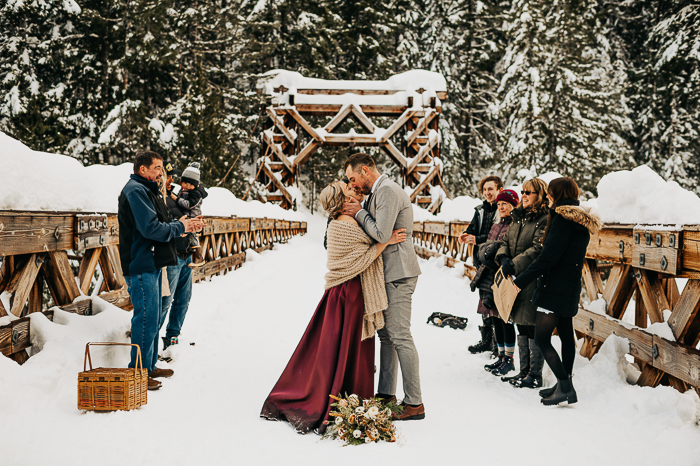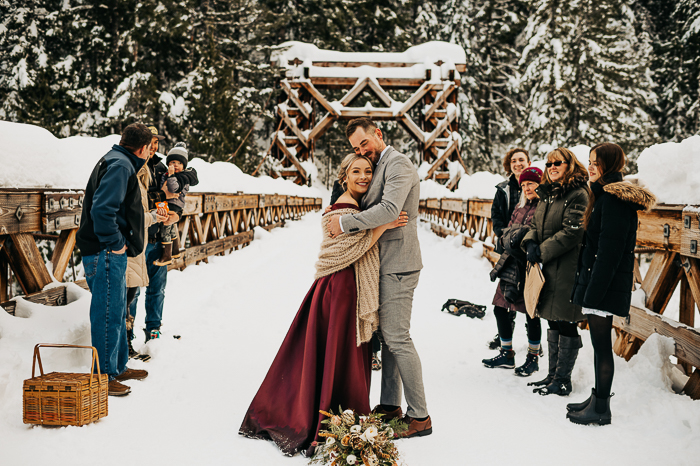 A Surprise Stop By A Park Ranger Before The Ceremony
Our one wedding day surprise was when we got stopped by a park ranger in the middle of our ceremony. He asked for our permit, which we had, but told us the permit shouldn't have been approved because we were technically on a public roadway. He let us continue with our ceremony, but it was a good thing that our ceremony and vows only lasted ten minutes.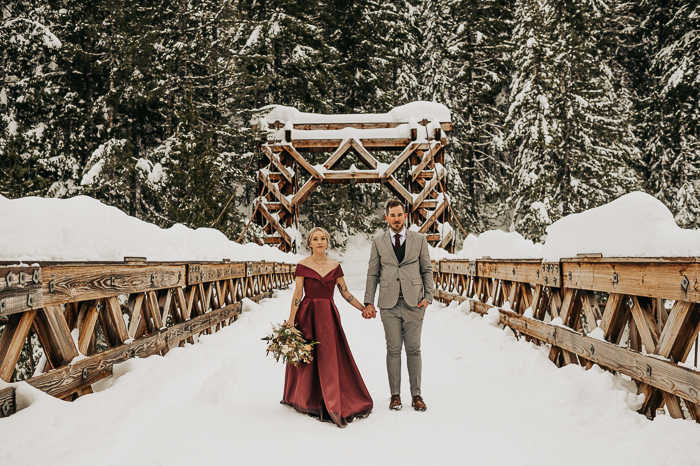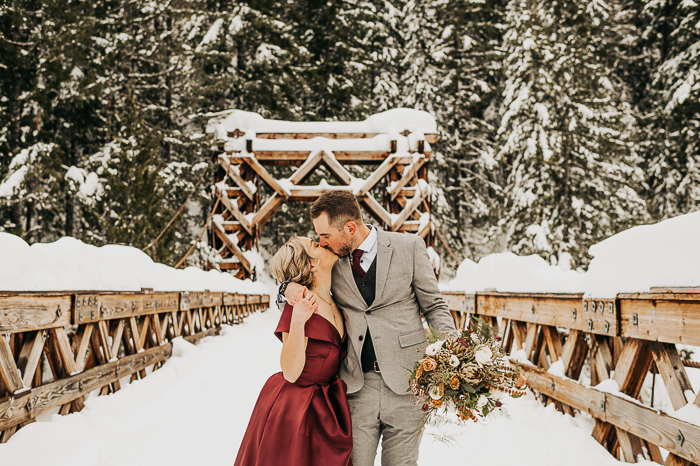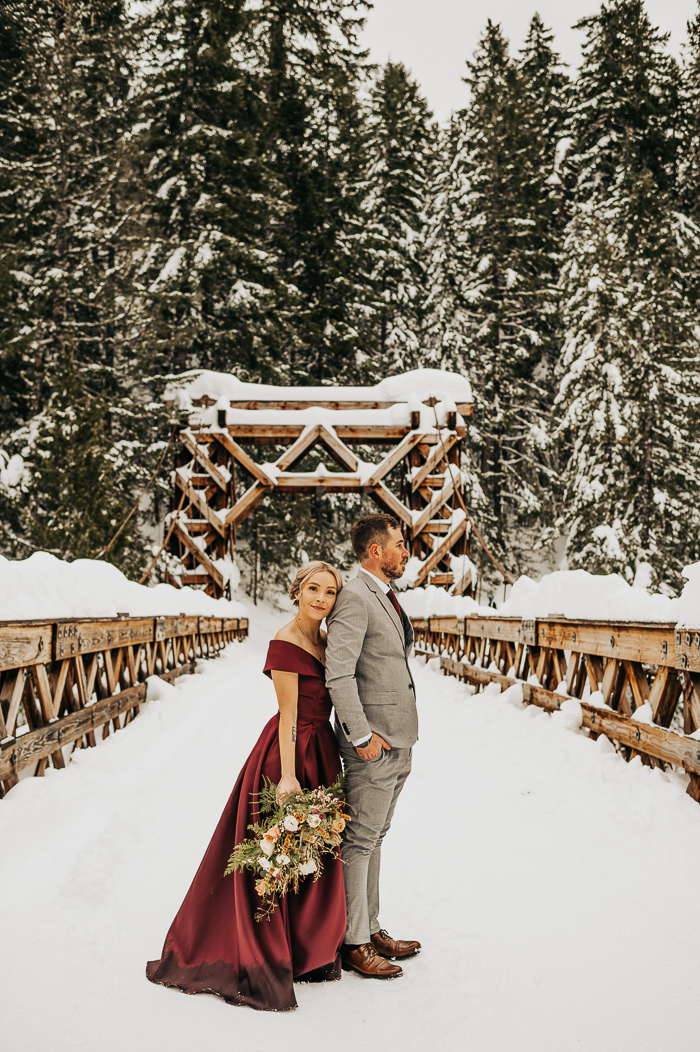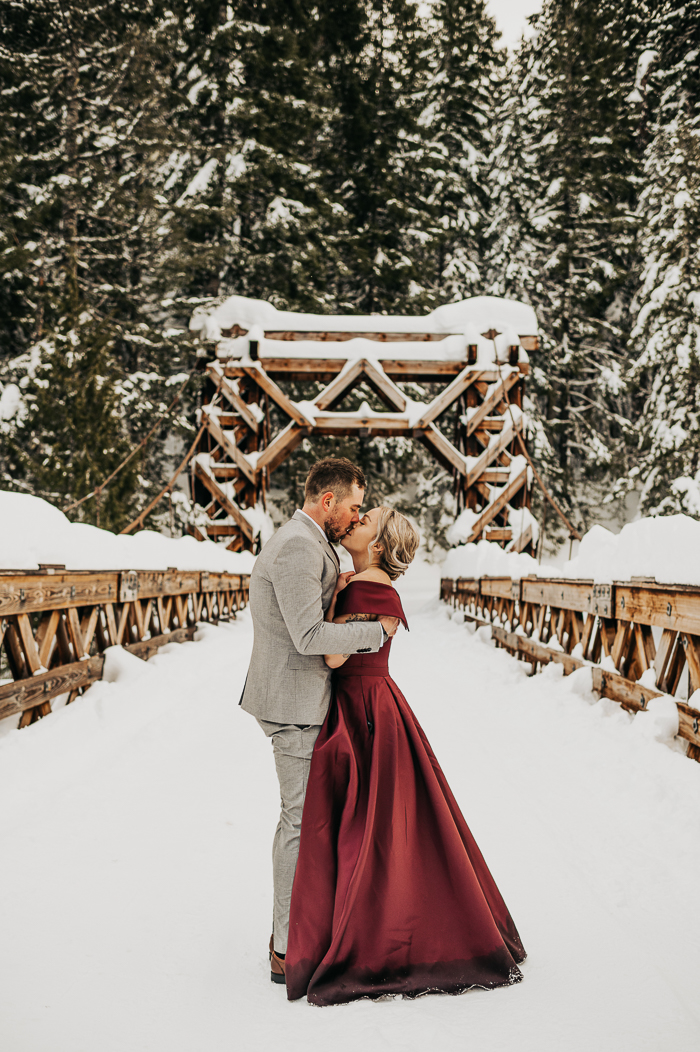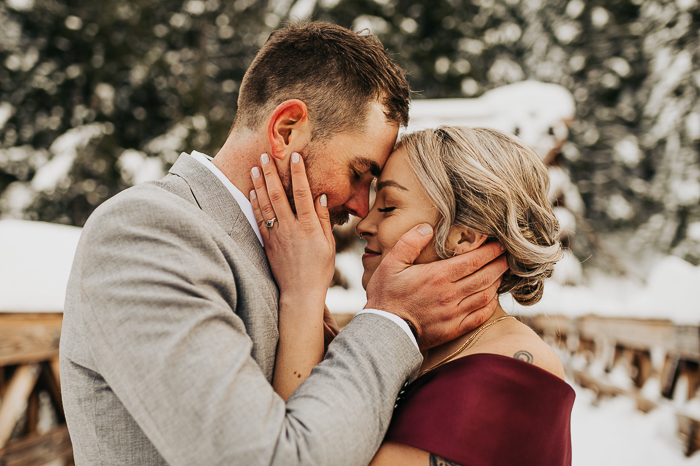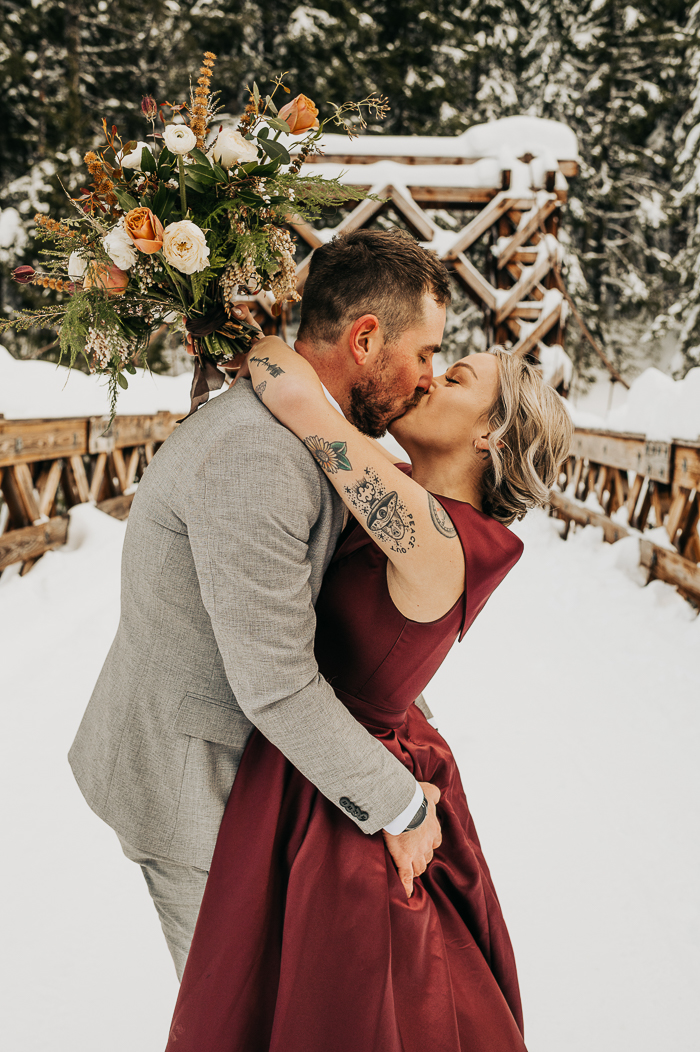 Junebug Member Maggie Grace Photography Instantly Put Them At Ease
Our photographer Maggie Grace was amazing. We had connected via Instagram years ago and became internet besties. On the first night of our wedding weekend, when our friends and family were meeting for the first time, Maggie was playing games and hanging out with all of us. Everyone thought that Maggie had been a lifelong friend they'd just not met yet, but it was actually our first time meeting Maggie too. That's who Maggie is–the warmest best-friend-energy and your biggest hype woman. Working with her was natural and easy. She gave us direction while also letting us act how we naturally act. It resulted in natural, beautiful, authentic images that we will adore forever.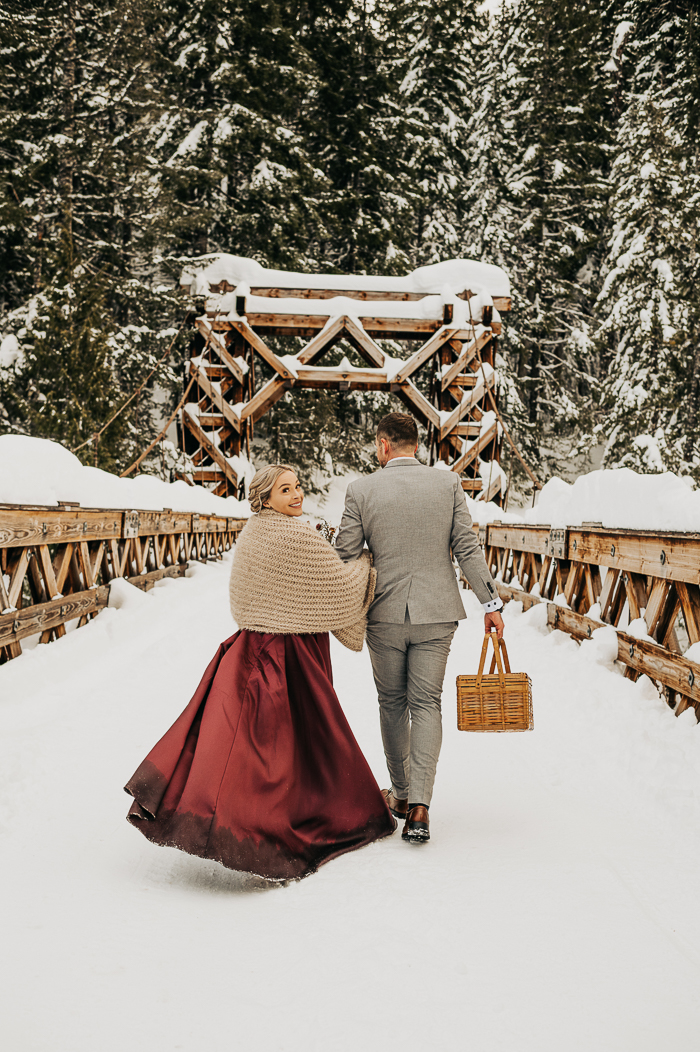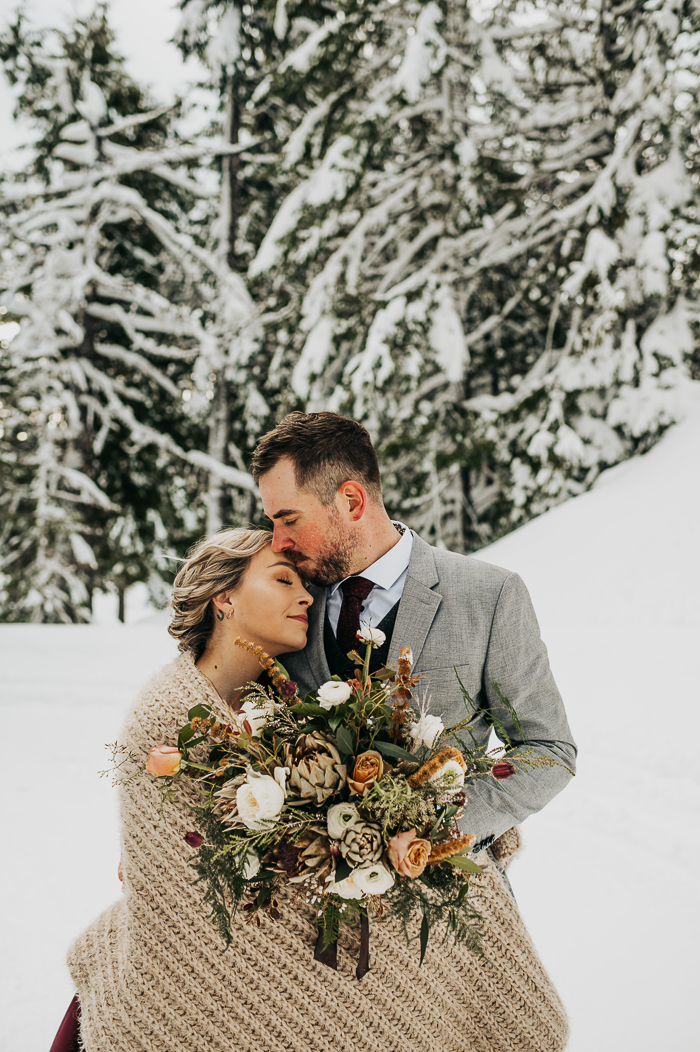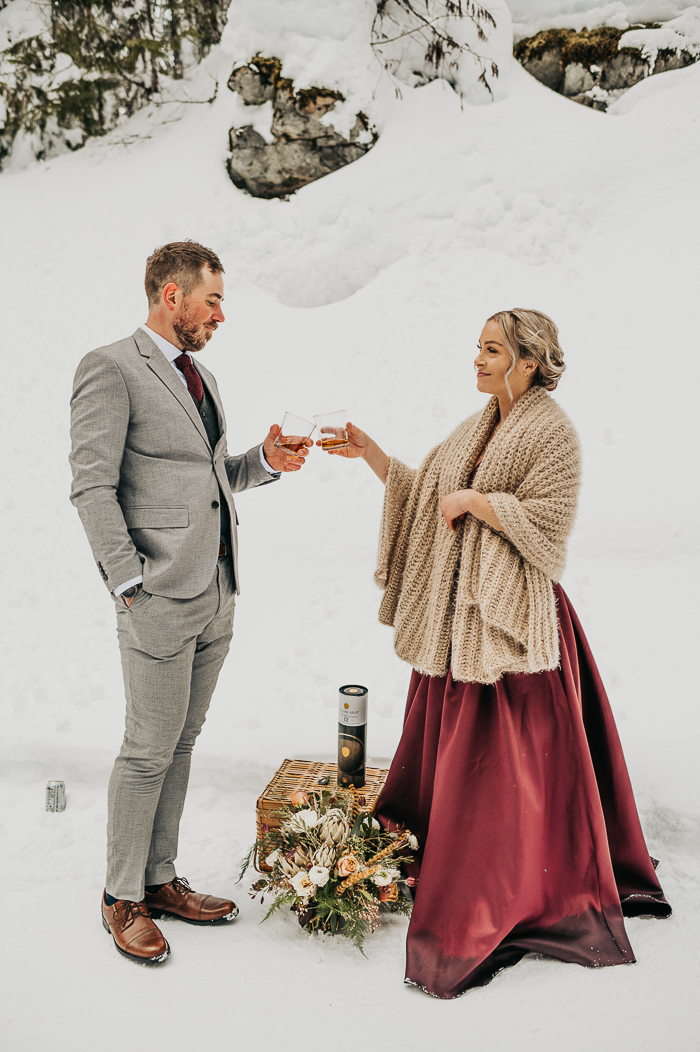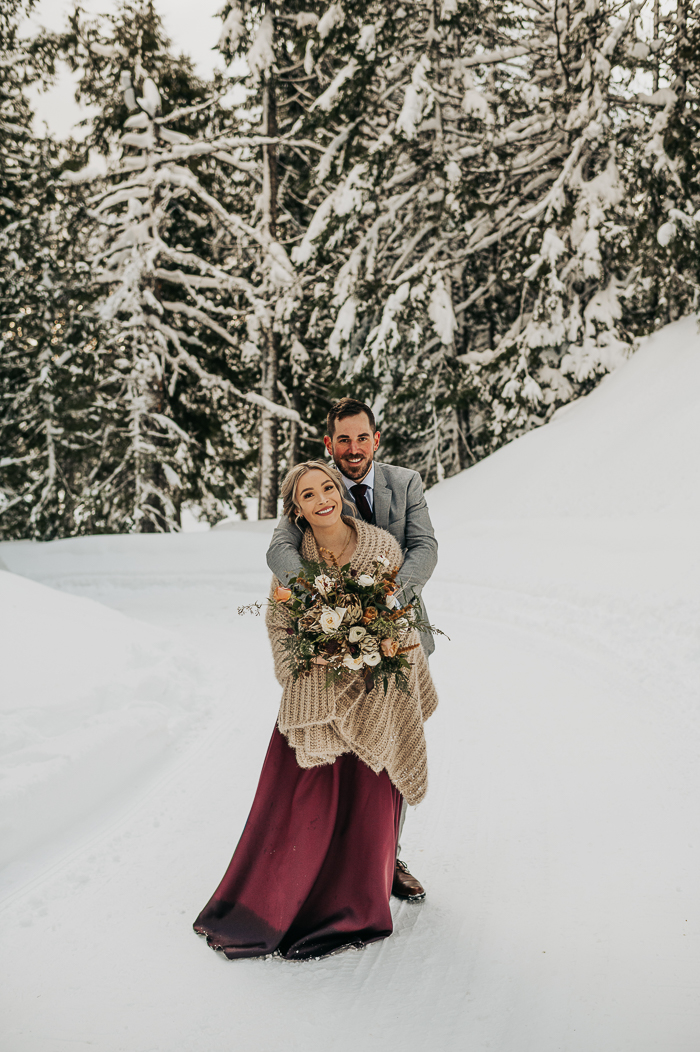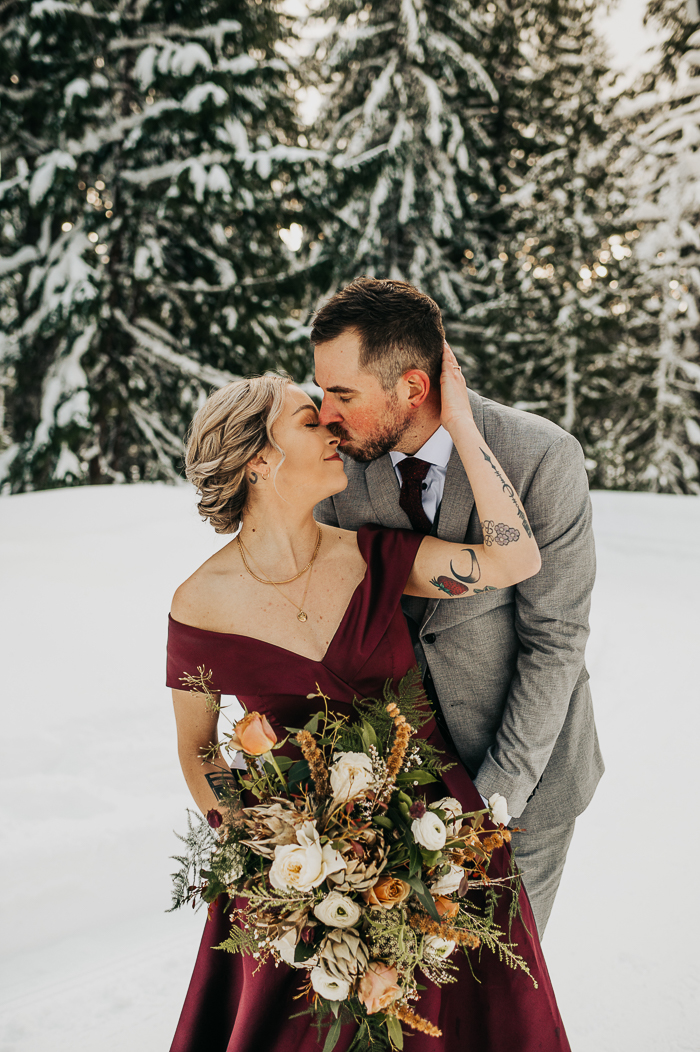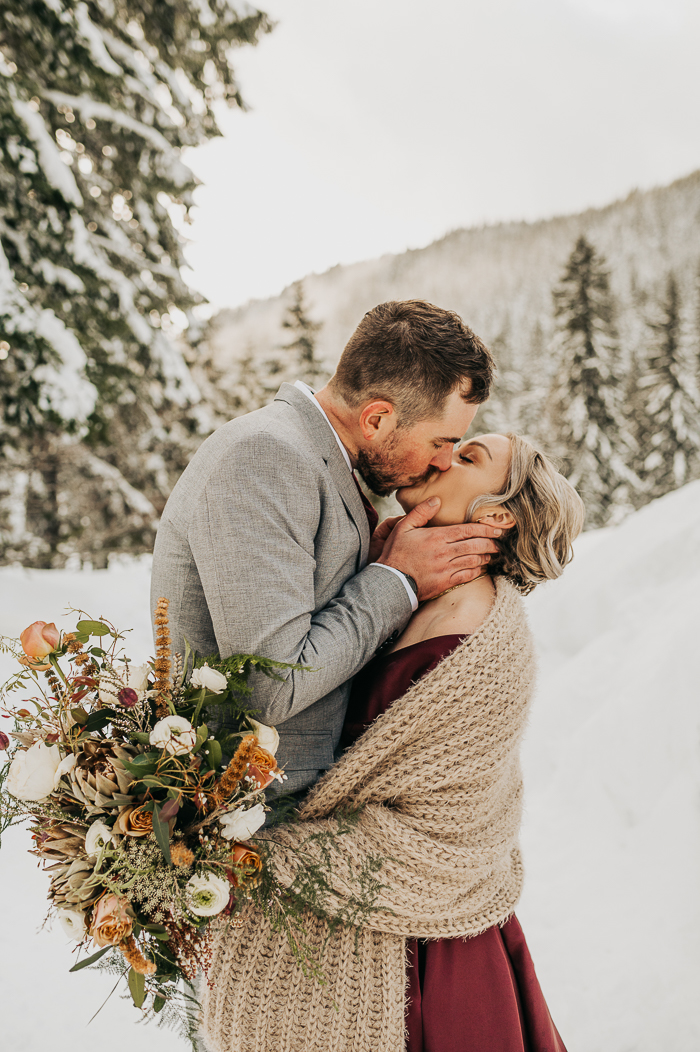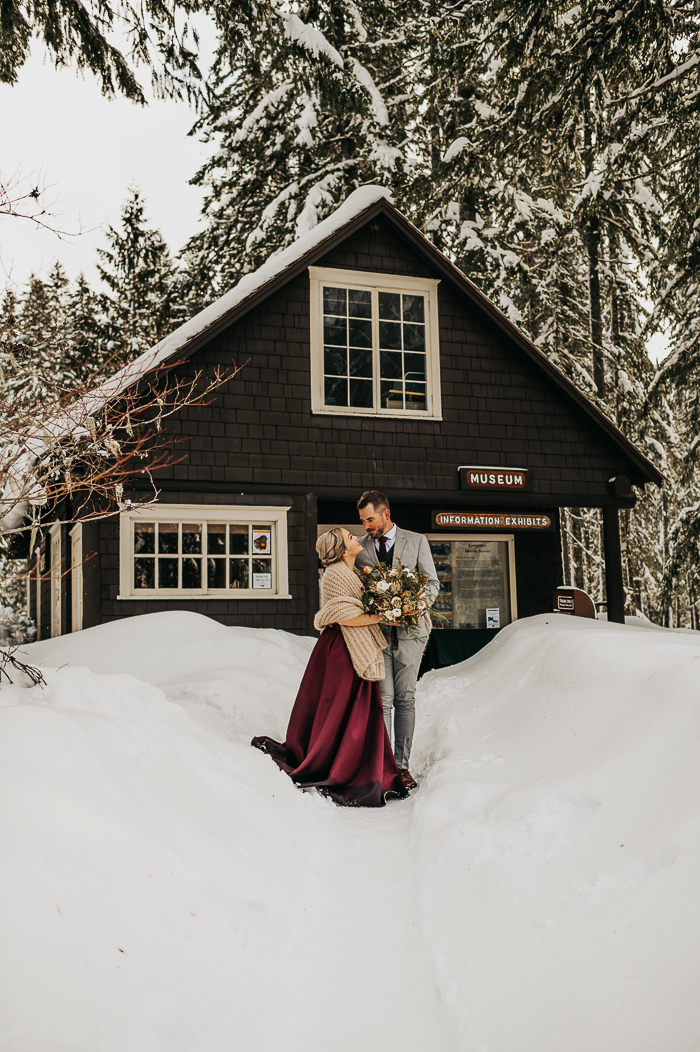 Wedding Planning Advice From The Newlyweds: Focus On What's Important To The Two Of You
Don't worry about convention and tradition when planning your wedding. Create an environment and an atmosphere that you are going to enjoy. Worry more about what it feels like rather than what it looks like. We are so proud of ourselves for sticking to our vision. For us, it was a weekend-long experience with our friends and family in the mountains, everything else didn't matter that much. Our guests have all said what a unique and awesome experience it was.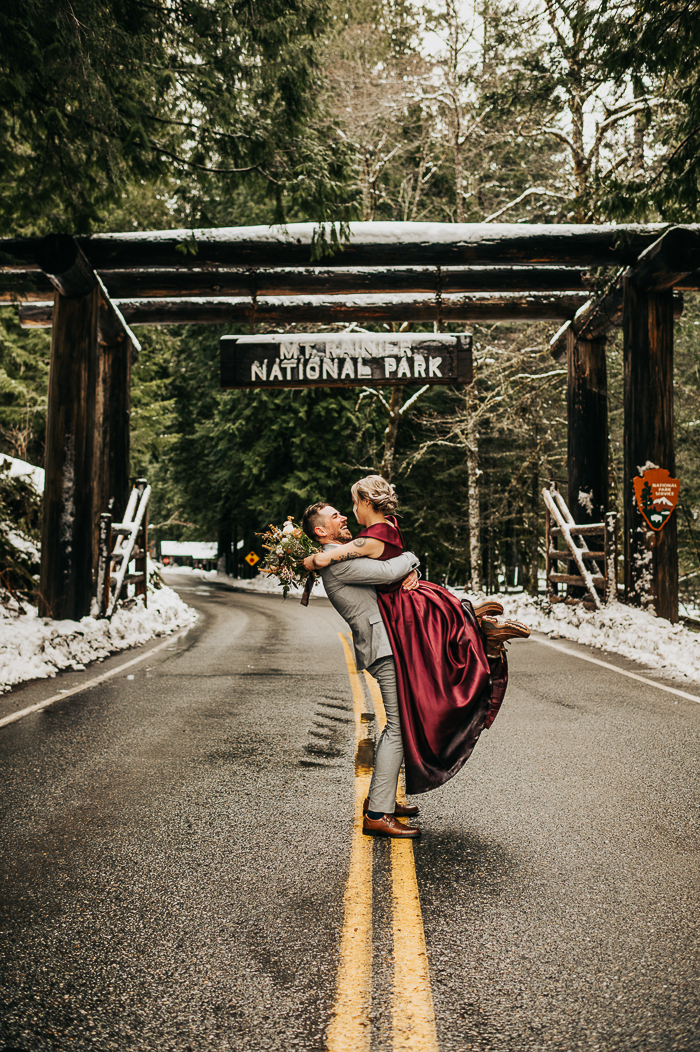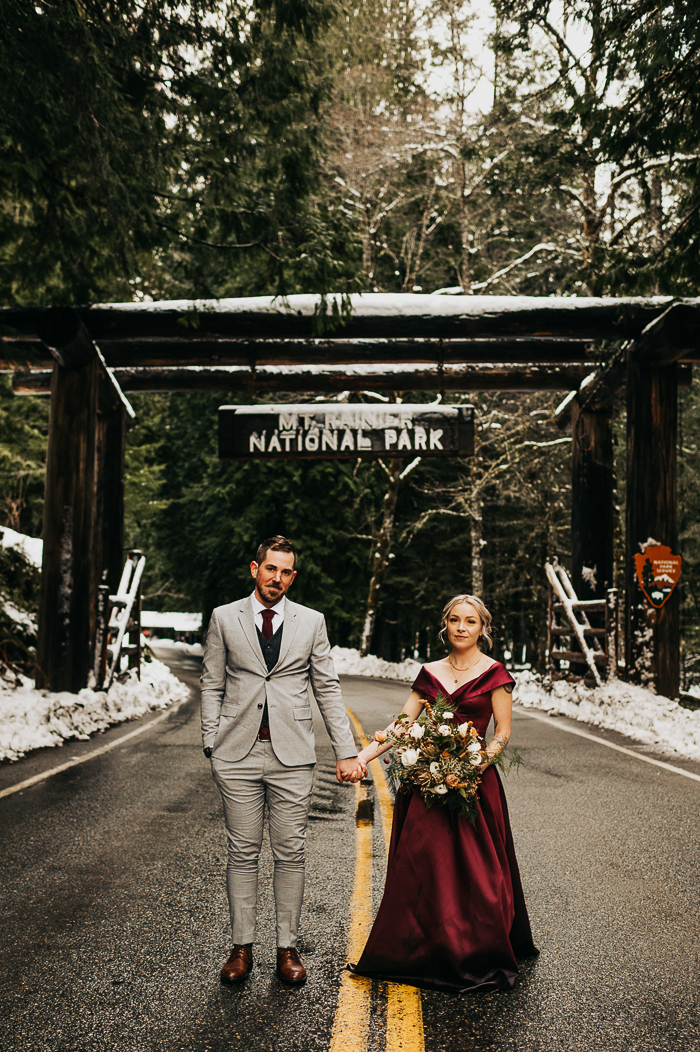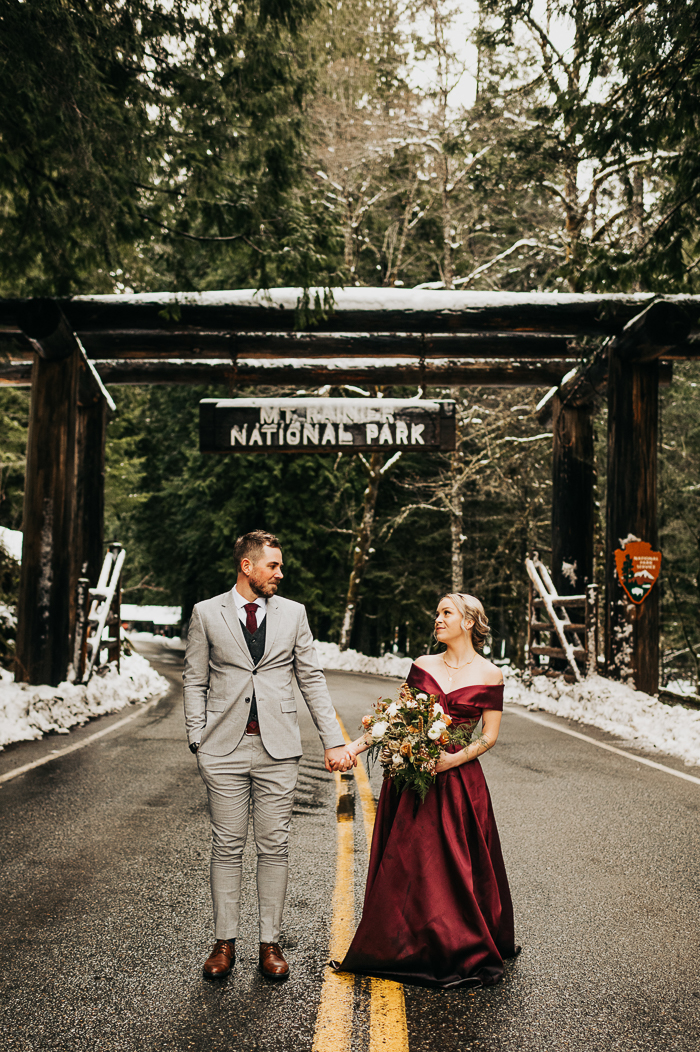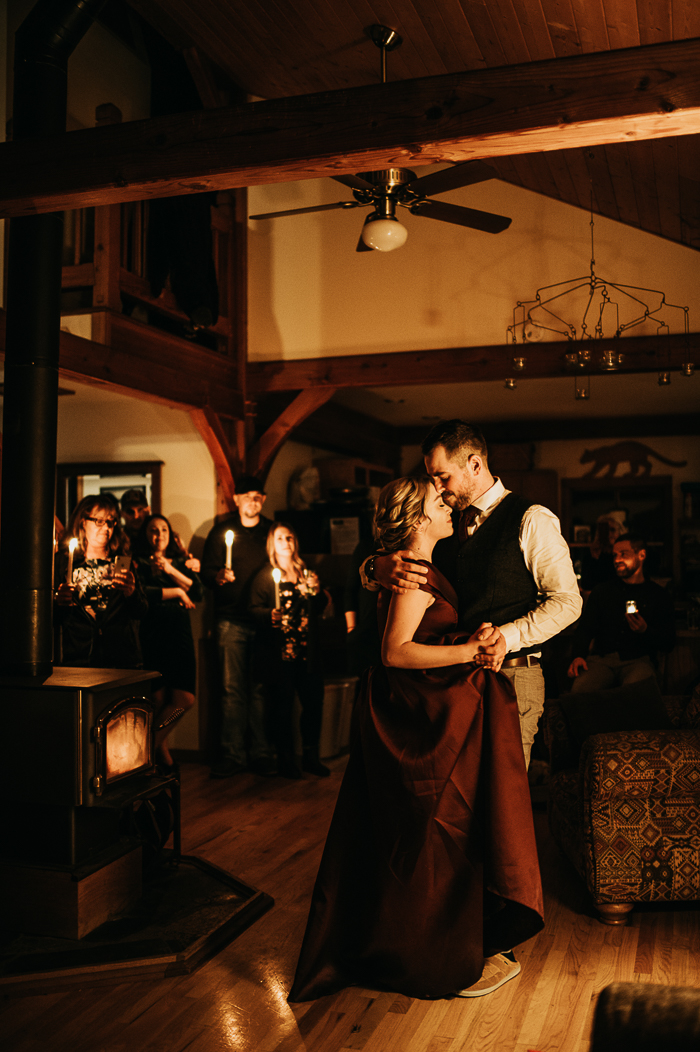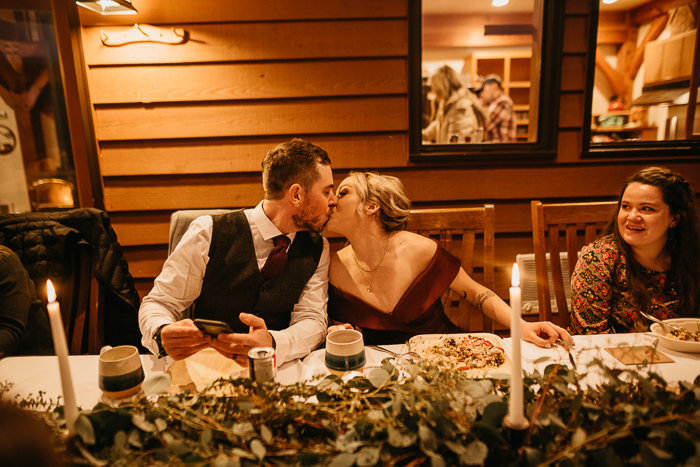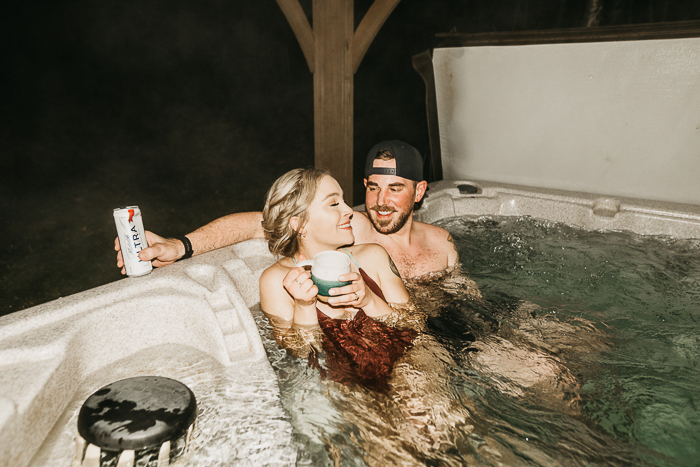 Congratulations to Lukas and Mallori on their striking wintery Mount Rainier micro wedding. And a special thank you to Junebug member Maggie Grace Photography for capturing every special moment and happy memory of the best day of their lives. To see more of her talent, check out her profile in our directory of brilliant photographers from around the world.
If you and your partner are an unconventional couple like Lukas and Mallori, then an alternative wedding venue like this one might be right for you. No matter what the season, a national park wedding is perfect if you want an epic wedding day and even more epic photos to prove it. From incredible glacial lakes to beautiful mountain peaks, find the perfect spot for your intimate wedding with our guide of the prettiest national parks!