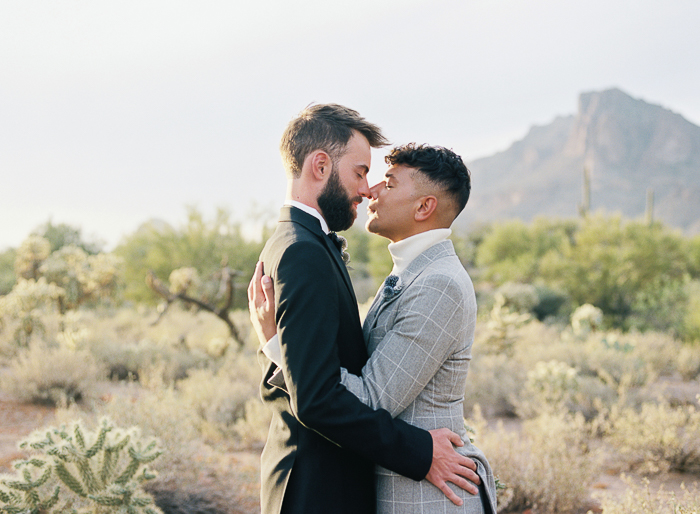 More often than not, the setting of a wedding creates the atmosphere. And nothing amplifies romance more than a picturesque secluded location, jaw-dropping desert mountain views, and an earthy boho aesthetic. With feathery florals, a soft color palette, and chic wedding fashion, Kyle and Matt's Arizona desert wedding certainly had the swoon-worthy factor. With the help of their amazing vendor team, the pair pulled off a timeless yet unconventional celebration with their closest and dearest loved ones.
With a geometric arch perfectly framing the majestic mountains in the background, the pair said their sweetest "I dos." The reception on-site featured a charming al fresco dining setting under the stars and string lights complete with a cozy lounge and a chic vintage camper. It was a romantic, intimate Arizona desert wedding with one heck of a view!
If dreamy boho vibes are your thing, then get ready to be blown away. Their special day was brimming with emotional moments and panoramic desert views, all of which Saje Photography captured so beautifully. Scroll down to see what we mean.
The Couple:
Kyle & Matt
The Wedding:
Superstition Mountains, Apache Junction, Arizona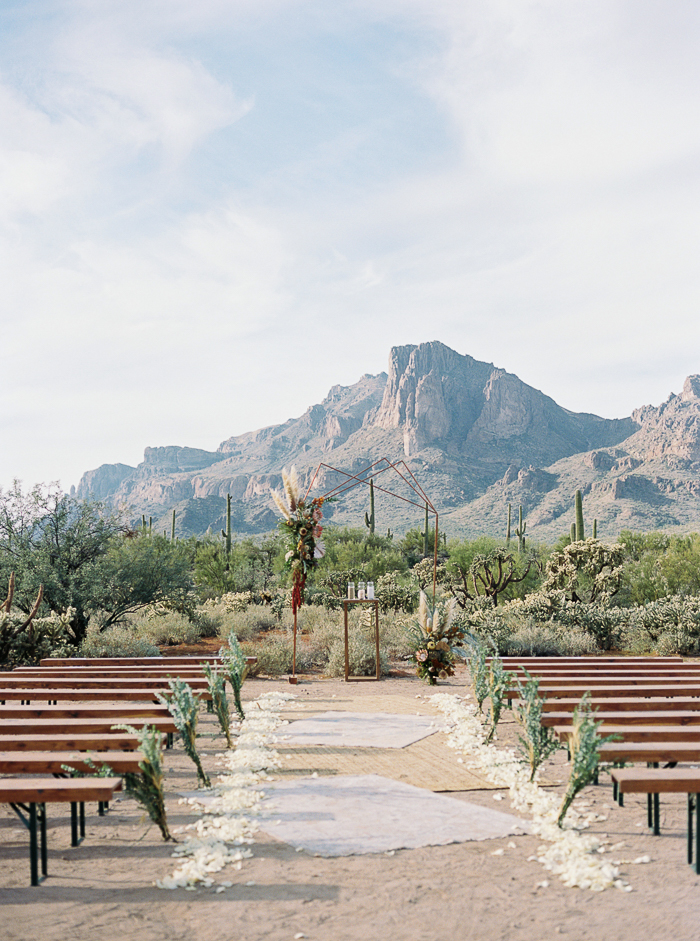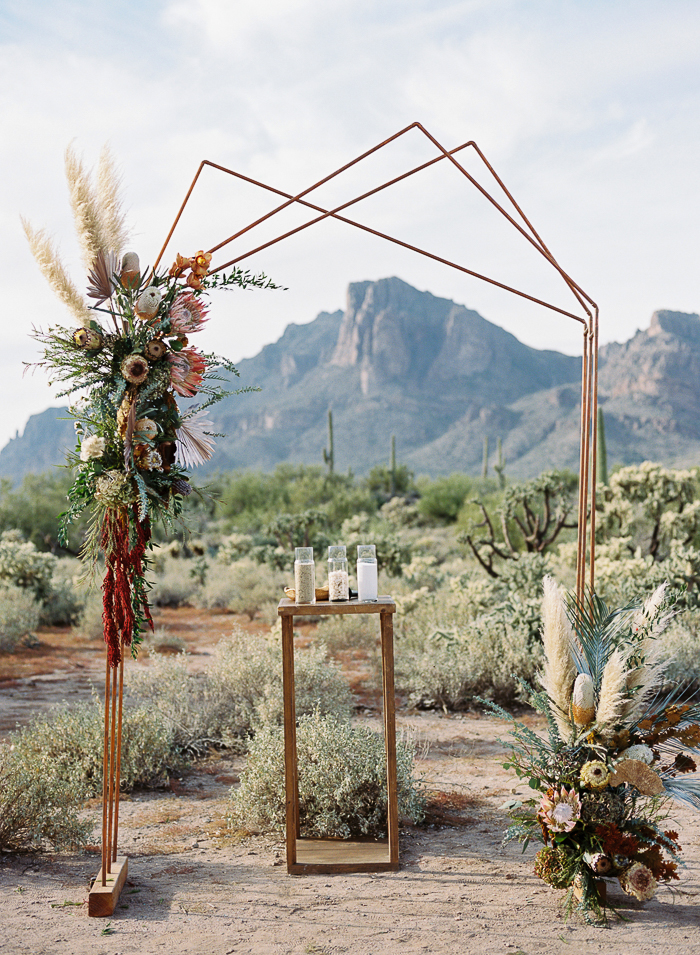 Finding The Perfect Officiant Whose Values Perfectly Aligned With Theirs
It was important for us to find a wedding officiant who could speak to our Christian faith while recognizing that the wedding could feel untraditional for a same-sex couple. Although many trailblazers came before us doing the same, it felt like a first for many of the guests.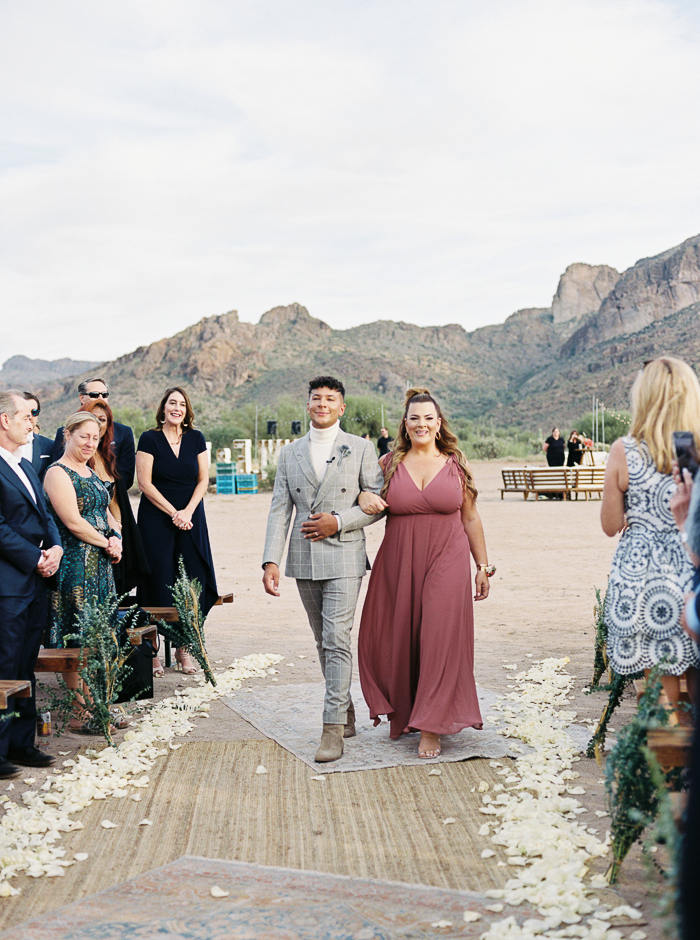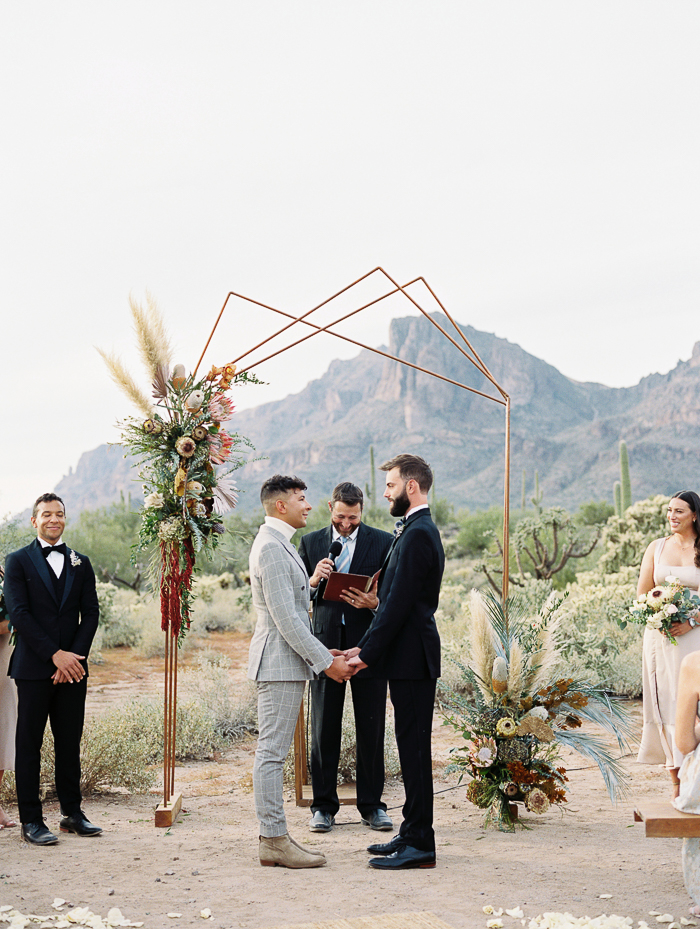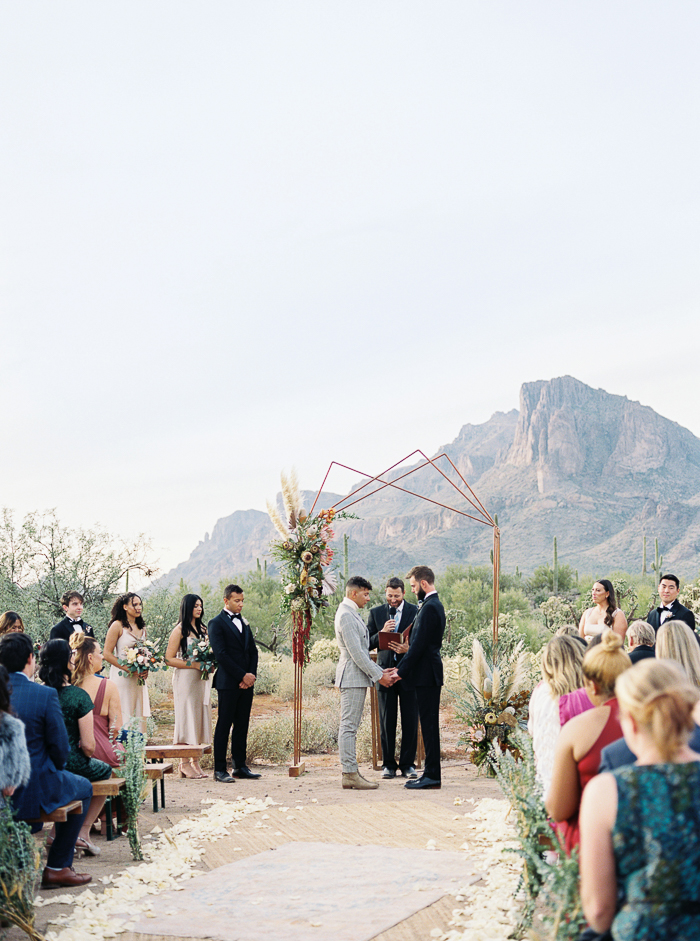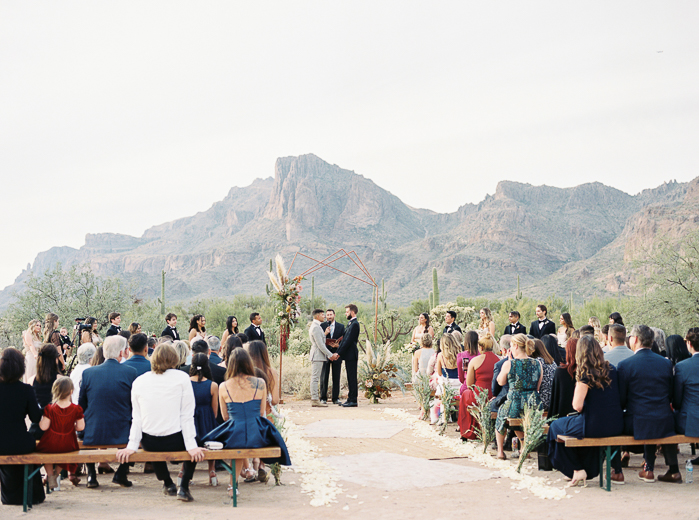 Personalizing Their Ceremony By Drawing Inspiration From Their Love Story
We leaned heavily into storytelling during the ceremony. Our officiant was incredible–one of the most talented speakers I know. He did an excellent job telling our story from start to finish by highlighting key dates, favorite bible verses, jokes, and, most importantly, our faith.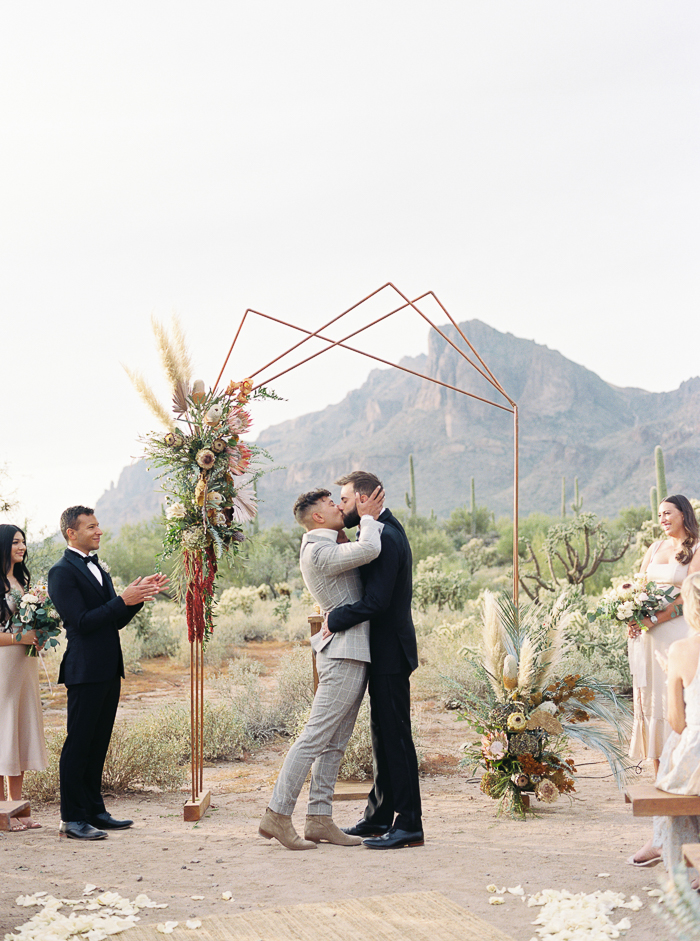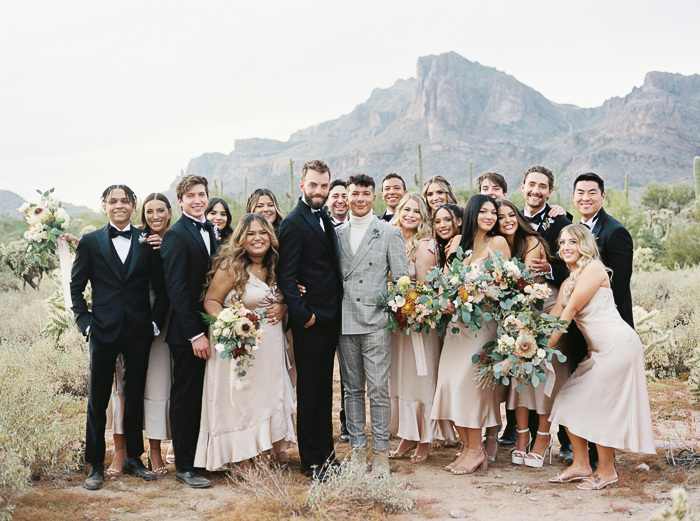 Shop similar bridesmaid dresses: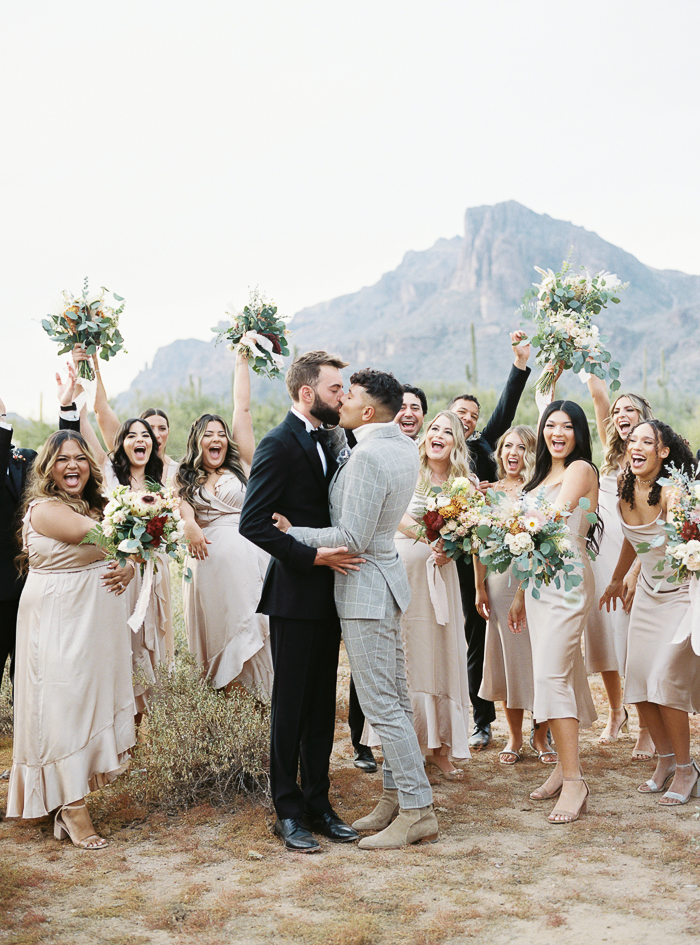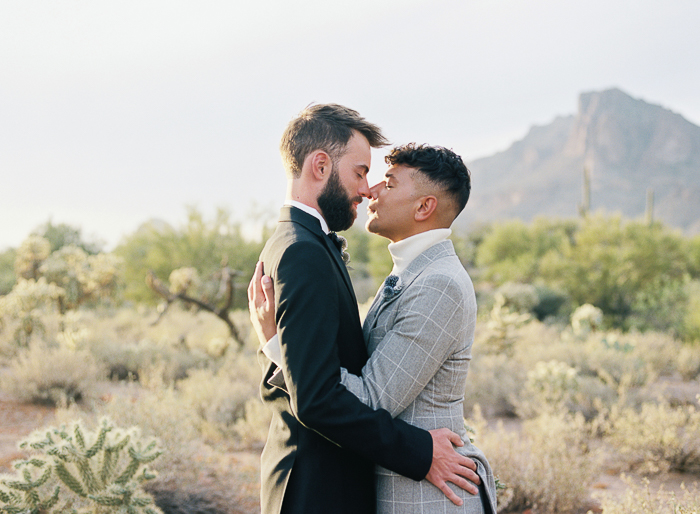 How The Elegantly Boho Arizona Desert Wedding Came To Be
Our initial wedding was planned to take place in Temecula, CA which was exciting because it celebrated my upbringing in New York surrounded by gorgeous wineries. However, due to COVID, we had to postpone the wedding. During the pandemic, we spent some time in Palm Springs as a 'get out of the house' effort and fell in love with the desert. Fast forward to mid-2020, we moved to Scottsdale, AZ. We wanted the wedding to speak for itself using the natural beauty of the desert. I like to call our decor style and set up 'organic,' pulling from the best parts of nature in the middle of nowhere.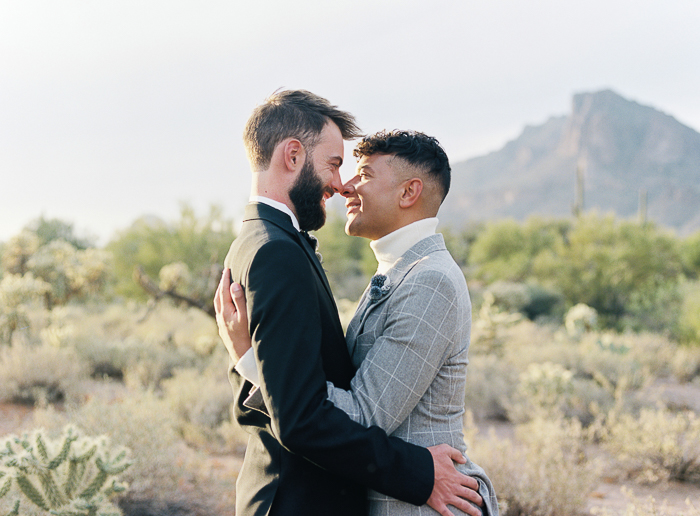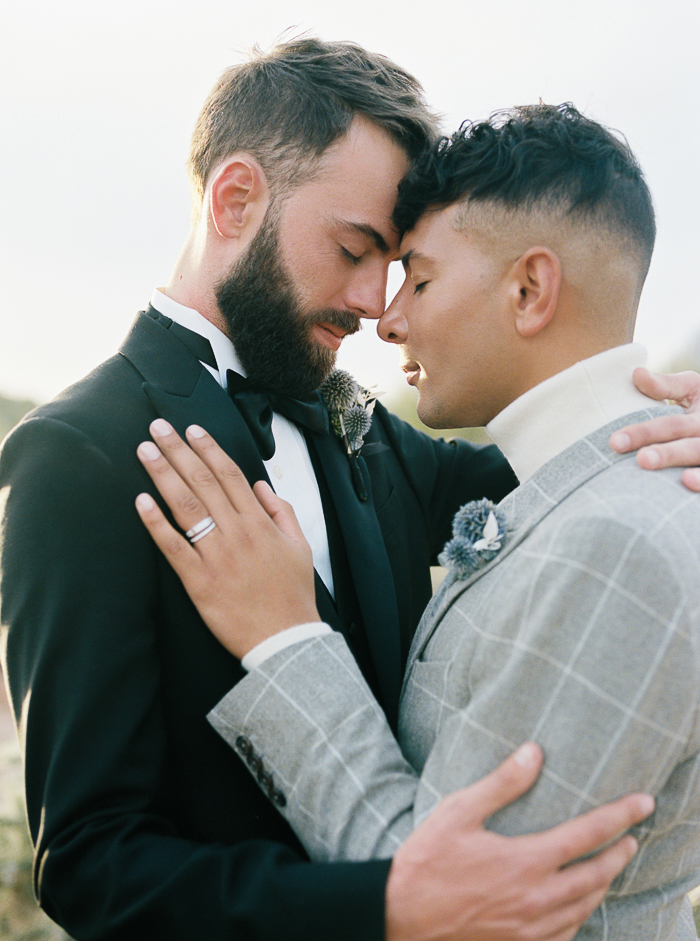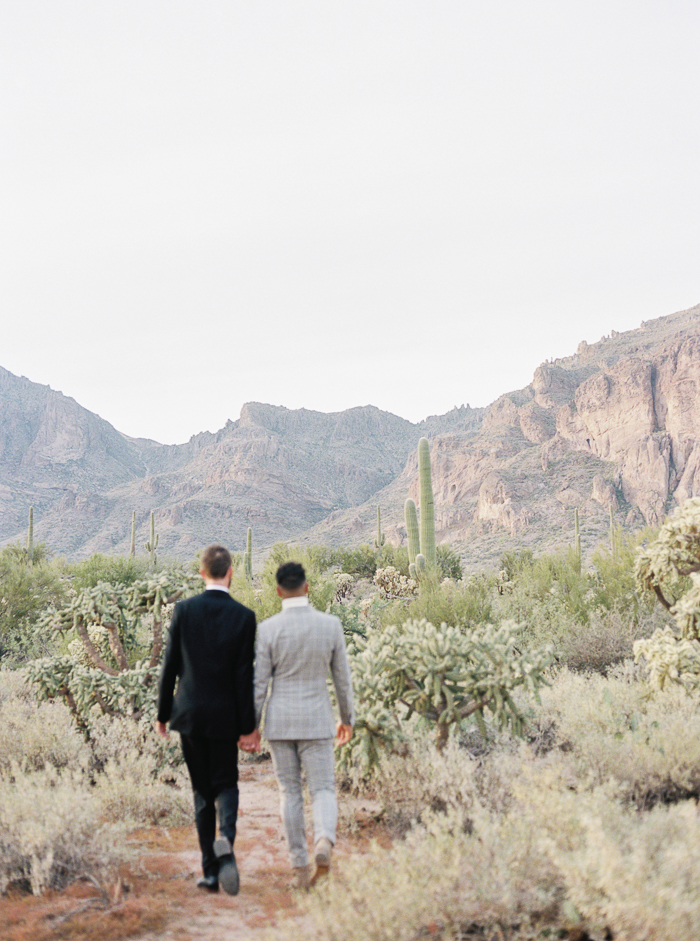 Advice For Creating An Intimate Guest List
We are so proud of every component, but I believe we are most proud of our intimate guest list. The event was filled with people we genuinely know and love. If someone is not an "absolute yes," then it's okay to protect your special day by politely not adding them to your guest list.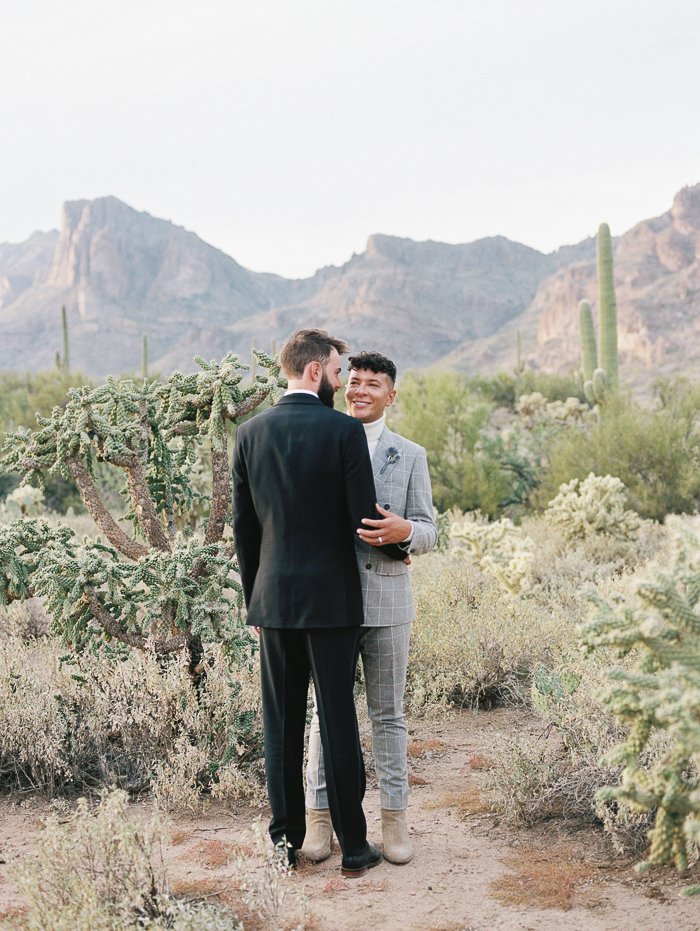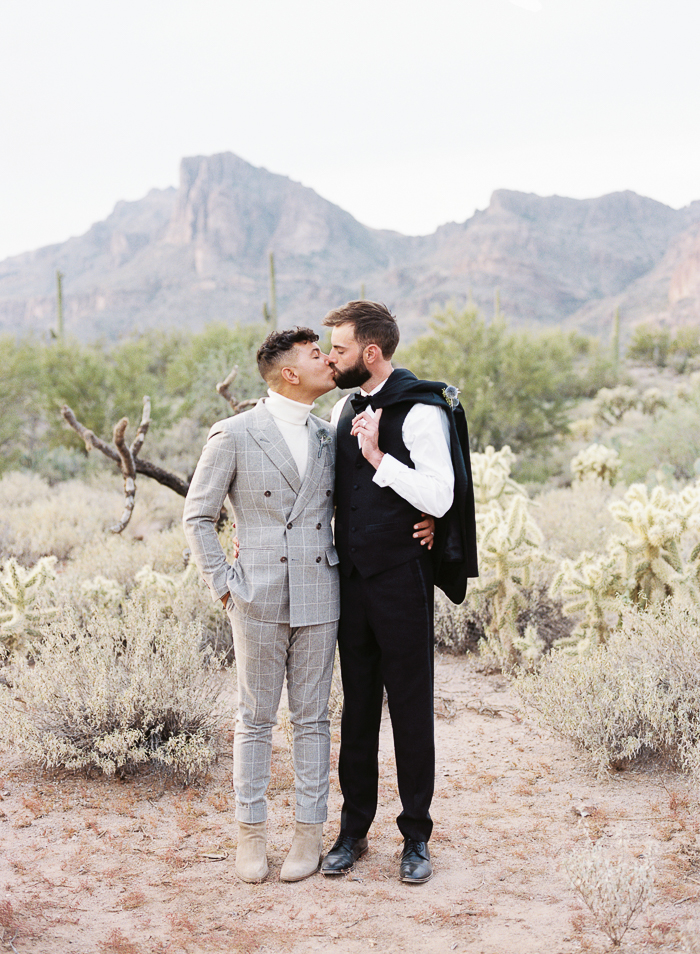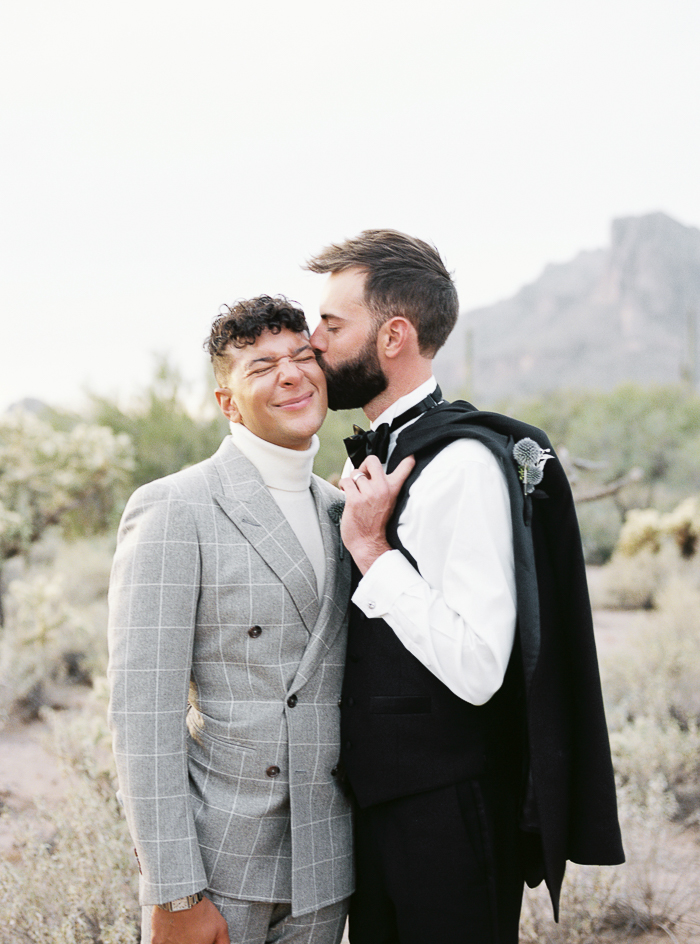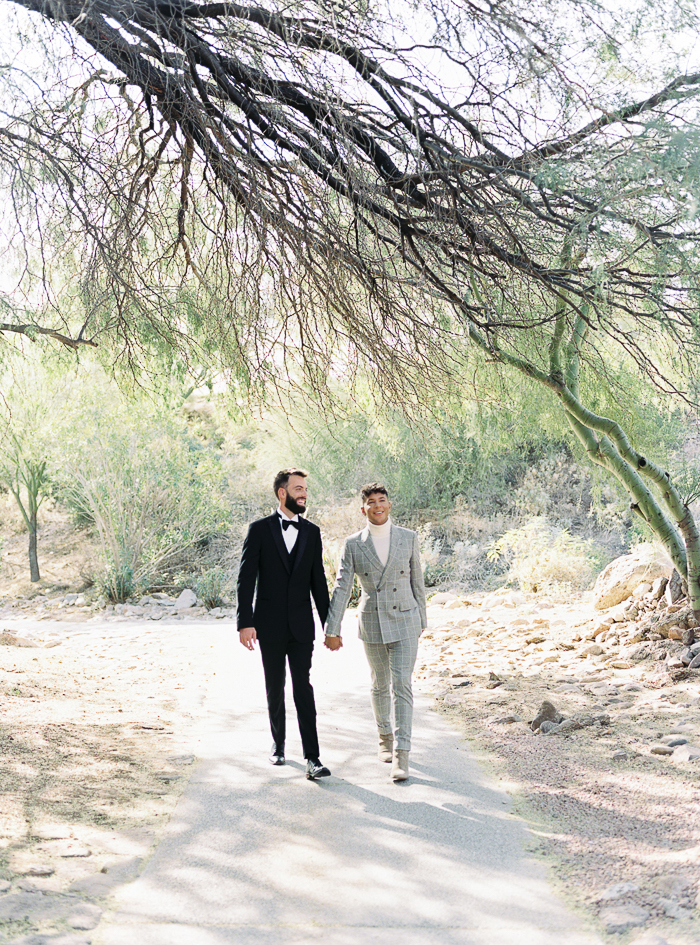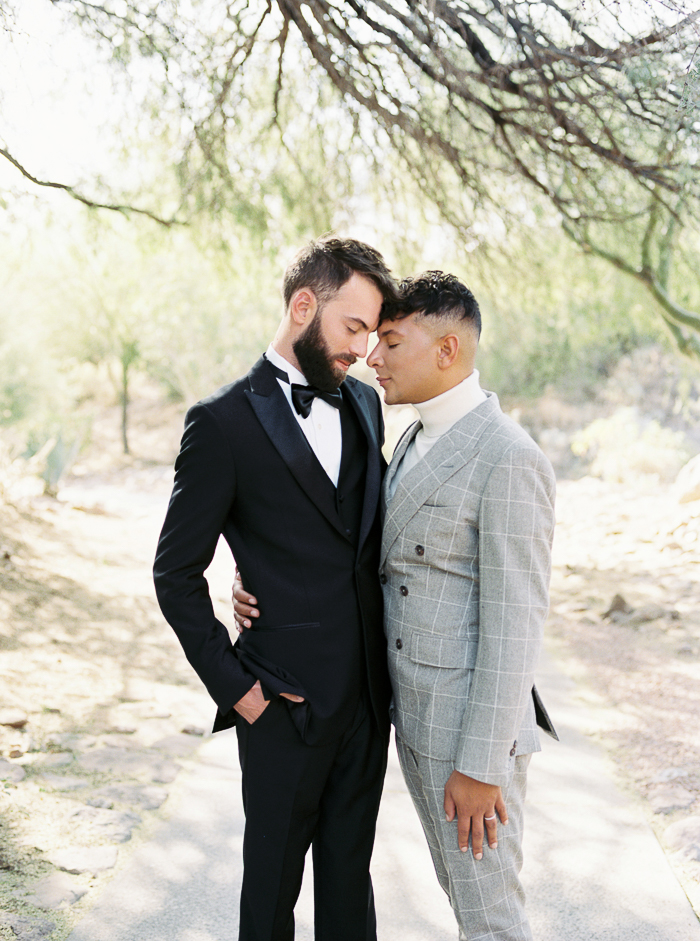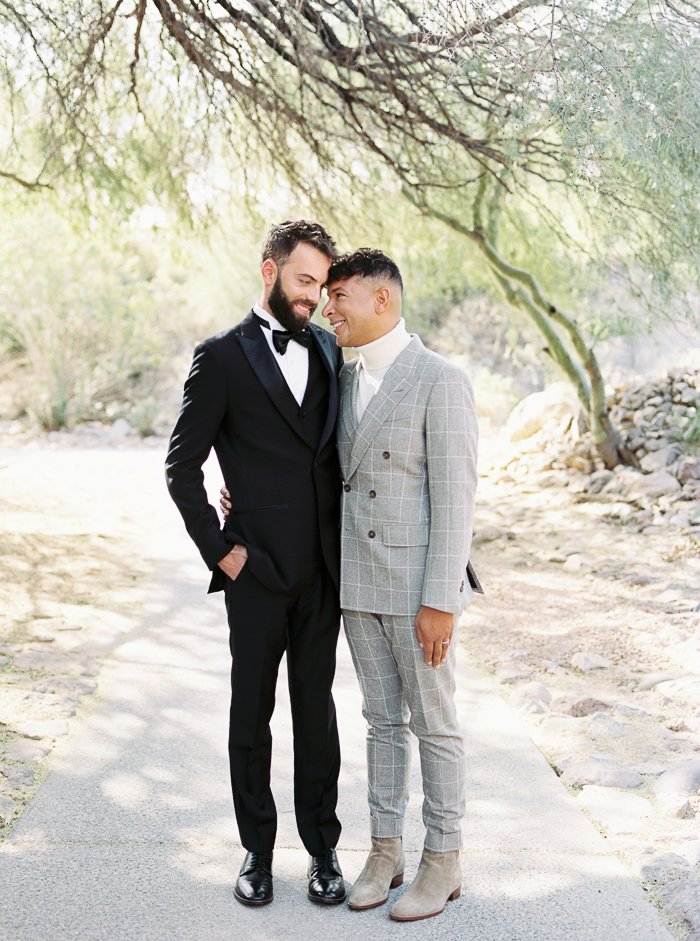 Why You Should Find A Photographer That Fits Your Personal Style
I didn't realize how important our level of comfortability with our photographer was until I spent the day with Samantha and her team. My biggest piece of advice is to find a photographer that fits your style and, of course, has wonderful talent, but also lean into the qualities and characteristics that are most important to you. For us, that was kindness, hard work, grace, and good communication. Saje Photography embodies all that, and we plan to use them for all projects and future life events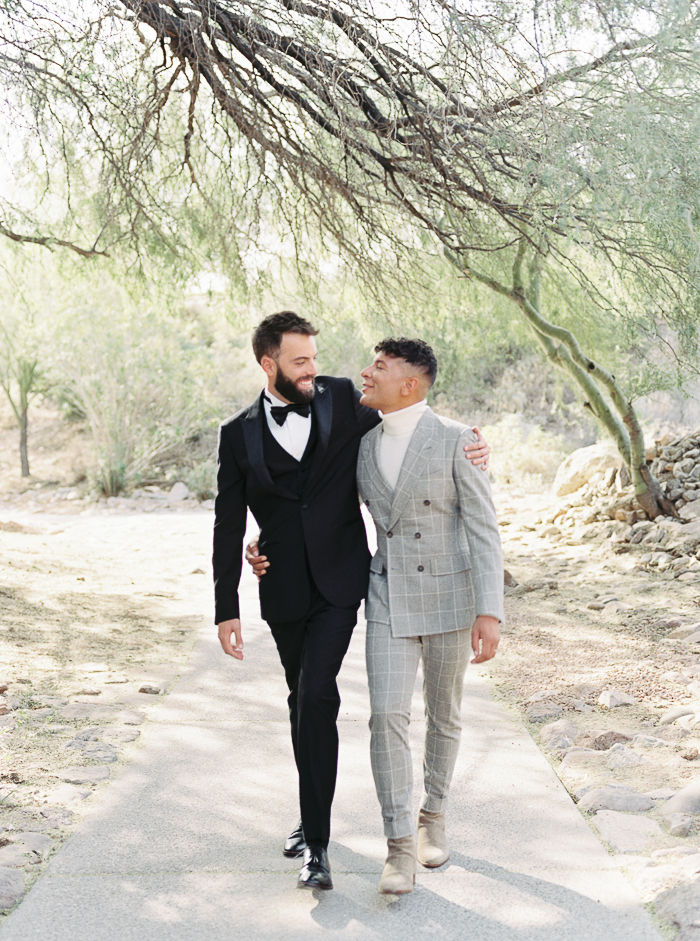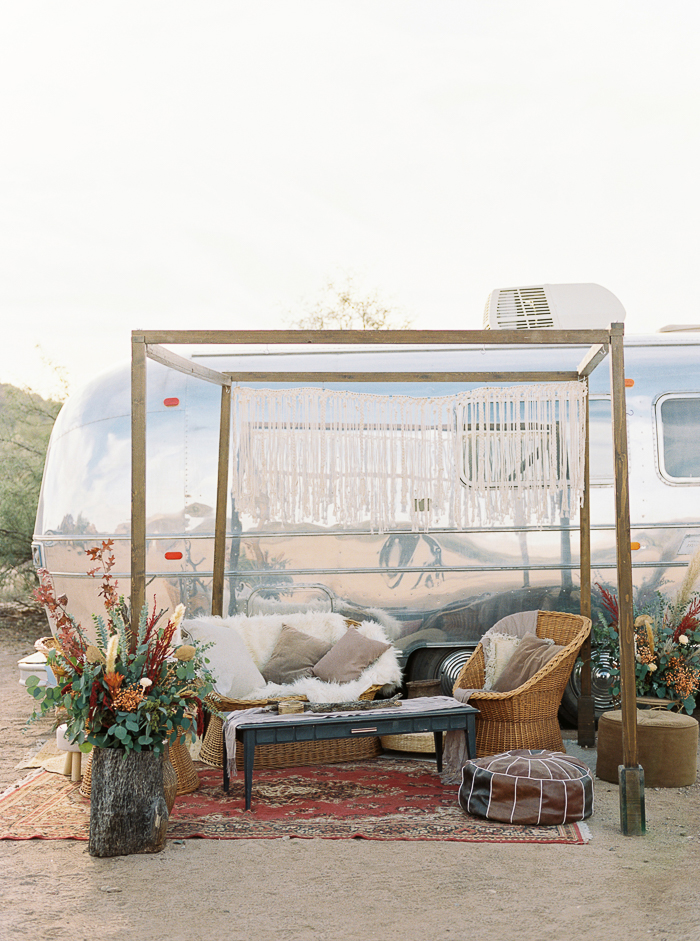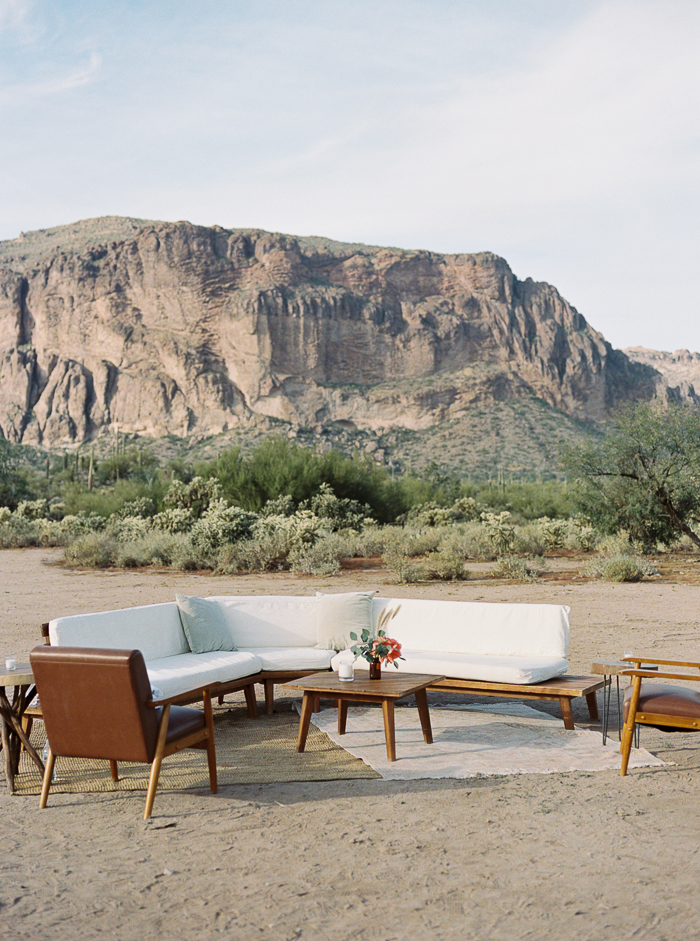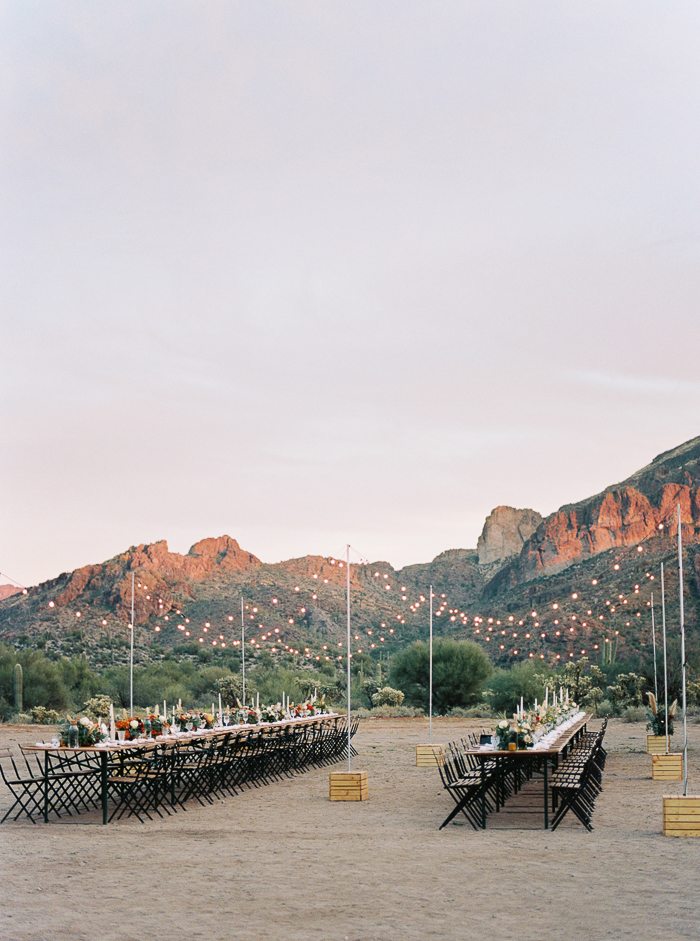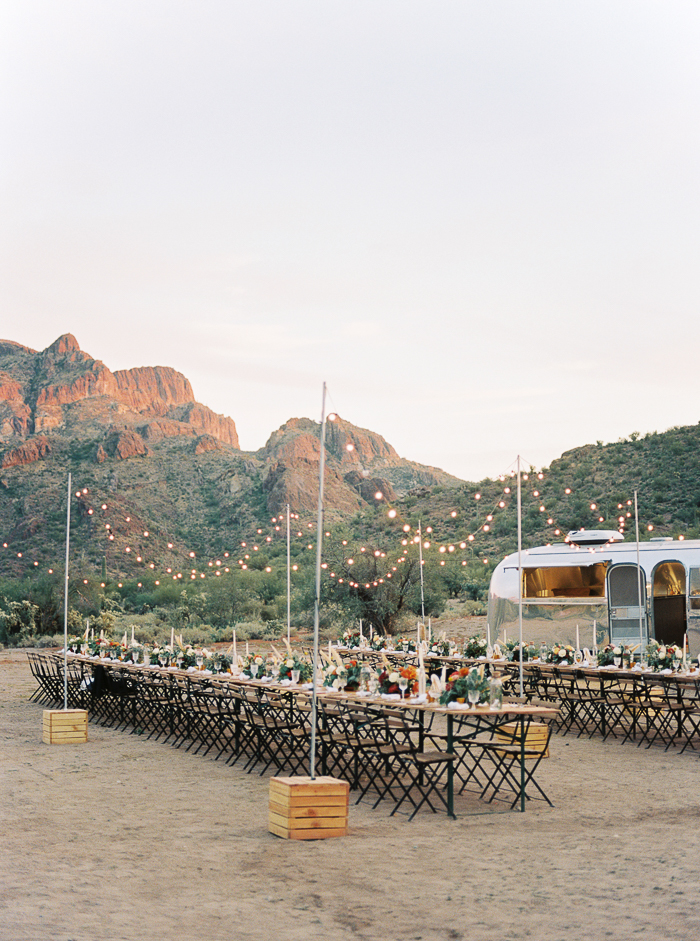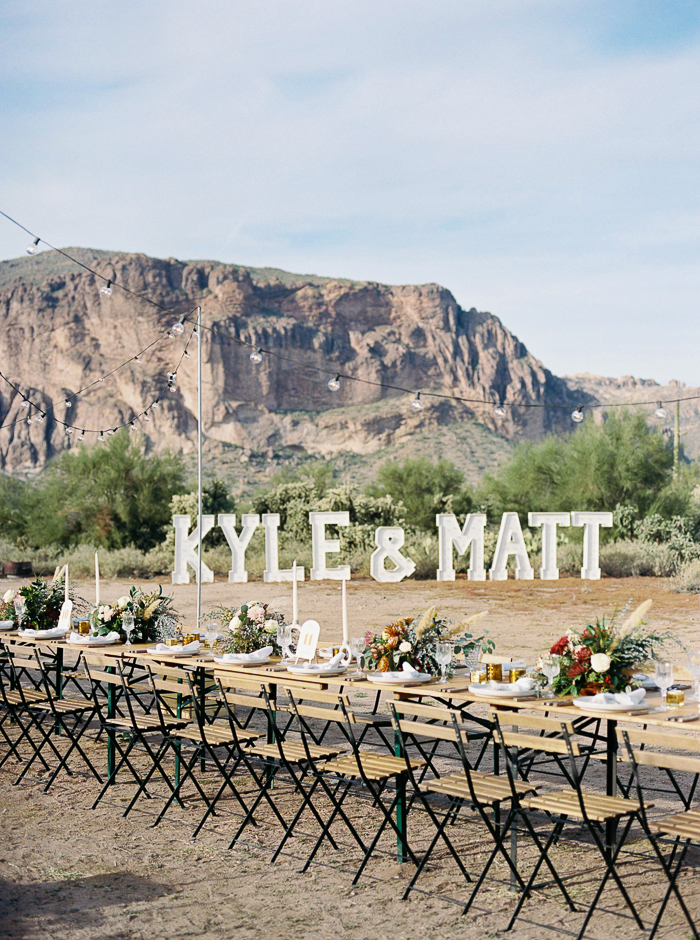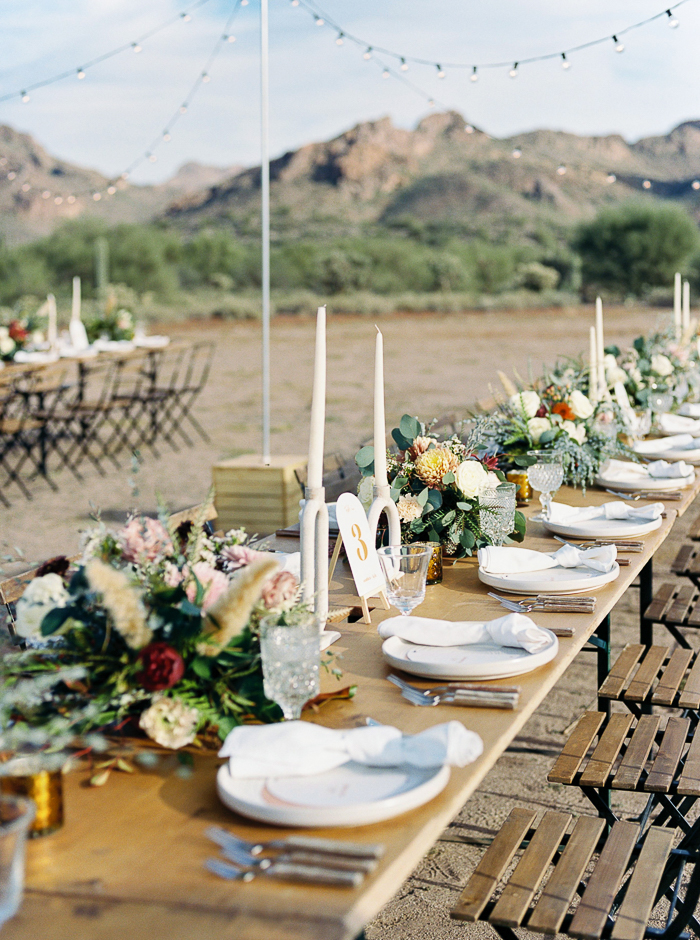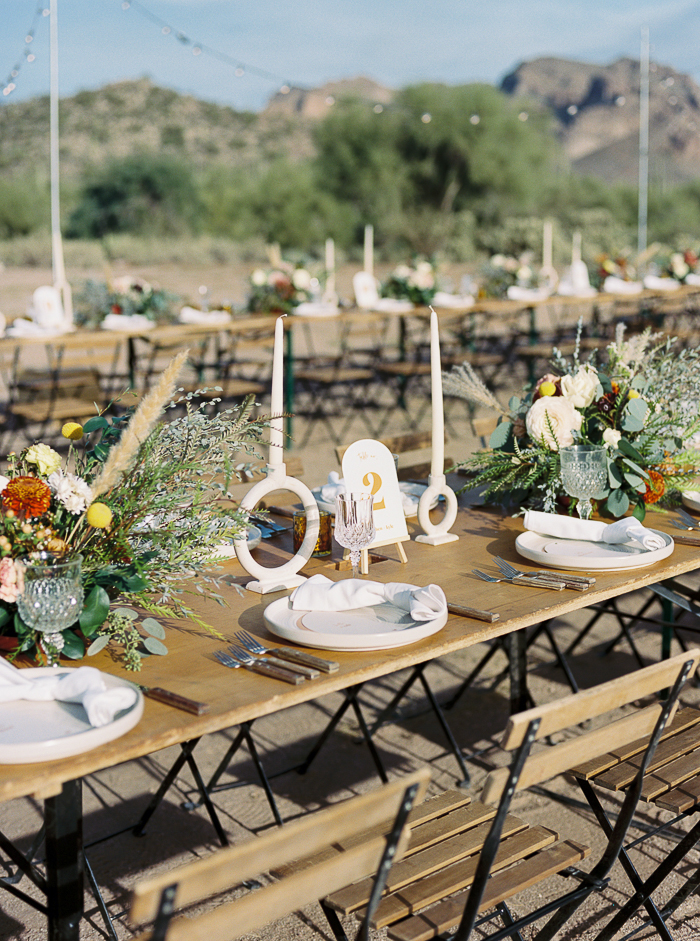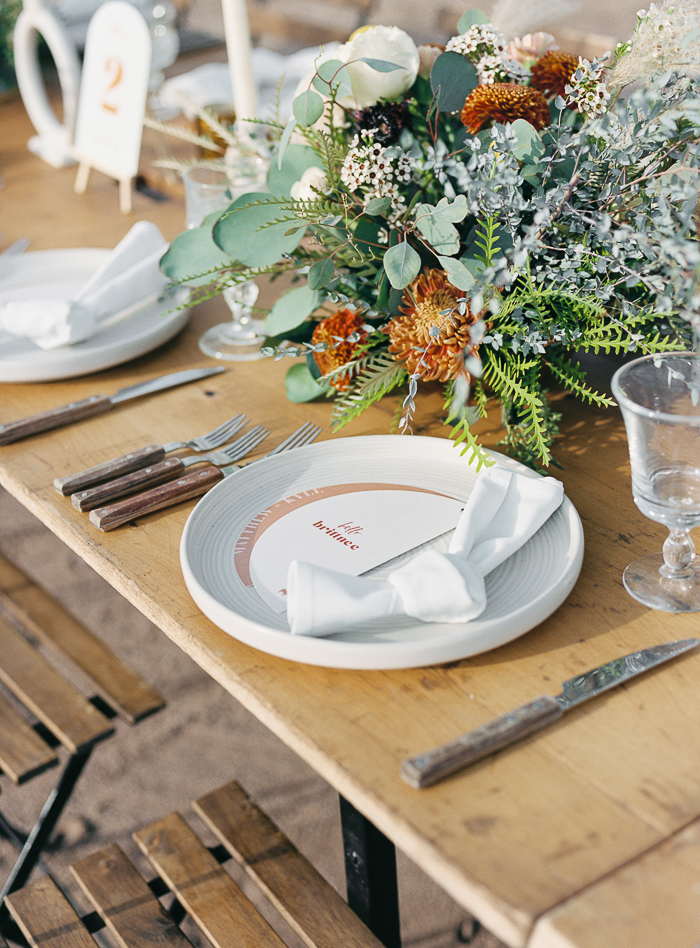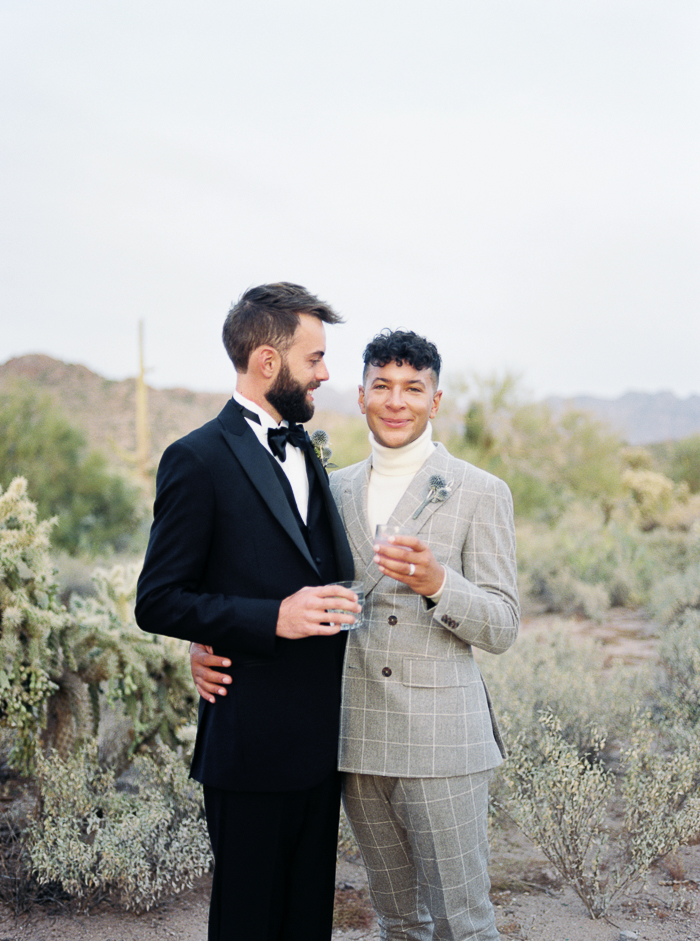 Congratulations to Kyle and Matt on their elegantly boho Arizona desert wedding. And big thanks to Saje Photography for capturing and sharing this dreamy wedding with us. Whether you've set your sights on an intimate affair like this one, or a lavish celebration with nature as your backdrop, break away from the mold and take inspiration from these unique wedding ideas.