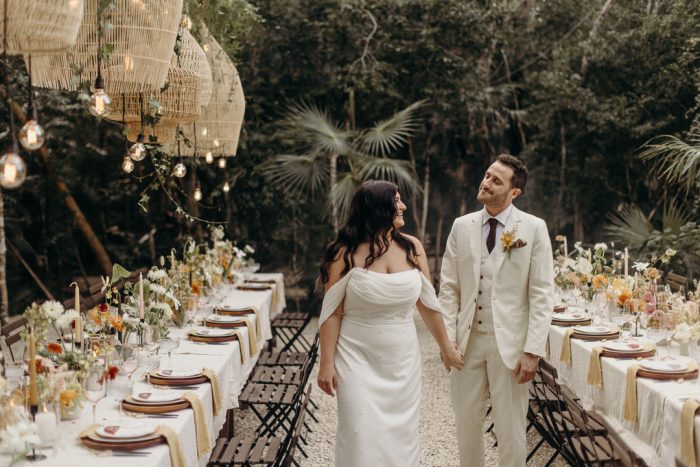 Julia and Bryan always dreamed of having a destination wedding. And with a long engagement prior to the pandemic, they had plenty of time to plan every detail starting with their venue. When they came across a video of their chosen venue, they knew it was perfect for them. Naturally secluded by its tropical fortress, the vast property immediately captured their hearts. And with a venue like this, their KIMA Tulum wedding was anything but ordinary. They chose warm colors that matched the greenery and modern architecture, adding black and neutral tones. It created a unique atmosphere that reflected their personalities as a couple and individuals.
The ceremony took place in a secluded jungle cove, with a lush arch as the focal point. For the reception, KIMA transformed into an enchanting oasis with different spaces for everyone to escape and enjoy. The dance floor had a fun disco vibe, with ethereal baby's breath clouds and disco balls. They created a mesmerizing jungle-inspired setting, with the standout feature being the greenery and rattan pendant lamps suspended above the tablescape.
They ensured every detail had a purpose, meaning, and a personal connection. From the unique pop 60s style table numbers showcasing their love for modern mid-century to the beautifully designed dining menus with watercolor elements and a hidden hummingbird (a nod to their quirky love for birds), their attention to detail was remarkable. You can see it all through the captivating images captured by Junebug members MemoryBox. Trust us. You won't want to miss this unforgettable celebration in paradise.
The Couple:
Julia and Bryan
The Wedding:
KIMA Tulum. Mexico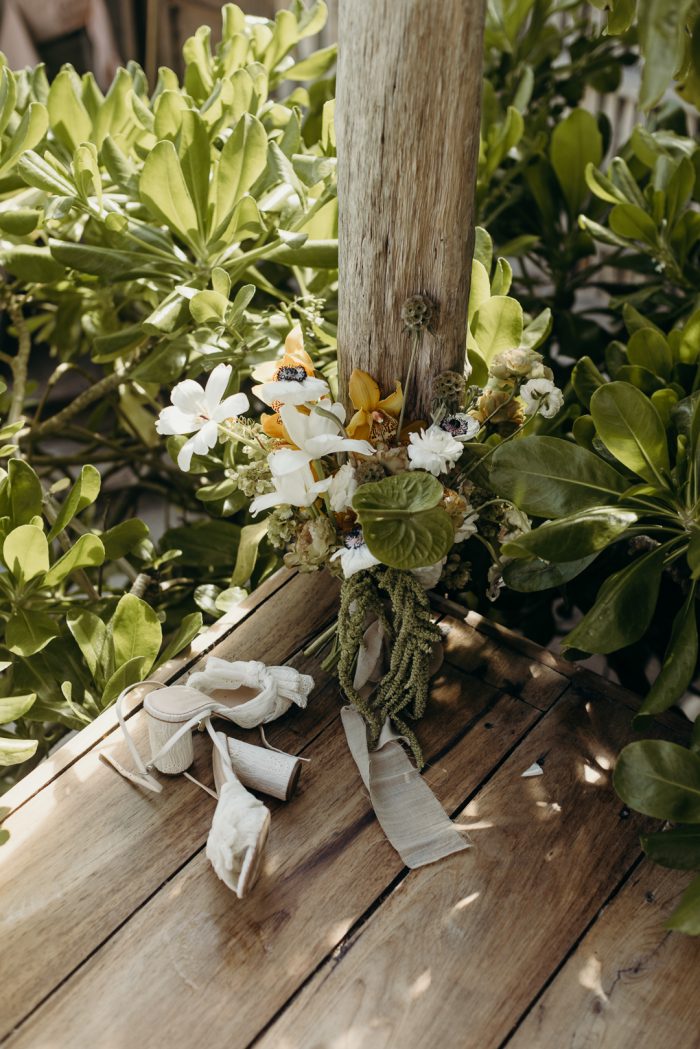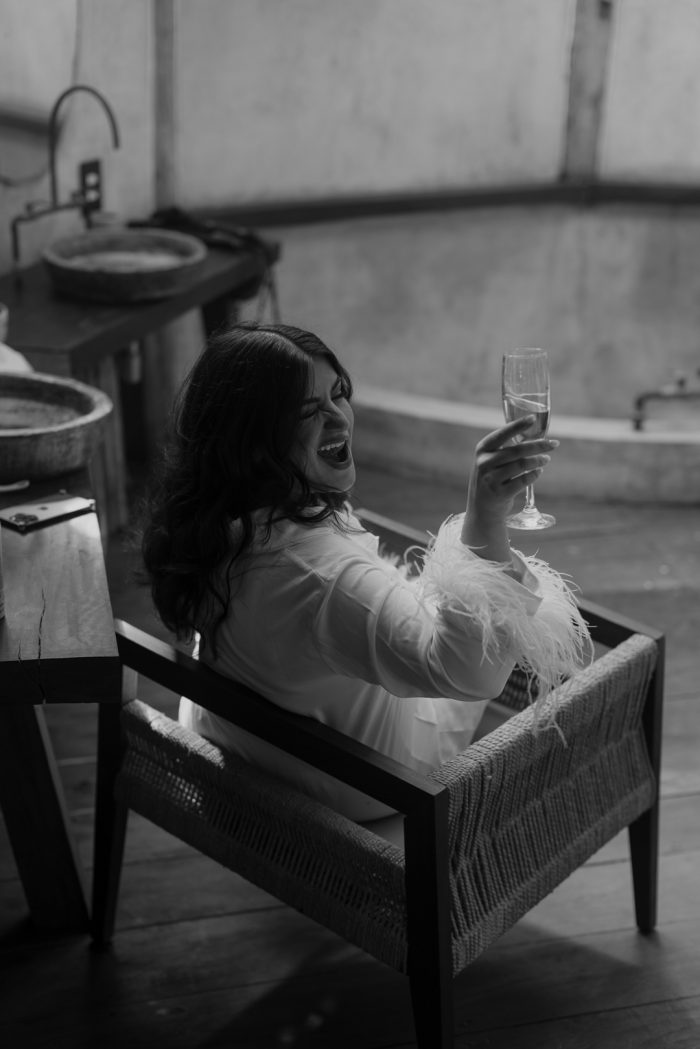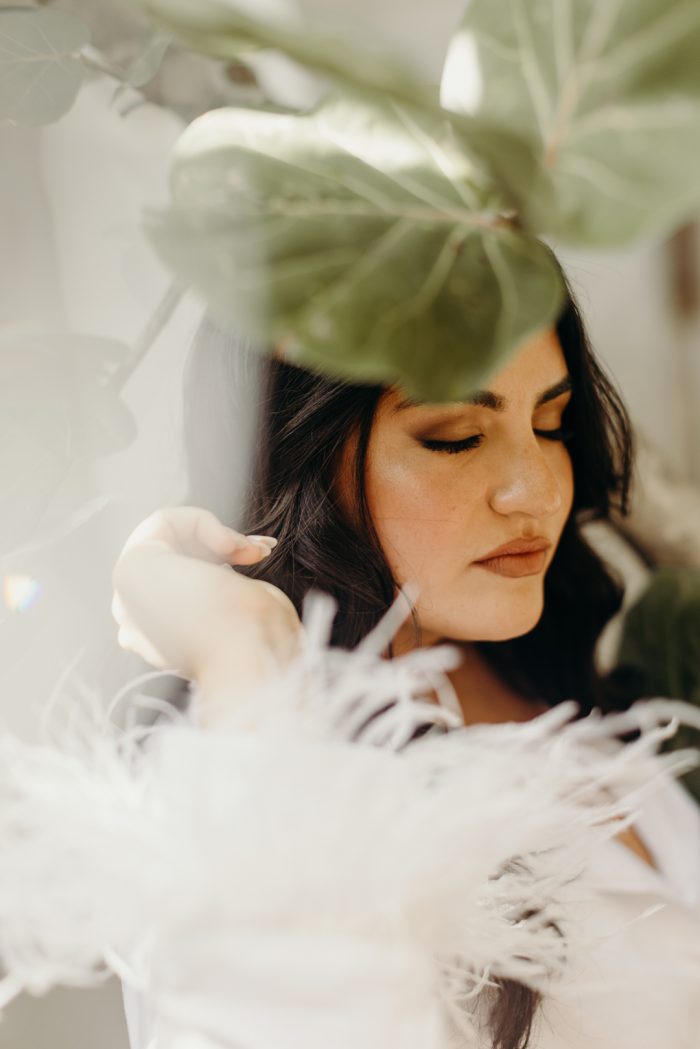 Why A Kima Tulum Wedding
We always dreamed of a destination wedding, and with a long engagement before the pandemic, we had enough time to plan everything. Tulum was our destination for its incredible food, pleasant weather, friendly locals, beautiful nature, and unique architecture. When we stumbled upon a video featuring the very first wedding at KIMA, we knew it was the perfect venue for us. The vast and secluded property and its breathtaking beauty instantly captivated us. After visiting the venue in person, we were utterly convinced. Despite its modern style, KIMA allowed us to add our personal touch through furniture, flowers, and signage, making it the perfect setting for our special day.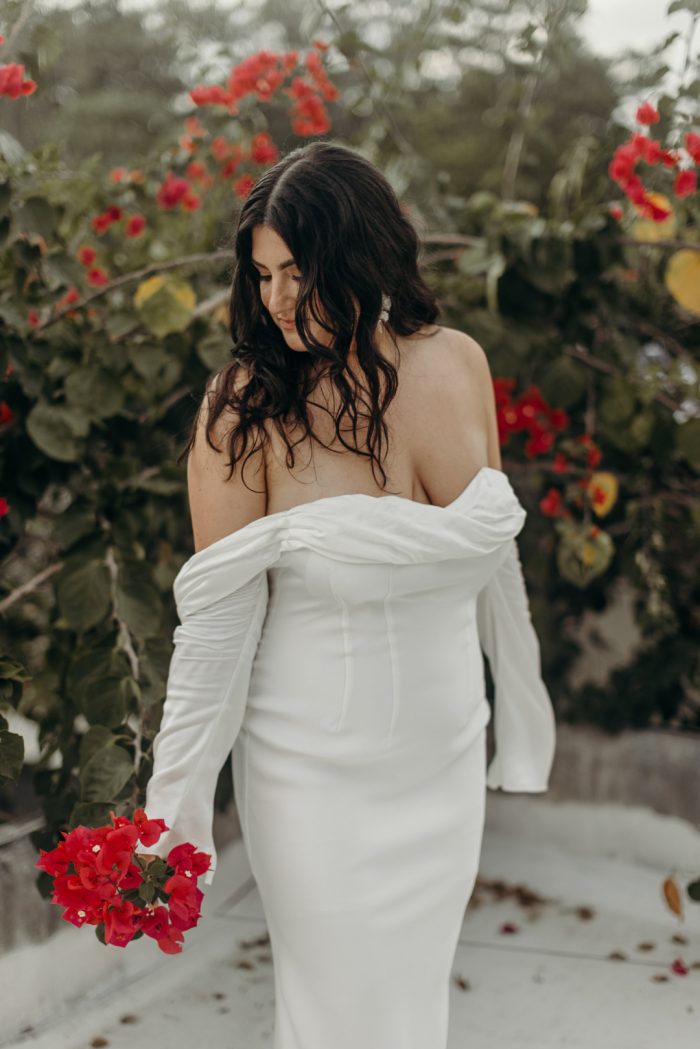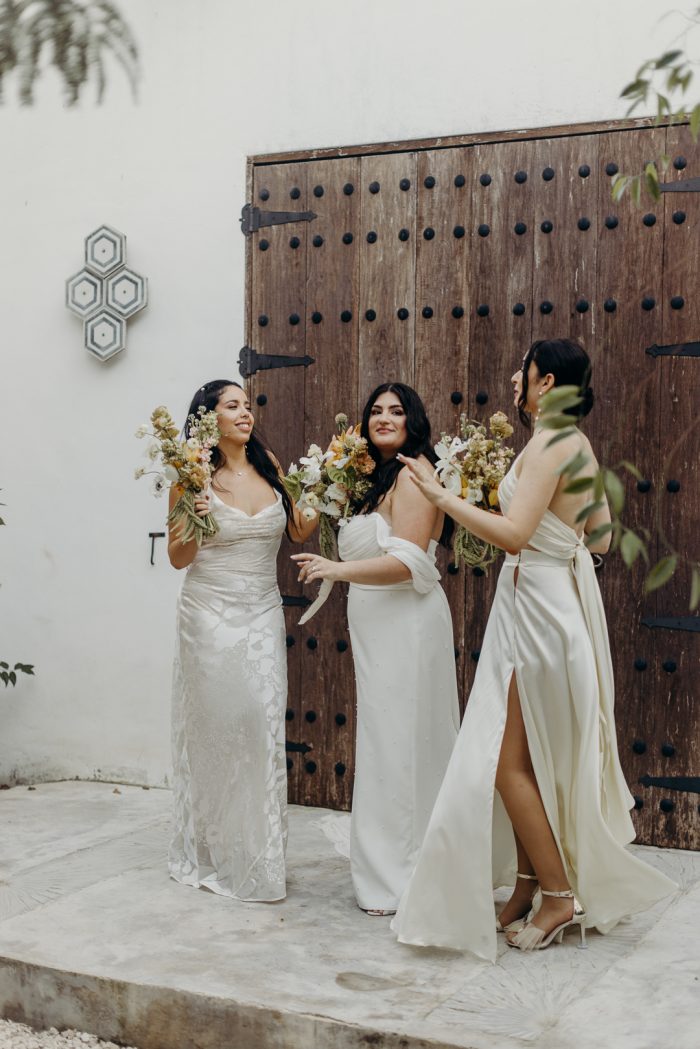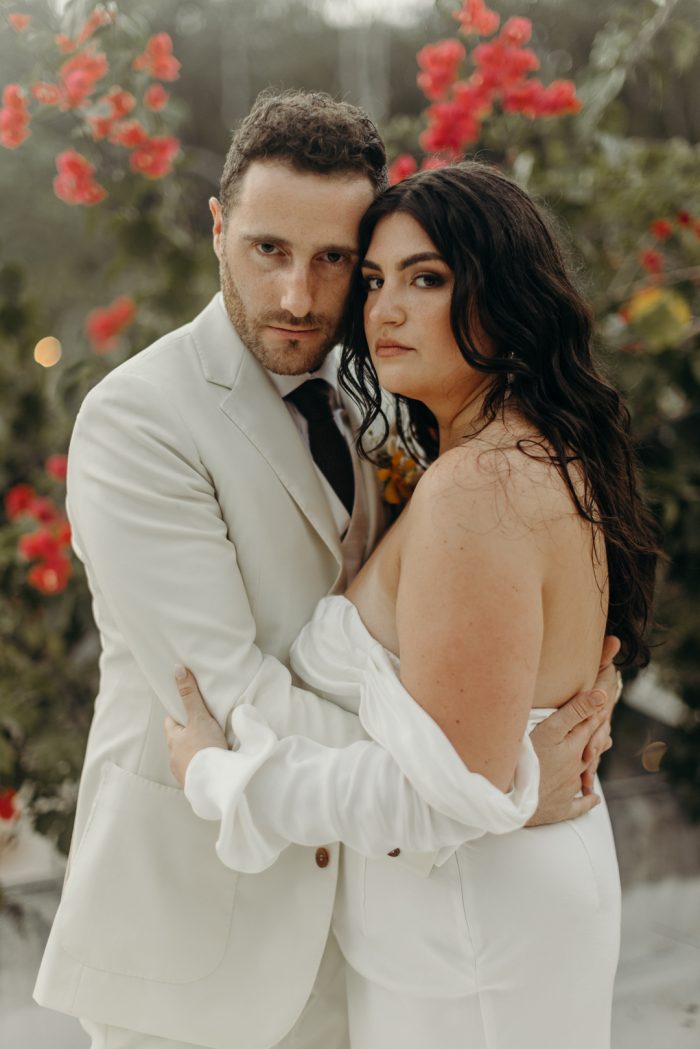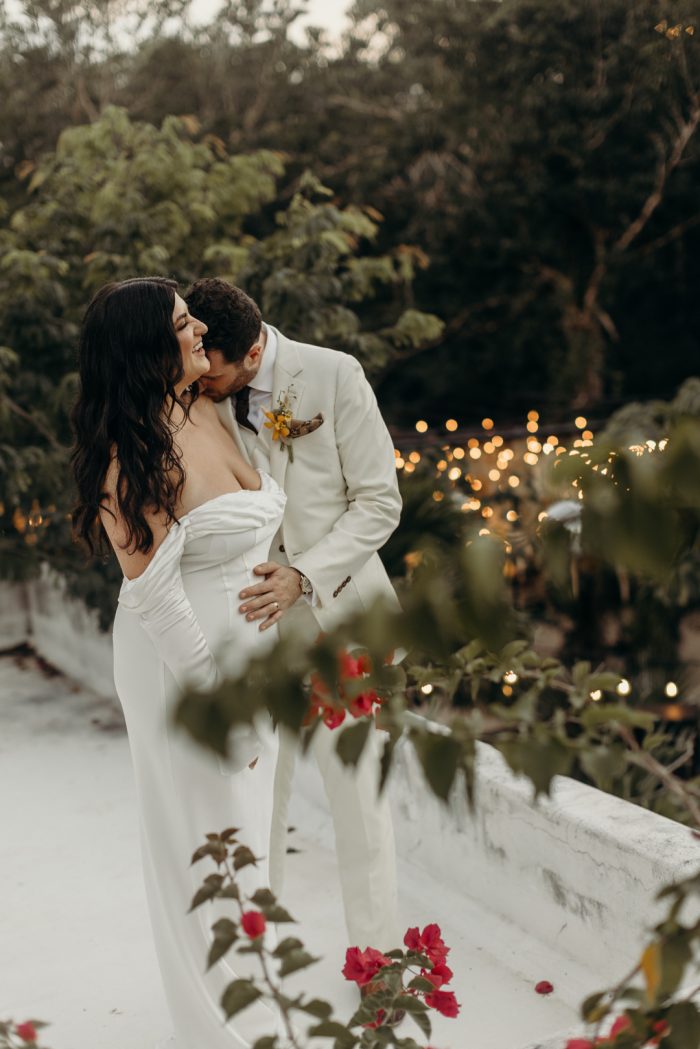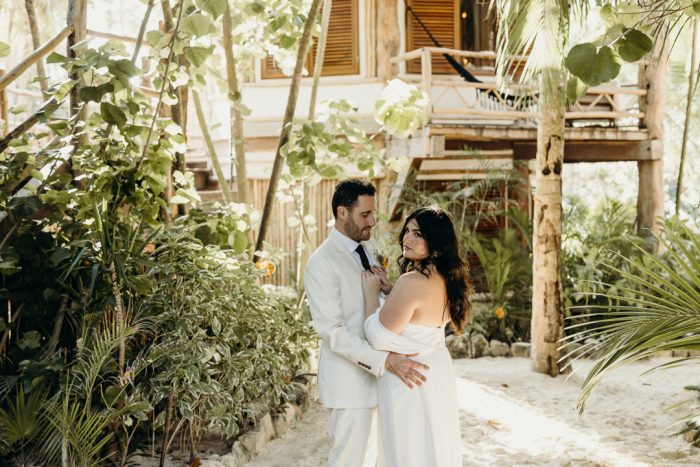 Personalizing Their Ceremony By Reimagining Traditions
To create a unique and inclusive atmosphere, we chose an alternative processional. Our parents walked down the aisle together, showcasing their bond as couples, followed by the individual entrance of our bridal party. It was important to us that everyone felt acknowledged and celebrated. Adding to the enchantment, we had a talented guitarist and singer perform during the ceremony, infusing our chosen songs with their own artistic touch. Walking down the aisle to the heartfelt melodies of "Eres Tu" and "Disfruto" by Carla Morrison, beautifully crafted by a Mexican-American artist, added an extra layer of sentiment to the moment. We selected "Signed, Sealed, Delivered" as a timeless conclusion for our recessional. To make our vows genuinely personal, we exchanged heartfelt and customized promises to each other.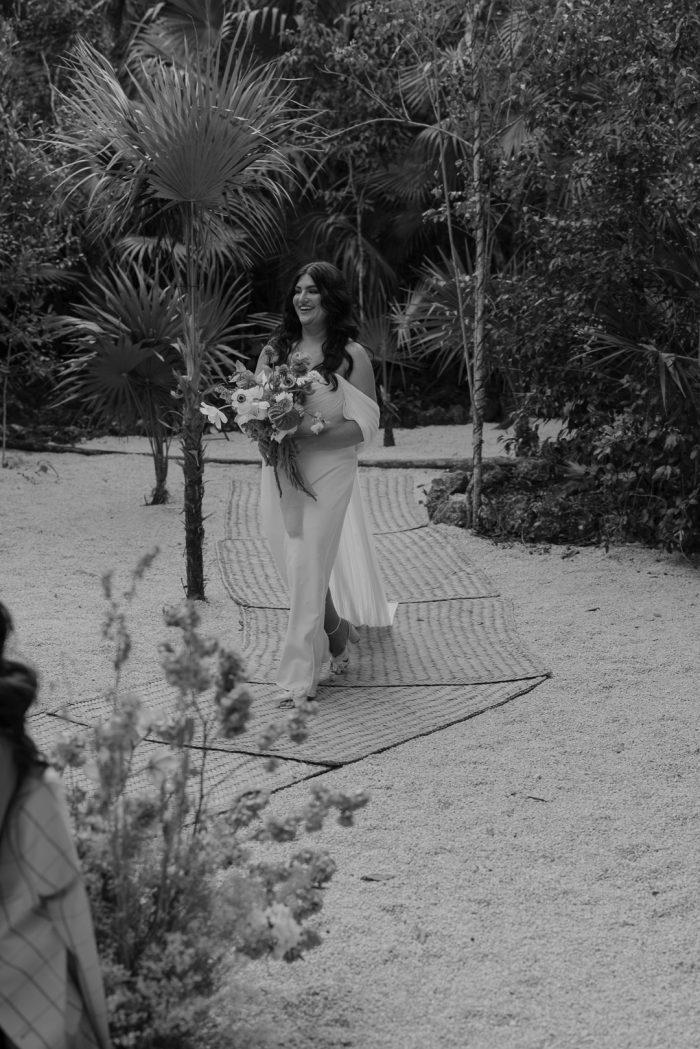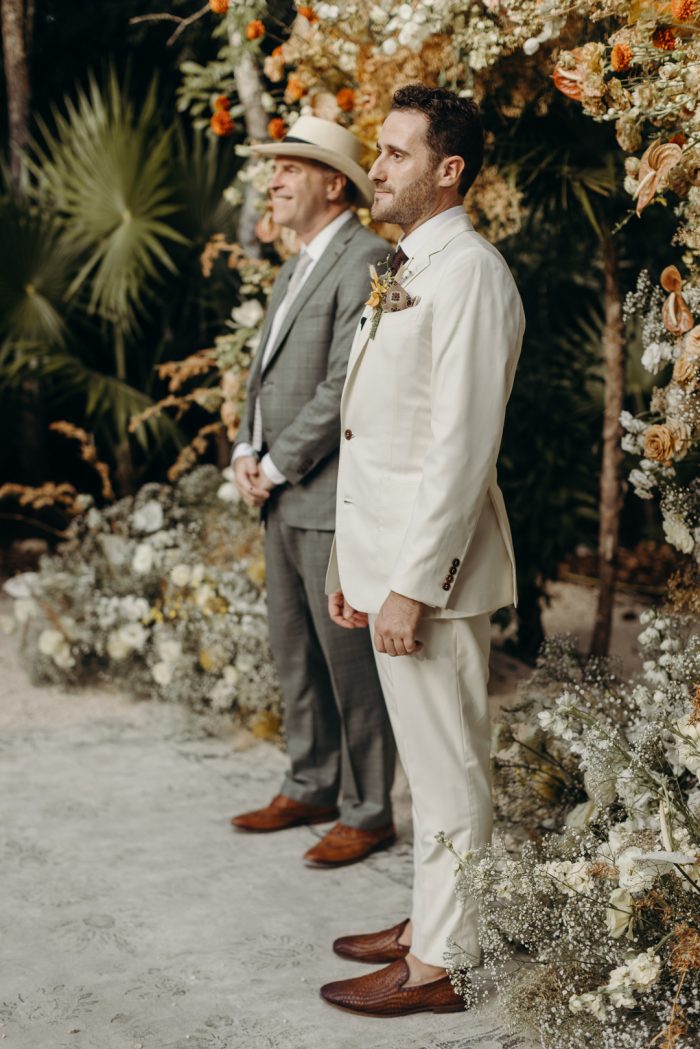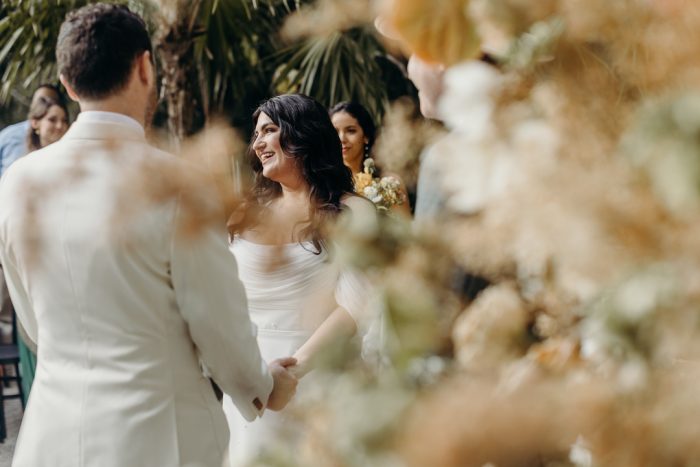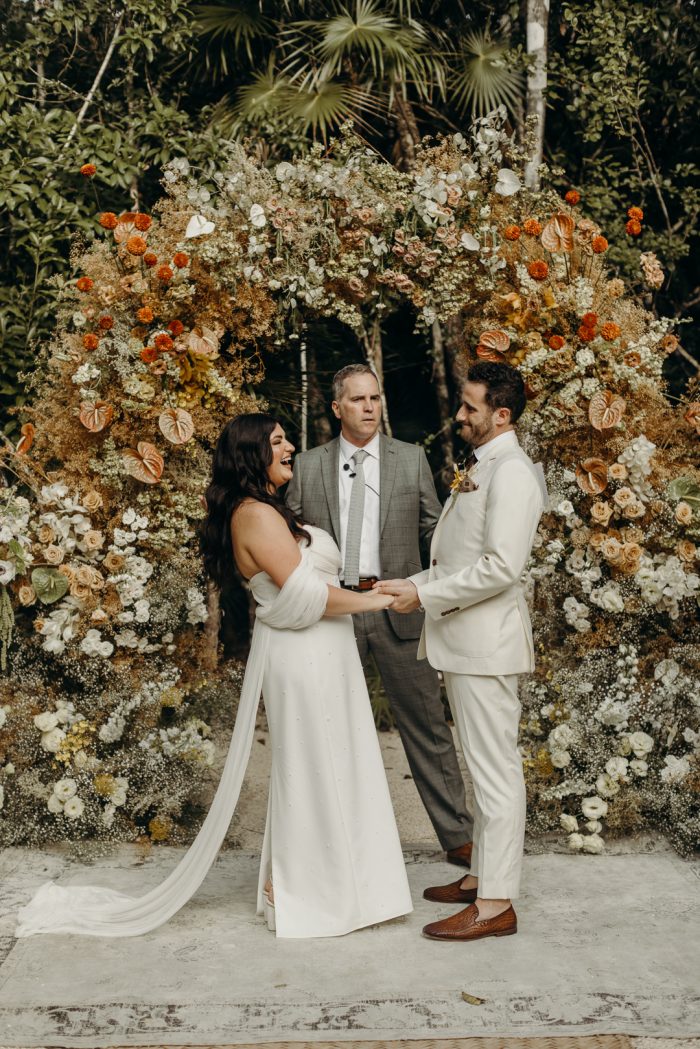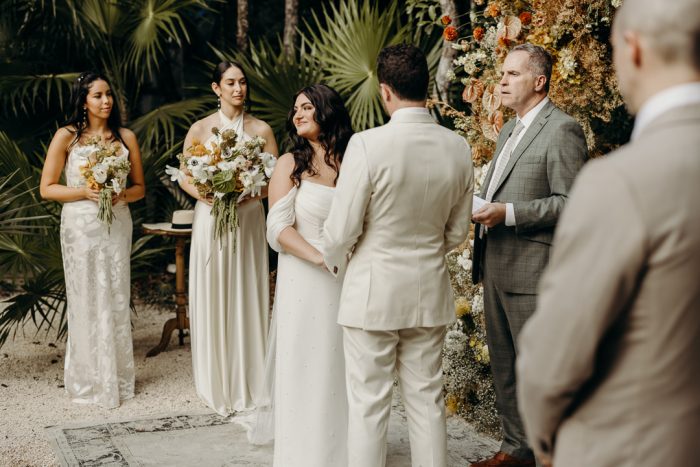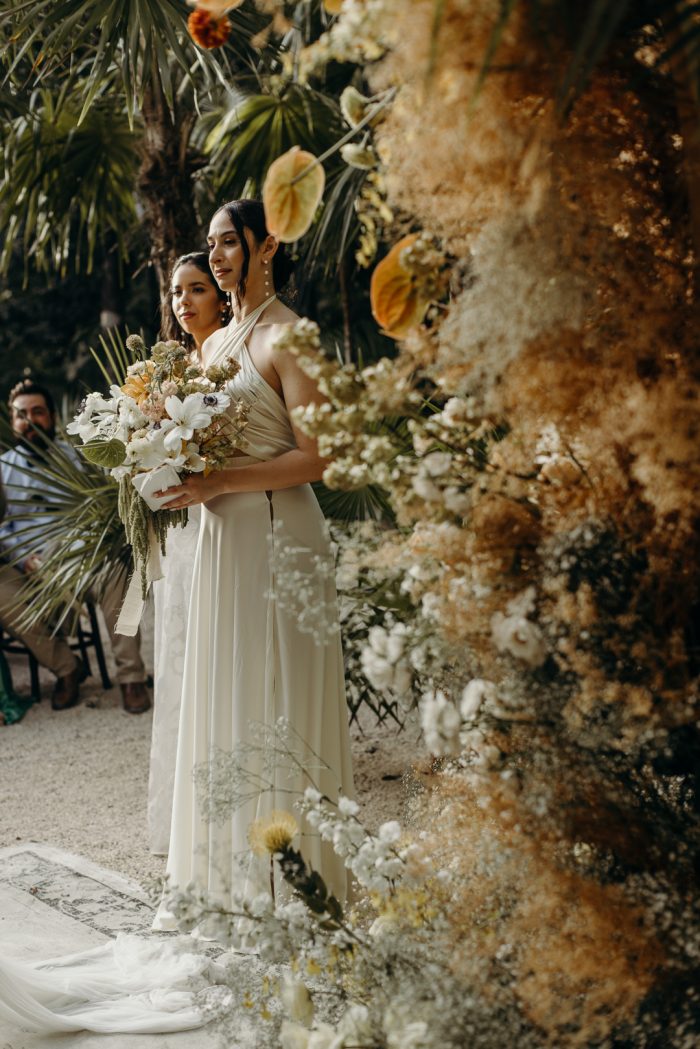 How Their KIMA Tulum Wedding Design Came To Be
We created a magical atmosphere blending modern, lush, fun, elegant, and whimsical elements at KIMA. The pool area became a cozy spot for drinks and relaxation, adorned with lovely candles. When night came, the candles reflected in the water, creating a magical scene. The dance floor exuded vibrant disco vibes with baby's breath "clouds," disco balls, and boho lanterns. The dining area immersed guests in a jungle-like experience with greenery, lanterns, and unique floral arrangements. Every detail held purpose and meaning, from the black accents complementing the venue's iron doors to the custom-made pop 60s table numbers and watercolor menus featuring a hidden hummingbird, reflecting our quirky love for birds.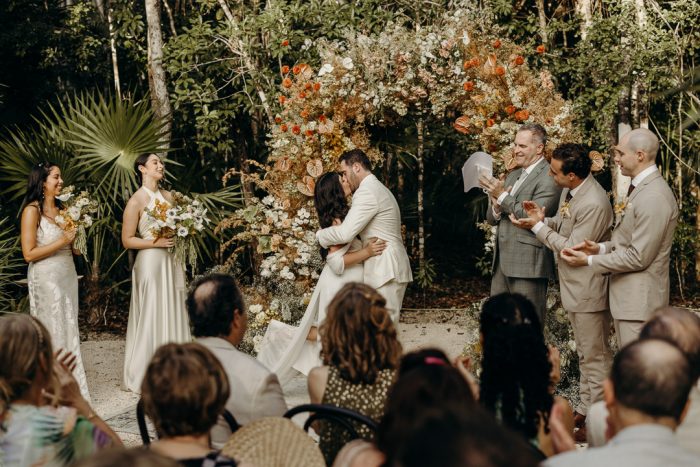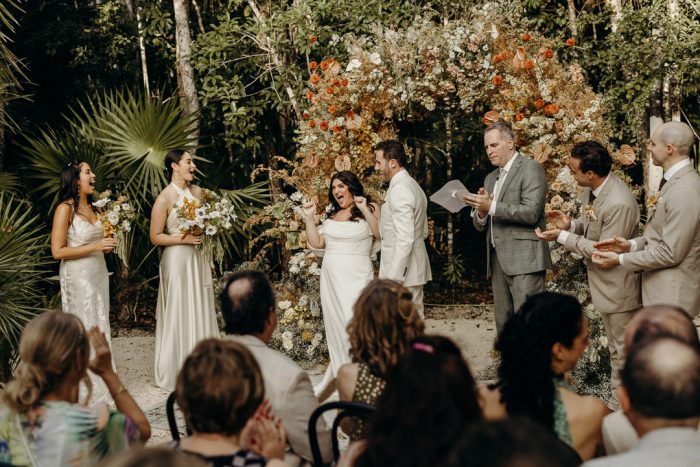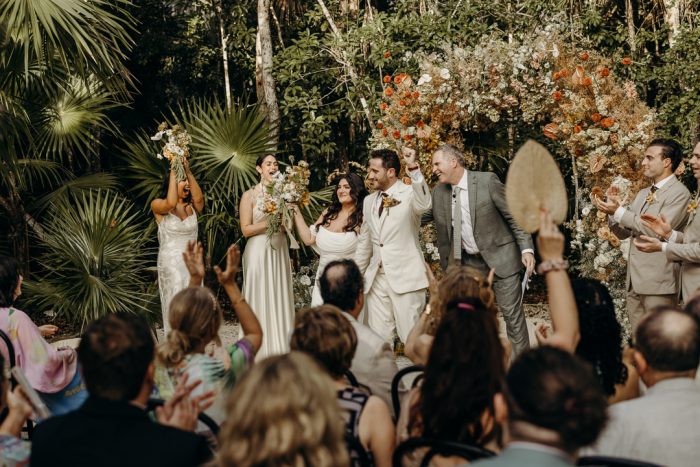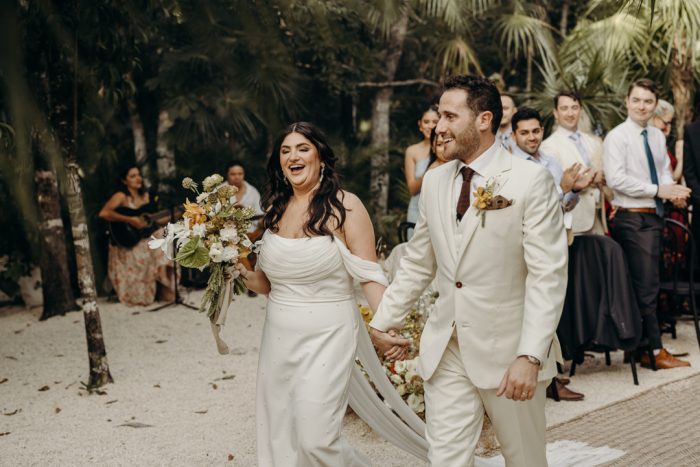 Elevating the Wedding Experience: A Harmonious Blend of Beauty, Entertainment, and Culinary Delights
Everything came together beautifully in terms of the look and the entertainment. We didn't want our wedding to be just visually pleasing. We aimed to create an amazing guest experience with delicious food that immersed them in our journey. We had a lively flamenco band for the welcome party, a talented singer and guitarist for the ceremony, a saxophone player who joined the DJ for dancing, and a breathtaking circus performance, rivaling Cirque-du-Soleil, that amazed everyone. The food was sensational, offering a wide variety of mouthwatering options. It was a truly unforgettable experience.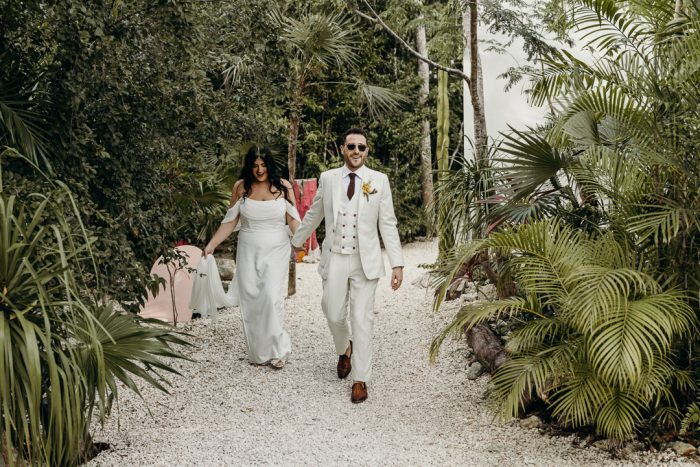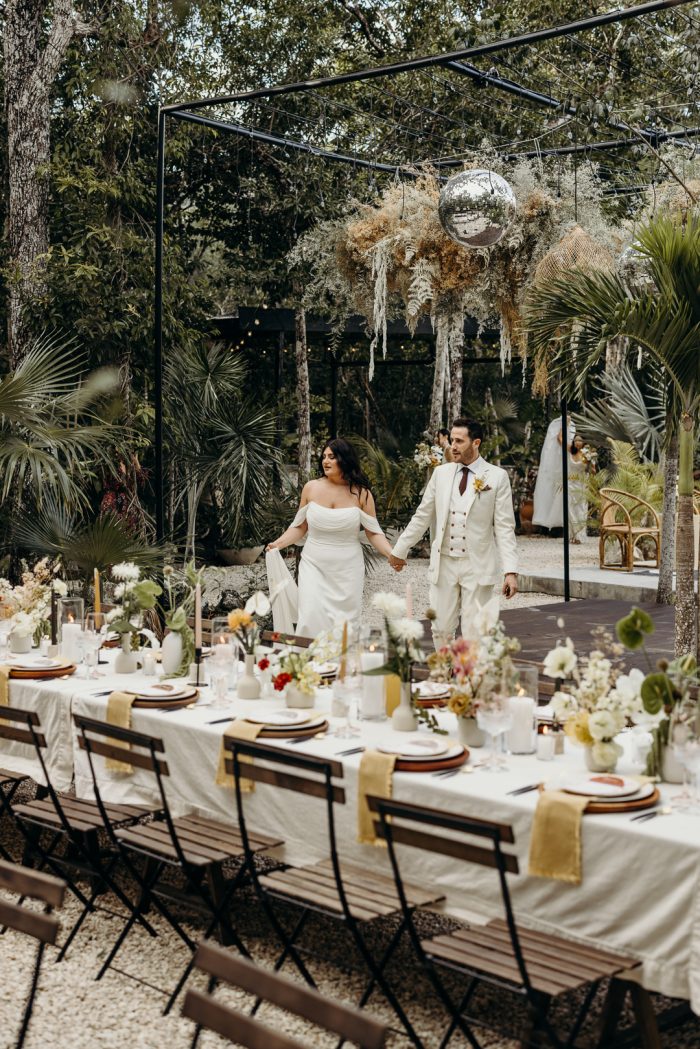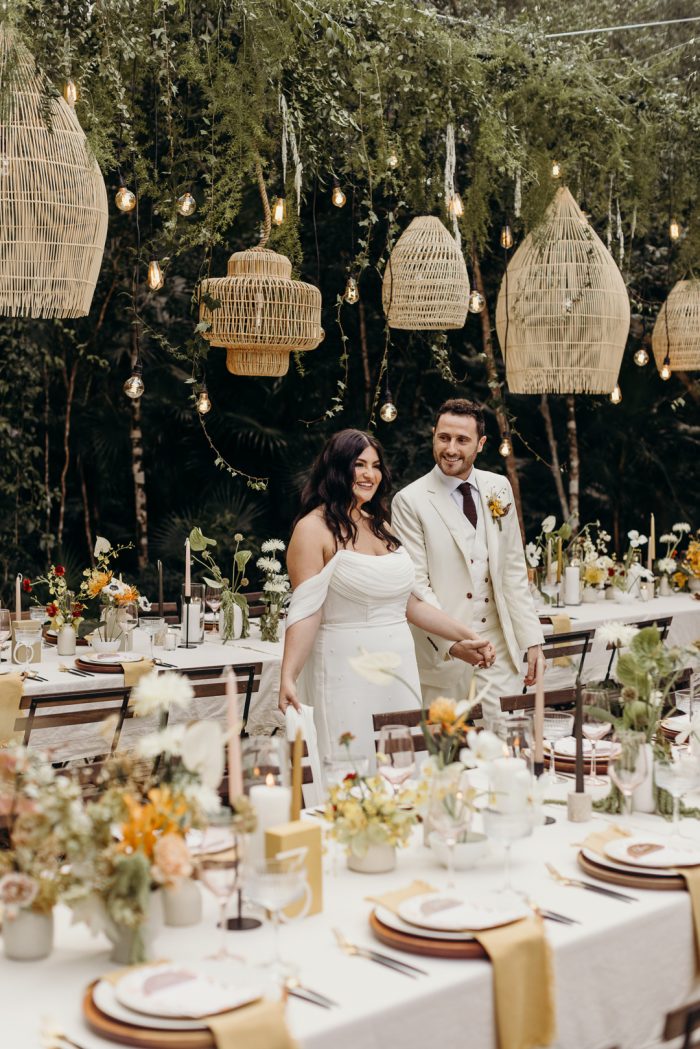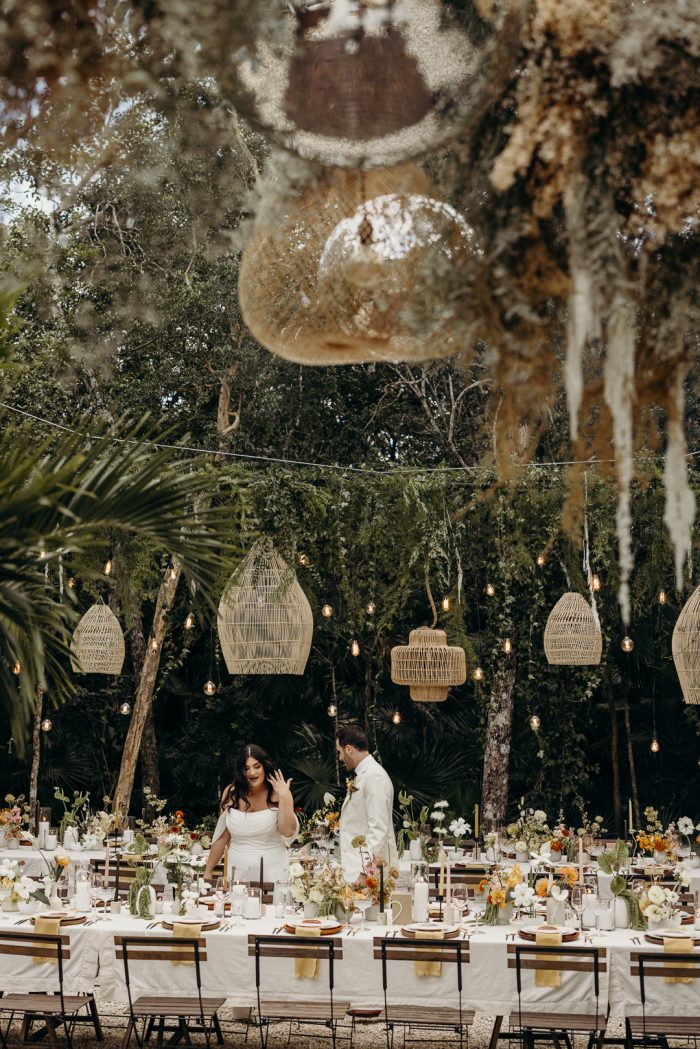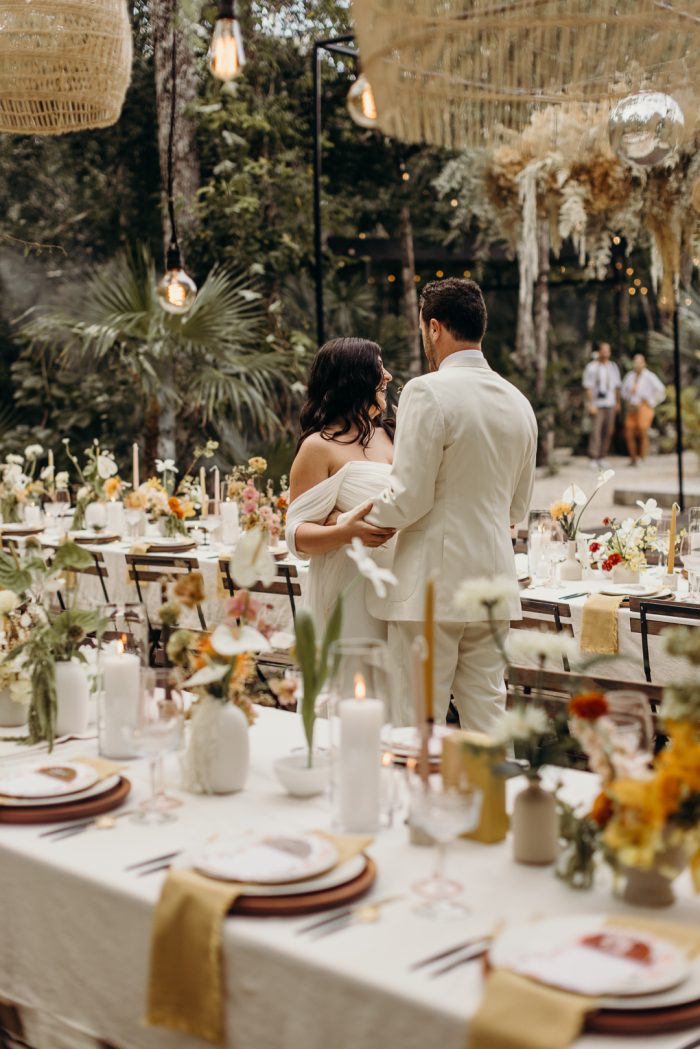 Starting on a High Note With Thoughtful Welcome Bags
We prepared a stacked welcome bag for our guests with thoughtful items. The bag itself had a special touch—a Mexican hand-made tassel "ornament" that could be taken home and hung on a Christmas tree since our wedding was close to the holiday season. Inside, we included nostalgic snacks like corn nuts, Abba-Zabbas, and Oreos. We also had practical items such as locally-made mosquito repellent sticks, UV stickers, mini candles with Tulum-inspired scents from a local candle company, and a 3-in-1 flashlight, fan, and phone charger, perfect for the darker nights and warmer climate in Tulum. To help guests recover from any potential hangovers, we also provided a hangover recovery kit, including Liquid IV. We distributed woven rattan fans at the wedding, which guests used and appreciated throughout the night.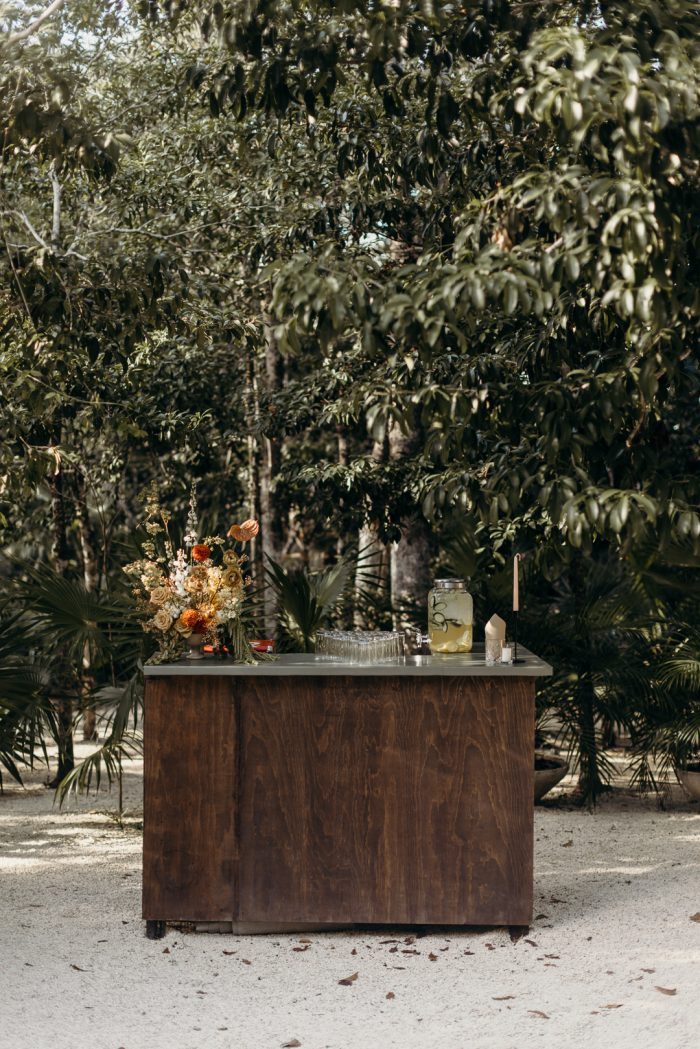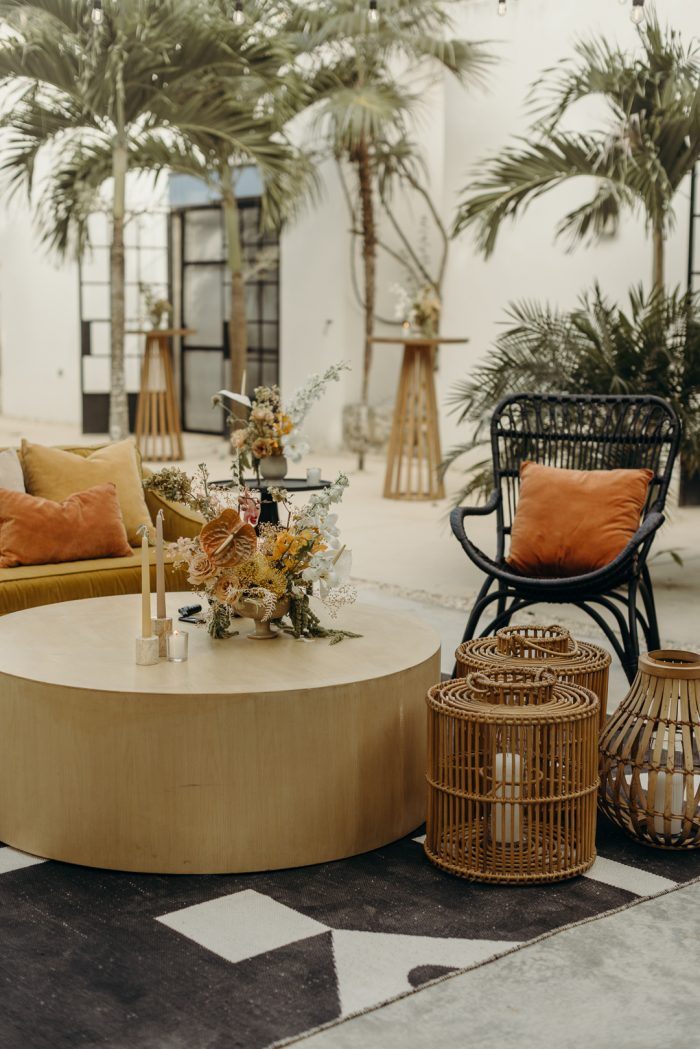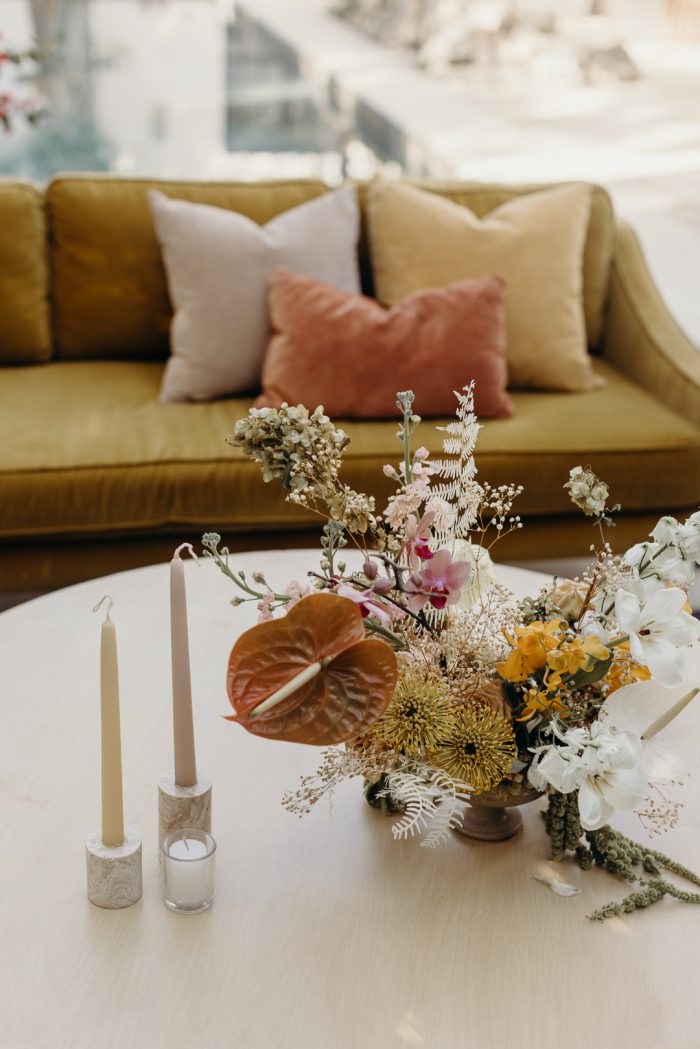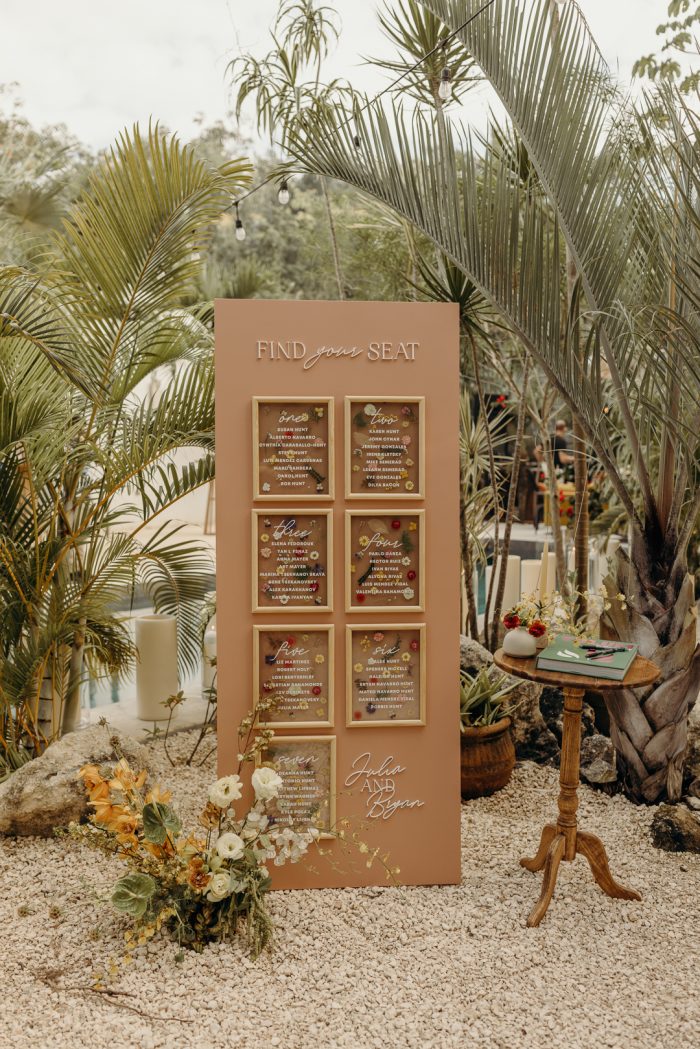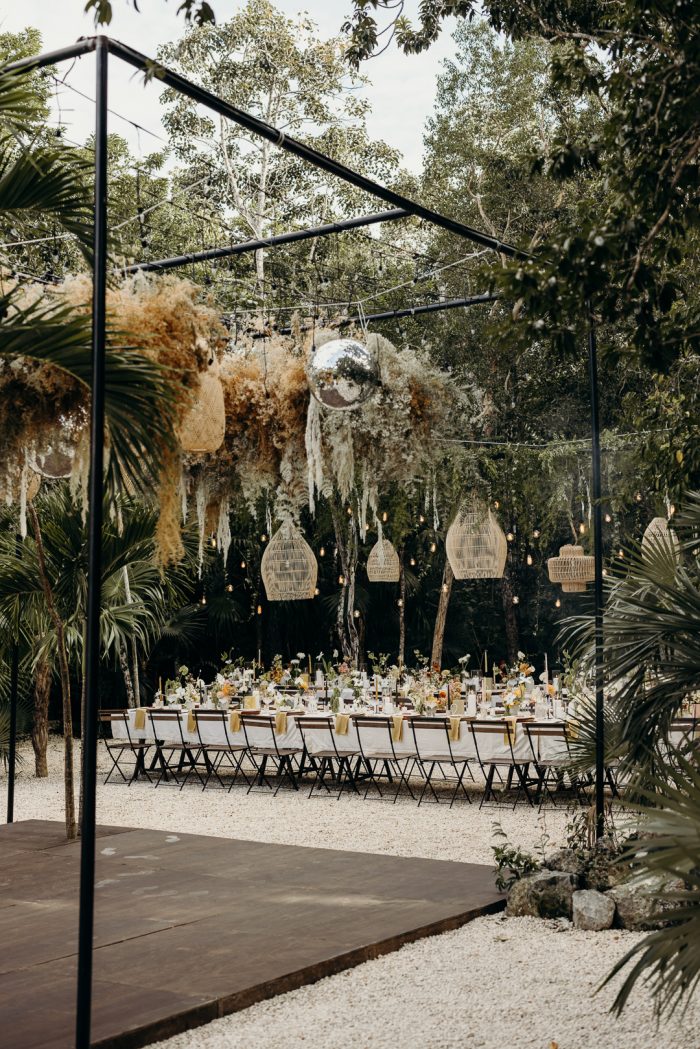 Dedicating Time To Master Their Dance Moves Paid Off
I believe our wedding dance was the highlight of the night. My best friend, who happens to be a professional ballroom dancer, choreographed it for us. We dedicated five months to perfecting the dance and attending in-person and virtual lessons with Sonya. I am incredibly proud of how it turned out. We went against the traditional route and danced to the lively tune of "Bomboleo" by the Gipsy Kings. It was a fast-paced bachata with funky footwork, and at times, I wasn't sure if we would learn it in time. But we did it! Seeing Bryan dance brings me immeasurable joy that will last a lifetime.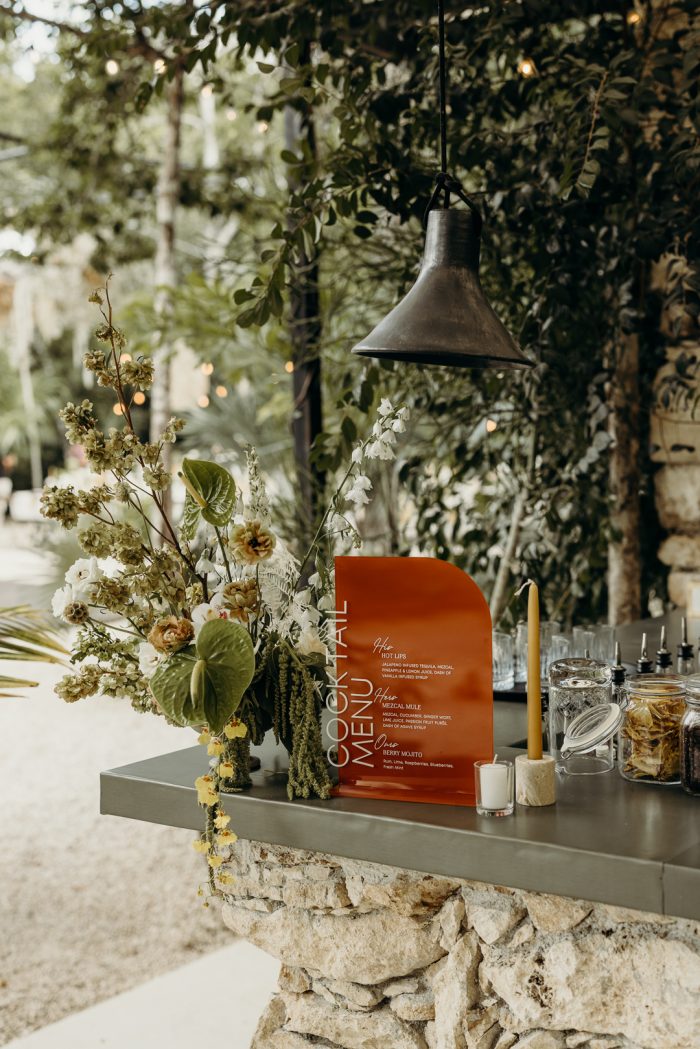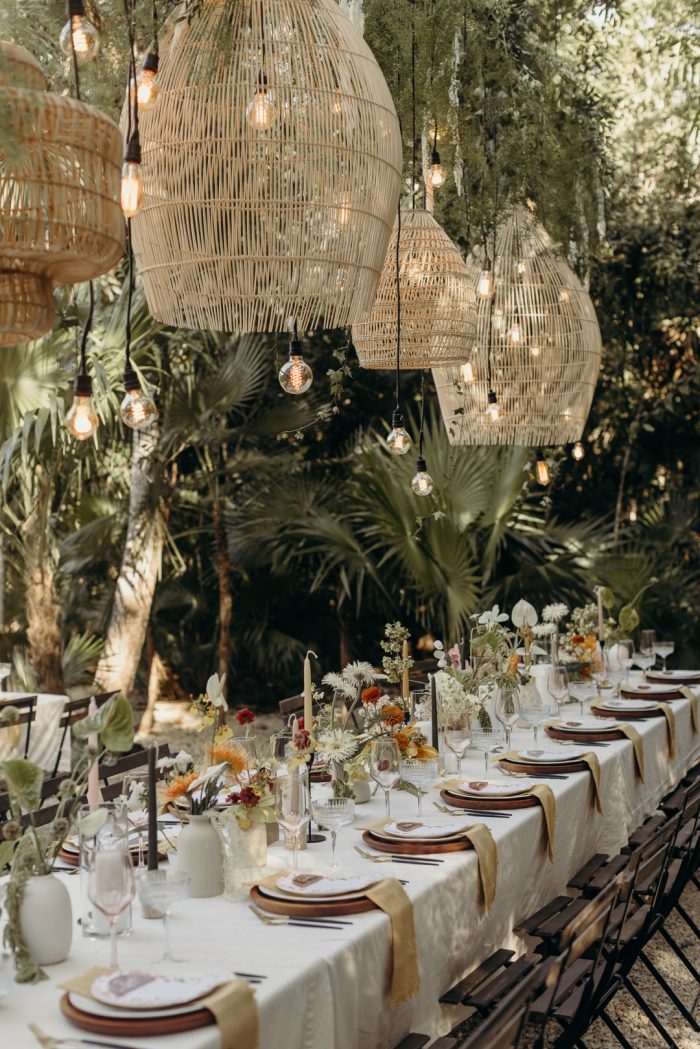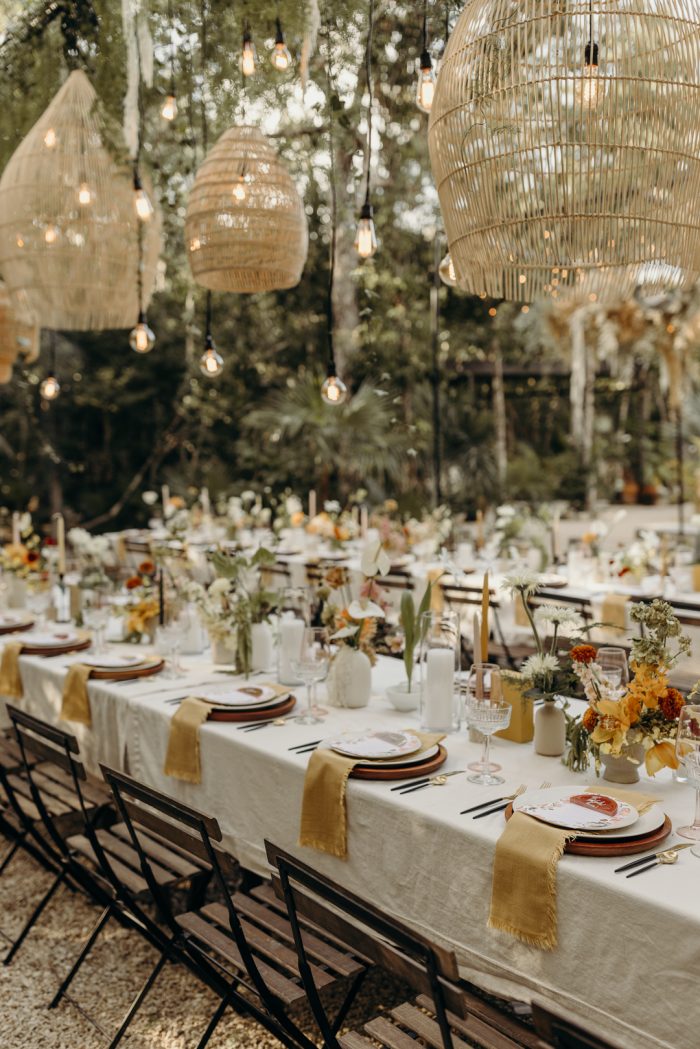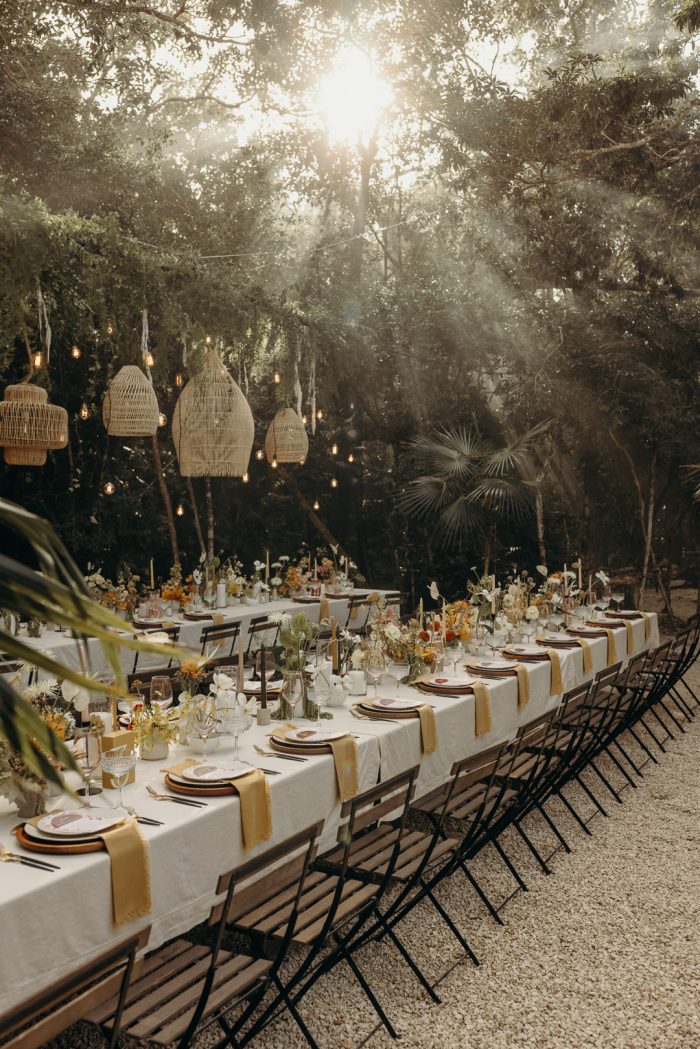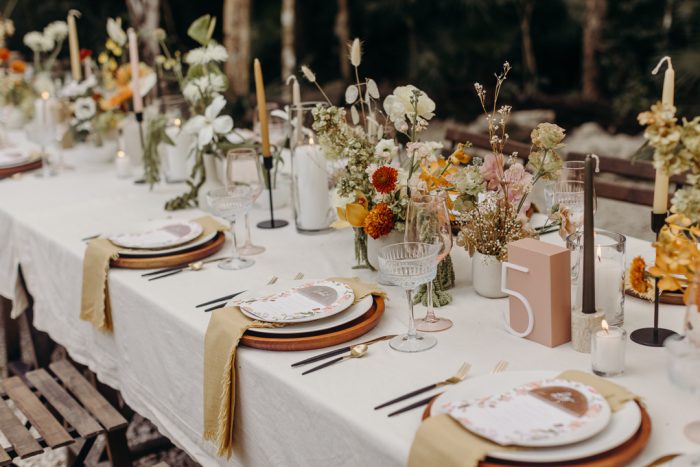 Wedding Planning Advice From The Newlyweds
Treasure each moment as it passes by faster than you realize. Don't allow others' opinions, whether from family or friends, to hinder your creative vision. Remember to treat your vendors with kindness and appreciation, as they play a vital role in bringing everything together. And most importantly, have fun! This isn't merely work but a dream you're living, so savor every moment and enjoy the journey.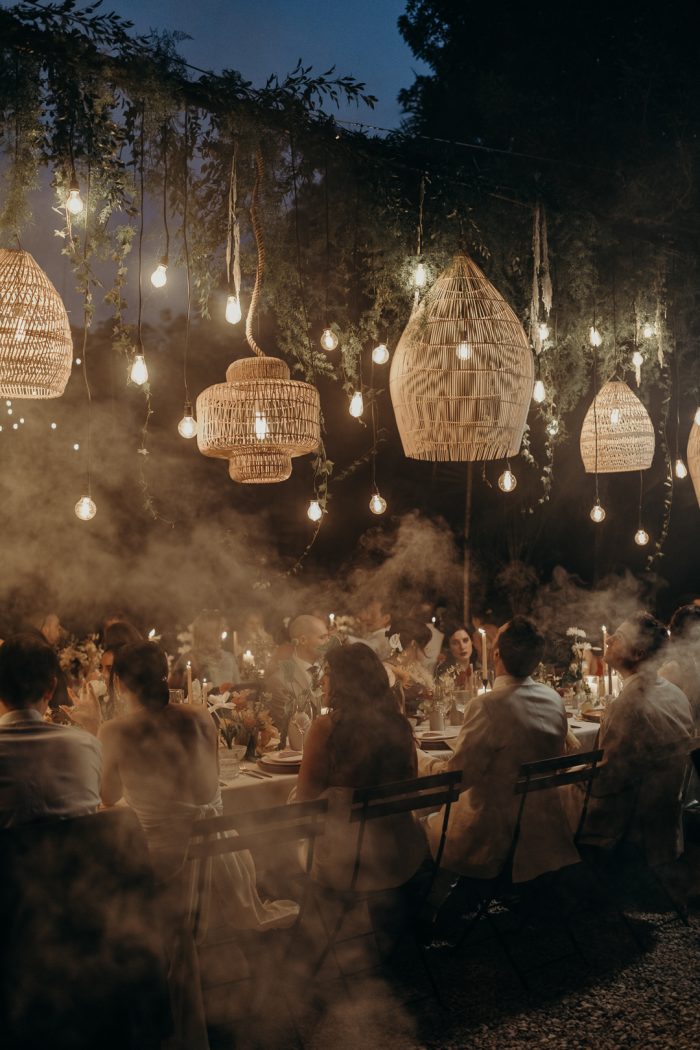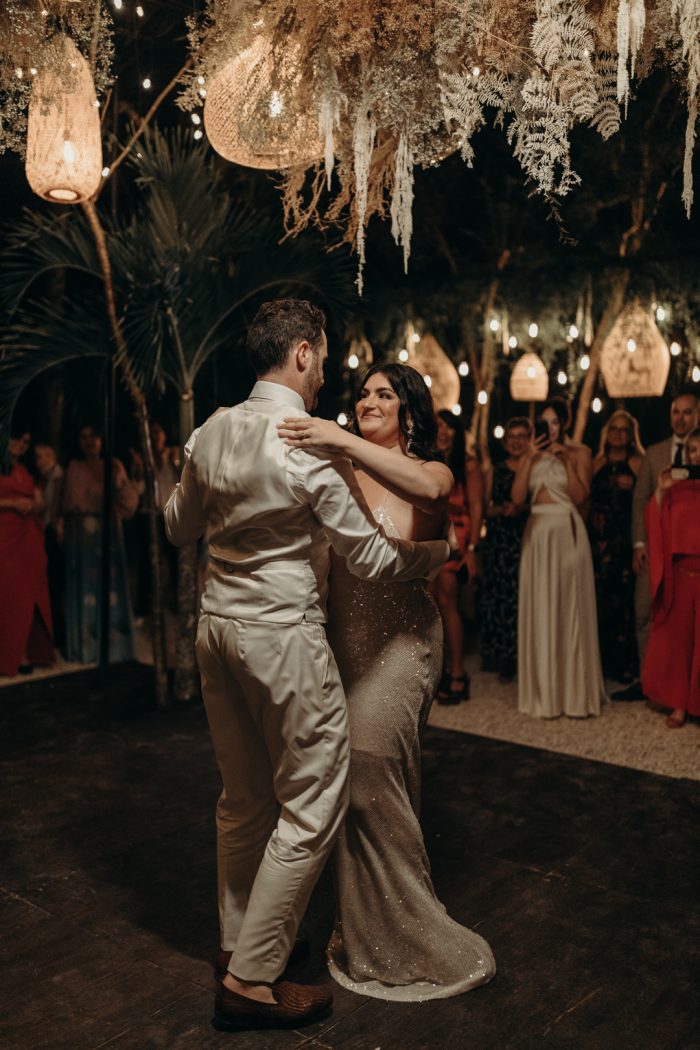 Congratulations to Julia and Bryan on their modern KIMA Tulum wedding, with subtle nods to all of their favorite things. We extend our heartfelt gratitude to Junebug members MemoryBox for beautifully capturing every cherished moment and intricately crafted detail. To explore more of their exceptional work, please visit their profile in our directory of the world's best wedding photographers.
Planning a destination wedding requires careful coordination of various elements. Like Caroline and Philip's wedding, the key to success lies in assembling a dedicated team. From handpicking the right vendors to effectively expressing your vision, our comprehensive destination wedding planning guide covers everything you need to know to make your dream getaway wedding a reality.