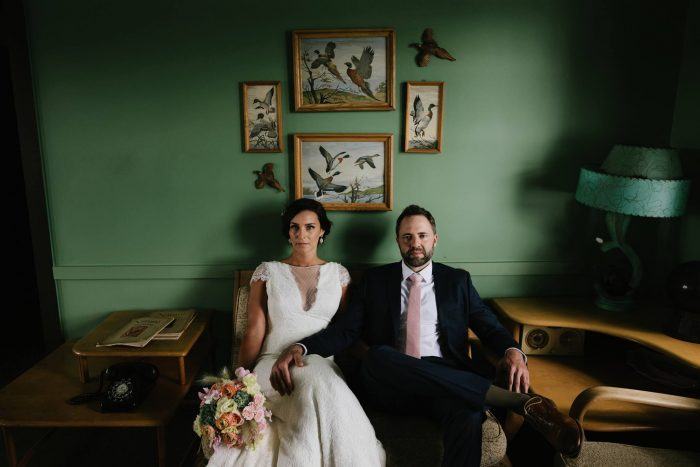 Jen and Will wanted their weekend-long Camp Wandawega wedding to be full of friends and family, outdoor activities, and relaxed vibes. The charming campsite was decorated with elegant details like candles, festoon lighting, and colorful flowers that invited the guests to explore their quirky and unique venue in the woods. Pastel floral design by Fleur Chicago created the relaxed, bohemian chic color palette featured in the bride's up do and bouquet, throughout the outdoor chapel and elegant reception marquee. The vintage campsite theme was a huge success, with friends and family kayaking, swimming and swinging from the rope swing and classically old-school basketball court dance floor under the iconic camp tree house. Madeline Druce Photography captured all of the elegant and rustic details that made this throwback wedding a charming success.
The Couple:
Jen and Will
The Wedding:
Camp Wandawega, Elkhorn, Wisconsin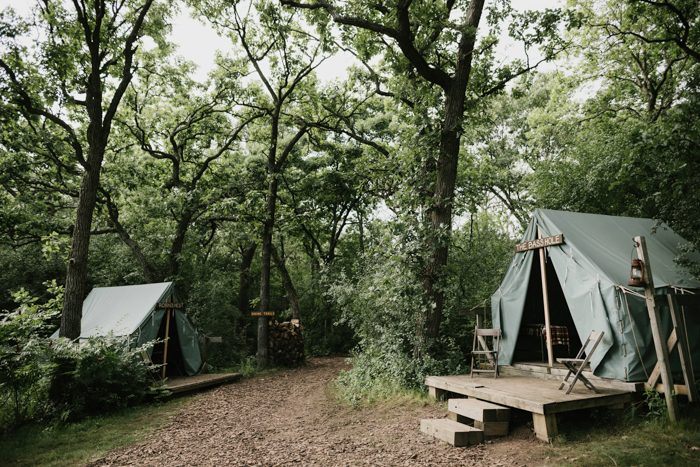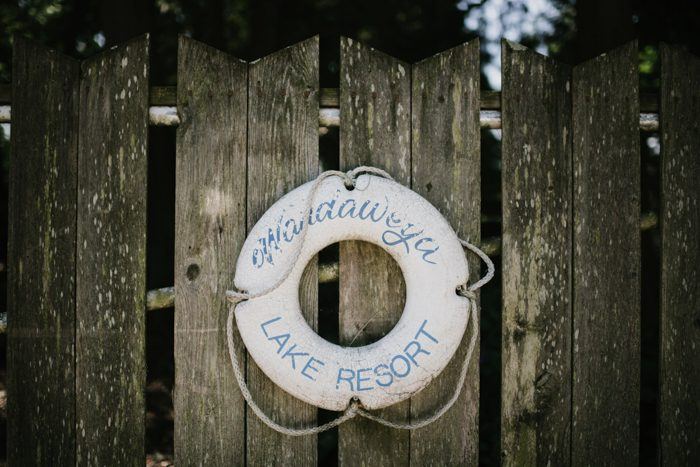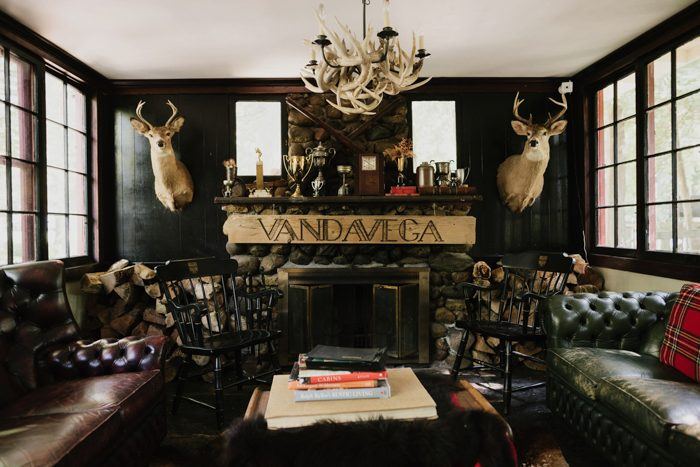 Our favorite part of the weekend was watching our guests enjoy Camp Wandawega all weekend long and really get to know each other. We had many guests from the bride's side spark up lasting friendships with guests from the groom's side. While the girls got ready, I could watch friends and family kayaking, swimming and swinging from the rope swing.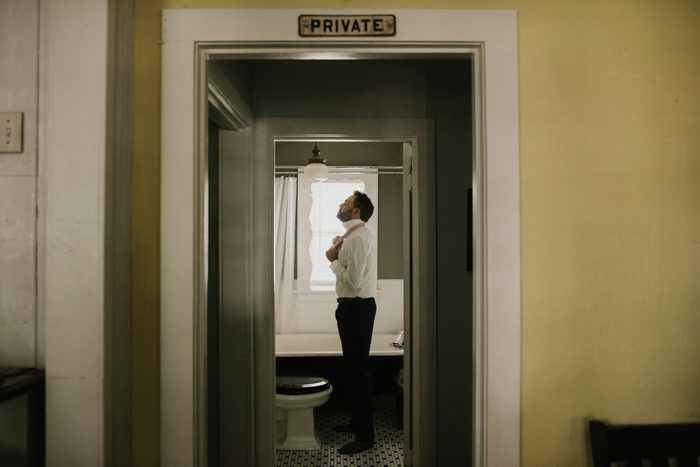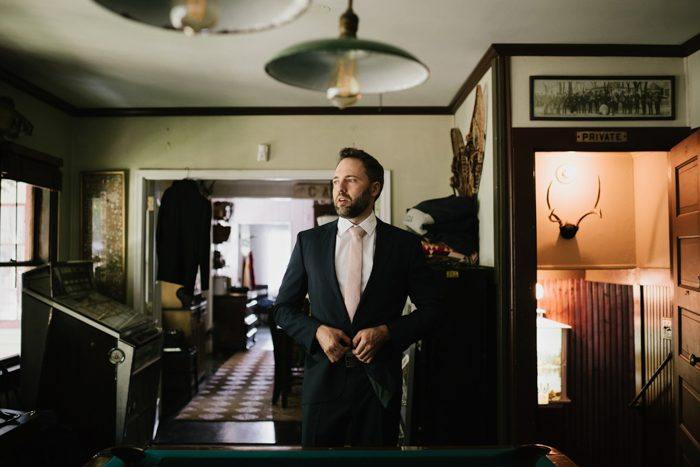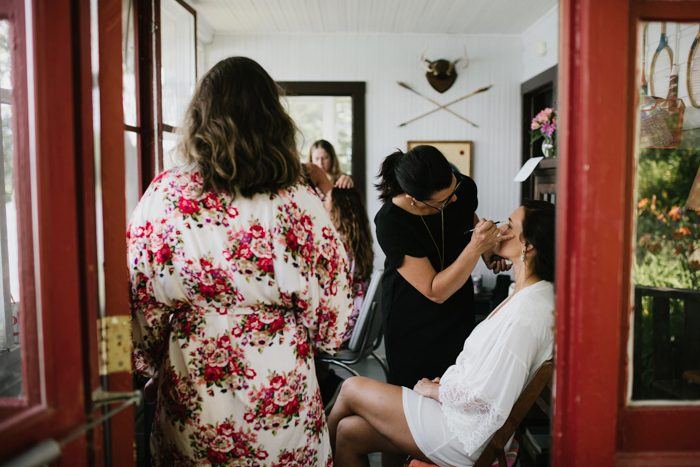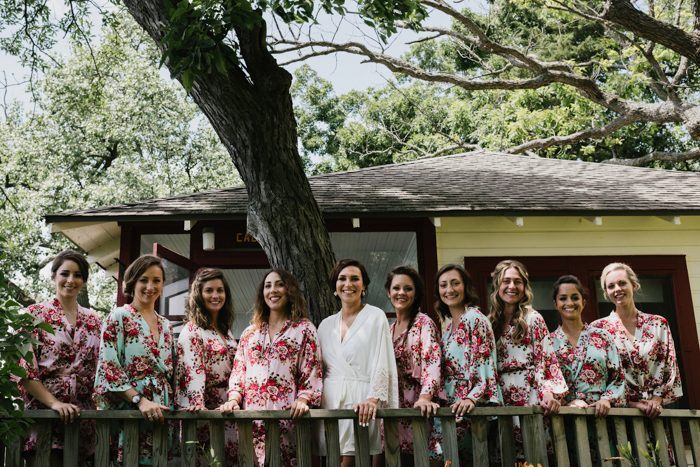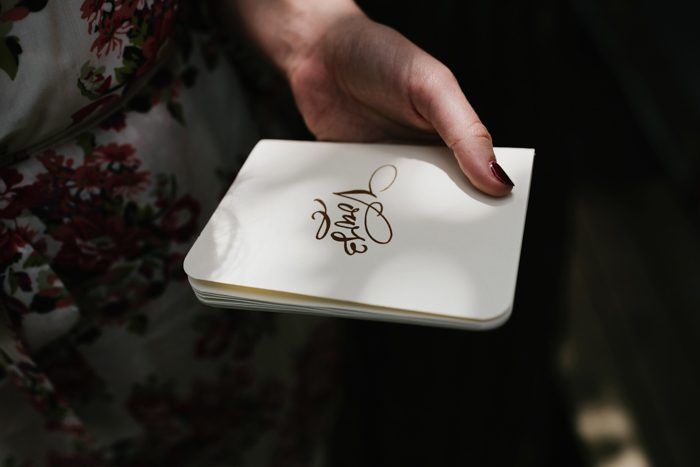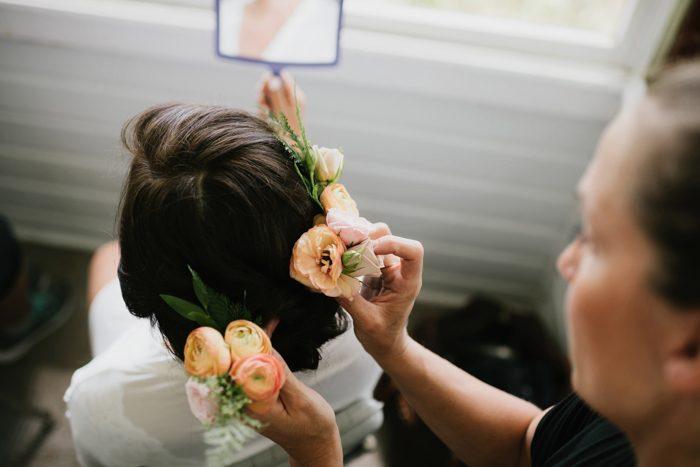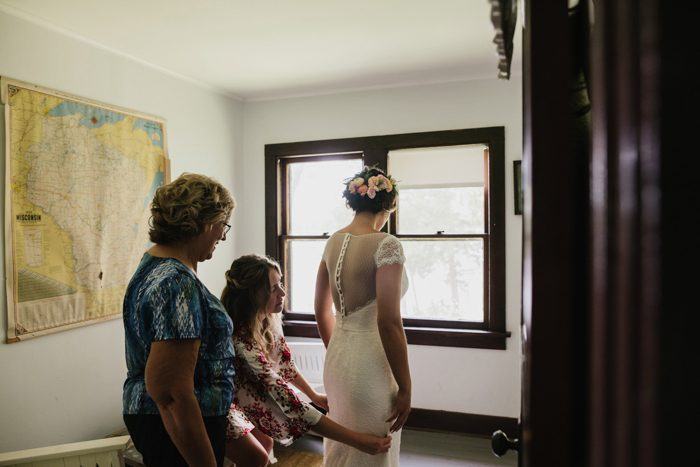 We wanted the weekend to be insanely fun! Will andI have both attending many weddings and we talked about what made our favorite weddings stand out in our minds and then tried to make sure we were enabling our wedding to be that way. We wanted lots of time for people to get to know each other andplenty of time for partying.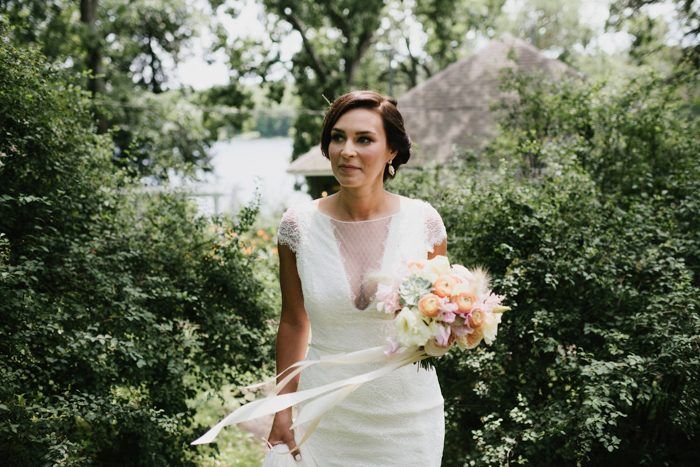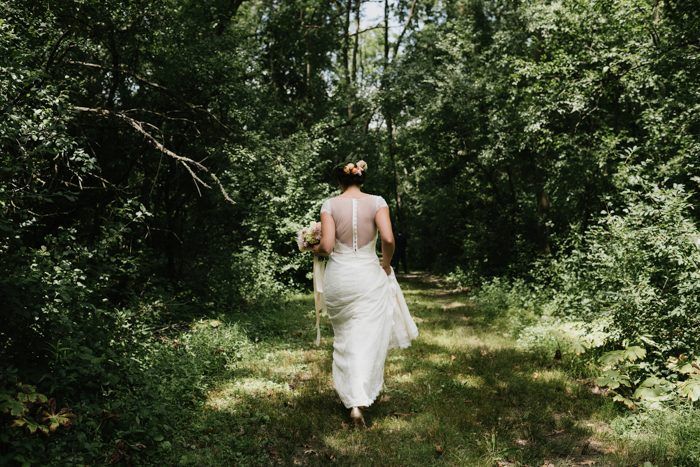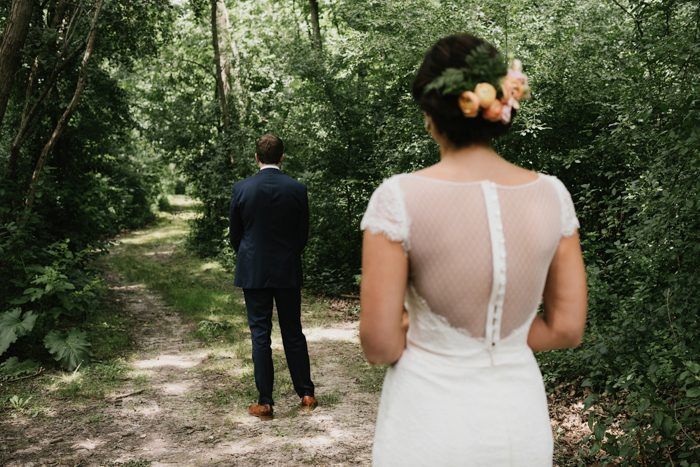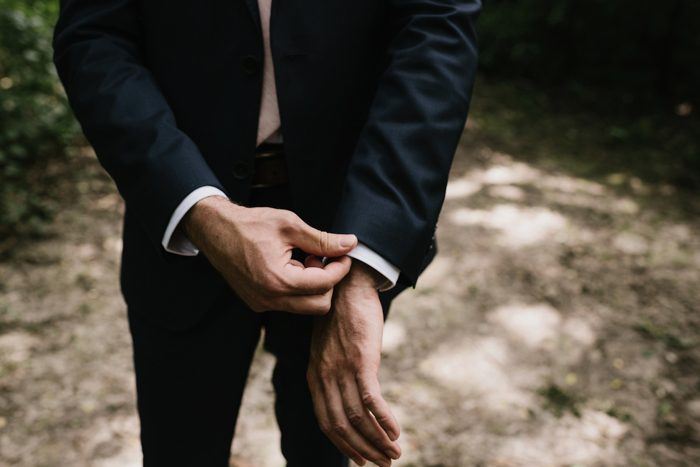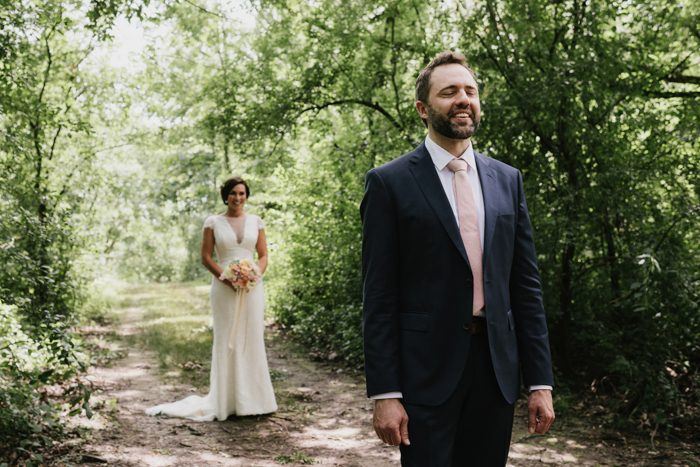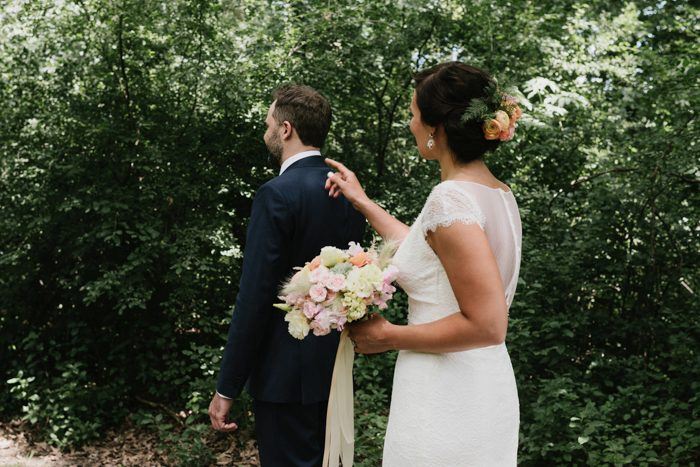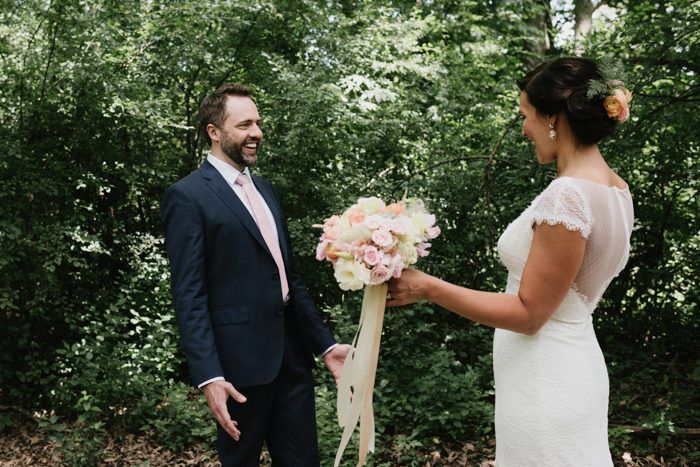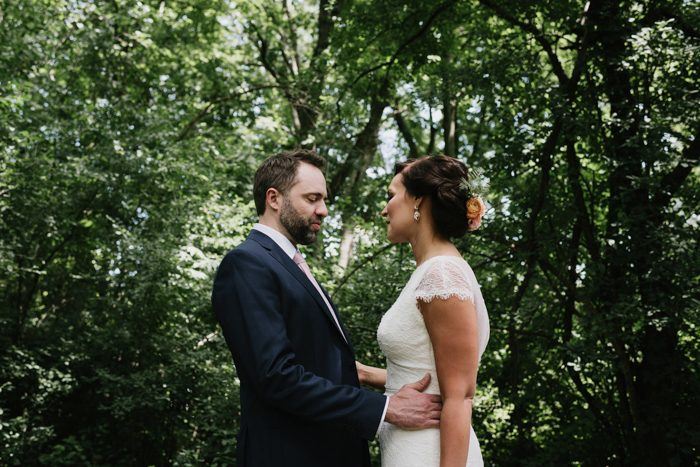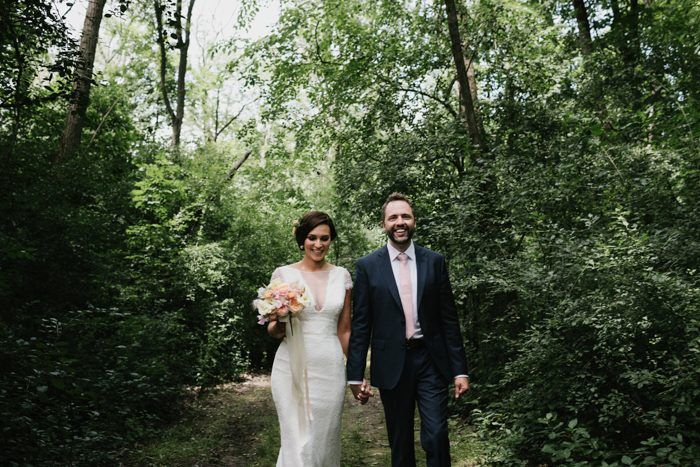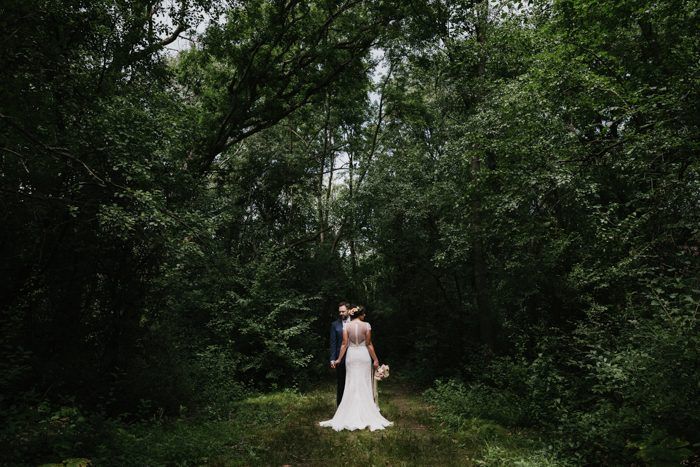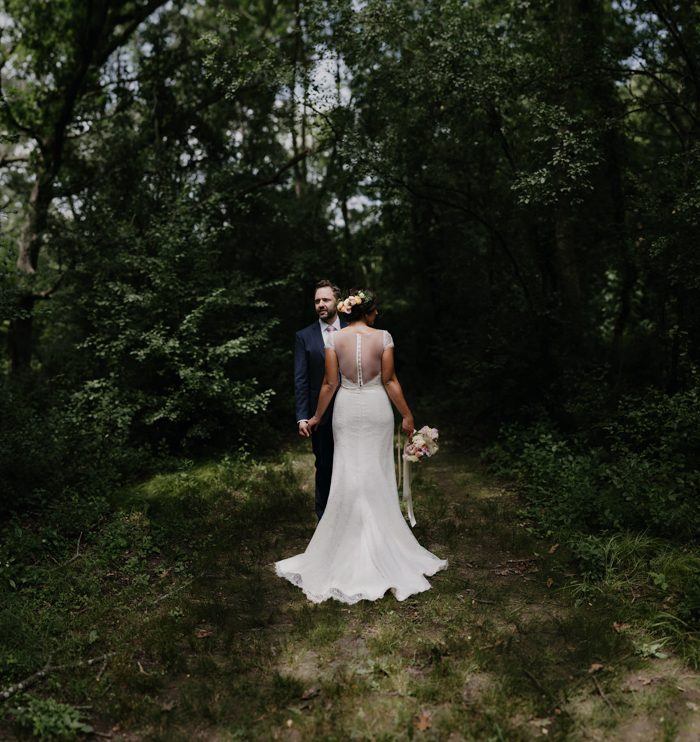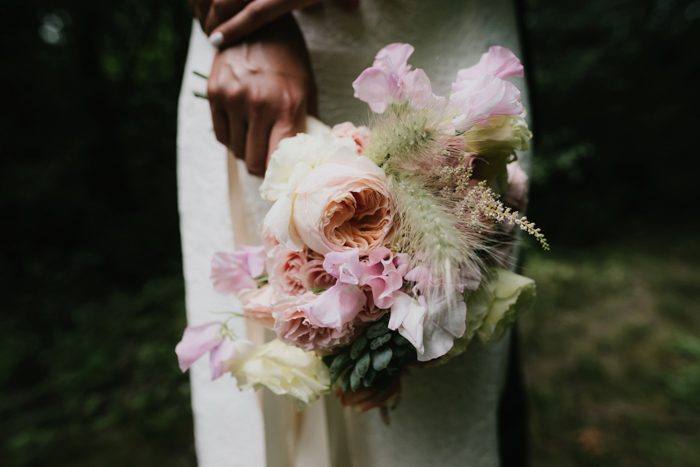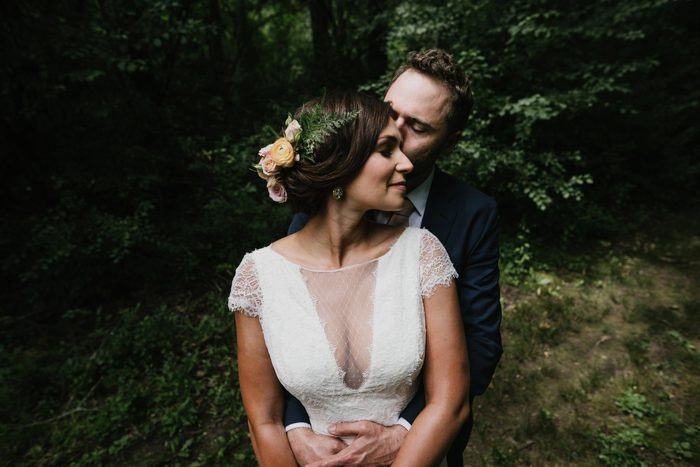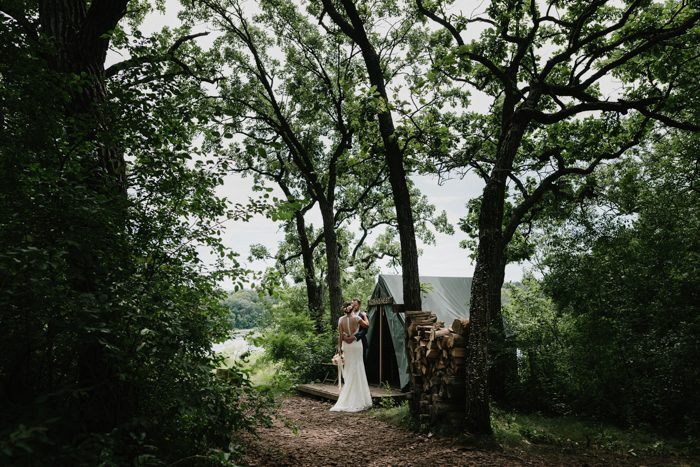 We got married at the outdoor chapel on site and then guests explored the venue while sipping Wisconsin beers. After dinner we moved to a makeshift basketball court dance floor under the iconic Camp Treehouse for dancing until we did a sparkler tunnel to a giant bonfire to end the night with s'mores and snuggles under Pendleton blankets while a spectacular lightening storm rolled in. It really was the perfect weekend!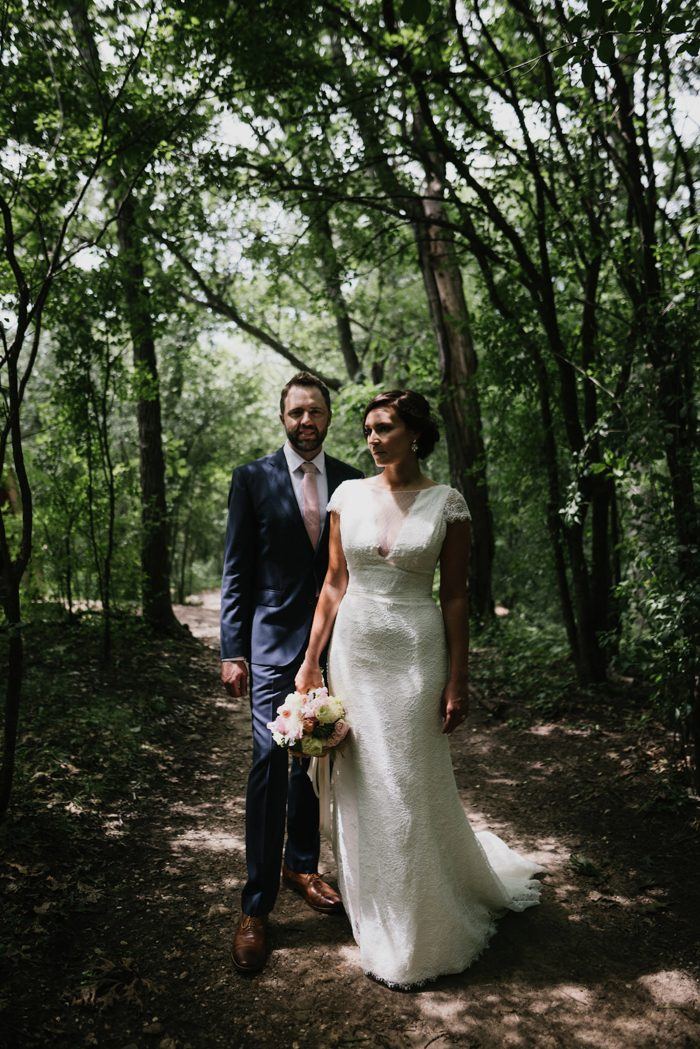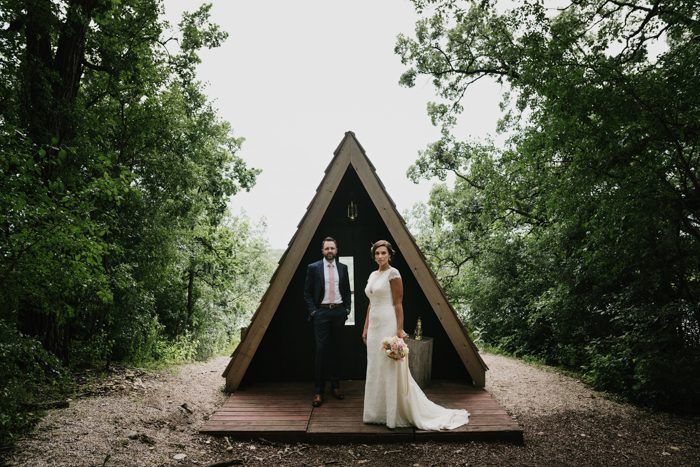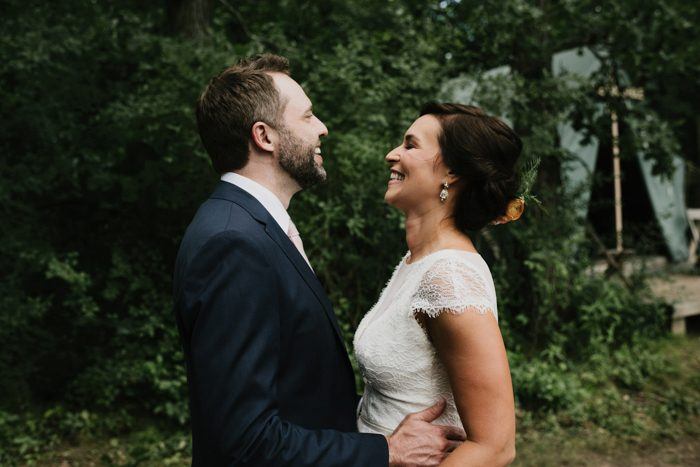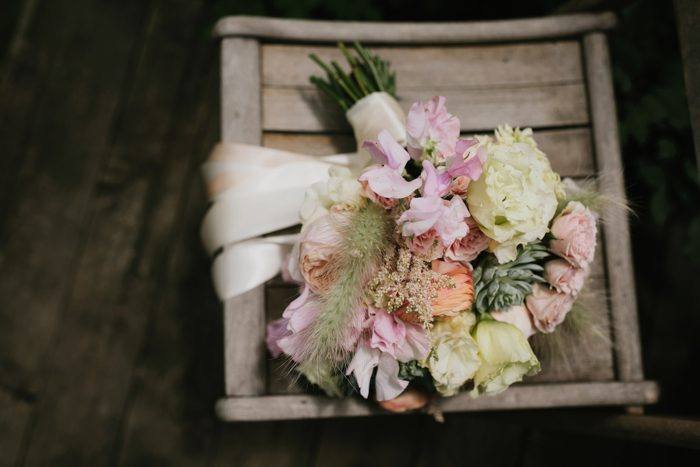 Our ceremony felt really personal to us because we were married by my Aunt Joyce who has been a very supportive and loving person in my life. She wrote a beautiful ceremony and Will and I wrote our own vows which meant a lot to both of us. My cousin's husband, Paul, played acoustic guitar andsang at the ceremony which was another personal touch that added to the moment. It was important to me that the ceremony be long enough to feel meaningful but not feel formulaic.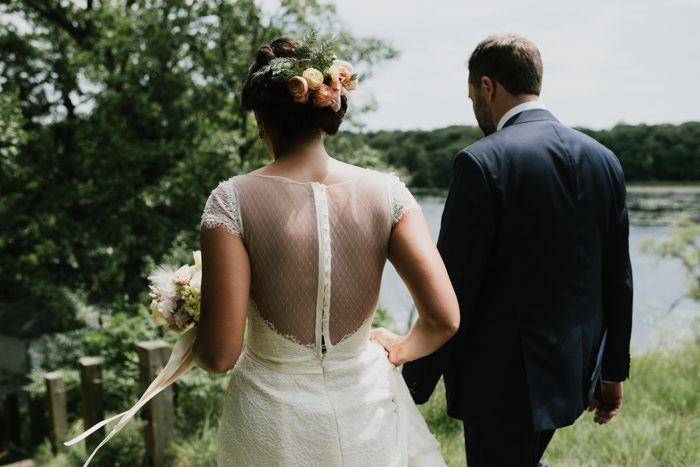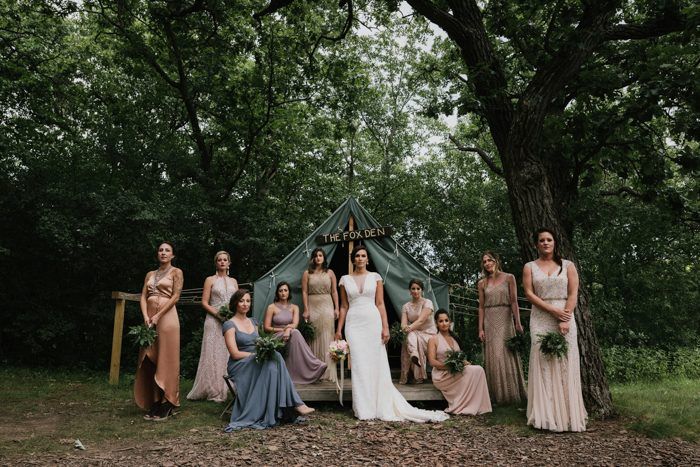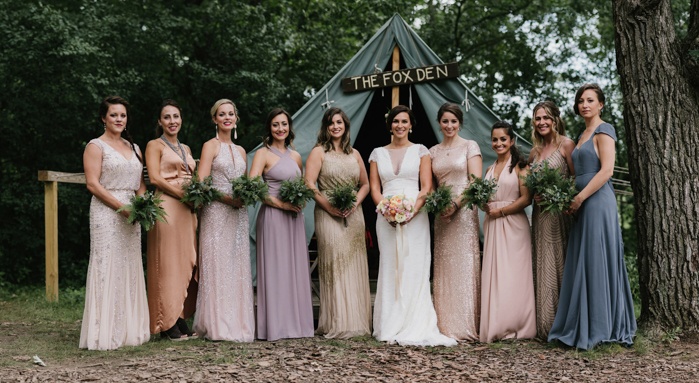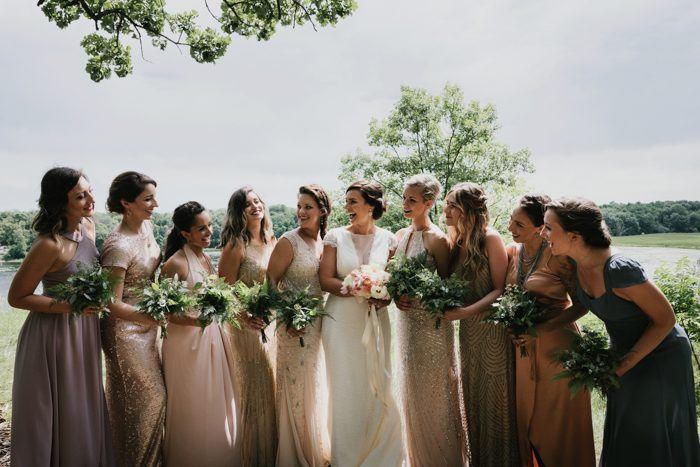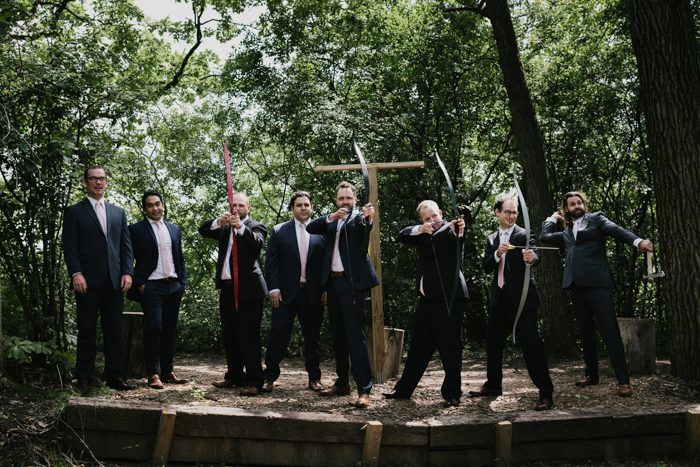 I am a designer and have lots of experience with events from a past life as a college catering coordinator. I was excited to design my own website, save the dates, invites and paper materials. I also took on the task of being my own wedding planner and coordinating the thirty vendors involved to pull off a weekend long wedding in the woods at a venue not entirely set up for events. While I never imagined to spend so much time scoping port-a-potty layouts when planning my wedding, getting into the details turned out to be a lot of fun and an awesome learning experience.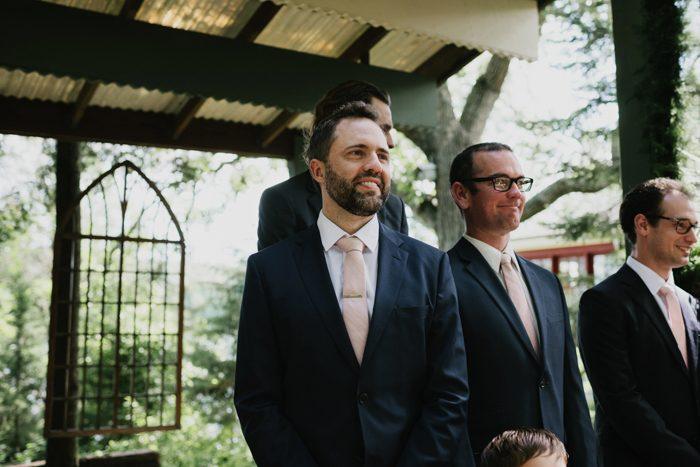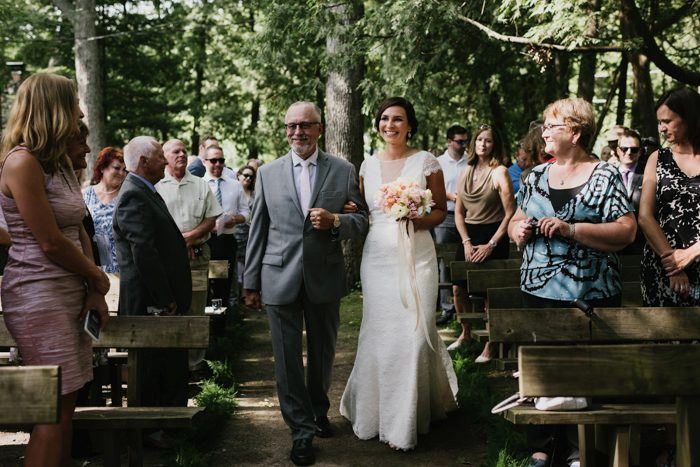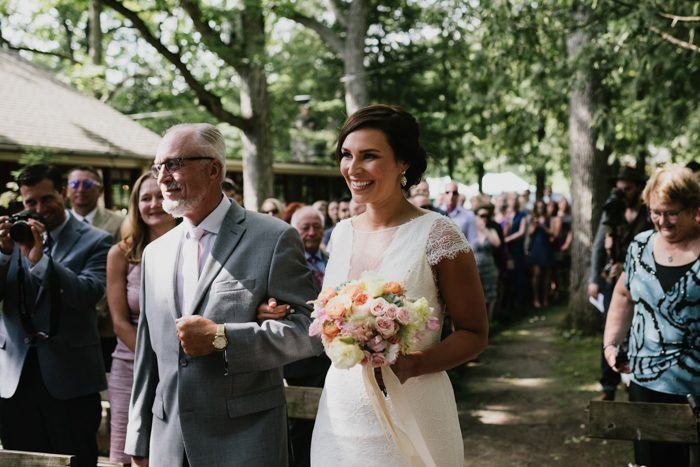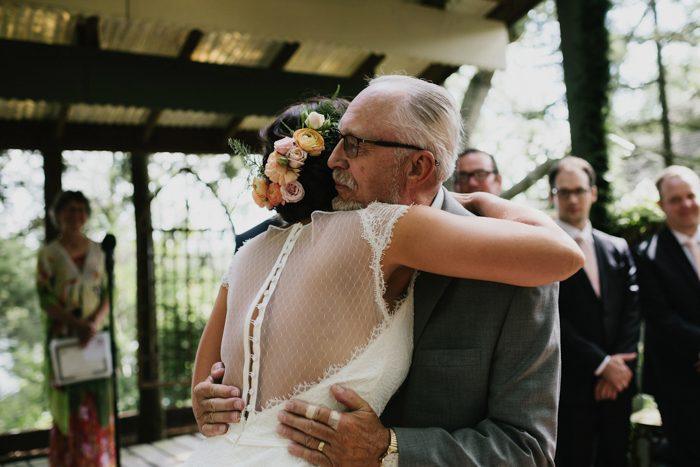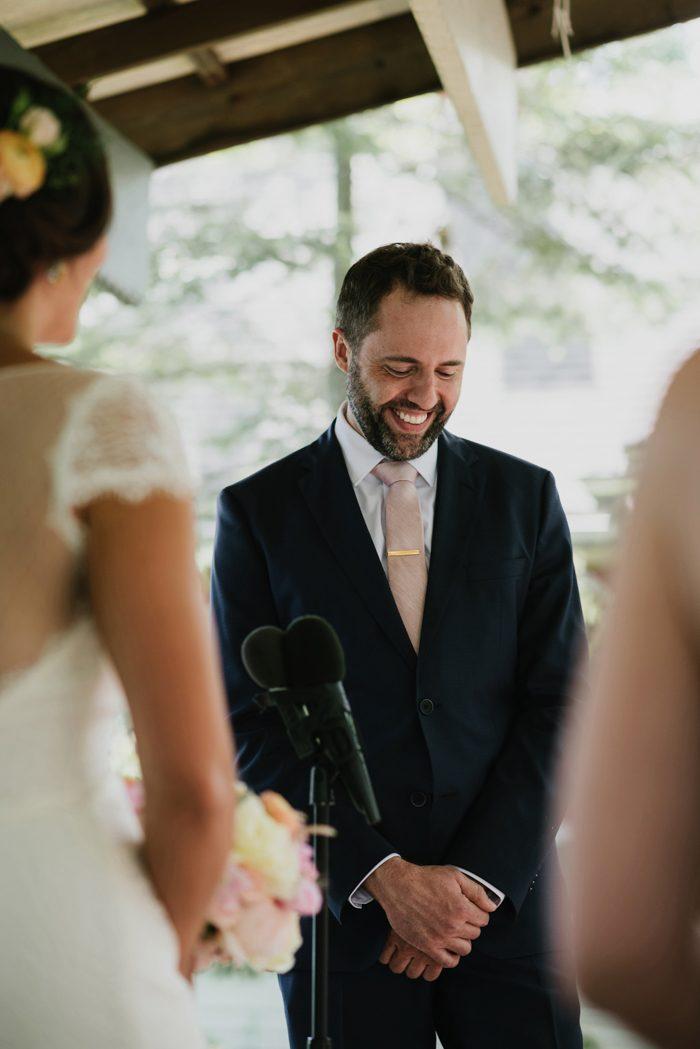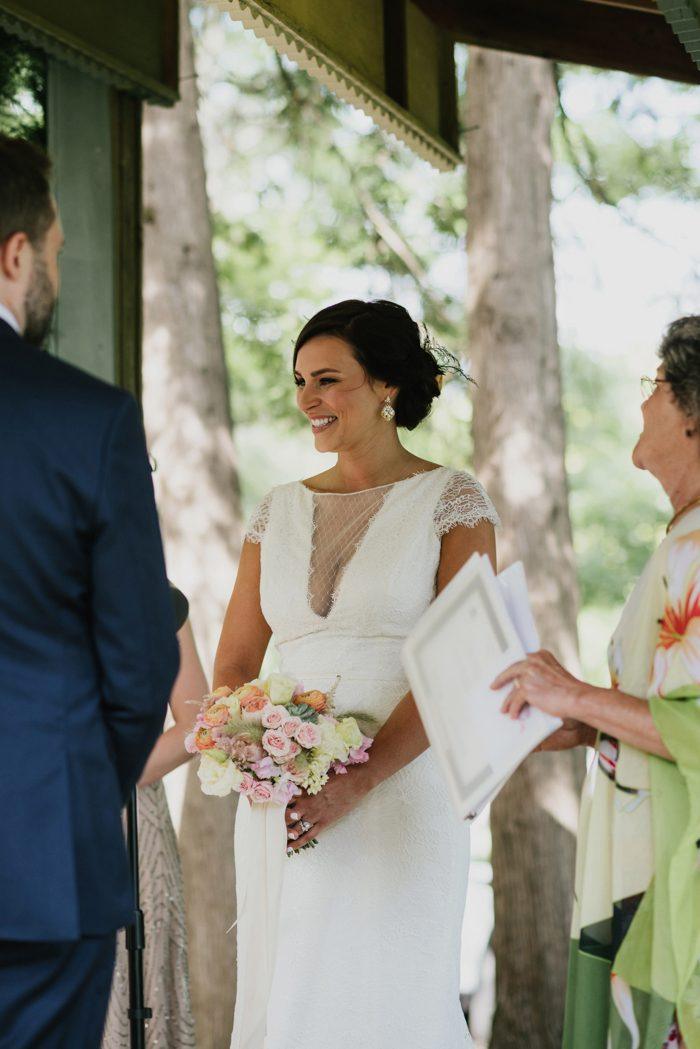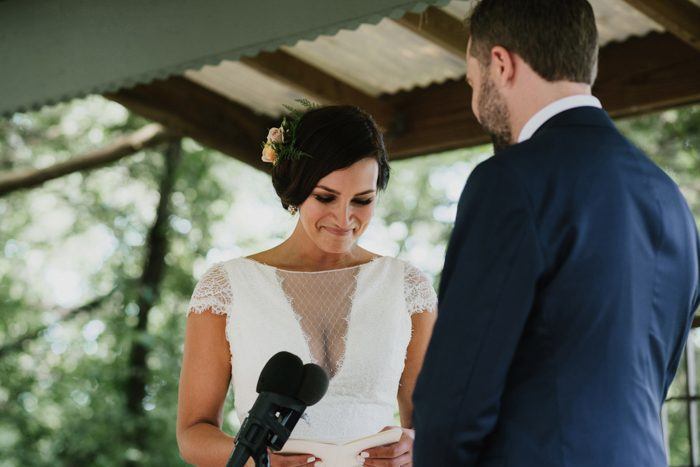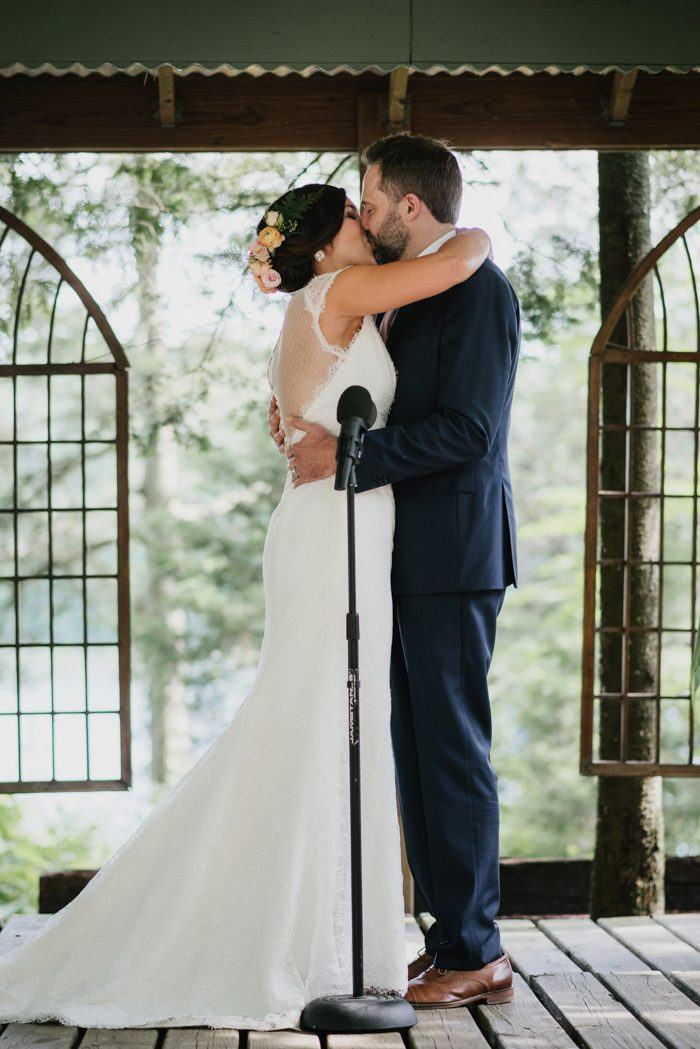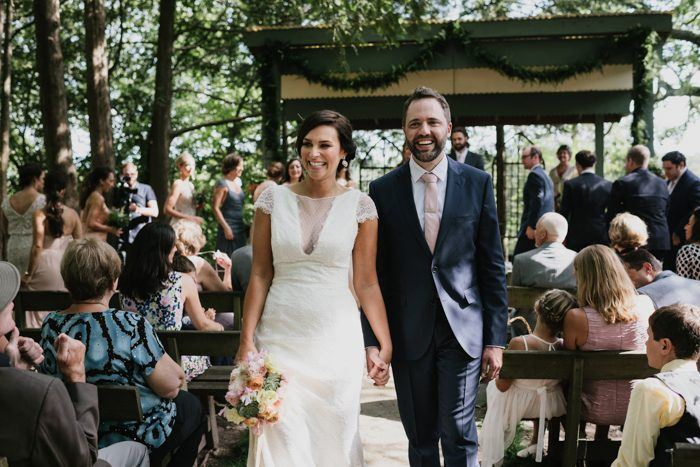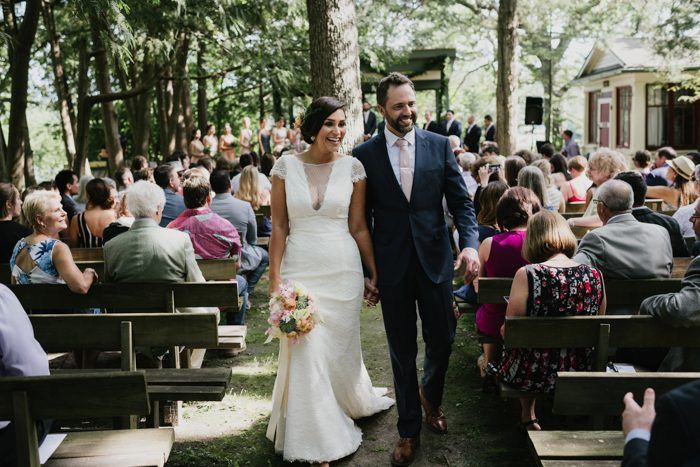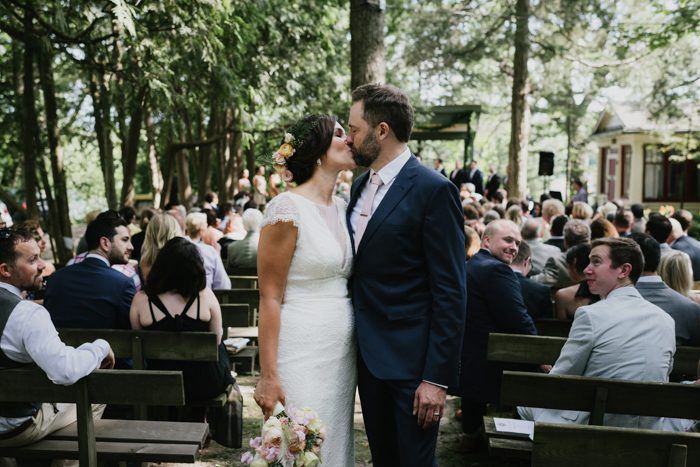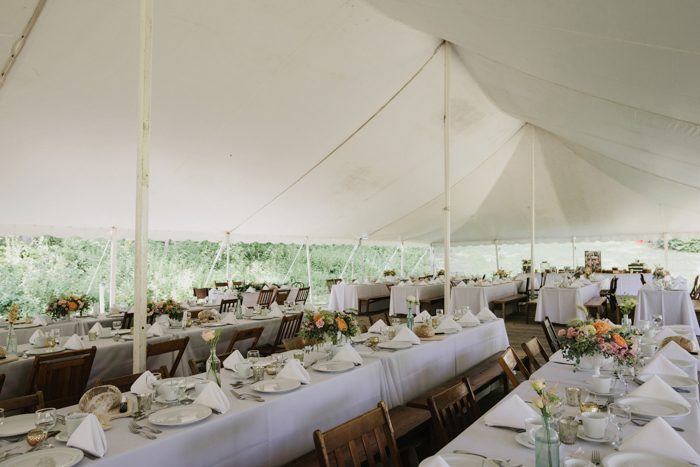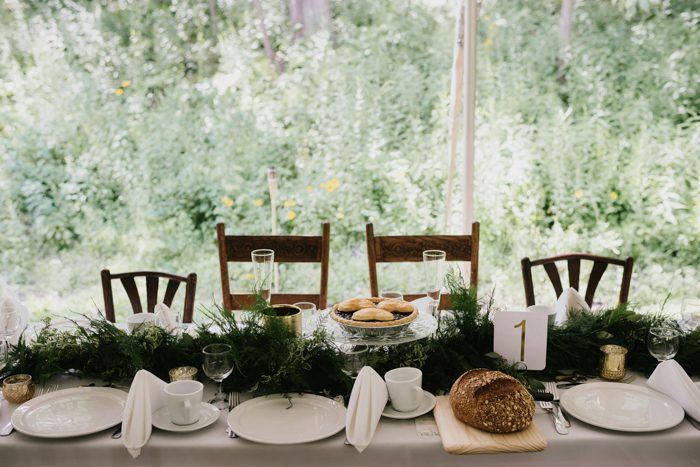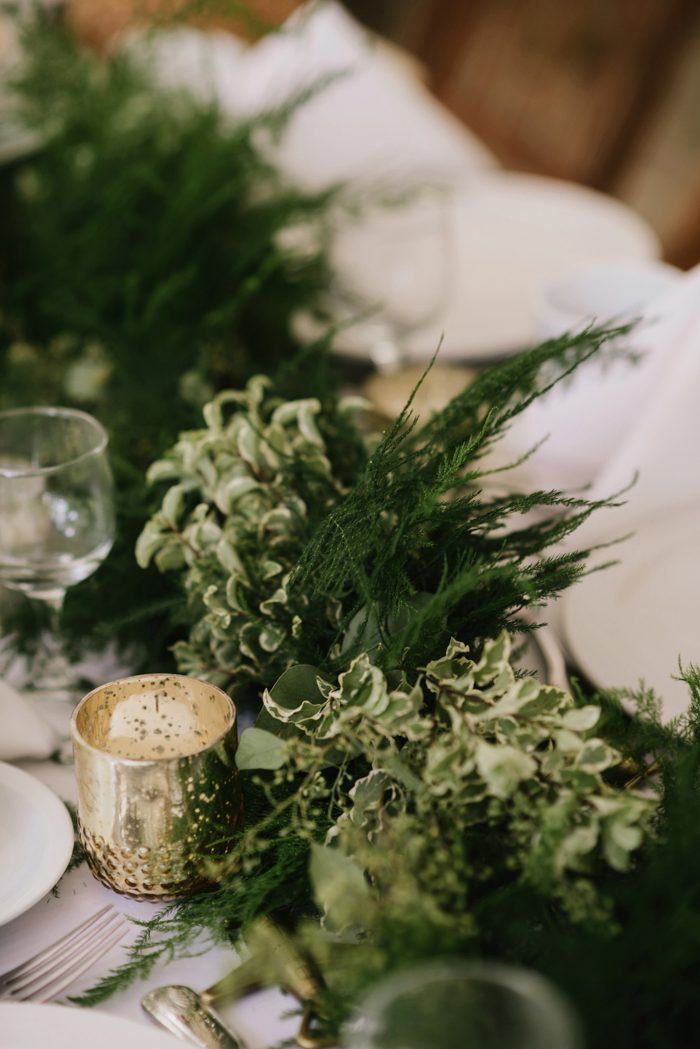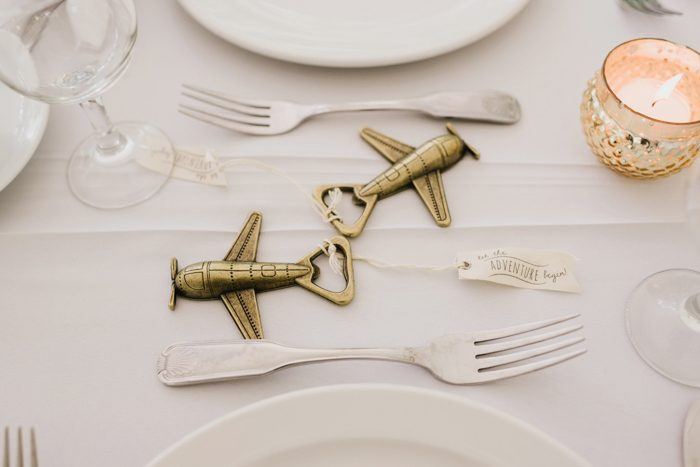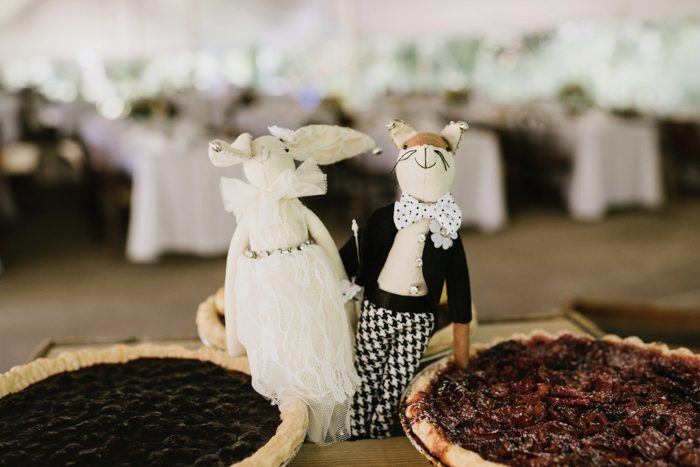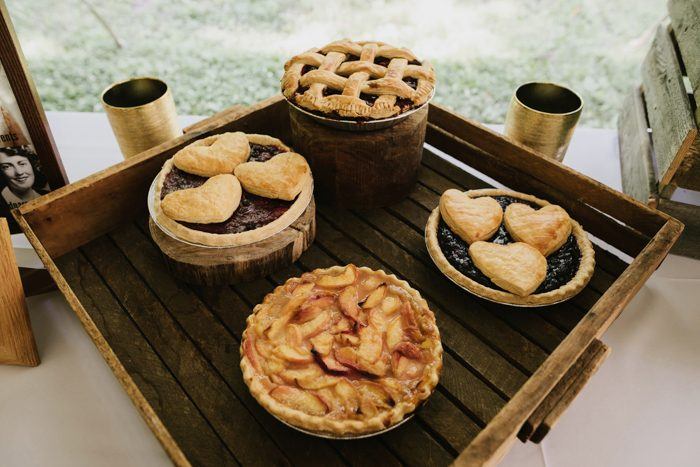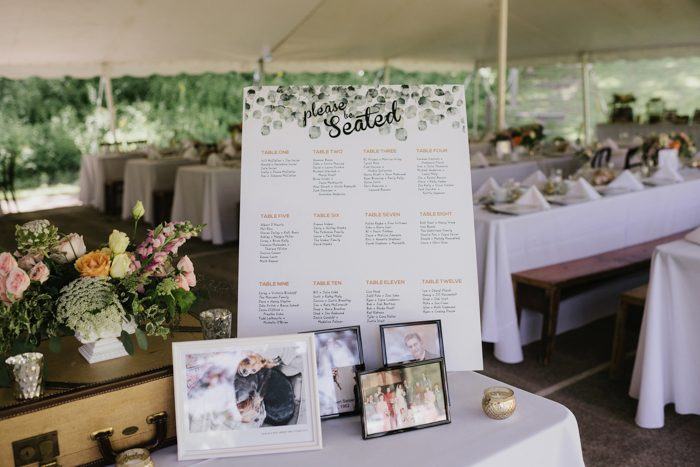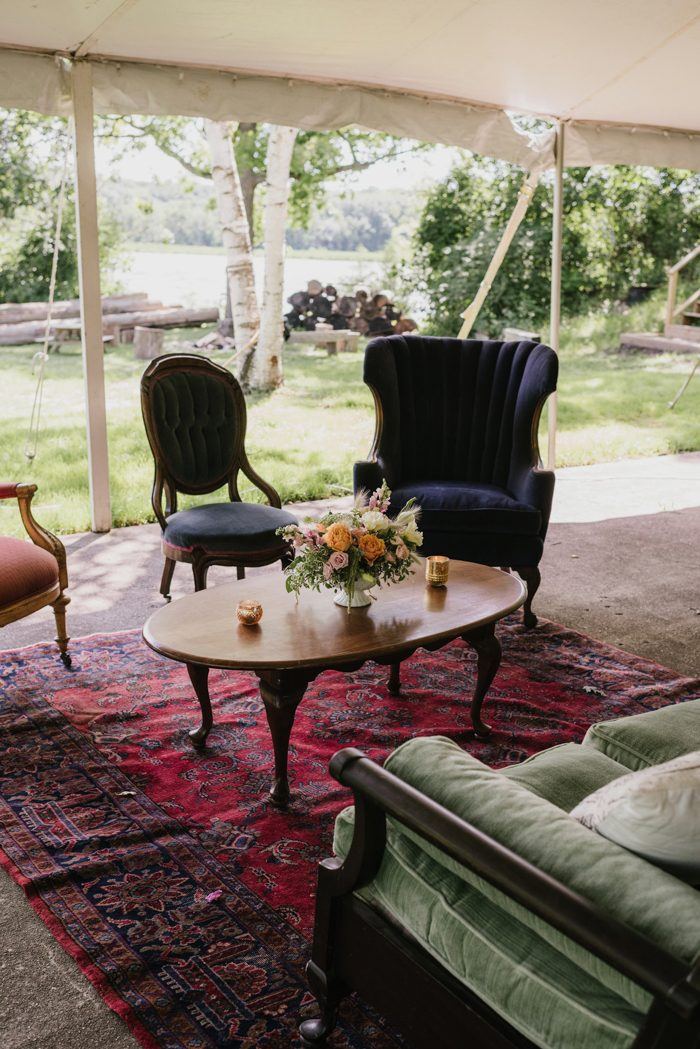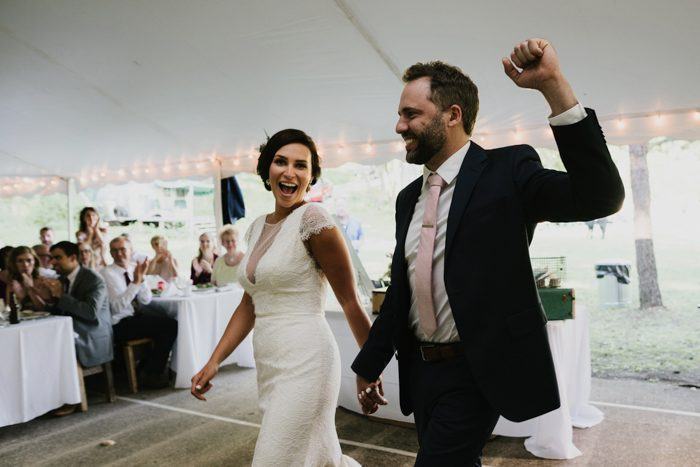 I wanted a look that would be reflective of the venue and the relaxed, boho chic look was going for. I ended up purchasing one of the first dresses I tried on from a shop called Carrie Karibo Bridal Boutique right at home in Cincinnati.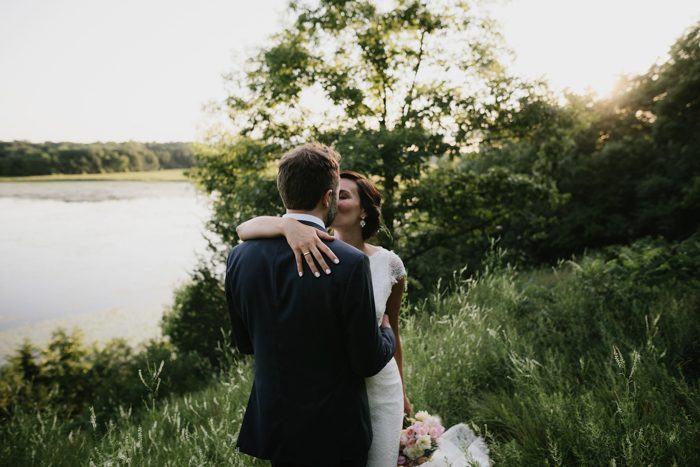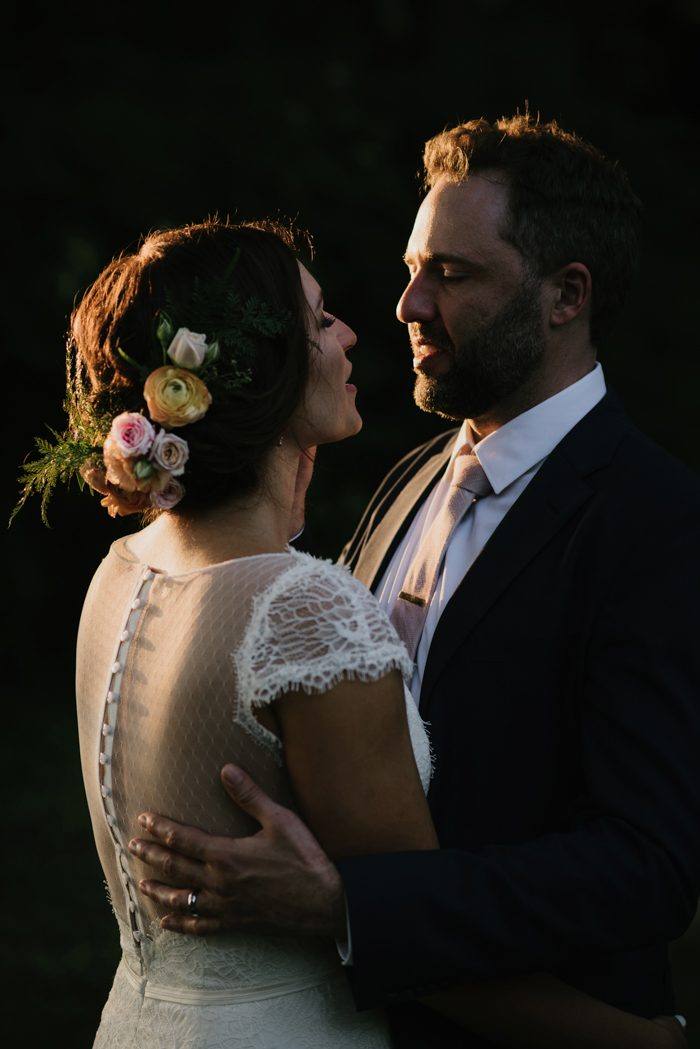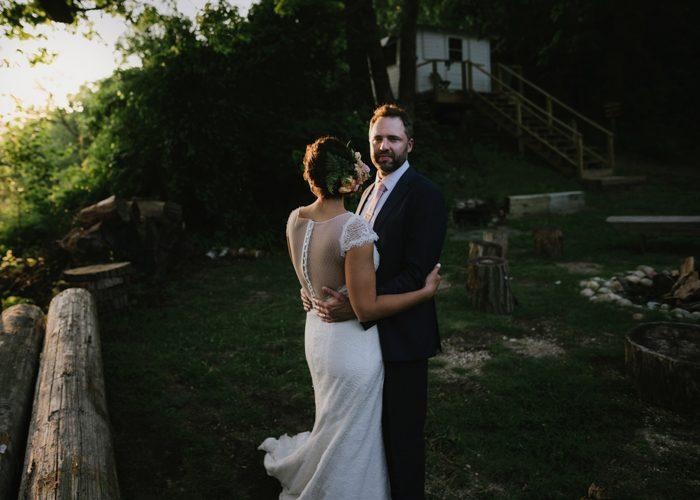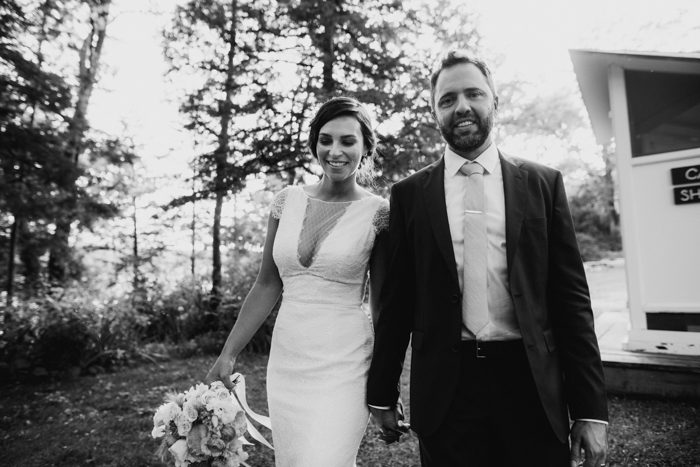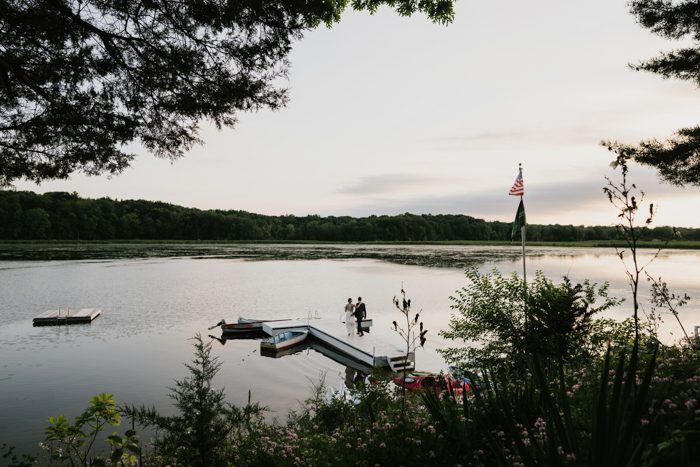 Obviously, weather is always a wild card when planning an outdoor wedding. Heat and mosquitos were our main concern with a lakeside wedding in mid-July, but we were thrown a little surprise when the "flood of the century" hit Elkhorn, Wisconsin in the days before our wedding! Lucky for us, we didn't even notice the venue had flooded in four feet of standing water just the day before. So grateful to this miracle worker for saving the day and so relieved he knew not to panic me if he was confident he could resolve it in time.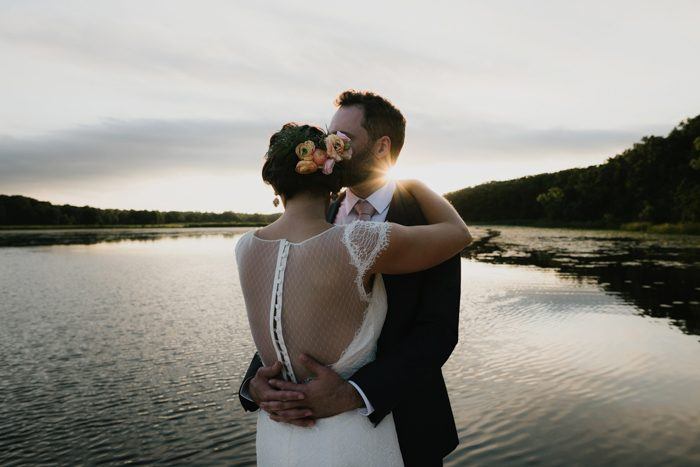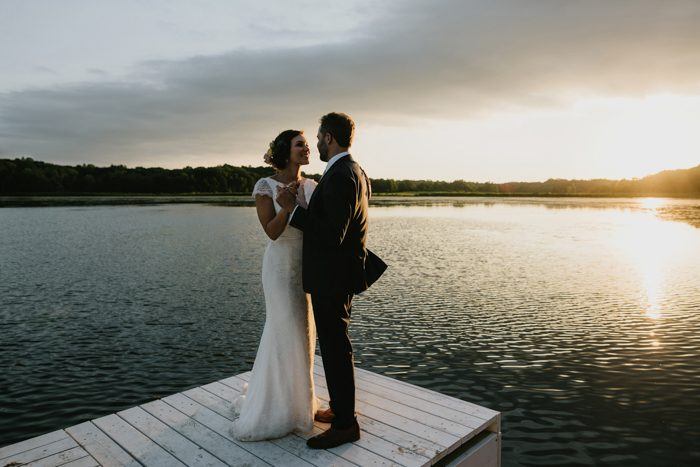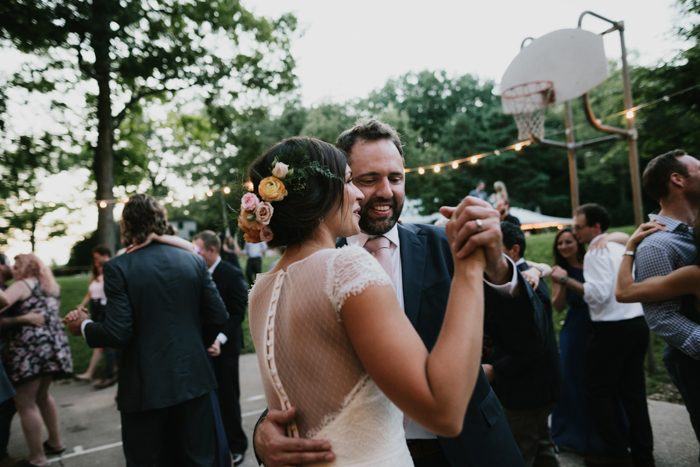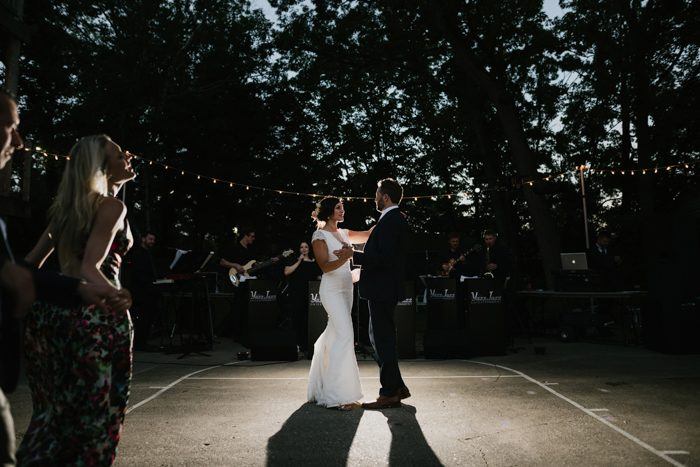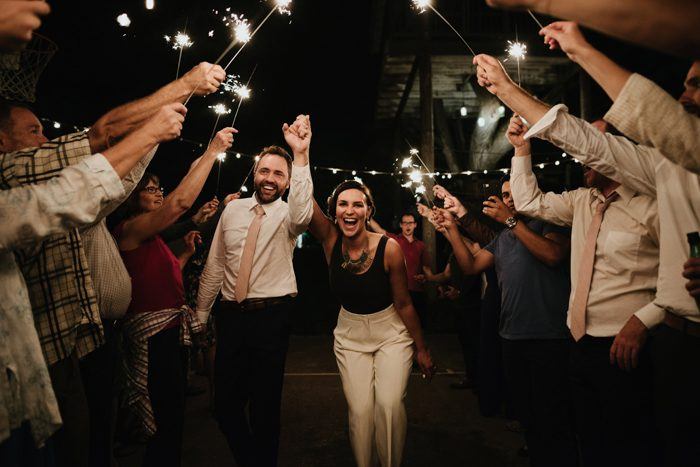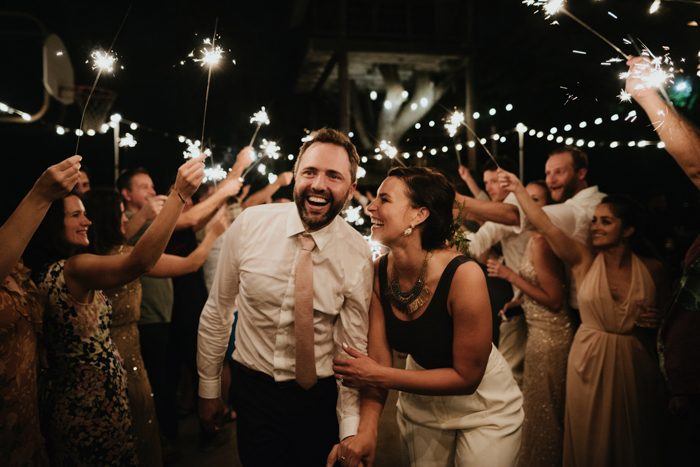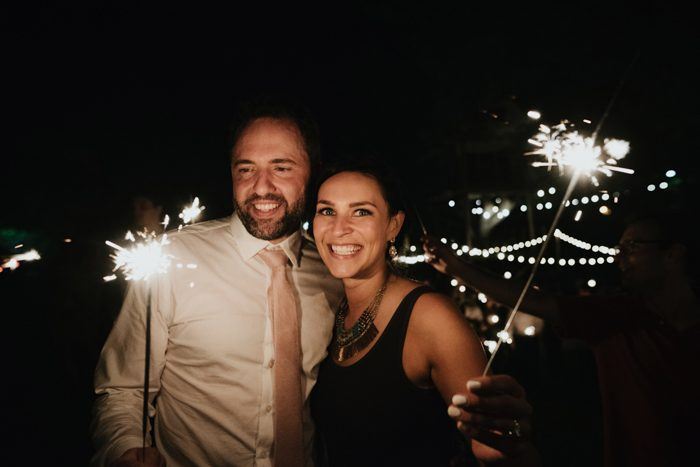 Congratulations to Jen and Will on the success of their quirky and unique wedding and special thanks to Madeline Druce Photography for capturing this lovely, rustic weekend! For more camp wedding inspiration check out this Lord of the Rings meets Wes Anderson wedding of every nerd's dreams!