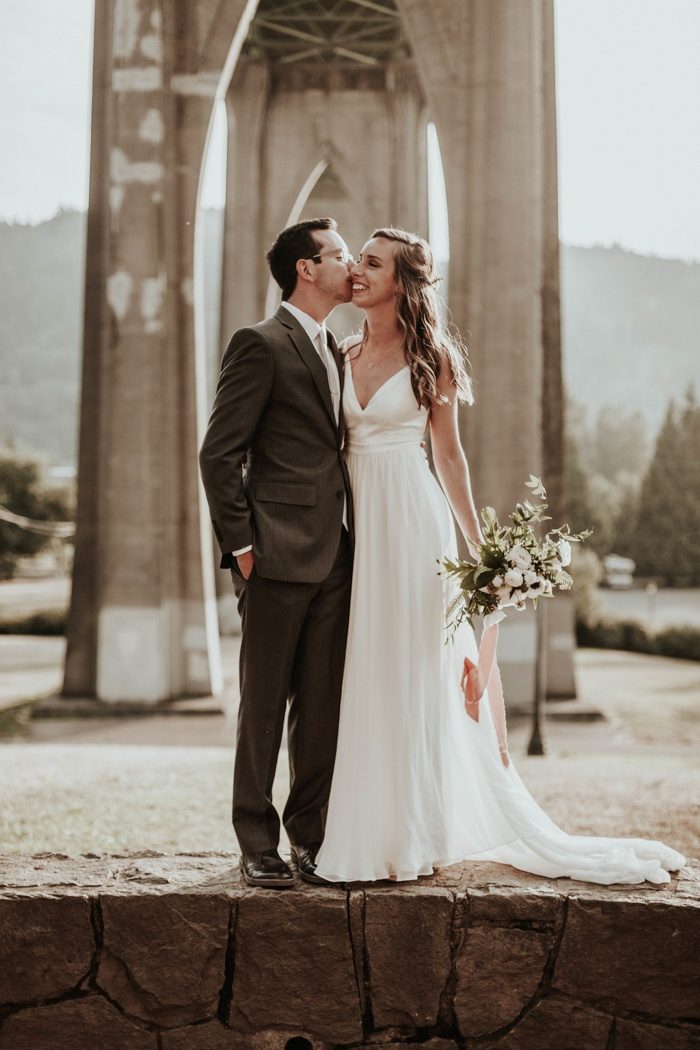 Taylor and Ryan's wedding at The Colony St. Johns, a stylish midcentury colonial townhouse with a show-stopping modern ballroom, set the tone for a stunningly simple aesthetic with modern vibes and a chill atmosphere. Their super cool parking lot reception embraced their casual urban vibes by serving the couples favorite local foods: Hot Lips Pizza and Pip's Donuts parked up in their food truck. Brier and Ivy classically white flowers mixed with trendy monster palm leaves that created their modern-meets-tropical ceremony arch and the bridal party's elegant hand tied bouquets with a rustic dusty rose ribbon. The bride's simple wedding dress from Portland designer Leanne Marshall, natural beauty look and beautiful half-up do with fresh flowers kept all of the focus on her bridesmaids' elegant sparkling champagne dresses. Karra Leigh Photo captured all of the glamorous and quirky details of this laid-back couple and their casually elegant day.
The Couple:
Taylor and Ryan
The Wedding:
The Colony St. Johns, Portland, Oregon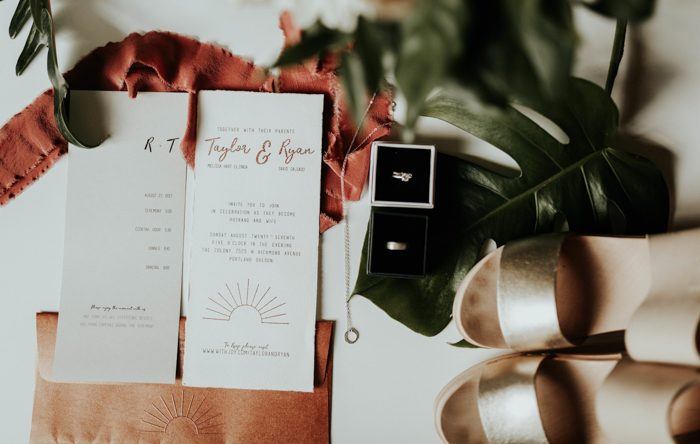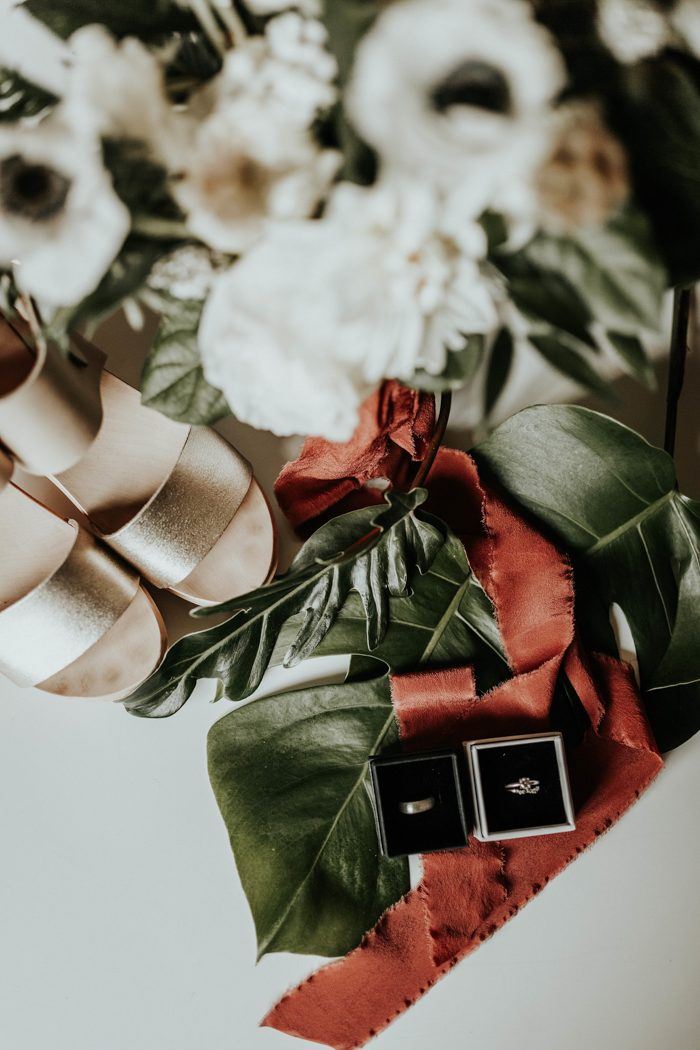 A big part of the planning process revolved around trying to define the whole vibe we were after. Everyone wants their wedding to feel unique andpersonal, and I really struggled at first to figure out what that meant for us. What helped was embracing several contrasts instead of trying to box ourselves into a single theme or color palette. Our ceremony was in a modern ballroom that spoke for itself but we had our reception in a parking lot that we had to totally make our own.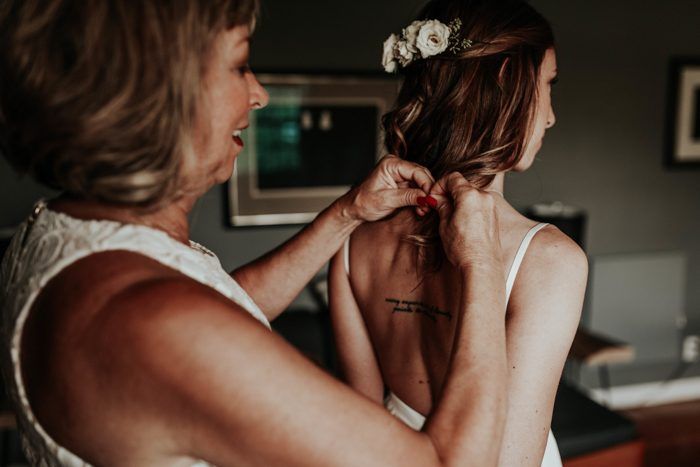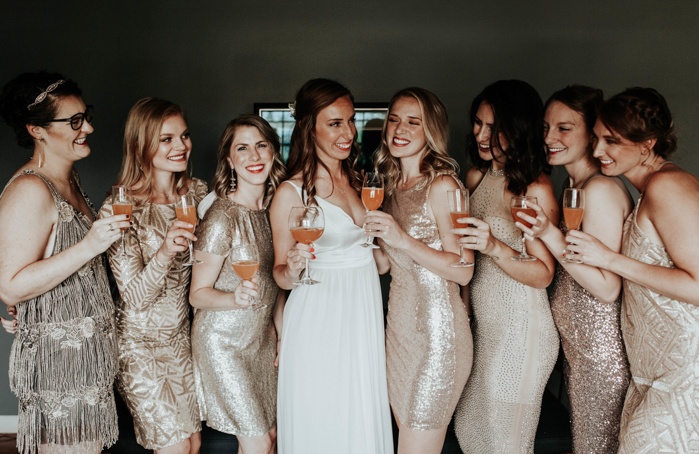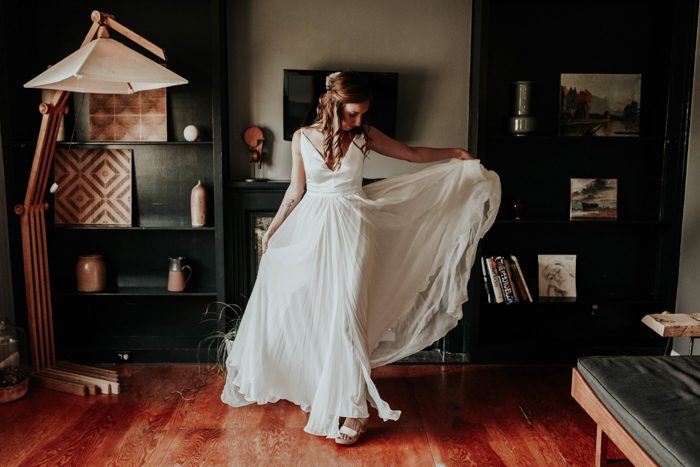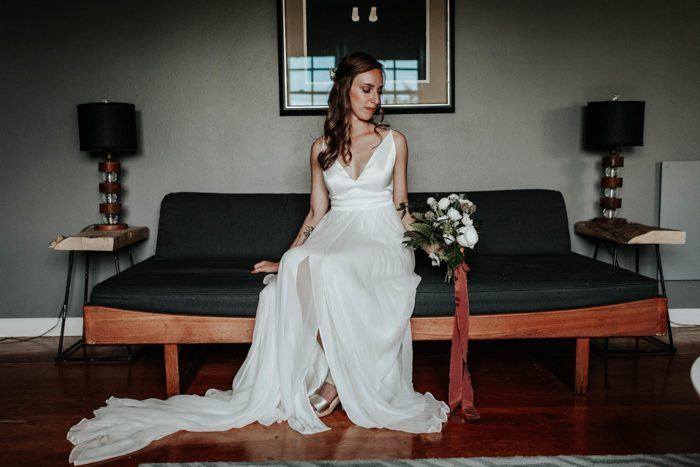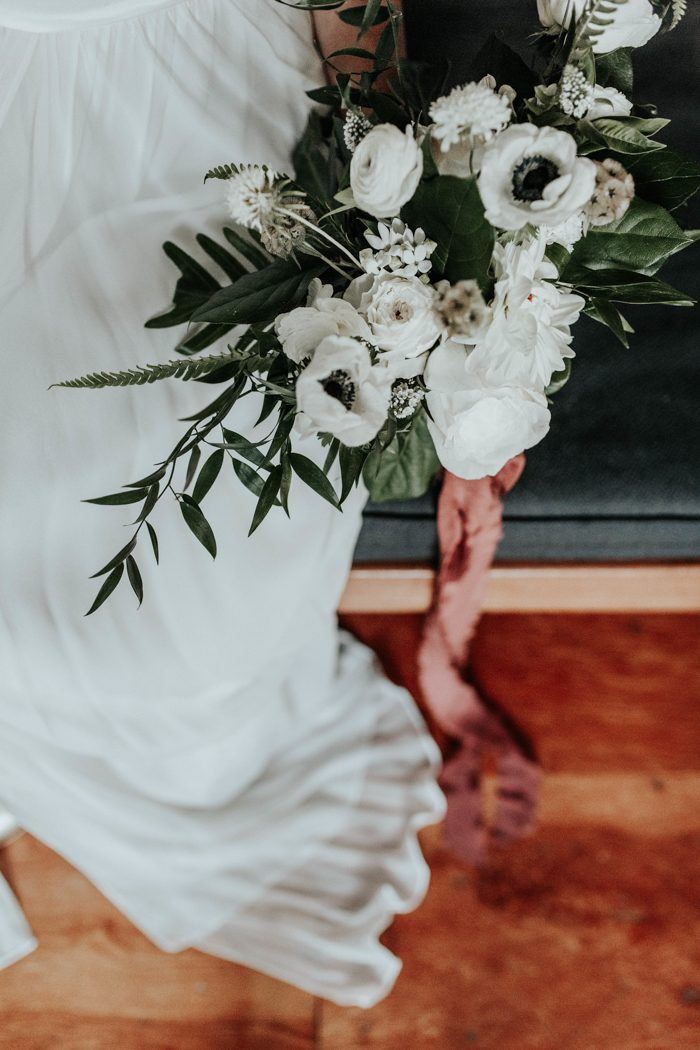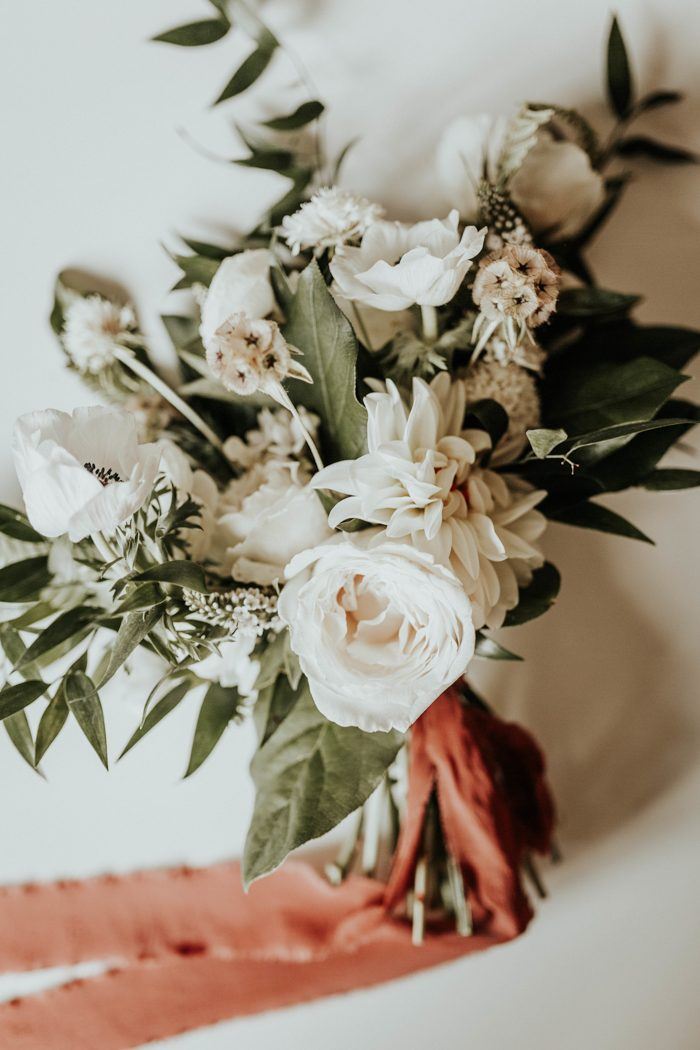 It was important that we were able to really celebrate with all of our friends and family and I wanted to make sure the atmosphere was conducive to a great party. It's one of the reasons we kept the reception outside so it didn't feel too formal and we chose our favorite foods instead of fancy wedding dishes. We wanted people to have a good time!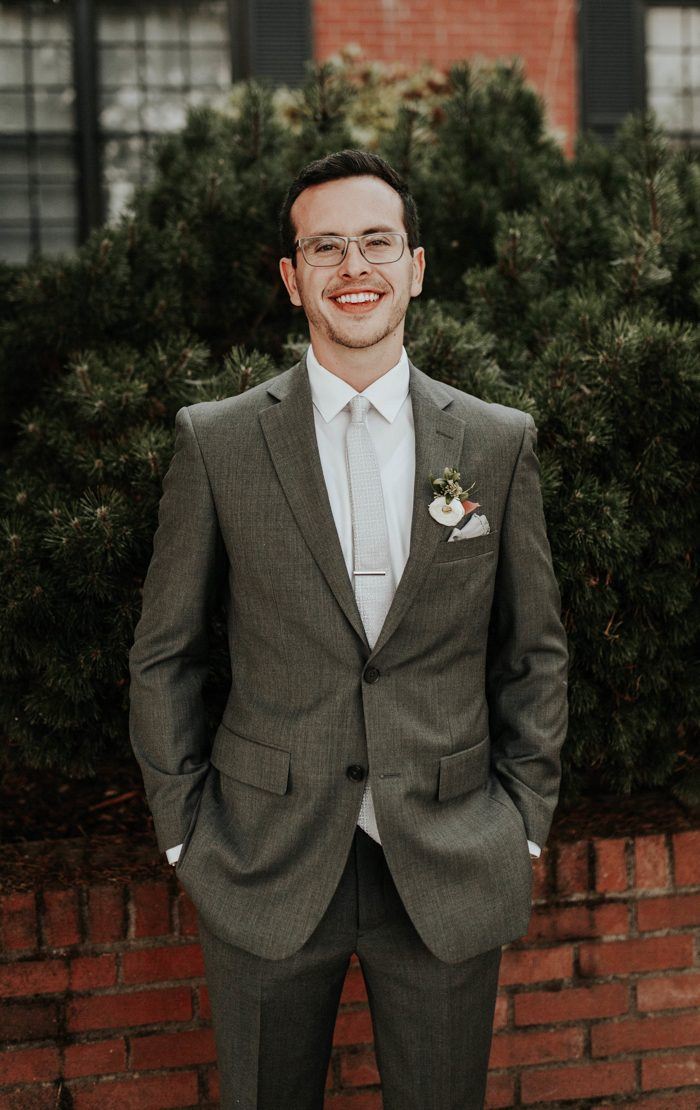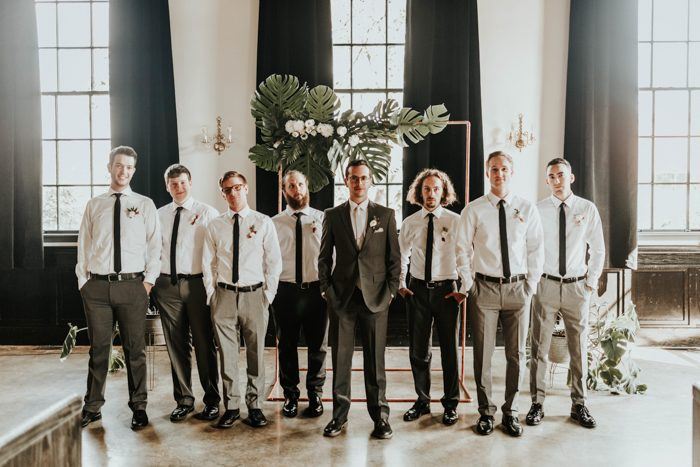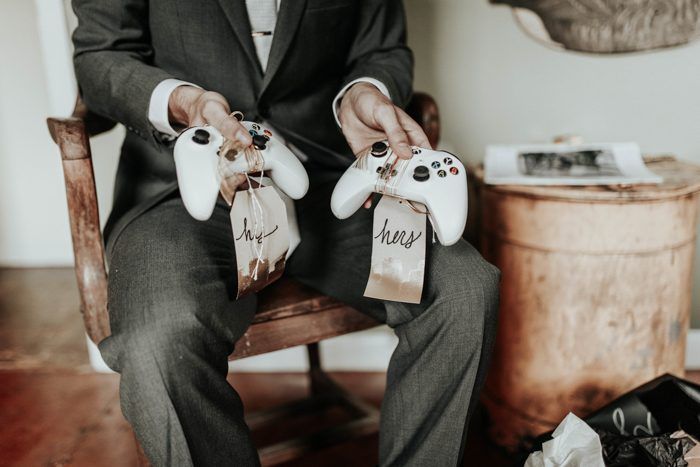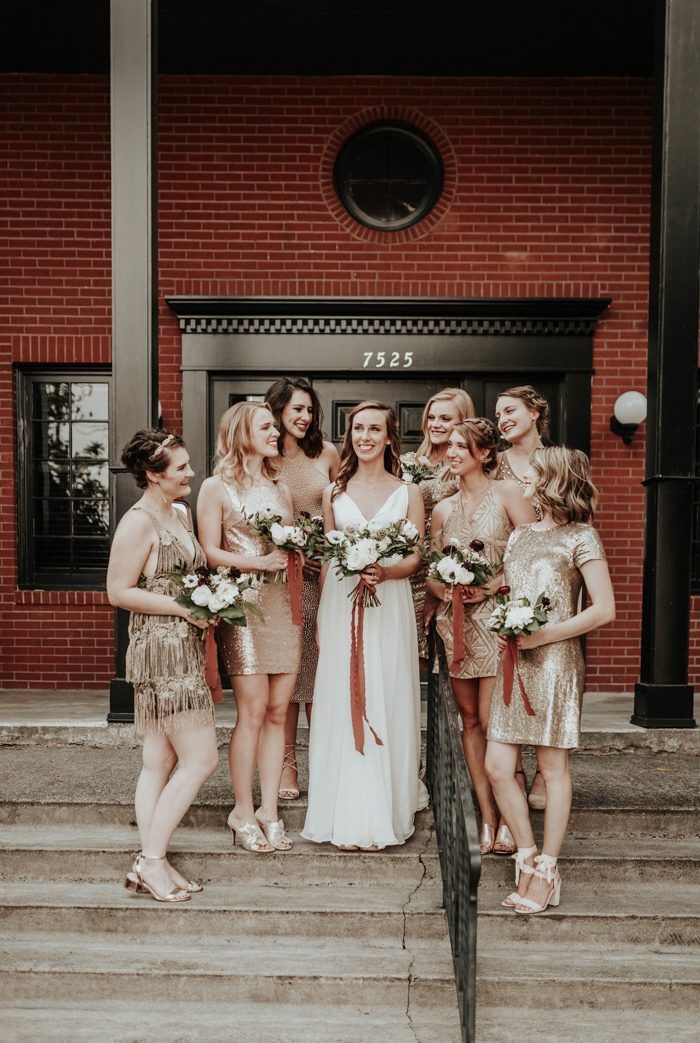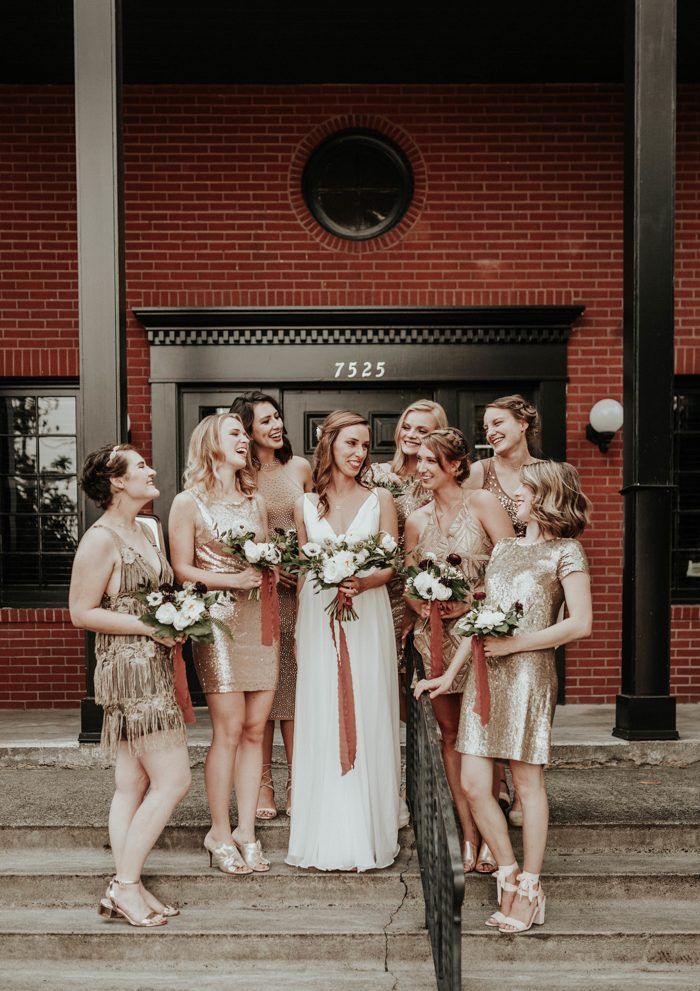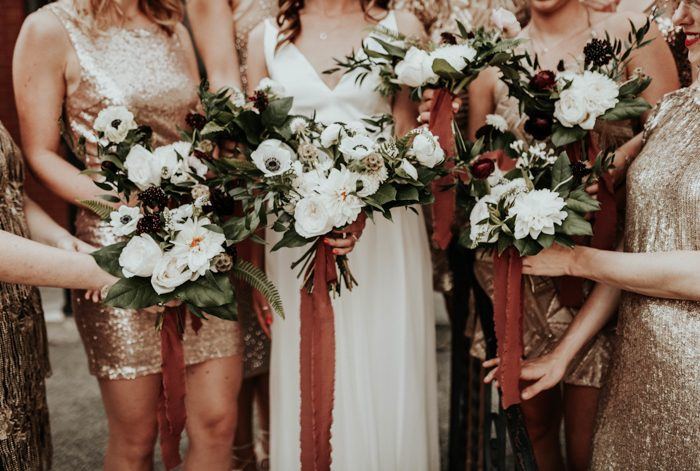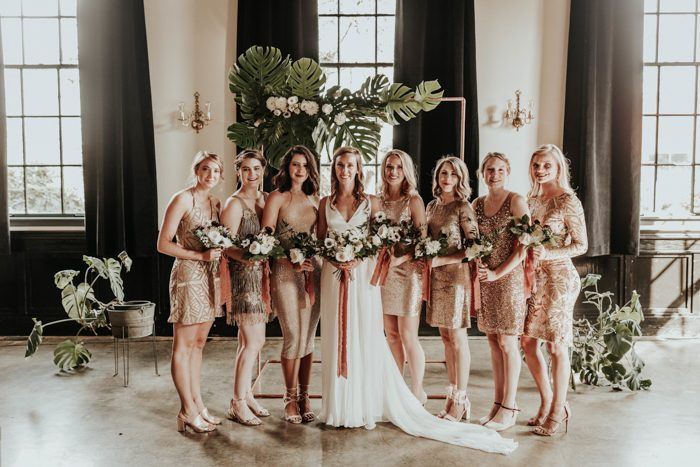 I kept my look simple but had bridesmaids in flashy metallics and sequins. Our florals were classically white mixed with trendy monster leaves. We wanted to embrace the city feel but we still wanted a white tent and farm benches outside. It was important when planning that we kept asking ourselves, how do we create a cohesive aesthetic that is still us?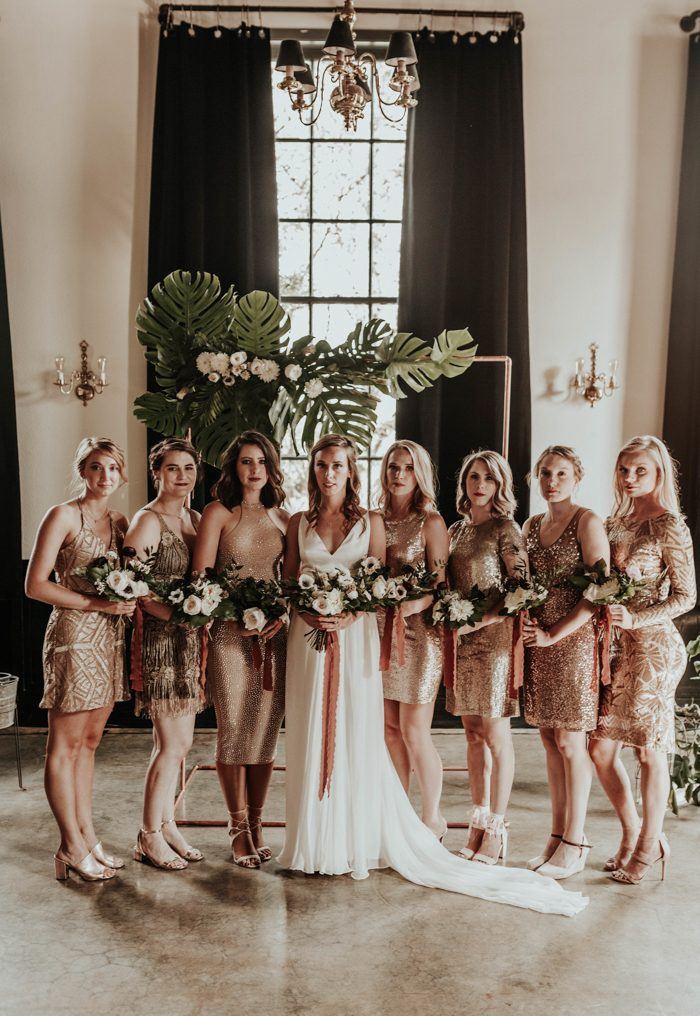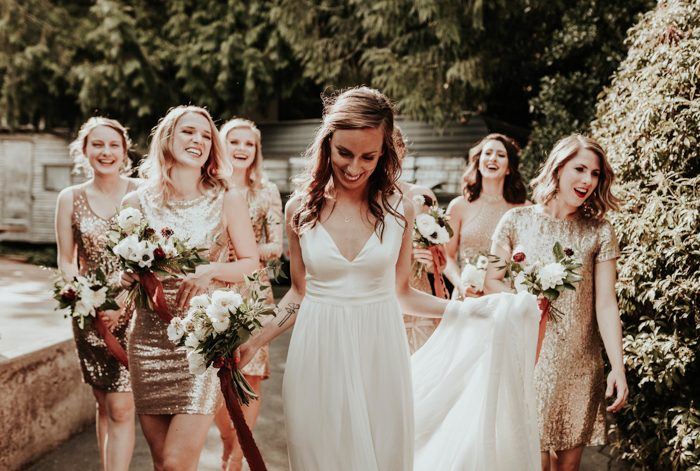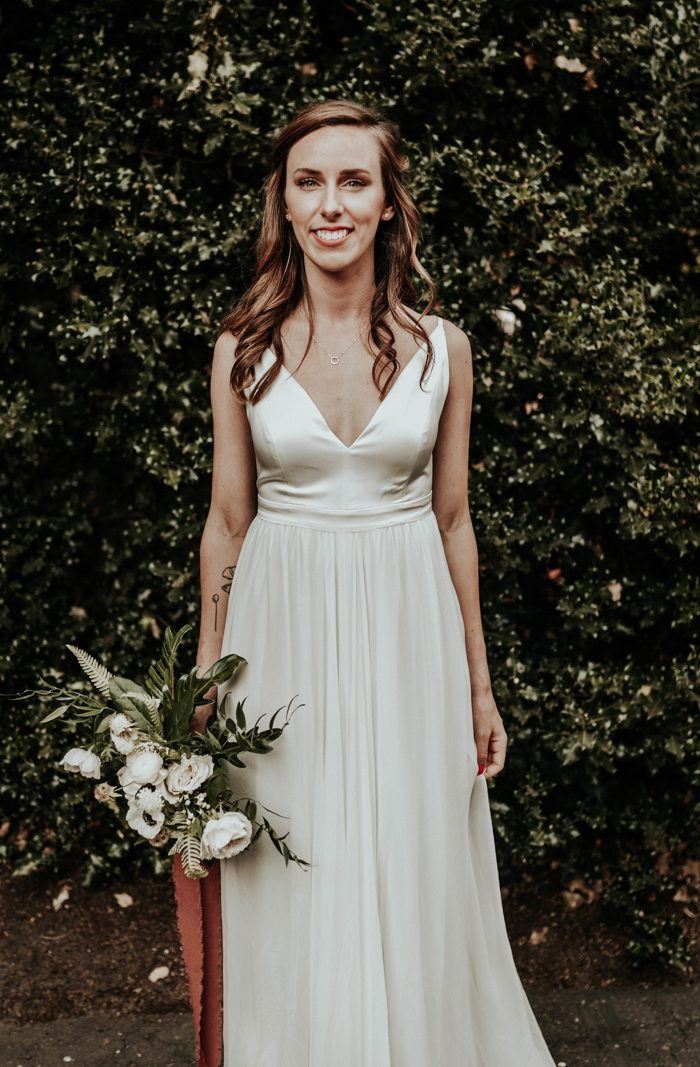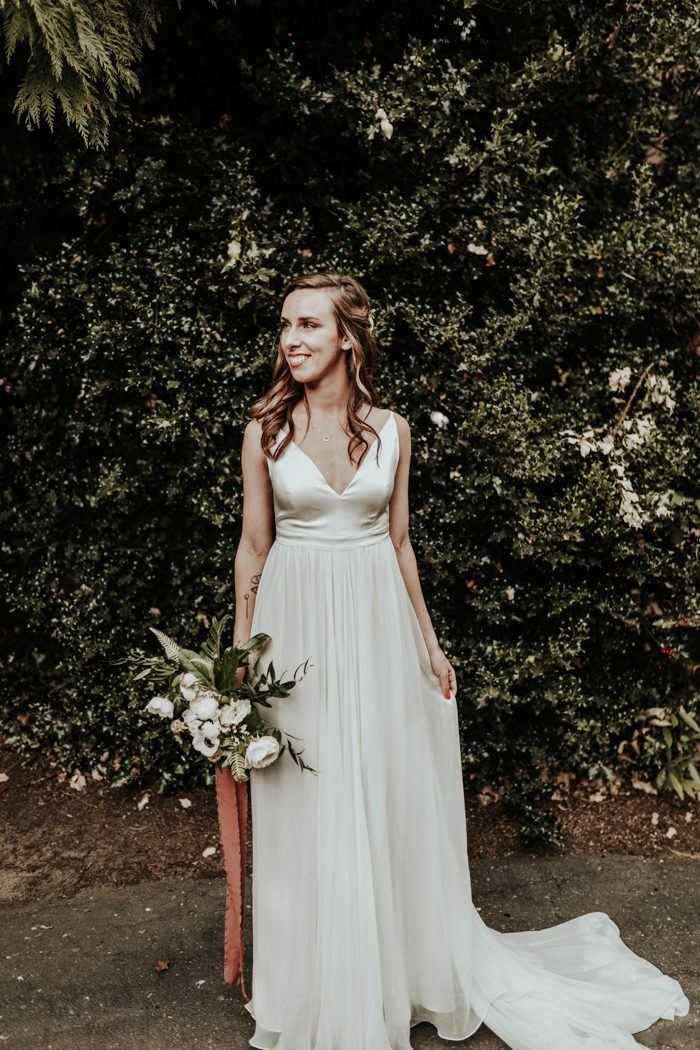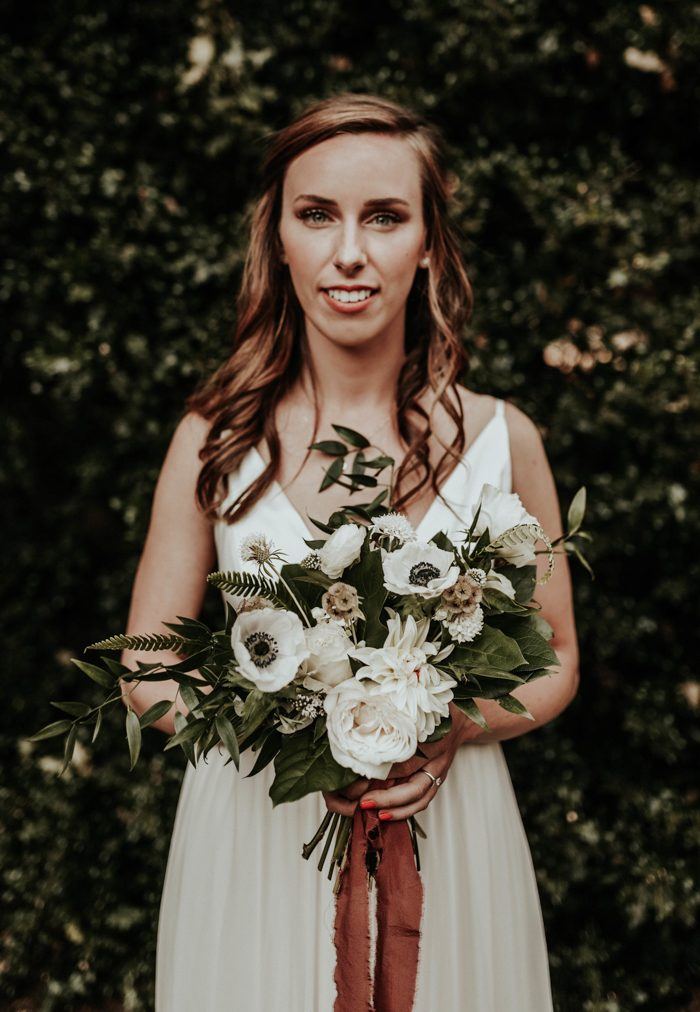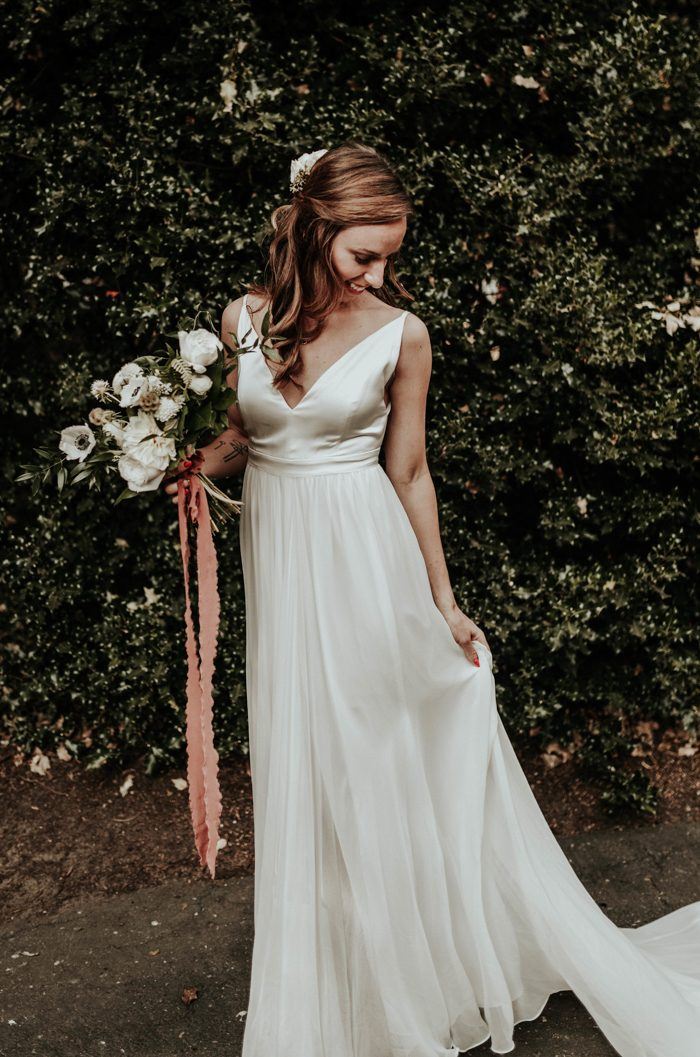 I think the best moments were the few times Ryanand I really got to focus on each other. When we held hands during the ceremony, when we sneaked away for photos, and when we had our first dance surrounded by sparklers–those were some of my favorite parts.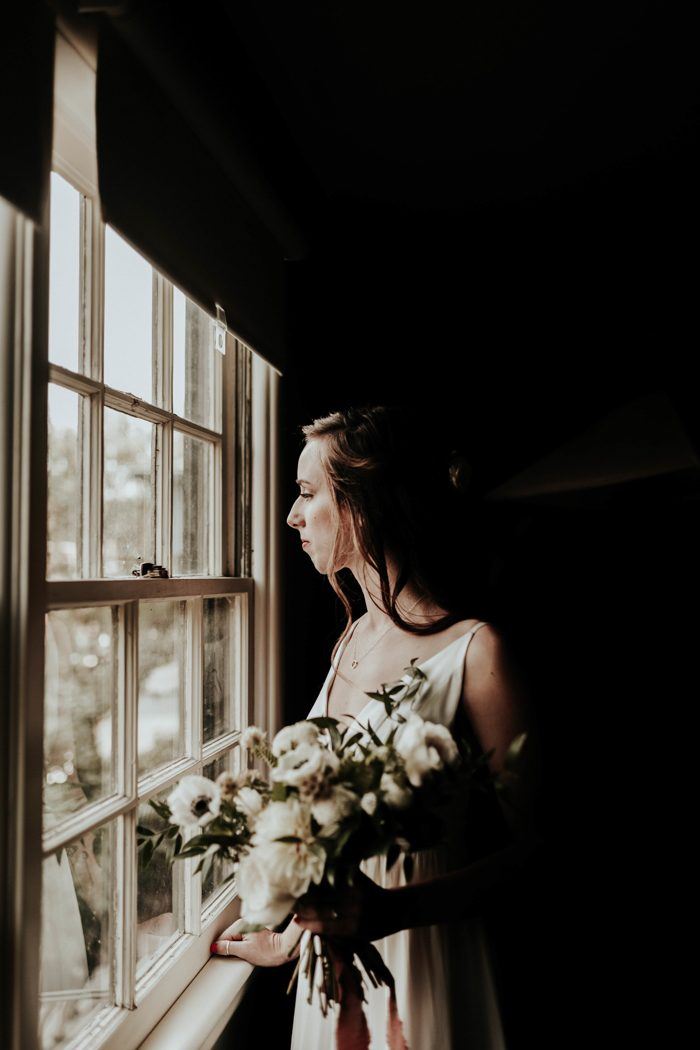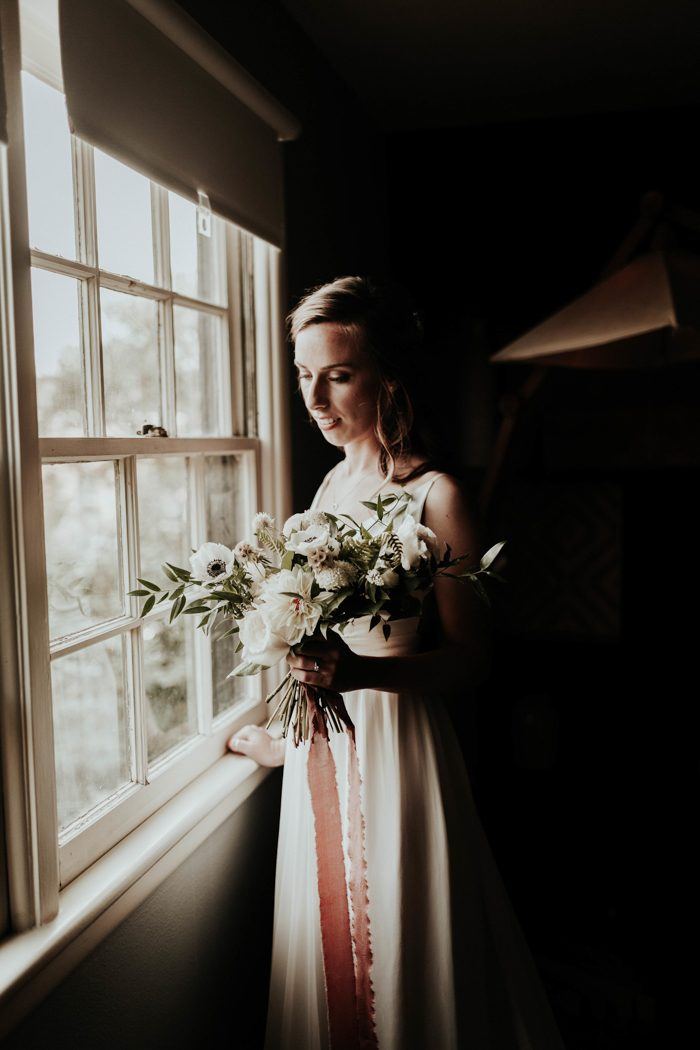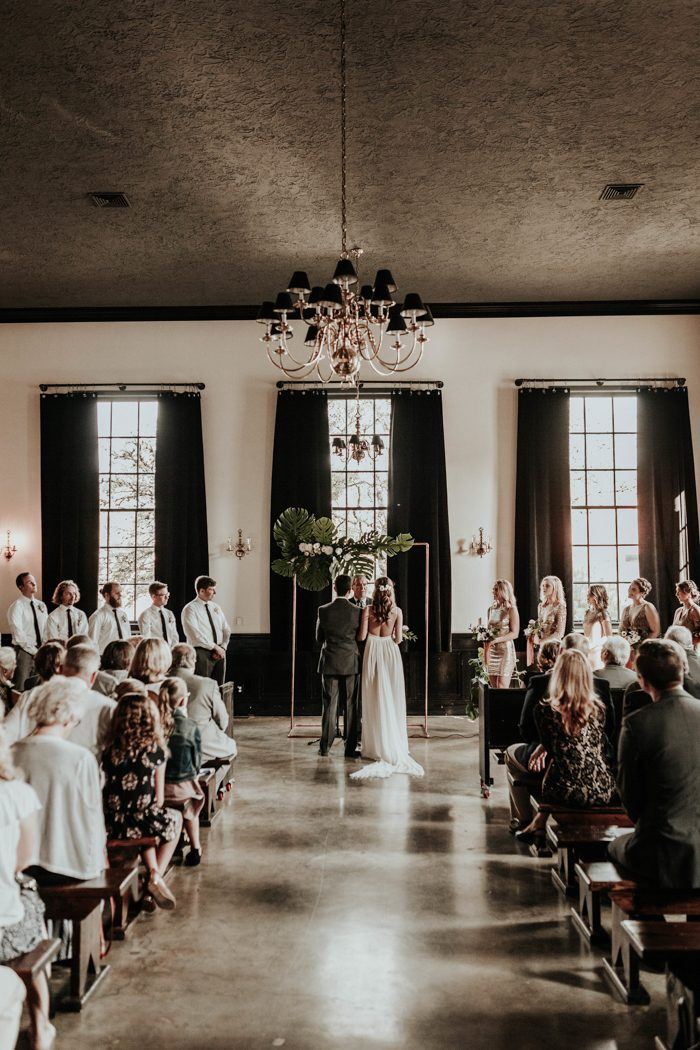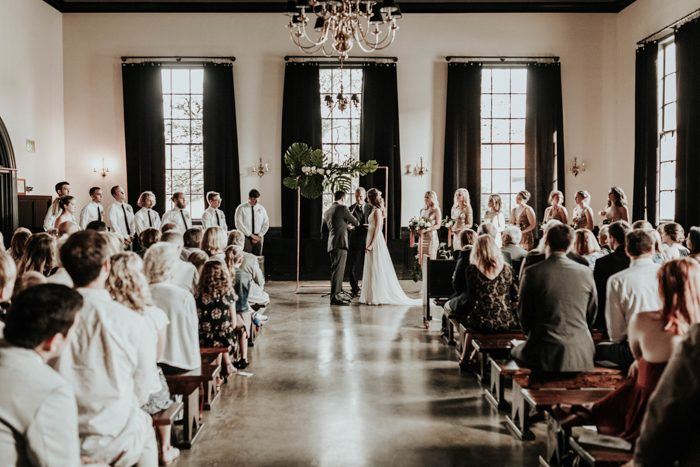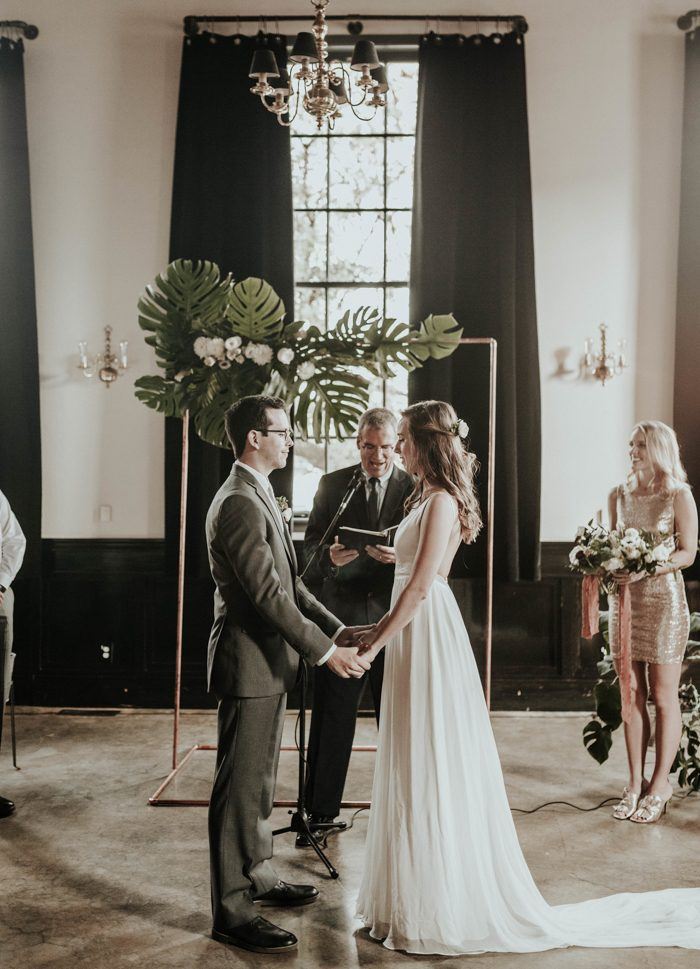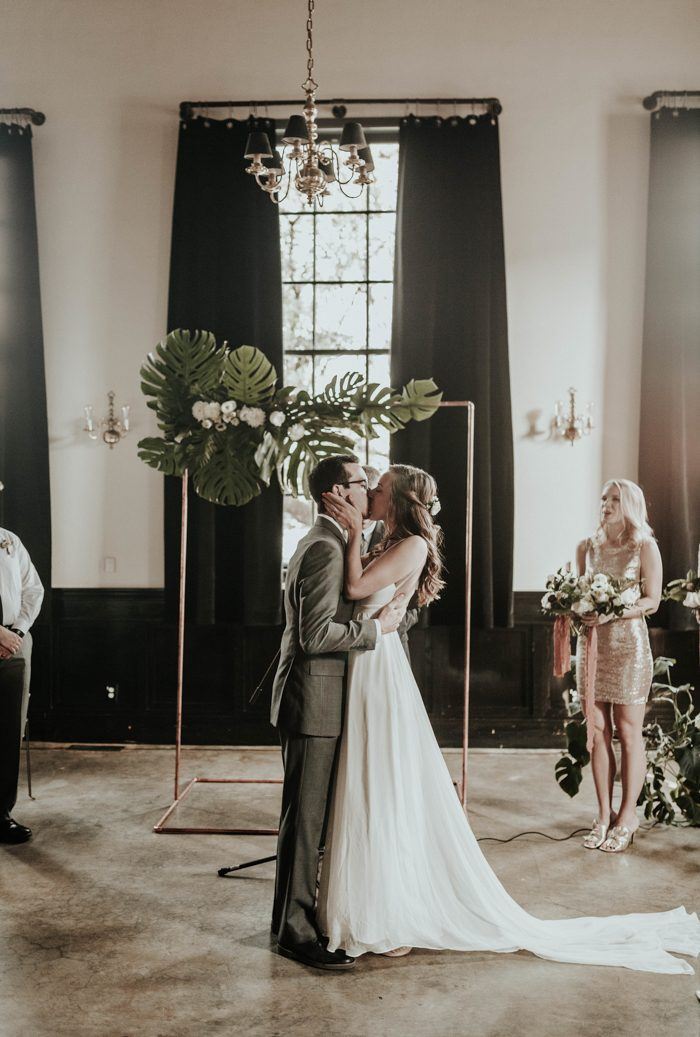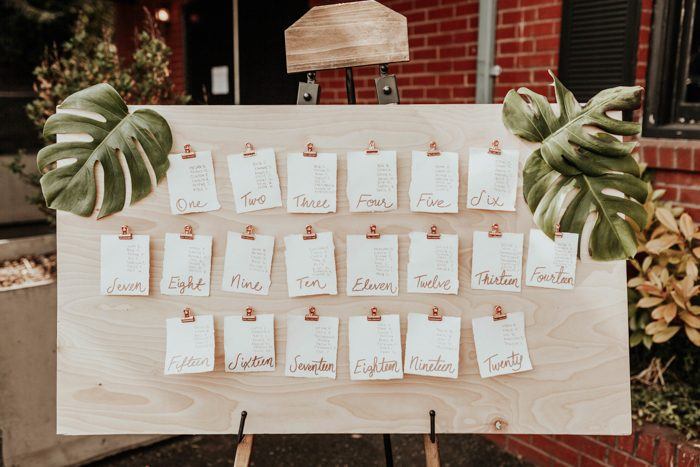 If you can use the momentum of getting engaged to start making decisions early on and stay organized, it makes the last weeks anddays leading up to the wedding a lot easier. We also highly recommend not having the rehearsal dinner the night before the wedding. We actually had a rehearsal brunch the morning before, which gave us a whole day to hang out with our wedding party afterwards.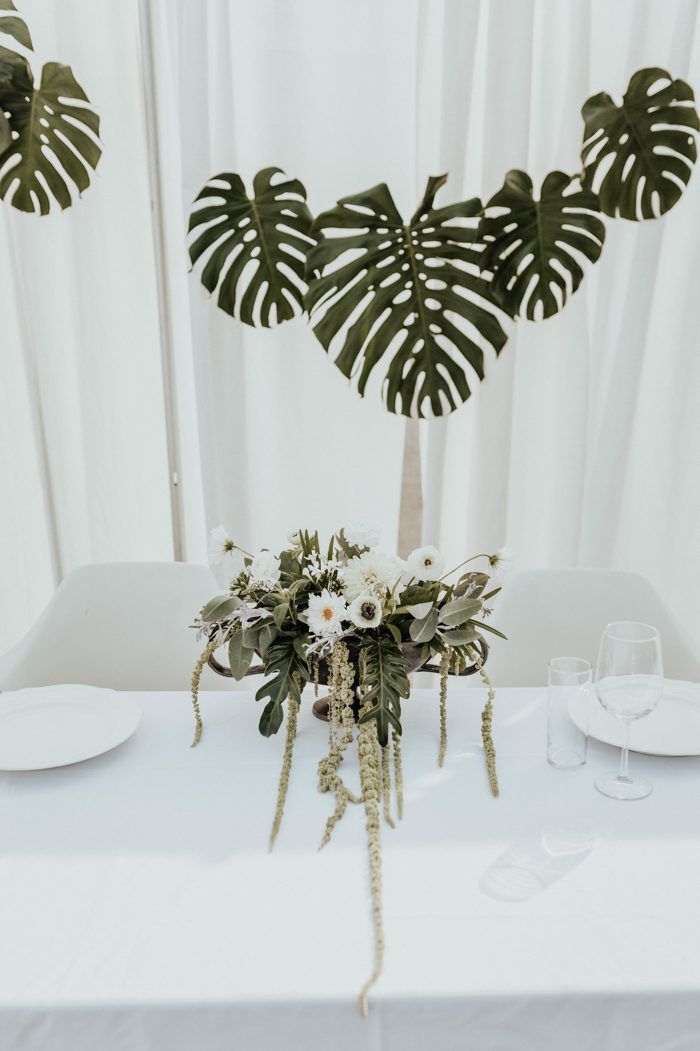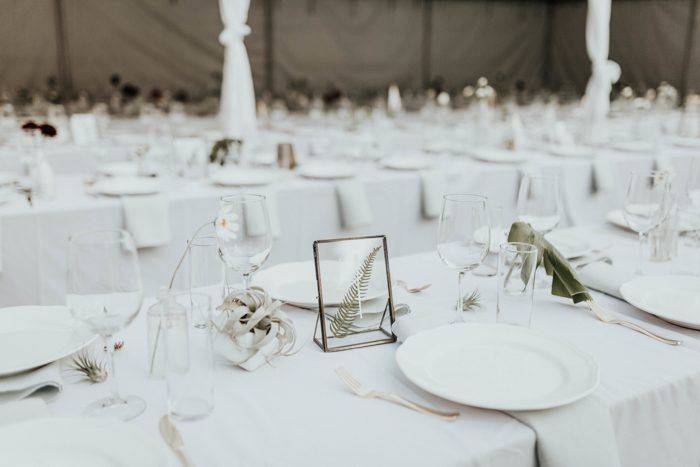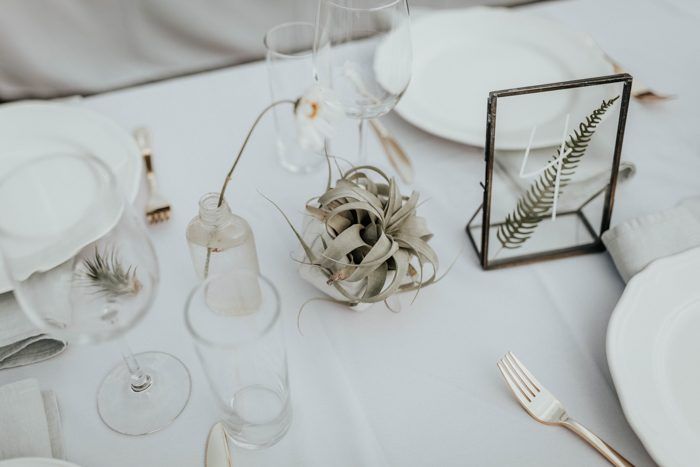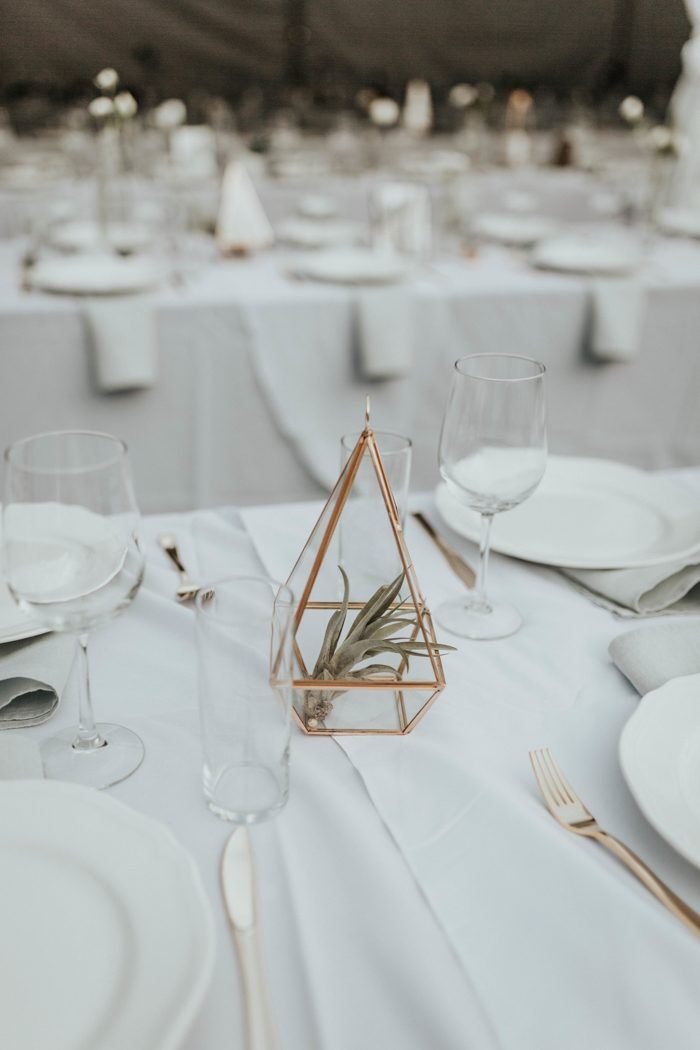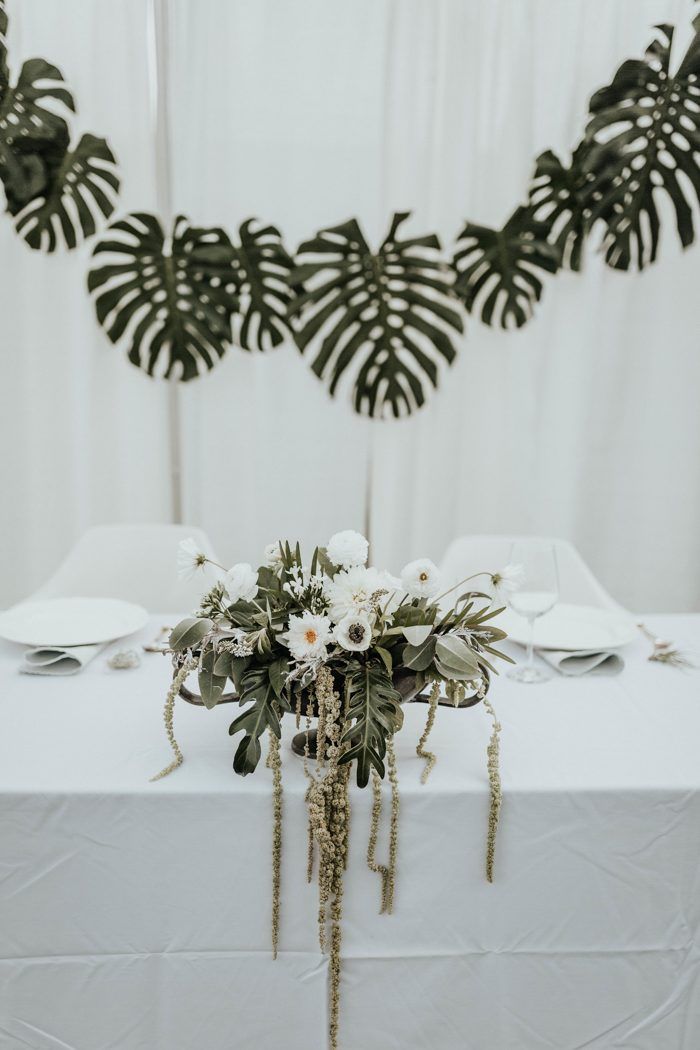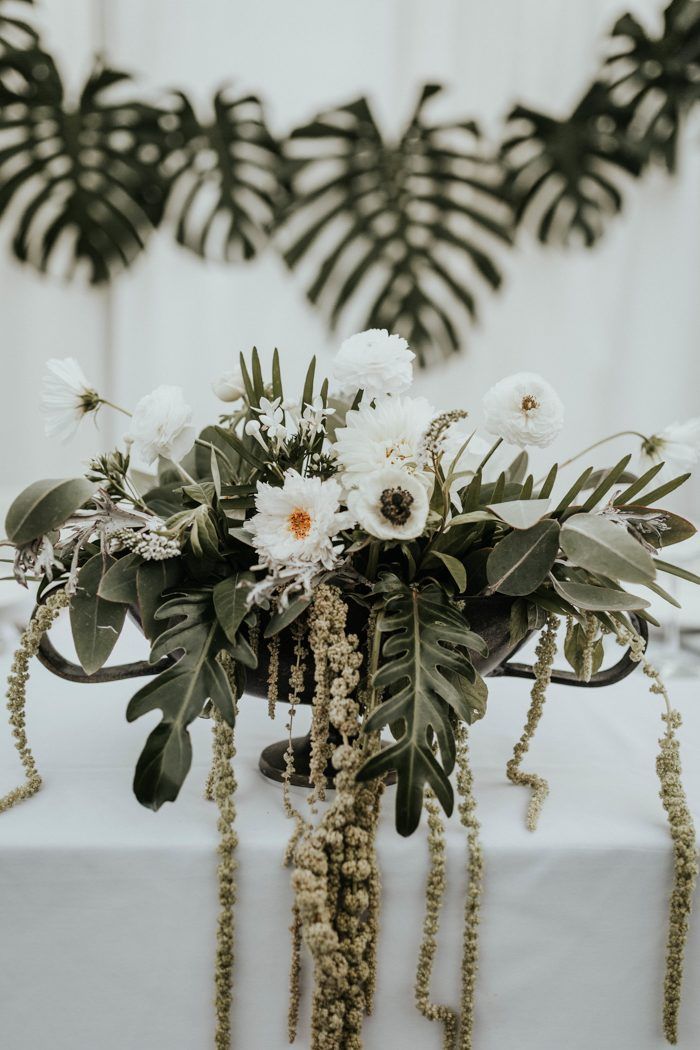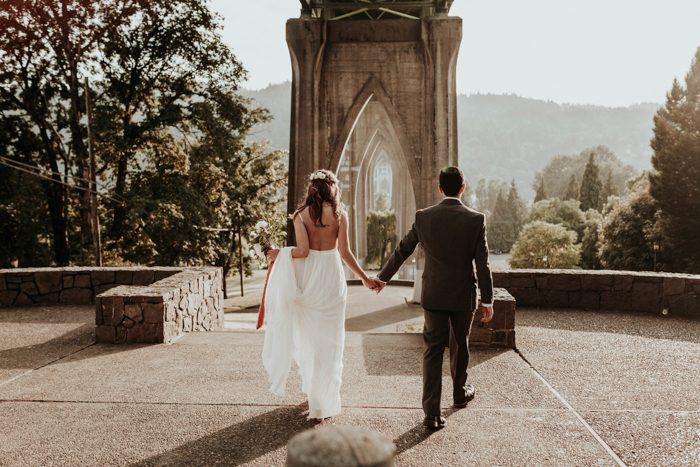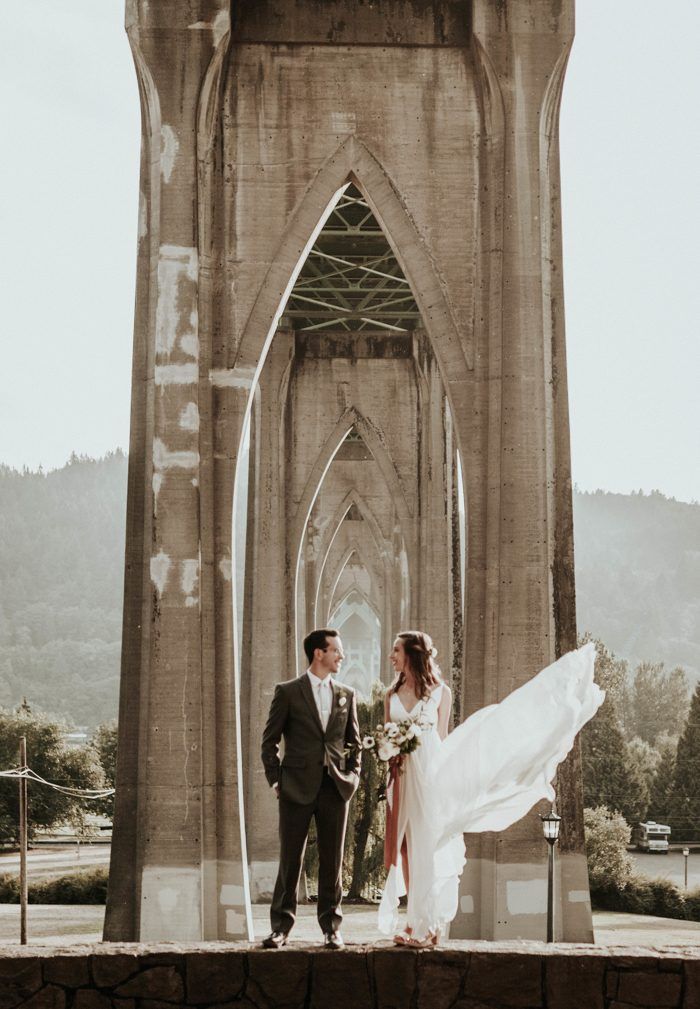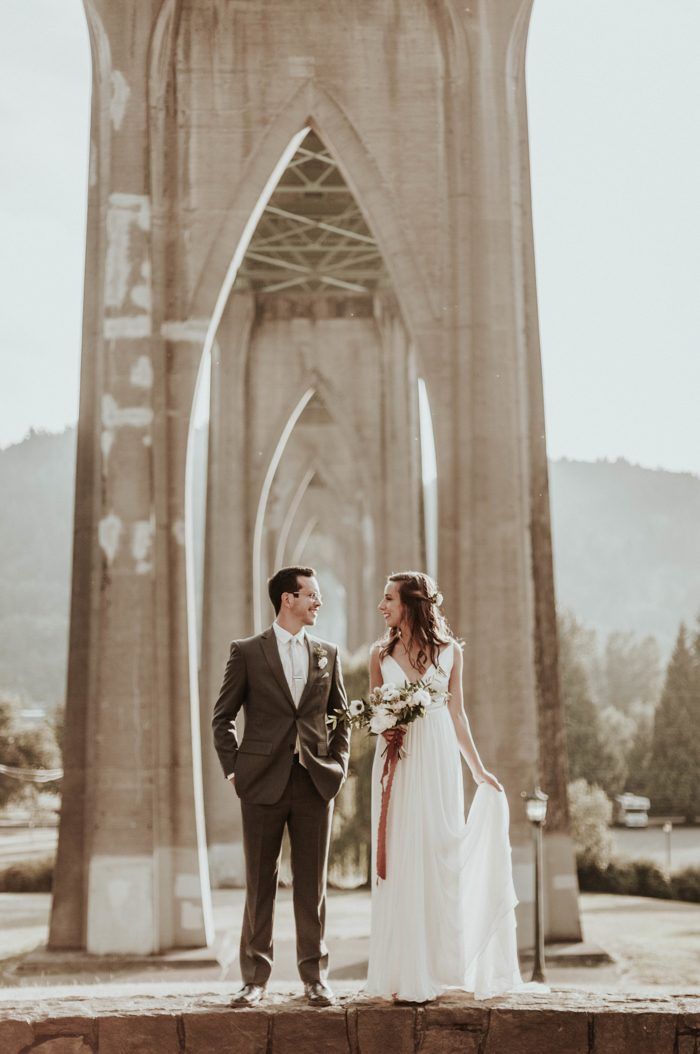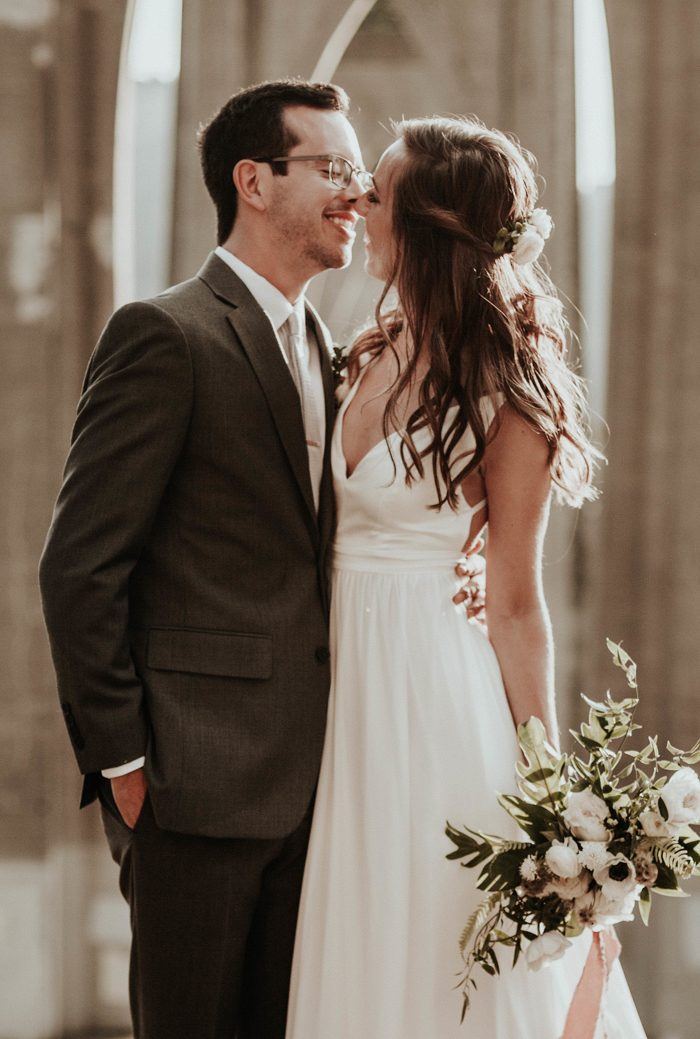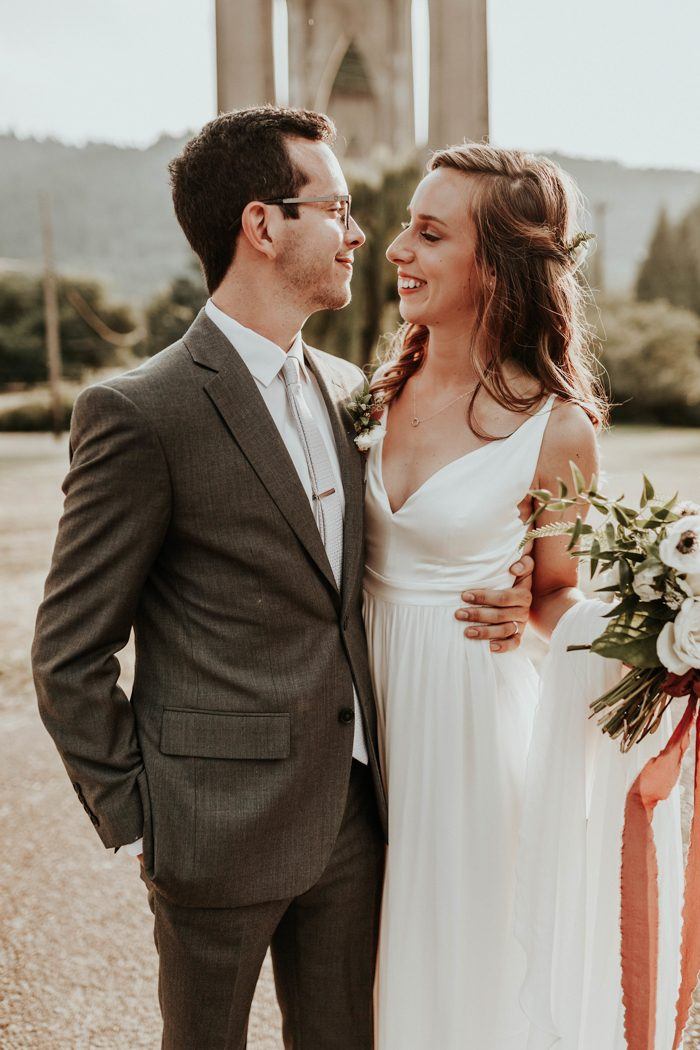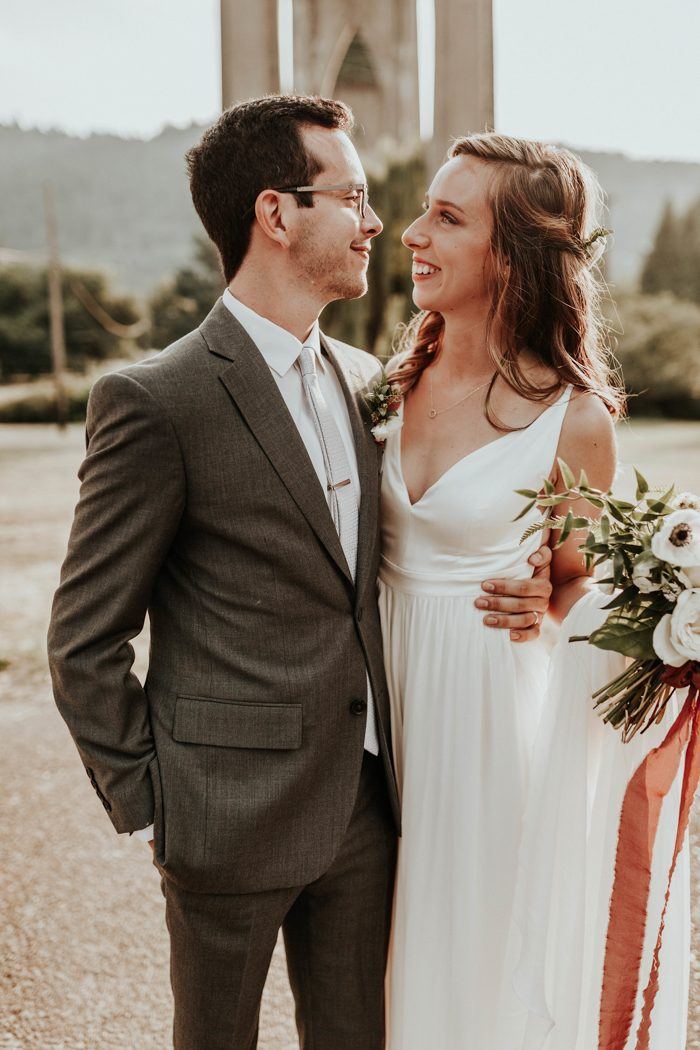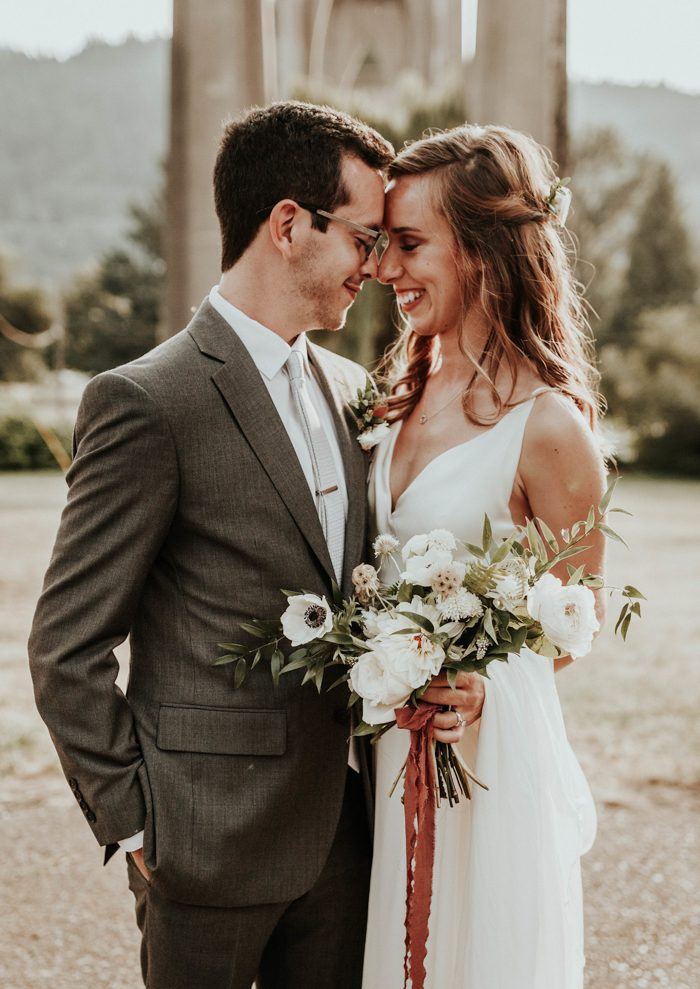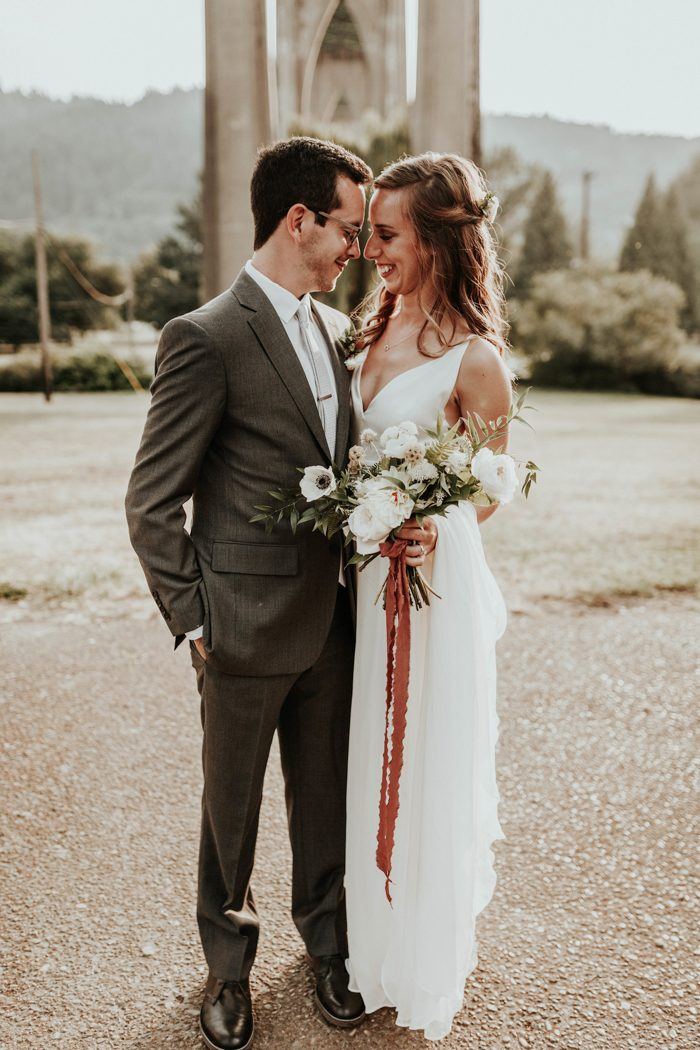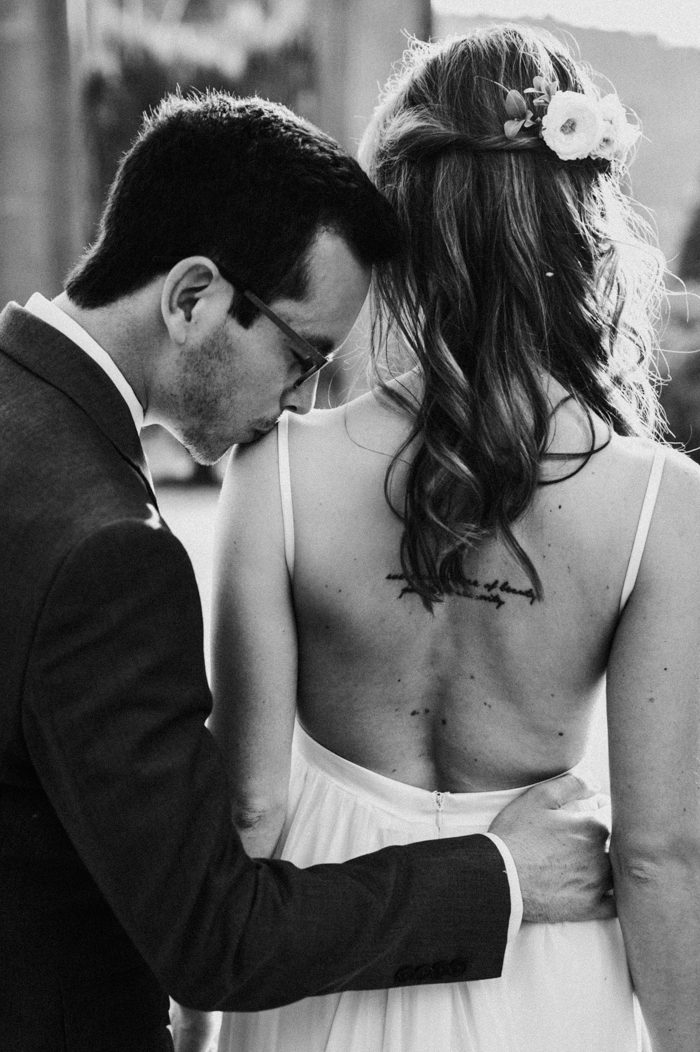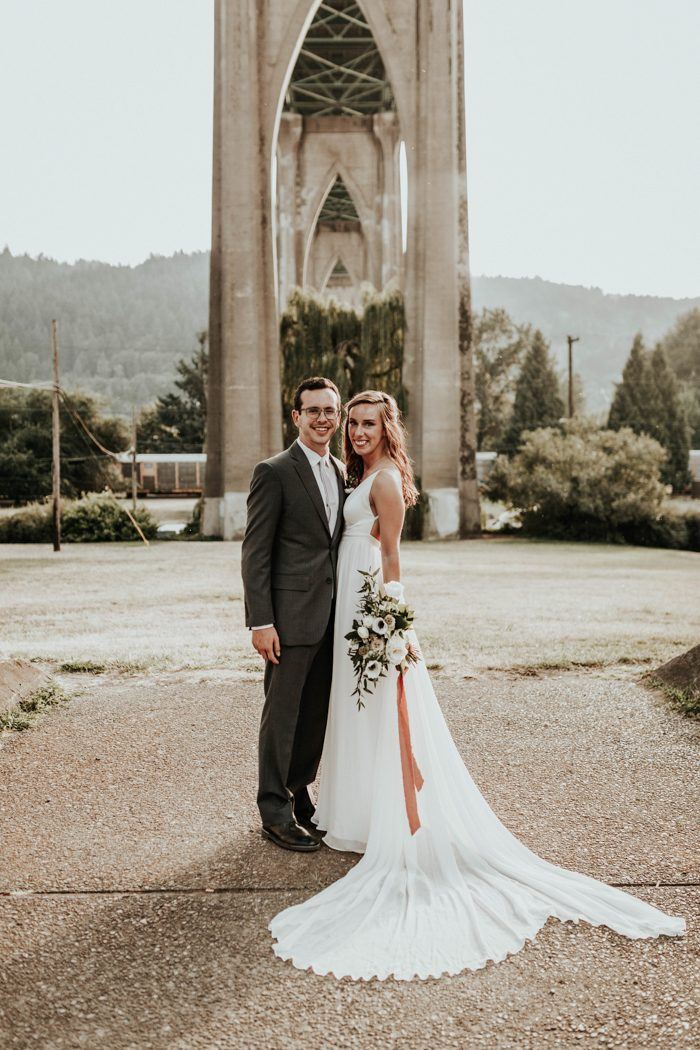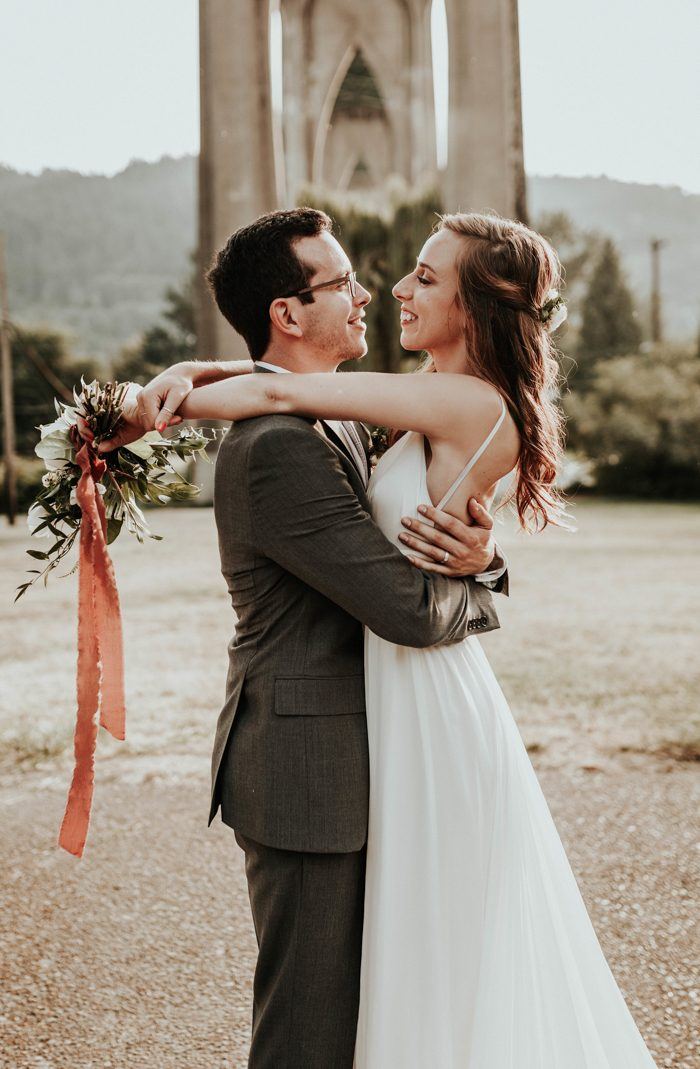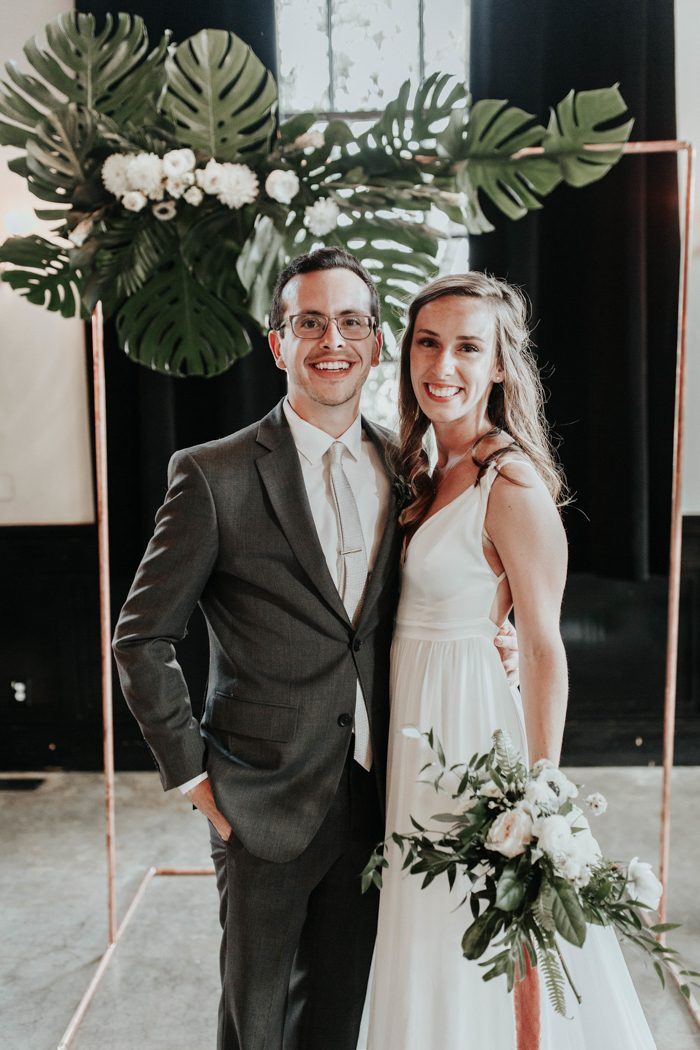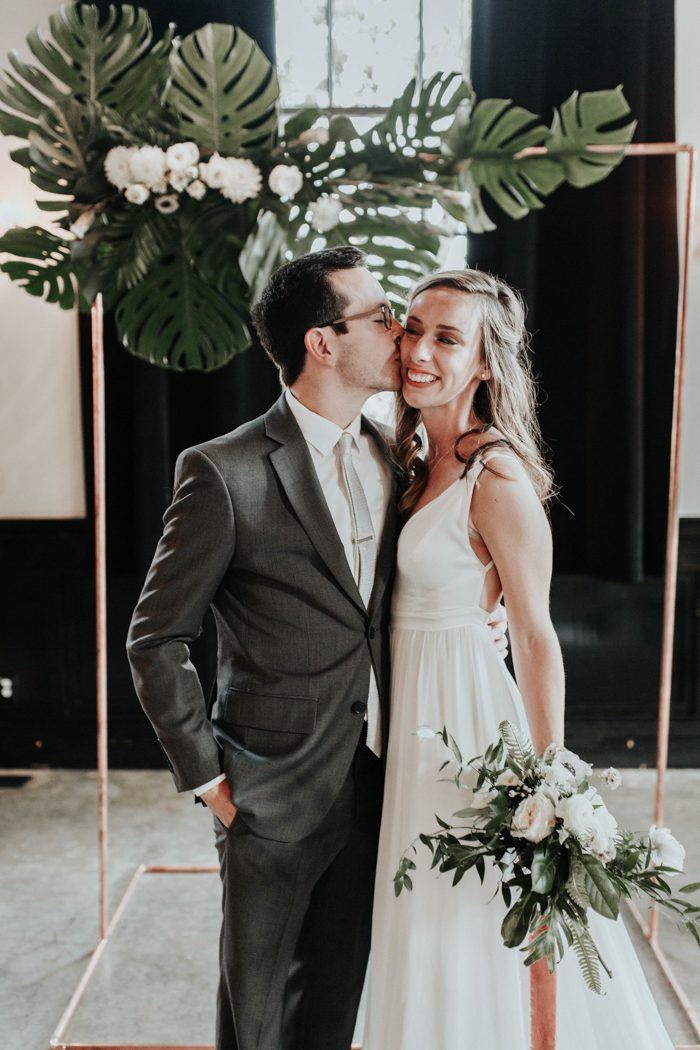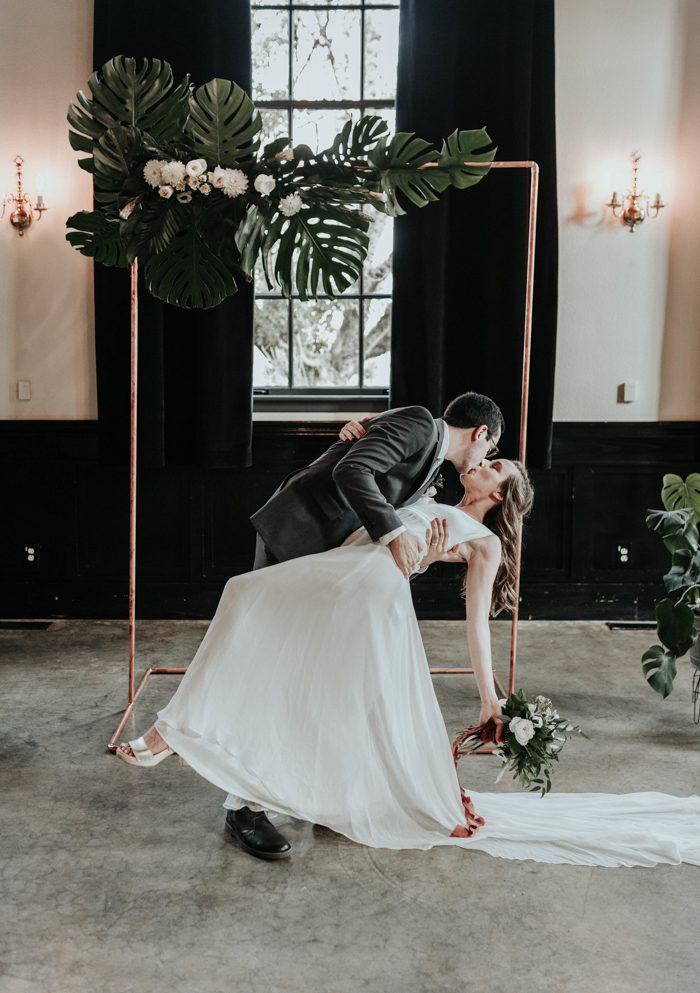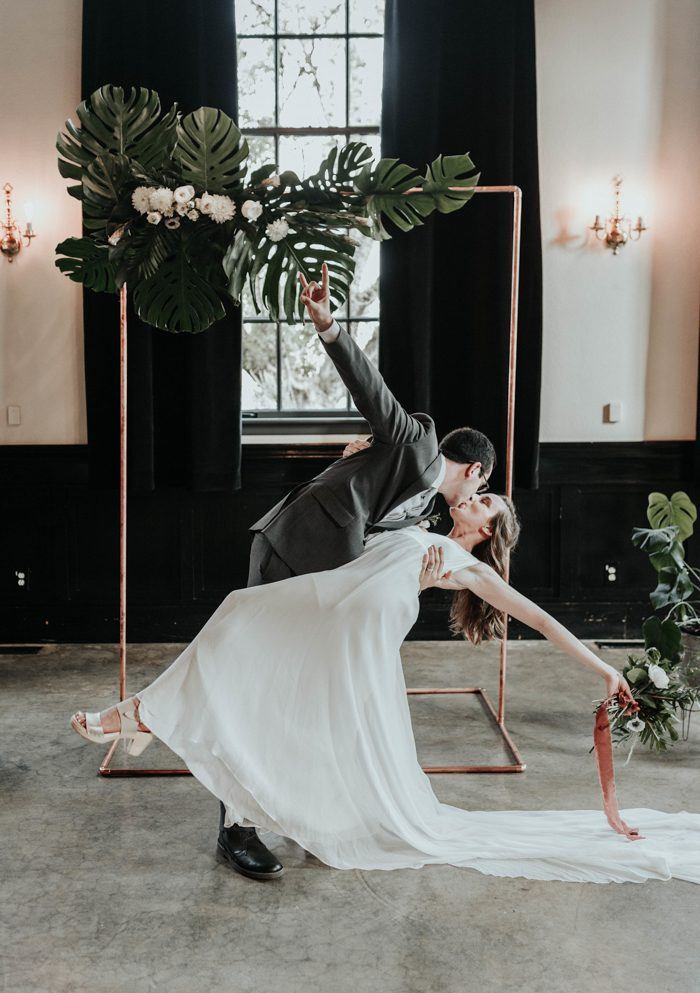 When choosing my dress, I knew from the start I wanted something very simple, a little breezy, andwith a low or open back. Frills and lace and beading look gorgeous on brides, but they're just not me, so I chose something a bit more understated but with a delicate train to add a little glamor. I've loved Leanne Marshall's designs since she was on Project Runway (and I love that she's from Portland too), so I was super excited to wear one of her gowns.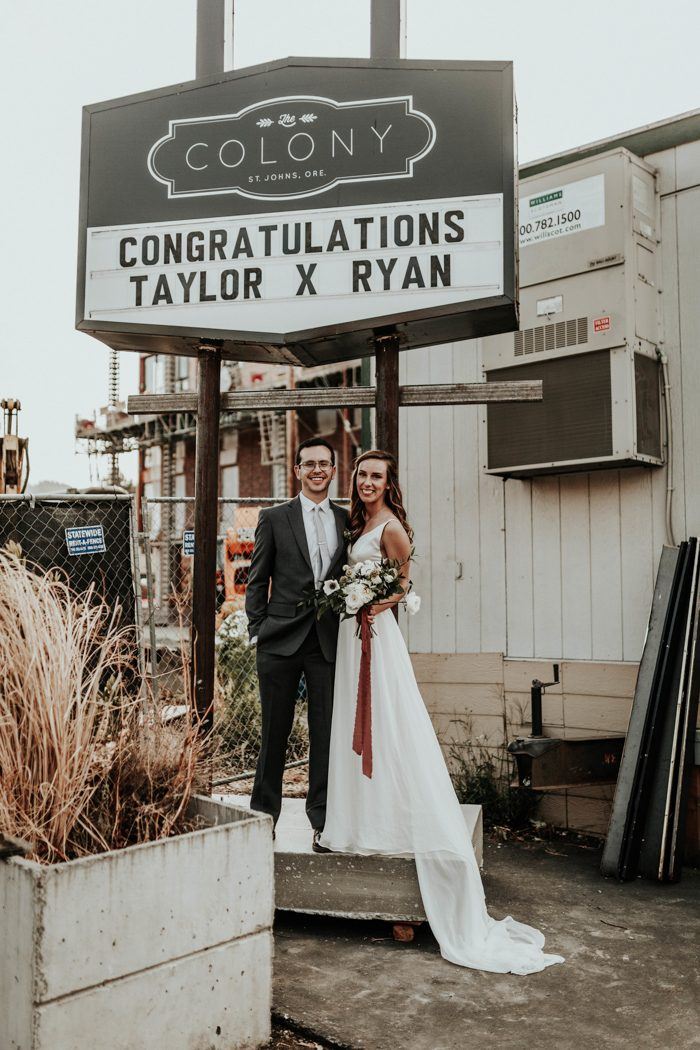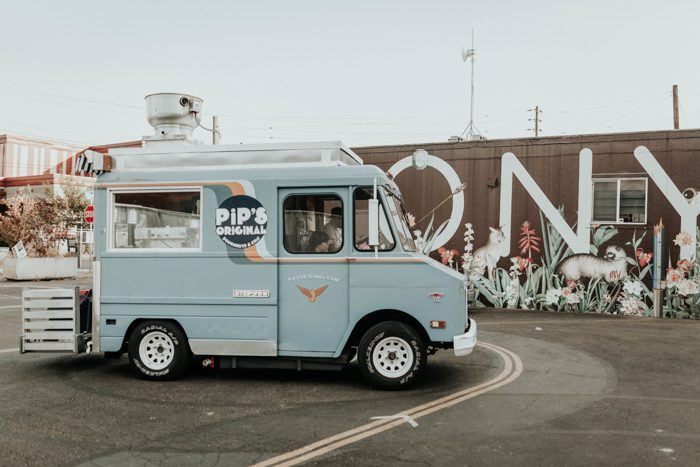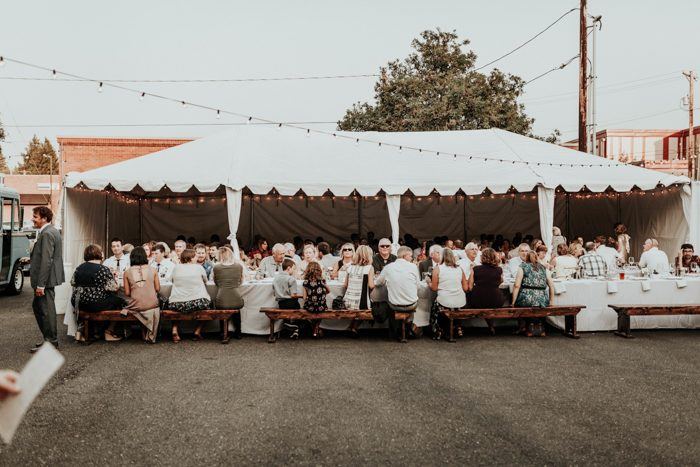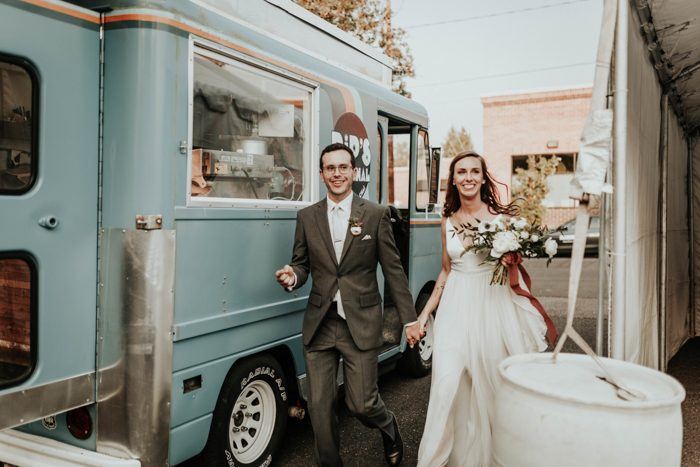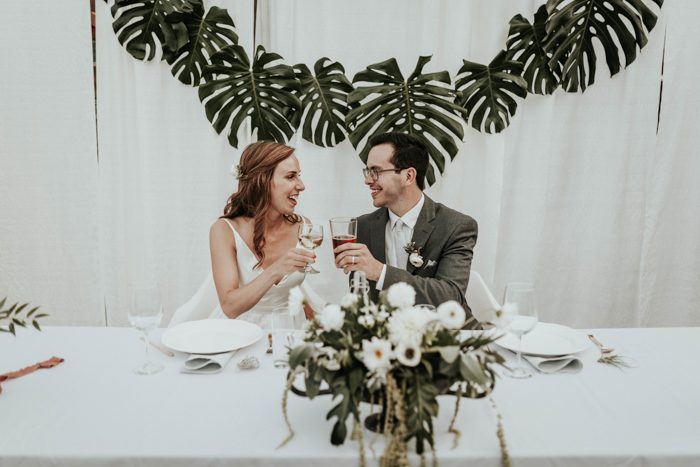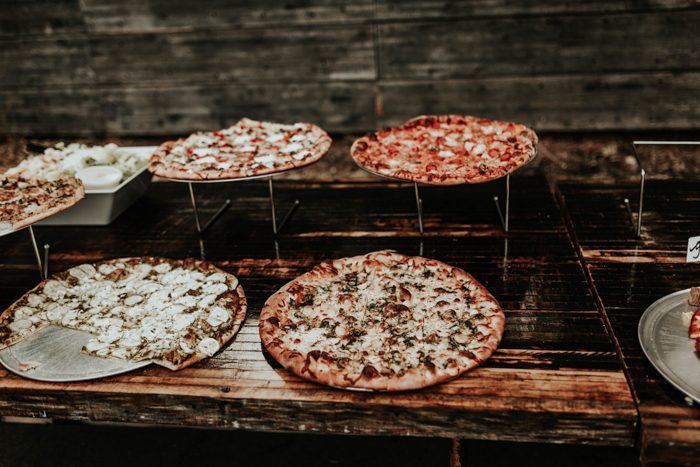 Ryan and I have pizza for dinner at least twice a week. We love pizza, and really who doesn't? So it was a pretty easy decision to have that as our main dish at our wedding (plus it's a relatively inexpensive option!). Although we did have a small cake for cutting, we opted to bring in a donut truck for dessert, as seems to be a trend these days. It worked out well because, again, who doesn't love donuts? But also it went along with the casual city vibes of the reception and helped make it a little more interactive for the guests.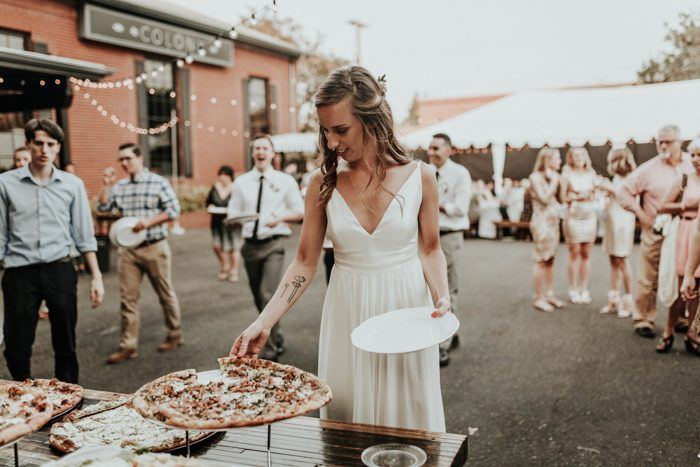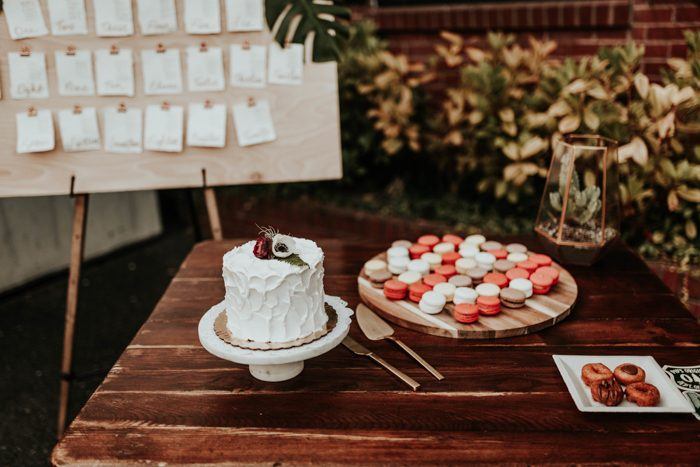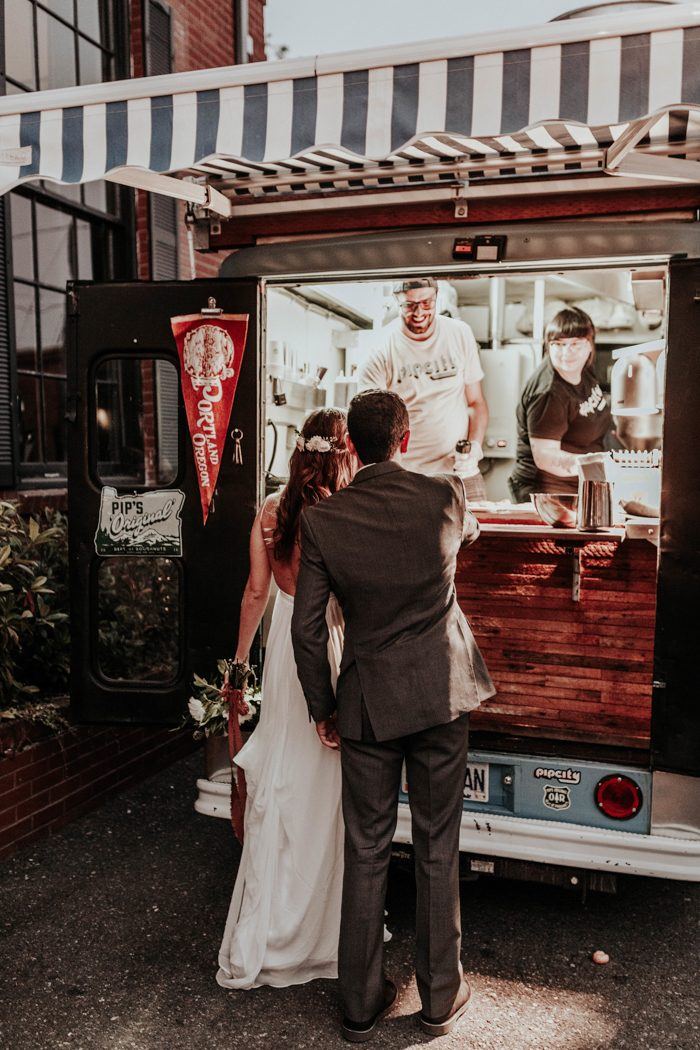 Processional: The Jensens by Phil Cook
Recessional: Suite Judy Blue Eyes by Crosby Stills and Nash
First dance: Real Love Baby by Father John Misty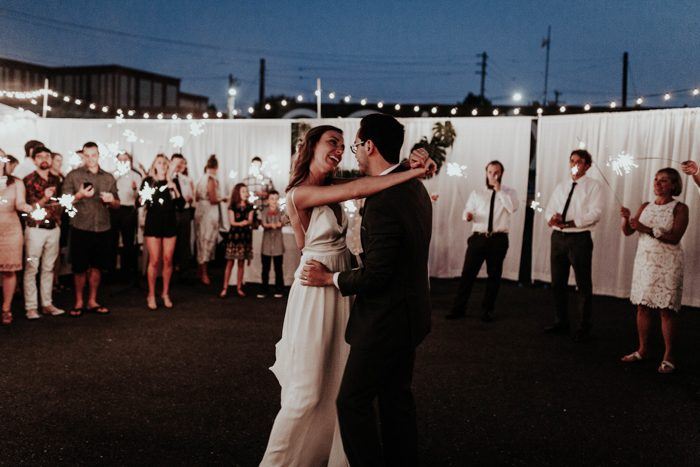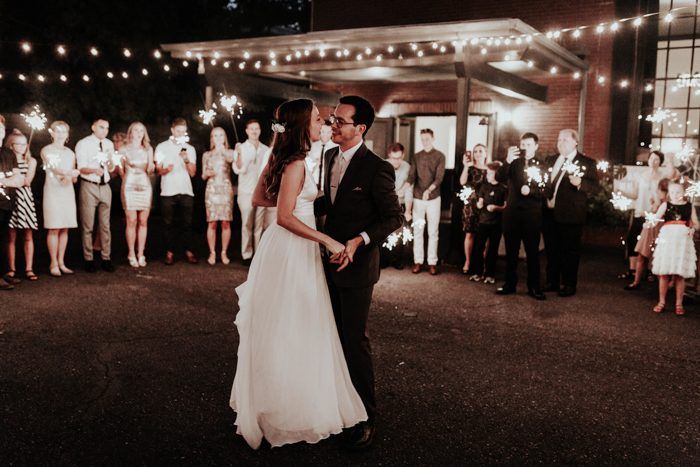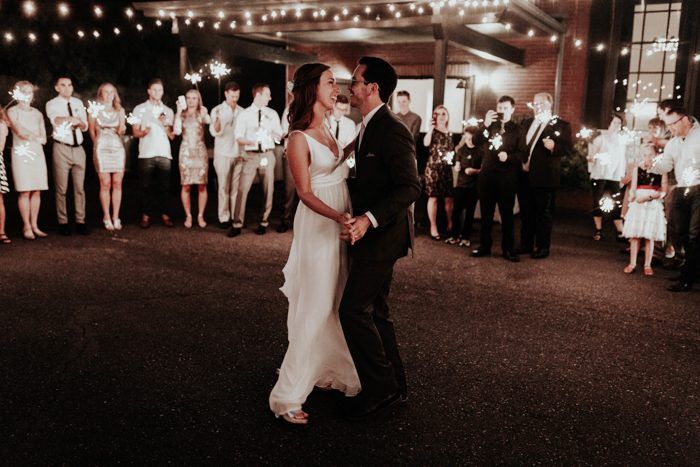 Congratulations to Taylor and Ryan and special thanks to Karra Leigh Photo for capturing this gorgeous and fun wedding! For more downtown chic wedding inspiration, check out this earthy elegant wedding at Perth City Farm!