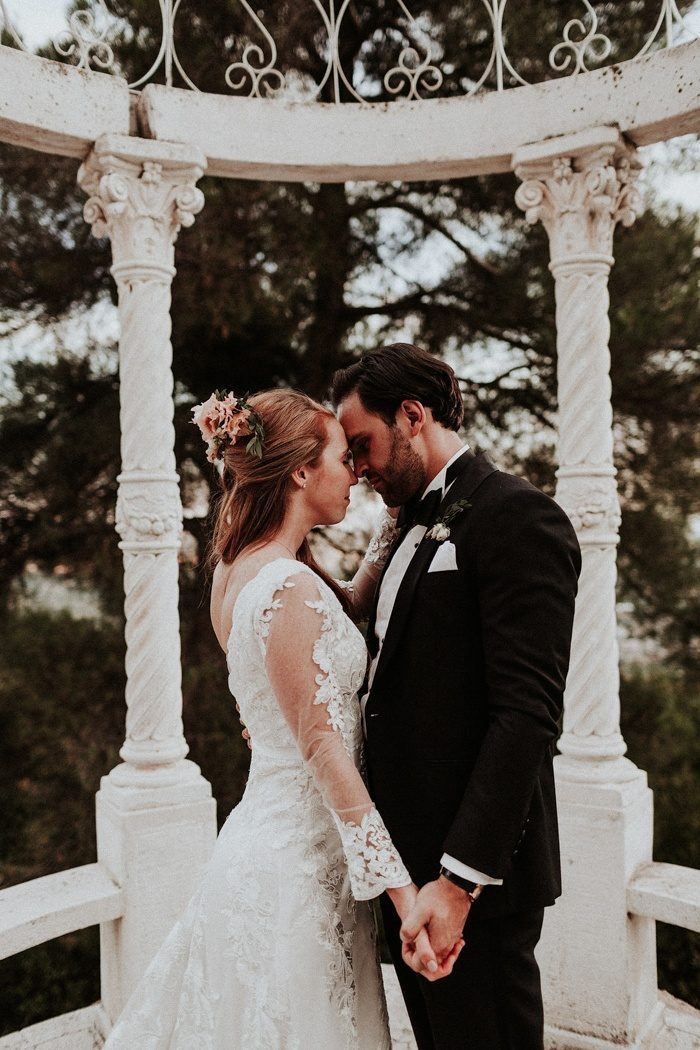 While planning their destination wedding from 6,000 miles away, Sarah and Ross knew they wanted every guest of their Chateau Saint Georges celebration to feel loved, appreciated, and taken care of. Their four-day wedding party was a small, intimate gathering in a special place for the couple with a stunningly beautiful and historic setting. Every detail of this romantic wedding was thoroughly curated and envisioned with reflected their every-day style, slightly elevated. The bride designed her own wedding dress, an elegant and womanly long-sleeved lace gown with flowing curls and minimal makeup. A dusty rose color palette was formed from the natural greenery of eucalyptus and olive branches native to the south of France that looked perfect with the rosy pinks and subtle whites designed by D'amour et de Déco, who draped every corner of the château in flowers. Pinewood Weddings captured all of the elegant glamour of this intimate and romantic celebration.
The Couple:
Sarah and Ross
The Wedding:
Chateau Saint Georges, French Riviera, France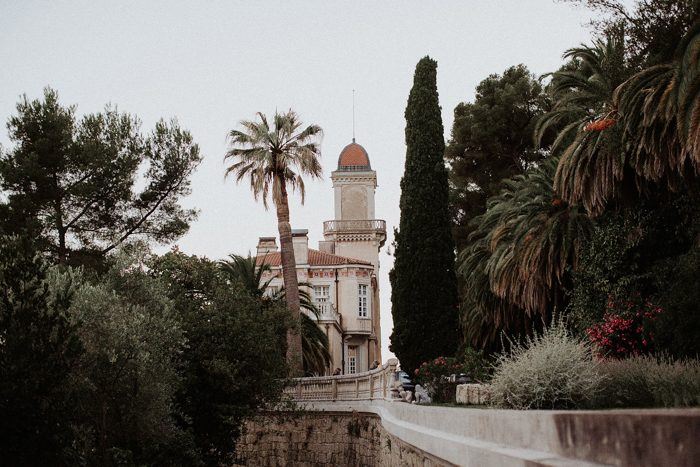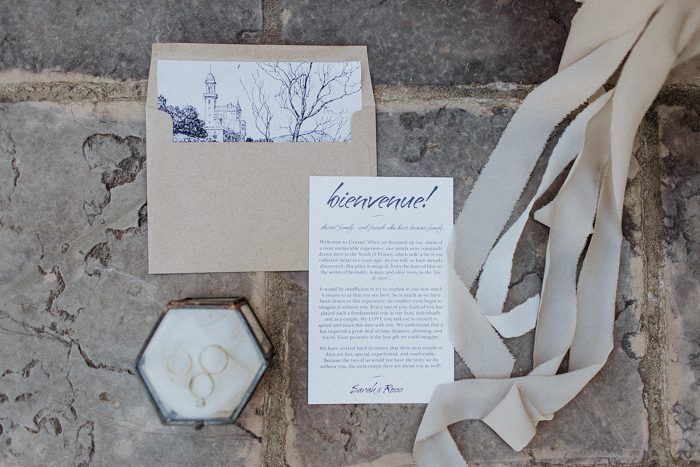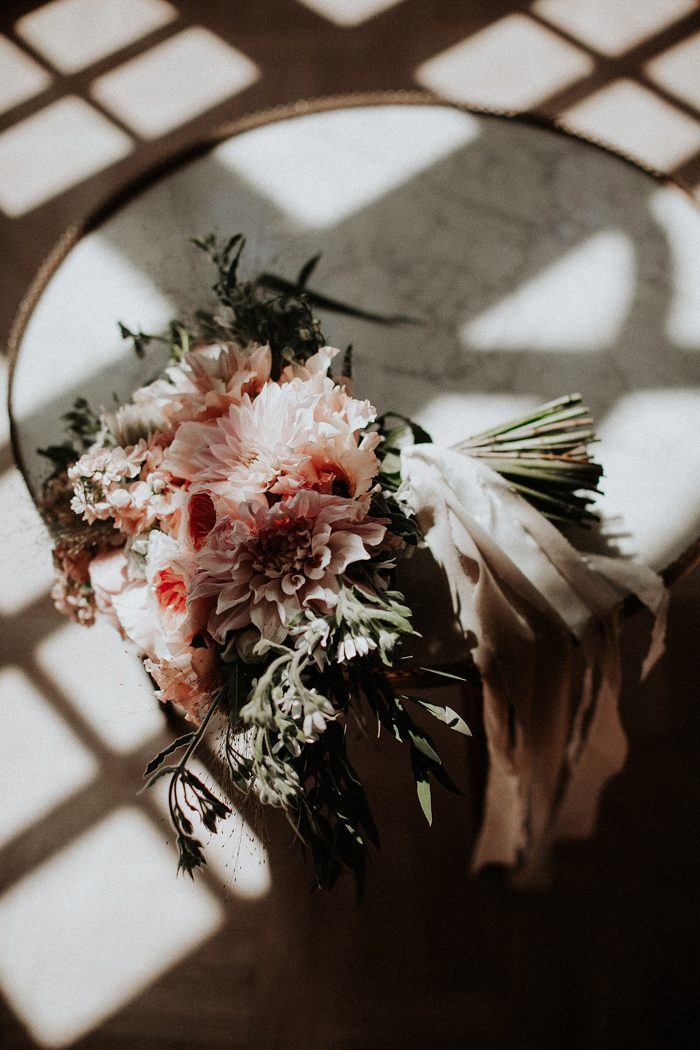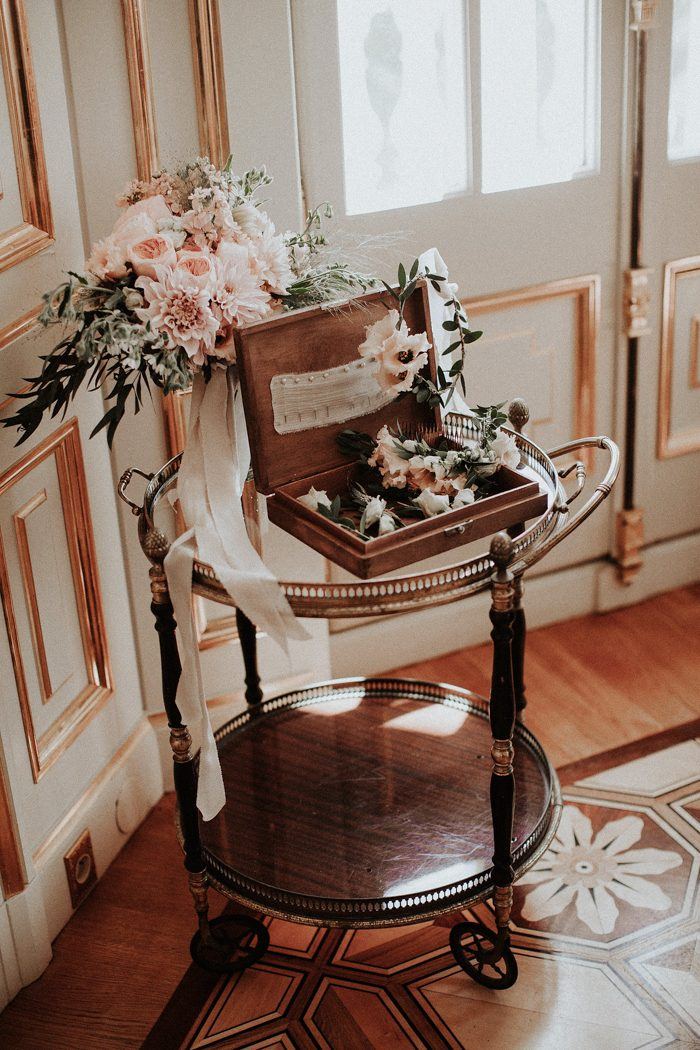 Planning a wedding from 6,000 miles away and a 9-hour time difference proved quite difficult, but we were ambitious! We had nearly 50 guests making the trip from many parts of the world. The most important thing for us was to create an intimate and memorable four days worth of memories with our family and friends that we will forever have. We wanted our guests to feel the immense love and appreciation we have for them and to really feel how special they are to us. Throughout the whole planning process I kept thinking about how things would enhance the experience for our guests andways for them to feel "taken care of."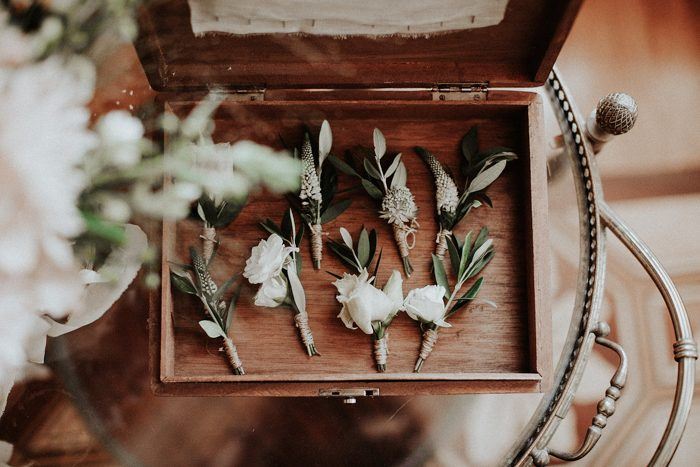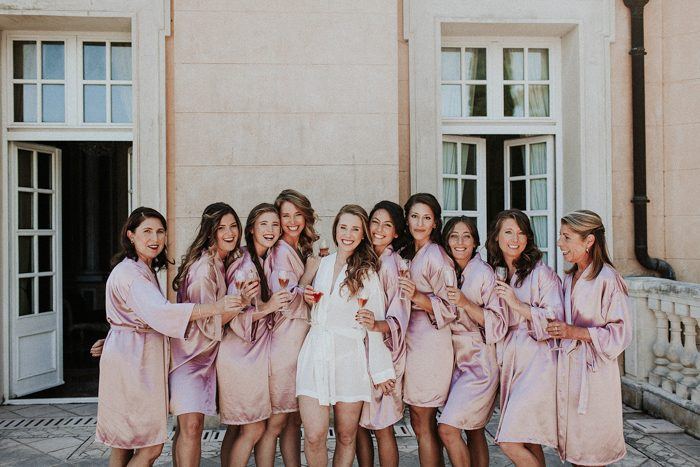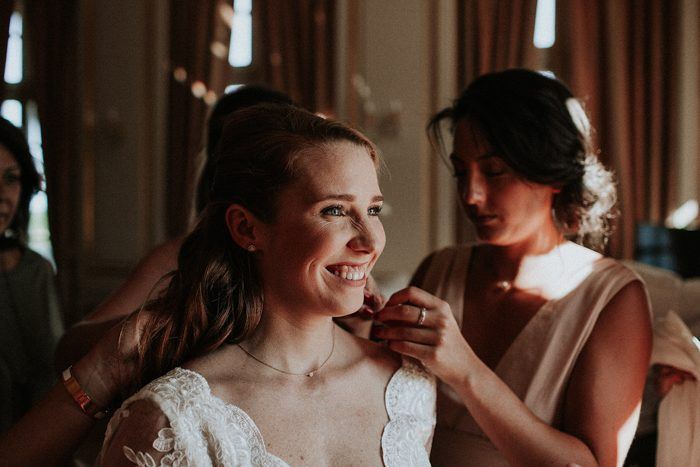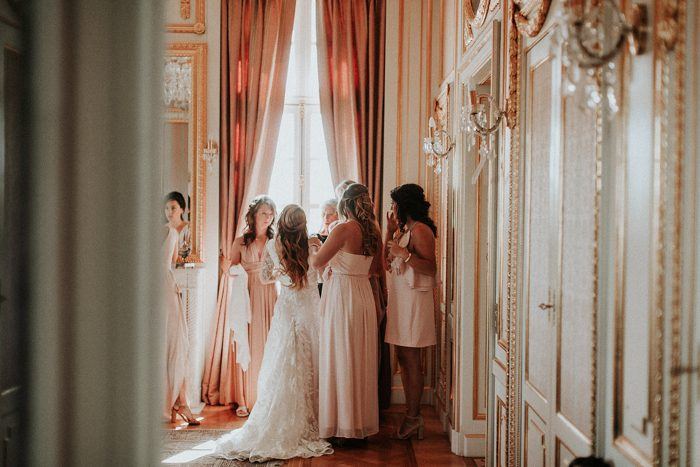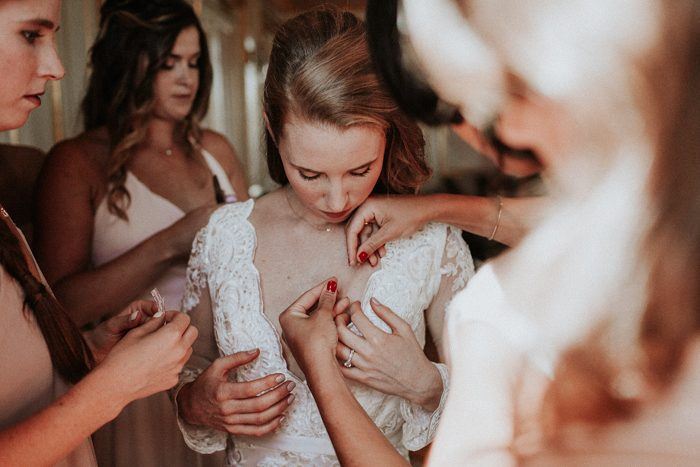 I was inspired by a dress I own that is a Dusty Rose color. I went to the paint store and found some palettes that matched the tones of the Dusty Rose. From there, I was inspired by greenery, specifically the eucalyptus and olive native to France. I loved the way the rose colored palette came together with the green and subtle whites to create a romantic, elegant, and understated look.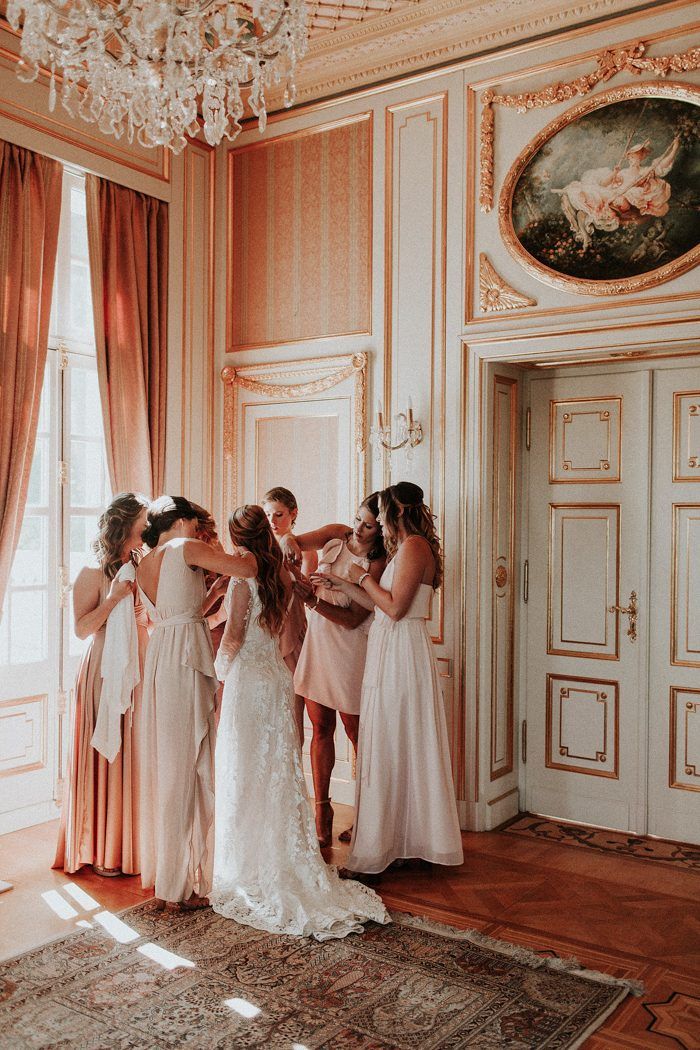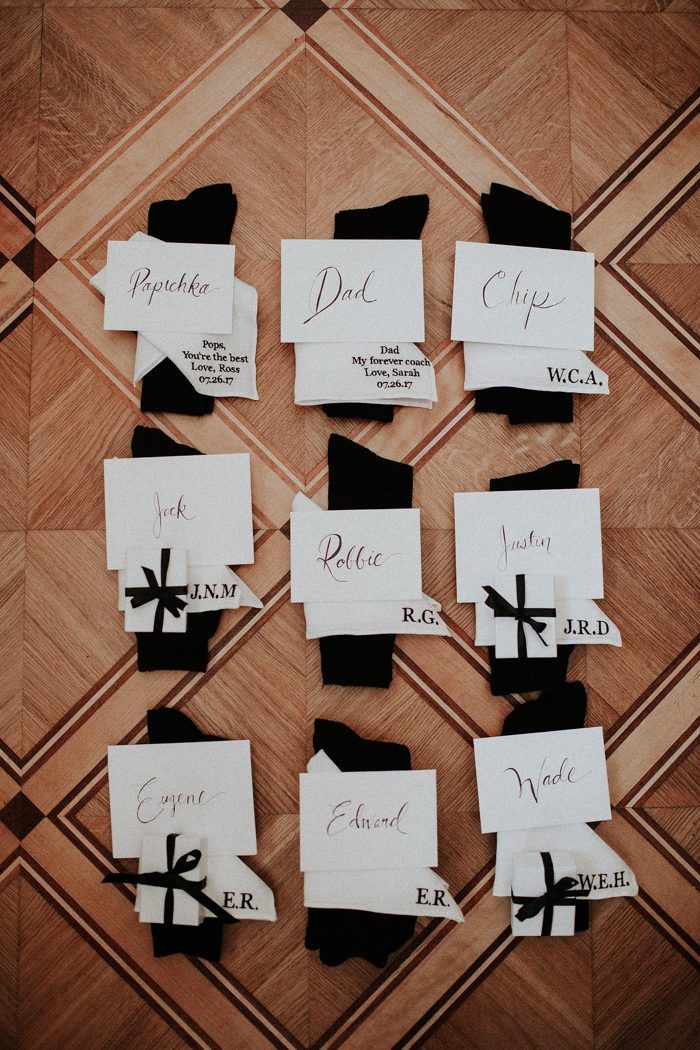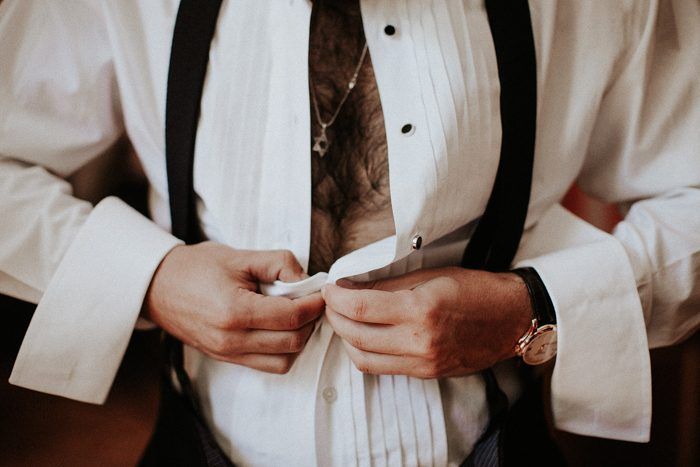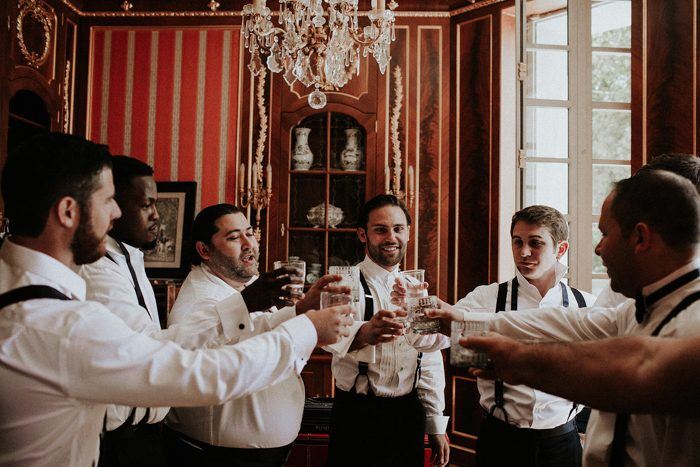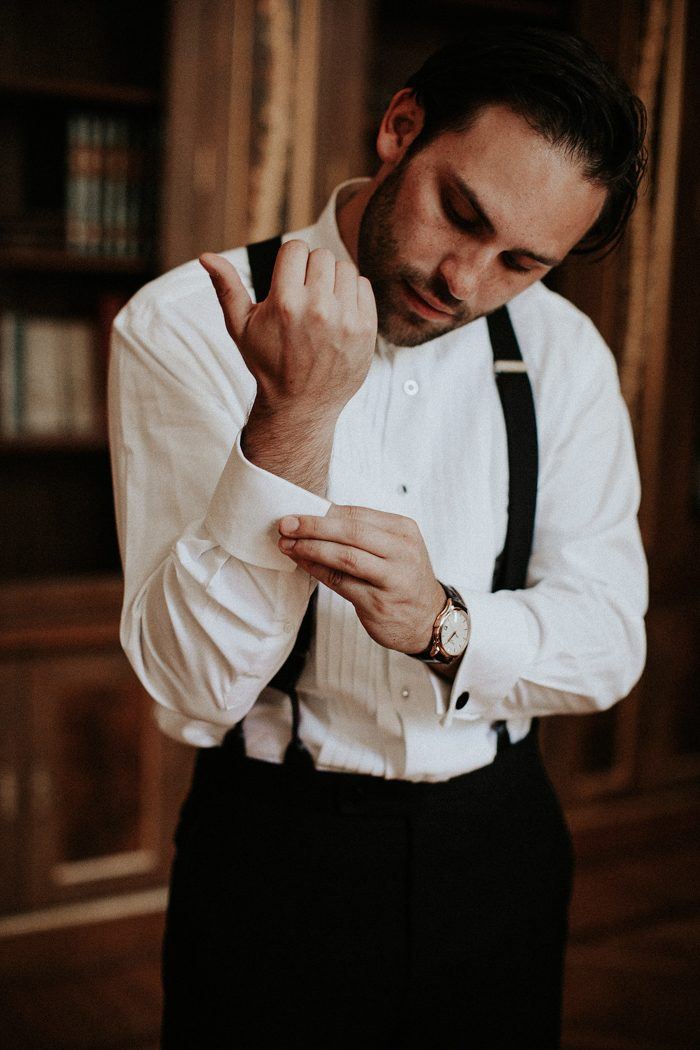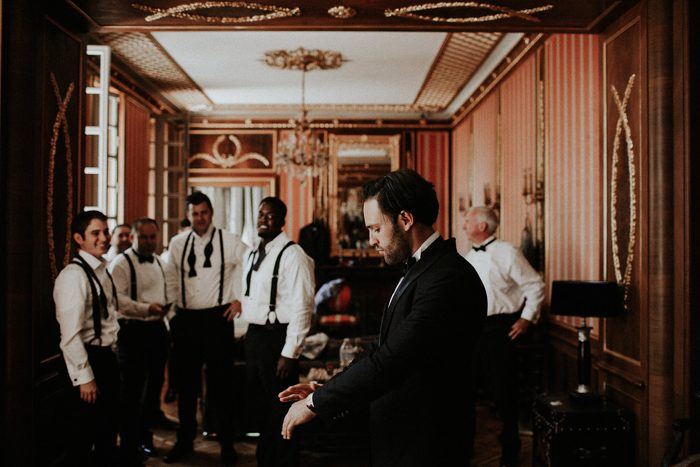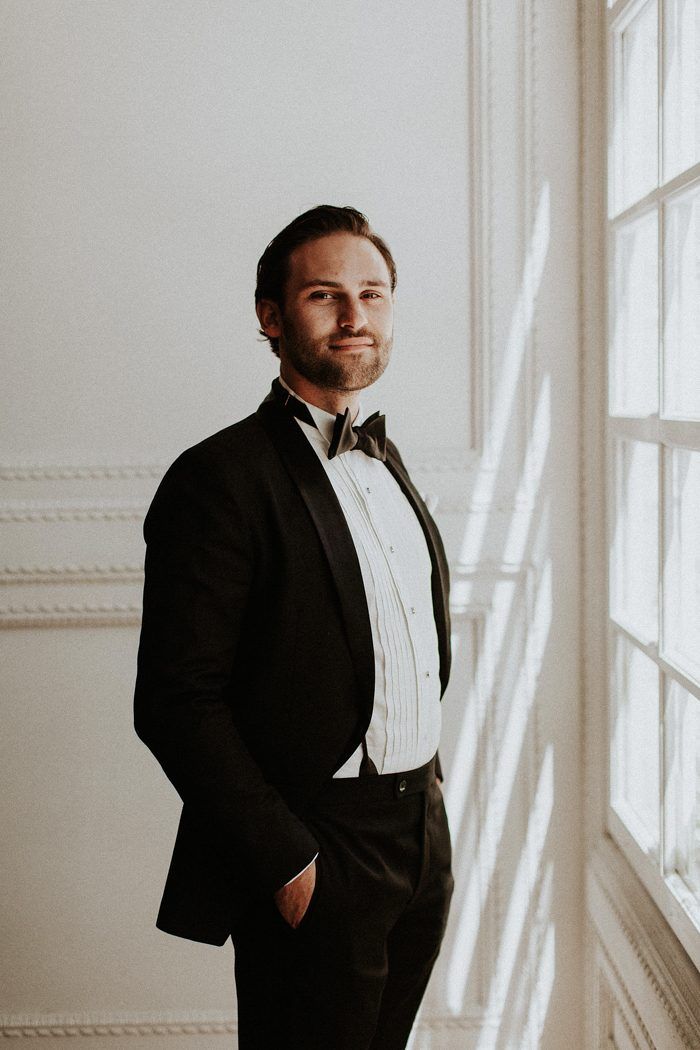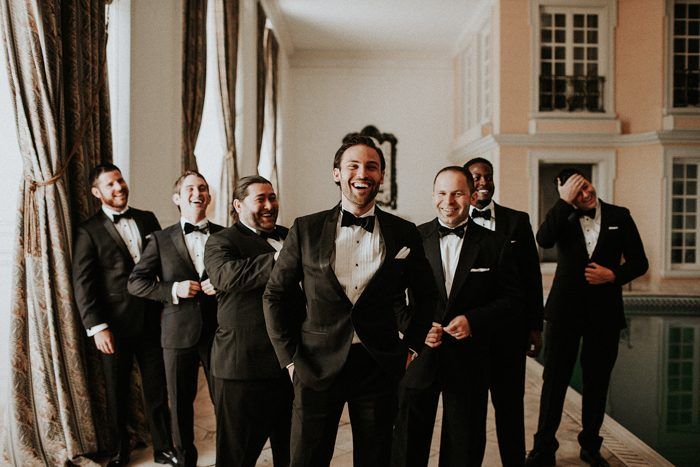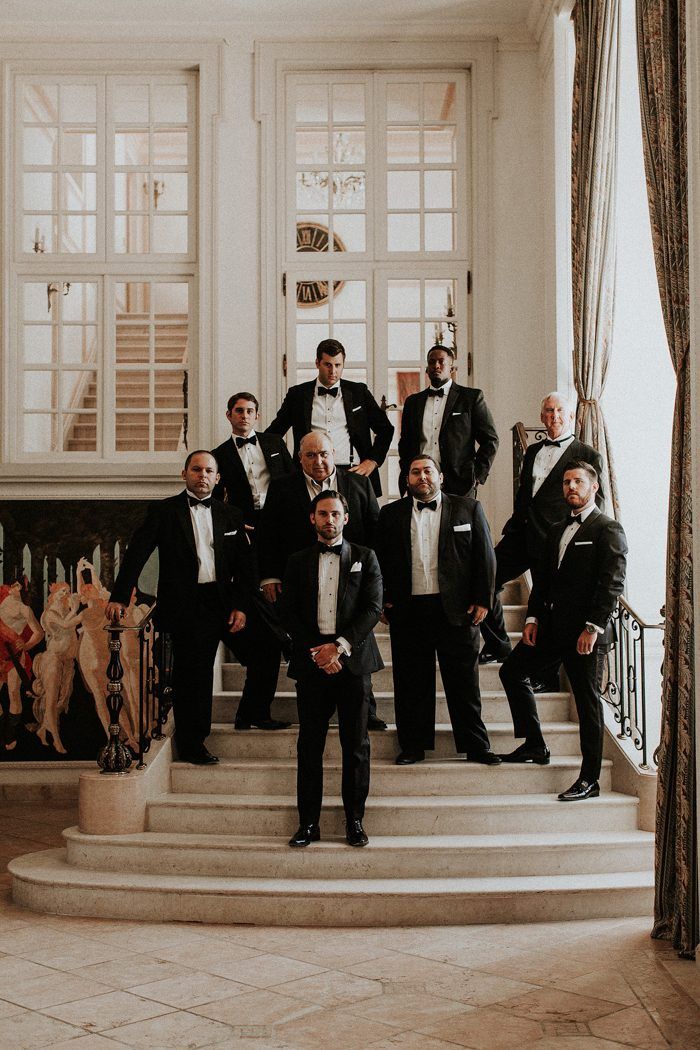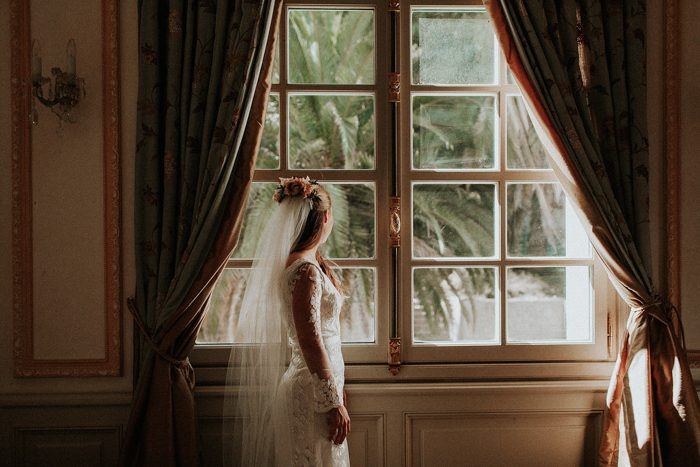 We wanted a venue where we would be able to do everything – a welcome reception, the ceremony, wedding reception, AND also be able to accommodate all or most of our guests for three nights. This posed difficult to find, because there are truly breathtaking venues but few that could deliver on all of these needs. We didn't actually have the chance to visit the chateau before arriving for our wedding celebrations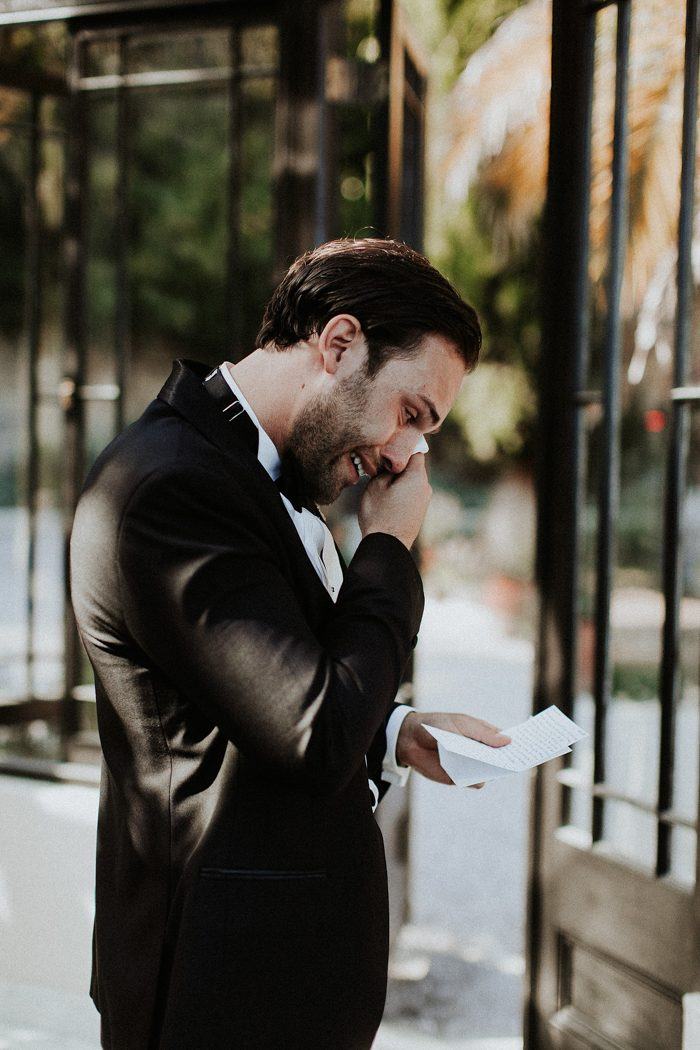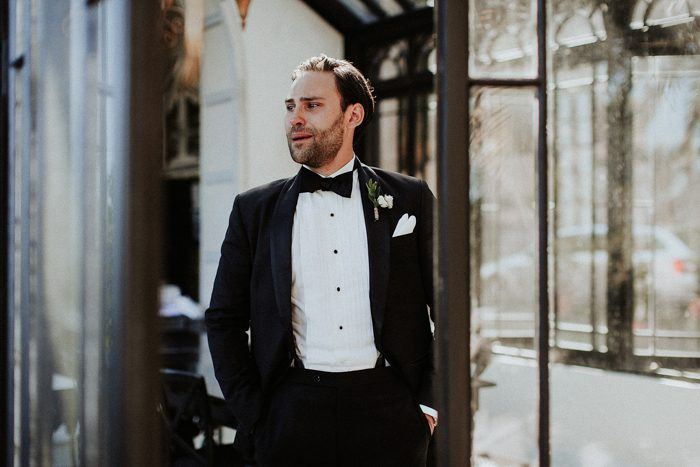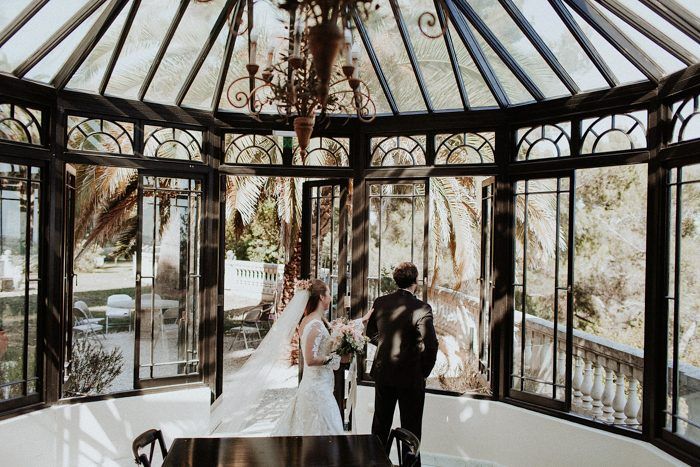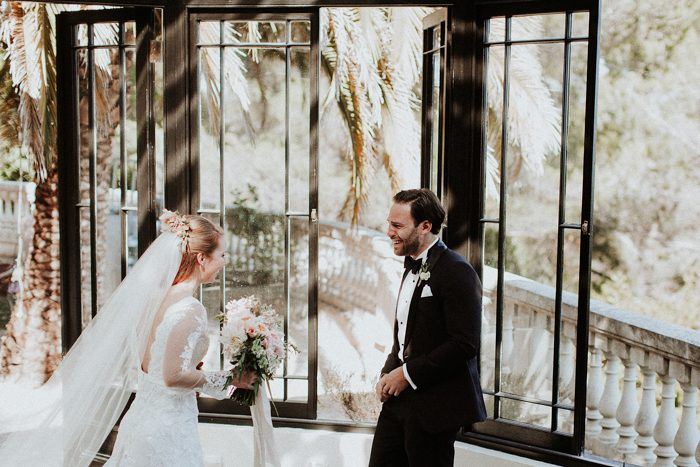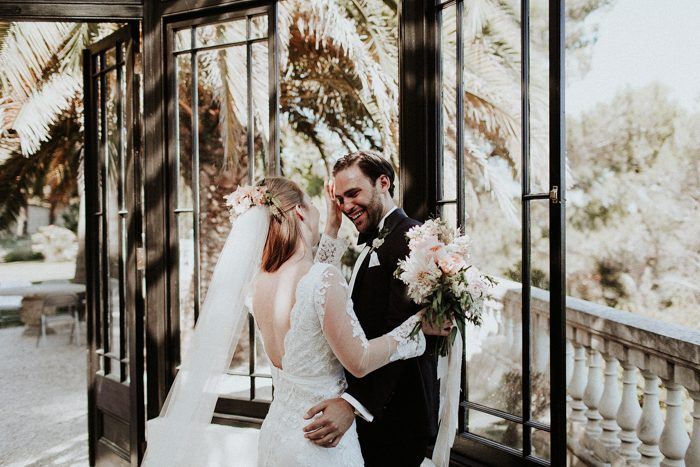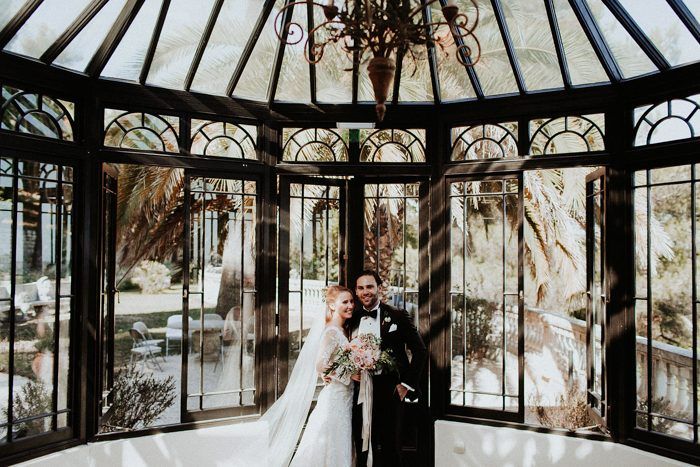 I think the best advice I can give is to have a vision and then find vendors who you feel truly understand your vision, what is important to you, what you truly want, how much control you want over it, and that can best guide you to achieving it. I had once read about how to build a great company, you have to hire great people. And that's what I did for my wedding. Find people you connect with andtrust to understand and help do their part to achieve your vision. Also, be flexible! Sometimes the best things and ideas come out of having to deviate from the plan or original idea.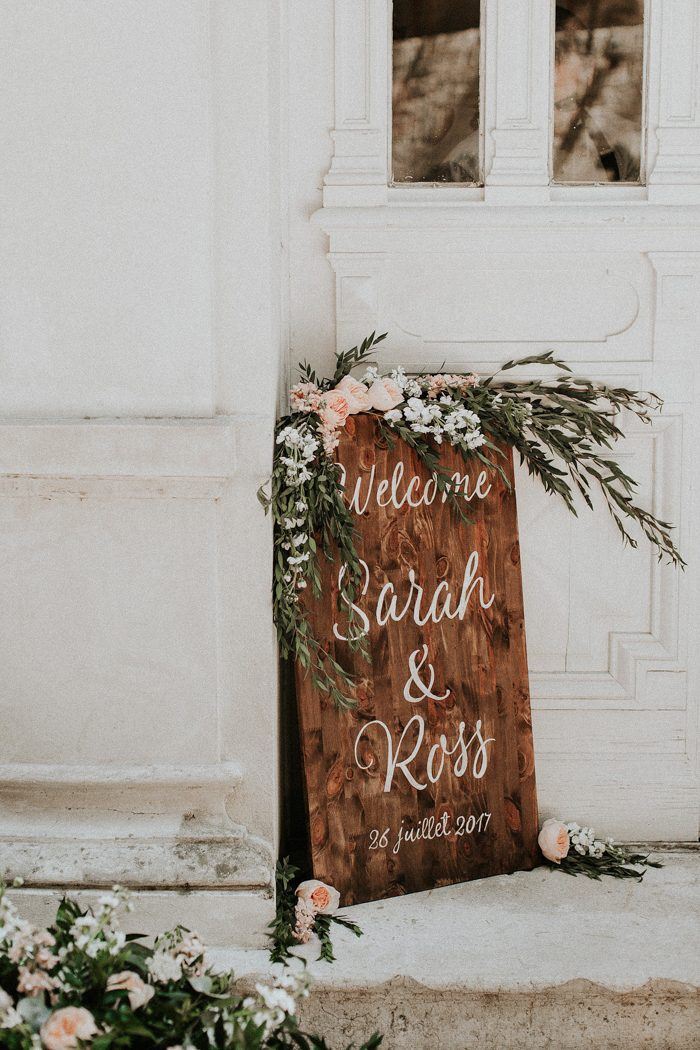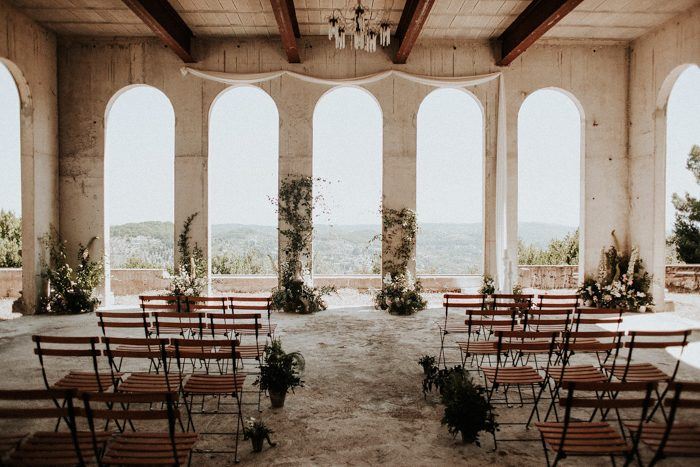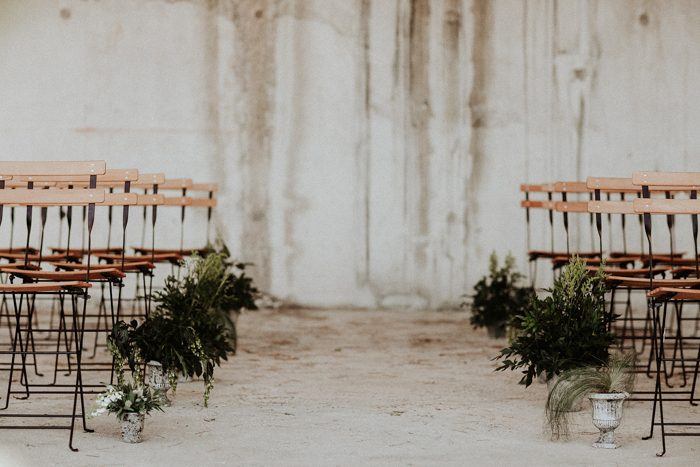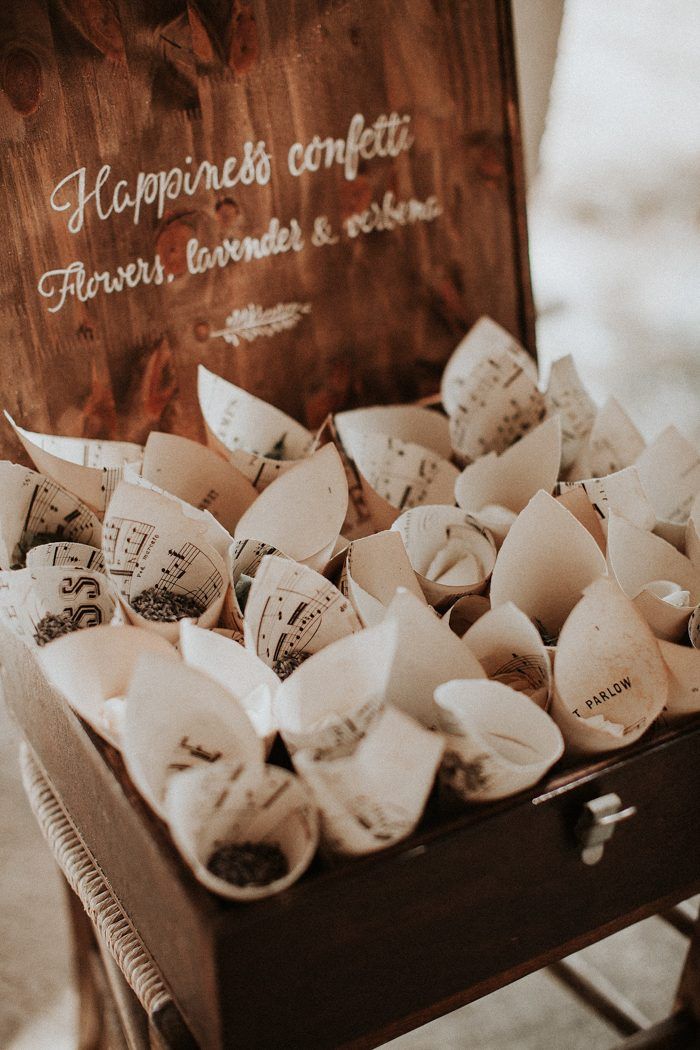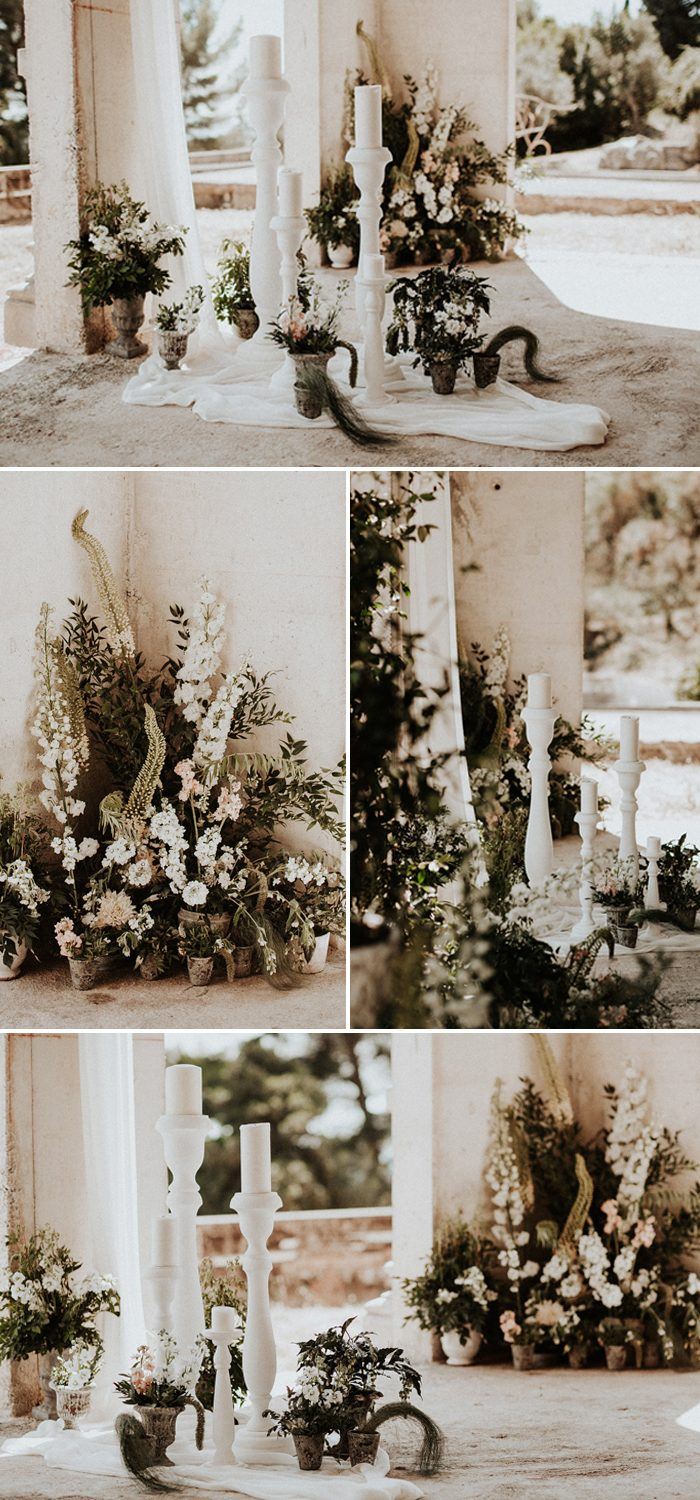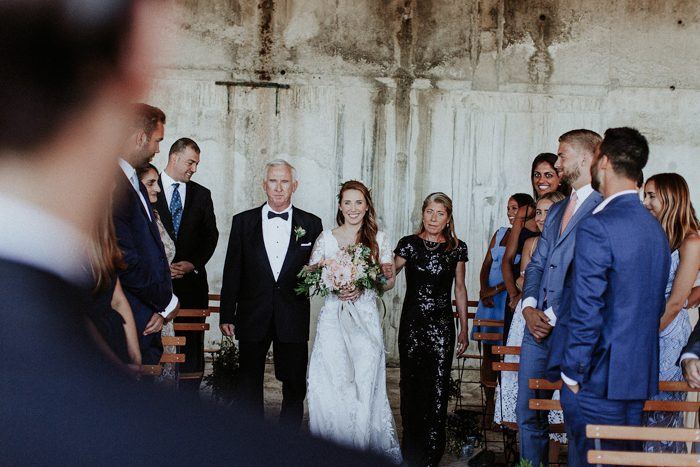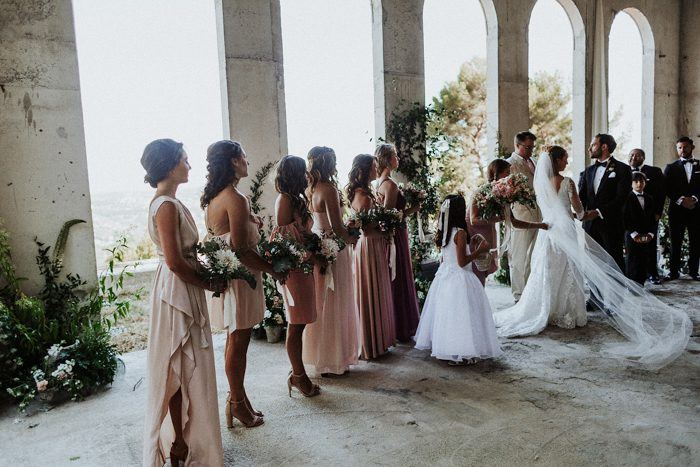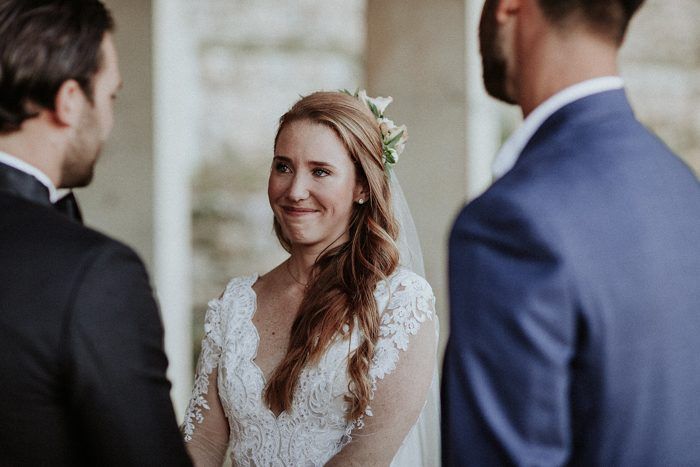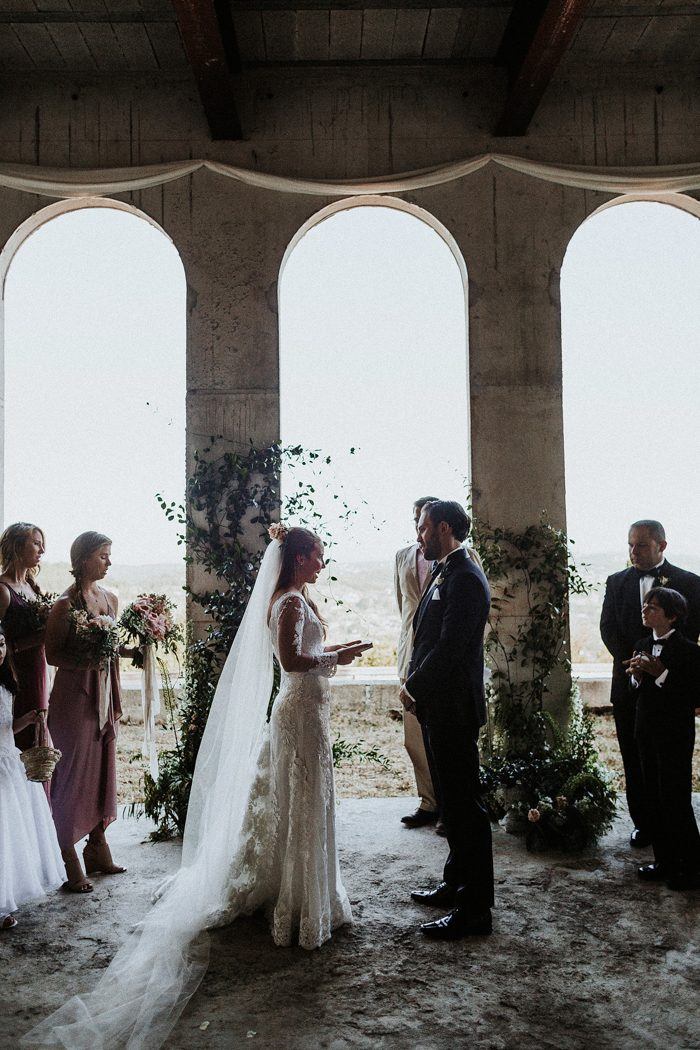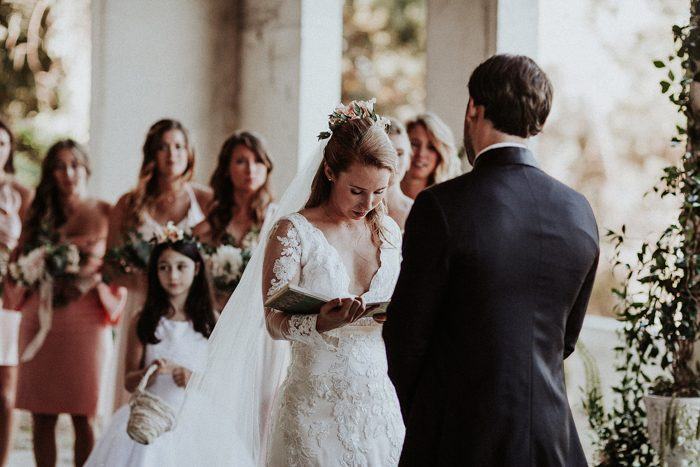 My favorite photos are the candid ones that truly capture the emotion of the day. One of my favorites are during the ceremony when Ross and I are reading our vows. It feels so intimate, personal, pure, and really enables us to relive the day.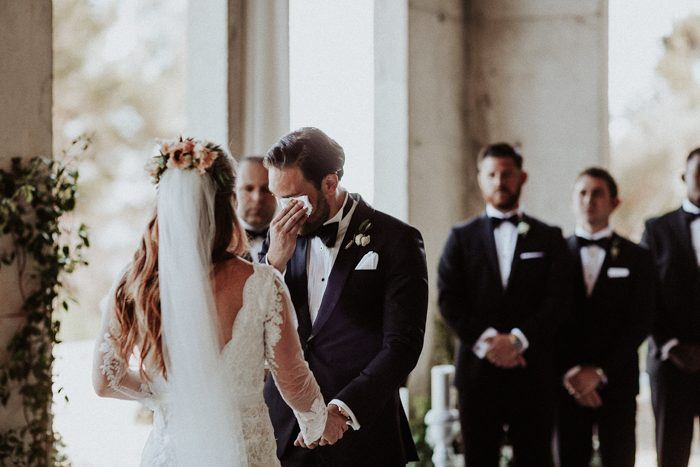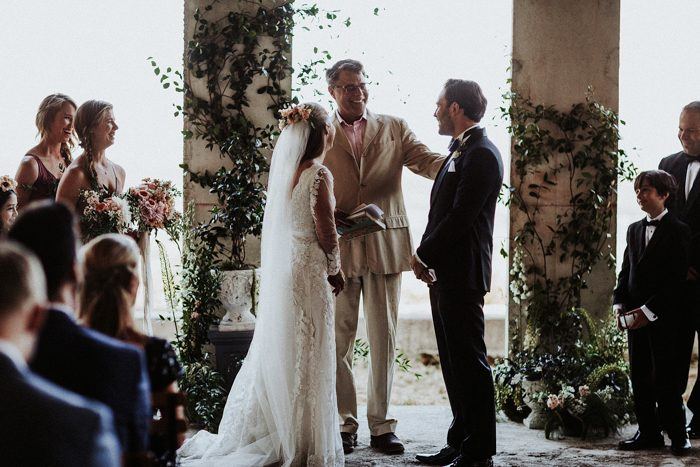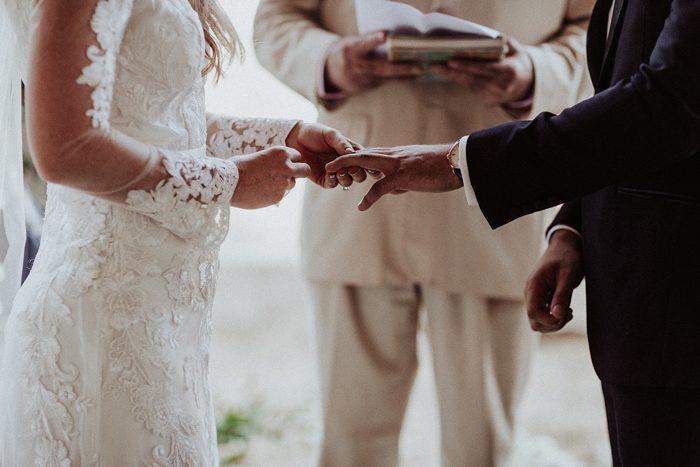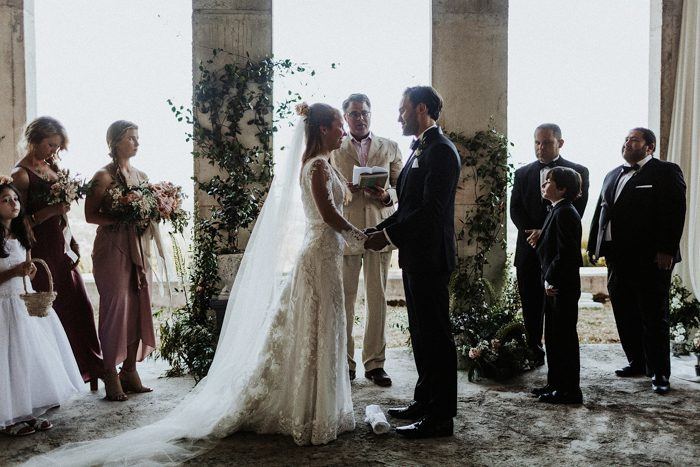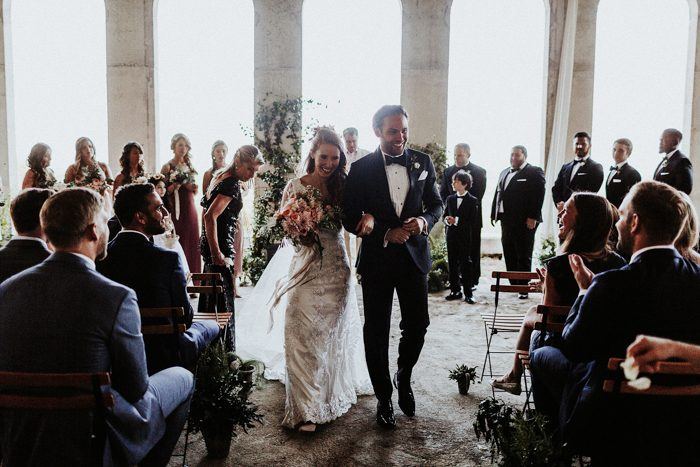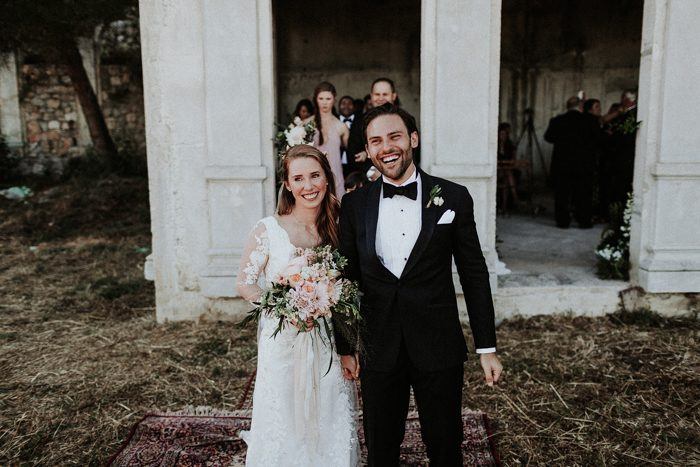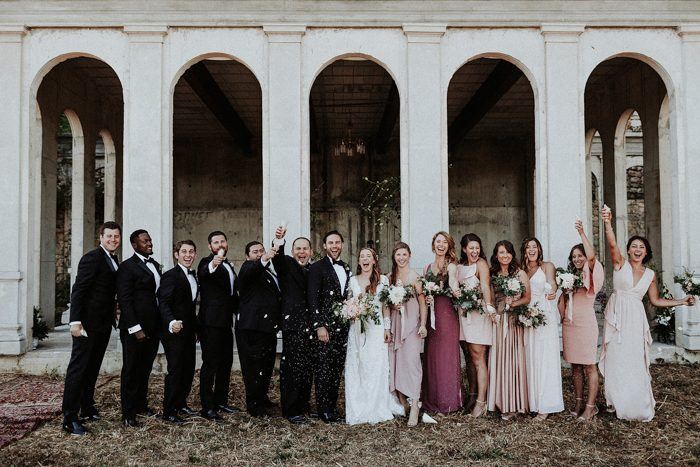 We knew we wanted a small, intimate destination wedding where we could spend a handful of days with all of our loved ones. We couldn't get behind the idea of getting married on a beach or in a tropical destination. We had visited the Cote d'Azur the summer beforehand and it became a really special place for us. I love the French culture and lifestyle, especially in the South of France. We played around with the idea of getting married in the South of France and from there, couldn't imagine doing it anywhere else.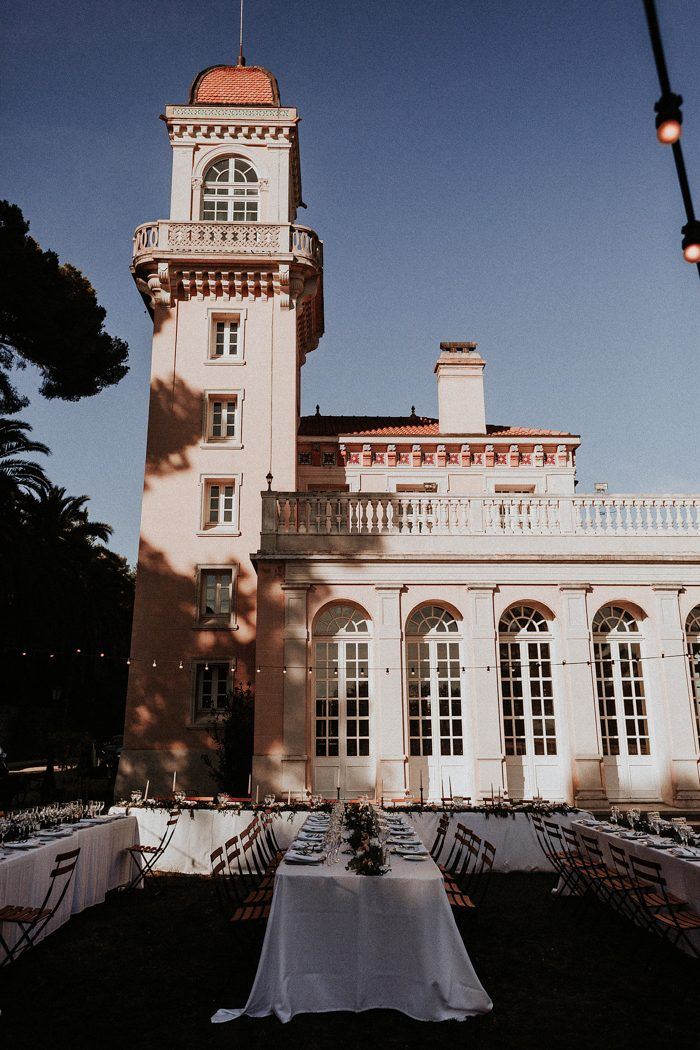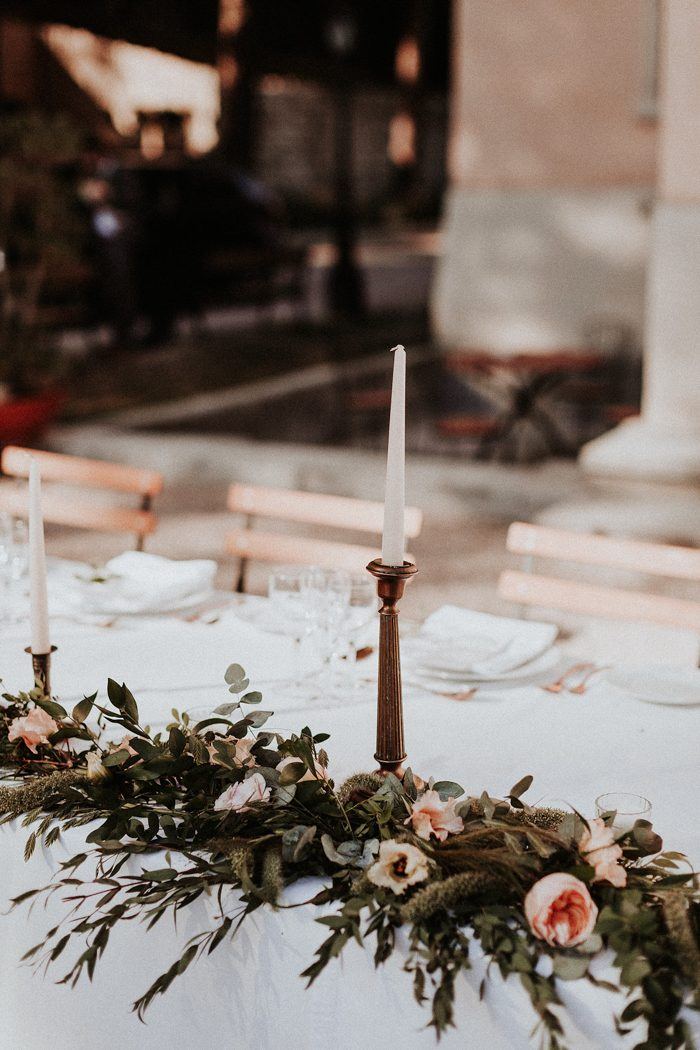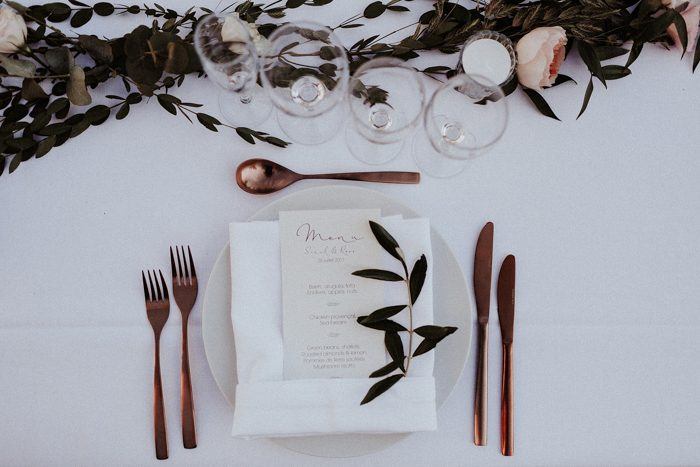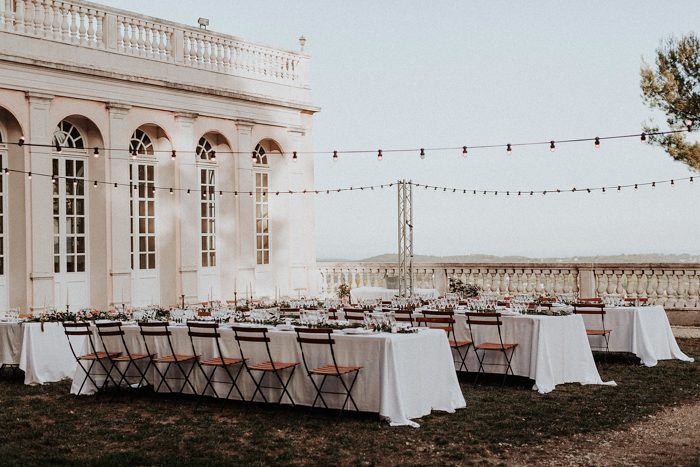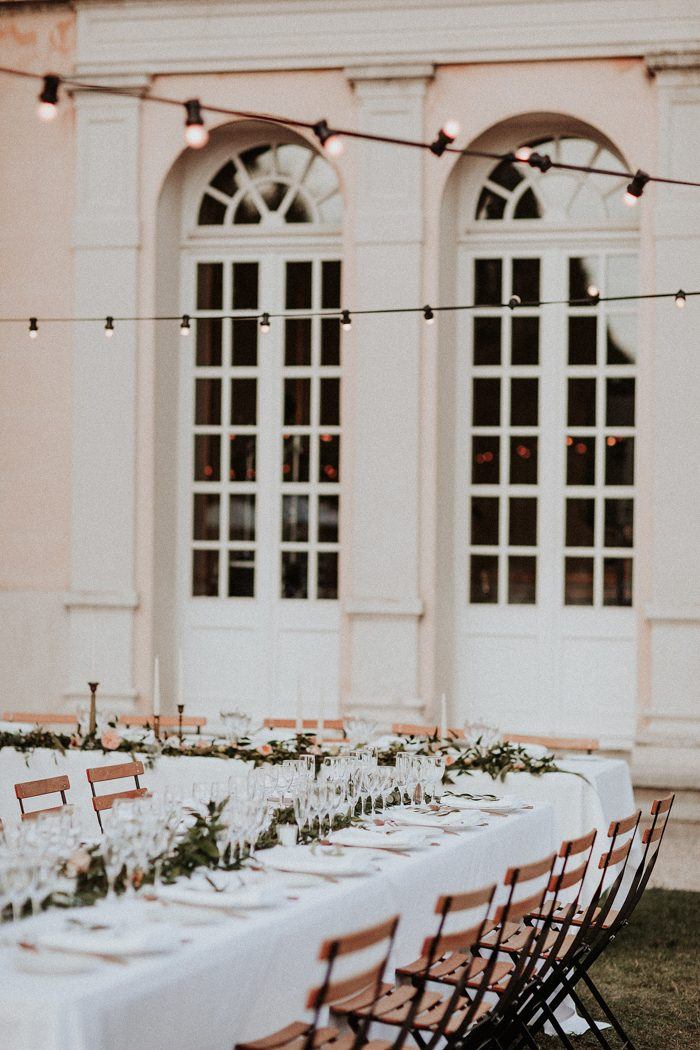 Our wedding festivities occurred over four days, with the wedding being the third day. It is so hard to decide on a most memorable moment, but the wedding day felt like the apex of the best days of our lives. When I think back to the day, the wedding dinner continues to stand out in my mind. It was such an intimate dinner surrounded by all of our favorite people. The dinner ended up being almost three hours long because speeches turned into an open-mic, with over ten of our guests giving speeches and telling stories. We laughed and cried for the entire three hours!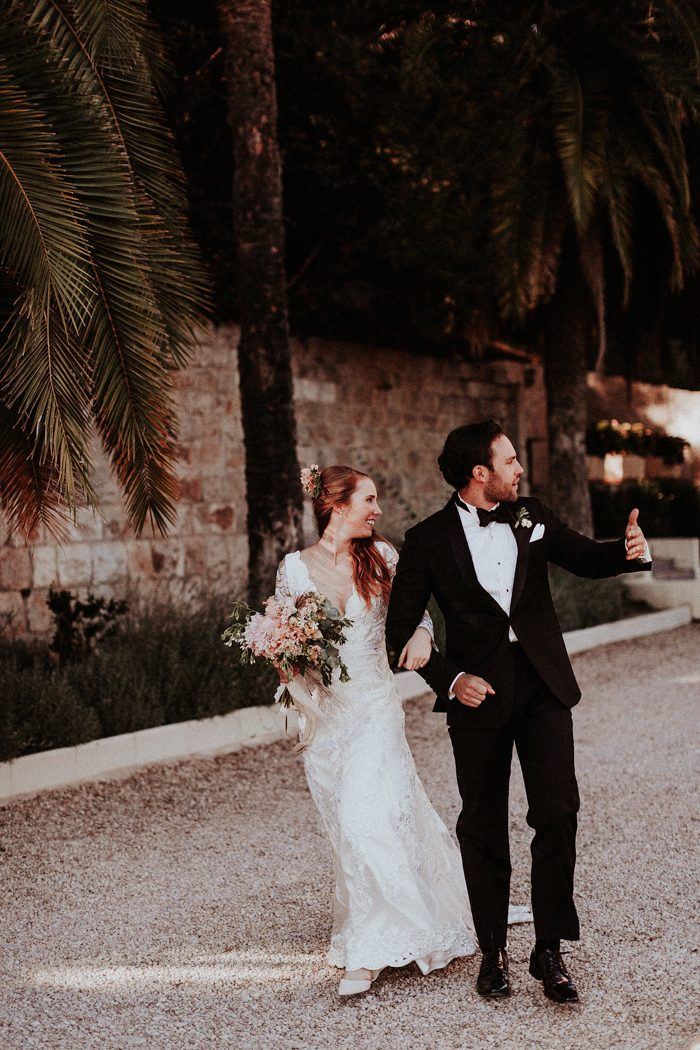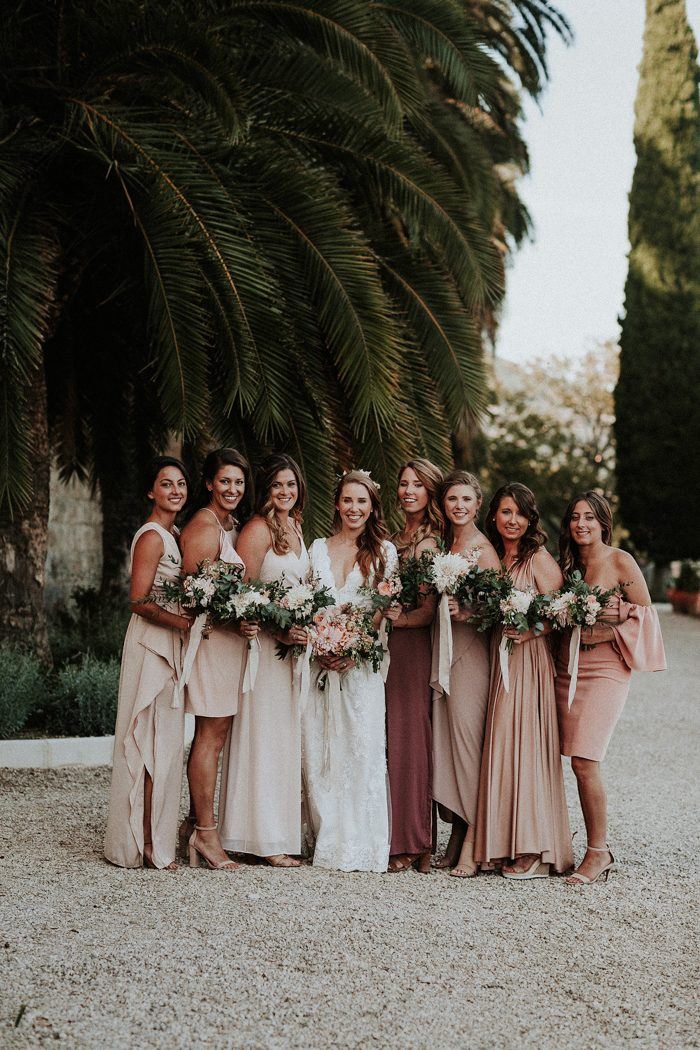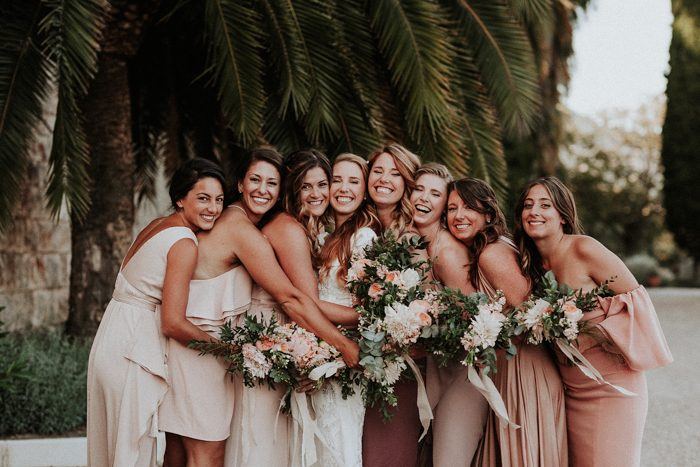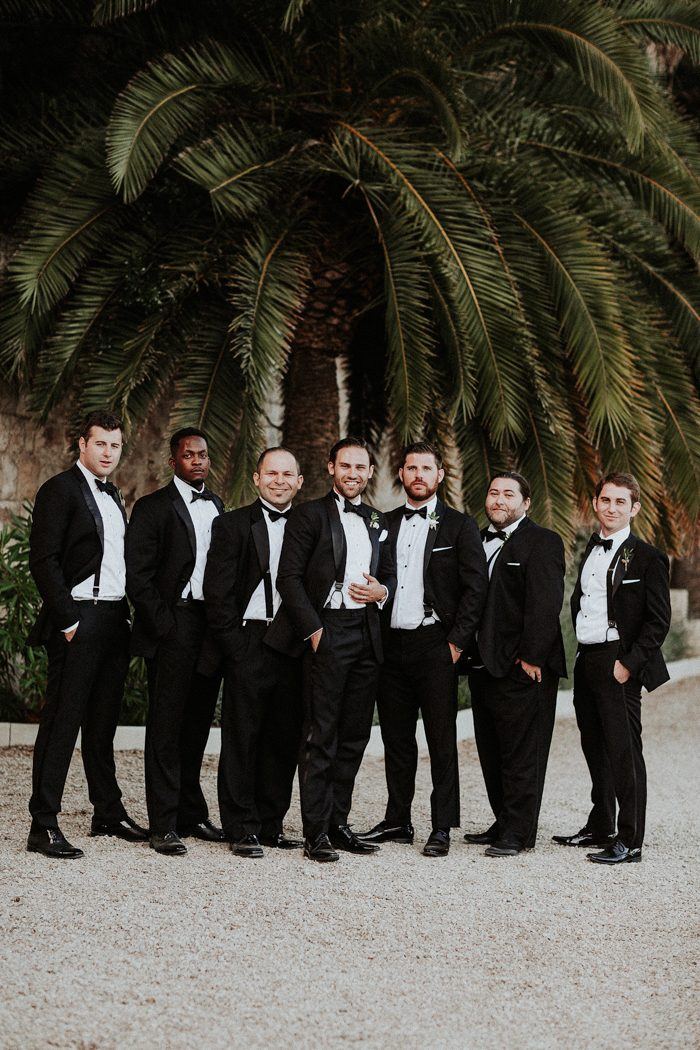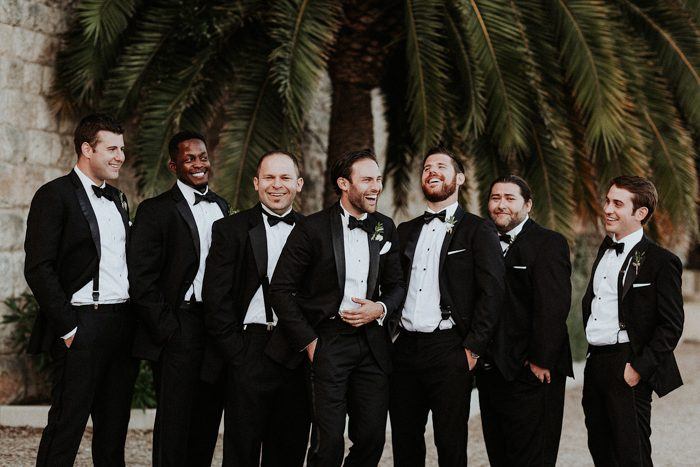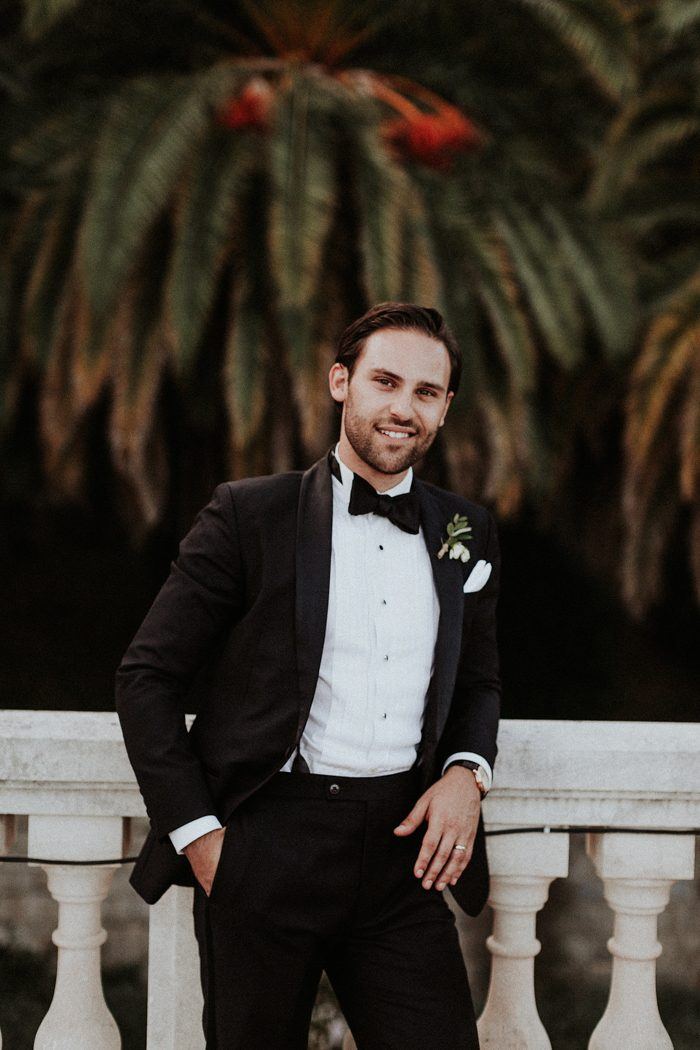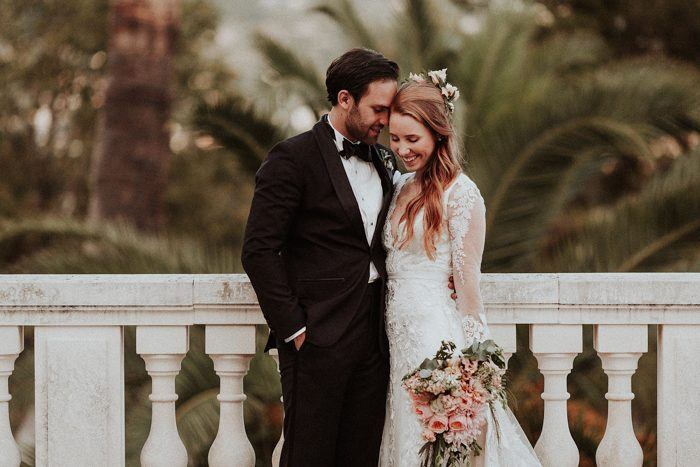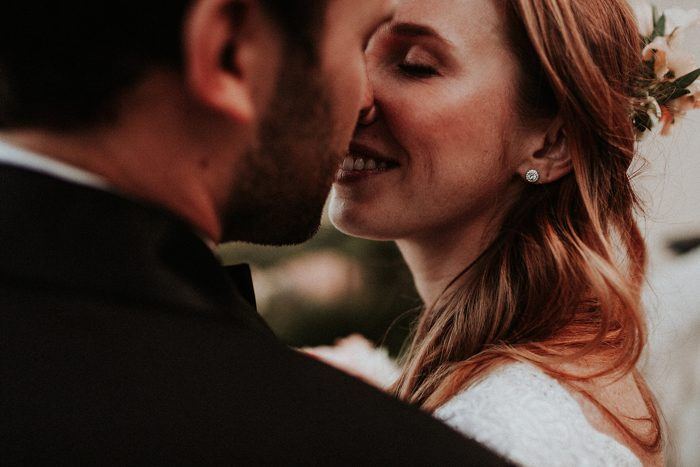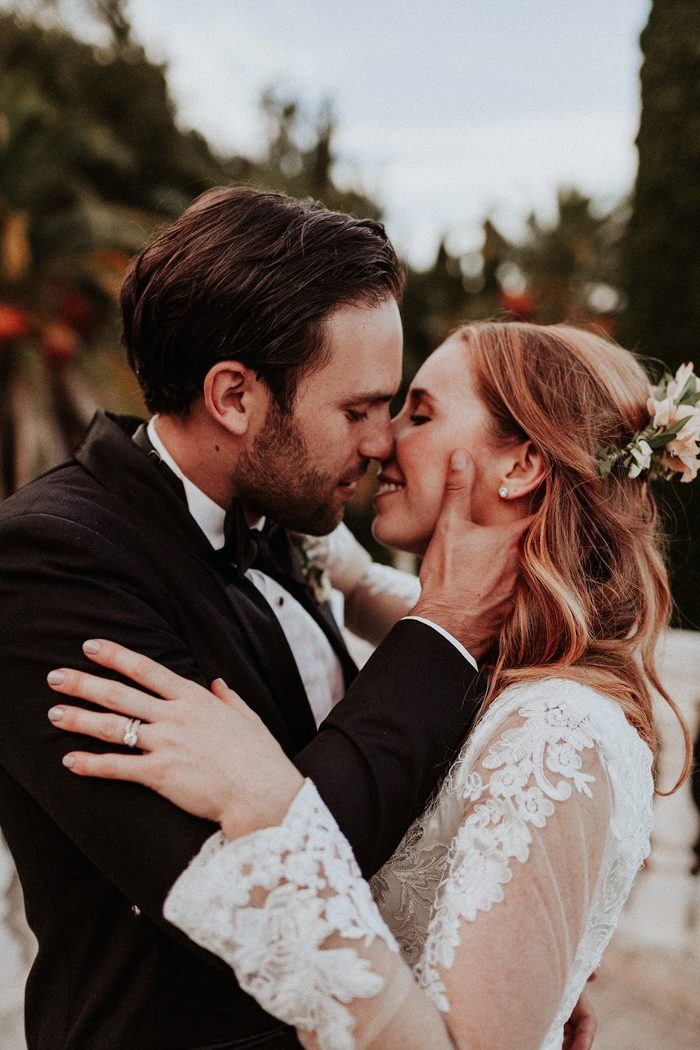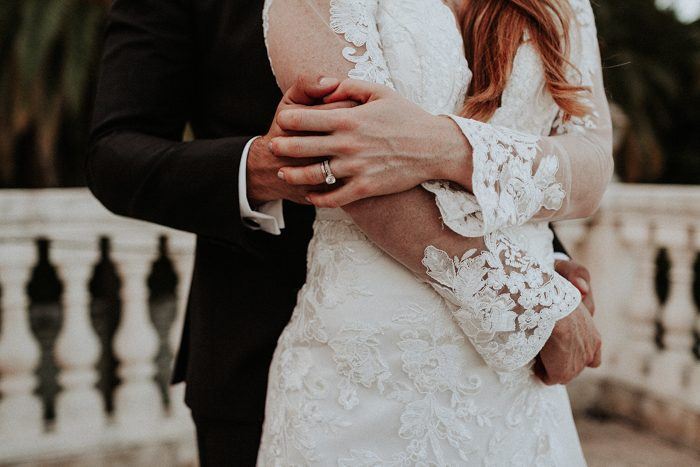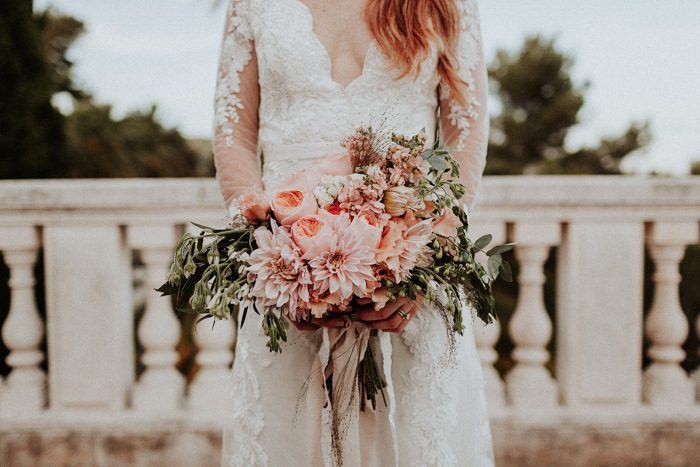 I designed my dress! Which was actually so hard to do when anything is possible. I was in love with my long-sleeves and the lace on my dress. I wanted to feel beautiful and womanly in my dress but also classy and elegant. I think the low front and back paired with the simple lace and long sleeves helped achieve this. I wore pale-pink pointed toe heels with a double strap. I wanted my hair down and flowy and minimal makeup, which is what I typically do on a daily basis. It was important to me that my beauty and fashion reflected my everyday style, but slightly elevated and highlighted.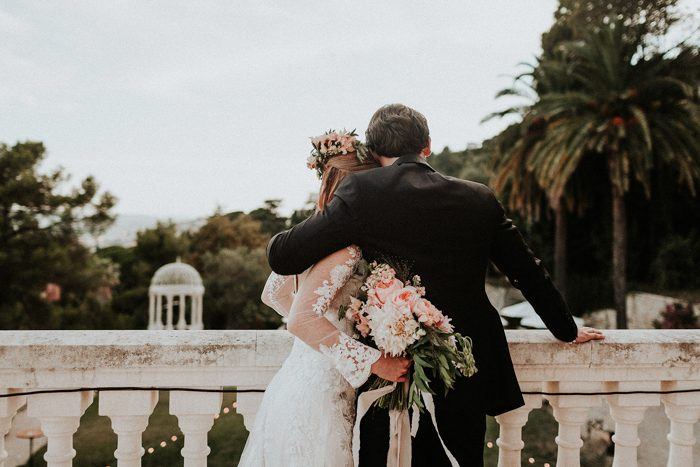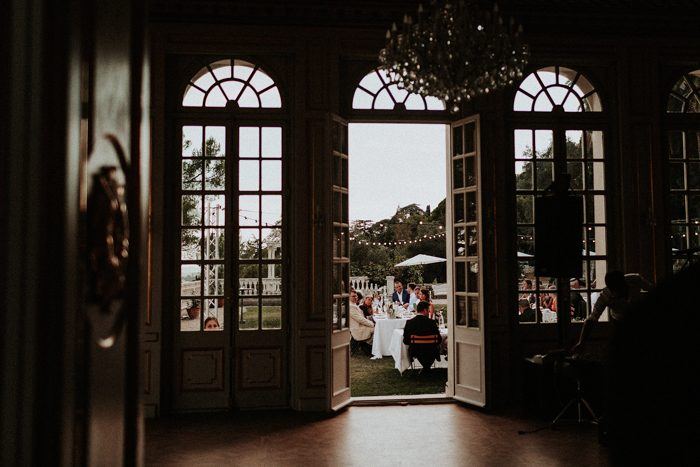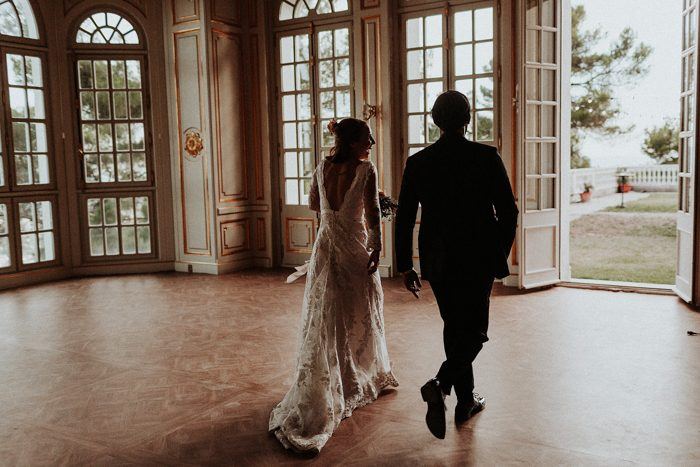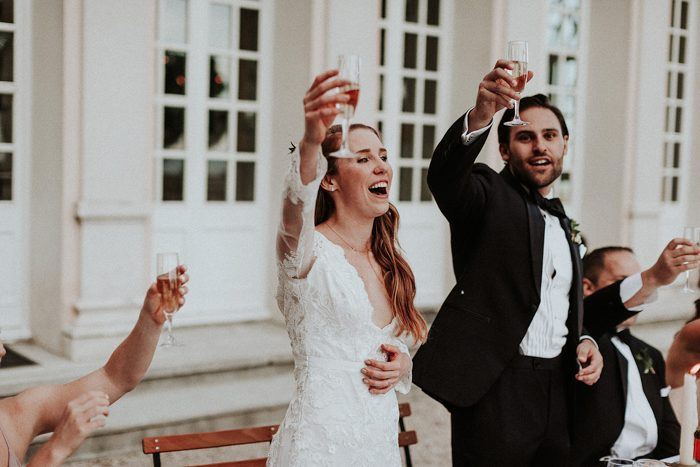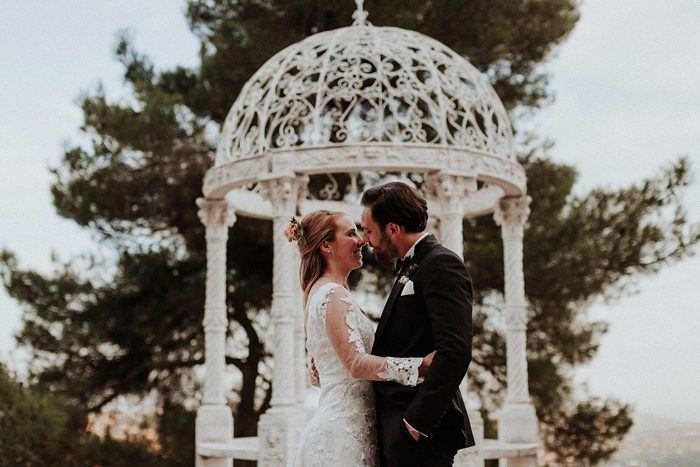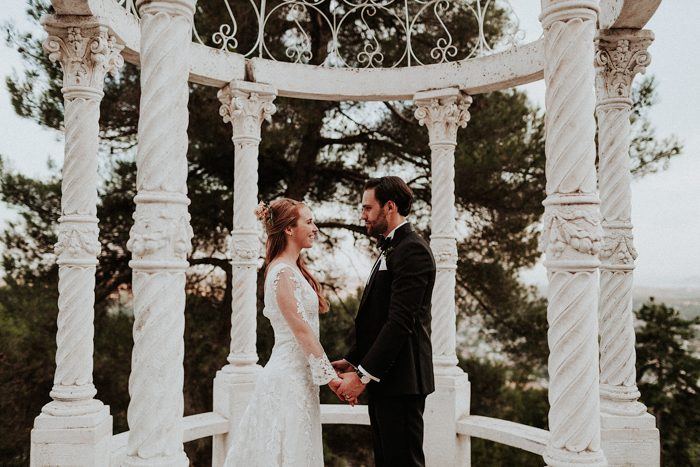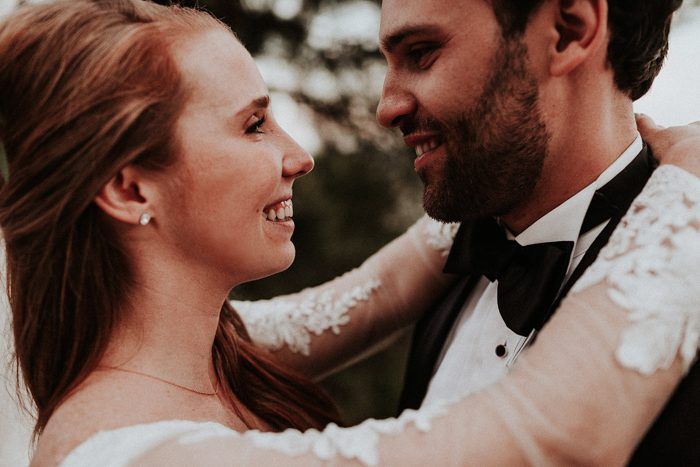 First dance was "Perfect" by Ed Sheeran. We knew we wanted it to be our song immediately upon hearing it. What was even more perfect is that our live band was British and they learned it for us to play live.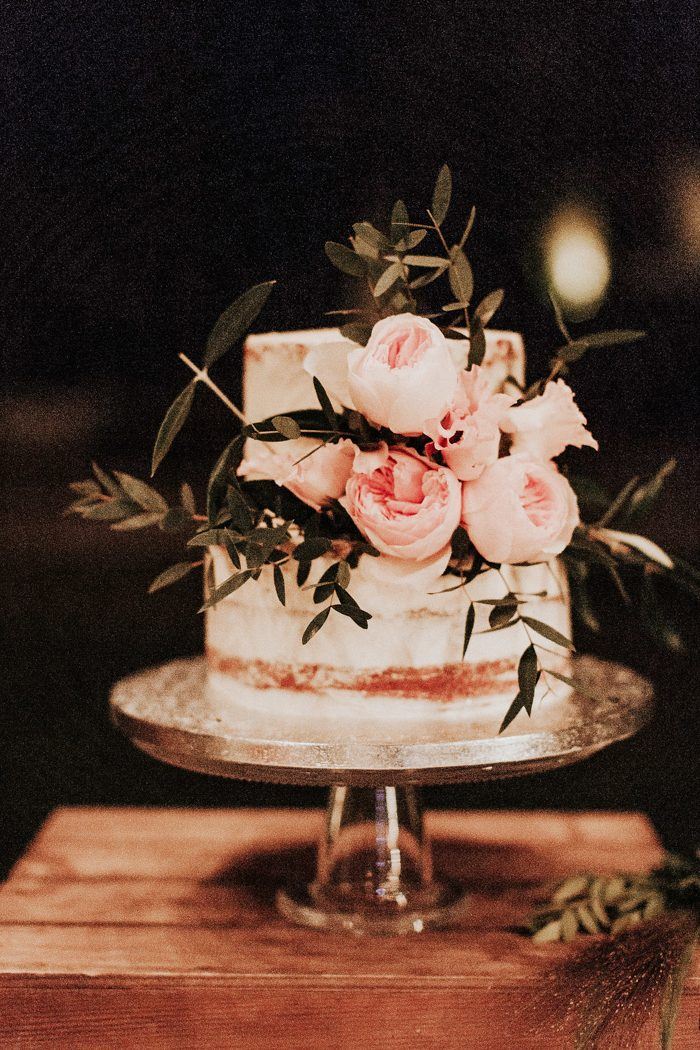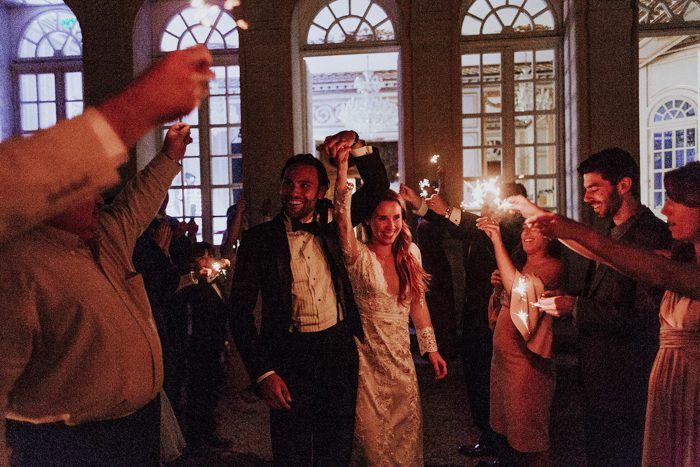 Congratulations to Sarah and Ross on their truly magical and romantic destination wedding and special thanks to Pinewood Weddings for capturing such an intimate and beautiful gathering. For more romantic destination wedding inspiration, check out this whimsically romantic wedding at the Tucson Country Club!