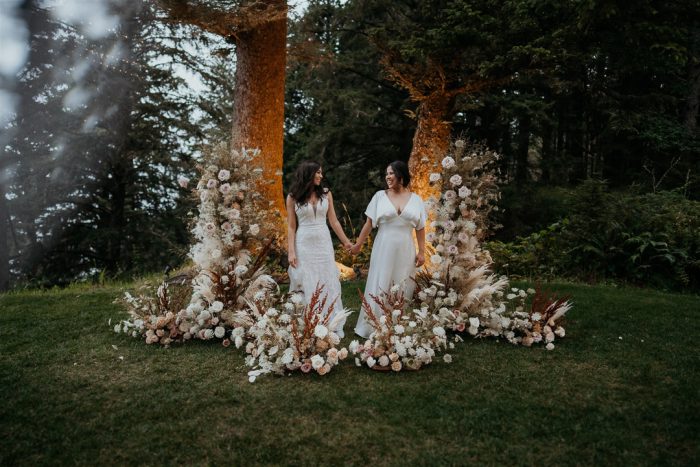 After seeing the breathtaking cliffside ocean views, tall pines, and natural beauty of the Oregon coast, Kelly and Jessie immediately knew they found the perfect place to say "I do." The childhood sweethearts envisioned tying the knot beneath towering trees surrounded by loved ones, and that's precisely what they did. With the stunning landscapes and inviting family-style dinner underneath warm cafe string lights, this Crook Point wedding was an absolute dream!
The pair kicked off their day with a sweet first look on the beach where both donned beautiful bridal gowns accessorized with a jaw-dropping bridal cape and dramatic train. Their intimate forest ceremony was decorated with gorgeous avant-garde florals featuring blush and dusty rose blooms. Following their intimate vows, guests were treated to a cozy picnic-style dinner with tablescapes set with terracotta details and whimsy flowers in bud vases. To elevate the celebration even more, the couple requested a fog machine to give the effect of "dancing on the clouds" with loved ones throughout the night.
If you're thinking of ditching tradition for an adventurous celebration, let Kelly and Jessie's day serve as your inspiration to just go for it! Keep scrolling through to see all of the pretty details of their day beautifully captured by the talented Henry Tieu.
The Couple:
Jess and Kell
The Wedding:
Crook Point, Oregon, United States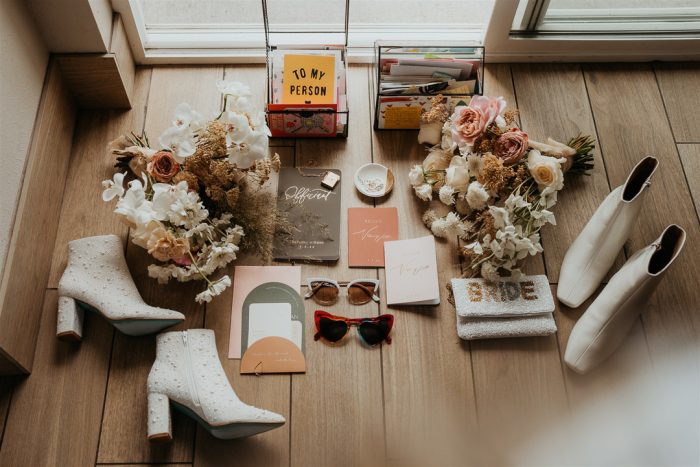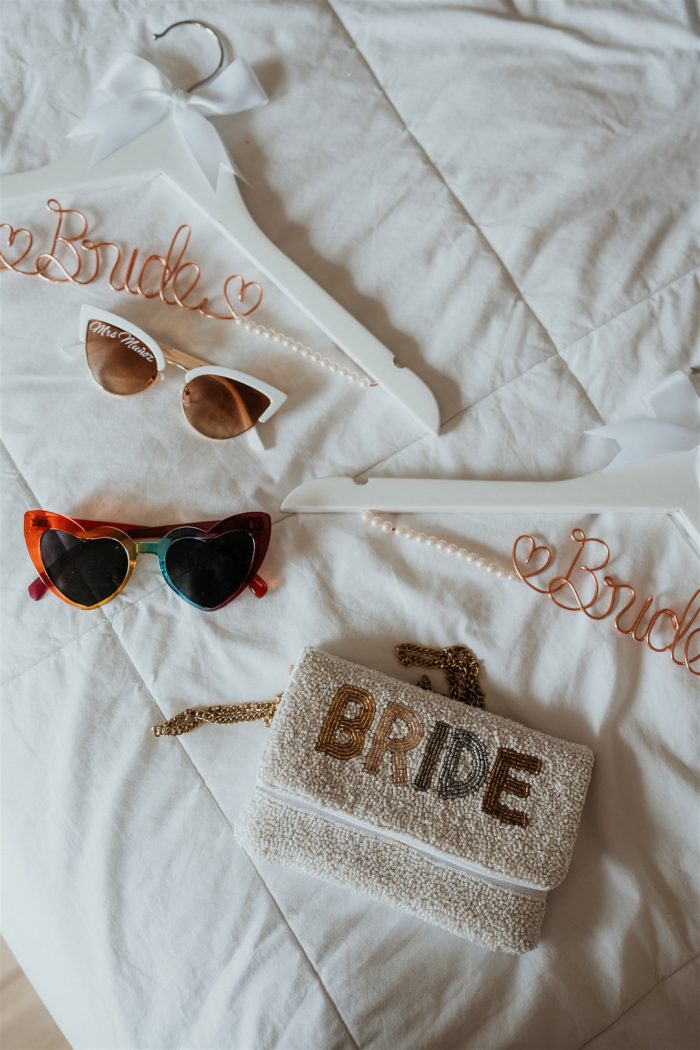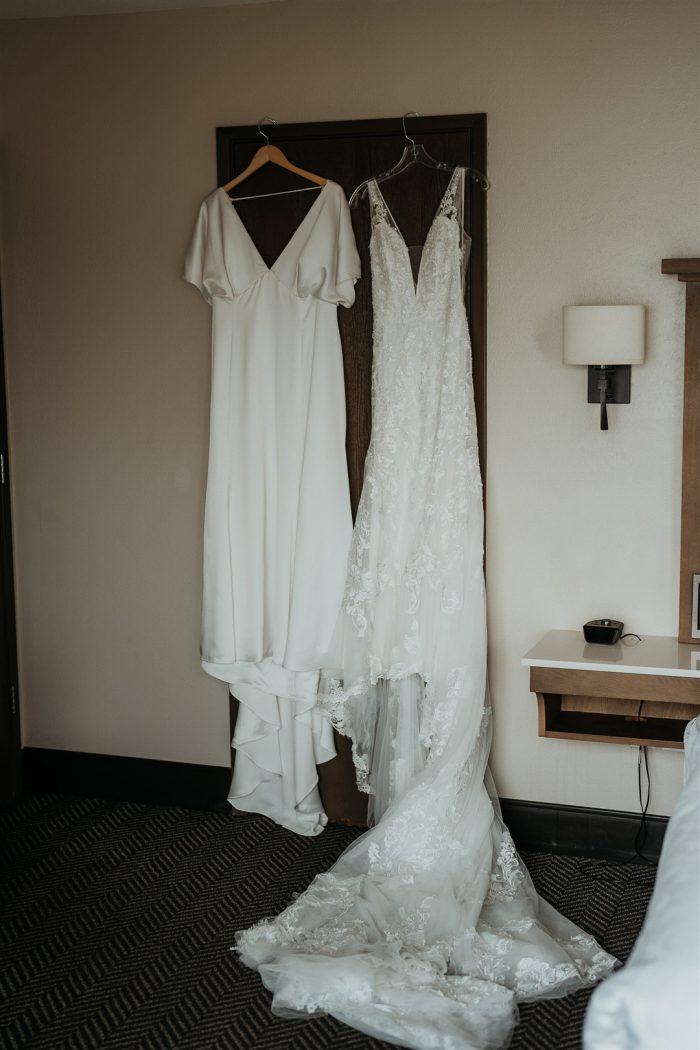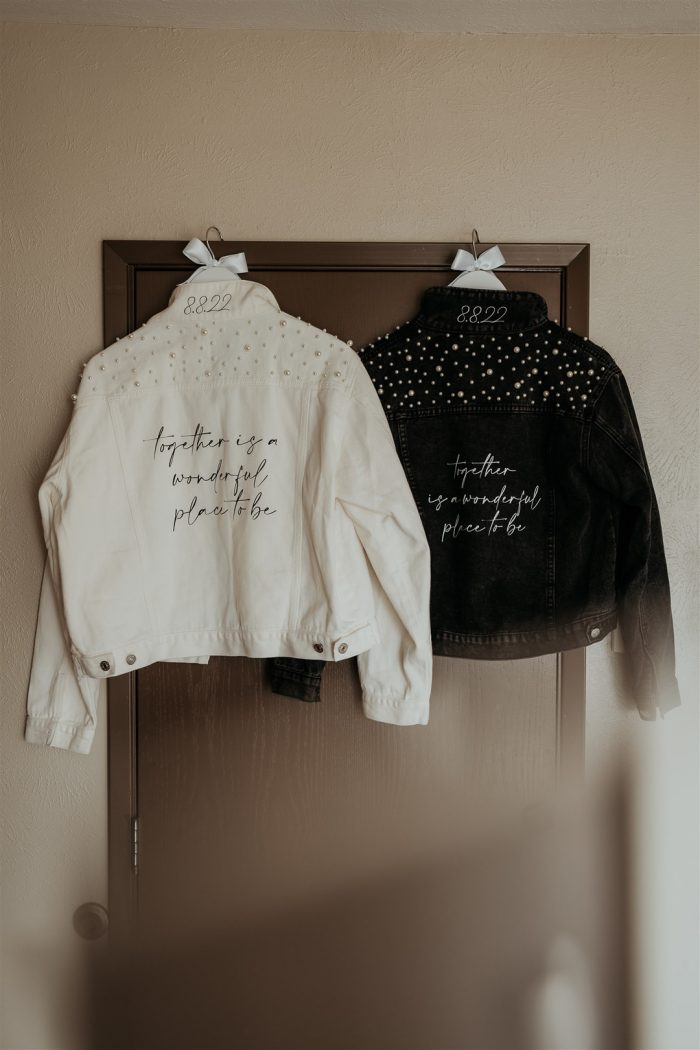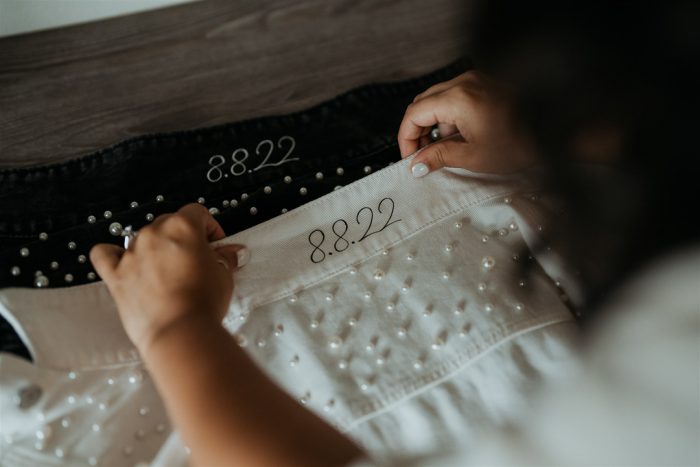 Choosing An Earthy Crook Point Wedding
This was a part of wedding planning that we went back and forth on a lot. We had seen a few beautiful weddings at Crook Point, on the southern Oregon coast, and for some time, it felt like too much of an impossible dream. But after we contemplated over and over again, we knew that to get married anywhere but Crook Point would be a disservice to what felt most like us. Crook Point is a venue that offers you a space to be married on a cliffside overlooking the coast, surrounded by pine trees, and nature—everything we love and could dream of. We're so happy we followed our hearts. We'd recommend their team and their venue to everyone if we could.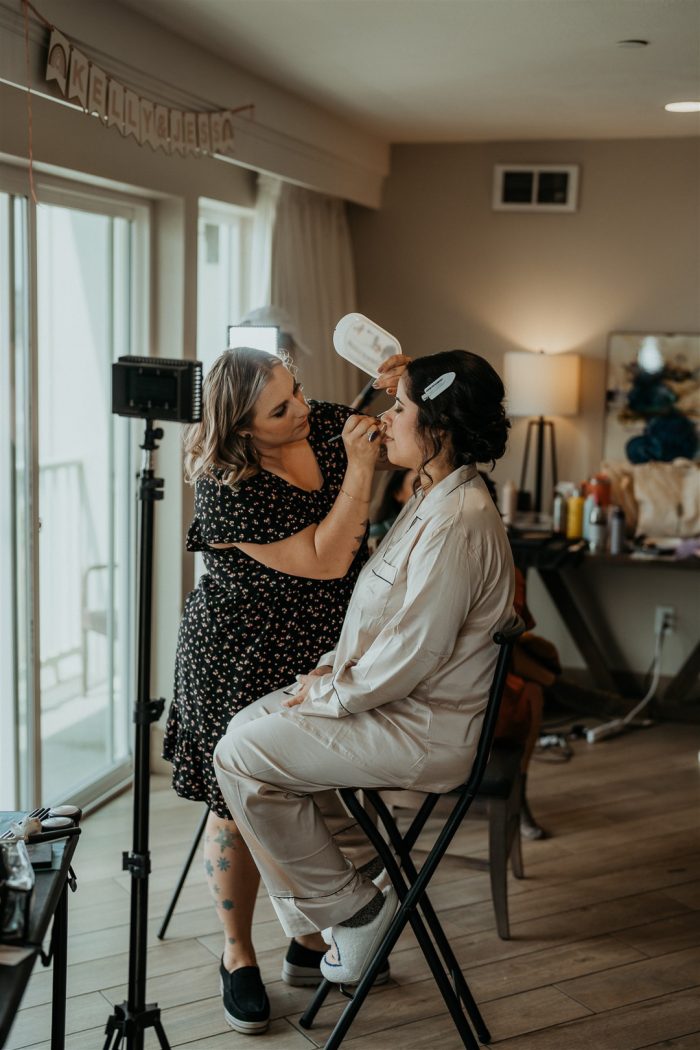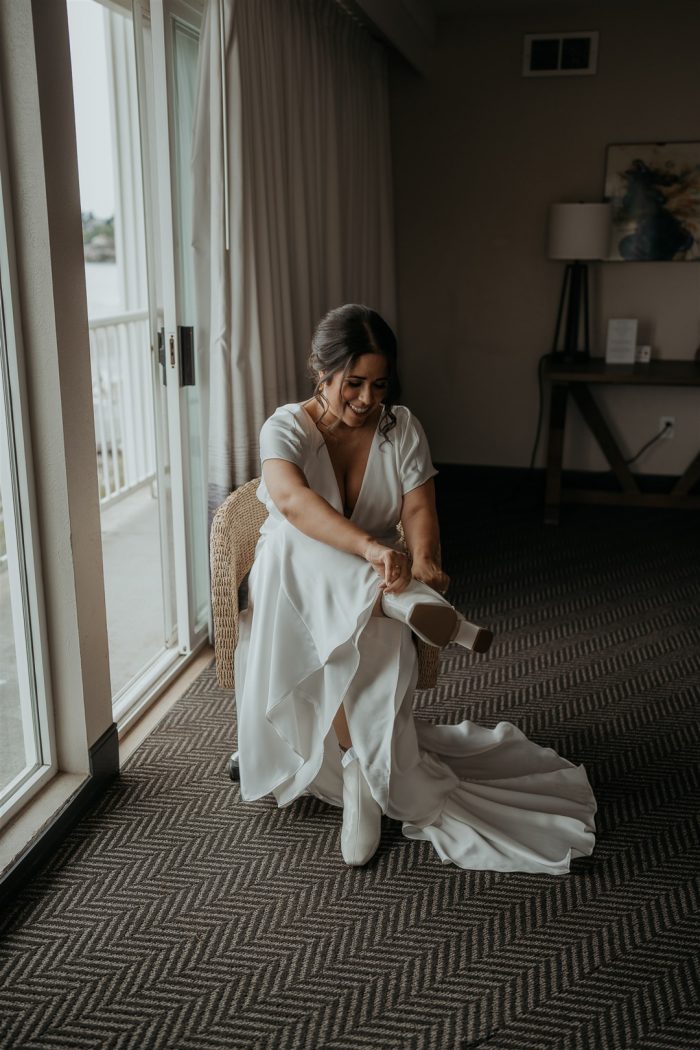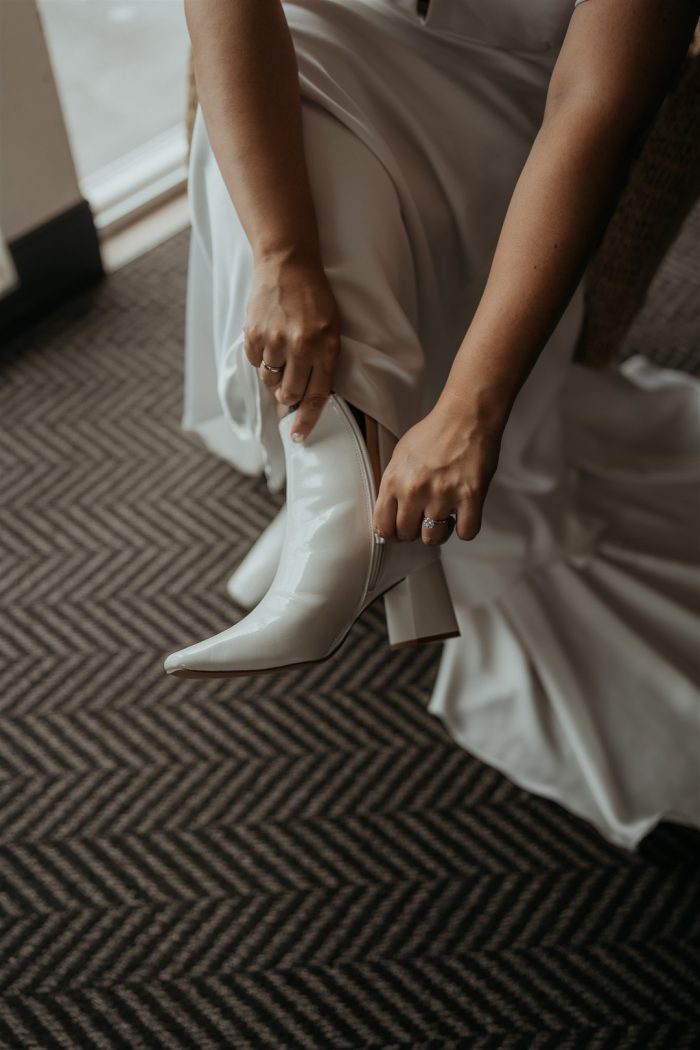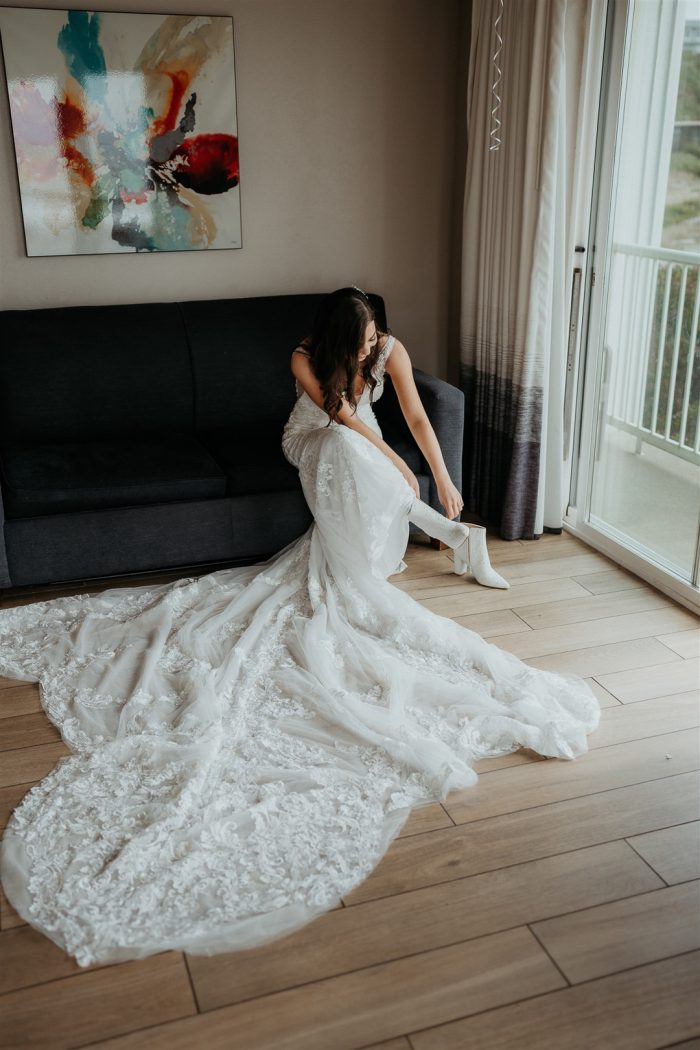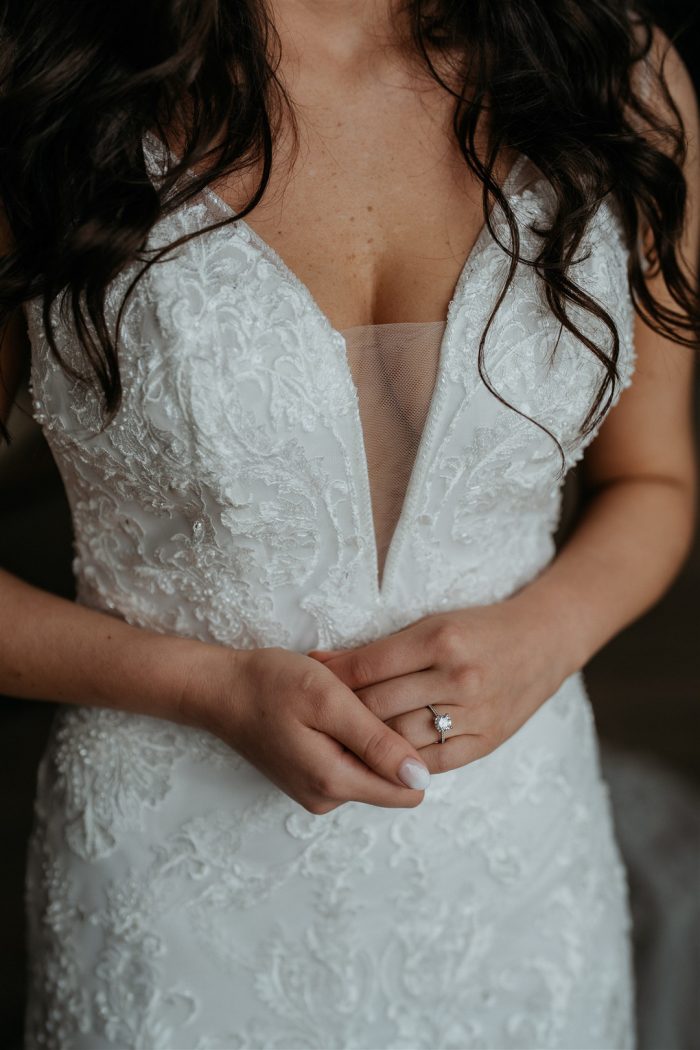 Wedding Advice From The Couple: Do What You Want, Not What Anyone Else Wants
Our number one advice would absolutely be: do what feels the most you. Don't do anything for "tradition" or for family preferences. We changed our minds a few times throughout the planning process, veering from what we truly wanted, at first, to avoid making things too "difficult." In the end, though, we went with what we wanted and what resonated with us the most. Now we can look back knowing we wouldn't change a thing. Invest in yourselves and the memories of your day.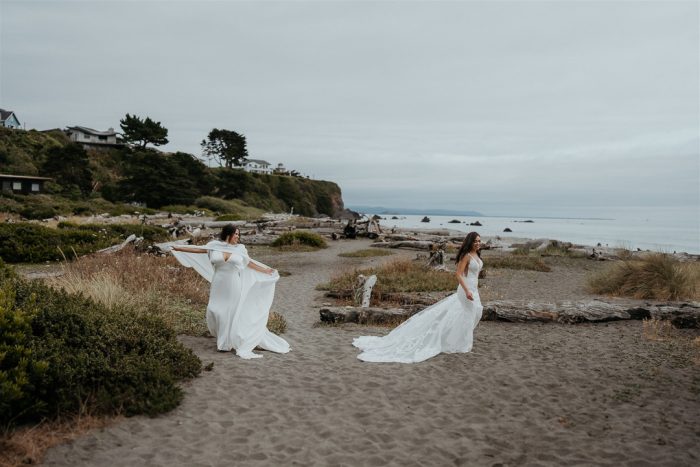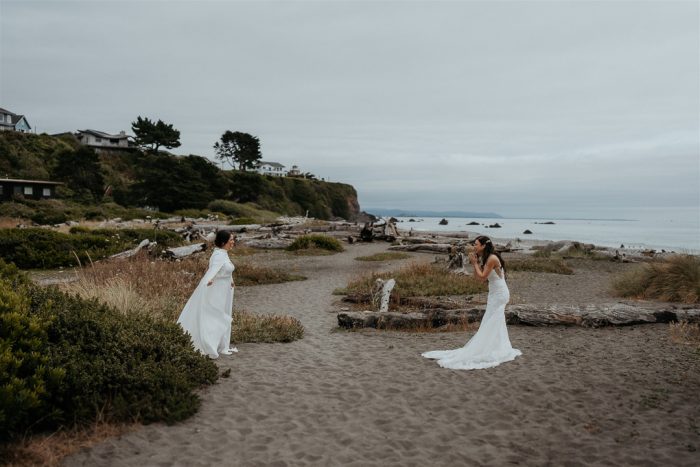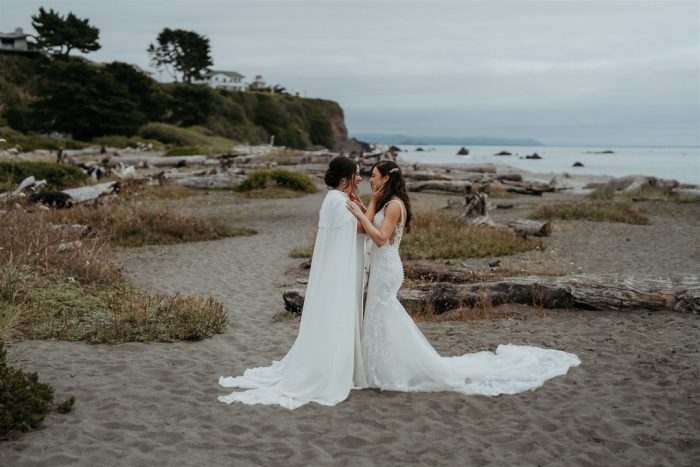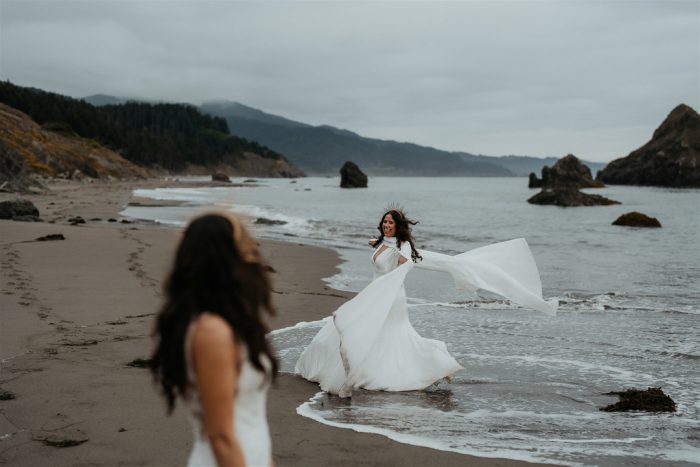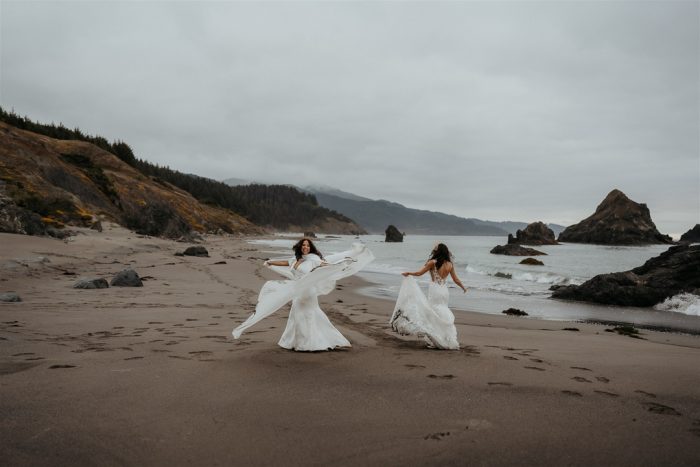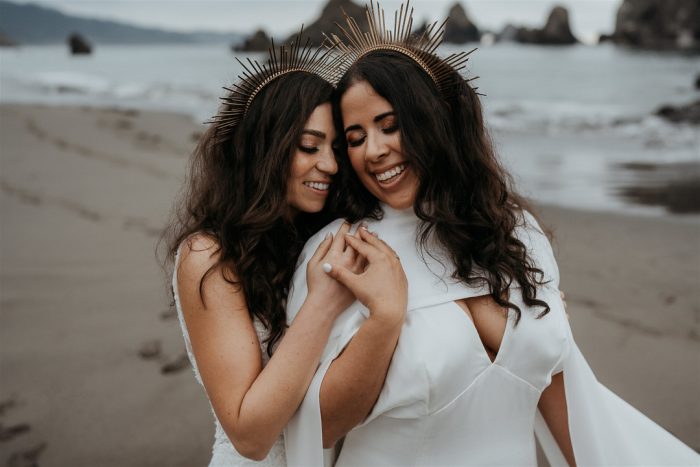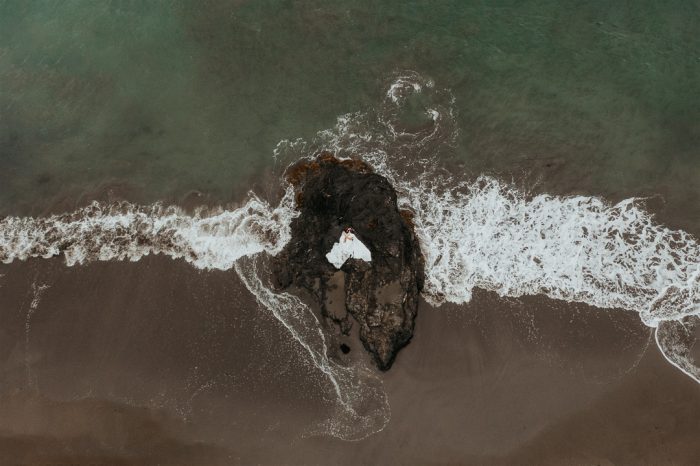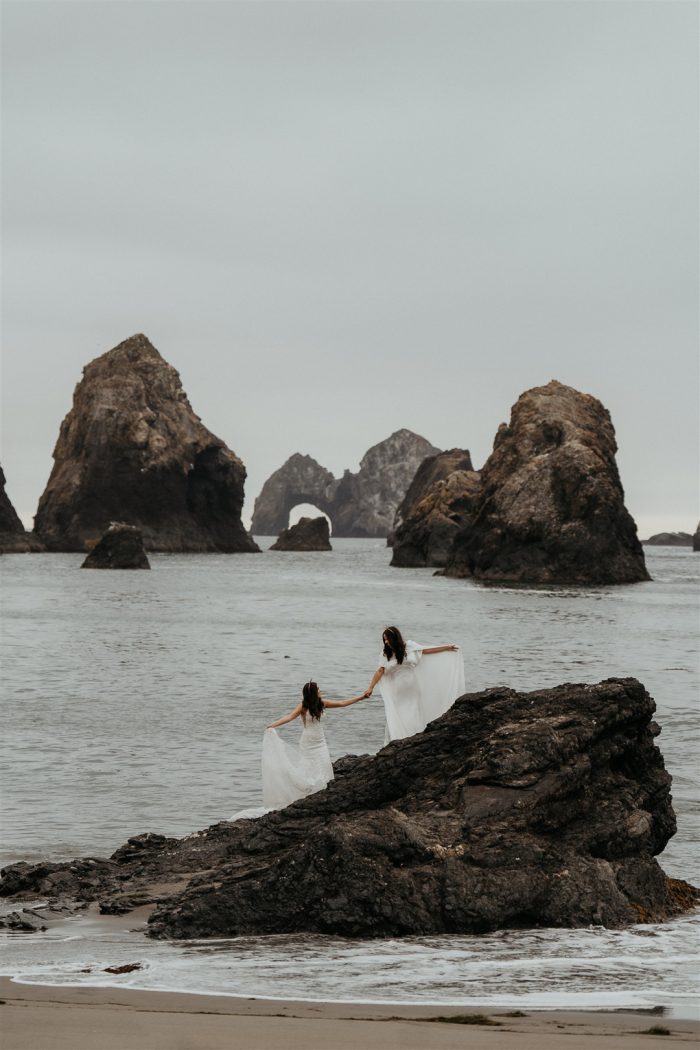 Getting Married On The Day That They Met, 17 Years Later
One of the first things you do when planning a wedding is choosing a date, and we picked the one that would best tell our story. We first met sitting next to each other on the sixth-grade school bus on 8/8/2005. So coming together at the altar on the anniversary of when it all began, 17 years later, felt like beautiful symmetry.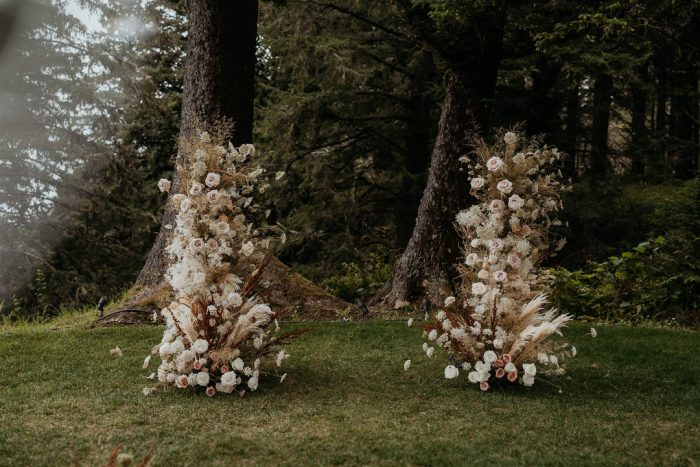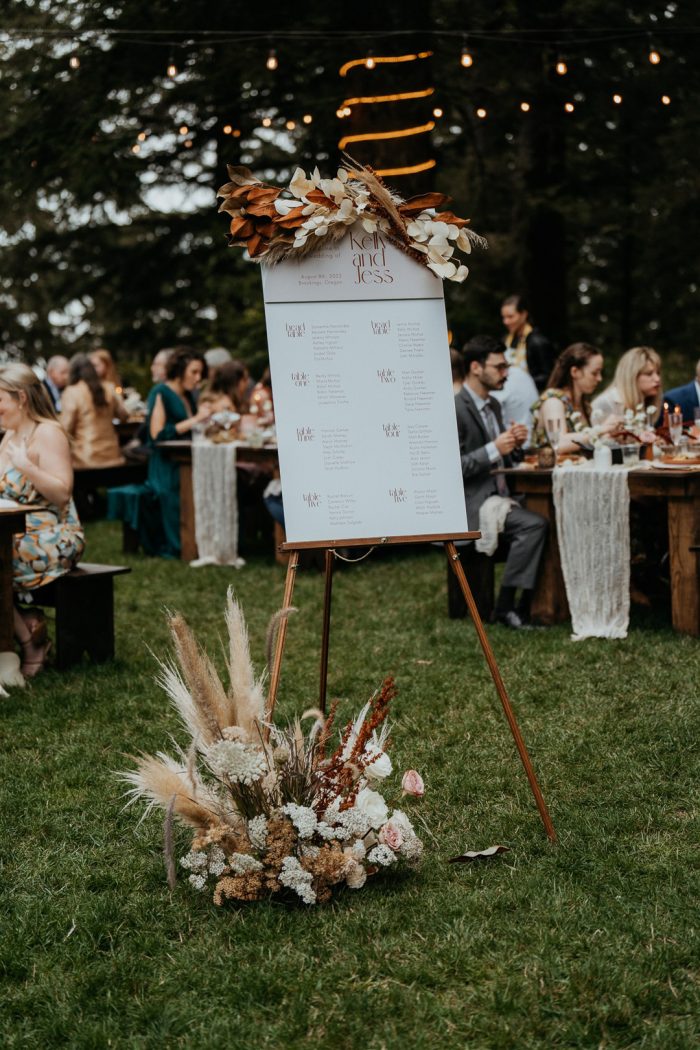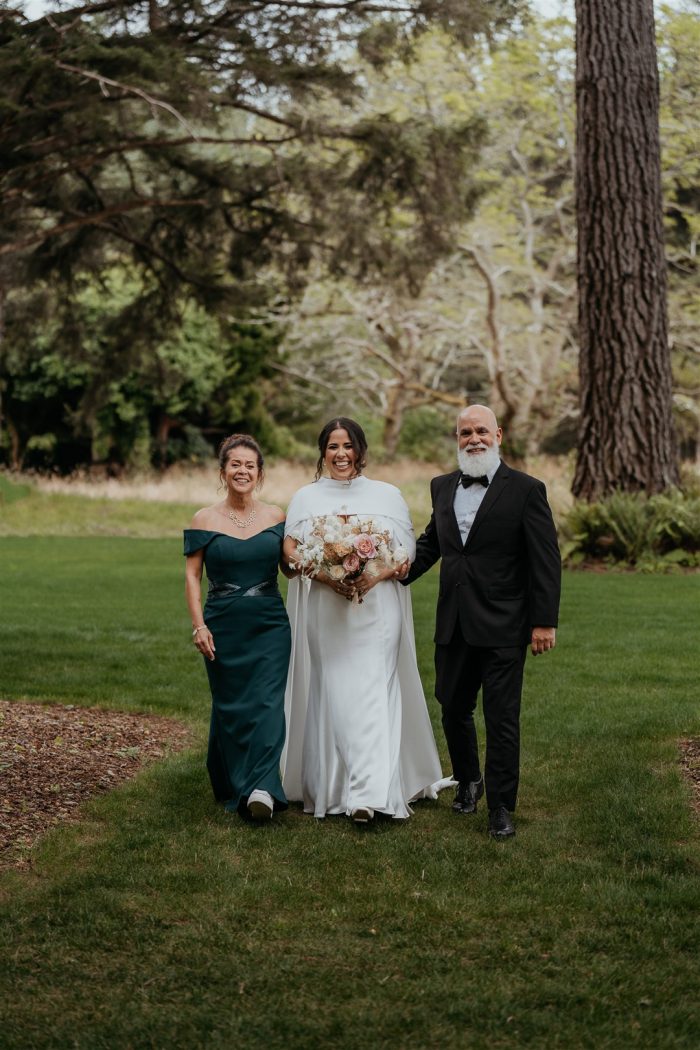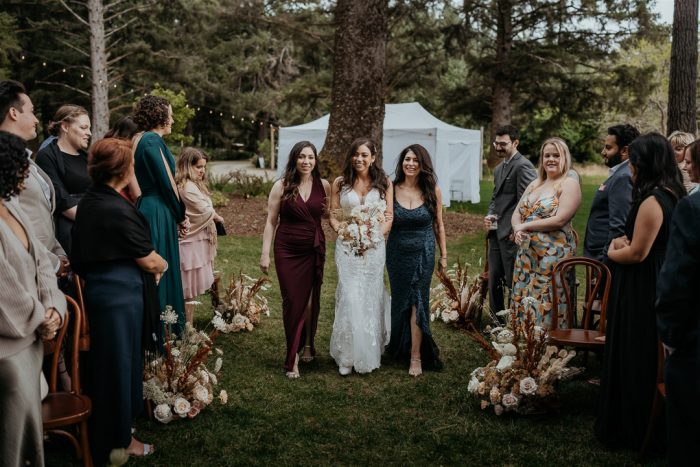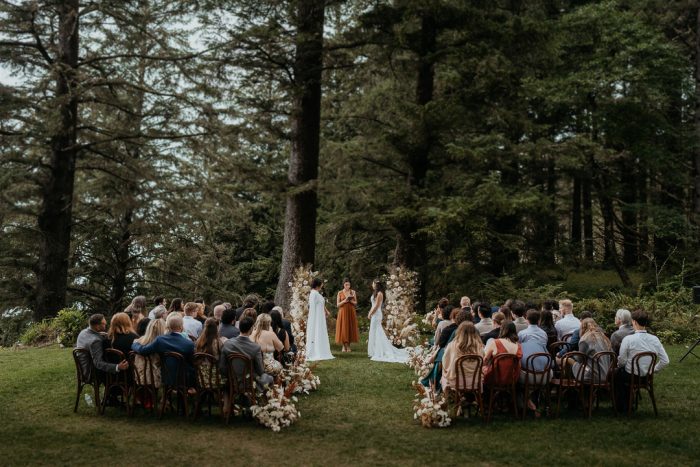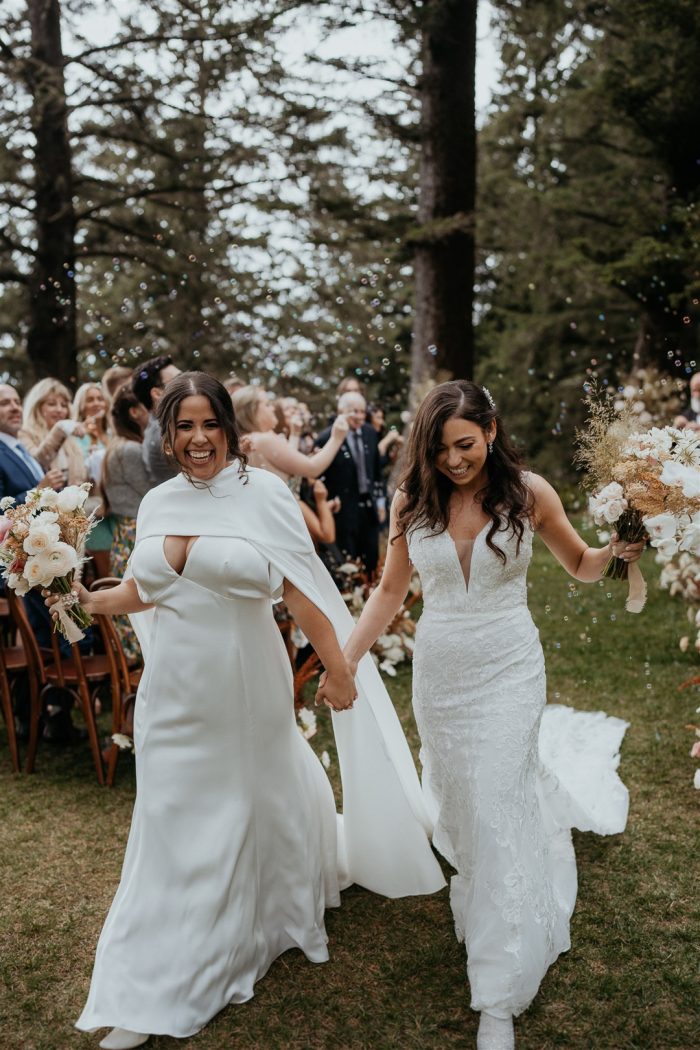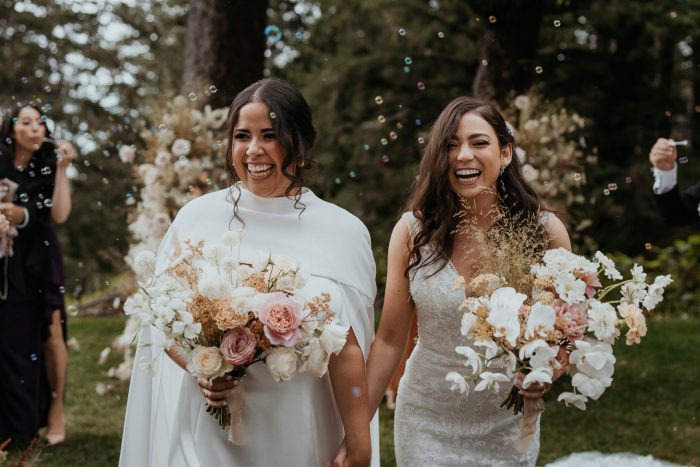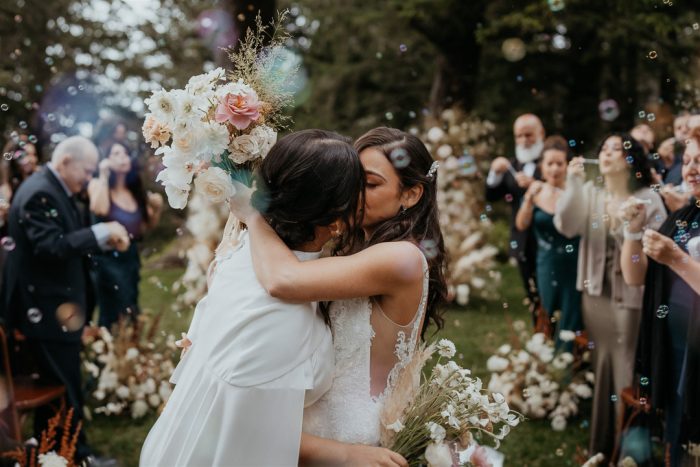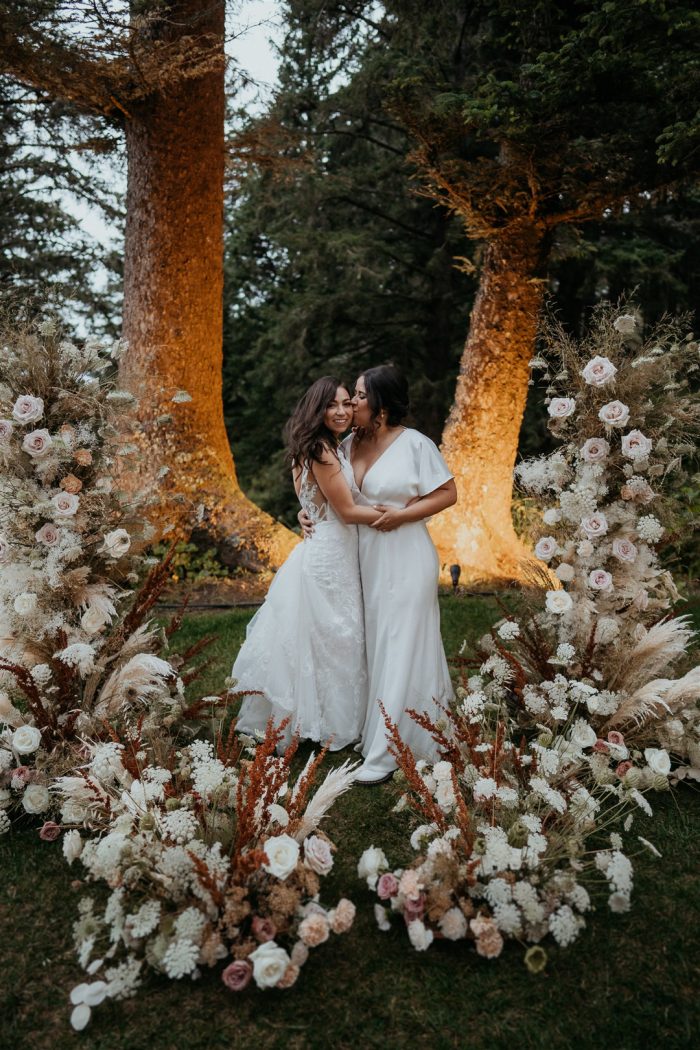 What It's Like Working With Henry Tieu
As a queer couple, it was extremely important for us that our love be photographed by someone who'd see us for who we are. Even before meeting Henry, we knew he was the photographer for us. His work is so beyond stunning and his adventure elopements/weddings/shoots was one aspect that really inspired us to go after what we wanted, which was to have a wedding on the southern Oregon coast.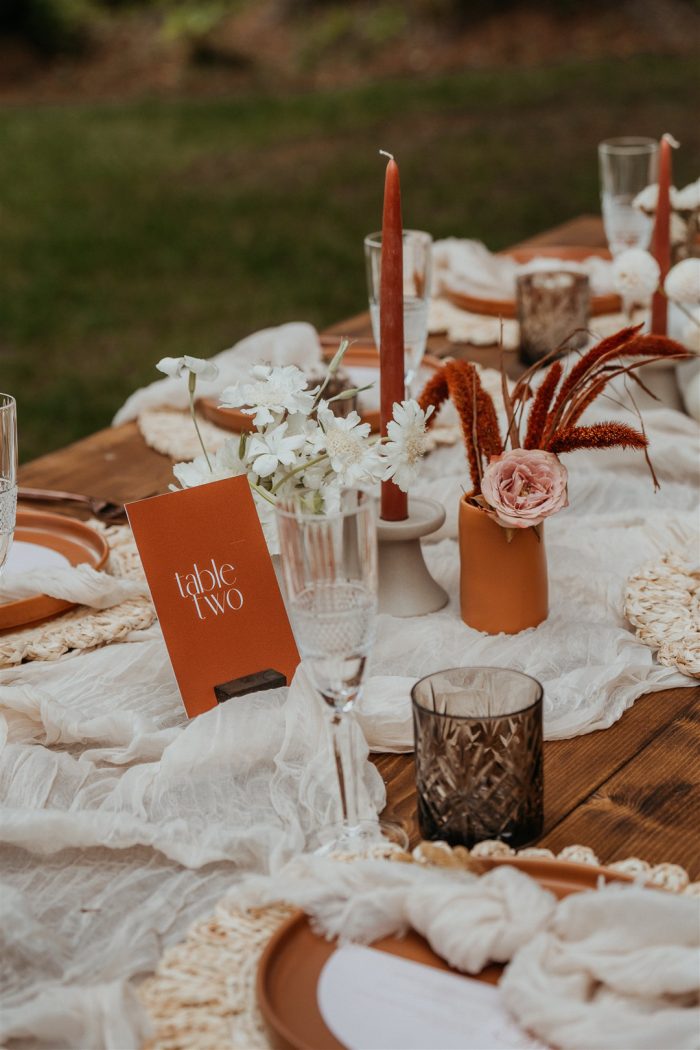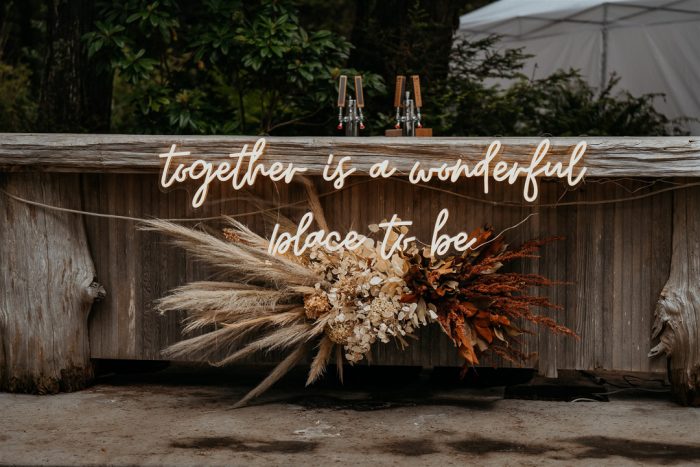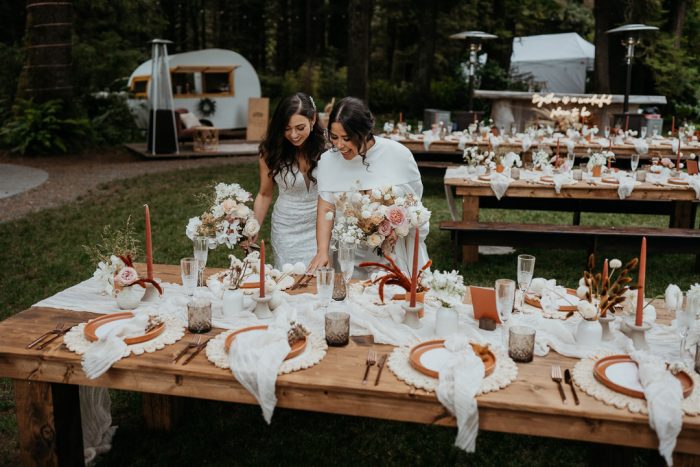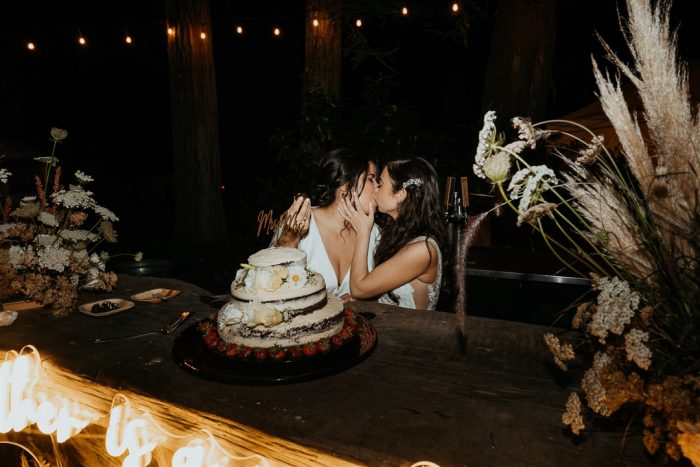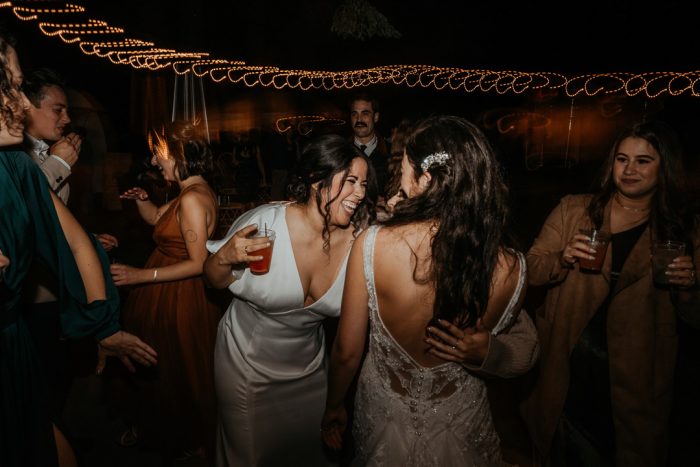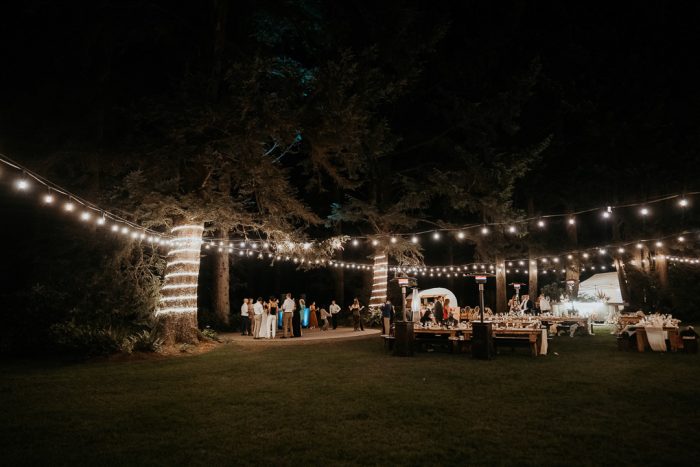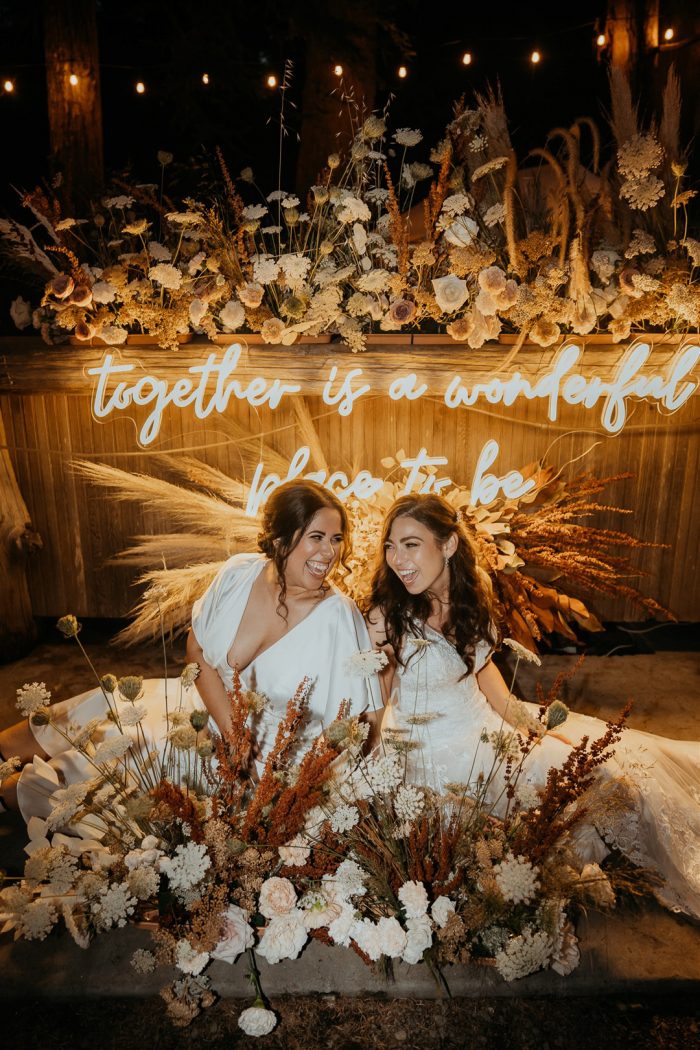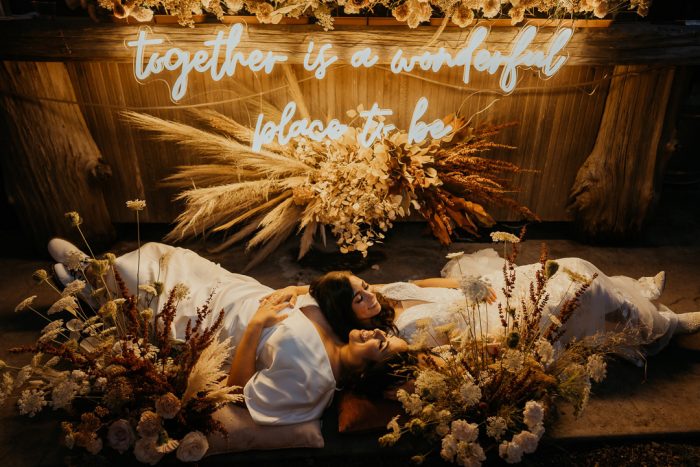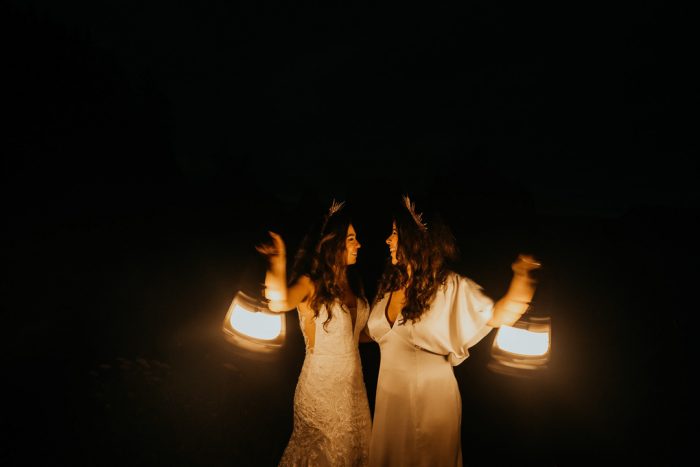 Congratulations to Kelly and Jessie on their stunning Crook Point wedding. And a big thank you to legendary photographer Henry Tieu for capturing all the inspo-worthy details that make this destination wedding one for the books.
After catching one glimpse of these images, you just might be dreaming of an outdoor celebration. An outdoor wedding allows for endless decor and floral design possibilities. Whether you choose an epic elopement or to have a backyard celebration, you'll want to check out our full guide of outdoor wedding styling ideas.