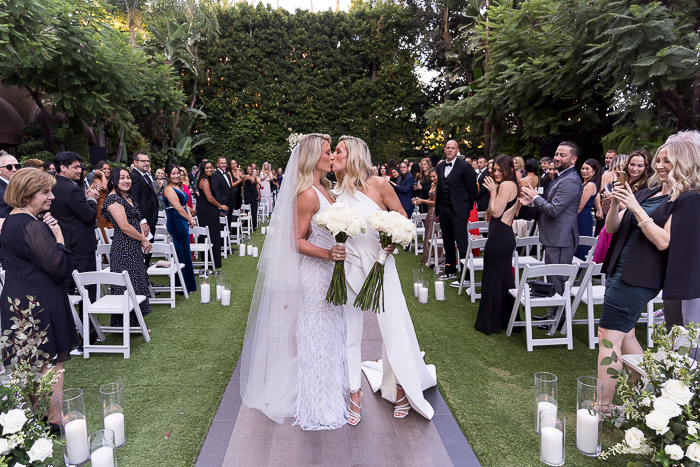 After seven years of dating, building a thriving business together, and an elaborate surprise proposal, Gretchen and Megan finally tied the knot after having to postpone their wedding plans due to the pandemic. It was a long three-year wait for the pair, but it was definitely worth it. A classic black and white color palette with pops of gold, sleek decor, and two show-stopping outfit changes—the pair wanted a black-tie meets Met Gala aesthetic, and they absolutely nailed it! With the help of their planner Abby and Caroline Events, every moment of their Four Seasons Los Angeles wedding was unique to them and perfectly aligned with their vision.
Tucked away in an exclusive landscaped area of the hotel under towering palm trees and the golden California sun, the pair exchanged heartfelt vows in a private garden ceremony. Lush florals behind the last row of chairs made a romantic first impression, while a minimal candle-lined aisle drew the eye straight to the white floral installation adorning the black arch. Kicking off their reception in an epic way, the couple was then escorted by the Aqualillies in gold leotards carrying black parasols. White florals, candles in glass cylinders, and gold flatware popped against black linen, giving a modern edge to their elegant reception.
In addition to the stunning details, the brides' stylish complementing attire stole the show. Gretchen's two-piece ensemble was a work of art, while Megan's plunge gown with a feather hem brought the old Hollywood glamour. The pair later changed into sparkly mini-dresses, perfect for their fun after-party. Every single element was unique and meaningful to the couple– from incorporating butterflies into their celebration to the late-night In-N-Out burgers. Scroll through these beautiful photos captured by John & Joseph Photography and learn more about their incredible wedding story.
The Couple:
Gretchen and Megan
The Wedding:
Four Seasons Los Angeles, Los Angeles, California, United States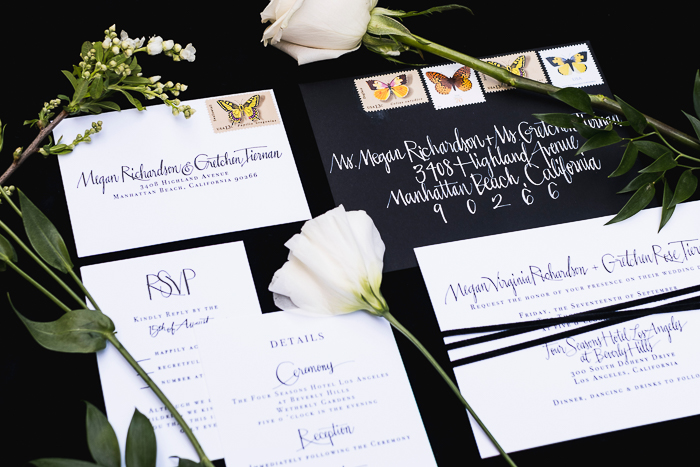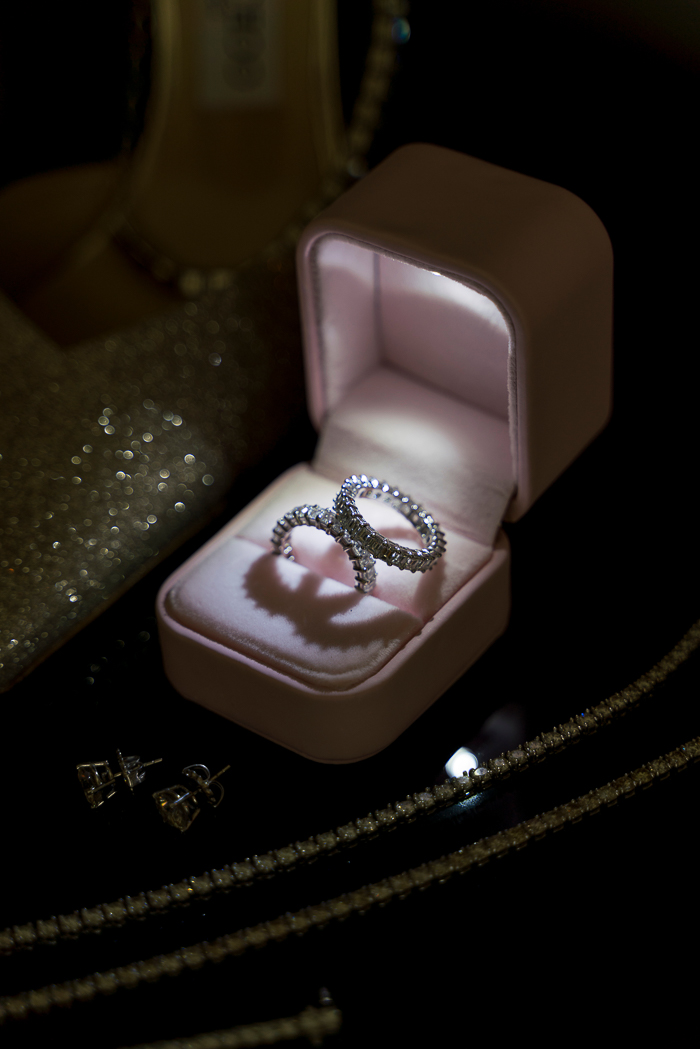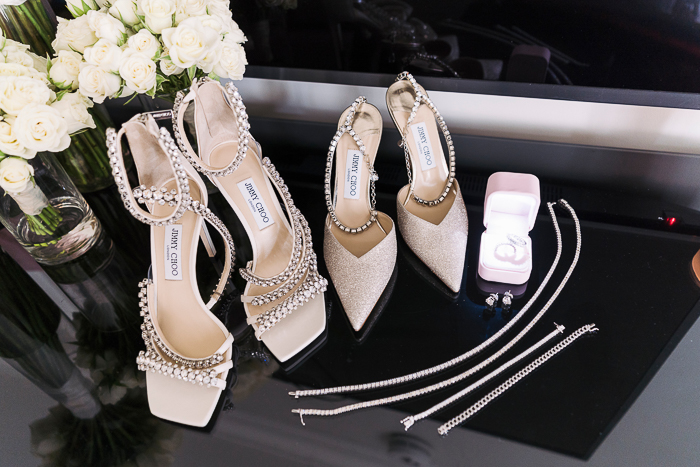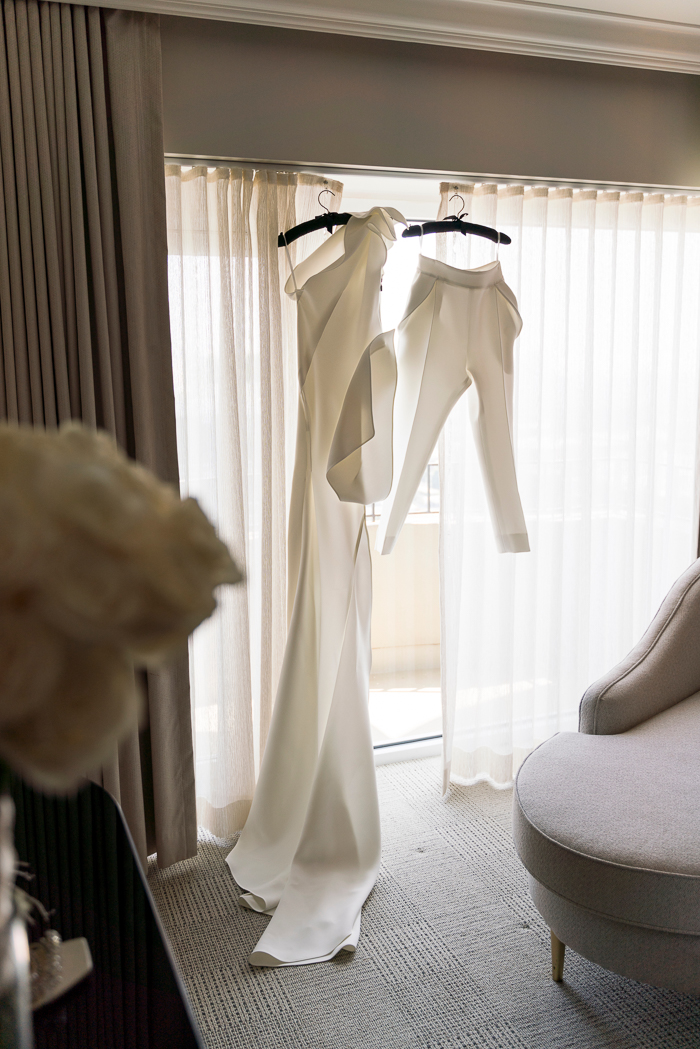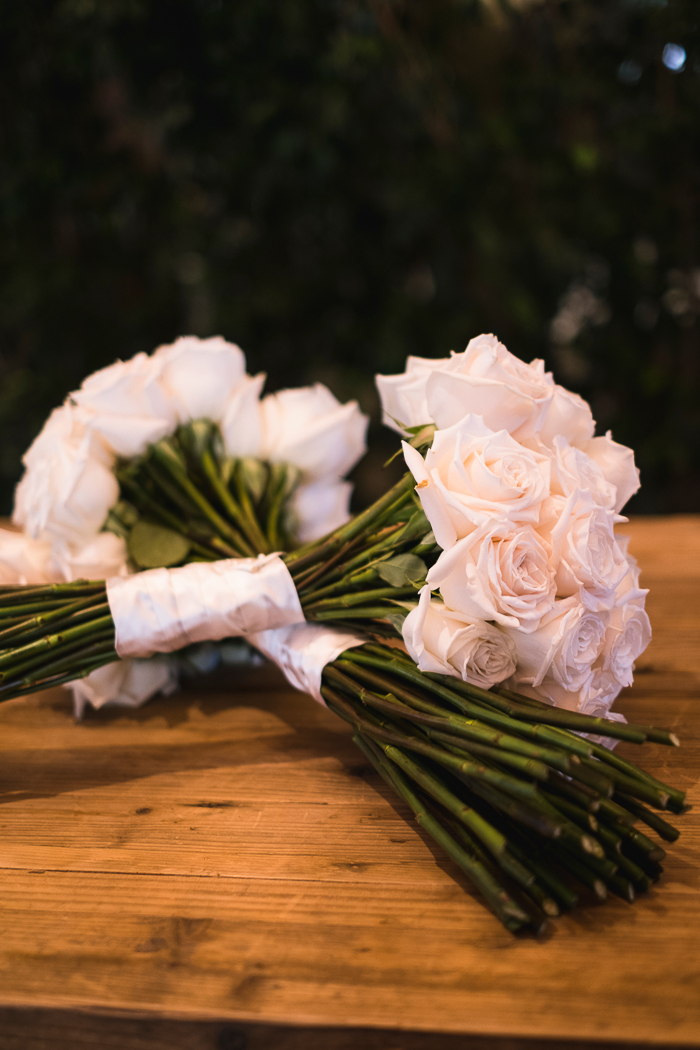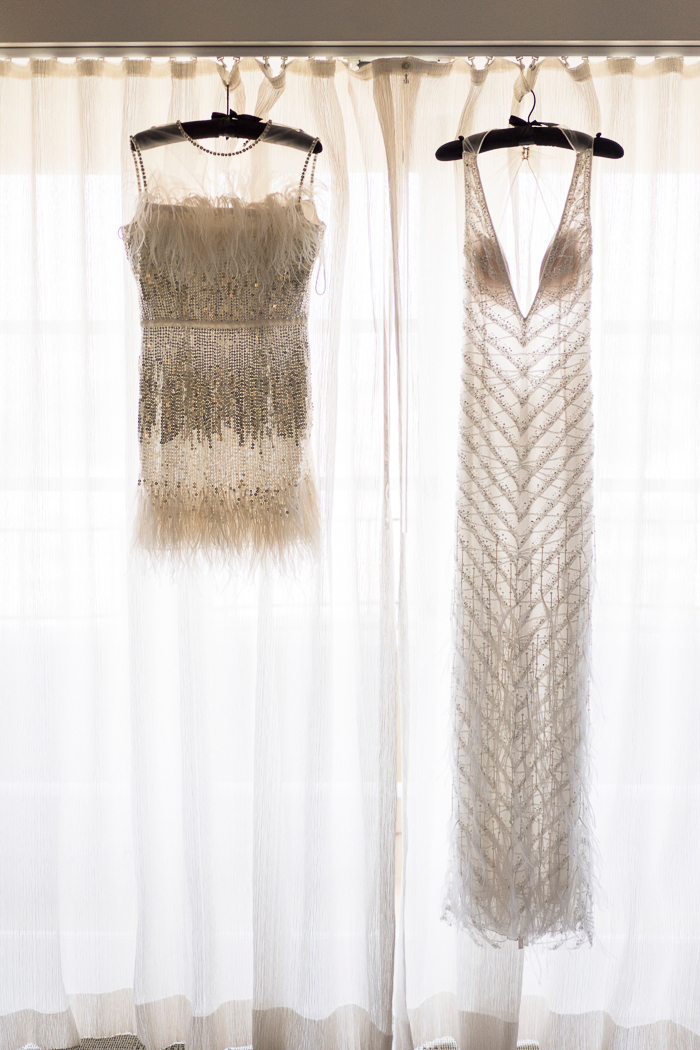 Why A Four Seasons Los Angeles Wedding
We have always had a special connection with our venue, and if you have ever been to a Four Seasons property, they always make you feel like you are family. We quite literally married the two. We wanted all our guests to feel the magic as well.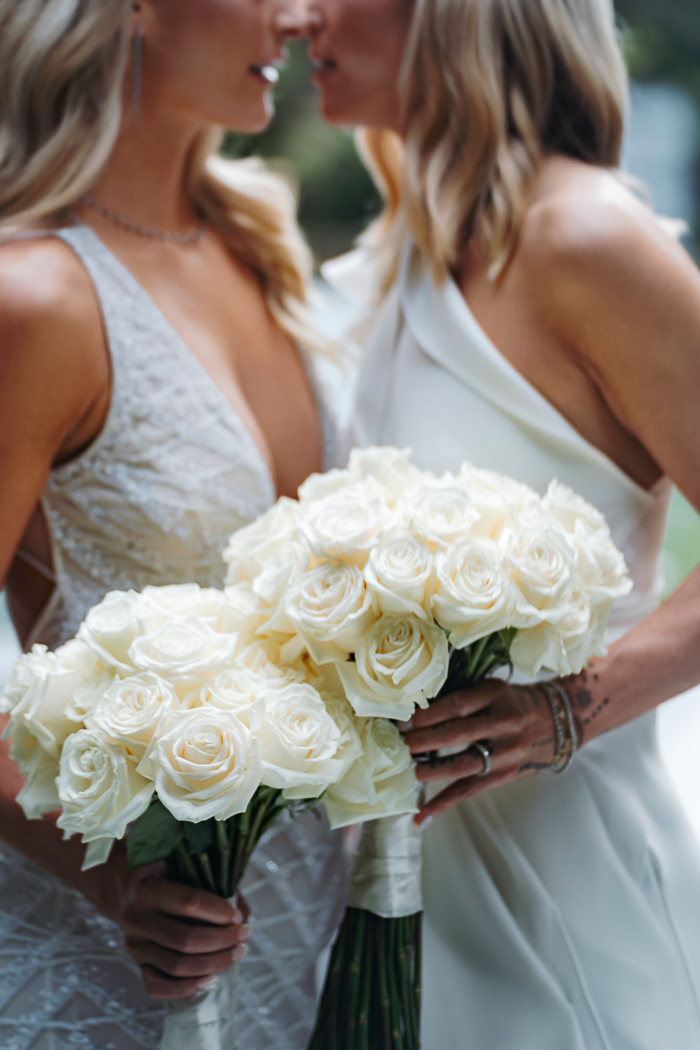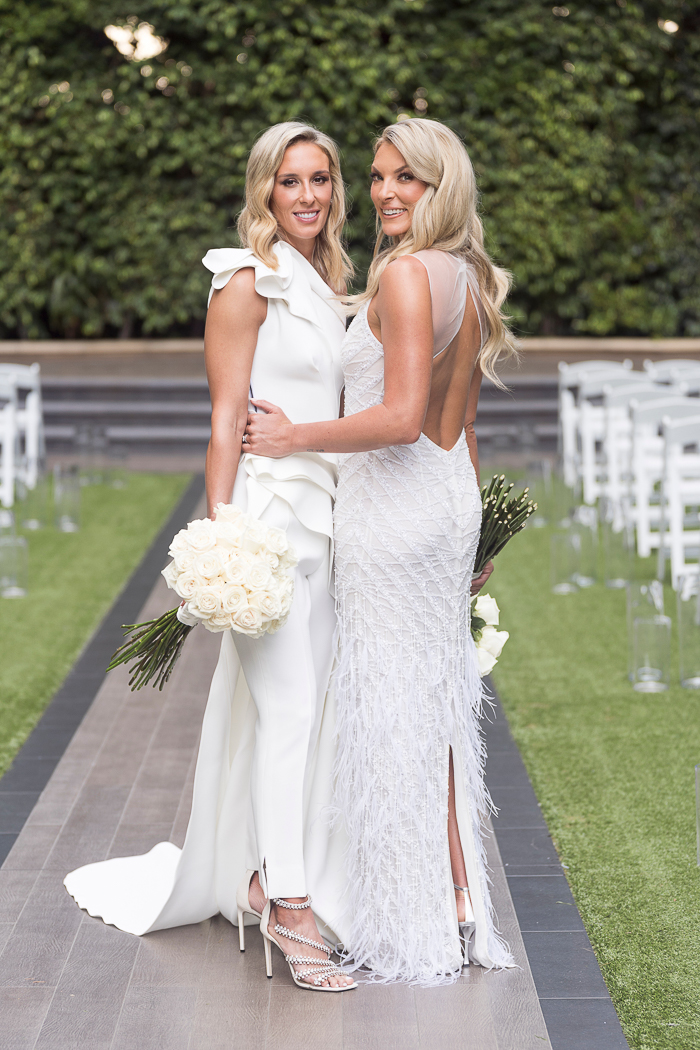 A Mishap With The Ceremony Altar
Our ceremony altar did not arrive until moments before our ceremony. It was placed on the wrong delivery truck that took it out to the Valley. If you know anything about traffic in LA on a Friday evening, it is truly a miracle the altar even arrived at our venue. Chelsea from Rolling Hills Flower Mart and her team decorated the altar minutes before our ceremony started. We had no idea at the time what was happening, which shows how professional her team is and how they can work under enormous pressure to complete a flower design.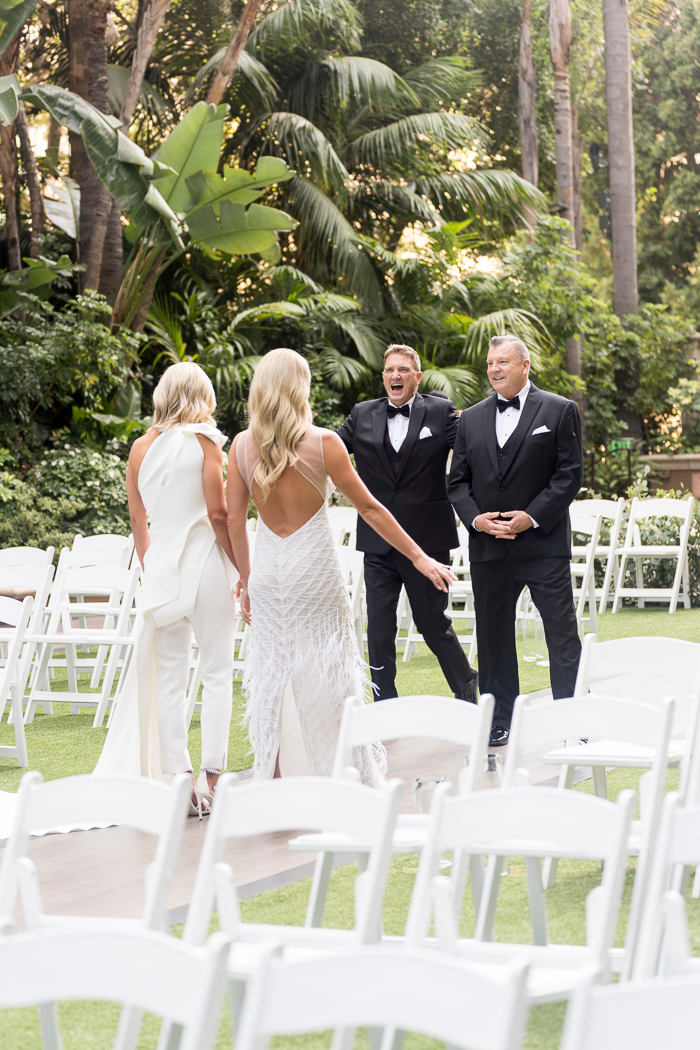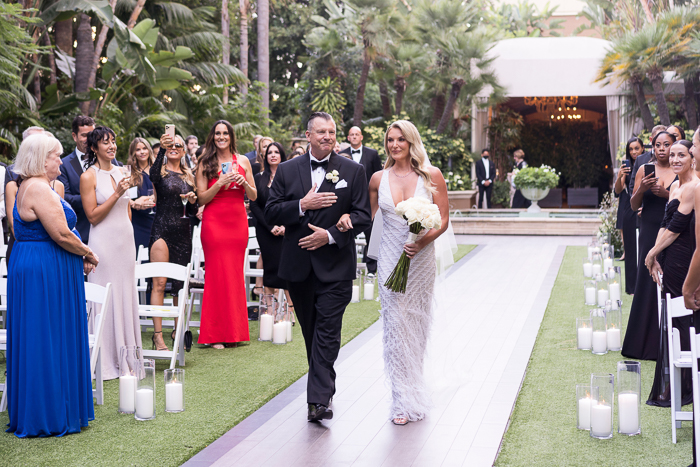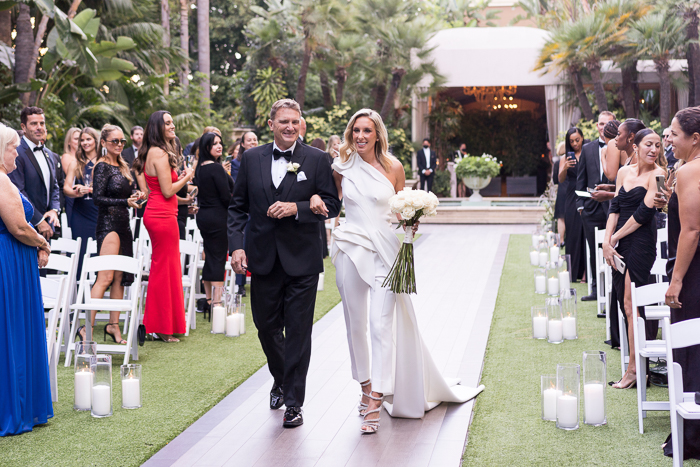 Saying Their Vows To Each Other Was The Most Memorable Moment Of Their Wedding Day
The most memorable part of the day was saying my vows to Gretchen. I did a lot of prep for this moment and took my time to thoughtfully curate what ten years of our relationship have meant to me. I also loved hearing Gretchen's vows. I loved that we wrote our own and put our own individual styles on them. It felt really special to read these out loud in front of our friends and family.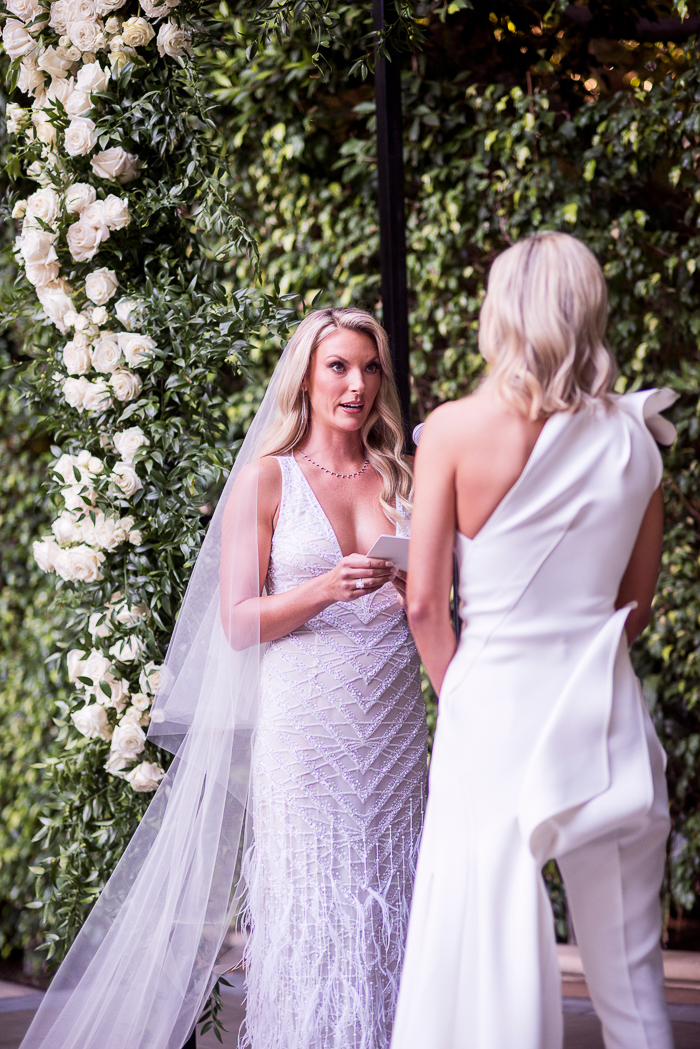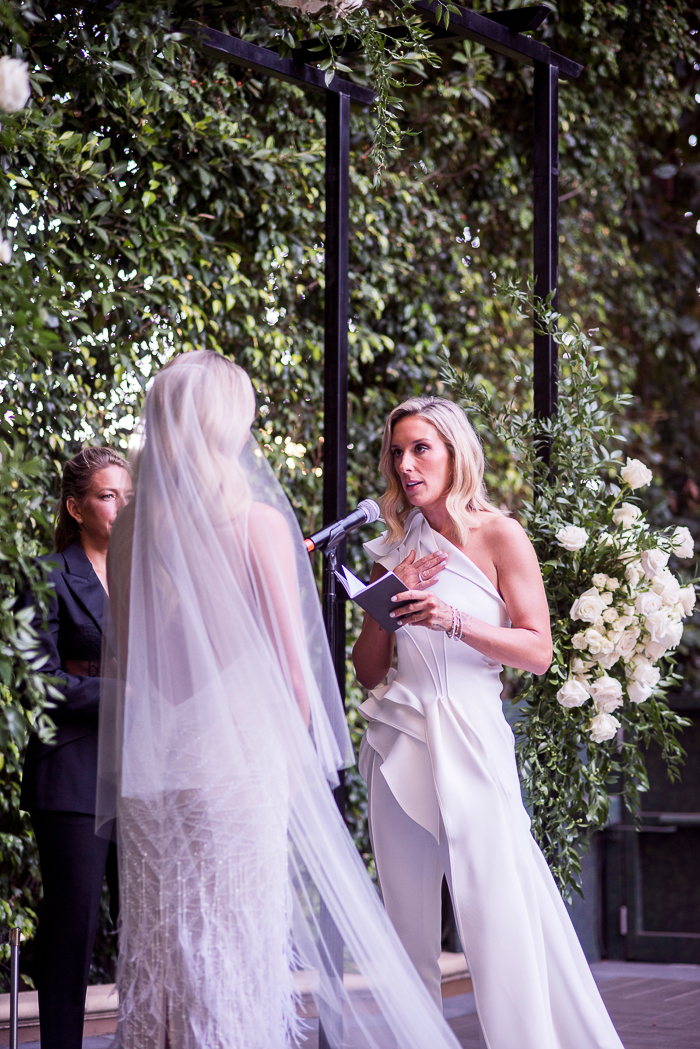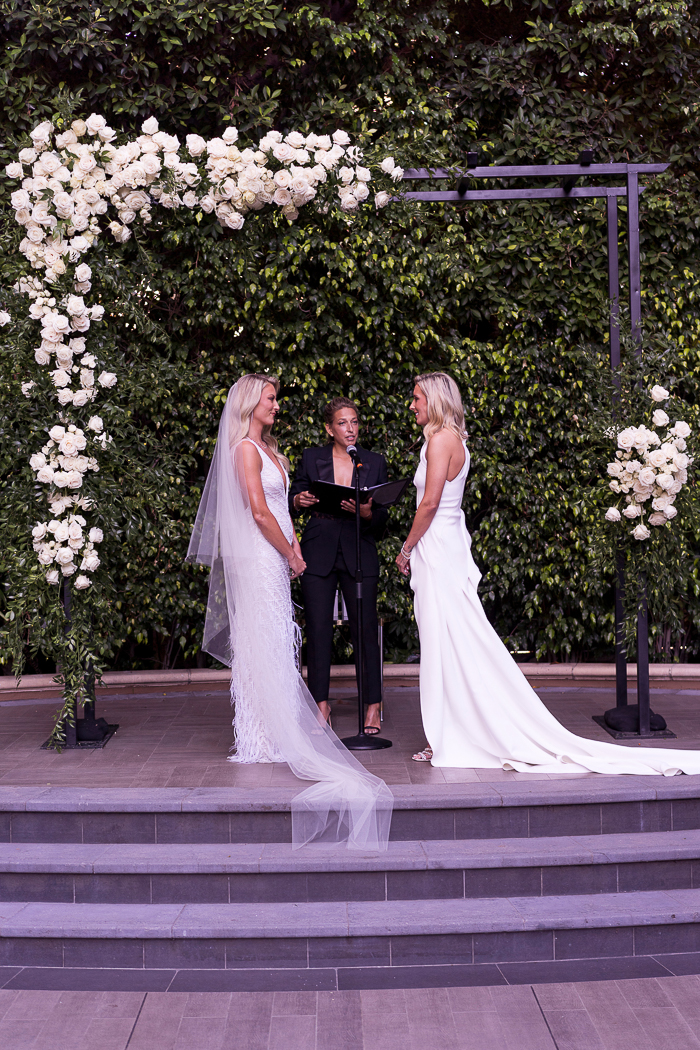 Personalizing Their Ceremony By Putting Their Own Twist On Traditional Elements
To kick off the evening, we offered pre-ceremony champagne and Arnold Palmer's to our guests as they arrived. We customized every aspect of our ceremony. We had one of our best friend's officiate the wedding, Sheera Goren. She had us individually fill out a detailed questionnaire early in the wedding process, which she used to create her monologue and structure of the ceremony. We wanted the ceremony to have some traditional aspects but with our own twist. We had our friend and mentor Angela Manuel Davis deliver a blessing during the ceremony and wrote our own vows. We released 15 dozen live butterflies after we said I do. We love the symbolism of butterflies. We joke that my wife, Gretchen, is the butterfly whisperer because they seem to land on her daily. We loved how we incorporated them throughout the wedding story, from the butterfly stamps on our formal wedding invitations to our custom butterfly escort display wall.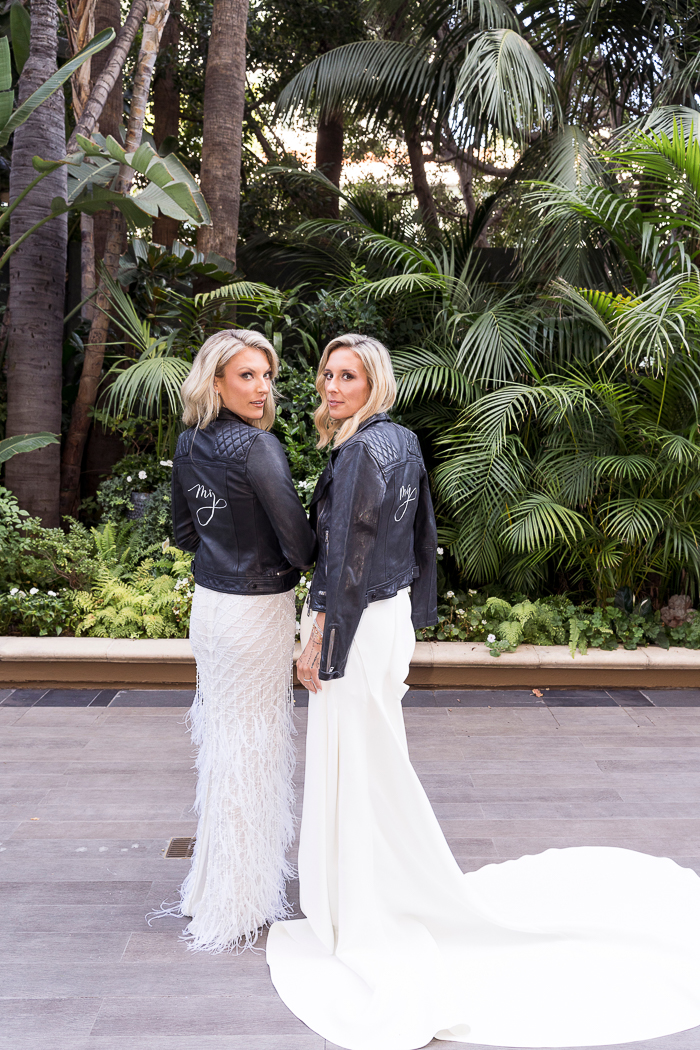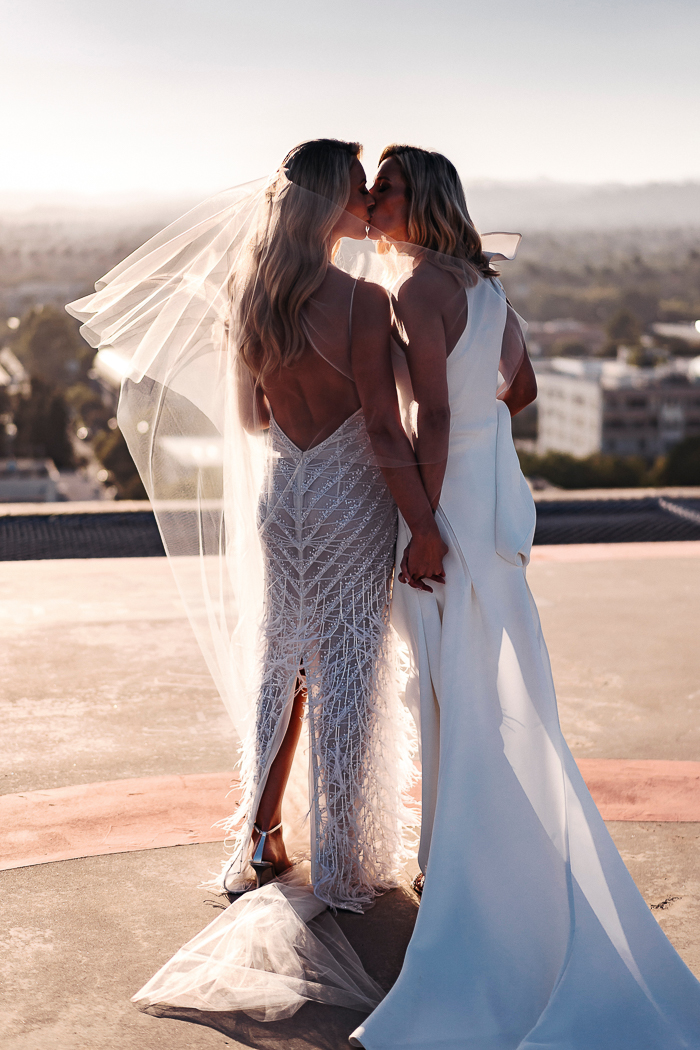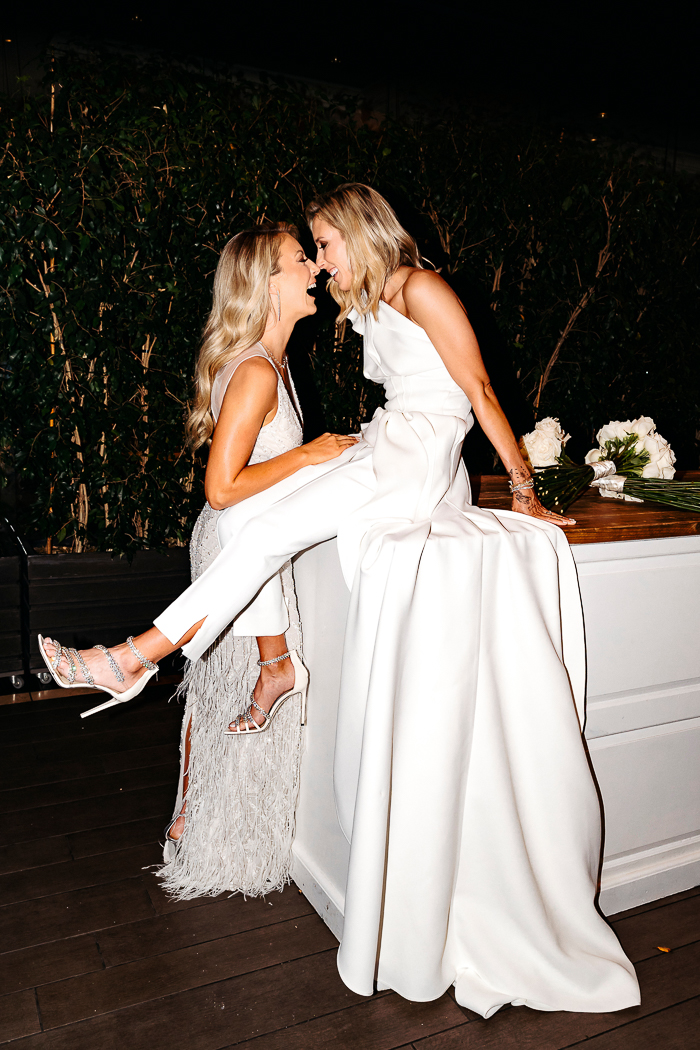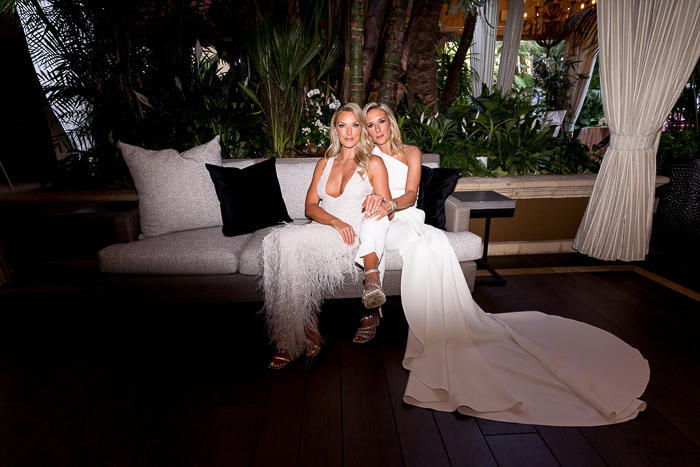 They Made Their Wedding Day 100% About Them And Their Love Story
Megan: I am most proud that we stayed 100% true to ourselves and us as a couple. We didn't let any outside voices pressure us into doing things super traditionally, and I loved that we put our own twist on everything. Our wedding absolutely felt like Gretchen and Megan.
Gretchen: I am most proud of how we integrated our personalities individually and together in the design and execution of our big day. It was a profound moment for me when all the elements came together, and we were actually getting married. It was so much fun and felt just as I imagined it would.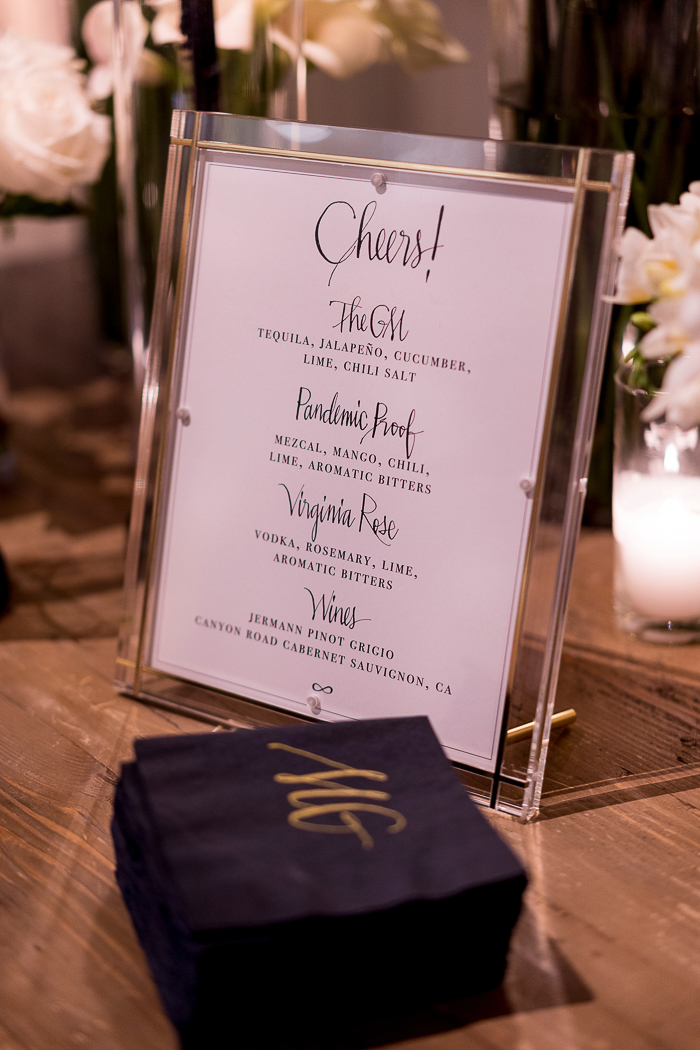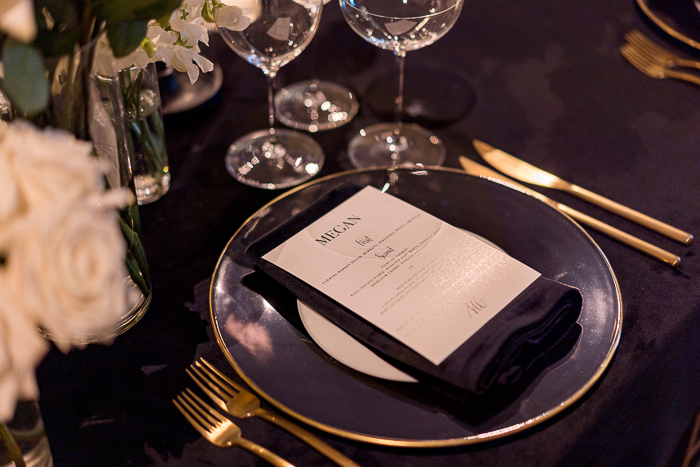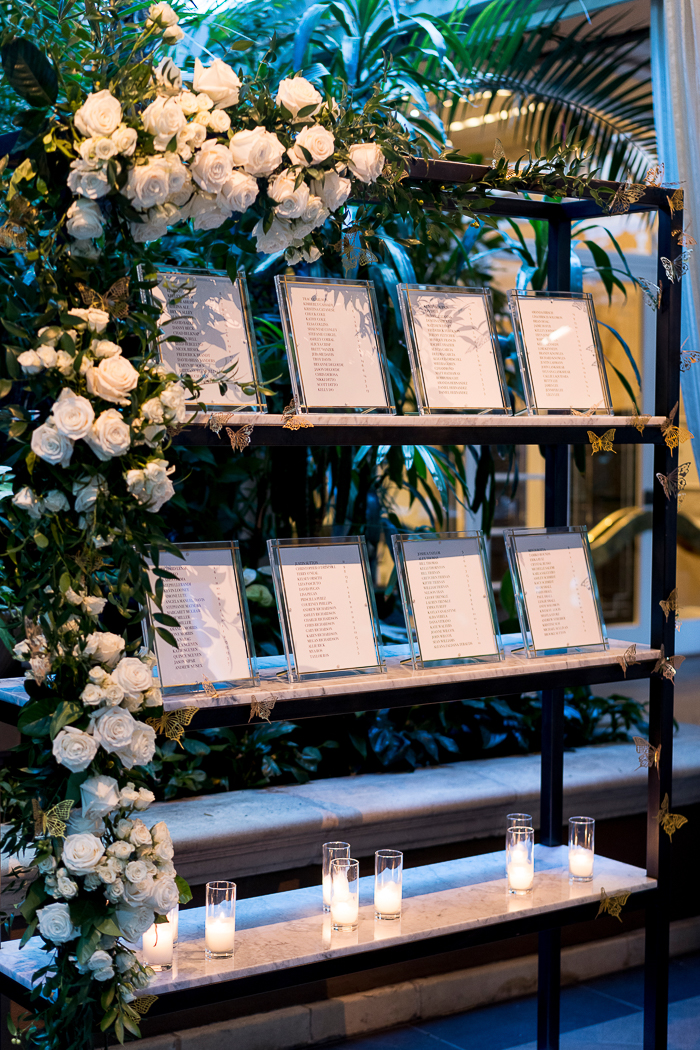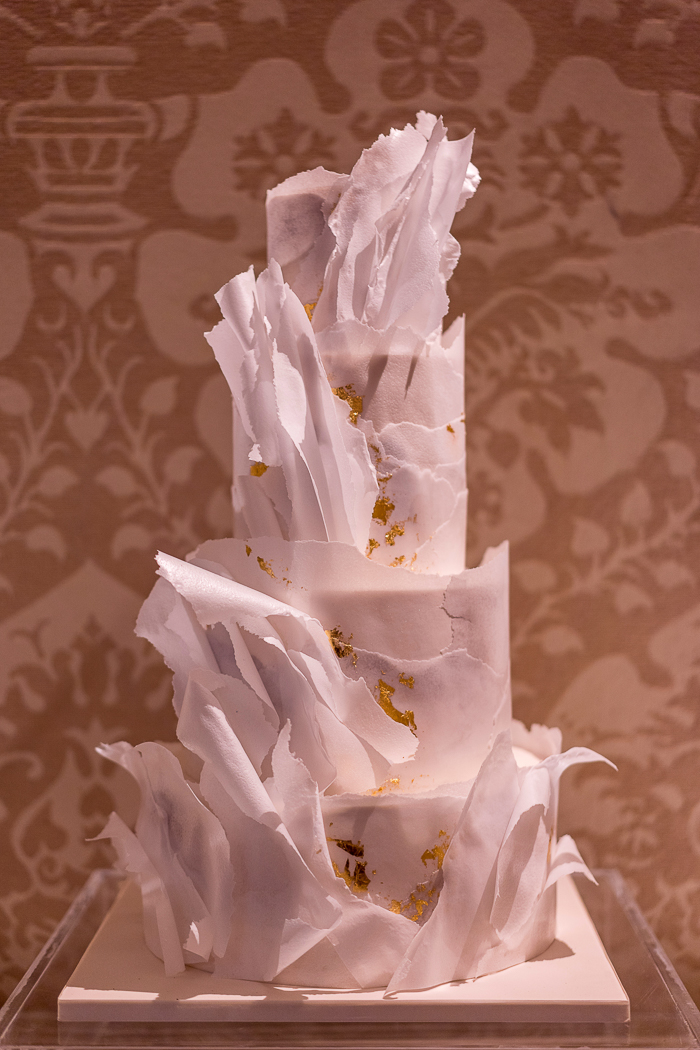 Wedding Planning Advice: Don't Worry About Following Tradition, Choose What's Important For You And Your Partner
Gretchen: It is ok to do things your way. We were 100% true to ourselves and didn't let anyone tell us how to feel about wedding planning. We also weren't married to wedding trends. We brought back the sweetheart table because we didn't want to sit with anyone else. Whatever you choose or don't, do it for you and your partner.
Megan: Spend your money and your time in the places that will be the most impactful. We knew we would be there most of the time, so we wanted to make sure a lot of the experiences happened here.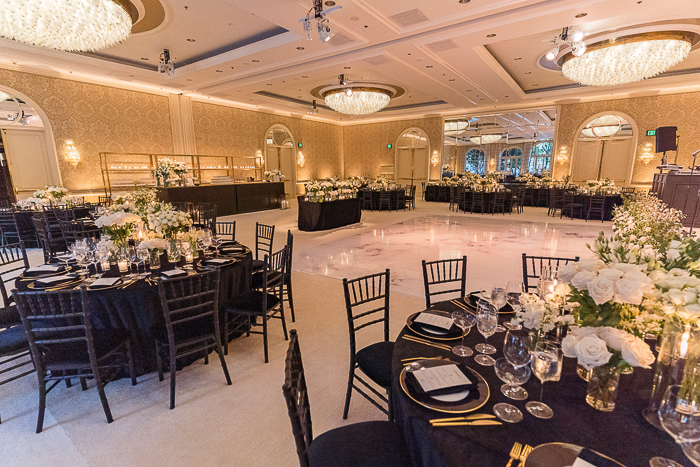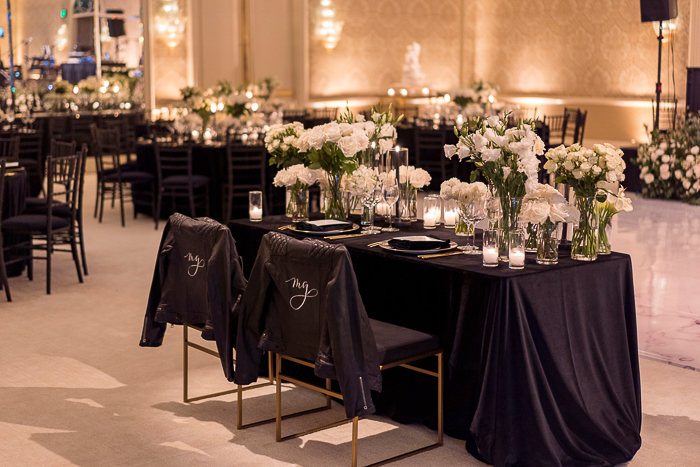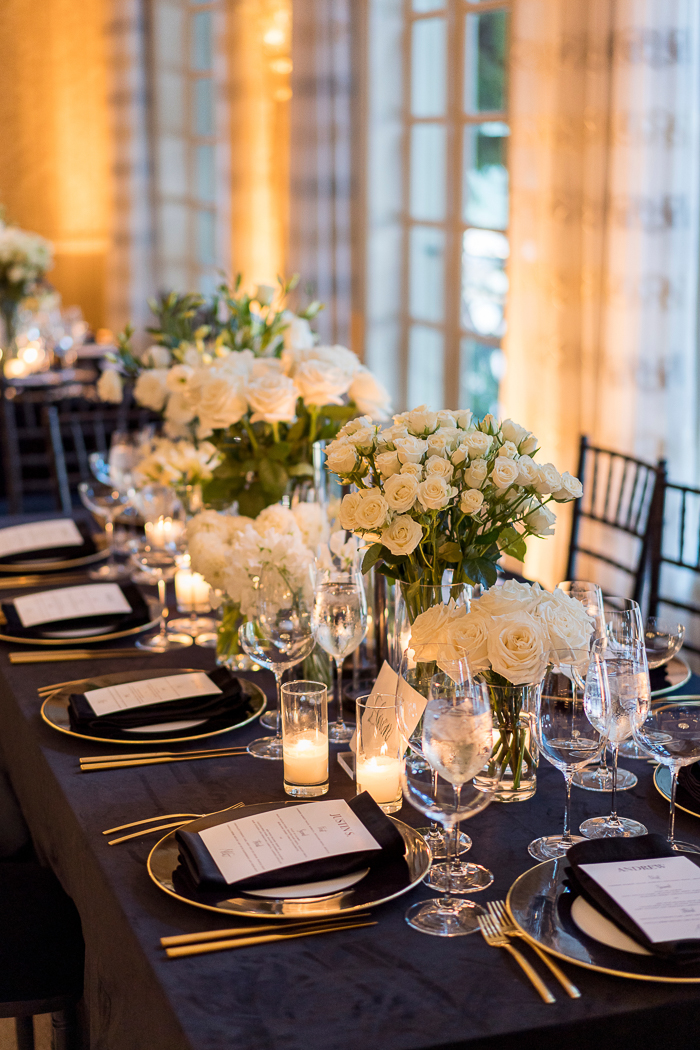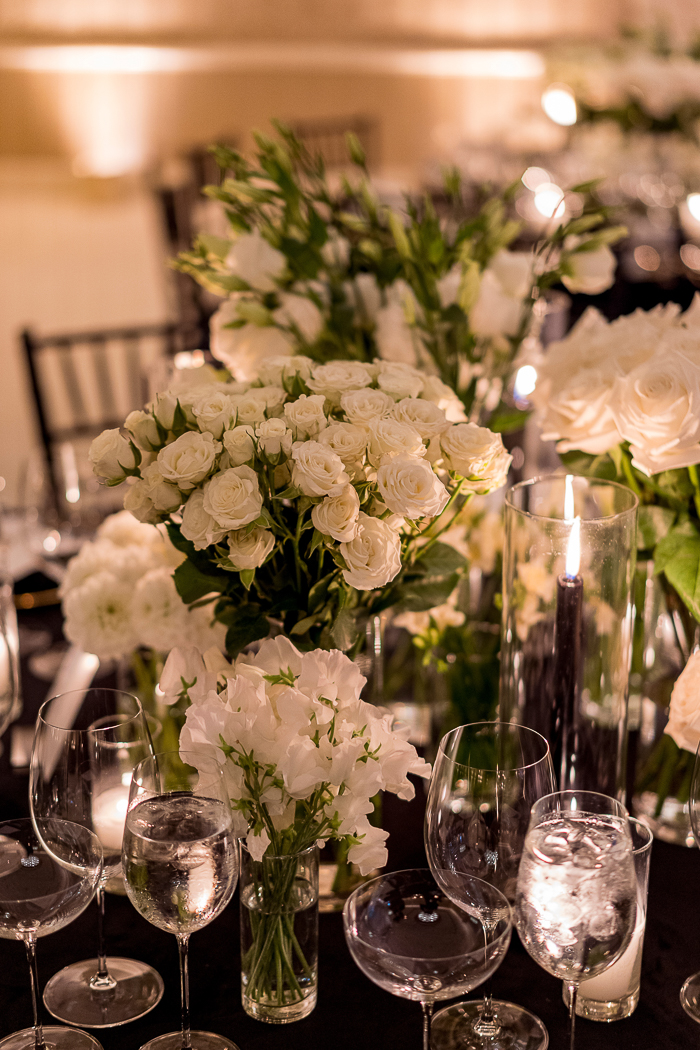 Creative And Fun Ways They Entertained Their Guests
We surprised everyone with a performance by the Aqualillies after the ceremony. We were not the type of couple to do a full-on first dance, but we surprised everyone again when the Aqualillies escorted us into the ballroom for our grand entrance. We did a quick little twirl and invited all our guests to meet us on the dance floor. It was such a fun, unique activation to get the party started. We did a second entrance in our party dresses with bottle boys carrying Don Julio 1942 (Gretchen's brother and our friend Kevin). To be extra over the top, we entered to non-heated firework sparklers and had a bar cart of tequila watermelon shooters brought out to guests on the dance floor. It was lit!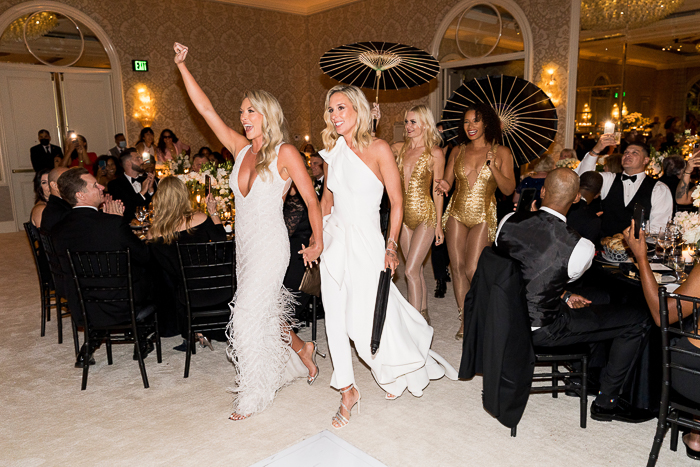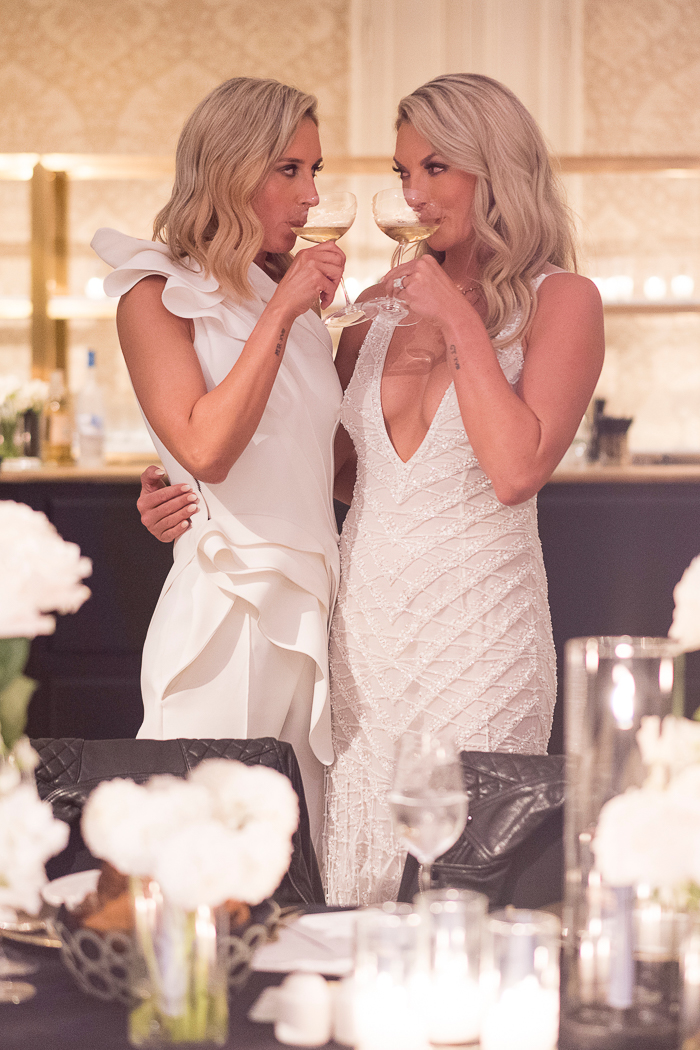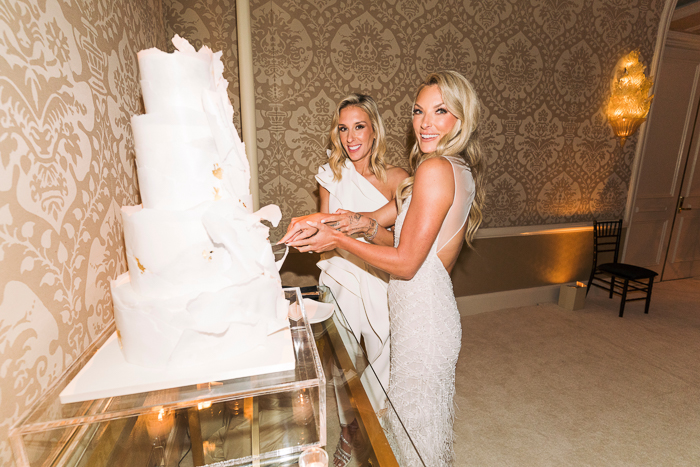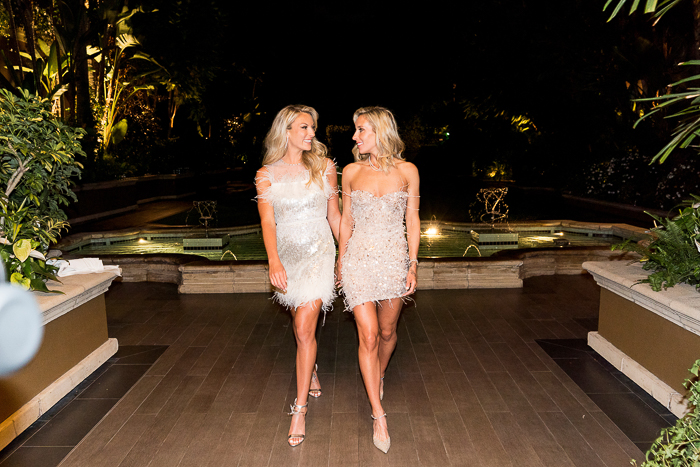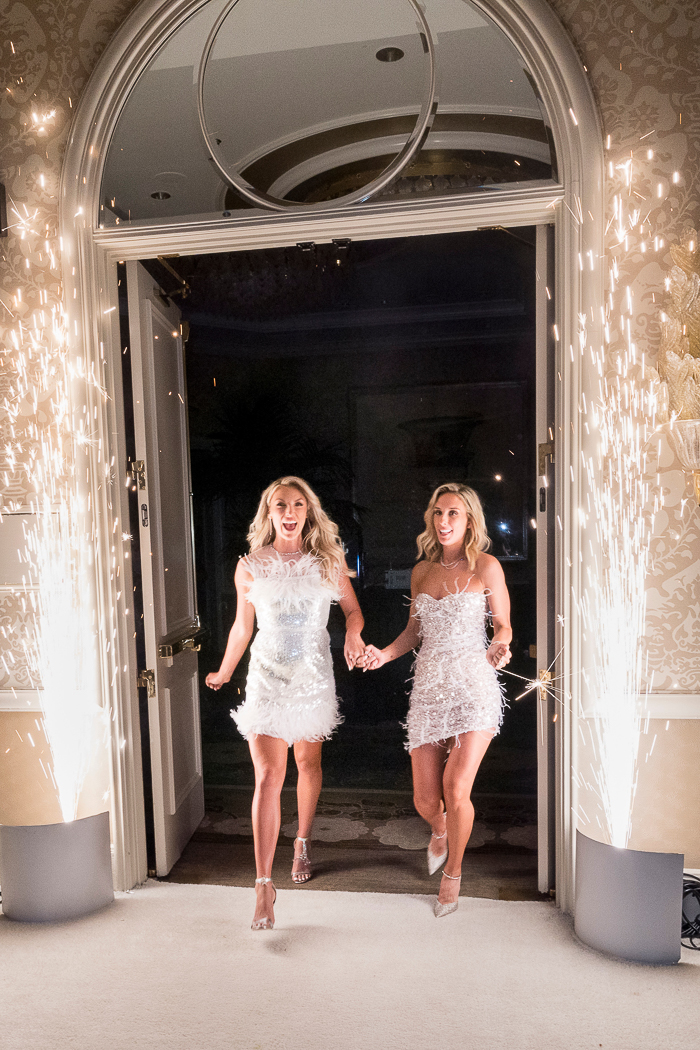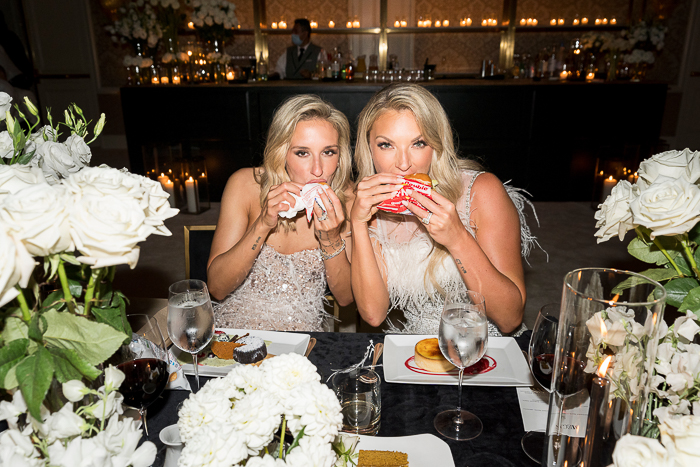 Congratulations to Megan and Gretchen on their chic Four Seasons Los Angeles wedding. And big thanks to John & Joseph Photography for capturing the love and excitement on the happiest day of their lives.
One of the best things about an LGBTQ+ wedding like this one is that you can reinvent traditions so you can make your big day truly your own. From putting a modern spin to the ceremony or adding an element of surprise during the reception, your wedding should ultimately reflect your and your partner's personality and relationship.