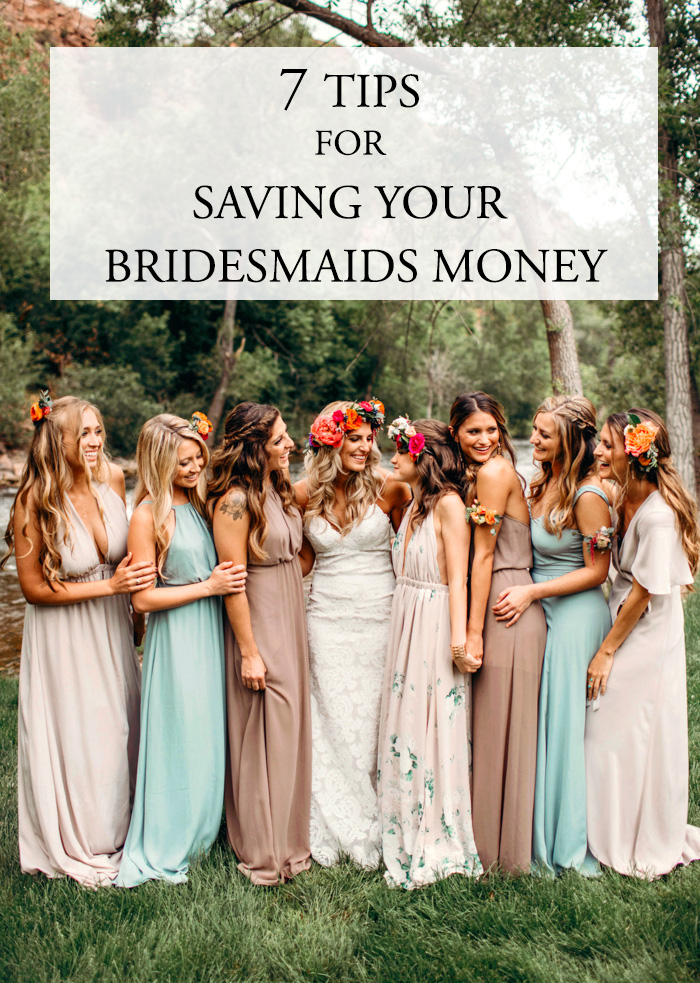 photo by Shannon Lee Miller
One of the greatest honors of your best friends' lives is the day you ask them to stand beside you at your wedding! They are your ride-or-die girls and the tribe you'll count on throughout the entire wedding planning process. They will help in any way needed and spend whatever is necessary to make your big day perfect. So, before you get too far into the details, take a moment to remember one important thing: your bridesmaids are women with jobs, responsibilities, and daily budgets. Most of them may not be able to spend several hundred dollars for your wedding without making sacrifices in other parts of their lives, but they also probably would never admit it. So, rather than put anyone in an uncomfortable budget situation, consider these tips for saving your bridesmaids money. We guarantee they will be so grateful for your thoughtfulness and generosity!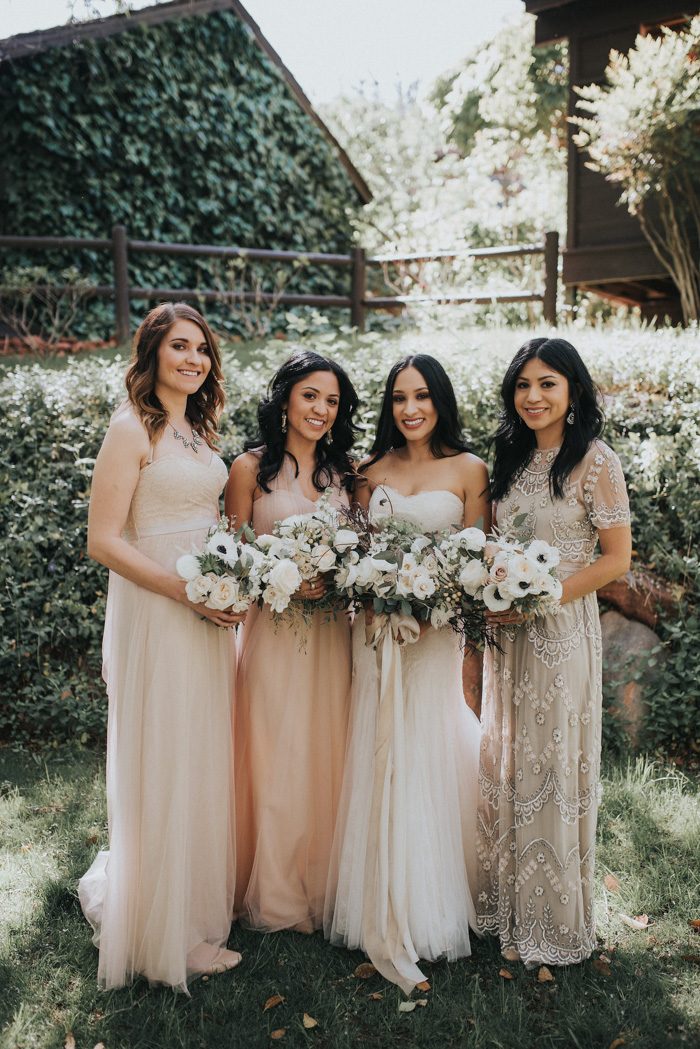 photo by Jonnie & Garrett
Let them choose their own dresses
The mismatched bridesmaids trend is stronger than ever and doesn't look like it'll be fizzling out anytime soon. Not only does it add a fresh and modern look to your wedding, but it's usually a more budget-friendly option than choosing one dress from one store. Plus, it removes the stress of trying to pick one style that fits different body types. By letting them choose their own dress, you're empowering them to shop within their own budget, wear a designer or brand they feel confident in, and, hopefully, find a dress they can wear beyond the wedding. If you're nervous about trying this trend, take a peek at these gorgeous fall bridesmaids dresses, these show-stopping neutral dresses, or even these bold dresses for inspiration on how to create that perfectly mismatched look.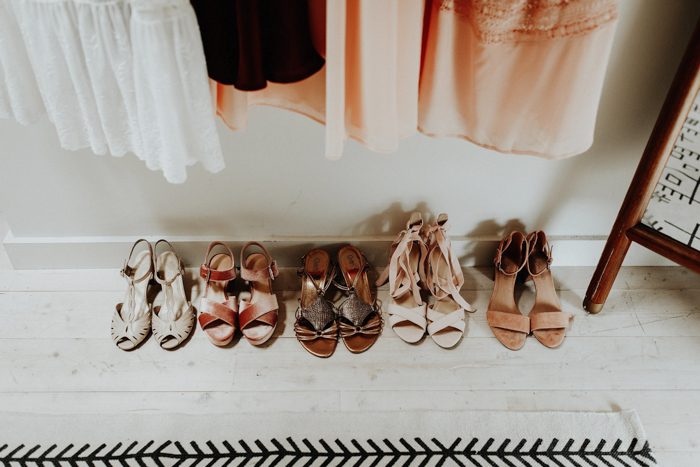 photo by Marisa Vasquez Photography
Be flexible with shoe options
The mismatched trend doesn't just apply to dresses; it includes shoes, as well. You want your girls to be comfortable for the entire day, and shoes play a huge part in that! Some of your girls might love to rock heels while some might only be able to wear flats. To create some uniformity, you can choose one color or tone in a specific finish (satin, matte) and let them choose the style. That way, they can find shoes in their price range, wear a pair they already own, or borrow from a friend. Nude is always a safe color option and will look great with just about any dress your girls choose. If they need a place to start looking, we love Nordstrom because it offers lots of different styles in various price ranges.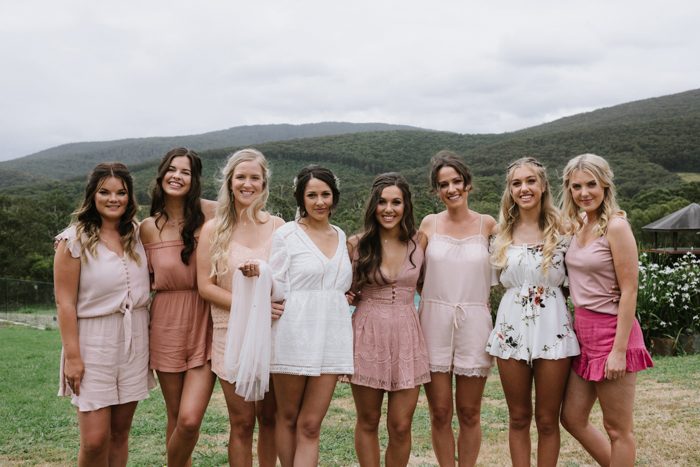 photo by Madeline Druce
Give them practical gifts
The sweetest way to show your favorite girls some extra love is with a thoughtful wedding day gift. While something purely sentimental or novel might be your first thought, consider giving your bridesmaids an item that they can wear on the wedding day and beyond. This could include a cute and comfy getting ready look or accessories that complete their wedding day look, such as a necklace, bracelet, or wrap. This takes at least one important item off their must-buy list and will be something they cherish for years to come. Whatever gift you choose, don't forget to include personalized thank you cards to let them know how much you appreciate their love and support!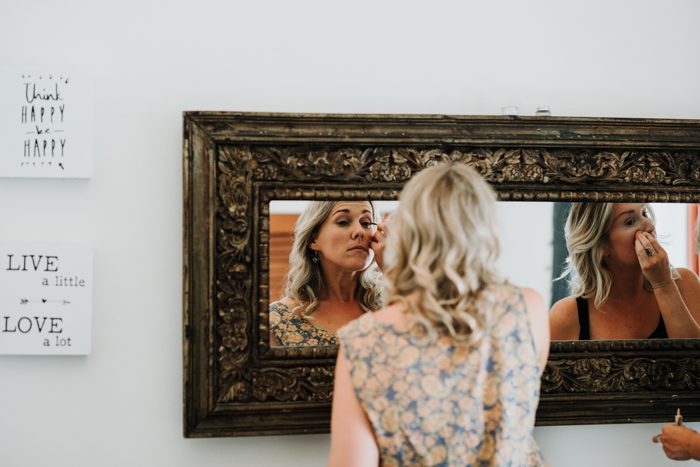 photo by Andrew Sun Photography
Don't require professional hair and makeup
Professional hair and makeup can cost each bridesmaid anywhere from $75 -$200, which can be a total budget buster. Most girls are capable of doing their own makeup and could totally pull off one of these romantic half-up hairstyles or even a pretty braid. Perhaps you even have a beauty guru friend who could help out. If you decide you want everyone to get their hair and makeup professionally done, you should offer to pay for it. If you can afford to pay for hair/makeup and a bridesmaid gift, that would be amazing! But, if you have to choose one or the other, consider the more expensive option to take the burden off your girls' budgets.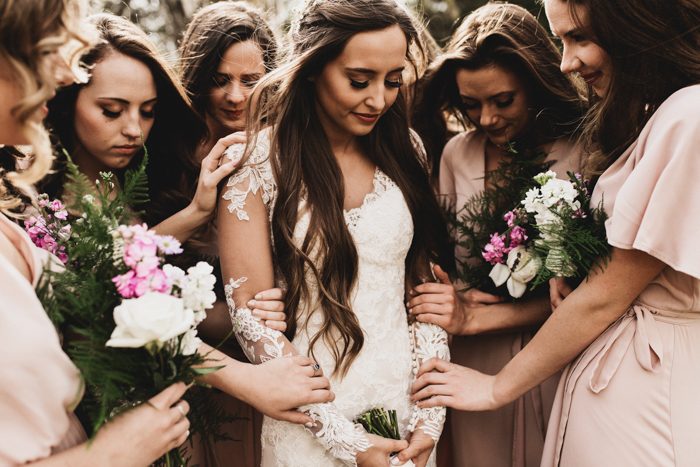 photo by Noelle Johnson
Encourage them to forego wedding gifts
Your bridesmaids have already bought dresses and shoes, planned and paid for the bachelorette party and wedding shower, paid for travel and accommodations, and volunteered a significant amount of time for pre-wedding events. Those are pretty substantial and fantastic gifts, in our opinion! So, rather than expect them to buy something off your registry, assure them that their presence is the only present you need. (Besides, your guests will have the registry covered!) Some of your bridesmaids might feel guilty showing up to the shower or the wedding empty handed, so let them know early in the planning stages that you don't expect a gift. Not only will they appreciate the sentiment, but it'll open up their budget for other things, like an epic bachelorette party!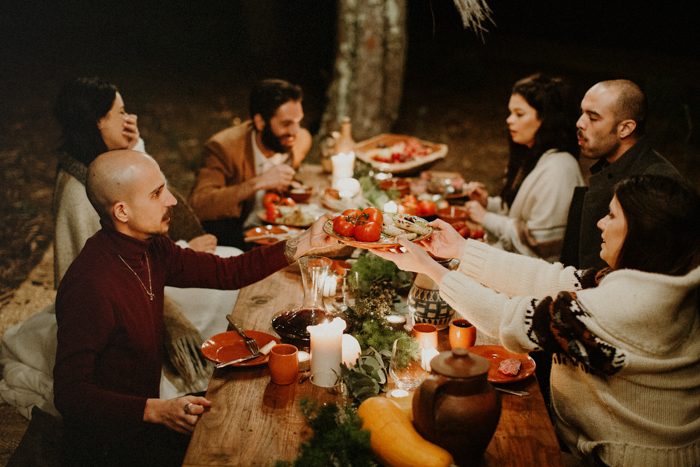 photo by Golden Days Photography
Consolidate events to limit travel expenses
Between the wedding shower, the bachelorette party, the rehearsal, and the actual wedding day, travel expenses can add up quickly. So, why not consolidate some of those events to the same weekend(s) to cut down on the number of plane tickets, hotel rooms, or tanks of gas your bridesmaids need to buy? Ask your MOH to pick one city for both the wedding shower and the bachelorette party so they can take place on the same weekend — or even the same day. If those events don't line up, suggest that the bachelorette party be the night before the rehearsal so your bridesmaids can come in early for the wedding weekend. Whether you're able to consolidate events or not, it's important to be supportive and flexible if a bridesmaid cannot attend every event. She'll be there for the most important day, which is what really matters!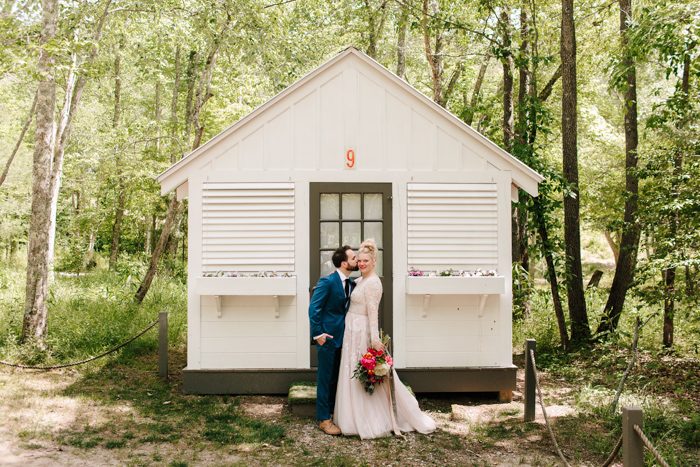 photo by Ben and Colleen
Find alternative accommodations
As you look for accommodations for out-of-town guests, keep budget-friendly options at the top of your list. If you're going the hotel route, thoroughly research hotel prices around the city and choose the most reasonable one(s). Then negotiate a block room discount or keep an eye out for discounted rates that pop up. If you want an even less expensive option for your guests (or just your girls), check out the great listings on Airbnb, VRBO, and TripAdvisor Vacation Rentals. You and your bridesmaids could split a larger rental house the night before the wedding, which would be cost-effective for everyone and give you much more space to get ready in the morning. If you want to be super generous (and have the space), you could even offer for your girls to stay at your place while they're in town. Can you say, "best slumber party ever?!"
Now that you have ideas for how to save your bridesmaids money, let's talk about your wedding budget + 6 ways to save!
Have more budget-friendly wedding ideas? Leave them in the comments below!