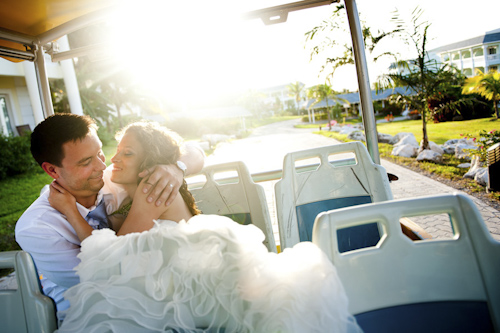 The Couple: Heather and Blair
The Wedding: 4.19.11 – Grand Palladium, Jamaica

What three adjectives that best describe your wedding? Laid back, relaxed, fun
What inspired your personal wedding style, and how did you incorporate your style and personalities into your big day? Both Blair and I have always loved the water and the outdoors. We wanted to incorporate beautiful scenery and bold colors in our location, which led us to the decision to do a destination wedding. Most of all, we wanted to be relaxed and enjoy the day, so we focused on eliminating as much stress as possible from planning. The ceremony wasnt until 4pm, so we had plenty of time to take in the beautiful Jamaican backdrop as well as spending time with our friends and family that were in attendance. It was really important to us to create this fun and relaxed environment. We also wanted to do something that not every bride and groom would do or would want to do; with this in mind, coupled with the Jamaican heat and humidity, the entire reception jumped in the pool after the reception! Our photographer Olivia jumped right in with us, and was able to capture some great moments from our boisterous impromptu pool party.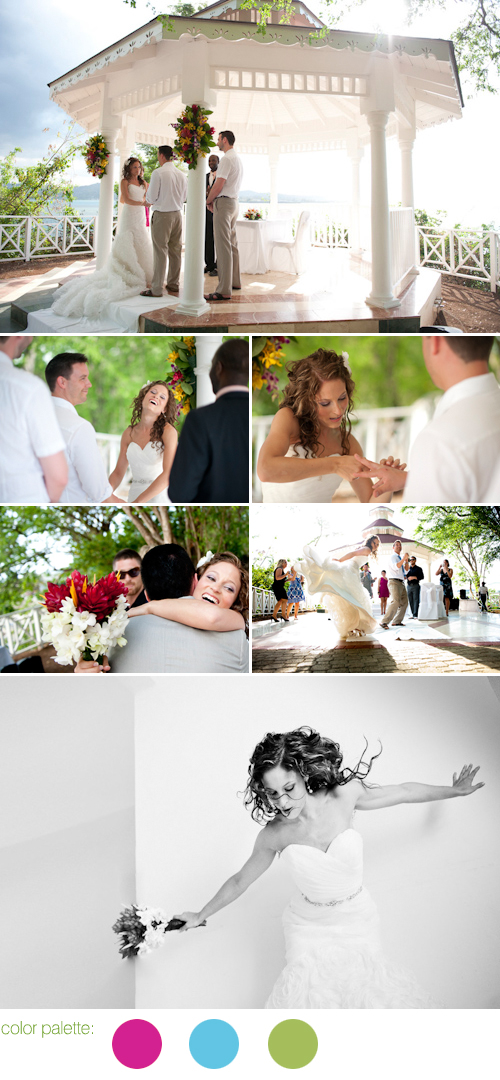 What were your wedding colors? We didn't want to pick particular colors – we wanted the tropical location to be the color palette. This consisted of a lot of bright pink, aqua, and green.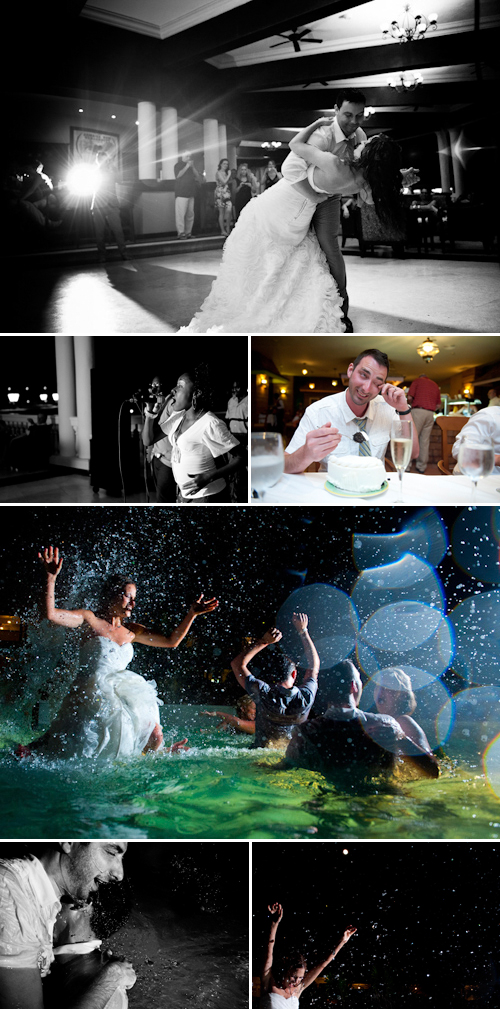 Looking back, what are the moments, decisions or memories that you love the most about your wedding?
Heather: The ceremony itself was in such a stunning location. Walking towards Blair and looking out on the ocean and beautiful scenery I knew I was marrying my best friend in the best possible way. Since my parents weren't in attendance, having my two older brothers walk me down the aisle was very special. I LOVED my dress. It wasn't traditional, but it was still bridal and I feel it suited my style and the location perfectly. We also couldn't have chosen a better photographer for the occasion. Olivia fit in so well with our group, and took some amazing shots. She captured the day and our personalities perfectly. We did a trash the dress photo shoot the following day where a lot of my favorite shots came from.
Blair: I loved seeing Heather walk down the aisle, and seeing her in a wedding dress for the first time.

The Wedding Team:
Photographer: Olivia Brown Photography
Event Planner: Nekeisha Reid – Grand Palladium
Travel Agent: Dawn Fairbanks – Northstar Travel
Ceremony Venue: Grand Palladium
Reception Venue: Creole Restaurant
Wedding Dress: Jasmine Bridal from Charmante Bridal
Bridal Accessories: Charmante Bridal
Bridesmaids Apparel: Marciano
Thank you Heather and Blair! What a gorgeous wedding!
To find inspiration for your own personal wedding style, don't miss our Wedding Photo Gallery!