We've been majorly inspired by all things minimalist lately, from tablescapes to floral design. If you love all things simple, this post is for you! We've rounded up our favorite pieces of minimalist jewelry to wear on your wedding day. From small hoop earrings to a dainty initial necklace to petite wedding bands, these designs may be simple, but they still make a big statement.
Who Minimalist Wedding Jewelry Is Good For
If you don't typically wear jewelry, but still want to transform your wedding attire, minimalist wedding jewelry may be the right choice for you. It still gives you the appearance of being dressed up without being too flashy. And the best part? Because the pieces are so small, you can wear them regularly without standing out!
Oh, and did we mention that the style fits quite literally every wedding style? From sleek, modern "I do's" to romantic vows in the Italian countryside, the simplicity of the jewelry matches every single wedding aesthetic.
Minimalist Wedding Earrings
From huggies to hoops to ear climbers to studs, these minimalist wedding earrings are an easy way to dress up–which is especially important if you're wearing your hair in an updo–without weighing you down. We know statement earrings can be uncomfortable for some, but that doesn't mean you have to ditch the jewelry piece altogether.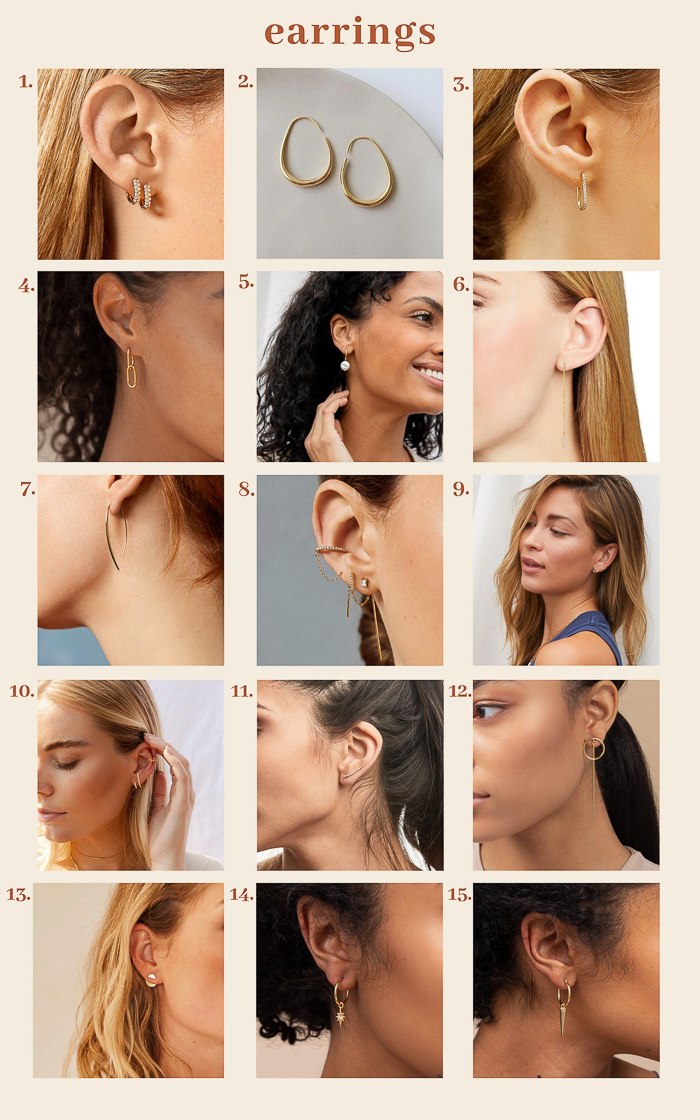 1.Winona 18K Gold Huggie Earrings 2. Smooth Calligraphy Swoop Open Gold Earrings 3. Ula 18K Gold Earrings 4. AMANDA Link Earrings 5. Reese Pearl Huggies 6. Fern Threader Earrings 7. Colette Earrings 8. Alondra 18K Gold Earrings 9. Quinn Delicate Studs 10. Double Vision Ear Climber 11. Killer Ear Climber 12. Revival Earrings 13. Mila Minimalist Double Moon Ear Jacket 14. Burst Hoops 15. Sharp Shooter Earrings
Minimalist Wedding Necklaces
We love minimalist wedding necklaces because they add a little pizazz when wearing a strapless wedding dress. Junebug tip: get you and your bridesmaids matching necklaces as a wedding party gift! Our personal favorites are the dainty initial chains.
1.Fern Pendant Necklace 2. Tatum Necklace 3. Diamond Cluster Necklace 4. Highland Necklace 5. Dainty Letter Necklace 6. Simple Double Chain Necklace 7. Addison Triple Strand Necklace 8. Emilie Gold Multi Strand Necklace 9. First-Rate Studded Necklace 10. Custom Small Disk Necklace 11. Hexagon Gold Necklace 12. Tiny Floating Triangle Necklace 13. Vintage Mixed Chains Necklace 14. Diamond Parker Necklace 15. Countess Necklace
Minimalist Wedding Bracelets
Whether you're wearing a ballgown, a form-fitting fit-and-flare dress, or a pantsuit, you can never go wrong with a small bracelet. And just like the minimalist necklaces, these too can be worn year-round. To personalize your wedding look, consider getting a bar bracelet that you can have engraved with you and your significant others' initials or your wedding date.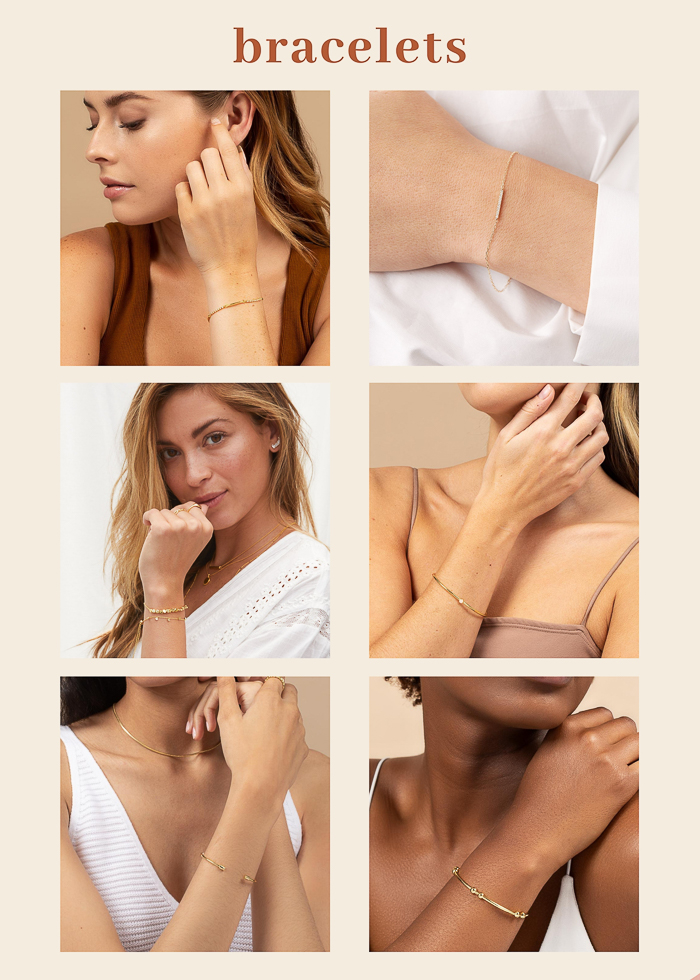 1.Studded Bracelet 2. Diamond Bar Bracelet 3. Chloe Mini Bracelet 4. Passion Cuff Bracelet 5. Off The Cuff Bracelet 6. Escape Cuff Bracelet
Minimalist Watches for Wedding
Avoid wearing a smart watch for your wedding day and instead opt for something beautifully modern and minimalist. We love these two watches that will match any wedding style.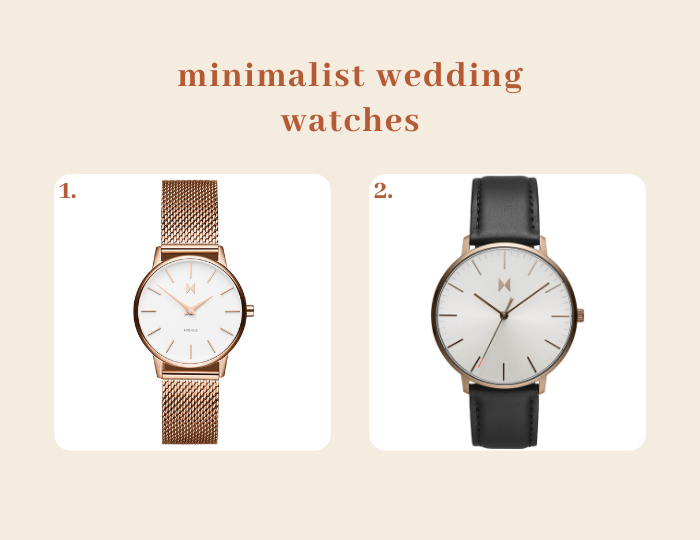 1.MVMT Lexington watch 2. MVMT Legacy Slim watch
Minimalist Wedding Rings
Last–but certainly not least–are minimalist wedding rings. Whether you're looking for something small to accompany your engagement ring, or you want to stick with just one ring that you don't have to worry about misplacing or breaking, these minimalist wedding rings are absolutely timeless.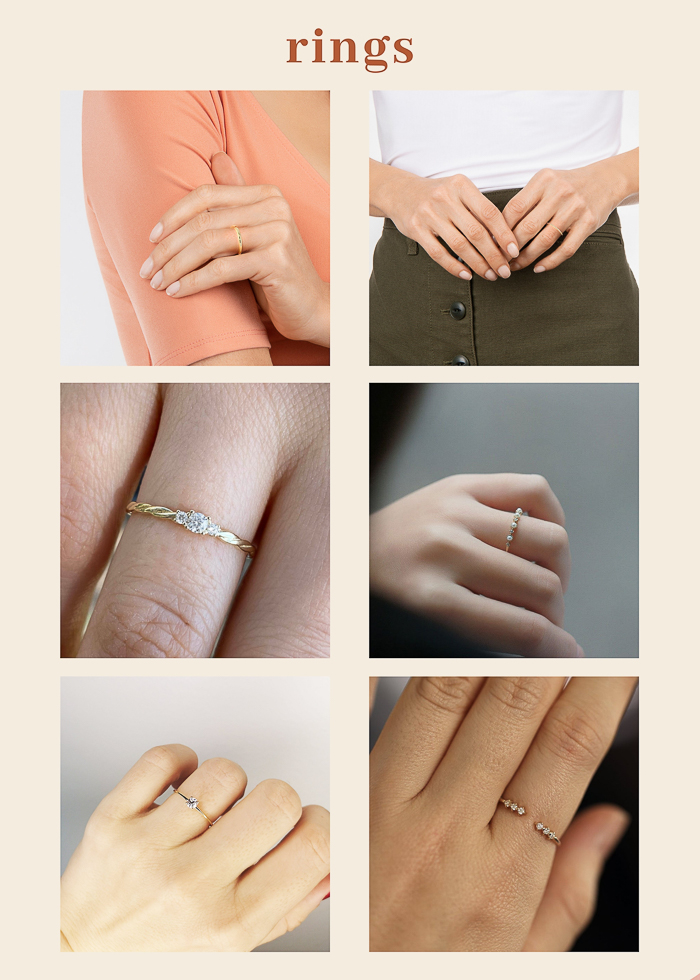 1. Petite Comfort Fit Wedding Ring 2. Whisper Diamond Ring 3. 14k Solid Gold Minimal Twisted Solitaire Ring 4. Pearl Ring Unique Minimalist Anniversary Ring 5. Dainty Solitaire Diamond Ring 6. Open Diamond Wedding Ring
Not sure if minimalism is for you? Don't worry, you can amp up your wedding style up a notch with these wedding statement earrings!