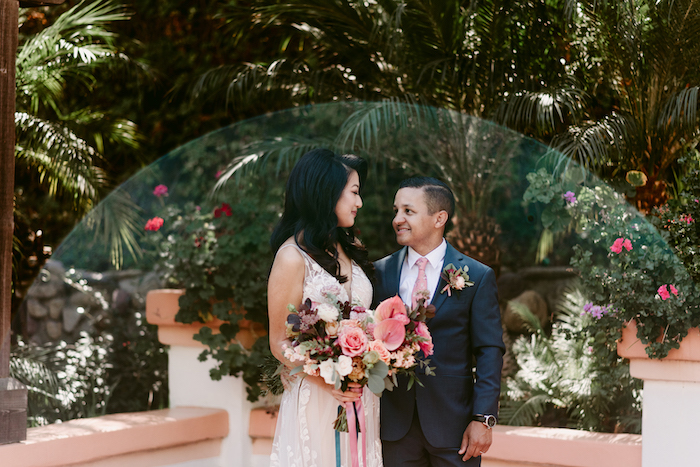 Anabelle and Alexander's love story was 12 years in the making. Because life had other plans, the couple tied the knot in an intimate ceremony in the middle of the pandemic. So having a sequel wedding–this time with their loved ones–was something they looked forward to. And with the help of the Events by Denise, the pair was able to bring to life a celebration full of personality that perfectly complemented the natural beauty of their botanical garden wedding venue.
A 19th-century estate with hacienda-inspired architecture and lush gardens, a vibrant color palette, and spectacular floral displays—everything about their big day at Rancho Las Lomas was beyond romantic and magical. Nestled under ancient oak and sycamore trees, the couple said their "I dos" under the marble theater. The same space was flipped for the reception, and the repurposed floral arch drew the attention to the show-stopping pressed flower cake by Grace & Honey.
You may think the dreamy aesthetic can't be topped, but the couple still managed to surprise their guests with their stunning attire. The groom rocked a teal suit paired with a pink tie for the ceremony while the bride glowed in her deep-V wedding dress. The pair then changed into gold Cambodian ensembles fit for royalty. Scroll through to see every incredible detail beautifully captured by Junebug member Julie Pepin. This gorgeous botanical garden wedding is full of inspiration you're going to want to share with your talented team of vendors.
The Couple:
Anabelle and Alexander
The Wedding:
Rancho Las Lomas, Silverado, California, United States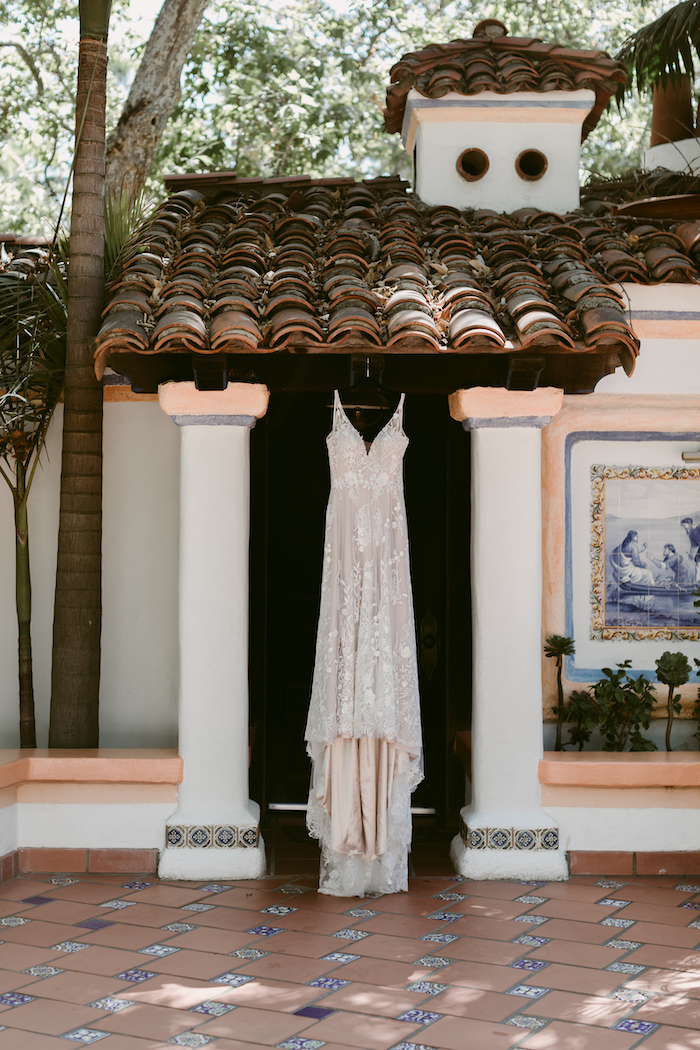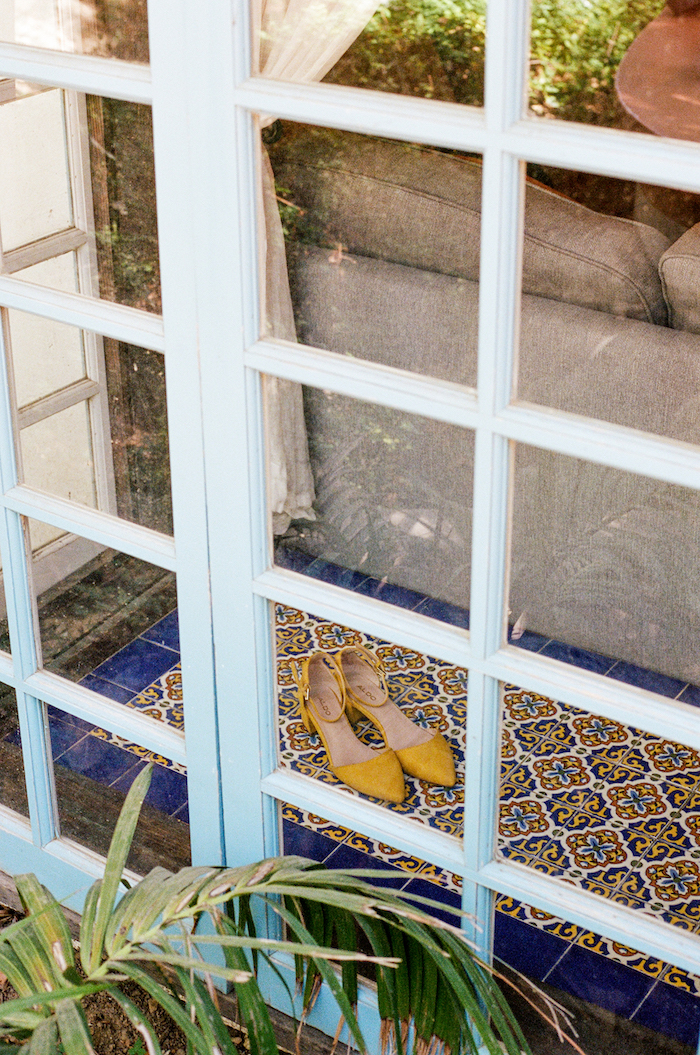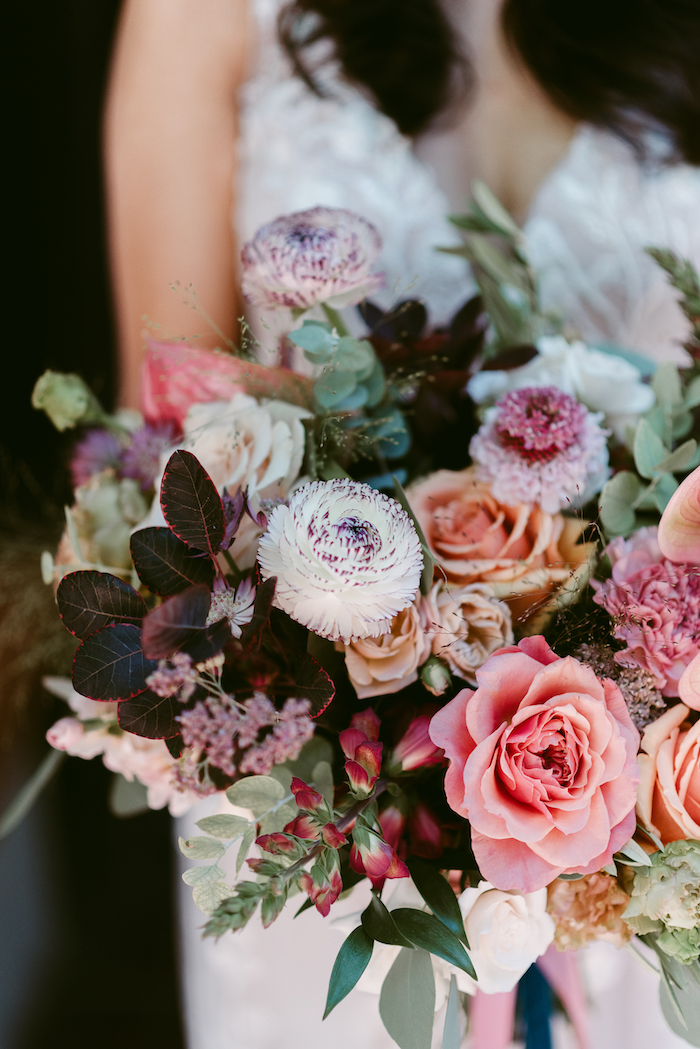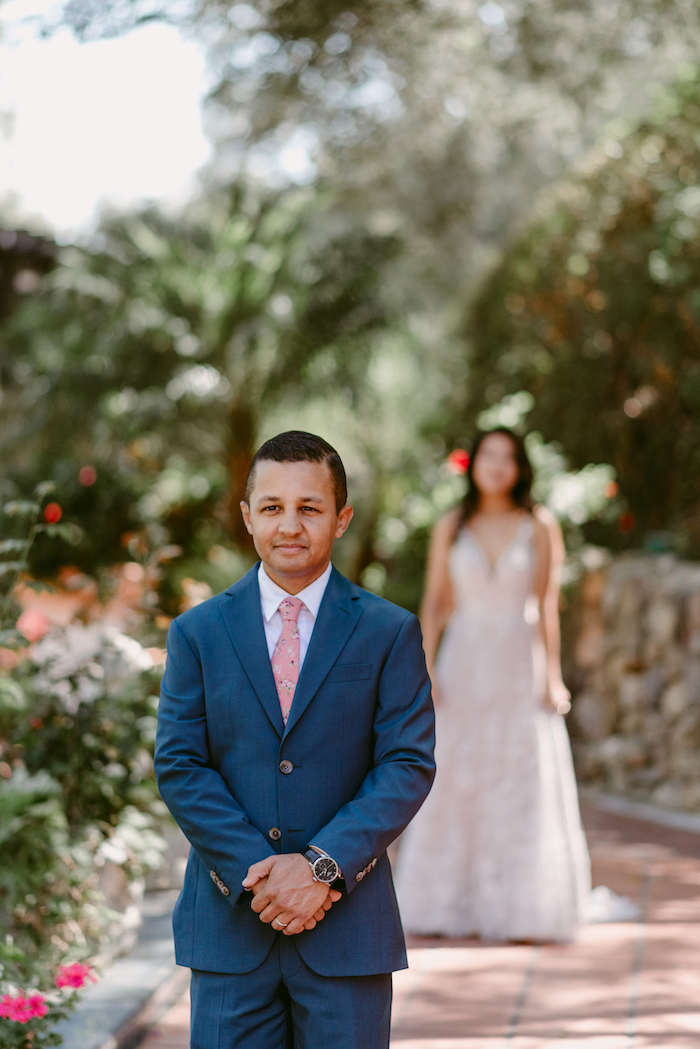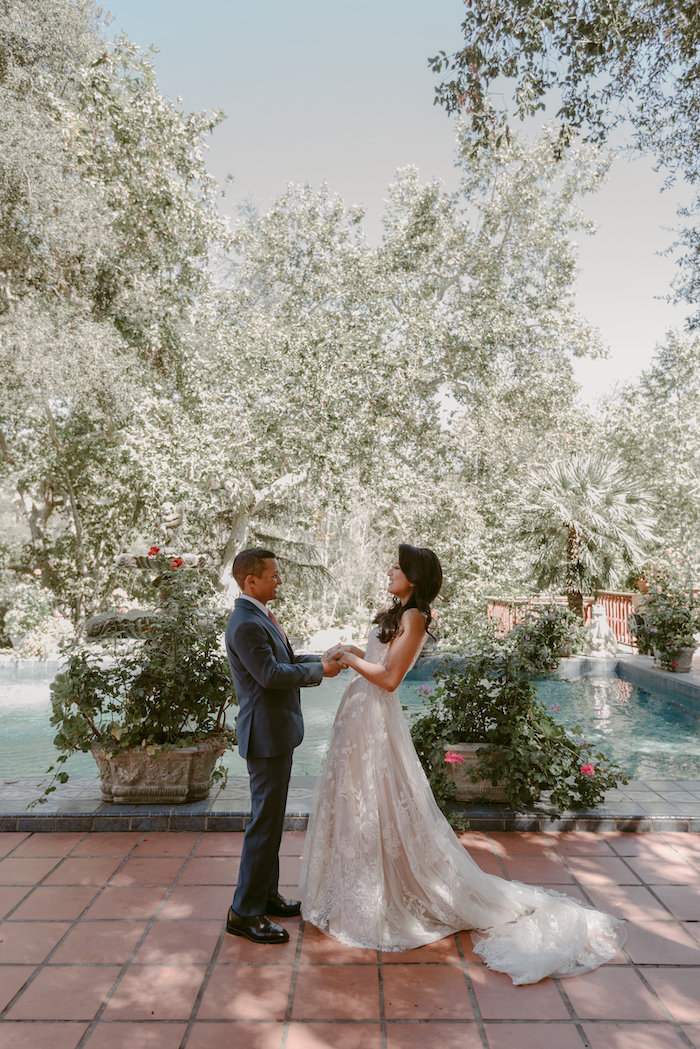 Why A Botanical Garden Wedding
We loved how diverse Rancho Las Lomas was. It was spacious with beautiful architecture and luscious greenery. When we first visited the venue in person, it felt like an adventure going through the space and discovering wonderful pockets throughout the venue.



Personalizing The Ceremony By Having The Groom's Brother Officiate And Writing Their Own Vows
We had Alex's younger brother Eli as the officiant as we found him to be the most fitting to lead such a special ceremony. He has a calming and compassionate presence and, of course, has seen our relationship grow for over a decade of being together. During the pandemic, we also did a civil ceremony a year prior, so we decided to save our vows for our wedding celebration when all of our family and friends would surround us.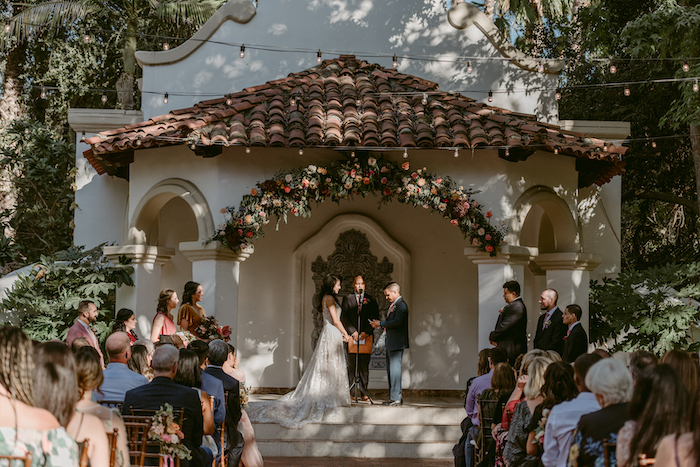 They Picked Their Wedding Date Based On Junebug Member Julie Pepin's Availability
It was tough to postpone our wedding, but the main upsides were to have it at a safer time with an abundance of loved ones and to book Julie for our new date. We are huge fans of Julie's work and were super excited to have her capture our day in what we knew would be a very special way.



Setting Expectations With Vendors And Letting Go Of The Little Things That Don't Go According To Planned
Although the month before the wedding feels particularly hectic, I think going the extra mile to ensure everything is communicated correctly to vendors helps. We recommend dropping an email with concise reminders of your requests for a specific vendor. Conversations with vendors about your vision are made well in advance, so a refresh would be helpful on their end. Naturally, a few slip-ups happened that possibly could've been avoided, but that's just how it is. At a certain point, you just have to go with the flow on the wedding day to be able to take in all that is wonderful.



They Were Proud Of How They Brought Their Dream Wedding To Life
We are proud of how everything came together visually–to have a wedding that felt thoughtful, personal, and tastefully colorful. The colors were extremely satisfying to see on the day of—whether it was attire, florals, table setting, or the cake. It was the best to see all the details come to life.




The Bride Made Custom Cookie Favors With The Help Of Her Entire Family
Anabelle is very proud of the decorated sugar cookies she made for the favors. She started a sugar cookie business during the pandemic, which she now operates full-time, so it only made sense to put in the love and care to make all the favors. It was of the crest shield that she designed. Alex, Anabelle, Alex's brother, and Anabelle's mom created an assembly line of gold boxes, thank you inserts, cookies, and ribbon to make these favors feel extra special. Anabelle wanted the favors to feel Wes Anderson-esque.




Heartfelt Speeches From Their Loved Ones
Following dinner, we had toasts from the parents and four bridal party members, which was truly memorable. It was beautiful to relax and be present yet reflective while hearing our nearest and dearest talk about their experiences with us. It was comforting and so emotional. It embedded how lucky we are to be surrounded by an abundance of loved ones.




Surprising Their Guests By Changing Into Traditional Cambodian Attire and A Special Mother Dance
We surprised our guests in a couple of ways. We changed into traditional Cambodian wedding attire decked out in ornate gold fabrics and accessories during our cocktail hour. It was great to pay homage to Anabelle's background. Another surprise was that we did a mother dance together to celebrate the women who raised us. At one point, we turned to switch up partners so we could dance with our mother-in-law too.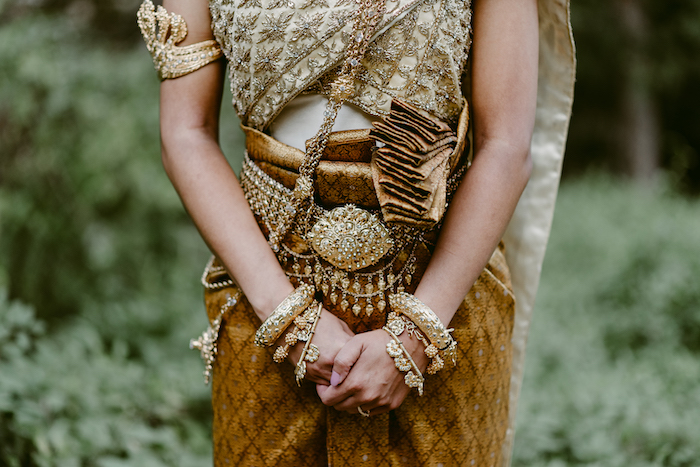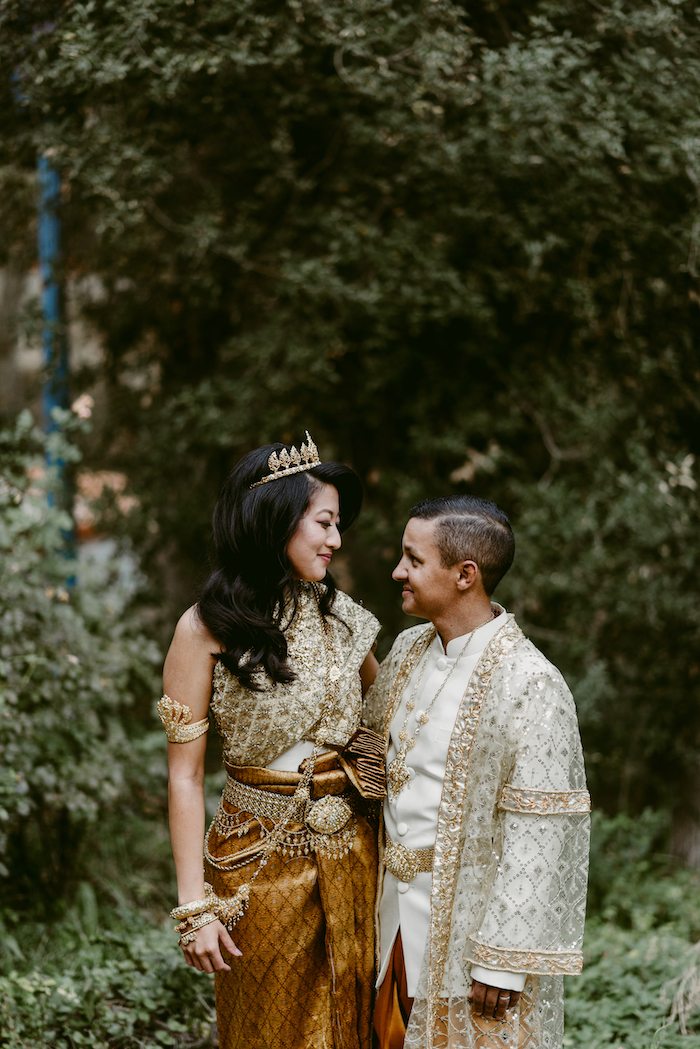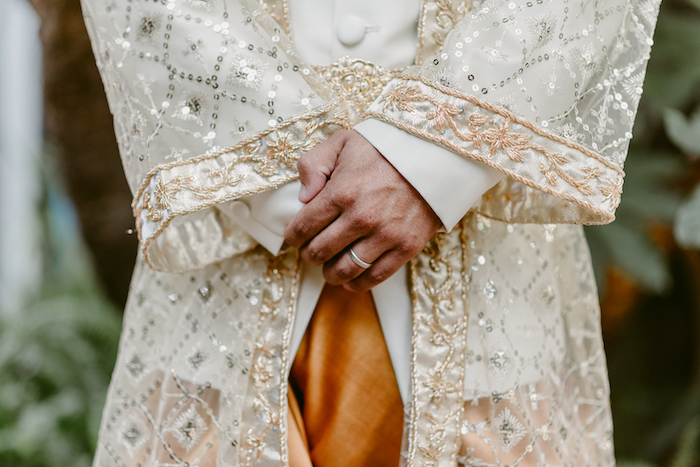 Congratulations to Anabelle and Alexander on their incredibly vibrant botanical garden wedding. And a big thank you to photographer and Junebug member Julie Pepin for capturing and sharing their stunning day with us. For more swoon-worthy inspo like this wedding, check out her profile in our directory of photographers from around the world.
Whether you and your partner lean into personal preferences or draw inspiration from the venue or the season, the wedding colors you choose will ensure that everything looks on theme. After all, picking out the combo you're happy with will make all the design decisions a lot easier. Struggling to decide on a color scheme for your big day? Let these combinations in our list of floral color palettes inspire your own.