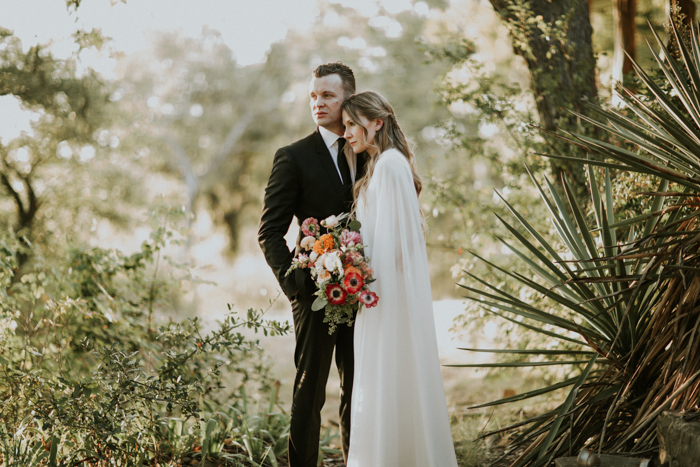 Between the Disney villain-inspired bridal look and the DIY details made by the bride and talented friends, Heather and Lance's wedding at Four River Ranch was truly a day to remember! This outdoor venue was the ideal backdrop for a non-traditional celebration that was full of love, full quirky details, and full of surprises. Even the flowers designed by Magic Hour Marfa and the bride's hairstyle were a surprise! Heather and Lance added their personal touch with bohemian and vintage-inspired details that looked stunning against the rustic Texas landscape, and Christina Childress Photography did a phenomenal job capturing every angle!
The Couple:
Heather and Lance
The Wedding:
Four River Ranch, Mineral Wells, Texas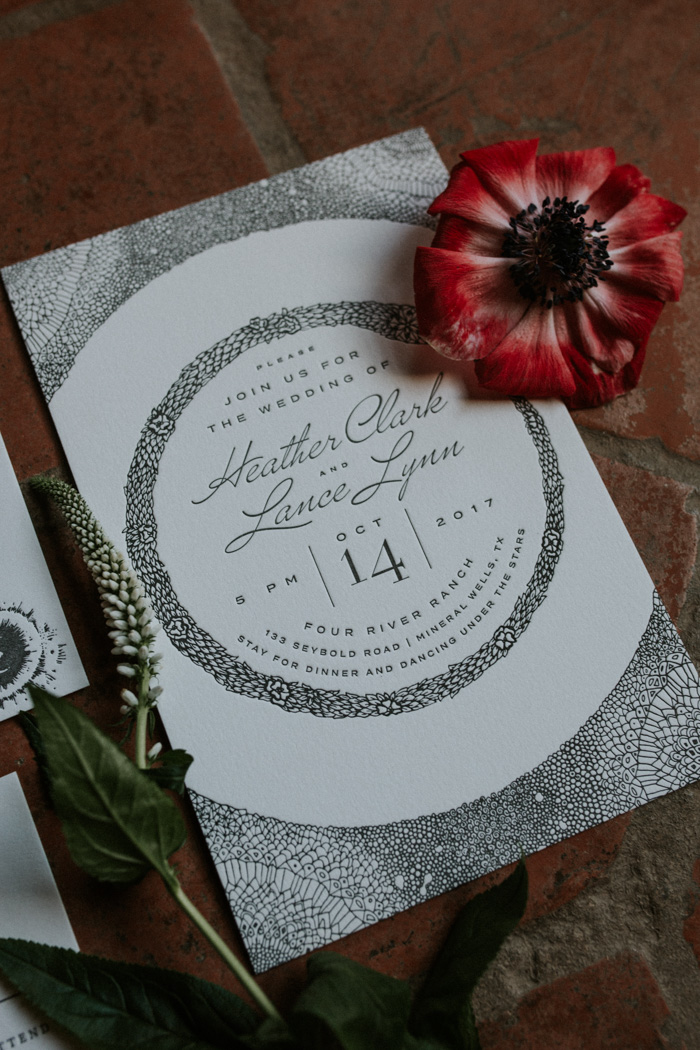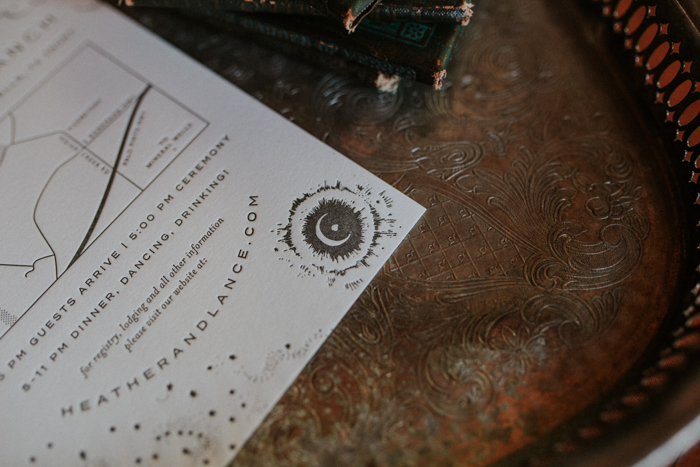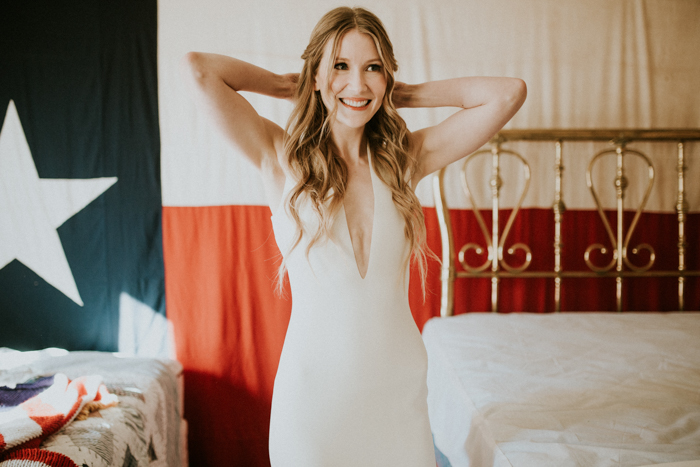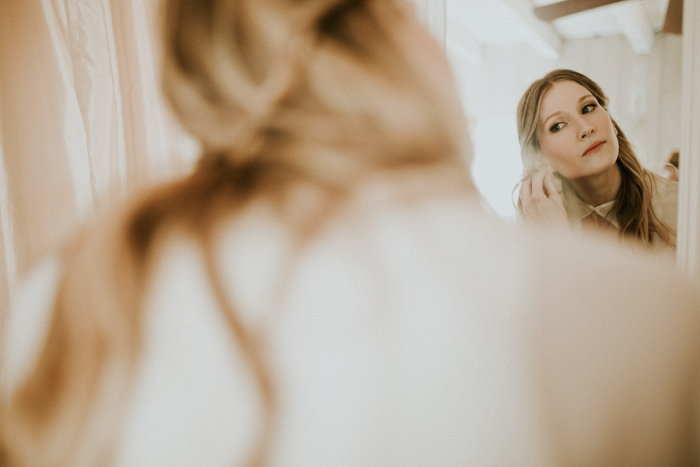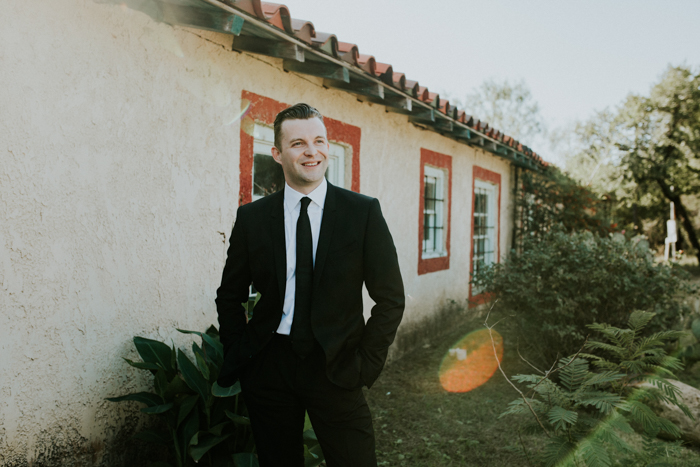 We wanted to be outside somewhere beautiful, bring our own food and drinks, and just have a badass party with a live band and no curfew. Easier said than done when you live in the city! Most official venues that fit the bill were outrageously expensive and/or too far from hotels to be convenient. We found this converted dude ranch, owned by artists, on a location scouting website. It was picturesque, right on the Brazos River, with a cool history. Back in the '60s, it hosted the likes of John Wayne and Ronald Reagan. It was a couple of hours from Dallas where we live but came with 15 furnished guest rooms so our close friends and family could stay the night.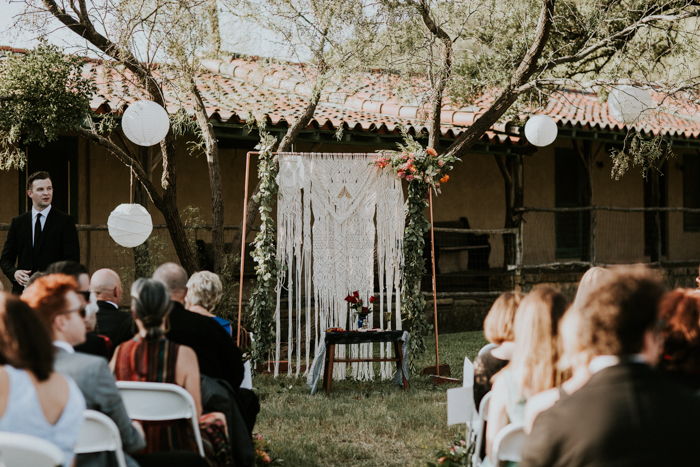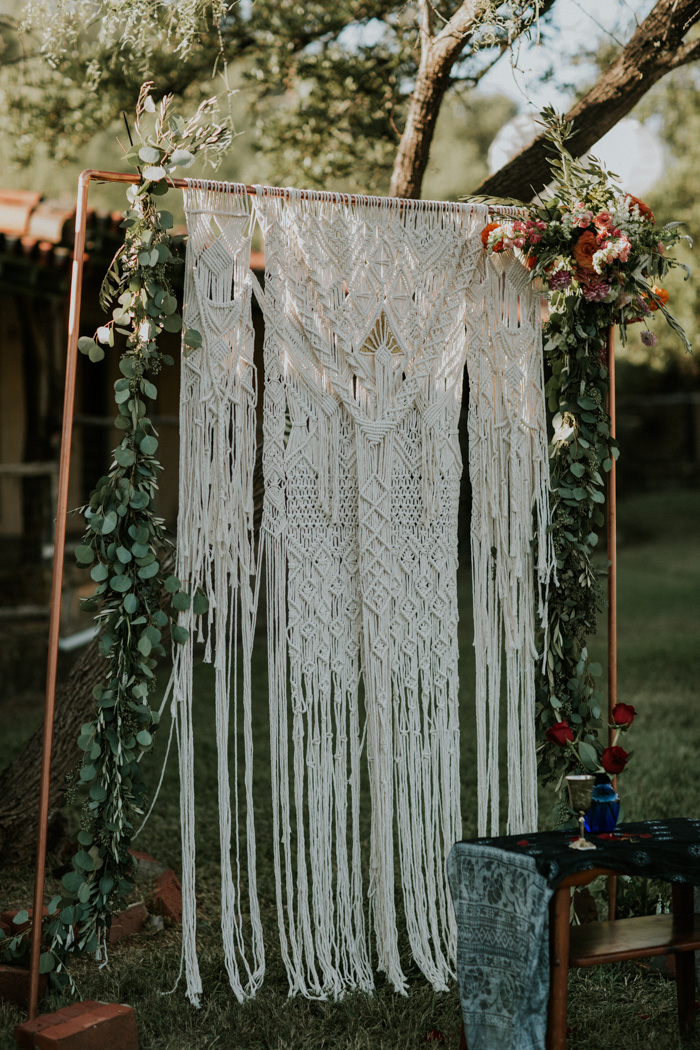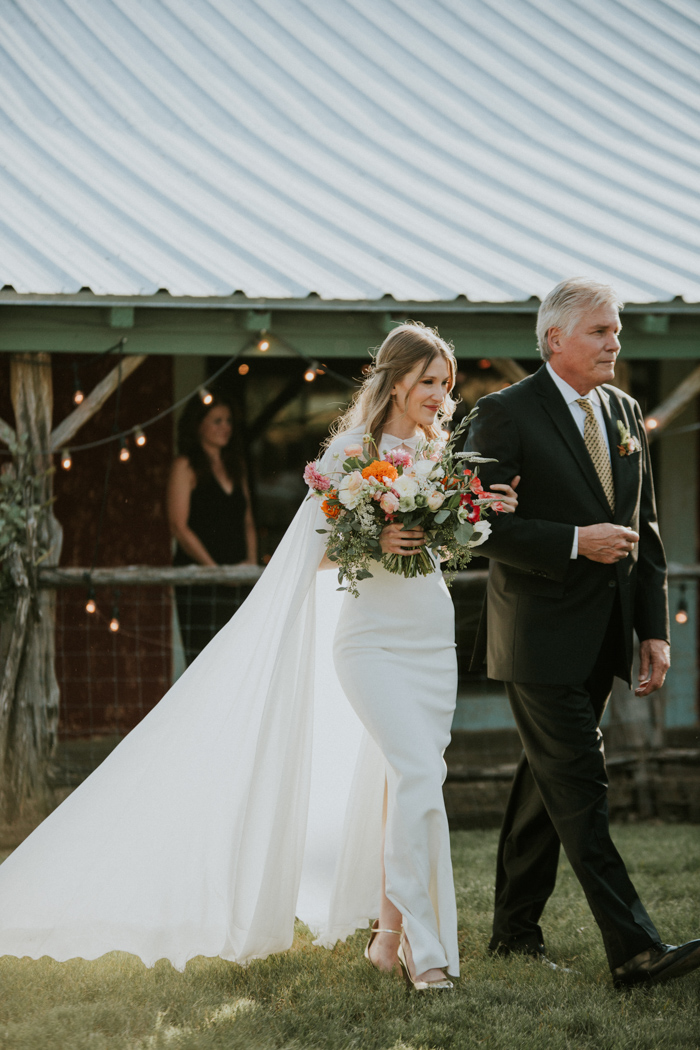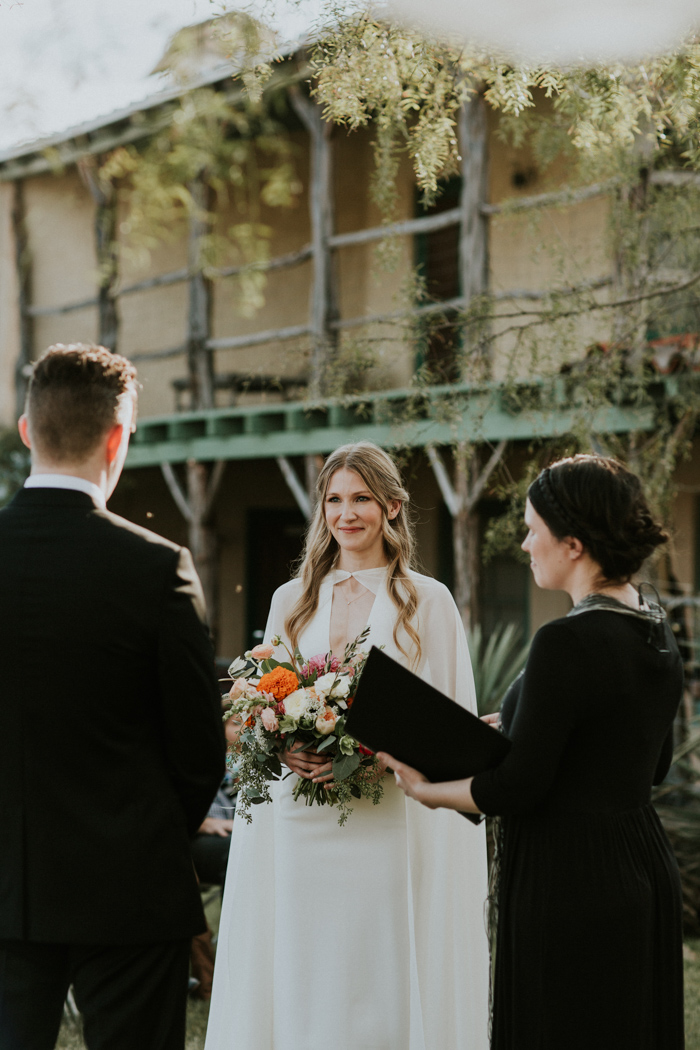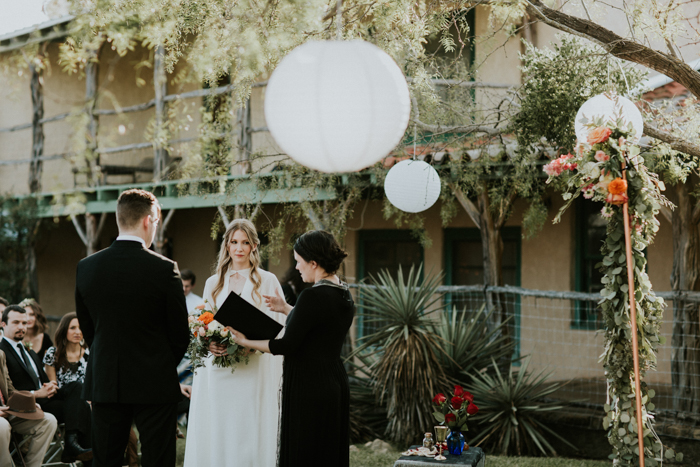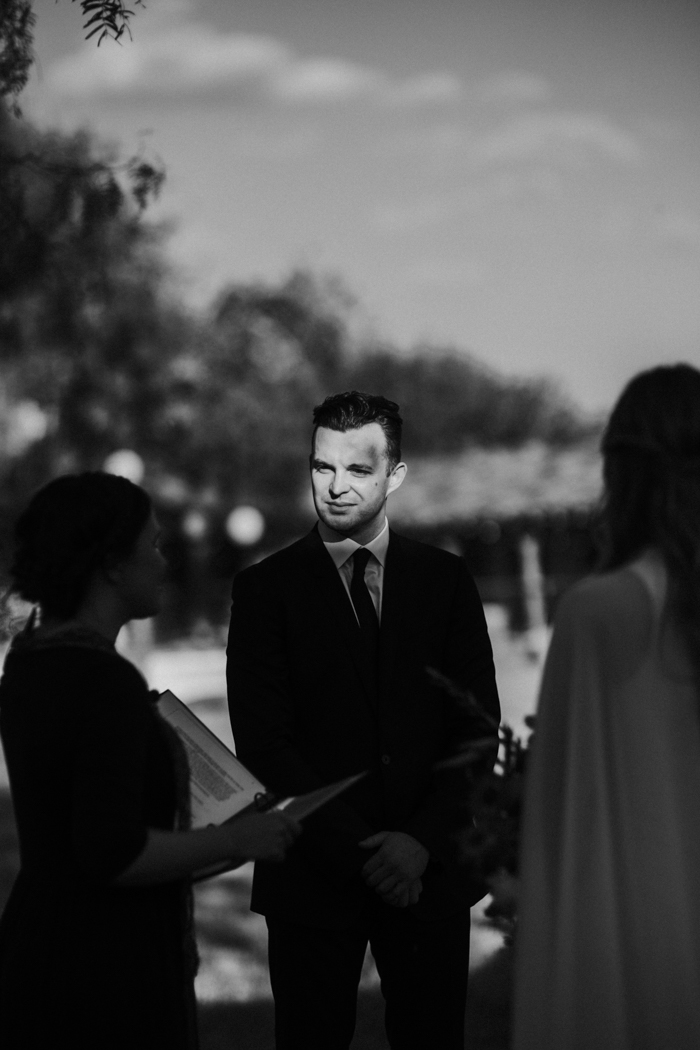 My sister-in-law Ren is an incredible spiritual leader, and she wrote the entire ceremony for us. She blended traditions from our German and Irish heritage including an opening meditation for guests, a handfasting and wedding cup ceremony, even a few magic spells for us to perform throughout the night.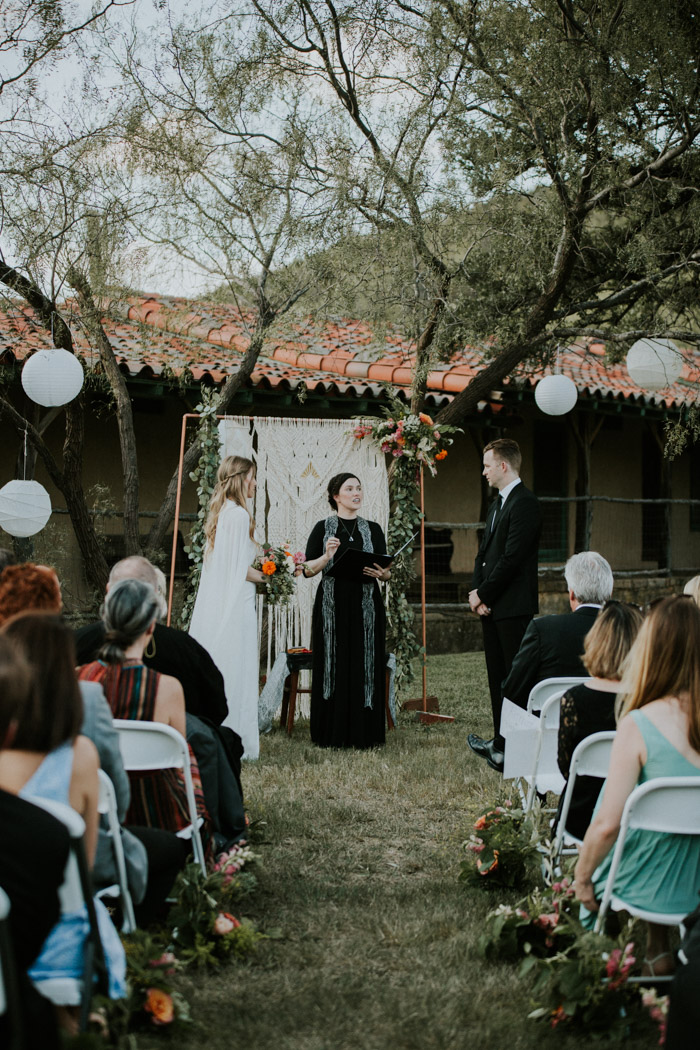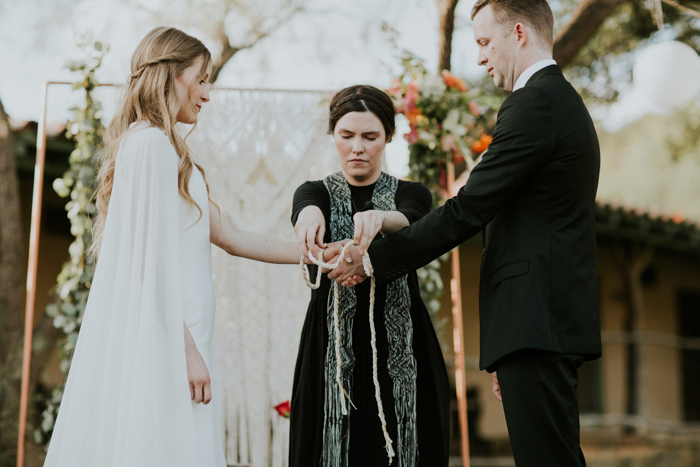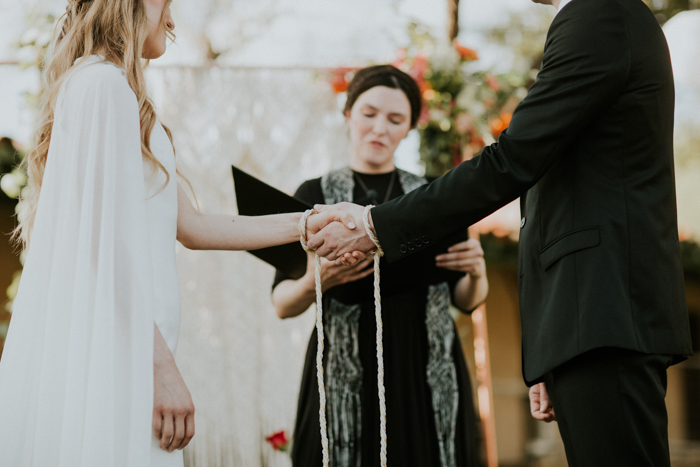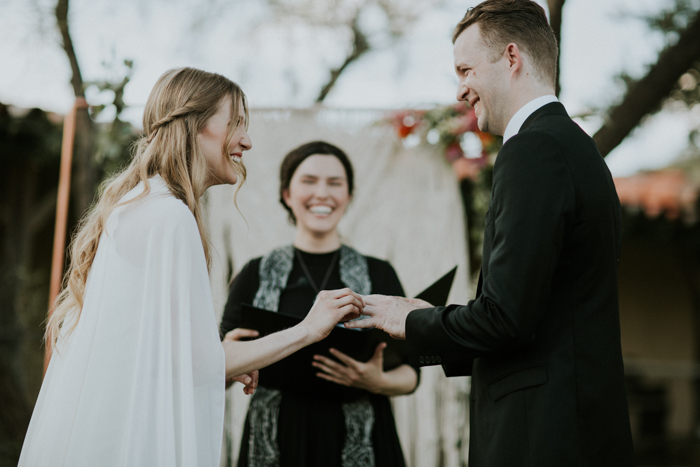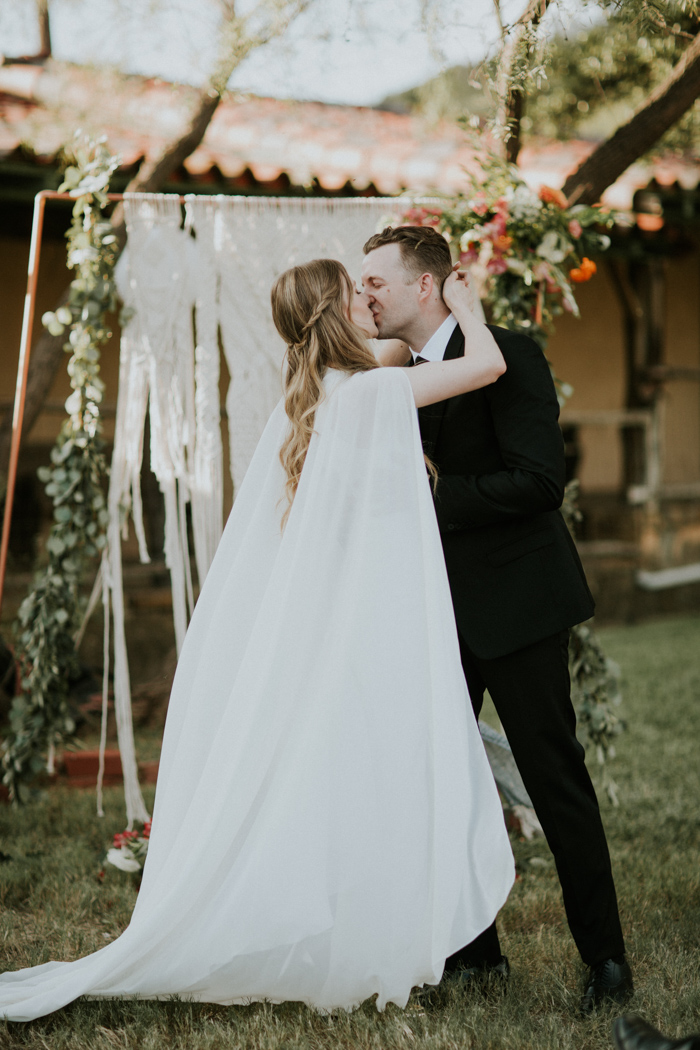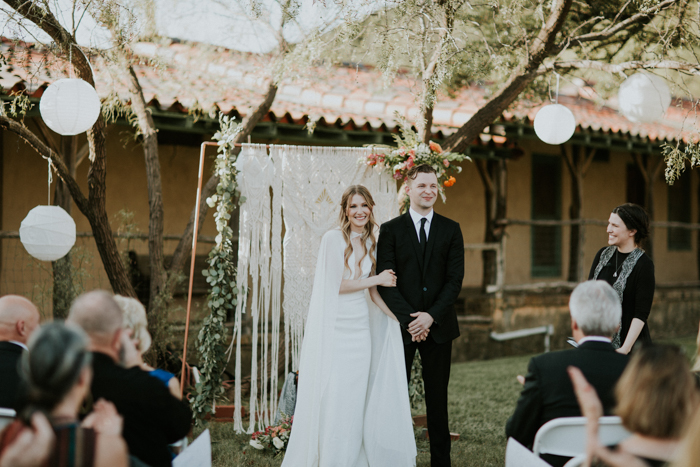 I'm an artist so DIYing things was by far my favorite part of the planning. I started on the invitations practically the day we got engaged, I made our macrame backdrop, our hand-fasting cord and our officiant Ren's stole, and our woven sun and moon chair backers. We arranged all the vendors and rentals, and all our friends pitched in the day-of to help us set up.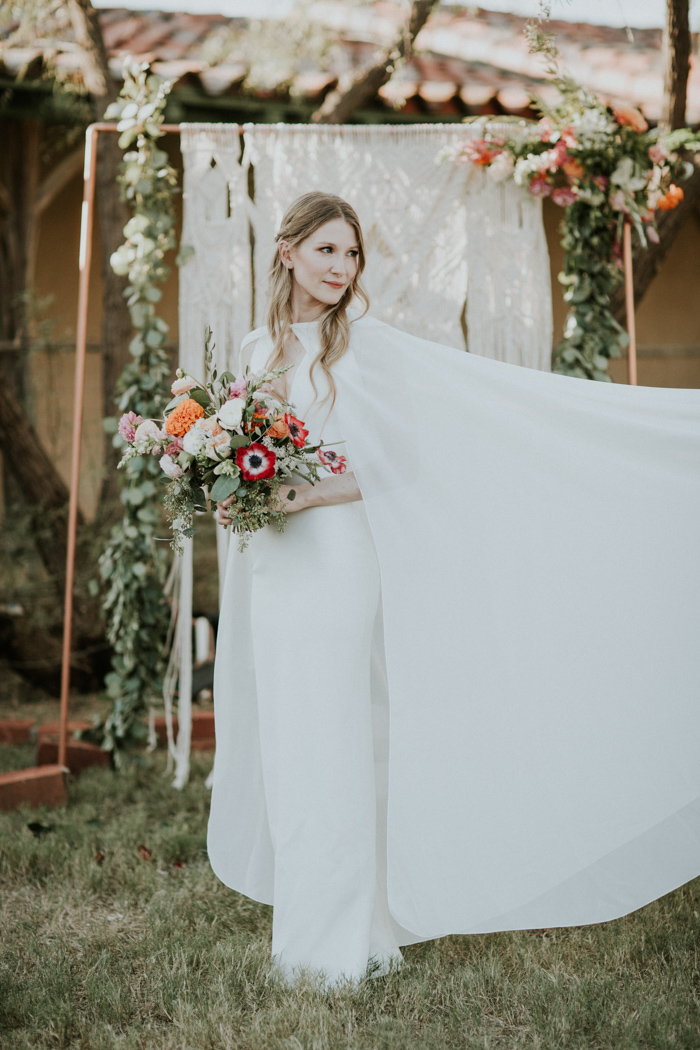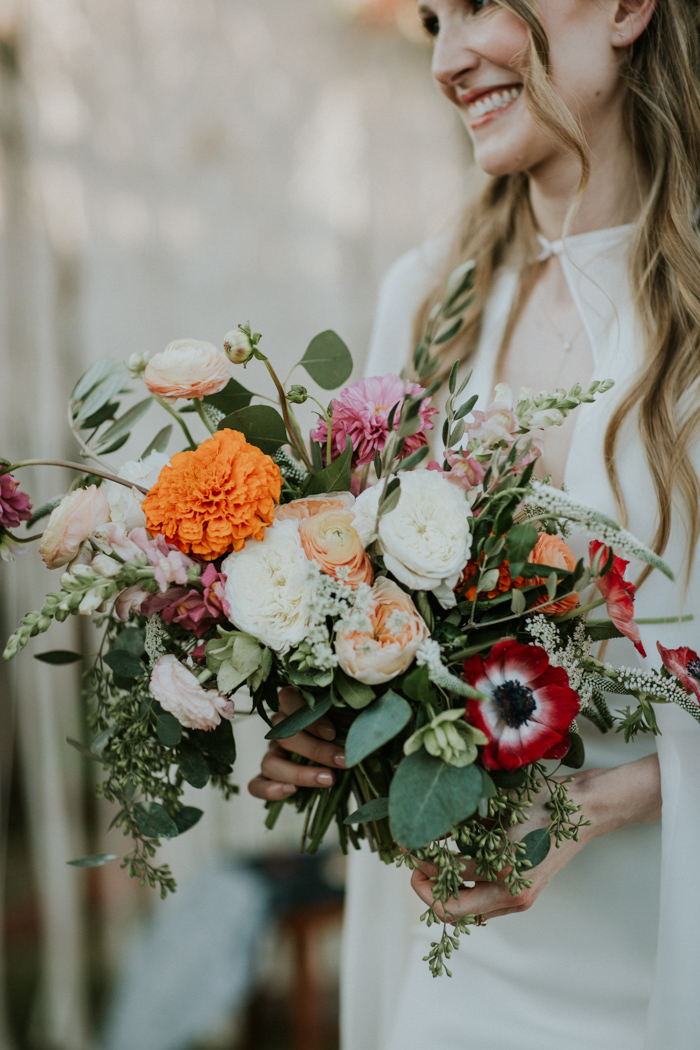 I wanted to look like a Disney villain. Basically, sleek and witchy, but I'm also quite cheap and wedding dresses are so overpriced. I ended up ordering a few simple white dresses from Shopbop and my favorite happened to be on sale. I picked up some chiffon that matched the dress and had a local seamstress make my cape. My shoes were a splurge (Valentino) but technically they were also on sale, and I've worn them again and again, so it was worth it! We didn't have an official wedding party, but almost all our friends showed up wearing black, making it look planned. It was so perfect!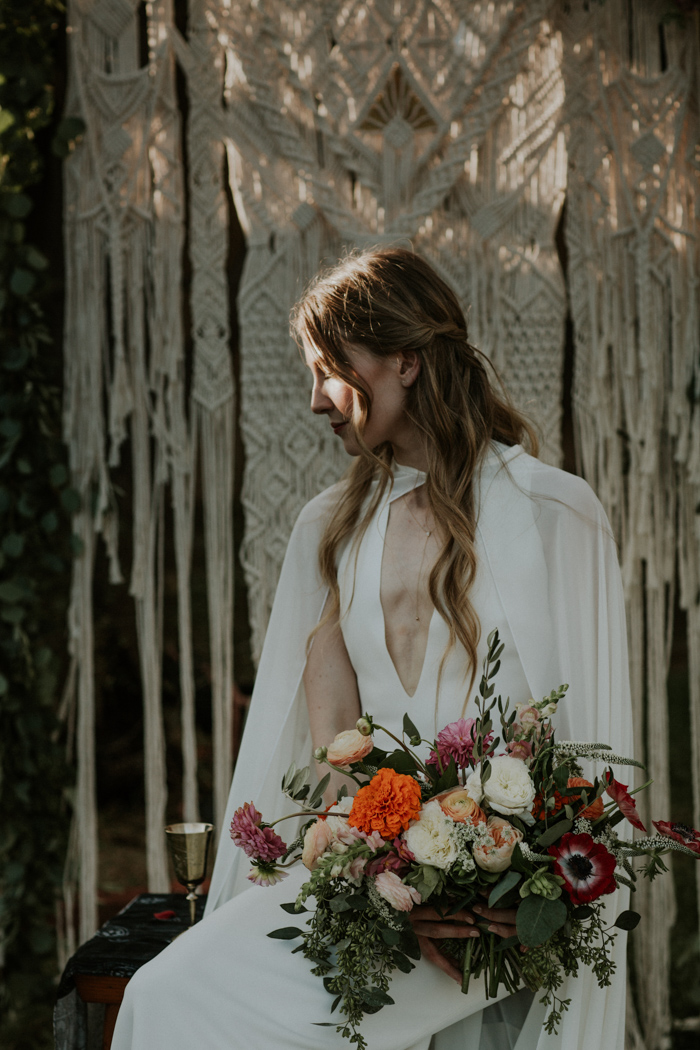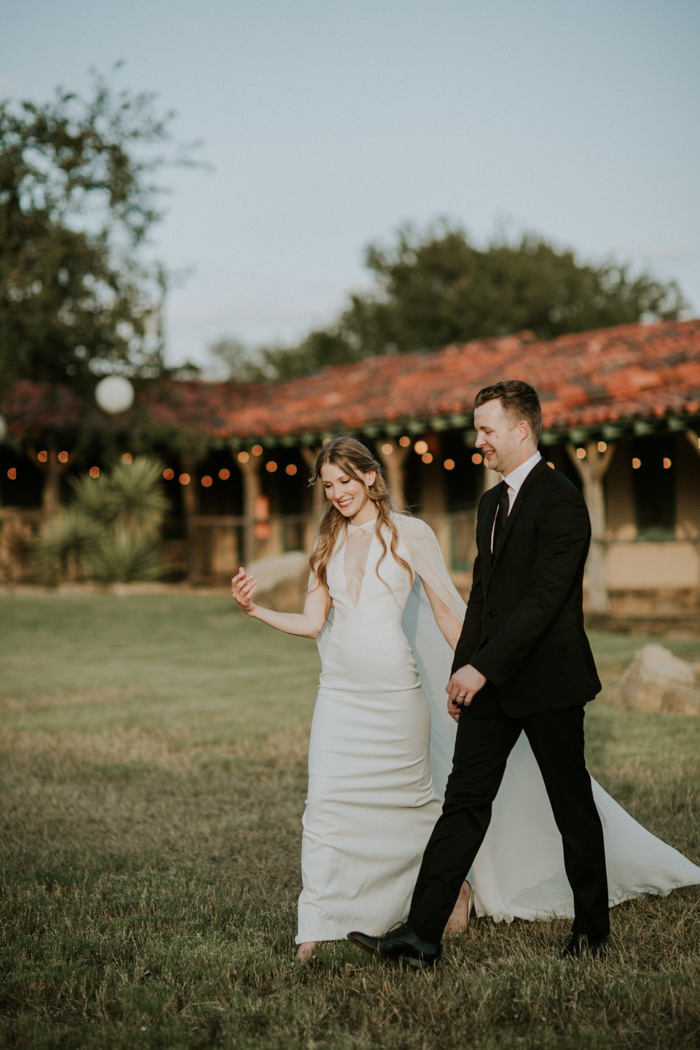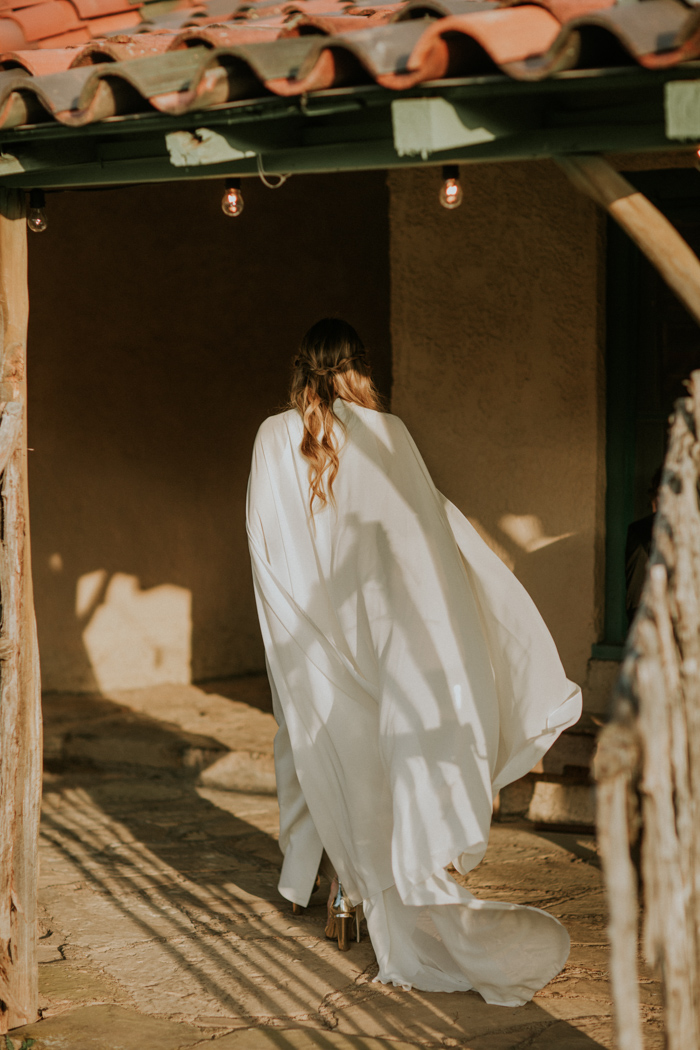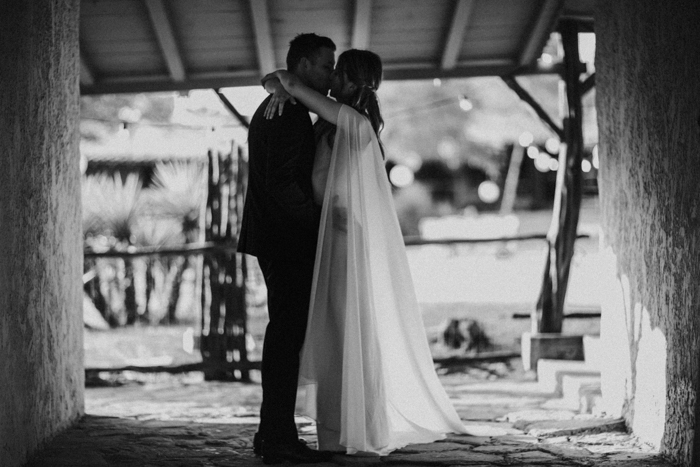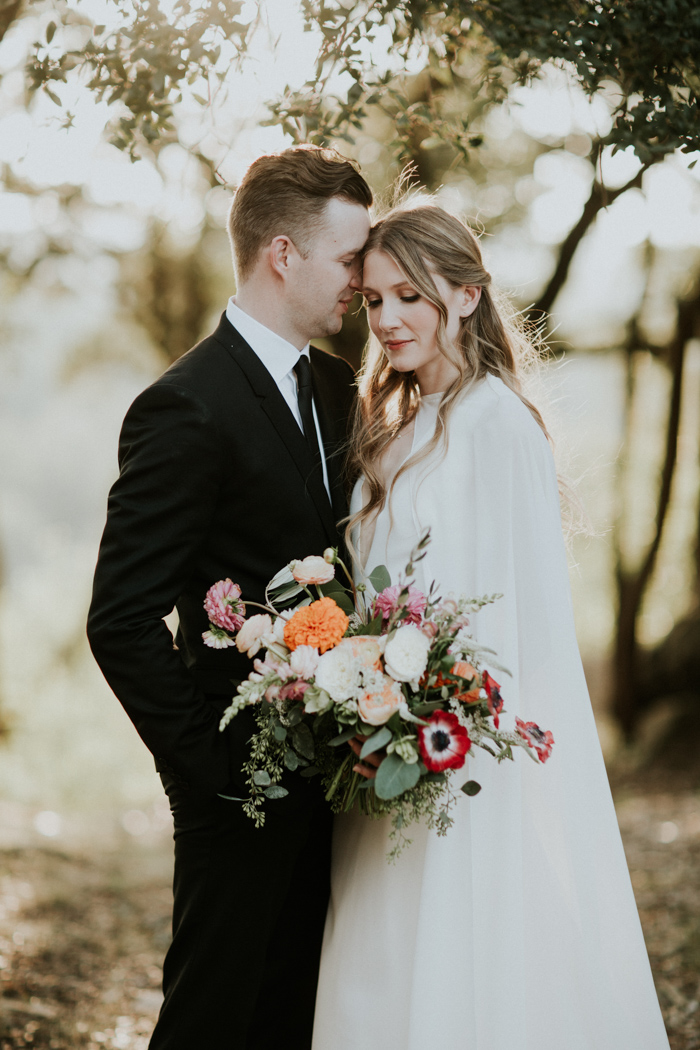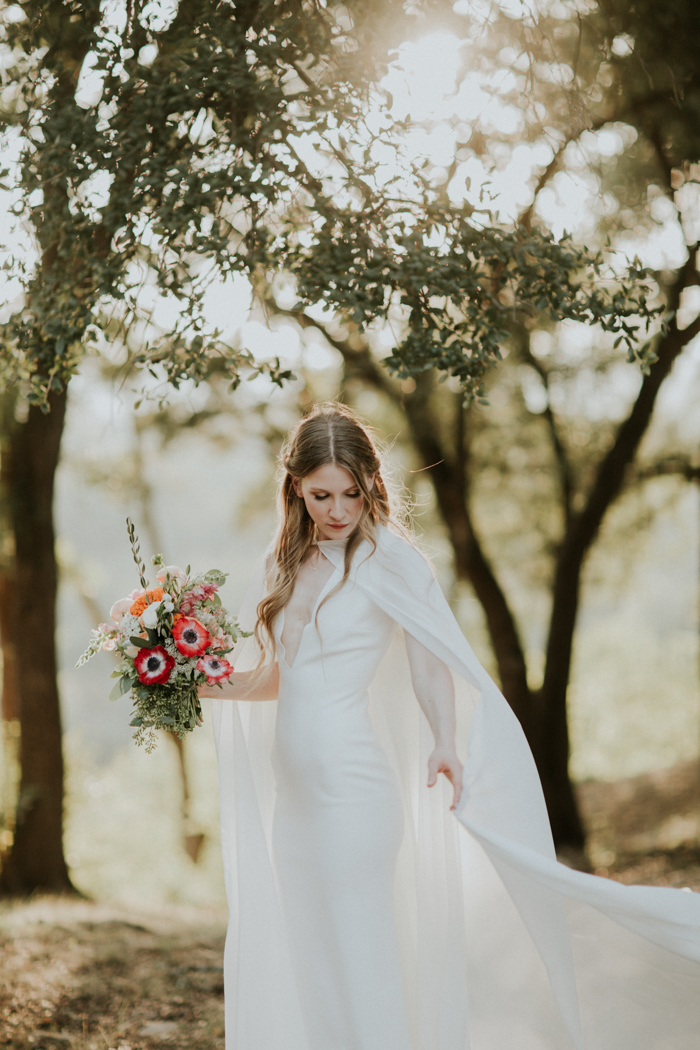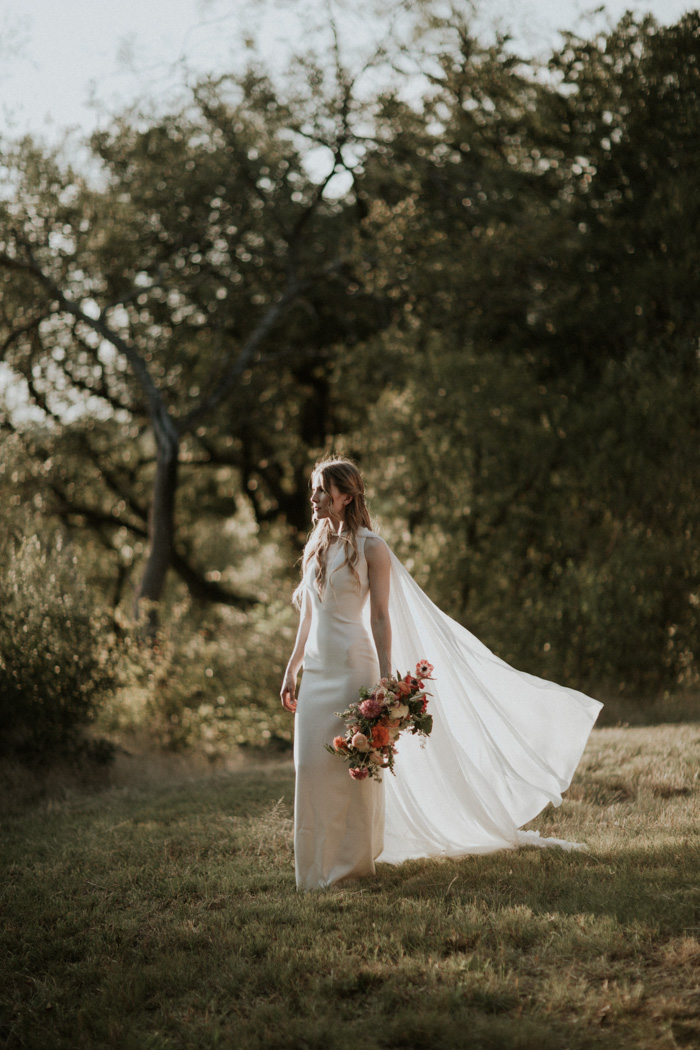 Hardly anything will go exactly as you plan. Embrace the chaos! Case in point: it was hot the day of our wedding, and we scoped out the precise spot for our ceremony a day in advance to make sure the sun wouldn't be in our eyes and because our photographer said it was important for us both to be in shade. When I walked down the aisle, the first thing I saw was Lance squinting uncomfortably at me with light blazing directly in his face, with beads of sweat rolling down his cheek. It was actually really funny and kind of cut the pressure of having the night go perfectly. Just remember you're there to have fun, and none of the details ultimately matter!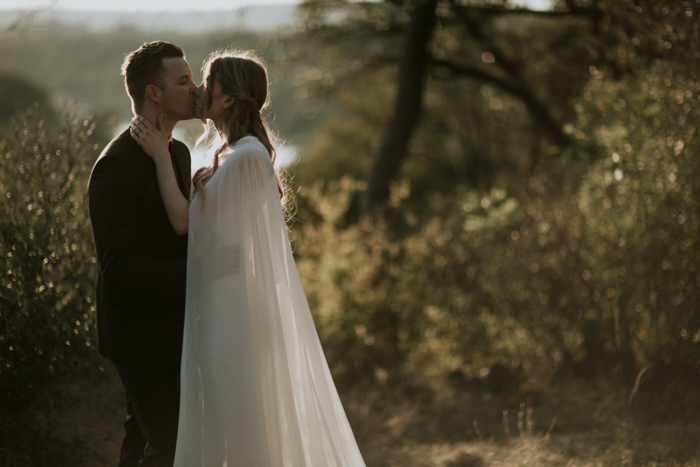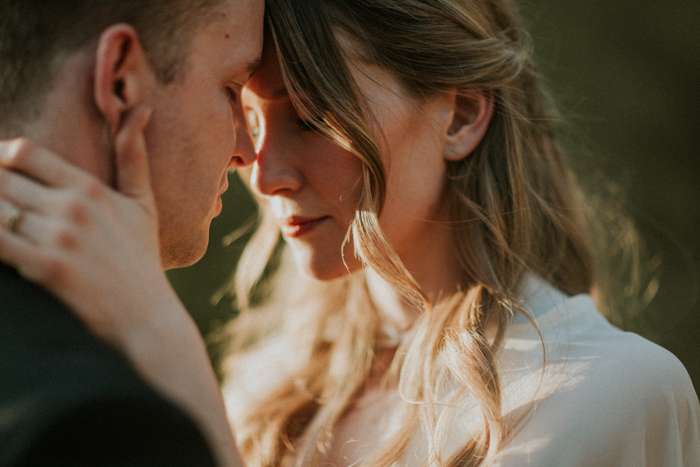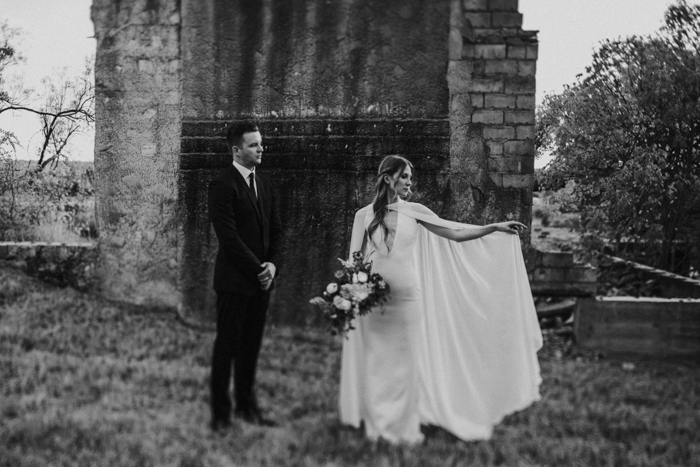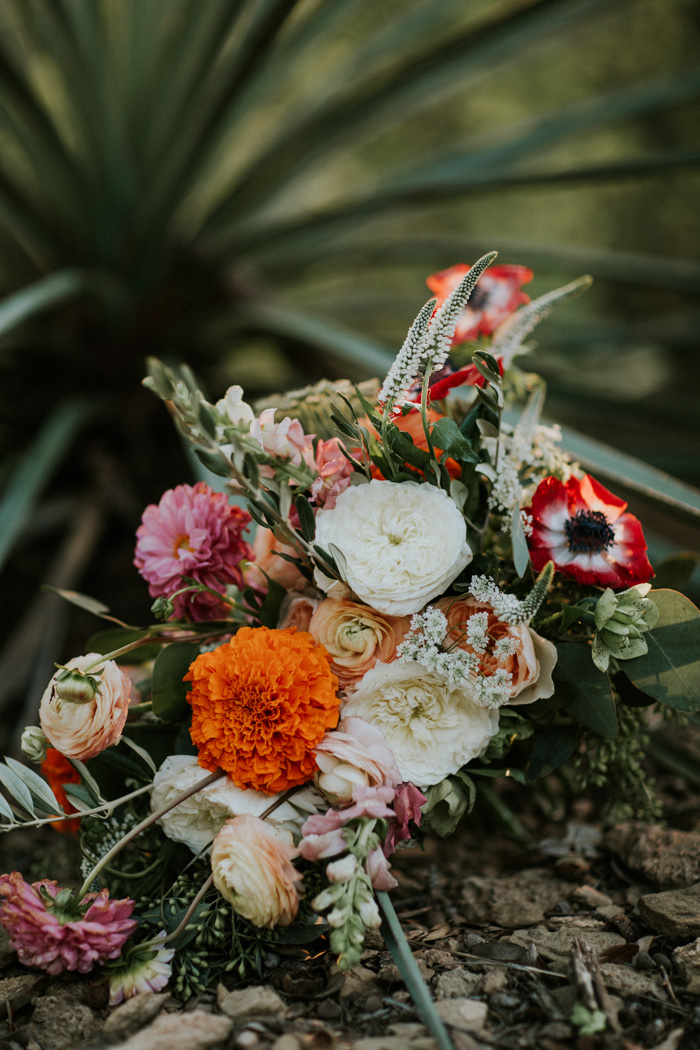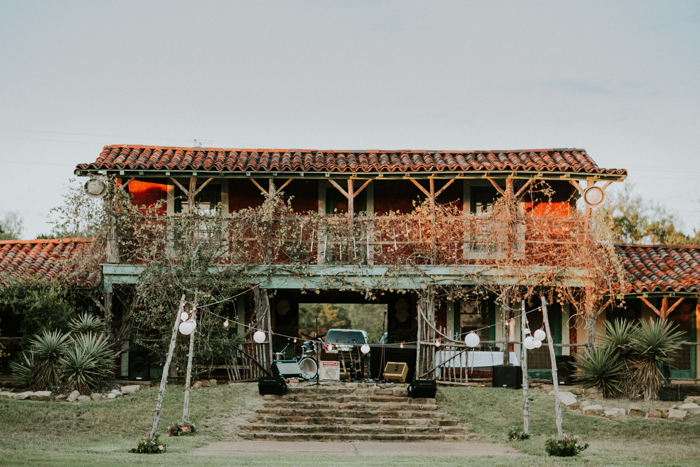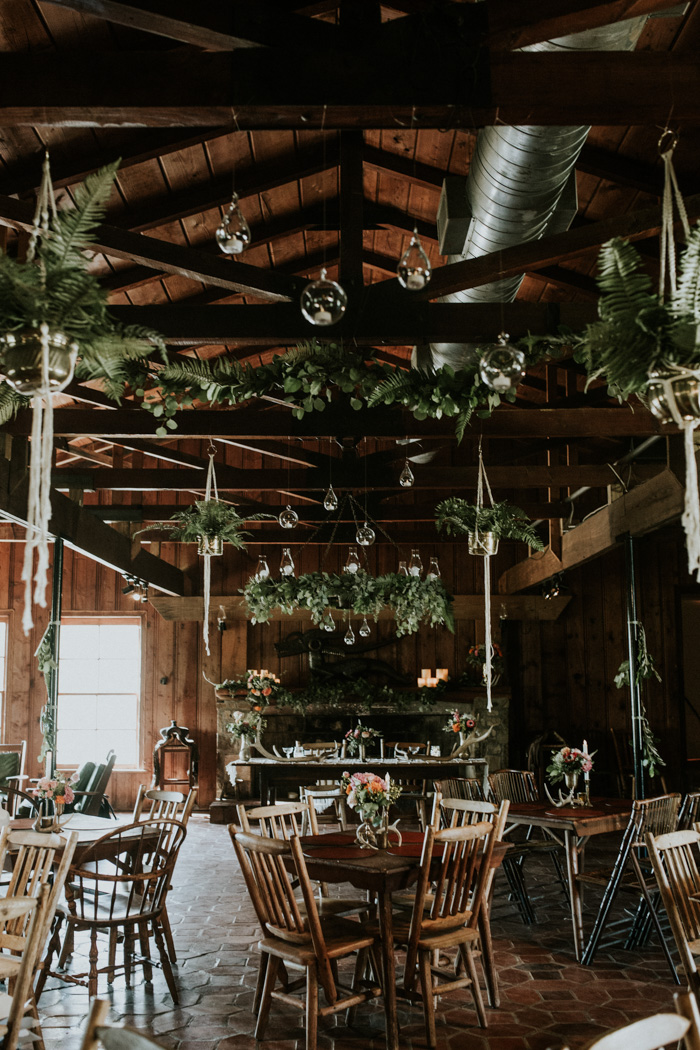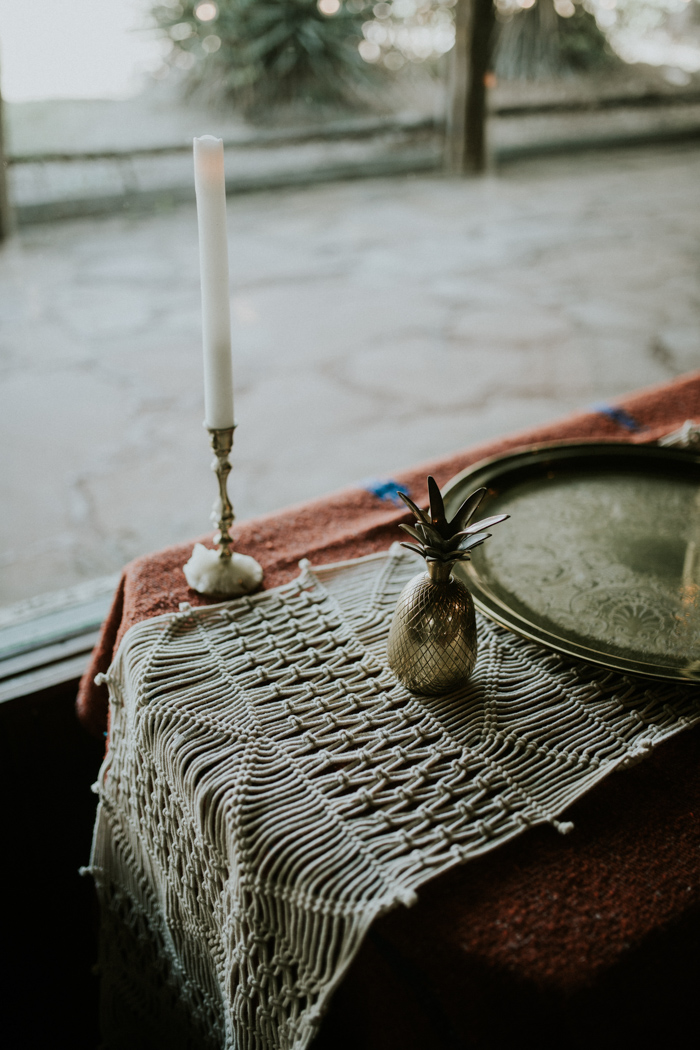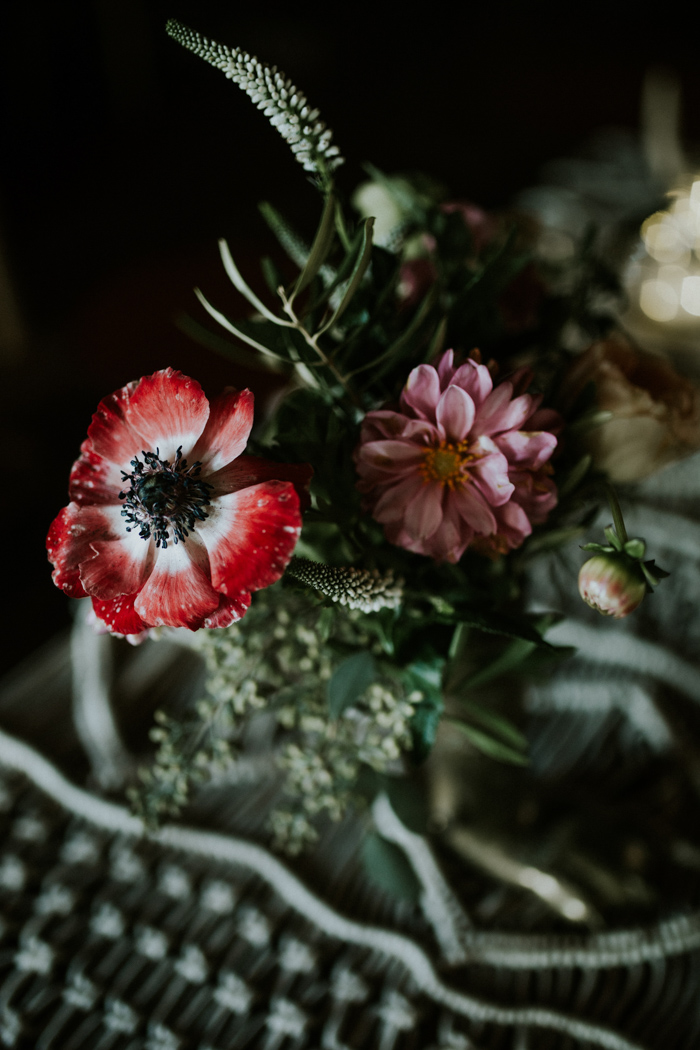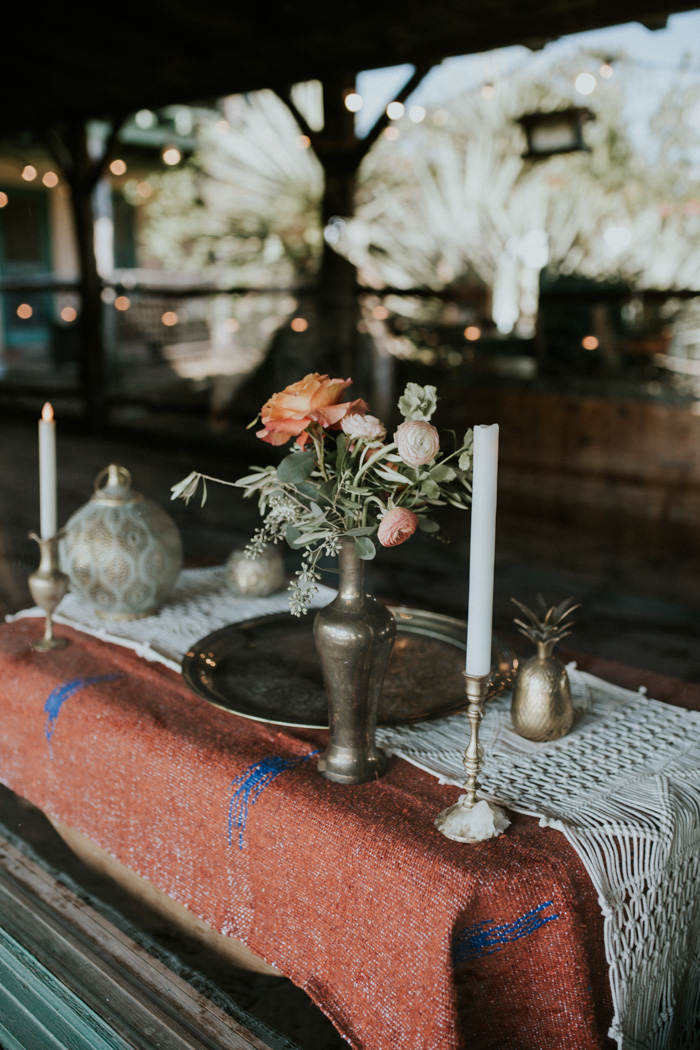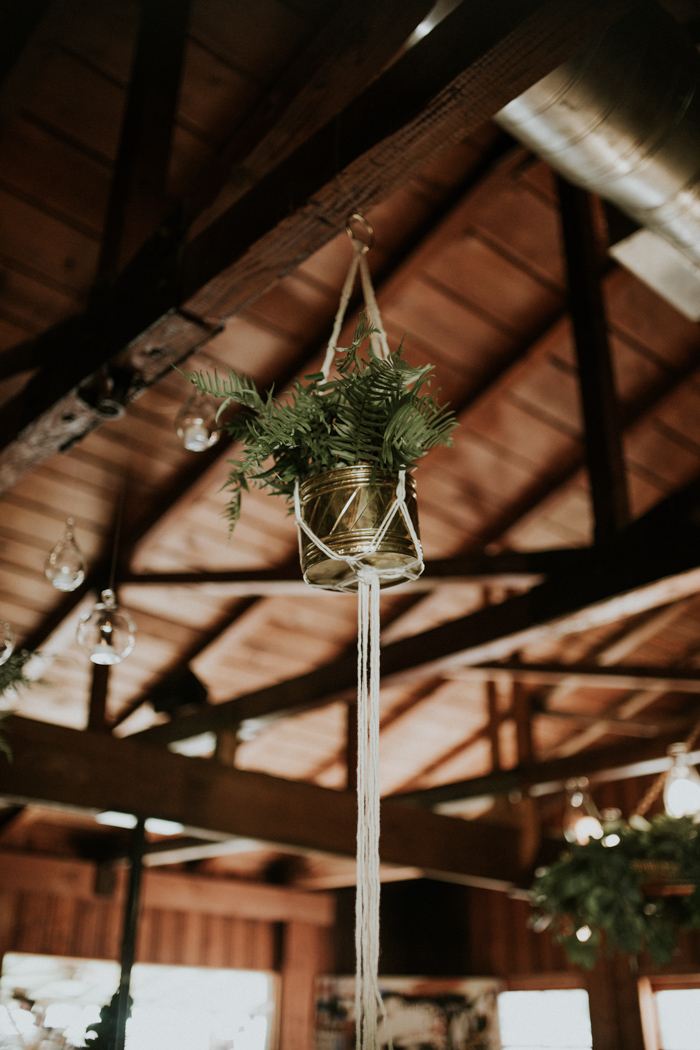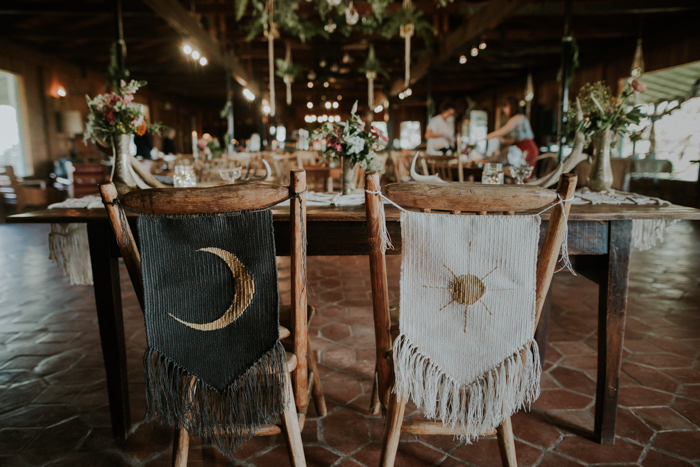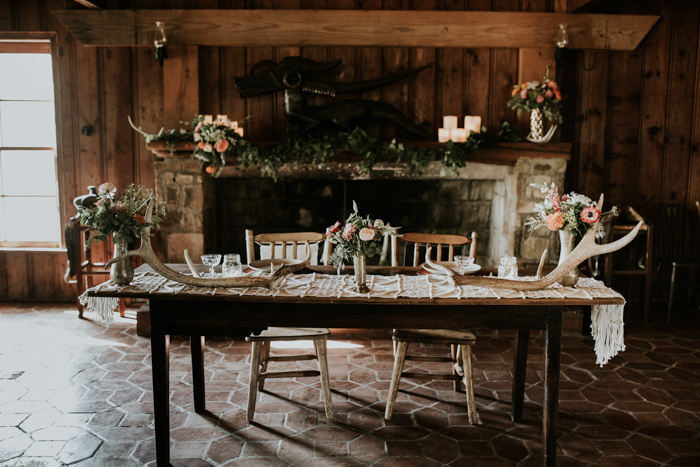 There were so many surprises throughout the day. We have such talented friends, so we left as much as we could in their hands and got to experience it all with our guests as it happened. We figured out the key vendors and logistics beforehand, then left the details up to them. So the florals, the place settings, our first songs with our parents, even my hairstyle was a surprise.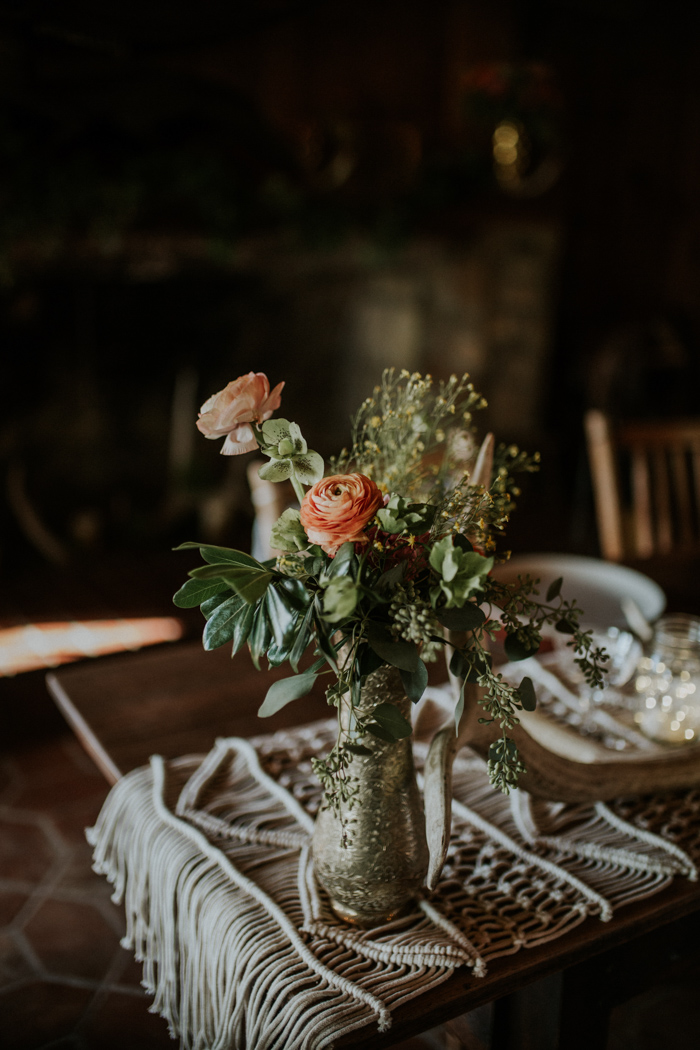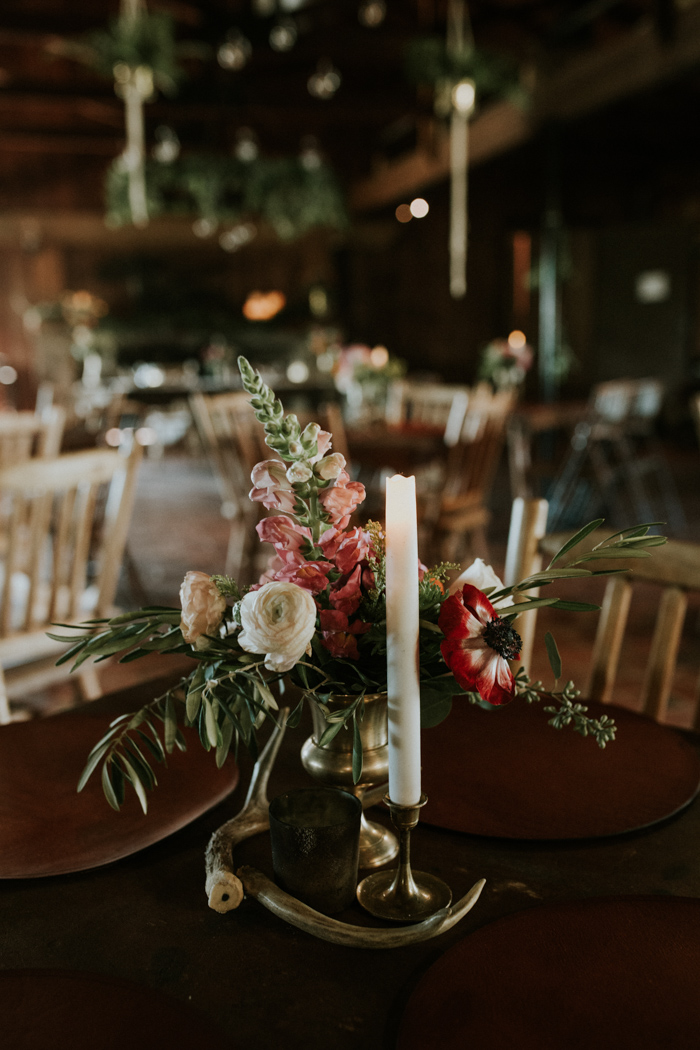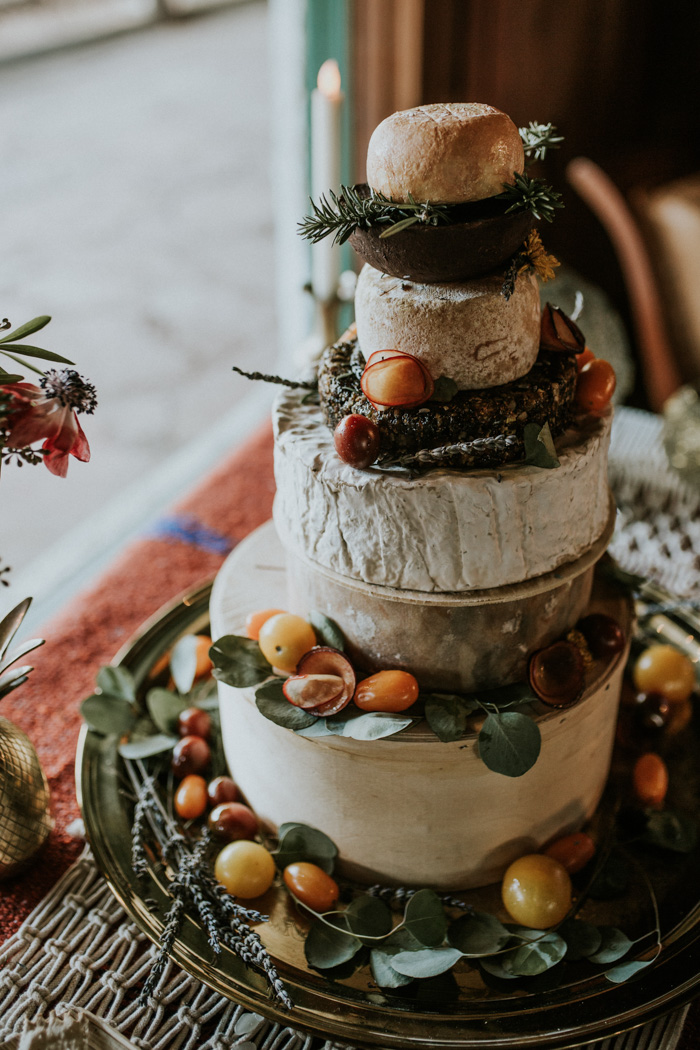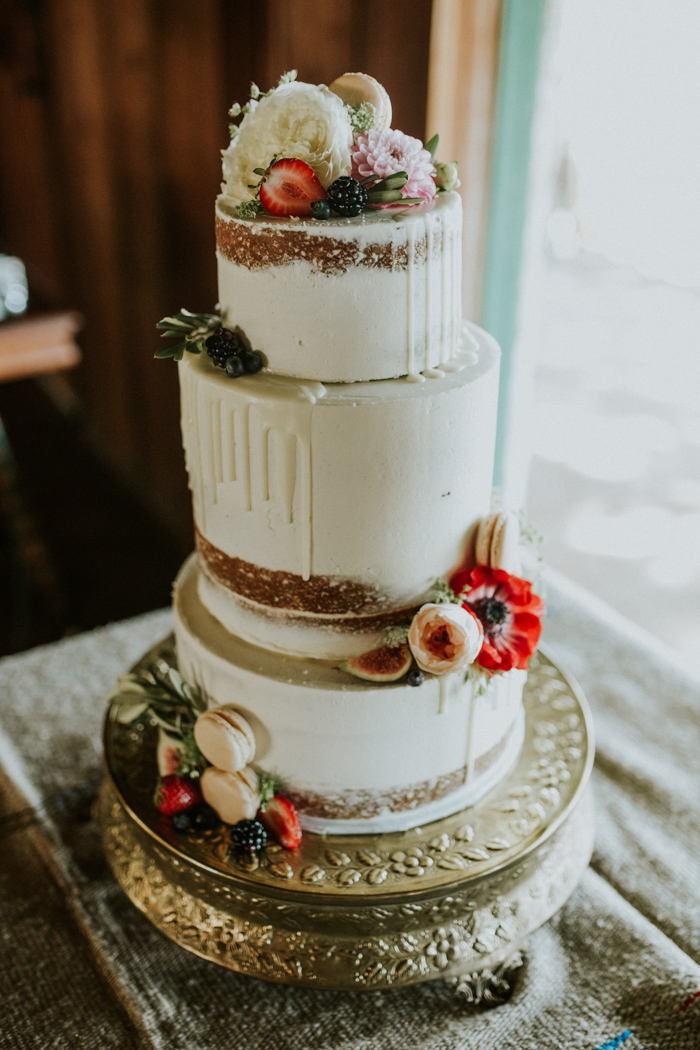 My favorite memory from the wedding was late at night. The bartenders and photographers had left but the party was still going strong, so I changed back into my shorts, Lance hopped behind the bar to make drinks, and we kept the party going until morning.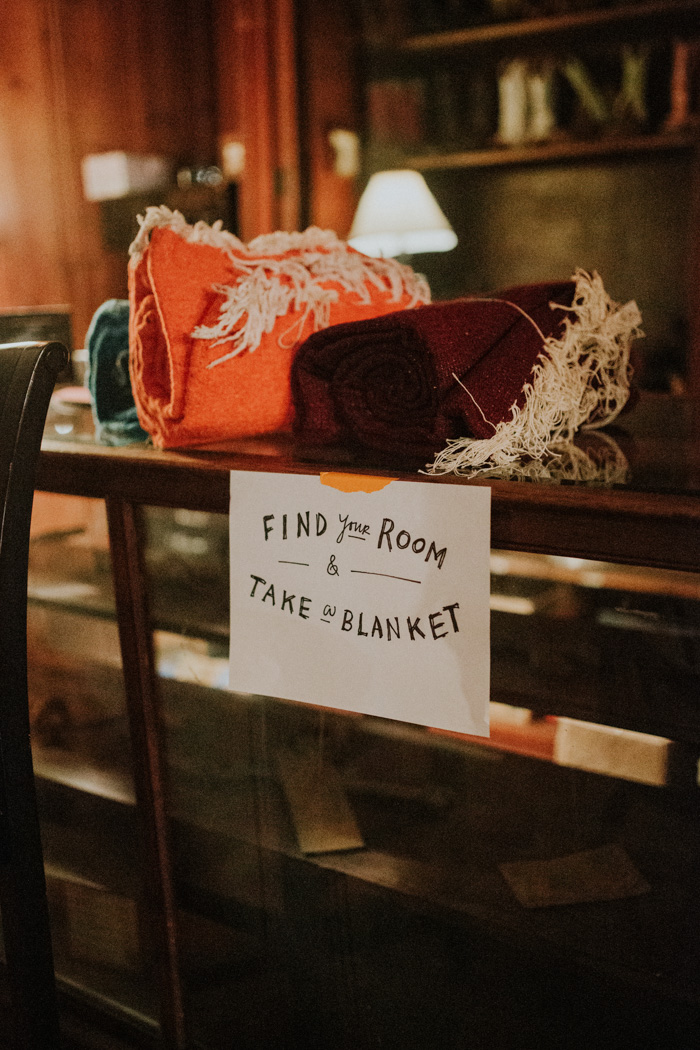 Processional – "Rise Up, My Love, My Fair One" by Healey Willan, performed live by Sophia and Francesca Roberts
Recessional – "This Is The Day" by The The
First Dance – "Wild Horses" by Rolling Stones, performed live by Robert Cody Maxwell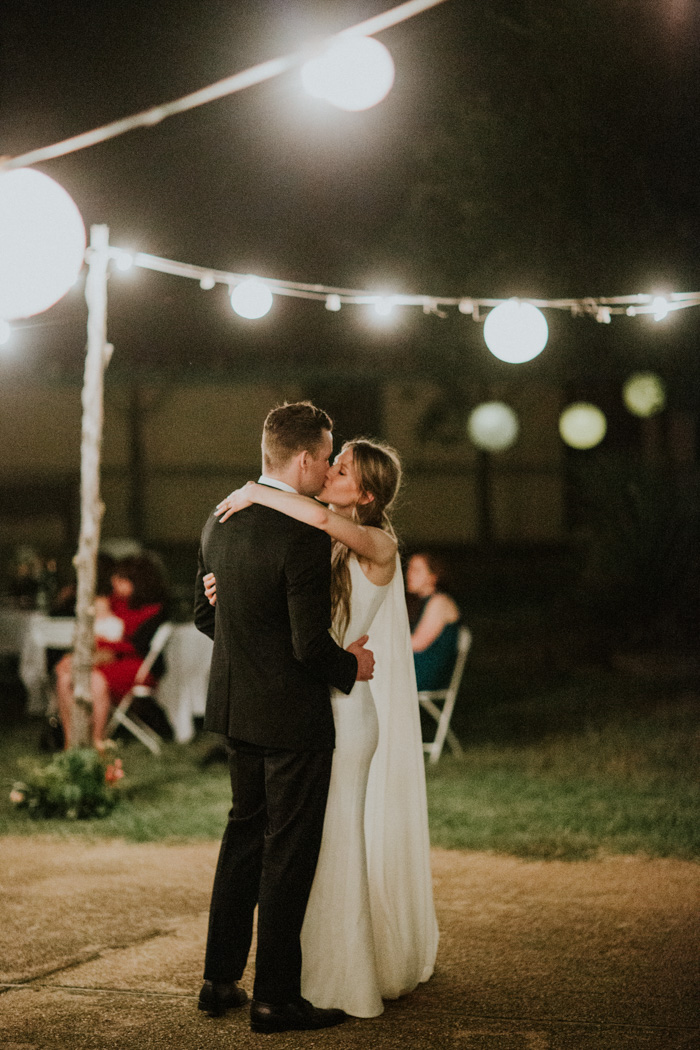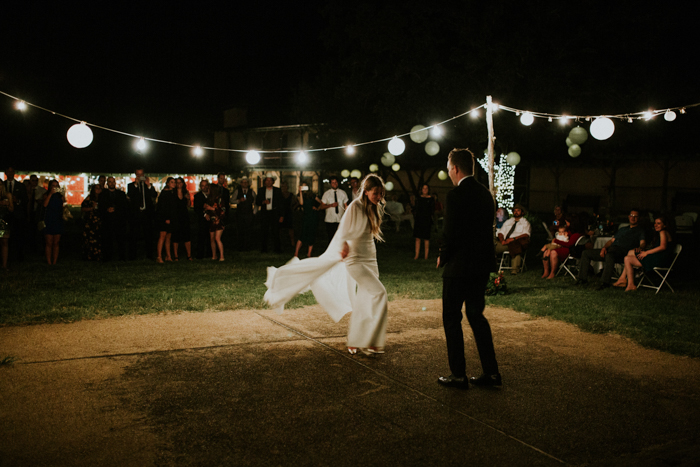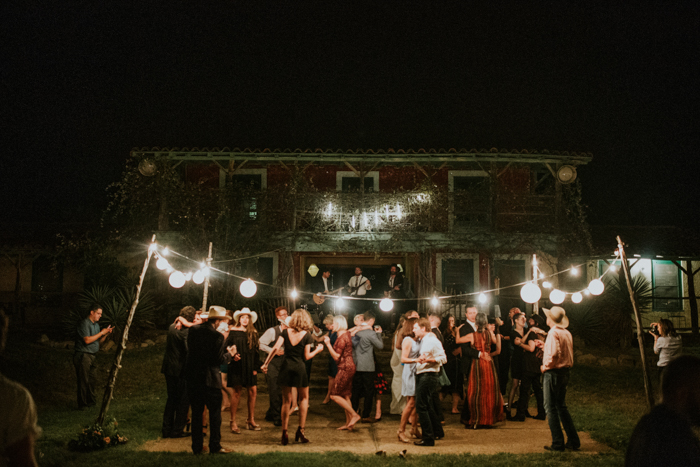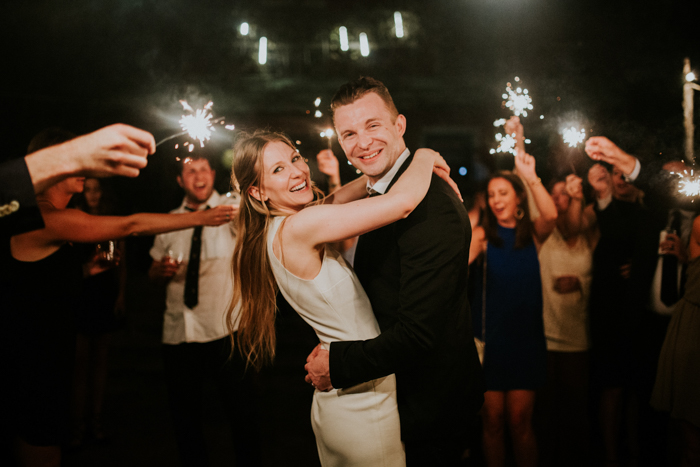 Congratulations to Heather and Lance, and a big thanks to Christina Childress Photography for sharing this wedding at Four River Ranch! Love the relaxed yet upscale This UC Botanical Garden Wedding is the Epitome of Laid-Back Glamour