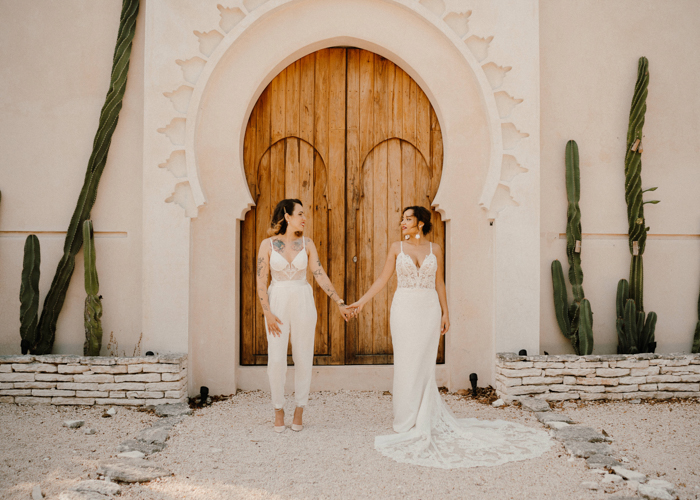 A luxe boutique resort in the heart of the jungle, DIY decor in a neutral color palette, and chic wedding attire—Imani and Karen's Tulum micro wedding was a stunning affair in paradise. While planning a destination wedding in the middle of the pandemic might have been challenging, the pair pulled it off in style. By keeping their guest list small, they lucked out and found the perfect location for their spectacular multi-day celebration.
With the distinct and intricate Moorish architecture and lush tropical gardens of the Ambre et Epices as their backdrop, the couple exchanged heartfelt vows in a private courtyard ceremony with only their photographers as a witness. For the intimate reception that followed, feathery centerpieces, gauzy linen, rattan chargers, and candles in gold and amber holders complemented the villa's luxurious charm.
In addition to the gorgeous aesthetic, the brides' stylish attire stole the show. Imani's gorgeous gown with a plunging lace bodice and dramatic train was the right touch of glam, while Karen's stylish pantsuit brought a sophisticated flair to the occasion. Scroll through these beautiful photos by Junebug members Raw Shoots and get ready to be blown away. This Tulum micro wedding is proof that less is more.
The Couple:
Imani and Karen
The Wedding:
Ambre et Epices, Tulum, Mexico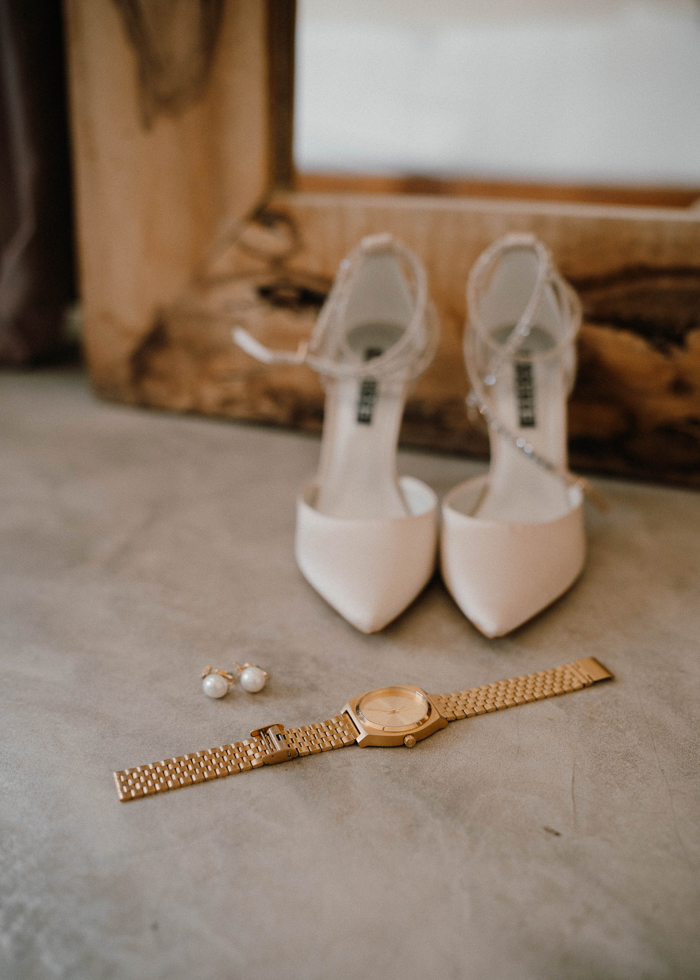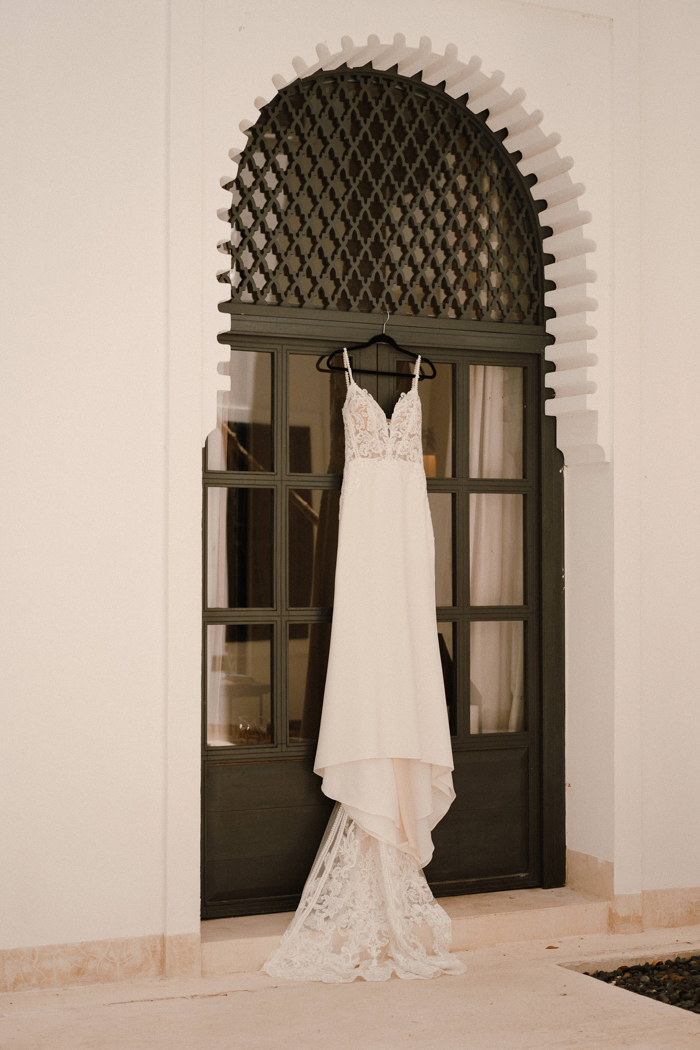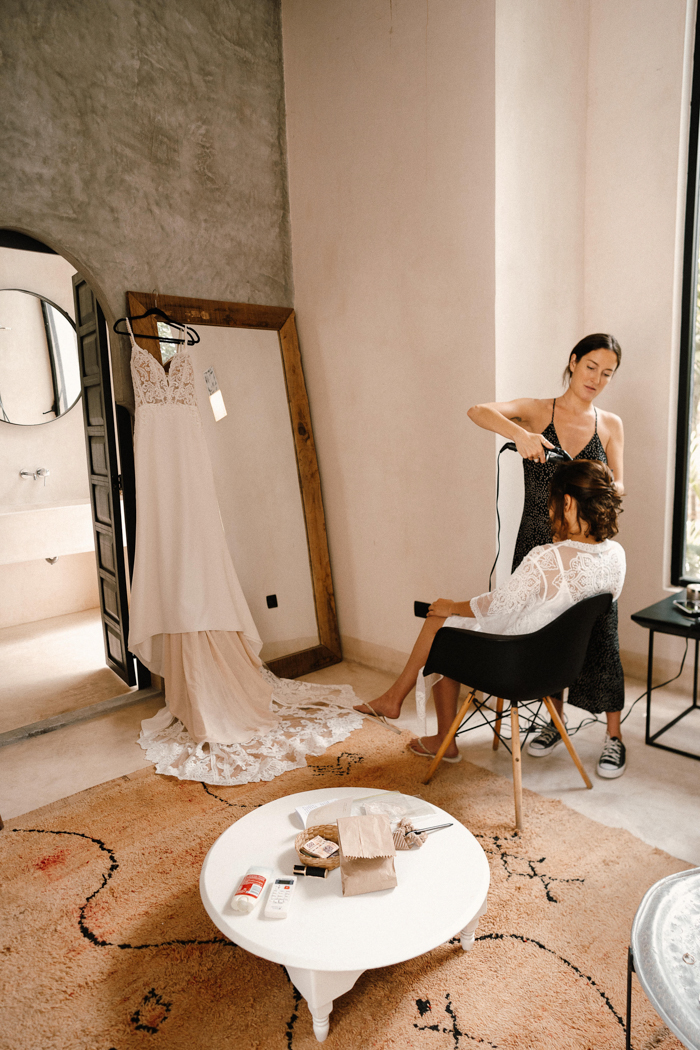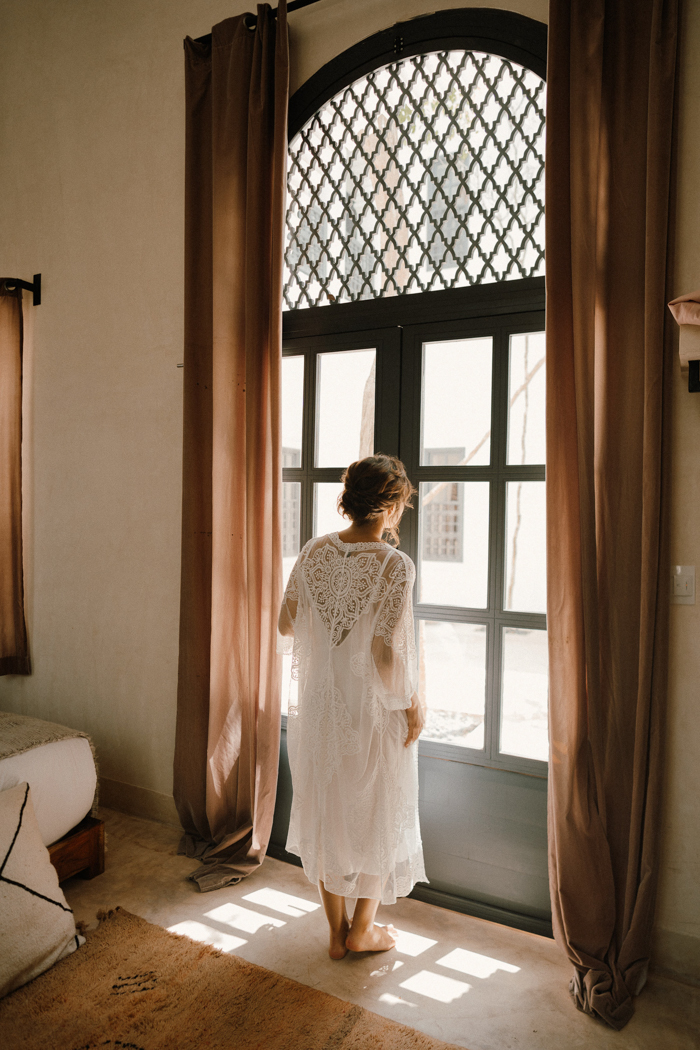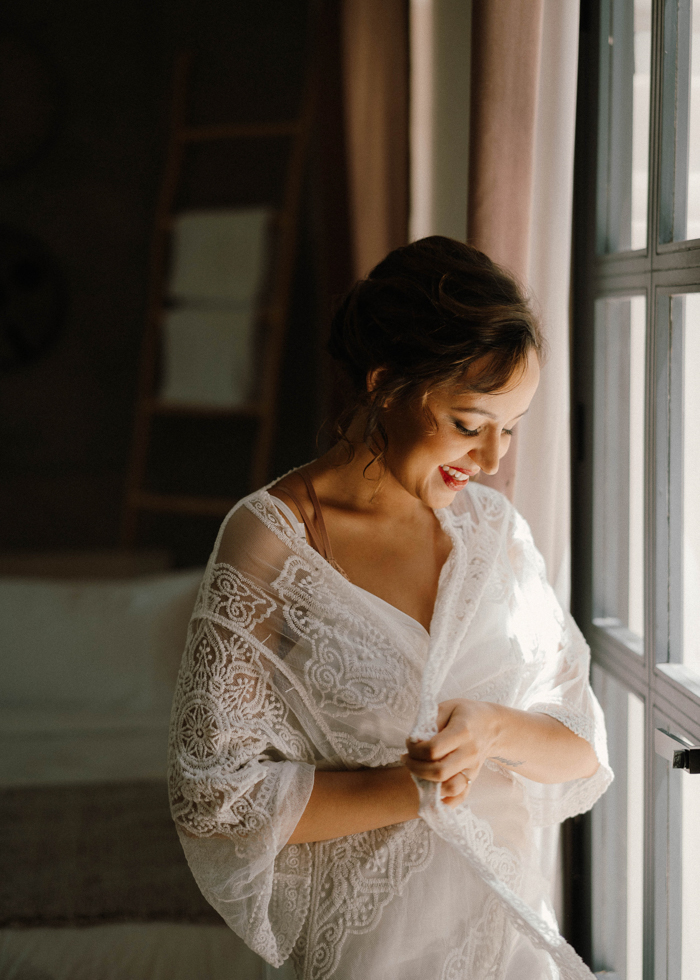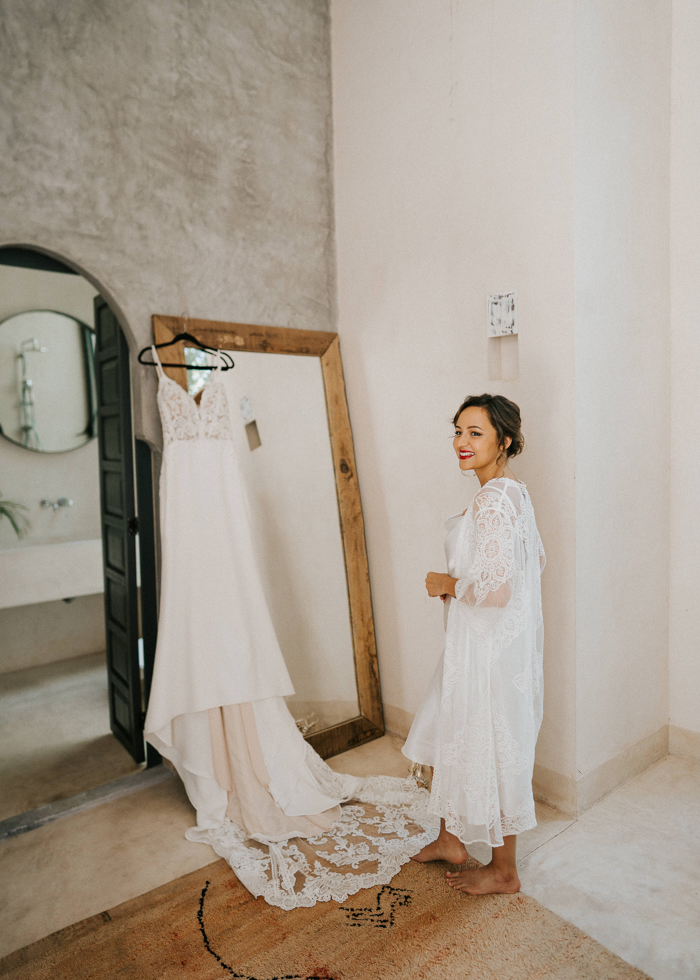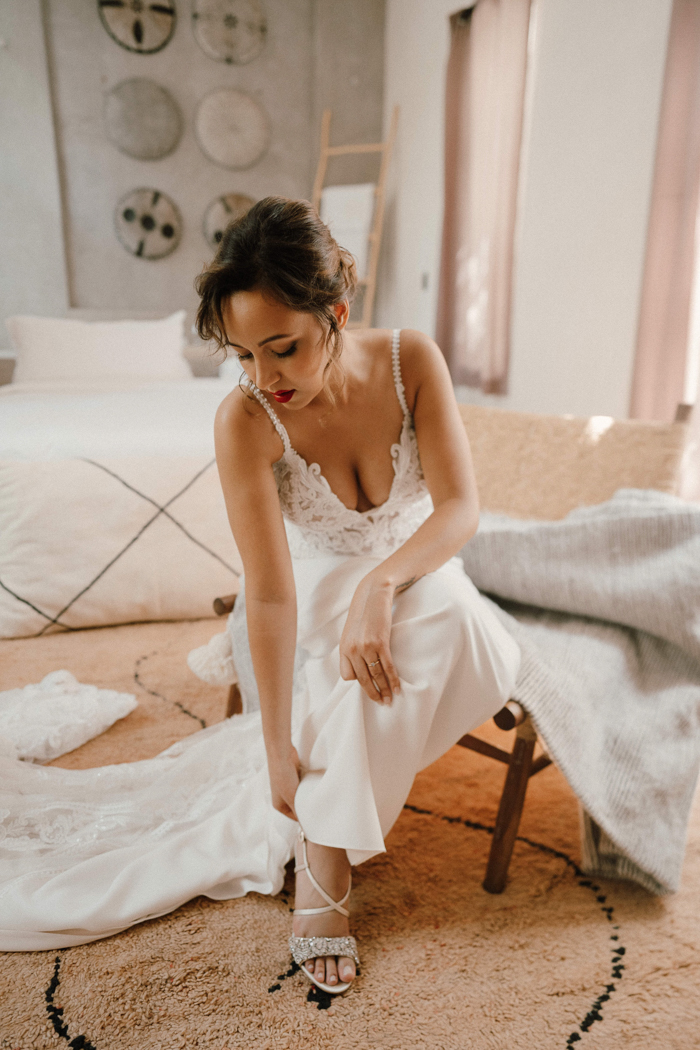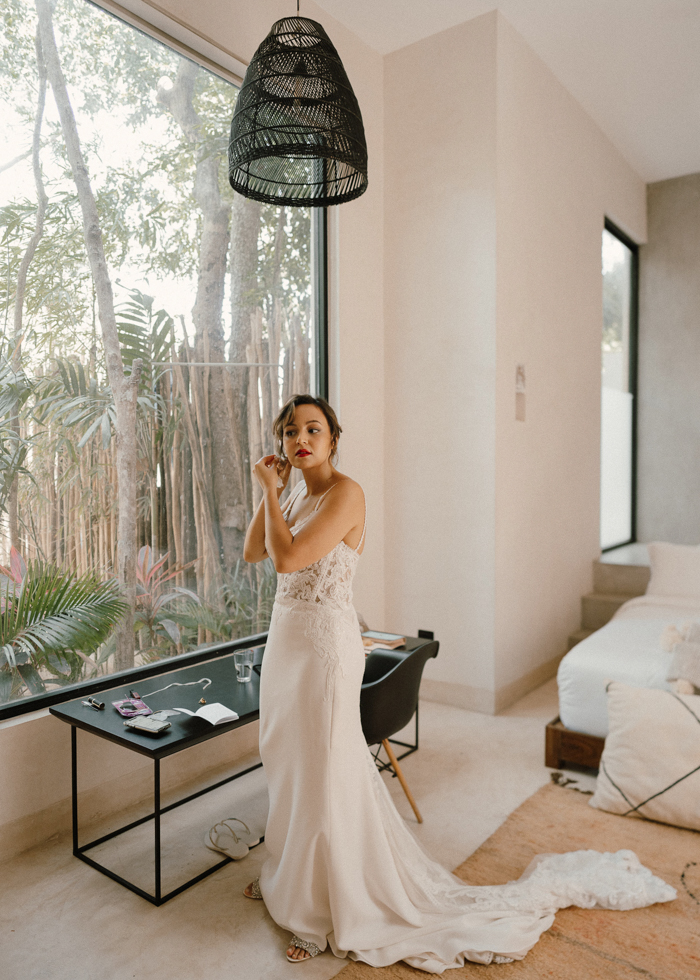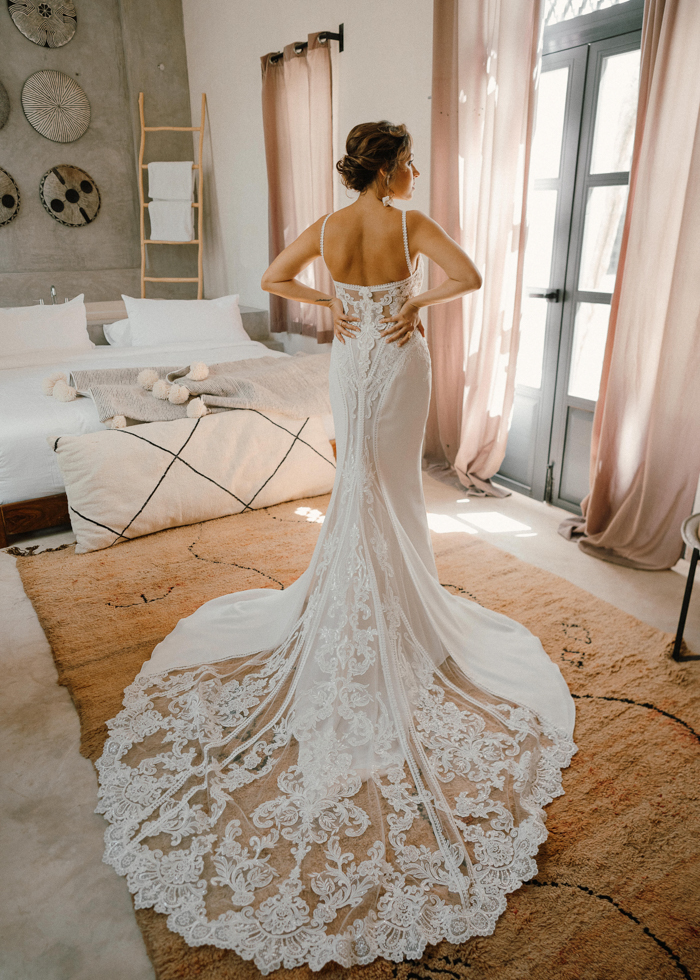 Junebug Members Raw Shoots Captured The Emotions Of Their Big Day In The Most Natural Way
Raw Shoots is so aptly named because no matter what emotion my wife and I were experiencing at the moment, you see it unfiltered in the photos. They looked so effortless. So many photos made Karen and I say, "How did they get that angle? I didn't even know they were there." We weren't posing or trying too hard. And because of that, I can look back on the photos and feel all those feelings again.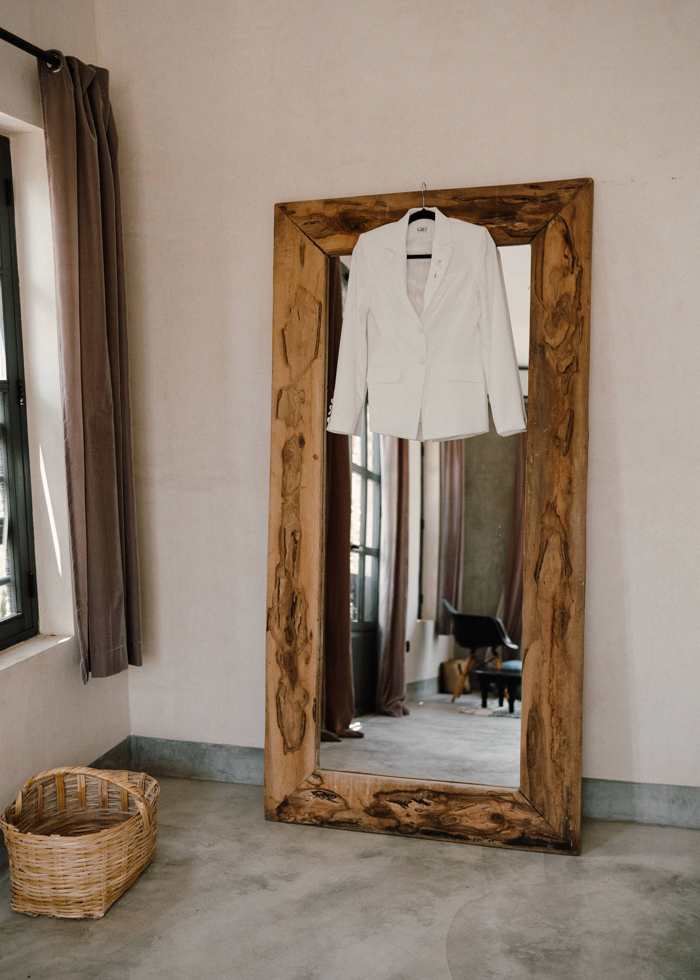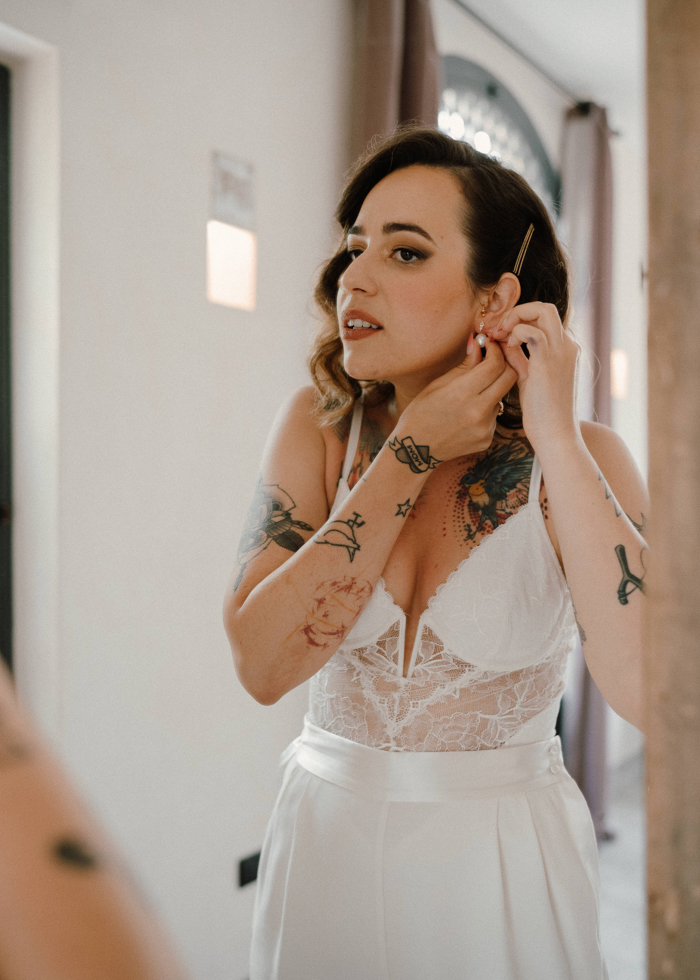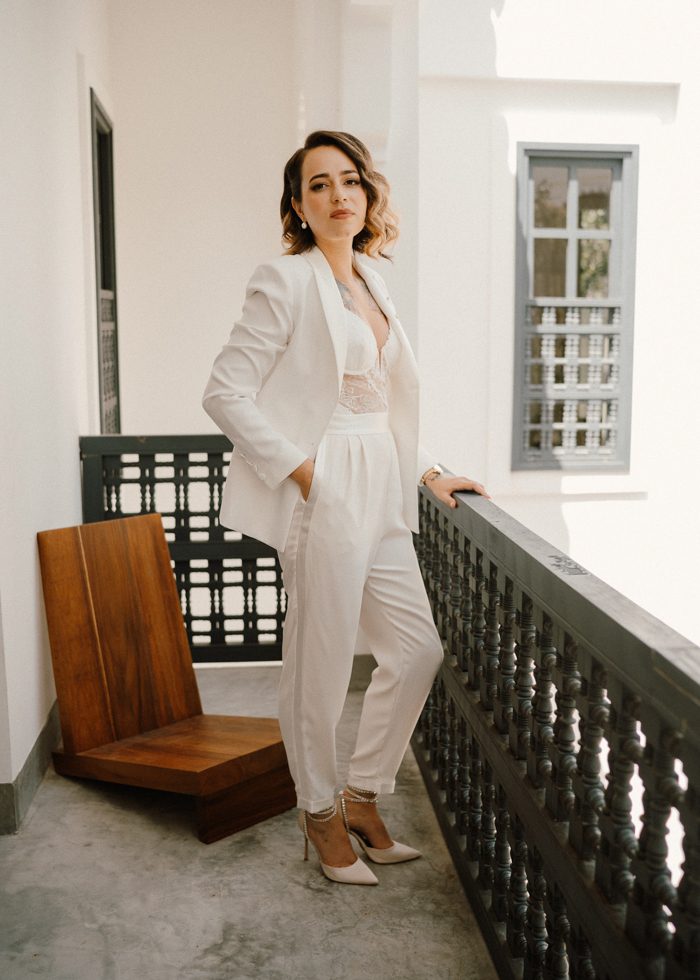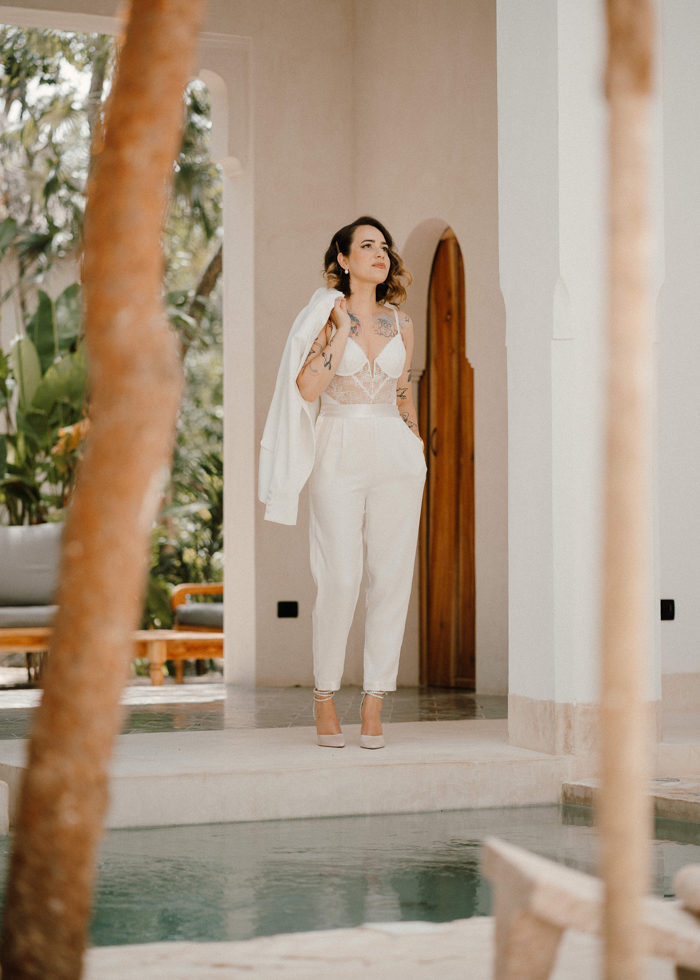 How Their Tulum Micro Wedding Came To Be
Our options for a destination wedding were limited as we got married during the pandemic, so we were lucky to find our venue. We were looking for somewhere to have our ceremony and reception, but we could also stay with our guests for a few days of extended celebration. We also searched high and low to find somewhere that photographed well. We're fans of Moroccan architecture and were floored when we discovered Ambre et Epices on Airbnb.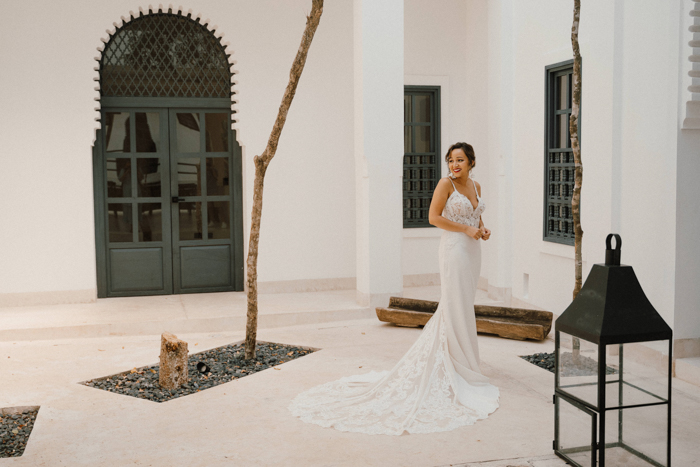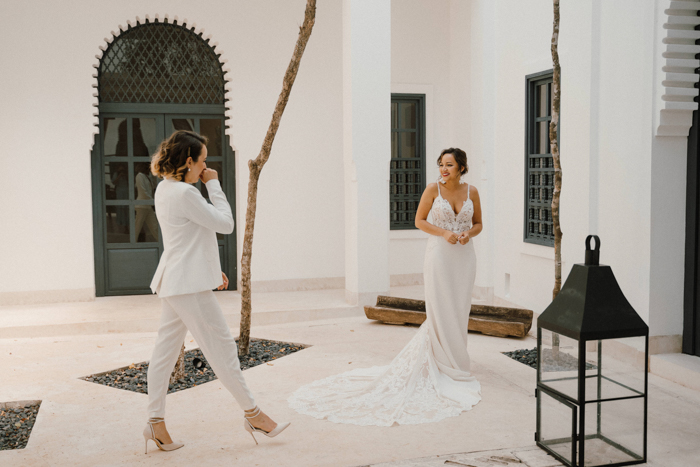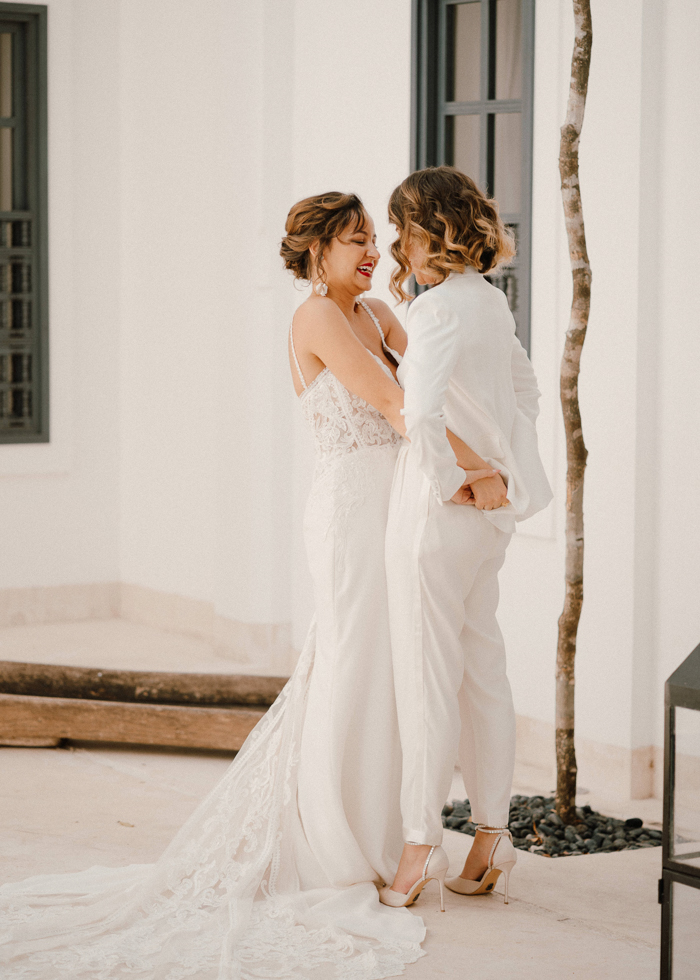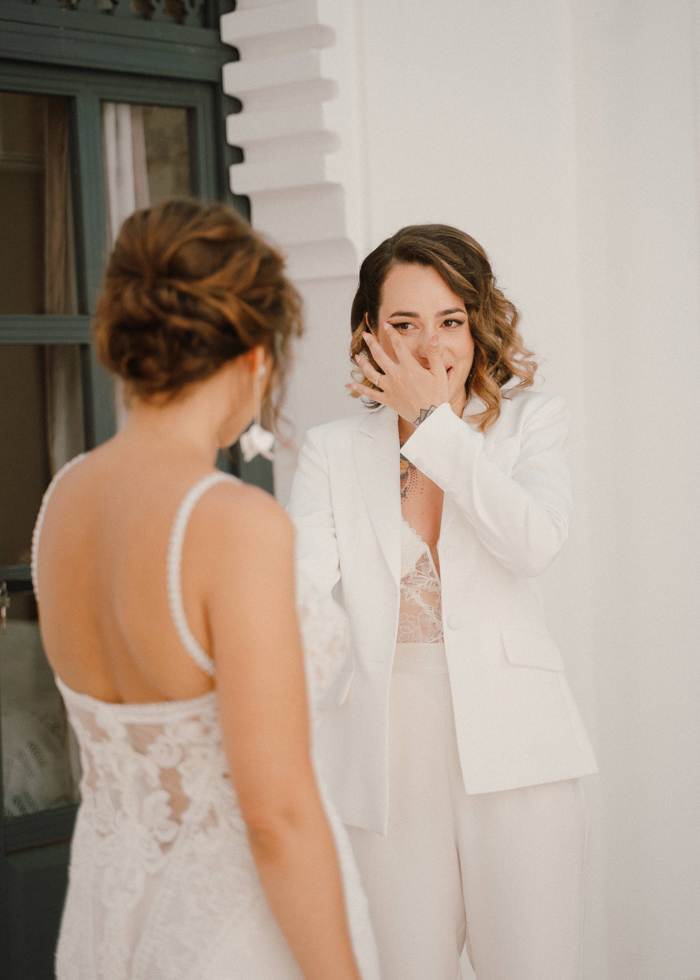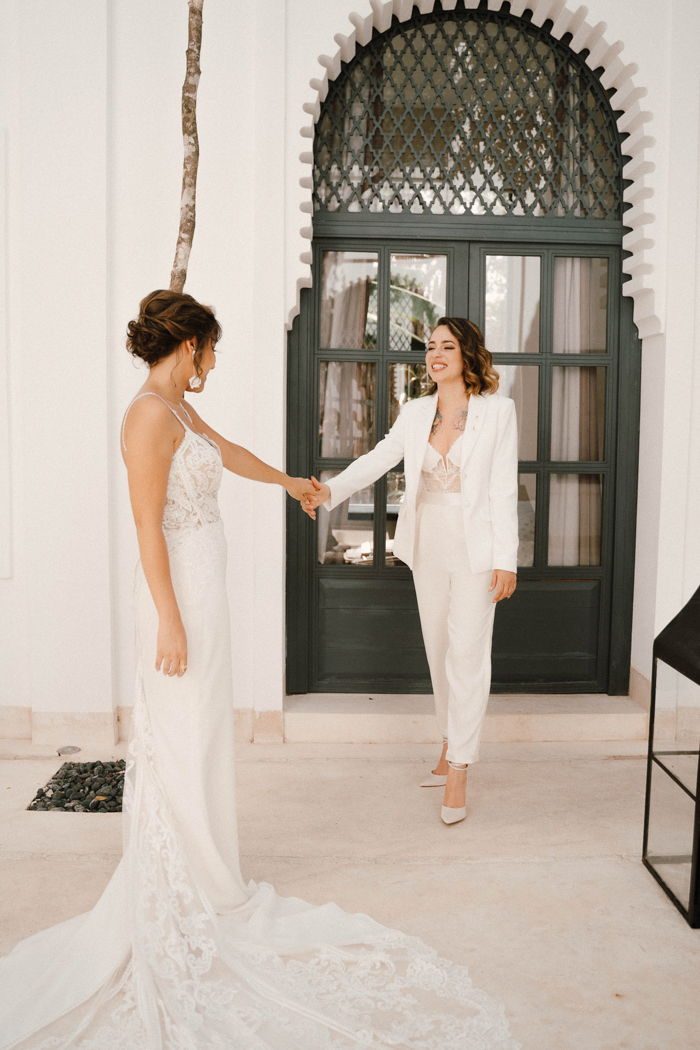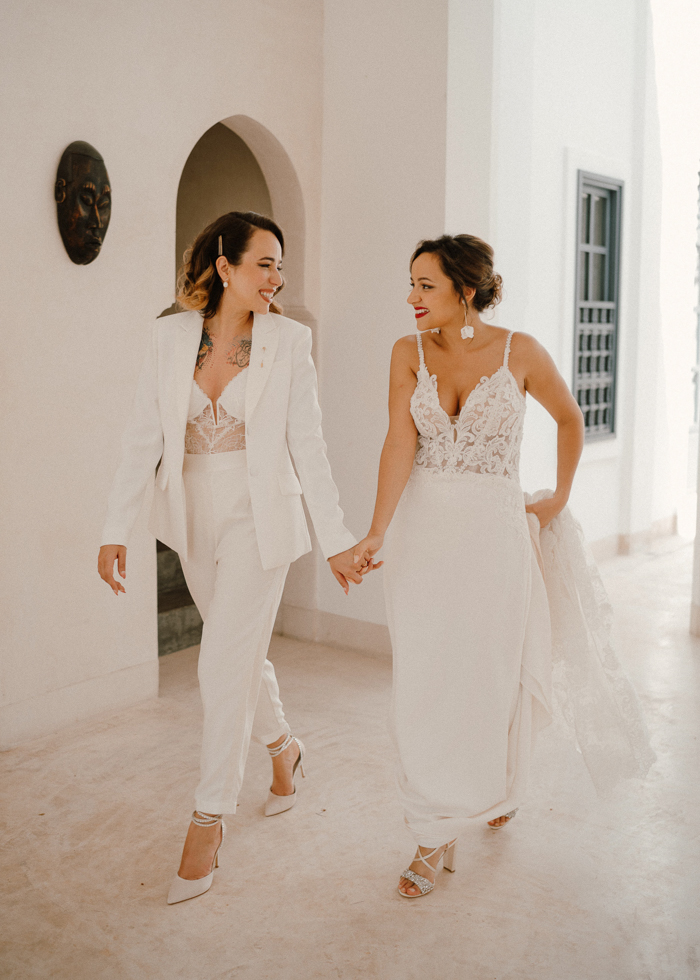 The Emotional First Look Was Their Favorite Part Of The Day
We have so many favorite moments, but one of them has to be our first look. This was a moment that Raw Shoots helped us to plan that we didn't even know we'd find so special. I remember standing in my wedding gown in the courtyard of our venue, turning around to see Karen, and thinking, wow, I've never seen anyone or anything more lovely in my life. As soon as she and I made eye contact, we couldn't look away. We were giddy, giggly, and a bit teary-eyed, too, because it finally hit us that we were about to take this beautiful leap together.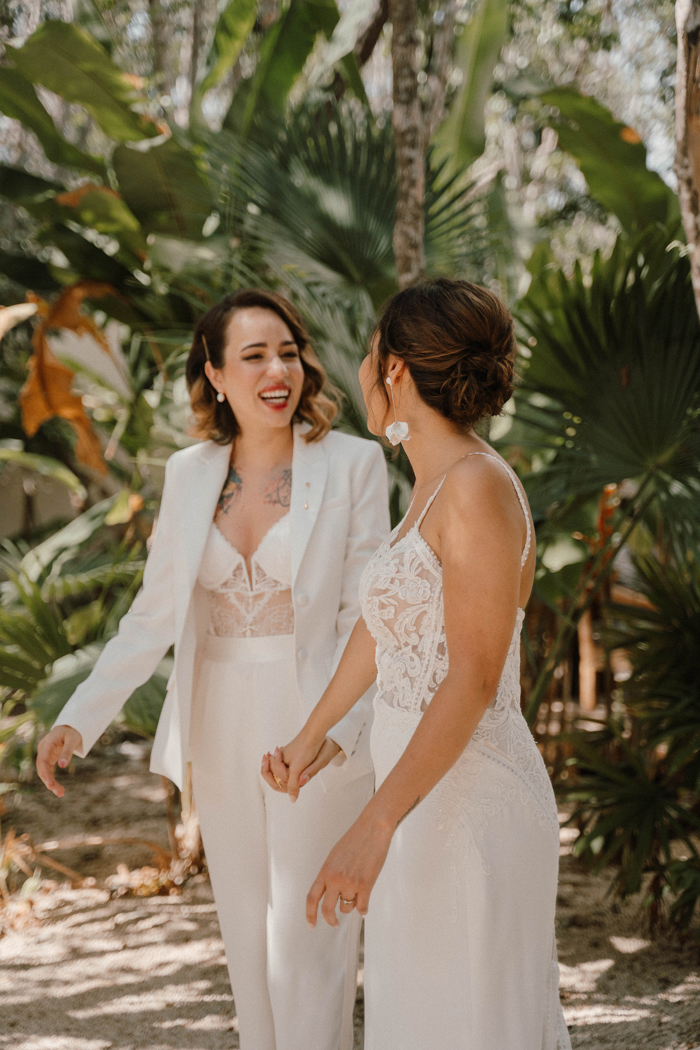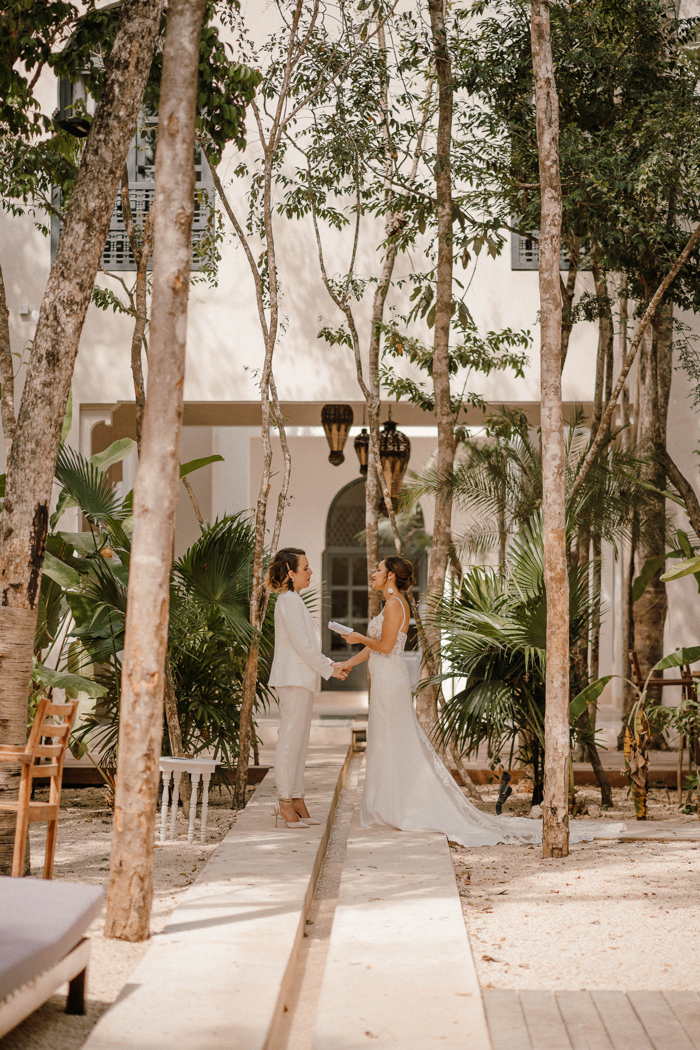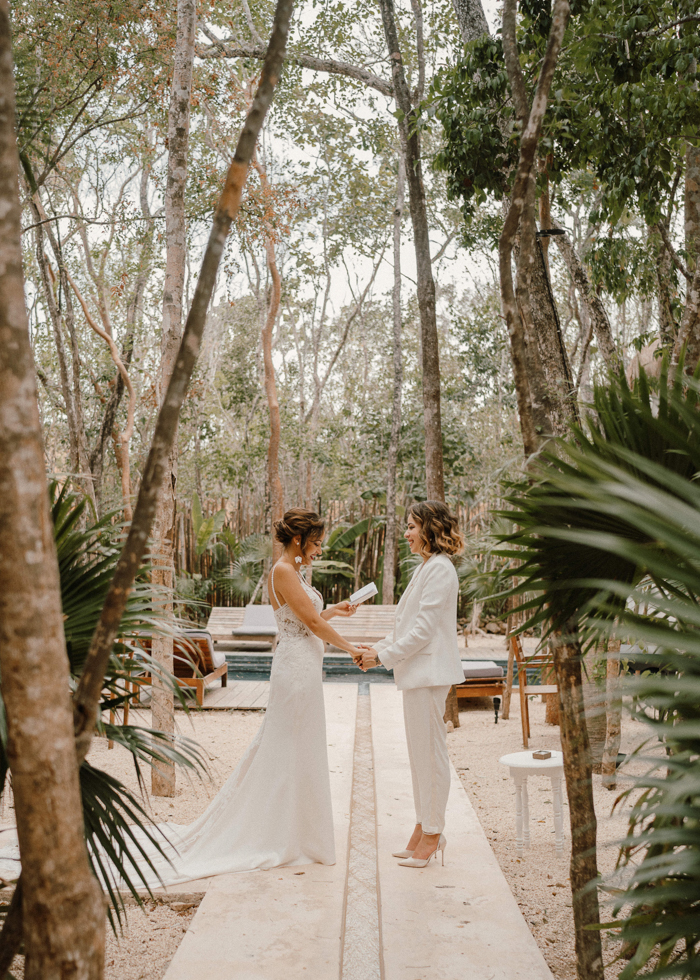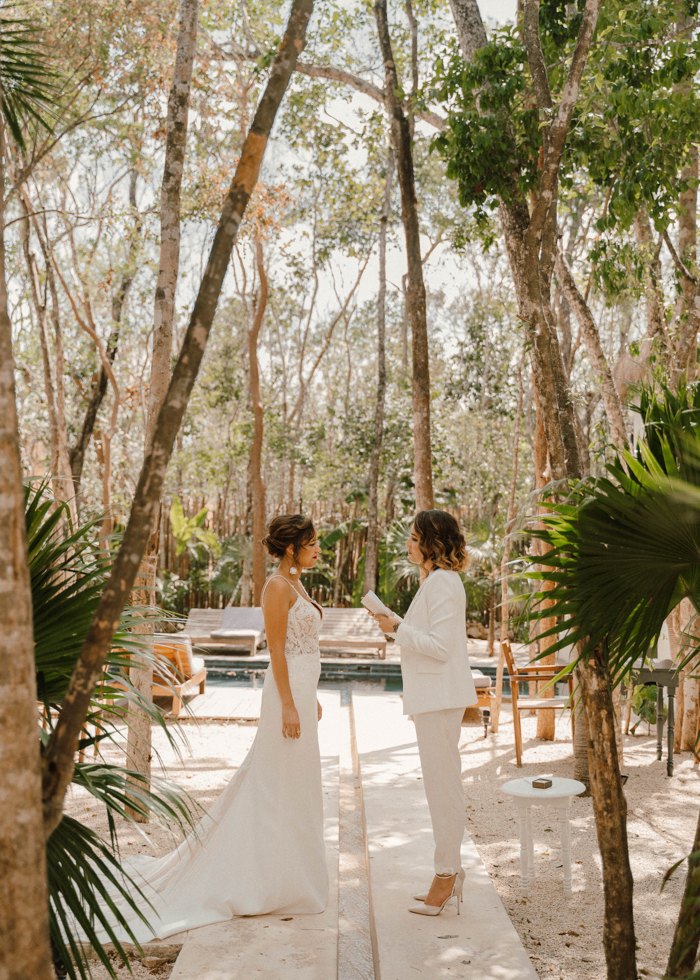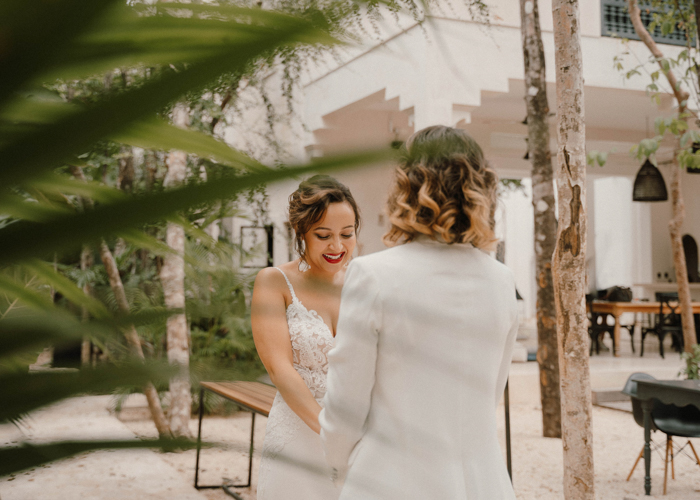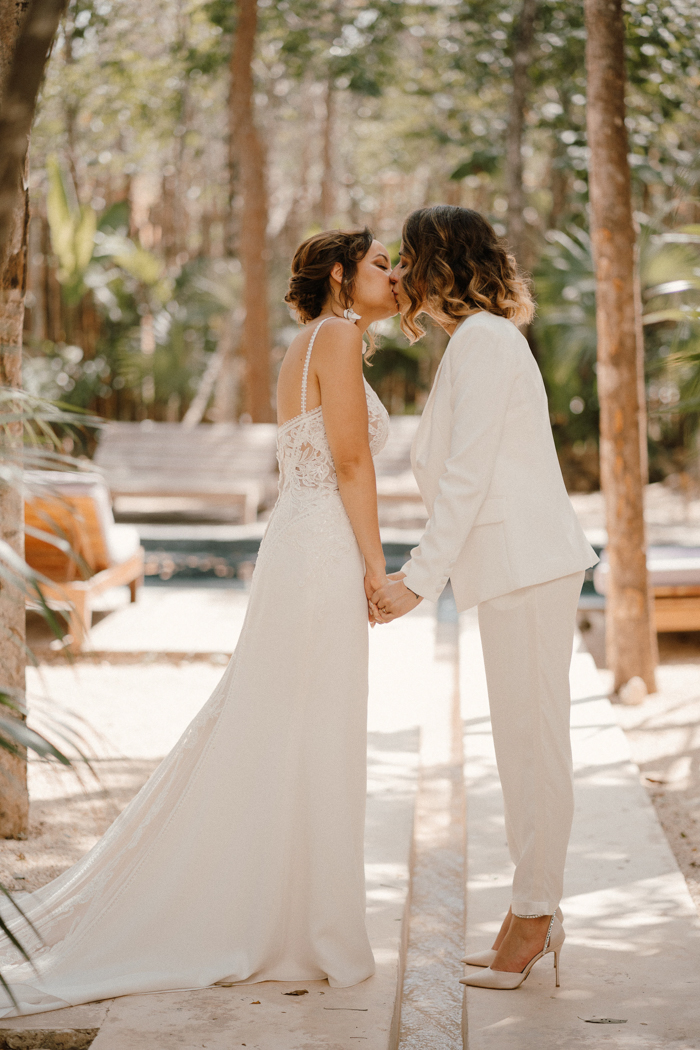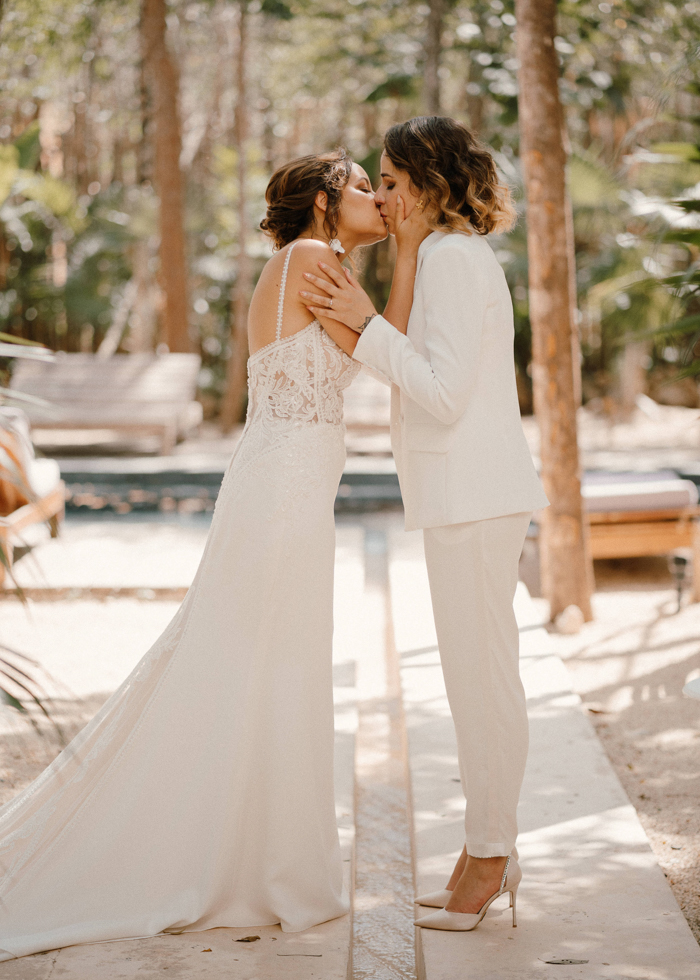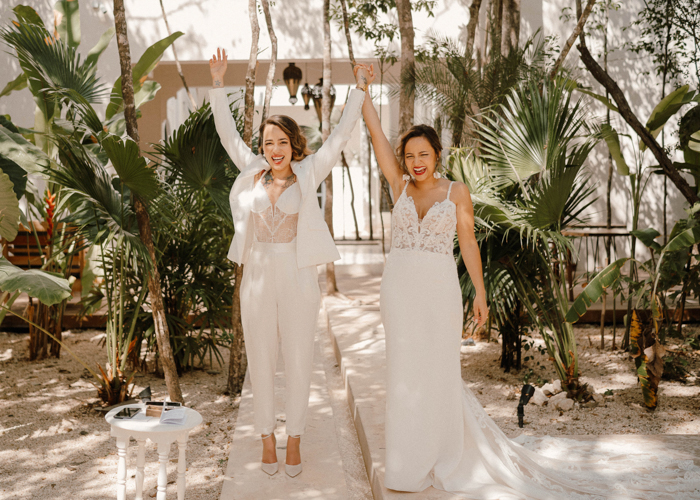 A Private Vow Exchange Between Just The Two Of Them
Our guests arrived at the villa on the day of our vow exchange, but we decided we wanted a private ceremony before guests arrived. Our photographers were the only people who witnessed our vows, and this privacy let us be fully in the moment with each other. When Karen and I heard each other's vows, it was for the first time–we didn't rehearse–so the emotions that came up were beautifully authentic. We both shed quite a few happy tears–props to Prep Tulum for our flawless makeup, which did not budge. Hilariously, Karen and I planned our vows but didn't plan any words for exchanging our rings. So when it came to that point, we both just laughed and slid those babies on each other's fingers.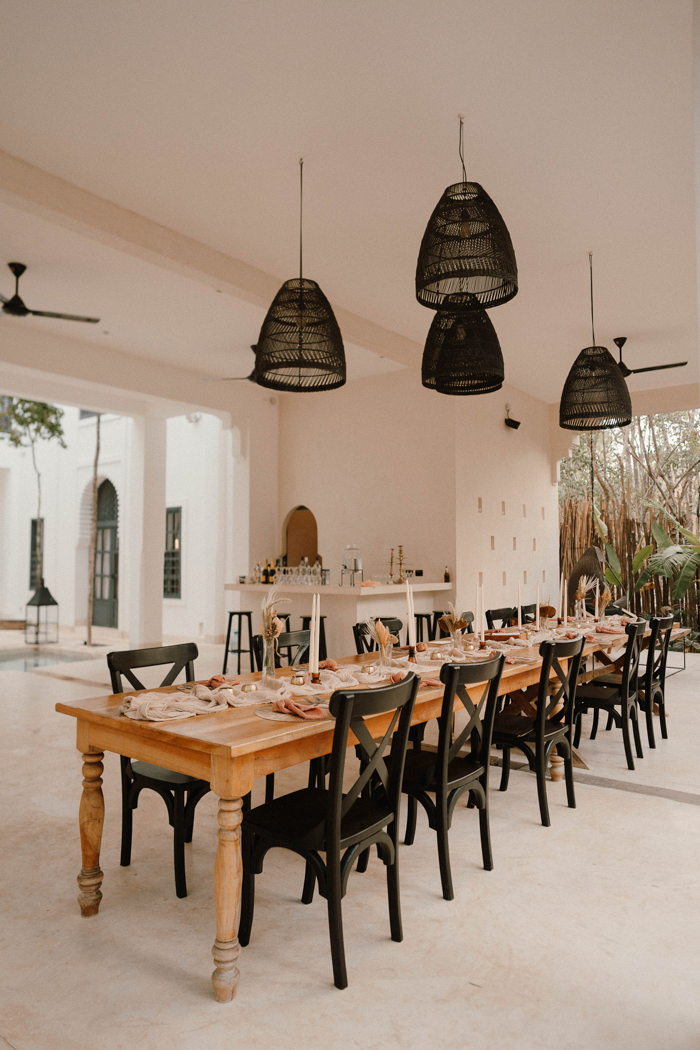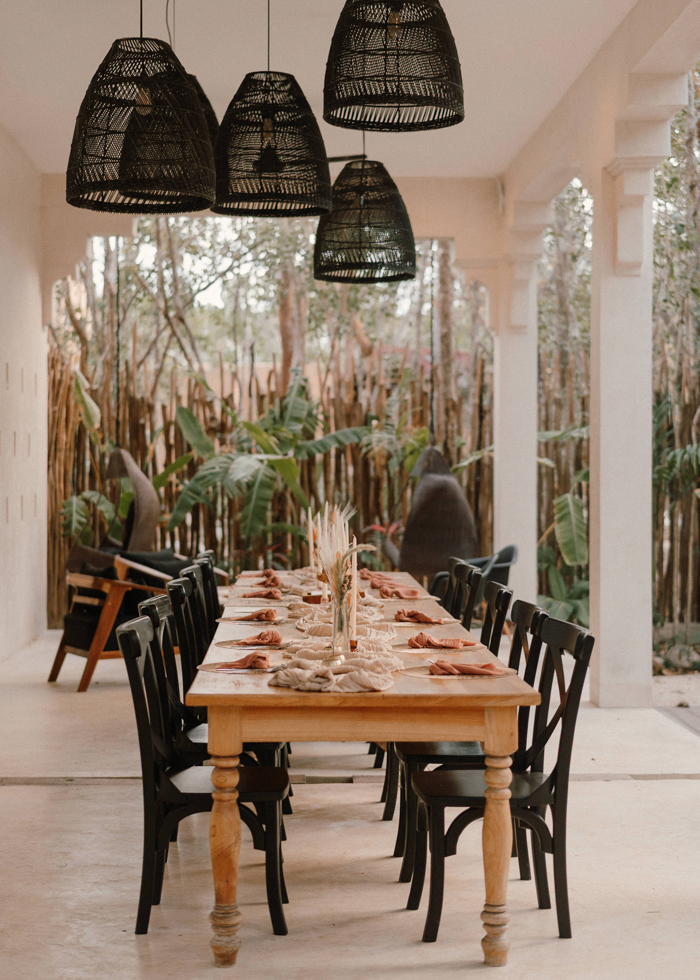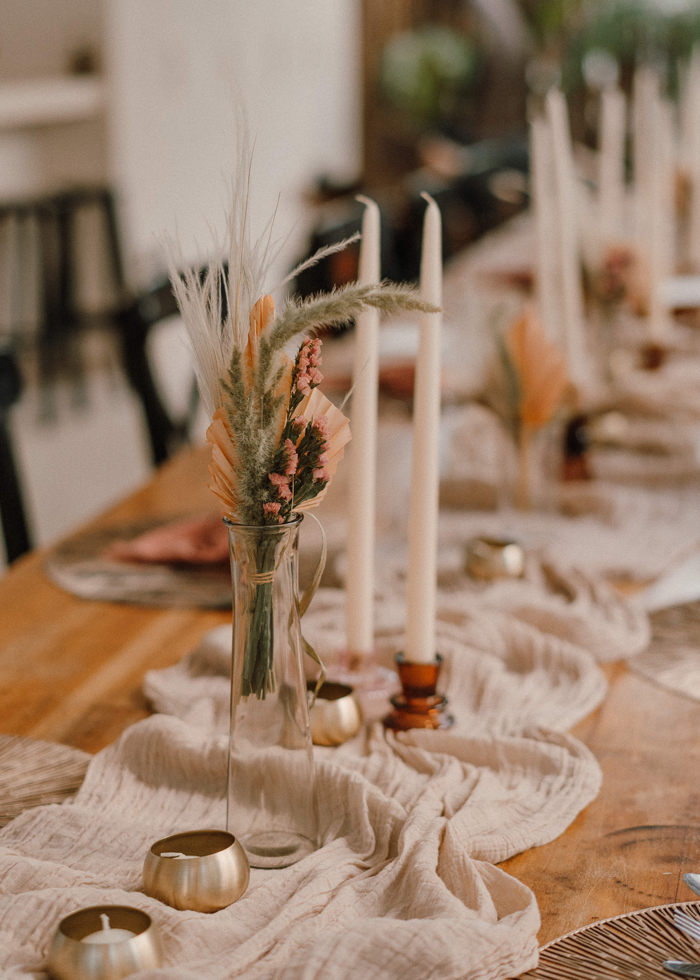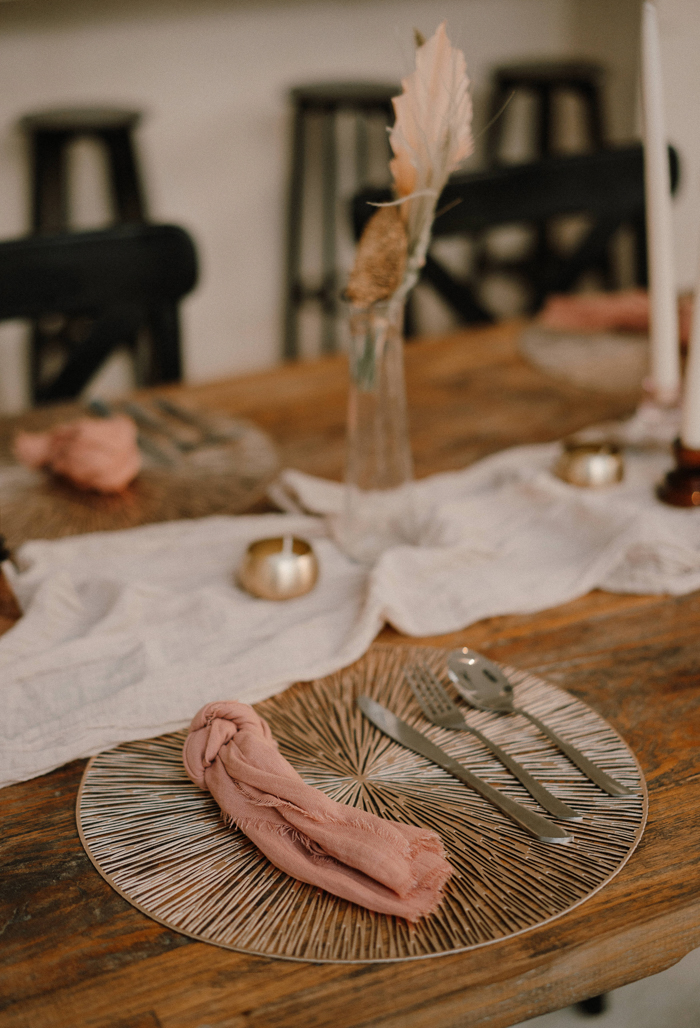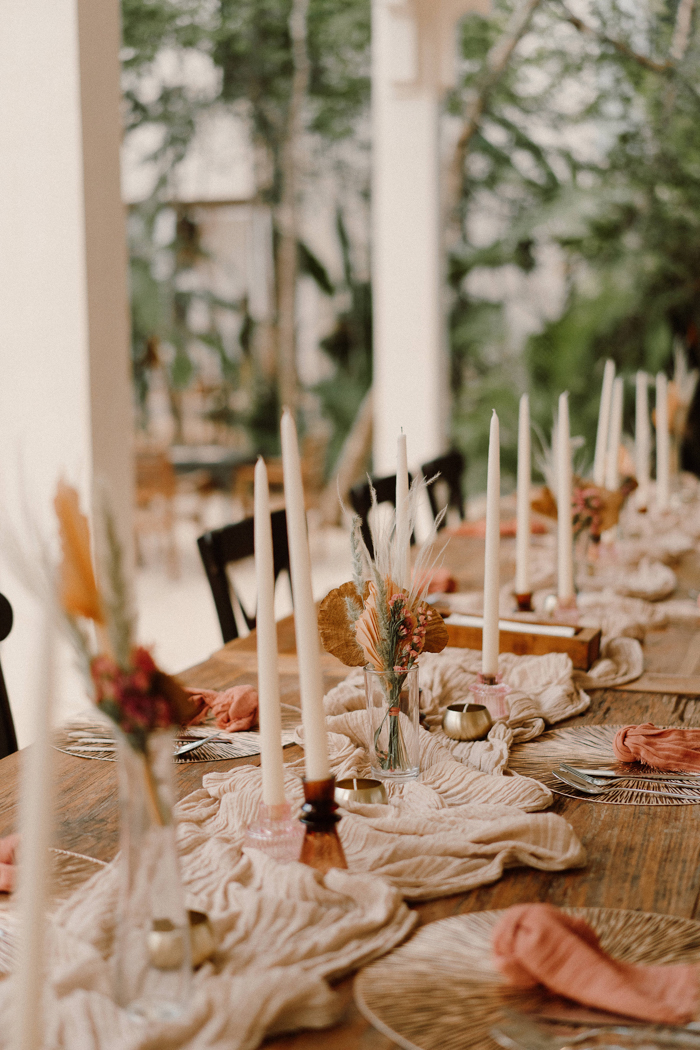 DIY Decor And A Muted Color Palette To Match The Moroccan-Inspired Venue
My wife and I opted for a DIY micro wedding, and we had fun planning the entire thing together down to the last detail. We wanted something effortless yet refined. We chose to decorate minimally, leaning into the venue's stunning Moroccan-inspired architecture and the surrounding natural beauty of Tulum. We gave our guests a suggested dress code of dusty pastels and neutrals and embellished the rustic outdoor dining table with the same muted botanical color palette. We had a very intimate guest list, so we wanted the vibe to reflect that intimacy. Every person had been hand chosen to spend this day with us, so we wanted it to feel luxurious. At the same time, it was important that everyone felt at home, so we kept things simple and not over-produced.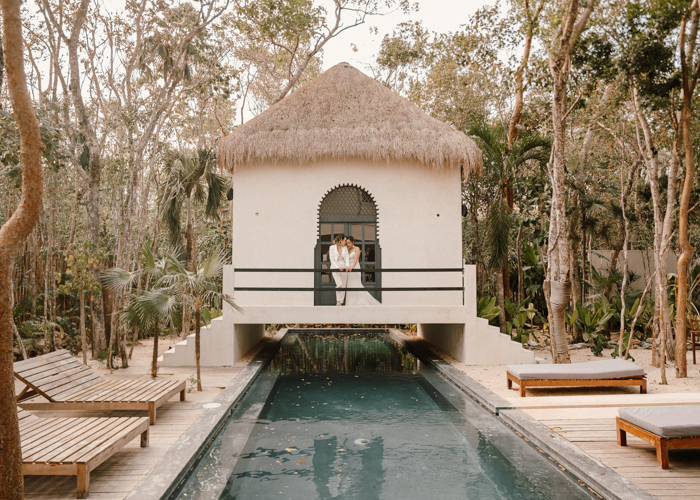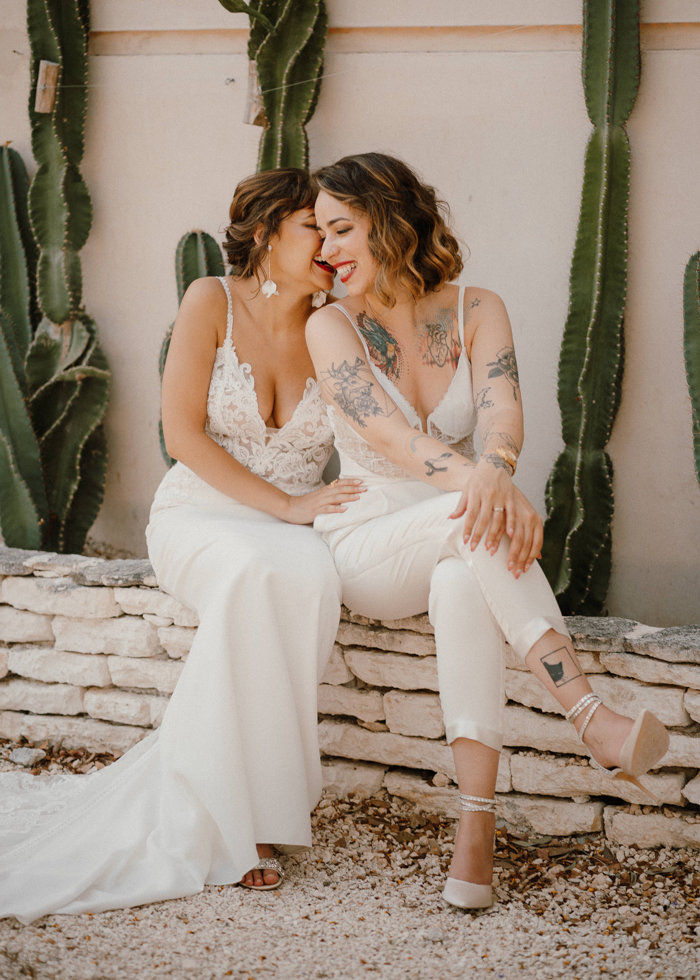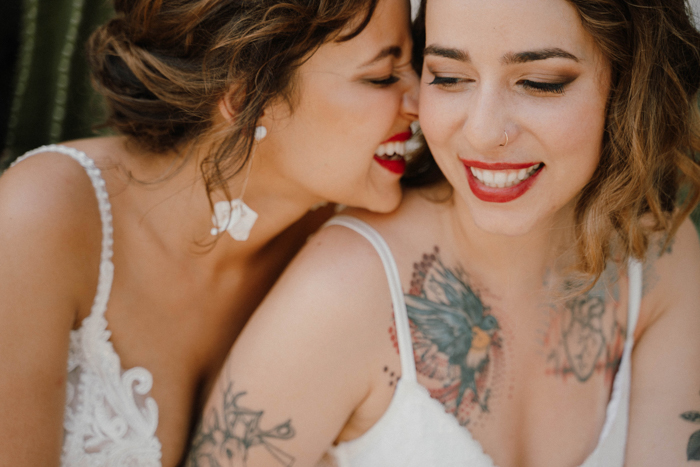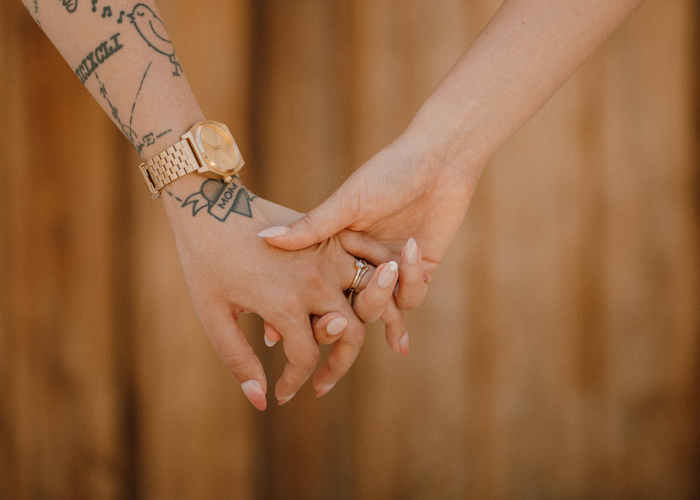 Their Small Guest List Allowed Them To Spend More Quality Time With Everyone
We kept our guest list under ten people to minimize the risk of COVID and keep us from feeling like we constantly had to be "on" for our guests. So, once it came time for the big day, we felt a great deal of peace. Our family members and friends came from different states and countries, and many met each other for the first time. Our guests bonded miraculously quickly, underscoring what a strong union Karen and I have created with one another.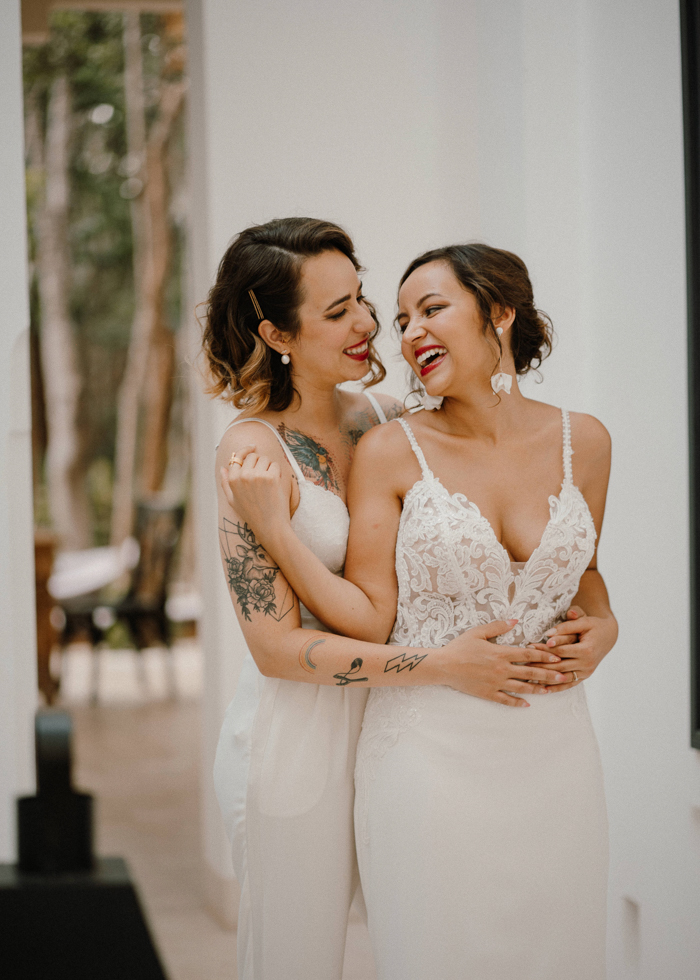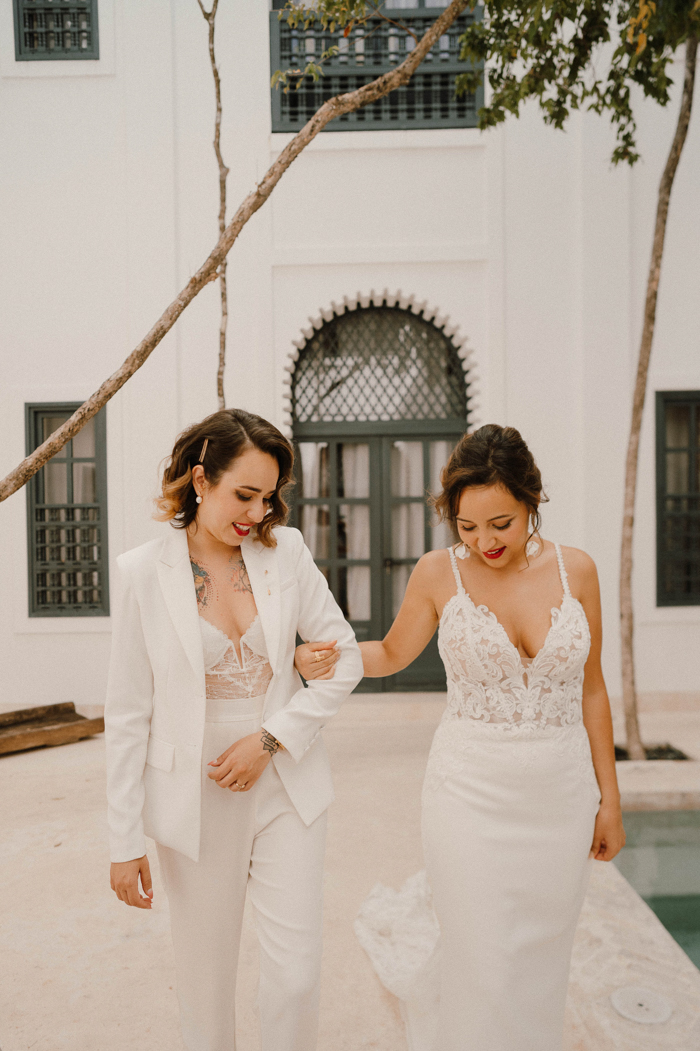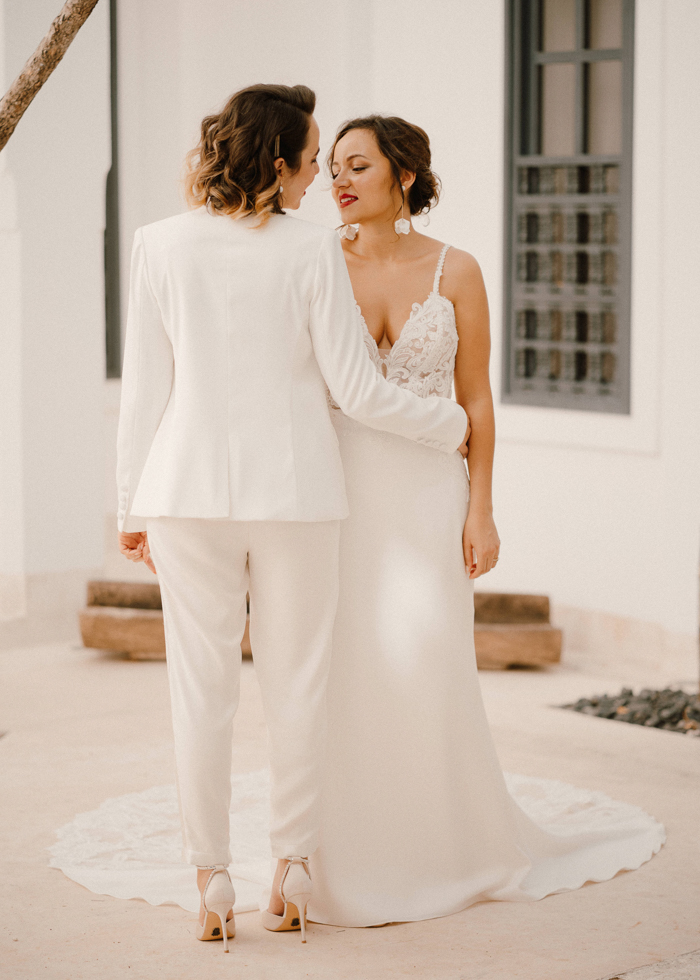 Congratulations to Imani and Karen on their earthy and natural DIY Tulum micro wedding. The beauty of micro weddings is that it allows a couple to slow down, take it all in, and remember what the day is about—marrying the love of your life!
Because of the intimate nature of micro weddings, choosing a photographer who can authentically capture these special moments as they unfold is even more critical. So big thanks to Junebug members Raw Shoots for capturing all the beautiful memories of the happiest day of their lives. To see more of their talent, check out their profile in our directory of photographers from around the world.