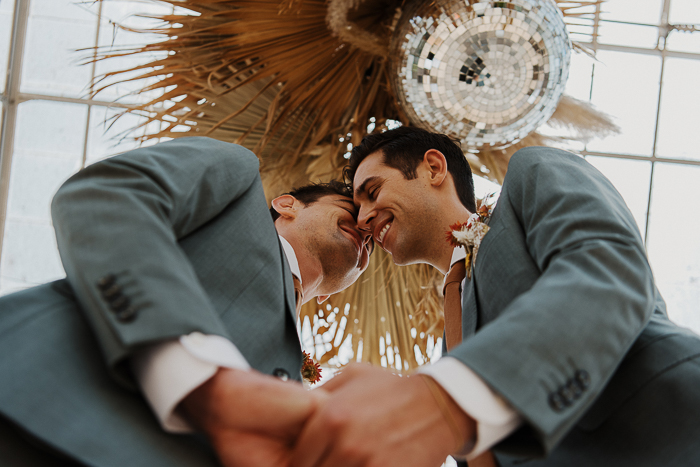 Emulating California's golden hour through a color palette of caramel, coral, and peach, Patrick and Connor's Orchid Farm wedding was filled with unique DIY details all done within three months! Due to the pandemic, the pair had to push their wedding date a year. But, with the help of their planner Anthology Studios, they pulled off a whimsical disco party with their closest loved ones.
Using eye-catching arrangements by Desert Rose Florals to frame the Pacific Ocean and the Santa Barbara coastline, the dashing grooms exchanged heartfelt vows in a breathtaking clifftop ceremony. After tying the knot, their dazzling greenhouse reception featured a floating installation of mixed dried foliage, fresh blooms, and glittery disco balls.
From the handcrafted earthy and retro accents down to the epic fashion, the love, effort, and creativity the couple poured into their big day will blow you away. Scroll through these captivating images by Morgan McCanne and be prepared to see some serious oceanside meets greenhouse wedding inspiration.
The Couple:
Connor and Patrick
The Wedding:
Dos Pueblos Orchid Farm, Santa Barbara, CA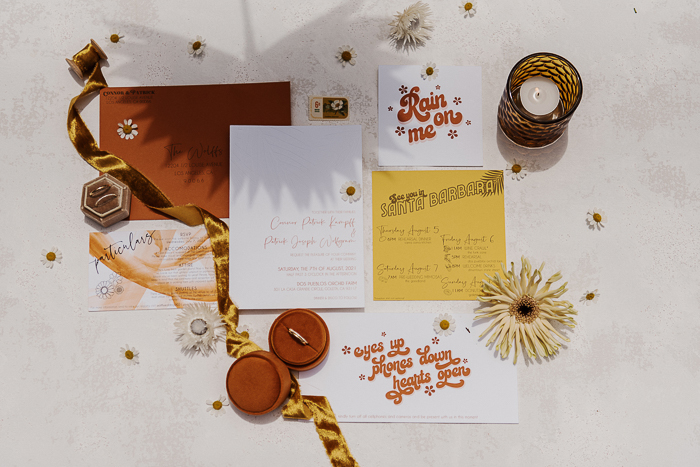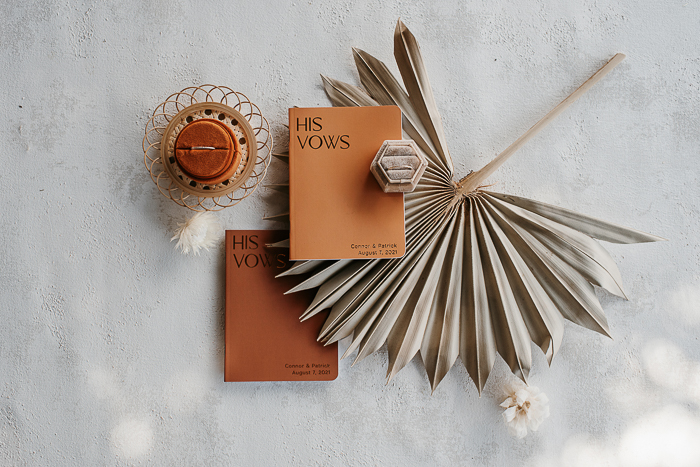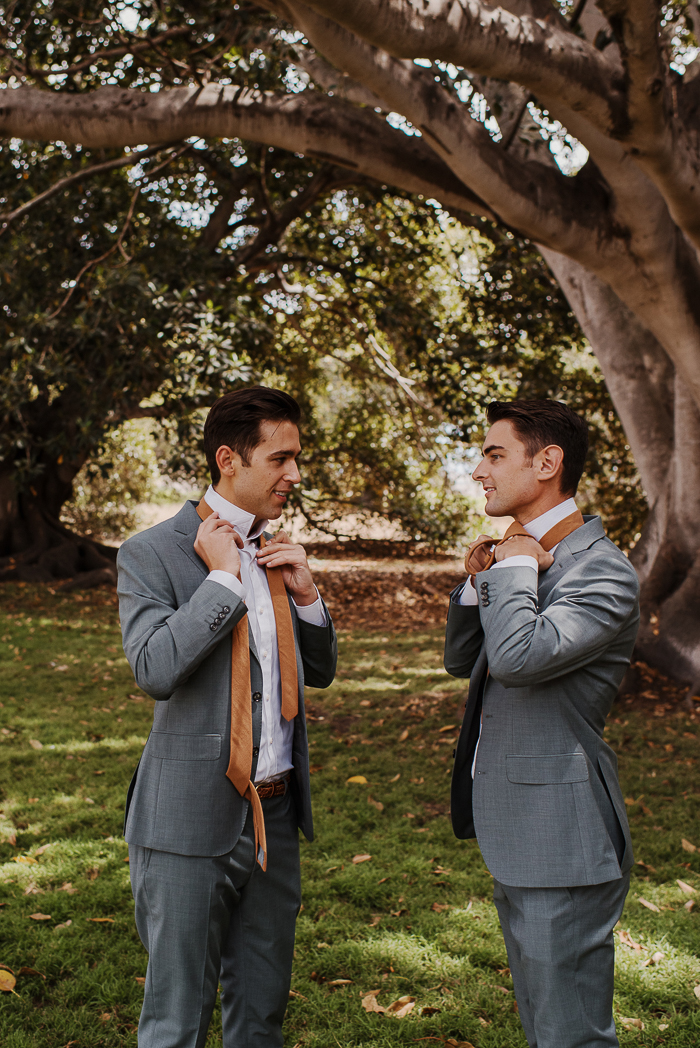 Why They Chose To Have An Orchid Farm Wedding
We saw our venue on a few wedding blogs in late 2018. After some digging, we found the name and contact on Yelp and set up a walkthrough. We visited and instantly fell in love. The California coastline ceremony site and greenhouses for cocktails and reception were everything we were looking for. We knew we wanted to get married in the Santa Barbara area, so we researched other venues but always came back to Dos Pueblos Orchid Farm.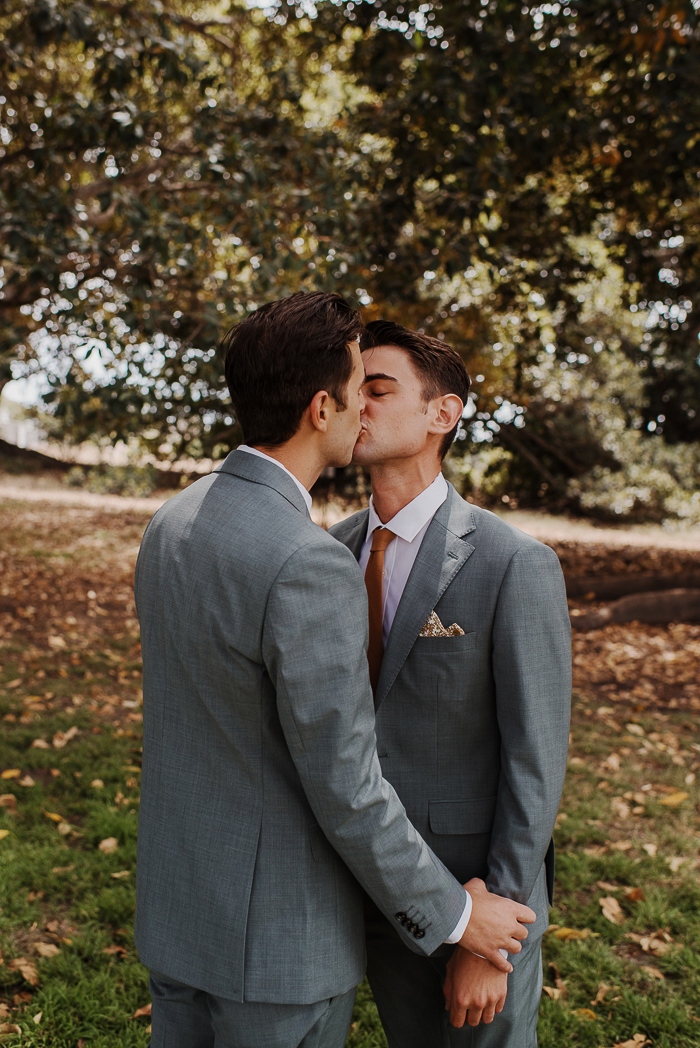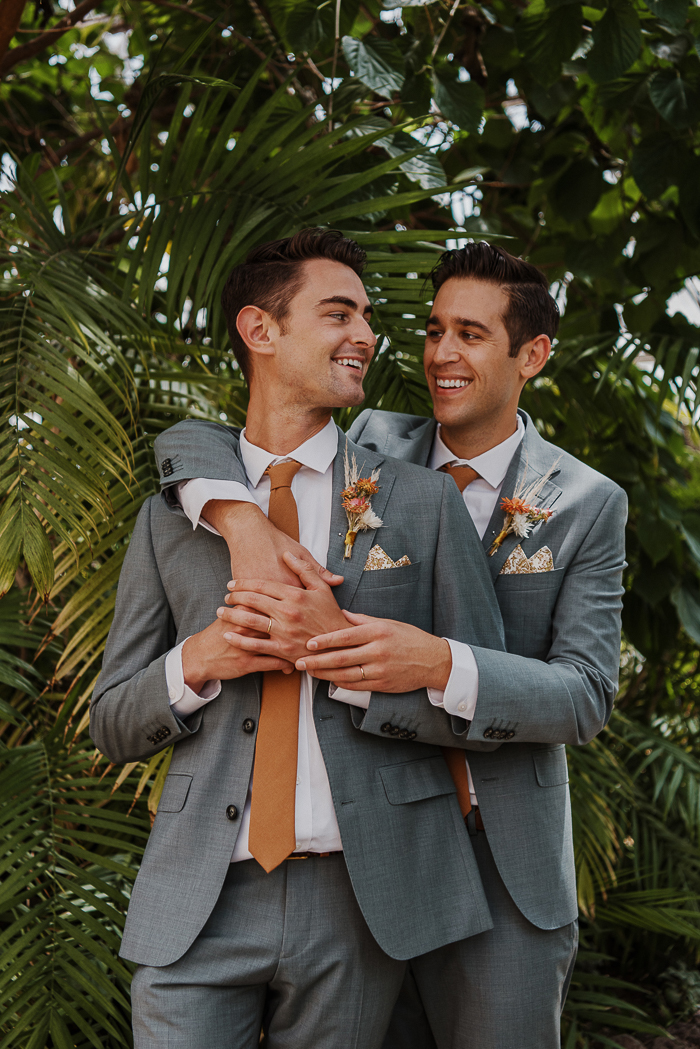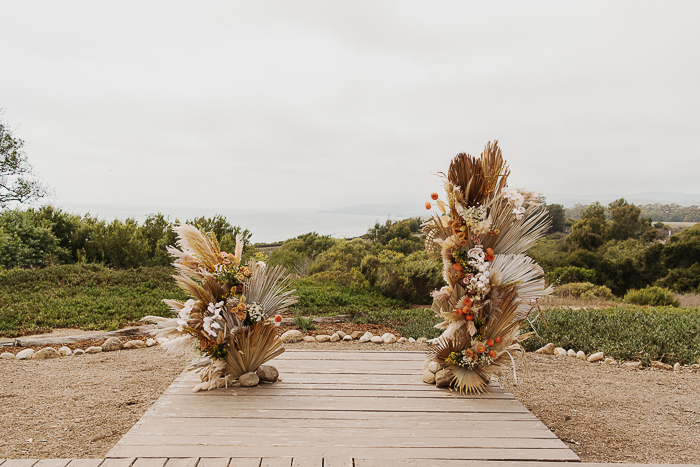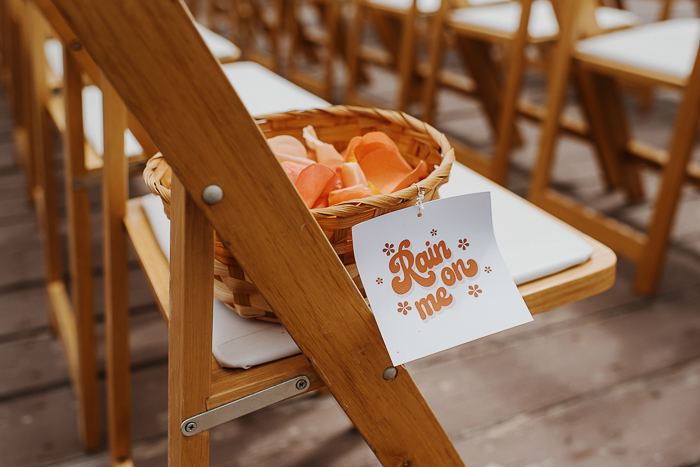 Personalizing Their Ceremony By Writing Their Own Vows And Including Their Loved Ones
At the beginning of the ceremony, we had our wedding bands passed throughout our guests for them to impart good vibes and best wishes before our vows and placement of the rings. Our dog was our flower girl, too! She loved greeting the guests and being the center of attention. I also loved our vows. We wrote them separately, but the similarities showed just how aligned our brains are. We laughed and cried and it was such a loving moment.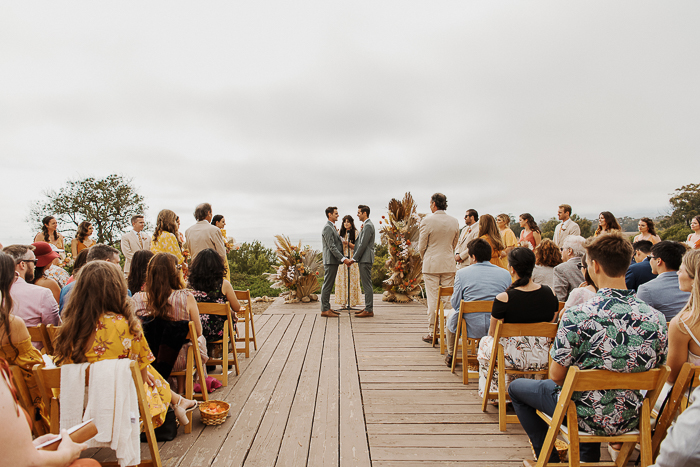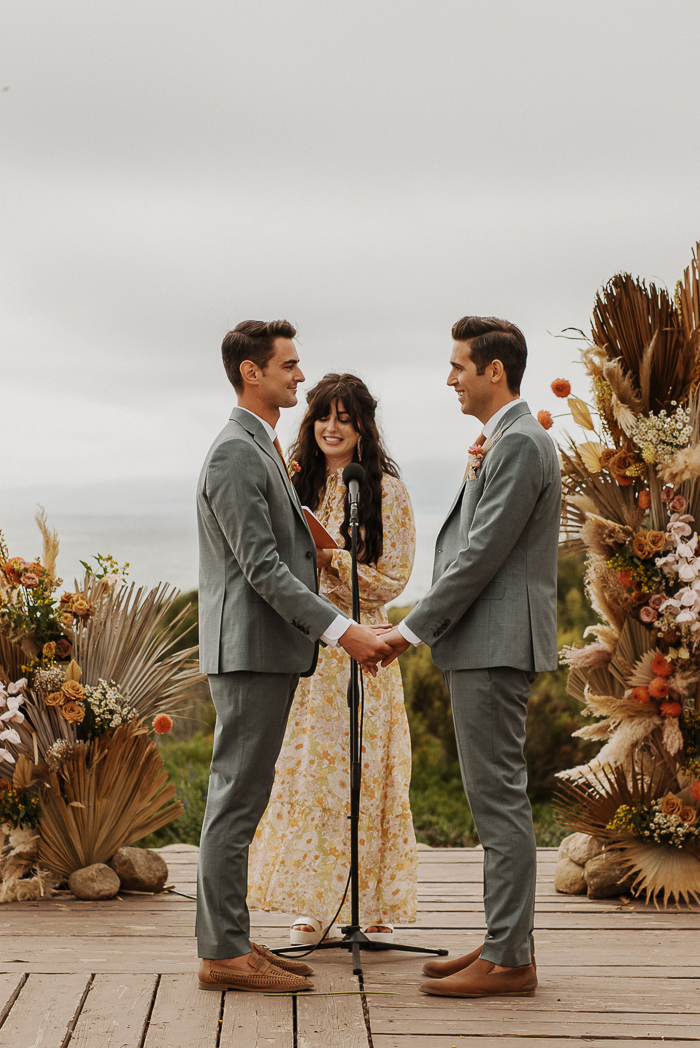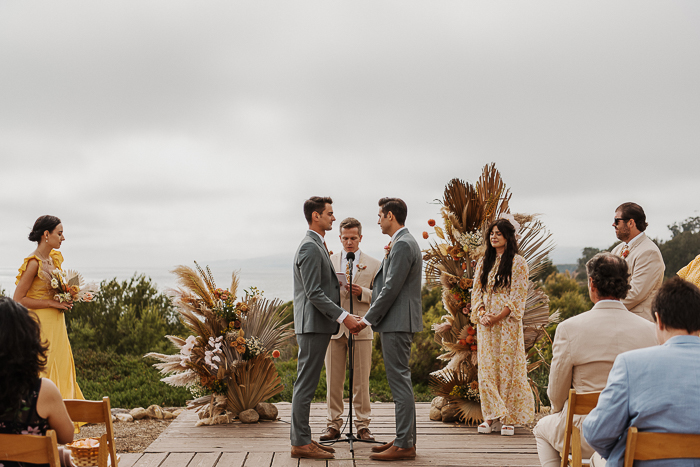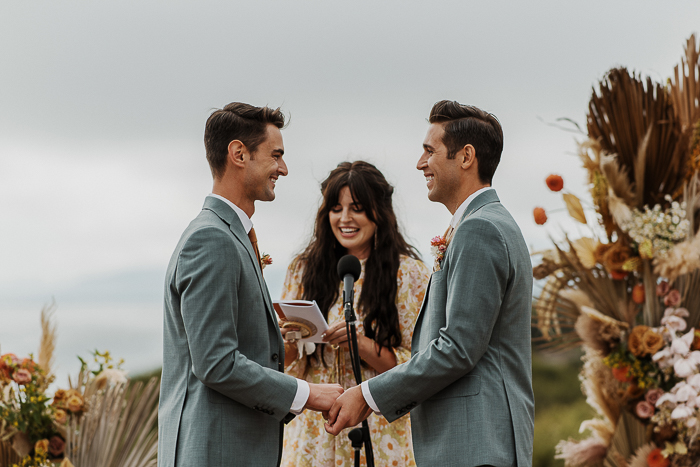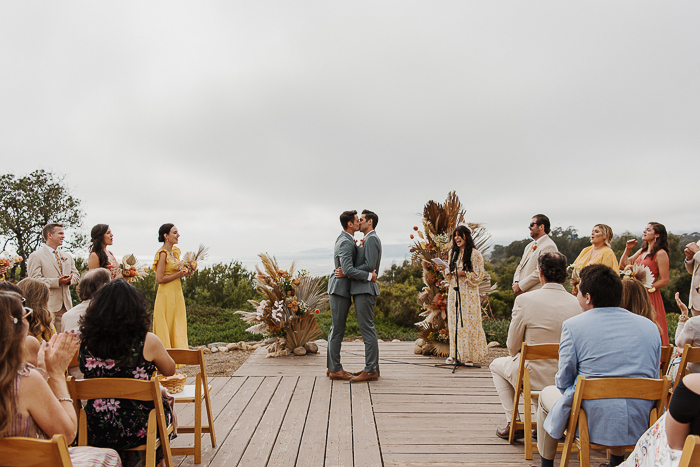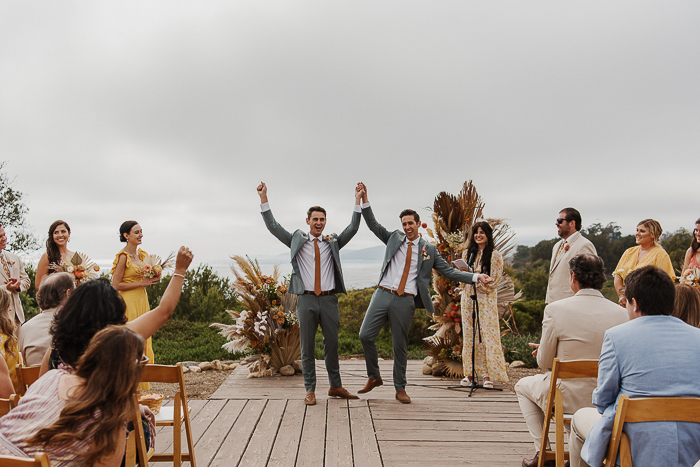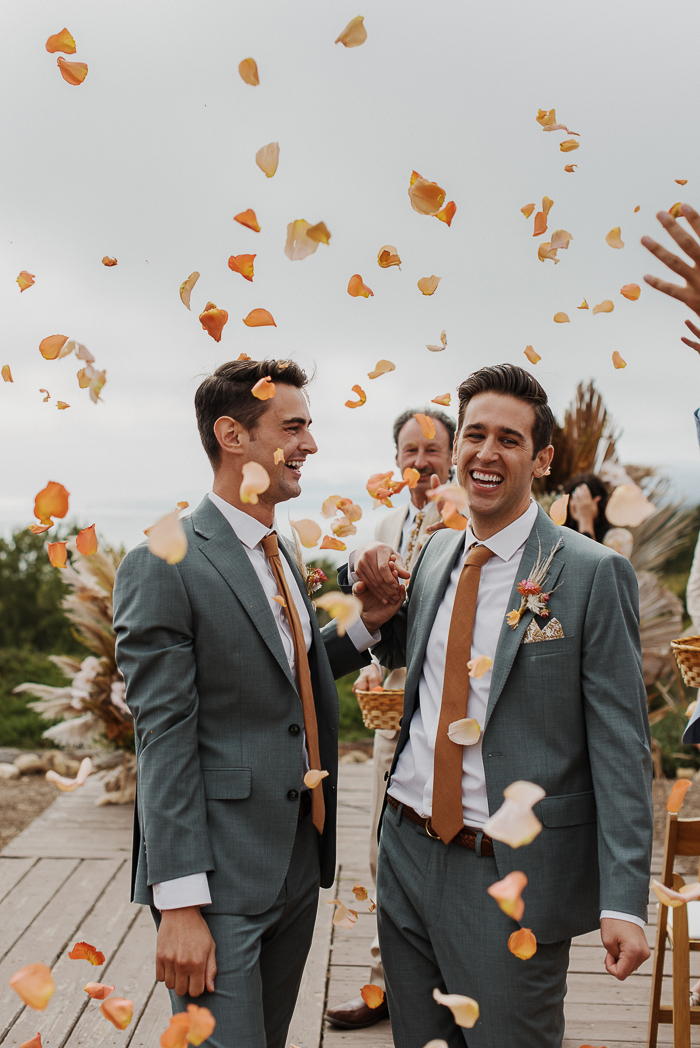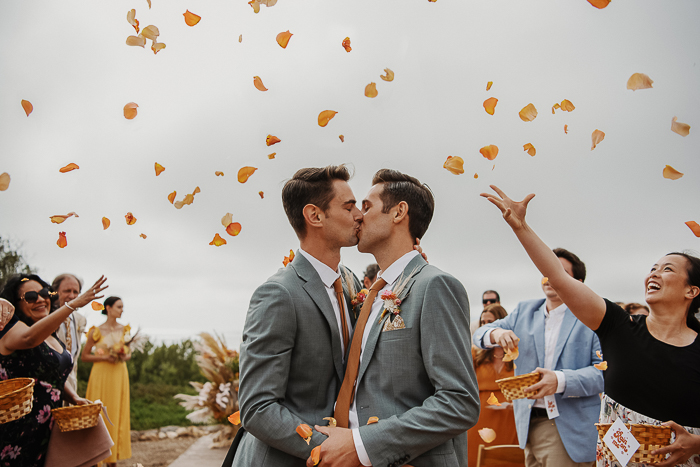 How The Couple Added All Of The DIY Touches To Their Orchid Farm Wedding
We didn't go into wedding planning thinking we would DIY as much as we did, but we had such a specific vision that it was easier for us to create these goods rather than compromise the look we were going for. When we didn't see premade elements online, we took it into our own hands and made them ourselves. Thanks to Photoshop and a Cricut, we made all the paper goods and signs. We also designed and made our escort card installation, hand-sewed table overlays, made bracelets for our wedding party, and constructed custom signage stands.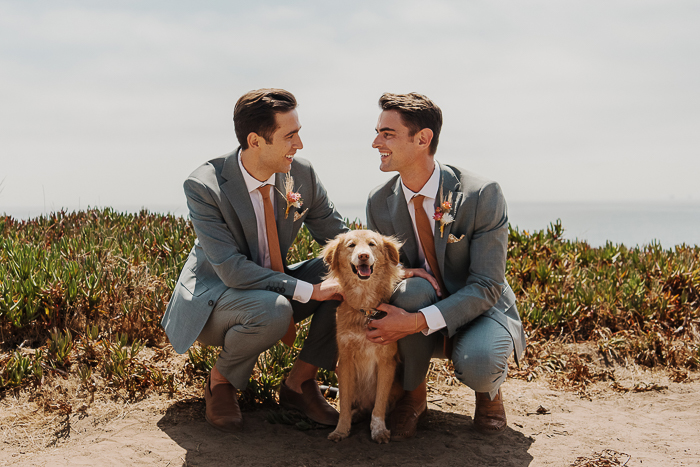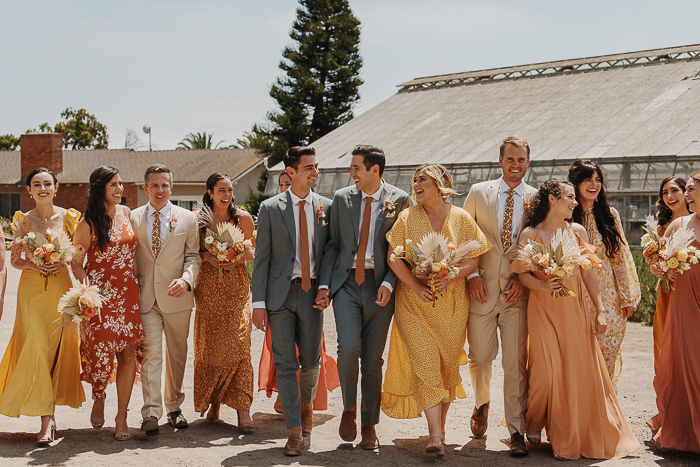 Shop similar bridesmaid dresses: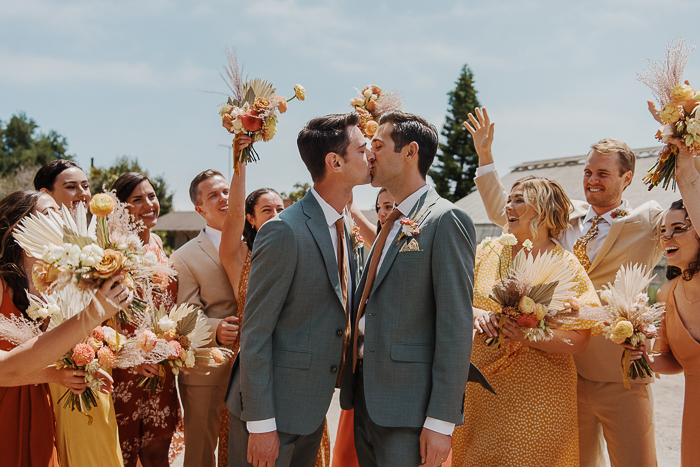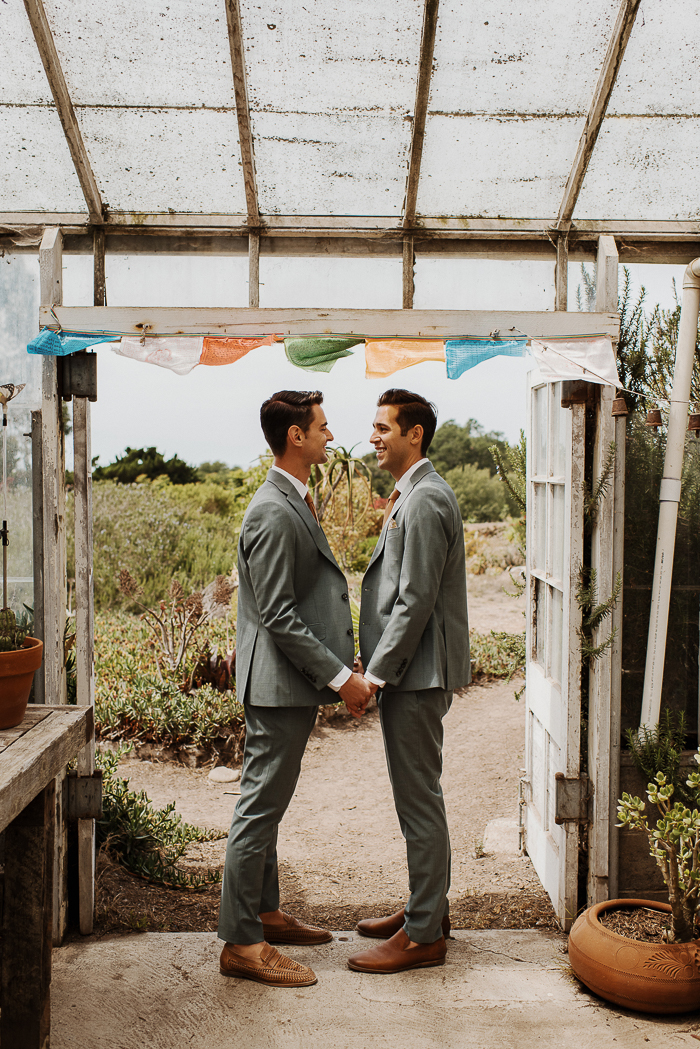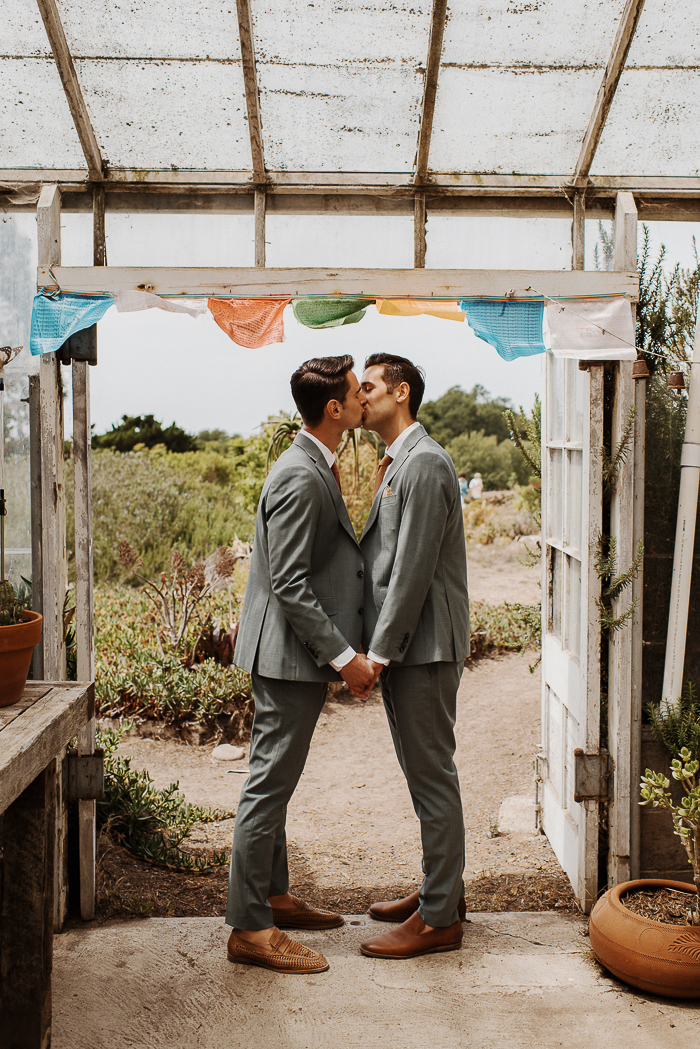 A DIY Wedding Was A Lot Of Hard Work But A Rewarding Experience
We're proud of everything we handcrafted to make our pretty specific vision come to life. It was a lot of work and time, but we love how everything came together. I know everyone says to let go of everything at the start of your day so you can fully enjoy it, but to be honest, since we were so heavily involved with the gritty details, it didn't happen so easily for us. I remember heading down to the ceremony site and seeing all of our friends and family having a good time, waiting for us, and remembering feeling all of the stress melt away. It was like a button clicked off, and we could finally let go.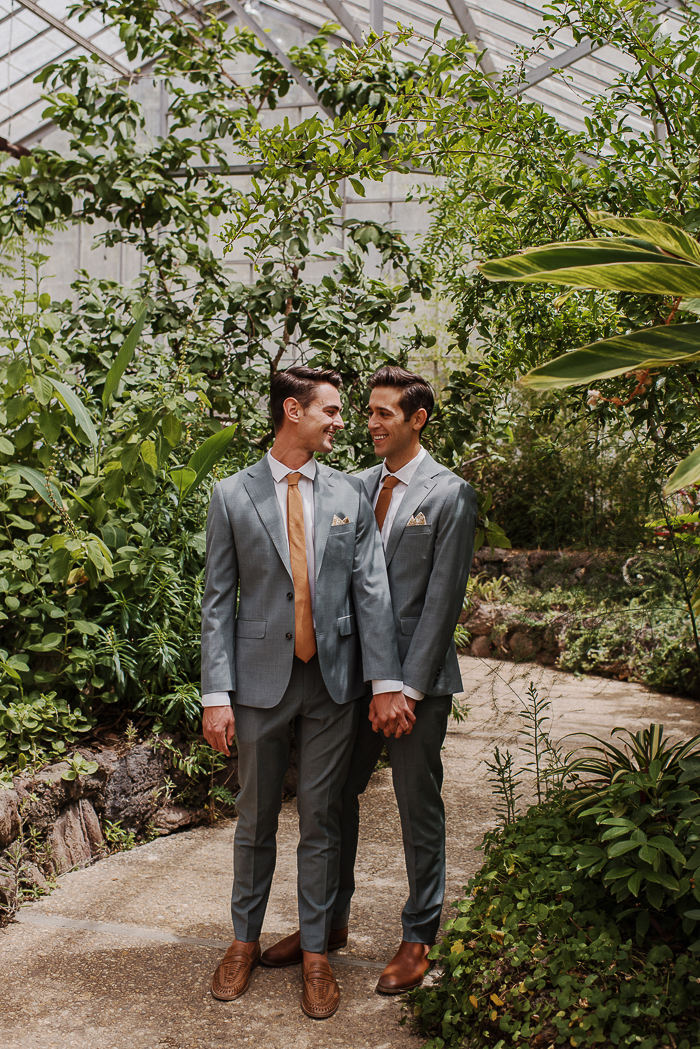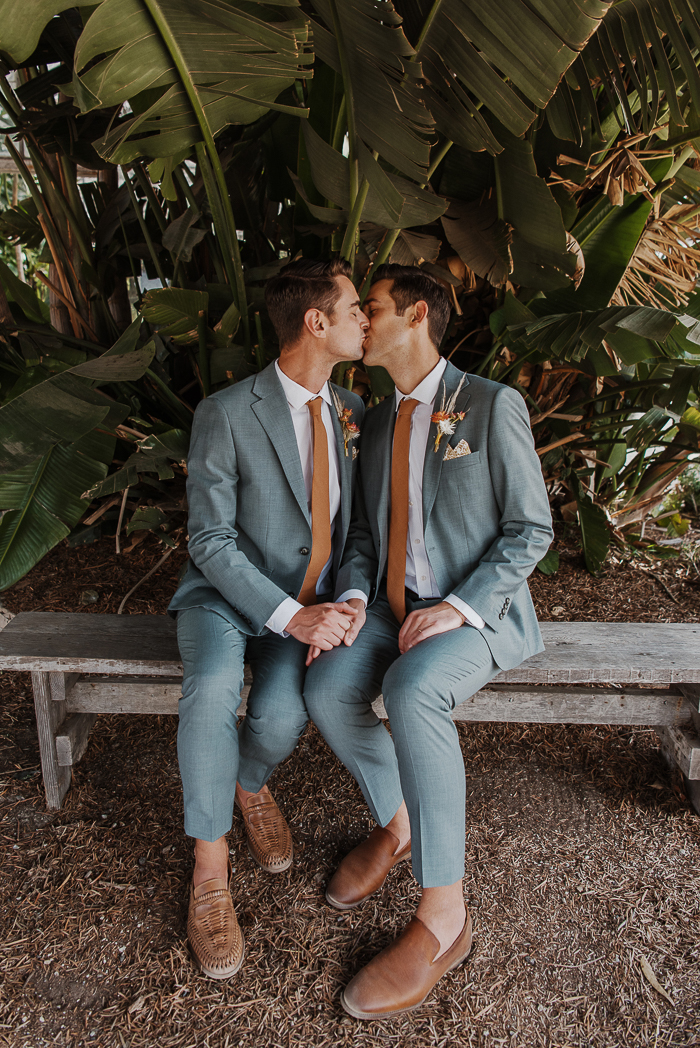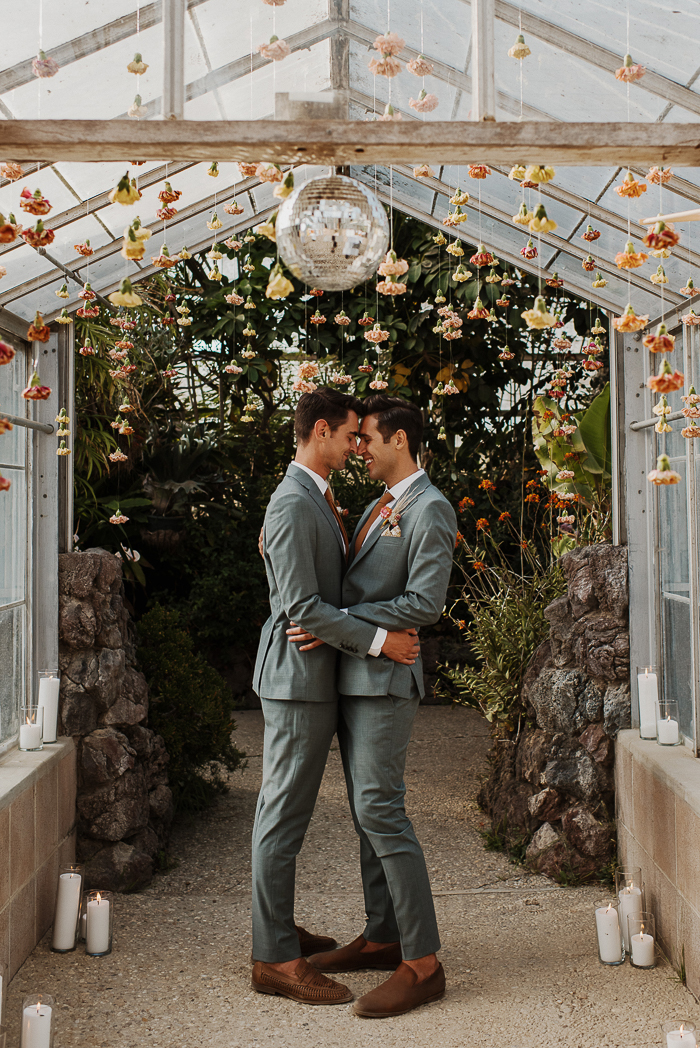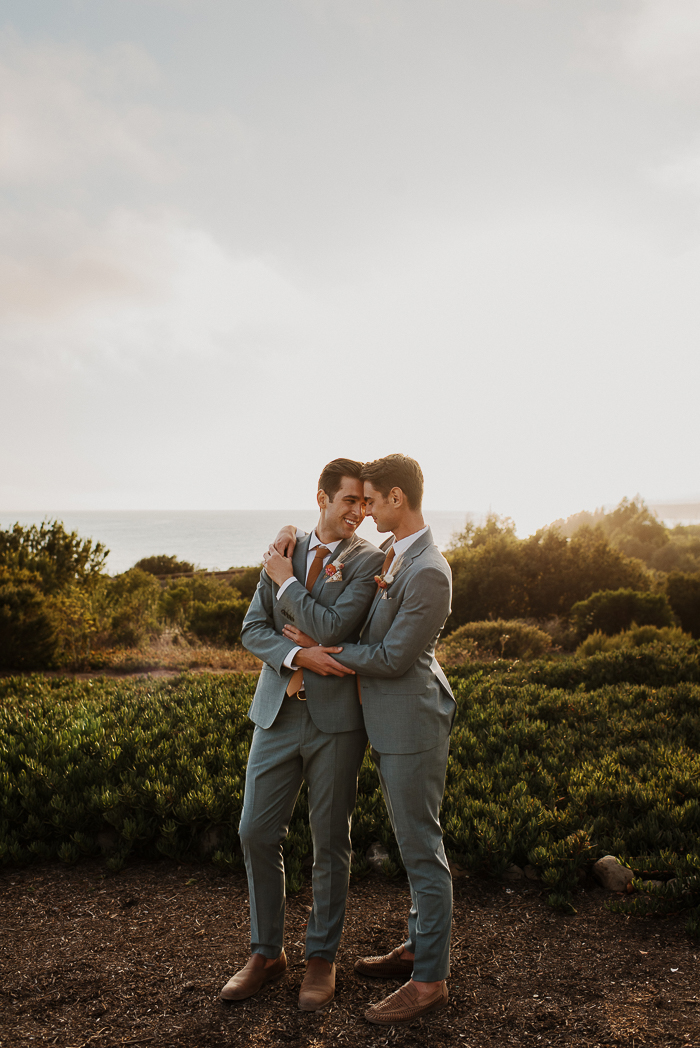 Working With Photographer Morgan McCanne Felt Natural And Easy
Morgan is the photographer of our dreams. We worked with her on our engagement shoot and immediately felt so comfortable with her. Since our wedding was pushed a year, it was a little longer until we could see her again, but it felt like we had one of our good friends with us the entire day. She was up for any locations and poses and made us feel completely comfortable. Not to mention that the final edited photos are just beyond anything we could have imagined. They are the perfect representation and reminder of our special day. We honestly still get overwhelmed—in the best possible way—every time we look at the photos.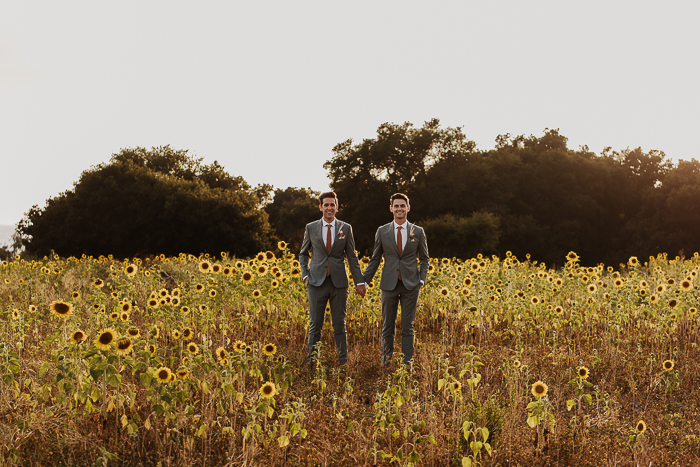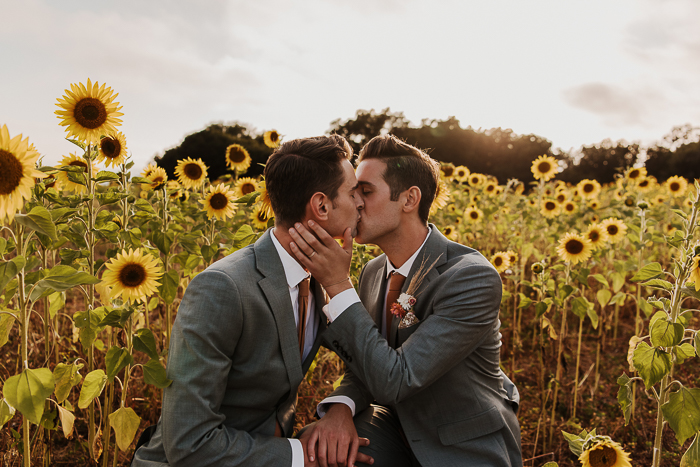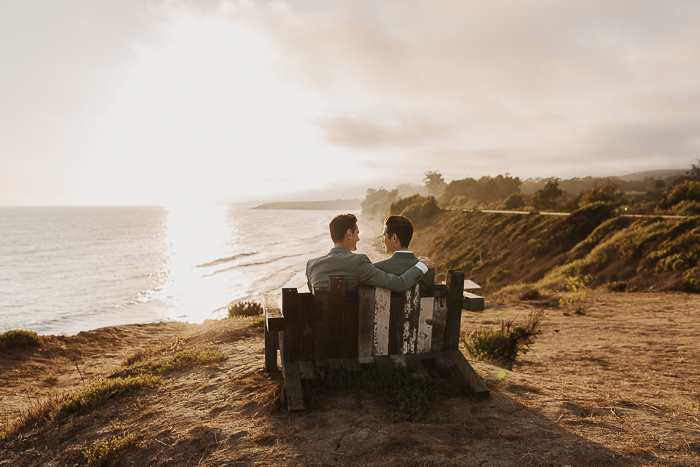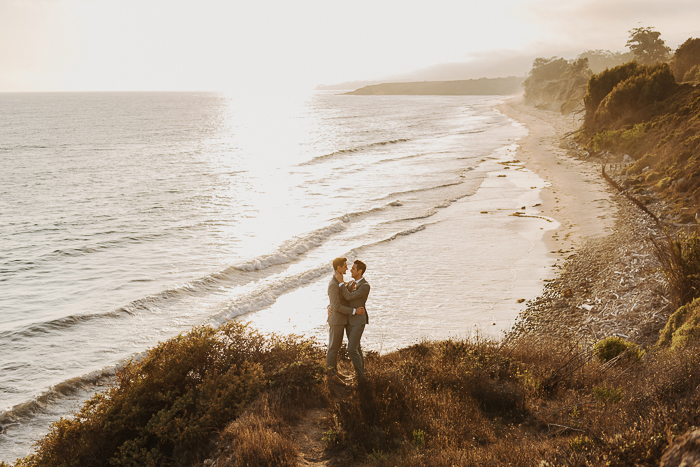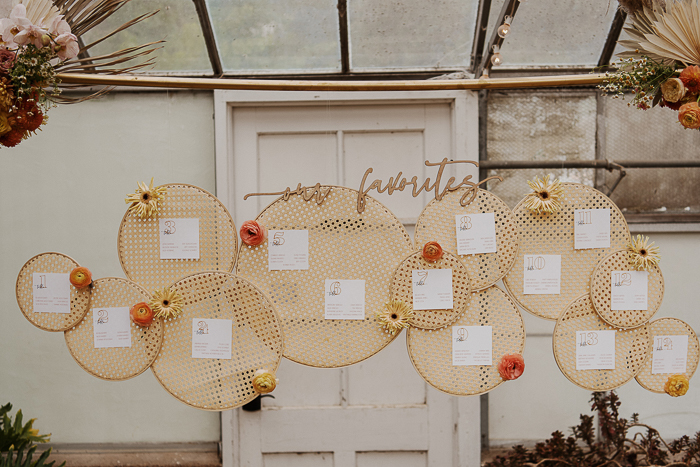 Charitable Donations Honoring Their Grandmothers
We personalized wooden fans for the guests during the ceremony but didn't give out traditional wedding favors. Instead, we donated to Alzheimer's and Parkinson's foundations. We each had grandmothers who suffered from these diseases, so we wanted to give back to them in this way.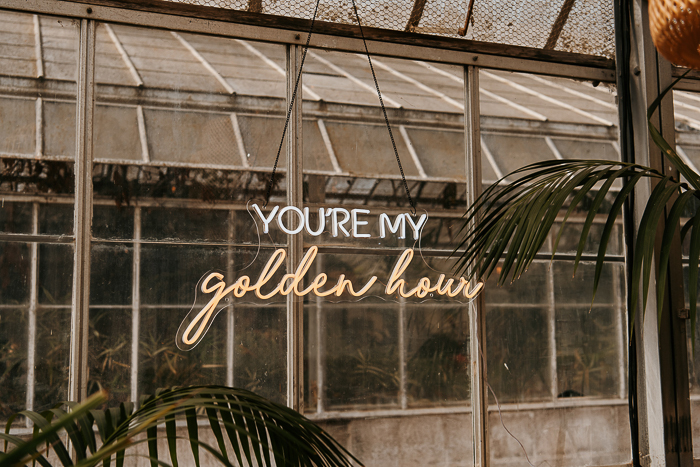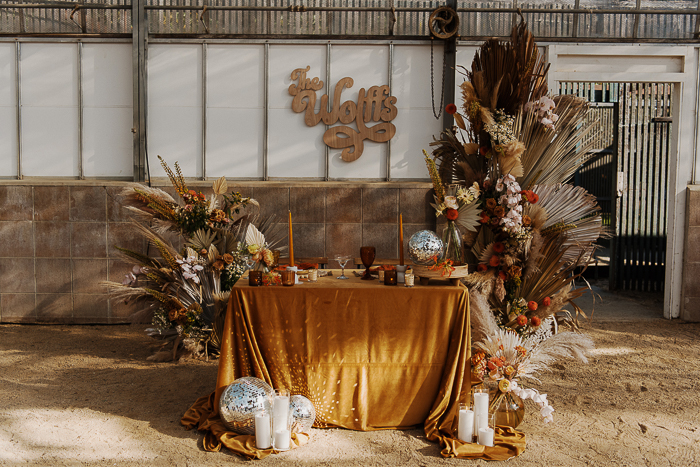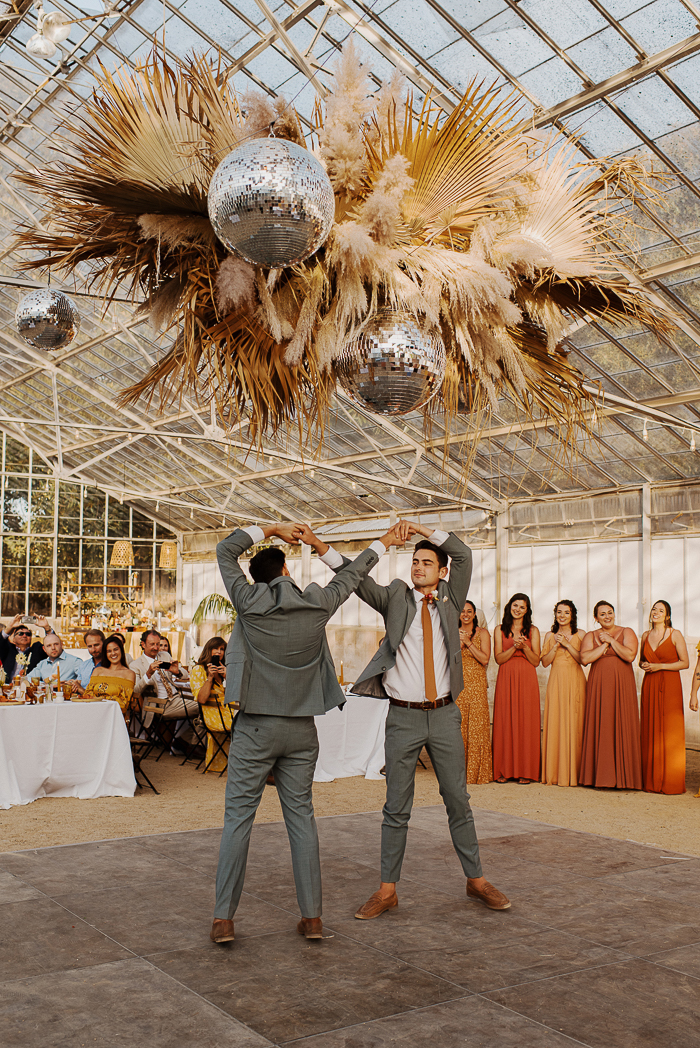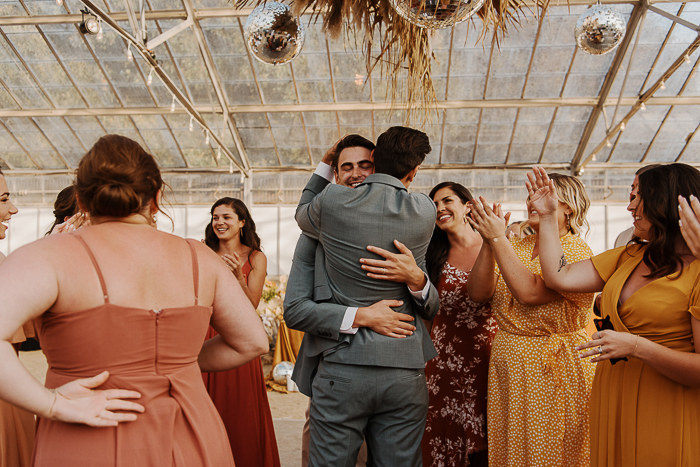 They Treated Their Guests To An Unexpected And Fun Wedding Menu
Before the ceremony, we had alcoholic and non-alcoholic popsicle pour-overs provided by Mom and Pop Shop Popsicles. We had a full open bar and three signature drinks named after us and our dog, Cali, during the cocktail hour, complete with custom drink stirrers. We also had Mexican-inspired appetizers and a delicious full-service taco bar for dinner by Nana's Catering. For dessert, we had churros and McConnell's Ice Cream—a Santa Barbara staple. Patrick's best friend from high school also made a small tres leches cutting cake for us. These elements helped make our day special, and our guests loved a more unique wedding reception dinner.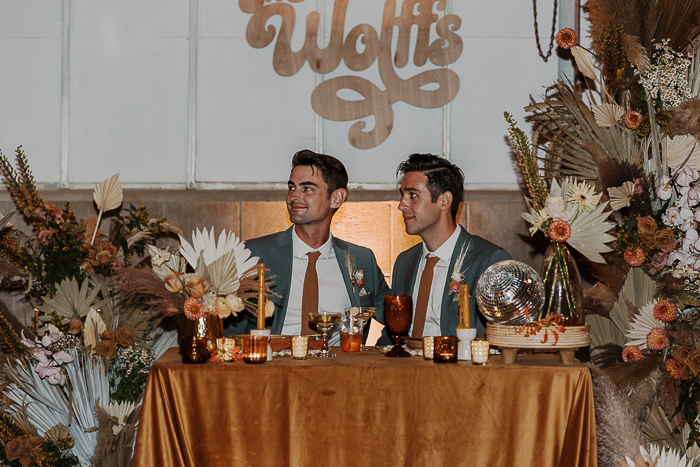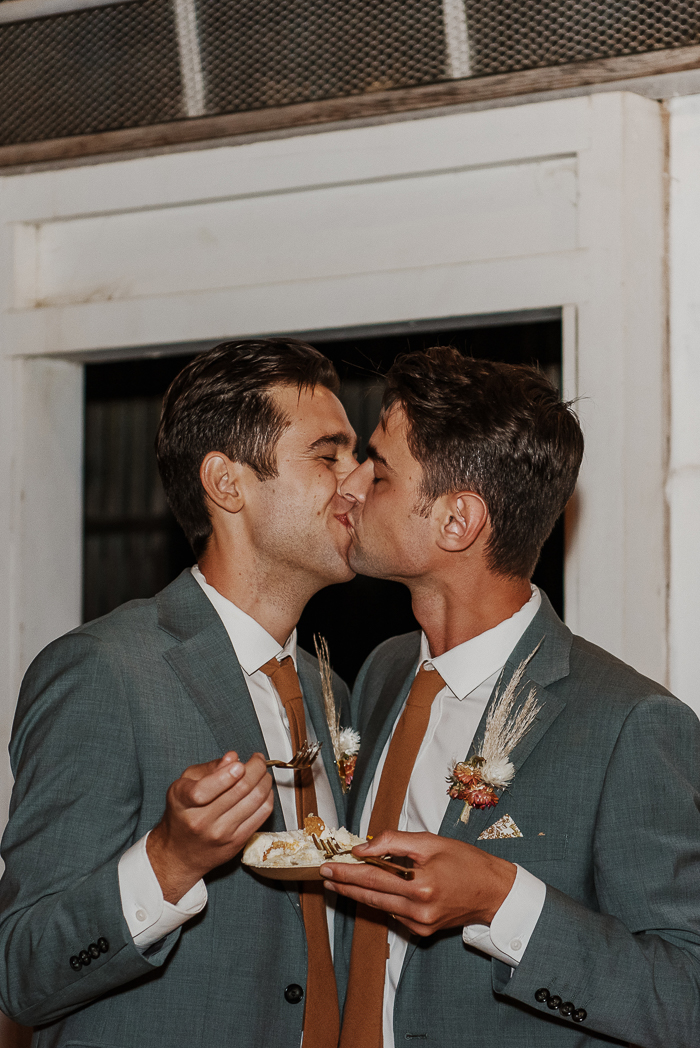 Congratulations to Patrick and Connor on their dazzling DIY disco-themed Orchid Farm wedding. We're so glad that Morgan McCanne was there to capture every stunning detail and swoon-worthy moment of the day.
Thinking of going full-scale DIY for your wedding like this couple? Do-it-yourself projects are a great way to personalize your ceremony and reception, but they can be overwhelming if you're not careful. Check out our DIY planning guide for helpful tips to stay on track and on budget.