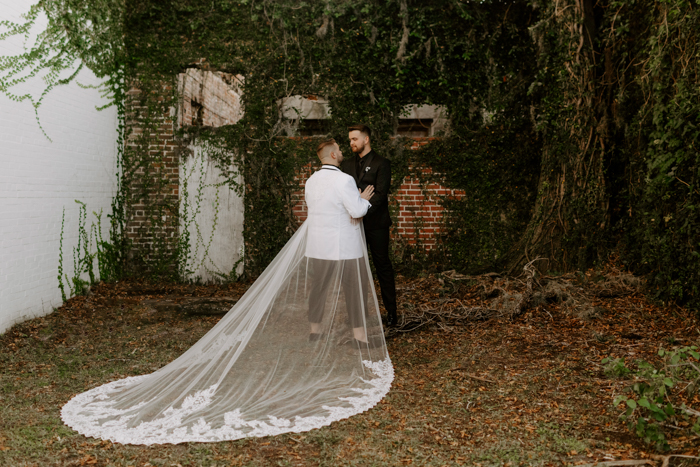 Cameron and Sean chose a Clay Theater wedding for a truly special reason. Their love story had some meaningful milestones at drive-in movies. It was where they shared important moments as a couple. So, when they wanted their big day to have that extra "wow" factor, the Clay Theater was the perfect choice. This historic venue oozed timeless art deco vibes, and with everyone dressed to the nines in black-tie attire, their wedding felt like a glamorous movie premiere. It was a beautiful way to honor their unique journey as a couple and turn it into a memorable blockbuster event.
Despite the timeless touches throughout their wedding, the pair made sure to add their personal twist. Instead of doing a first look, they read heartfelt letters to each other hidden behind a pillar. During their courtyard ceremony, they had a lovely and fun surprise with flower grannies. But the real showstopper was the wedding fashion. Sean looked dashing in a classic black suit, while Cameron surprised everyone by rocking a white suit jacket paired with a whopping 12-foot cathedral train. Now that's what you call a fashion statement!
As they wrapped up their special day, they kept things stylish and sleek at their main hall reception. They added the perfect finishing touches with towering candle centerpieces, a chic black balloon installation, and marquee letter lights. If you're looking to infuse a bit of retro flair into your modern love story, take notes from this Clay Theater wedding—it's the ideal inspiration for you. Keep scrolling to take in all the stunning details beautifully captured by Celeste Burns.
The Couple:
Cameron and Sean
The Wedding:
Clay Theater, Florida, United States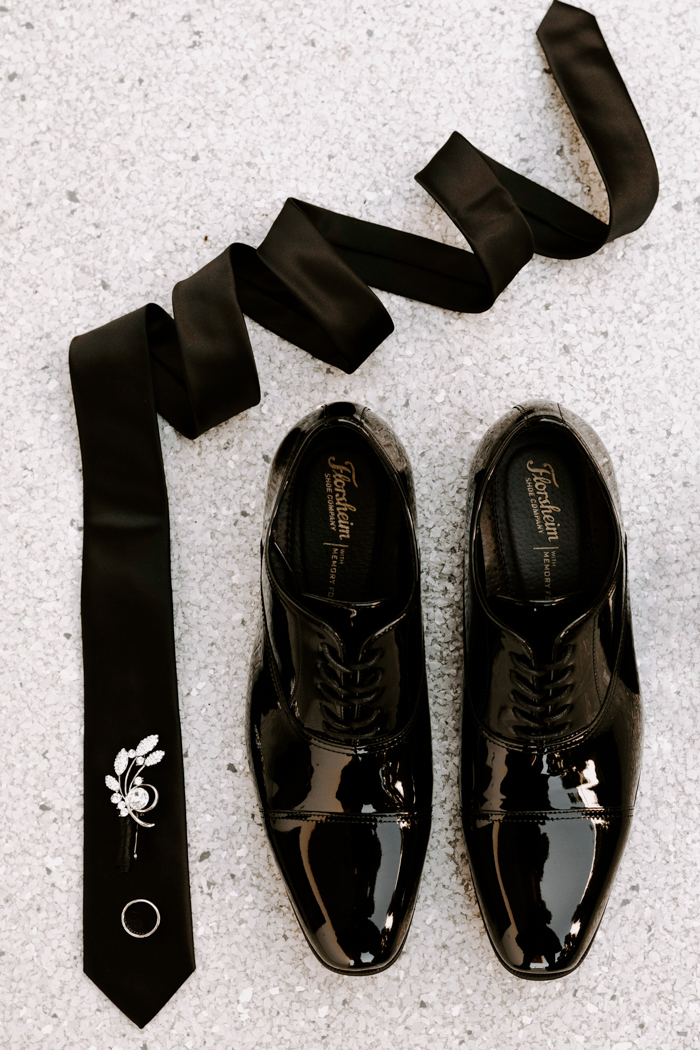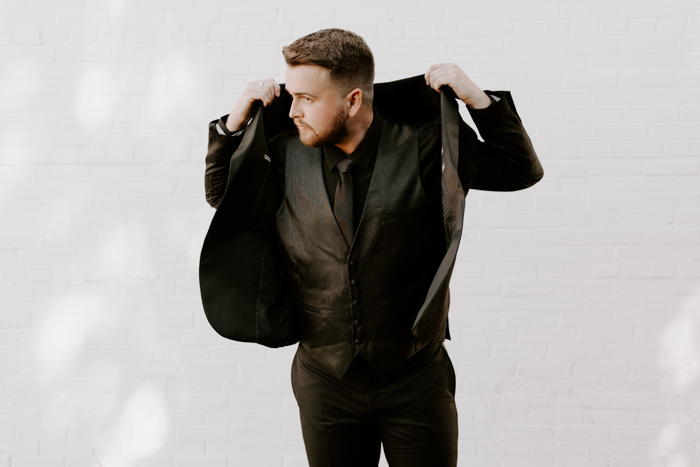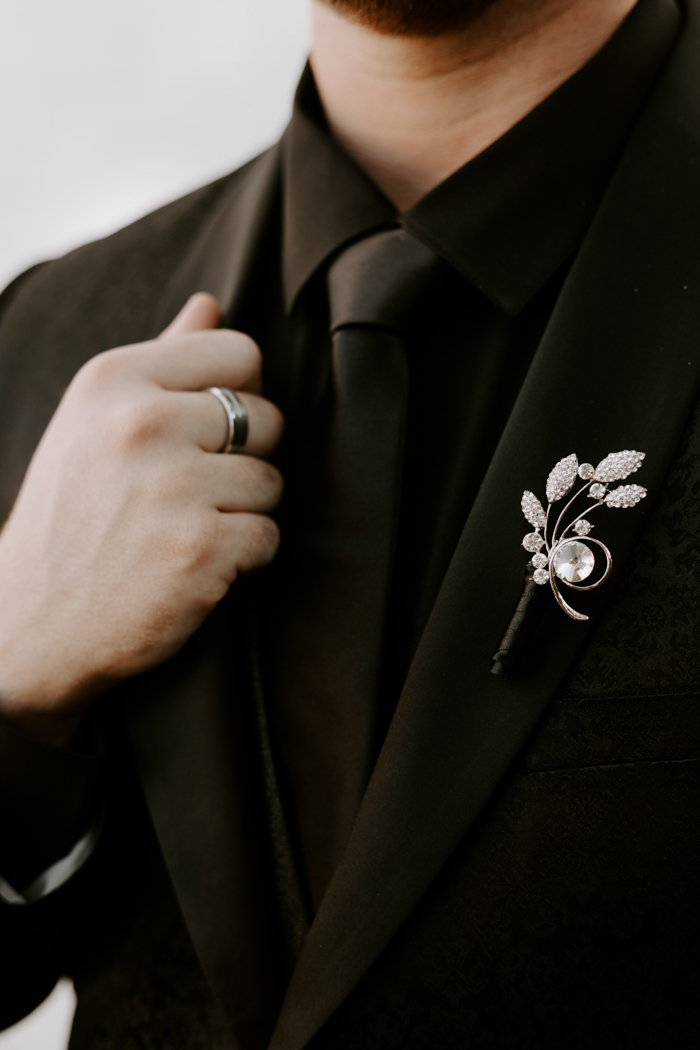 Breaking Boundaries by Embracing a Unique and Authentic Wedding Style
Our gay wedding differed from most, and we're proud of that. Many same-sex couples usually wear matching suits, but I wanted to be unique. I typically wear black, so even I was surprised when I chose white. I wanted to be called the "bride," and I thought about how to mix a classic wedding look with something special for a gay wedding. Keeping my aisle look a secret was hard, but when I walked out in a 12-foot long train as a man, it felt just right, like being a bride. The gasps from our guests when they saw me made it all worth it. I loved my outfit, and it took a long time to put it all together.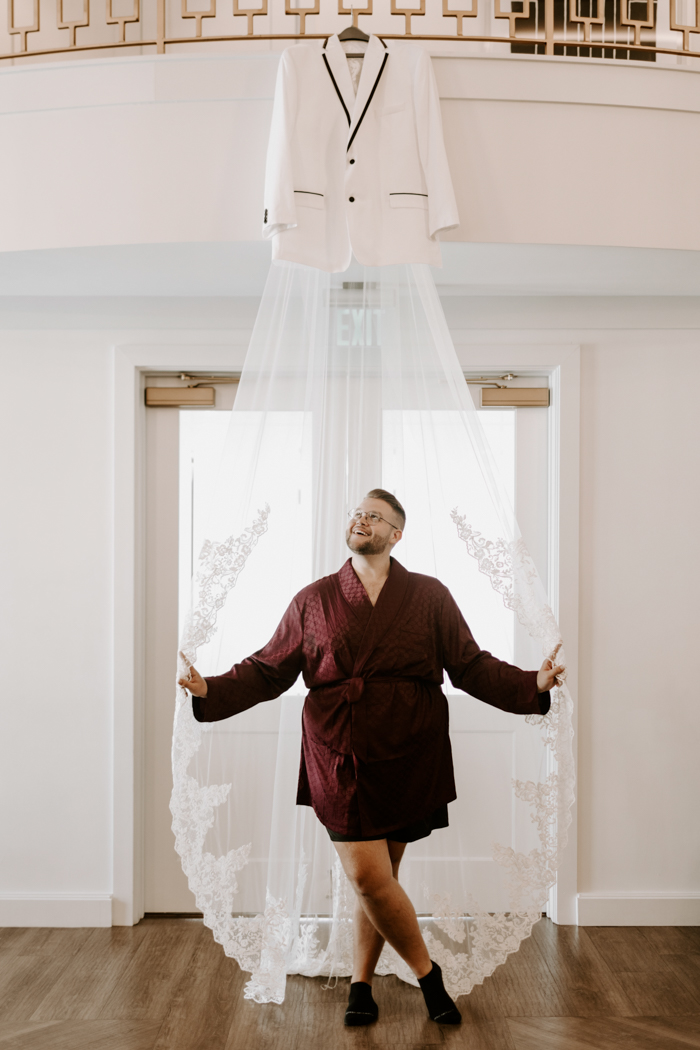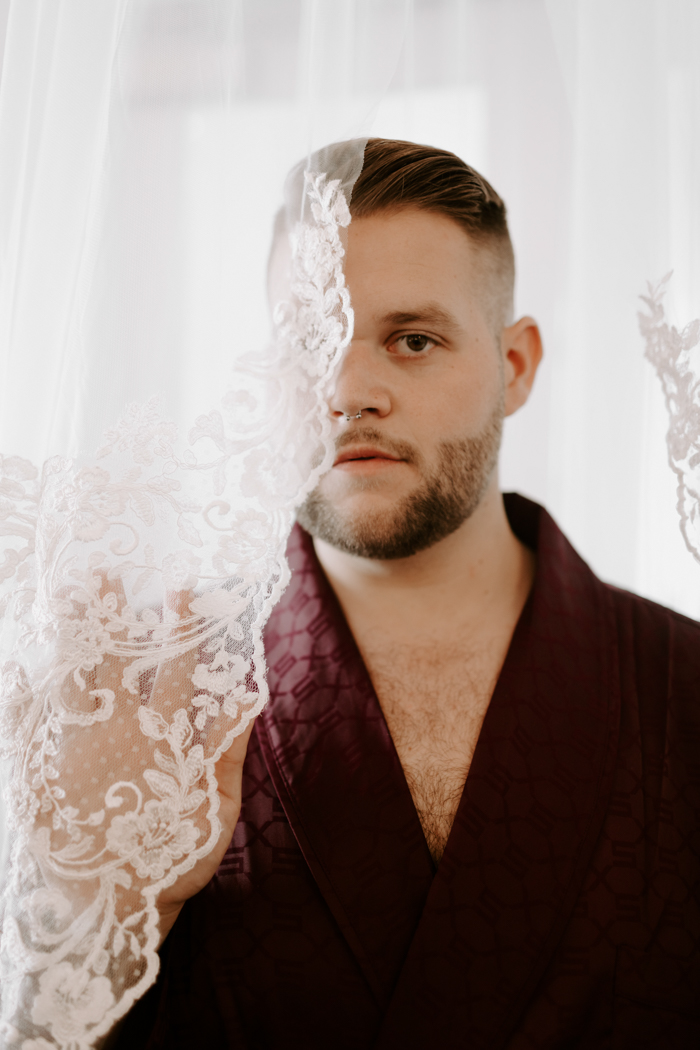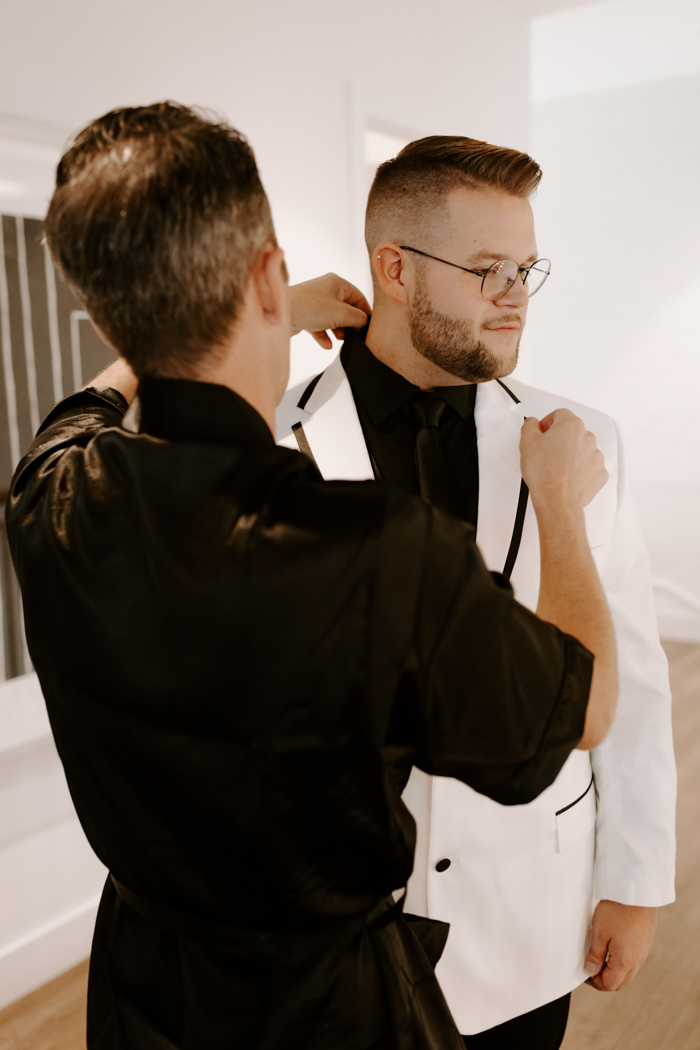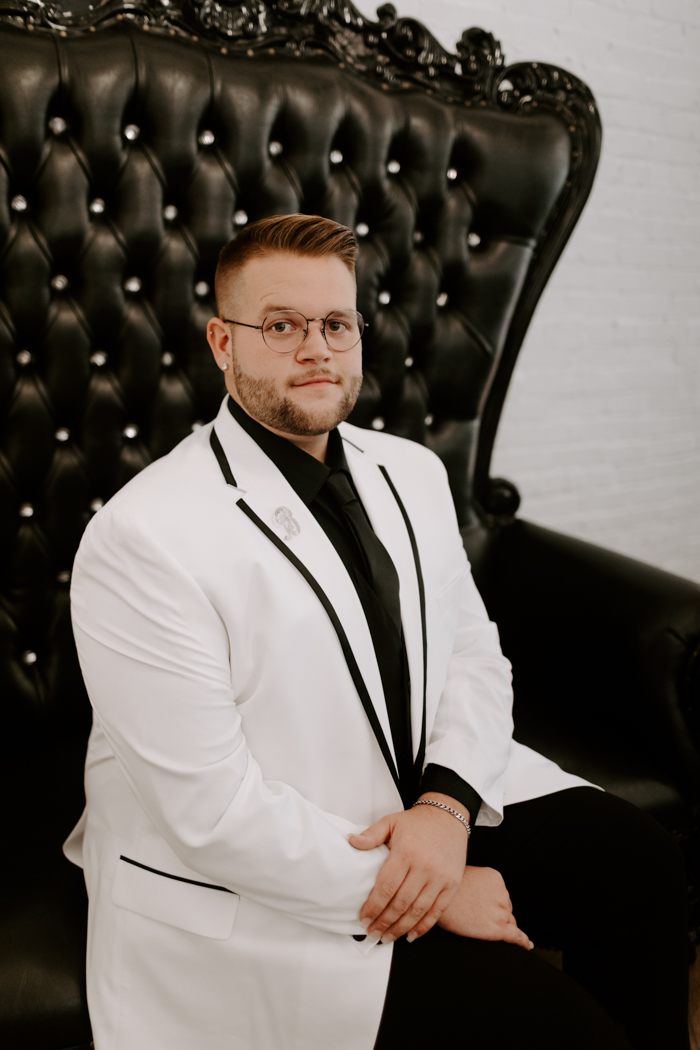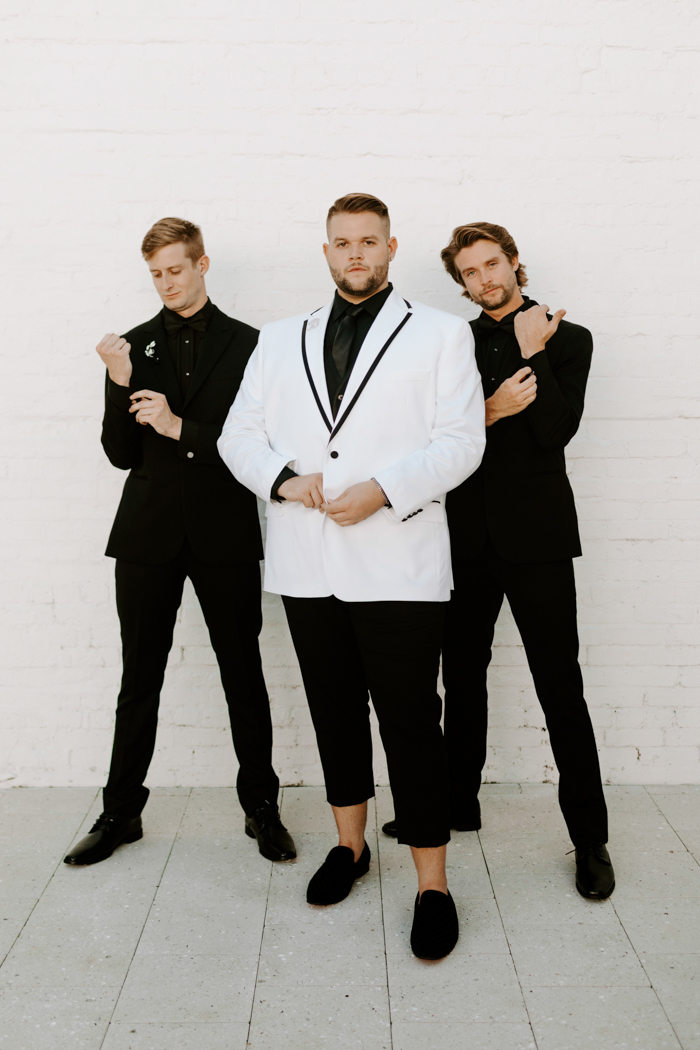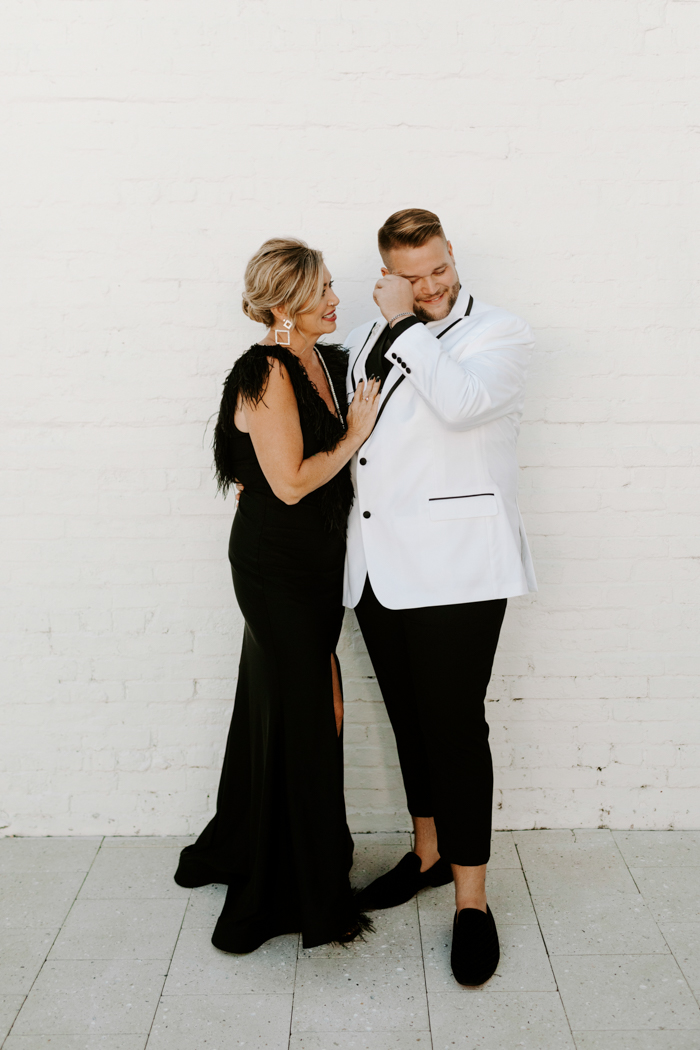 Sharing Letters Instead of a First Look
Instead of doing a first look, Sean and I chose to do something really special on the morning of our wedding. We sat down and wrote heartfelt letters to each other. Then, as we held hands on opposite sides of a pillar, we shared these letters. In those letters, we poured out our thoughts about that morning, our memories of the past, and our hopes for the future once we said our "I do's." It was a beautiful way to connect before our big moment.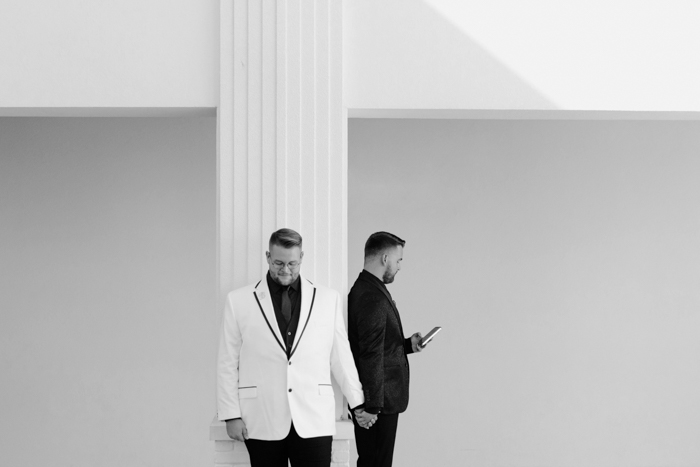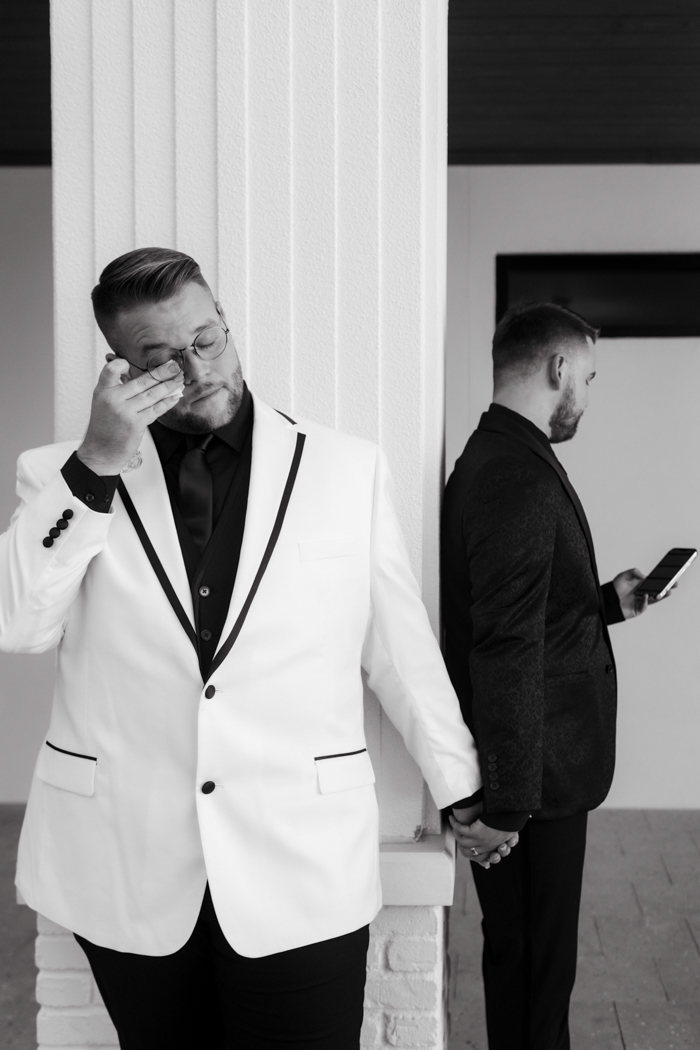 A Clay Theater Wedding That Defied Norms and Traditions
We didn't feel the need to stick to the old-fashioned way of splitting people into wedding parties based on gender. Our wedding was mainly for adults, so we decided to do something unique—we had flower grannies! Another break from tradition was having both of our parents walk us down the aisle, and that turned out to be one of my favorite moments of the entire ceremony. We chose Miley Cyrus songs for our ceremony music to make it even more personal. "The Climb" (which was Sean's song), "Adore You" (for the wedding party), and even "Wrecking Ball" played by the Midnite String Quartet (my bridal song) made our ceremony feel incredibly special and authentic to us.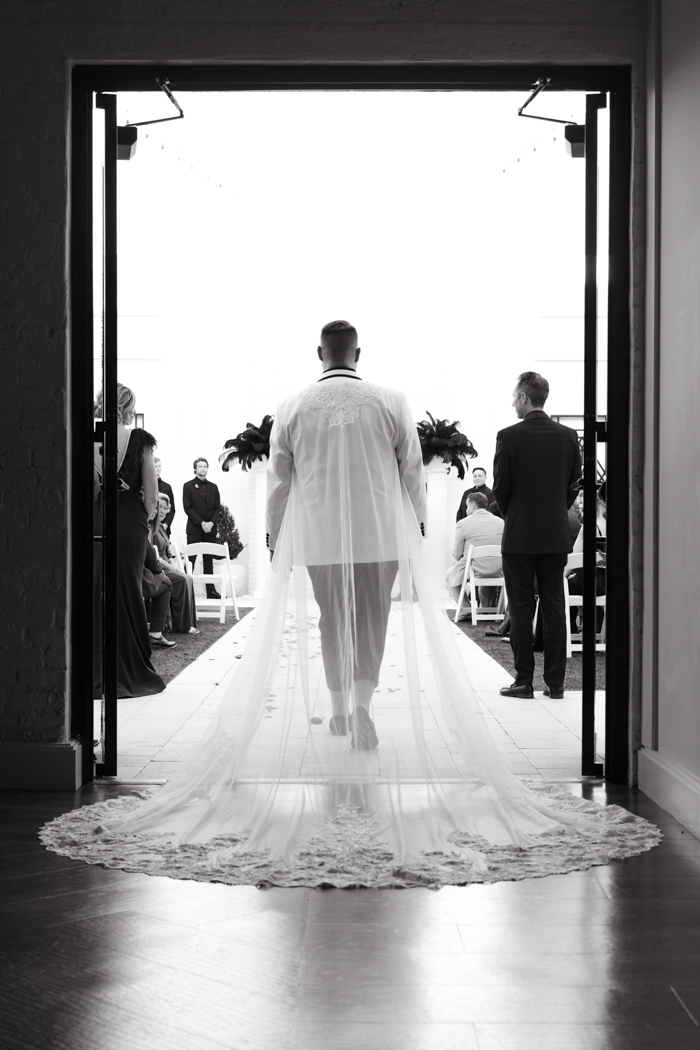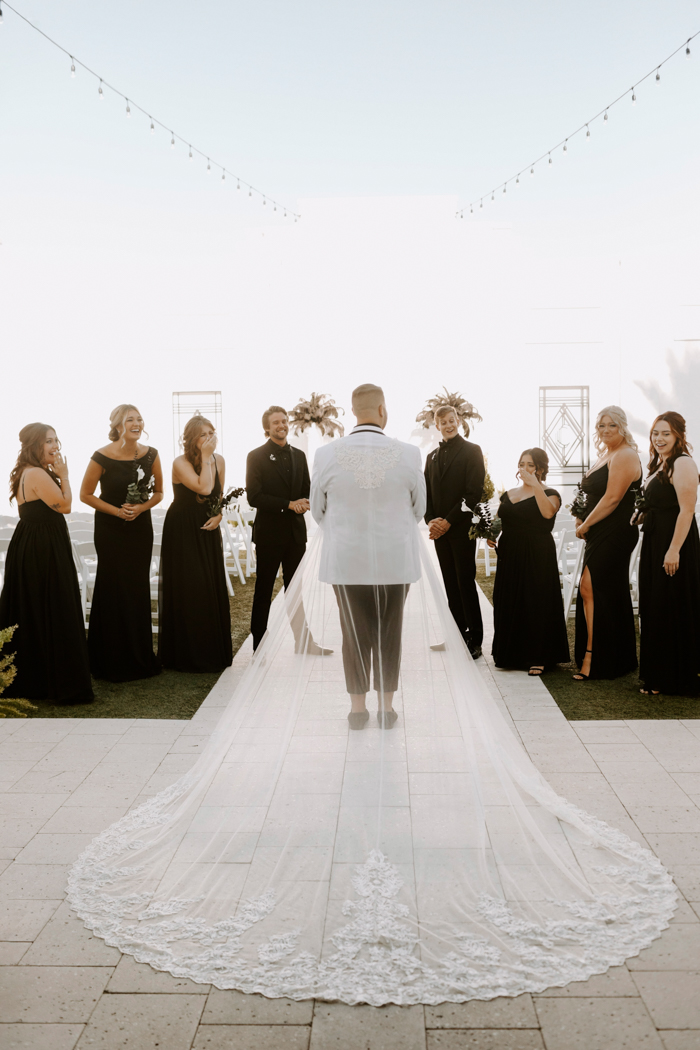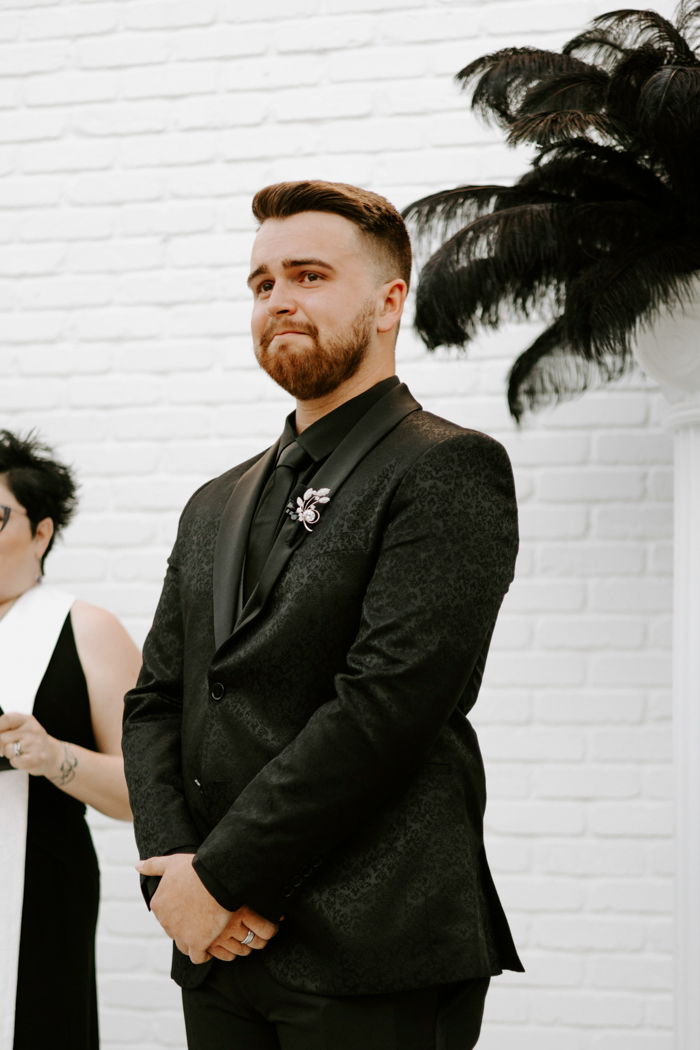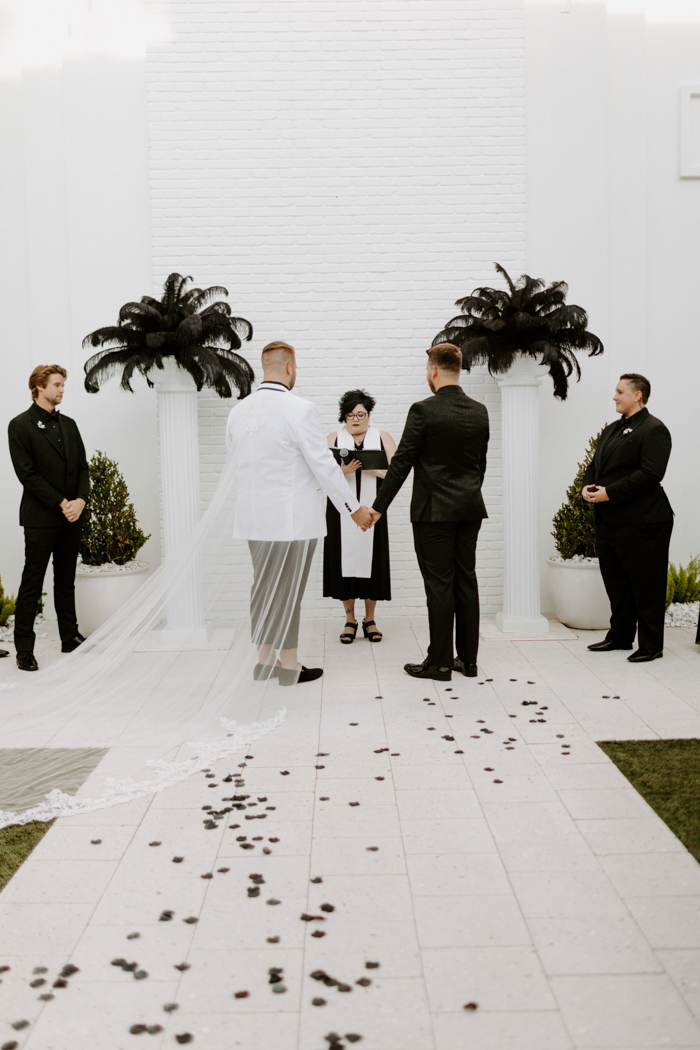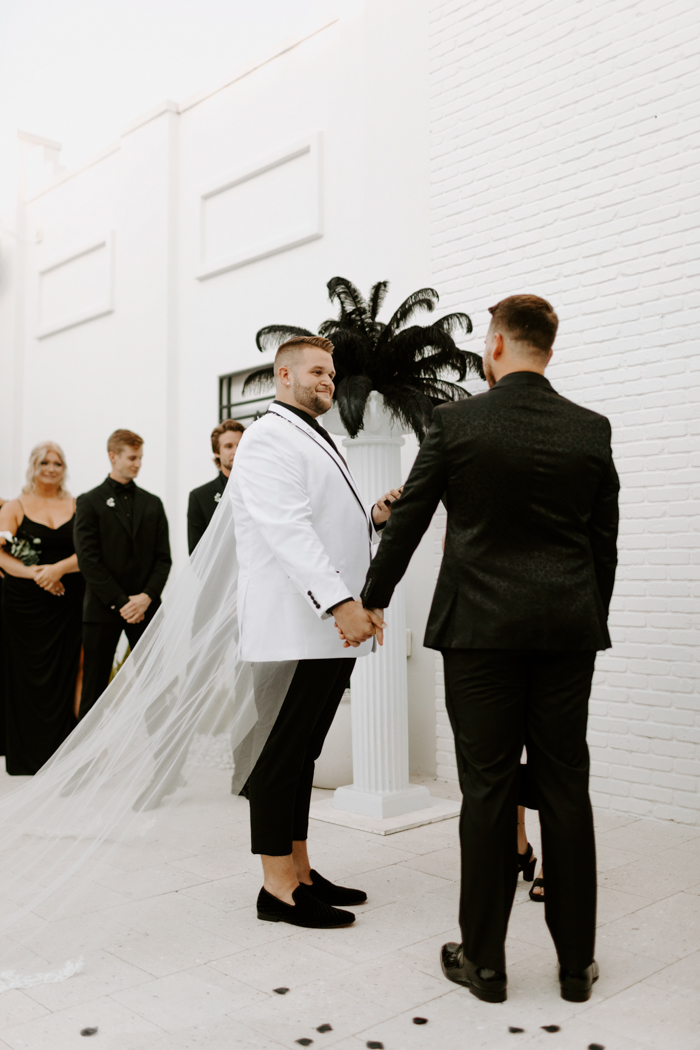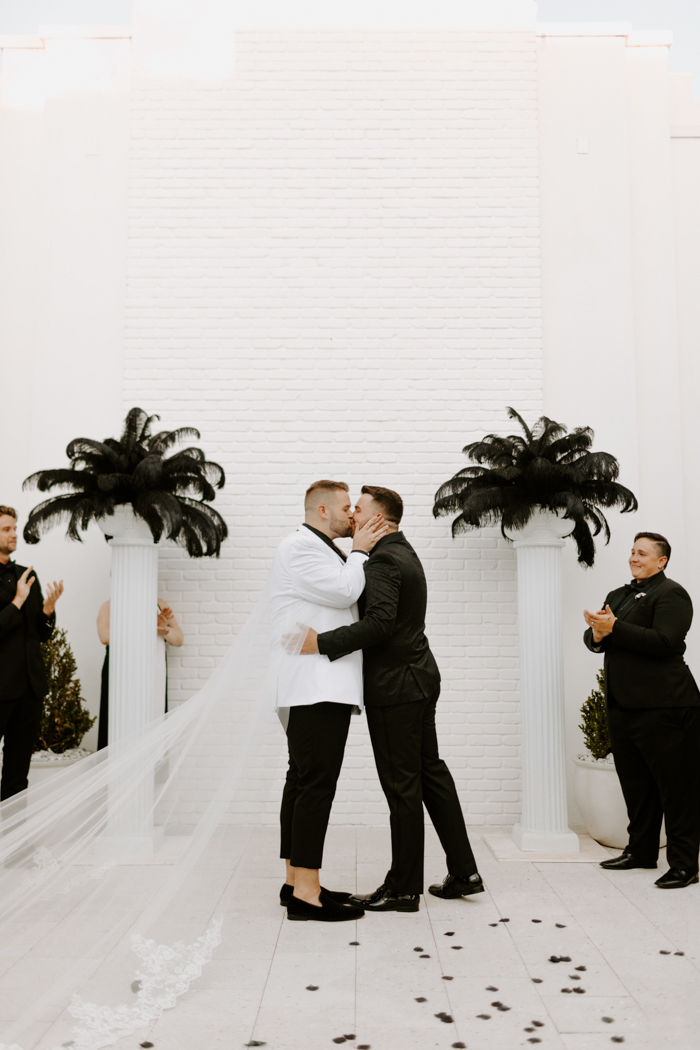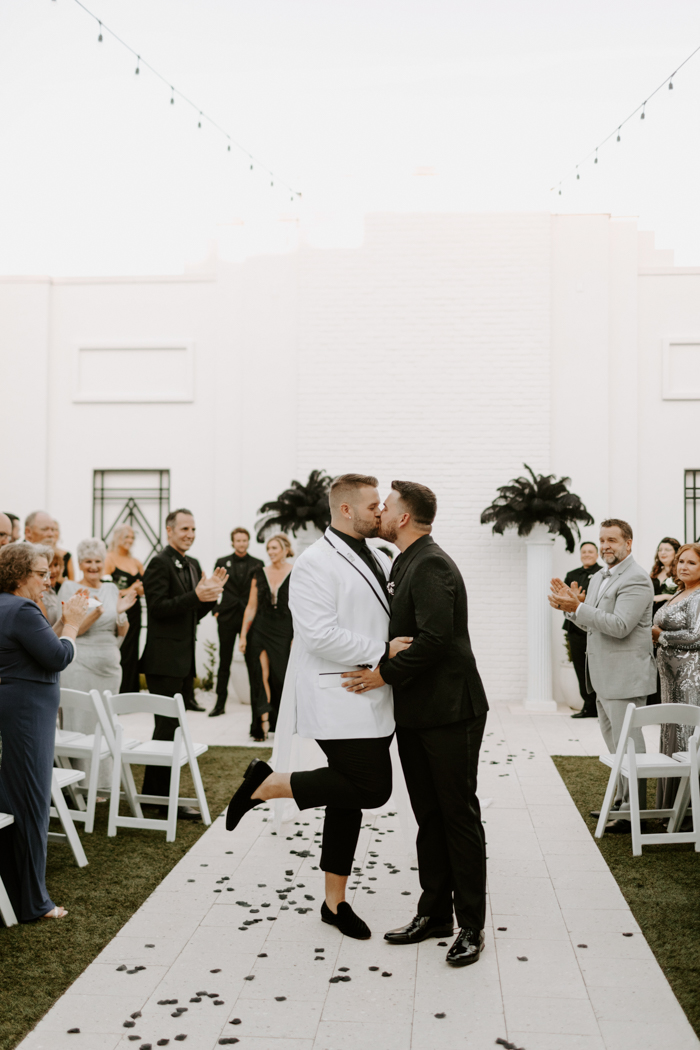 The Special Reason Why Picking a Venue First Was So Important To Them
For us, the venue was the very first and most crucial choice. Our story began at the Silver Moon Drive-In, where we had our very first date. And it's also where Sean asked me to be his boyfriend officially. So, when we stumbled upon the Clay Theater, we instantly knew it was where we wanted to say our vows. It was the very first venue we visited, and when we arrived, the team was incredibly warm and welcoming, and the venue itself was jaw-dropping. It was exactly what I had dreamt of for our wedding. It was stunning and held a special connection to our first date, as it's a historic 1937 renovated movie theater. This connection made choosing the Clay Theater an easy and heartfelt decision for us.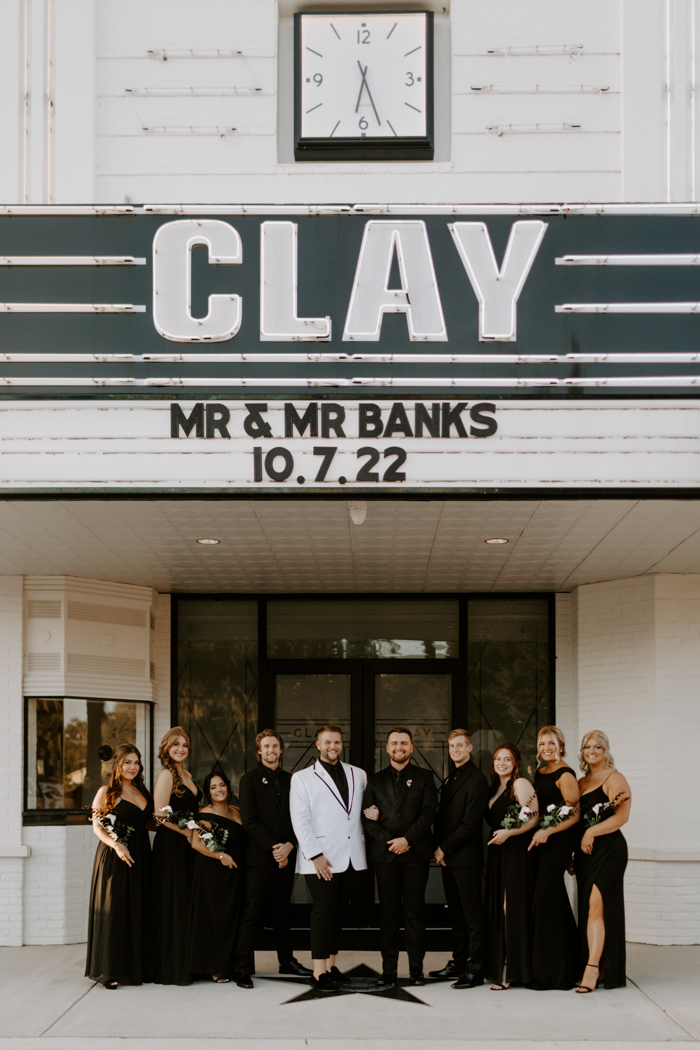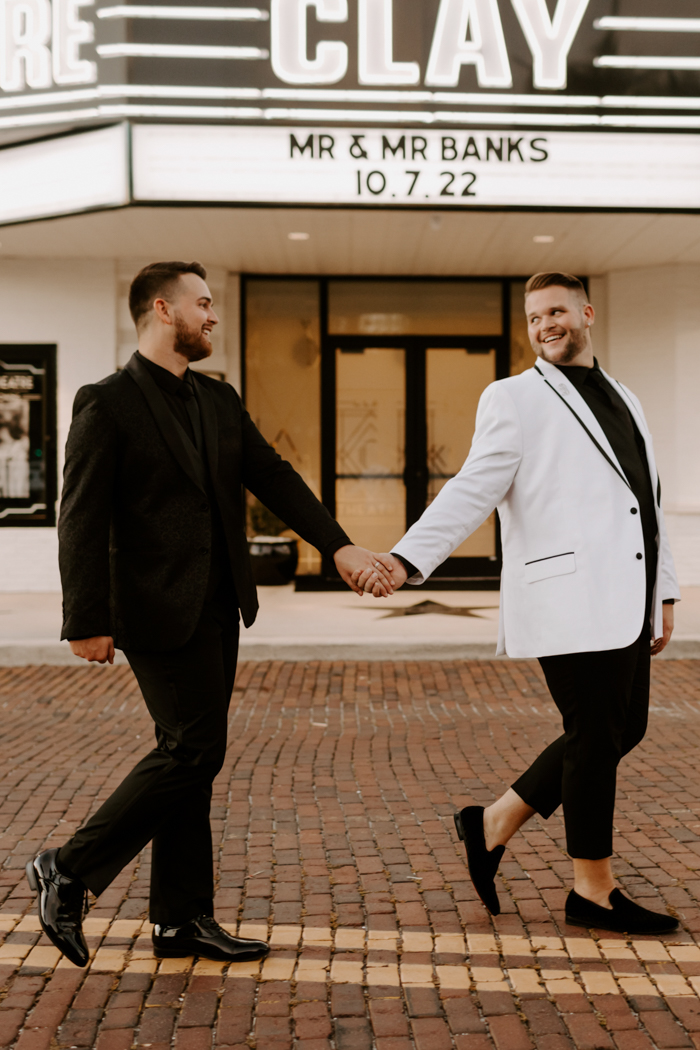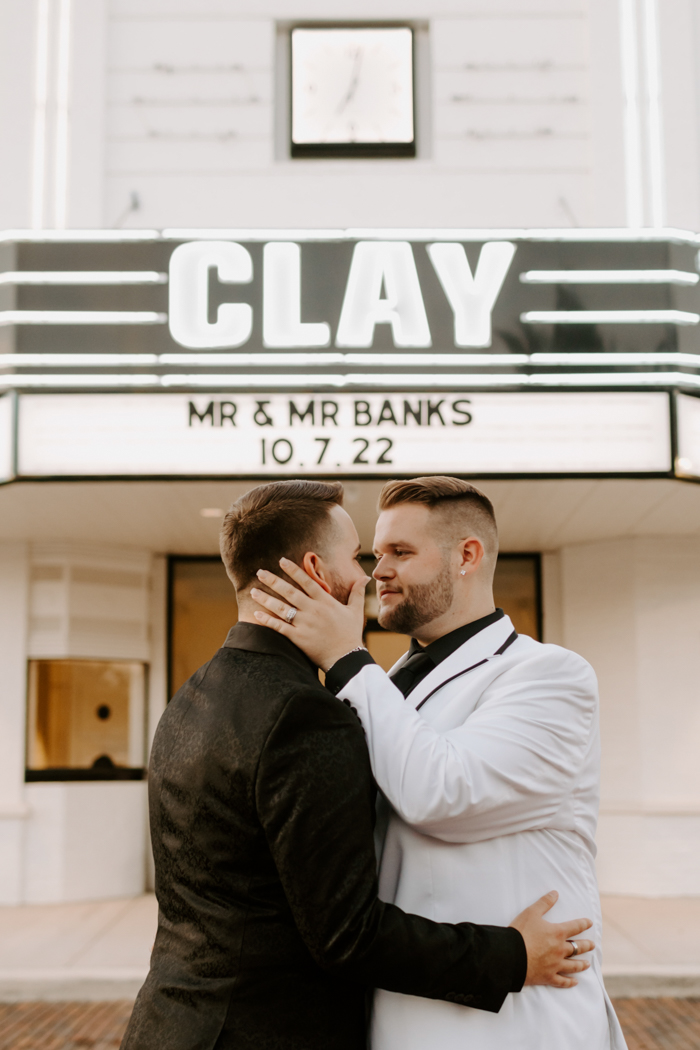 Bridging Dreams and Budget: How Their Perfect Venue Became a Reality
Our journey started with finding the perfect venue, and everything else fell into place around it. The venue was our top priority. Initially, we set our wedding budget at $20,000, but we soon realized that wouldn't quite cut it. Ultimately, we more than doubled our budget, landing around $42,000. You only get married once, right? As two gay men who grew up never expecting to find love or have a grand wedding, this was a dream come true. Knowing how much I longed for a big wedding, Sean wholeheartedly supported my creative vision as we built our perfect day together. Love knows no limits, and neither did our celebration.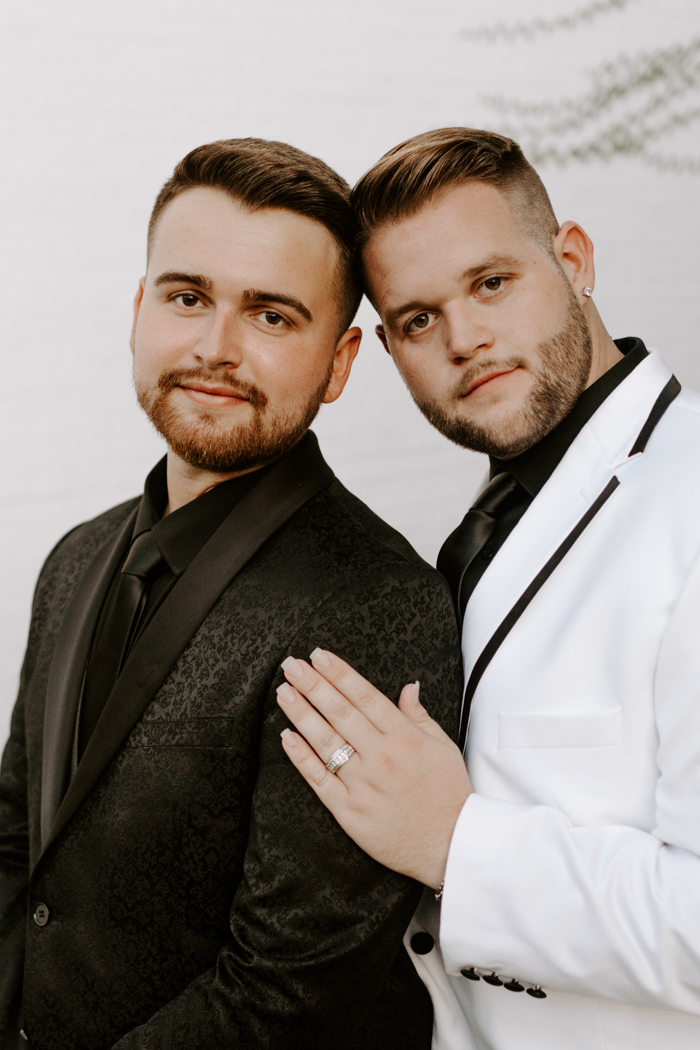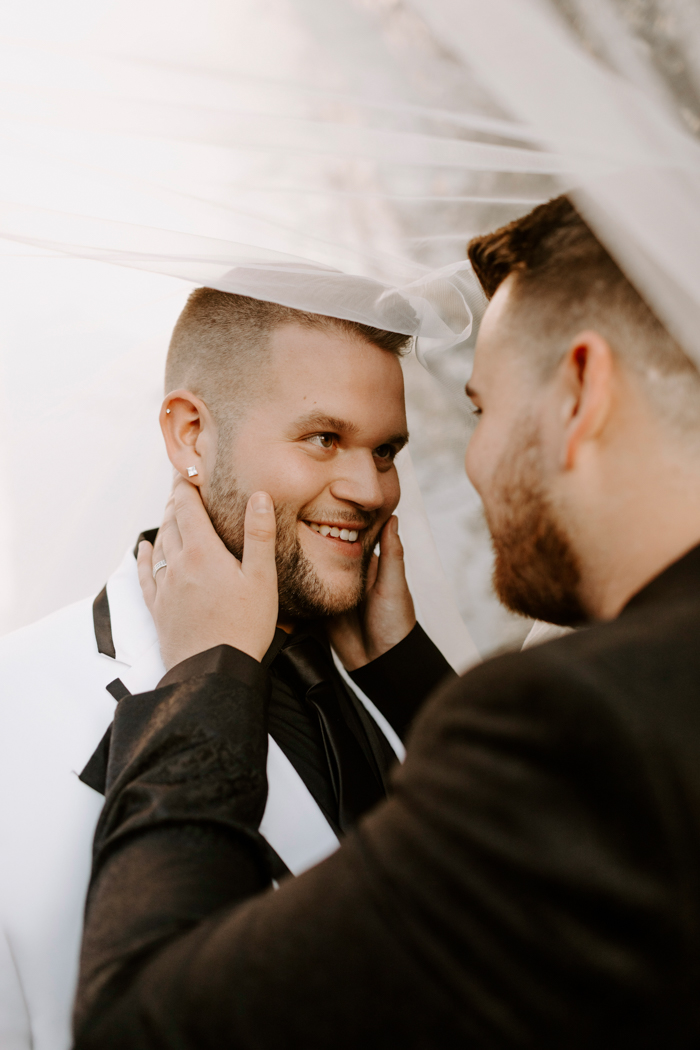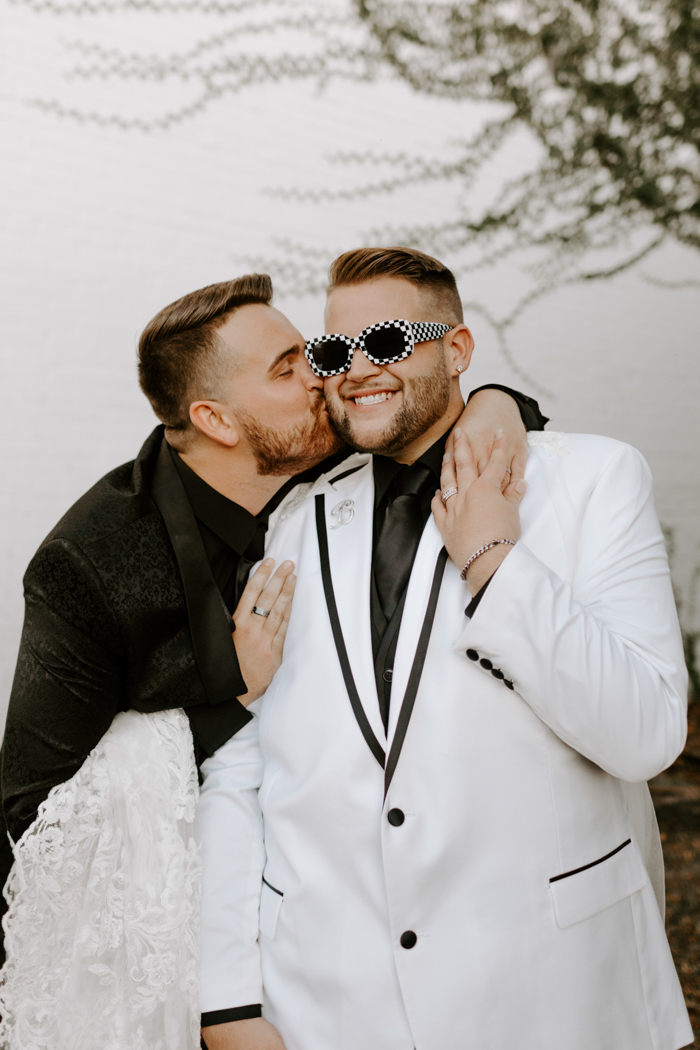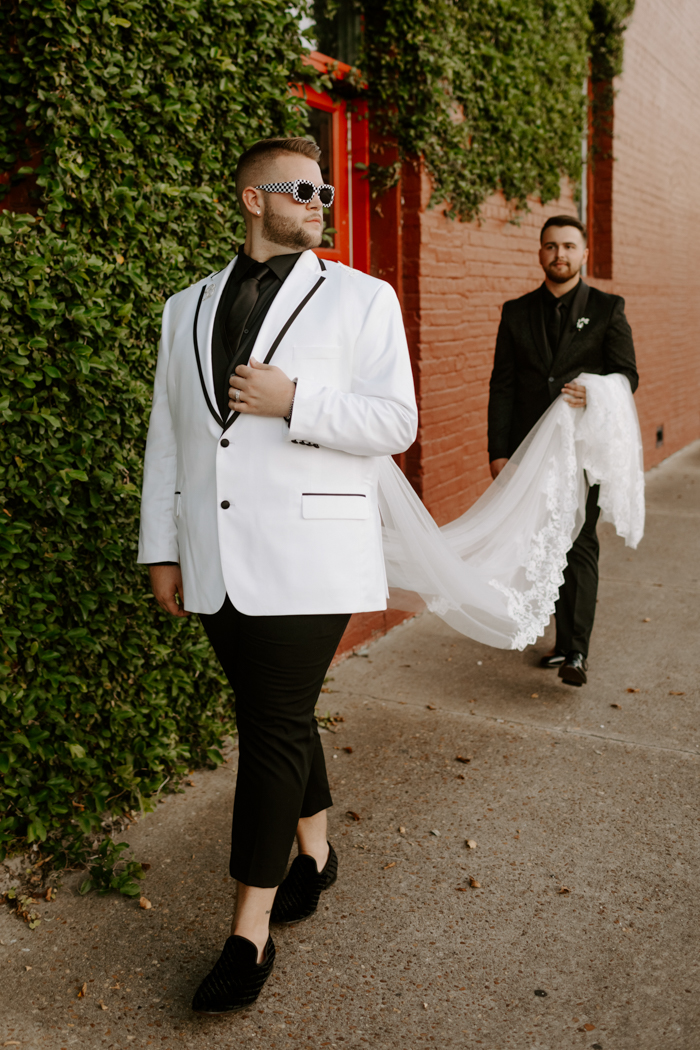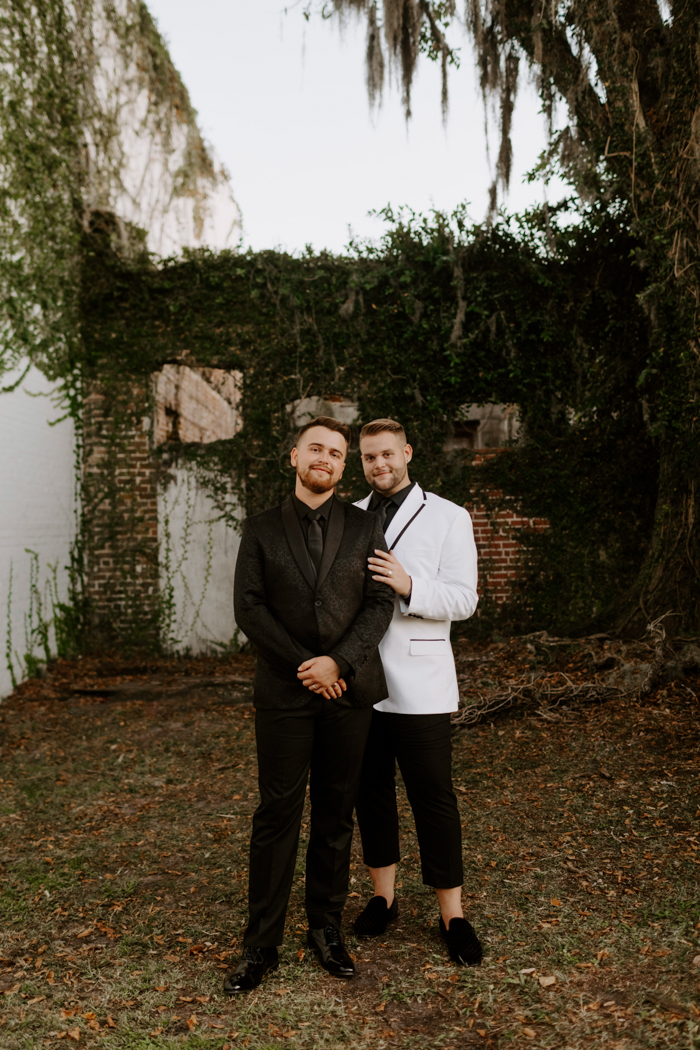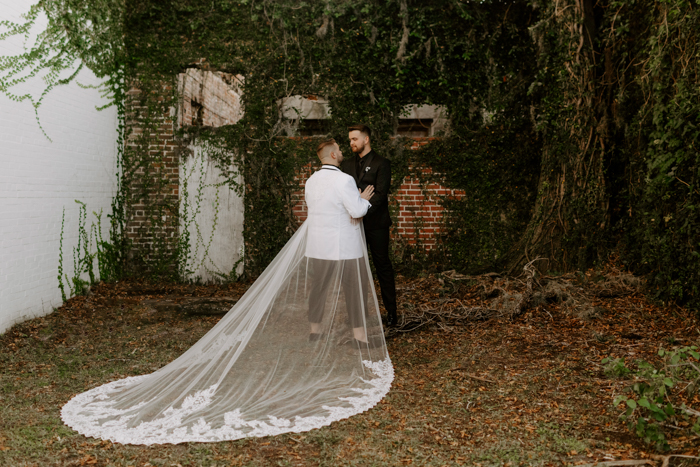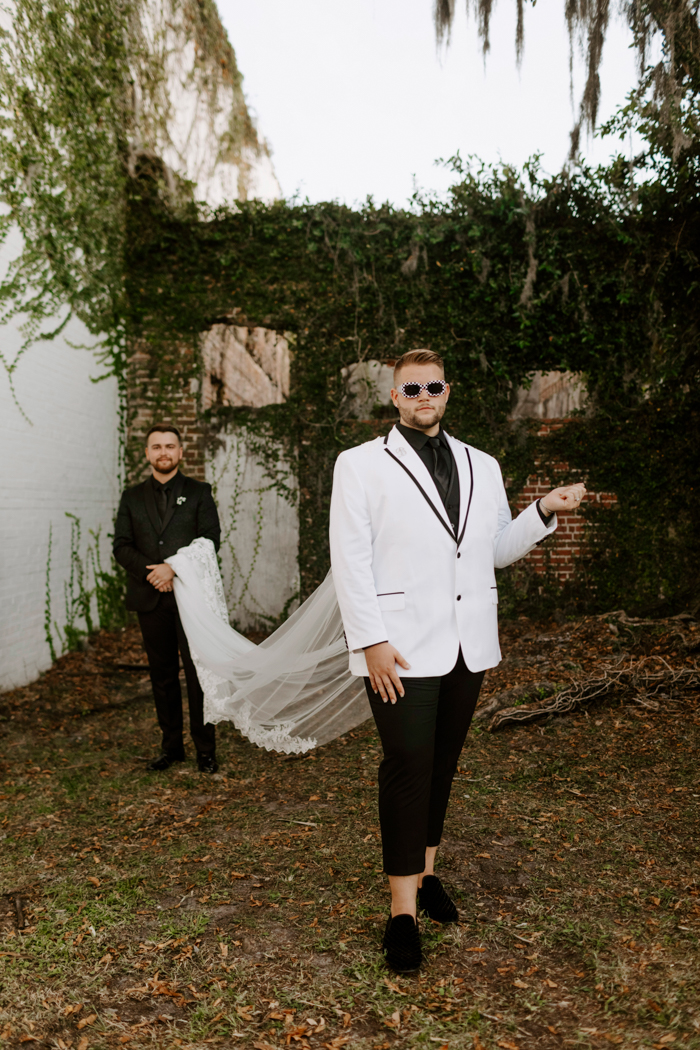 Streamlining the Wedding Experience Through Tech-Savvy Seating
We decided to take matters into our own hands and built a custom seating chart with a QR code link. Our guests quickly scanned it during the cocktail hour, saving space in the lobby and allowing us to focus on enhancing the lobby experience with some exciting features.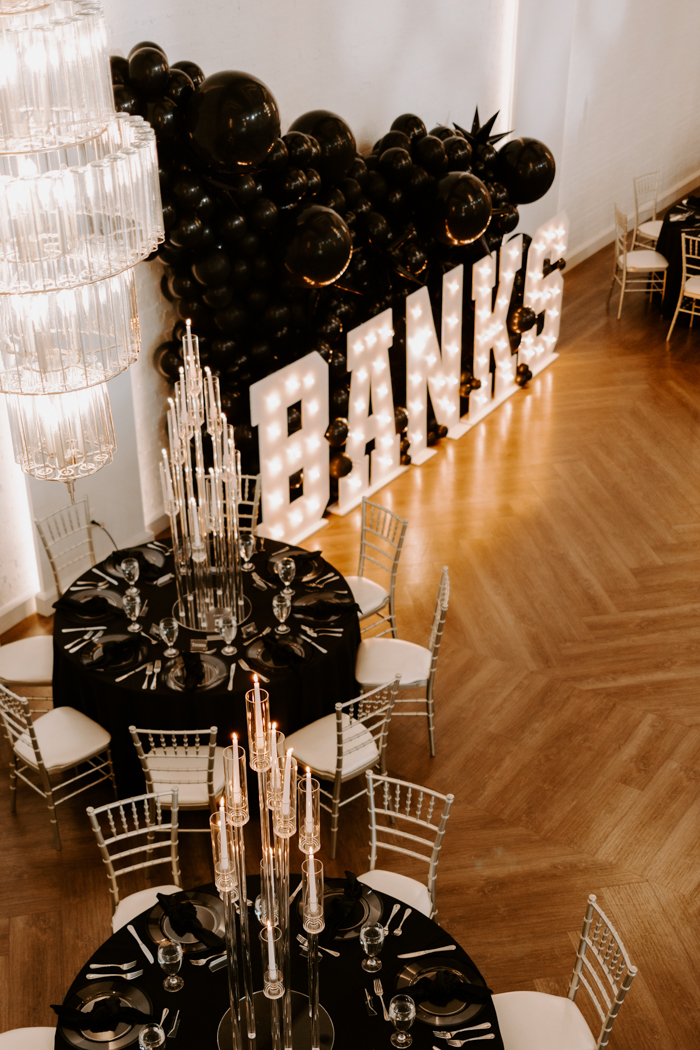 A Tasty Twist on Wedding Favors and Wedding Cake
Tired of seeing wedding favors go to waste, we took a different approach. Sean, the groom with a sweet tooth, selected a delectable sweet snack, while Cameron, the bride with a taste for savory treats, chose a salty one. These treats provided our guests with a delightful late-night snack after a night of dancing, ensuring that our favors were memorable and satisfying. Regarding dessert, we veered away from a traditional large cake and opted for eight personal Bundt cake flavors from Nothing Bundt Cakes. The servers delivered this sweet assortment to each table, delighting our guests with a flavorful ending to our special day.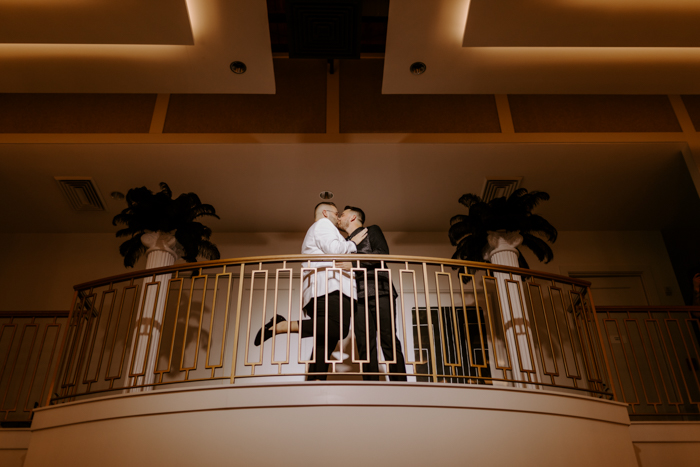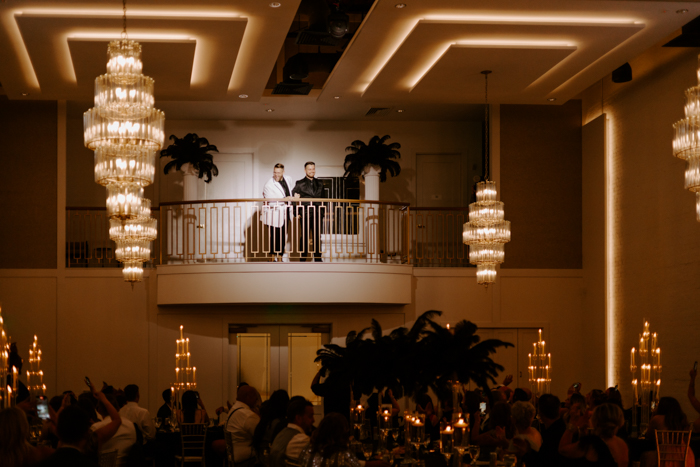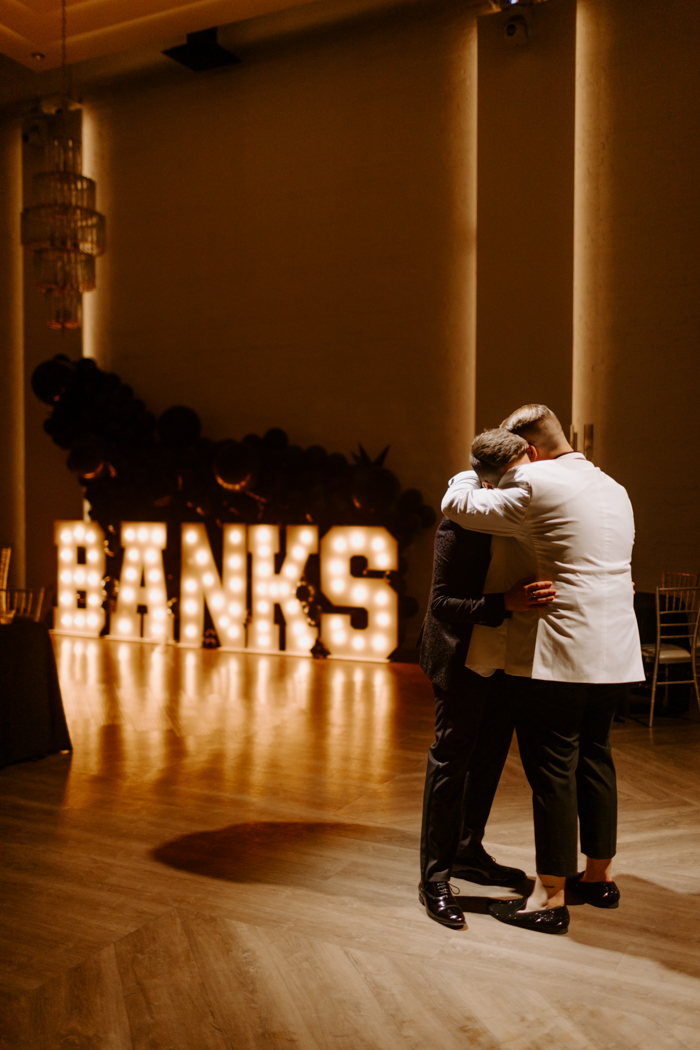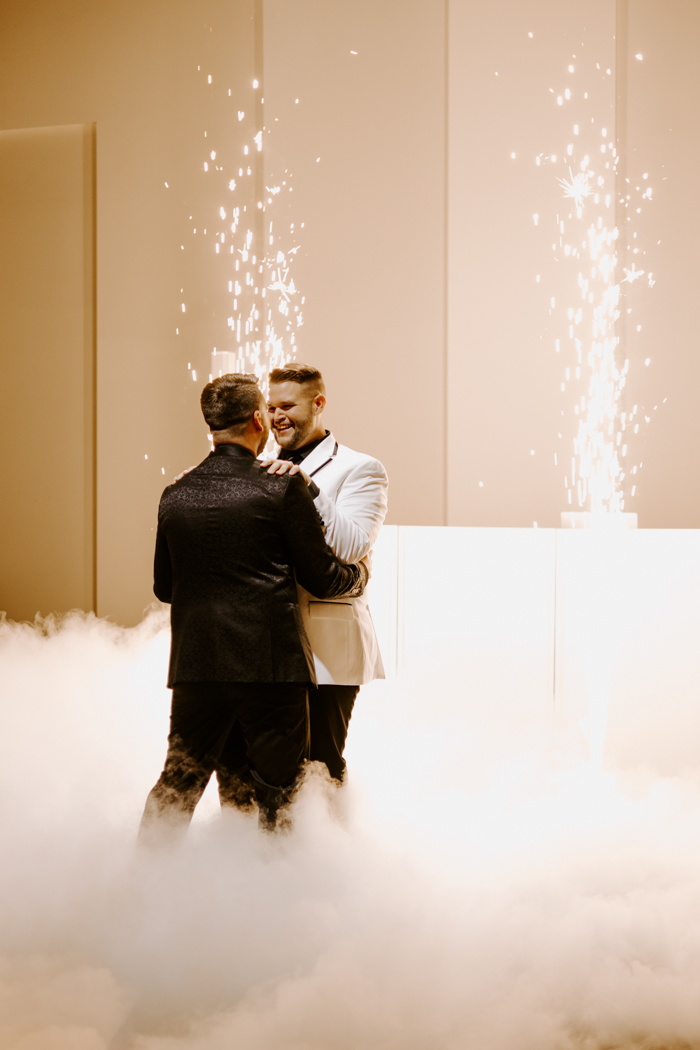 Setting the Dance Floor Ablaze Throughout Their Clay Theater Wedding Reception
Without a doubt, our first dance stole the show. The moment we stepped onto the dance floor, surrounded by the cheering of our loved ones, with a captivating fog blanketing the ground and cold sparks shooting up, it sent shivers down our spines. It's also one of our cherished moments captured by Celeste Burns. We didn't want traditional line dancing or "older" music at our wedding. Being young at 24, when we tied the knot, we wanted our reception to feel more like a lively club scene. And that's precisely what it became. Everyone hit the dance floor, regardless of age, and we all had an absolute blast, creating unforgettable memories together.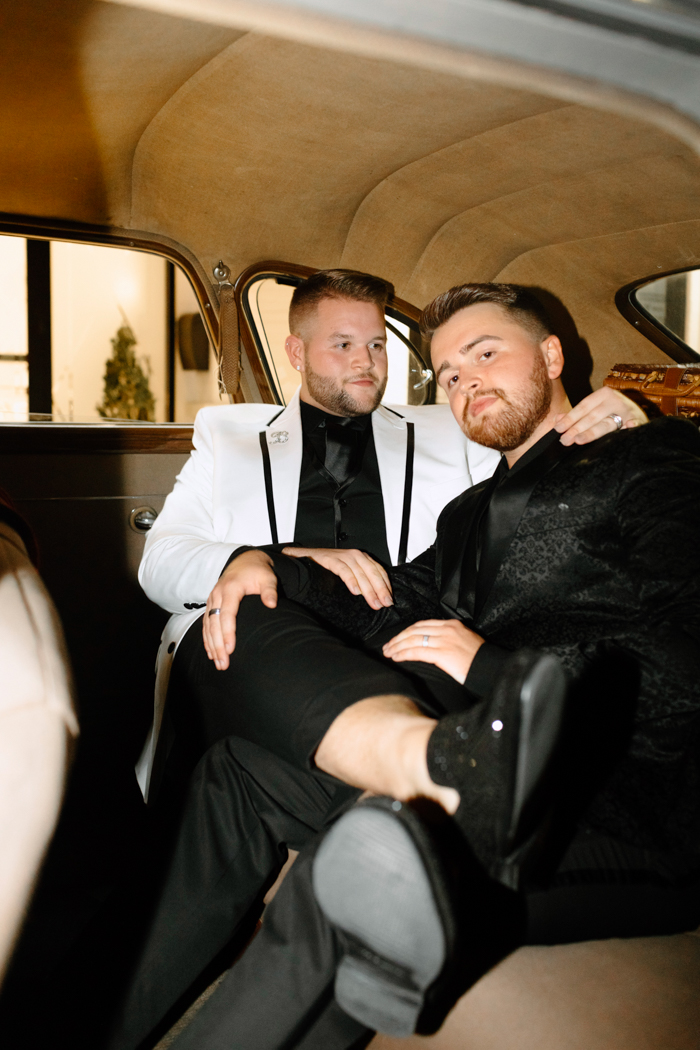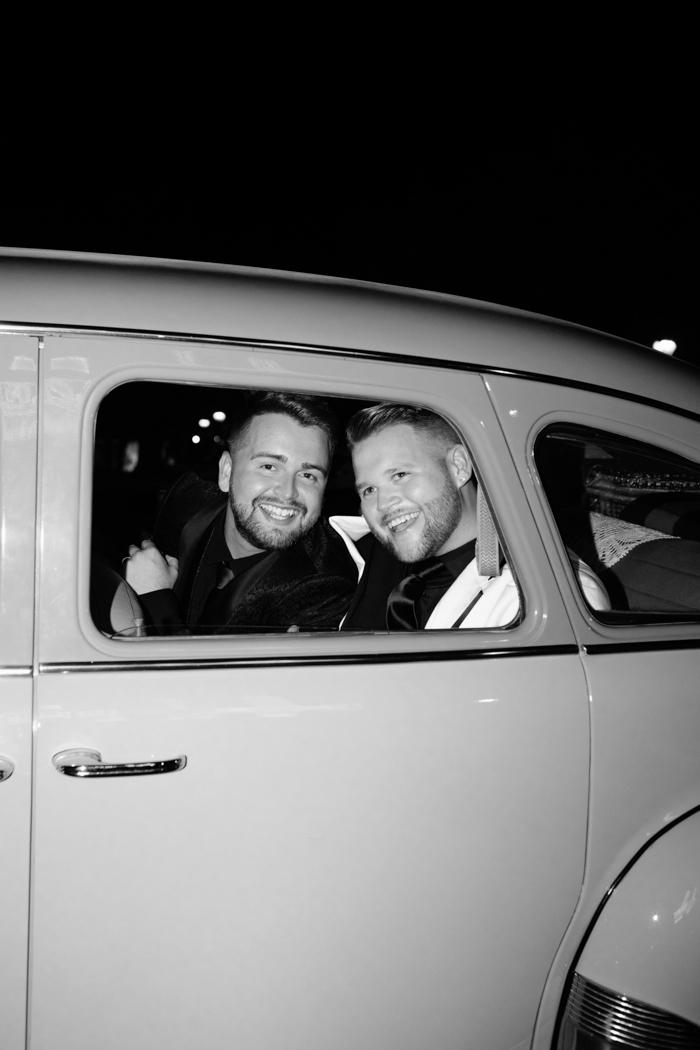 Congratulations to Cameron and Sean on their beautiful black and white art deco Clay Theater wedding. And many thanks to Celeste Burns for capturing every moment and detail that made their celebration a memorable one.
Your wedding venue can set the mood, especially if it has a special meaning to your love story. This wedding is your proof. And if you're starting your search for the perfect venue, take a look at our carefully selected options. Once you've found the right place, add some extra flair by getting creative with your fashion choices and gathering inspiration from unique ideas. These simple steps can make your wedding day truly special.