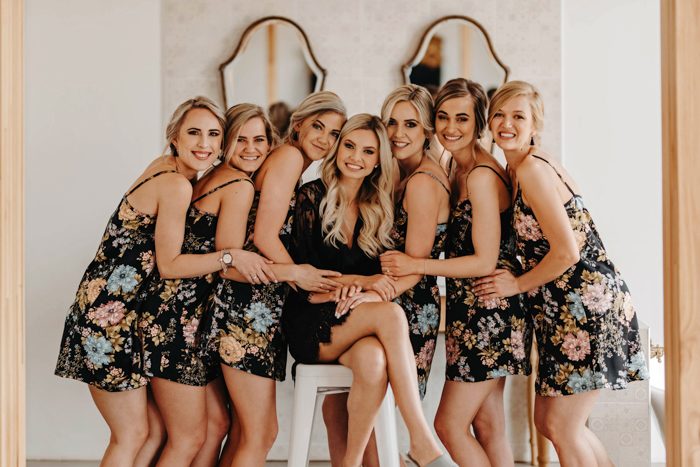 photo by Lora Photography
You've got your maids, checked off all your major vendors, and now it's time to think about timeline and all the little details that come with it! You may be wondering where to get ready the morning of your wedding — and we are here to help with a few creative getting ready location ideas and all the tips you need for rocking your wedding morning. Once you've decided where to get ready the morning of your wedding, be sure to scroll to the end for an infographic checklist for what to pack in your wedding bag!
GETTING READY LOCATION IDEAS
If the getting ready experience is important to you, location can play a huge part in how you're feeling on the day of your wedding. These are also some of the most candid and fun photos of the day, It's important to think about lighting and room size when considering the space you'll choose to spend time in leading up to the big "I do!" Involve your expert vendors who can help you determine where to get ready the morning of your wedding! Still on the vendor hunt? Be sure to check out our directory of the world's best wedding vendors.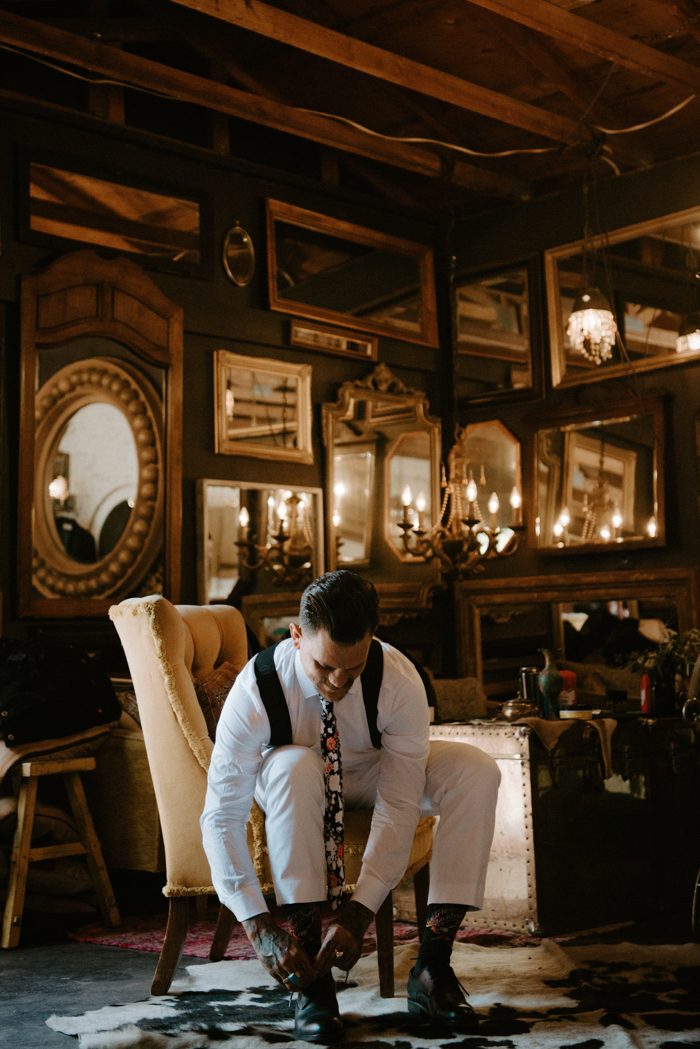 photo by: Singler Photography
Wedding Venue: This seems like an obvious choice for where to get ready the morning of your wedding, right? If you love the decor and design of your venue, you probably want as many photos there as possible! Be sure to check with your venue to see what time they'll allow you to arrive on the day-of. You might need to start to get ready at an alternate location and arrive at the venue just for the "final touches."
Airbnb or Private Residence: If you're needing a little extra space or another location in addition to your wedding venue or ceremony location, we think an Airbnb or private home is an awesome option! Renting an Airbnb for your bridal party to stay in the night before the wedding can also be a fun way to add a little extra time with them into your wedding weekend schedule. Pro tip: Send your Airbnb options to your photographer and make sure there is plenty of natural light!
Hotel: As an alternate to an Airbnb, booking a hotel can also be a great option, especially if you're having a destination wedding or a lot of guests in town for the big day. If you are getting ready at a hotel where many of your guests are also staying, just make sure you've coordinated a way to sneak out without anyone seeing you (if you care about that tradition!).
Salon: Many salons actually will offer a bridal package that allows you and your crew to get all your pampering done right there at the salon! We love this idea because it gets you out of your element and into a fun environment with your friends. If the salon is into this thing, we're sure you'll arrive to an overall upbeat experience! Plus, there's no extra clean up needed once you leave!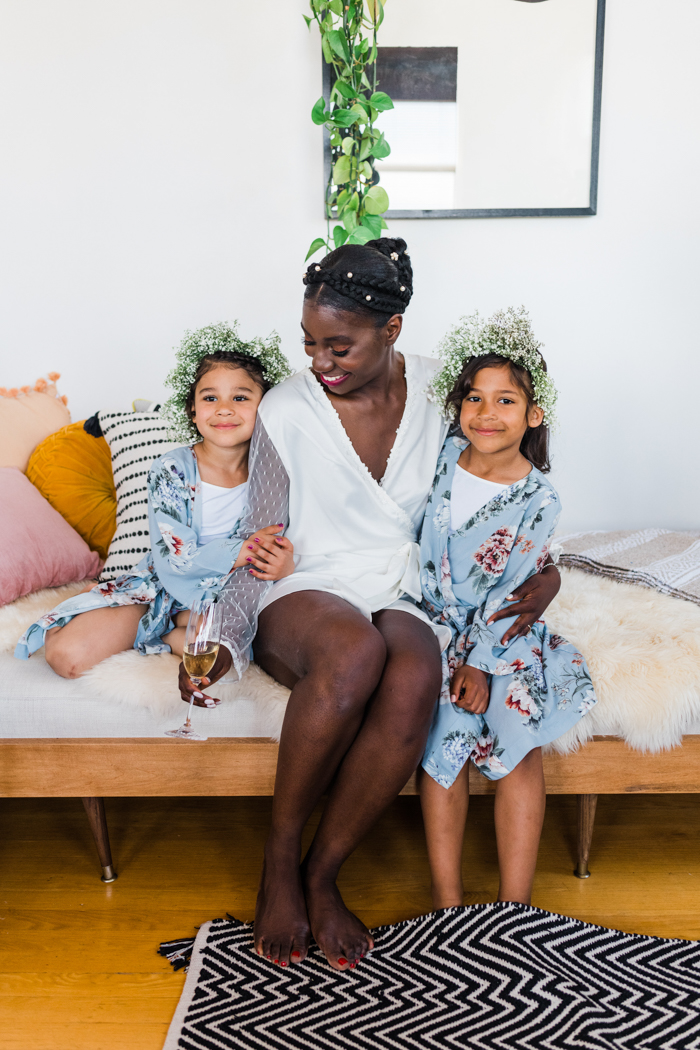 photo by Nikki Mills
WEDDING READY TIPS
Now that you should be feeling good about where to get ready the morning of your wedding, it's time to talk about how to make the most of your getting ready experience with some helpful "wedding ready" tips!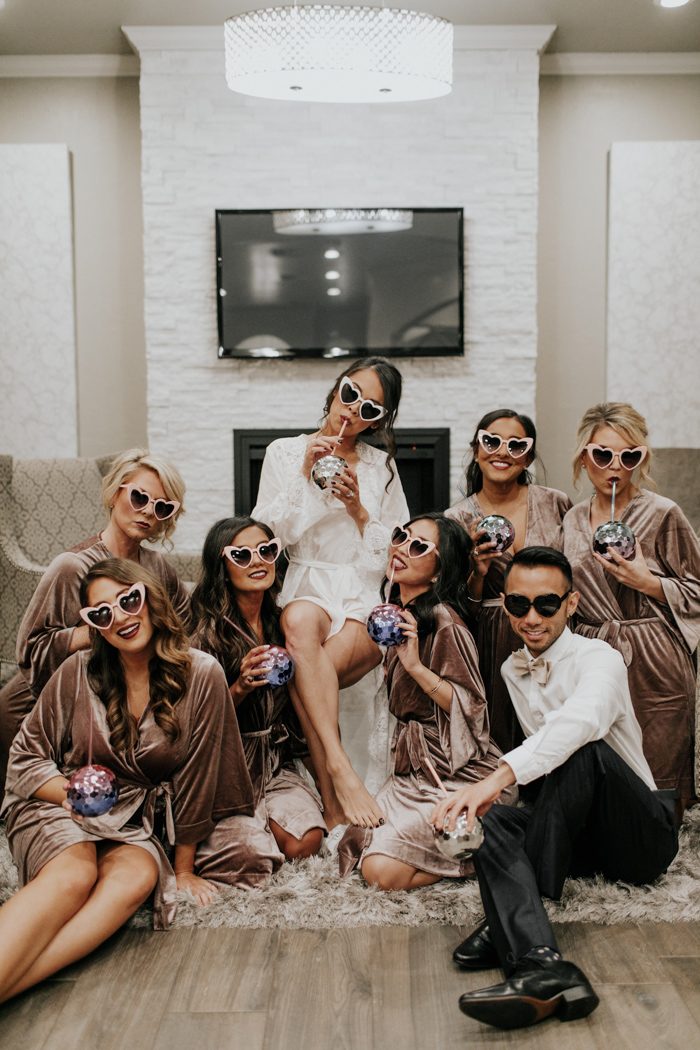 photo by Melissa Marshall
1. Plan your outfits with your 'maids. If you've found yourself on our blog, we're pretty sure you've seen a cute bridesmaid robe (or hundreds of cute bridesmaid robes and getting ready outfits). We love this idea and hope it never goes away! Whether you choose robes or just to coordinate colors, matching 'maids will look adorable in photos. Pro tip: Groomsmen can have matching outfits, too!
RECOMMENDED READING: Adorable Bridesmaids Robes for Your Best Girls
2. Pack a bag the night before. We know this might seem like an obvious step, but on the week-of your wedding you're likely excited and probably spending lots of time with family and friends. Make sure you remember YOU. See our "getting ready details" checklist below for the items that should go in your bag. Pro tip: If "detail" photos are important to you, you can also pack along a few styling items. Make sure your photographer knows where to find these things when they arrive!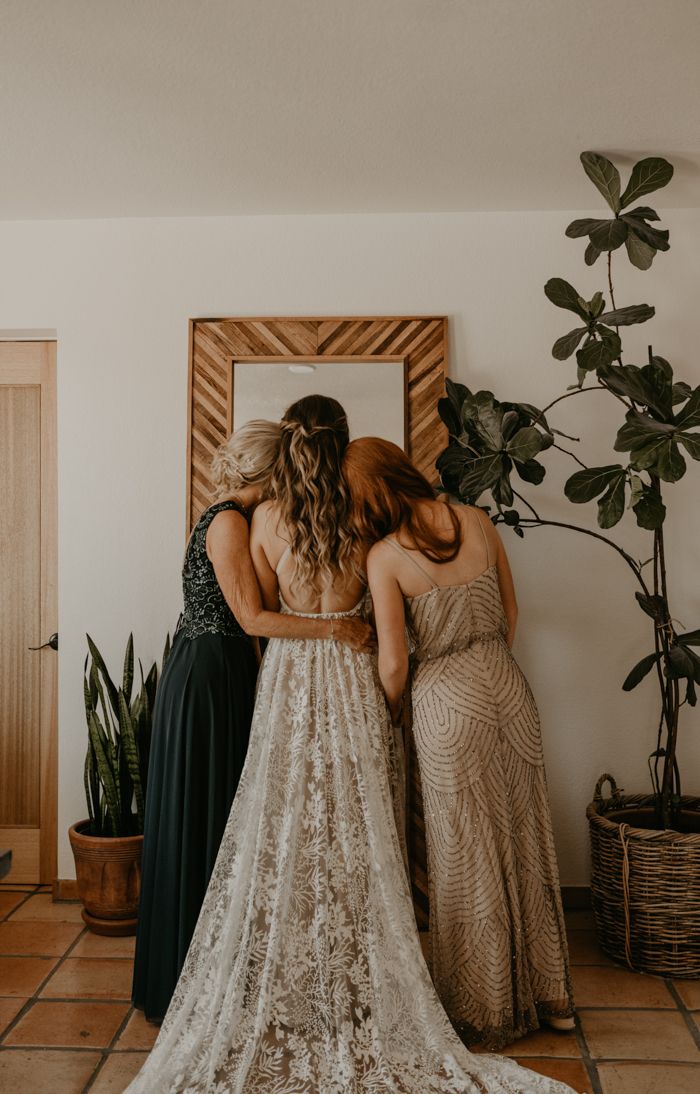 photo by Alyssa Marie Evans Photography
3. Choose who you want to be in the room when you put on your dress. During the hustle and bustle of wedding day it's easy to just start going through the motions and rushing around to stick to a timeline. On your wedding day, keep in mind that it's OK to stop, breathe, and think about your needs. Before your wedding day, make sure your team (photographer, videographer, planner) knows who you want to help you get in your dress. They can kindly ask anyone else to exit the room for this special, private moment.
4. Keep the room tidy. With so many people getting ready in one space, clutter happens. However, it can be a huge distraction in photos and videos. Try asking your friends to limit their bags and keep their things in a location off to the side or just outside the room. Bonus tip: If you have room in your budget for re-useable water bottles or matching cups, this is a great little way to make clutter pretty!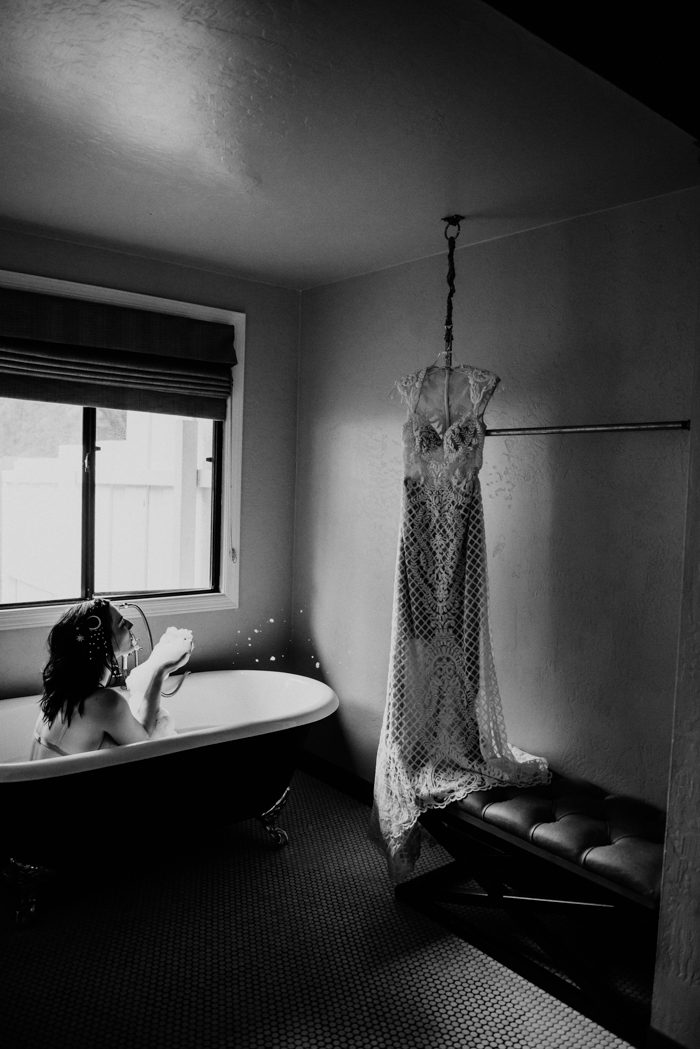 photo by Rubi Z Photo
5. Take alone time if you need it. Even if you haven't decided where to get ready the morning of your wedding, making a decision to take some alone time on your special day can be a truly beautiful thing. Think about your intentions for the day, and don't be afraid to speak up if you're feeling overwhelmed and just need a few minutes to center yourself and breathe.
6. Make sure to hydrate (with more than just champagne). Yepp, we said it. We know you want to enjoy all the bubbly with your besties on the morning of your wedding, but trust us, you can't go wrong with hydrating. Plus, champagne is highly carbonated and all that fizz can cause bloating and…well, gas. Have your planner or a designated 'maid grab you a glass first thing post-ceremony! We promise, it's worth the wait.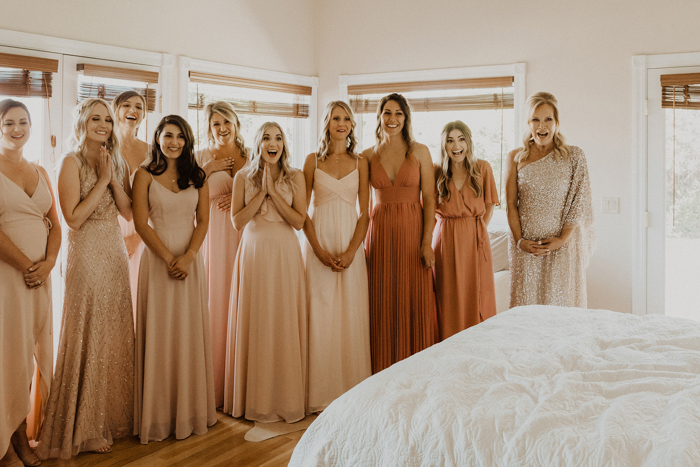 photo by: Kylie Morgan Photography
7. Make time for all the reveals. Revealing your bridal look to your friends and family is one of the most exciting parts of the day! Make sure both your planner and photographer are aware of your wishes for these reveals. It's best if they're not hurried or rushed, so that every emotion can be fully felt.
RECOMMENDED READING: 10 Ways to be More Present on Your Wedding Day
WEDDING DETAILS CHECKLIST
If you caught our tip above about packing your bag, you probably are wondering, "what all needs to go in my bag?" We've put together this helpful checklist for you to save to your camera roll and make sure you have everything you need!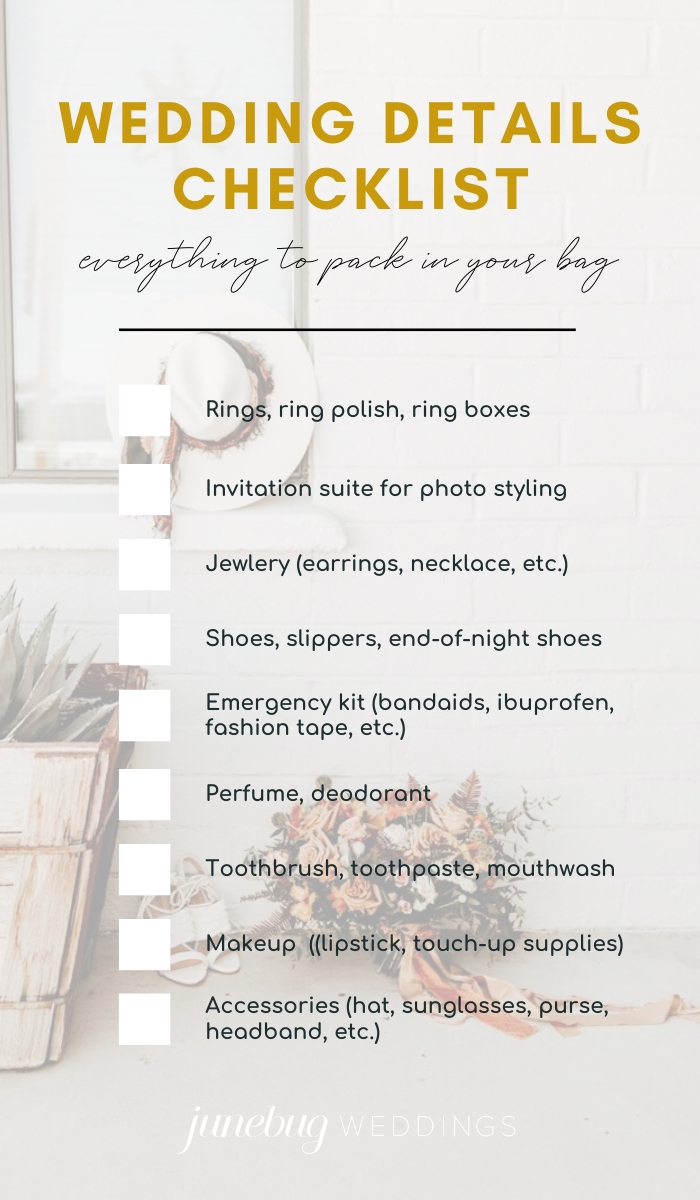 photo by Karra Leigh Photography
We hope you enjoyed all of these tips and ideas for where to get ready the morning of your wedding! Searching for even more wedding planning advice?
RECOMMENDED READING: Cool Casual Wedding Ideas for Low-Key Couples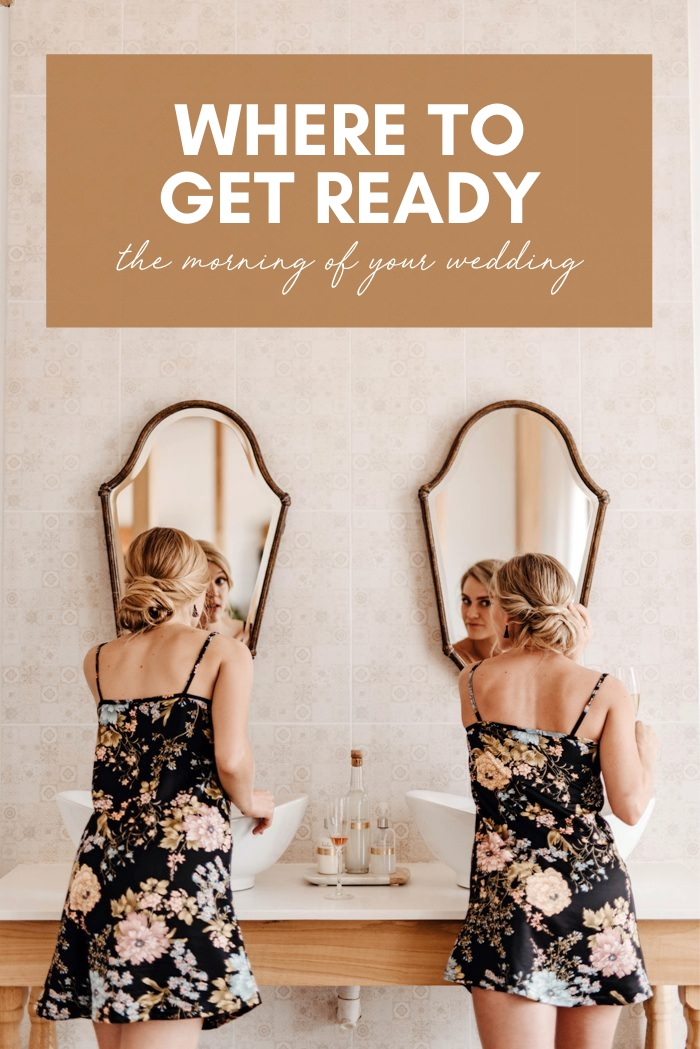 photo by Lora Photography