Spring bridal market has come and gone and I've been completely obsessed with exploring all the creative styles the wedding dress designers have come up with this season. (I just can't stop!) Therefore, this week we're dedicated to bridal fashion in all it's glory. We'll bring you highlights and personal favorites from the 2010 Spring runway shows, a winner will be announced for our Bel Canto Designs vintage accessory give-away, and we'll debut an extra special new Fashion Report that I know will illicit oohs and aahs and an overwhelming urge to go shopping! Stay tuned for some seriously stylin' stuff, beginning with…
Angel Sanchez! This talented designer created a collection for spring that's full of gorgeous sculptural details that defy the typical concept of what fabric can do. I love how his designs are ultra structured yet light as a feather at the same time.


(Top image from MarthaStewart.com, other images from Brides.com)
The eternally chic Amsale is another design house who's spring collection contains intricately layered and sculpted fabric details. It all feels very organic and fluid but grand and elegant as well. What a lovely combination!


(Top image from MarthaStewart.com, other images from Brides.com)
And for those brides looking for more of a party frock, Amsale created fun little white dresses too. I could just as easily see one of these being worn at a stylish city cocktail reception, an intimate city hall elopement or a tropical beach getaway.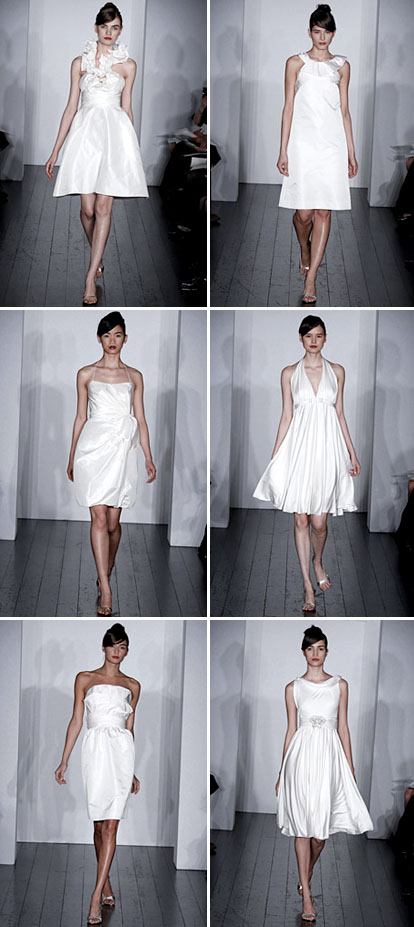 (Images from Brides.com)