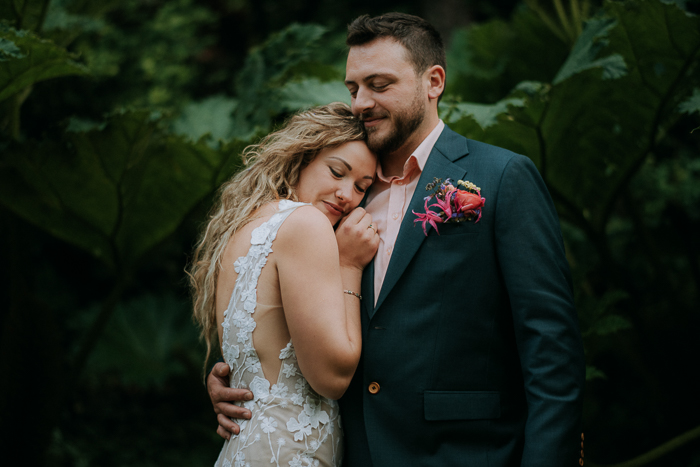 Jodie and Nick had a special vision for their big day. They wanted to blend the charm of a garden cocktail party, the cozy vibes of a cottage core atmosphere, and the relaxation of a yoga retreat at their Ruby Lake Resort wedding. Jodie, who plans retreat weddings, wanted to prove that weddings can be more than just one day, so they stretched their celebration over several days. It was a hit! Their wedding was full of vibrant colors inspired by Diwali, with breathtaking floral arrangements and installations that truly wowed everyone.
Imagine a beautiful forest ceremony, an aisle lined with wildflowers, leading to a mossy tree altar adorned with blooms that appeared to grow from the tree itself. After exchanging heartfelt vows, the newlyweds exited under a shower of flowers, creating a magical moment. The tented reception was equally enchanting, with stunning tablescapes overflowing with colorful blooms and hanging potted flowers above. Meanwhile, the golden glow of candles and string lights set the perfect atmosphere.
While we could go on about this incredible event, we'll let the amazing photos by Junebug member Sara Rogers speak for themselves. From the sweet first look to the forest portraits and all the beautiful moments in between, this weekend celebration is a must-see.
The Couple:
Jodie and Nick
The Wedding:
Ruby Lake Resort, Madeira Park, British Columbia, Canada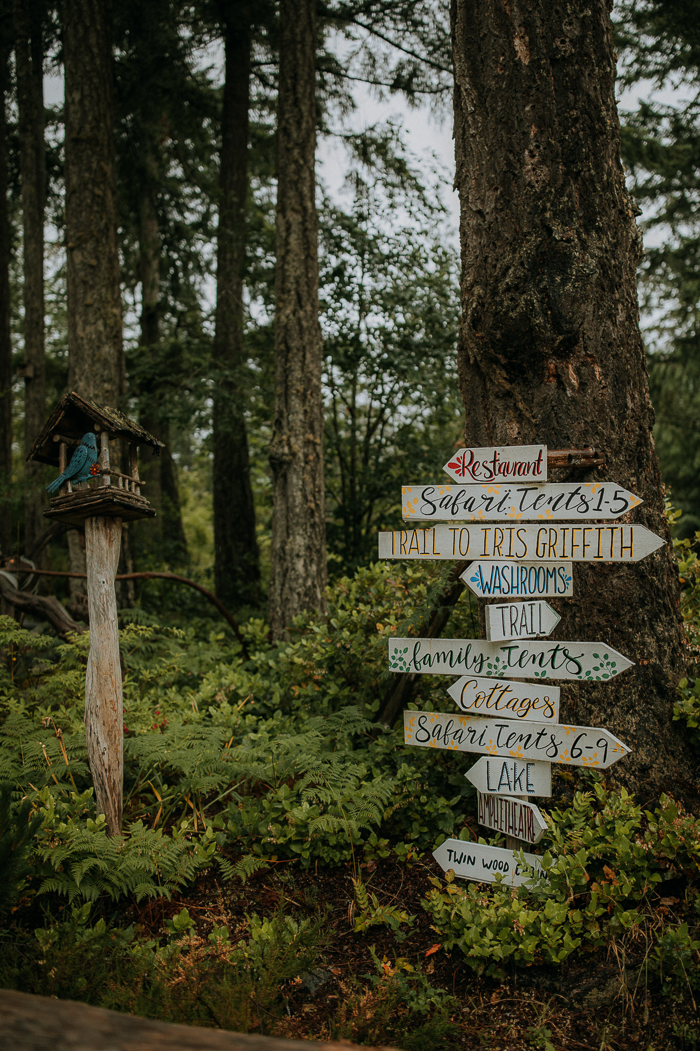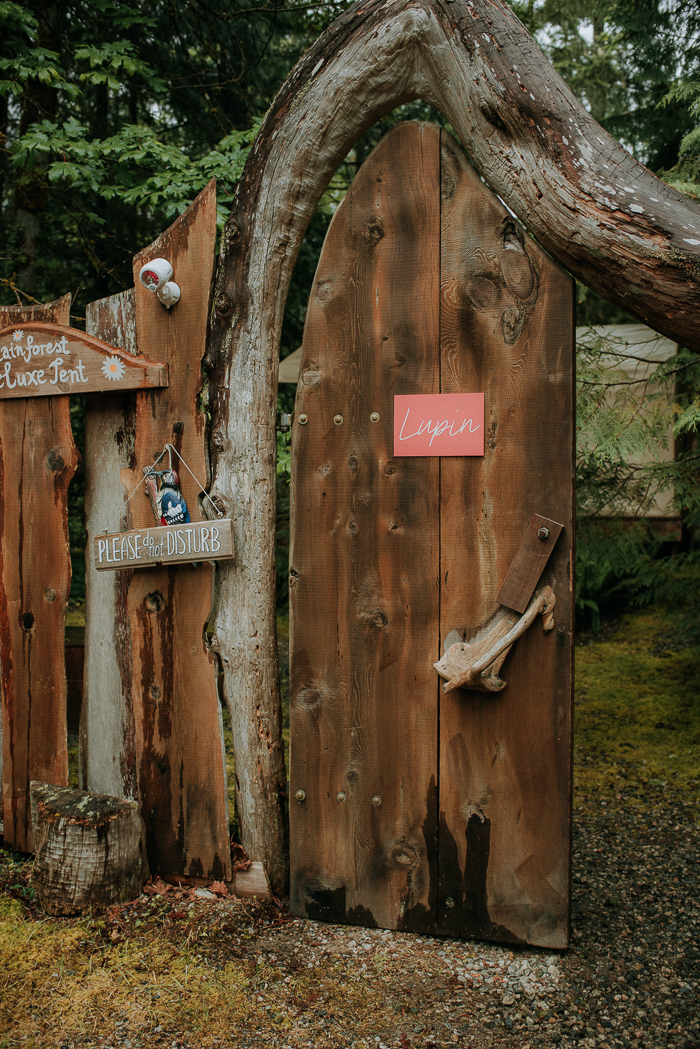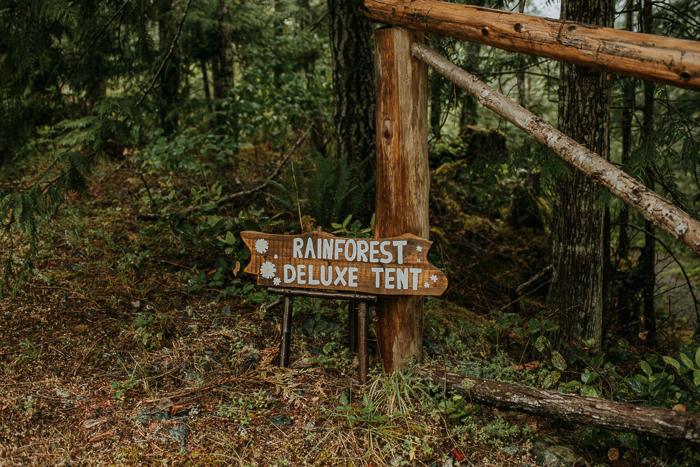 Why They Chose to Have a Ruby Lake Resort Wedding
As a wedding planner specializing in retreat weddings, I aimed to make our special day reflect this unique style. Traditional weddings often feel rushed, leaving little room for genuine connections with guests. Retreat weddings provide a different experience, but they come with their own challenges, like local rules, where everyone stays, meal planning, and getting the right staff. This is why having a wedding planner is crucial. Our chosen venue, Ruby Lake Resort, had everything we needed: places to stay, beautiful spots, excellent catering, and the flexibility we wanted. It allowed us to give our guests something new, where they could spend quality time with us and create lasting friendships. The immersive and experiential aspects made our whole weekend unforgettable.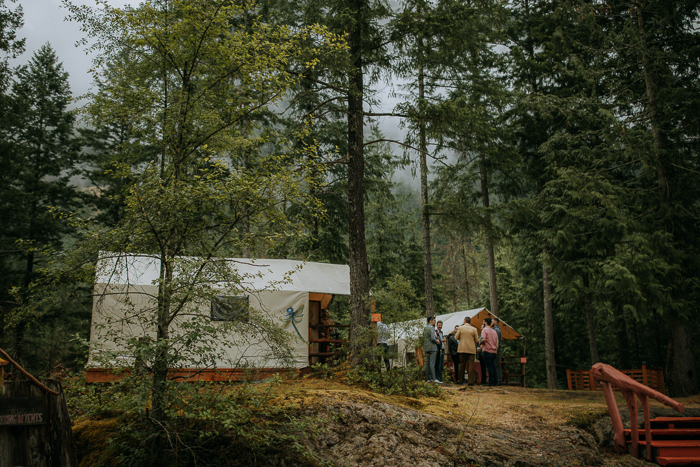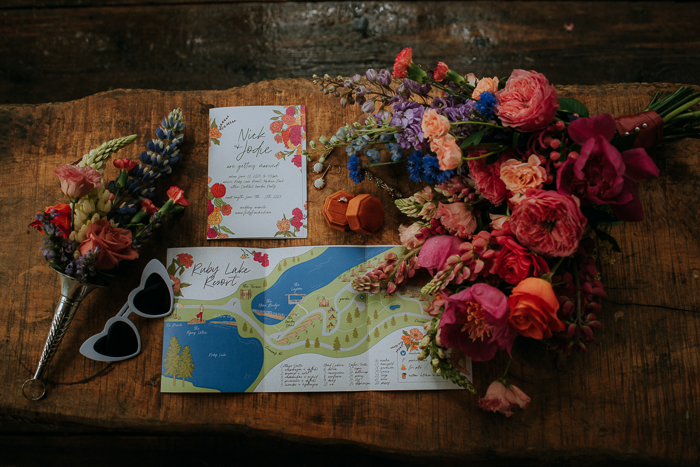 Prioritizing Comfort and Authenticity for the Bridal Look
When selecting my wedding dress, Nick had one specific request: he wanted to see my curves. So, I chose a dress that showcased my figure and embodied the whimsical and joyful spirit of our floral-themed wedding. To add a personal touch, I customized the dress with shoulder straps instead of a strapless top for comfort and authenticity. With help from my stylist, I also embraced my natural curls to ensure I felt like myself on the big day. My goal was to feel natural and true to who I am.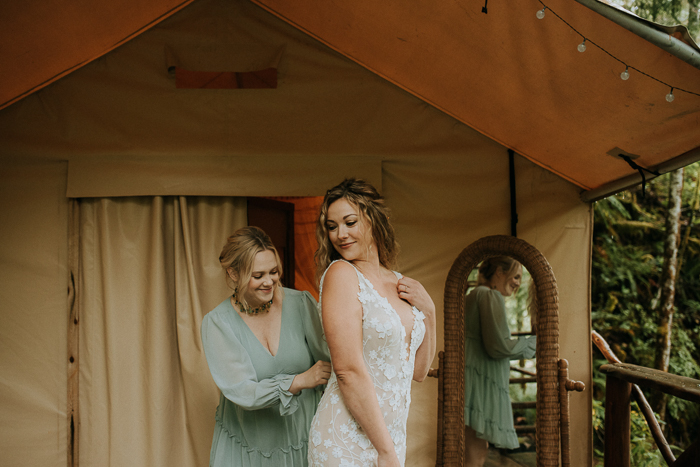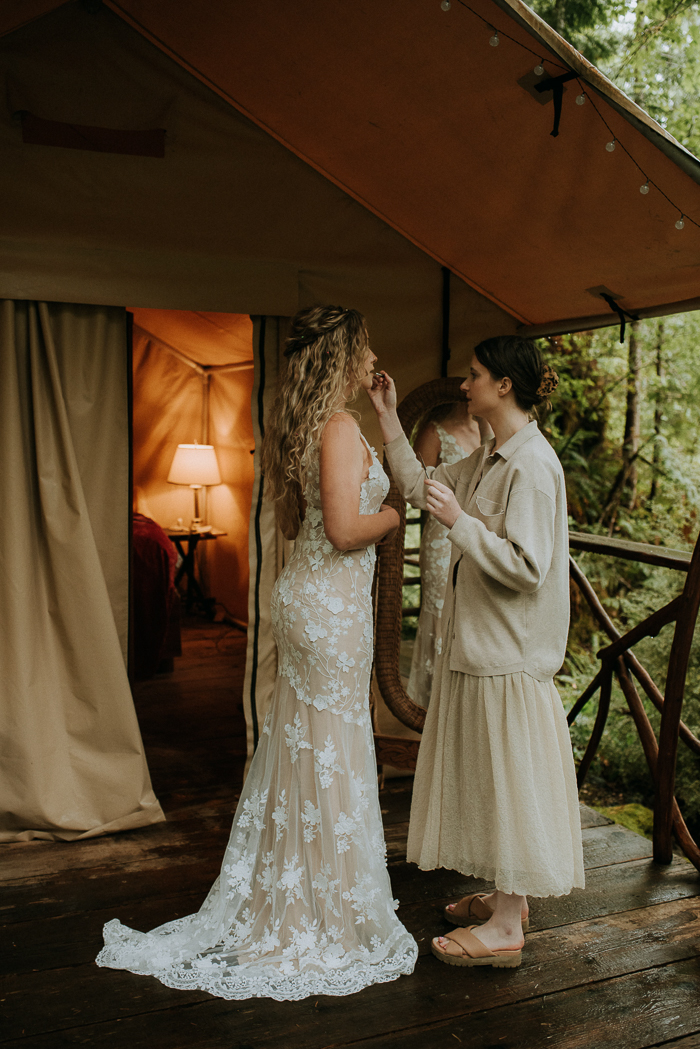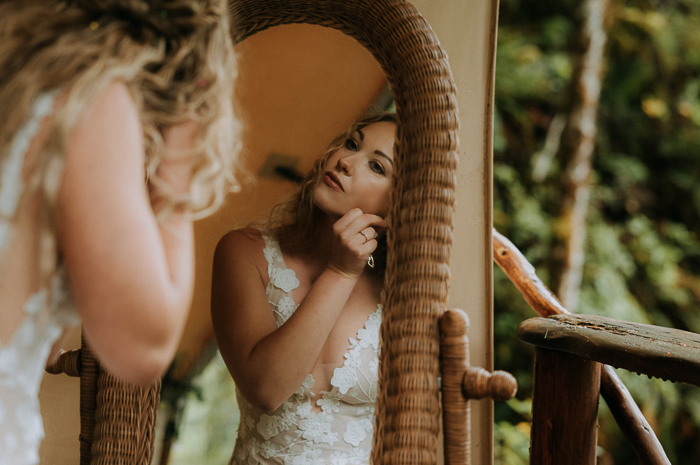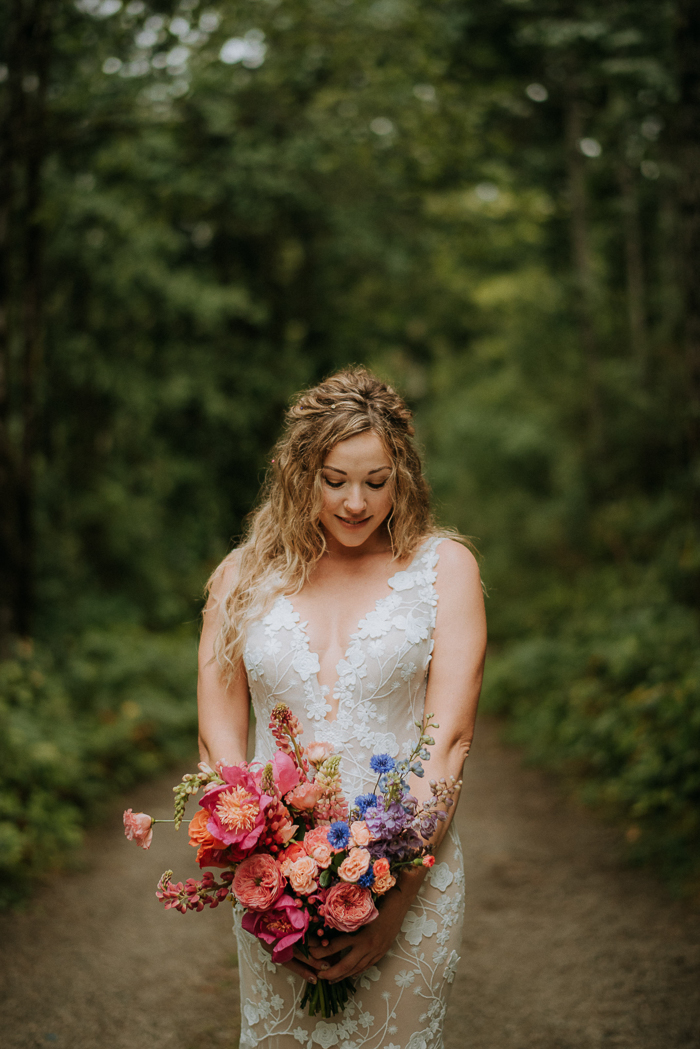 Incorporating Unique Colors and a Family Heirloom into the Groom's Attire
Nick was passionate about wearing a suit that incorporated color but didn't lean into the most common color palettes seen in men's suits. So, he had a custom suit made through Cardero Clothing that allowed him to select each item. He did so with his gold nugget cufflinks in mind, as these were a family heirloom.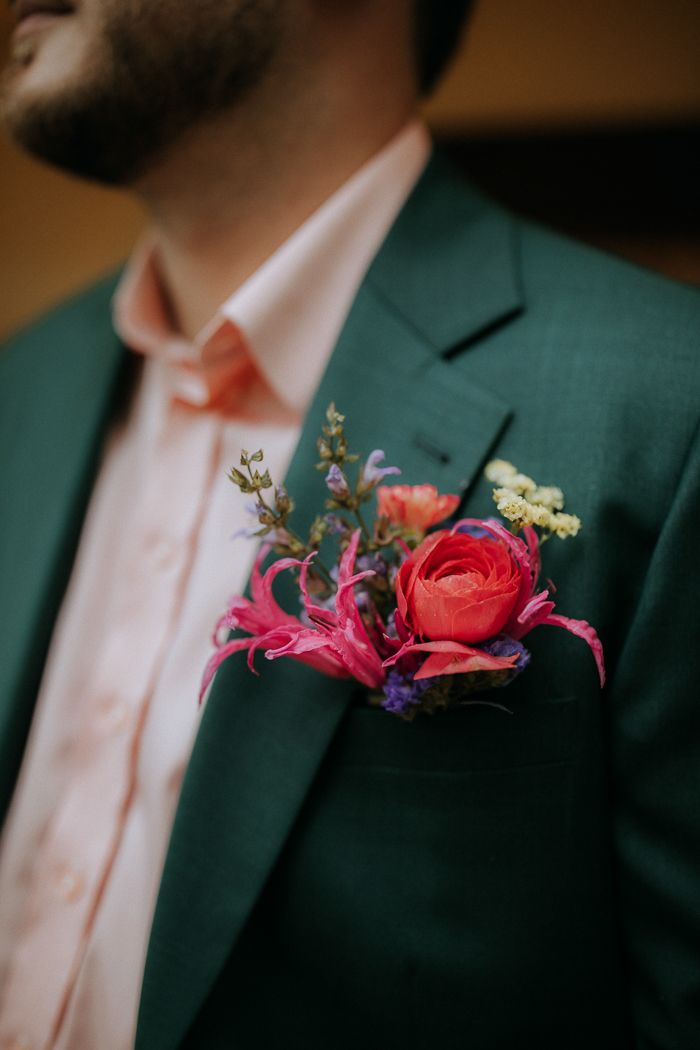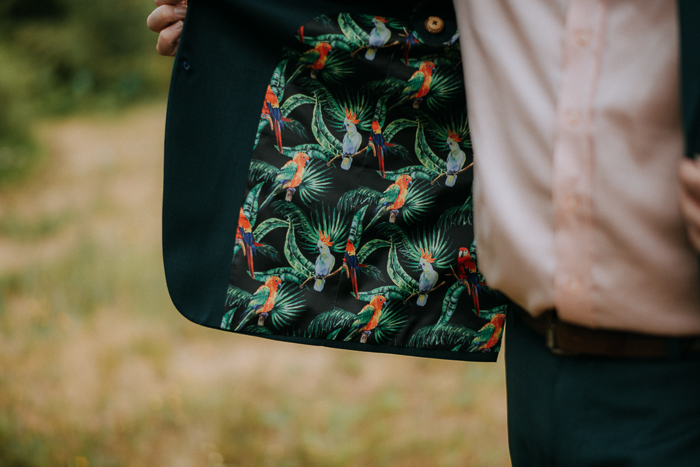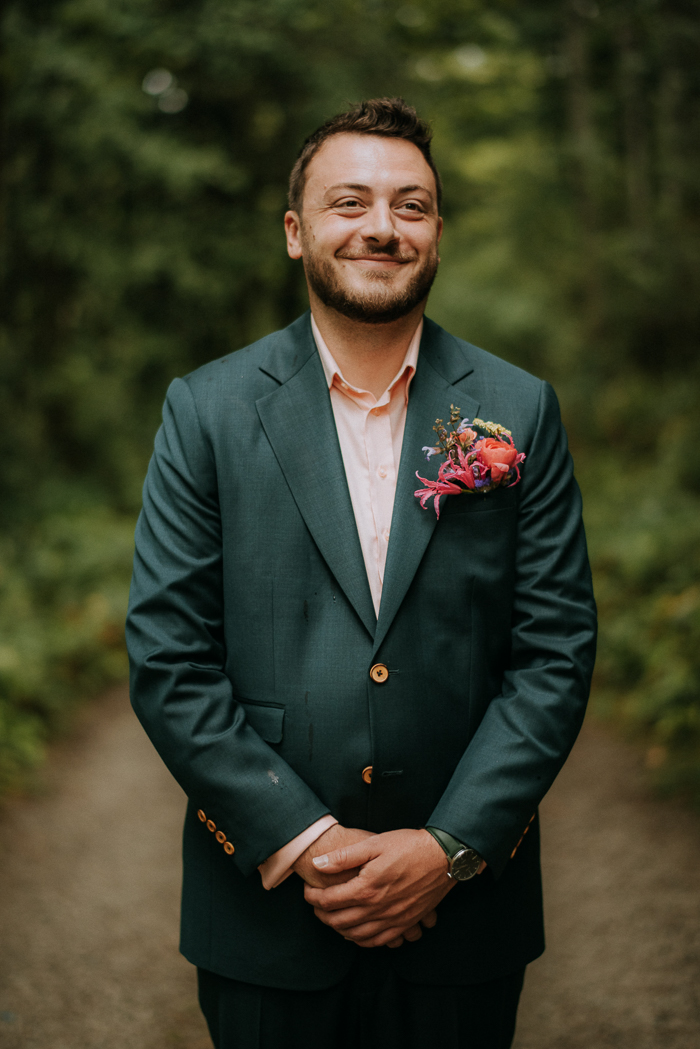 Using Gender-Neutral Language and an ASL Interpreter Made Their Ceremony Especially Meaningful
The ceremony felt deeply personal because someone dear to us officiated it. Making sure the script had no gender expectations and truly represented us was crucial. We worked closely on the script, choosing words and verses carefully. I've heard countless ceremonies. This was one of the trickiest parts of planning. I also surprised my sister with an ASL interpreter since she has difficulty hearing. It meant a lot to her because she could enjoy the ceremony without straining to read lips. Our interpreter was Contessa, one of my assistants at Thistle & Thorne.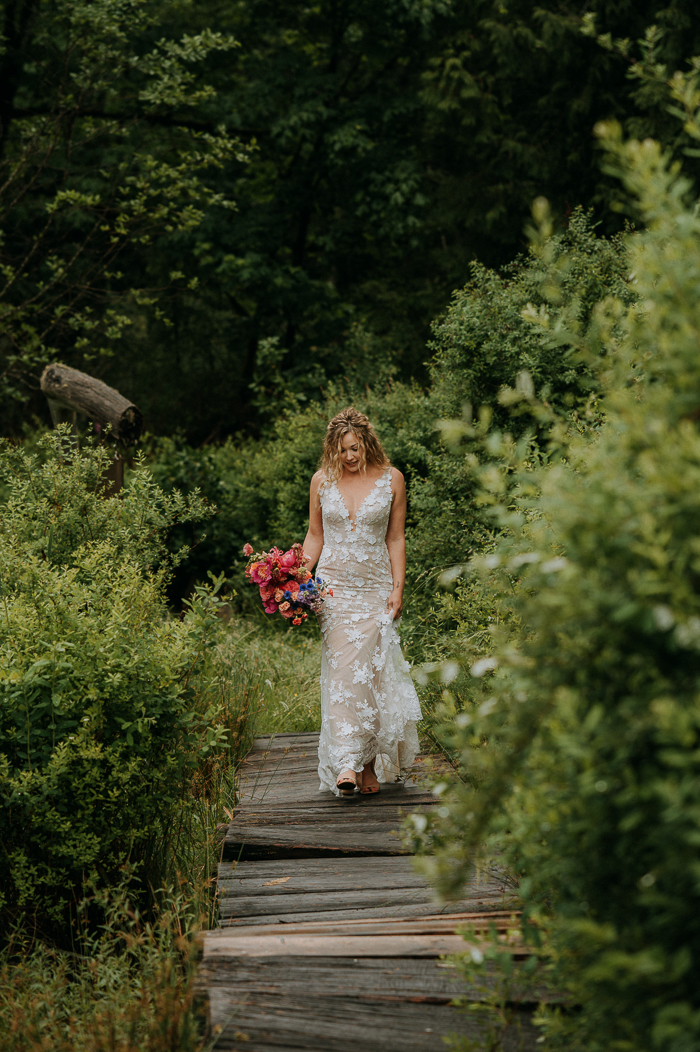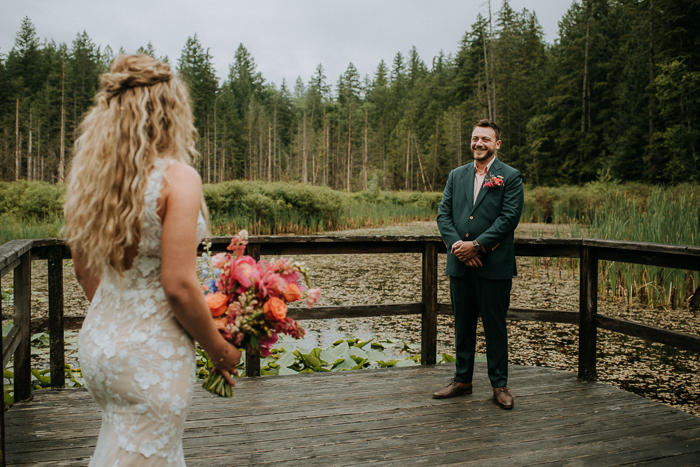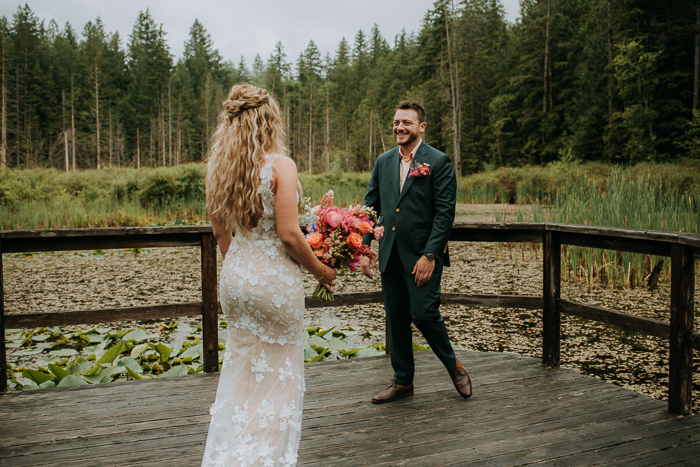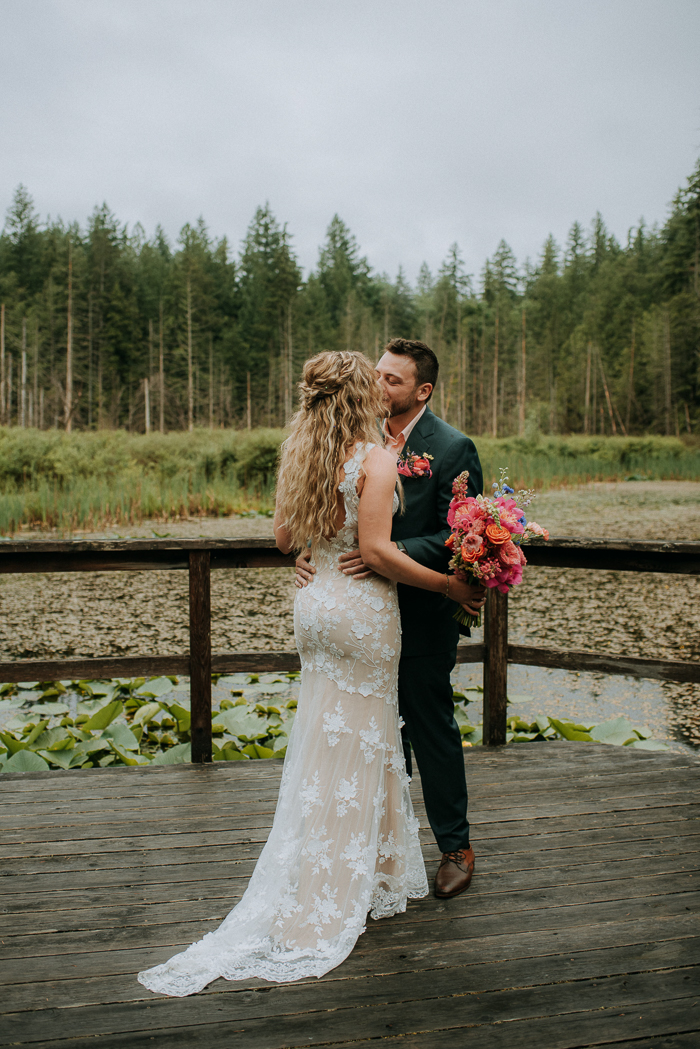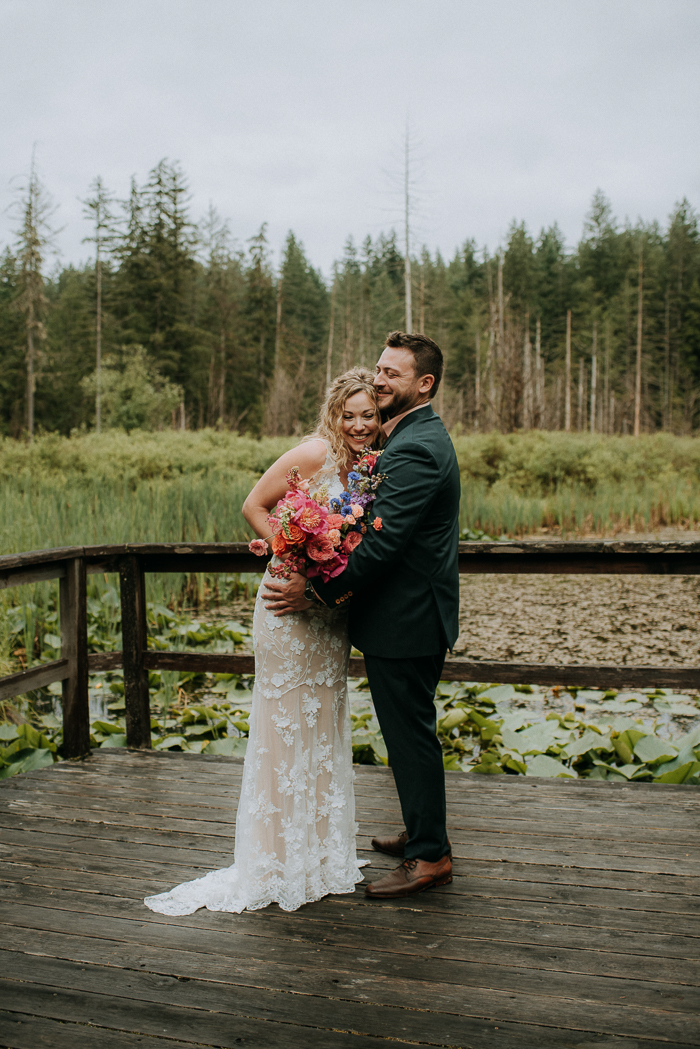 Their Wedding Theme was Inspired by Their Passion for Gardening and Music Festivals
Our love for gardening, tropical plants, and intimate music festivals inspired our wedding design. We wanted to create a unique atmosphere blending a garden cocktail party, cottage core, and yoga retreat feel. Our florist played a big part in making this happen with her stunning arrangements. We told our vendors from the start that we wanted lots of different colors, taking inspiration from the lively Diwali Festival of Lights. So, our ceremony had warm and cool colors like purple, blue, tangerine, coral, and yellow, while the reception had warmer shades to add energy to our dinner celebration.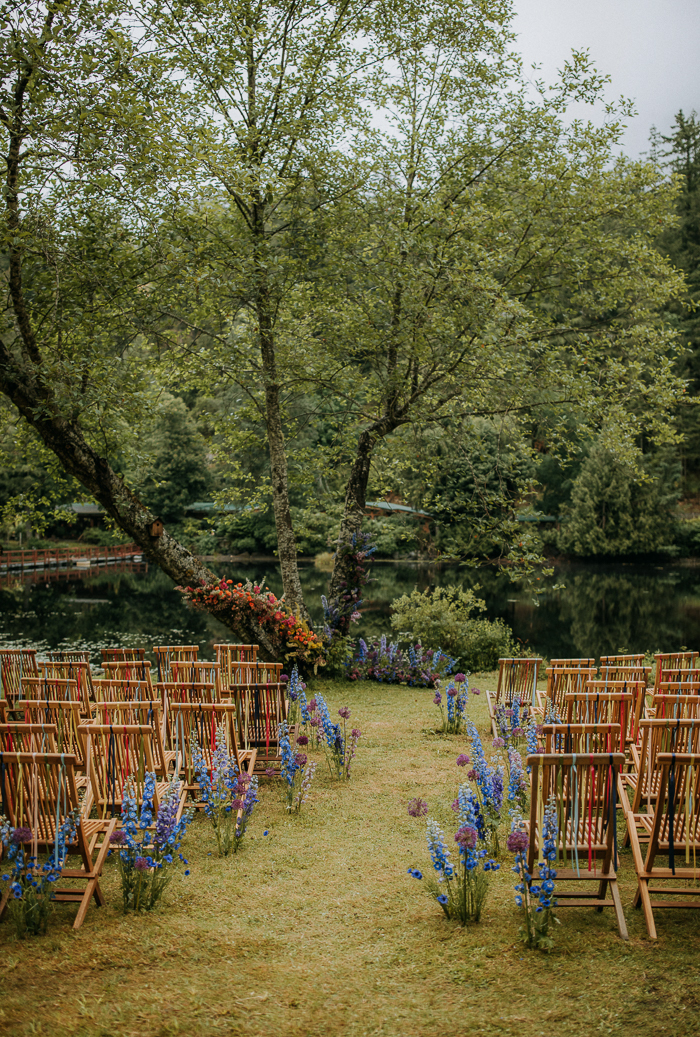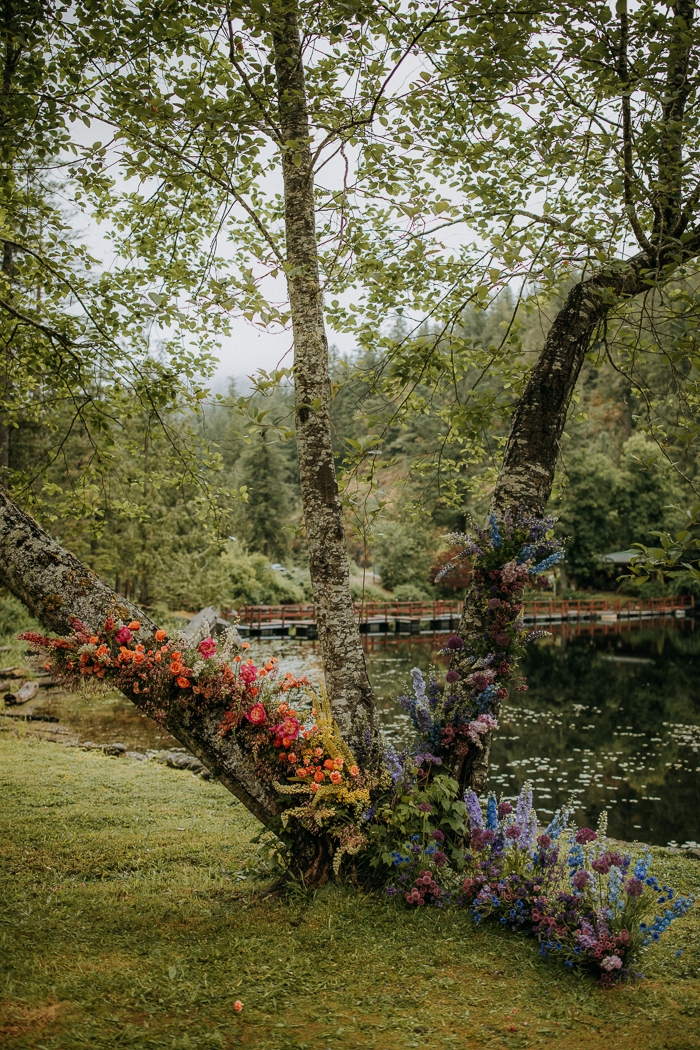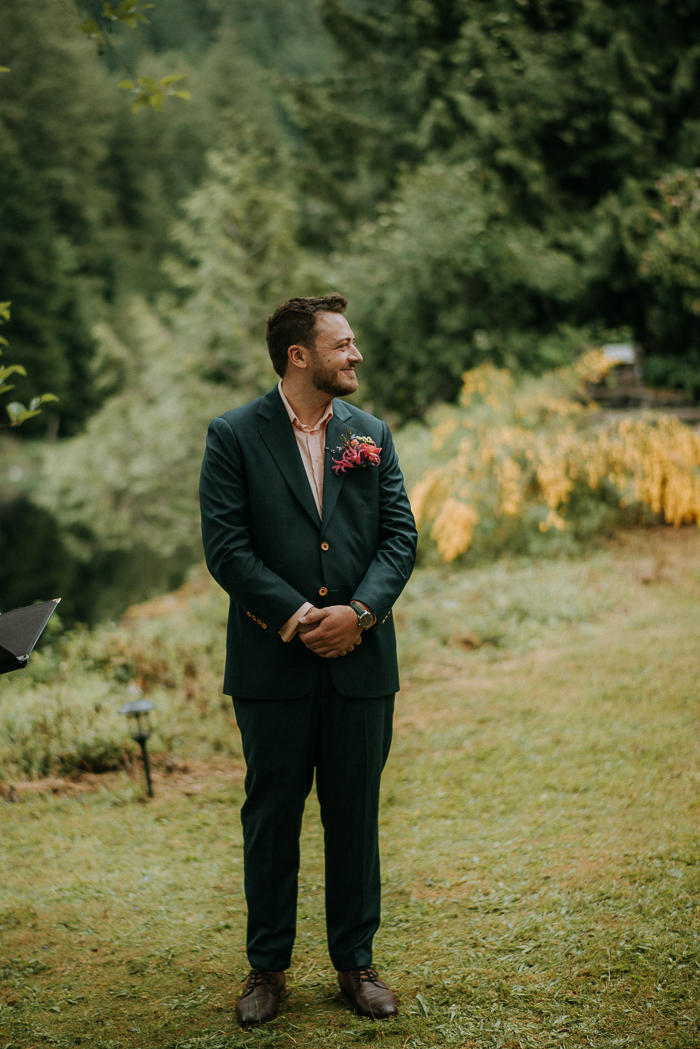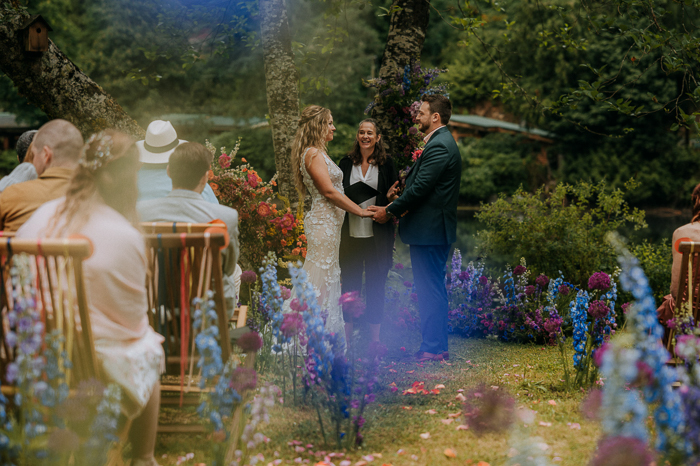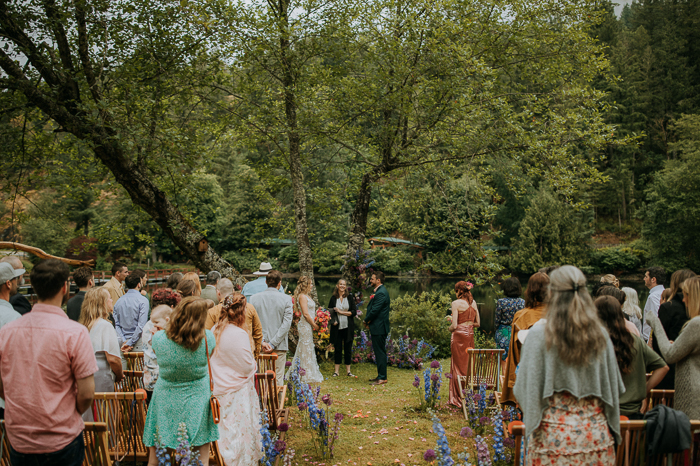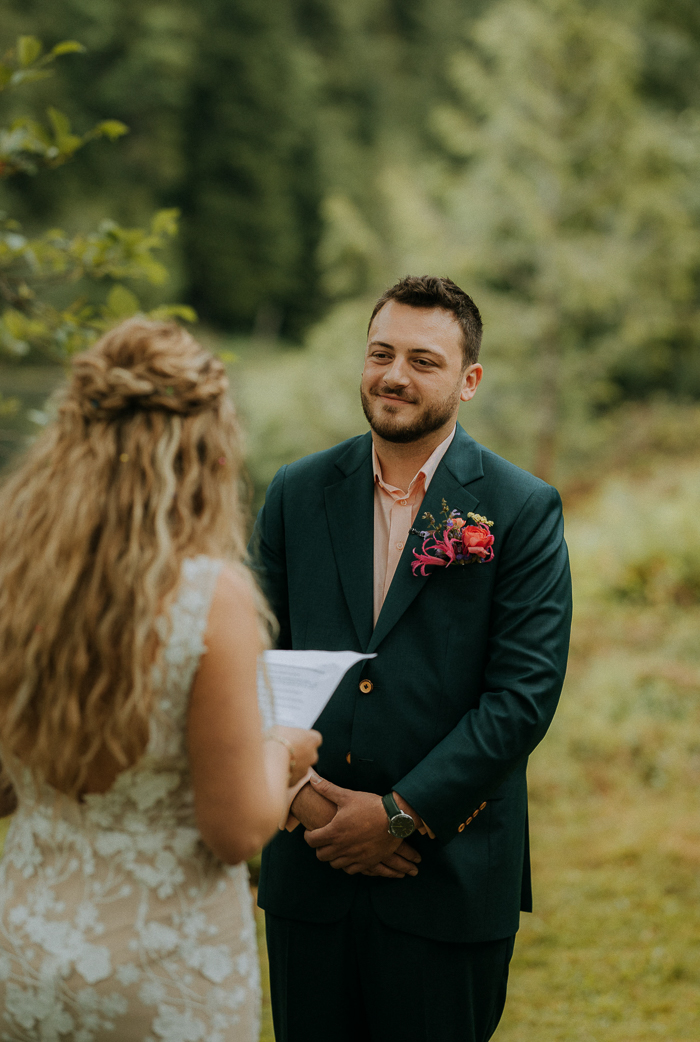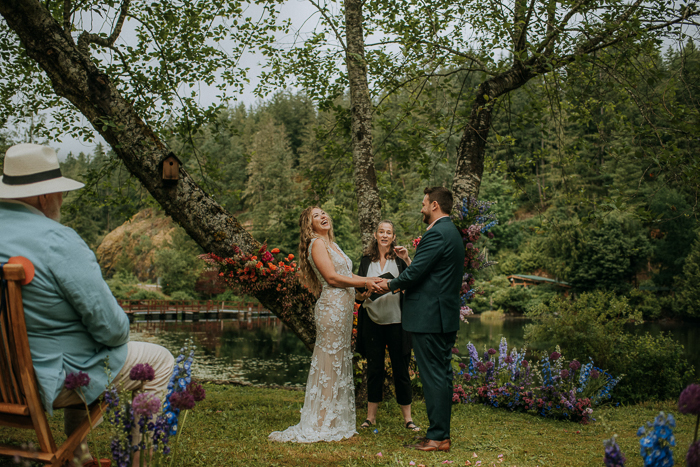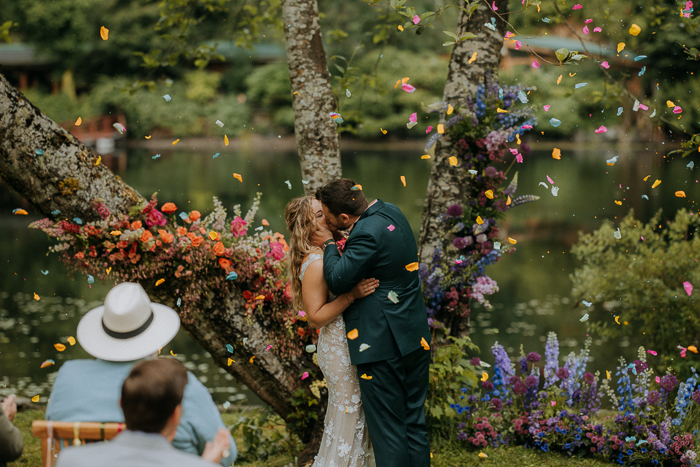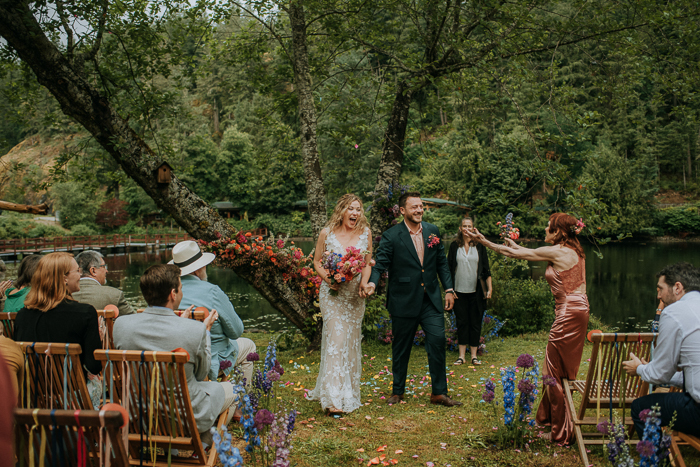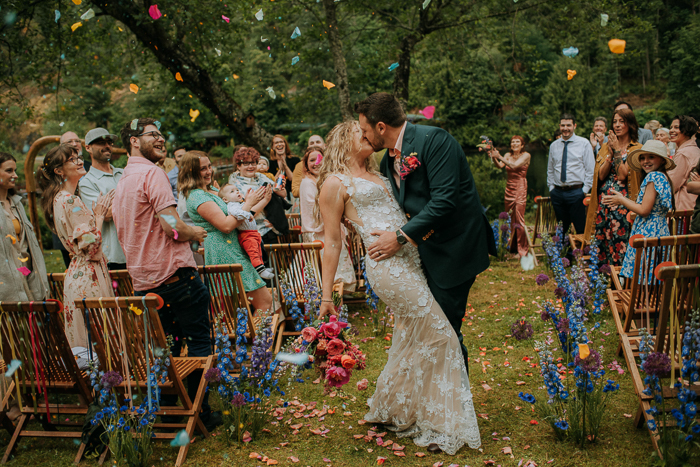 How Their Ruby Lake Resort Wedding Weekend Unfolded
Our wedding lasted several days, each with its own special moments. The first day was about the beach and a cozy barbecue dinner for about 40 guests gathered around a warm bonfire. The day before our wedding started with a peaceful yoga class on a floating dock and a delicious brunch. On the wedding day, colorful flowers were the star, and a floral cannon showered us with colors as we walked down the aisle. The night ended with an exciting performance by a lively psychedelic cumbia and salsa 7-piece band. They played past the curfew, and even the venue staff joined in on the fun.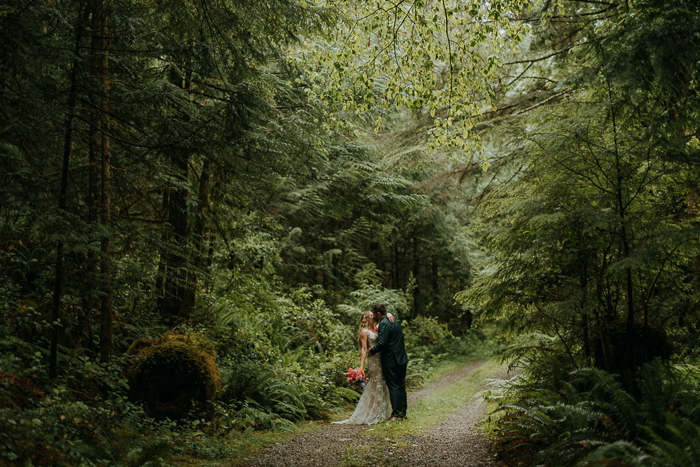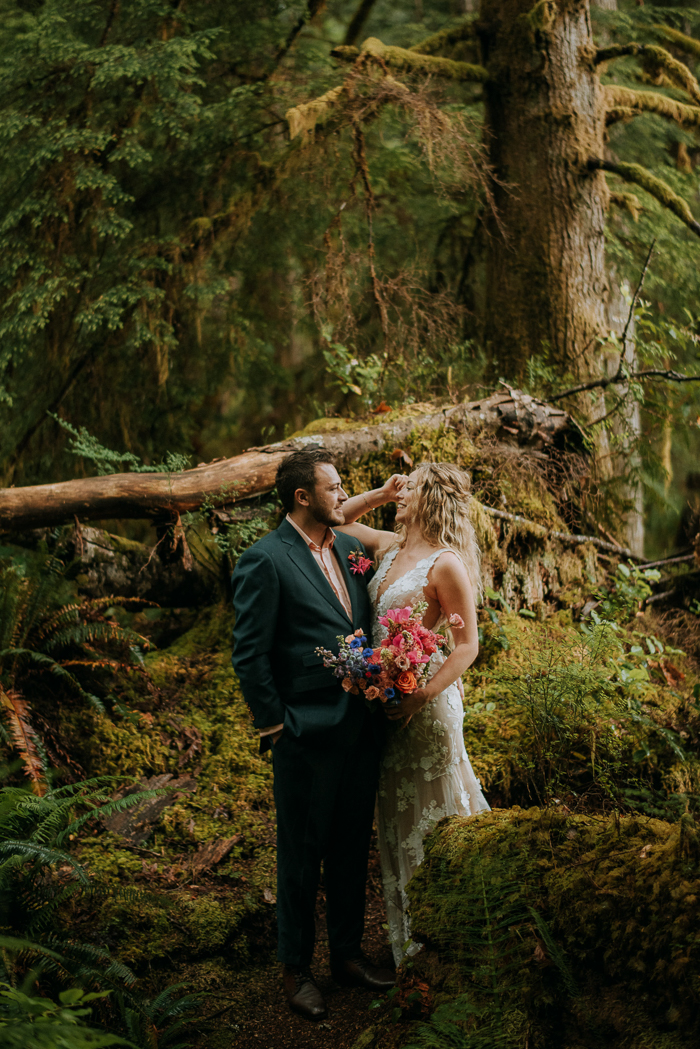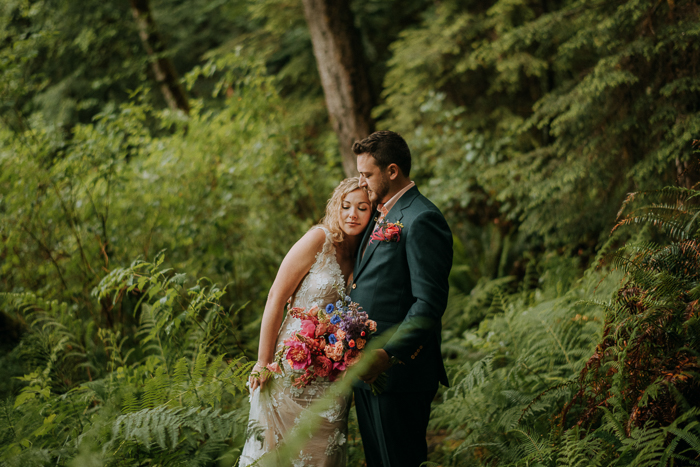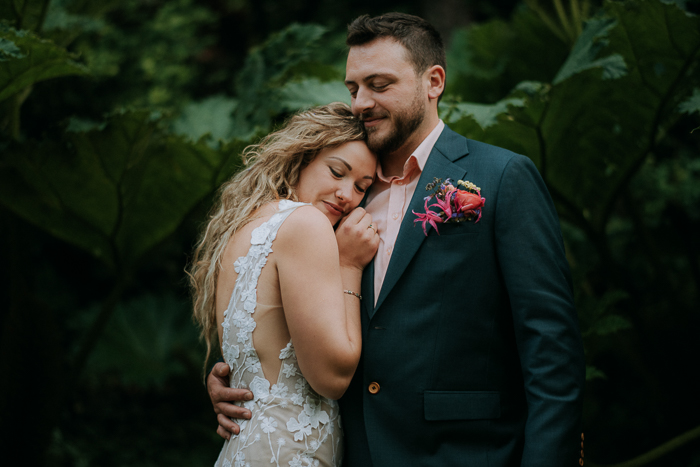 How They Navigated Their Ruby Lake Resort Wedding Budget
I have experience creating budgets for retreat weddings for my clients. Retreat wedding budgets differ from typical ones on Pinterest. Mainly due to the unique spending priorities, especially when providing multiple meals for guests. Unexpectedly, we had to transport the decor to our remote venue, which was only accessible by ferry because there were no local decoration companies. This required renting a U-Haul, an unforeseen expense. Our initial budget was $50,000, but we spent around $65,000. Luckily, some vendor friends provided around $7,000 worth of services. We invested extra in the wedding dress for customization and photography to ensure we had a talented photographer covering both days of the wedding.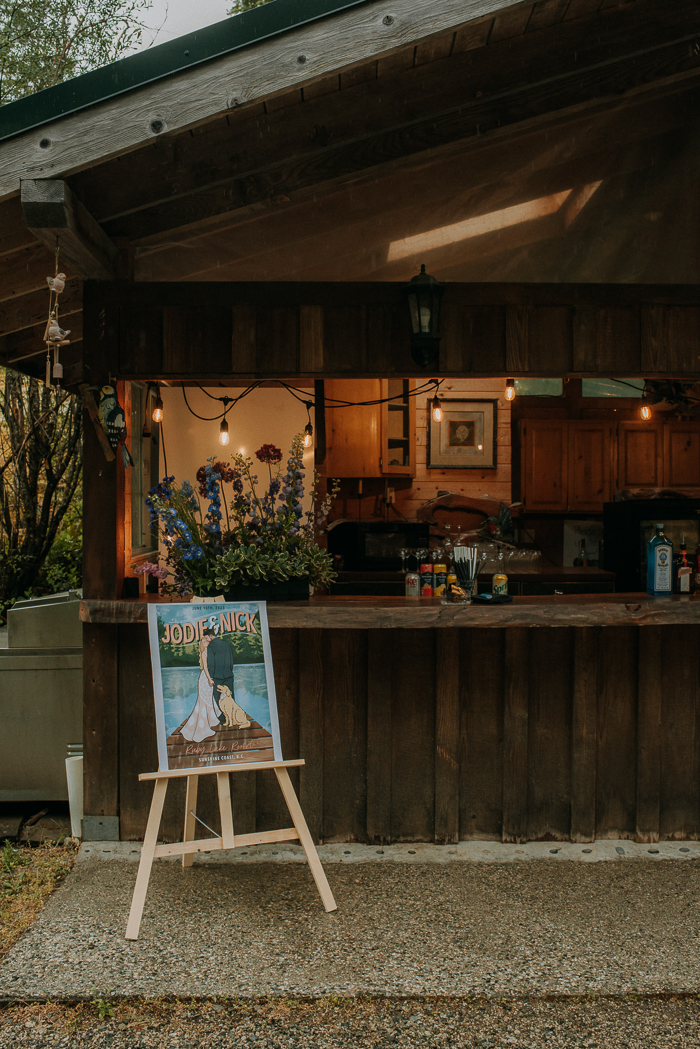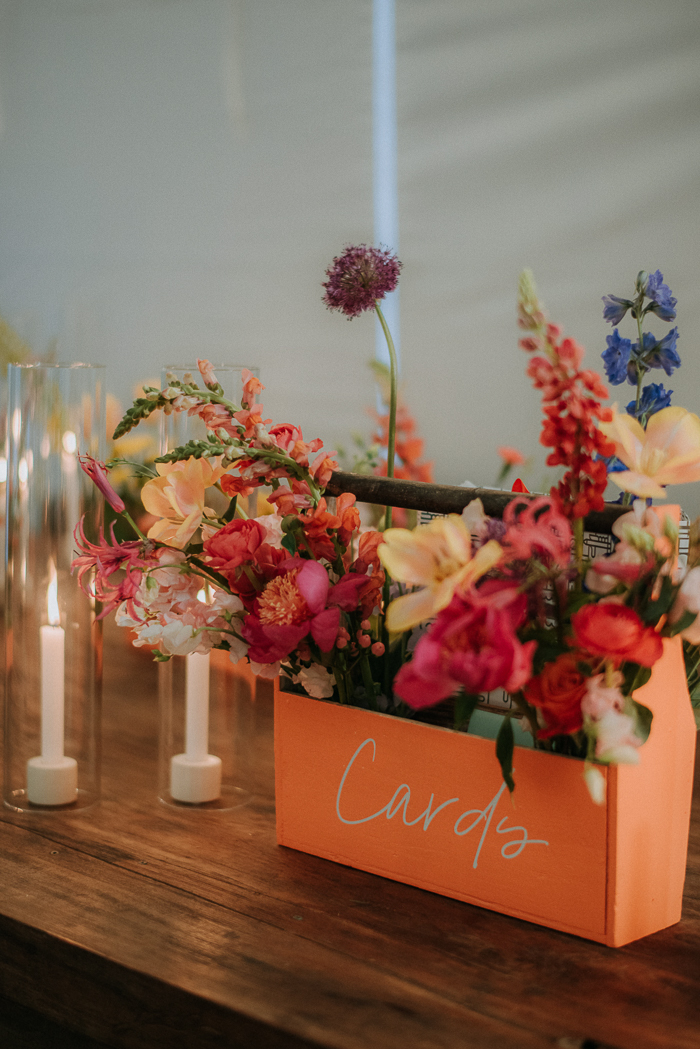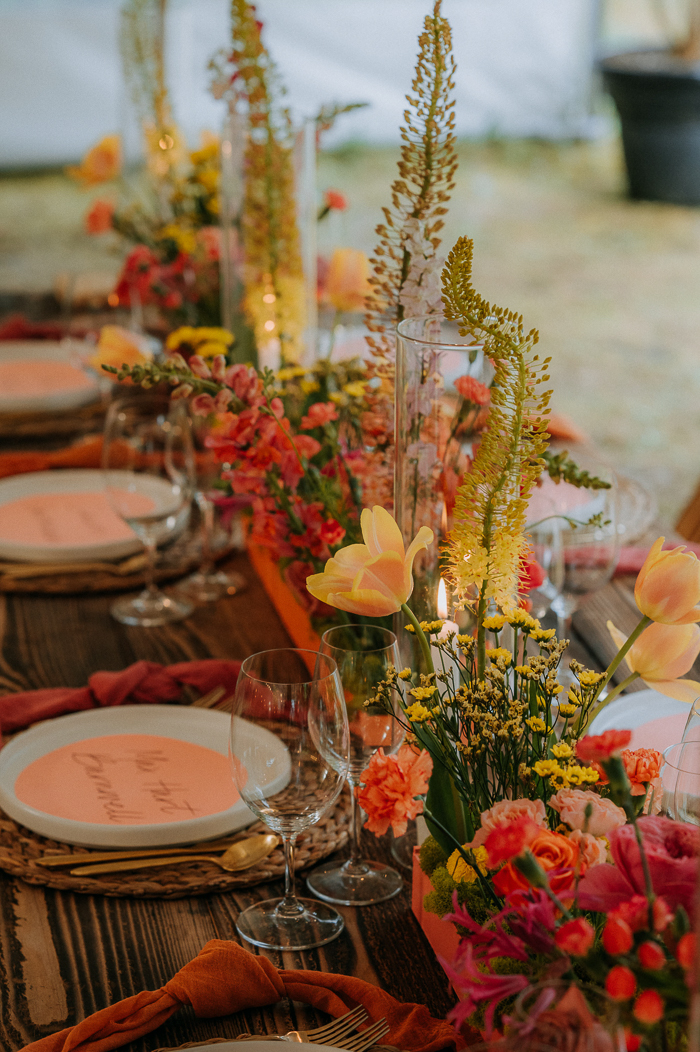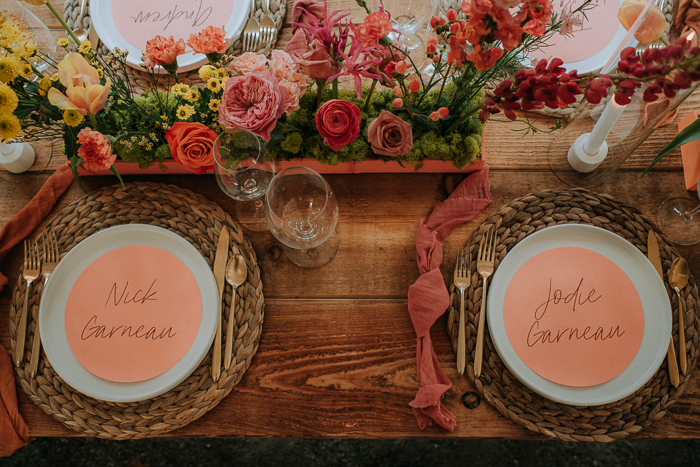 Adding a Personal Touch to Their Wedding Through Handmade Details
We created many DIY items out of necessity because finding rentals that matched our color palette was challenging. We crafted all the flower boxes for the reception by cutting wood sheets to the correct size, gluing them with carpenter's glue, clamping them, and then painting them tangerine or coral. We also hand-painted the terracotta pots, and for the accommodation signs, we painted them by hand and added the lettering with a Cricut machine. Me and my sister-in-law worked together to make the place cards and menus, staying until 1 a.m. the night before heading to the venue. Additionally, we prepared all the ice cubes before the wedding. I grew the edible flowers and froze them into each cube.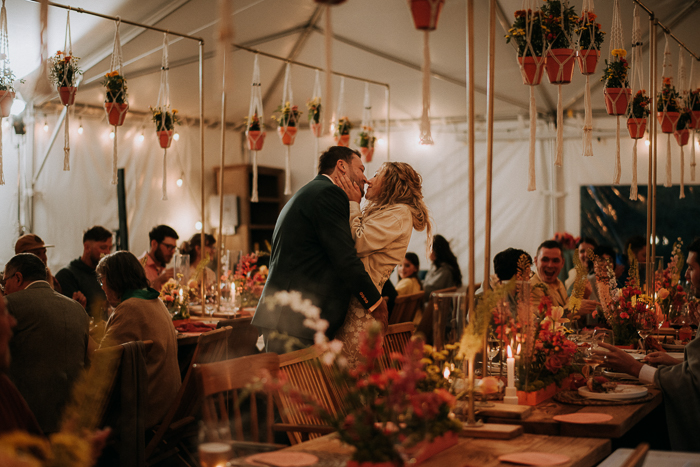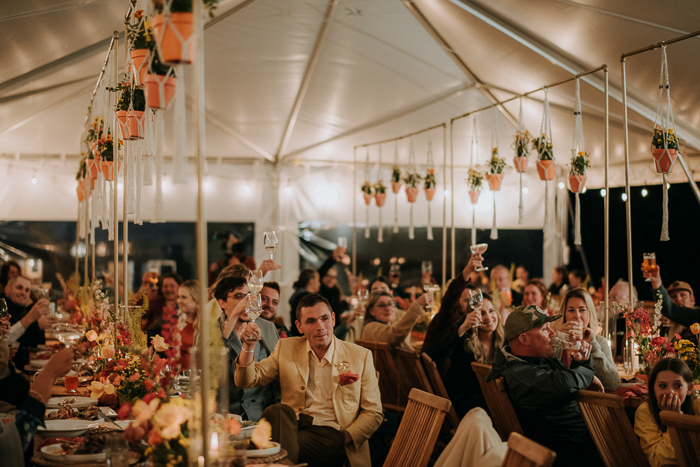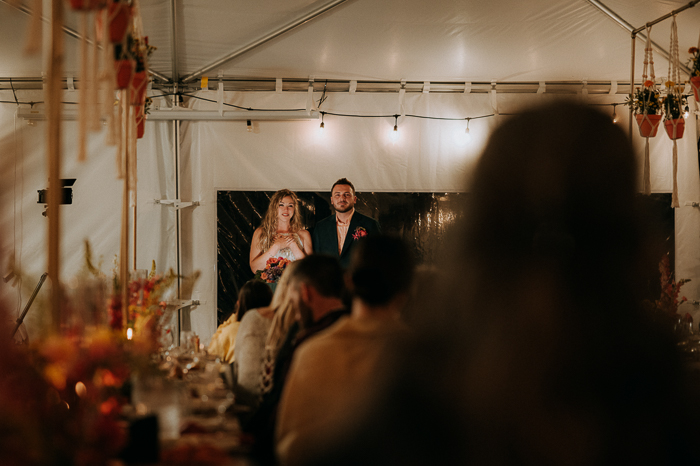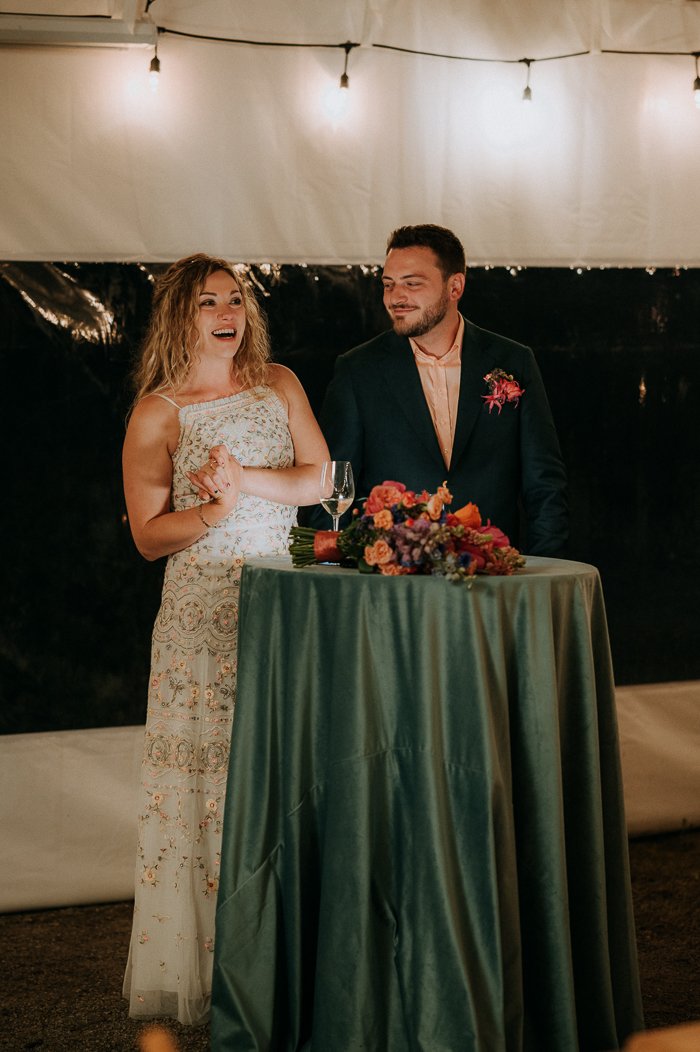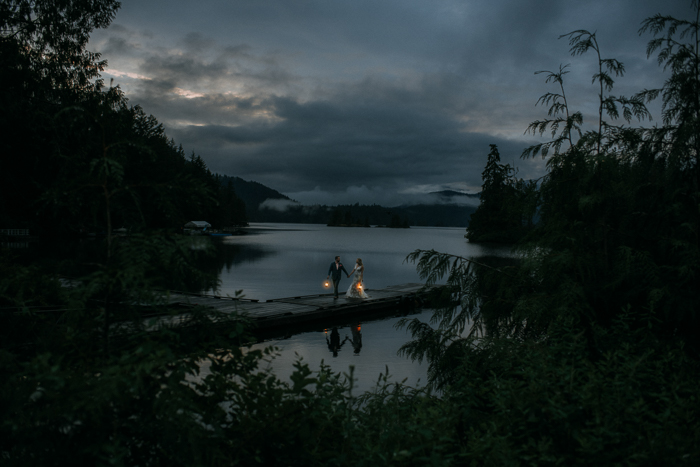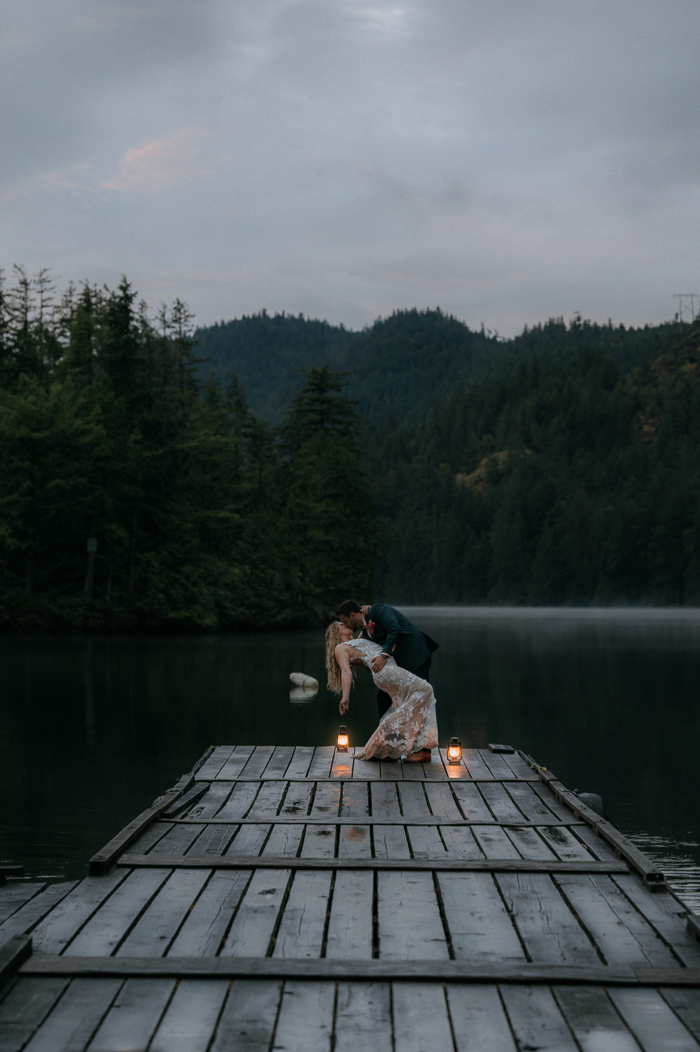 One surefire way to make the most of your wedding is to turn it into an extended celebration. Congratulations to Jody and Nick for their unforgettable days-long Ruby Lake Resort wedding, brimming with exquisite details and cherished moments. Many thanks to Junebug member Sara Rogers for beautifully capturing every aspect of their big day. To discover more incredible weddings like this, check out her profile in our directory of the world's best wedding photographers.
By selecting a gorgeous, secluded venue, infusing it with unique details, and crafting an enchanting atmosphere, you can create an unforgettable experience for you and your guests. To ensure that every element is expertly handled, assembling a team of professionals is crucial. These experts will work in harmony to seamlessly bring all the elements together and transform your vision into reality. If you and your partner are contemplating a weekend retreat similar to Jody and Nick's, be sure to explore our guide and use our vendor directory to build your dream team.