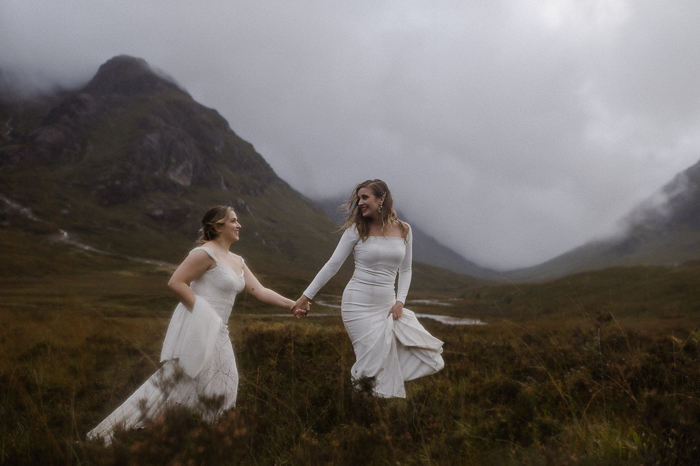 Mary and Rosalie initially planned a grand wedding in the city. But when the pandemic hit, they did a complete 180-degree switch by jetting off to Scotland for an elopement. And this romantic alternative couldn't have worked out more perfectly! With endless towering mountains, mysterious misty skies, and a beautiful cloudy sunset—their Glencoe elopement is proof that all you need are your closest loved ones and, of course, epic views to have the adventure of a lifetime.
The pair and their small group of guests braved the wind and rain for a long hike to their ceremony destination. At the top of the mountain they were rewarded with brief clear skies as the two pledged their love for each other. After spending the rest of the day exploring and taking stunning mountainside portraits, they all retreated to the Clachaig Inn for a night of feasting, speeches, and a whole lot of whiskey.
From postponements and travel restrictions, to cloudy skies and rain showers—this Glencoe elopement shows us that you can take a series of unfortunate events and turn it all around. Scroll through these spectacular images captured by Raini Rowell Photography and read on to know more about their incredible journey to "I do". If mountains, hiking, and dancing in the rain is your thing, then this one's for you!
The Couple:
Mary and Rosalie
The Wedding:
Clachaig Inn, Old Village Road, Glencoe, Ballachulish, UK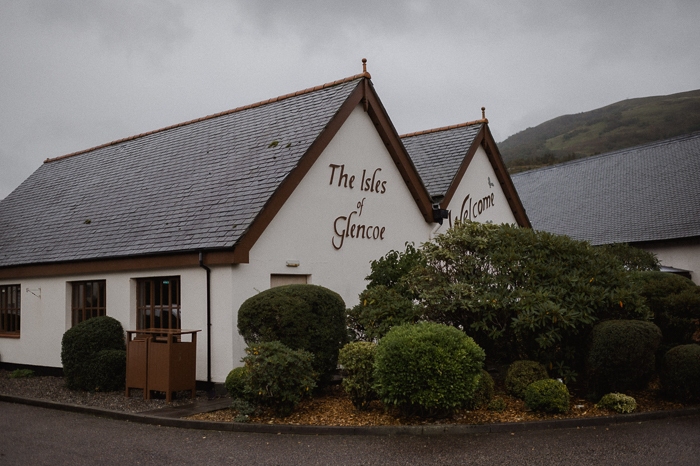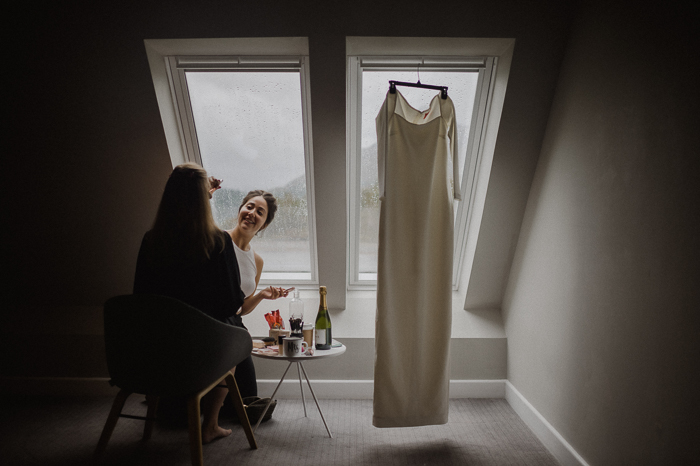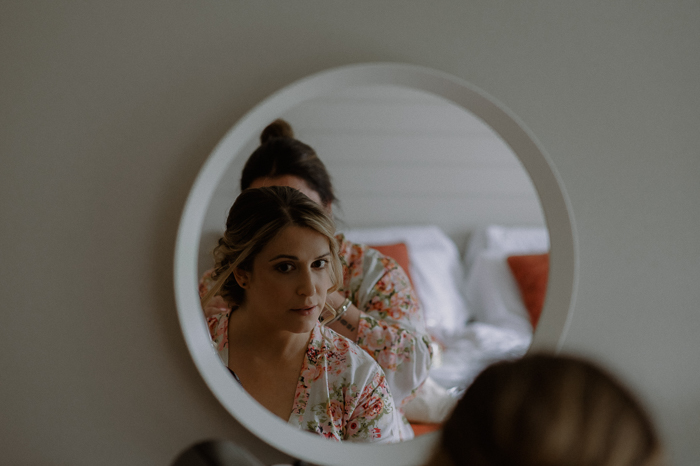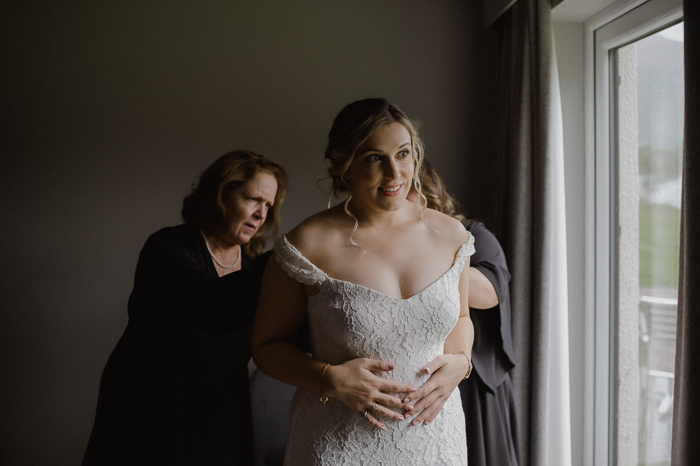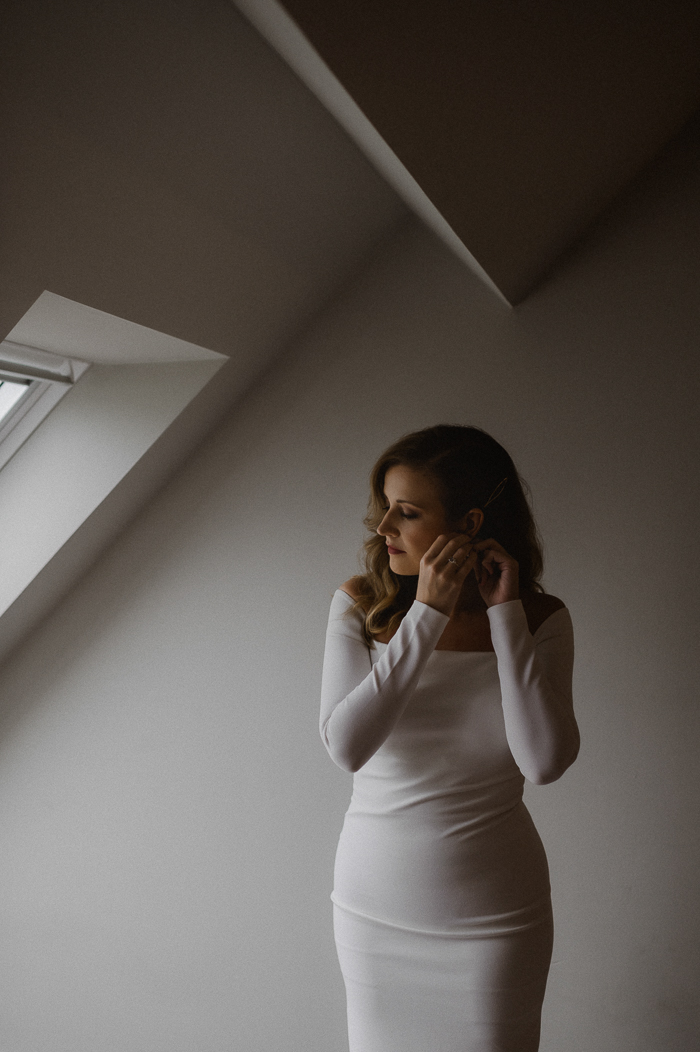 How Their Glencoe Elopement Came To Be
The pandemic put a wrench in our wedding plans. We were seeing wedding venues in our home city of New York until the day of the shutdown. We realized that we needed to turn our 150-person wedding into an elopement. After much discussion and tears, we realized this terrible event could be an opportunity to run away and get married. There were people we missed on that day, but we made the most of escaping to and exploring Scotland with our small party. We really turned the idea of a grand wedding on its head. Our dresses were both purchased secondhand. I did my own hair and makeup, and one of our friends, a makeup artist, did Mary's. We ate dinner at a famous highland pub, and our friends put together our bouquets with flowers from the local co-op. We stripped away all the theatrics and had the celebration we always wanted. There were a lot of steps (and a shutdown) between that moment and us standing on a mountainside, but we got our wish. We felt like we were the most important people in the world yet connected and part of something bigger all at once.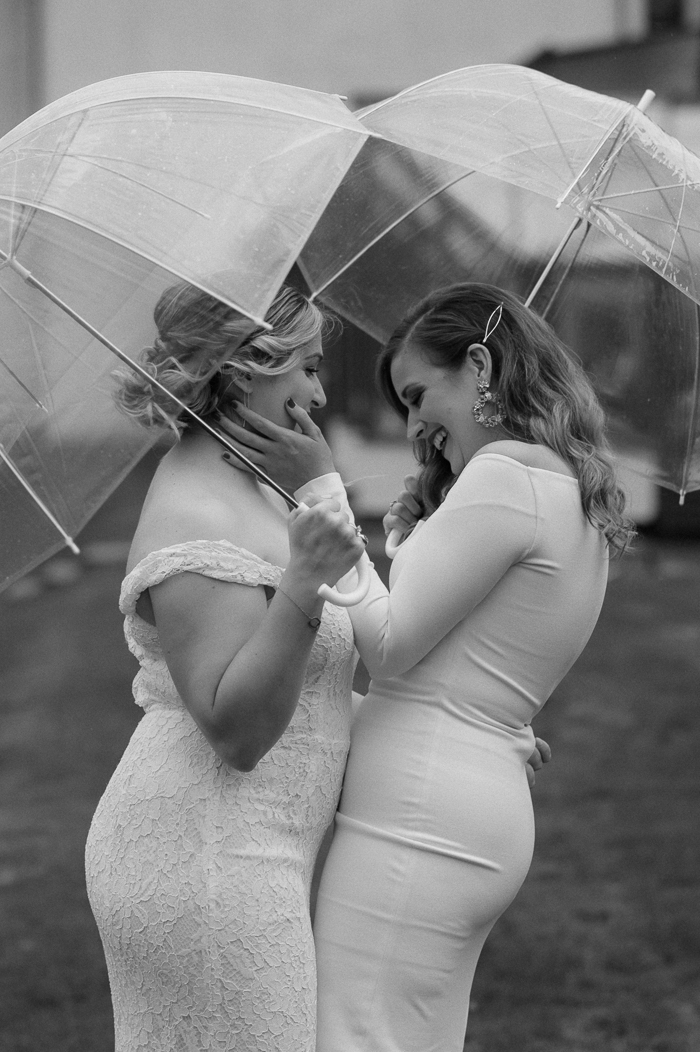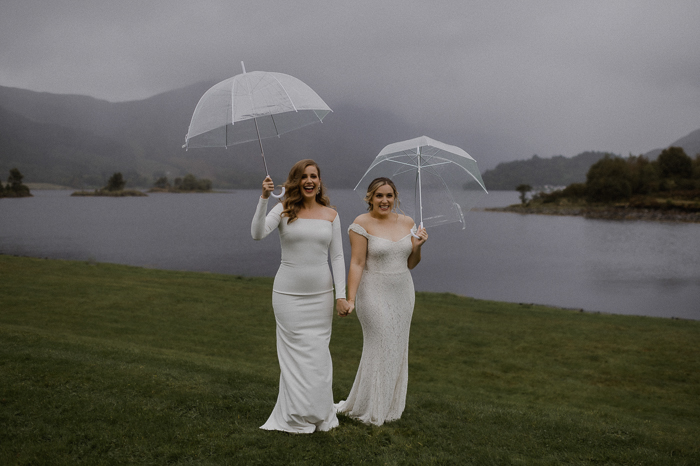 Why They Decided To Elope To Scotland
What was important was the travel aspect. We were cooped up for over a year in our tiny New York City apartment. We were looking forward to being in the mountains in a different part of the world. We'd been stuck in our little apartment, which truly felt like a lifepod. We were desperate for as much of the opposite as we could find. Open air, having our people close, whether they were there physically or not, feeling safe in a country that had and was taking the pandemic seriously and who accepted us and celebrated our marriage everywhere we went.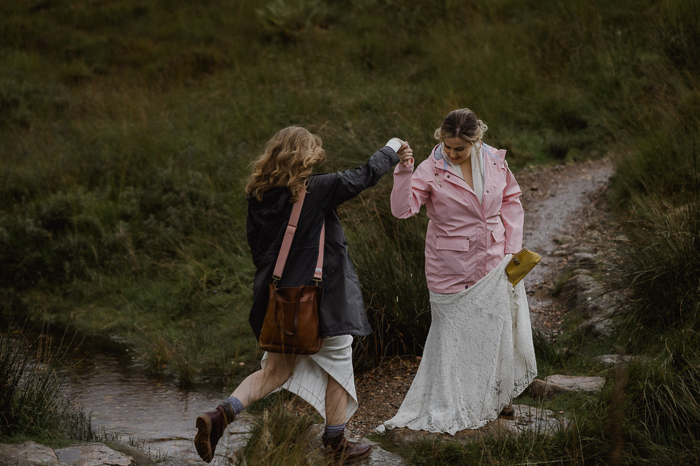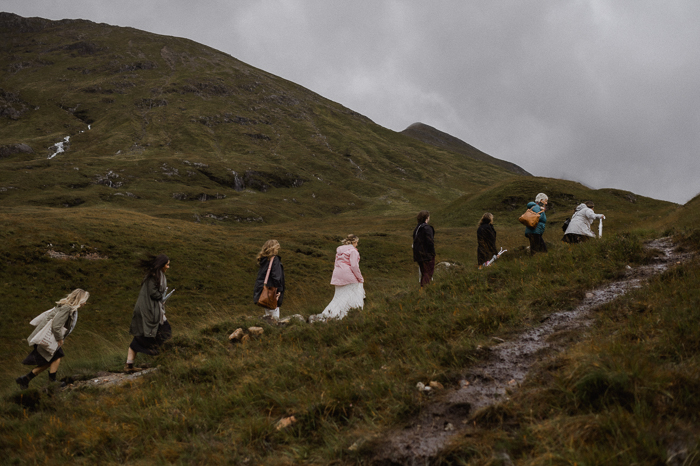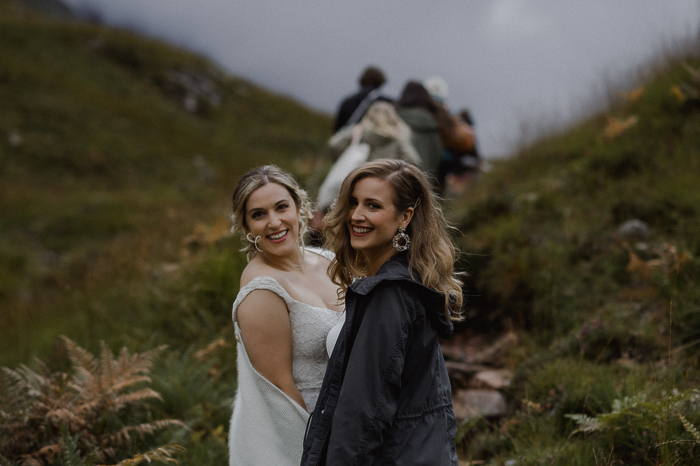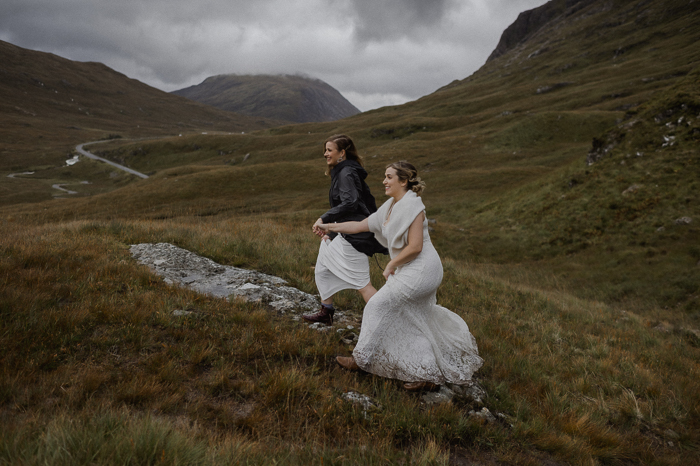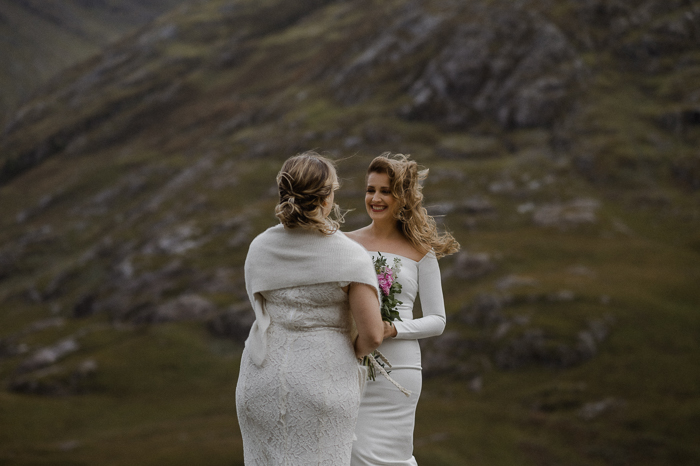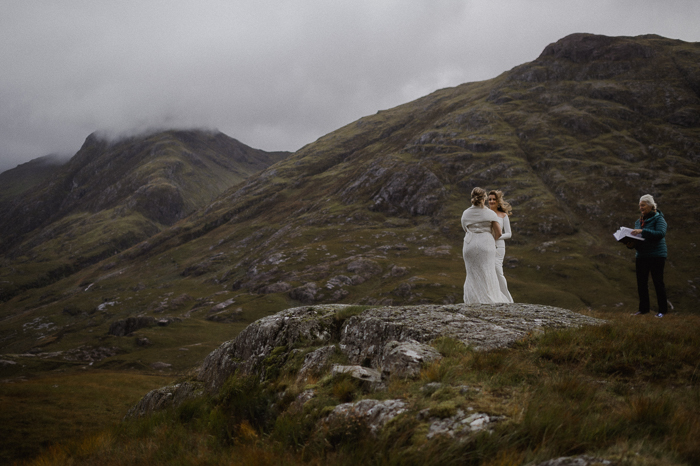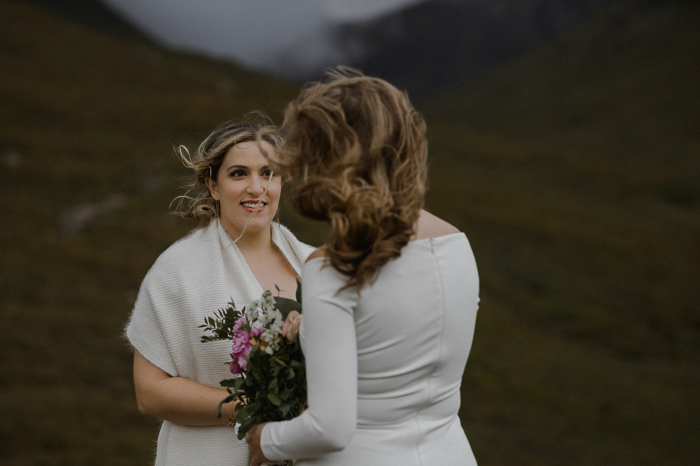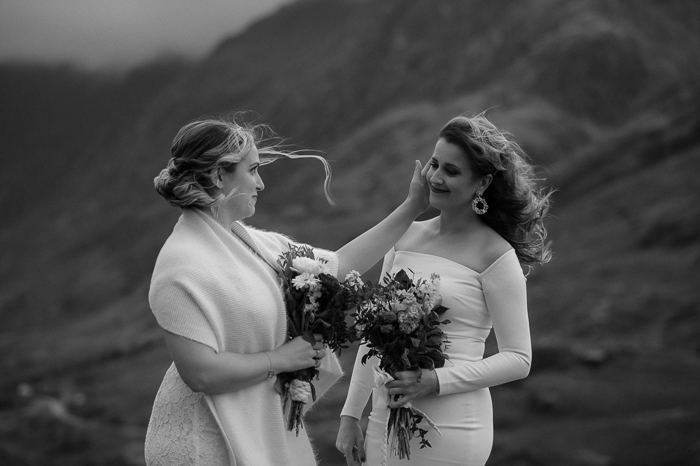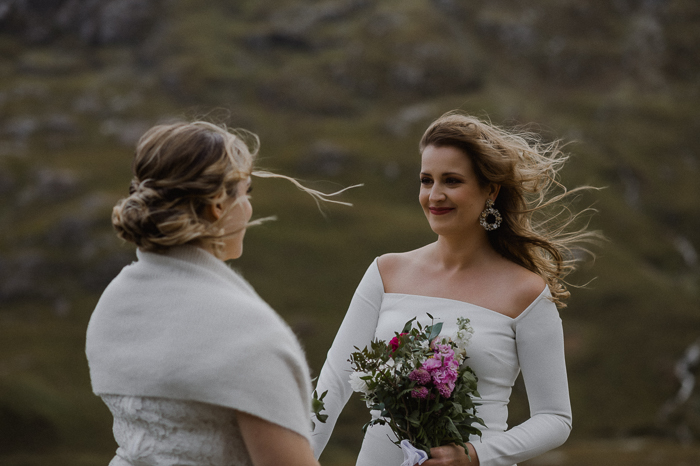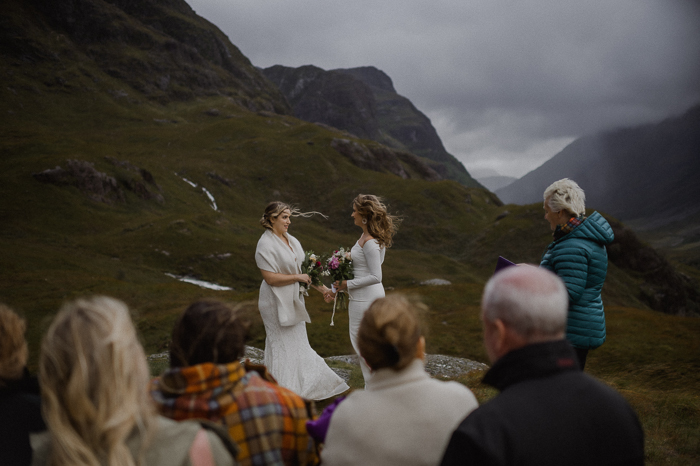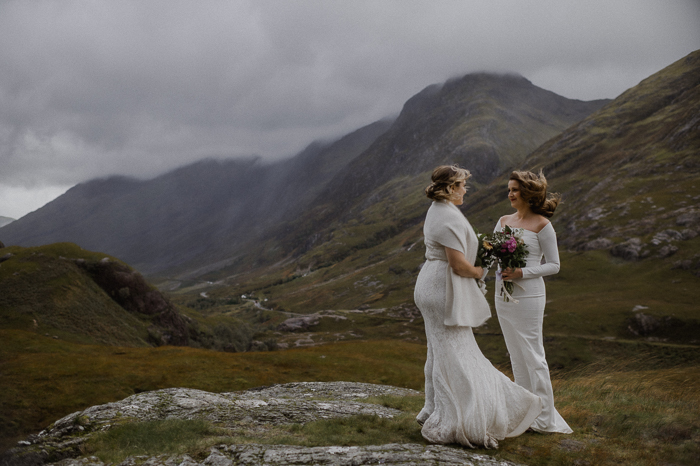 Personalizing Their Glencoe Elopement With A Handfasting Ceremony
We found a fabulous humanist celebrant, Alyson Stewart. She guided us through some ceremony traditions, and we decided to include drinking from a quaich and a handfasting. We asked our loved ones, especially the ones who couldn't make the journey, to send us a piece of ribbon or fabric which we then used to create our own handfasting cords. One representing each side of the family. They were all with us that day as we (literally) tied the knot.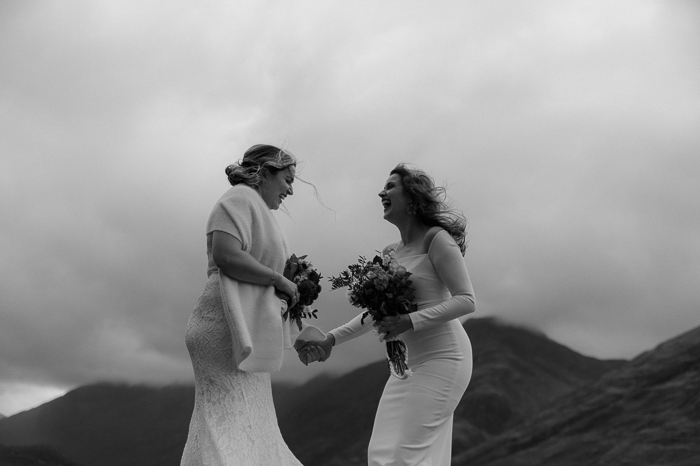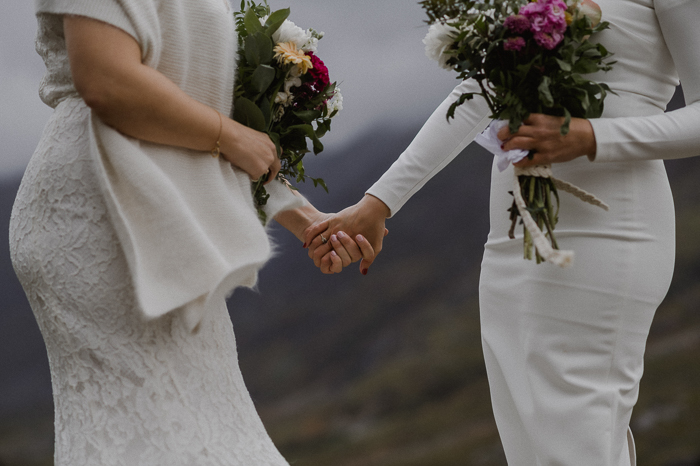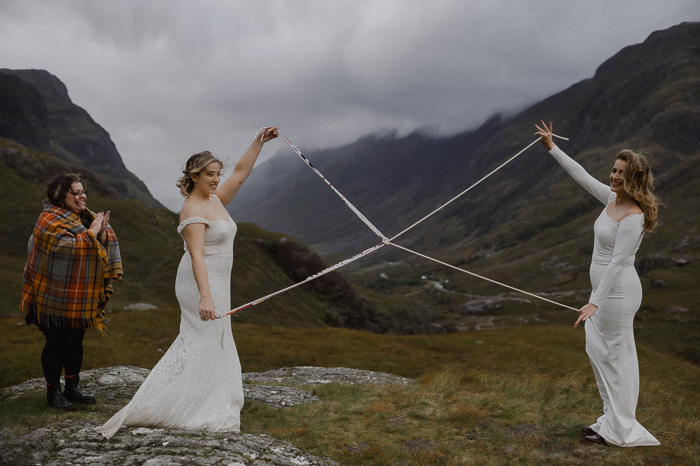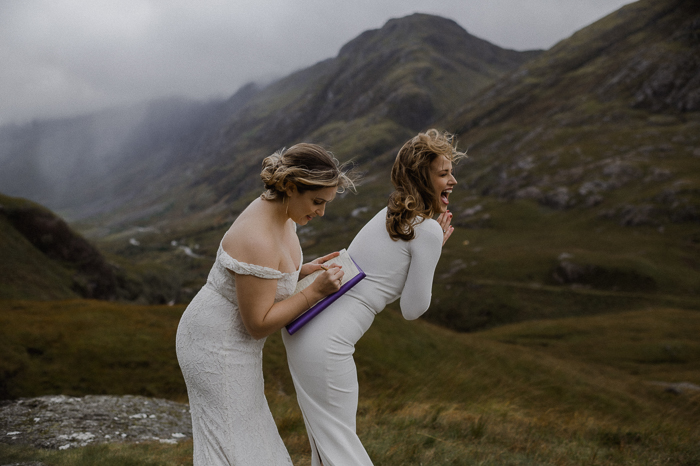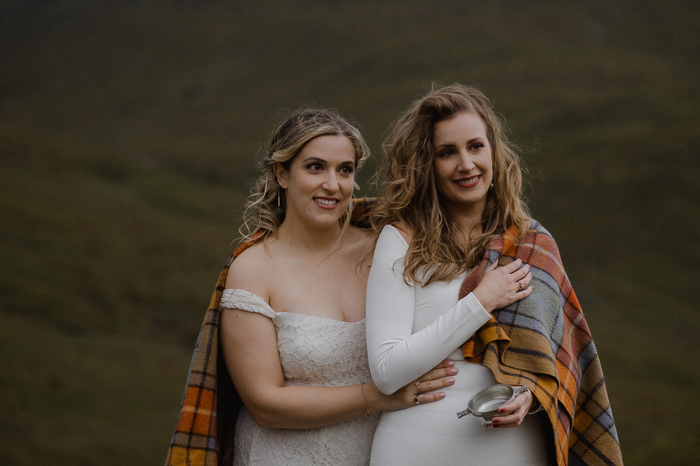 Exploring The Mountainside For Stunning Portraits
After our ceremony, we took photos with just our photographer and videographer, married couple Raini and Dave. Those moments with just my new wife were so joyous. We celebrated by climbing mountains, running in the rain, and trekking through the scenery, just the two of us. We had been pen-friends with Raini for over a year, and meeting her and her husband Dave felt like meeting up with old friends. They took us to explore some of the most beautiful countryside I'd ever seen. I'll truly never forget it.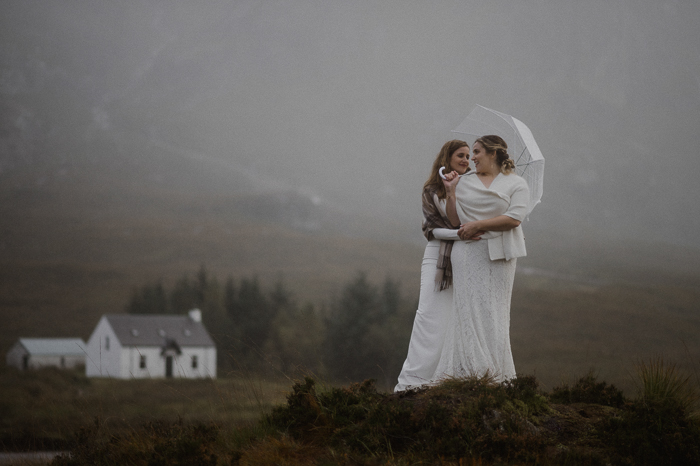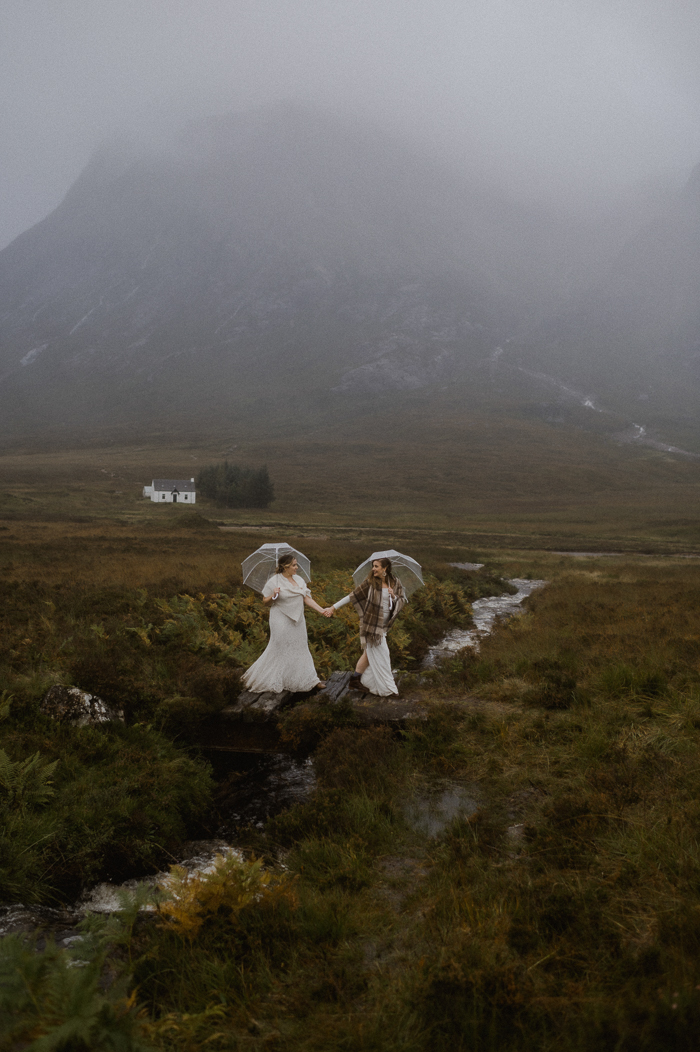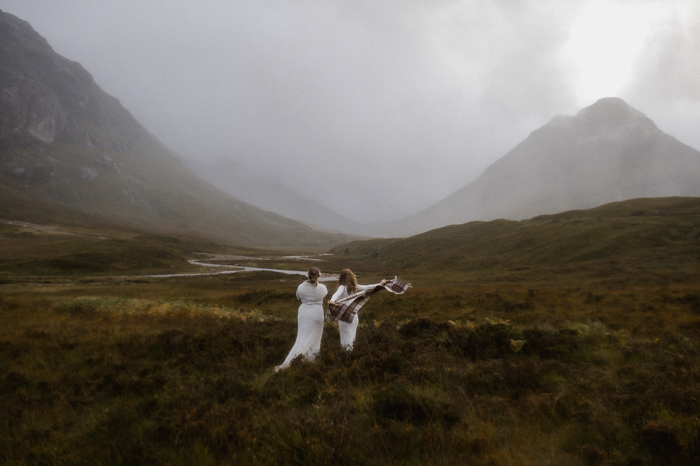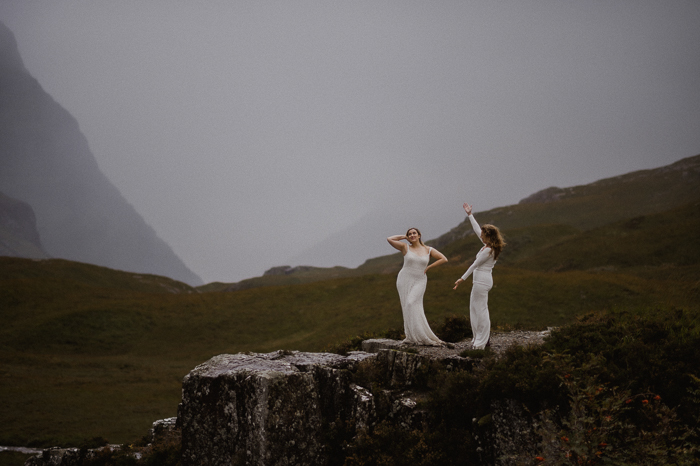 Advice: Find Out What's Important And Focus On That
Hopefully, no one else will have to derail their wedding plans because of a pandemic, but we were forced to strip away everything and focus on what we really wanted. We were suddenly facing a much smaller budget, no large gatherings, and a desire not to put our marriage on hold. If you can do some soul searching, find out what's important to you and the person you're marrying. Understand that not all traditions will work for you both. What mattered to both of us was being able to travel and have a honeymoon and our wedding photos. Find what is important to you, and the rest won't matter.
Mary: Find vendors who can take the reins on the wedding day. Not only did we find Raini, who was immensely knowledgeable about the area and ready to capture every single second that she knew would matter to us later on, but we also found an incredible celebrant, Alyson Stewart. Alyson is wickedly funny, and she created a beautiful ceremony for us. Before I even stepped on the plane, I knew that, between those two, all we had to do was show up, and everything else would be in trustworthy hands.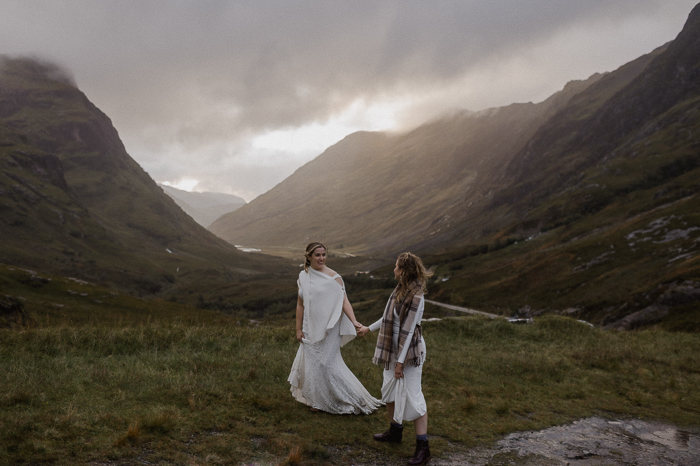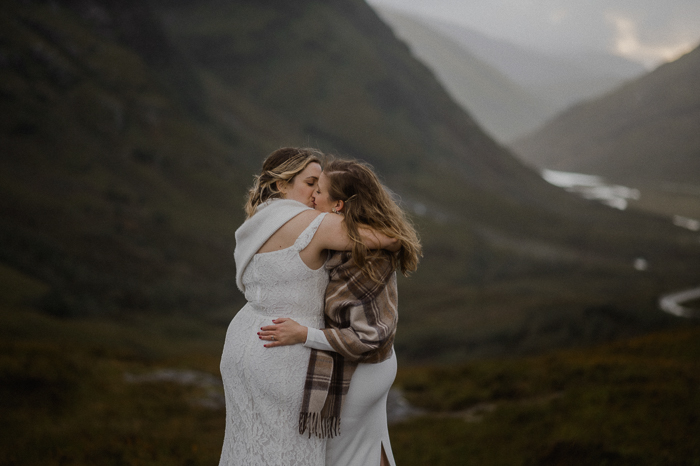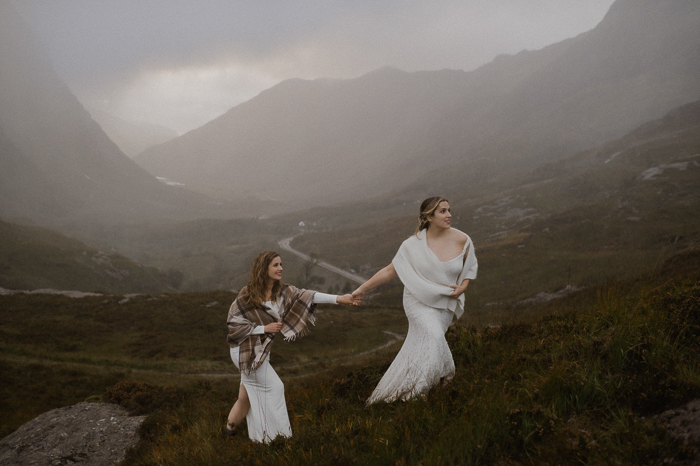 Surprising Their Guests With Welcome Bags And A Tour
We had welcome bags for everyone upon arrival at the wedding hotel. Each bag was custom-made with a list of friends who became more than friends (think Ross and Rachel, Ron and Hermione) as that's our love story too. We filled them with local snacks, a reusable water bottle, woolen socks, and a small gold ring with the person's initials engraved or whisky. We also prefer experiences to gifts, and since everyone was coming such a long way, we wanted to ensure everyone had a highlands experience. Instead of a rehearsal dinner, we hired a Rabbie's tour to take the eleven of us on a day tour the day before our wedding. We had an archery lesson, visited Oban, had a whisky tasting, and saw Kilchurn castle. Our guide was awesome, and it was such a great way to welcome everyone to our wedding weekend.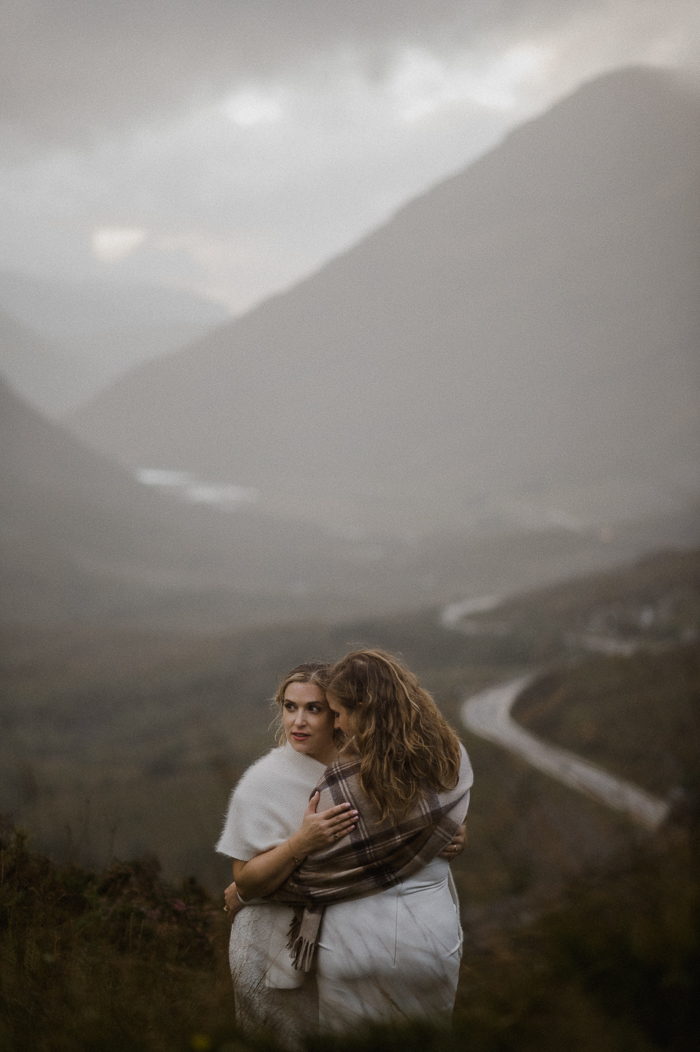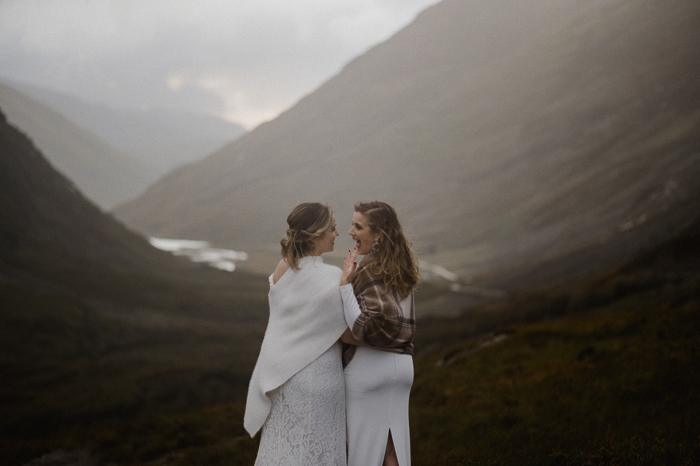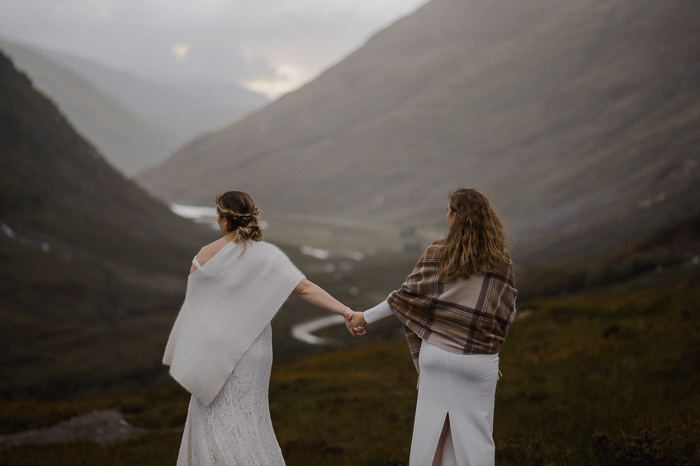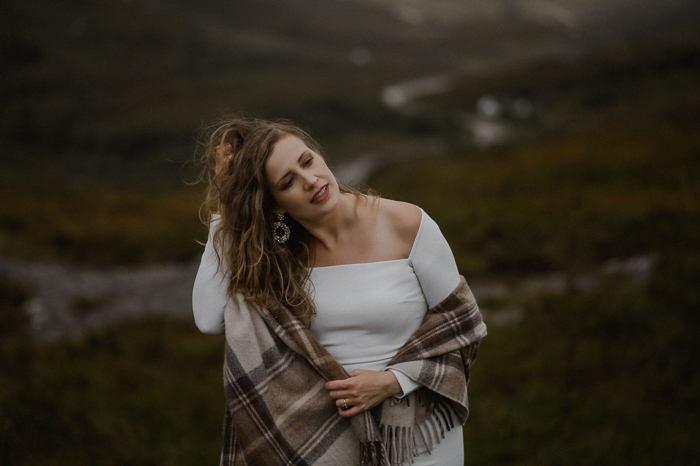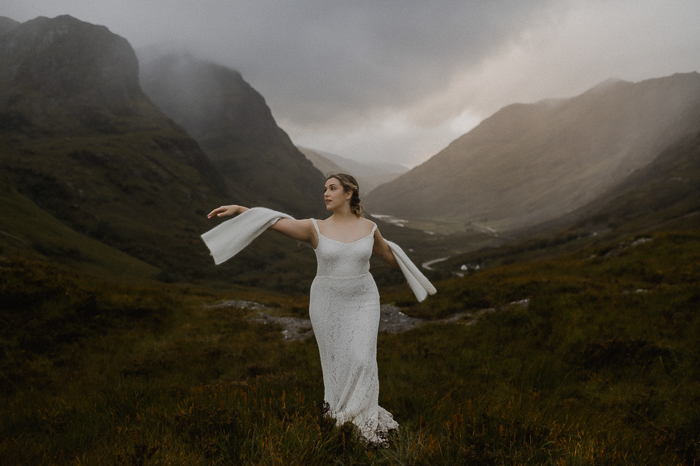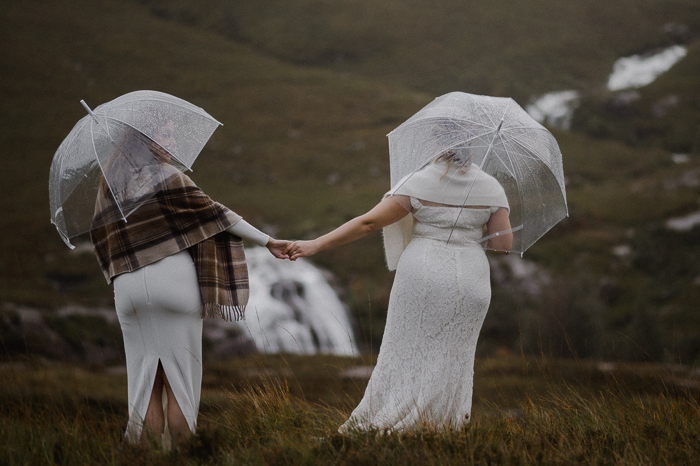 Their Photographer Was Key To Creating Their Adventure Glencoe Elopement
After our video calls with her, we felt like another friend was coming to our wedding. Raini and Dave knew the area well, and Raini ensured we got every picture on our wish list. Raini made the day—she was goofy and kept us out of our heads once the cold started to seep in. She encouraged us to go galavanting down hillsides and any other whim that caught and always joined us in the muck and the joy. Raini sent us a list of locations she thought might suit us, and she was spot-on. Her knowledge of the area was super helpful in deciding on the perfect place. We cannot recommend her highly enough.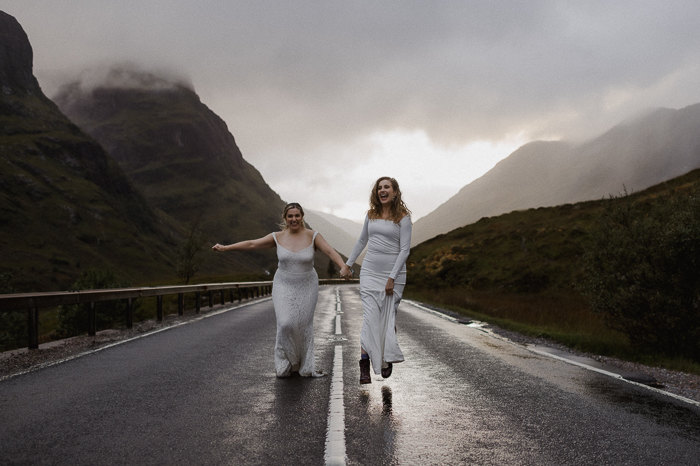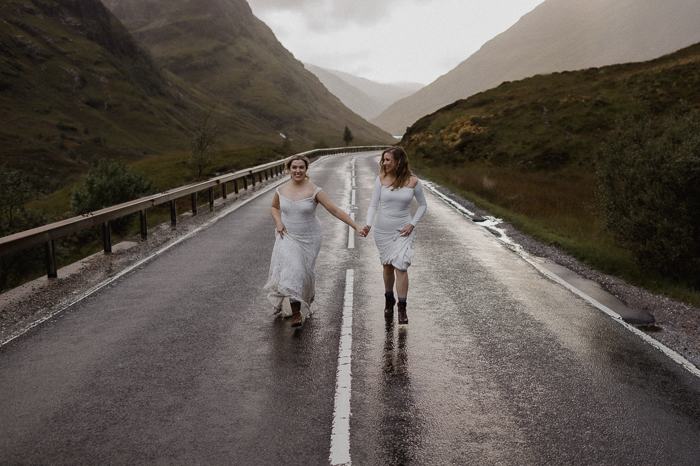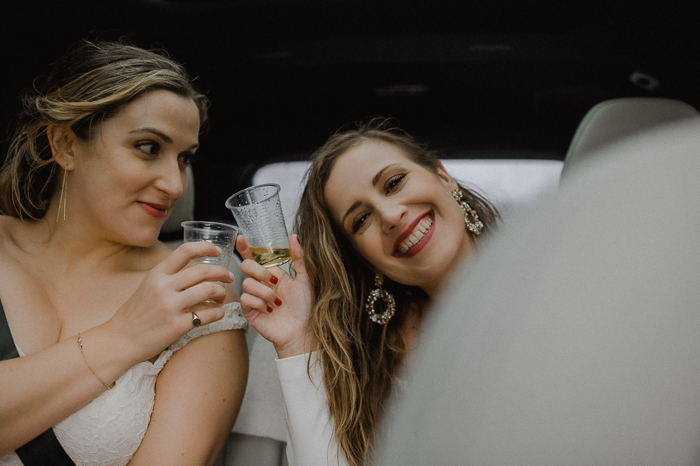 They Hosted Their Reception At A Local Pub
We had our wedding dinner in the famed Clachaig Inn, a highland pub always on every best-of-Scotland list. It did not disappoint. We loved the informality and the homeyness of it. We loved that it wasn't a private dining room and that we were sitting in the middle of a packed pub. They have an incredible selection of whiskeys, and the staff was lovely.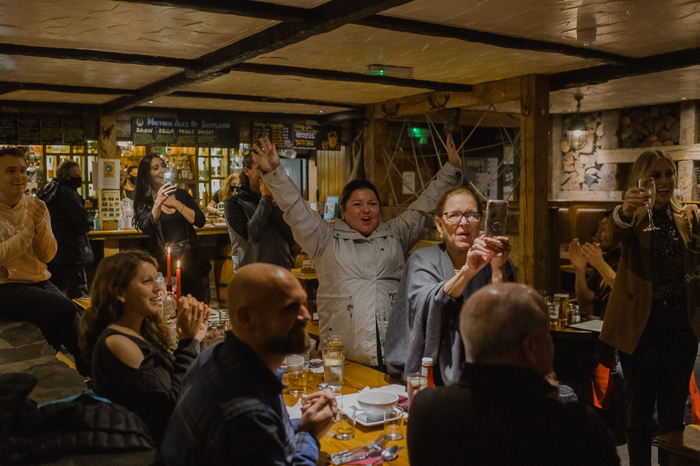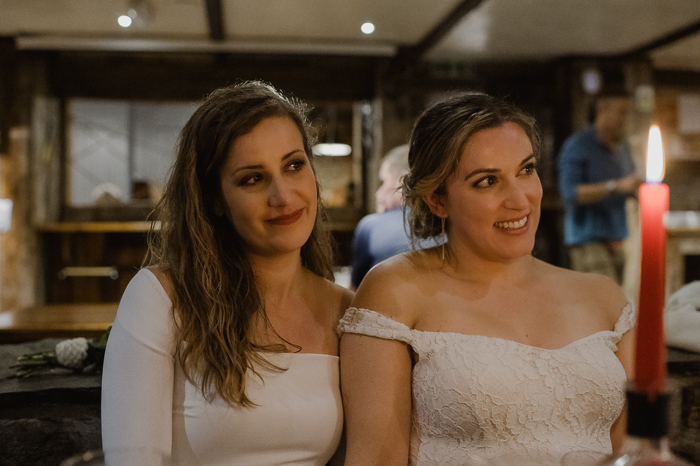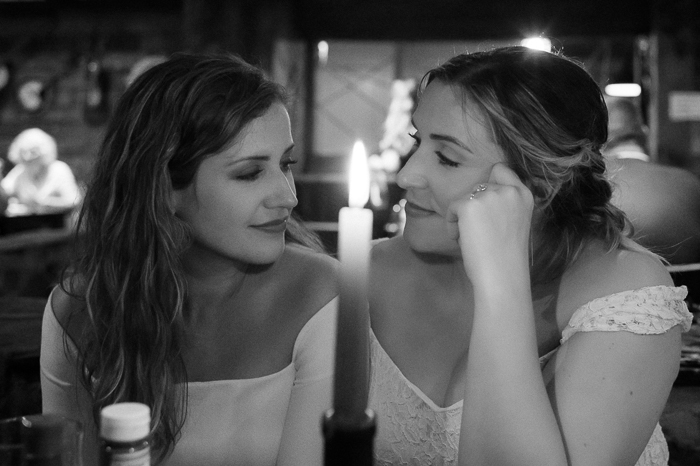 Congratulations to Mary and Rosalie on their rainy Glencoe elopement. And many thanks to Raini Rowell Photography for capturing all the intimate moments that prove sometimes less really is more.
If you're thinking of skipping the big wedding, we don't blame you—especially after catching one glimpse of this small celebration. But, there's a lot that goes into bringing to life an adventure-filled celebration in a faraway destination. To kickstart your planning process, check out our elopement guide to creating a one-of-a-kind wedding day!