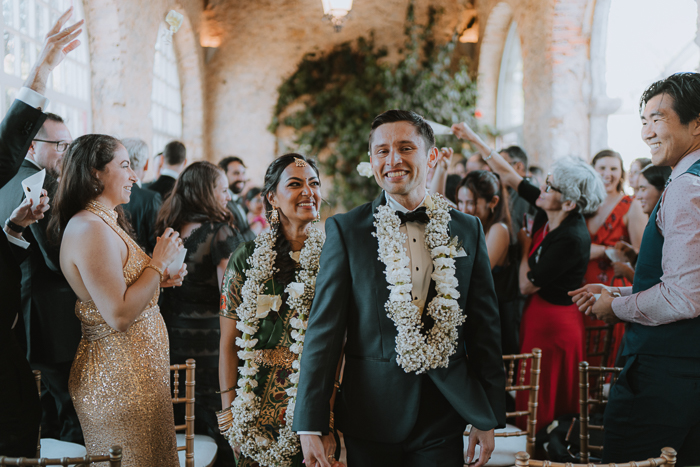 Pooja and Chris' adventure led them to Portugal, where they were captivated by the charm of Lisbon and the Algarve. When the moment came to tie the knot, the decision was crystal clear. Opting for a stunning seaside castle—their Forte da Cruz destination wedding seamlessly blended elegance, cherished traditions, and heartfelt details.
In a picturesque corner within the historic fort, they exchanged vows against a backdrop of lush greenery. The festivities continued with a breathtaking reception on the terrace, where the color palette drew inspiration from the blue shades of Portuguese tiles. The tablescape came alive with lush white blooms and gold accents, beautifully contrasting with the aqua-colored table covers. As the night unfolded, guests dined, danced, and reveled under the enchanting glow of twinkling lights.
This wonderful celebration brought their love story together with the natural beauty around them, making it an event you definitely don't want to miss. You're in for a treat when you see all the gorgeous details captured by Memorelle.
The Couple:
Pooja and Chris
The Wedding:
Forte da Cruz, Estoril, Portugal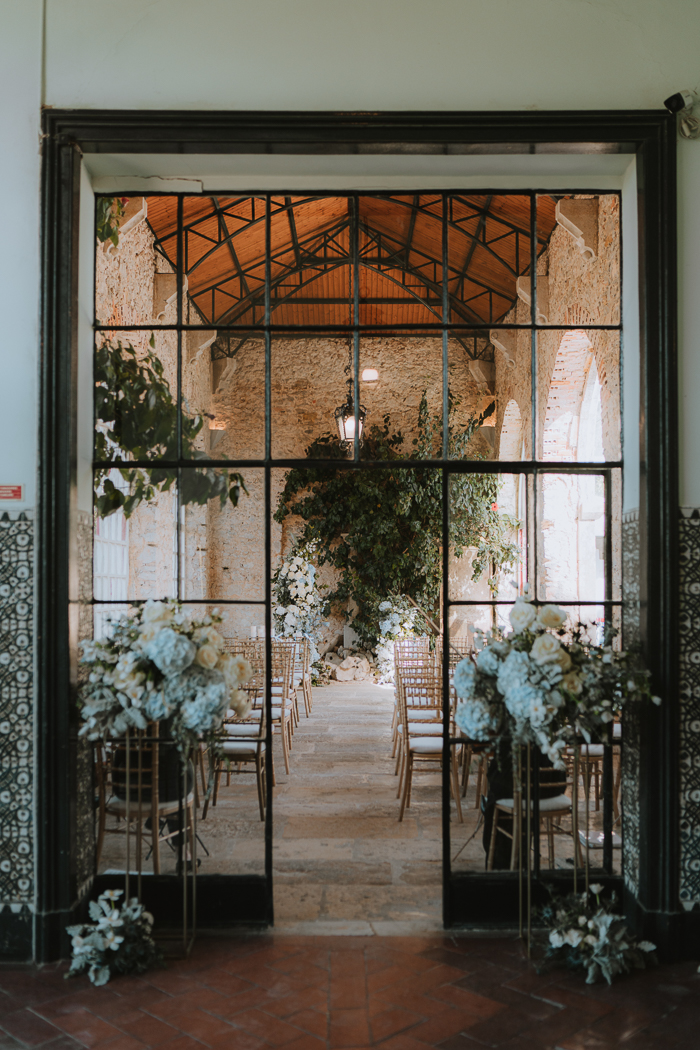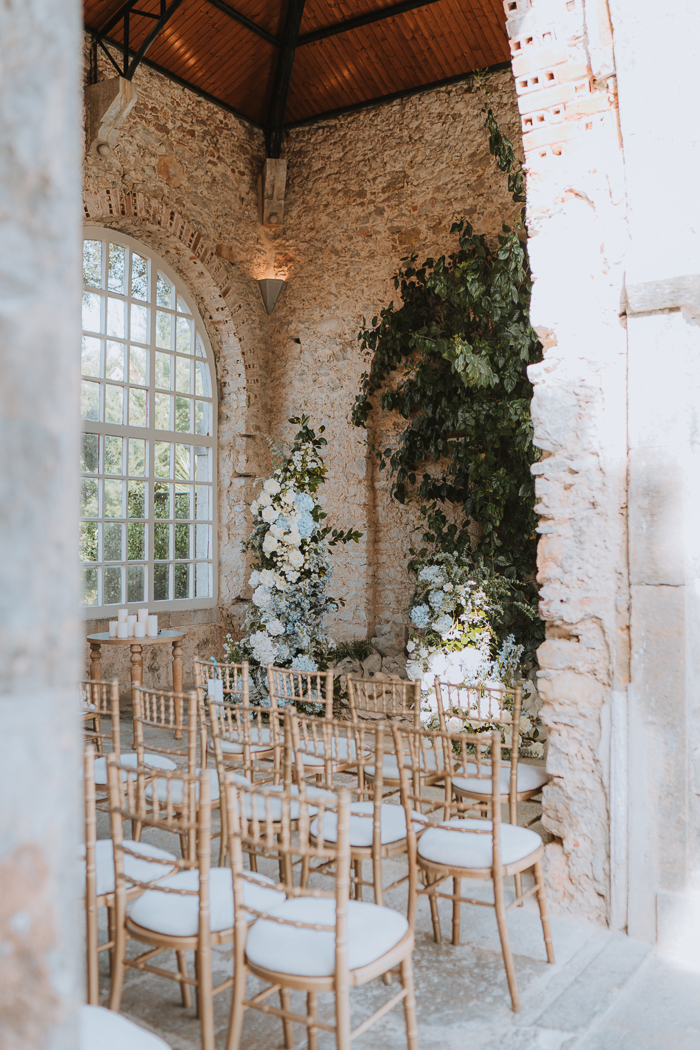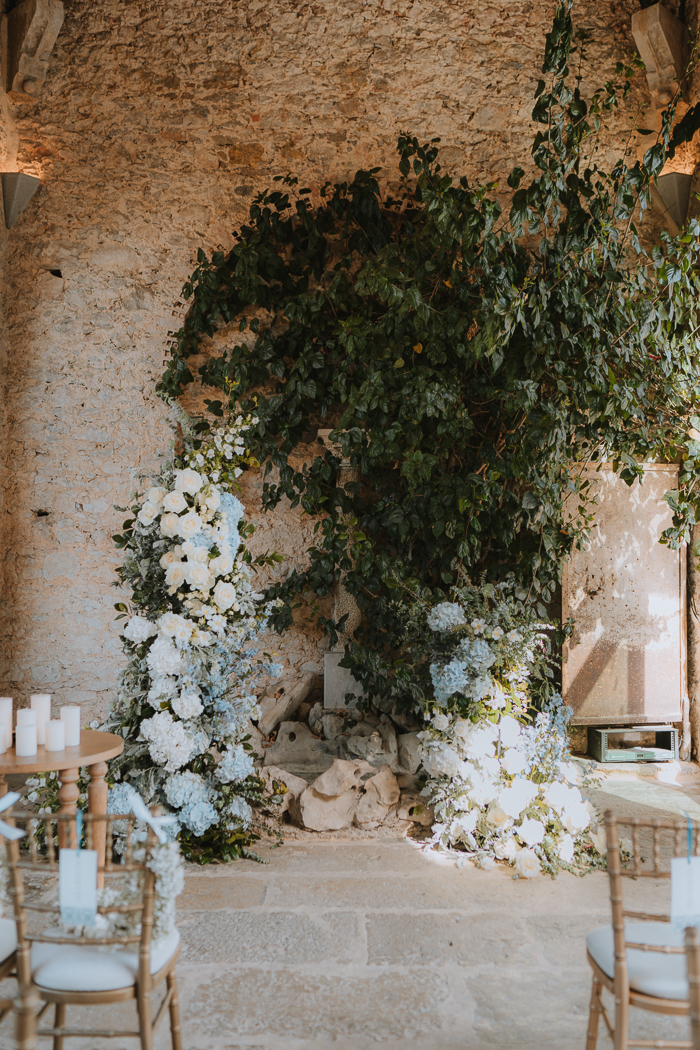 How Their Forte da Cruz Destination Wedding Came To Be
Chris and I visited Portugal in 2018 as one of our first trips together. And fell in love with the warmth and ease of Lisbon and the Algarve. When we decided to have a destination wedding, it was clear that returning to Portugal would make the most sense to celebrate our marriage and our love. I particularly wanted something on the coast with a view of the expansive ocean. Between the blues of the sea and the famed Portuguese tile, it was easy to come up with a color palette that highlighted different hues of blue. We wanted the vibe to feel relaxed but elegant so people could dress up and have fun.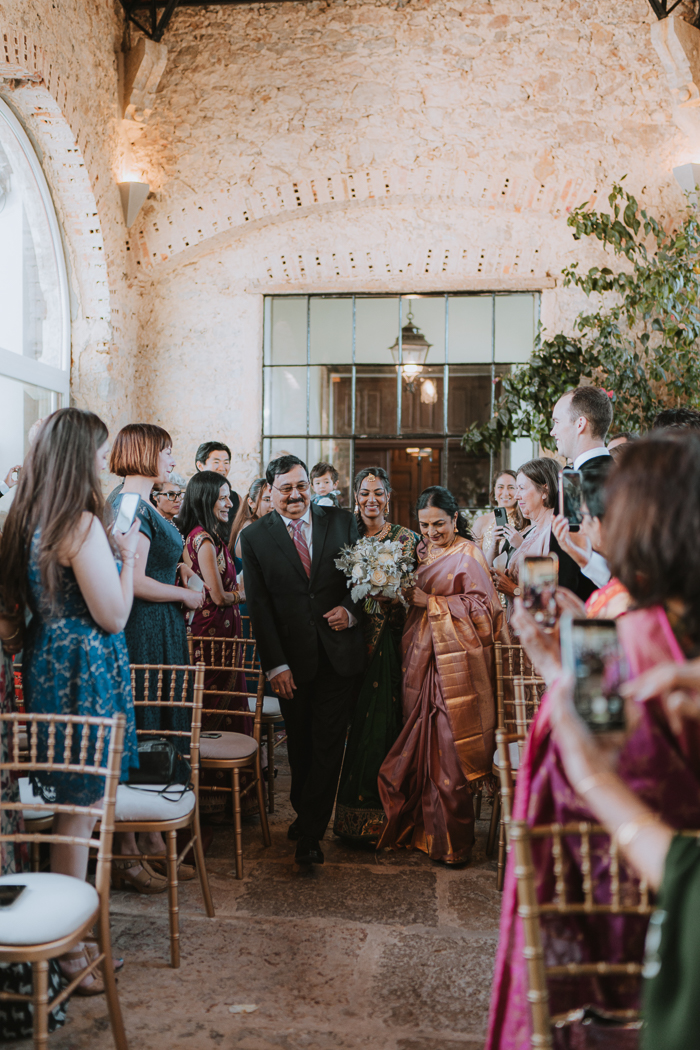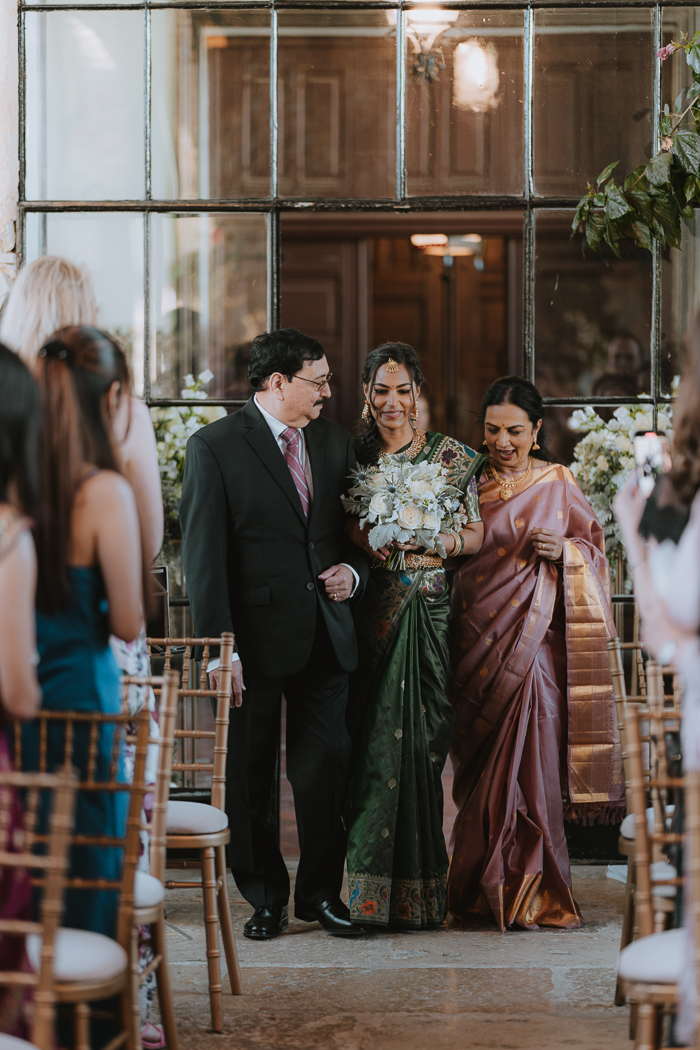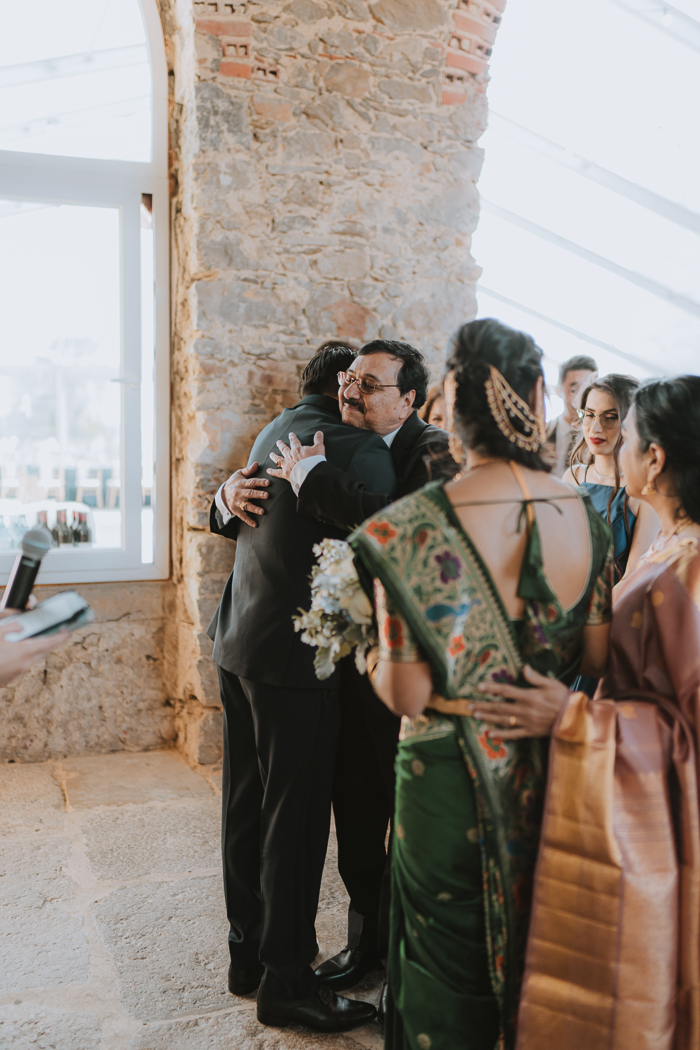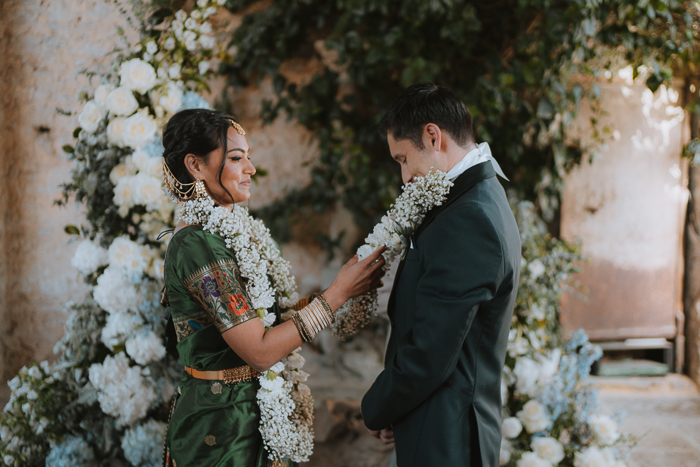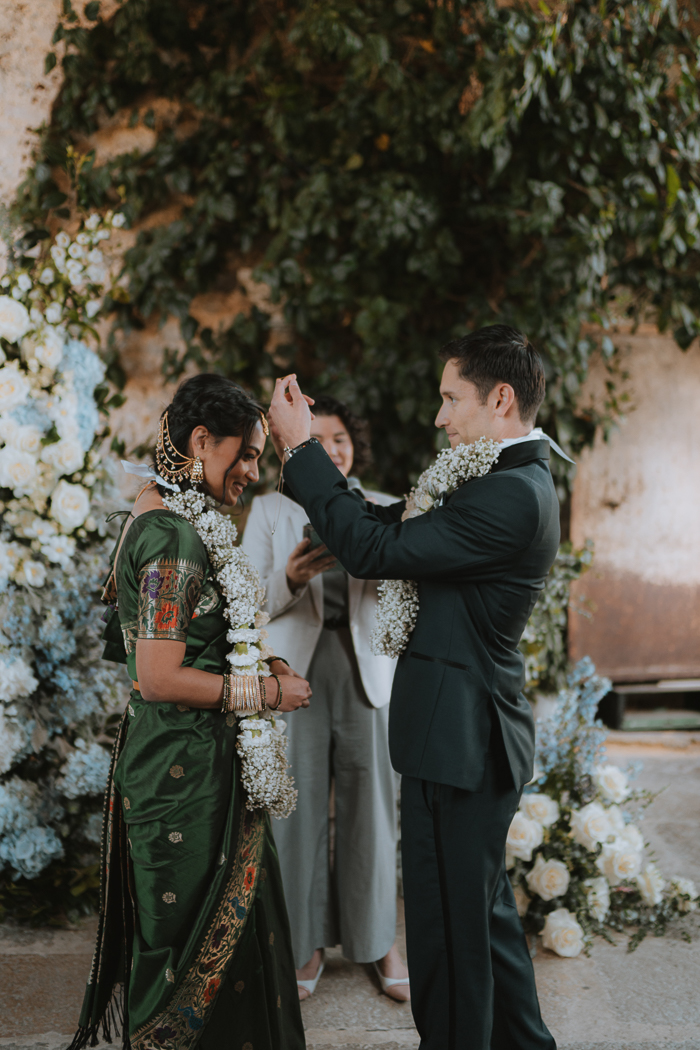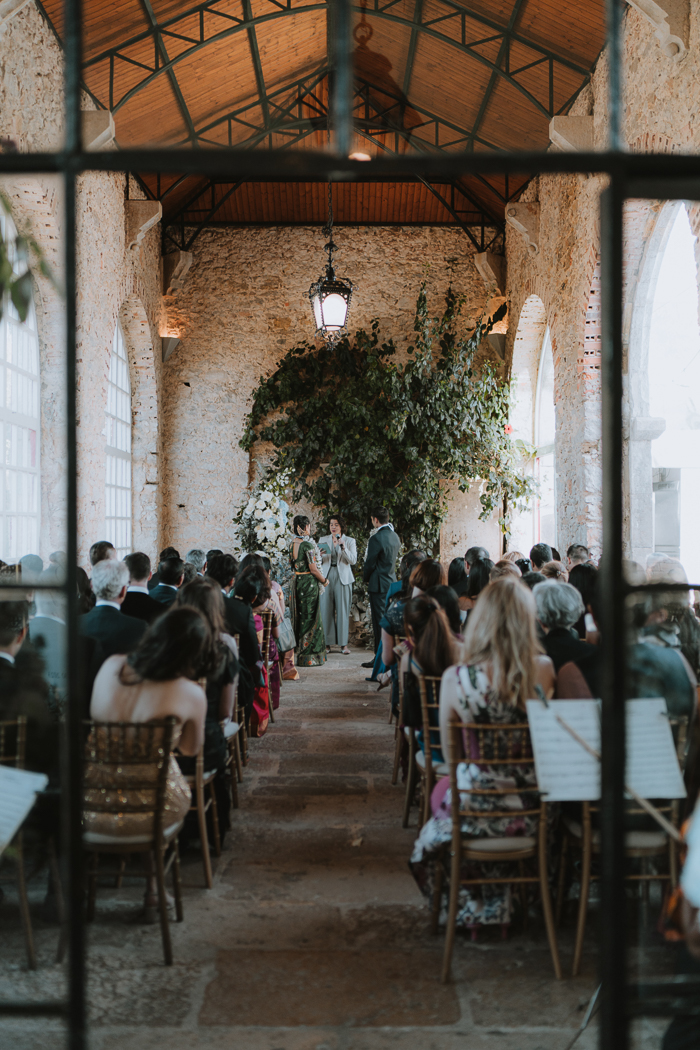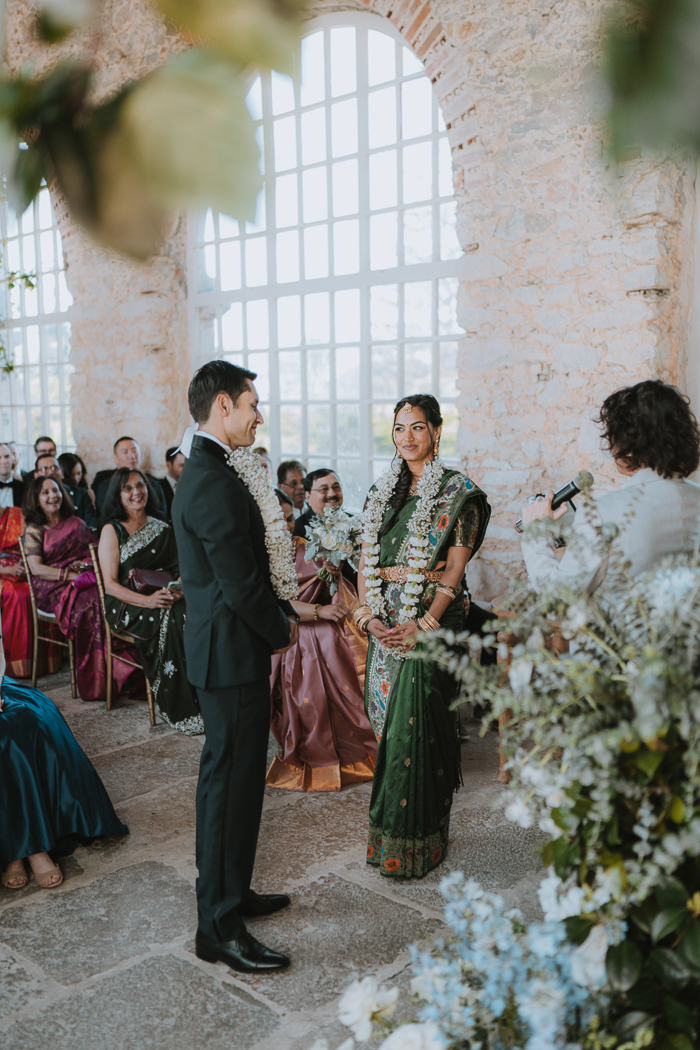 Incorporating Meaningful Indian Traditions Into Their Forte da Cruz Destination Wedding Ceremony
our celebrant created a bespoke ceremony for us that incorporated Indian traditions with personal touches. We included a garland exchange and seven circles–some of the most important Indian traditions–but we also wrote our own vows to each other. We also loved String Quartet Solutions' music background for the ceremony, including classical tracks and pop songs with a string quartet twist. It was the perfect mix of tradition and staying true to ourselves.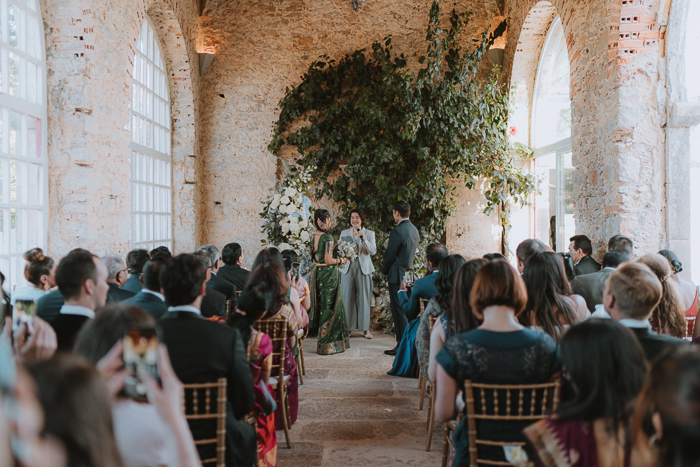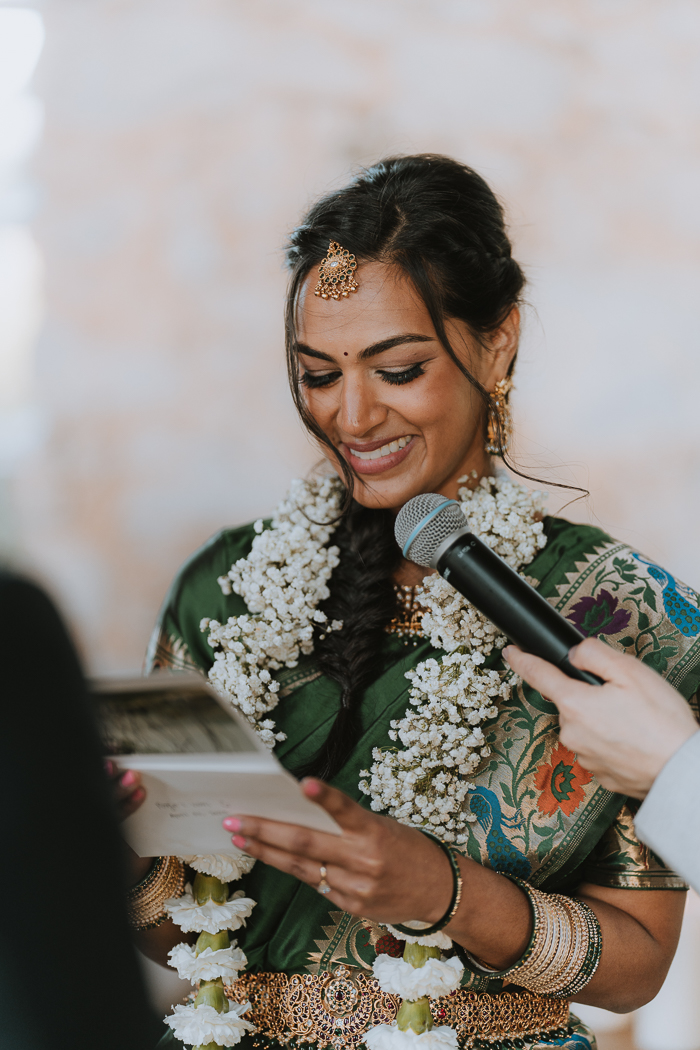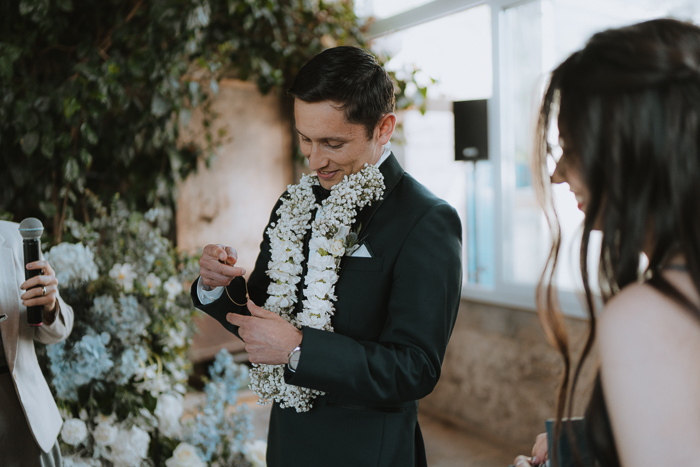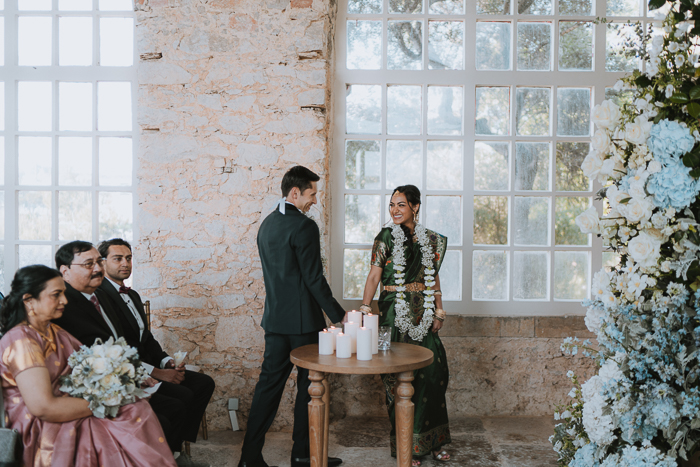 Recommended Reading: 9 Ways To Personalize Your Ceremony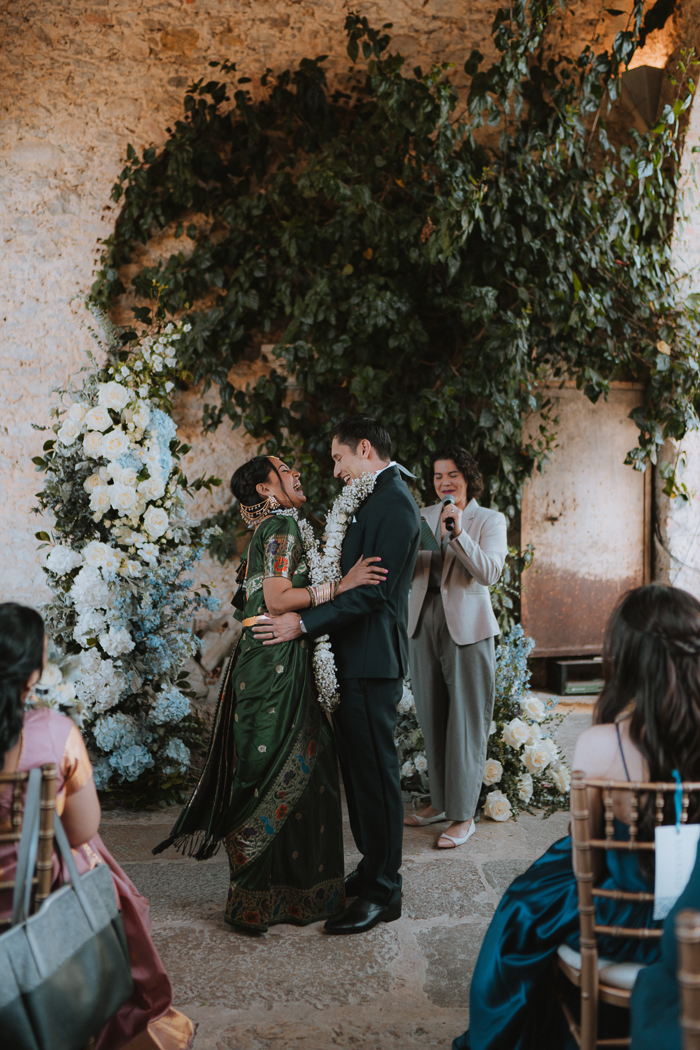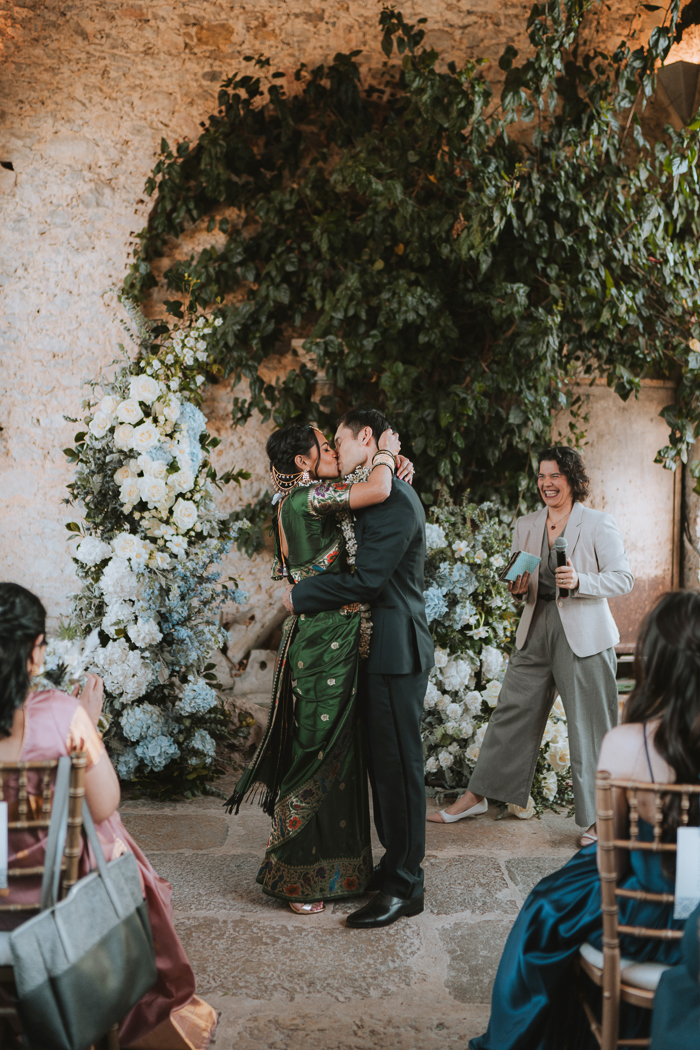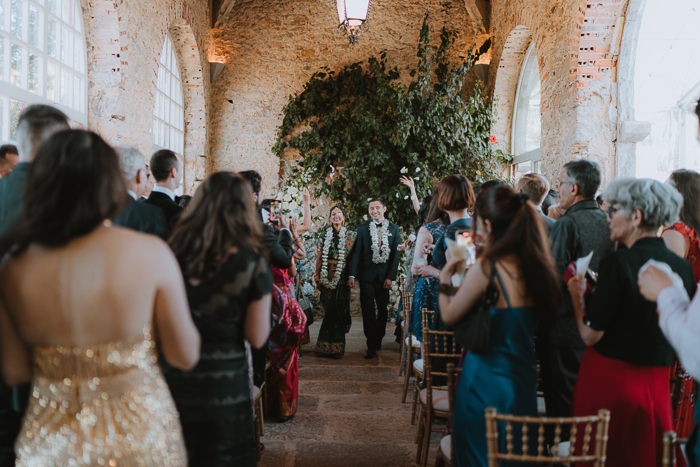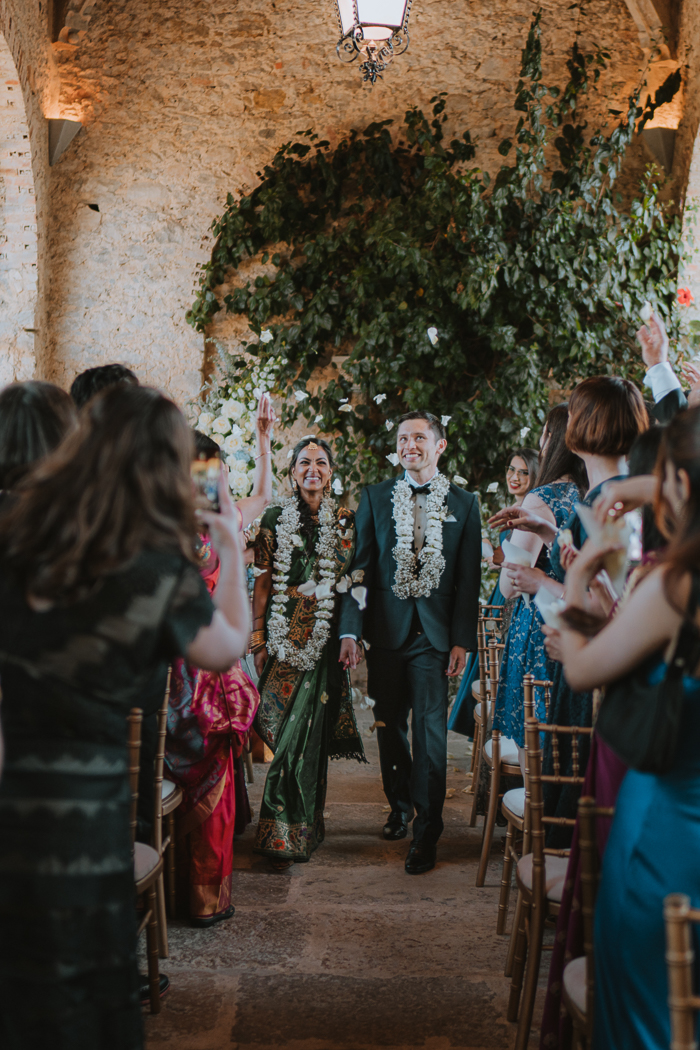 Critical Steps for a Memorable Destination Wedding: Practical Tips and Advice from the Newlyweds
It was really helpful to visit our venue, meet our planner in person, and do a tasting with our caterers before the wedding. So be sure to add that to your wedding timeline and budget. You may also want to do a practice shoot with your photographers. We did not, which was still wonderful. But we loved our photographers and would have liked to spend more time with them. It's also helpful to decide on an organizational system–whether it's a dedicated email folder, printed-out files, or a big Excel spreadsheet–so you can keep track of your to-dos and budget.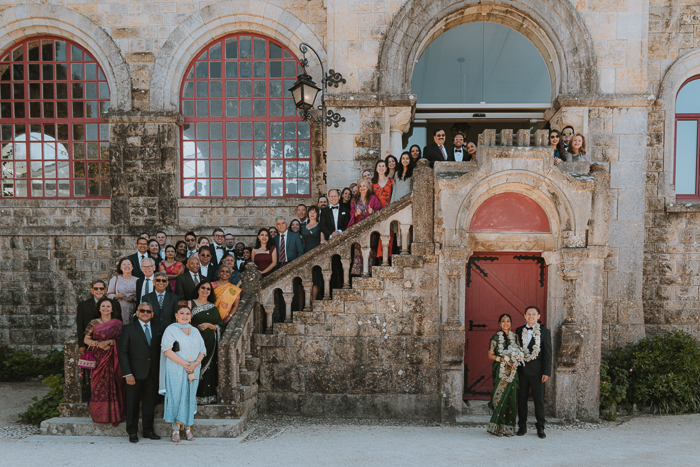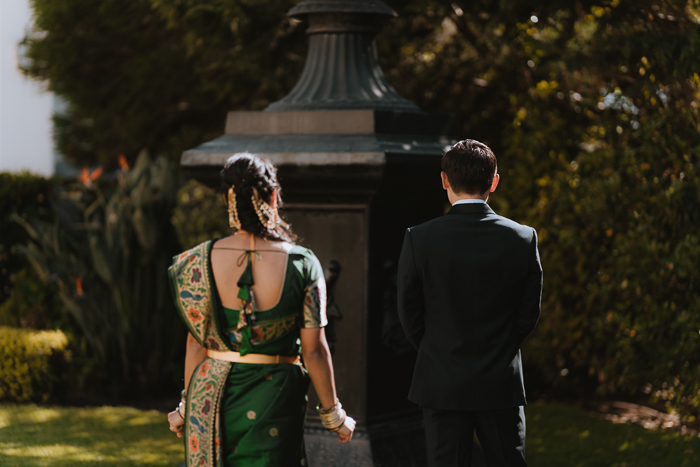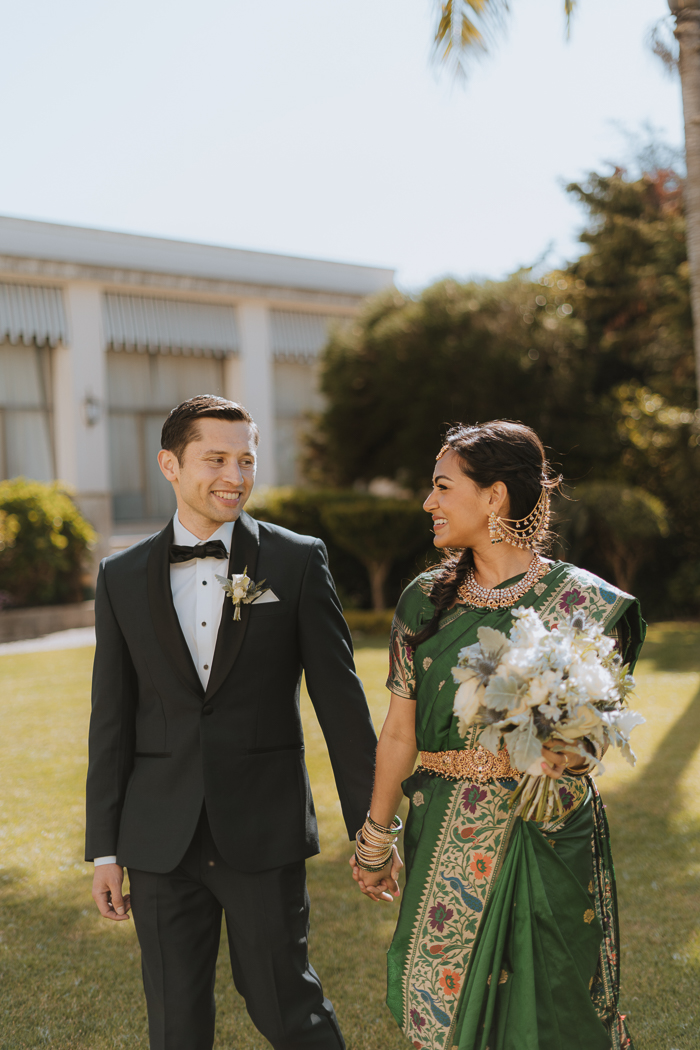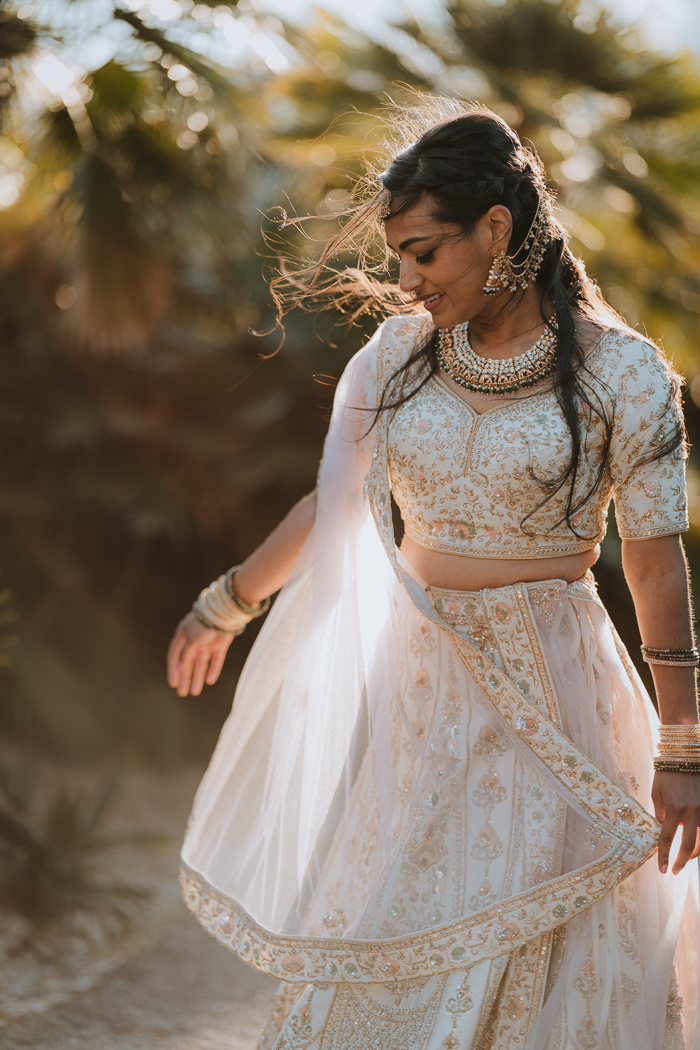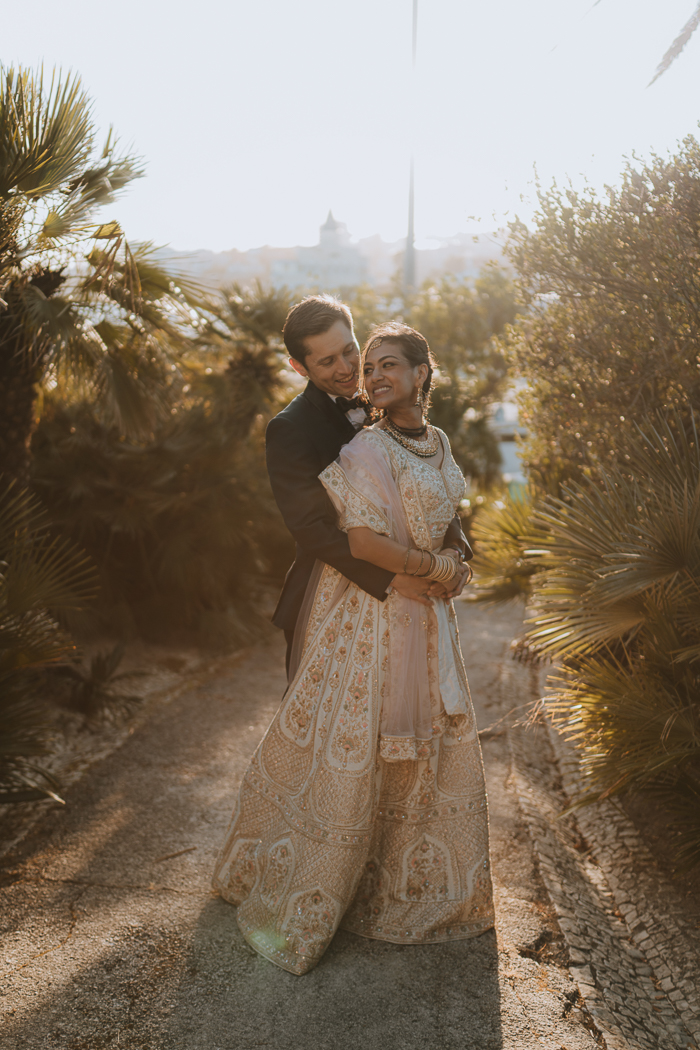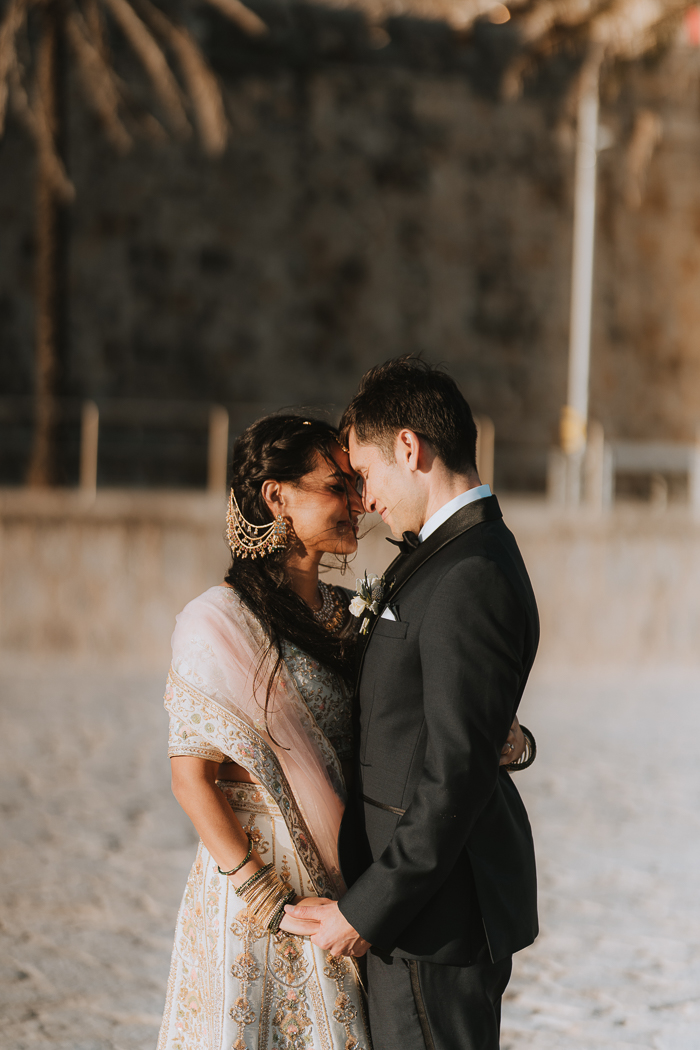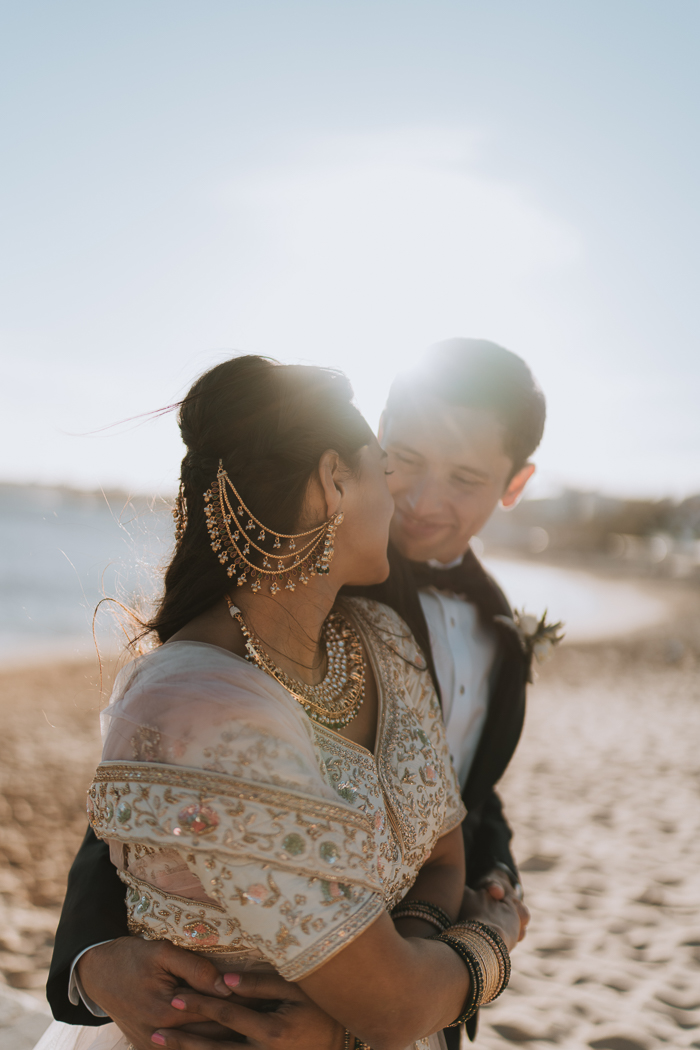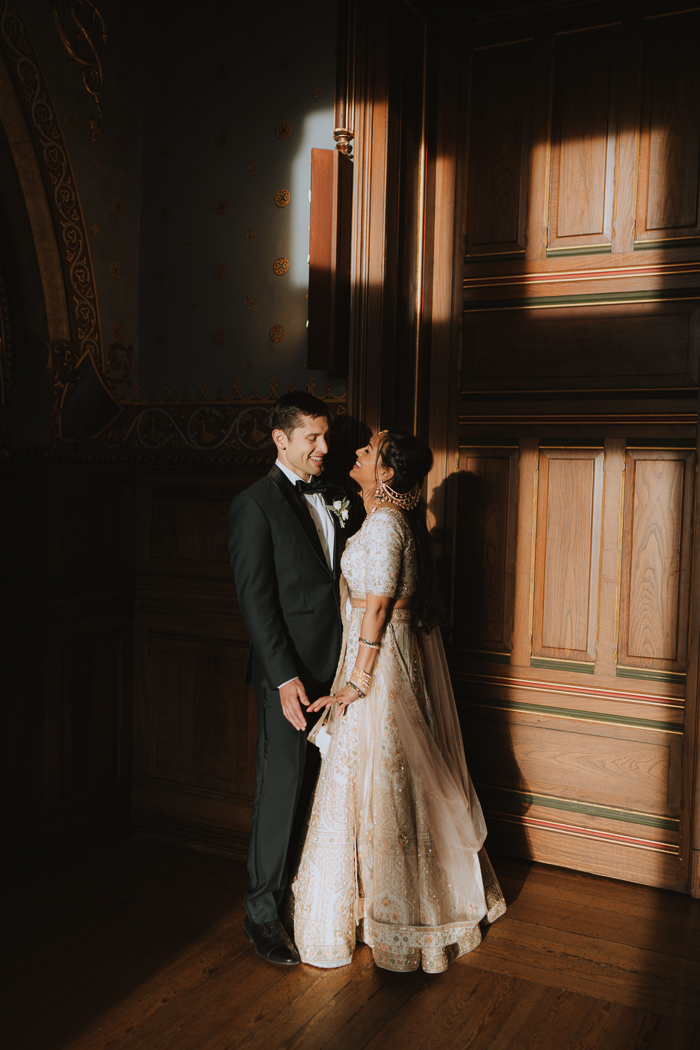 Taking Care of Their Guests Needs Throughout their Forte da Cruz Destination Wedding Weekend
It was essential to us that our guests had a chance to enjoy themselves, so we tried to take care of them as much as possible over the wedding weekend. Adding a welcome event the night before the wedding and taking care of transportation to both the welcome event and the wedding itself helped achieve this. We're delighted that everyone had a wonderful time at our wedding.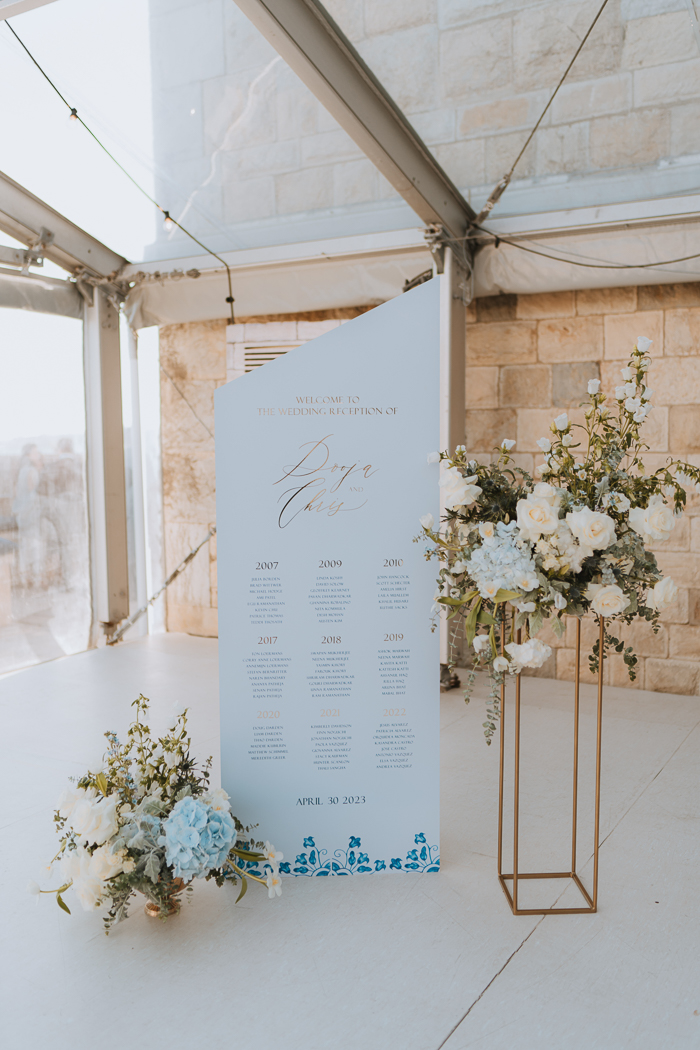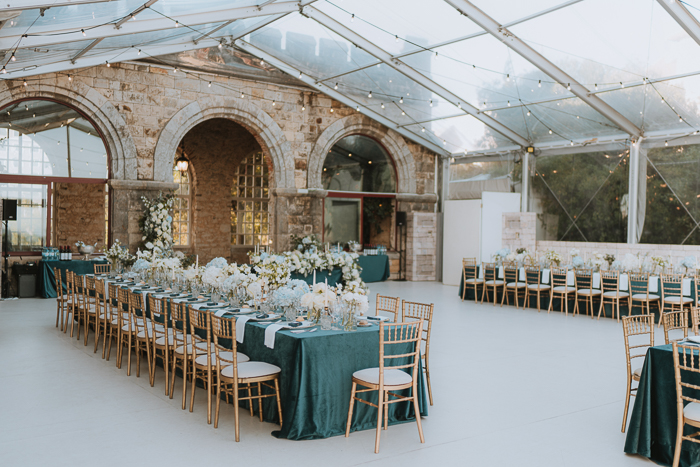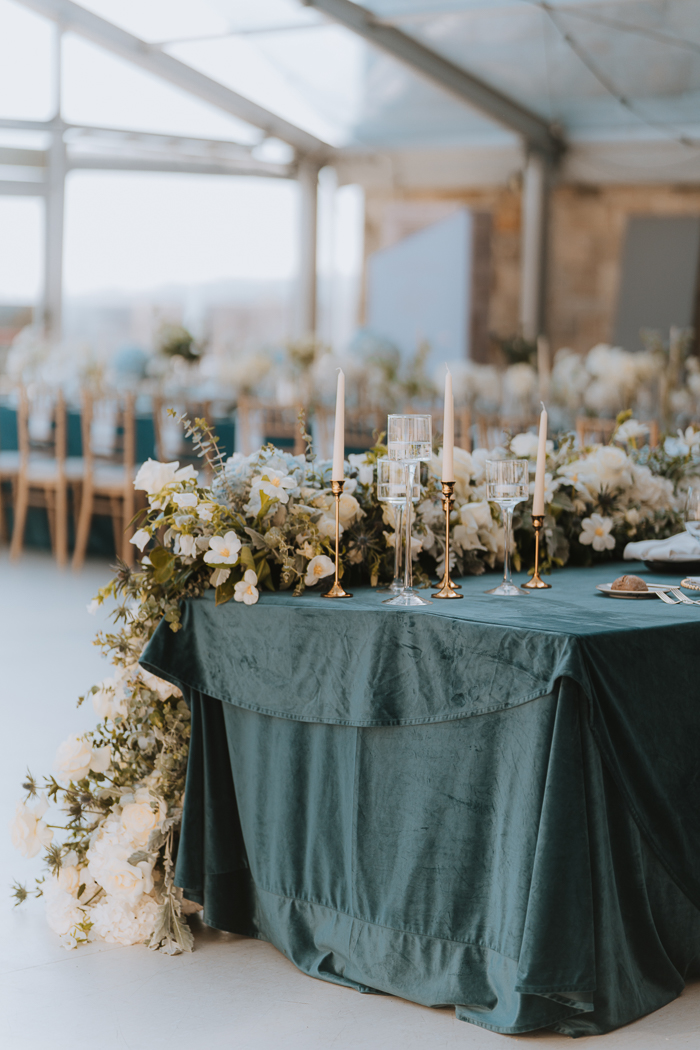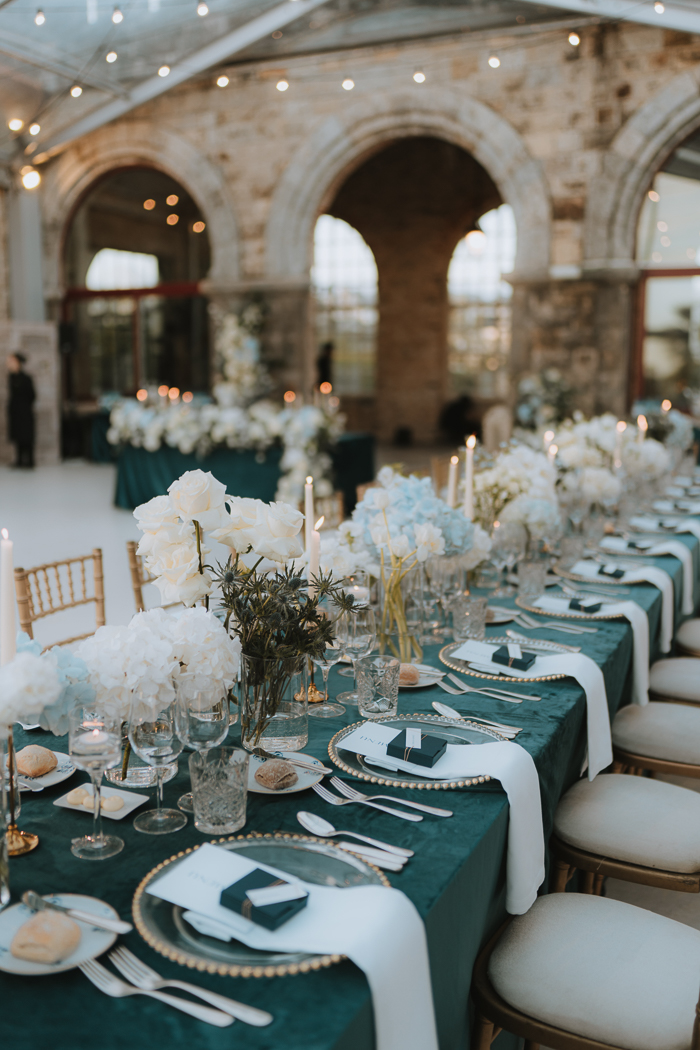 Buy These Exact Charger Plates: Gold Beaded Charger Plates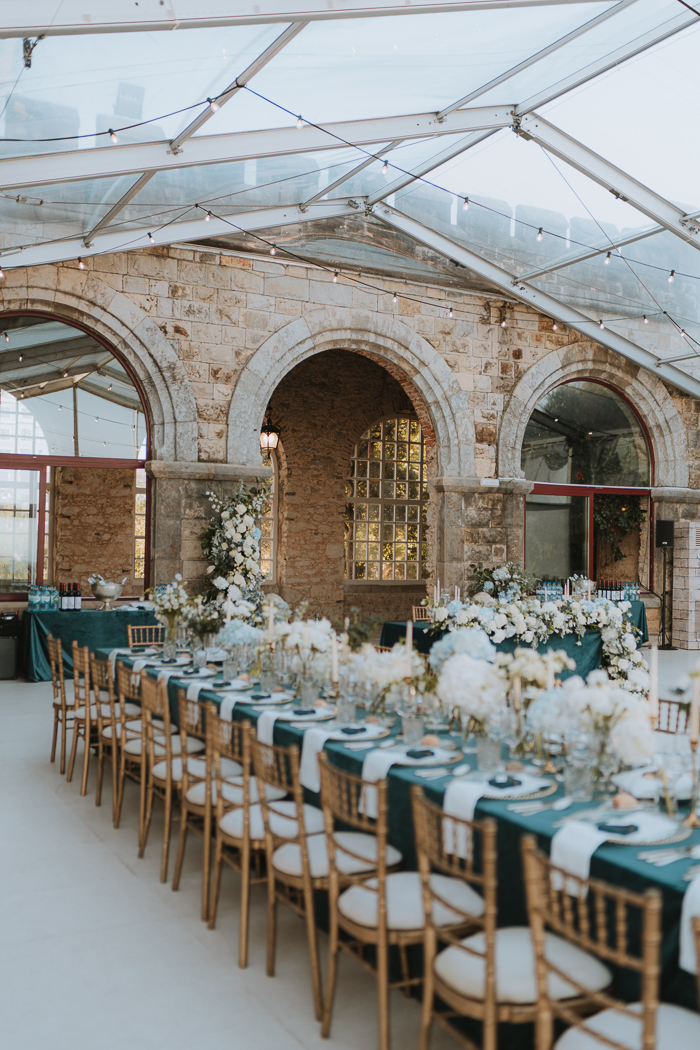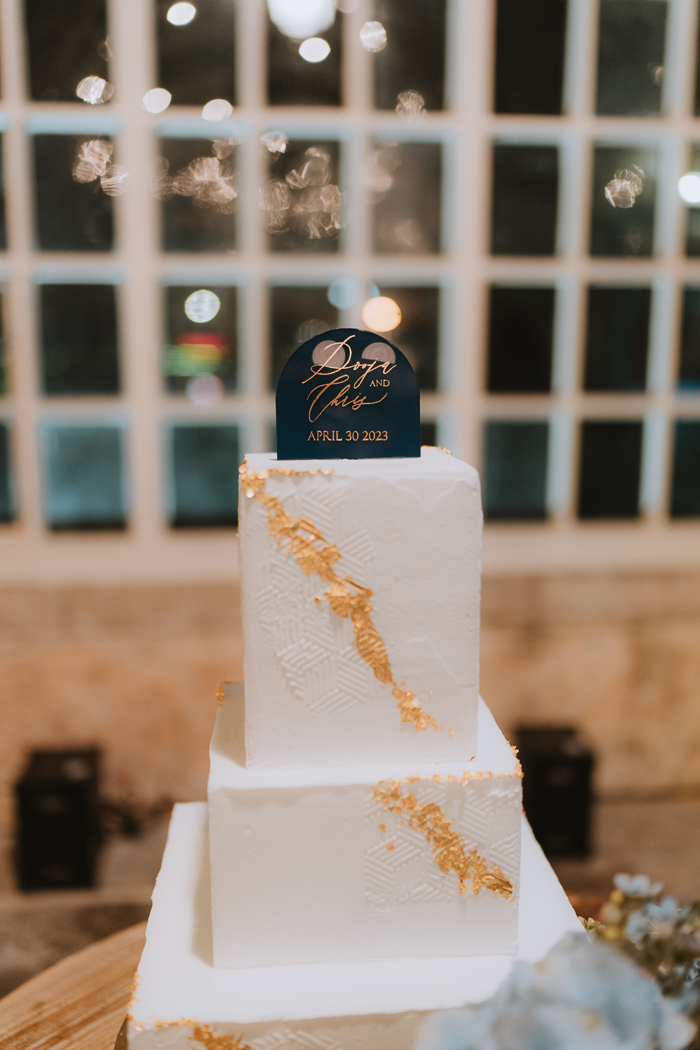 Destination-Inspired Wedding Favors
We loved our wedding favors! We collect magnets from every country we visit, so as a wedding favor, we gave out Portuguese tile magnets for people to remember the day by.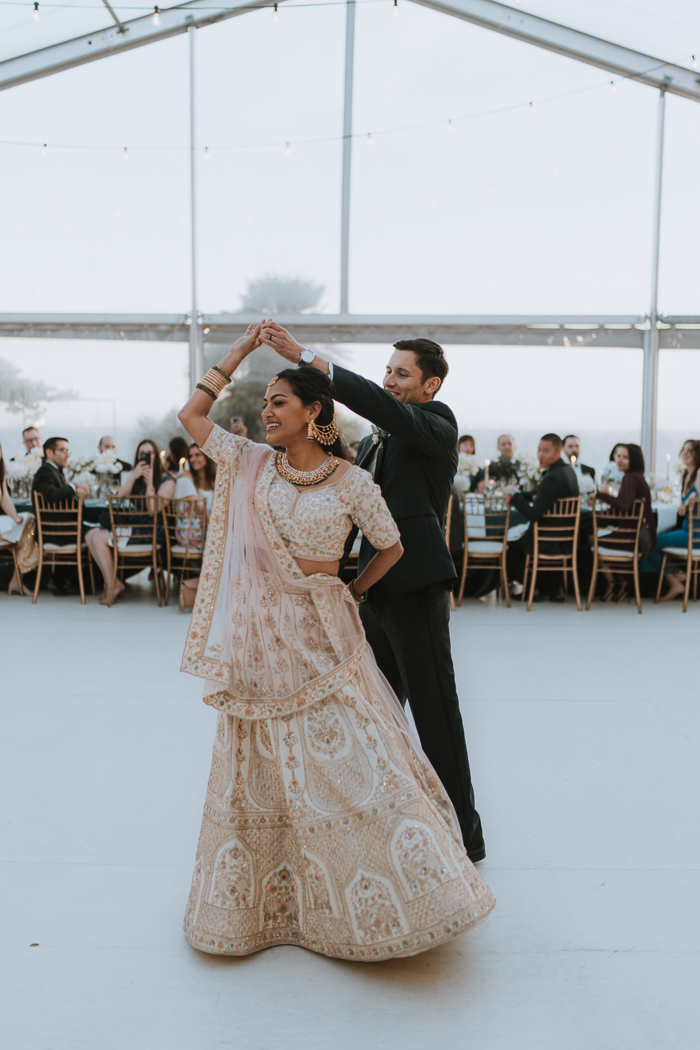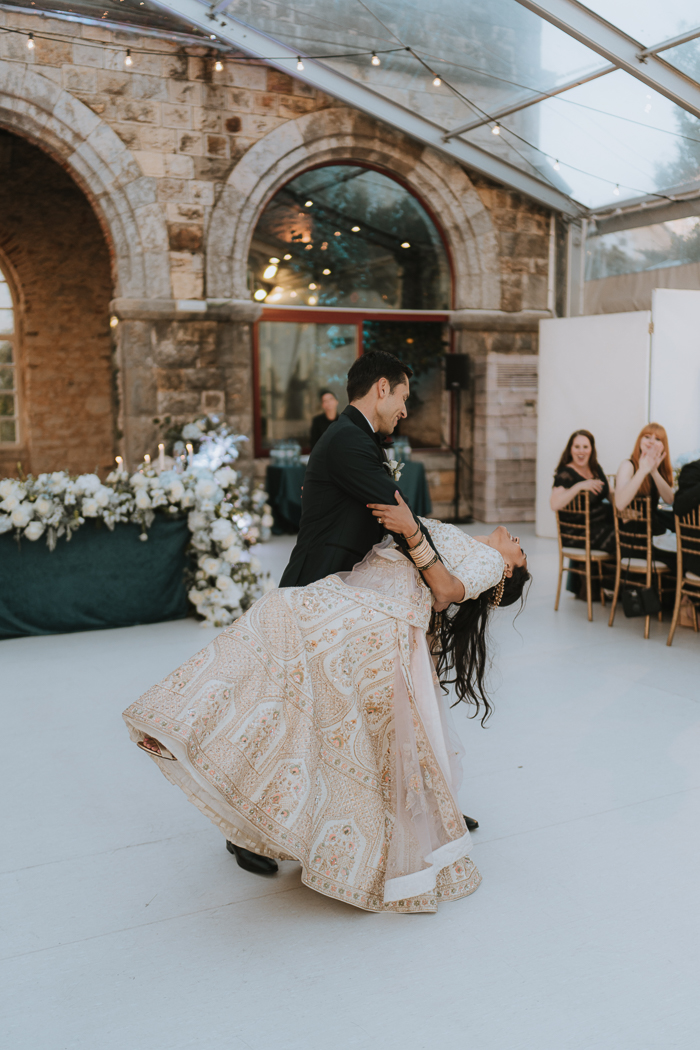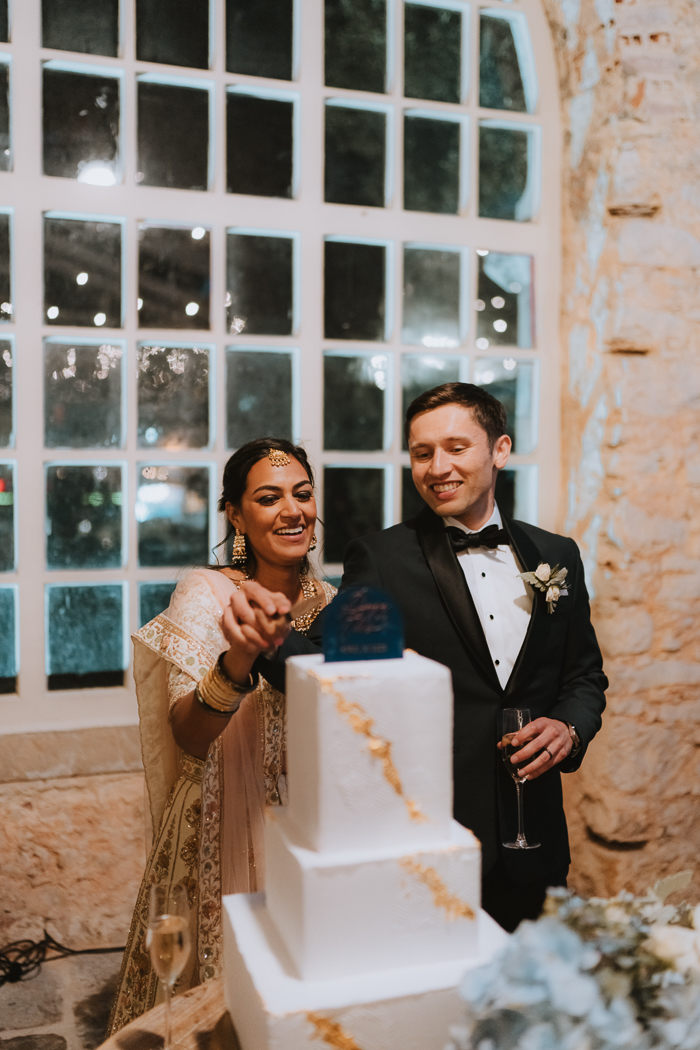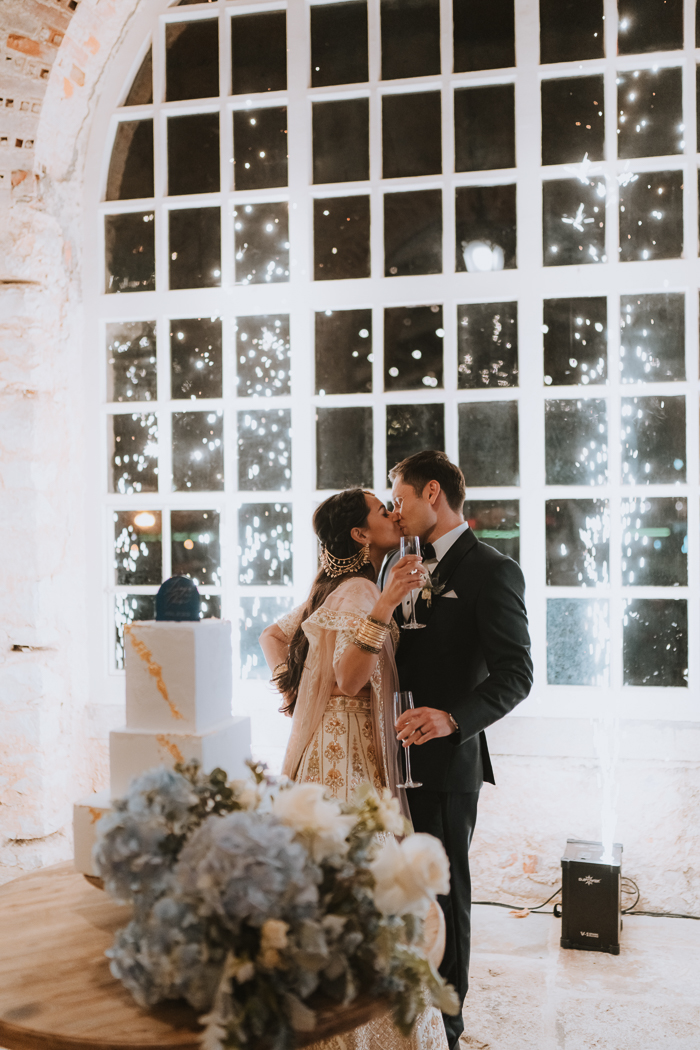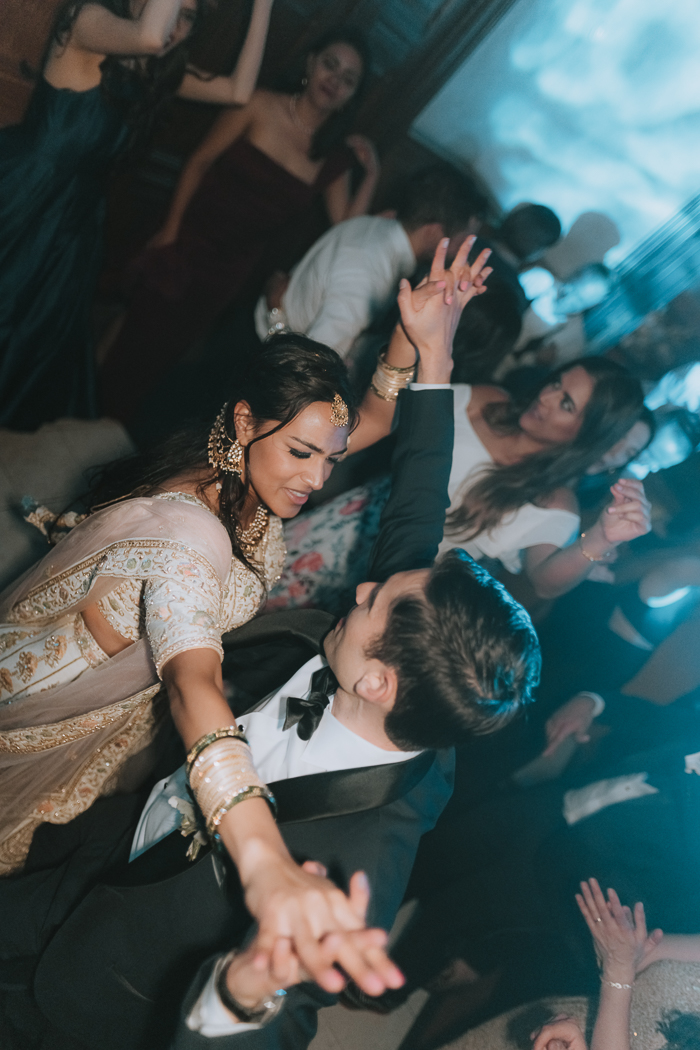 Congratulations to Pooja and Chris on their Forte da Cruz destination wedding. And a big thank you to Memorelle for capturing all the stunning details many couples can pull inspiration from.
If a faraway wedding is on your mind, then a destination wedding could be just what you're looking for! Adjust your budget to cover travel, lodging, and more, and check out our guide for planning the perfect destination celebration. We have all the information you need to make your dream wedding a reality in a distant paradise.