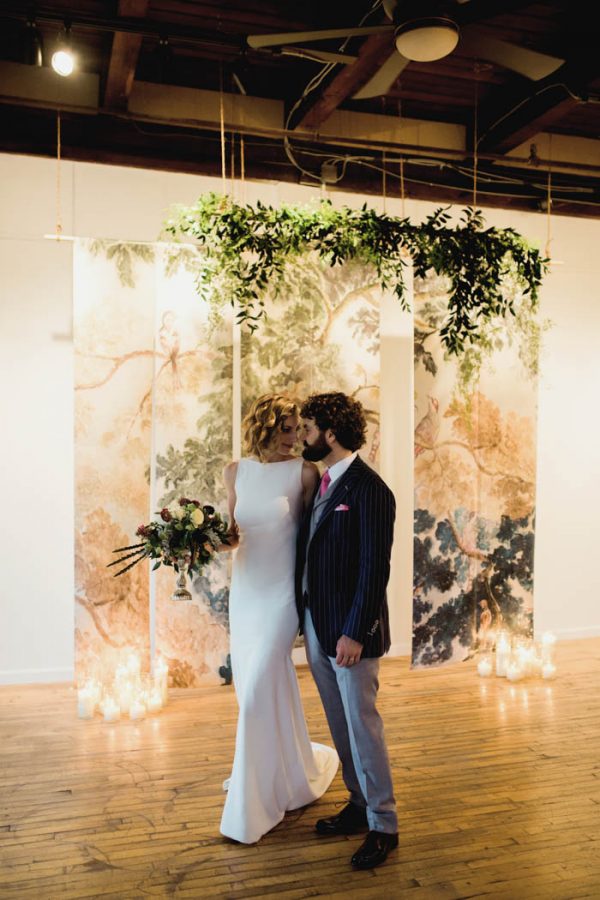 What happens when two wildly creative artists with two very different styles decide to get married? For Maureen and Alex, the only solution was a two-party wedding day extravaganza where the bride and groom each got to style an event! For the family-oriented ceremony and dinner at Makers Gallery and Studio, the bride chose cerulean velvet linens, gold tableware, and a gorgeous Anthropologie wallpaper backdrop to create a natural and sophisticated ambience. For the friend-oriented reception at Arbor Loft, the groom opted for retro signs, lounge seating areas, and a temporary tattoo station for a cool, relaxed party vibe. The oh-so talented Alixann Loosle Photography captured each unique style with such cohesiveness that the you can truly see Maureen and Alex's personalities as individuals and as a couple.
The Couple:
Maureen and Alex
The Wedding:
Makers Gallery and Studio and Arbor Loft, Rochester, New York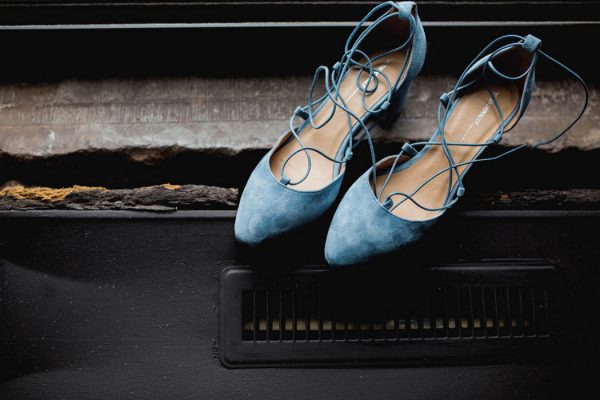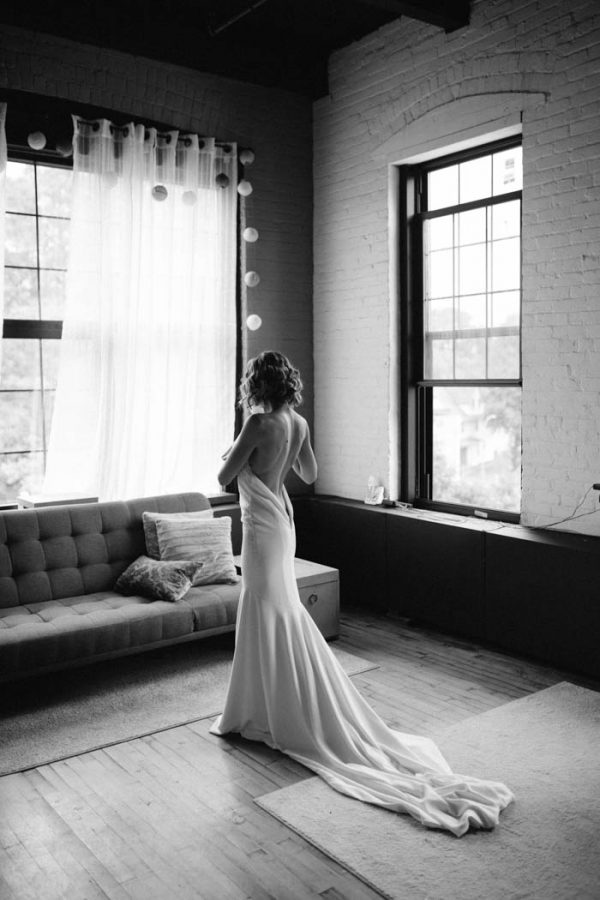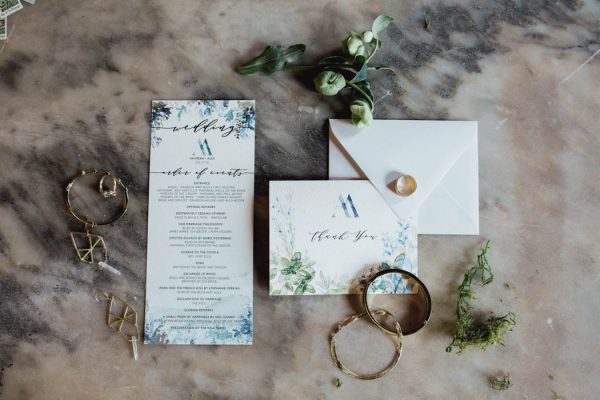 It was most important for Alex and I to plan the wedding together and to plan an event that felt authentic to us. I think our guests appreciated all the details and that everyone enjoyed the atmosphere that we created. We wanted our guests to have fun and be relaxed and to gain a greater understanding about our relationship. I believe we achieved that goal.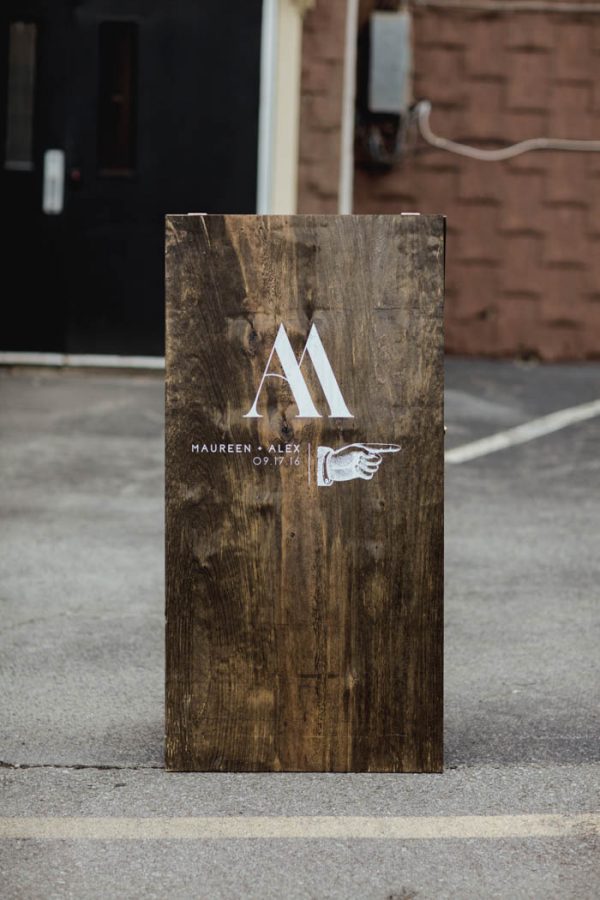 Alex took responsibility for designing the content and feel of the ceremony and gave it care and creativity that paid off. My uncle officiated, there was no aisle, and Alex and I entered together, following our parents. In place of a song, we walked in to a recording of our first conversation (seriously!). Alex was recording audio at the Jazz festival where we met and he happened to catch our first interaction. (We set up a listening station at the reception for our guests to hear the recording.) The ceremony included a poem by Neil Gaiman, which served as the blessing, an audio story about the human search for "the other half" from Radiolab, and our marriage philosophy that we wrote based on our many conversations about why we were getting married.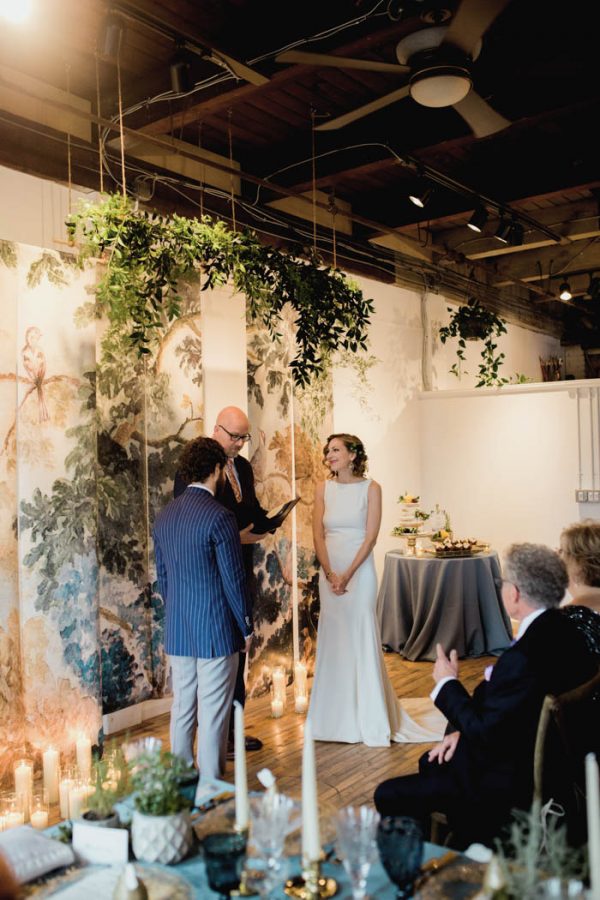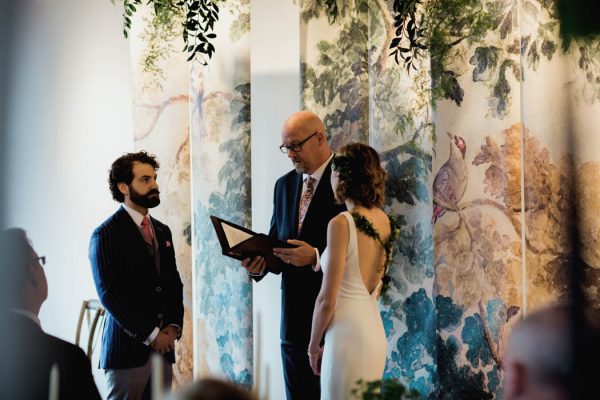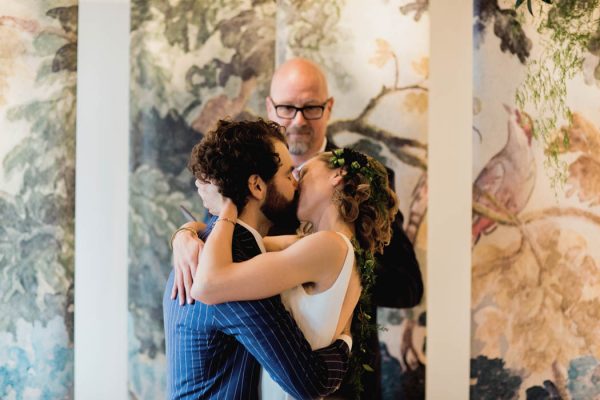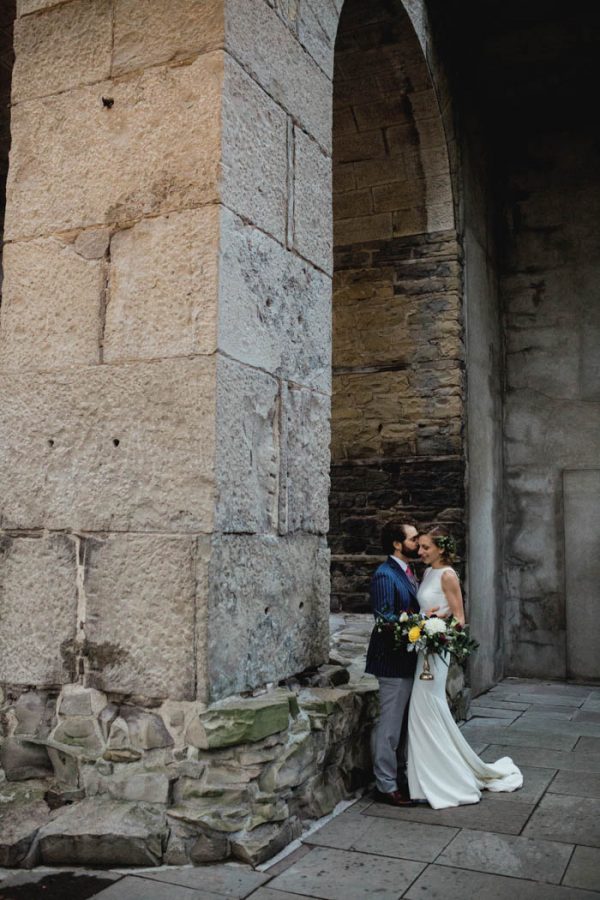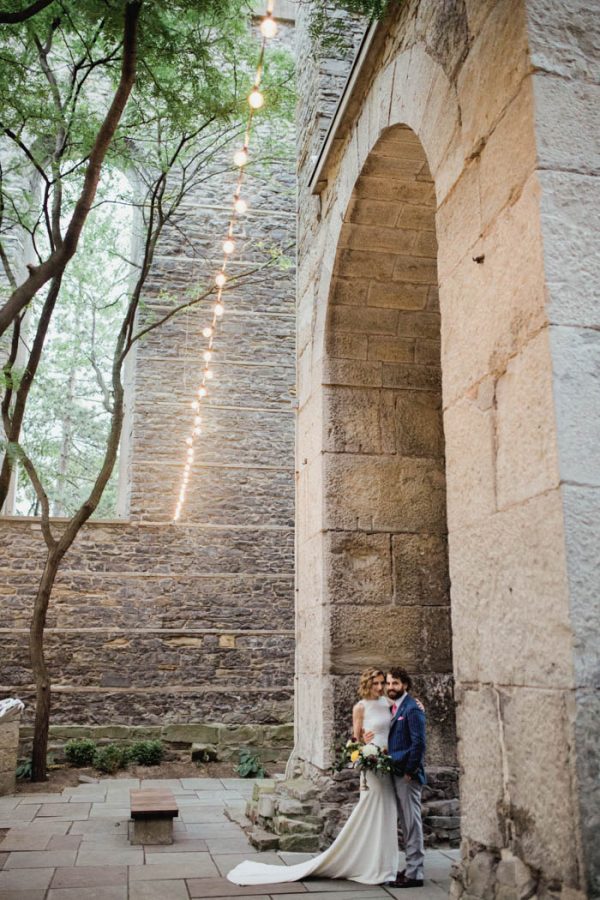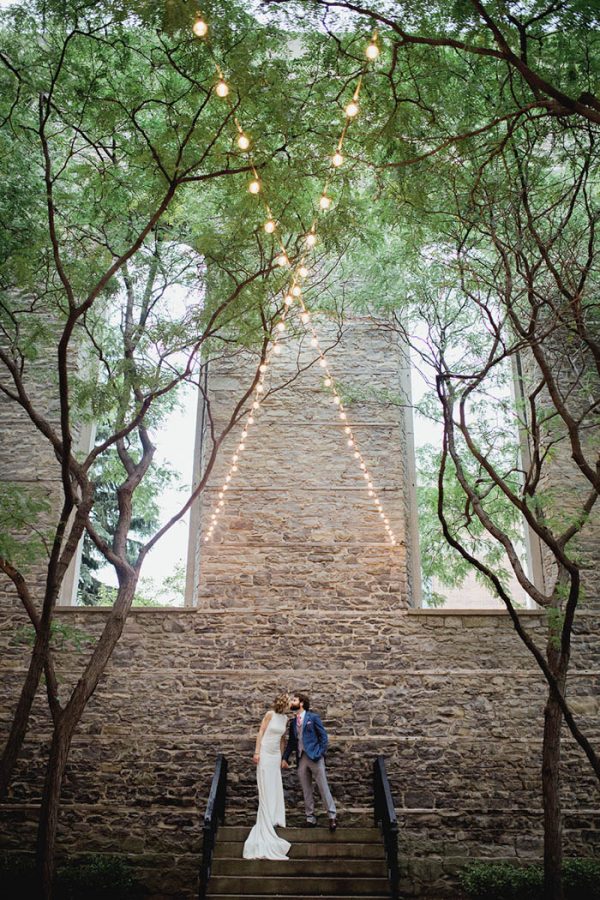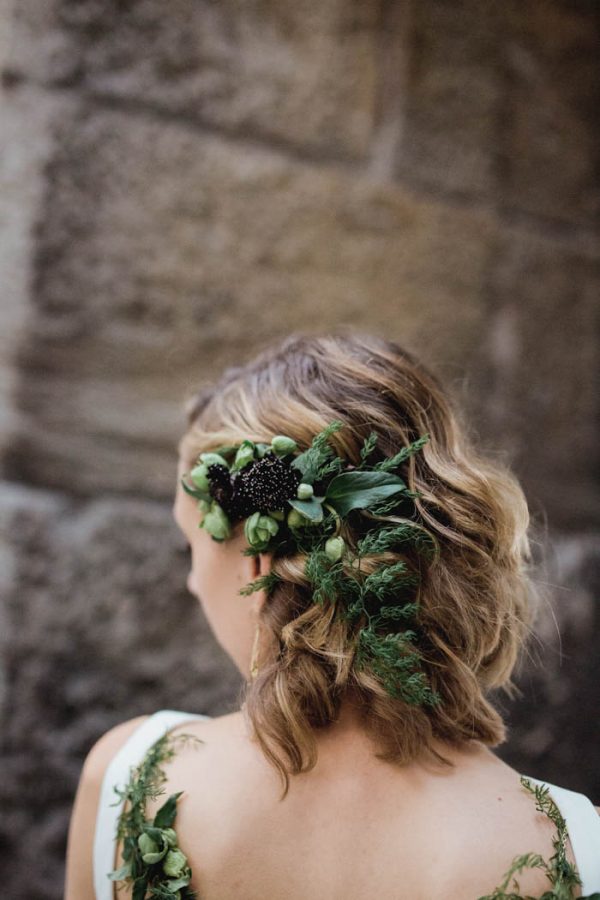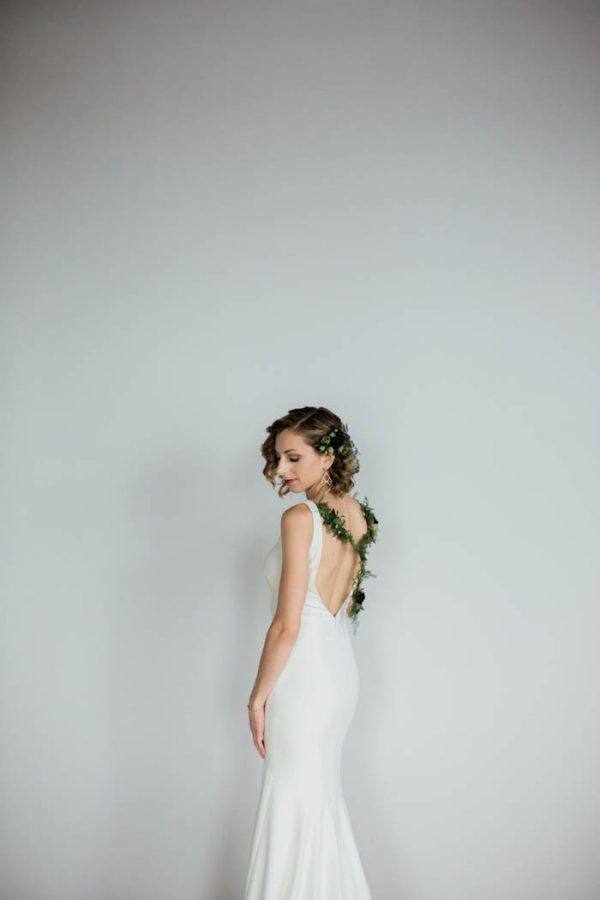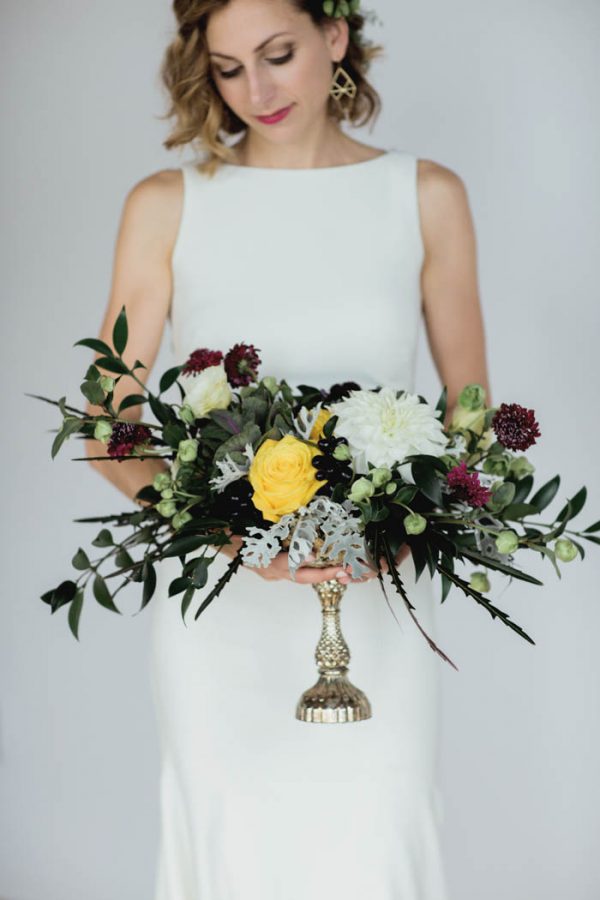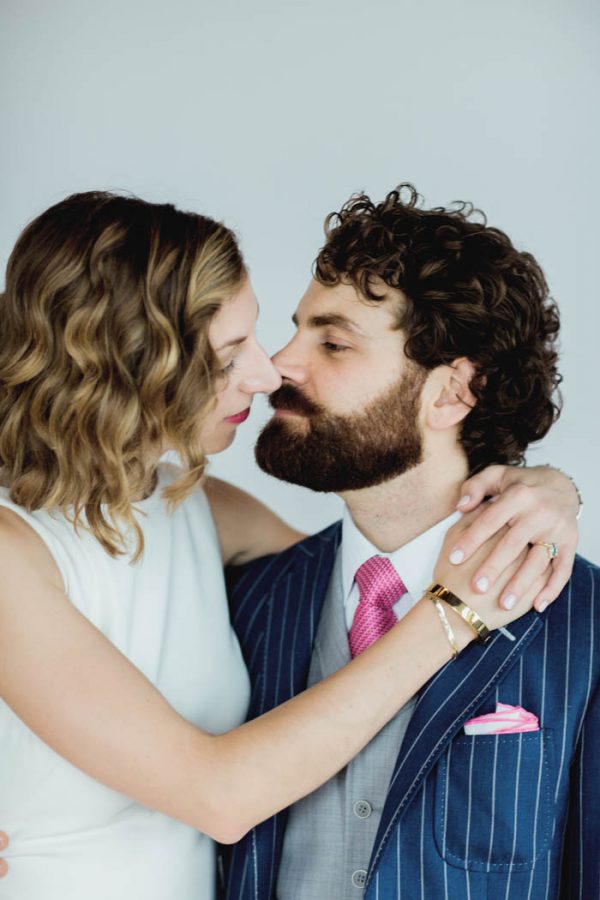 One of the first things Alex and I pictured was dinner tables full of living plants. For the ceremony/dinner invitation I painted images of herbs in a cool palette. The colors for the ceremony and dinner were cemented when I found the wallpaper from Anthropologie that served as our backdrop. The beautiful cerulean velvet linens came next, and then I dyed the napkins to pull out the amber color in the wallpaper.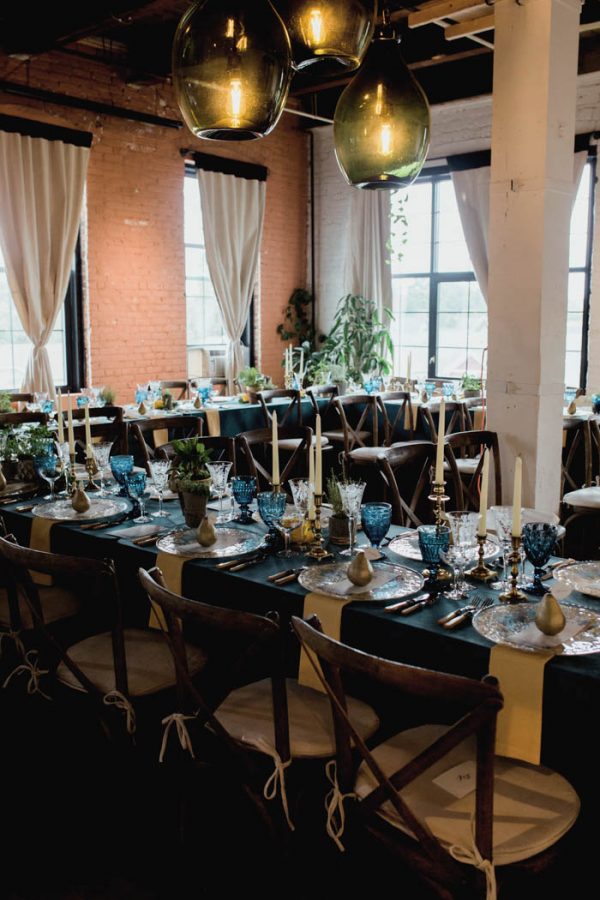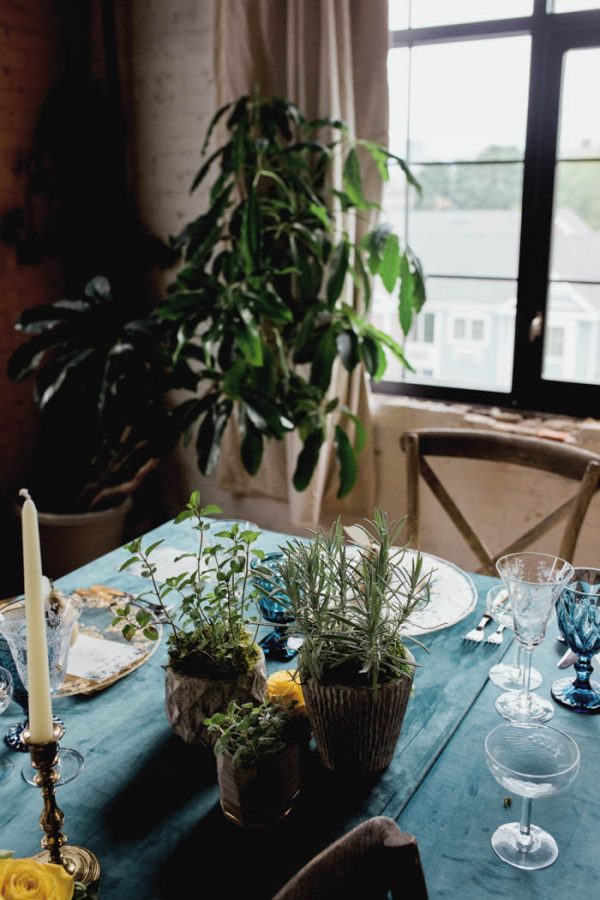 We made so many things for the wedding! I design wedding stationery, so I created all of our signage and paper goods. The process I use for most pieces is to paint with watercolor and then add text digitally.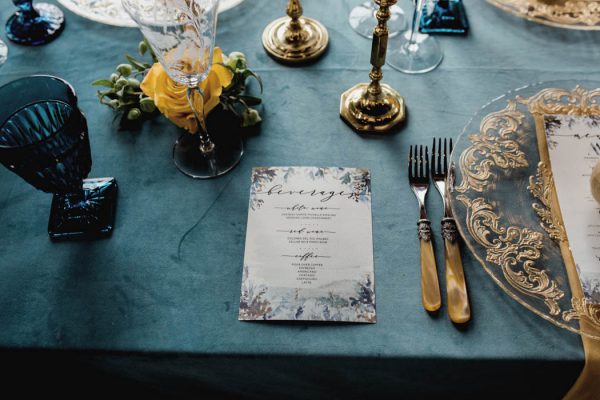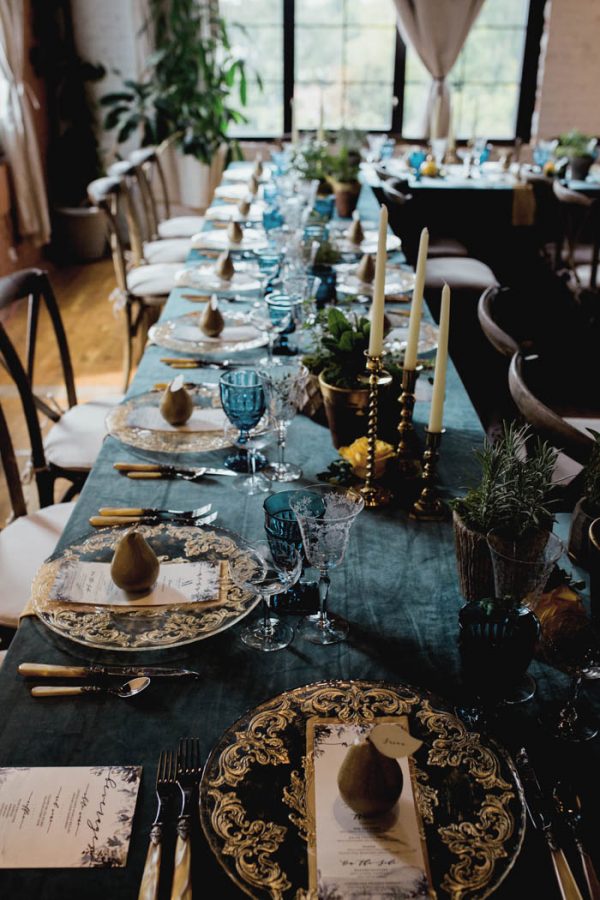 In place of traditional escort cards, we adorned each place with a gold pear to represent the pear tree that Alex's grandparents planted in their yard. We spray painted paper mâché pears and then I attached a leaf-shaped name card.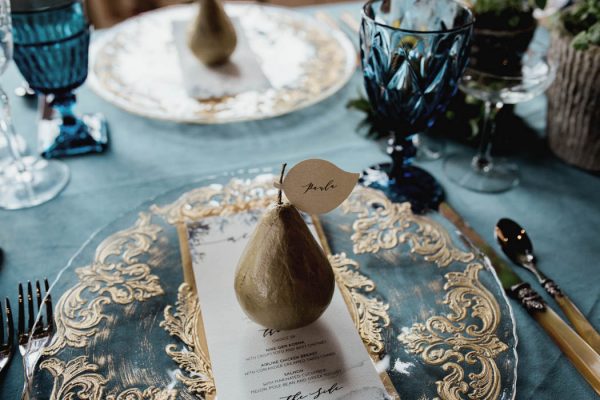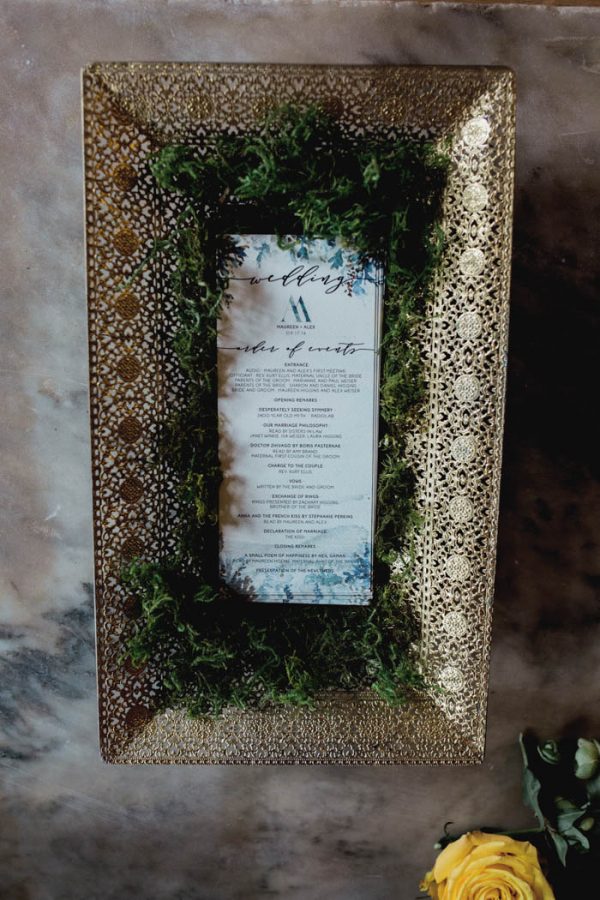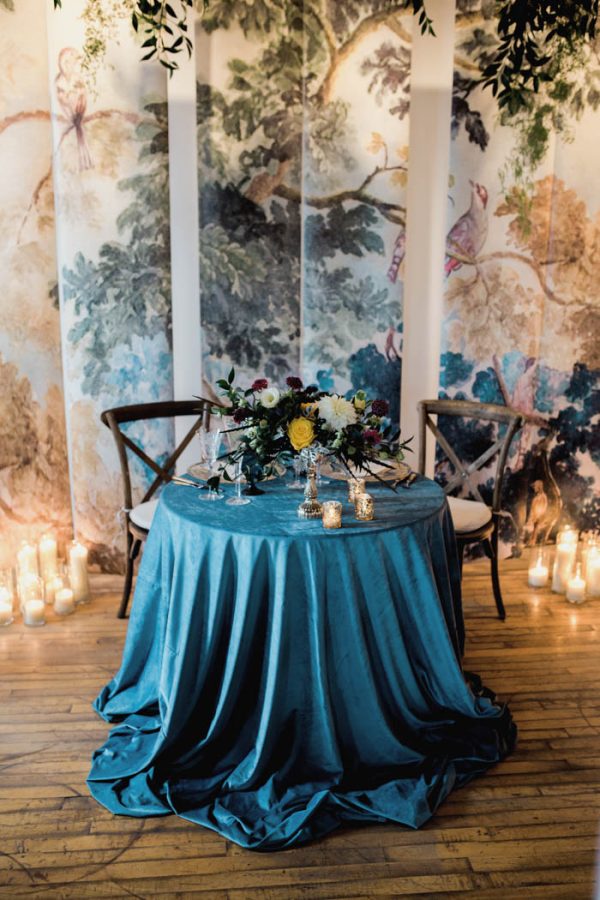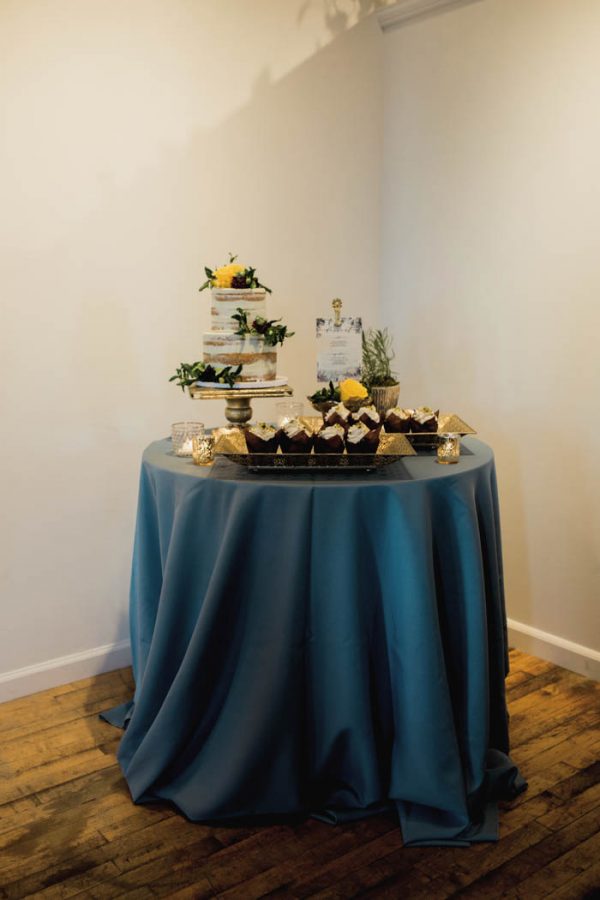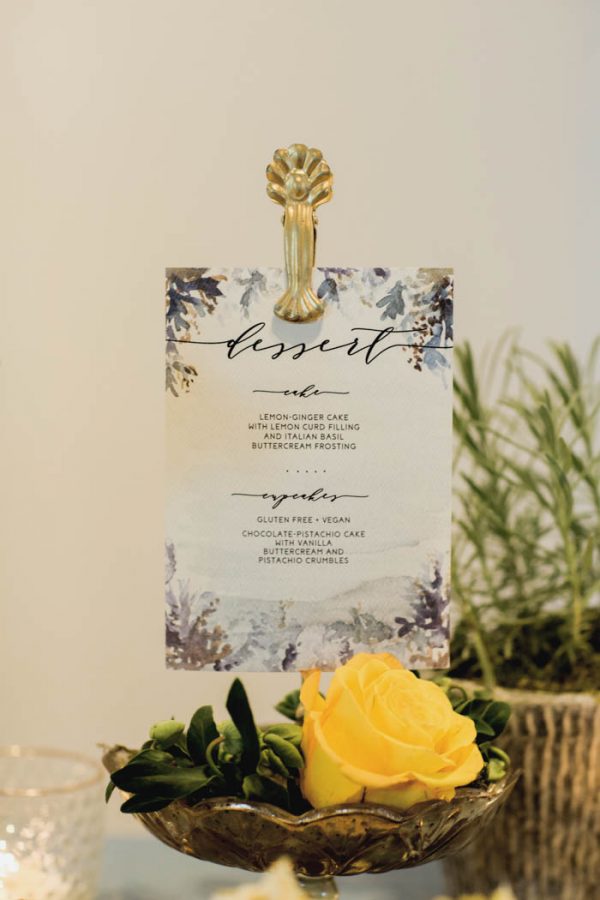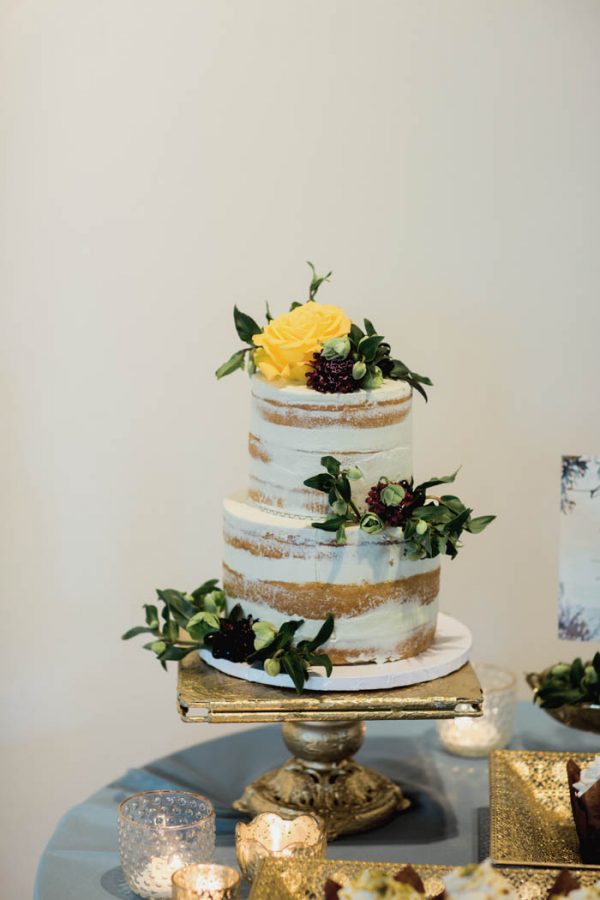 Reading my vows and listening to Alex read his vows is my favorite memory from the day. I still run some of the lines through my head. Seeing Alex for the first time that day was also pretty great. I didn't know anything about his clothes and he really rocked that custom suit. Another standout moment is my dad playing "Isn't She Lovely" on his guitar.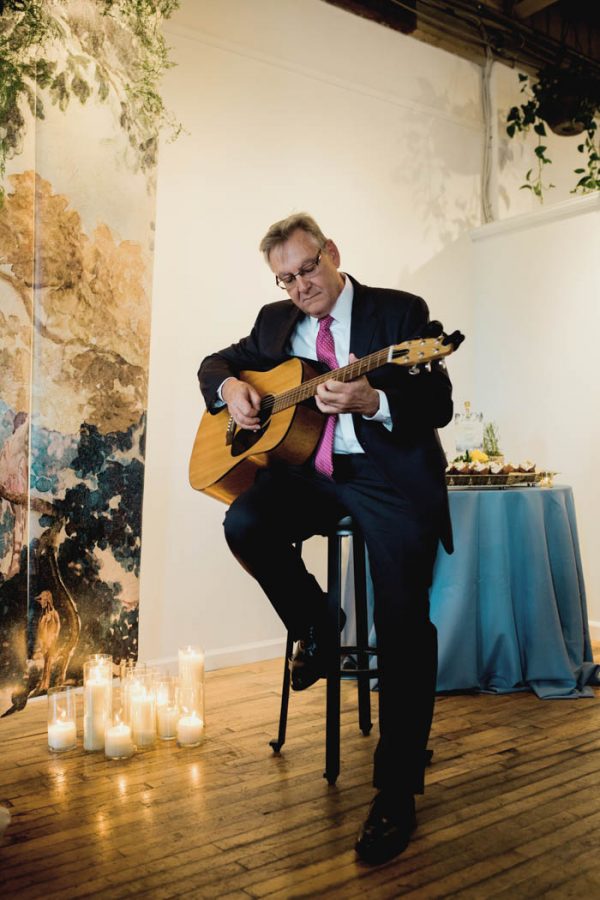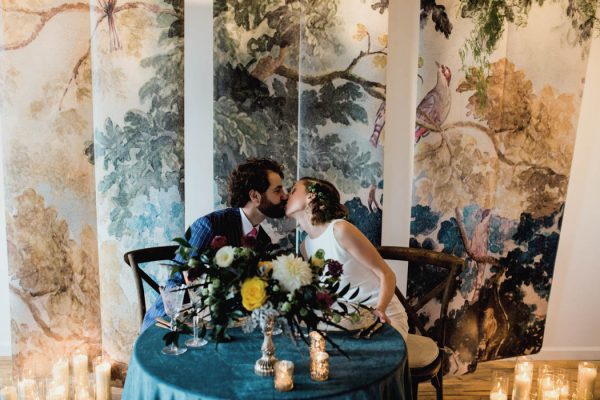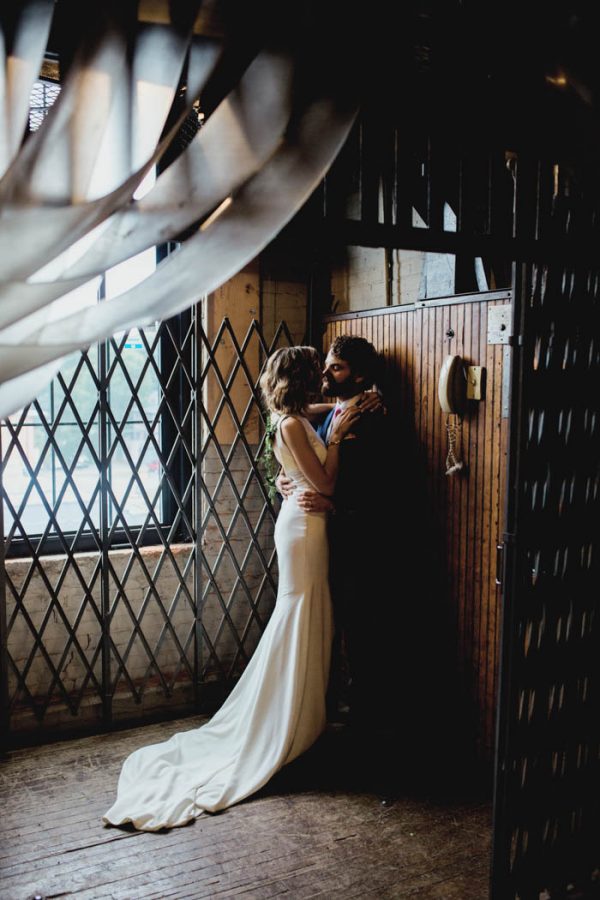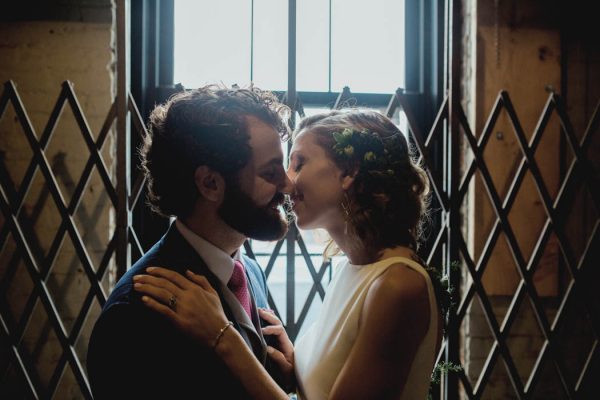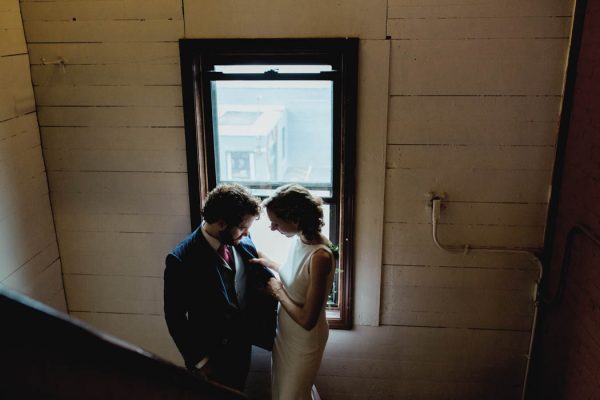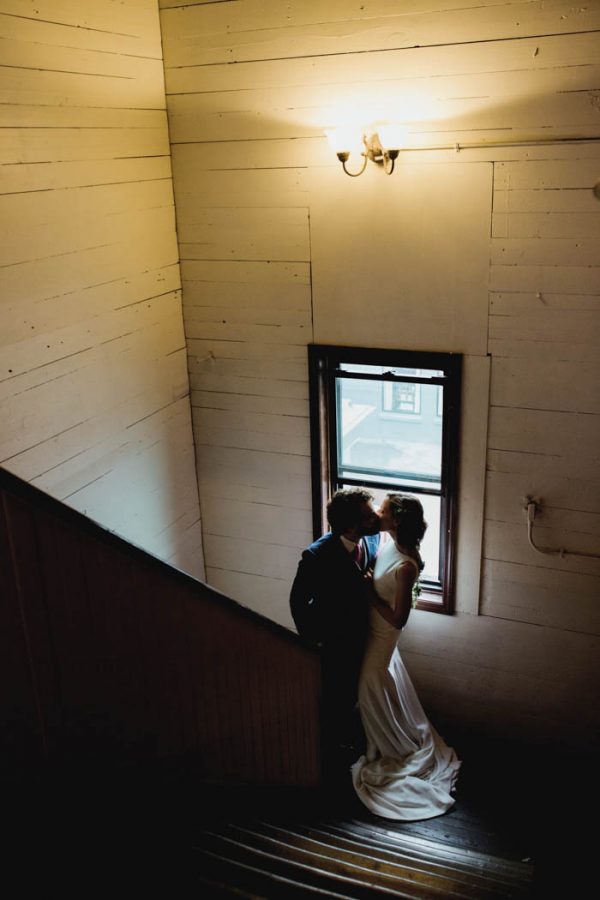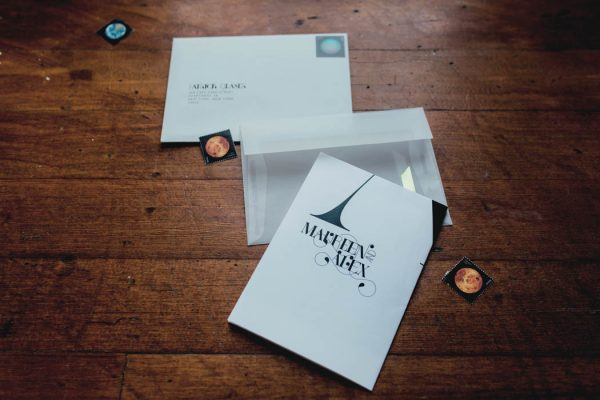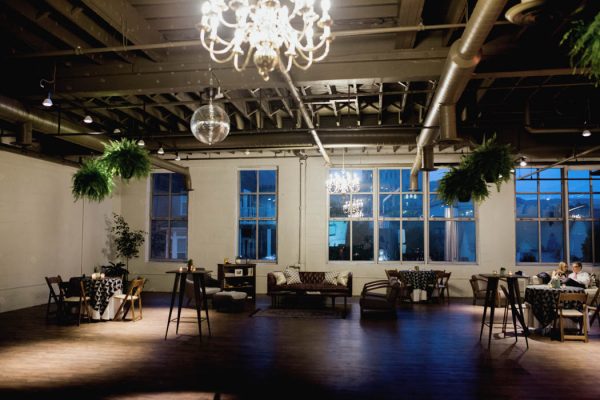 For the reception, we knew we wanted a disco ball, a comfortable lounge space and a neon sign, but that was all we could decide on for a while. We never really picked colors because the casual vibe of the reception didn't depend on color. The palette sort of ended up being black and white and green. I found some black and white blankets for $10 that we used as table overlays and we hung green ferns from the ceiling to soften the industrial space.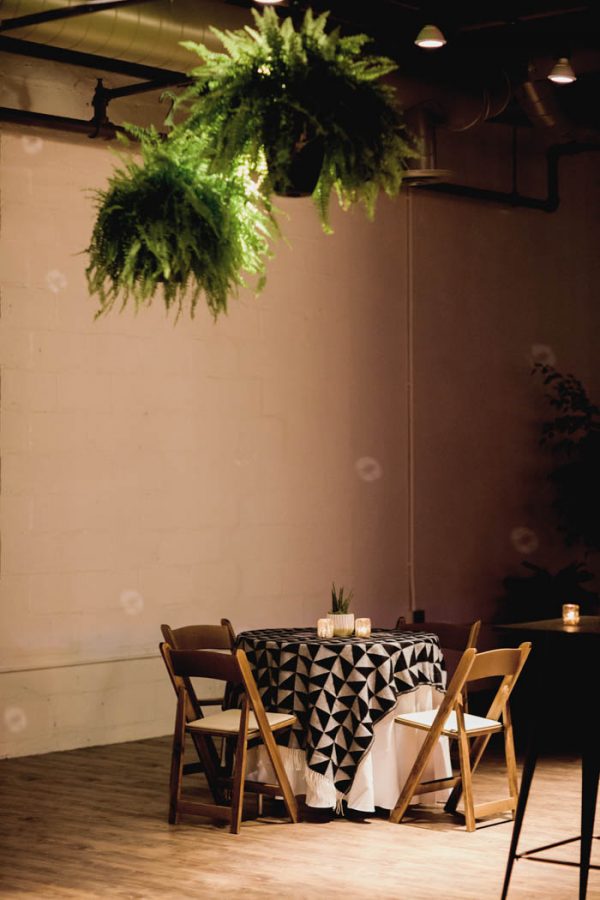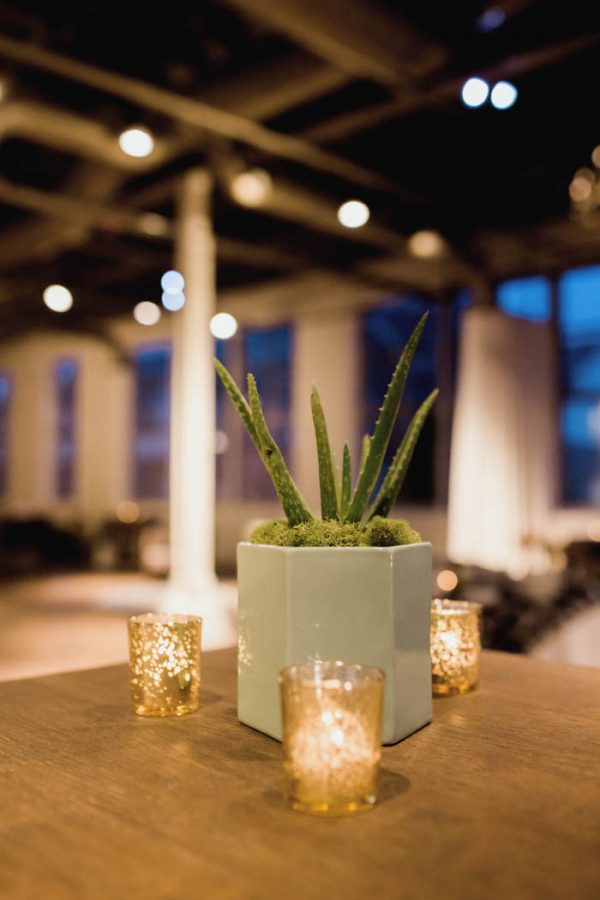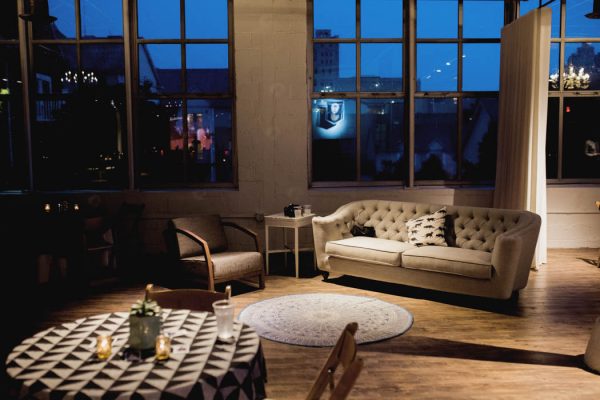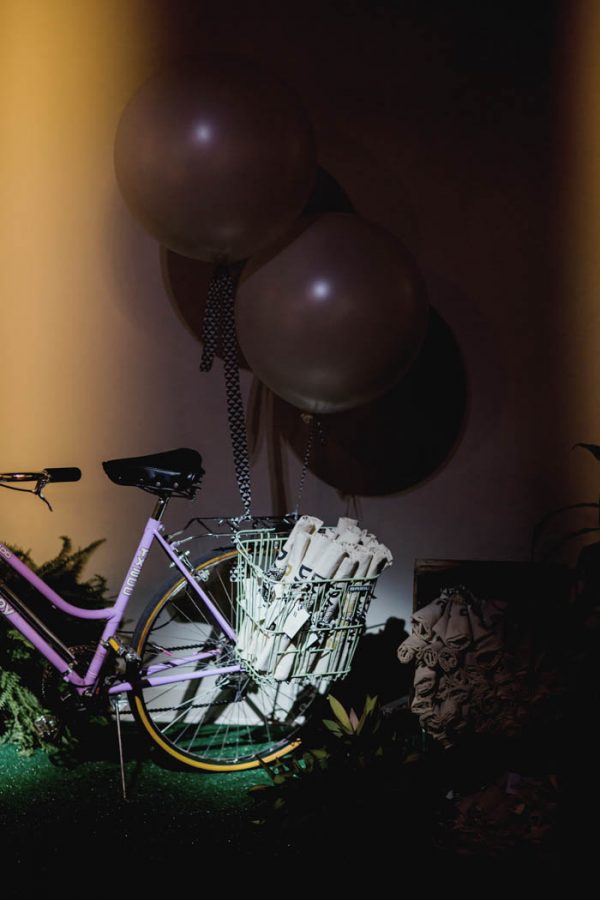 For the tote bag favors, Alex and I tried our hand at screen printing. I designed the image and then we printed them together. We laid them out to dry all over the floor of our house and admired our hard work, which gave the curious cat an opportunity to run around and ink her paws.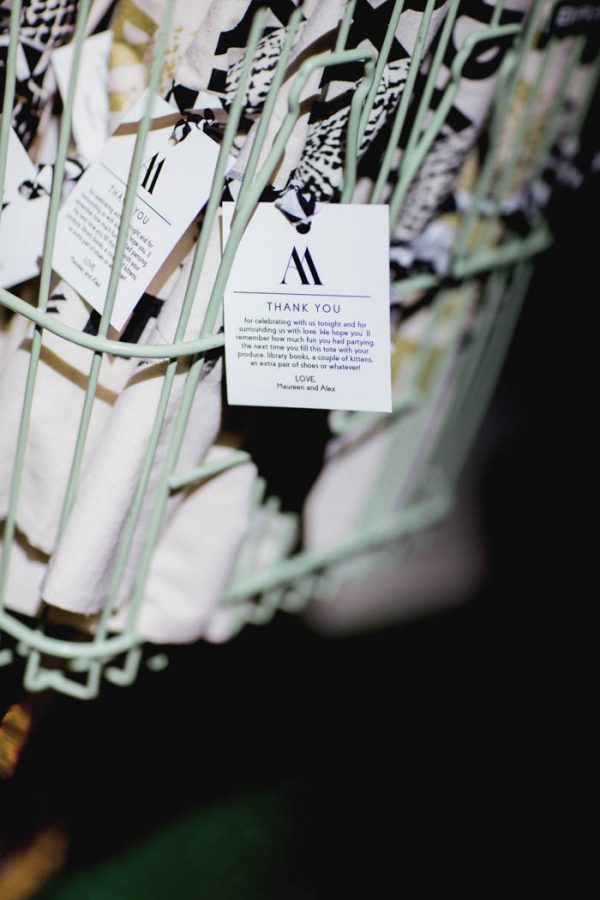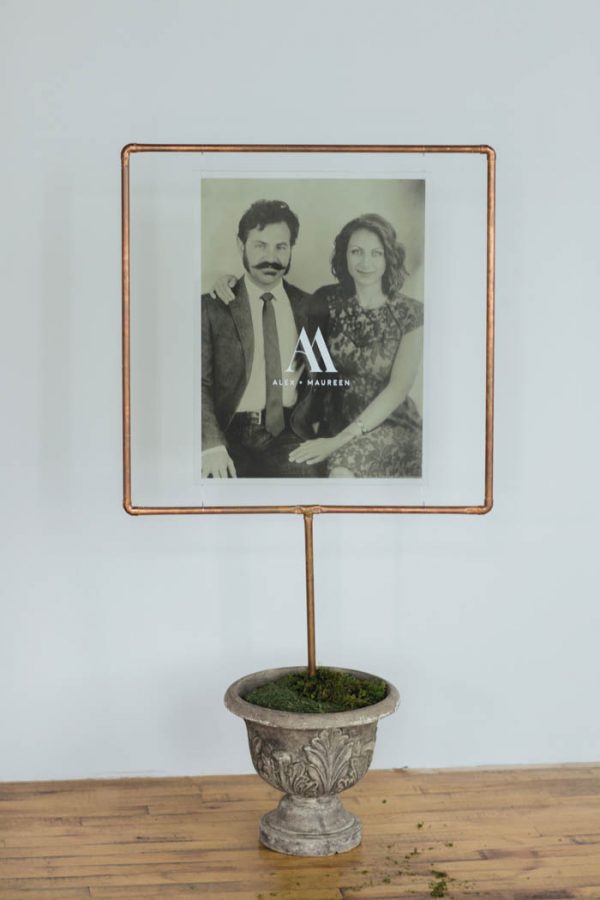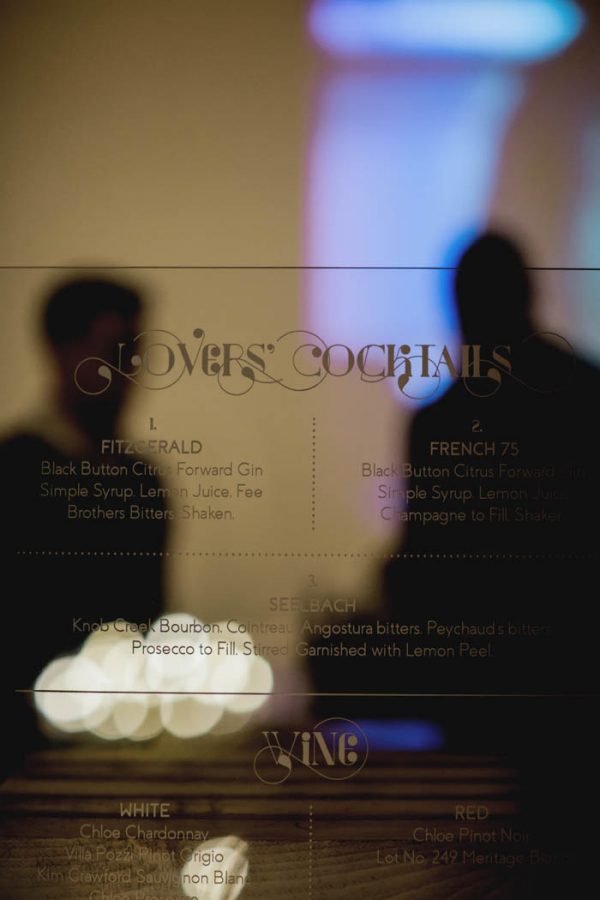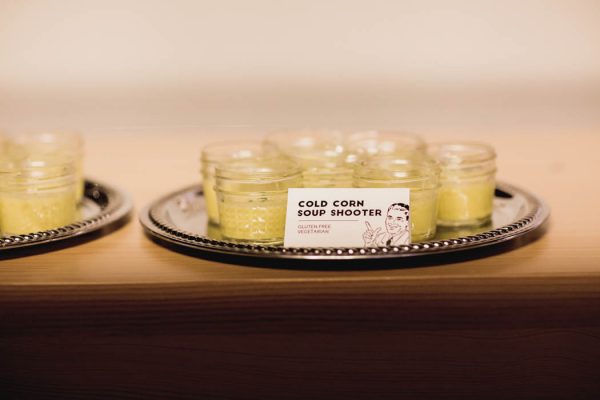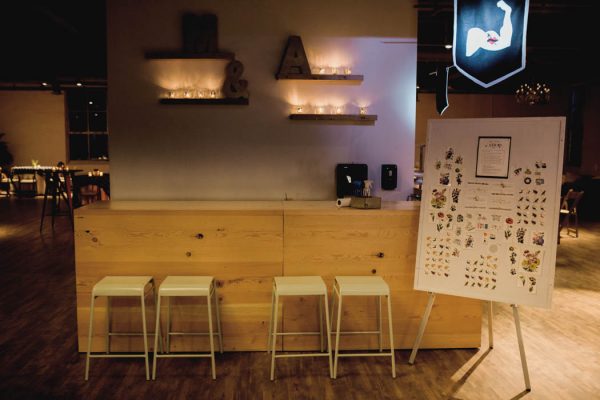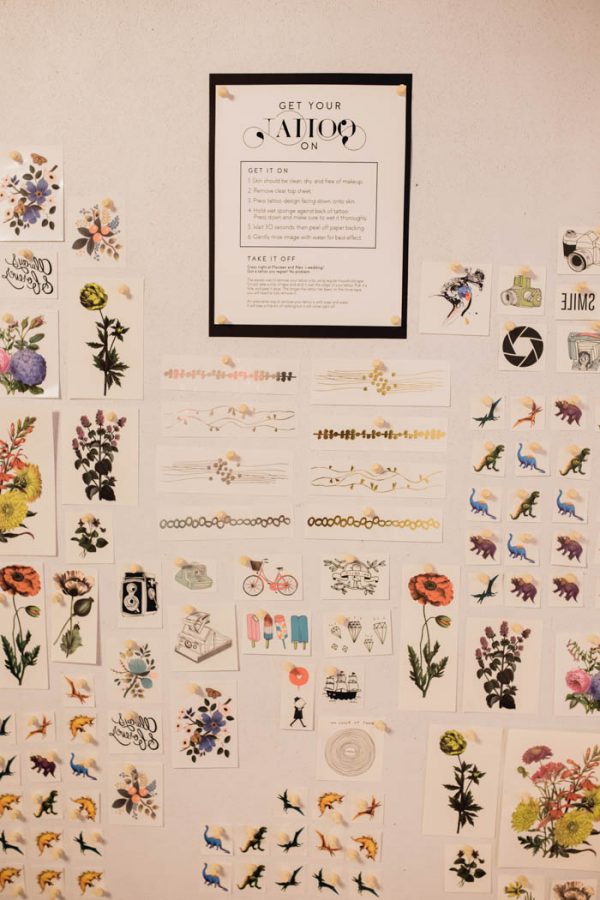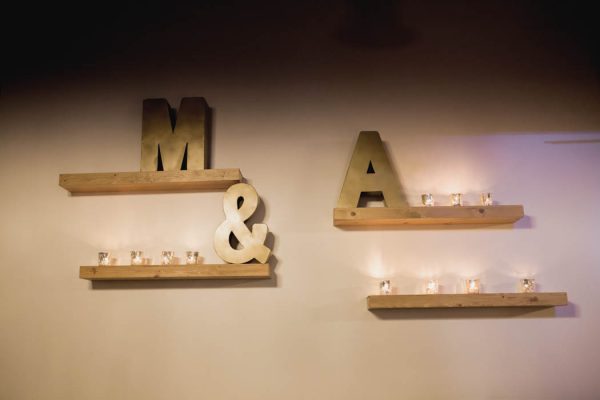 My advice to couples comes from my experience working for a wedding planner and as a bride. Choose good vendors. Work with people who give you good vibes and whose work you admire. Give them a little direction and a lot of freedom. When you give an artist creative license, you often get their best work. Plus, after months of planning, it's nice to have a few surprises. Read contracts thoroughly and get all the changes in writing. Even when you have vendors you can trust, it's best for everyone to know what the expectations are– not all surprises are good. Choose only things you love but remember to consider your guests. It's your day, but you're also hosting a party. The best kind of event is one where everyone can have fun.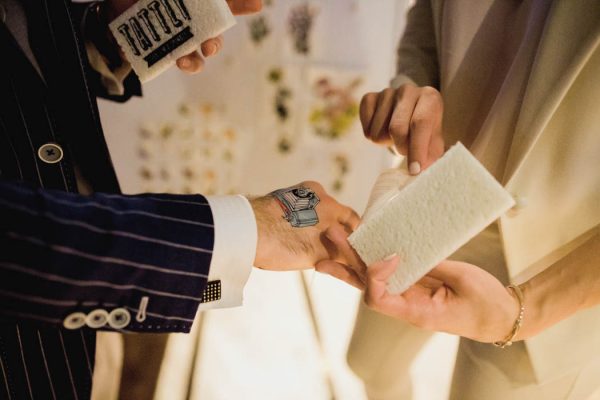 We demarcated the different areas of the reception (listening booth, tattoo bar, desserts…) with banners that I made from cut felt. I was going to sew them until a wise friend said, just glue them!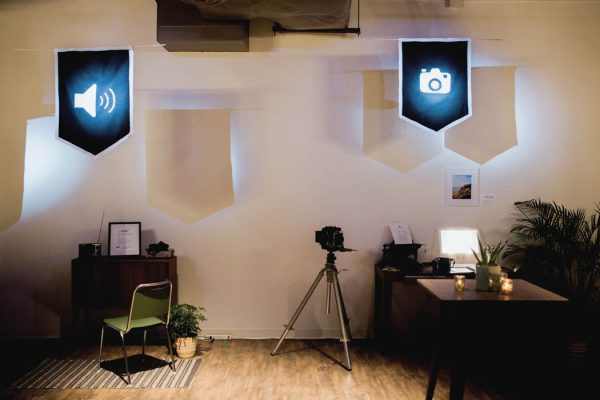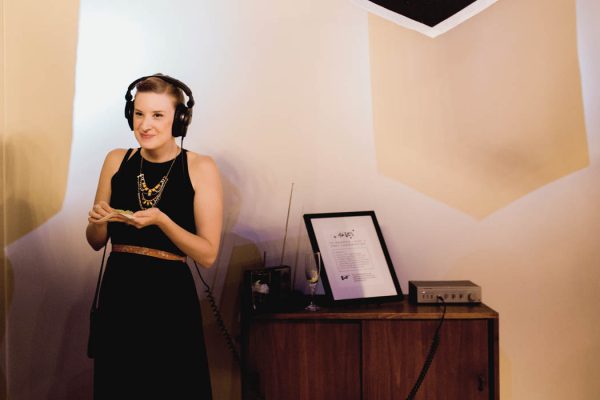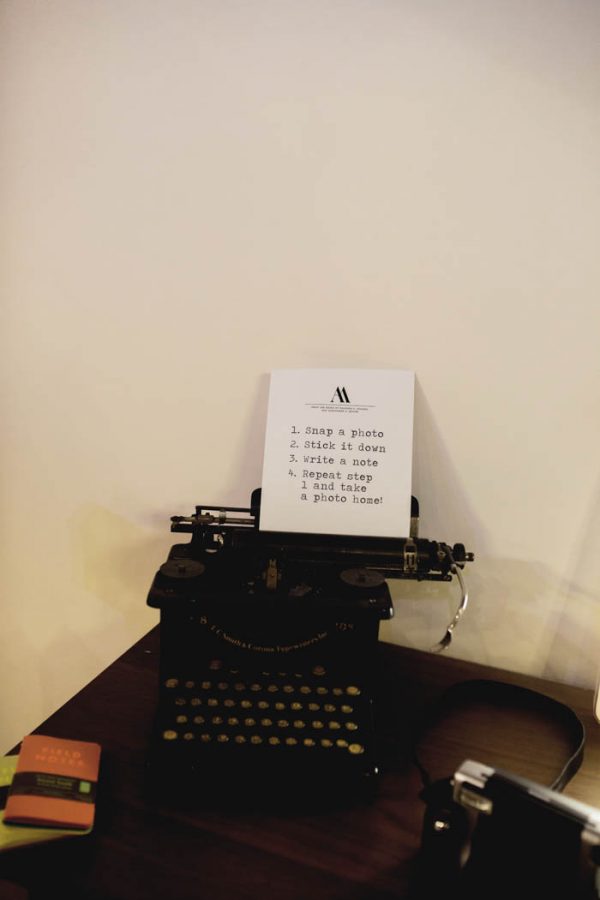 Alex created a video from archival footage that played above the bar throughout the reception. It included video of people dancing in old Kodak ads, vintage home movies of weddings, sex-ed videos from the '50s and '60s, and kittens.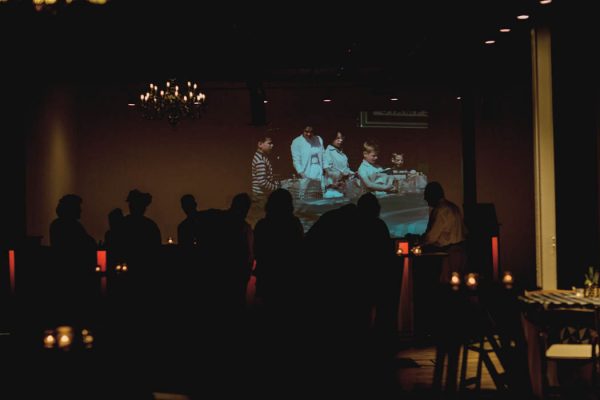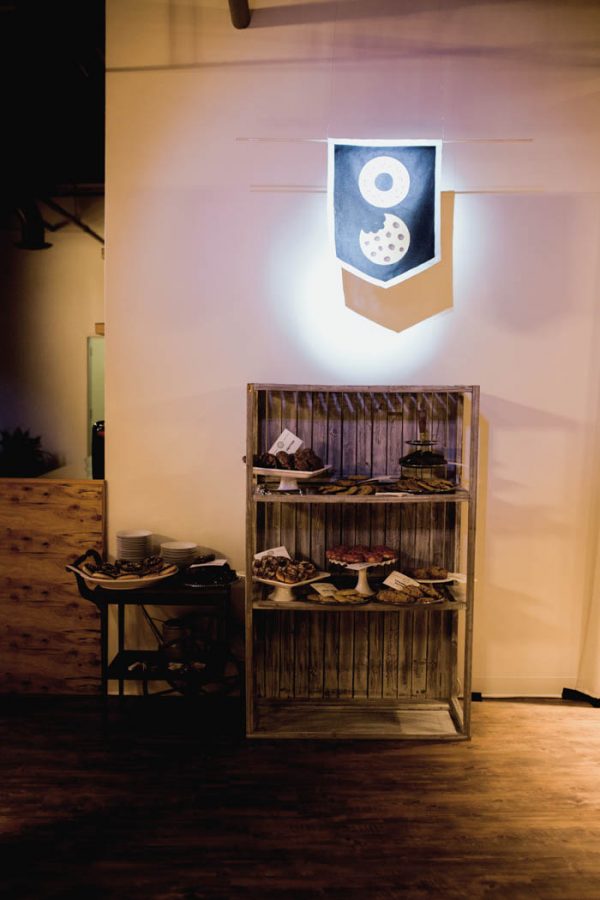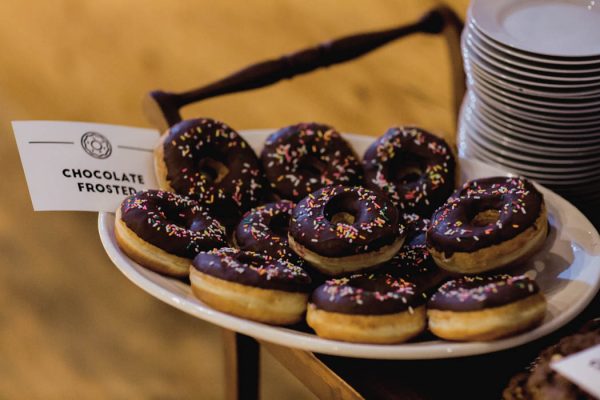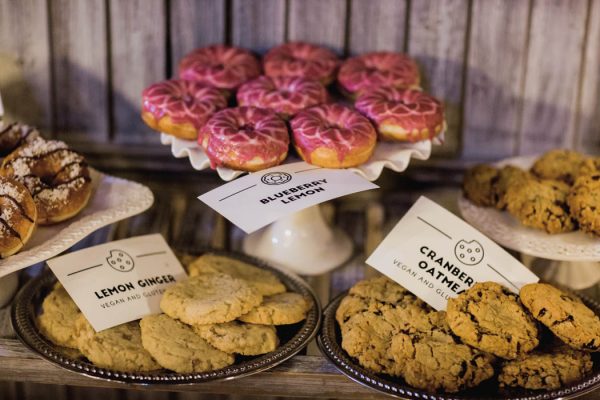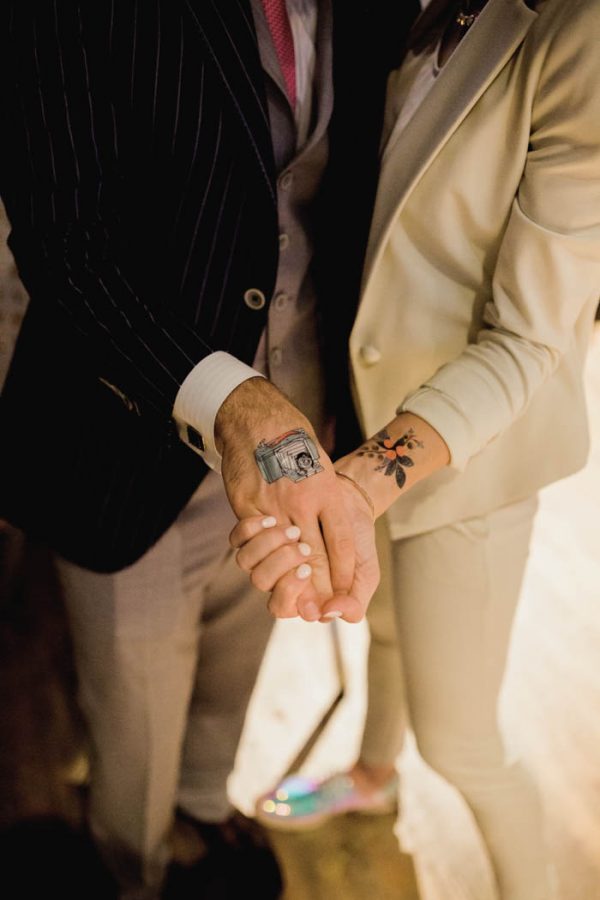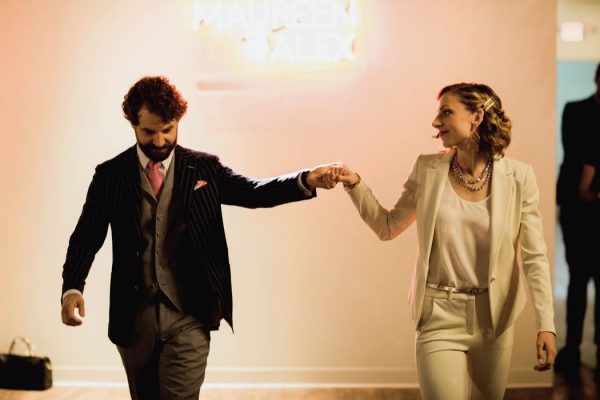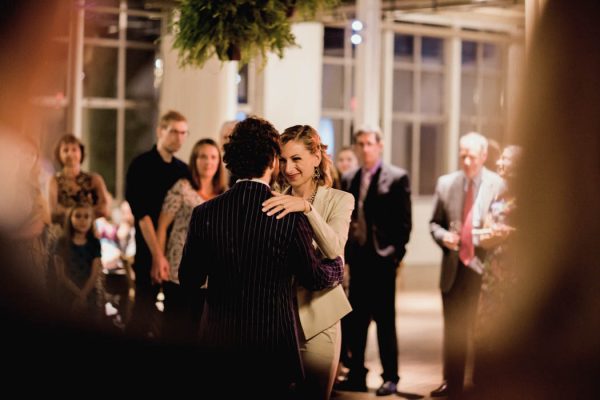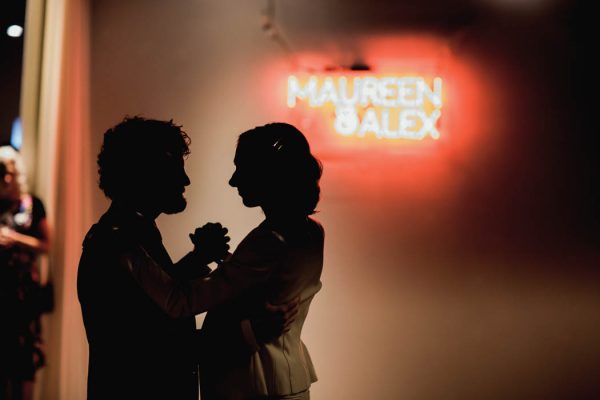 Congratulations to Maureen and Alex, and a special thanks to Alixann Loosle Photography for sharing their captivating wedding photos with Junebug! Looking for more industrial venue inspiration? Check out these 19 oh-so cool industrial wedding venues!