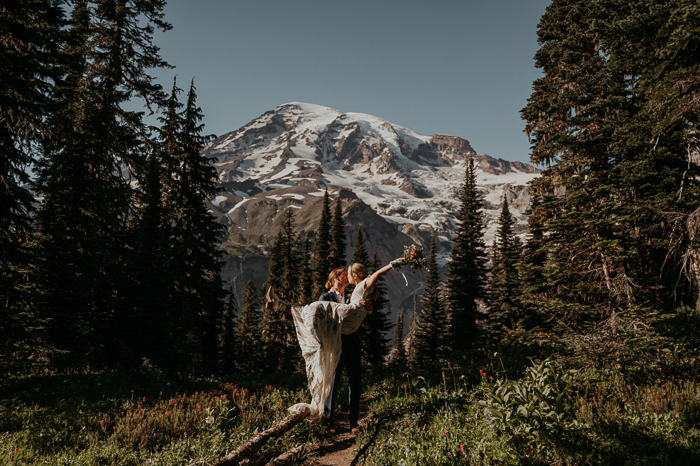 Louise and Dan had a clear vision of their wedding day: an intimate celebration with just their nearest and dearest surrounded by lush greenery and epic scenery. And that's exactly what they did. Set amongst the enchanting landscape of tall evergreens and the majestic snow-covered mountain, their Mt. Rainier micro wedding had no shortage of breathtaking views and was simply stunning from every angle.
For the ceremony, the pair was adamant about exchanging their vows with the iconic Mt. Rainier as their backdrop. Following their picture-perfect "I dos," they headed back to their Airbnb cabin, where a cozy reception awaited. They brought their dream of a woodsy wonderland to life with a tablescape overflowing with gorgeous wildflower centerpieces. And to cap off their beautiful celebration in nature, the pair's sense of adventure continued the following day as they headed out at the break of dawn for their run around the Wonderland Trail–in cute matching outfits too!
If your idea of a dream wedding is basking in the beauty of nature, then these spectacular images by Junebug member Emett Joseph will definitely give you all the feels. So keep on scrolling to see every detail of this breathtaking intimate affair.
The Couple:
Louise and Dan
The Wedding:
Mt. Rainier National Park, Ashford, Washington, United States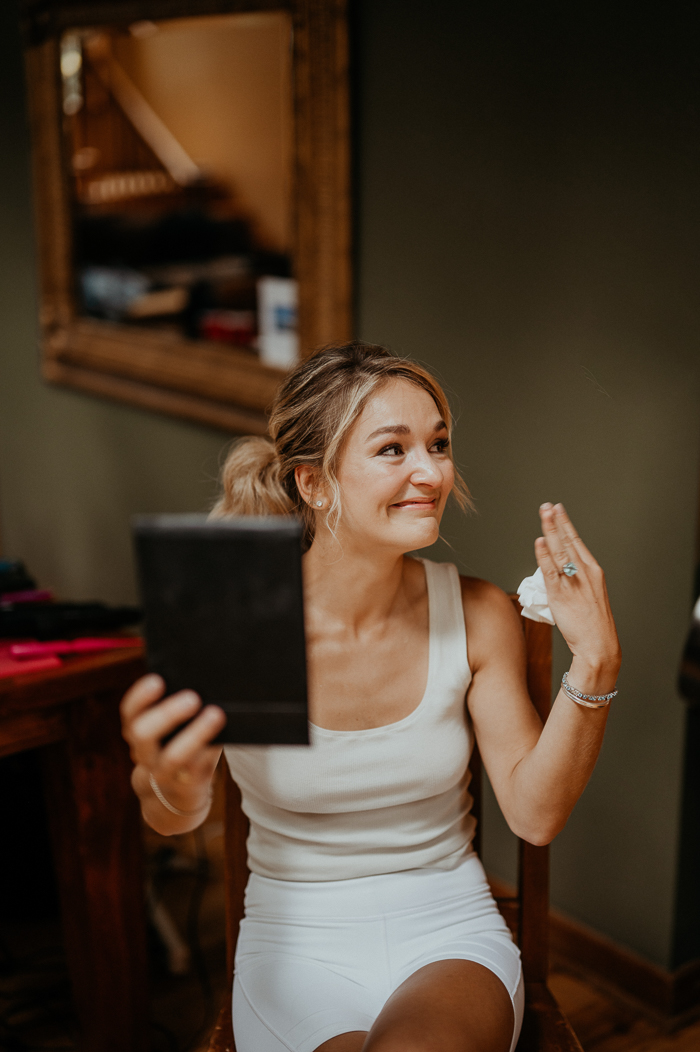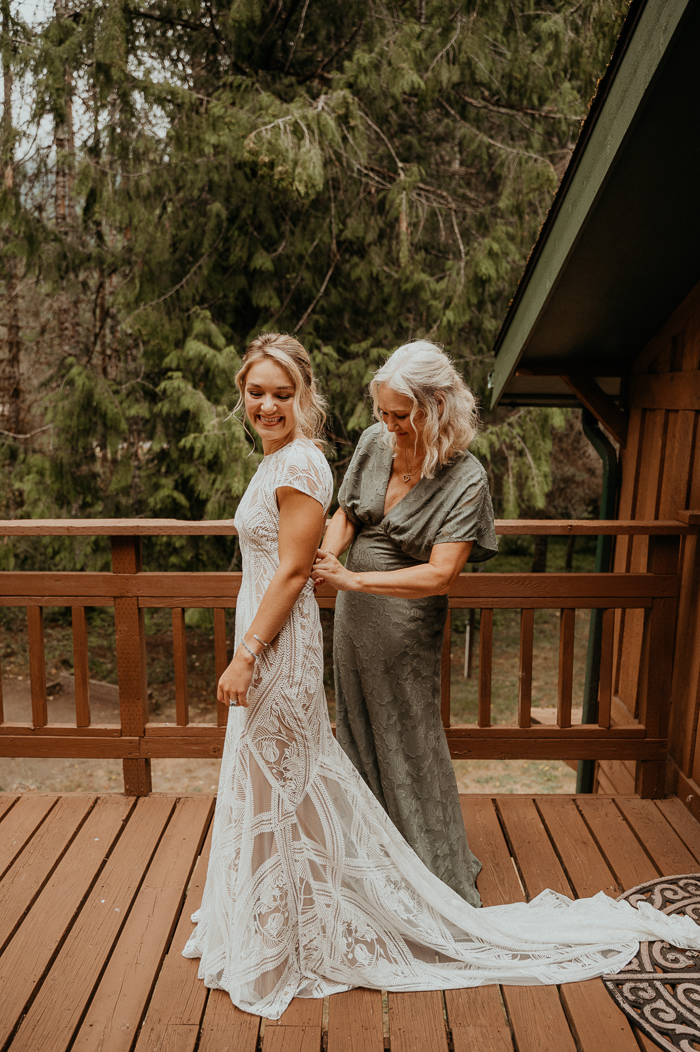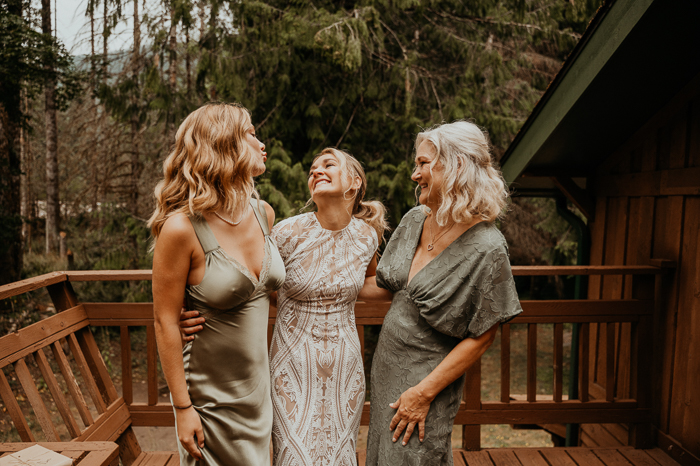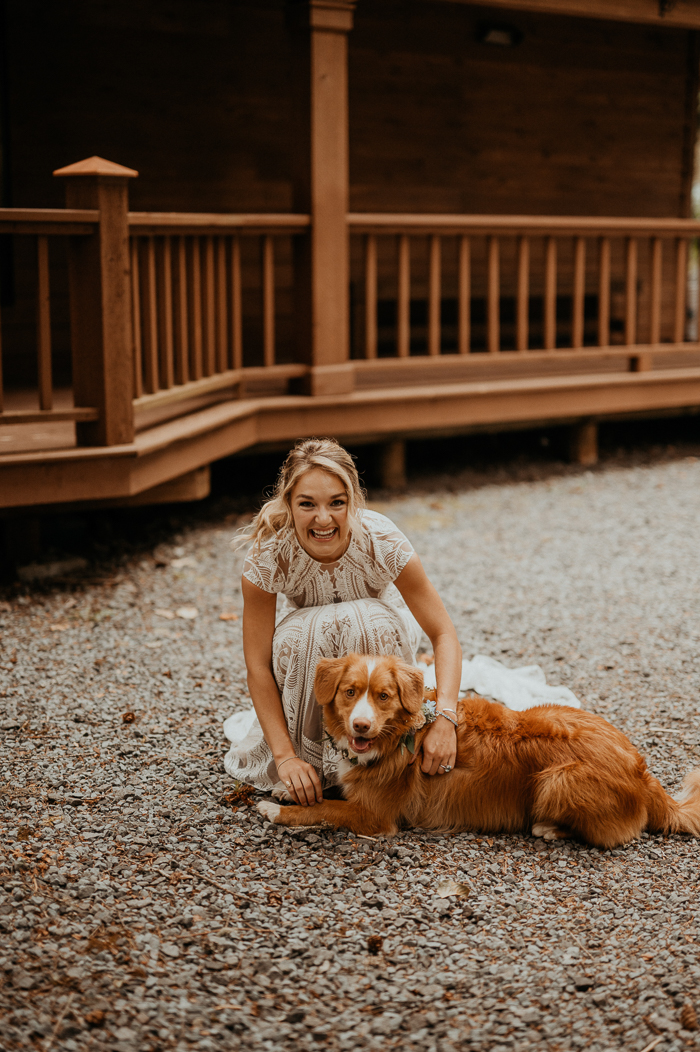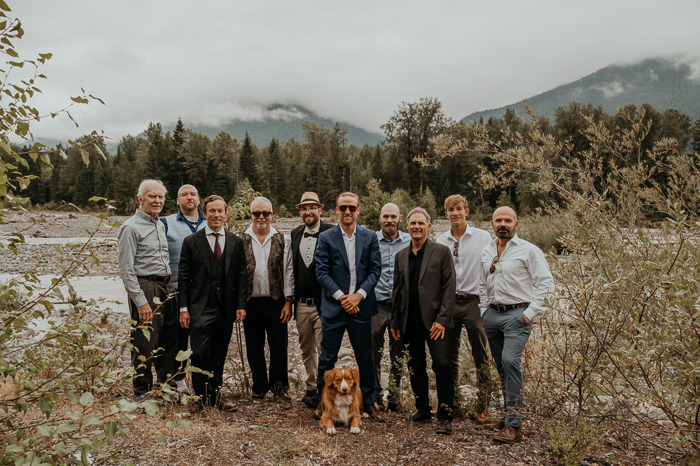 Junebug Member Emett Joseph Photography's Thoughts On The Day
What excites me the most about this wedding is how thoughtfully planned everything was and how well it all turned out. Louise and Dan are both trail runners. They chose to get married at Mt. Rainier National Park and run the Wonderland Trail (93 miles) afterward to celebrate their marriage. Not only was it incredibly adventurous, but they were also able to include their family and an incredible vendor team to make their vision come to life.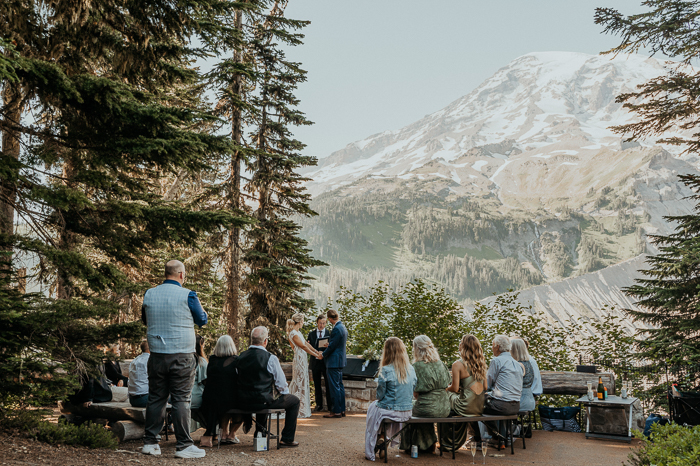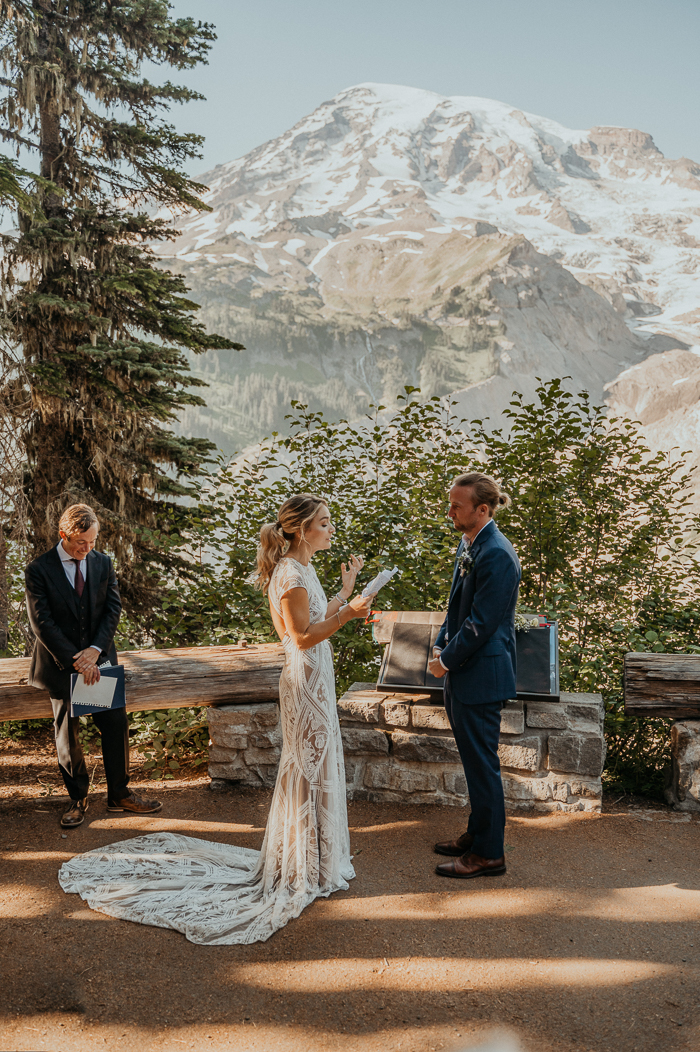 Recommended Reading: 10 Unique Tips for Writing Your Wedding Vows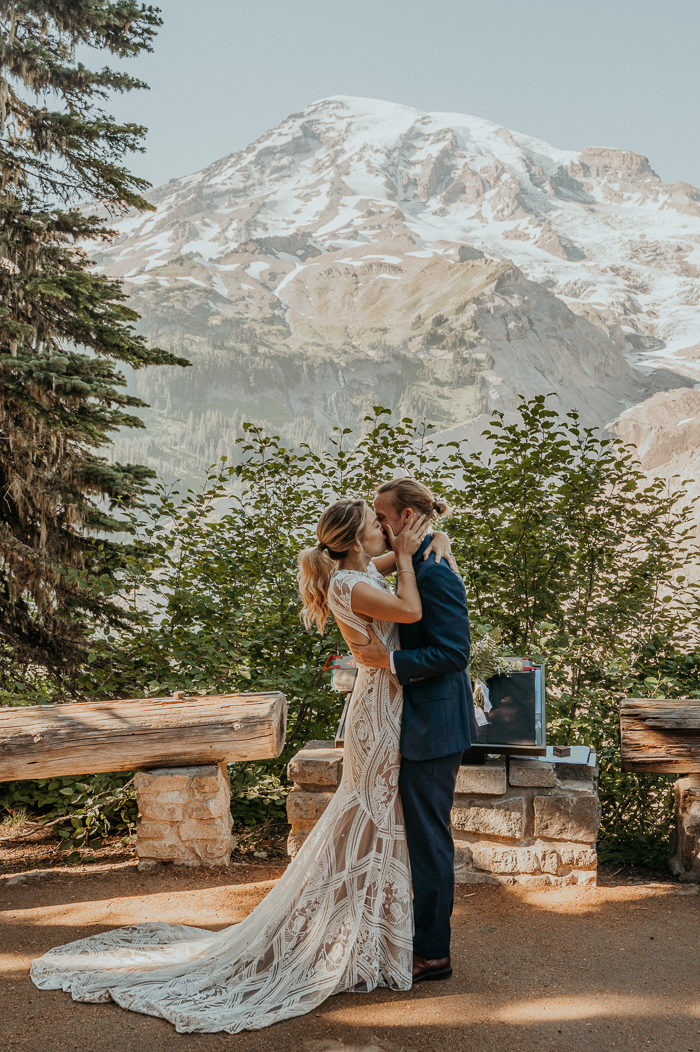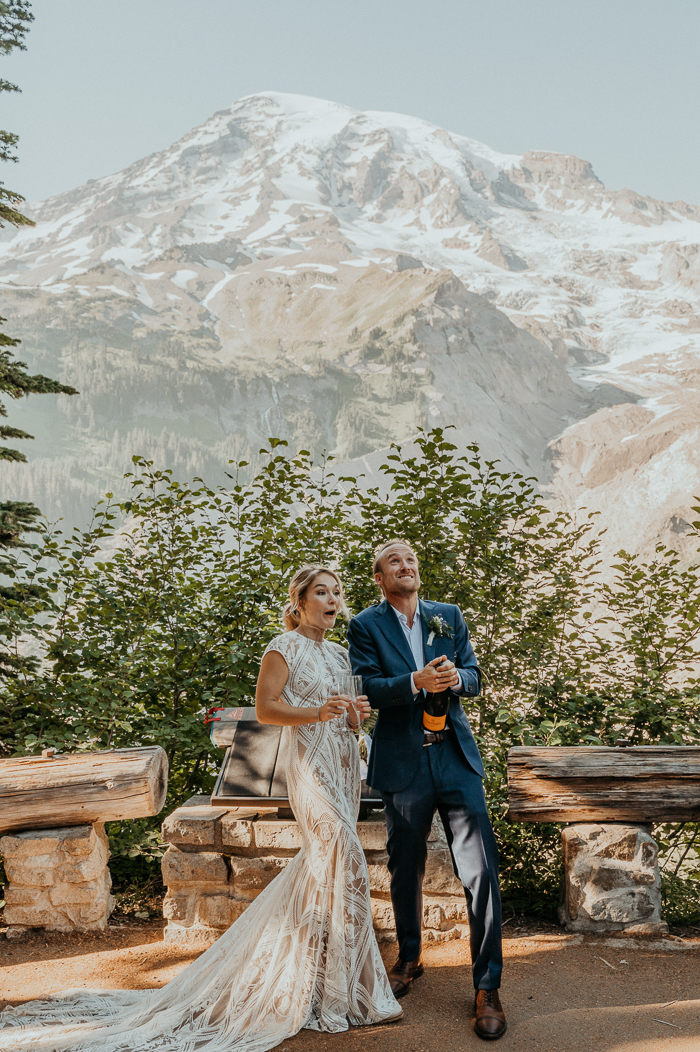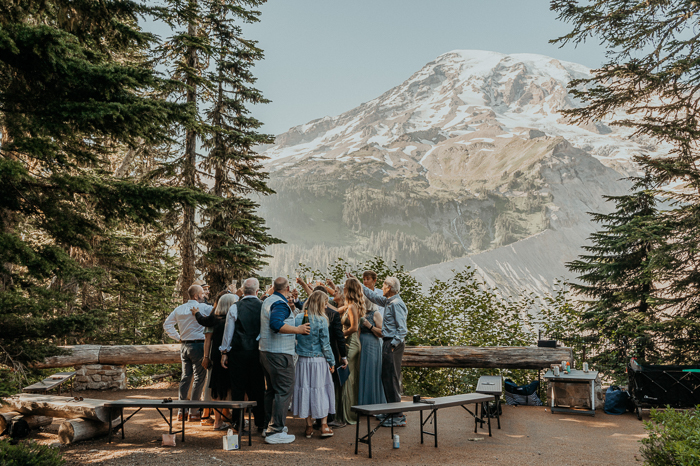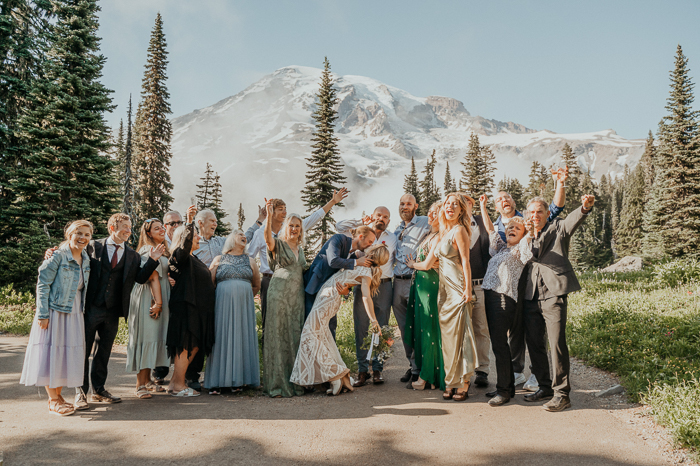 How Their Mt. Rainier Micro Wedding Day Unfolded
We wanted a simple ceremony on the mountain followed by a beautiful dinner at a cabin nearby. We got lucky with the perfect Airbnb rental just outside the park, and Miere Catering helped us source farm tables and benches to create one long table set up. Olympia Blooms followed through with the perfect wildflower centerpieces, creating the woodsy wonderland we've been dreaming of.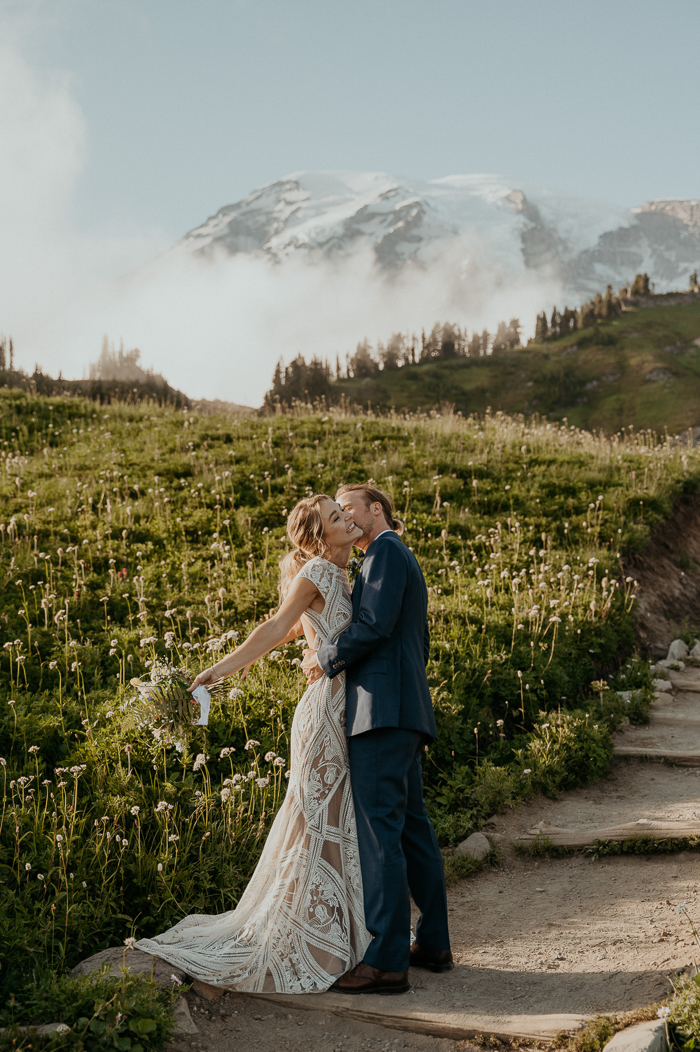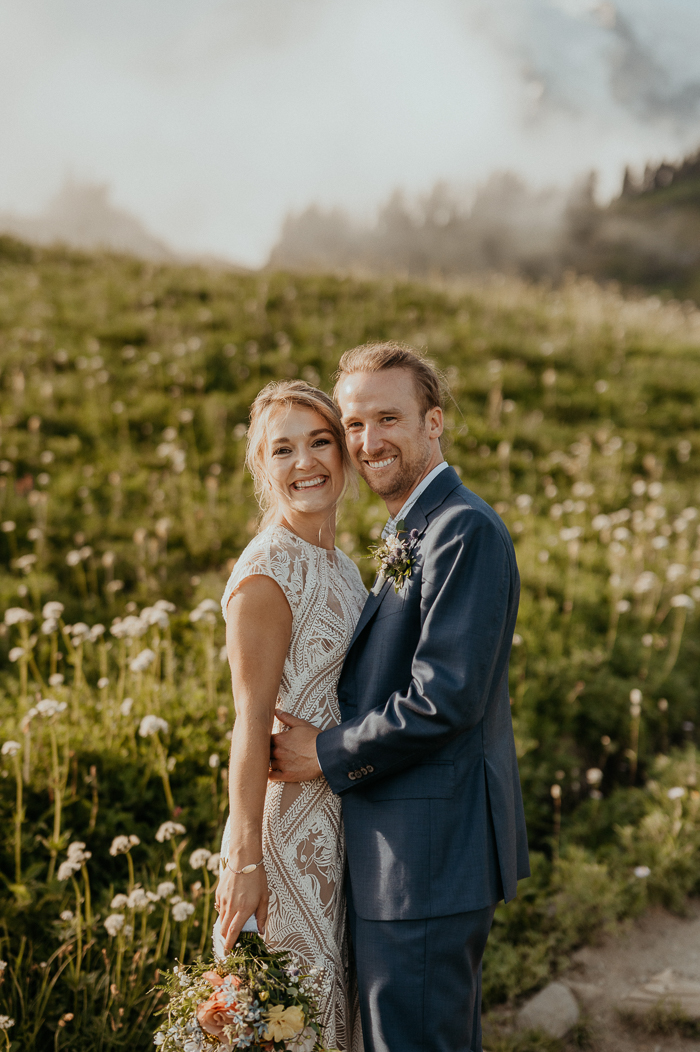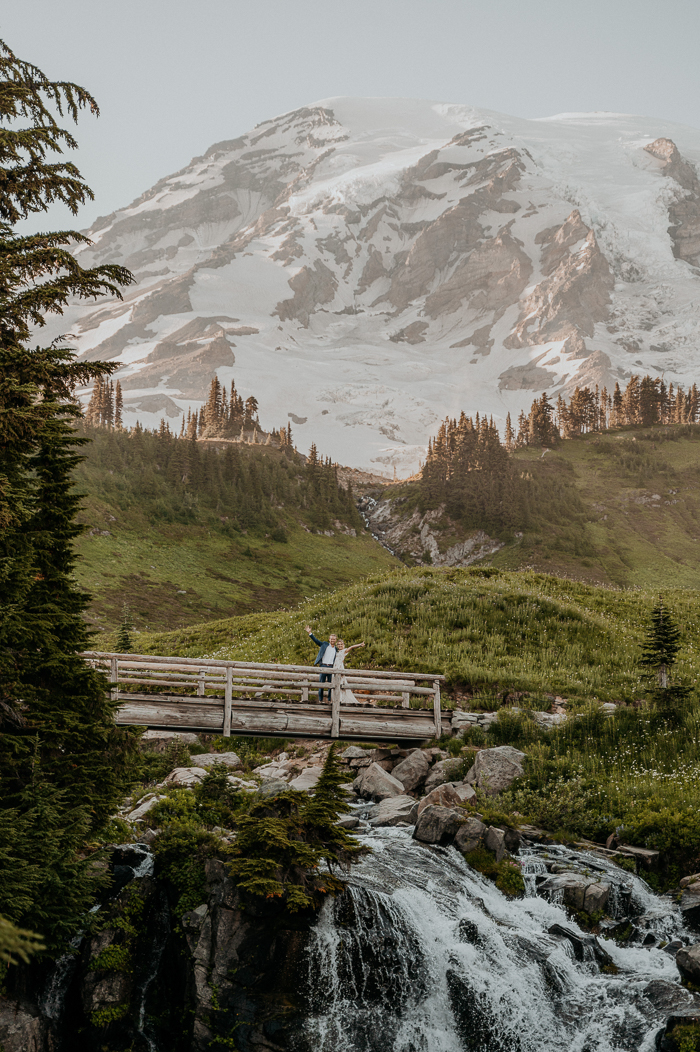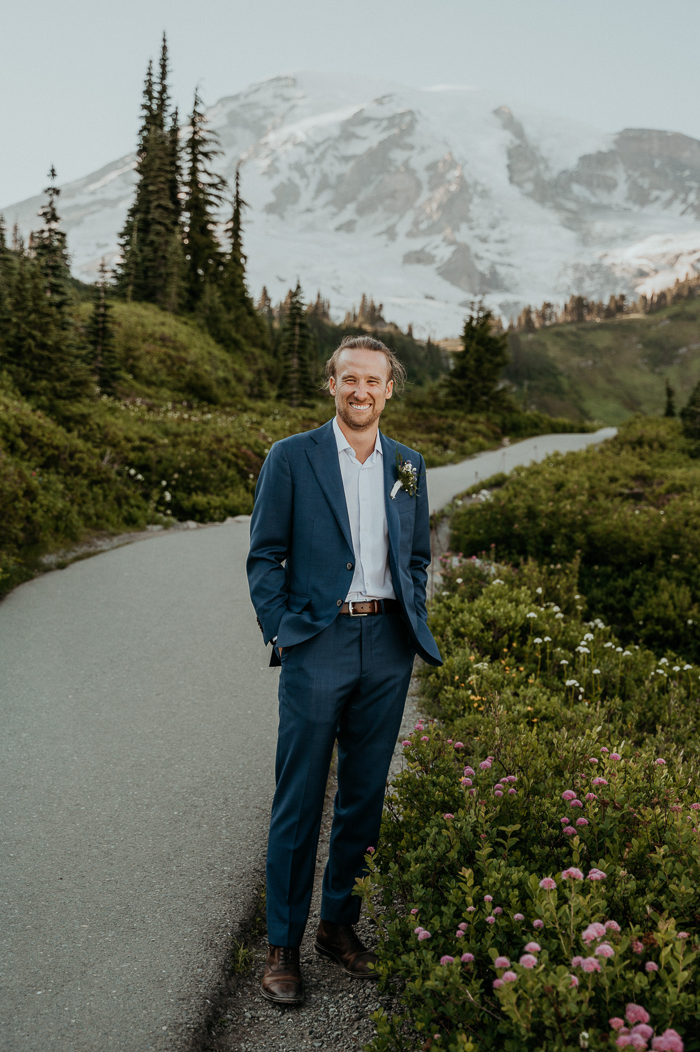 Recommended Reading: Unique Groom Style Ideas for Well-Dressed Guys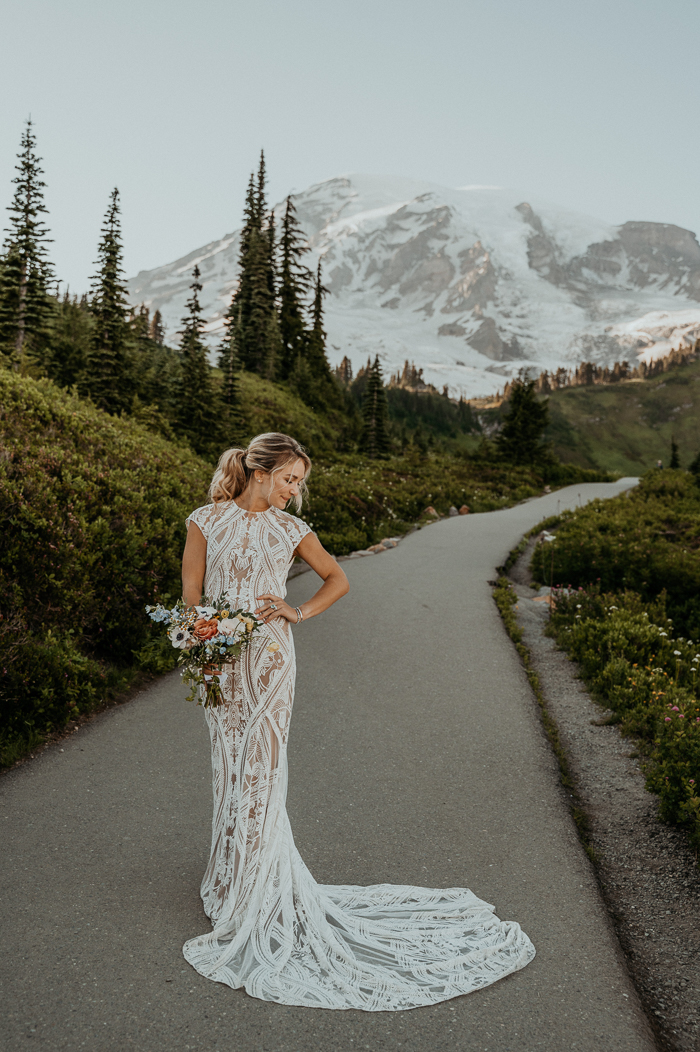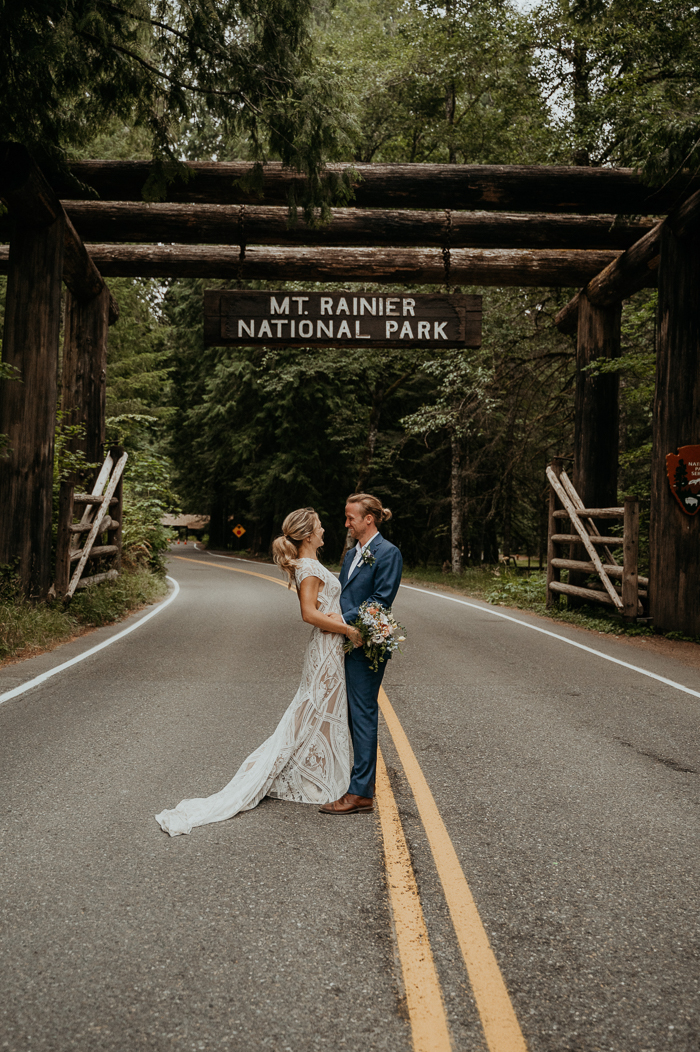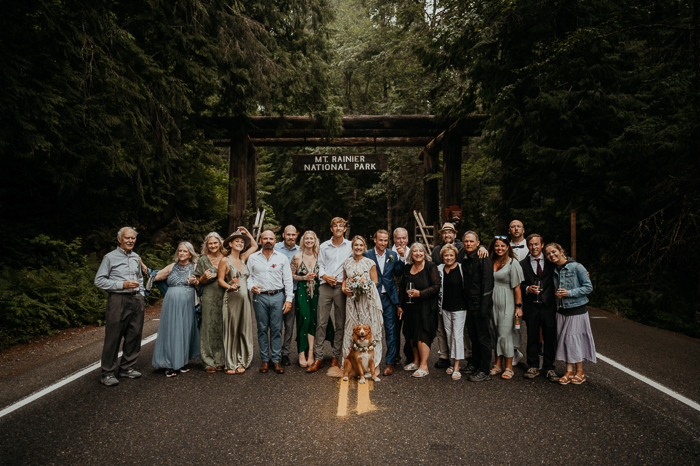 A Surprise Landslide That Made Their Mt. Rainier Micro Wedding Day Much More Memorable
A box of ceremony supplies got left at the cabin accidentally–nothing in it was that important, except for my vow book. It was super important to us that we not look at screens on our wedding day, so I had to rewrite my vows from memory on the back of a car service receipt. It was meant to be because the clouds cleared just in time to walk down the aisle and meet Dan. While giving our vows on the mountain, a landslide interrupted, and we both looked at each other and smiled. It felt like Mother Nature was giving her blessing.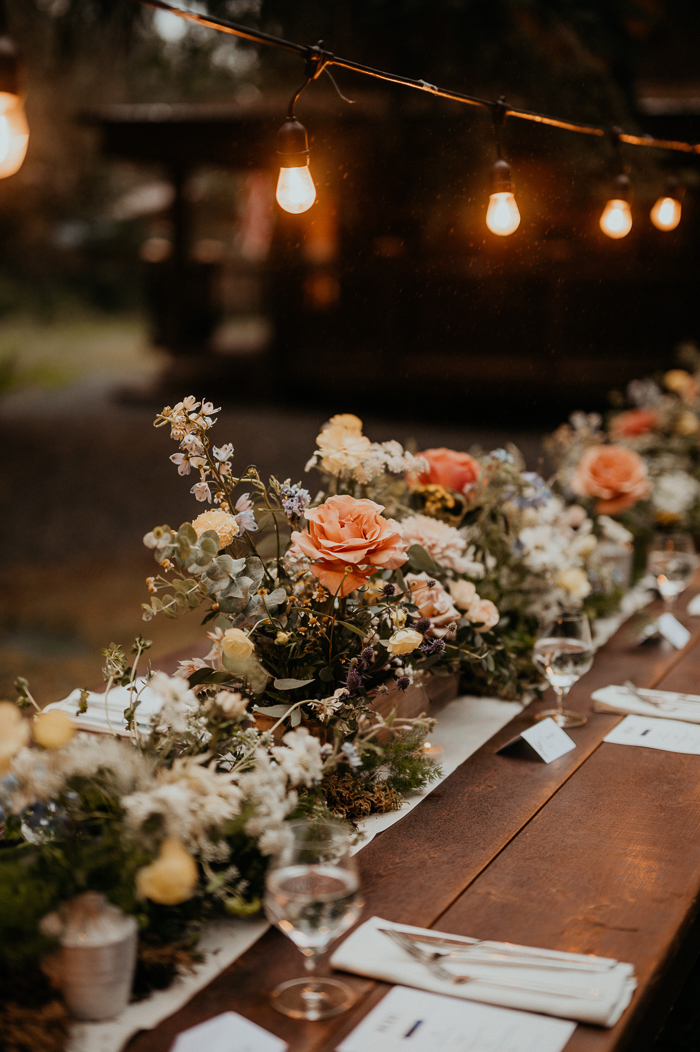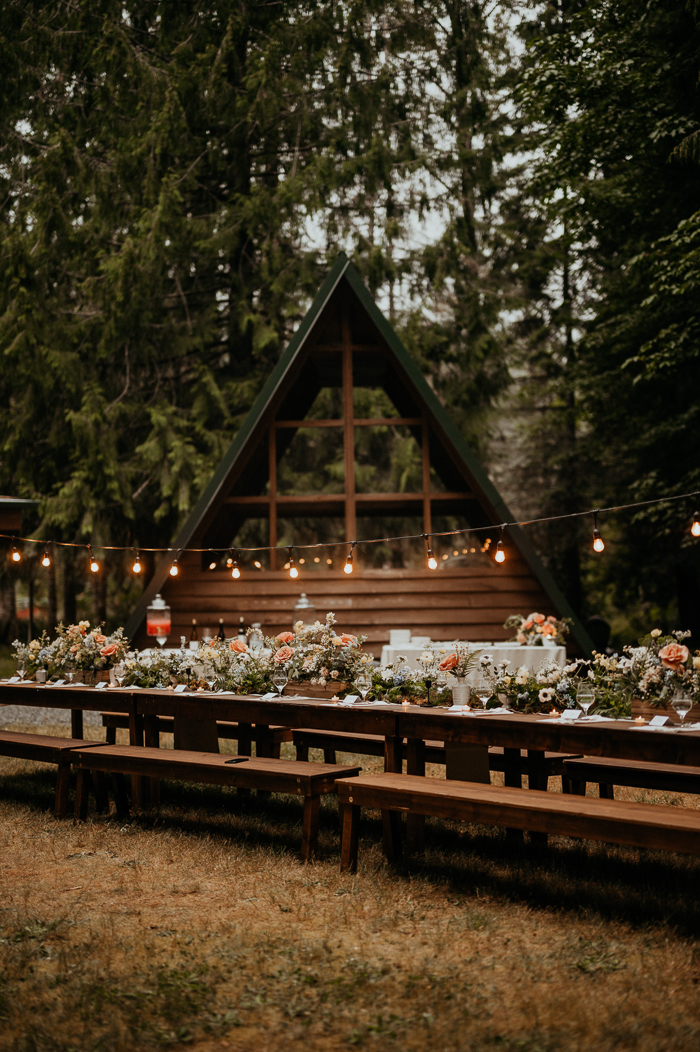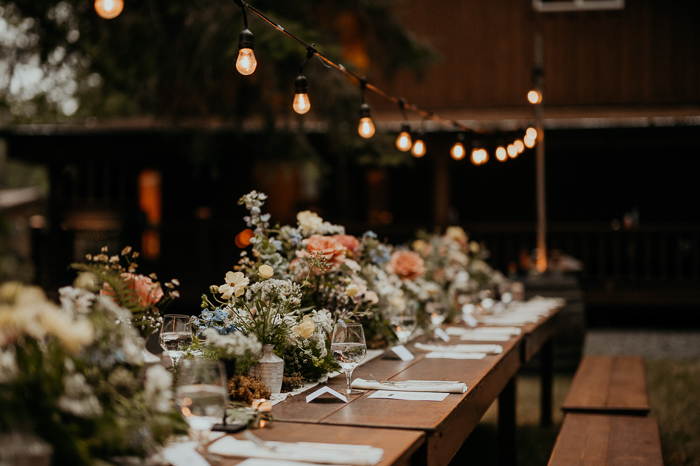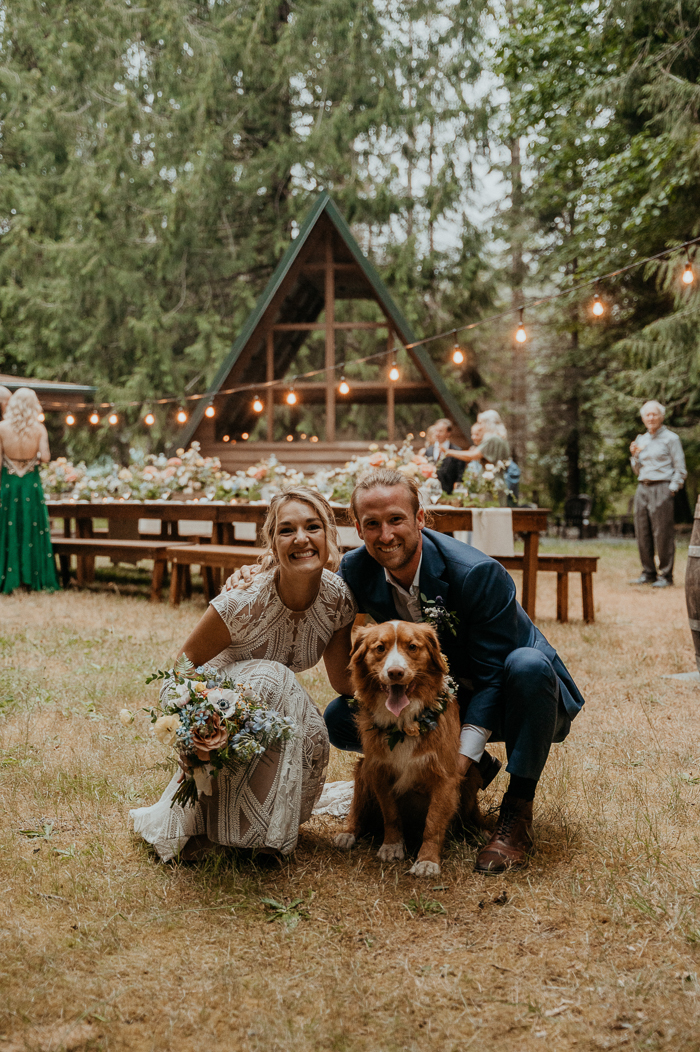 Giving Their Guests Mt. Rainier Themed Welcome Gift Bags
We put together customized gift bags for each family member that included everything they needed for the weekend. In them were a few Rainier beers, Rainier cherry chocolate bars, sunscreen, bug spray, Olympia instant coffee, Bigfoot S'mores granola bars, beef jerky, and a welcome guide with a schedule of the weekend and a map of the park. We also included a Mt. Rainier souvenir that we picked out specifically for each guest. Rainier Gin for my mom, a wildflower t-shirt for my sister-in-law, a puzzle for my grandparents, an old park visitor's guide from the 1940s for my brother, etc. We had so much fun putting these gift bags together. My love language is gift-giving, and I wanted everyone to know how much it meant to us that they traveled so far to celebrate with us.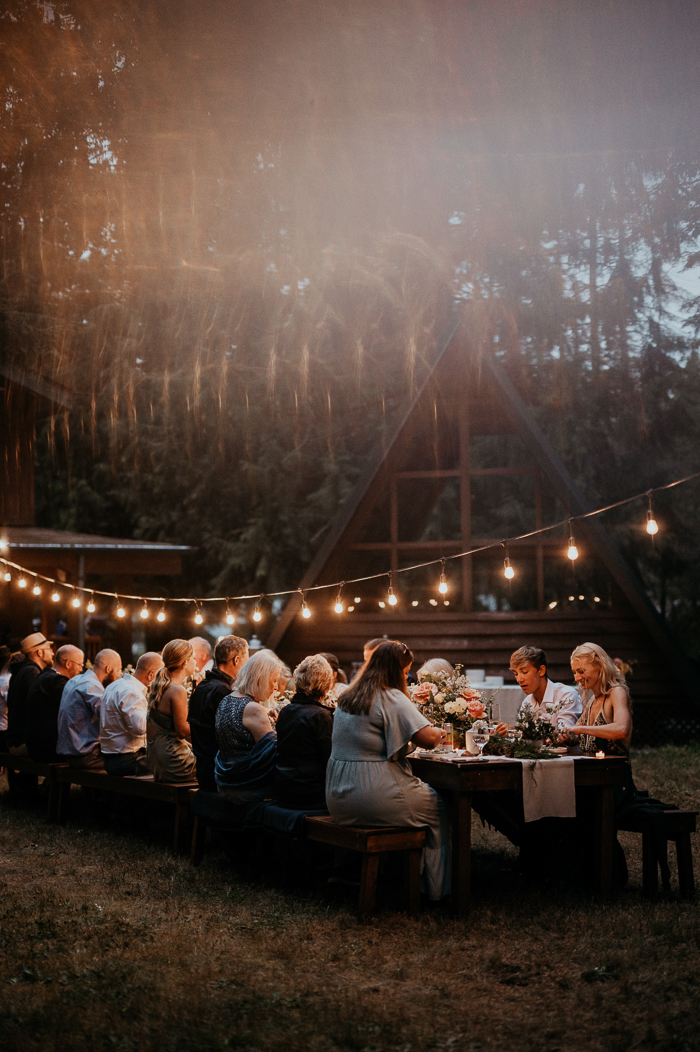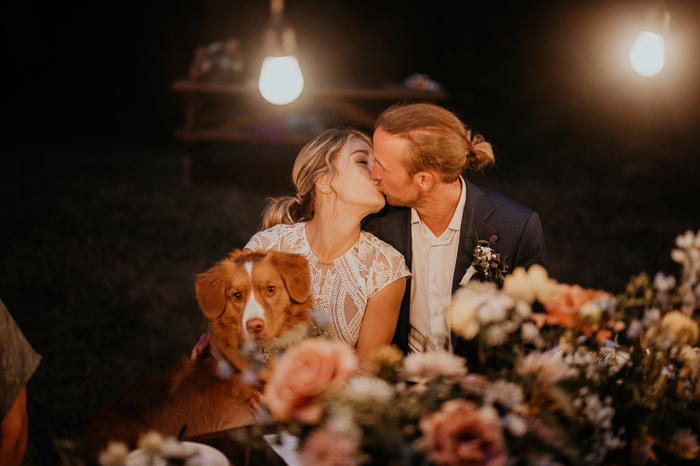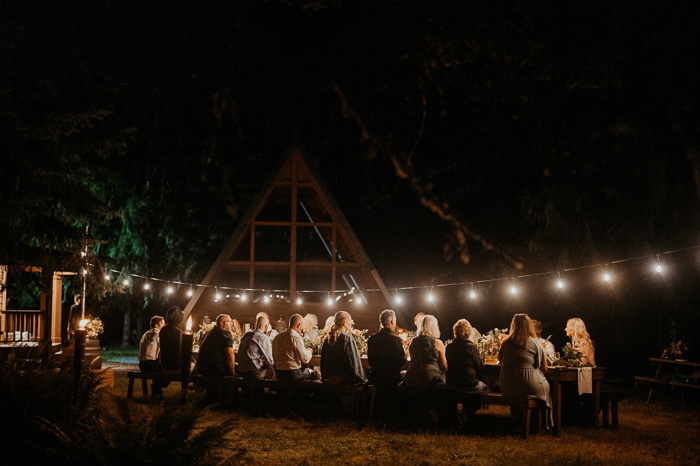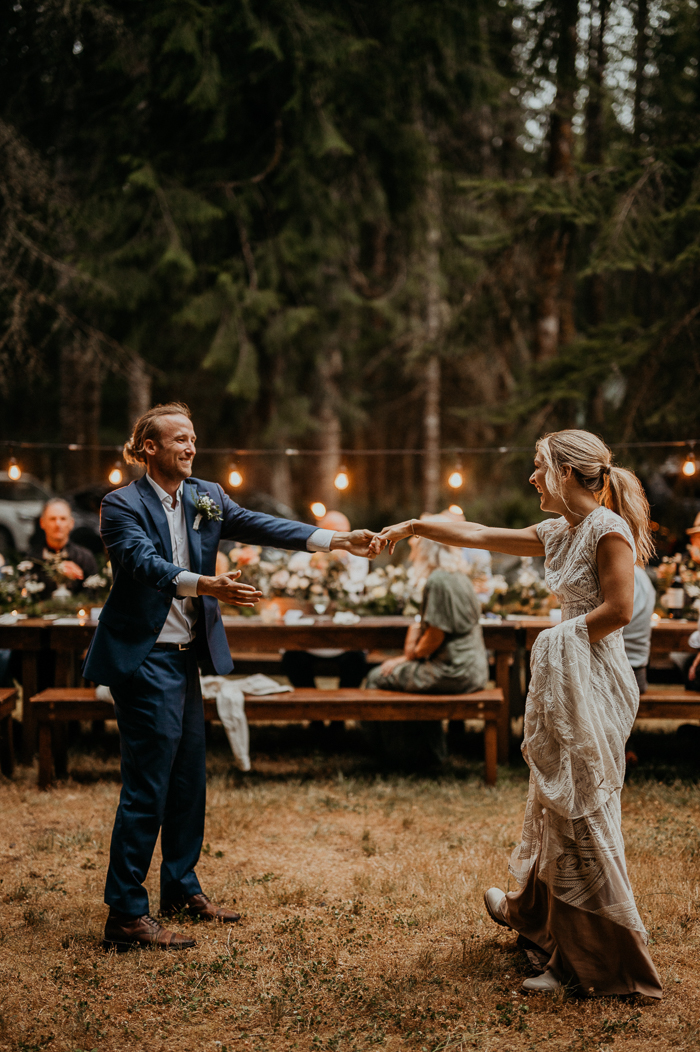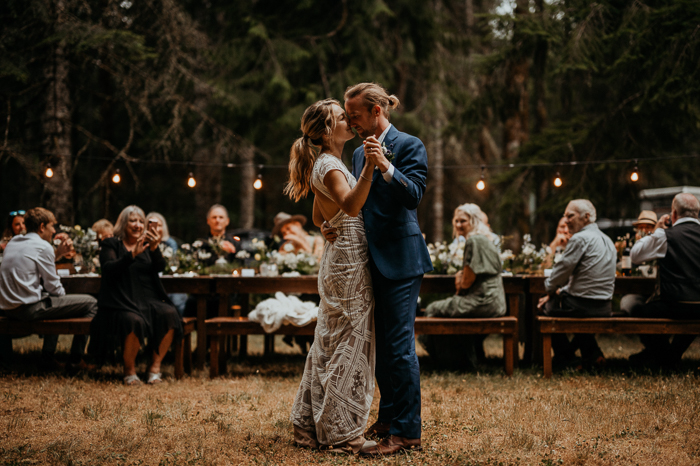 Advice: Do What Is Right For The Both Of You
Exchanging our vows was the most important part of getting married for us, so we didn't compromise anything about our ceremony. We did it exactly how we wanted to. No traditions—just us, our family, and the mountain. Don't be afraid to do what you want to do. Often weddings become about other people, and it should be all about you and your spouse.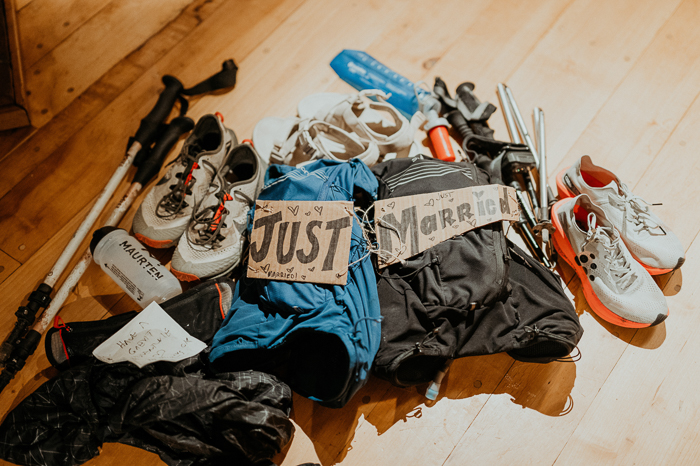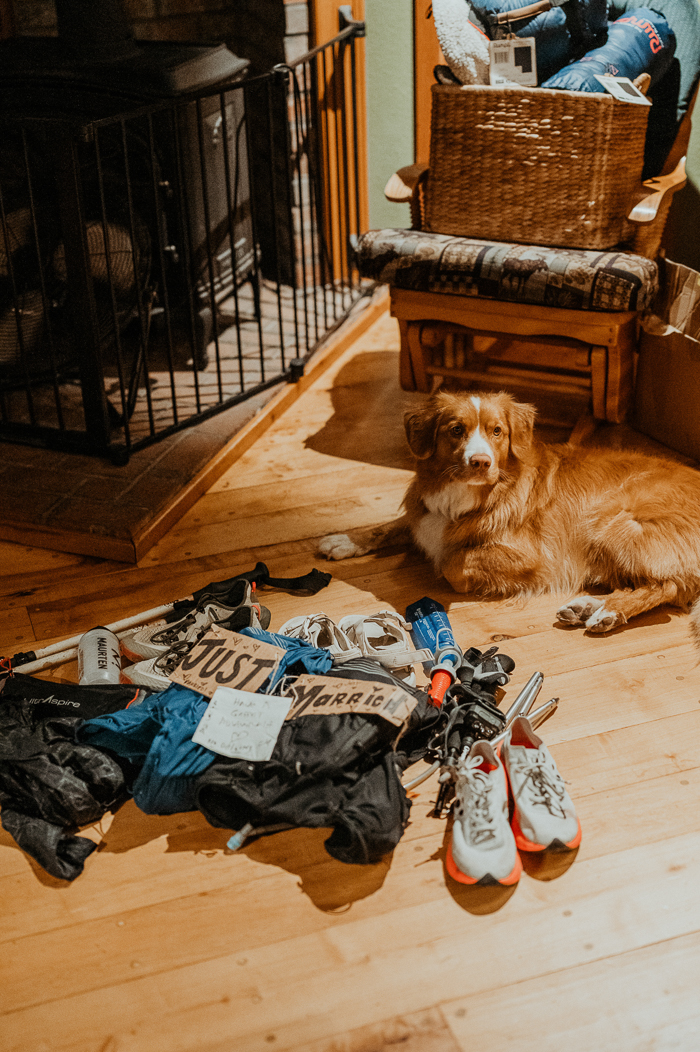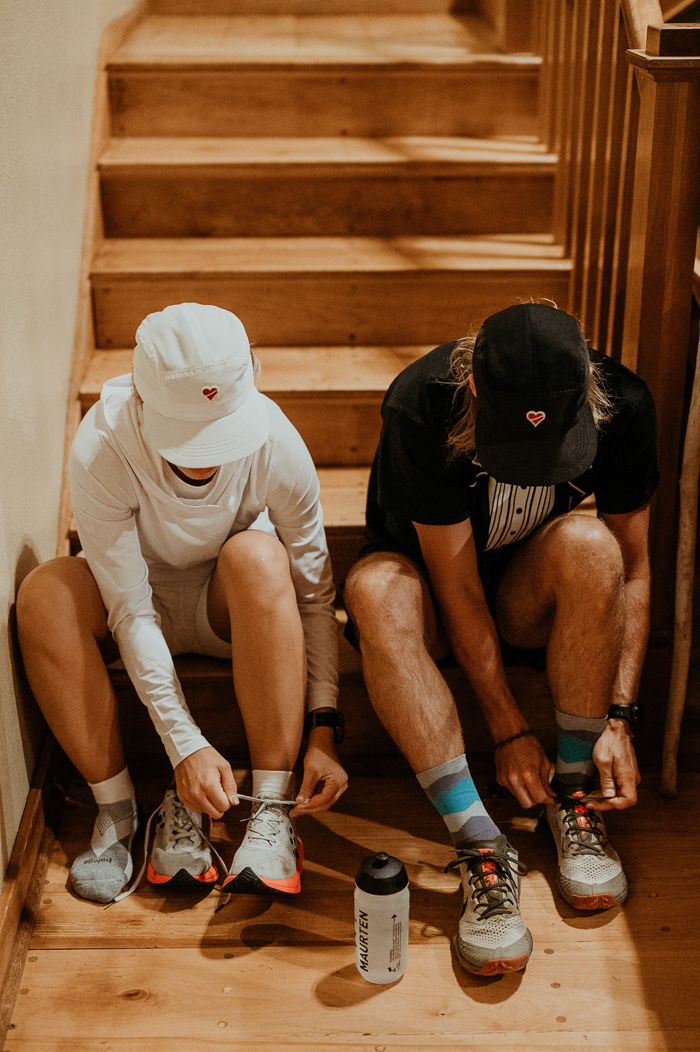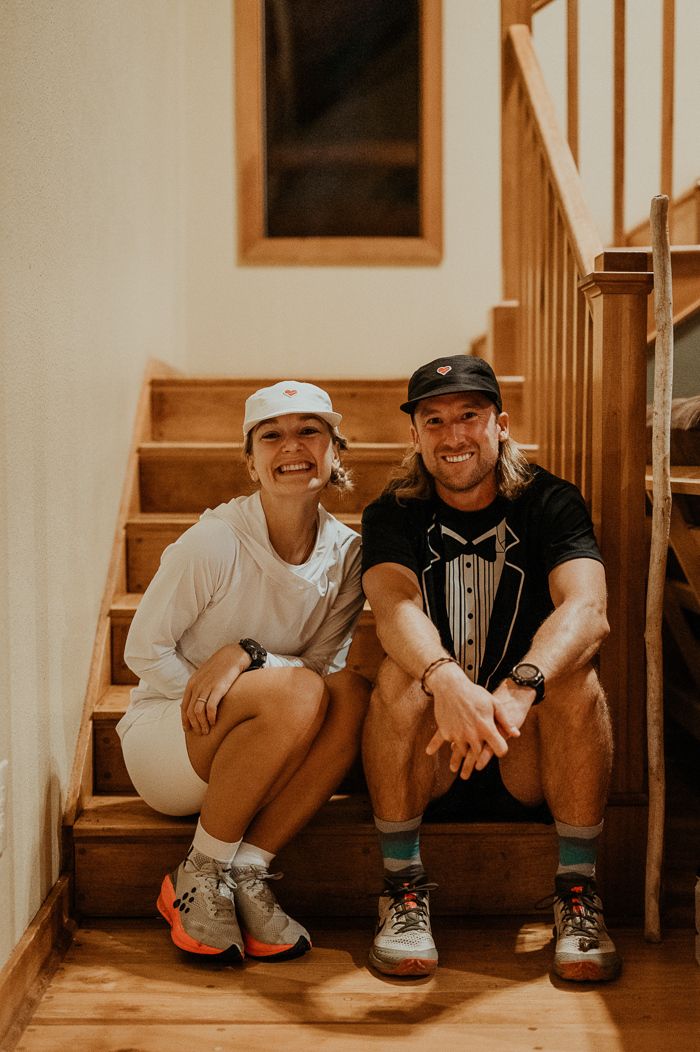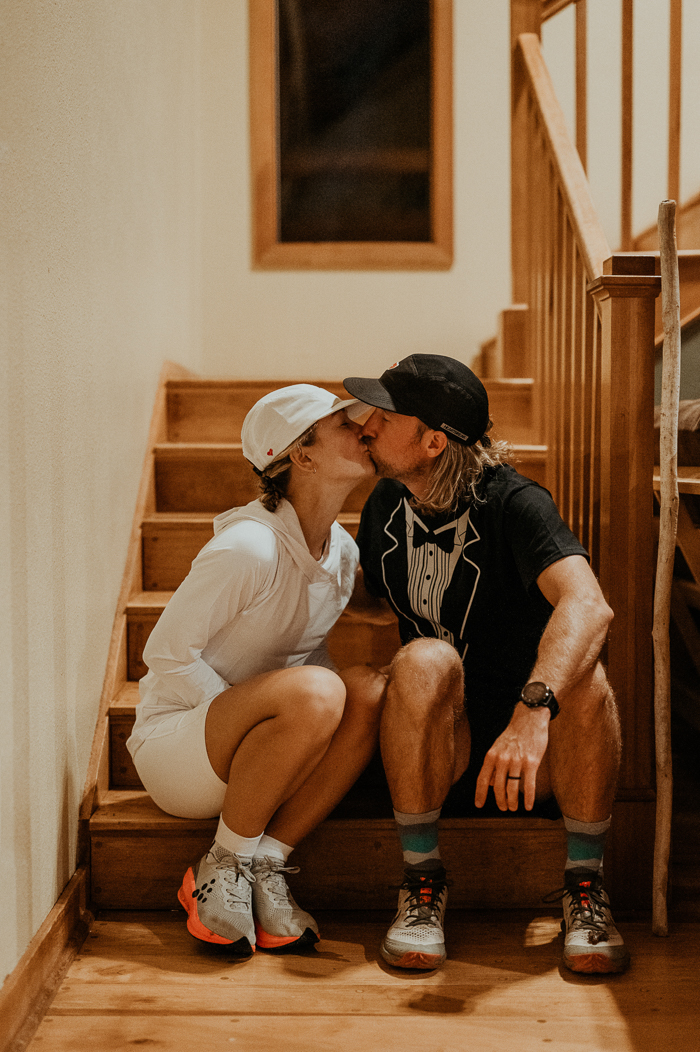 Recommended Reading: How To Plan A Unique Wedding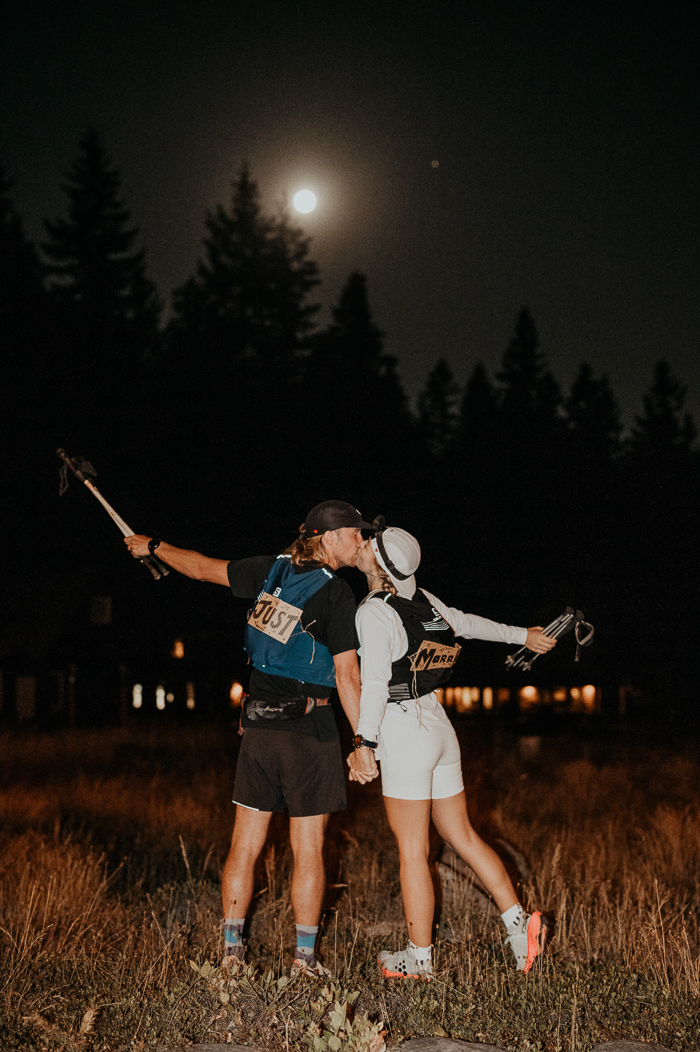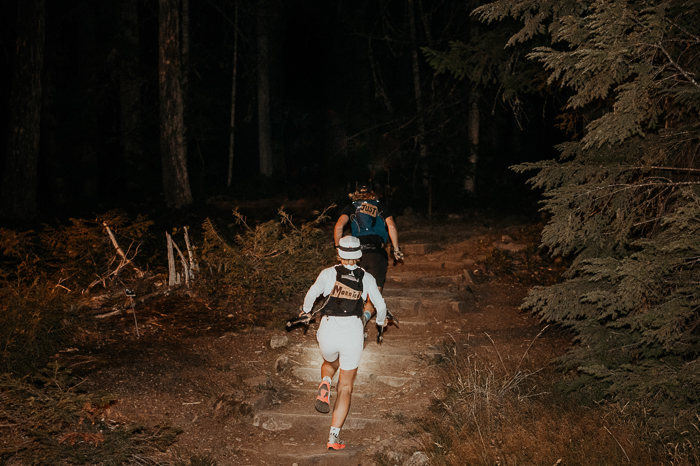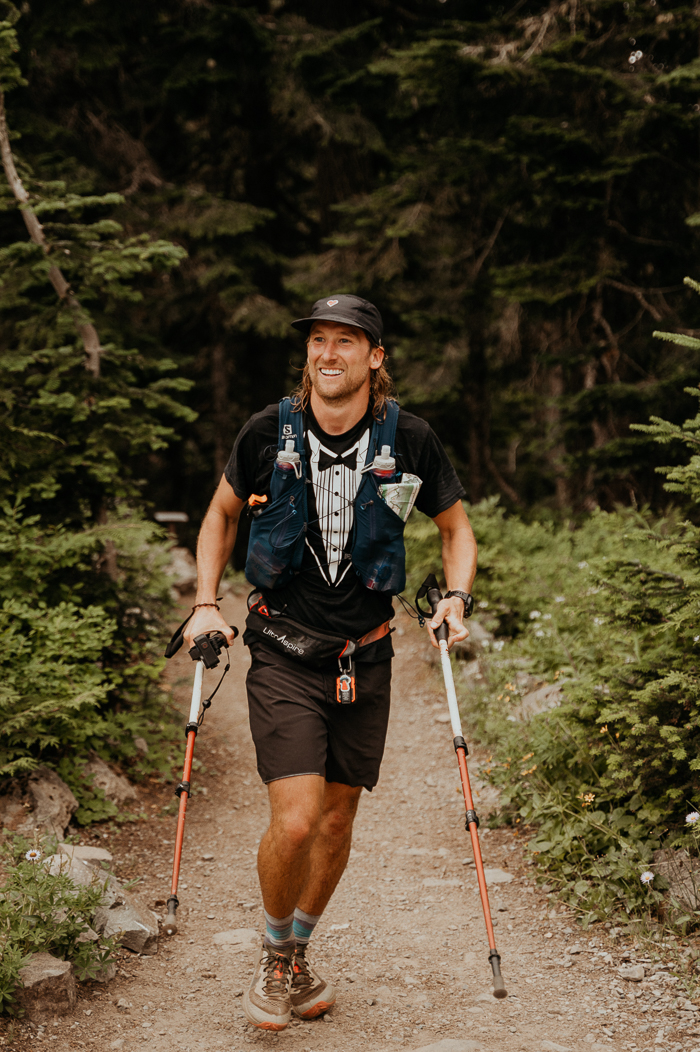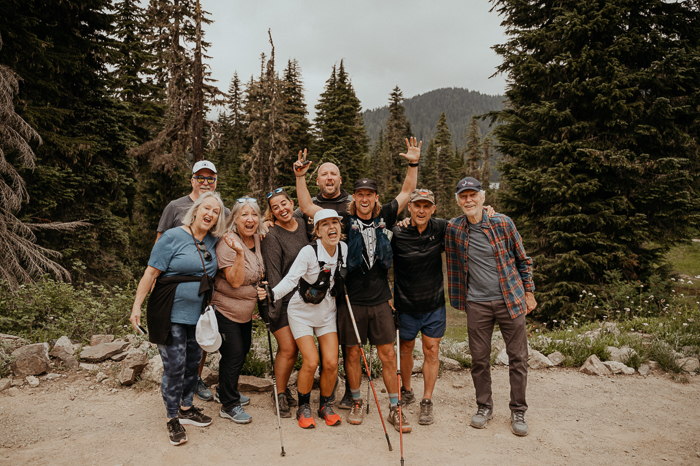 Congratulations to Louise and Dan on their simply stunning Mt. Rainier micro wedding. They truly picked the perfect spot to tie the knot. And, of course, many thanks to Junebug member Emett Joseph for capturing the beauty and magic of their big day. To see more beautiful celebrations, check out his profile in our directory of expert photographers from around the world.
Getting married at a national park can be a uniquely meaningful experience. And there's no better time than now to plan your big day in one of these scenic, jaw-dropping parks. With a trusted team of experts by your side, there are endless possibilities to make your national park wedding unforgettable!