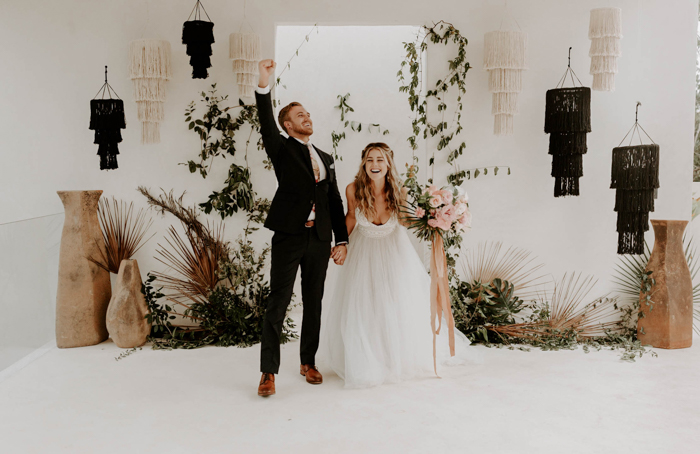 photo by Karra Leigh Photography
What could be better than advice from one wedding planning expert? How about advice from an entire team of wedding planning gurus?! From the swoon-worthy moments we can't stop talking about to those moments that make us scratch our heads in confusion, we here at Junebug have seen it ALL! And we've finally rounded up all of our tips and tricks to share with all of you in today's very special blog post. We're talking budget, guest list, vows, engagement season, and everything in between! So get your notebooks and pens ready…these tips from the Junebug Weddings team is everything you need to read today.
Psst…We also made handy advice cards for each section that you can pin for easy reference!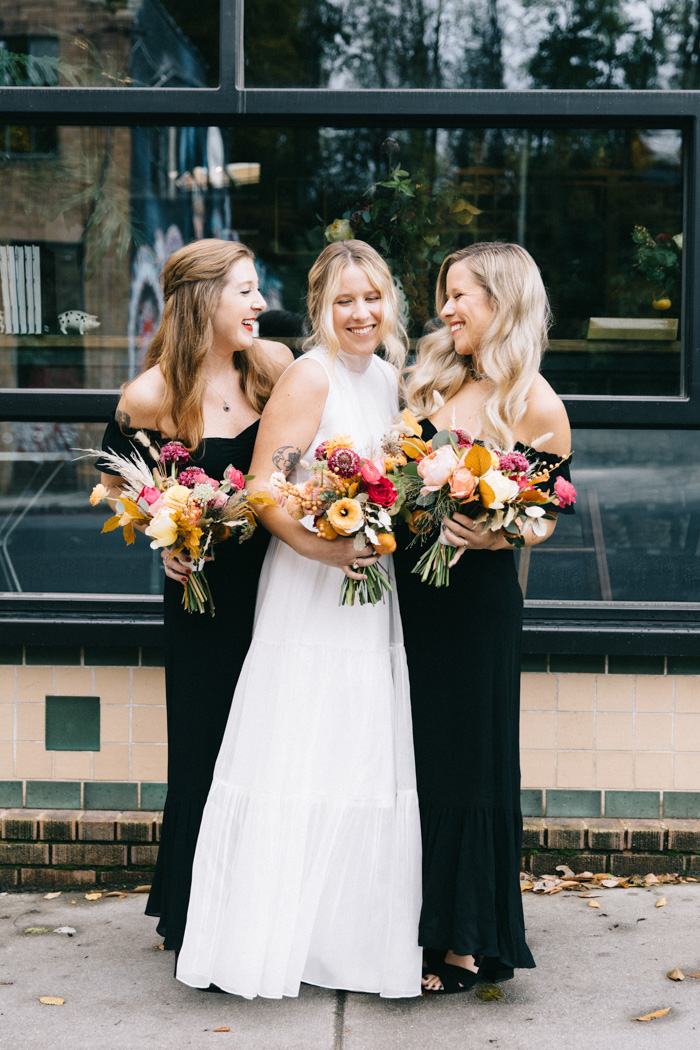 photo by Sarah Murray Photography
Wedding Budget
Advice from Carrie — General Manager & Editor-in-Chief:
"Prioritize the budget talk early on in the wedding planning process — in fact, I think this is the first thing you and your partner should do after you've finished celebrating the engagement. I know budgeting isn't the sexiest part of wedding planning, but it's a conversation that needs to happen early on before any big decisions are made. I think some of the best advice that I was given while planning my wedding was to build our budget around 3-5 things that were super important to us as a couple. We decided that photography, food, and music were categories that we needed to budget a bit more, while invitations, flowers, and the venue weren't as important to us. If you need help with your wedding budget, check out our budget tool spreadsheet!"
We want you and your partner to feel confident about your wedding budget talk! So don't forget to check out these budget resources:
How to Create the Best Wedding Budget for You and Your Partner
9 Tips for Decorating Your Wedding Reception on a Budget
Unexpected Wedding Expenses to Keep in Mind When Creating Your Budget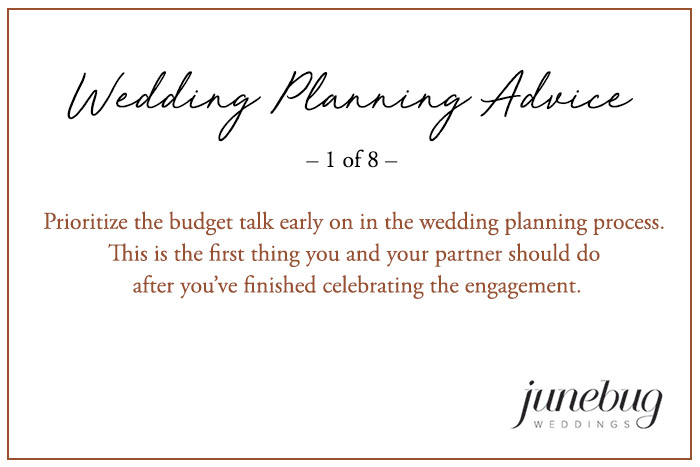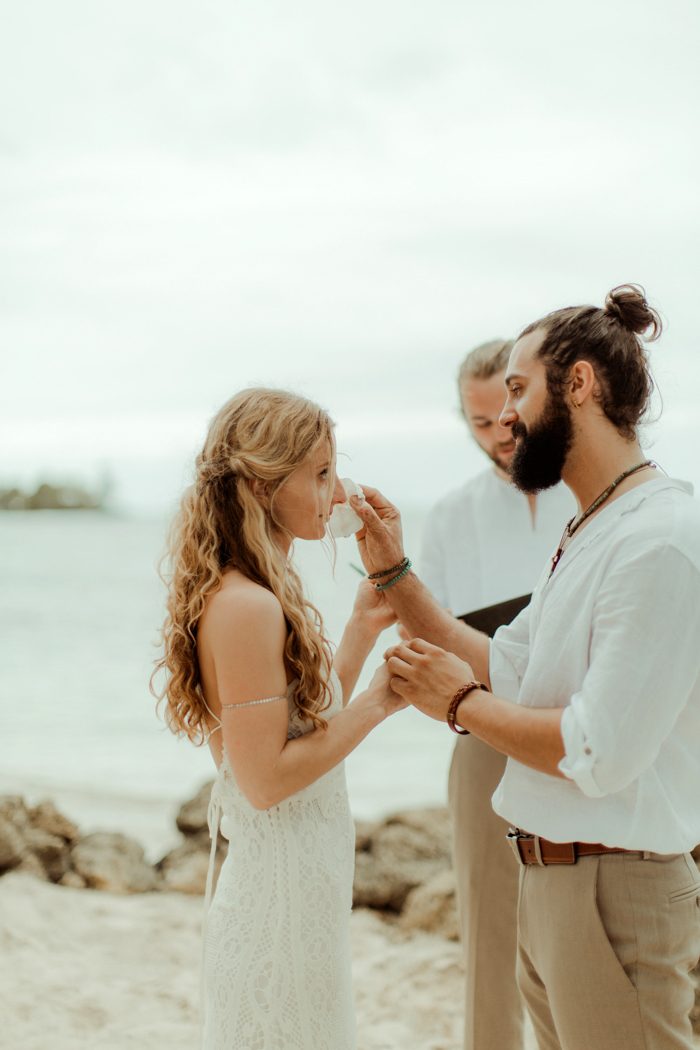 photo by Megan Yanz
Wedding Vows
Advice from Nicole — Executive Editor:
"Write your own vows! More than any other part of your day, this is your chance to speak to your person and to the universe exactly what commitment you're making in marriage. Sharing personal vows can also be an extremely special way to celebrate with your community who've shown up to support your love and the next chapter together. Worried your vows are too private to share publicly? Exchange vows during your first look when it's just the two of you. Remember, what matters most isn't that you're a good writer or speaker, it's that you are making meaningful promises for your life together. Be heartfelt, be funny, be true, and most importantly, be you! Not sure where to start? Check out these tips for writing your own vows!"
When you're ready to write down your beautiful words, you can shop the prettiest wedding vow books here!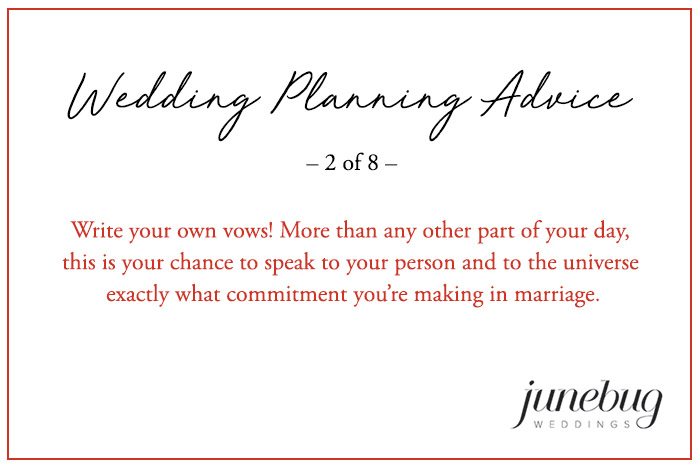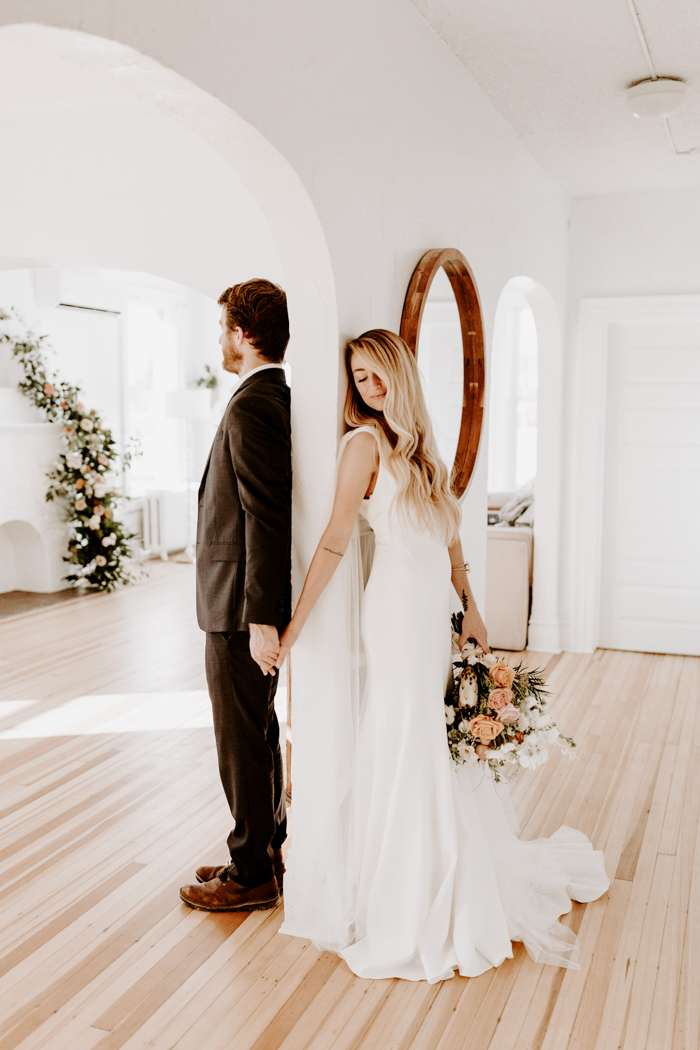 photo by Karra Leigh Photography
Making Time for Each Other
Advice from Juliette — Editorial Assistant:
"Your wedding day will go by faster than you can even imagine, which is why it's so important to make time to stop and take it all in. Build private moments into your wedding day timeline so you know, without a doubt, that you'll have time to soak it all in! Get ready together. Have a private first look. Steal away for a post-ceremony toast. Opt for a sweetheart table rather than a head table with your entire wedding party. Whatever you choose, the most important thing is that you and your partner get a few quiet moments together on the wedding day to breathe, laugh, and simply be crazy in love."
Love the idea of a first look but not sure it's right for you? Keep tradition with one of these sweet first look alternatives!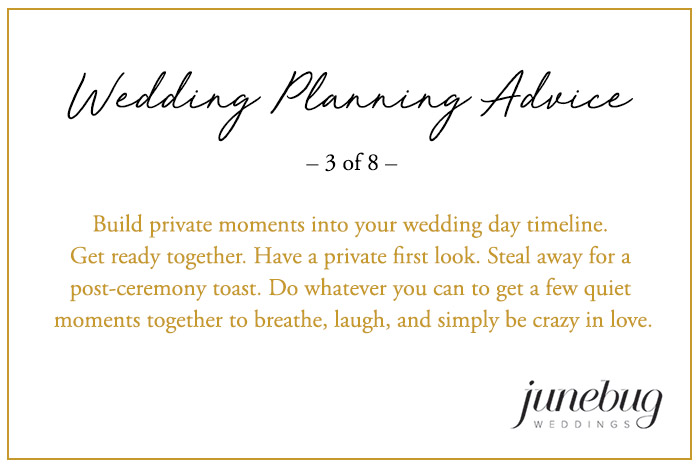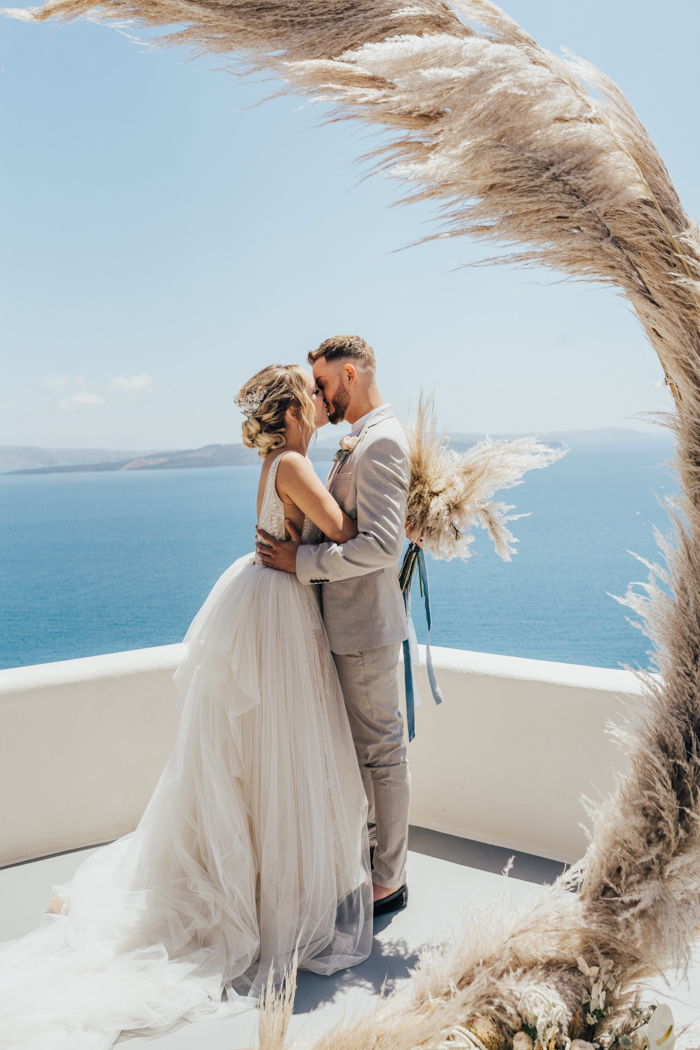 photo by Rebecca Carpenter Photography
Eloping
Advice from Colleen — Editorial Assistant:
"If a big traditional wedding isn't for you, don't feel pressured into having one! Intimate, destination ceremonies and elopements are a great way to focus on what's most important: you and your partner. Follow your heart and keep what you and your partner want at the forefront. And if you want to have your cake and eat it too, throw a reception after you elope to celebrate with your people. It's a win-win!"
Need more convincing? Here are 4 reasons you should consider eloping!
Ready to start planning your elopement? Our Ultimate Elopement Planning Checklist will help you with every step!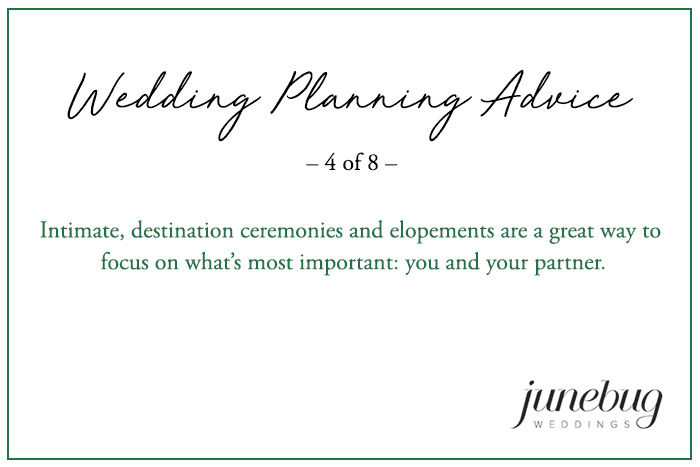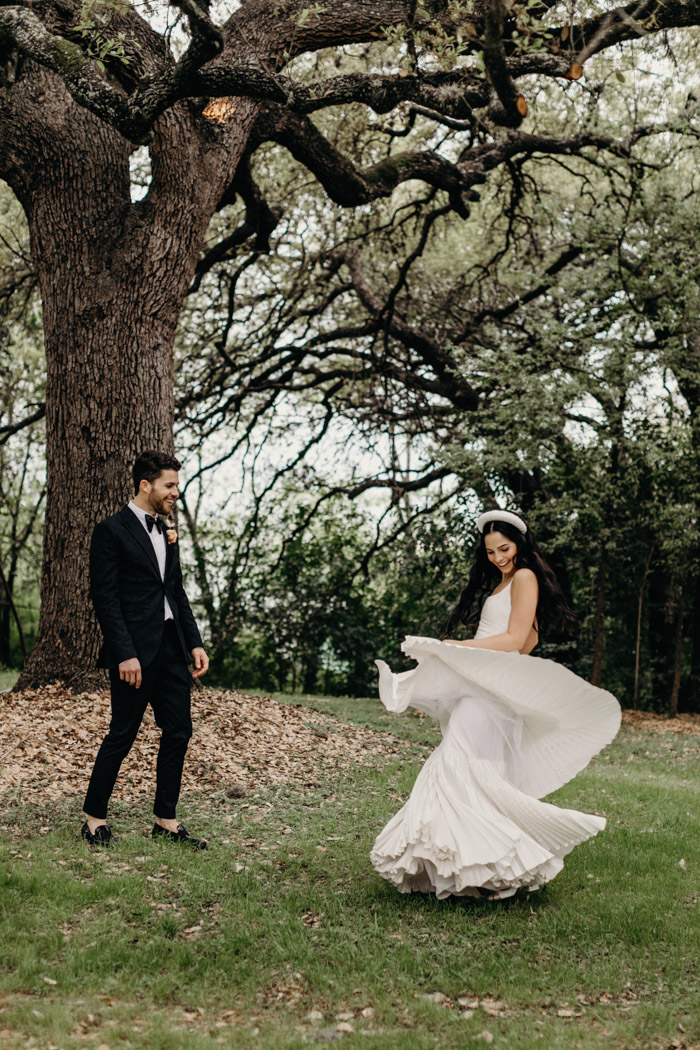 photo by Gloria Goode Photography
Wedding Timeline
Advice from Marissa — Member Relations Manager:
"Don't be afraid to stray from the traditional timeline of a wedding day. I love the idea of having a cocktail hour and some dancing before the actual ceremony! That way everyone can be loosey-goosey and the "I dos" feel more like a celebration than something formal."
Love the idea of a pre-ceremony cocktail hour but need help creating a fabulous playlist? We've got the perfect cocktail hour playlists for any mood!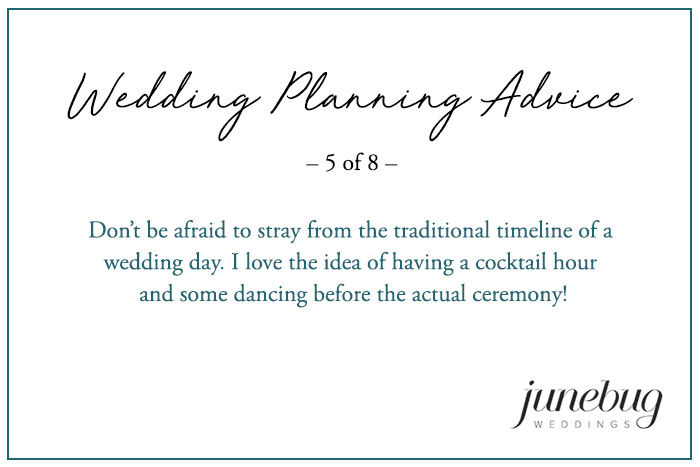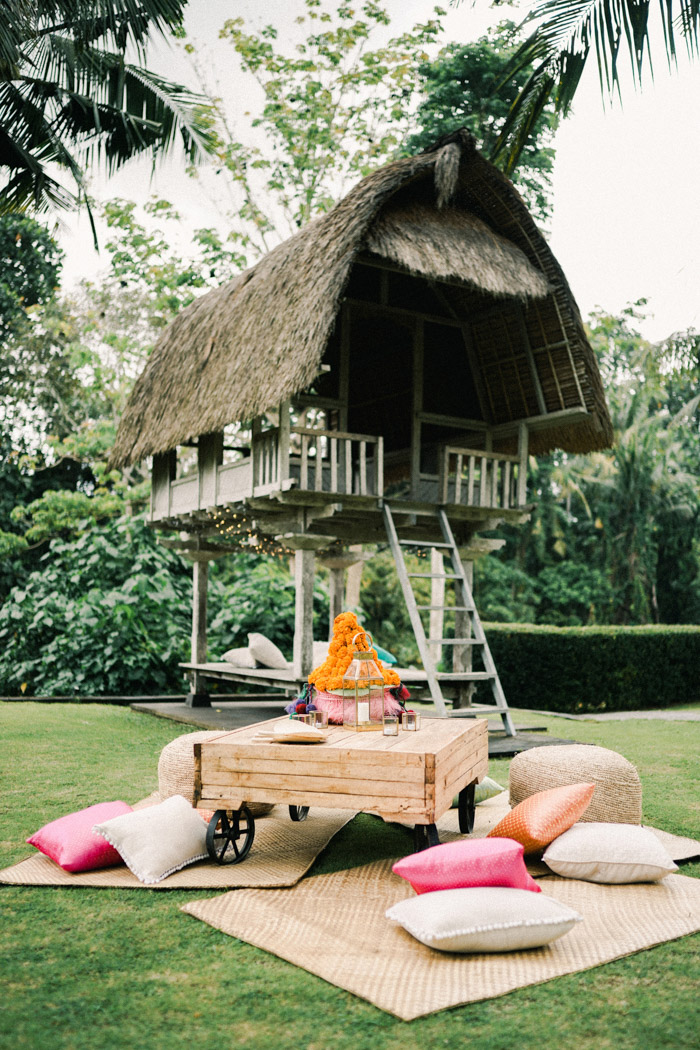 photo by AXIOO Bali
Wedding Decor & Style
Advice from Jessica — Account Executive:
"Find ways to incorporate your favorite hobbies into the decor of your wedding. Love to get dressed up together but also chow down on Texas barbecue? You do you! What matters most is that your day reflects and celebrates your unique relationship."
Looking for the perfect decor to make your wedding day feel like "you"? We've got you covered with these shoppable posts:
Affordable Wedding Decor You Won't Believe Came from Amazon
5 Ideas to Complete Your Adventure-Themed Wedding
Wedding Dessert Table Ideas to Sweeten Your Reception Decor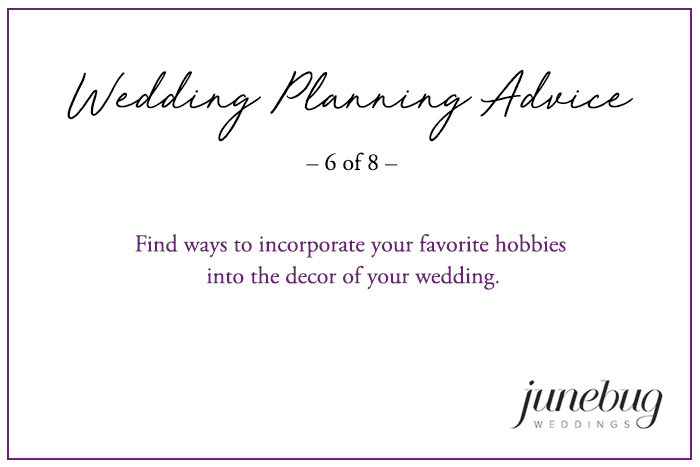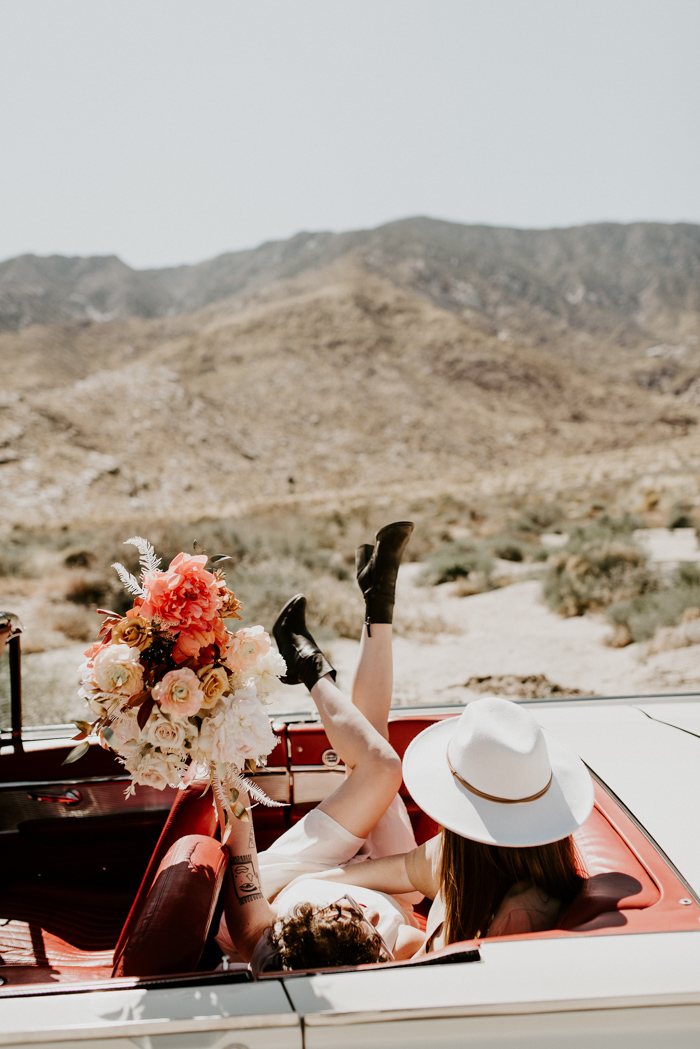 photo by Anais Possamai Photography
Embracing Your Engagement Season
Advice from Lexi — Marketing Manager:
"Through all of the planning, checklist making, and number crunching, remember that you deserve to HAVE FUN with your engagement! So don't let planning overtake every aspect of your life. Hire vendors you trust and then set aside some quality time with your partner (that doesn't involve wedding planning!) to focus on you two! Drink all the champagne and soak up those giddy "we're gonna be married soon!" feels. :) That's what you'll want to remember about being engaged."
Here are even more ways to make the most of your wedding planning season!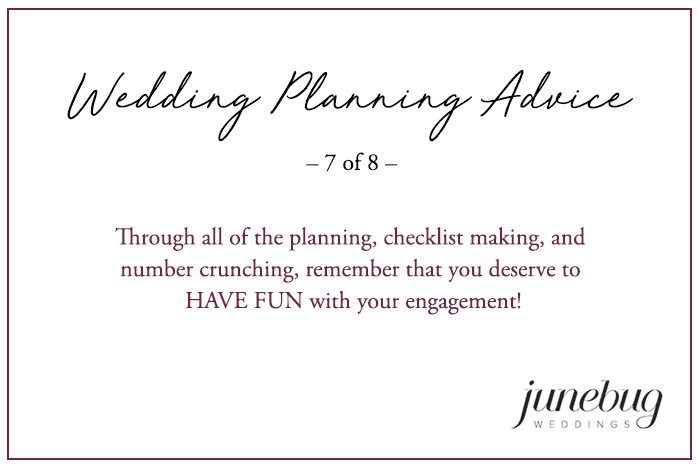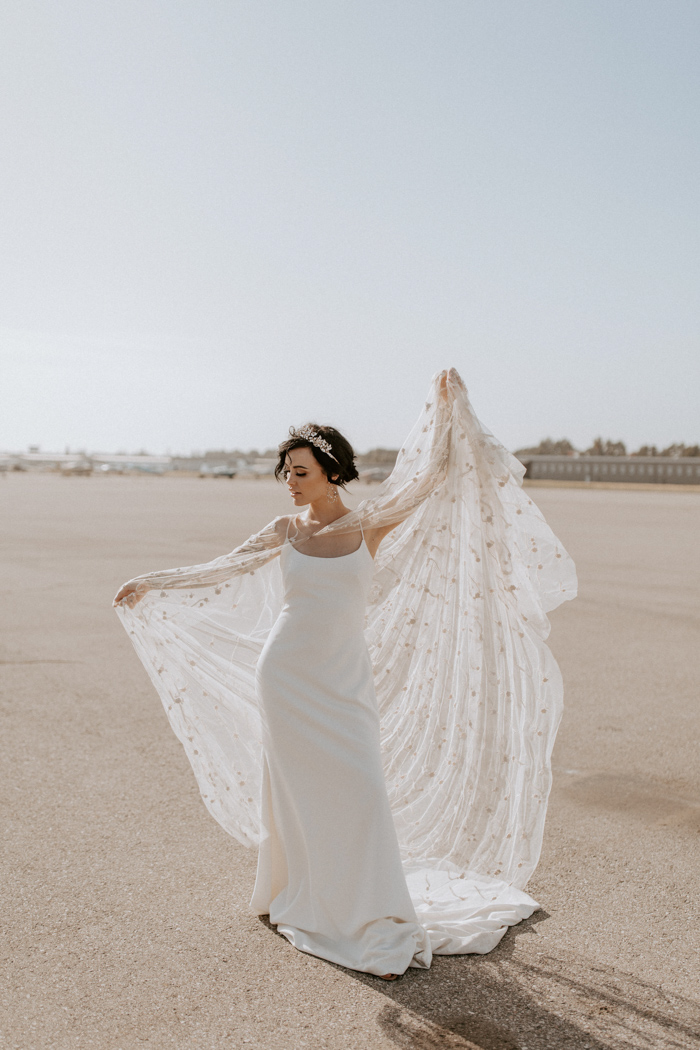 photo by Seth & Co Photography
Wedding Dress Shopping
Advice from Kamilah — Marketing Assistant:
"When it comes to wedding dress shopping, don't go alone! It can be hard to tell which styles or fits you truly like without an outside opinion. Take friends that will give you their honest opinions so you can be sure you'll look you're very best once your big day arrives!"
Ready to find your dream wedding dress? Grab your girls and take a peek at these beauties:
The Best Etsy Bohemian Wedding Dresses
70 Stunning Plus Size Wedding Dresses for 2018-2019 Brides
You'll Be Surprised How Much You Love These Wedding Dresses Under $200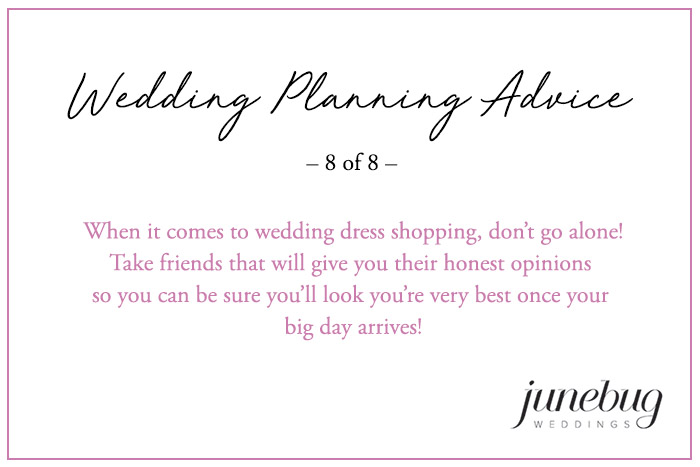 Whew, you made it! And now you're ready to put together your vendor team! Browse our curated list of the best wedding professionals around the world to find the team that can you bring your wedding dreams to life!