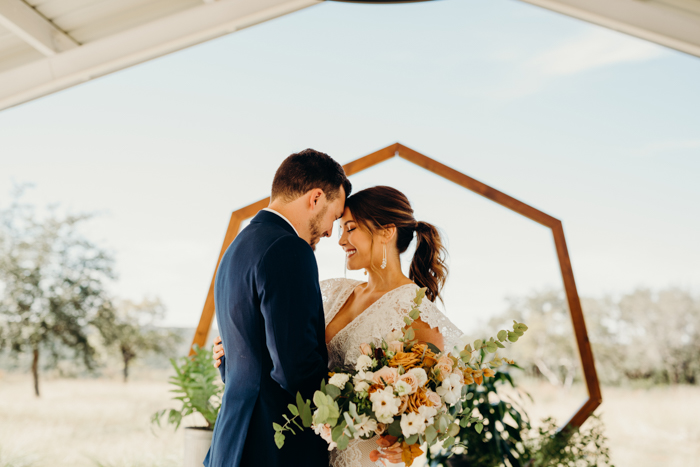 Donkeys, a candy-throwing flower girl, and a vibrant smoke bomb exit. These were the special ingredients used to bring this one-of-a-kind Texas celebration to life. With the help of wedding planner Taylor Bible Weddings, Laura and Karl planned a COVID-conscious day filled with a few tears and a whole lot of love. From the modern wedding venue to the personalized ceremony readings, every detail radiated unconventionality.
With jaw-dropping views, vaulted ceilings, and an open industrial feel, Mae's Ridge—a newly-built, chic Austin wedding venue—proved to be the perfect space for this intimate celebration. The Flower Girl created an asymmetrical, floral ceremony backdrop that framed the venue's natural outdoor beauty in a way we can't stop thinking about. Keep scrolling for intentionality-infused details—captured by photographer Elisa Lopez Photography—that are sure to kickstart your creative wedding planning.
More From The Photographer On This Mae's Ridge Wedding
Laura and Karl had their wedding at Mae's Ridge—a modern, chic new wedding venue in the Texas Hill country. Situated in 28 acres, this sophisticated venue was perfect with dreamy backdrops! There were a lot of things that made this wedding stand out like the flowers, bride's dress, bridesmaids dresses, donkeys, and smoke bombs. The list goes on!
The Couple:
Laura and Karl
The Wedding:
Austin, Texas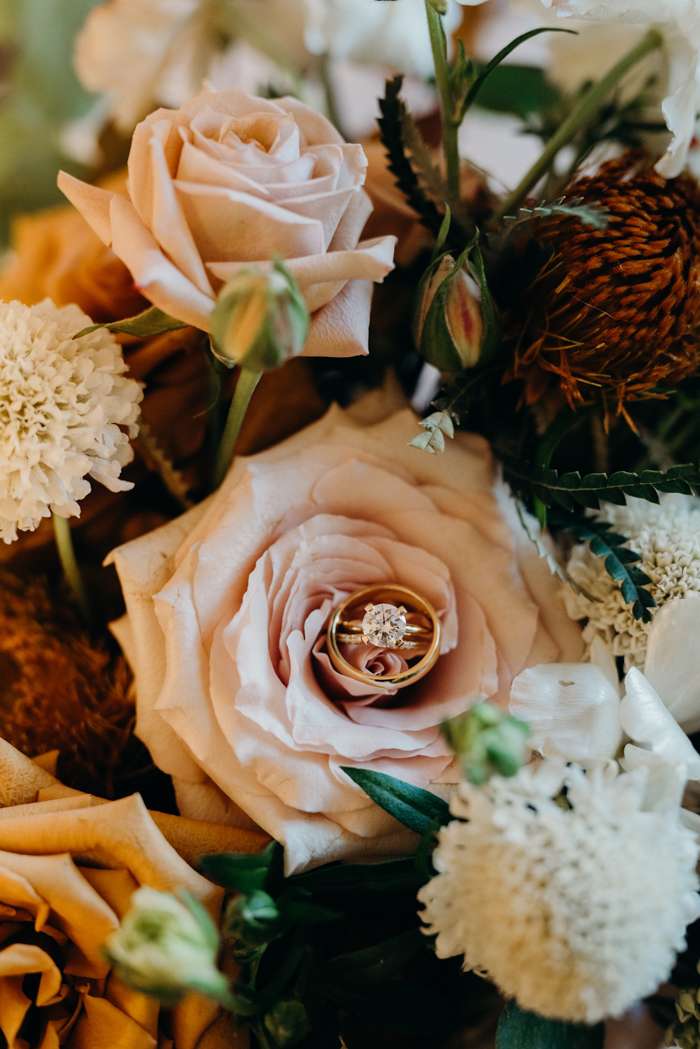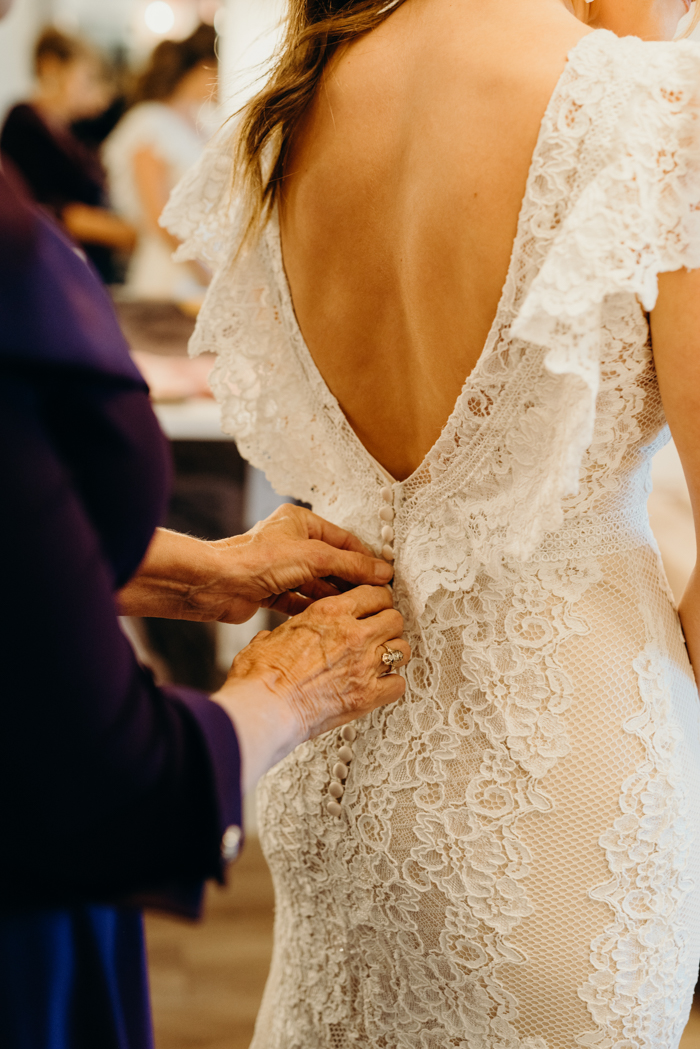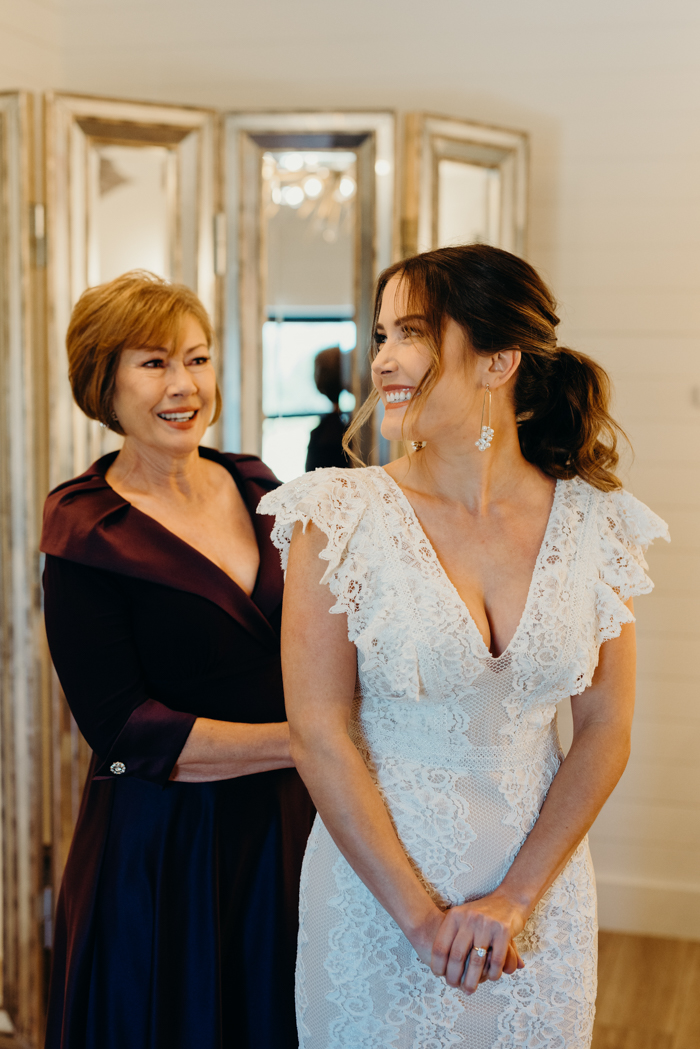 Hosting A COVID Conscious Wedding
We are most proud of how we tried to make the day safe for our guests. It was a tough decision to reduce our guest count but we knew it was the right thing to do to keep our family and friends safe. The ceremony was outdoors, masks were encouraged, and the reception venue had wide-open garage doors to allow for airflow. The tables and decor were spread out enough that the space didn't feel empty even with our lower guest count.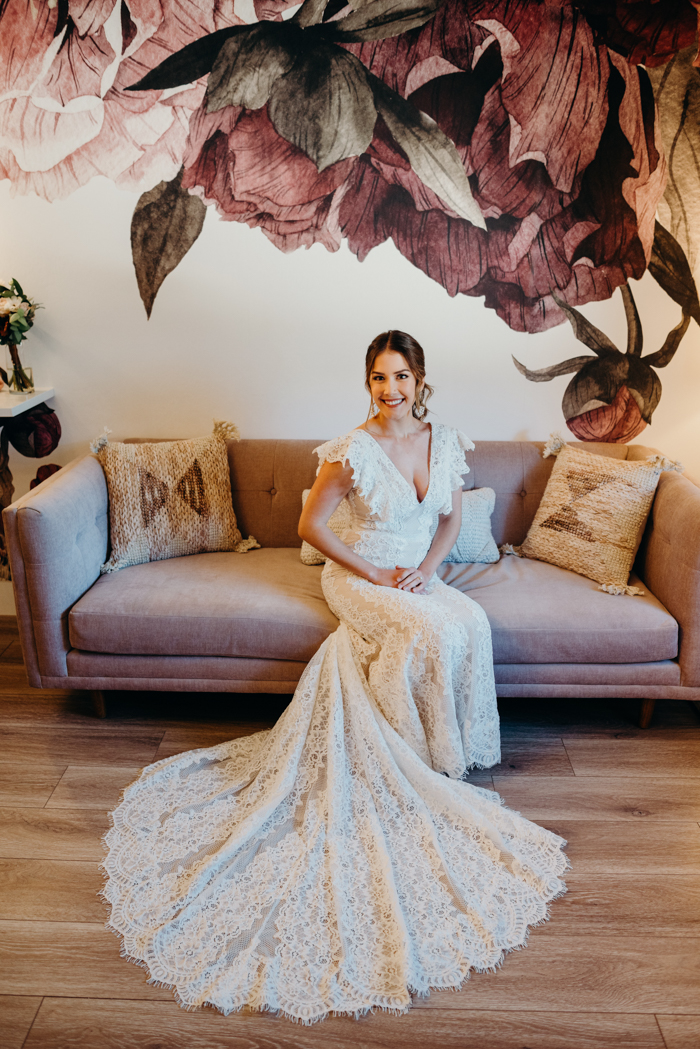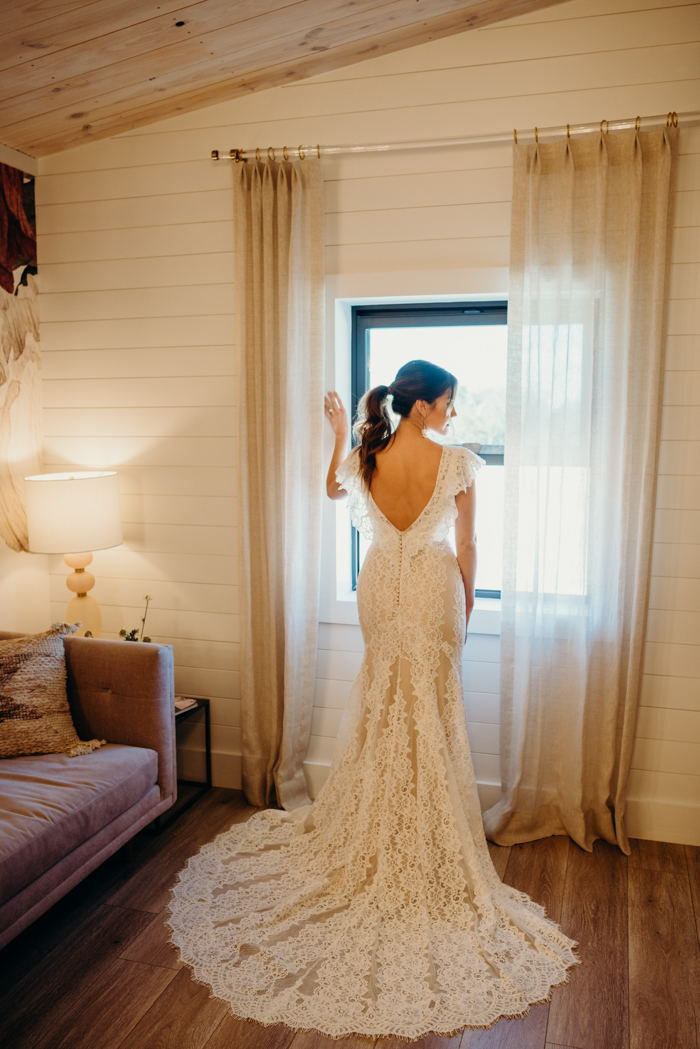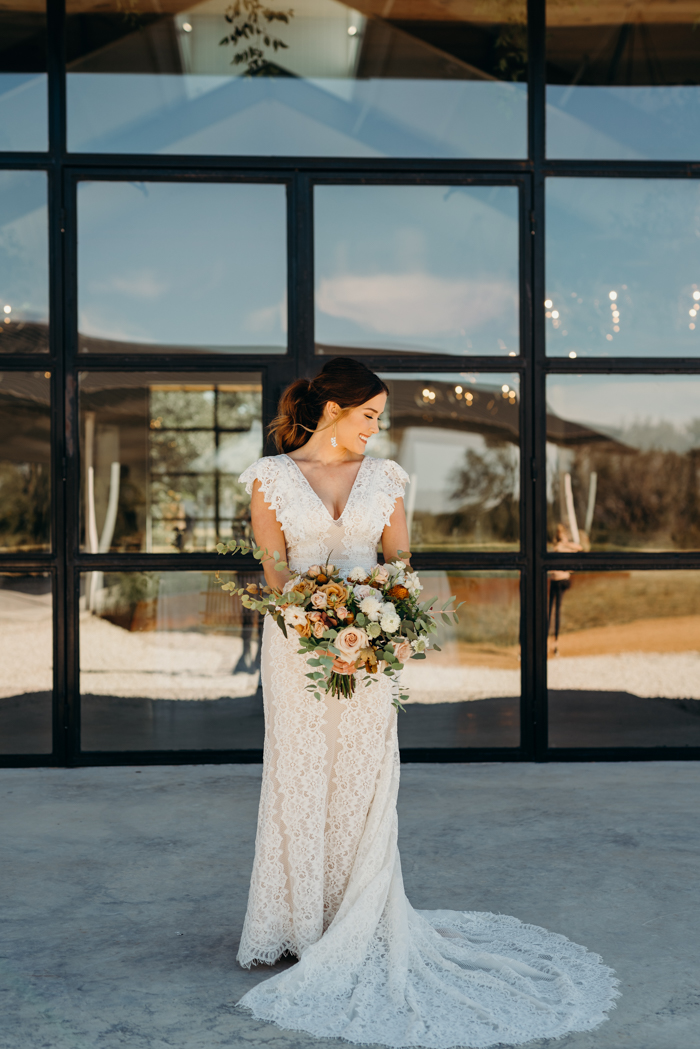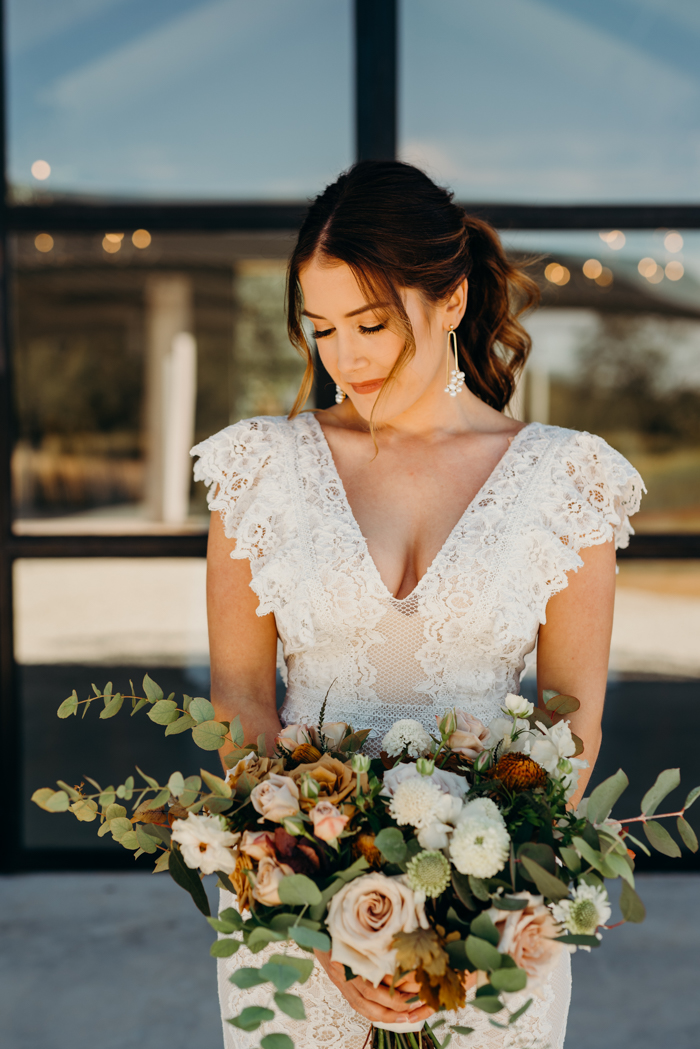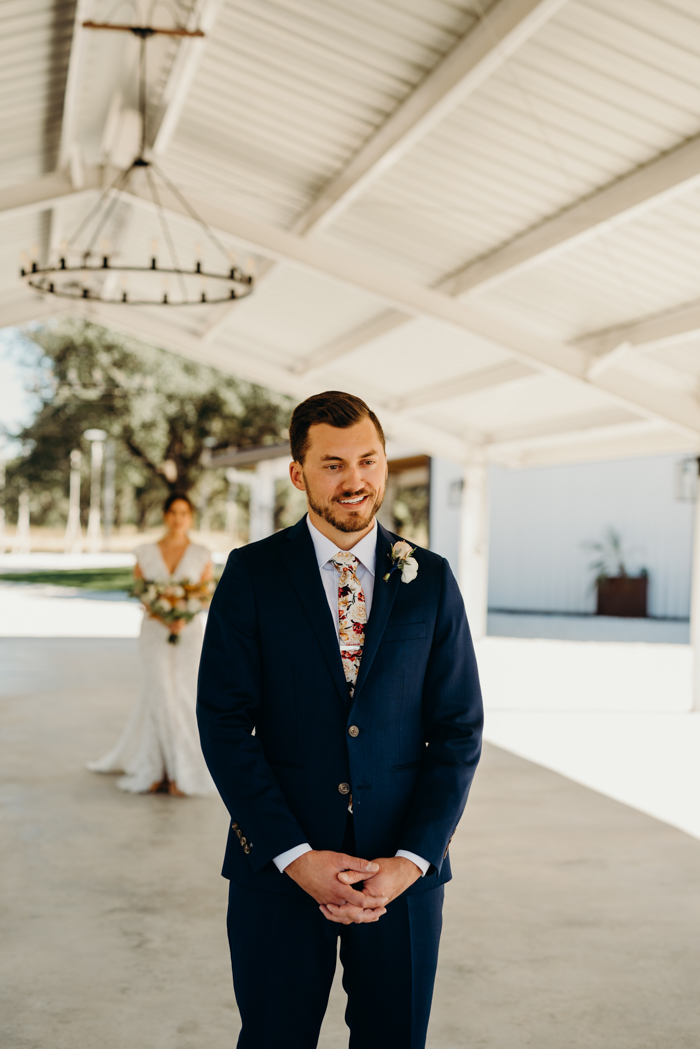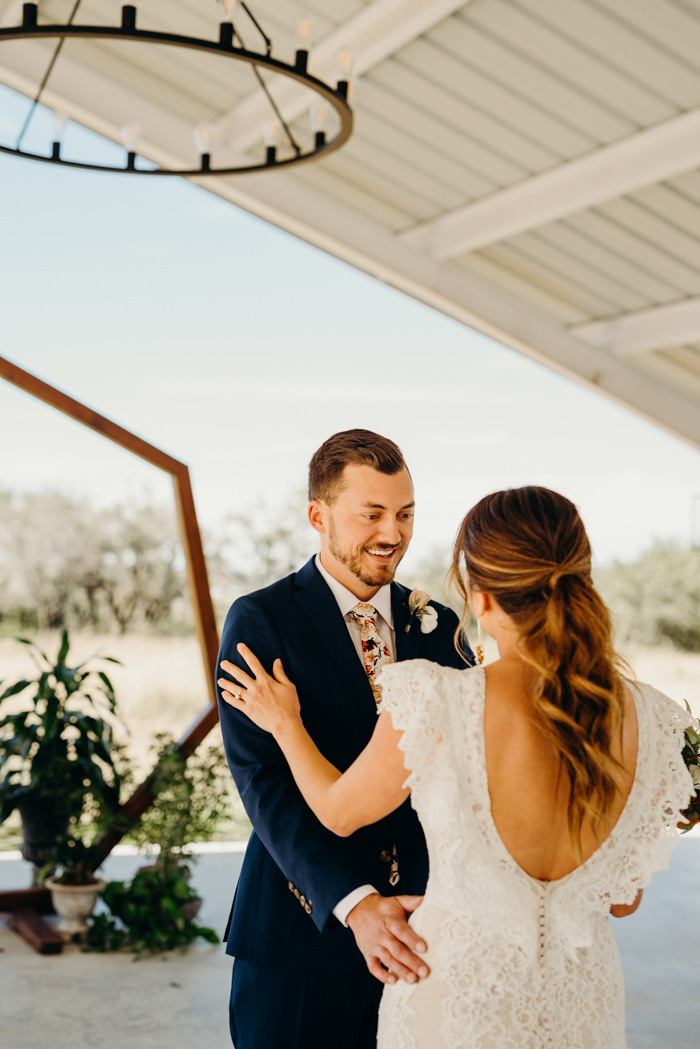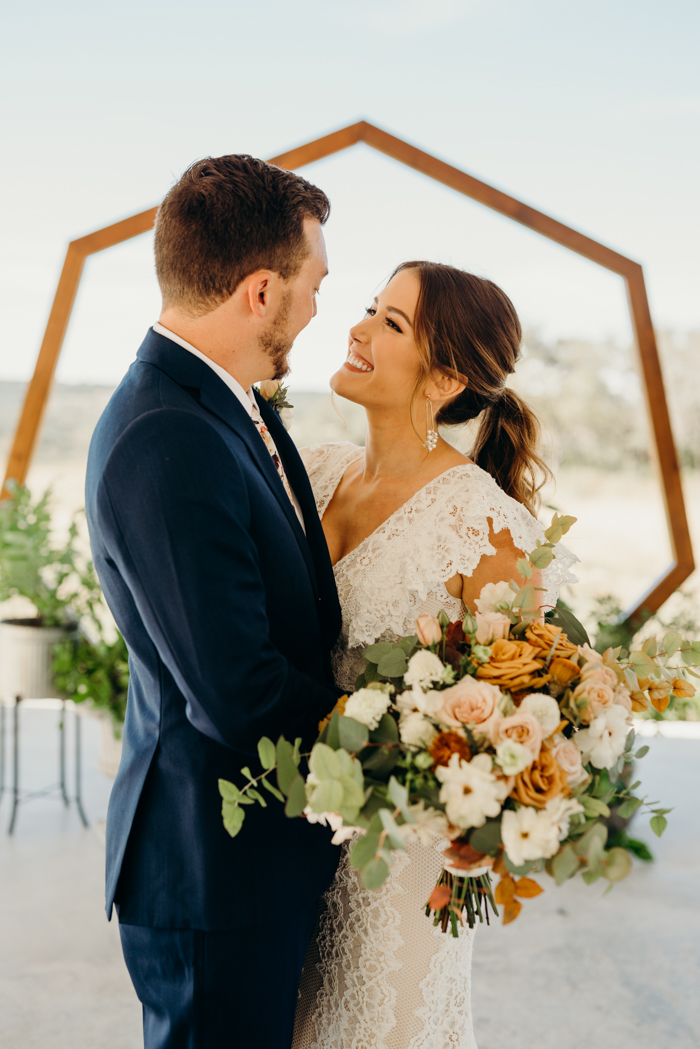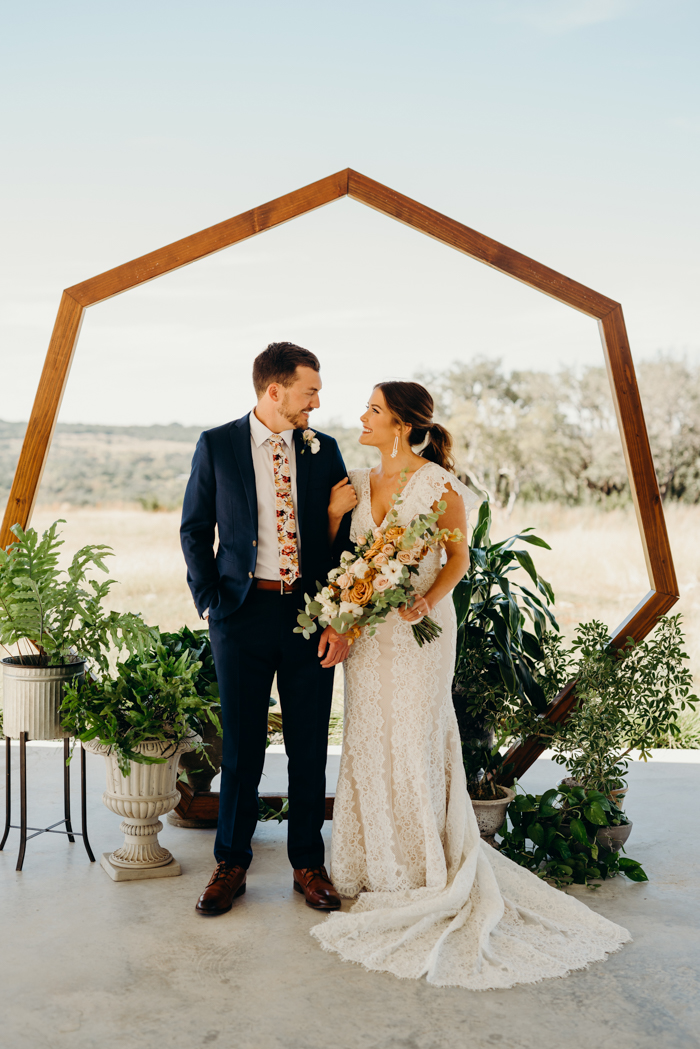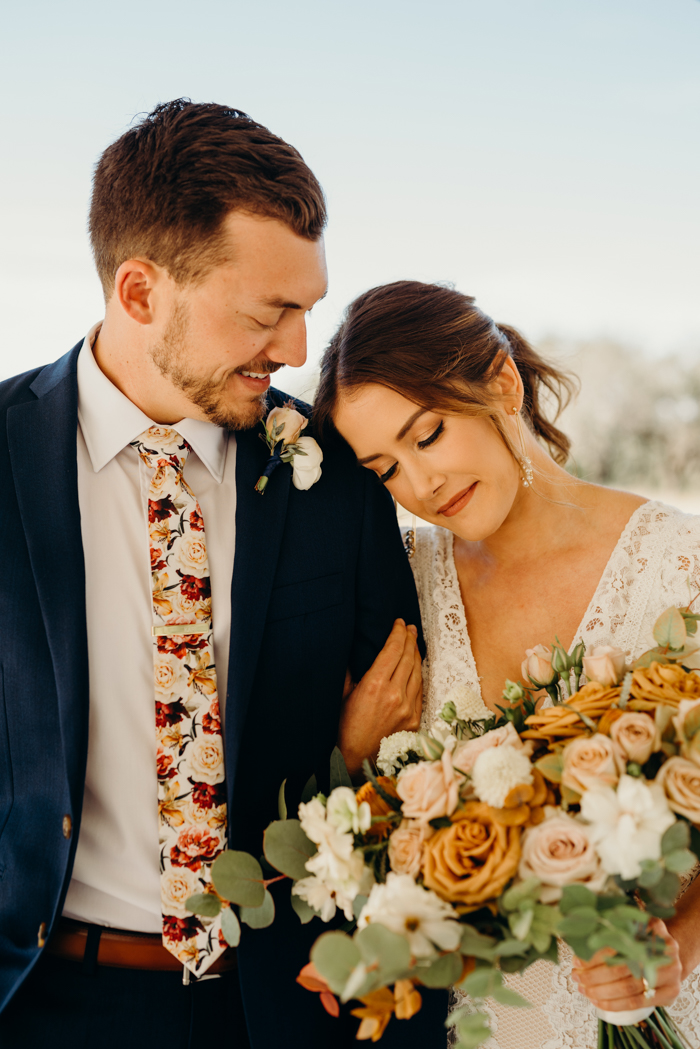 Little Details That Made For A Memorable Day
The entire ceremony was filled with memorable moments. The weather was sunny and perfect to sit outside. Our flower girls threw out Halloween candy instead of flower petals. Our officiant read our own personal story that made it so much more meaningful. The backdrop to the ceremony was an incredible view of the beautiful Texas hills framed by golden arches. No detail was short of amazing.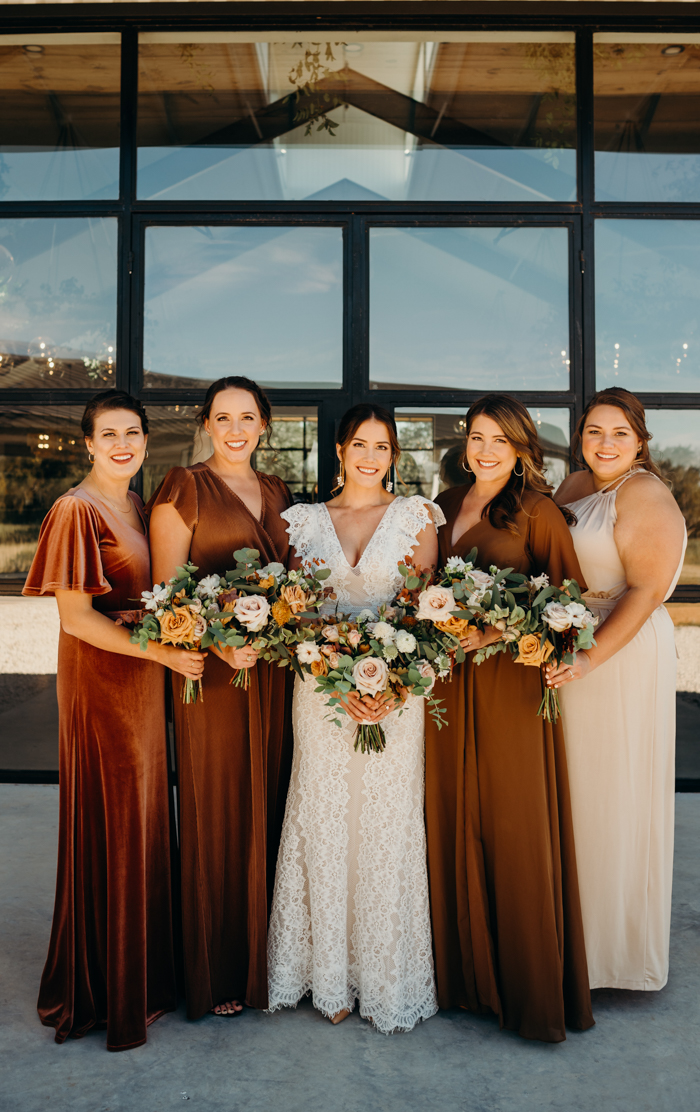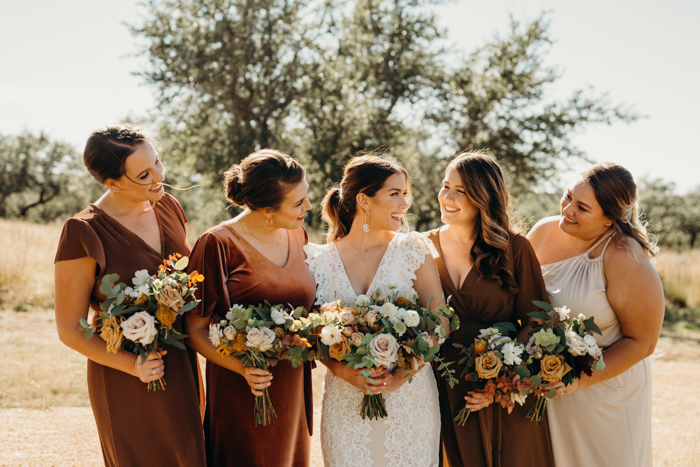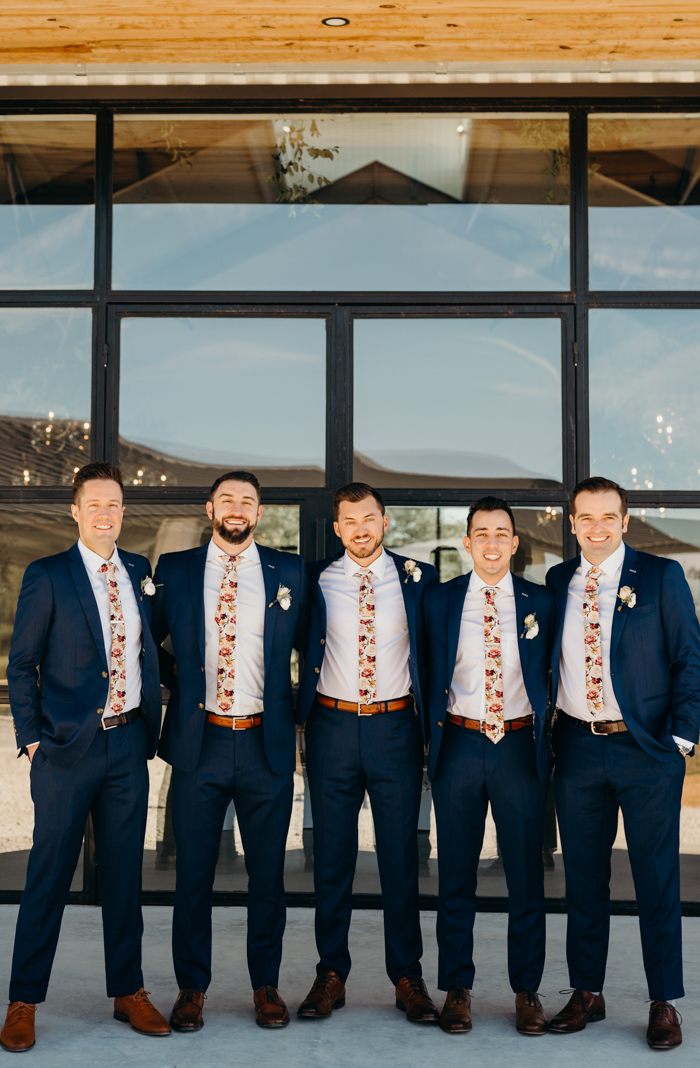 The Couple's Wedding Planning Tips
I'd suggest couples start by doing a little bit of planning each week rather than trying to tackle it all at once. We split the responsibilities so the bride wasn't tasked with all the planning and vendor hunting. We also created a wedding email account so we could both be in the loop with vendor updates.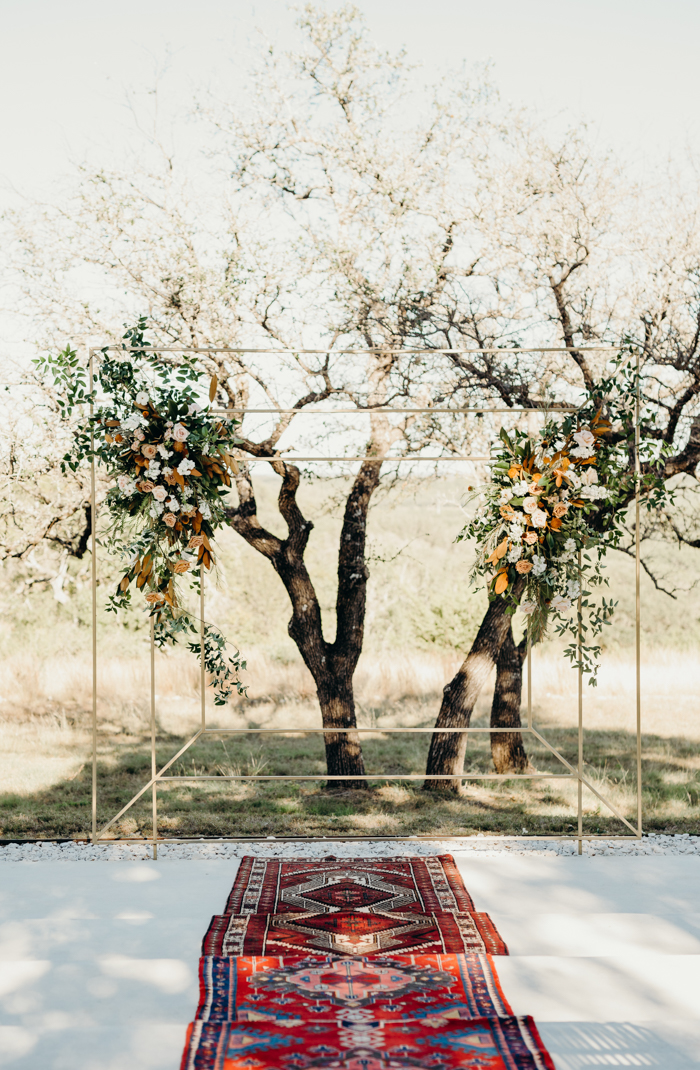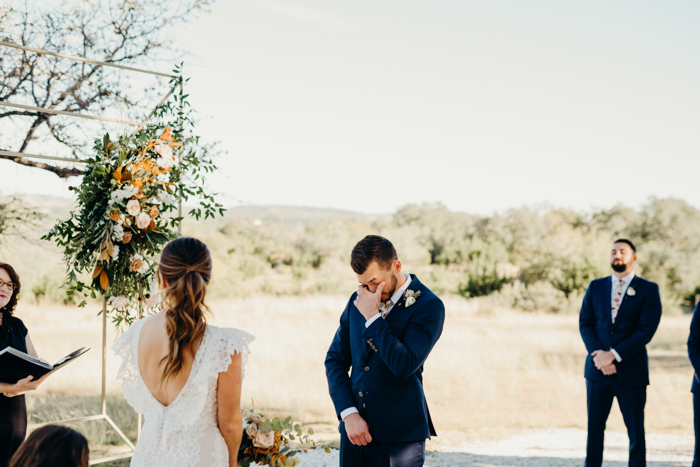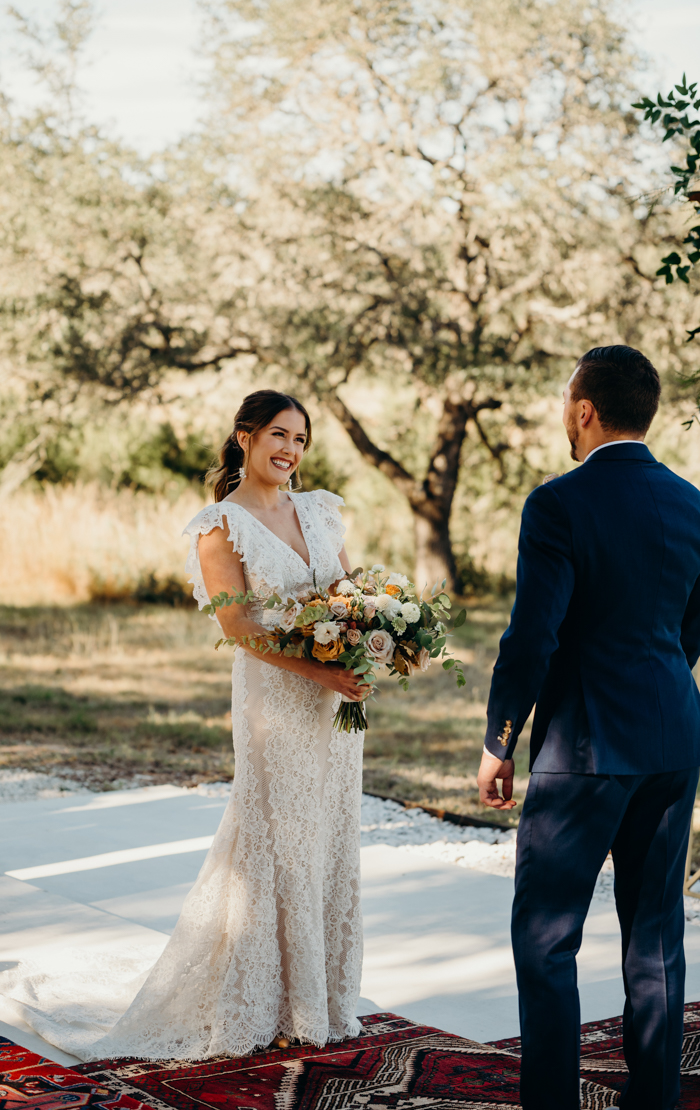 The Importance Of Personalized Ceremony Readings
Our officiant read our personal love story instead of reciting traditional readings. During a brief interview a few weeks before the wedding, she asked us questions about how we met and our relationship style. She then turned our answers into a perfect summary of our love story. We were blown away by how she captured us. We have a copy of that story that we plan to read each year on our anniversary.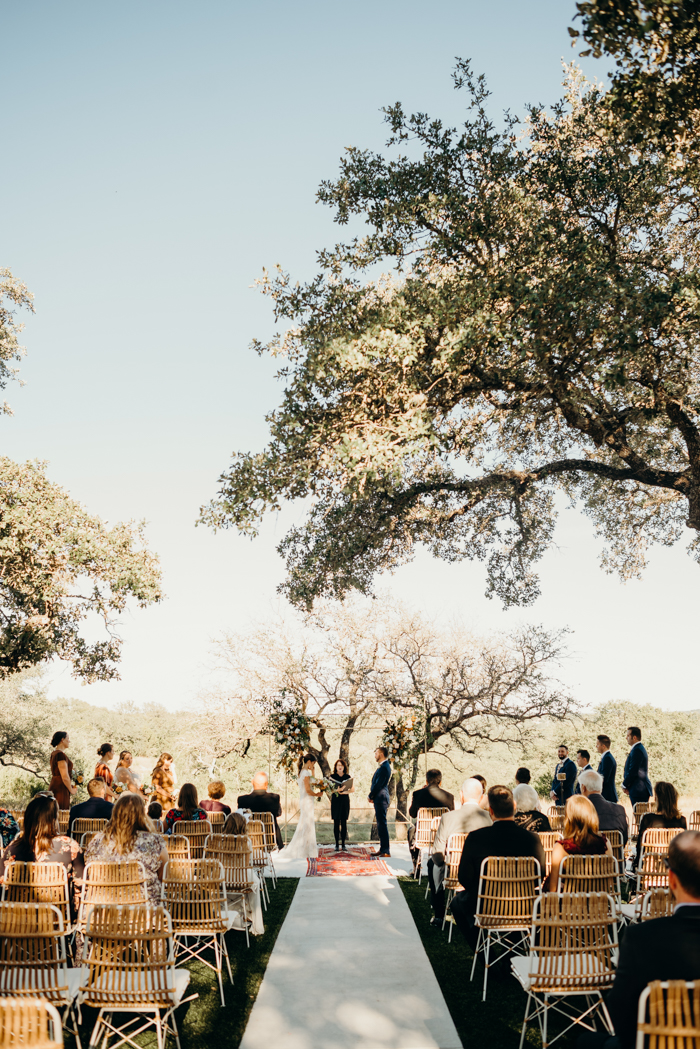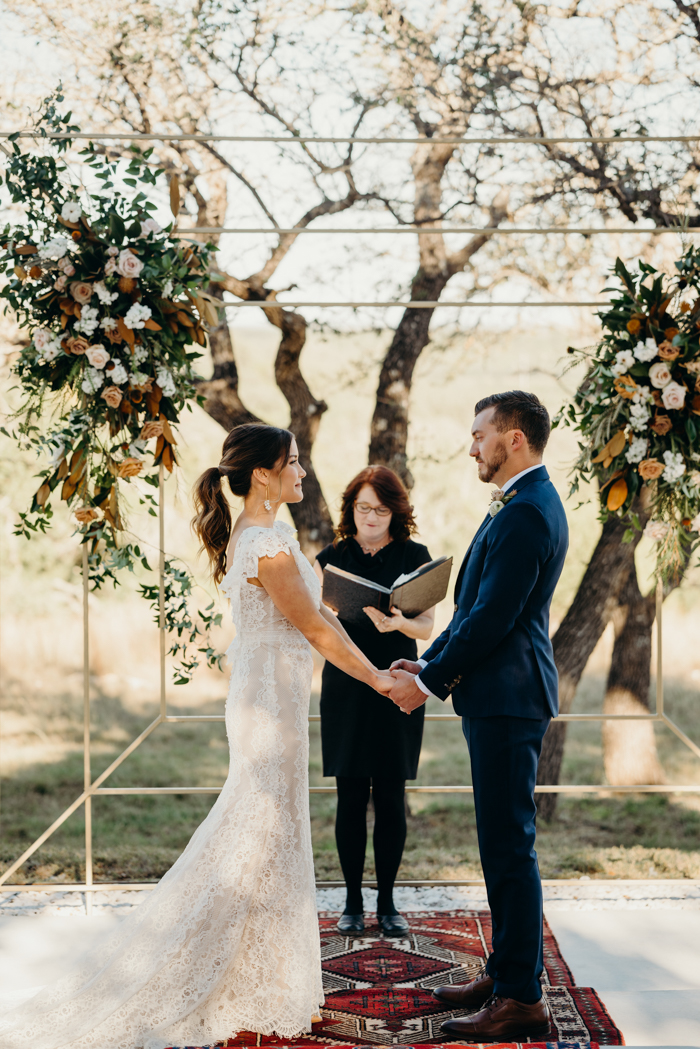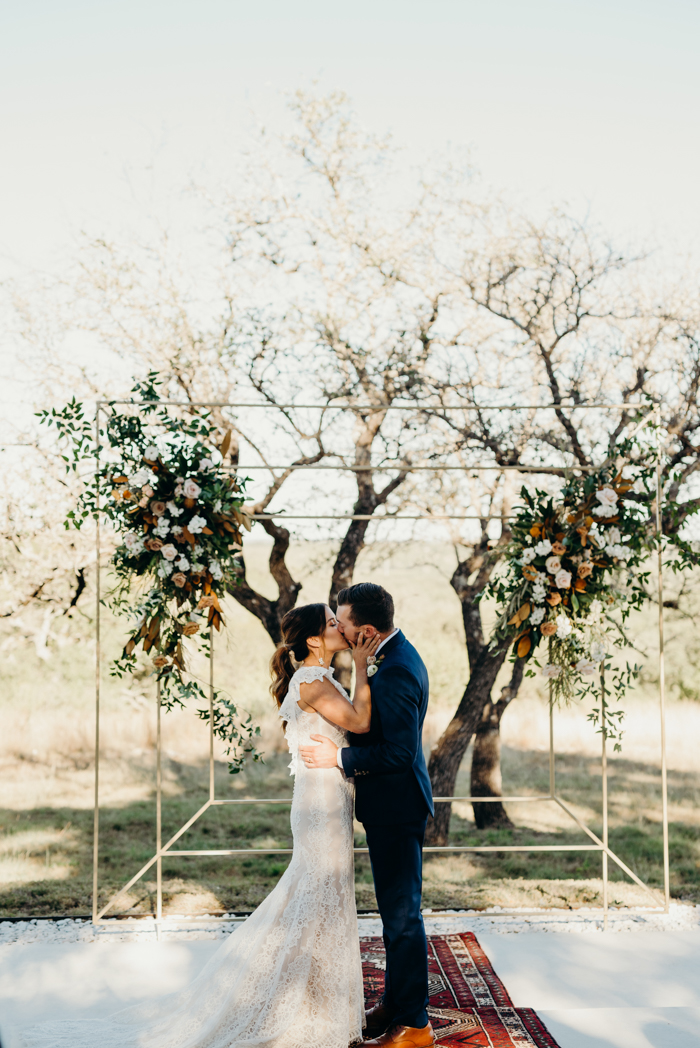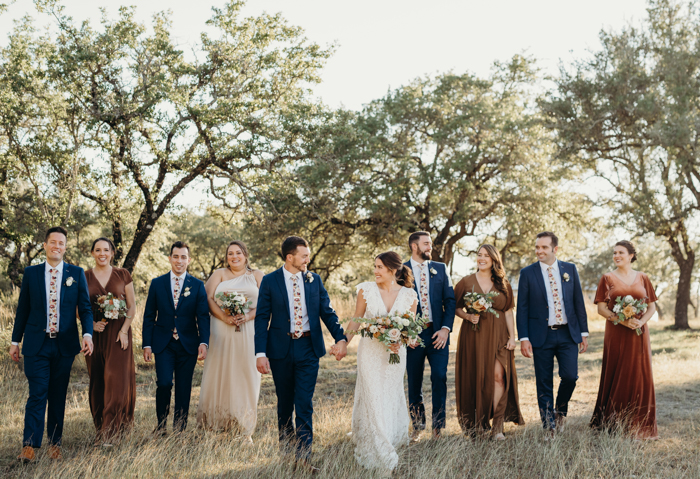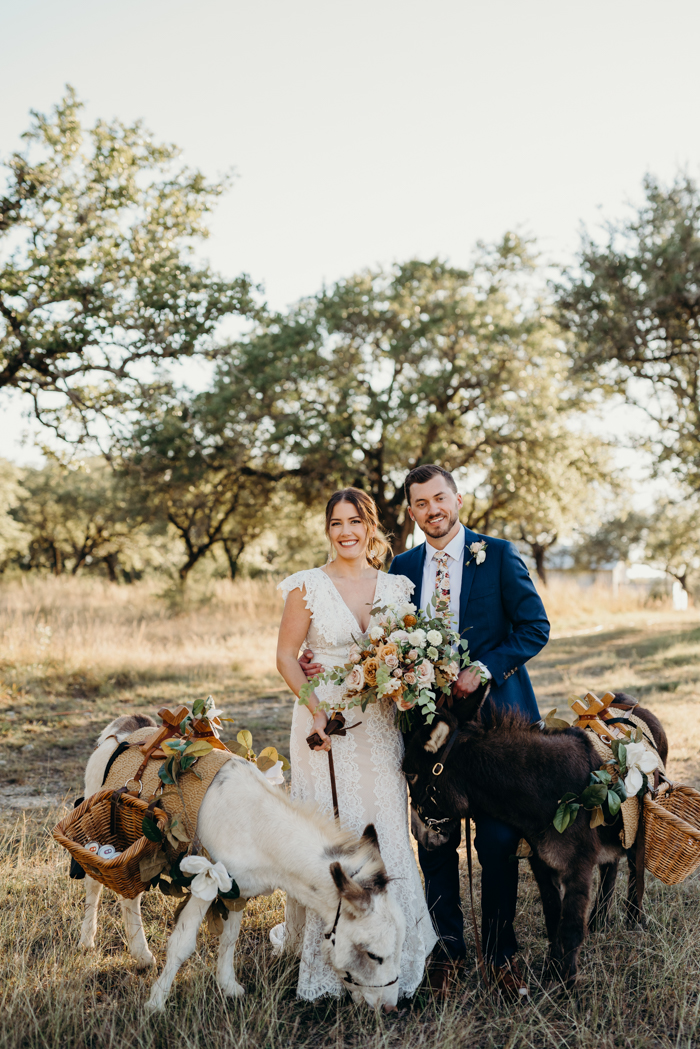 A Venue Unlike Any other
We had a whirlwind weekend touring about a dozen different venues in the Texas Hill Country. Mae's Ridge was a newer venue that wasn't just another rustic barn and the views were amazing. Of course, having open Saturday dates that worked with our schedules was a big part of the decision process too.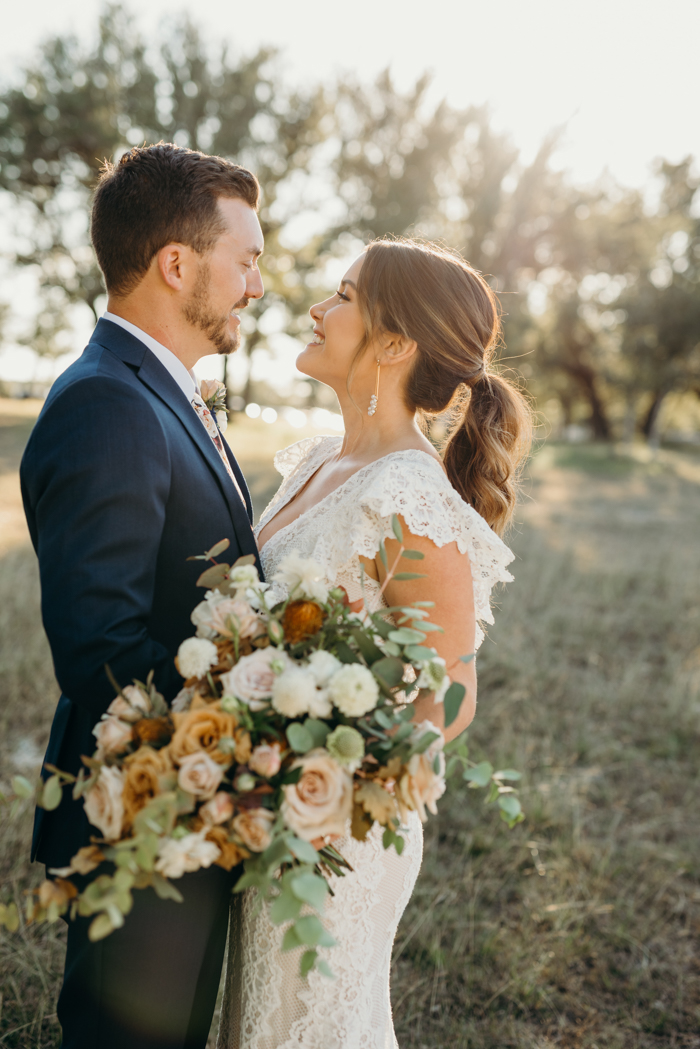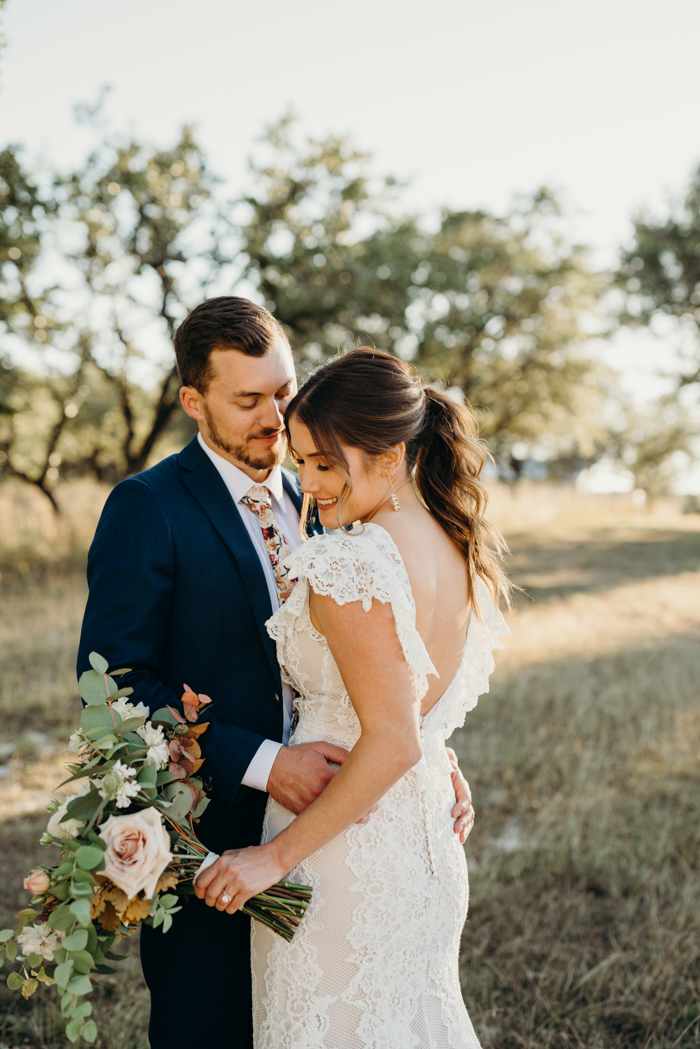 The whole process was easy and relaxed! Elisa Lopez Photography sent us a questionnaire beforehand asking about our bridal party and our list of must-have poses and photos. She was open to our suggestions and knew that finding the best natural light was key to these outdoor shots. She kept a close eye on sunset so we could get those amazing golden hour shots that we love so much.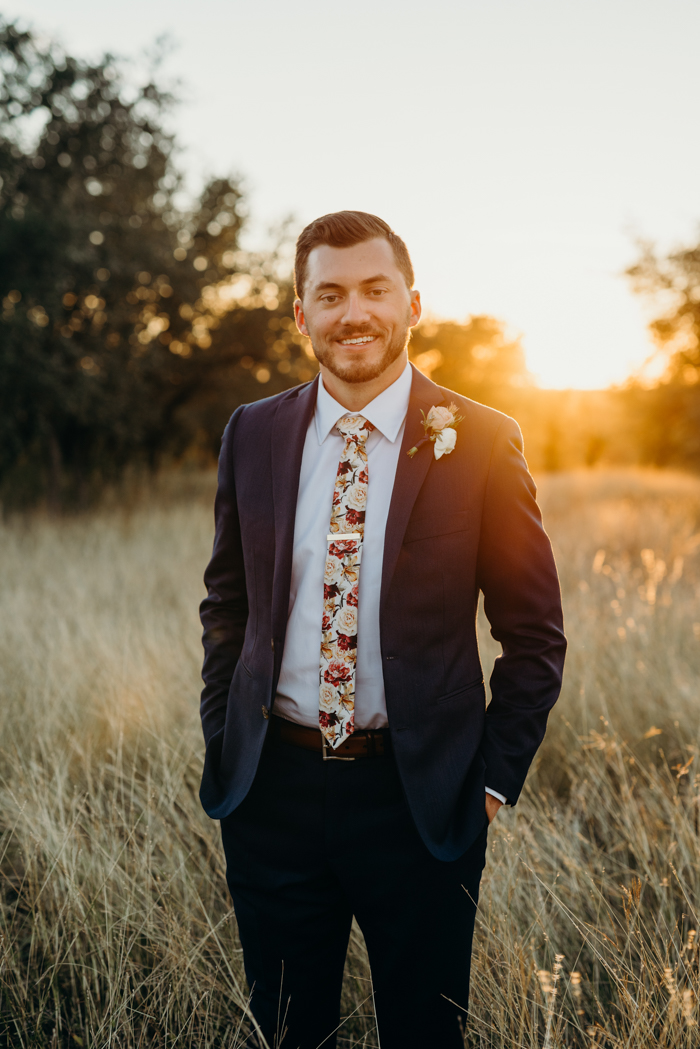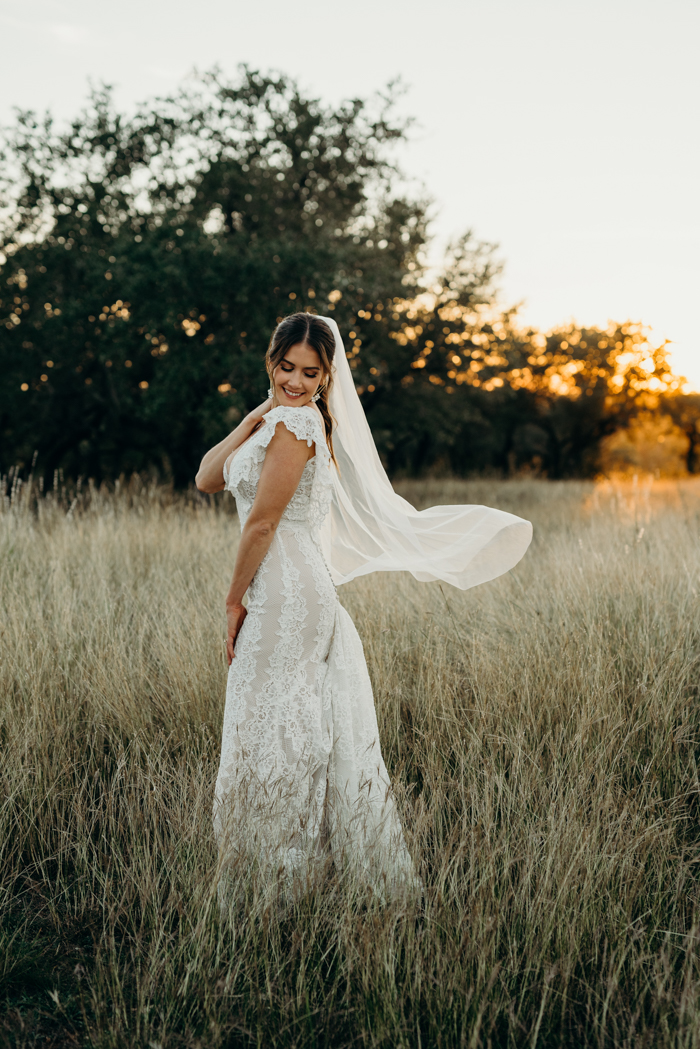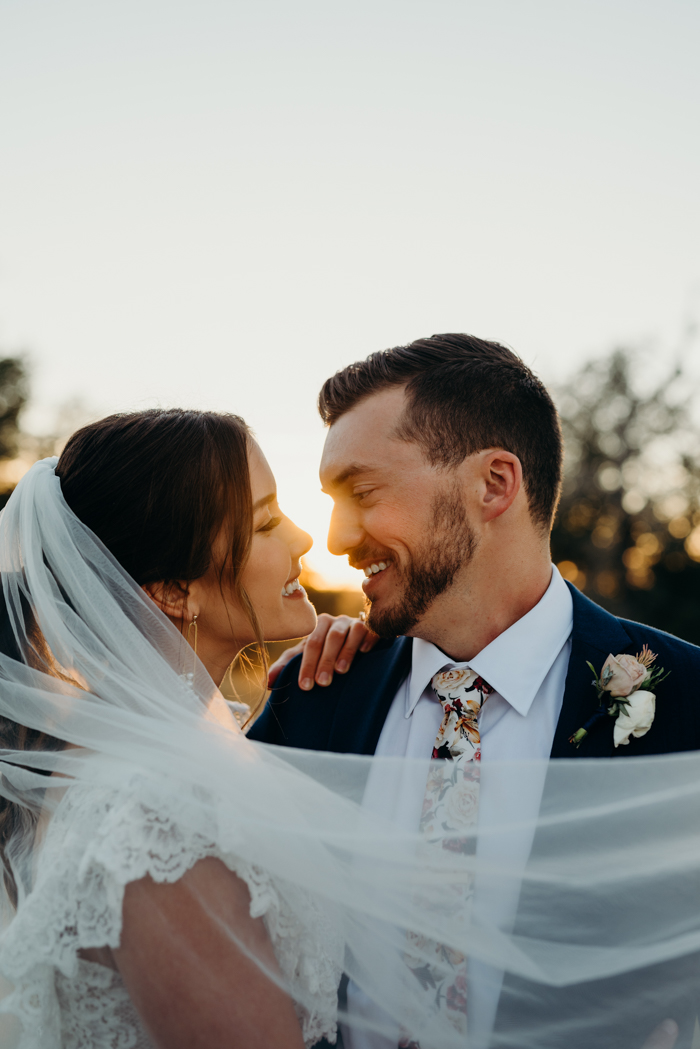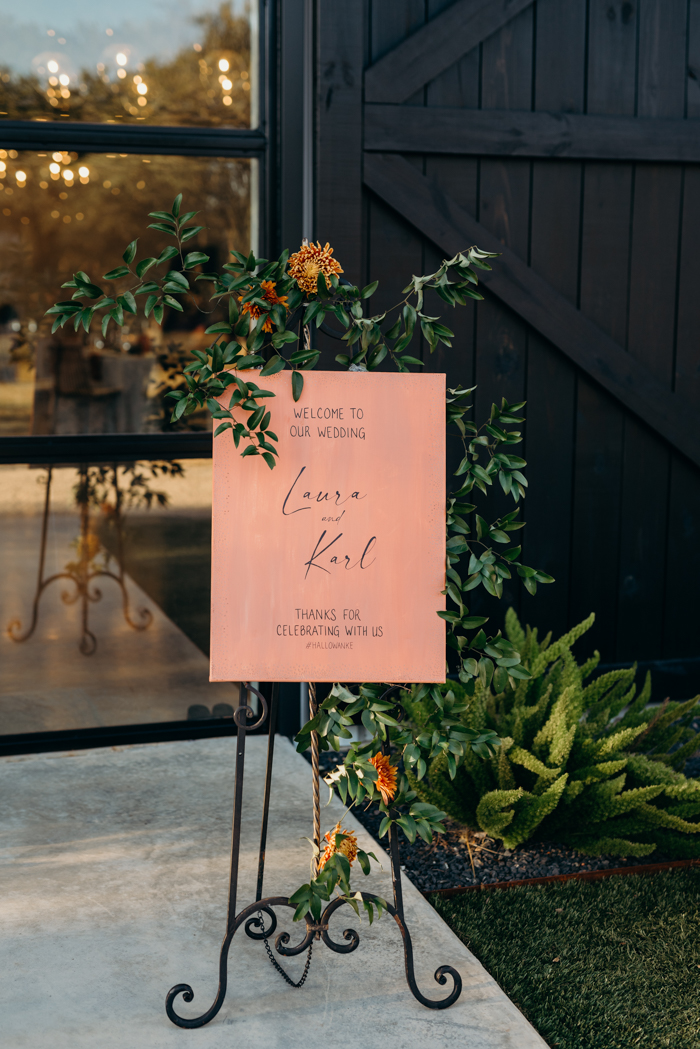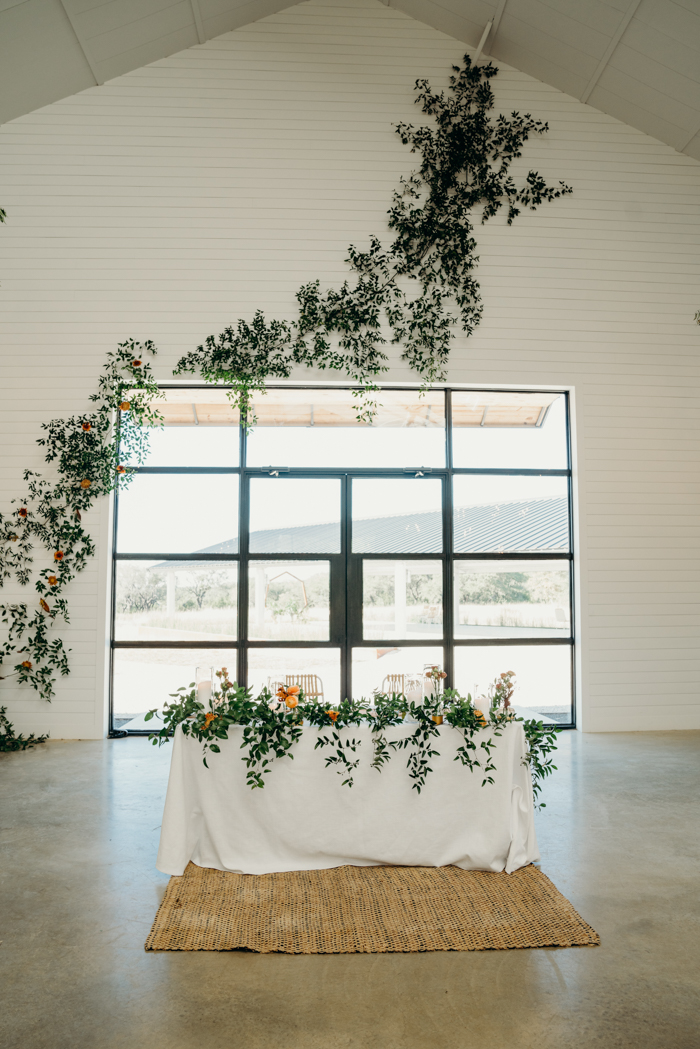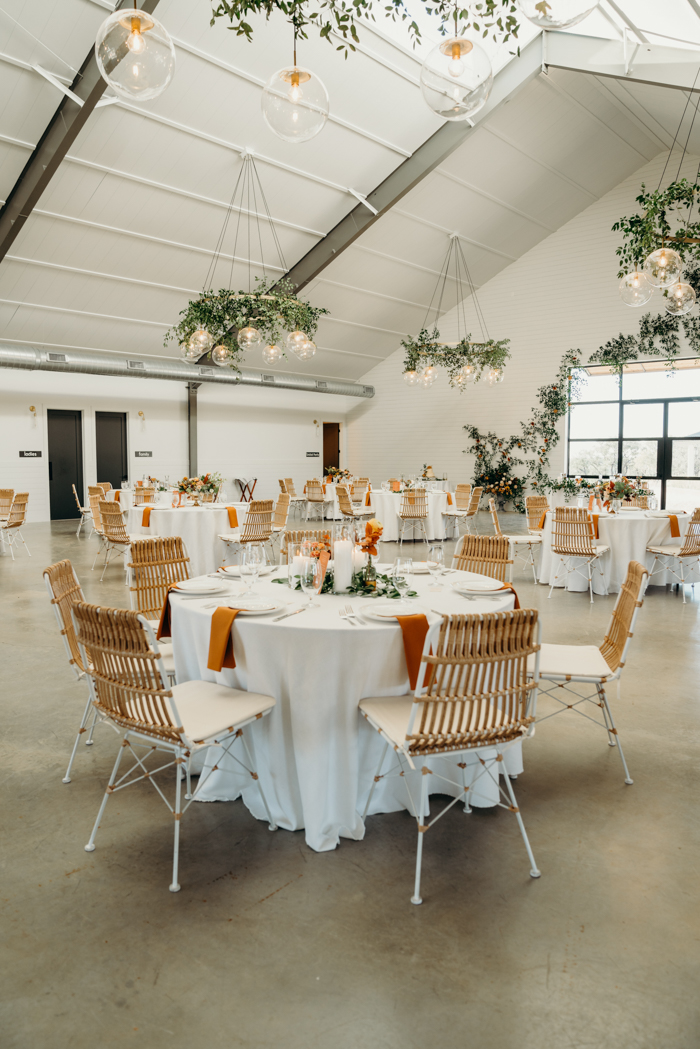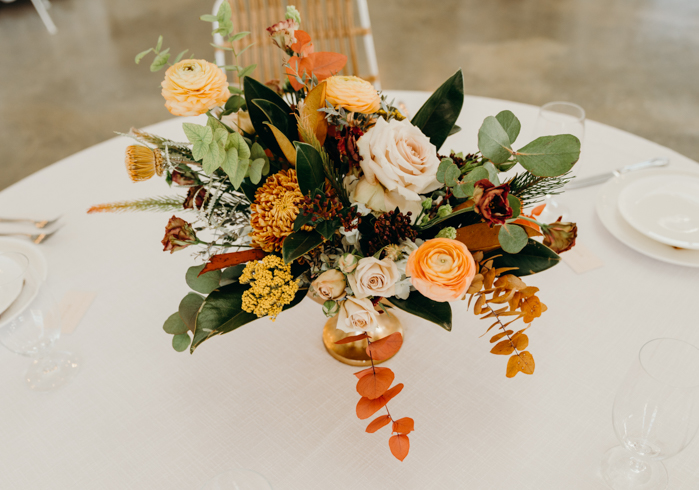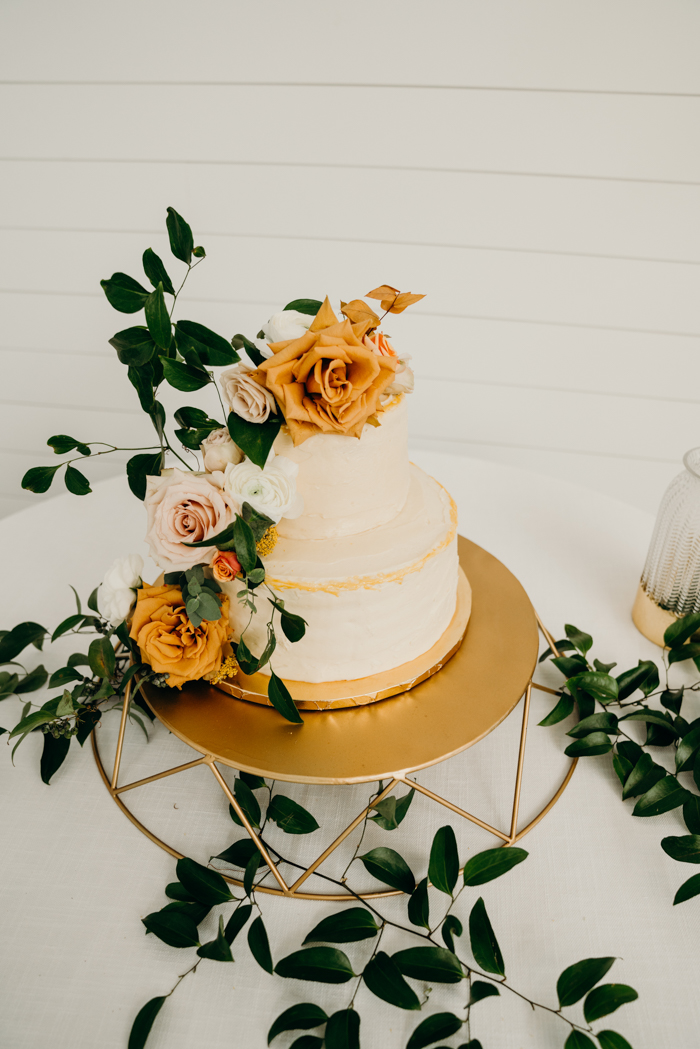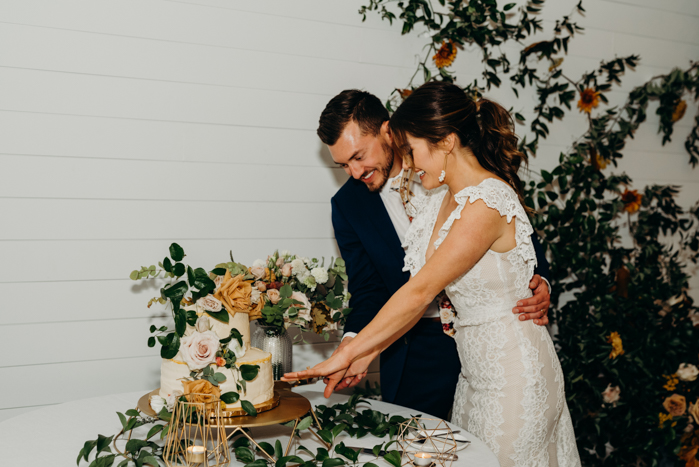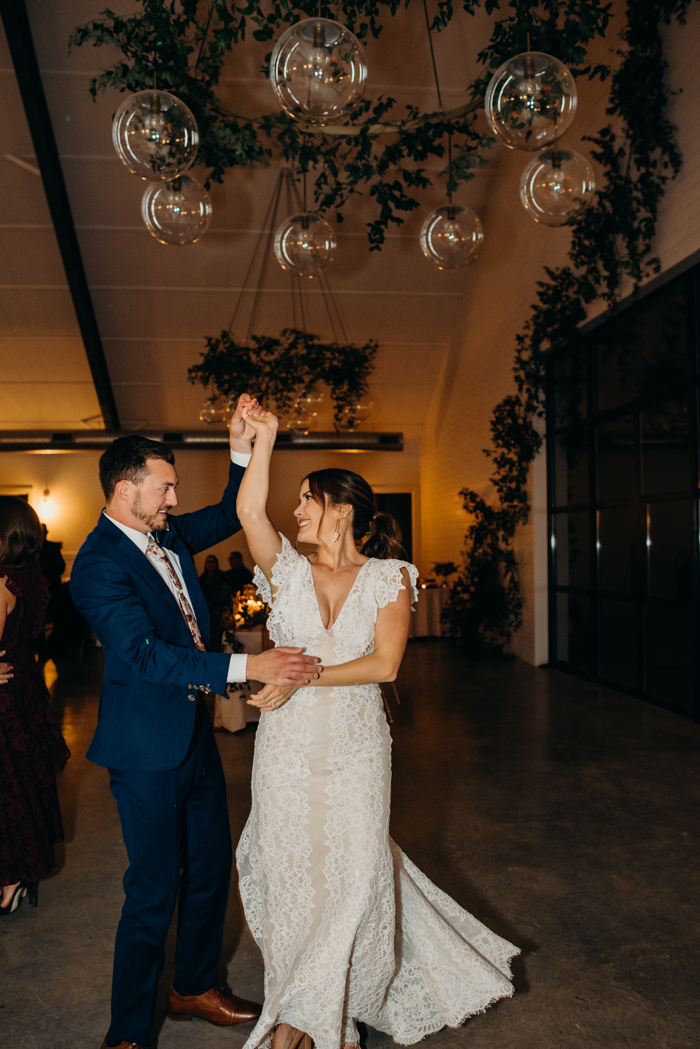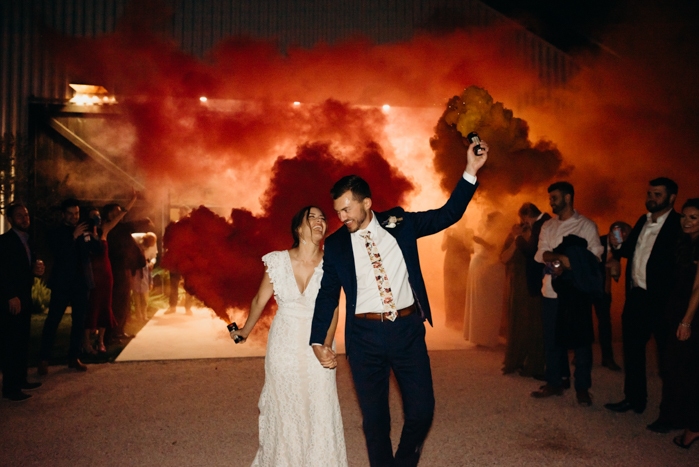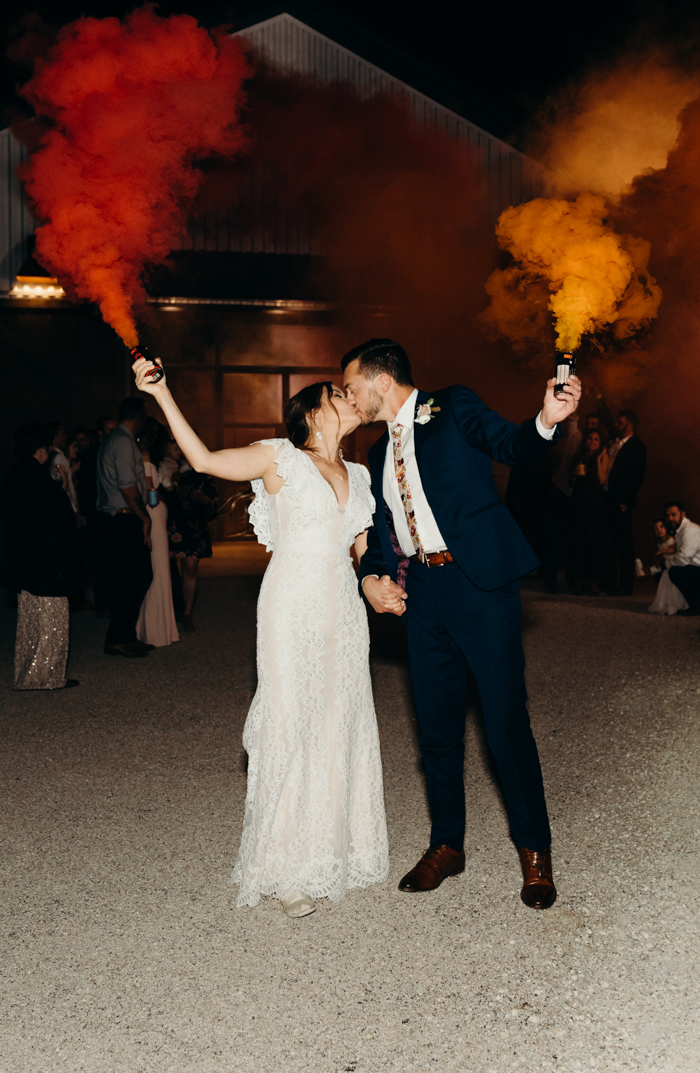 Congratulations Laura and Karl on their stunning Mae's Ridge wedding. And big thanks to photographer Elisa Lopez Photography for capturing special moments that'll have couples everywhere searching for special ways to set their weddings apart.
Every couple is different and every wedding should be too. If you're in search of ways to incorporate and personalize details from online wedding inspiration, kickstart your planning by checking out our guide on how to use wedding inspiration.