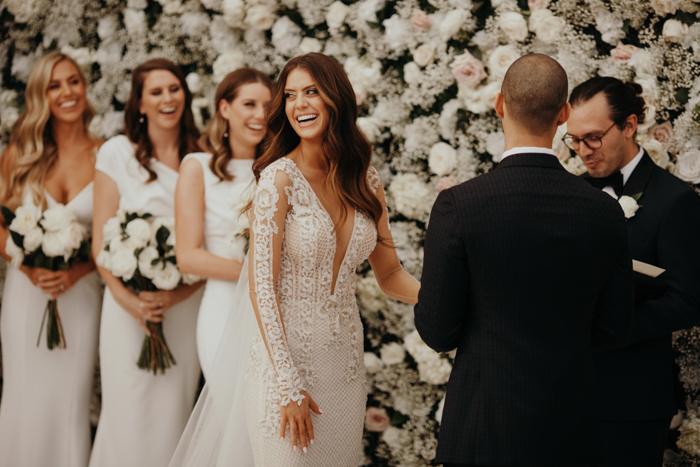 photo by Jordan Voth
If you've hired a photographer for your wedding, you may have found advice discussing the need for a "must-have" wedding shot list. We've read some of these posts, too. Maybe an old-school family member has also done a little too much browsing—all in good intention, of course—and forwarded you one of these checklists. If they have, it's okay to send them a link to this article. Let us do the talking for you!
We're here to assure you that you don't need a wedding photography shot list. In fact—a shot list might hinder your photographer's availability to capture the photographs you really want.
If you've been wondering if a wedding shot list is something you need, keep reading to learn about why you don't need a "must-have" photo checklist and more from Junebug's carefully selected bunch of the world's best wedding photographers.
What is a Wedding Shot List?
A wedding shot list is what it sounds like: A list you give to your photographer that describes "must-have" captures. A simple search on the internet will produce wedding photo checklist templates, suggestions of photographs you need for each part of the day, and many other resources you don't actually need.
Five Quick Reasons You Don't Need a Must-Have Wedding Photo Shot List
Presenting your photographer with a shot list might make them feel like you don't trust their professional expertise.
An experienced photographer will already know the photos you'll want to keep forever.
The best moments on your wedding day cannot be planned.
Wedding photography checklists prevent your photographer from being able to be creative.
Receiving your photo gallery should bring you joy—not be a chore to make sure all of your "must-have" photos are there.

photo by Hannah McMaster
Photographer Relationships are Important
There are certain vendors who you spend a great deal of time with on your wedding day—your wedding photographer is one of them. It's important to choose vendors you enjoy and can form a genuine relationship with before your big day.
Do you want to know one of the greatest ways you can ensure an excellent relationship with your photographer? Trust the vision that you hired them for.
Teri Bocko of Teri B Photography told us, "Photography shot lists deteriorate the trust relationship in the photographer you hired. If I receive a photo shot list, it seems like my couple doesn't trust me to capture their day."
We also heard from Nikk Nguyen, who said, "I can't emphasize this enough—make sure you feel comfortable with your wedding photographer! Finding a wedding photographer is like finding a hairstylist. Each photographer has their own style, personality, and way of approaching weddings. Find someone you jive really well with and can trust. This will help you and your significant other feels at ease and present in the moment while also helping your photographer capture those raw, candid, and intimate moments between you both."
Hiring the Right Photographer for Your Day
It's extremely important you choose a photographer who's portfolio reflects the photographs you're hoping to get on your wedding day. If you like posed moments, look for a photographer who already does that well—without a shot list. Or, if candid moments are more your style, search for a documentary-style photographer who will be looking for natural moments throughout the day.
Kerry Charlotte, Planner and Owner of Haute Weddings, gave us some insight on hiring the right photographer for your day. She said, "Photographers will explain if they prefer candid authentic moments, more editorial moments, if they focus on details, etc. Make sure the photographer that you choose really encompasses the same interests so you have the perfect wedding album!"
And, as Molly Gruenewald said, "If you're lacking trust in your relationship with your photographer, I would reconsider that particular photographer for your special day."
If the photographer search has been daunting, read these six steps that will steer you in the direction of finding your perfect match.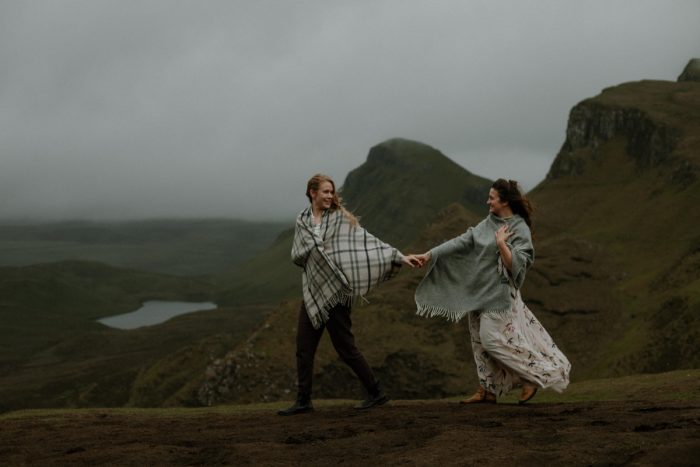 photo by The Caryls Photography
Professional Photographers Know the Wedding Photos You Want
When we asked Hannah McMaster about wedding photography shot lists, she said, "Would you go to a mechanic and tell them all the things to check in your car? No. You relax and know that you chose that mechanic for a specific reason."
We agree.
You've invested in an experienced, professional photographer for a reason. Trust them. Trust them to capture everything you've dreamed of and more. If you're worried about them capturing a special moment, you might consider having a conversation with them about hiring a second photographer rather than asking them to check off boxes from a checklist on your wedding day.
Here's some great advice from Kanoa Utler of Eyeconik Media: "Fast-Forward your life in your mind. You are now 10 years past your wedding, all the photos have been taken, and all videos have been captured. I want you to open up your wedding album or turn on your wedding film. What are the photos you dream of seeing in there? Most of the time, we get couples that can mention only about a handful of things. This is because the most important photographs and video moments are the moments that you can't anticipate."
Authentic, Candid Moments Win on Wedding Days
Weddings can be filled with many emotions—from celebrating while getting ready to tears rolling down your cheeks and you recite your vows. While it's no secret we love the beautiful details at weddings, these unexpected, authentic moments are as important as the decor and details of your day.
Hannah McMaster told us, "If you give your photographer a list, they will focus on that list and could miss the more precious, raw moments as they are unfolding."
We don't want that to happen to you.
If you need more convincing, Lauren McGee of LIT Photography NI said something similar: "If I have to put my attention into ticking off a list, I can't focus my attention on the real life events of a wedding. For example, if I'm too busy getting that shot of the bridesmaid gift bags that Pinterest tells you you should have, I'll miss the moment your grandmother walks in to see you on your wedding morning. That Pinterest wedding shot list didn't allow for that moment, because it's generic. Shot lists are generic, and there is no such thing as a generic wedding."
Be present on your wedding day, and let your photographer capture those moments that will bring back memories for years to come.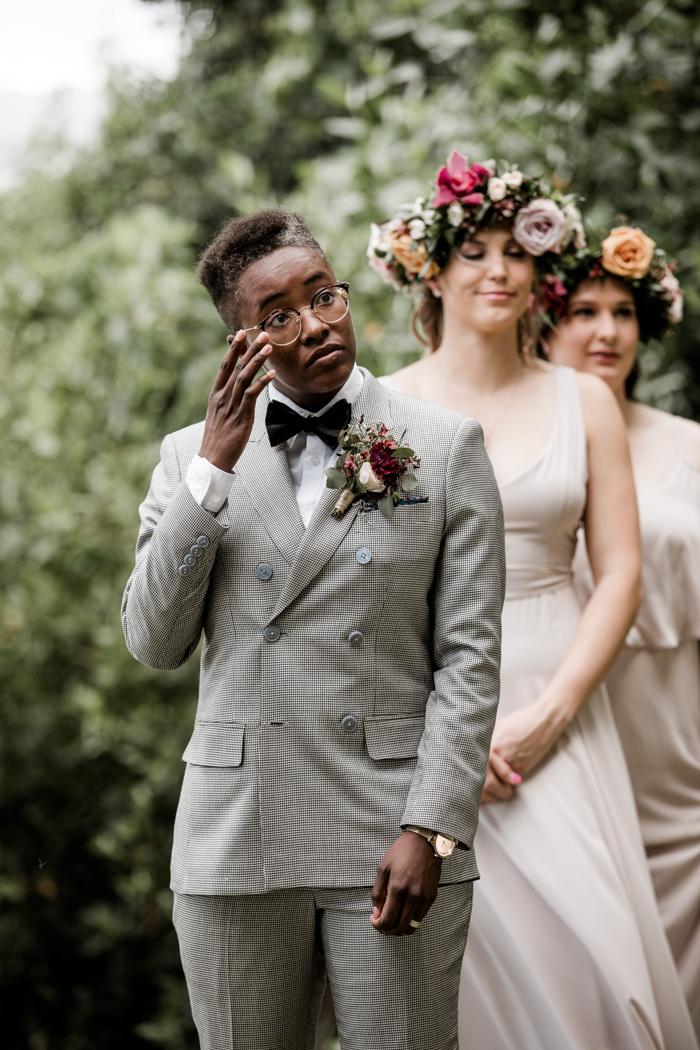 photo by Lilly Red Photography
Capture Images that are Uniquely You
Your wedding day goes by fast. It's true. Forcing a photo you saw on Pinterest keeps you from living in the moment of the already fast day. Couples shouldn't want to replicate someone else's wedding shots.
Instead, trust the photographer to capture moments that are uniquely your own. Your love—your personalities, impeccable style, and sweet little quirks—make your wedding day special. That's what should be captured.
Jenn Maurer of Wild Coast Photography said it best, "Basically, shot lists are expectations created prior to the event that simply can't live up to the reality of being present and in the moment. They take away the creativity and spontaneity of capturing your day as it happens. Naturally, the moments you want captured with the people who are present will be a part of the gallery, but trust your photographer to do their best to use their creative judgement in capturing those moments."
We also love this advice Kanoa Utler shared with us: "You can "fake" a candid moment, but if you want real authentic moments, you have to allow your photographer the ability to be present and capture what's happening on your day—instead of running around and focusing only on a strict and rigid wedding shot list.
Family Photographs Are an Exception
There are a few exceptions to photography shot lists. Many photographers will ask their clients to make a list of family members they want photographed with them. They'll also ask questions about family issues that might require extra sensitivity (i.e. separated parents or family members who have passed).
Kerry Charlotte told us what she recommends to her clients. She said, "Rather than a shot list, we do encourage couples to provide a list of important family members to capture. We often have couples tell us how much they cherish photos of the grandparents playing with their grandkids or of a baby in fancy dress for the first time. Little things like this are important to note with your photographer. We also ask couples to share if any of the details are really important to capture. Is your ring an antique? Was your something blue passed down? Things like this deserve more focus."
Photographer Jenn Maurer also explained, "This is a chance to disclose certain family tensions—like, if you want a photo with your divorced parents who don't get along, I'll use my discretion and not ask them to stand beside each other. A family portrait shot list is helpful in advance because on the day of your wedding you shouldn't be checking off a list whether you got a photo with every family combination. Instead, I can go down the list and make the portrait session go quickly."
Discuss Important Family Members With Your Photographer
Katy Caryl of The Caryls Photography told us this: "Do discuss your day with your photographer in detail. Talk to your photographer about things that are important to you and your partner—both in life in general and about your day in detail. Also talk to them about any guests who you would particularly value some beautiful, natural unposed images of—perhaps an elderly grandparent that you are very close to, for example. Your photographer will then be able to keep these as they go about capturing your day."

photo by Afrik Armando
After your wedding day the flowers will fade, food will be in satisfied bellies, and your venue will house more ceremonies—the expertly captured photos are what you will cherish forever. The images you'll hold dear are the ones that bring back the butterflies before your first look, the tears shed walking down the aisle, and every moment after saying "I do." Give yourself space to feel every moment without scrambling for "must-have" wedding photos.
Your photographer is a professional. Their ability to document the most important day of your life is the reason you chose to work with them. You can thank them by making sure your guests' faces aren't buried in their phones. An unplugged ceremony will create a euphoric atmosphere, and when you receive your images back, you'll be glad you did.
Take a deep breath, relax, and enjoy your wedding the way it was meant to be—without wedding shot lists.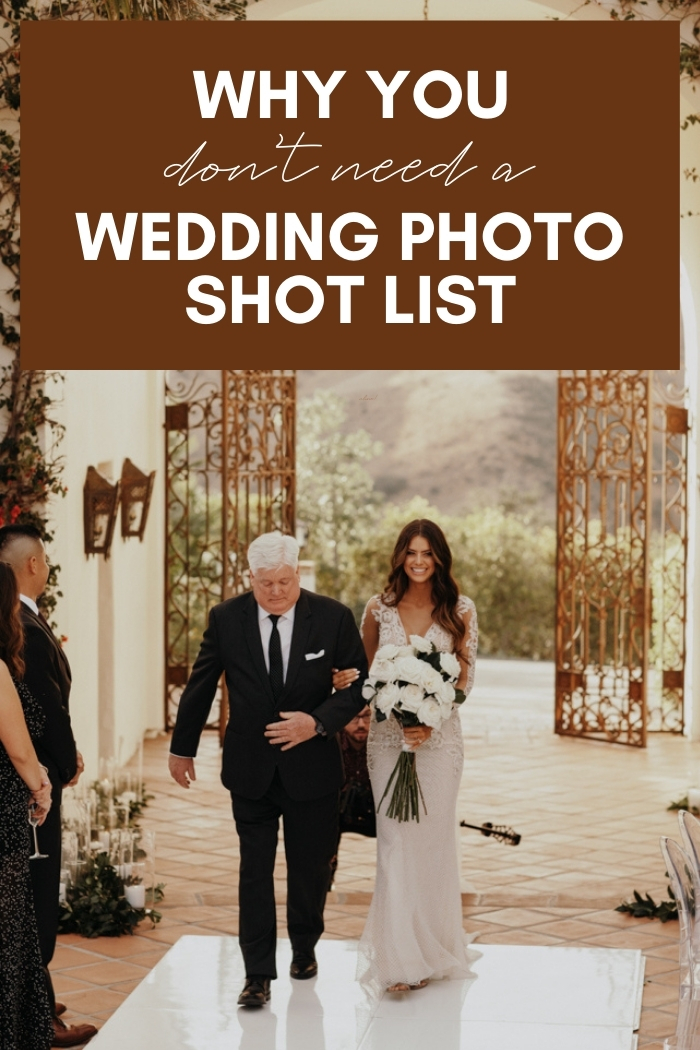 photo by Jordan Voth