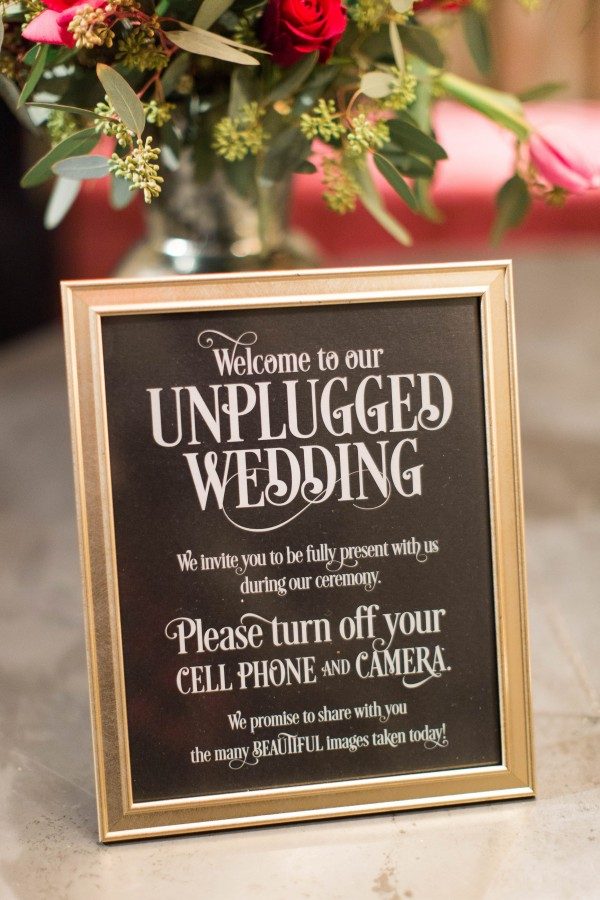 photo by Lauren Fair Photography; sign by Marrygrams
It's no secret that we love keeping up with wedding trends in décor and fashion, but one of our very favorite trends of late is the unplugged ceremony. As weddings take a turn to more personal celebrations of love and community, it only makes sense that the focus would shift to a more present attitude throughout the day. While we've seen plenty of unplugged ceremonies here on the blog, we know that some of you may be hesitant to hang a sign asking guests to keep their phones hidden and their attention on you. However, we're here to tell you that an unplugged ceremony is for everyone — we promise!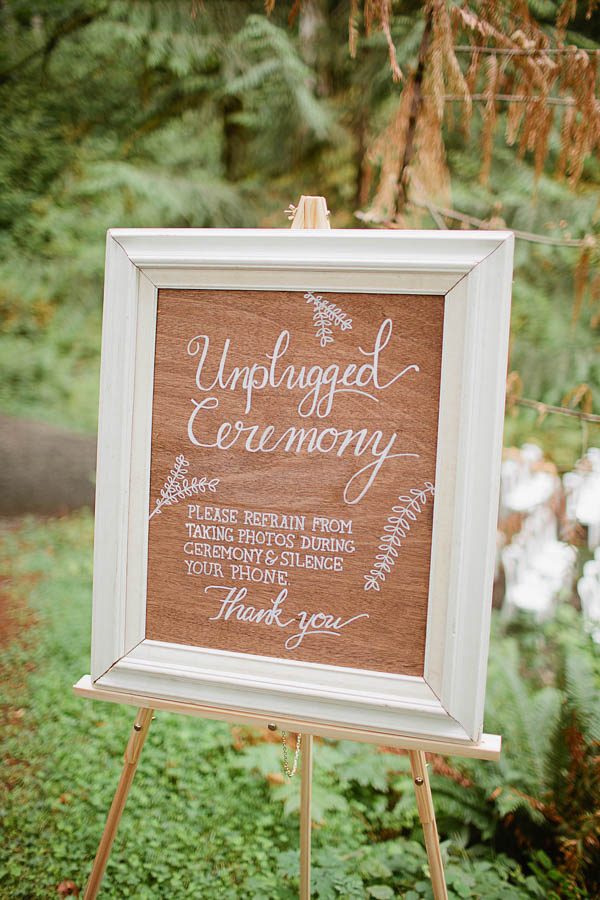 photo by Nakalan McKay
Set a Precedent of Being Present
As we mentioned, the main reason you want an unplugged ceremony is to keep the attention on the matter at hand: your ceremony! There's nothing quite like looking out at all of your loved ones while speaking your vows and seeing each and every face smiling (or, likely, crying!) back at you. Imagine that you've just expressed your undying love for your soulmate, and you look into the audience to see rows of lifted cell phones or heads down, adding hashtags to Instagram photos of your most special moment. You may expect that everyone knows better, but who wants to risk Uncle Joe's camera flash going off or your grandma's boyfriend standing in the aisle trying to get a photo of your first kiss. A sign demonstrating that this is an unplugged ceremony sets a precedent from the moment your guests sit down, reminding everyone to be present and respectful.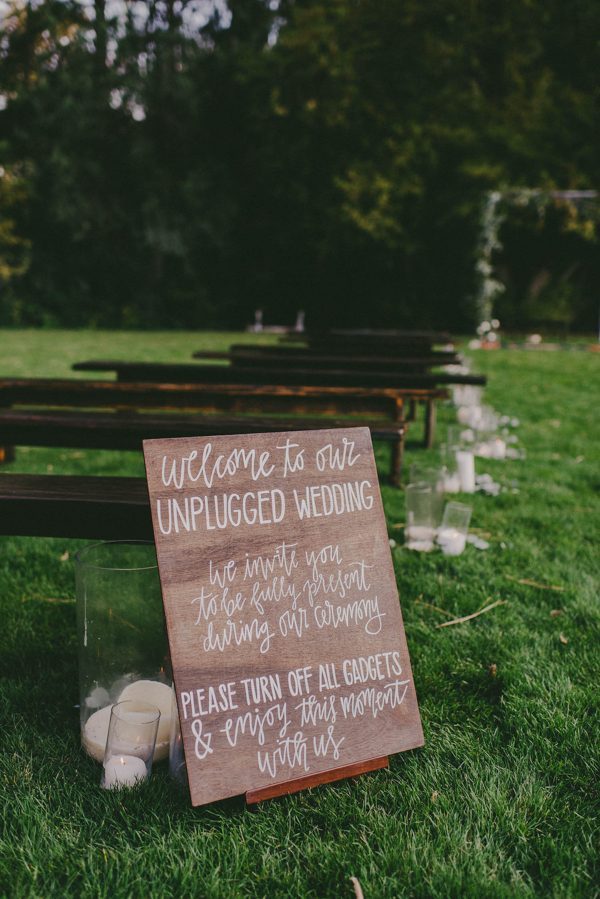 photo by This Rad Love
Leave It to the Professionals
When your photographer delivers your wedding album, the last thing you want to see is a slew of ceremony photos with smart phones and iPads sticking out of the crowd — or, heaven forbid, the aisle! In our industry, we've seen everything from an iPad to entire relatives standing in the aisle obstructing the couple's first kiss. While Aunt Sally may want to capture that moment, you have hired someone to take care of that so that you, Aunt Sally, and everyone else can remember it forever, without interruption. When guests take documenting your day into their own hands, it keeps the professionals from being able to do their job. An unplugged ceremony is the quickest way to your photographer and videographer's heart!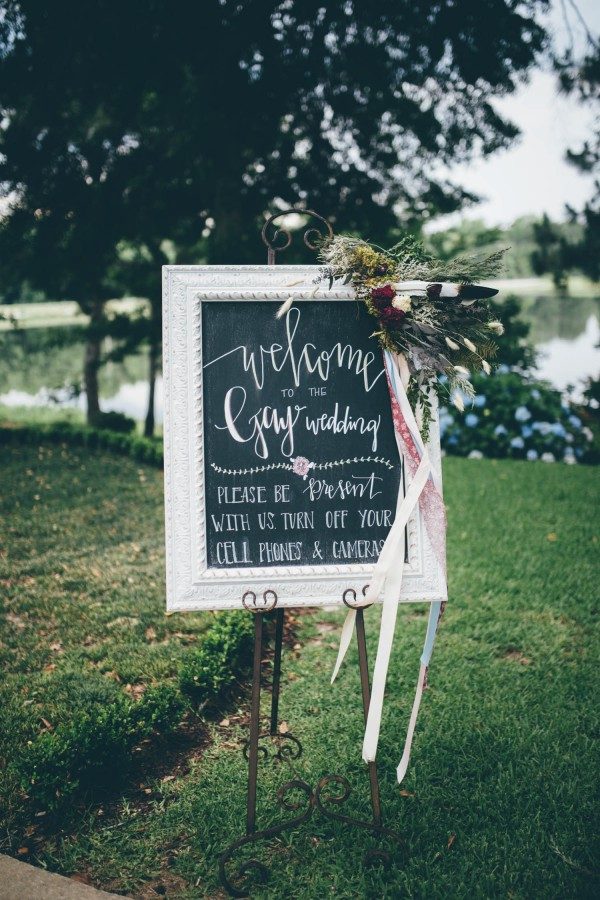 photo by Amber Phinisee
What Happens at Your Ceremony Stays at Your Ceremony
Okay, so obviously images, and perhaps even video, will eventually be posted from your wedding ceremony thanks to the talented professionals you hired. However, that doesn't mean that you want your personal vows plastered on Facebook because your college roommate's date didn't think before filming and posting them. On one hand, having your guests be present at your ceremony means that they get to enjoy the moment with you. On the other, it ensures that your most intimate confessions of love aren't available to just anyone on the Internet.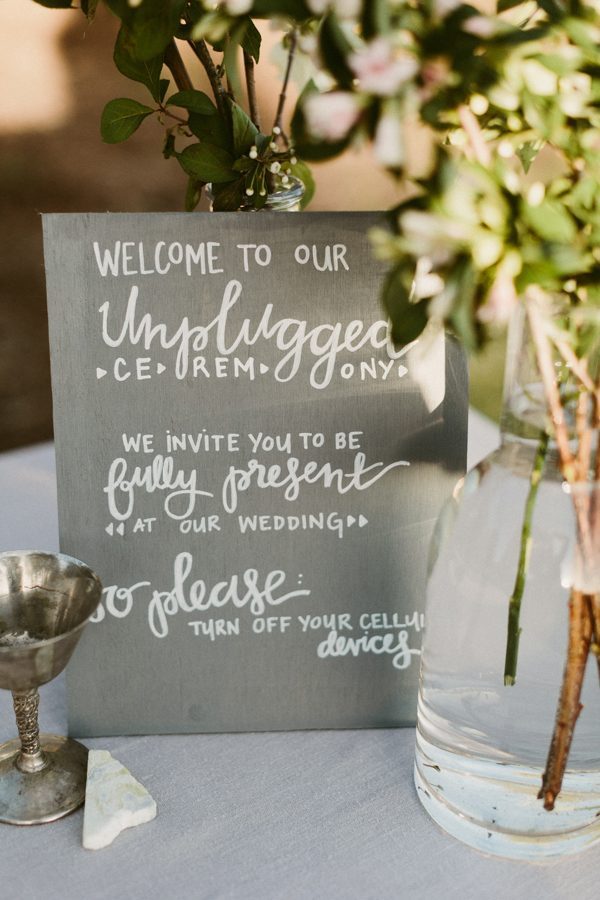 photo by Katch Silva
A lot of thought and love goes into creating your ceremony, and you want everyone invited to your wedding to share in those exceptionally special moments. Announcing your unplugged ceremony using a hand-lettered sign or in your program gets everyone on the same page. When it comes to an unplugged ceremony, remember the three P's: Present, Private, and Professional!