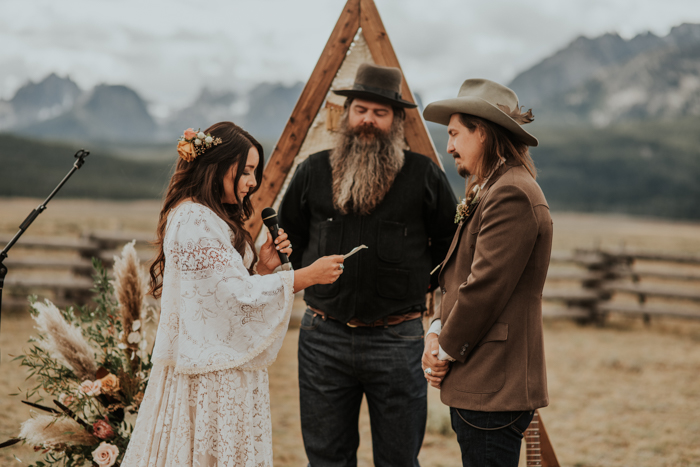 photo by Maggie Grace Photography
When it comes you choosing the readings for your ceremony, you might be feeling a bit lost—especially if you're a couple who likes to rock to the beat of your own drums and go the non-traditional route. Have no fear! We're here to help, babes. When thinking about your ceremony readings, it's important to choose something that represents the two of you. So, if cool and casual is your thing, a simple ceremony reading might be the best fit for your day.
Here are Junebug's favorite simple ceremony readings for your wedding:
Atticus Poetry

I just need you and some sunsets.

A Moveable Feast by Ernest Hemingway

We ate well and cheaply
and drank well and cheaply
and slept well and warm together
and loved each other.


photo by Anni Graham

Butterflies Rising

you said,
tell me where you've been, love

and i thought of all the lost roads,
and dark corners,
and heavy work, and heartbreak,
and of all the healing

and i just said…
on my way here

Heart Talk by Cleo Wade

And if you want love…the really good kind…you are going to have to get your hands dirty.

Apricot Memoirs by Tessa Guinery

Life should be lived with a spirit of
adventure, loads of good conversation
and a heart ready to celebrate others.
Love your lover. Make love under the
stars. Let your heart feel risk. Keep it
wild. Let spontaneity lead, keep things
fresh, and say "I love you" a million
times a day. Share a meal and some
rouge with your tribe. Don't be tight-
fisten with what's in your hands—be
generous! Generous with your words,
your creativity, and your love. Live
large, and heed to your convictions.
Don't let me sun set upon anger,
and be bold even when you feel like
retreating to your safe, little cave.
Most importantly, have faith and,
love God with all your heart, mind,
and soul.


photo by Henry Tieu Photography

"the one" by Rupi Kaur

they should feel like home
a place that grounds your life
where you go to take the day off

The Nightmare Before Christmas

"My dearest friend, If you don't mind, I'd like to join you by your side. Where we could gaze into the stars, and sit together, now and forever. For it is plain as anyone could see, we're simply meant to be."


photo by Katelyn Ortego

Van Gogh

I feel
that
there is
nothing
more truly
artistic
than to
love people

Jane Austin "Sense & Sensibility"

My heart is, and always will be, yours.

Sex and the City

"His hello was the end of her endings. Her laugh was their first step down the aisle. His hand would be hers to hold forever. His forever was as simple as her smile. He said she was what was missing. She said instantly she knew. She was a question to be answered. And his answer was 'I do.'"


photo by Maggie Grace Photography

Wild Awake by Hilary T. Smith

"Love lets you find those hidden places in another person, even the ones they didn't know were there, even the ones they wouldn't have thought to call beautiful themselves."

"There Will Be Time" by Mumford and Sons, featuring Baaba Maal

But in the cold light I live to love and adore you
It's all that I am, it's all that I have
In the cold light I live, I only live for you
It's all that I am, it's all that I have


photo by Cedar & Pines

Winnie the Pooh by A. A. Milne

If ever there is tomorrow when we're not together… there is something you must always remember. You are braver than you believe, stronger than you seem, and smarter than you think. But the most important thing is, even if we're apart… I'll always be with you.

Mother Teresa

Spread love
wherever you go.
Let no one
ever come to you
without leaving
happier.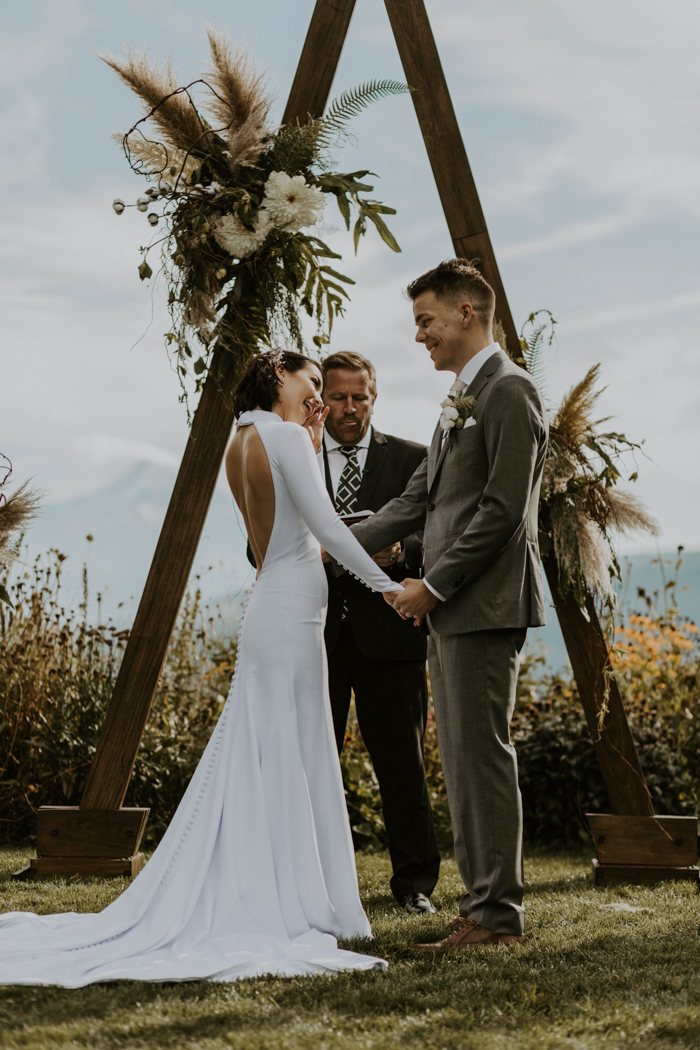 photo by Kayla Esparza Photograph
We hope these simple ceremony readings have you inspired, feeling a little mushy, and ready for your turn to say them at the alter!
RECOMMENDED READING: 13 Unexpected Wedding Ceremony Readings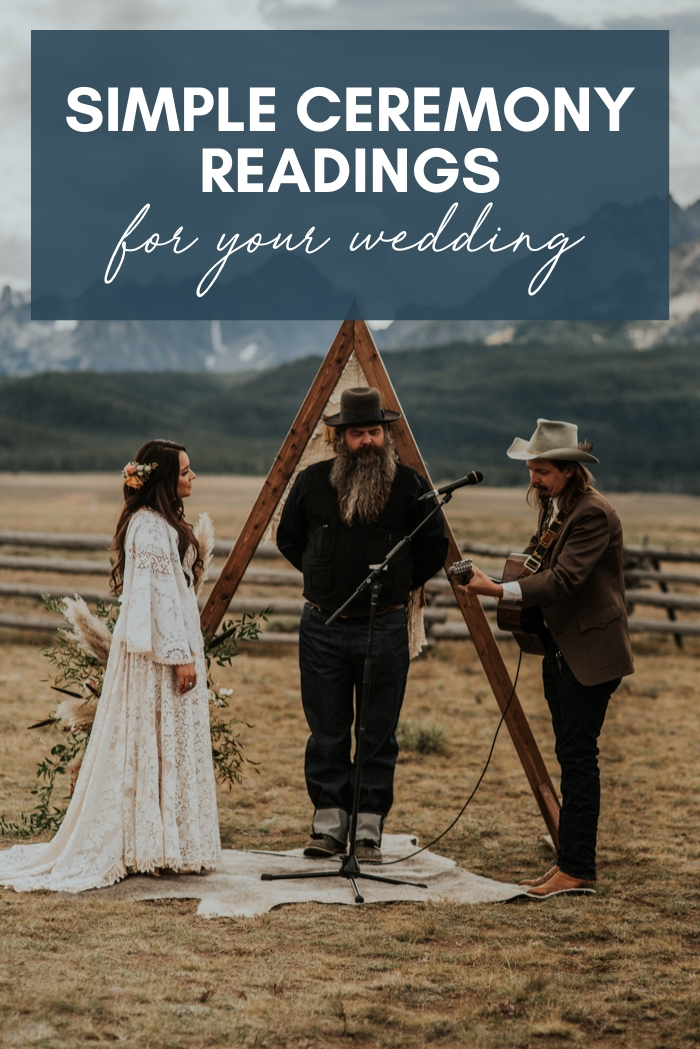 photo by Maggie Grace Photography