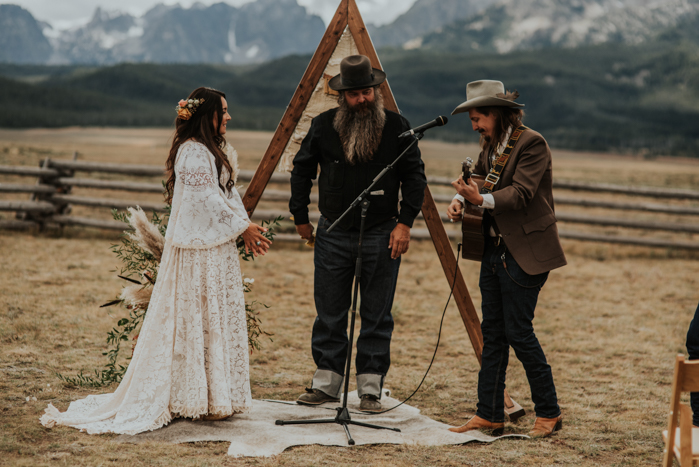 Jen and Tylor's sentimental Idaho wedding was low key, beautiful, and vintage — a.k.a a dream come true for those who love bohemian and rustic vibes! When it came to their wedding day attire, it was only natural that the pair and their crew be outfitted in western flair from their personal store, The Western Wanderer, as well as rockin' bolo ties from Hells Canyon Bolo and handmade Kay Seurat gems for the 'maids. We're loving their rust-colored signage, especially the "unplugged" ceremony sign. Pro tip: Unplugged is the way-to-go for a ceremony experience that will truly be felt and remembered by everyone in attendance. Need proof? Just look at the emotional photos Maggie Grace Photography captured! If you've been searching for low-key, mountainous wedding inspo, this day planned by Emily Aitken Events is for you!
The Couple:
Jen + Tylor
The Wedding:
Sawtooth Valley Meditation Chapel, Stanley, Idaho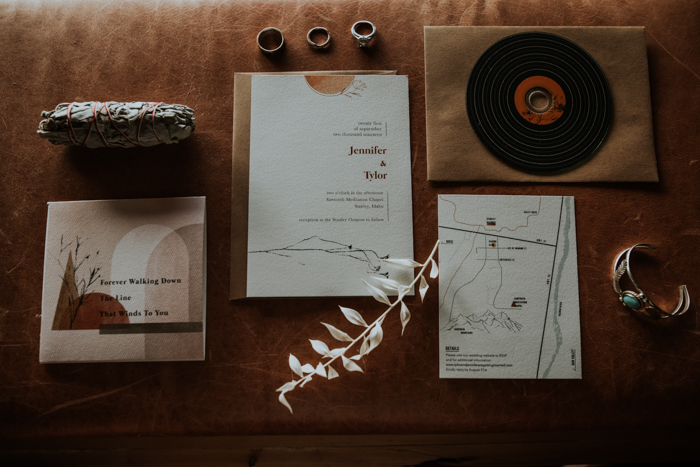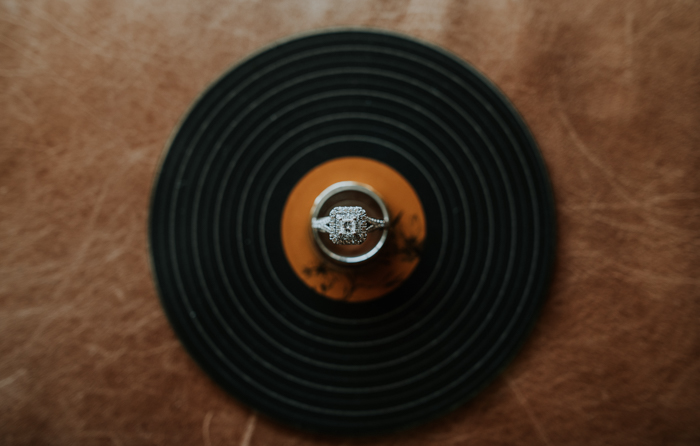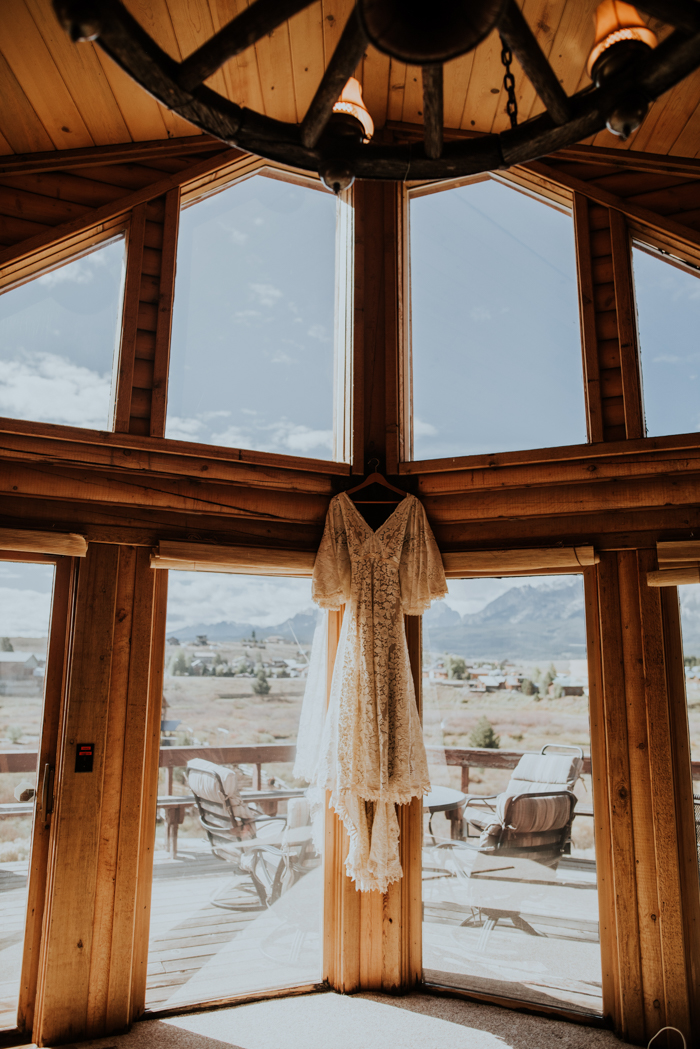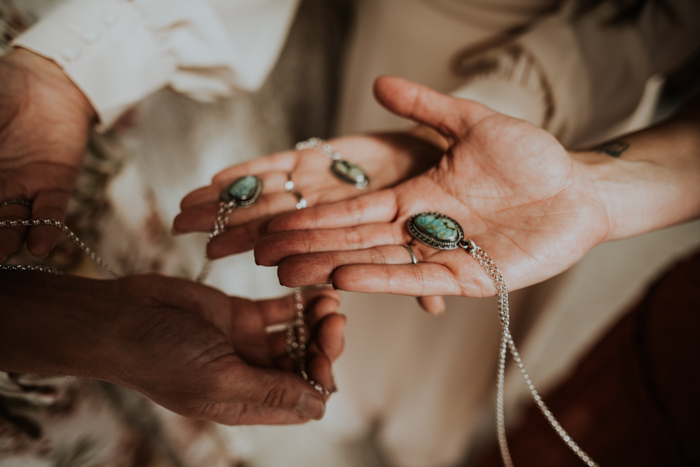 SHOP THIS LOOK: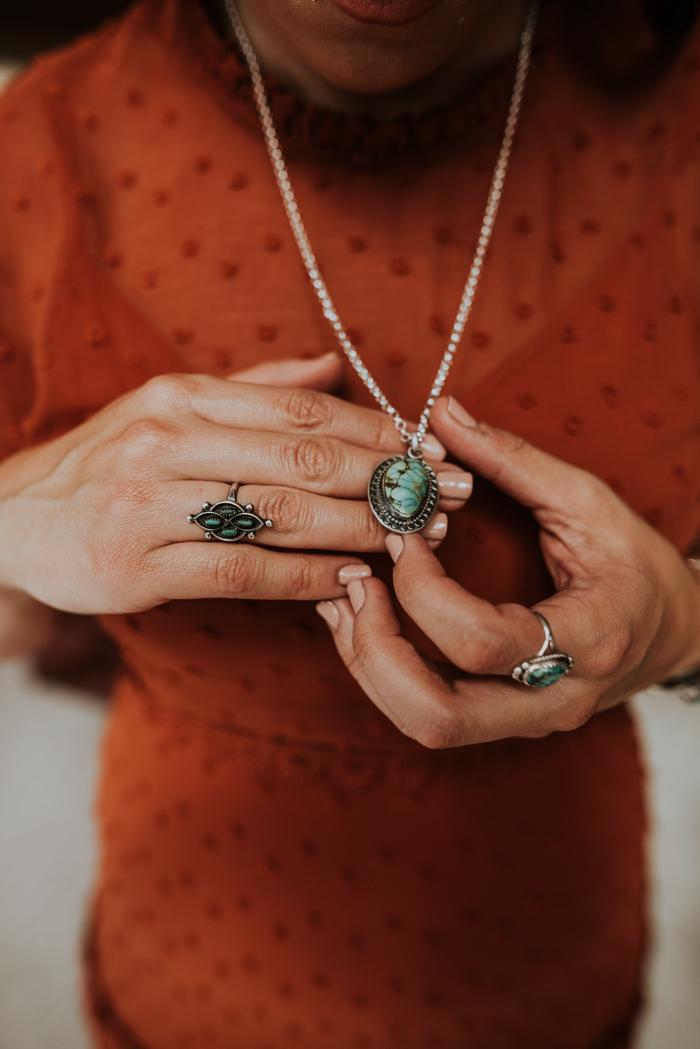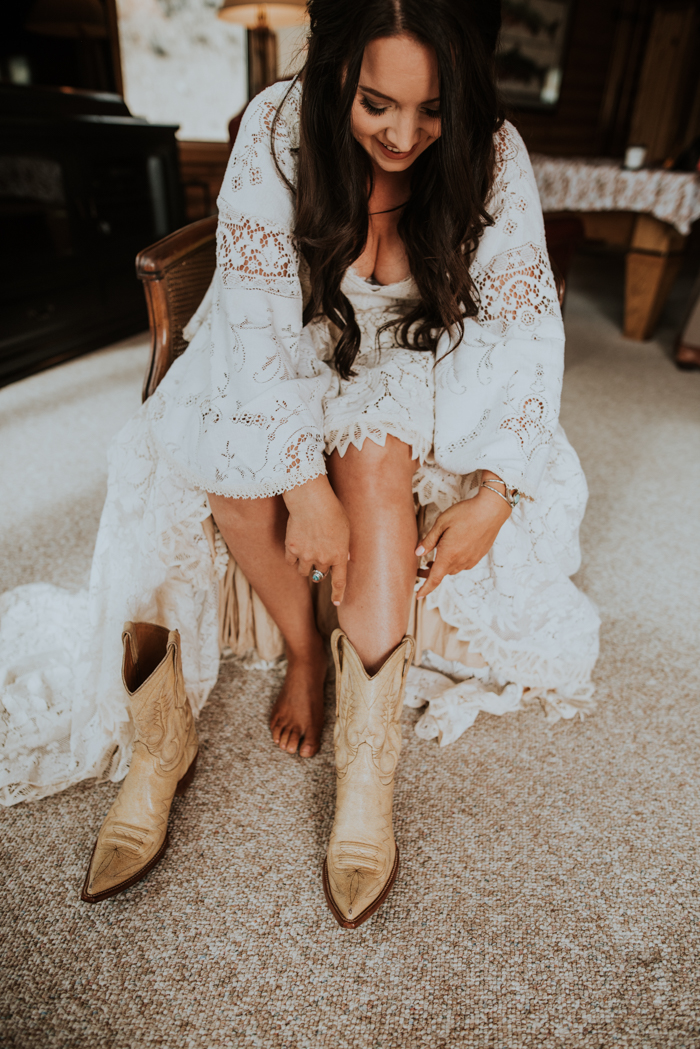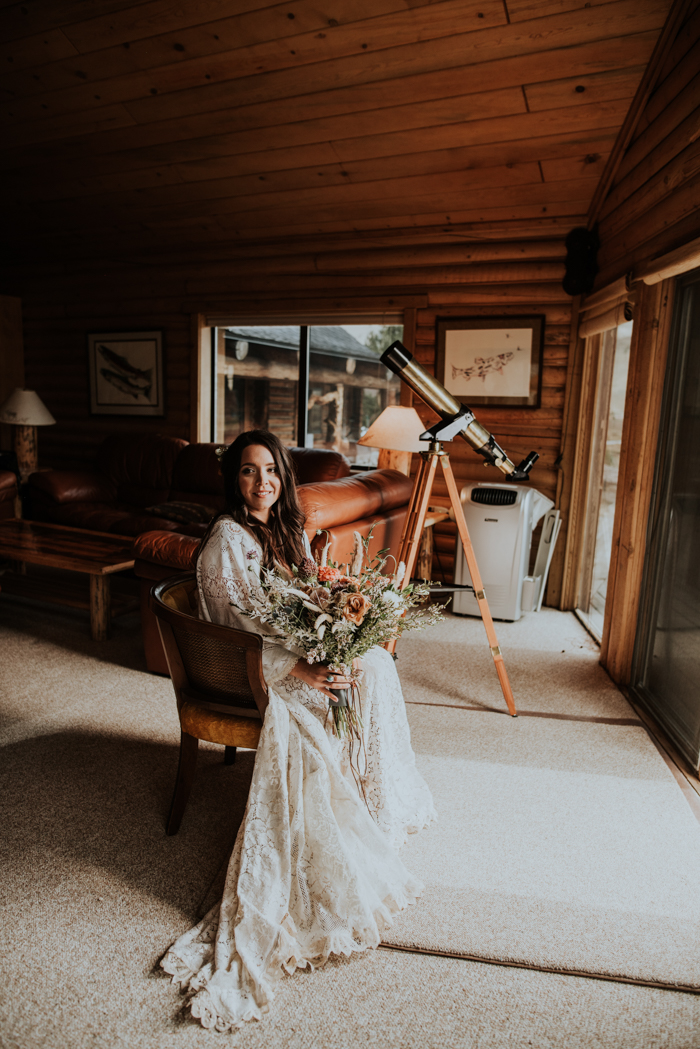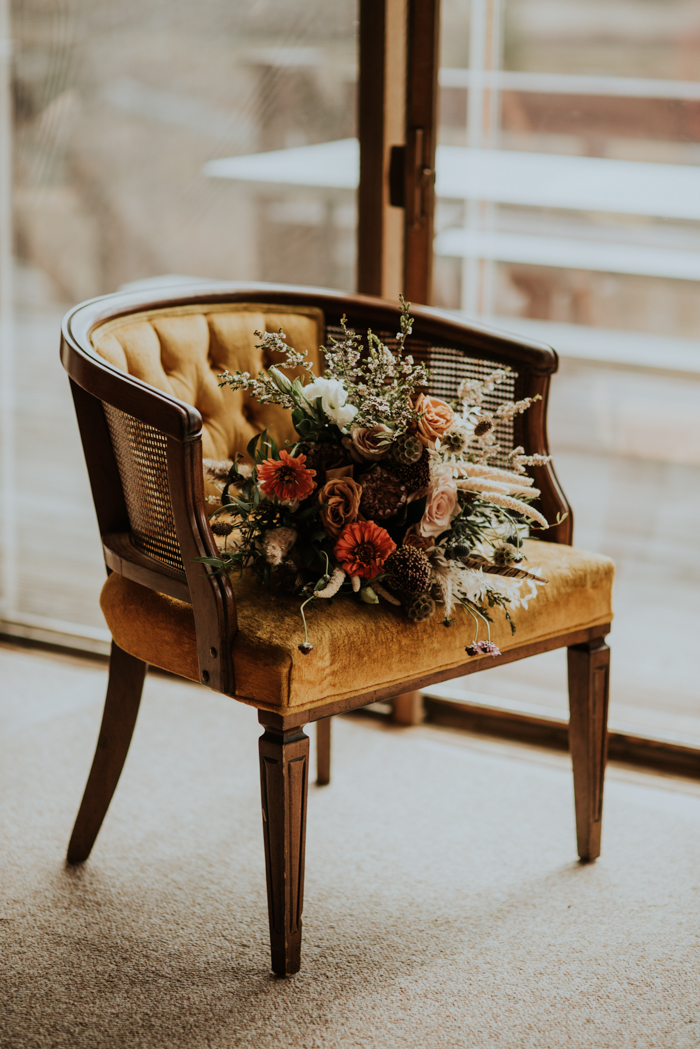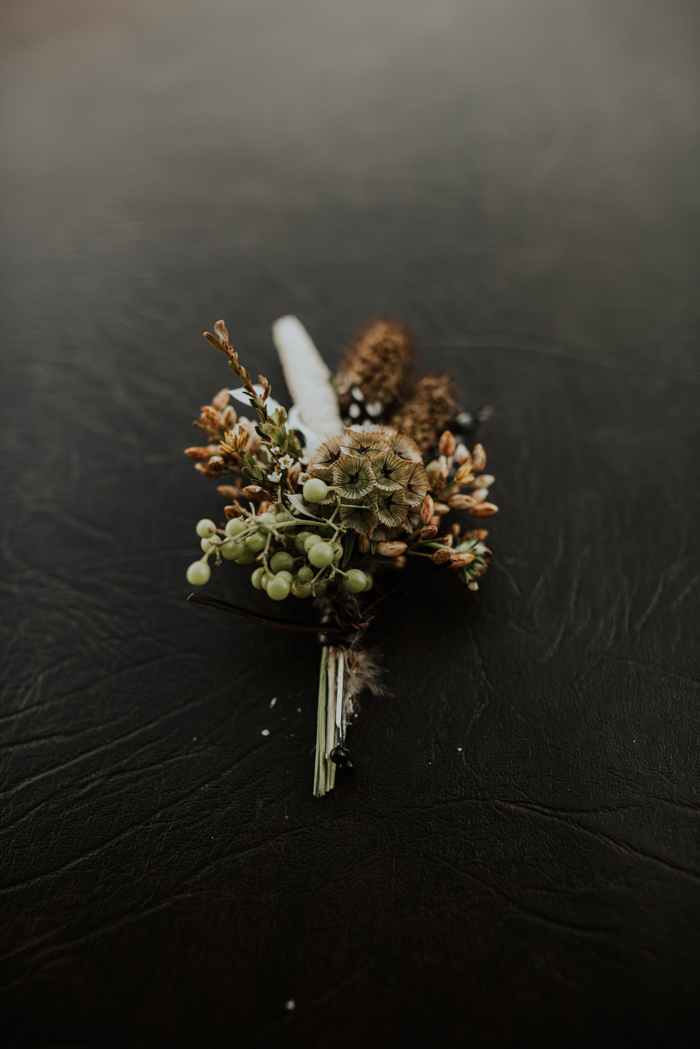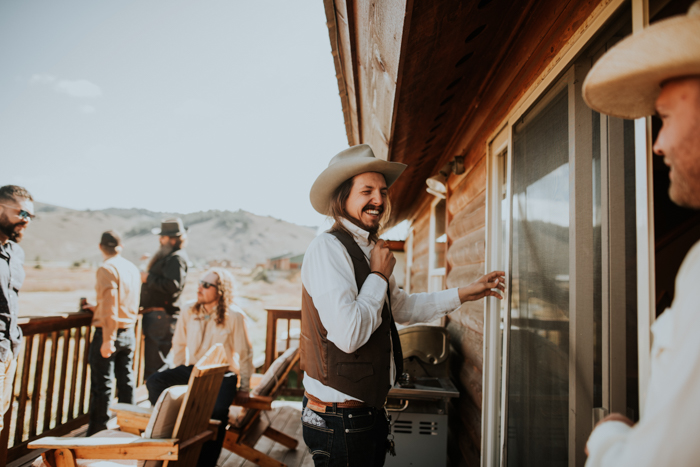 Our wedding day fashion was fueled by our passion for vintage and western style, which is truly our style in our everyday lives too. Because we run The Western Wanderer, our vintage western wear shop, we had a pretty clear idea of what we wanted everyone to be wearing. Our groomsmen wore vintage embroidered pearl snap shirts which we were able to source from our own collection. Tylor wore a vintage 1970's vest and jacket set that he found in a thrift store while he was out on tour – it fit so perfectly that he didn't even have to get it tailored! All the guys wore custom made bolo ties from Hells Canyon Bolo. They cut the most beautiful picture jasper stone that was absolutely perfect with the attire. The bolos were also Tylor's gift to his groomsmen and they were a big hit.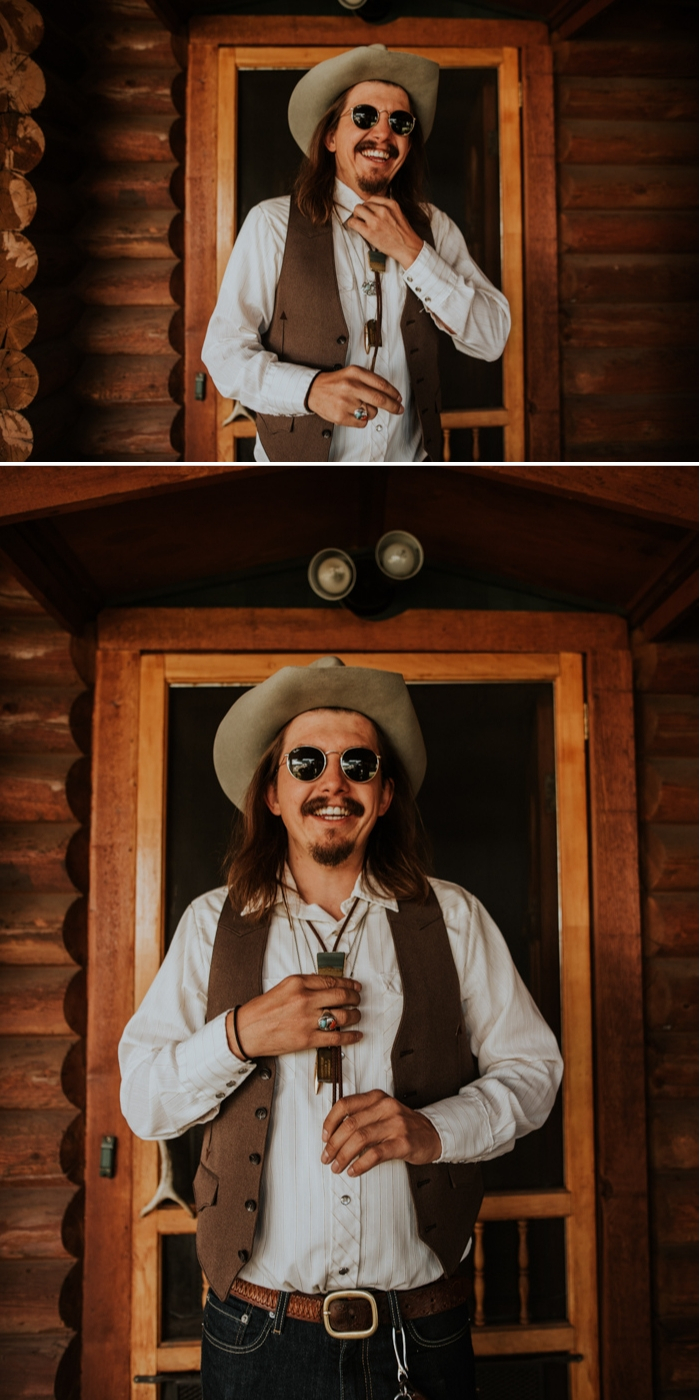 SHOP THIS LOOK: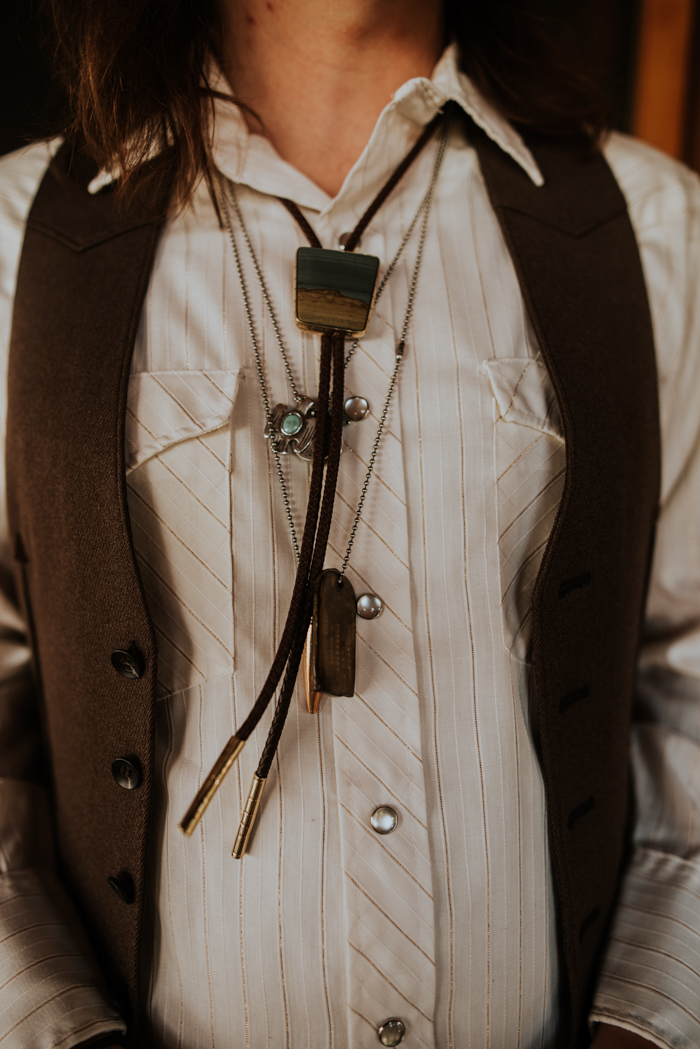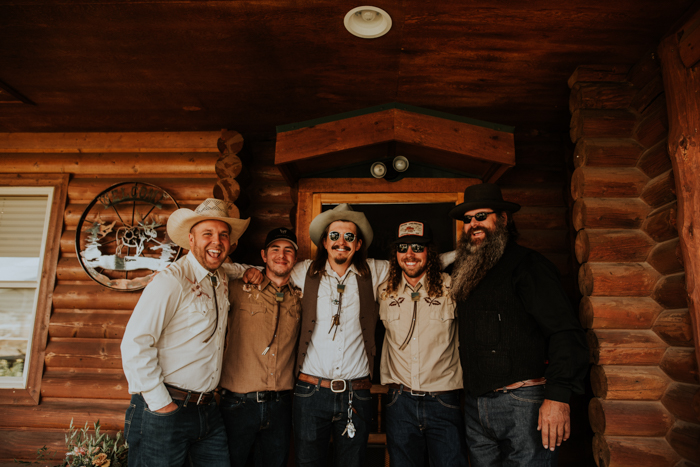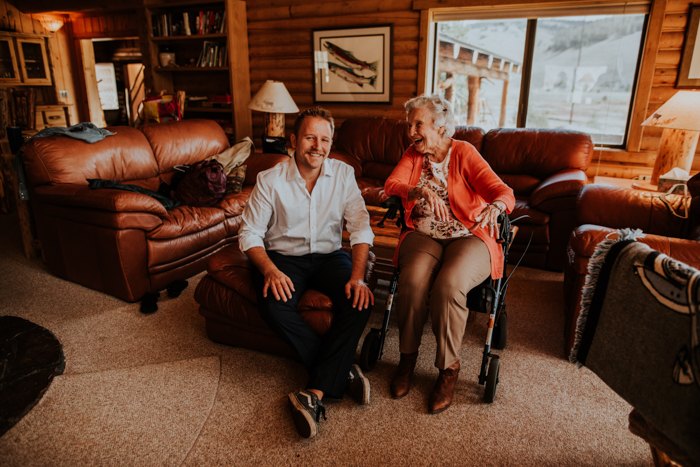 When we got engaged we didn't have any real agenda for our wedding except one thing – we knew we wanted a Stanley, Idaho wedding. It's a place that is very special to us, both as a couple and individually. Some of the most important moments in our relationship have taken place there and we knew that was the place we wanted to take our vows. We also decided together that we didn't want the wedding to be stressful. We didn't want planning it to consume our lives since we're both busy self employed people.
Although there are some great "venues" in the area, for us there was just something special about the Sawtooth Valley Meditation Chapel. It's right in the middle of town, but its perched on top of a hill at the base of the Sawtooth mountains. The view is unparalleled! Early on in our relationship we spent a lot of long afternoons sitting outside the chapel on the benches talking about life and our future and the magic of the Sawtooth Mountains, so it felt like the right place to take the leap into this next phase of our lives together.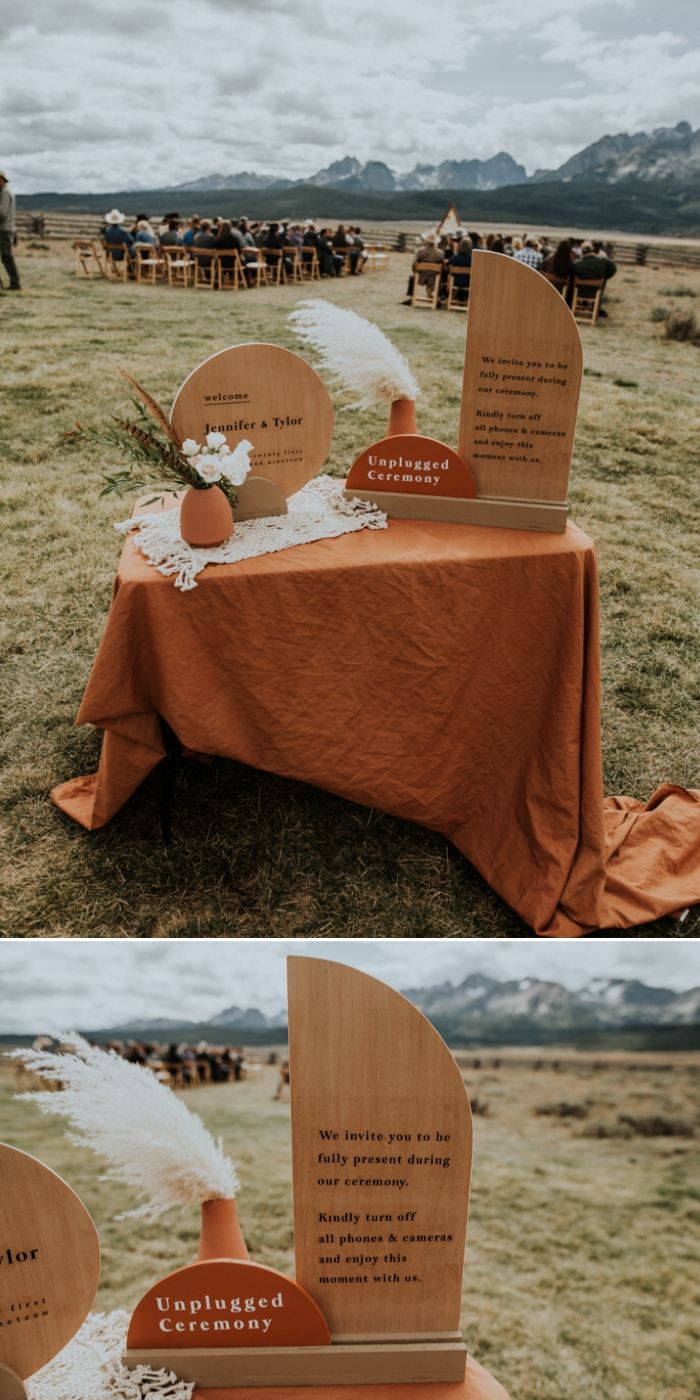 Pretty early in the planning process we decided that the most important thing was to make sure that the wedding felt like "us". We wanted it to be relaxed and low key, beautiful and easy for everyone who attended. We wanted everyone to be present and unplugged so they could truly experience our day with us.
We are big fans of all things vintage and we own a little vintage western clothing shop called The Western Wanderer so we wanted to bring that vibe into our day as well.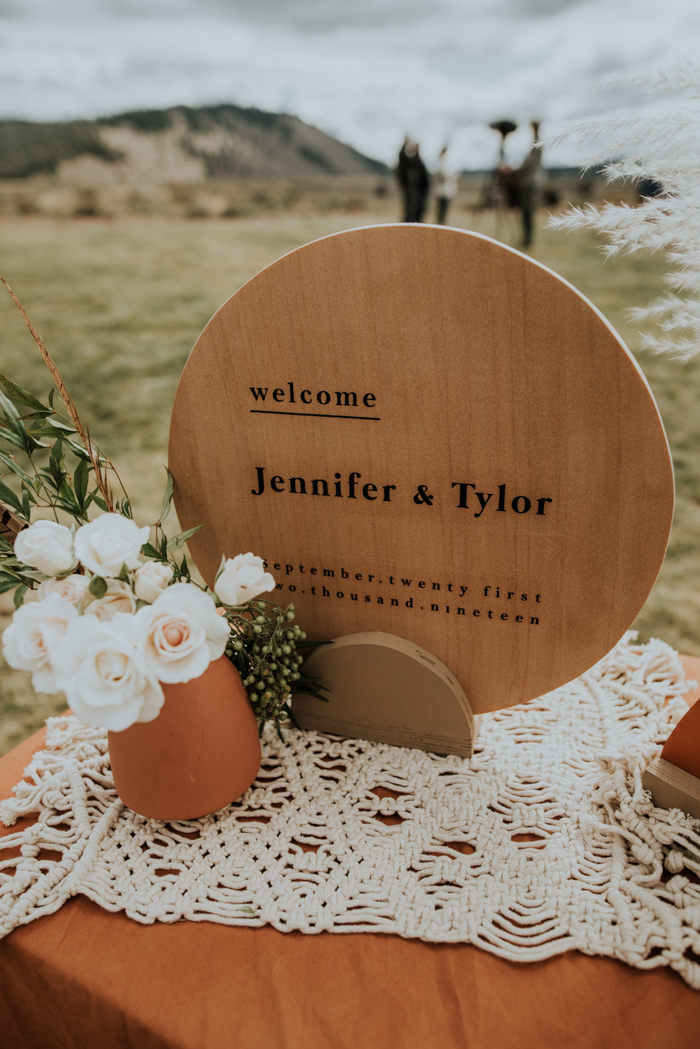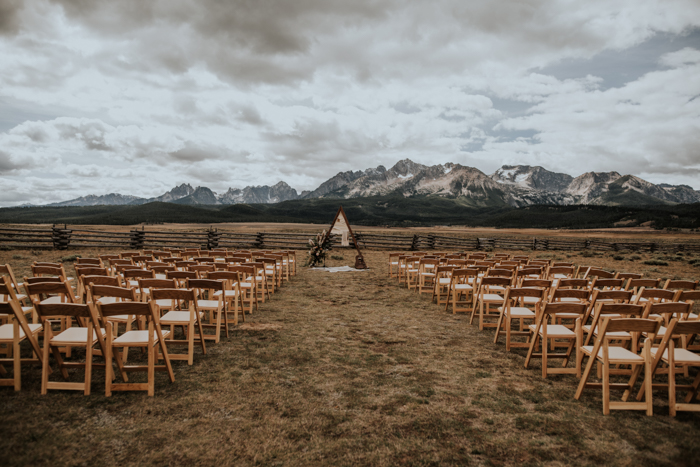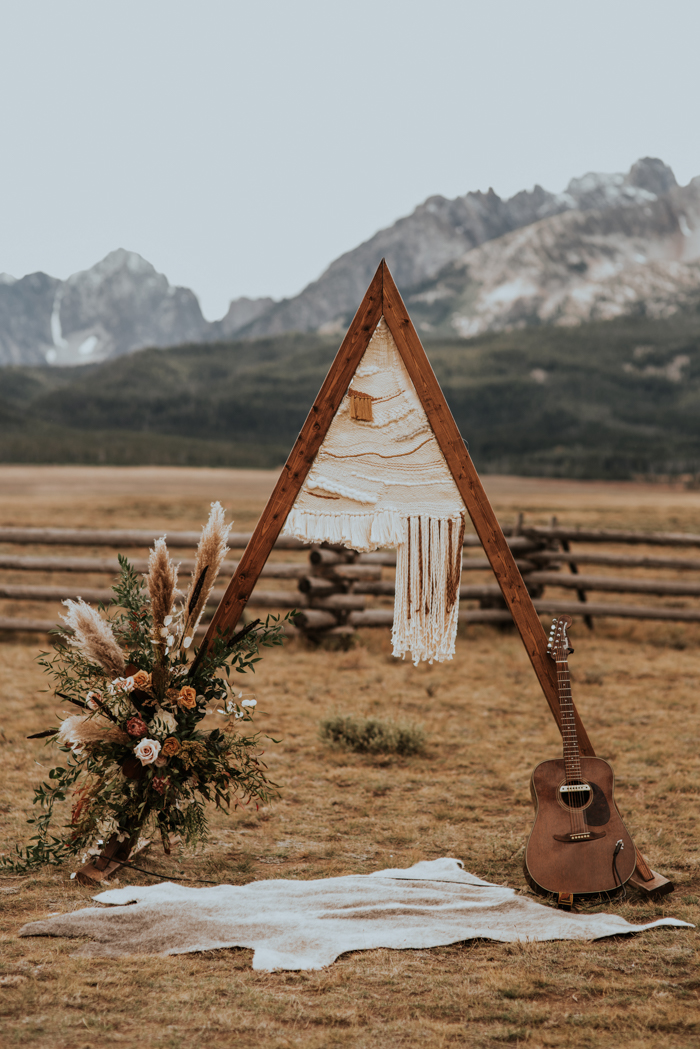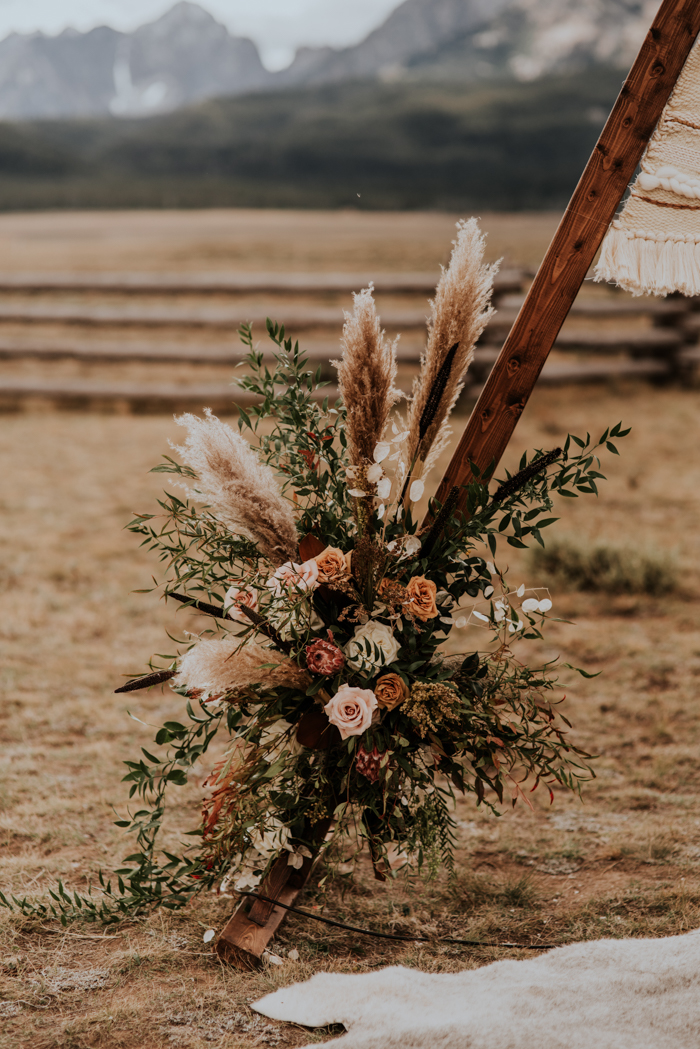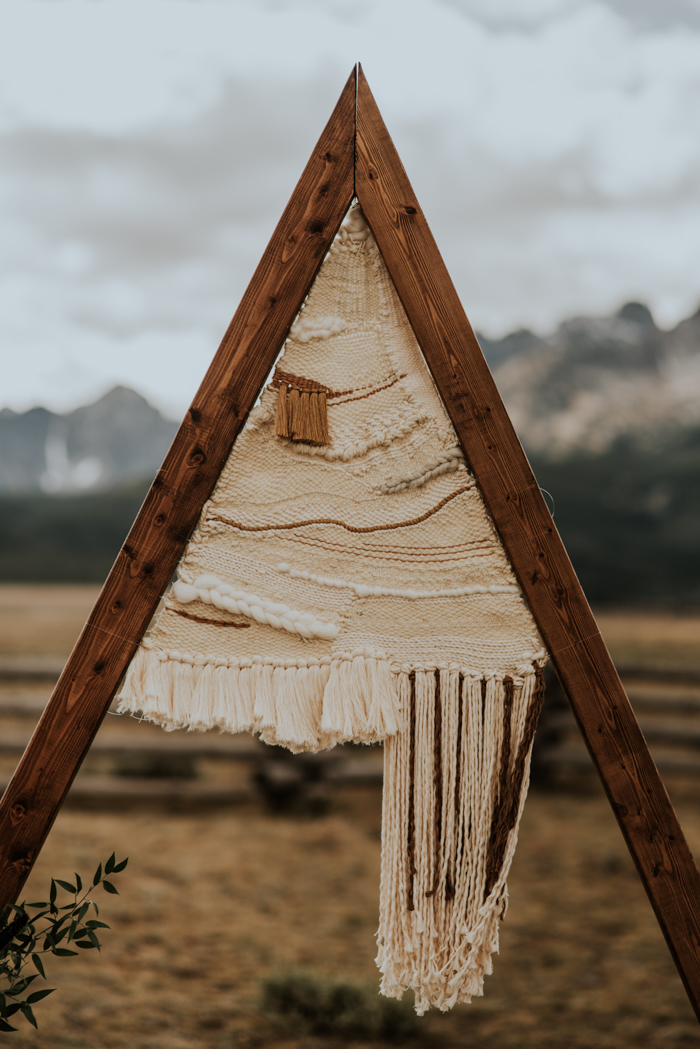 Wedding planning advice from the couple: Hire a wedding a planner and a good photographer!! Our wedding planner, Emily Aitken and our photographer, Maggie Grace were a Godsend!! They handled everything start to finish for us and took all of our ideas and turned them into the most perfect version of what we had in mind. We didn't follow all the wedding "rules" and they never skipped a beat.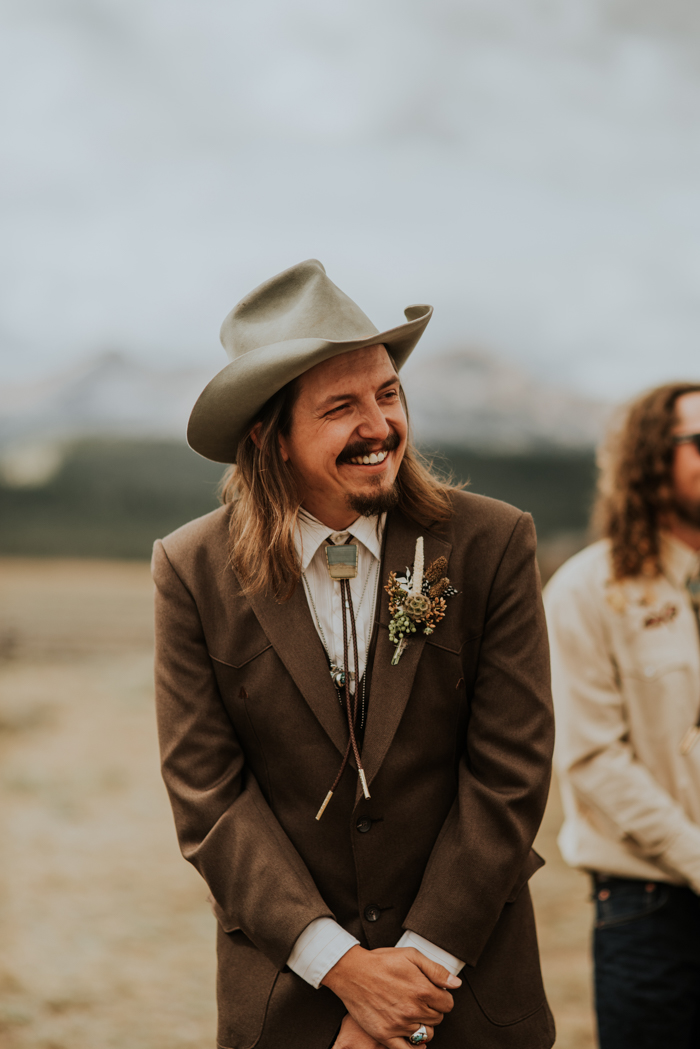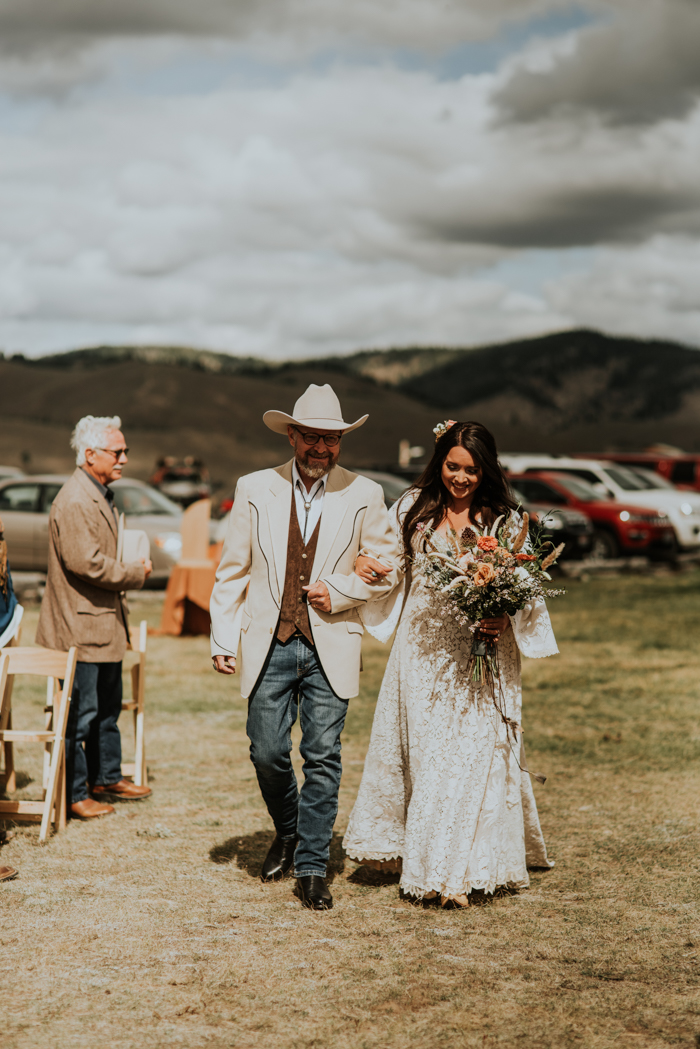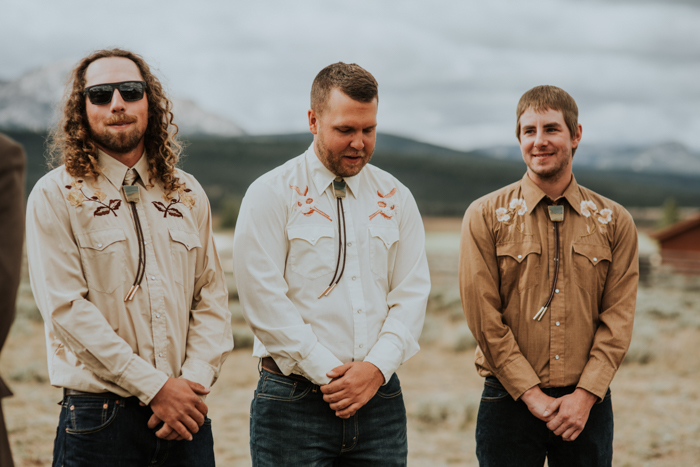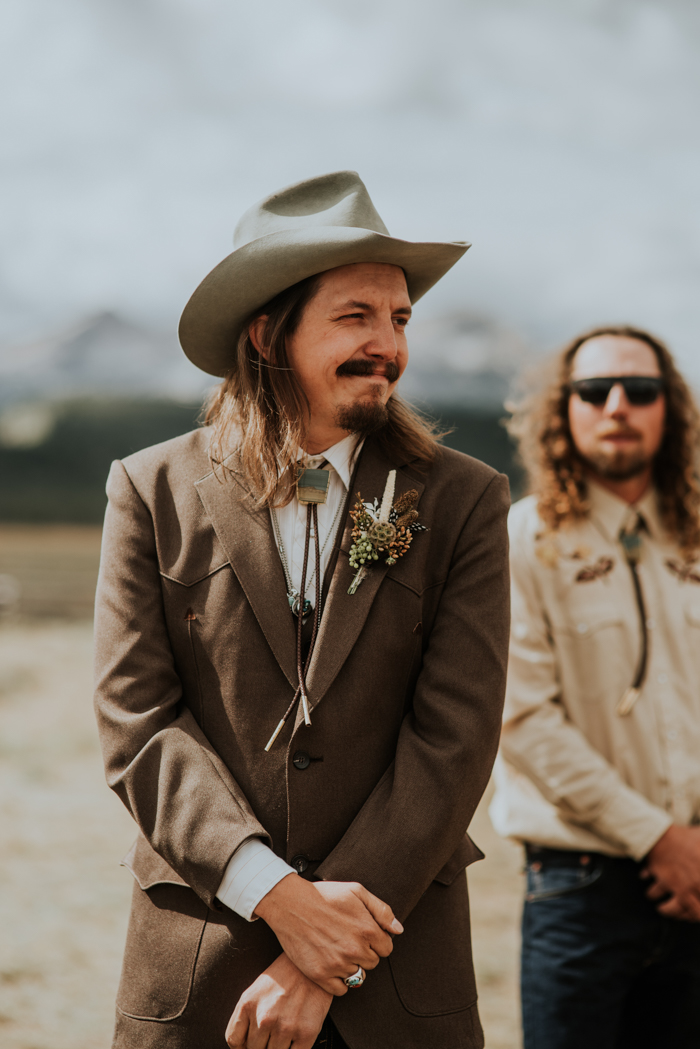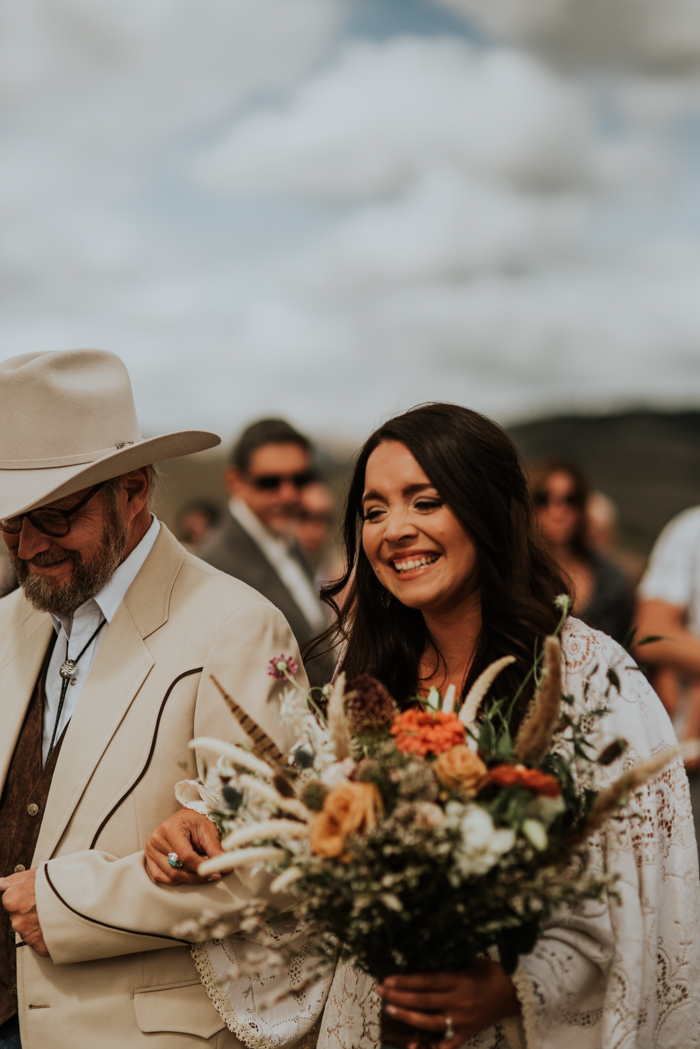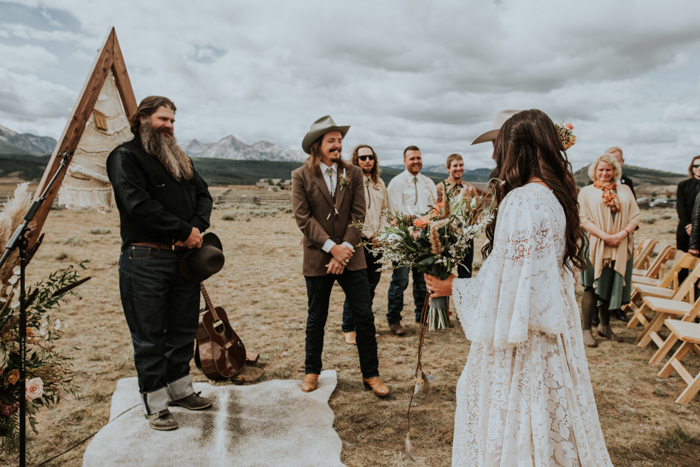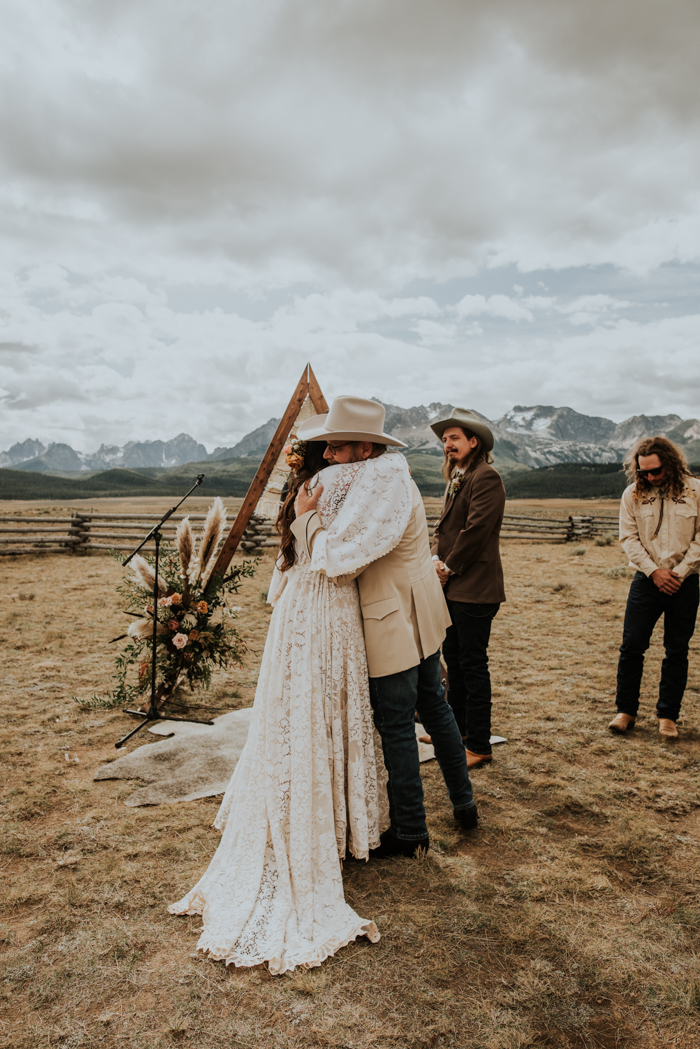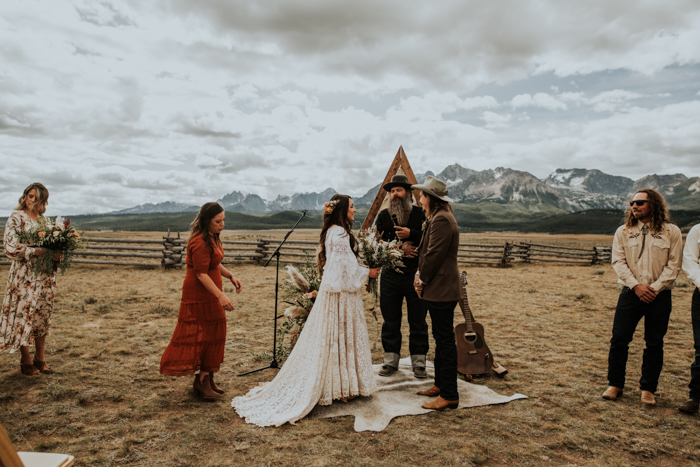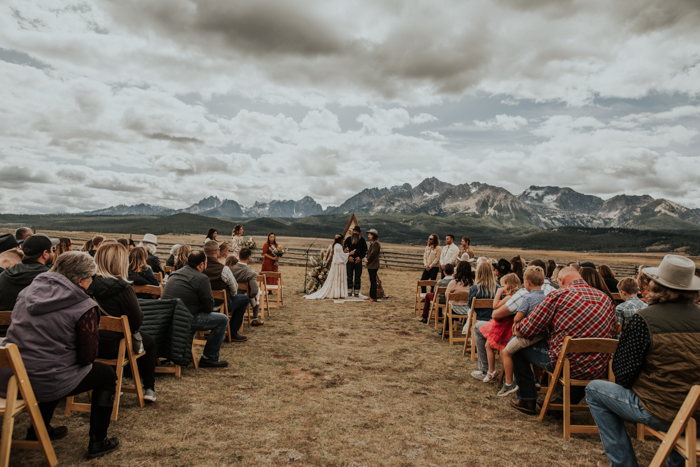 It's hard to choose just one part of the day as "the most memorable", because it truly felt like the perfect day. But if we had to choose, I think we would both say that our sharing our vows was a very special moment. We didn't really have much else planned for the actual ceremony because we felt like our vows to each other should be the main focus. Tylor wrote his vows into a song and sang them to me at the ceremony and mine were hand written on a piece of paper that I gave to Tylor after the ceremony to keep with him as a reminder of my promises to him.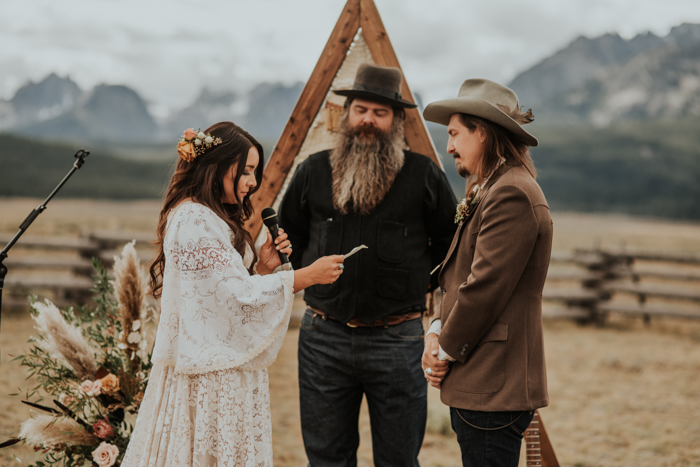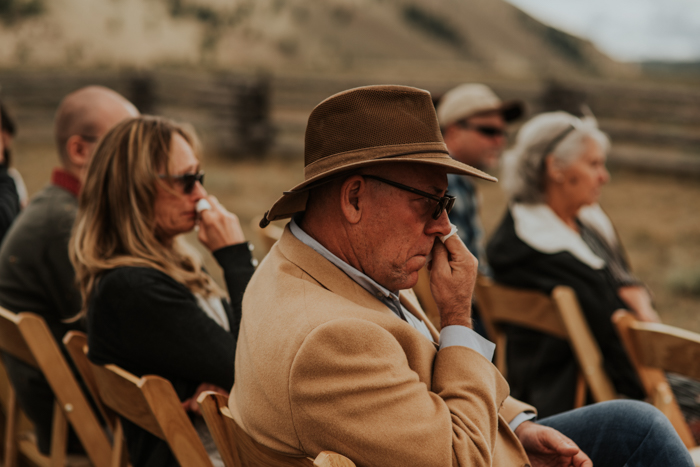 Also, we wanted to incorporate as much music as possible in our day! We are musicians – Tylor is a full time, touring musician, songwriter and frontman of the band Tylor & the Train Robbers. His band is made up of his two brothers, Jason and Thomas and my Dad, Johnny 'Shoes' Pisano, so we had some built in talent to bring into our day. We are also fortunate to have some insanely talented musician friends who we knew we could count in!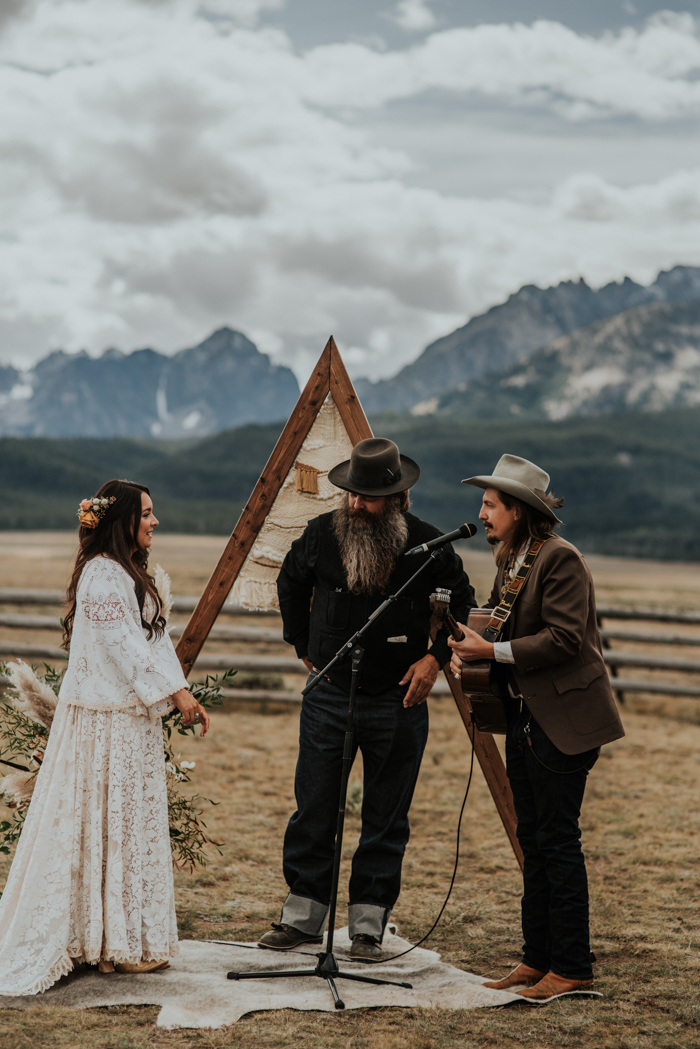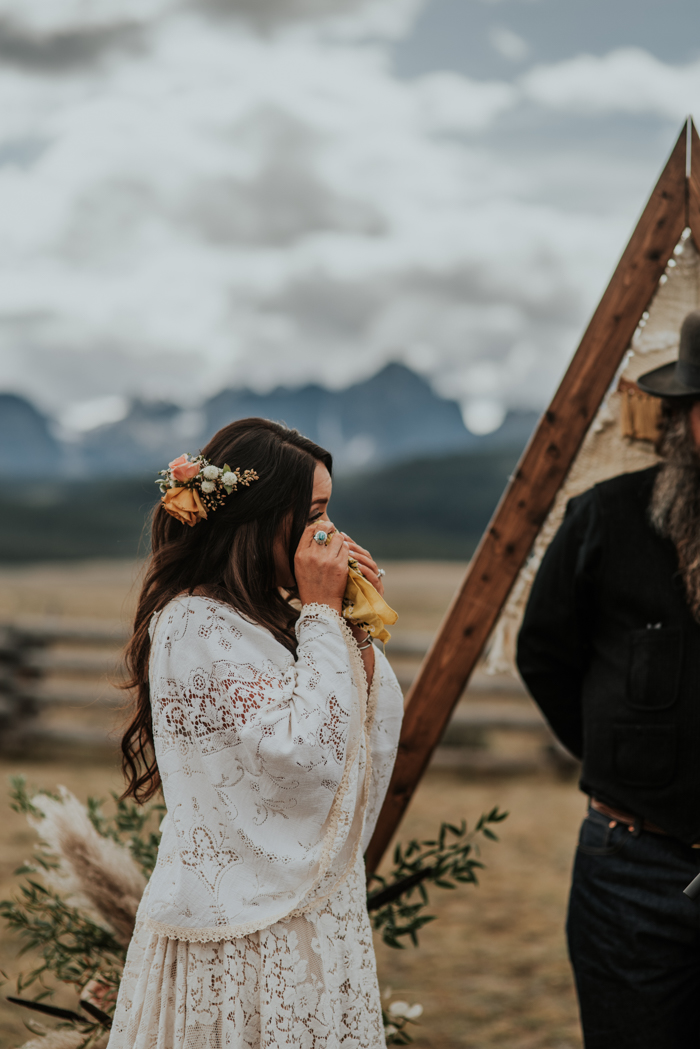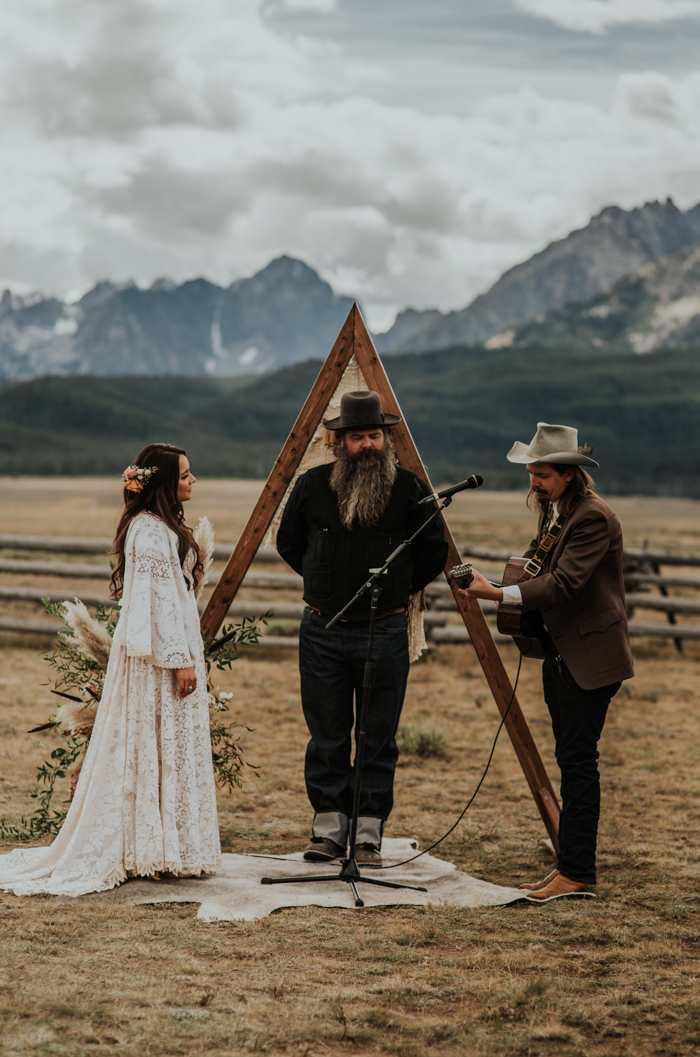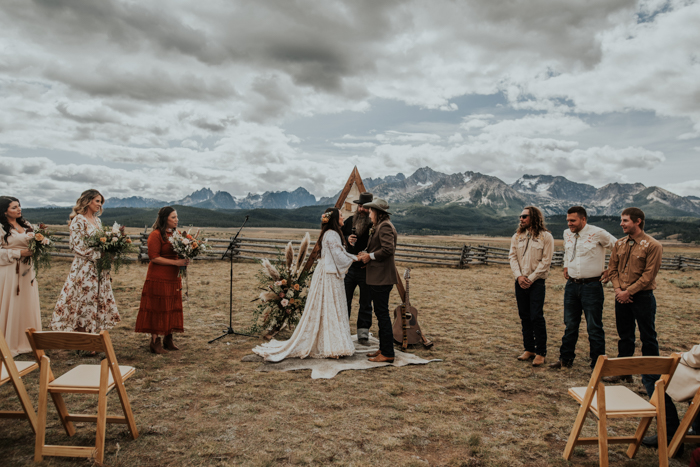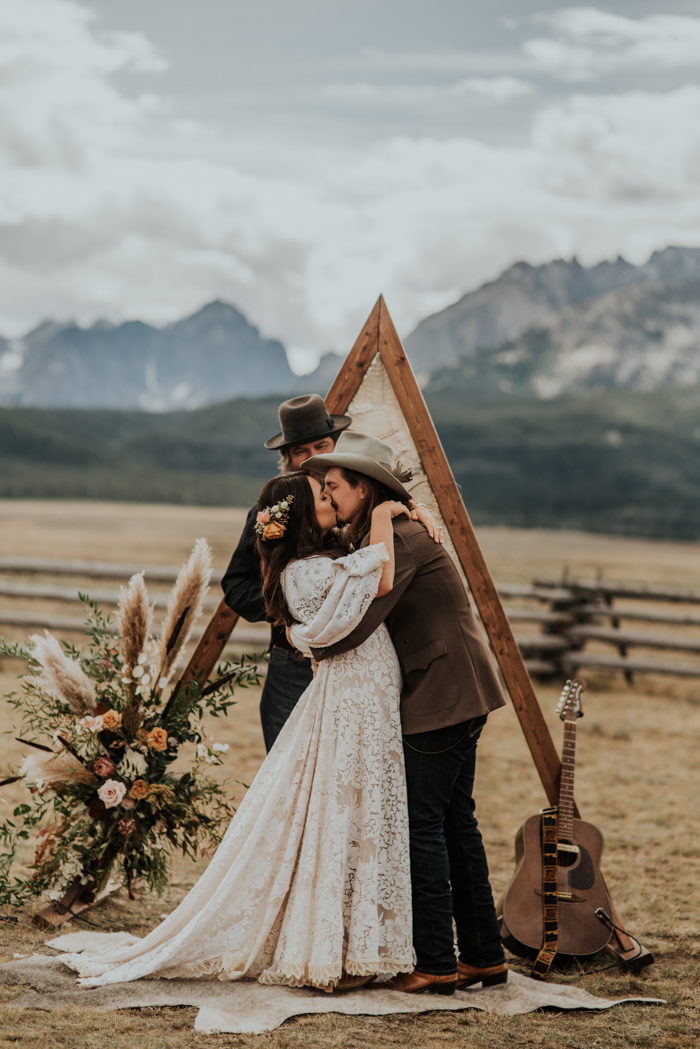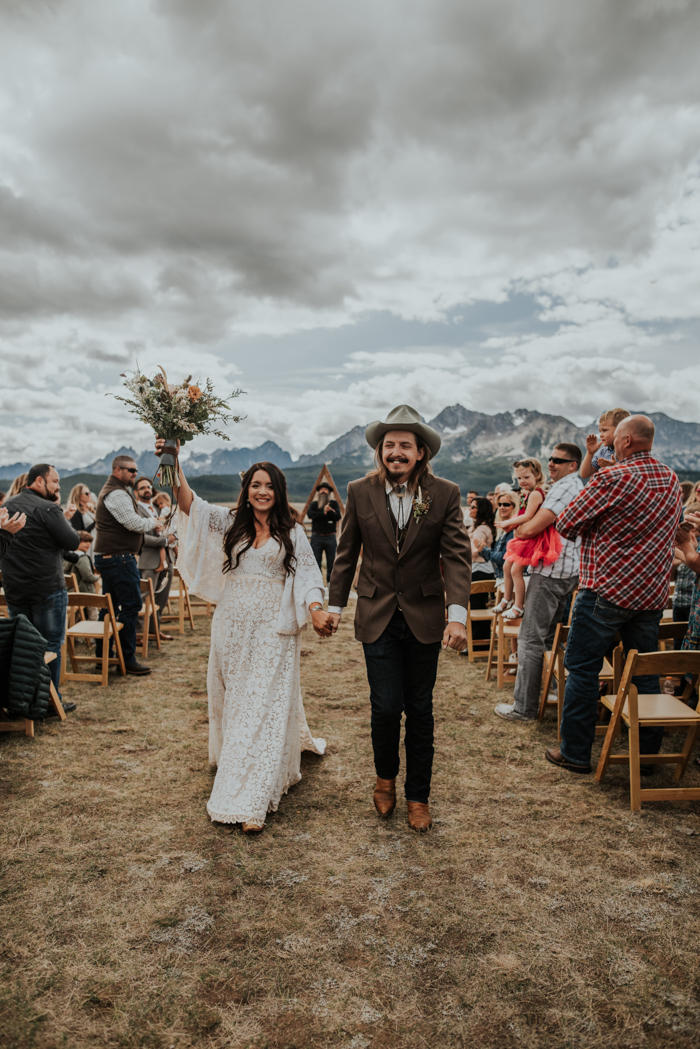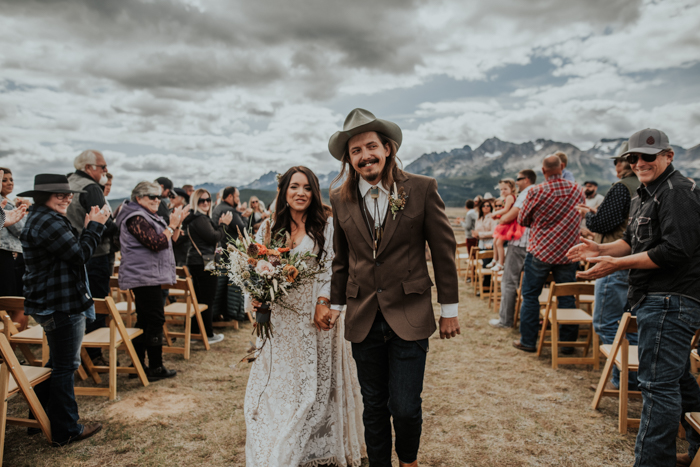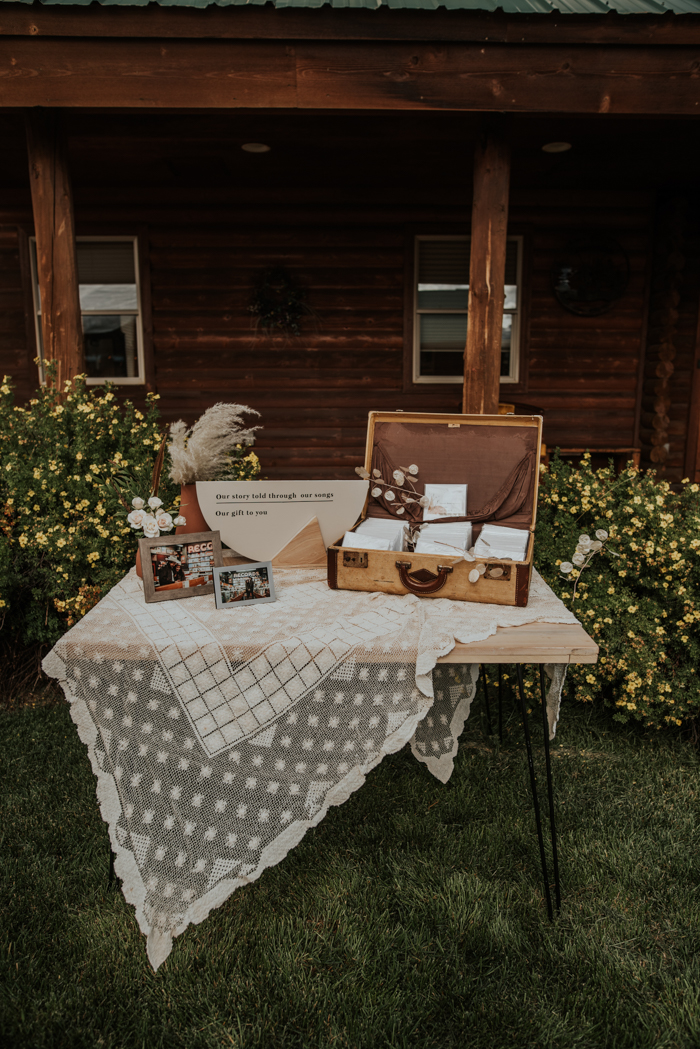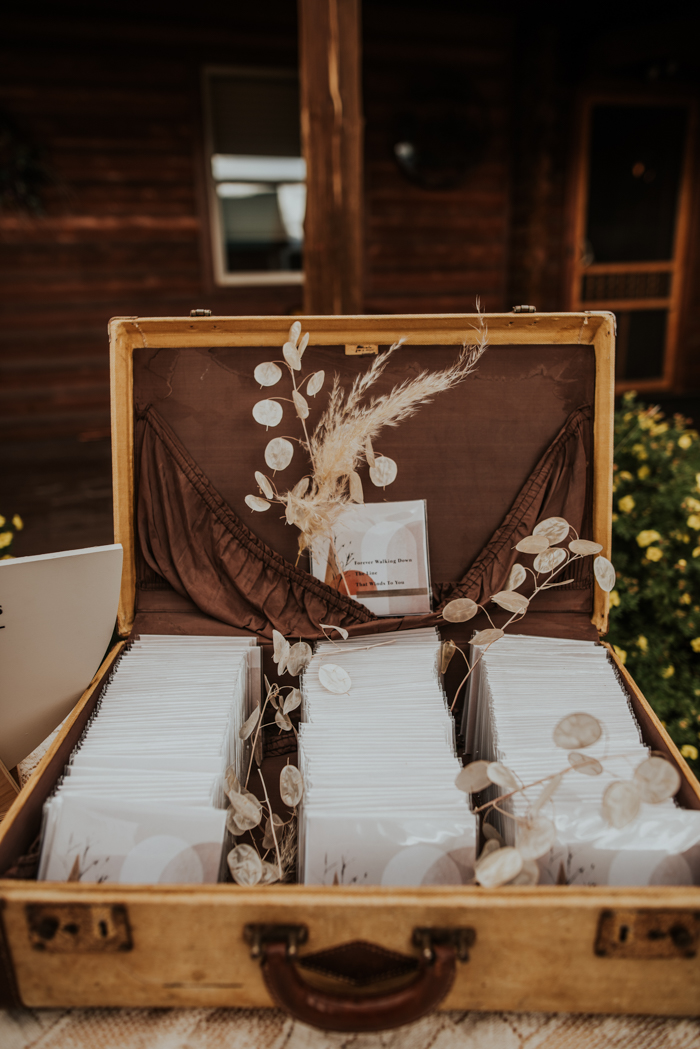 The wedding favors were one of my favorite things about our wedding! Giving out "favors" was a tradition that I have never been a big fan of. Most of the time the trinket that you get, monikered with the names of the Bride and Groom and their wedding date, just ends up being garbage in a year or two (if that). We didn't want to give our guests something like that. We spent a lot of time thinking about what would be meaningful to share with them and ultimately we decided that what we really wanted to share was our story. Since we are musicians, we knew that the best way to share our story is through our music.
We went into the studio and recorded a few tracks that had never been recorded before and used a few that had been on Tylor's albums in the past. We ended up with a five song disc that we put in chronological order of our story, so it truly could be told through the songs. It's was such a special thing for us to get to share with everyone!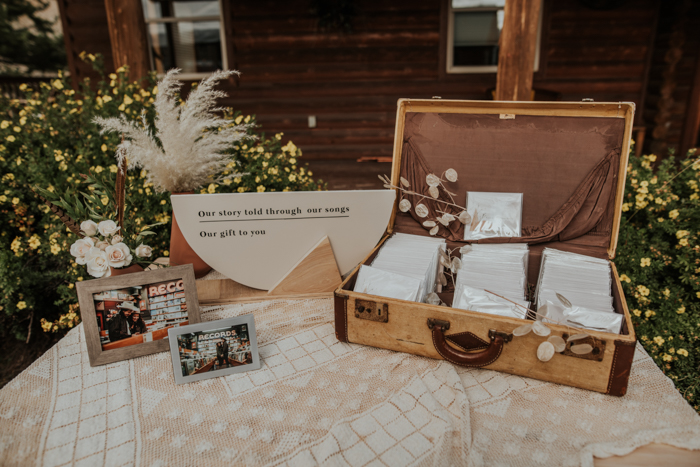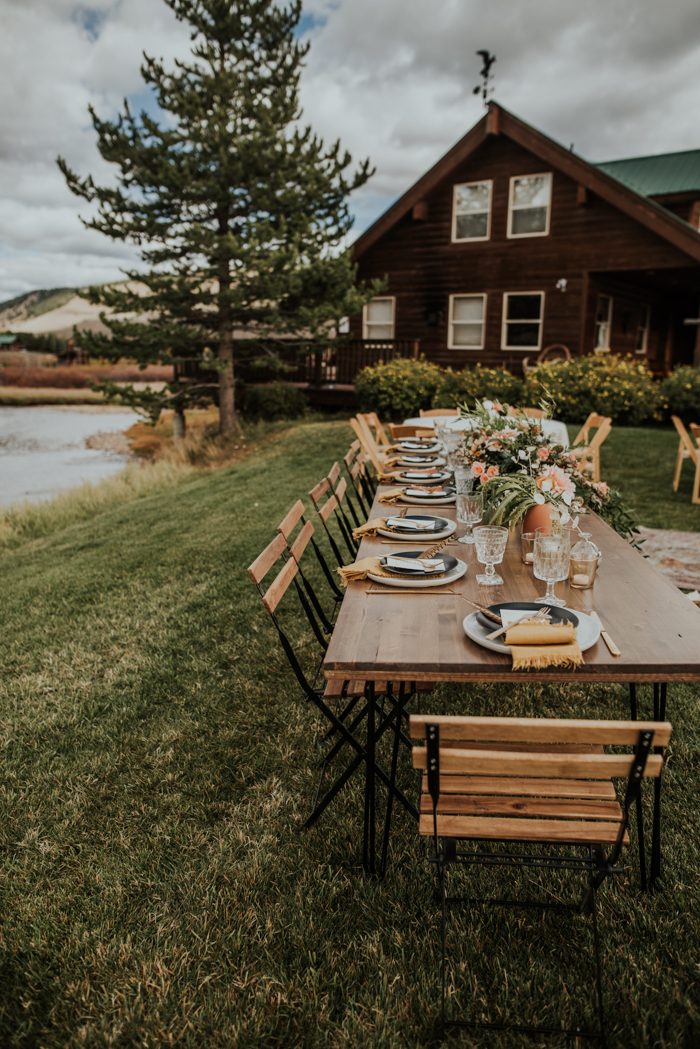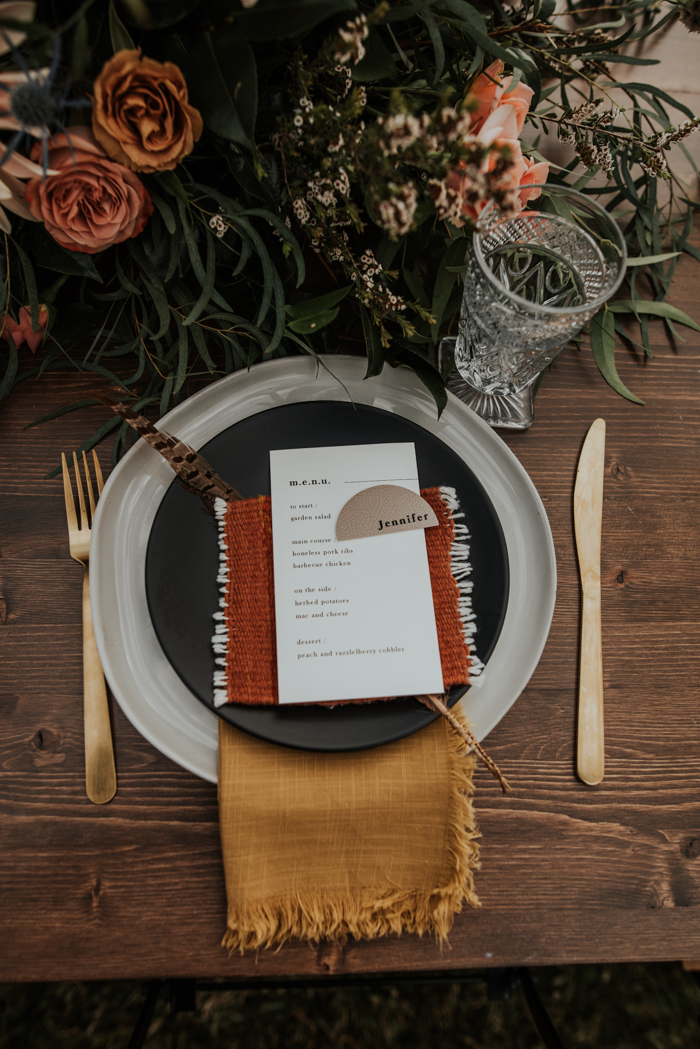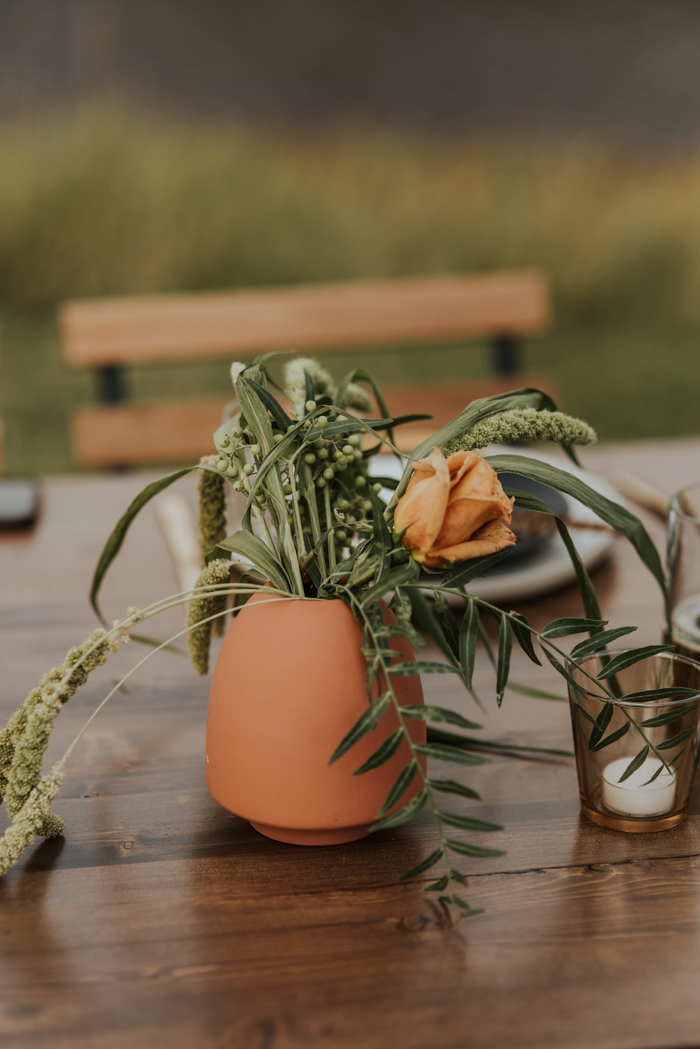 Our colors were inspired by our environment and season of the wedding. Since our wedding was up in the mountains on the weekend of the Fall Eqiunox, we knew we didn't want too much saturated color. Our wedding planner, Emily Aitken was amazing and pulled colors from the scenery to help create the perfect palette.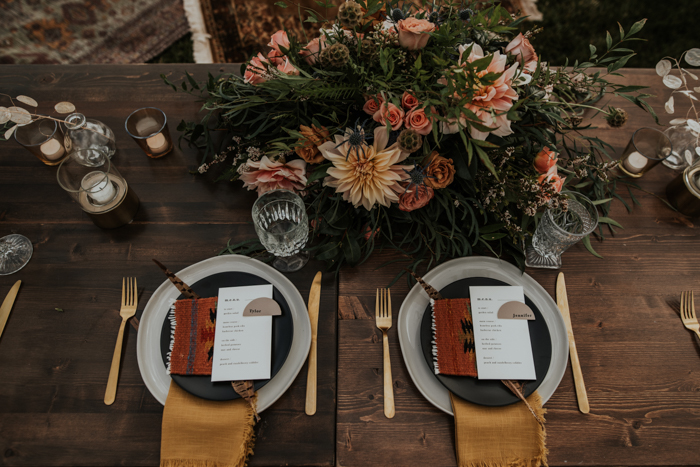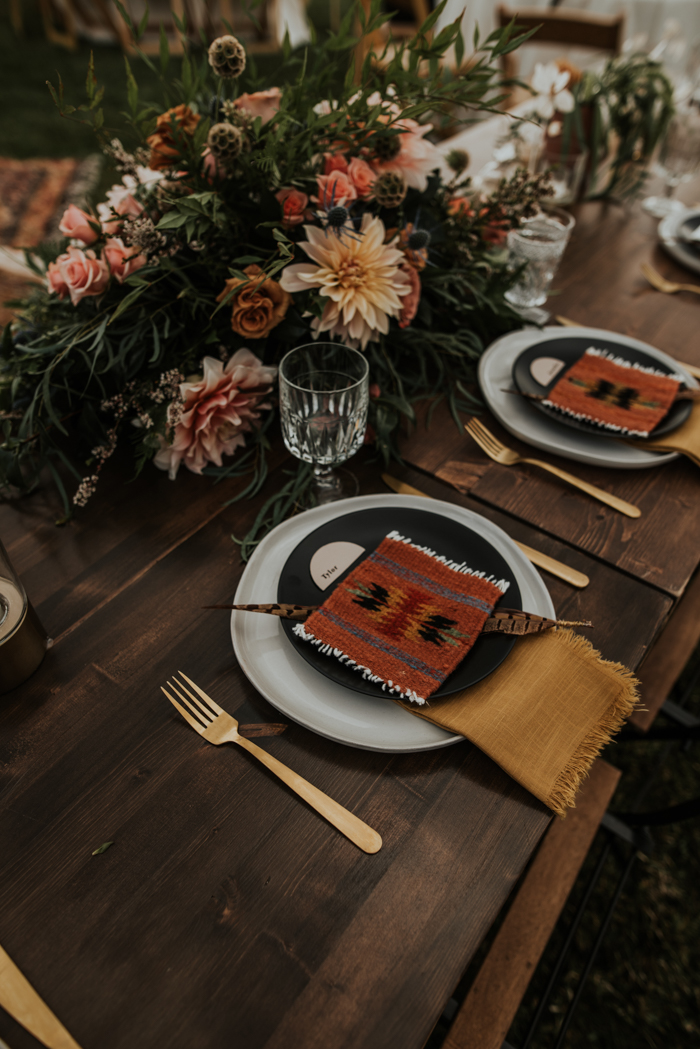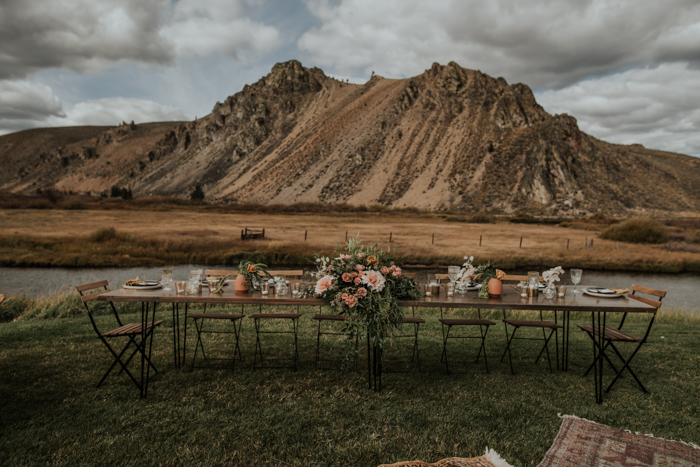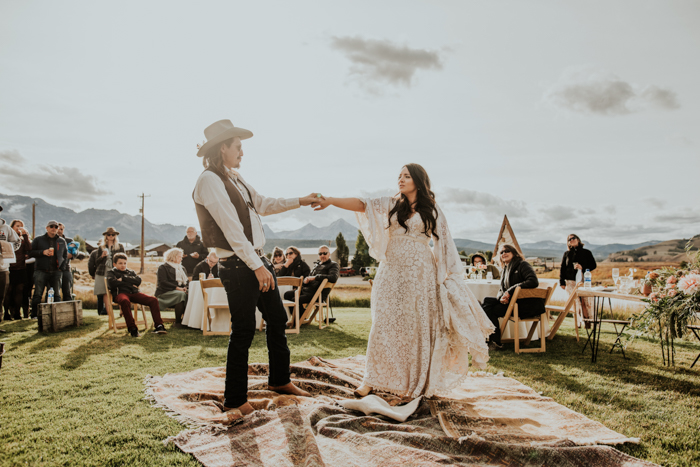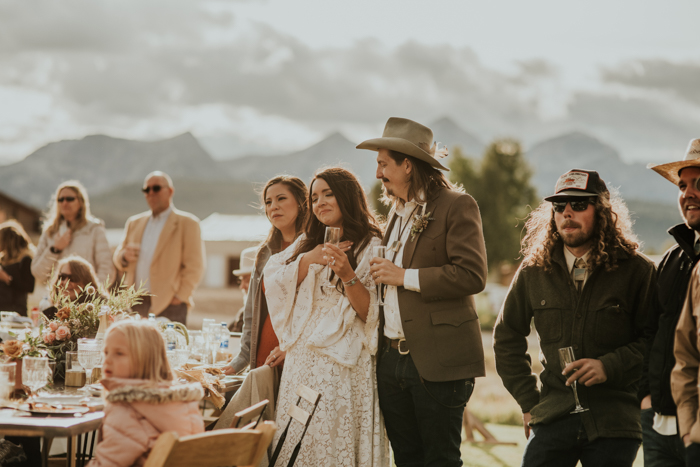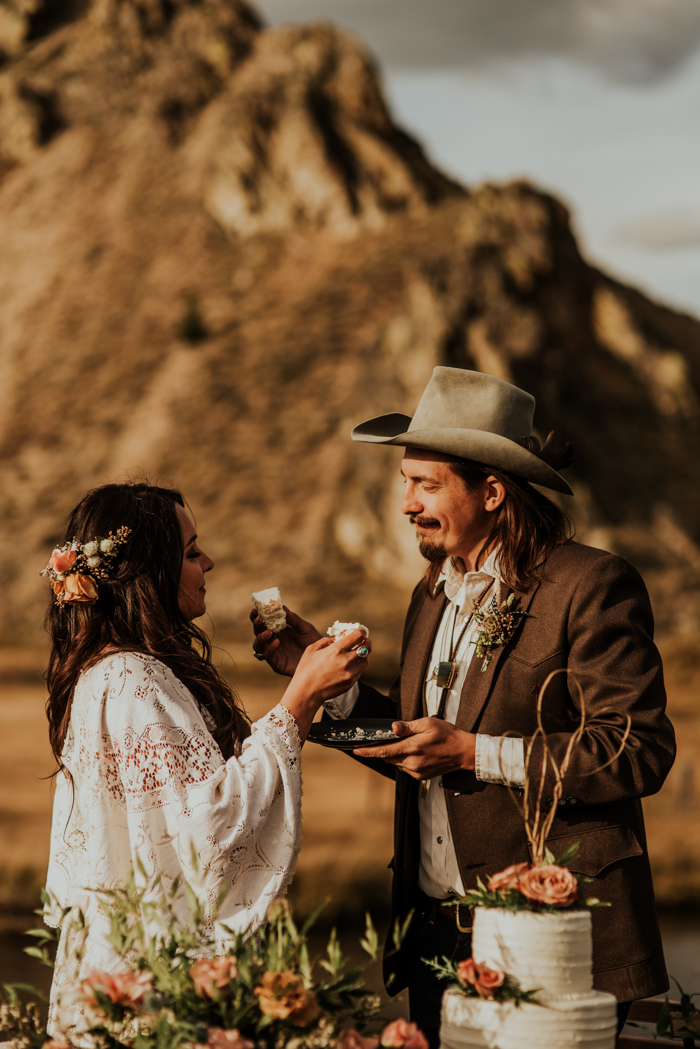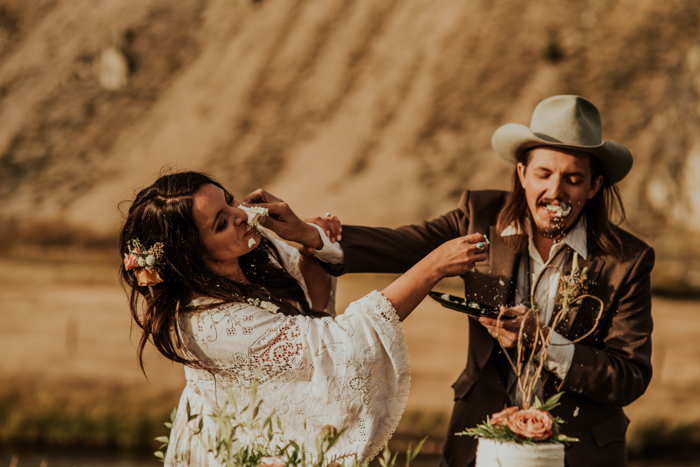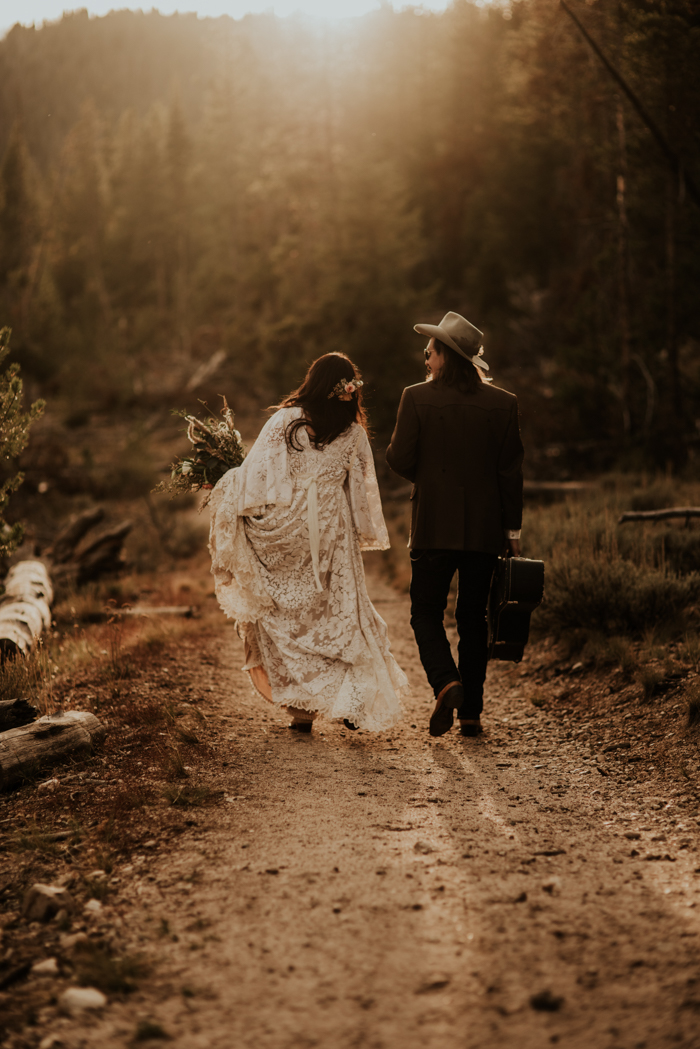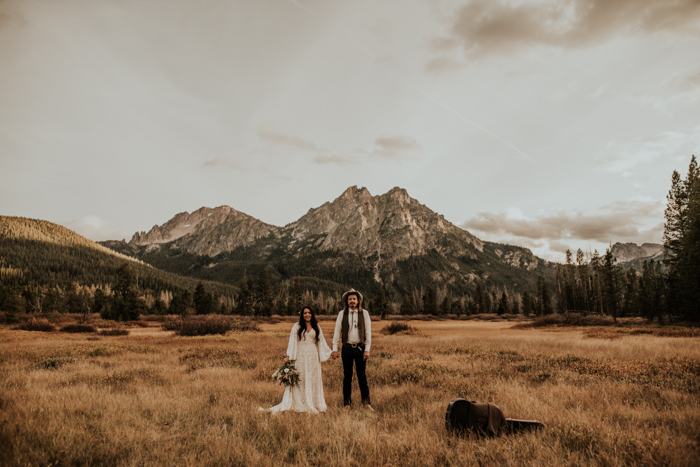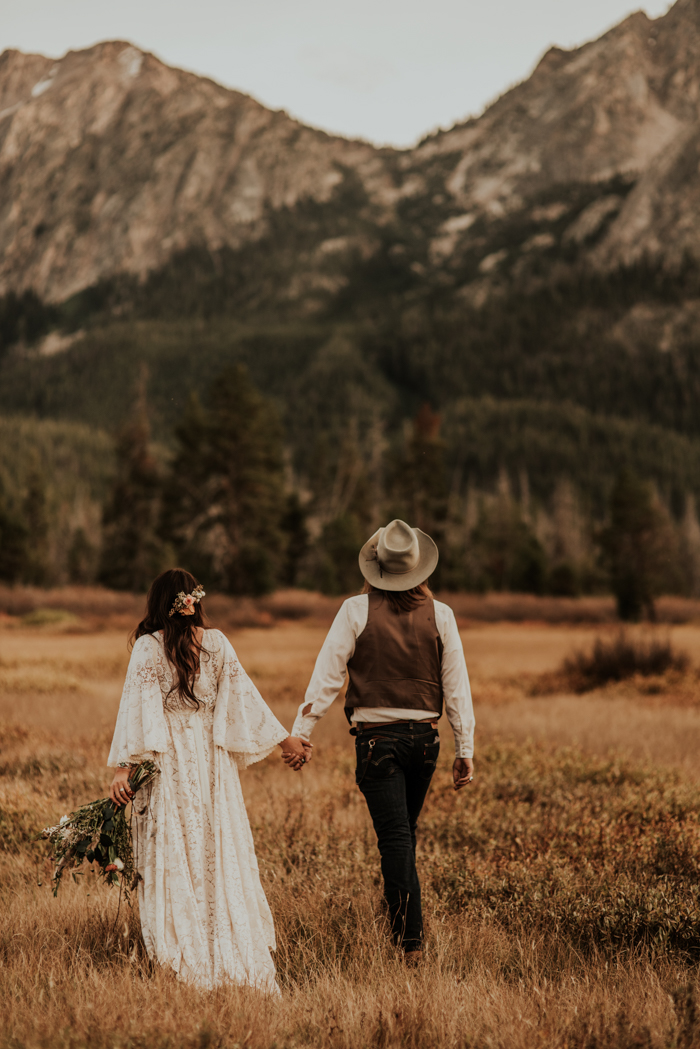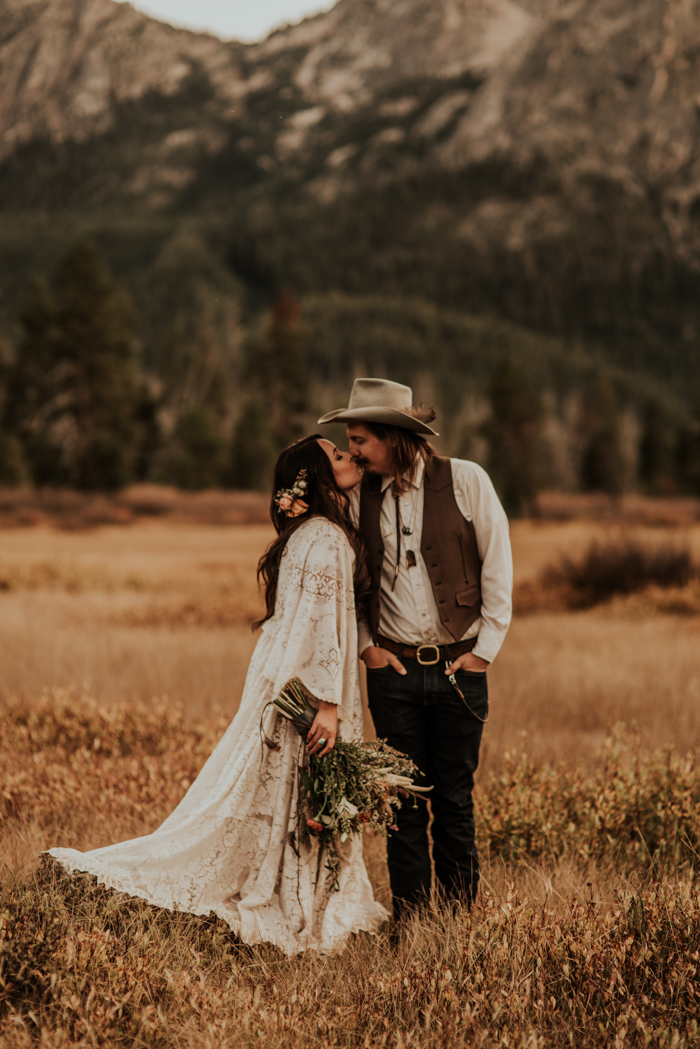 Working with Maggie was an absolute dream! She is such a pro! It felt like we were all just hanging out and having fun all day, but in reality I know that she put so much time planning and organizing everything and she never stopped taking photos from morning until after the late night party. Maggie brings such an incredible calm but fun energy to the day, which is exactly what it needed on such an important day. She has fun, but also keeps things on track and takes control when needed.
Maggie had told us in a planning meeting that she recommended that we leave the reception a little early to get some sunset photos. Of course it felt weird to just leave our own reception, but I am so so glad that we listened to her advice, because that turned out to be one of the most special and memorable parts of our day. She had scouted the perfect location for us not far from town, but just enough that we felt like we had escaped the bustle of the wedding. We walked a short trail and ended up in this meadow at the base of McGown Peak – a truly magical spot. Tylor brought his guitar and we sang songs together and danced and got to have some quiet moments soaking in our day and the beauty around us. Maggie made us so comfortable to just be goofy and relaxed and not to worry about the photos. The pictures are proof that she is so insanely talented and knows how to capture people perfectly. Thank you Maggie!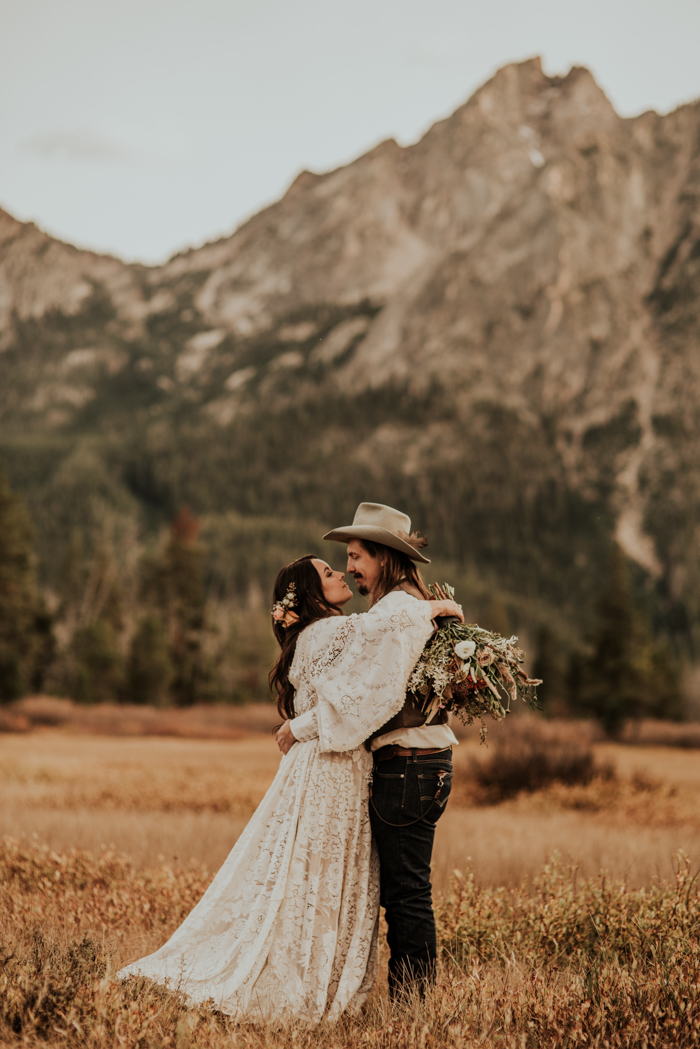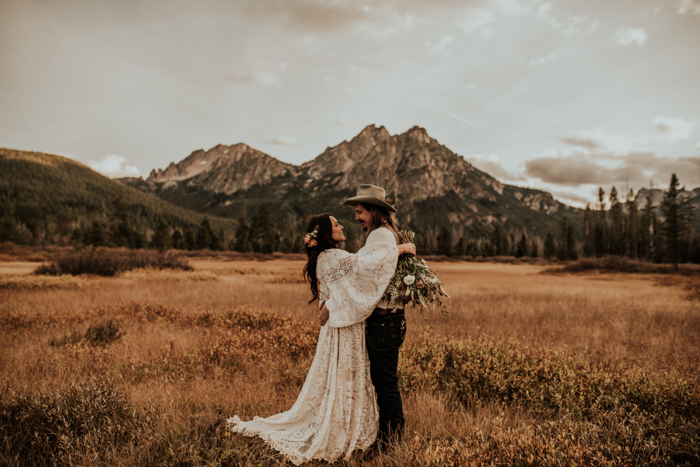 Congratulations, Jen and Tylor! As always, the talented Junebug member, Maggie Grace Photography, didn't let us down with this Idaho wedding! For more of Maggie's breathtaking work, be sure to check out her page in our directory of the world's best wedding photographers.