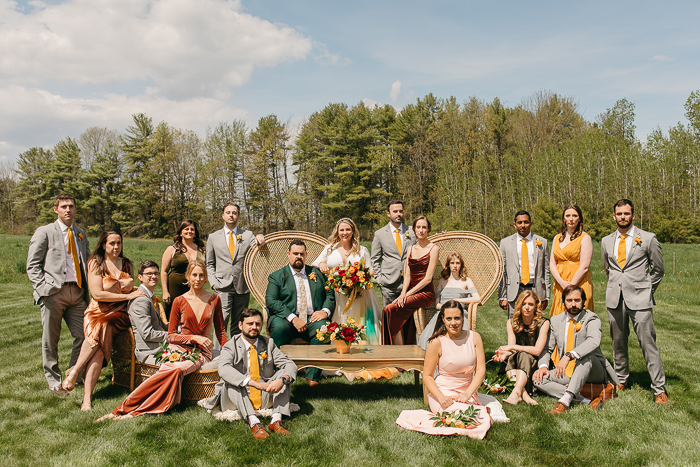 Lucie and Dave's Flanagan Farm wedding radiated a joyful, easygoing atmosphere that perfectly mirrored their personalities. To create a sense of familiarity and comfort, they used a warm and bright color palette, lots of greenery and house plants, and even some playful touches. The whole style mixed nature and modern elements, with a fun twist added in. It was just like them—comfy, a bit silly, laid-back, and relaxed.
They chose to say 'I do' with the woodland sanctuary as the backdrop. They kicked off the celebration with a ceremony surrounded by towering trees, followed by a reception featuring a unique mix of lounge seating and food stations scattered all over the property. The party then moved to the barn, filled with sparkles and disco vibes. The festivities continued with all-night karaoke and a delicious pizza feast.
You might think that's hard to beat, but wait till you see the outfits. Lucie was stunning in a Leanne Marshall wedding dress with a hand-dyed skirt that had pops of blue, green, orange, and yellow, perfectly matching the wedding colors. Dave rocked a custom green suit with special messages and important dates embroidered inside. Even their dog Kiefer suited up for the big day! If you're looking for ideas to make your wedding fashion exciting or want to turn your backyard into a whimsical space, these photos by Henry and Mac have all the inspiration you need.
The Couple:
Lucie and Dave
The Wedding:
Flanagan Farm, Buxton, Maine, United States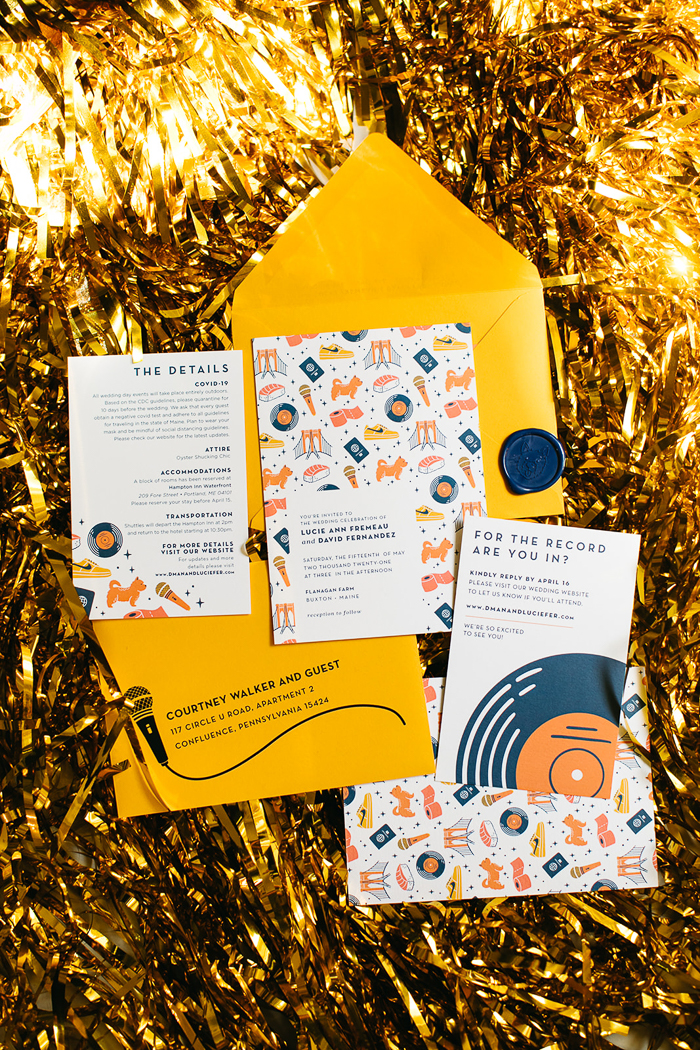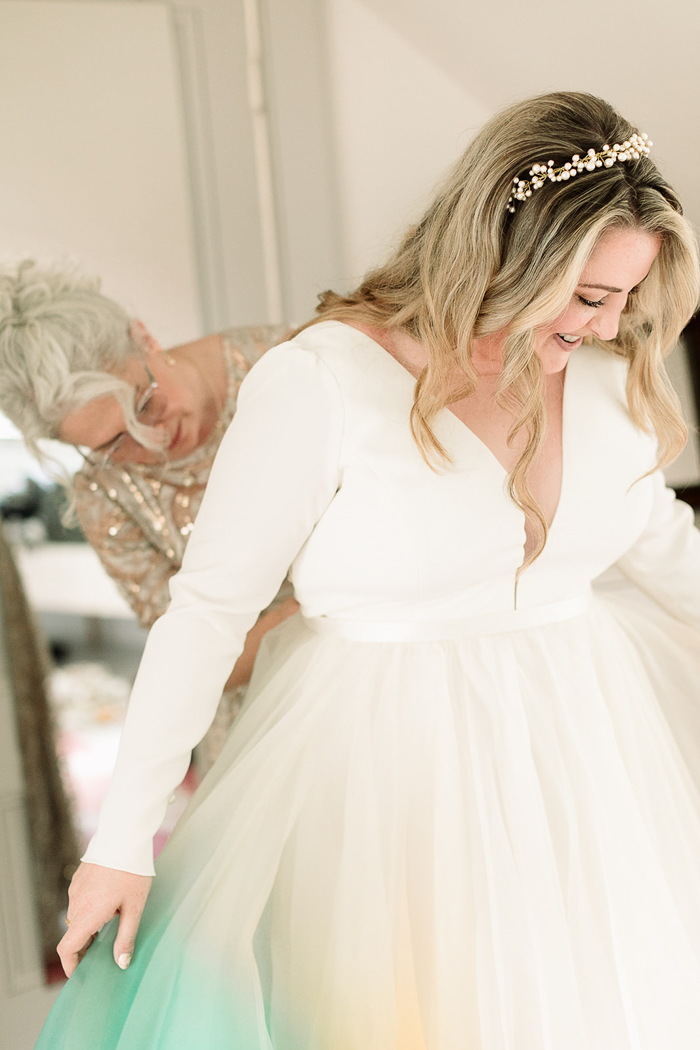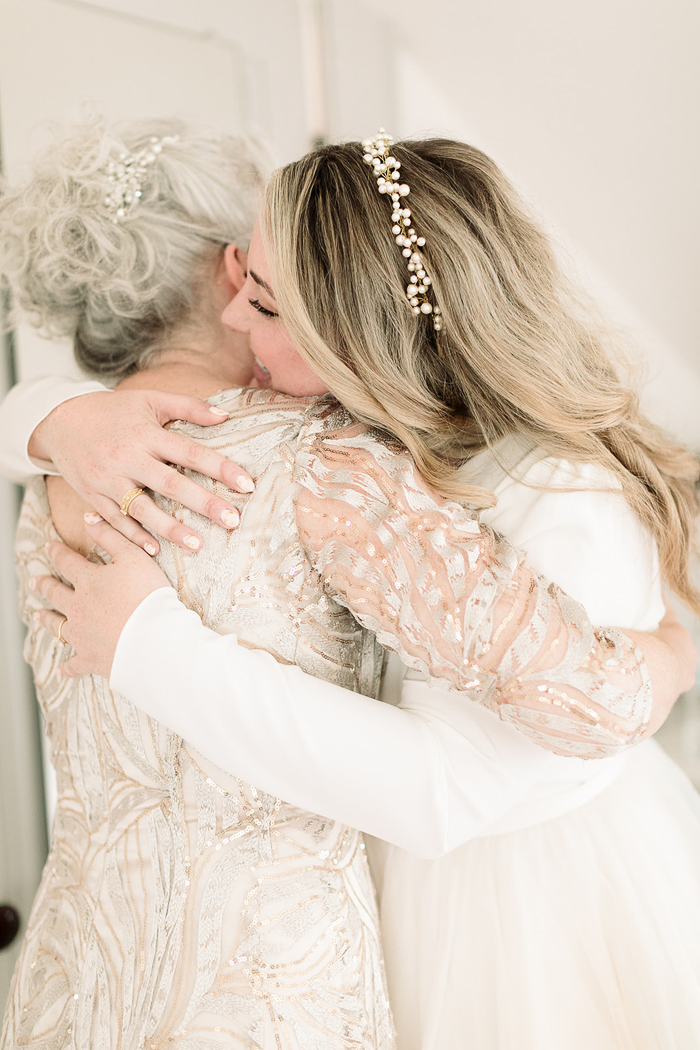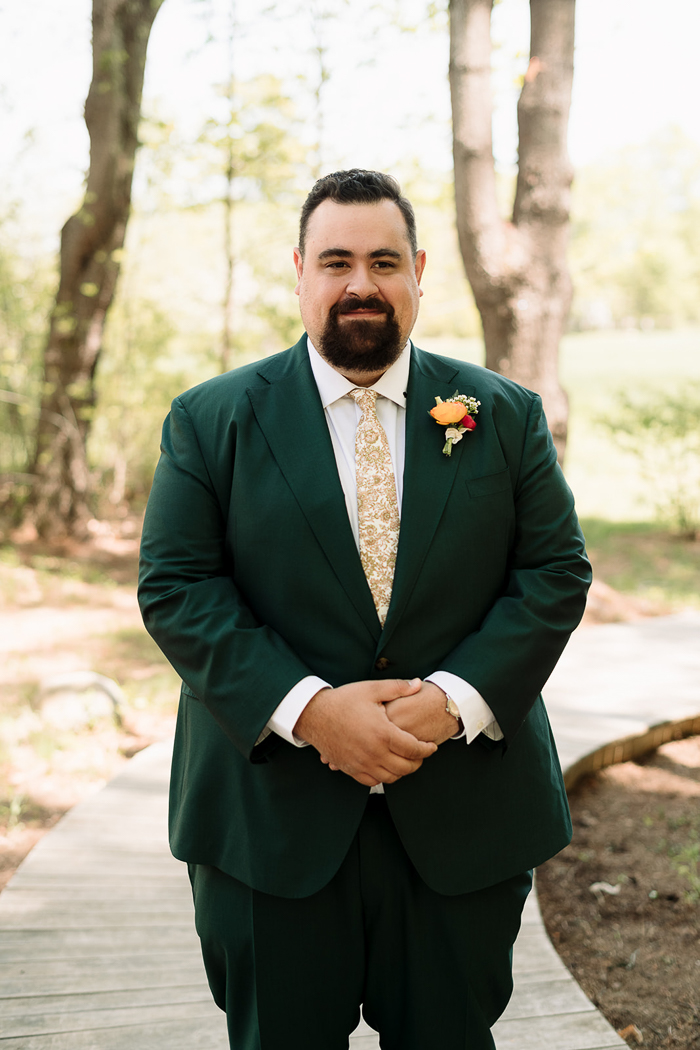 Why They Chose A Flanagan Farm Wedding
We picked the Barn at Flanagan Farm because it was just right—charming and naturally beautiful. Also, we wanted Lucie's grandma to be there (or at least see us dressed up), and she lived close by. The place had many outdoor areas and felt cozy, with lovely views that showed off the best of Maine. It was just what we needed for our playful celebration.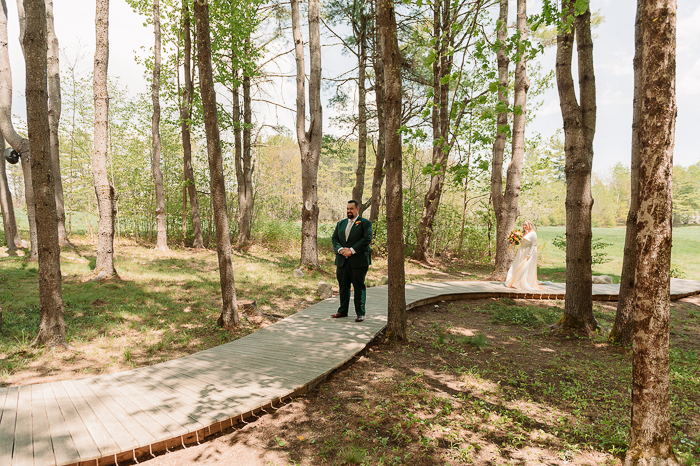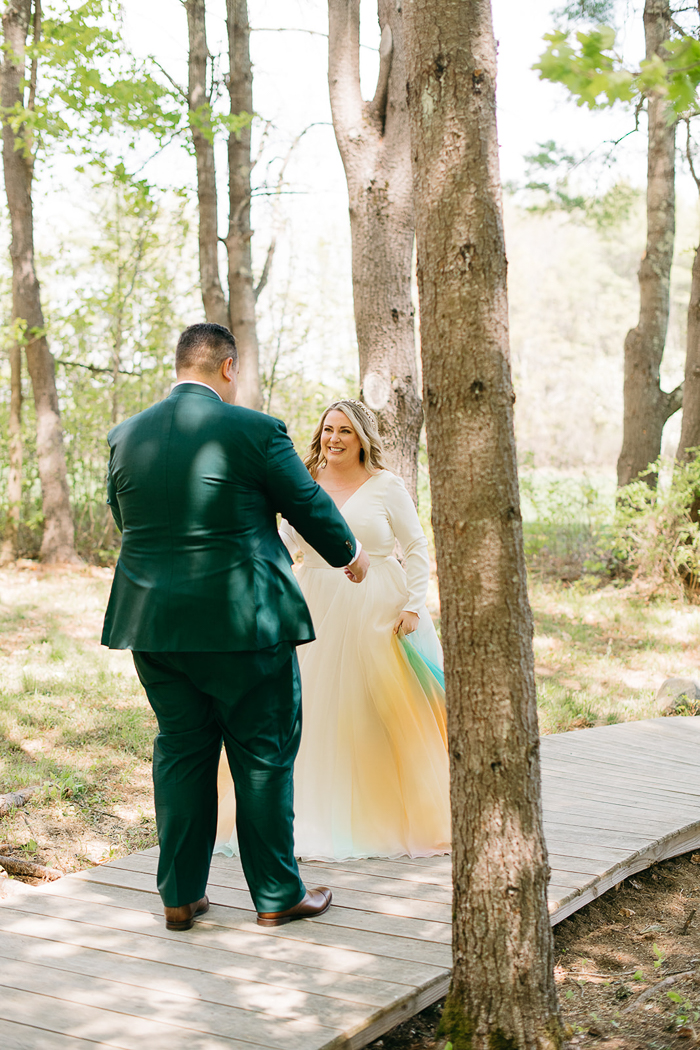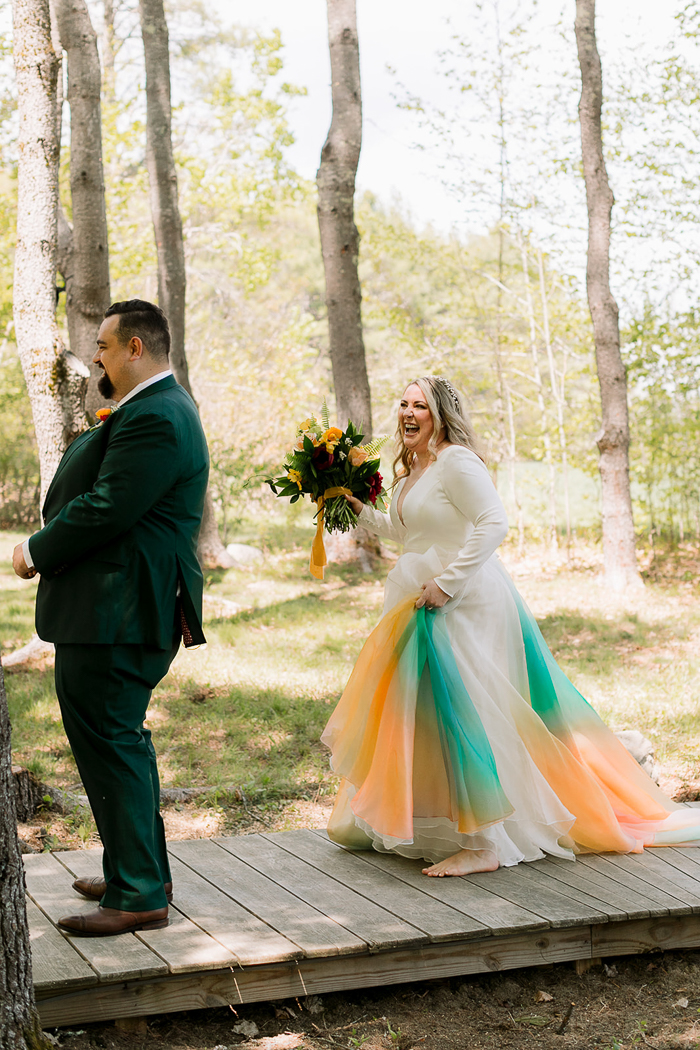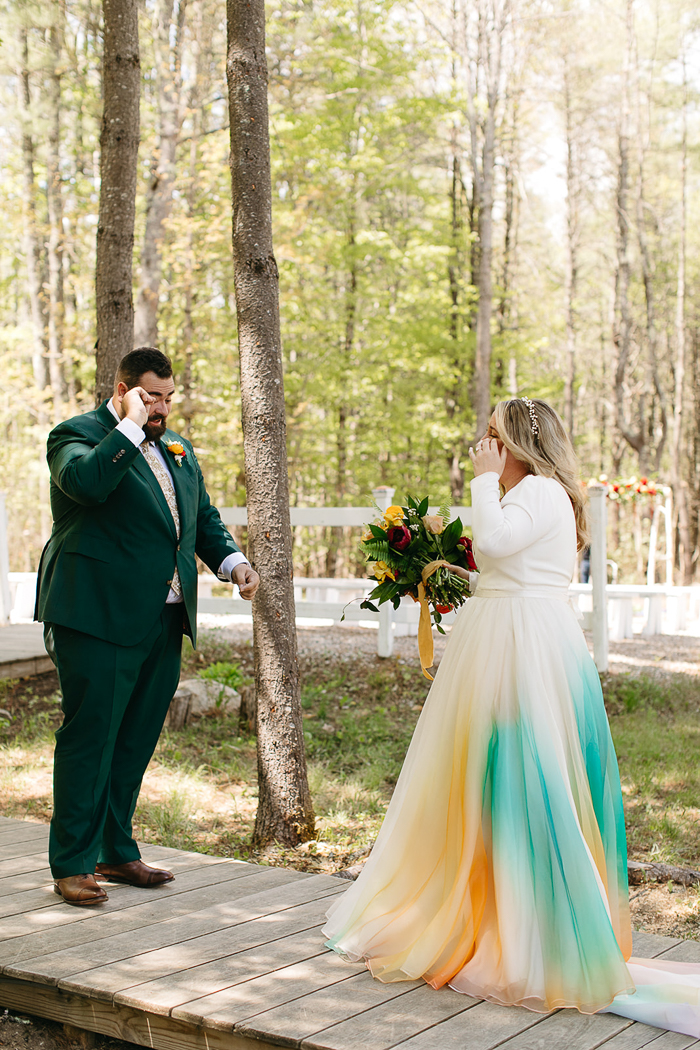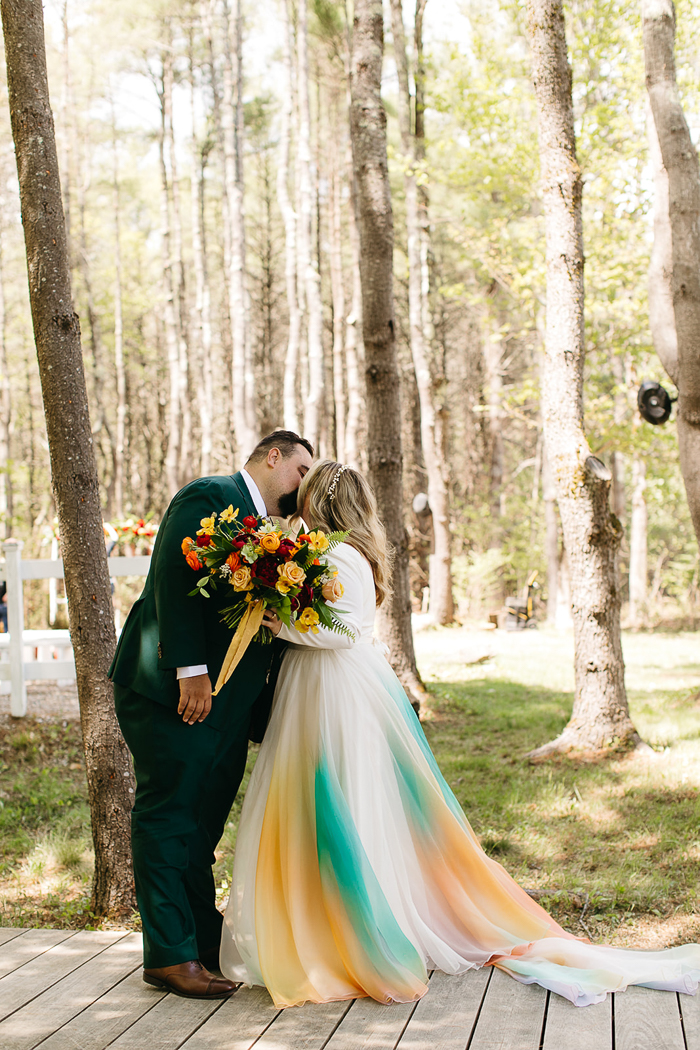 Incorporating Personal Stories, Quotes, and a Toilet Paper Wrapper to the Ceremony
We made the ceremony ours in a few special ways. To begin, we wrote our own vows that were all about us and our journey together. Our officiant, a close friend, added humor, stories about us, and meaningful quotes to the ceremony, making it feel like "us." I had a surprise for Dave too. I brought out the toilet paper wrapper he gave me the night we met (yes, seriously!). It was a funny and sweet gesture that made everyone laugh.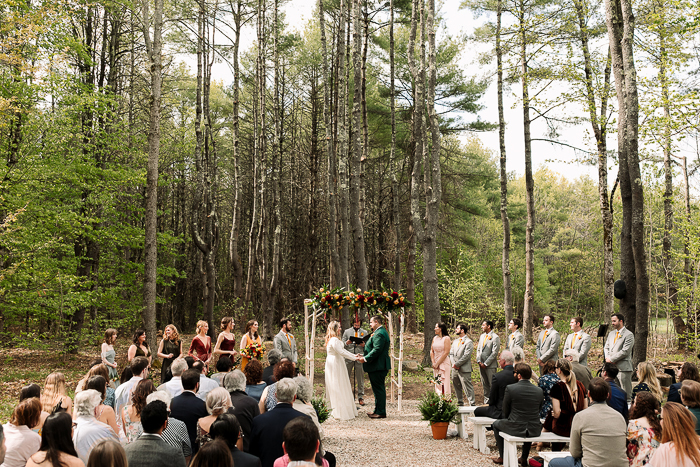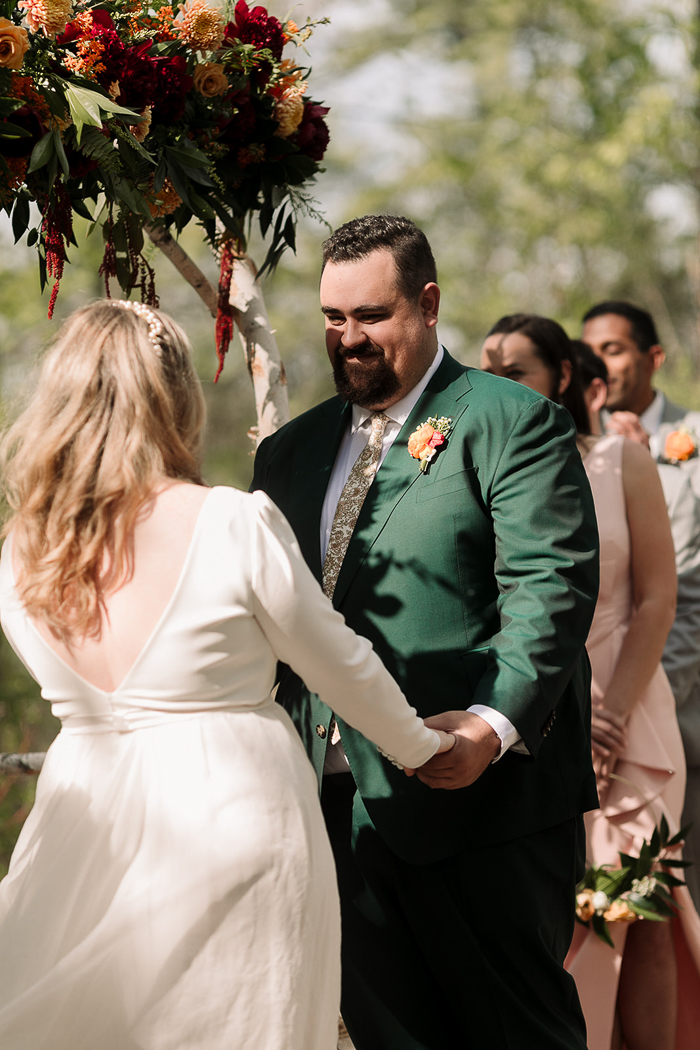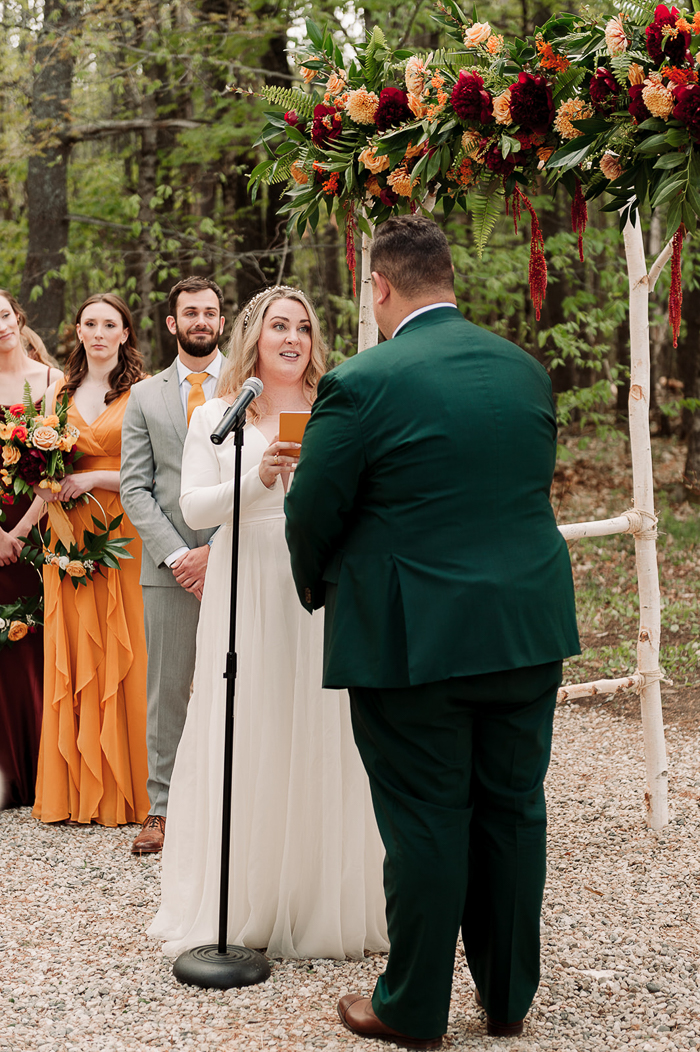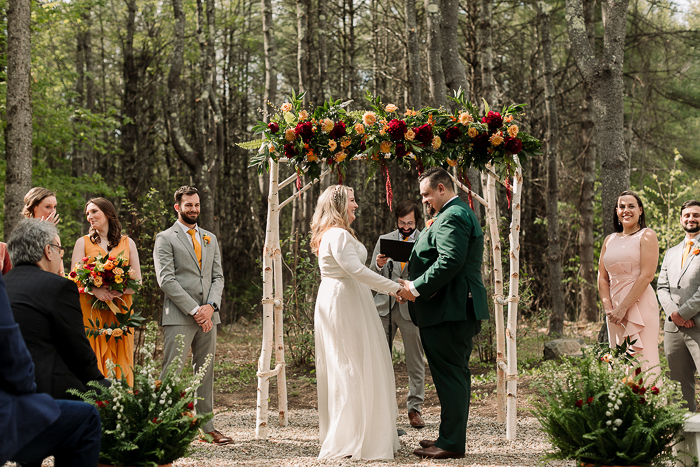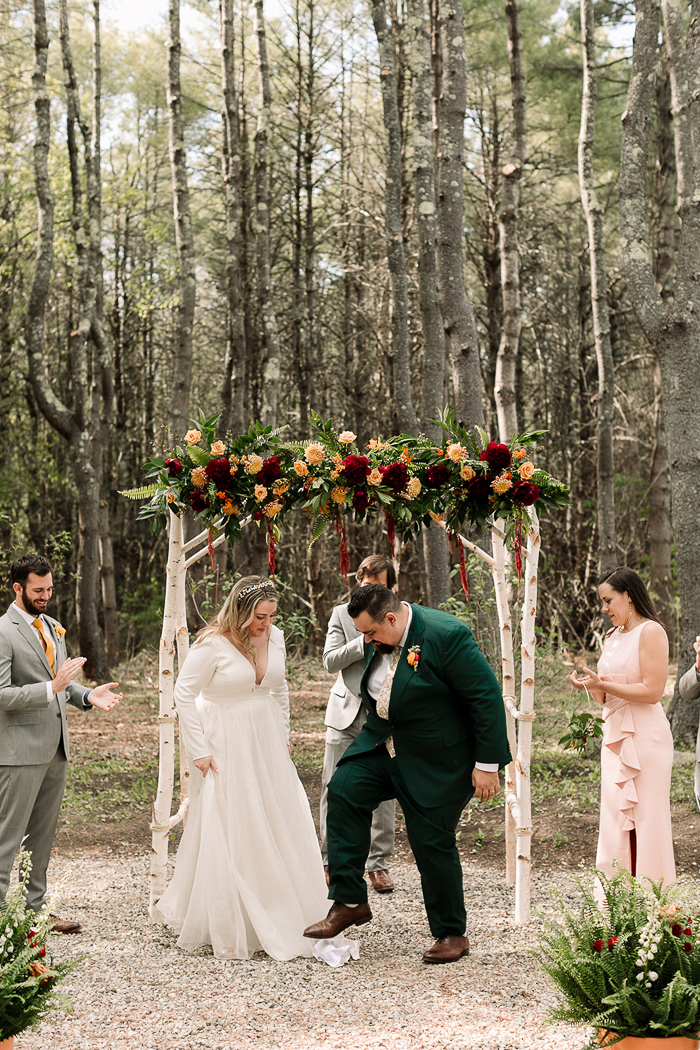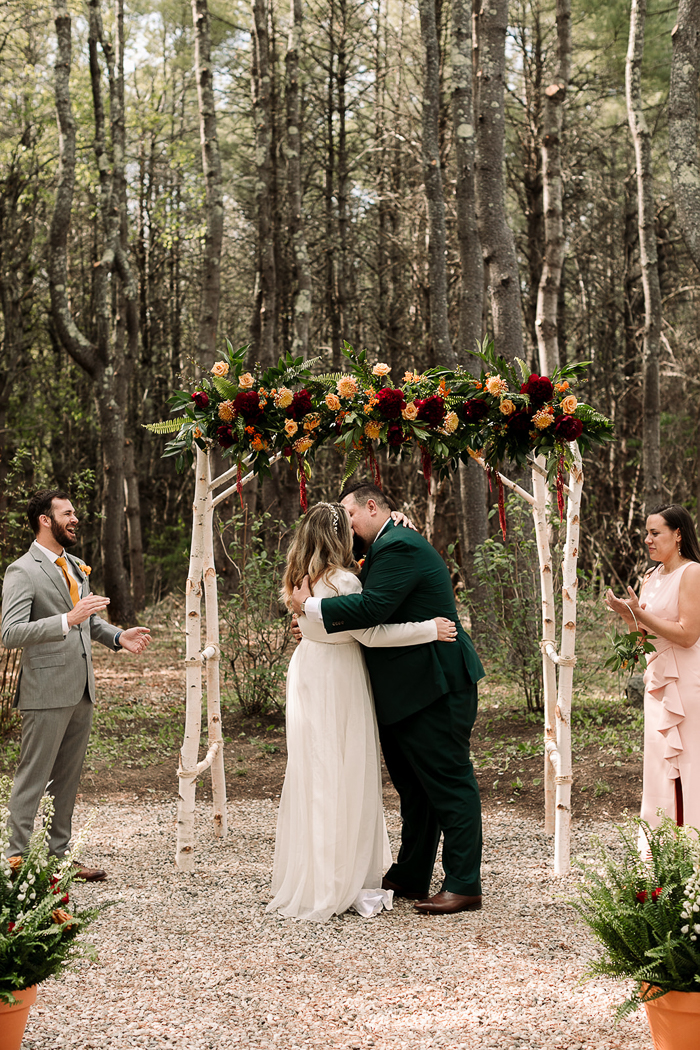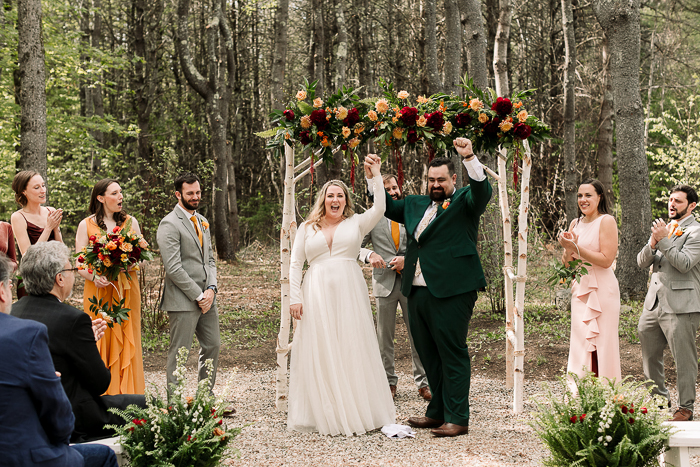 Custom Cornhole Lawn Games and Pickleback Shots: How They Made Their Day Theirs
We wanted our day to be genuinely us. So we added personal touches that made it special. We had custom cornhole boards with our wedding design and even treated everyone to a pickleback shot before the ceremony, something we love. Our goal was to have a day that felt real and spend quality time with our loved ones. From the vows we wrote just for each other to the meaningful gifts we exchanged, every little thing was planned carefully to make it our own. Even our dog, Kiefer, got involved by sending out the save-the-dates (with custom coasters featuring his cute face). Our invitations also showcased our unique wedding design.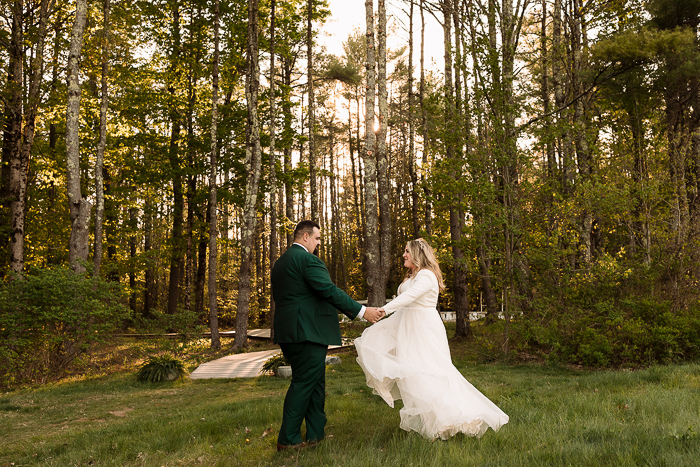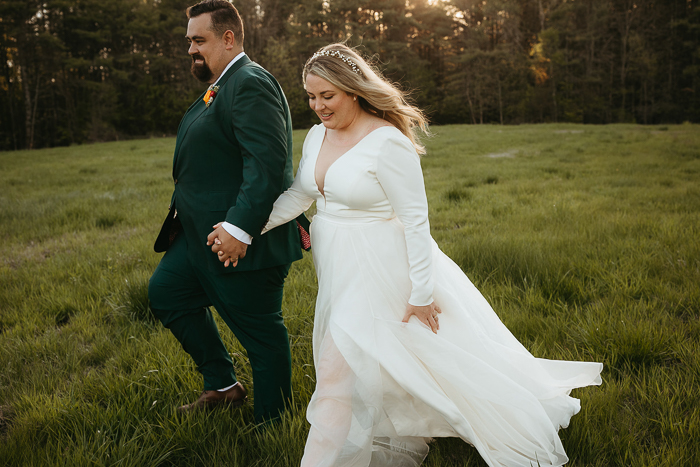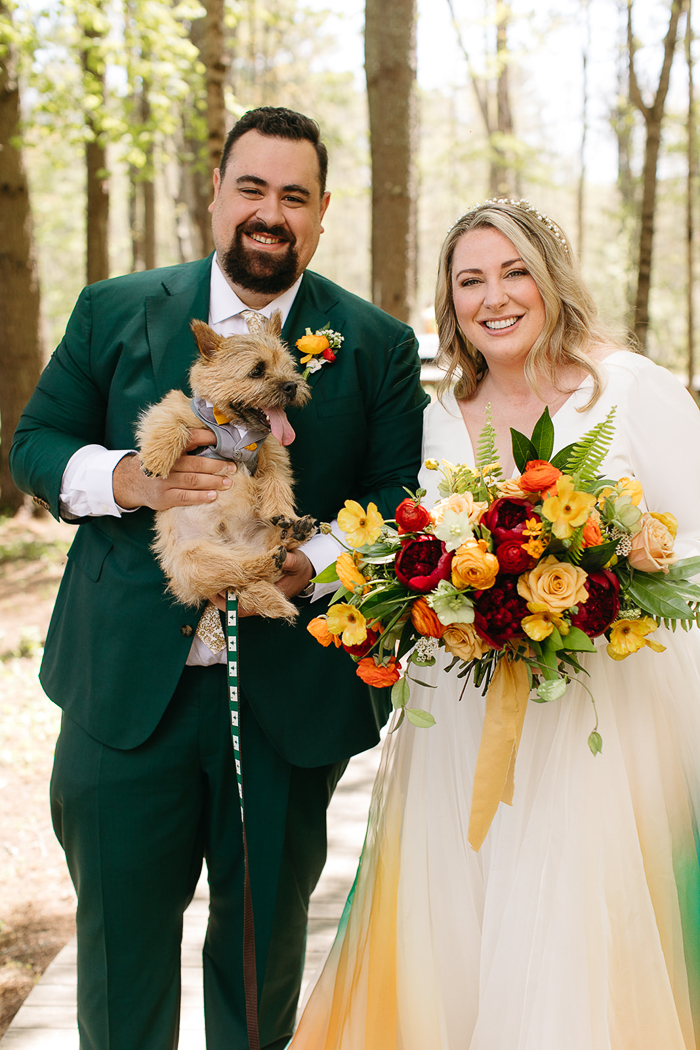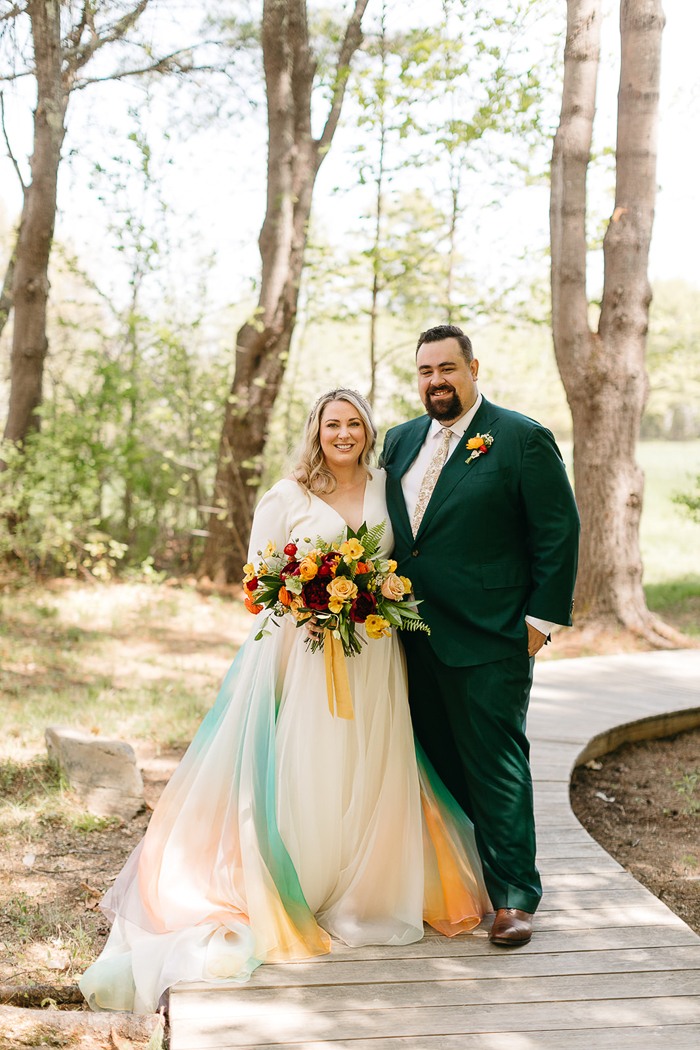 Setting the Laid-Back Tone with Comfort Food and a Relaxed Timeline
Our top priority in planning our wedding was to make the most of our time with our dear loved ones, many of whom traveled long distances to be with us in Maine. We aimed to craft an atmosphere where our family and friends could unwind, have a blast, and relish our special day. That's why we went for a more laid-back approach, with passed-around bites, food stations scattered throughout the evening, lawn games, an exciting dance party, and karaoke for the reception. We even had a coal-fired pizza truck show up for a late-night treat. And instead of the usual wedding cake, we chose delightful individual chocolate lava cakes that were incredibly delicious. We wanted everyone to feel at ease without formal schedules or assigned seats. Our focus was all about creating beautiful memories and cherishing quality time together.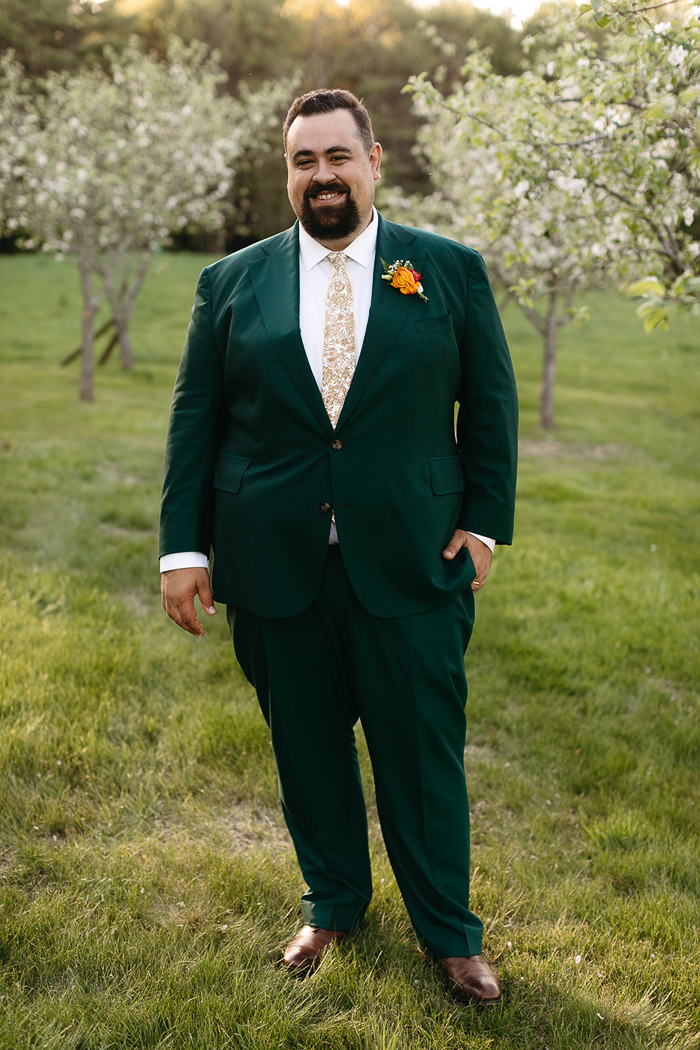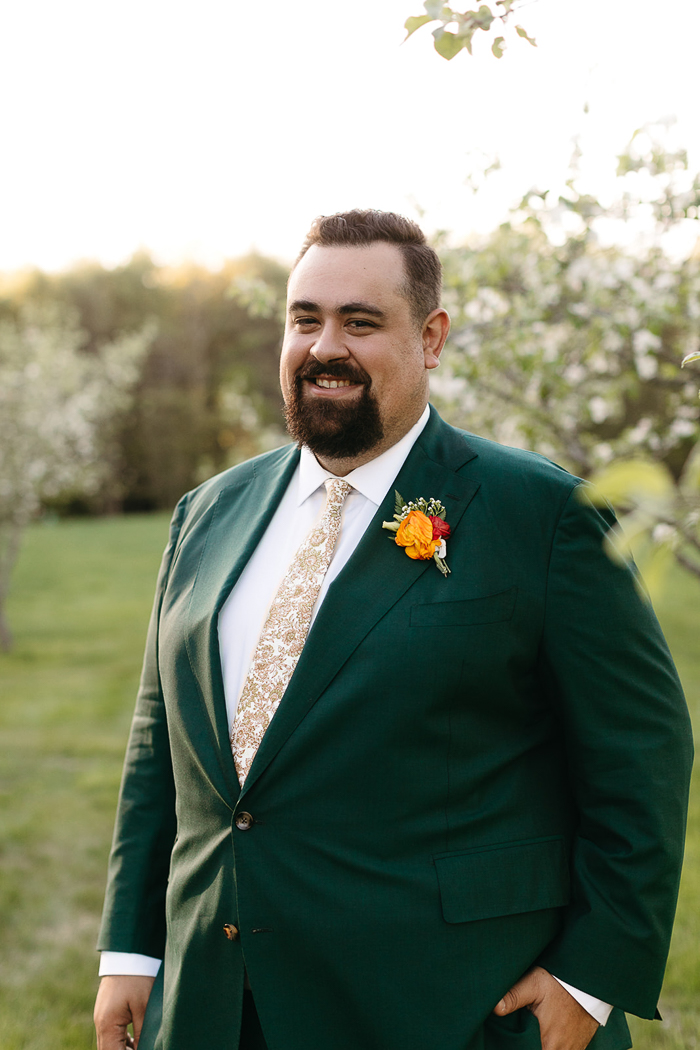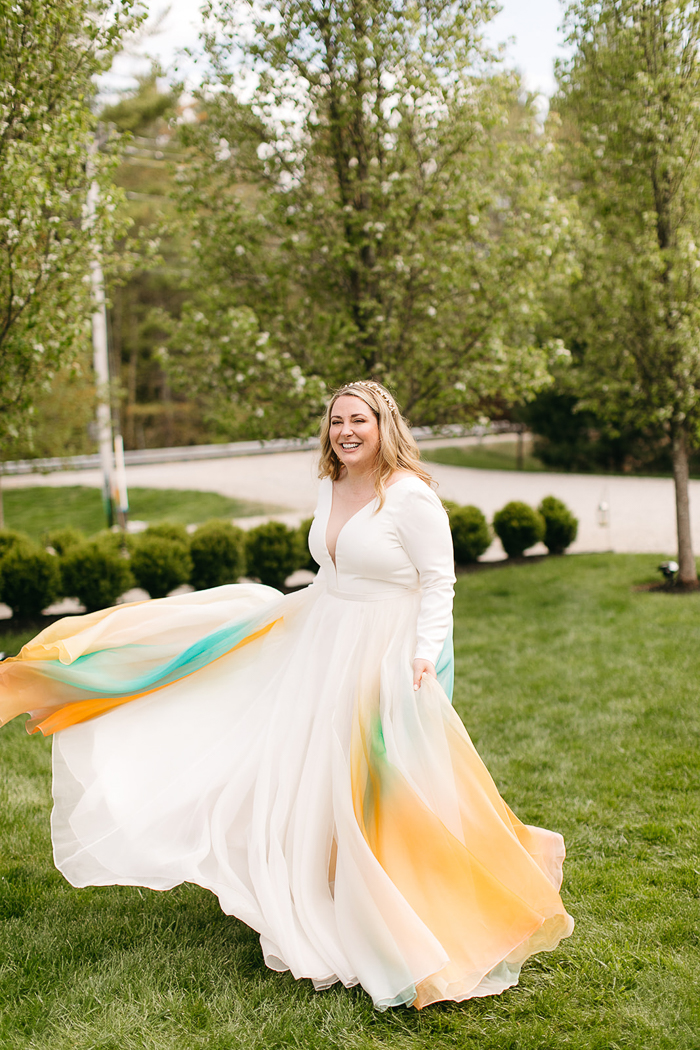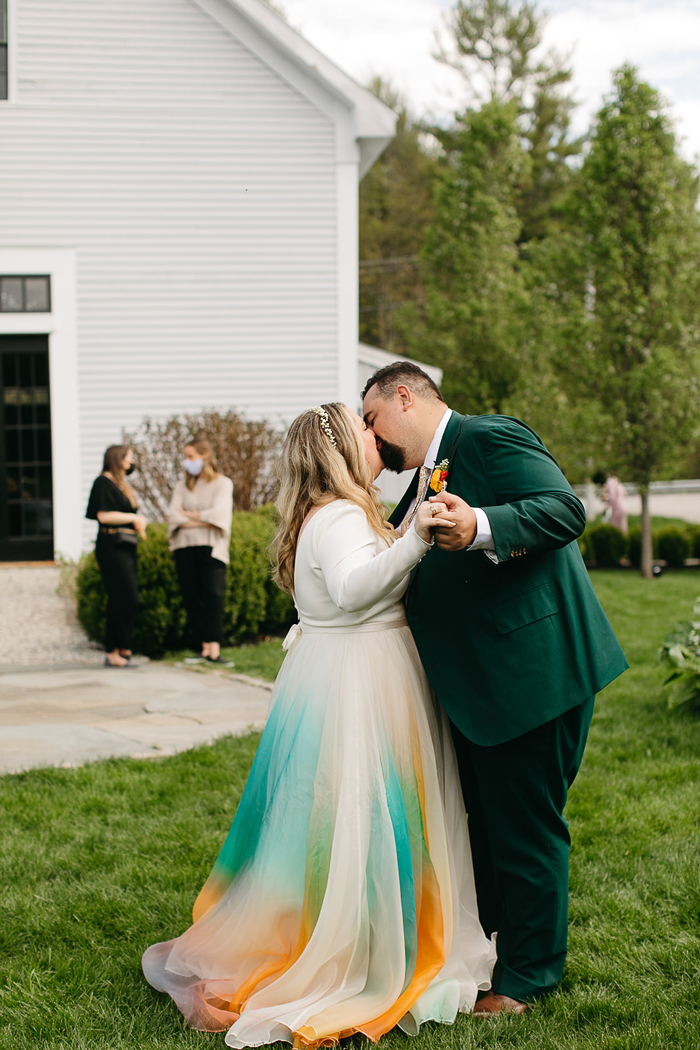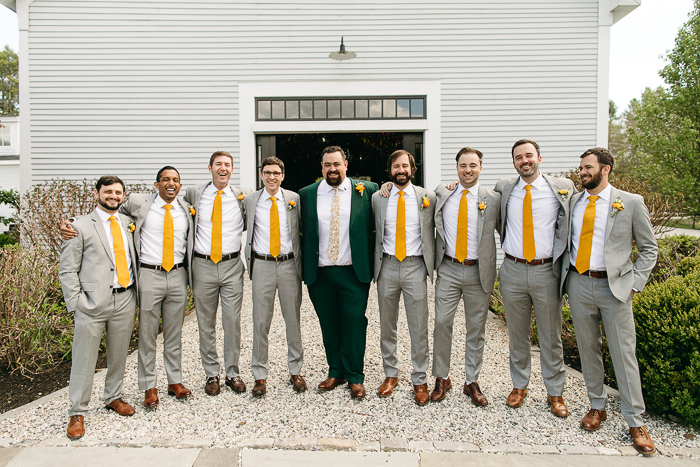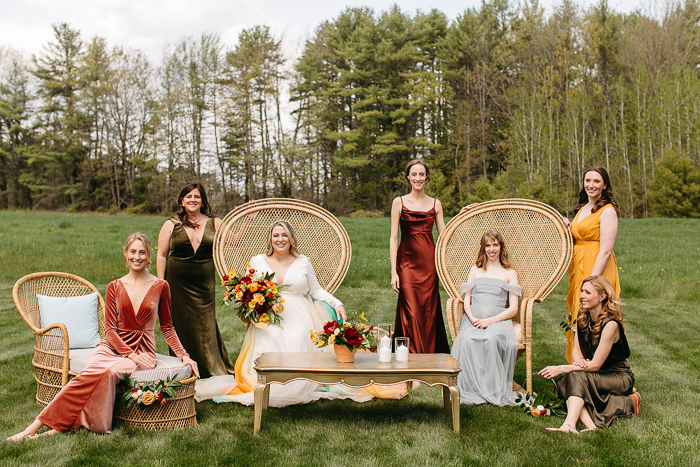 Wedding Advice: Don't Feel Pressured to Follow Every Tradition or Trend
We suggest always staying true to who you are during the wedding planning journey. You don't have to follow every tradition or trend if it doesn't feel like "you." Your big day should reflect your genuine selves. Put your attention on what truly counts to both of you and make those things a priority. And don't forget, it's your wedding day, so enjoy it! Feel free to sprinkle your quirks and personalities into the celebration. Having some fun and breaking a few traditions can be enjoyable. We had a blast mixing our family customs with our playful and unique approaches.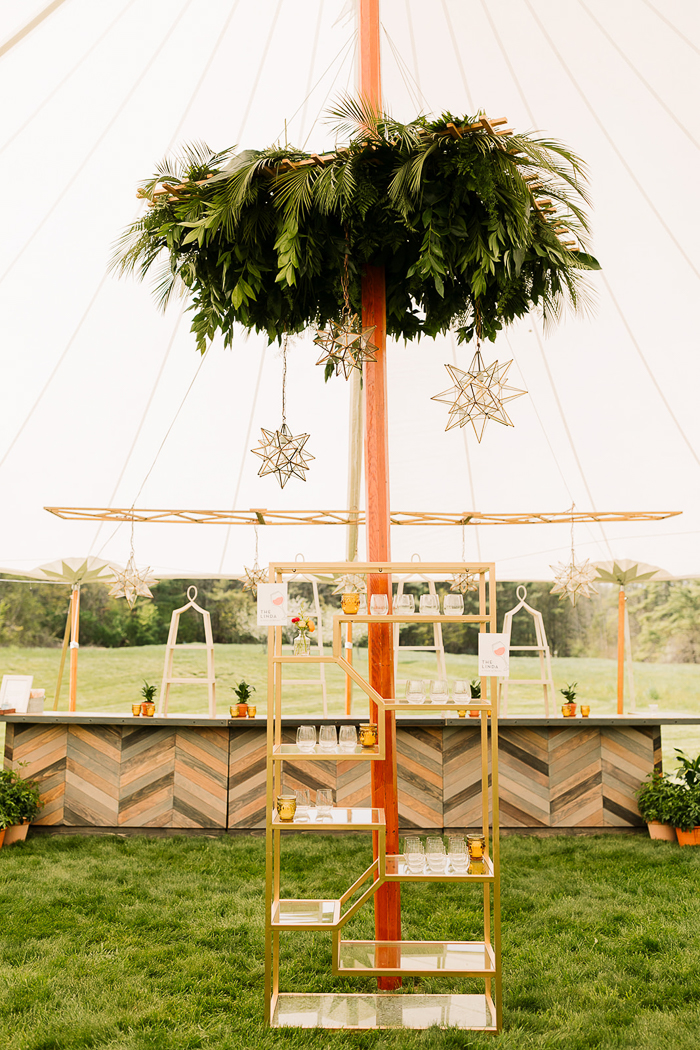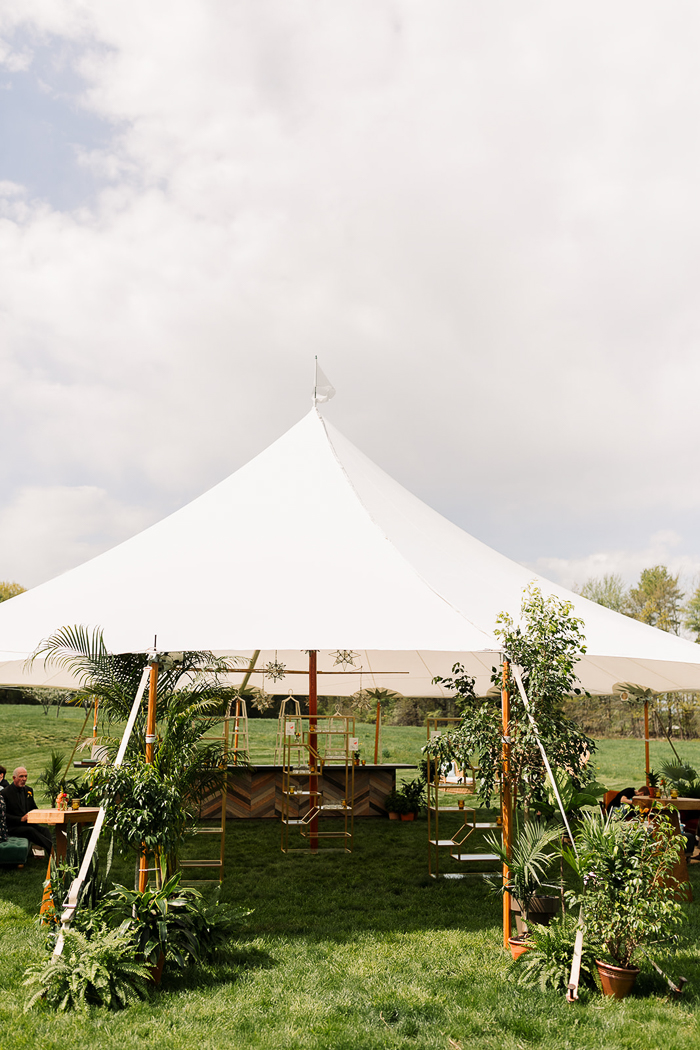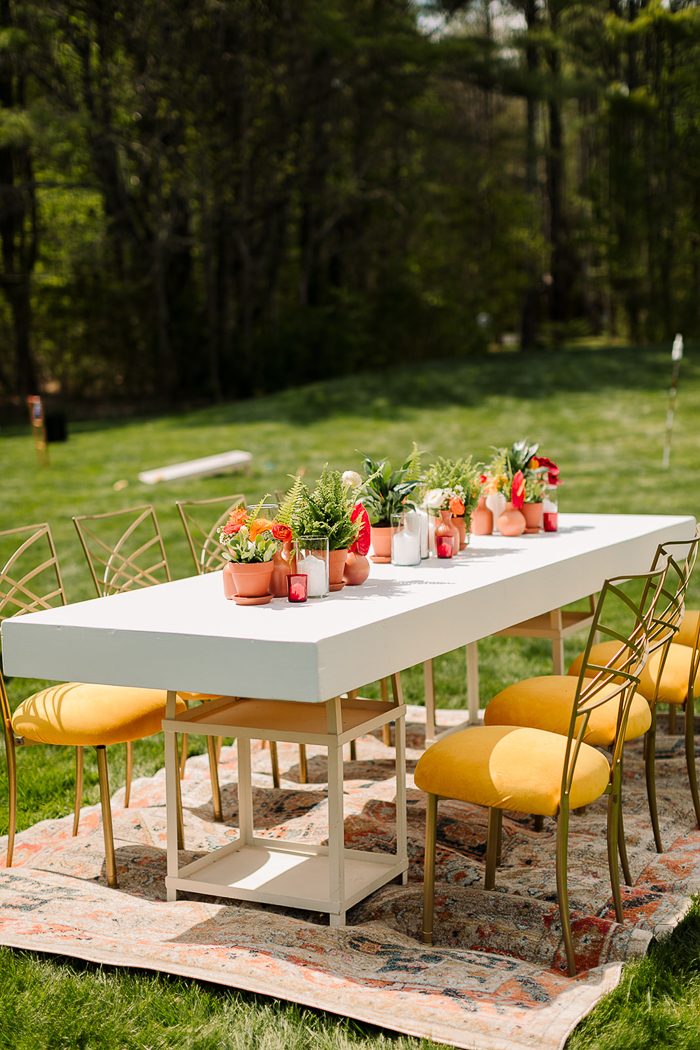 How They Stayed Within Their Flanagan Farm Wedding Budget
Managing our wedding budget involved an open conversation where we discussed what truly mattered to us. We figured out the things we cared about most, like having both live music and karaoke, adding special personal details like lawn games, and getting outstanding photography. We decided to allocate more of our budget to these critical aspects. Our wedding planning team was a big help too. They researched and compared vendor prices, ensuring we could stay on track and adjust things to fit our budget.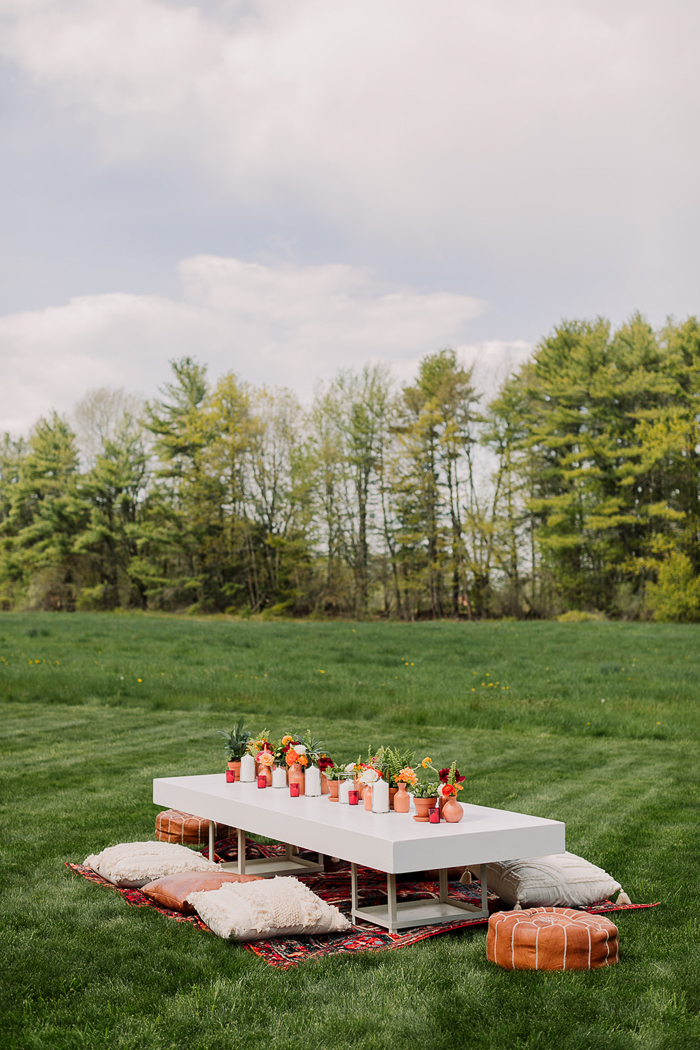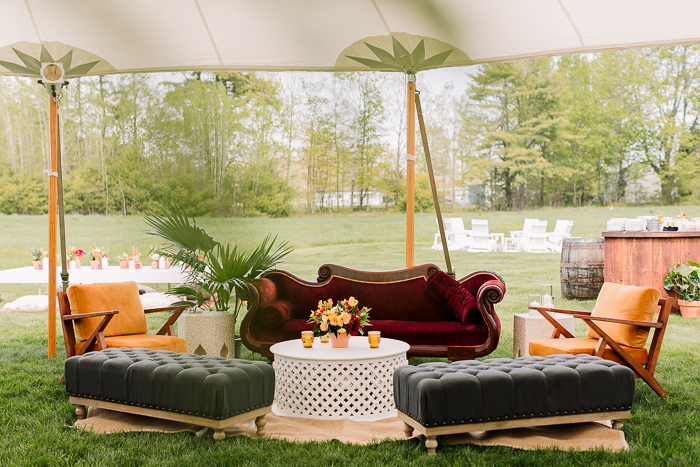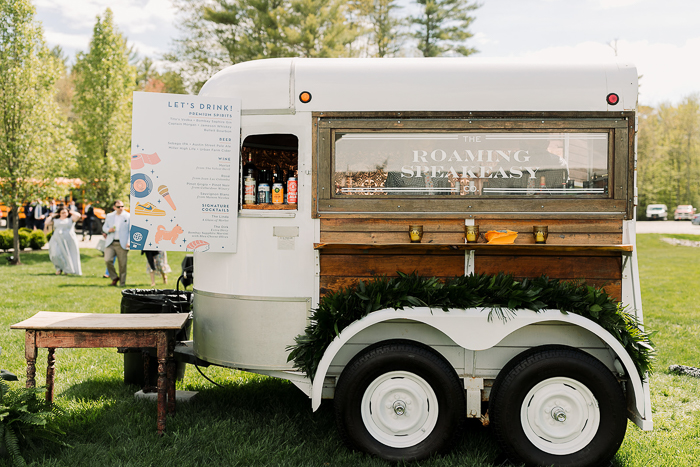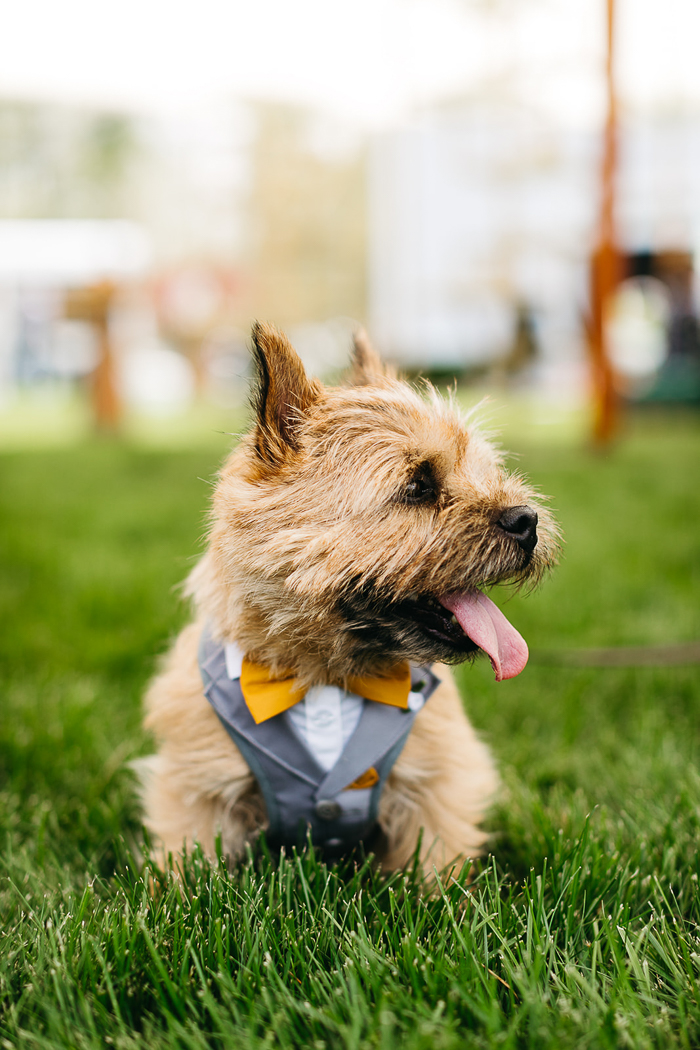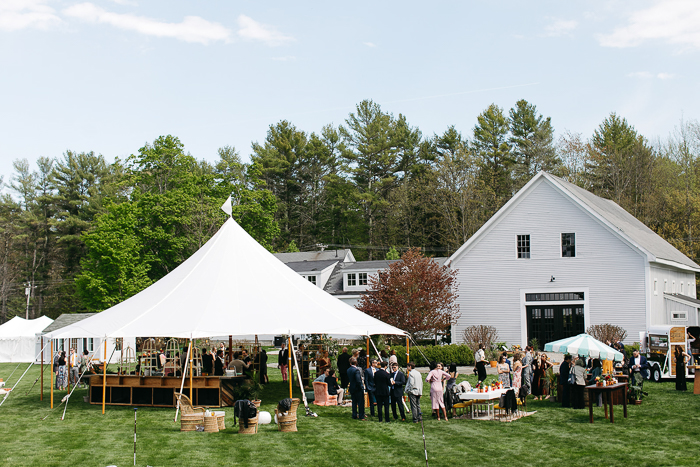 Setting The Right Festive Mood at Their Flanagan Farm Wedding with Live Entertainment
Among our amazing vendors, Isaiah Bennett and his musicians truly shone. They played during our ceremony and cocktail hour, and their music added the perfect vibe, filling the air with happiness right from the beginning. They even took our guests' song requests, which was a delightful surprise. Their talent was exceptional, and they brought a contagious energy that kickstarted an absolutely lively celebration.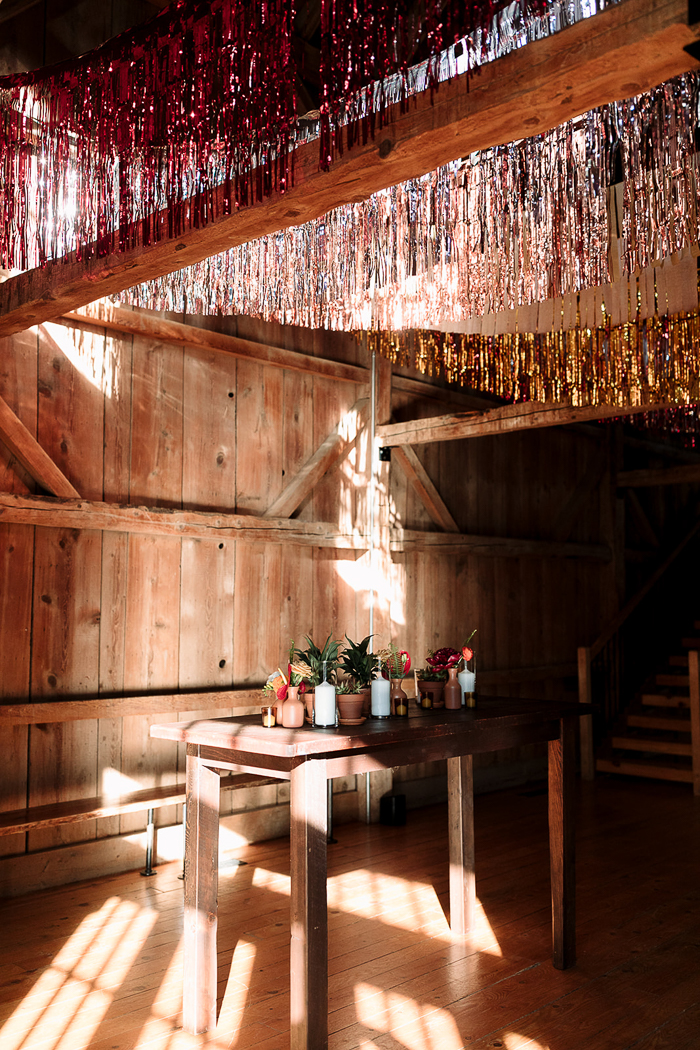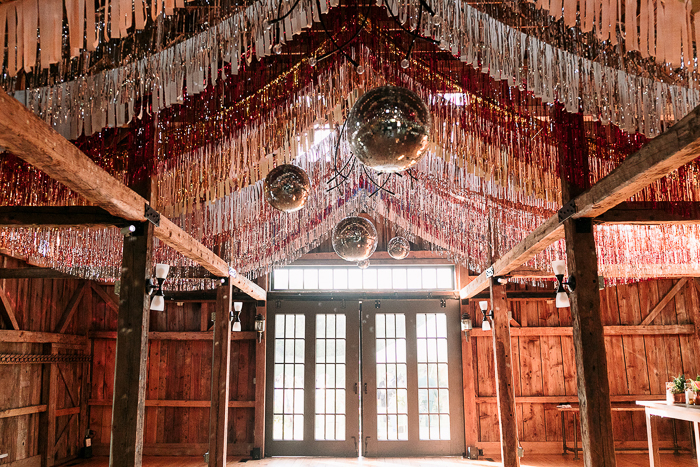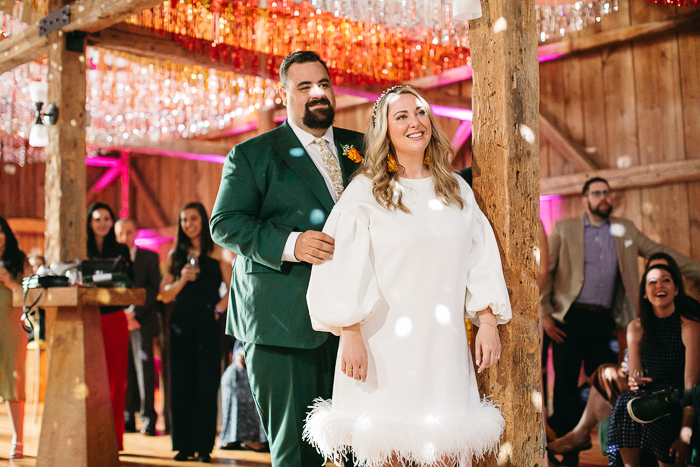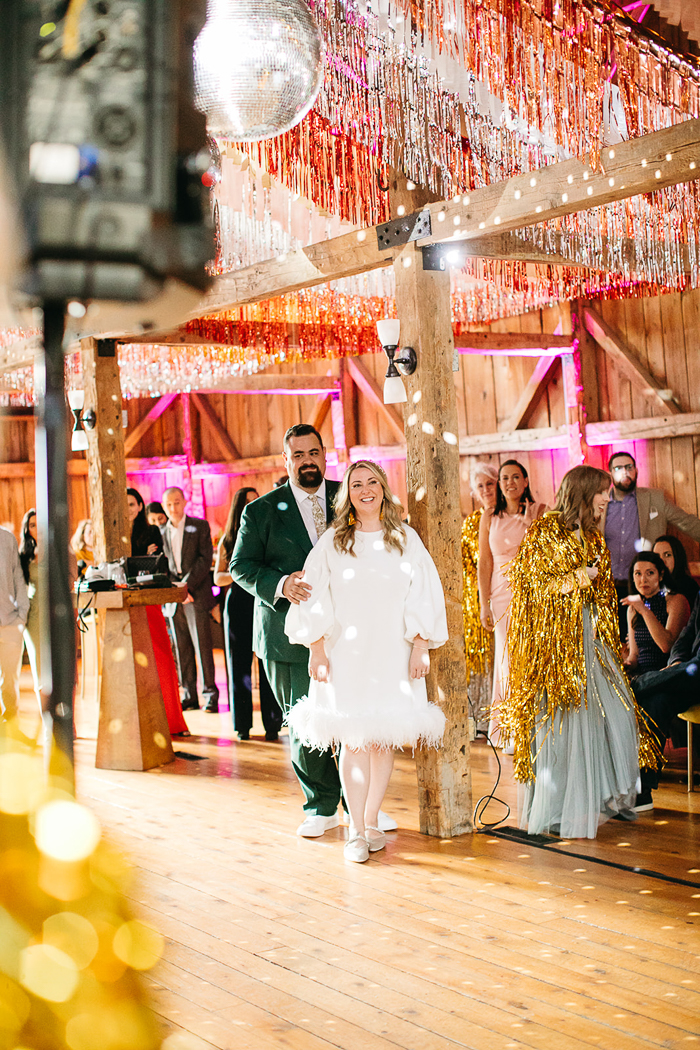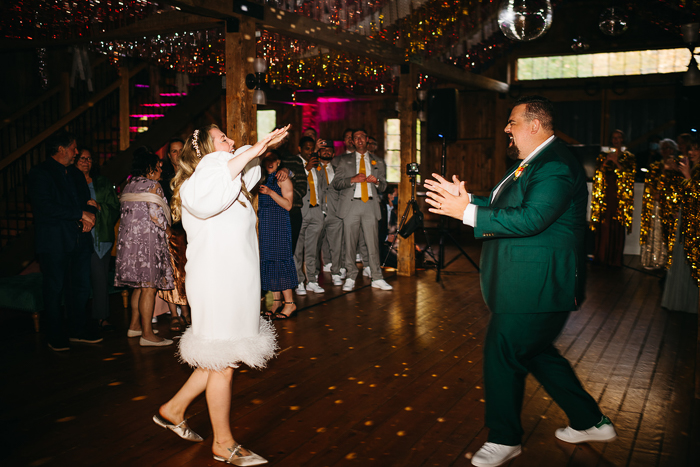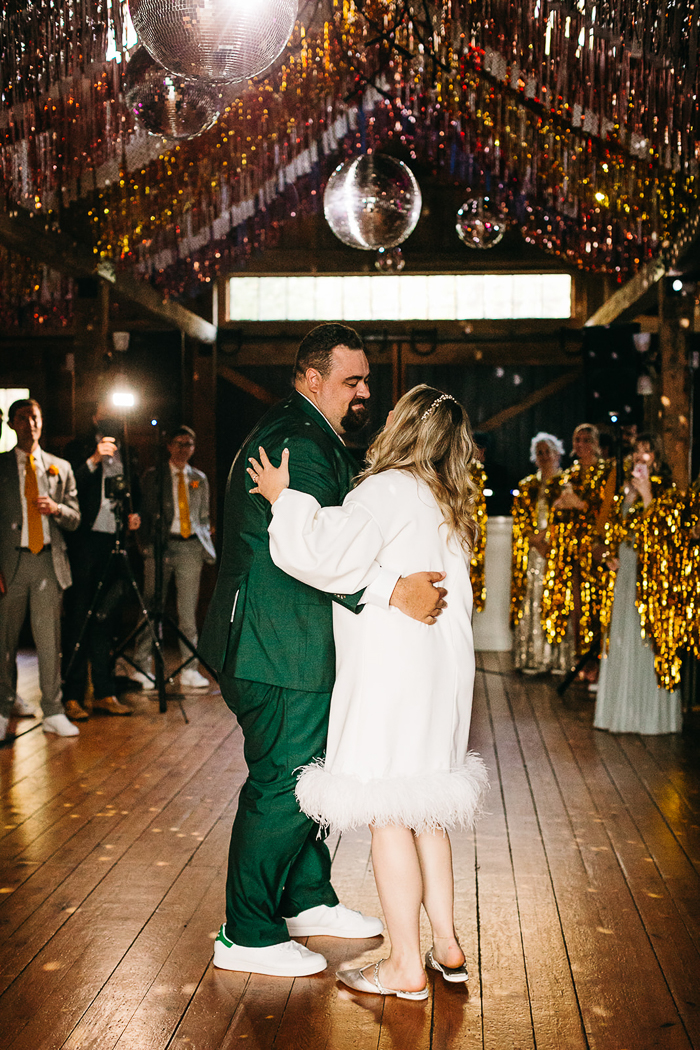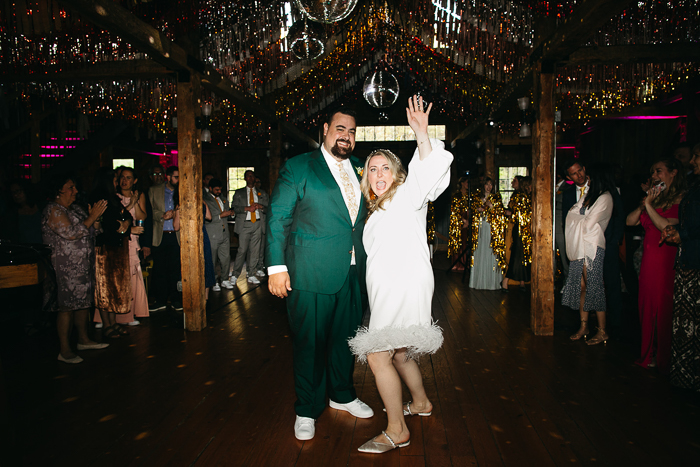 Congratulations to Lucie and Dave on their beautiful Flanagan Farm wedding! And thank you to Henry and Mac for skillfully capturing all the moments that tell their unique love story.
If you're envisioning a wedding that's bursting with character, check out our guide on planning a unique celebration. It's got lots of ideas to help you create a special day that's all about you and your partner.