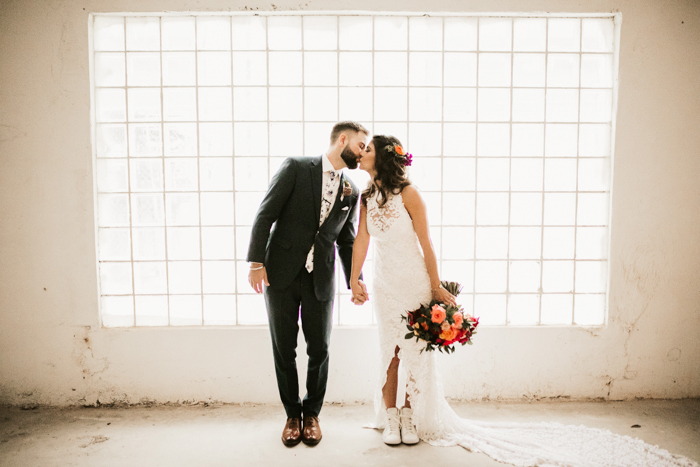 Inspired by the jewel tones of South America, Jenna and Todd created the most beautiful and colorful wedding day at The 4 Eleven! Using tons of DIY and personally curated decor, the couple brought an eclectic vibe to the warehouse space and made it feel charming and uniquely personal. Vivienne & Vine then added florals in a mix of vibrant and jewel tones to match the bridesmaids' gowns and complement the bohemian feel of the entire day. The couple carried that unique look into their attire, as well, with Jenna donning a gorgeous Grace Loves Lace gown and white booties and Todd choosing a modern, custom Indochino suit. With so many dreamy details and heart-warming moments, we are loving how Brandi Allyse Photo captured this remarkable wedding day!
The Couple:
Jenna and Todd
The Wedding:
The 4 Eleven, Fort Worth, Texas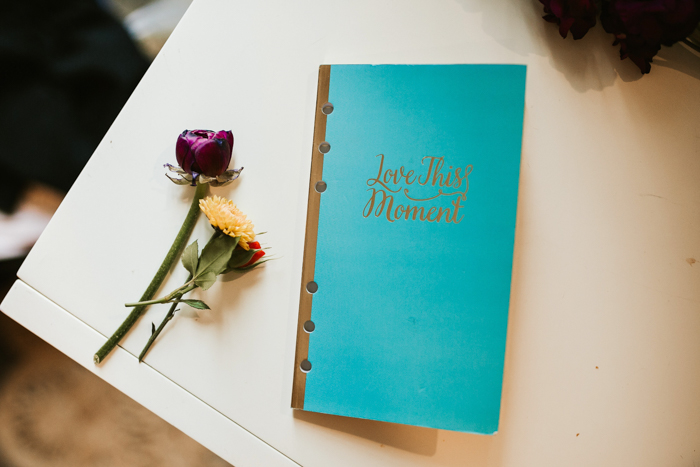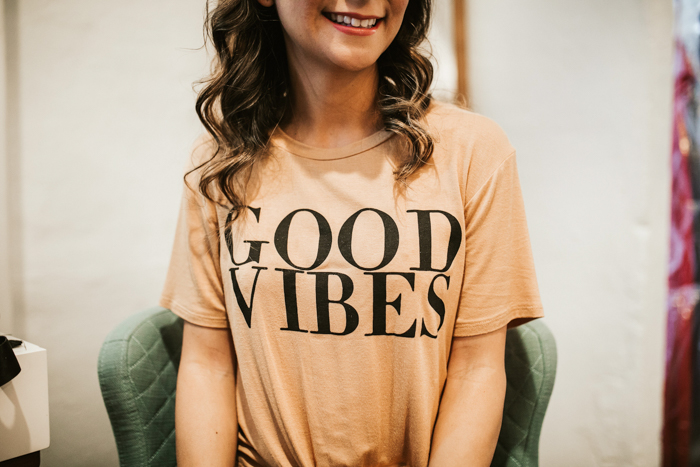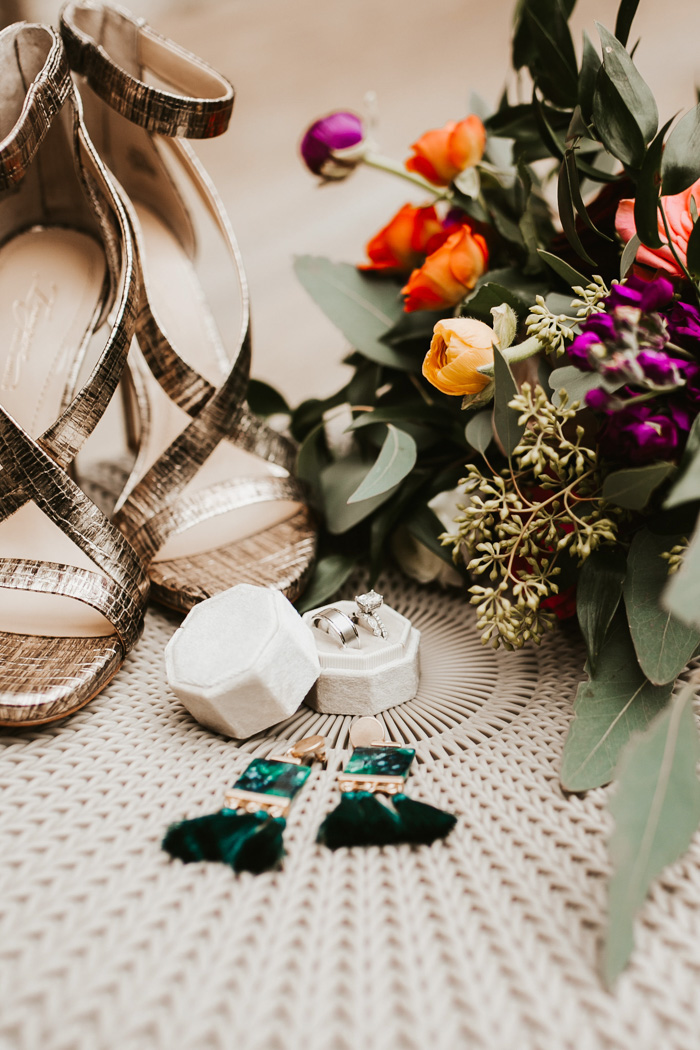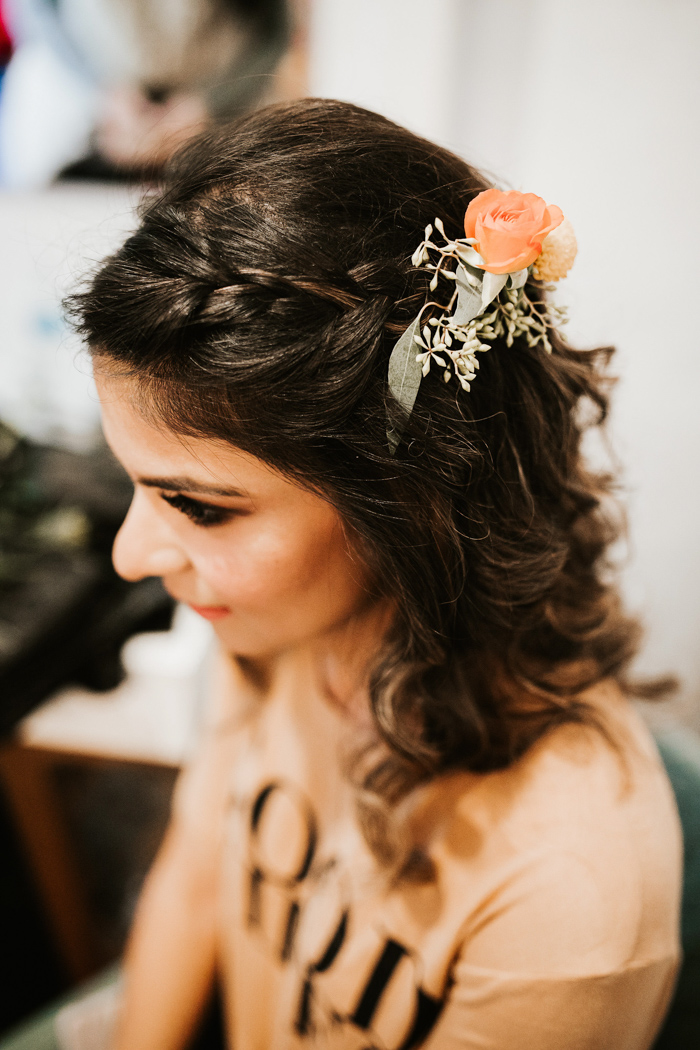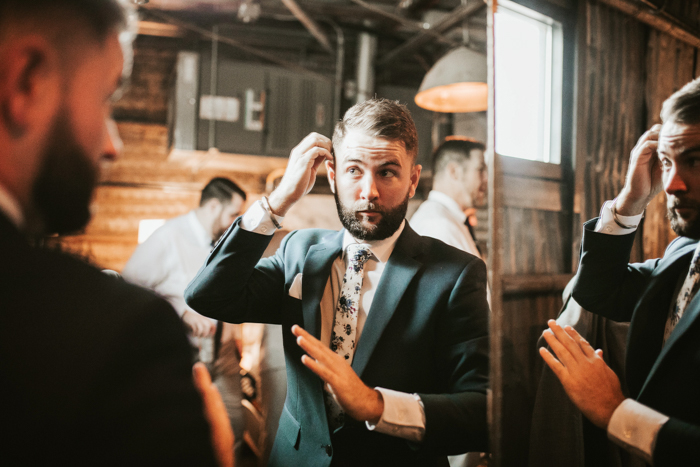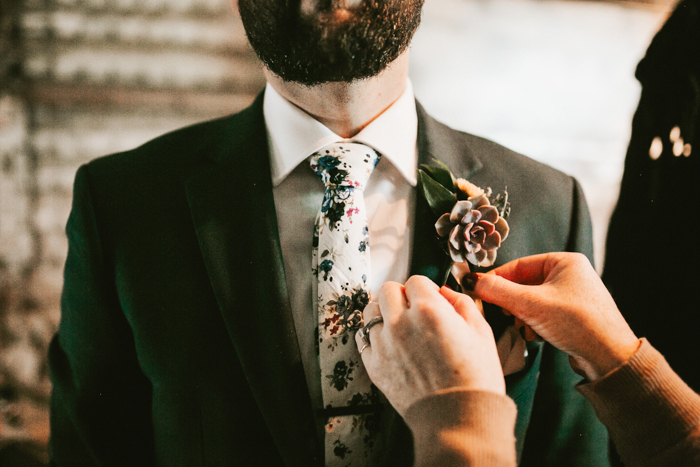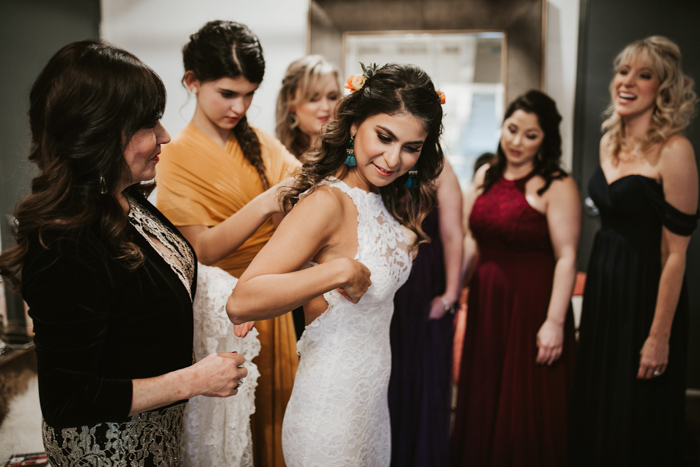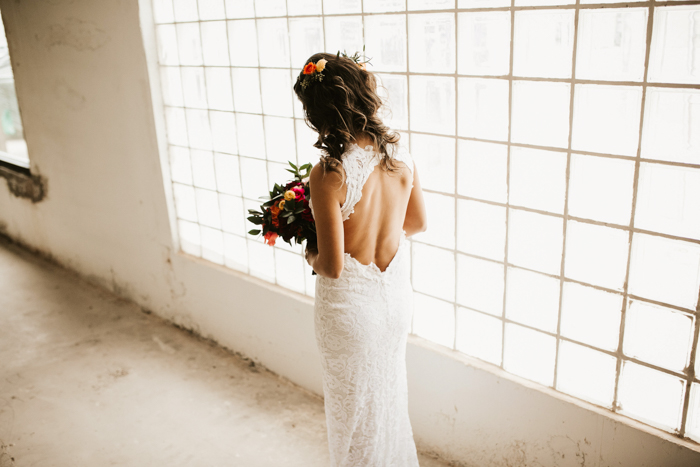 From the bride: "I wanted a dress that was classy but sexy. Grace Loves Lace had exactly that. I fell in love with a backless lace dress with a beautiful train. It was comfortable and I wanted to be able to dance! As far as makeup and hair, I wanted to look like me and have natural tones. My emerald earrings added just a touch of color. My bridesmaids were all in different jewel tones. I wanted them to pick a dress they felt pretty in. I didn't want to tell them what to wear and feel uncomfortable."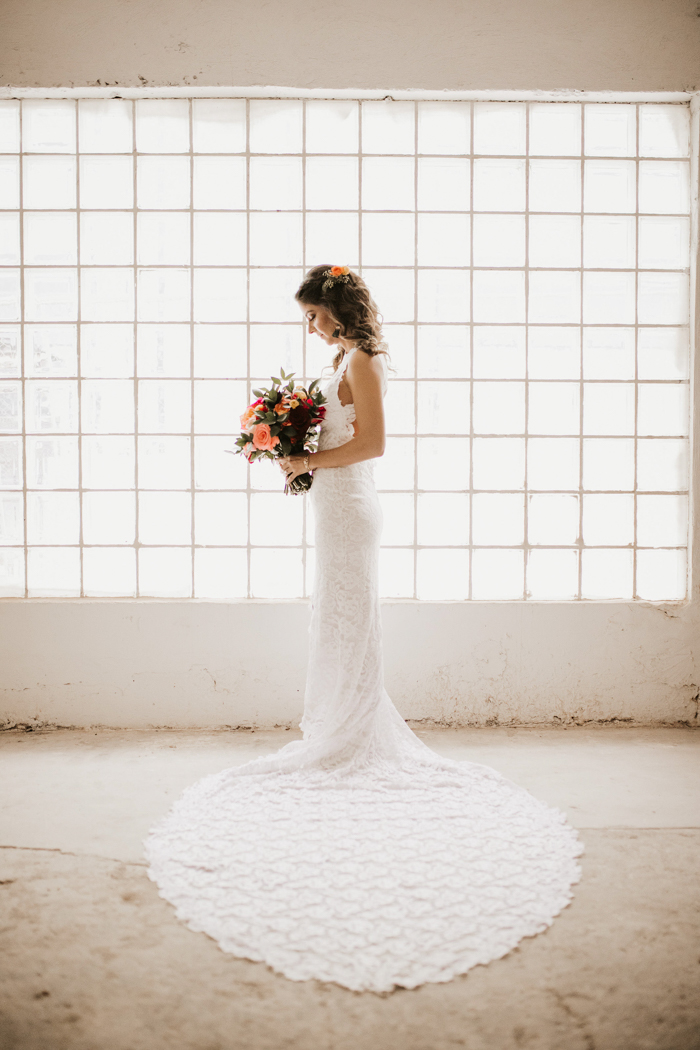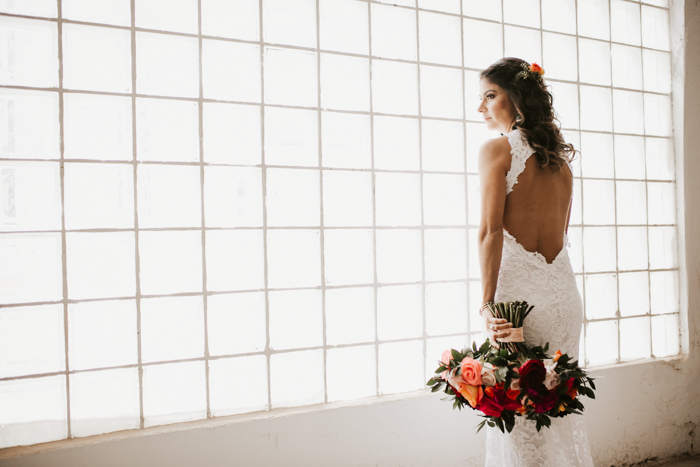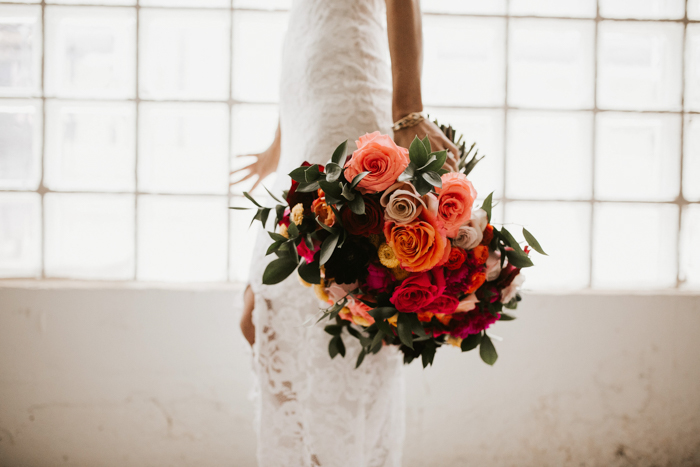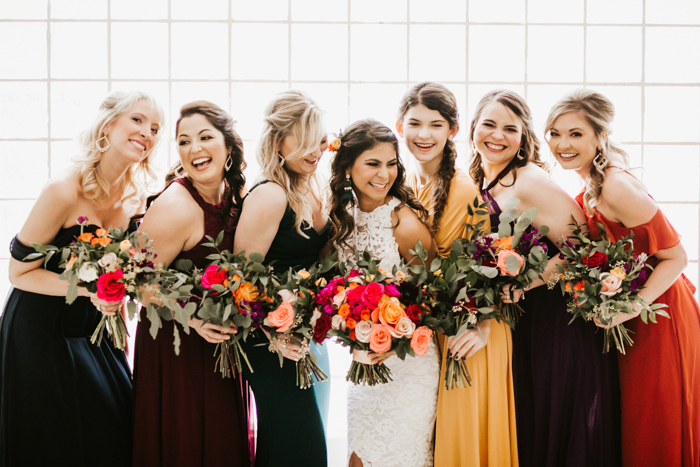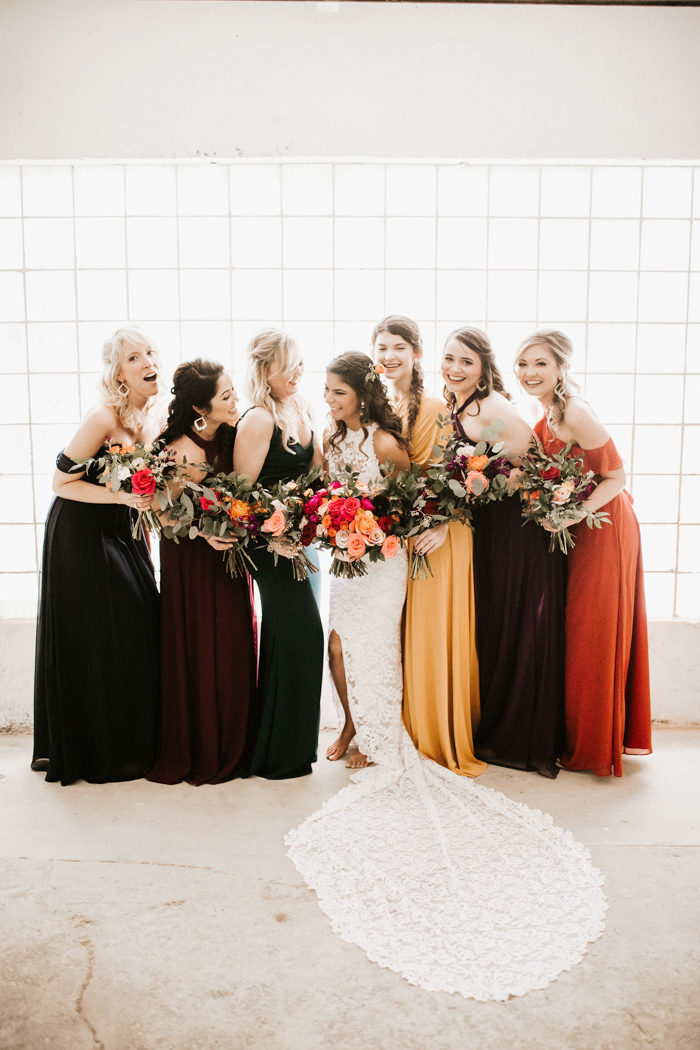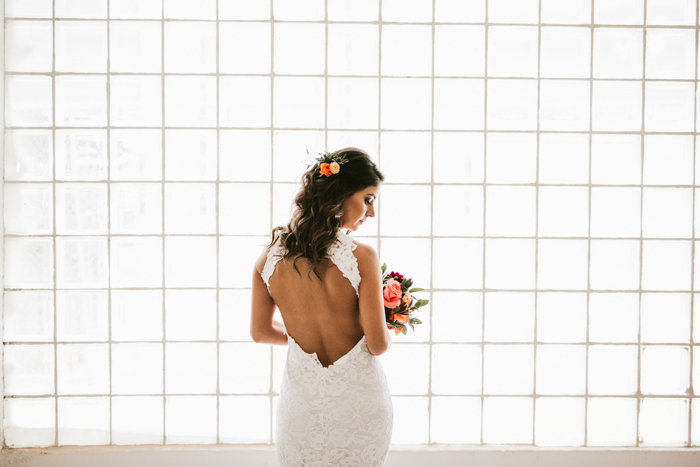 From the groom: "As someone not afraid to admit to being to fashion a little bit I wanted to make sure that my suit was custom fit and a unique color but did not want to overshadow the bride. I found a perfect suit at Indochino, which customizes everything down to buttonholes to lapels. I also wanted to differentiate from the norm of the guys renting outdated suits and spent a lot of time finding affordable suits, shoes, accessories that they could keep for much less than $200."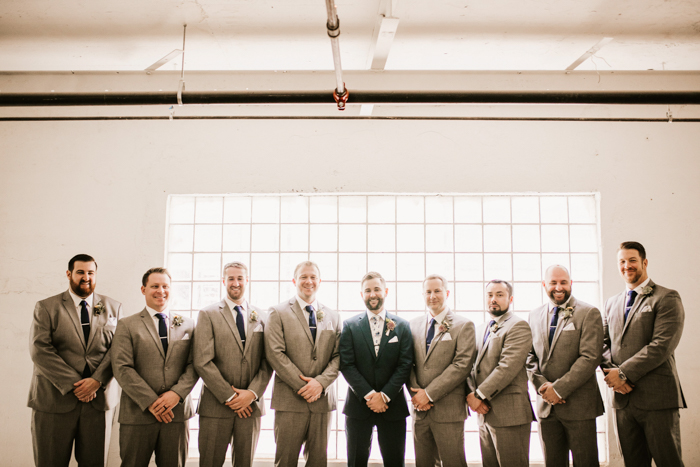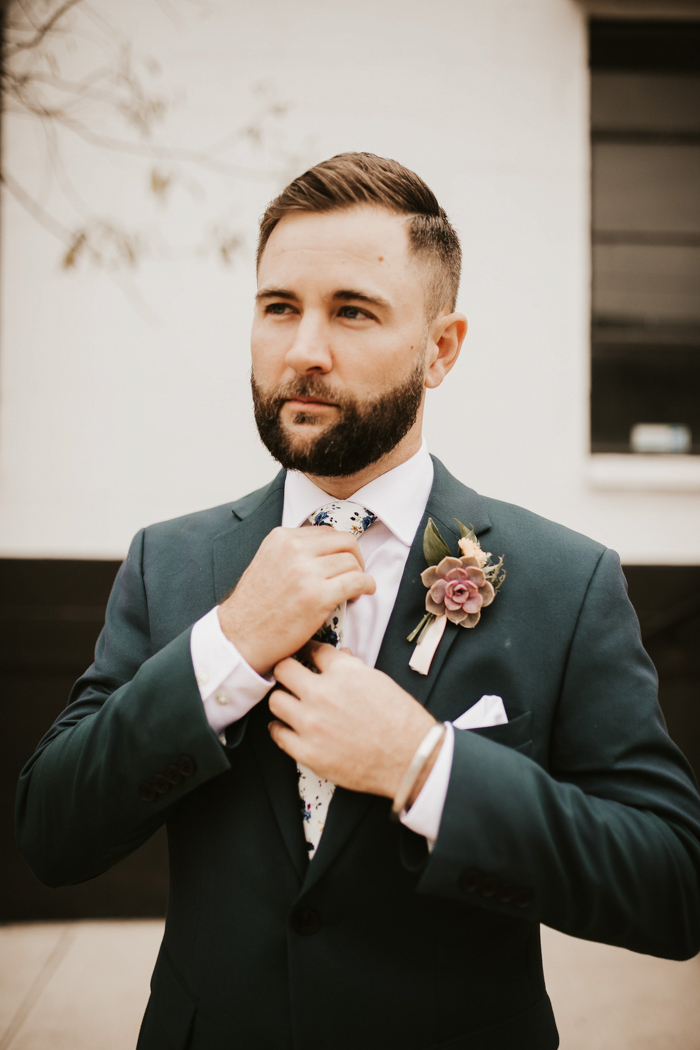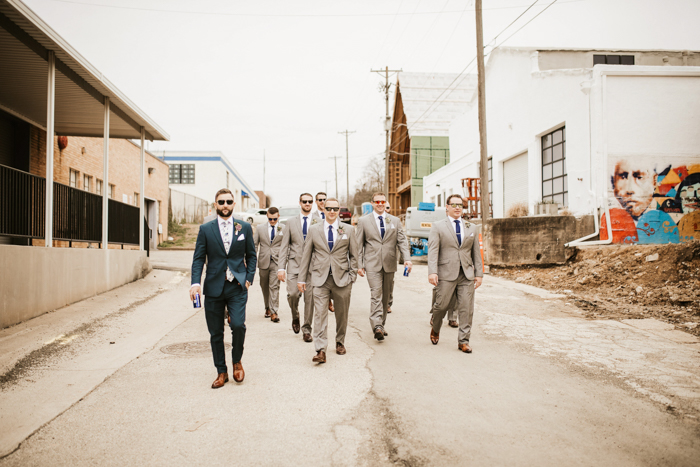 From the bride: "I loved having my 13-year-old daughter by my side as my maid of honor. Being able to include her was so special. It felt right during such a special moment to glance at her next to me while Todd and I said our vows. I know this an important day of her life, as well."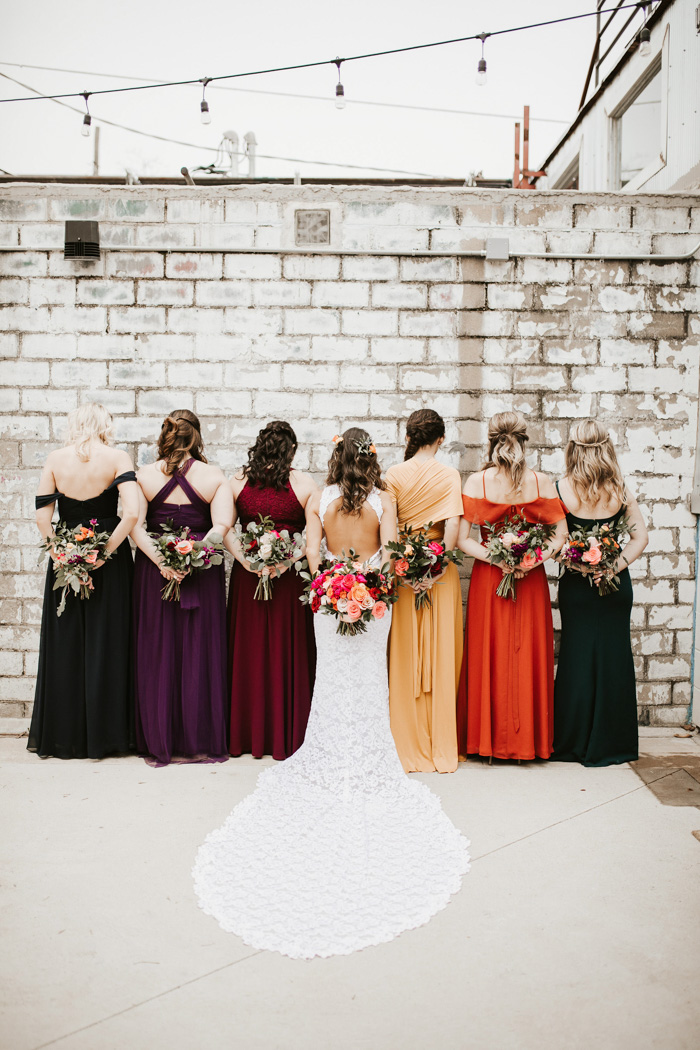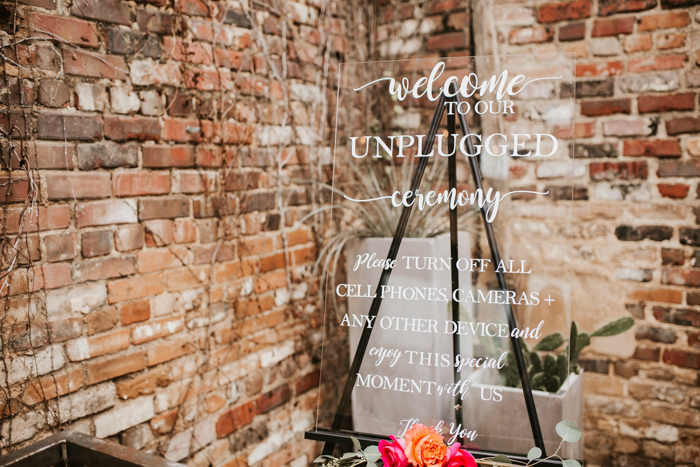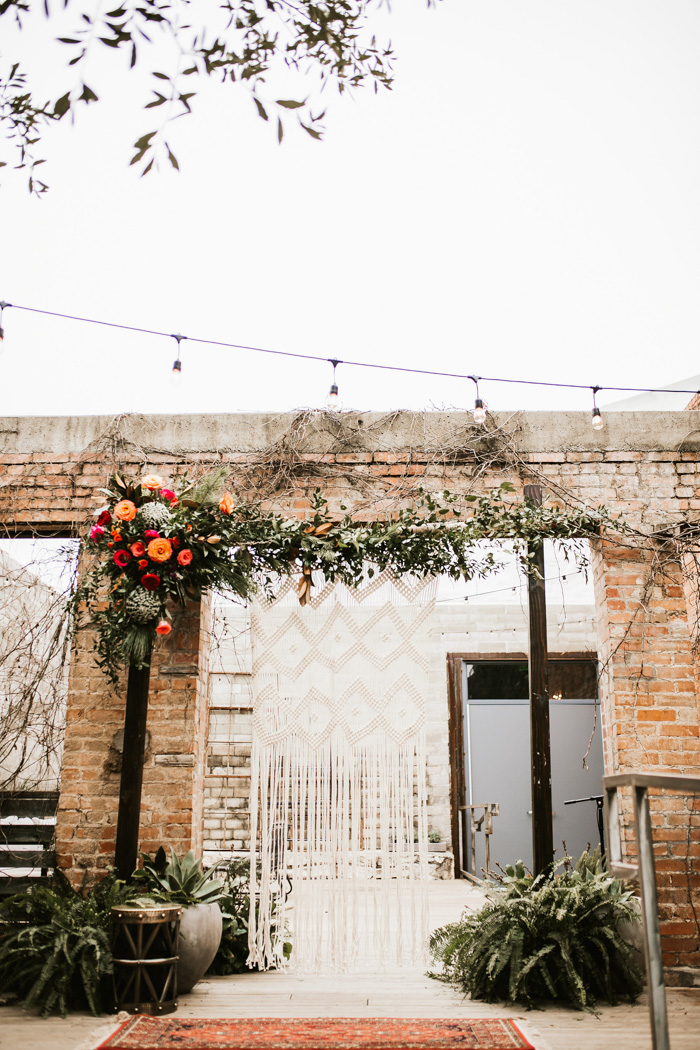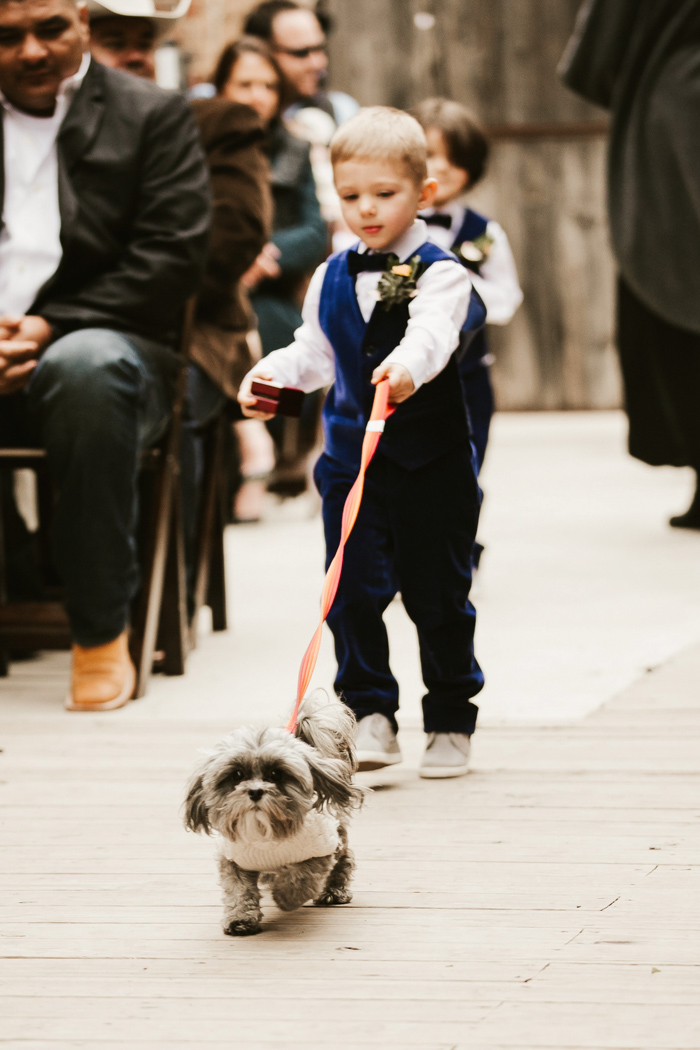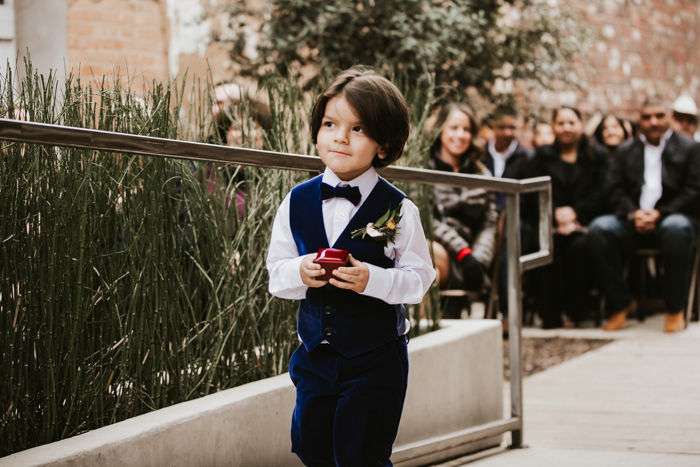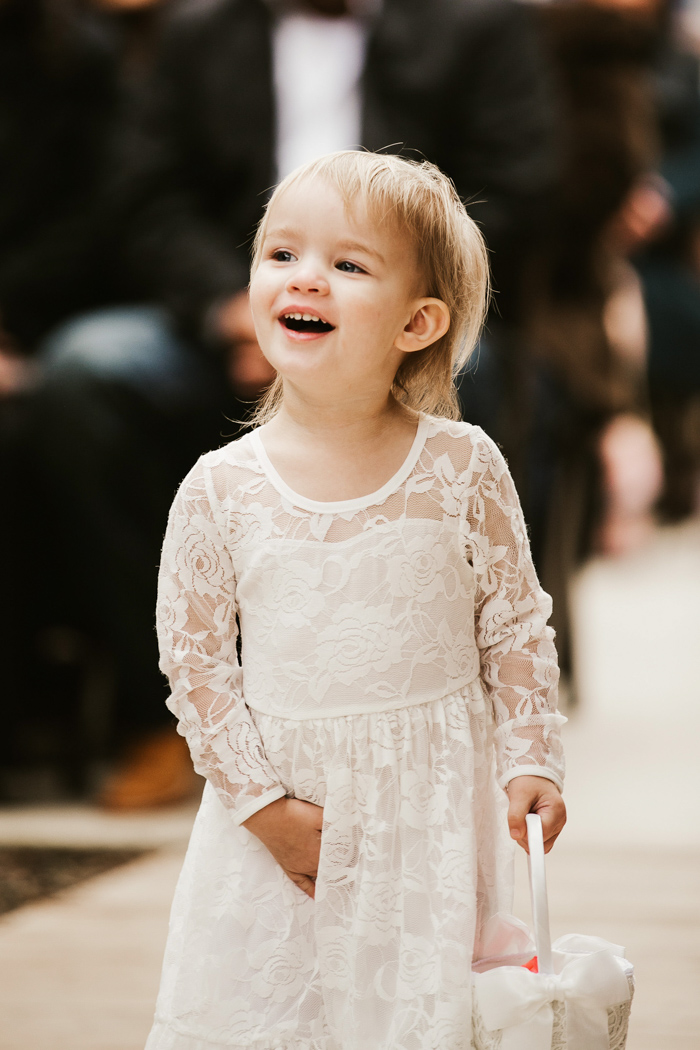 From the groom: "The most memorable part of my day was getting to see Jenna walk down the aisle with her older brother escorting her, after she had been on crutches for multiple weeks (and not supposed to be wearing shoes or putting pressure on her foot). I will never forget how happy (and sad) that moment was for me."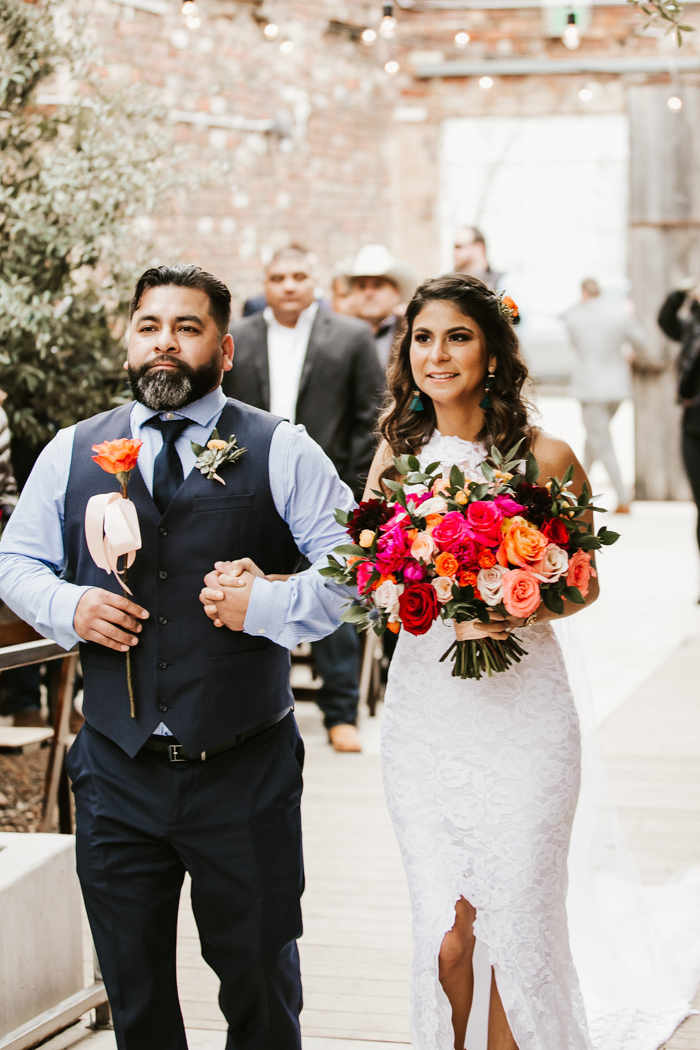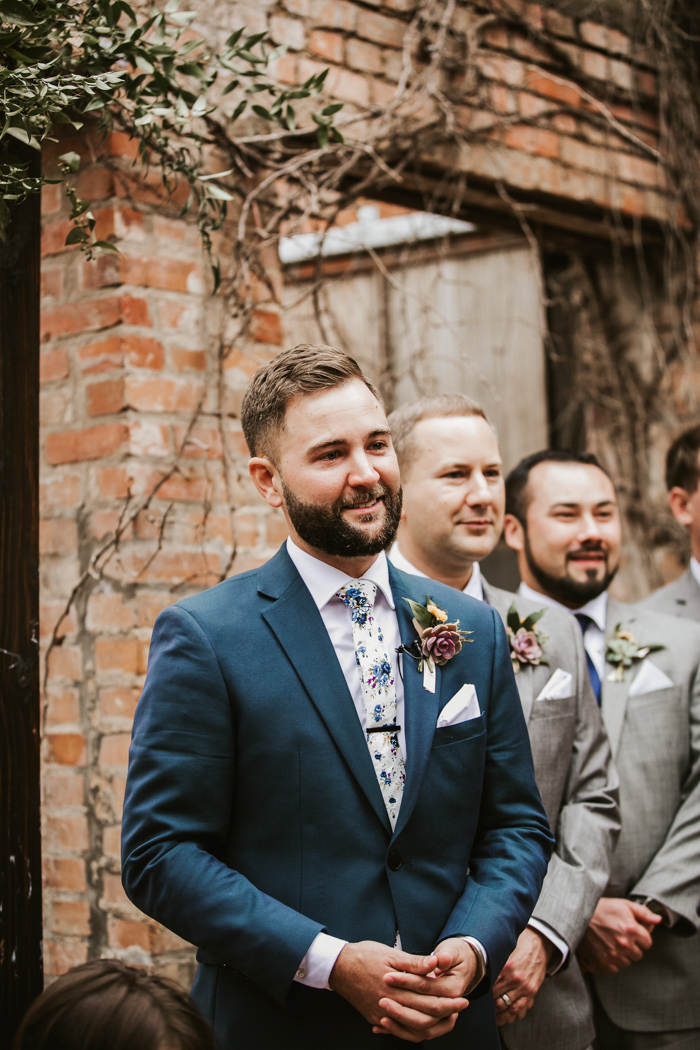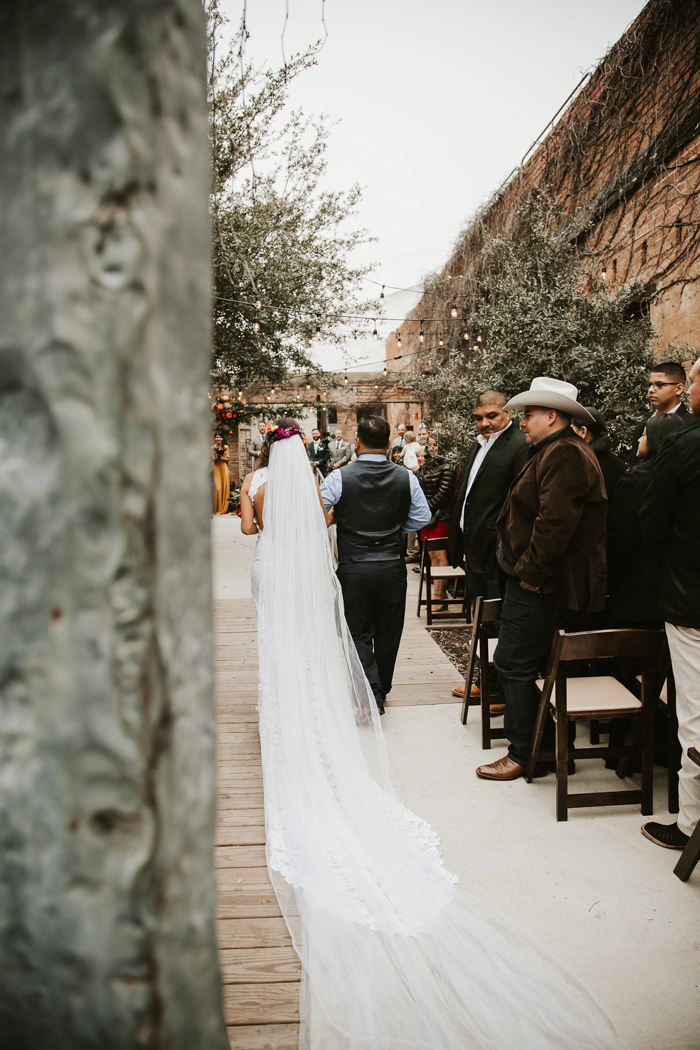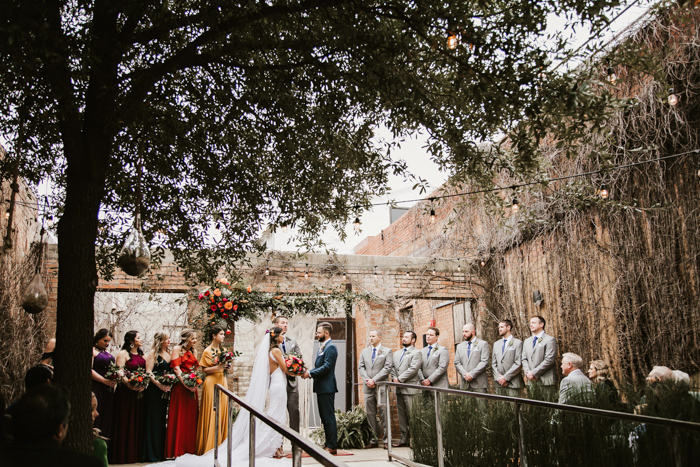 We had one of the groom's closest friends officiate the wedding, wrote our own vows, and served coffee and hot chocolate at the entrance to our ceremony because of the cold weather. Jenna also hired one of her singer/songwriter friends to perform prior to and during the ceremony. She had performed the night of our first date, so it was very special! Also, we included our dog CoCo as one of the flower girls. It was absolutely adorable watching my 4-year-old nephew escort her in.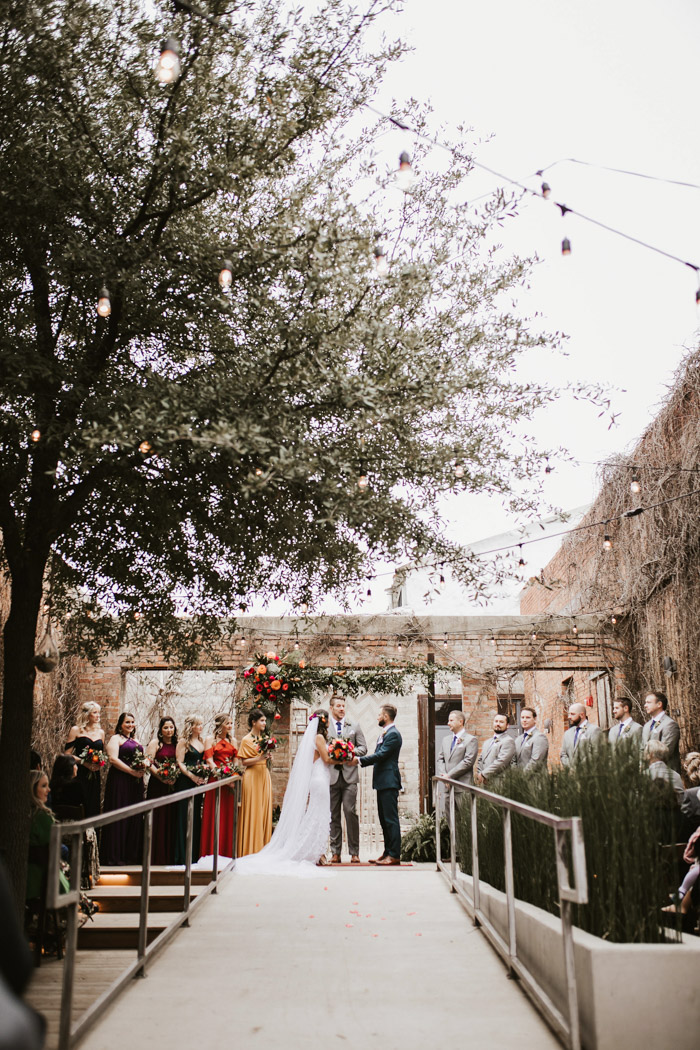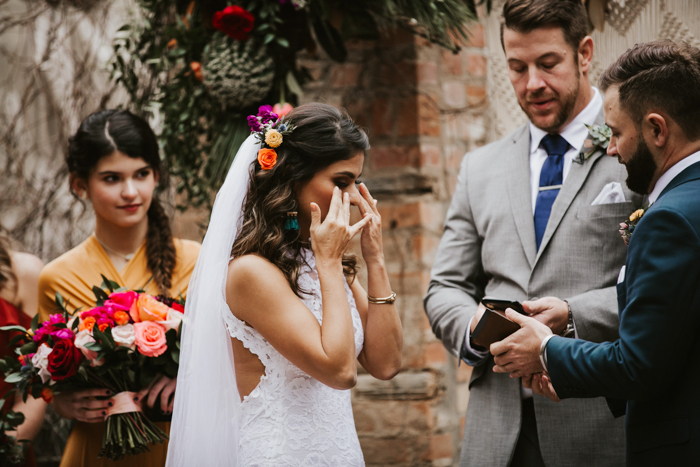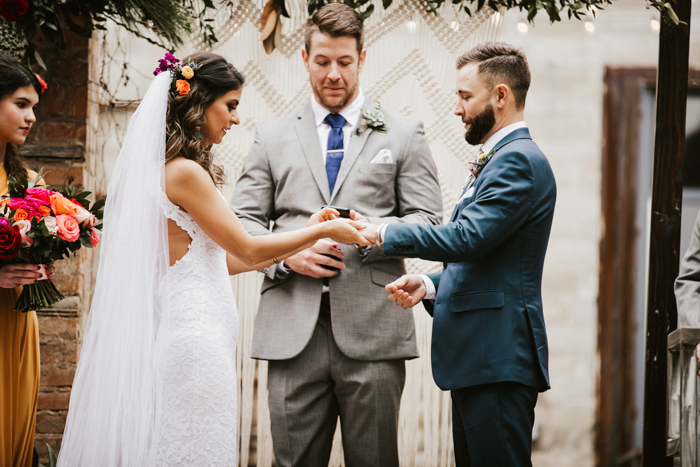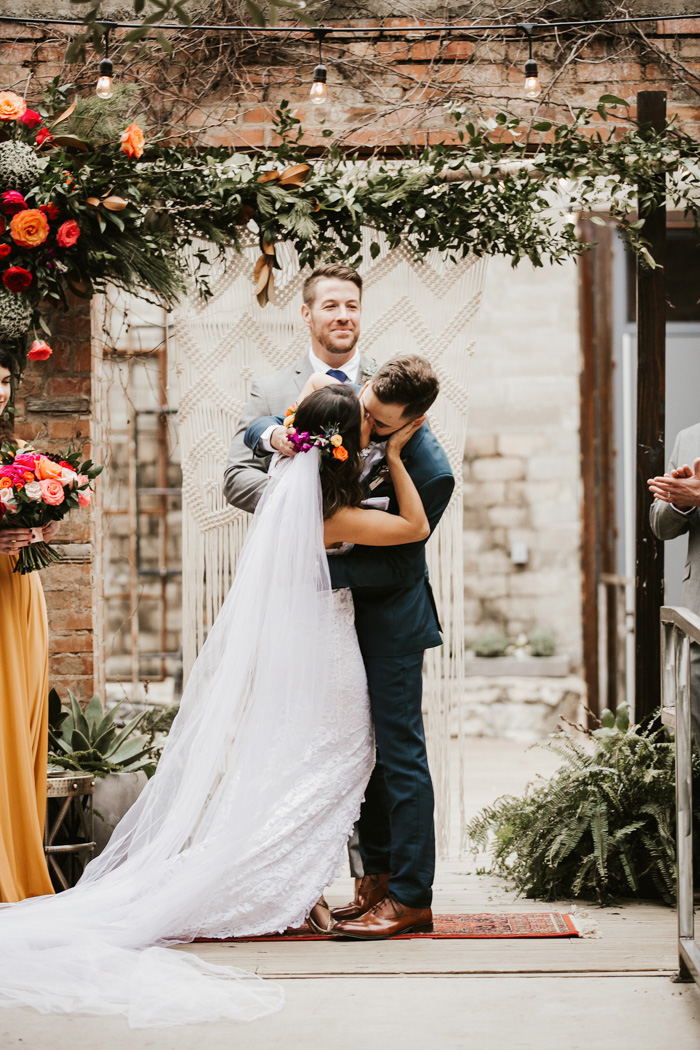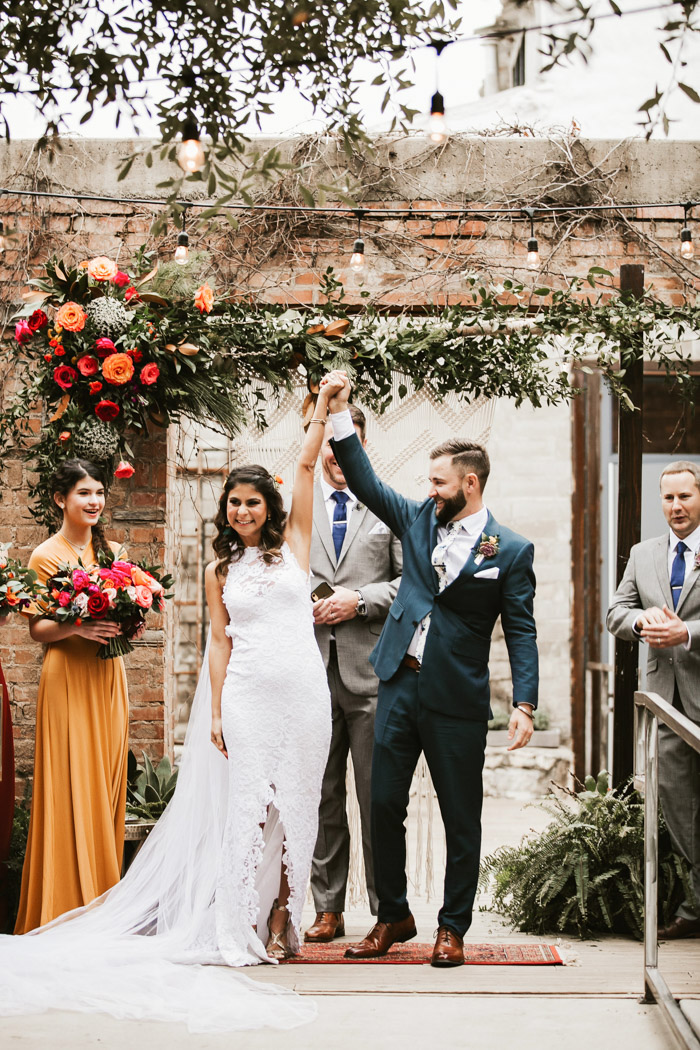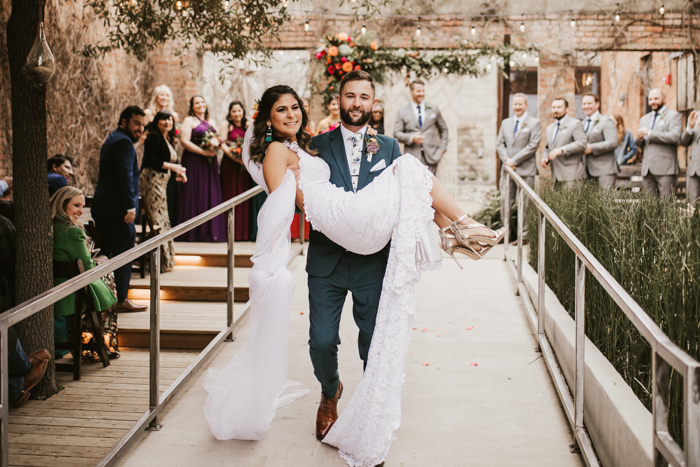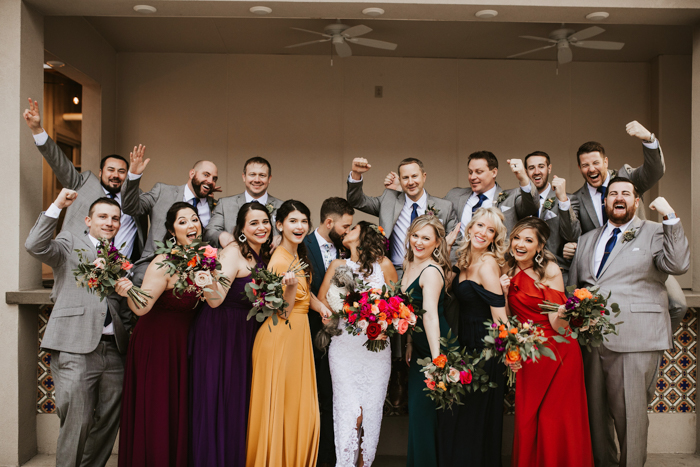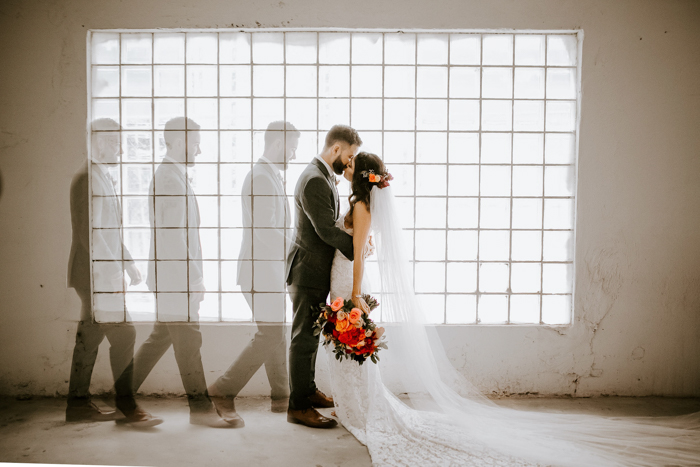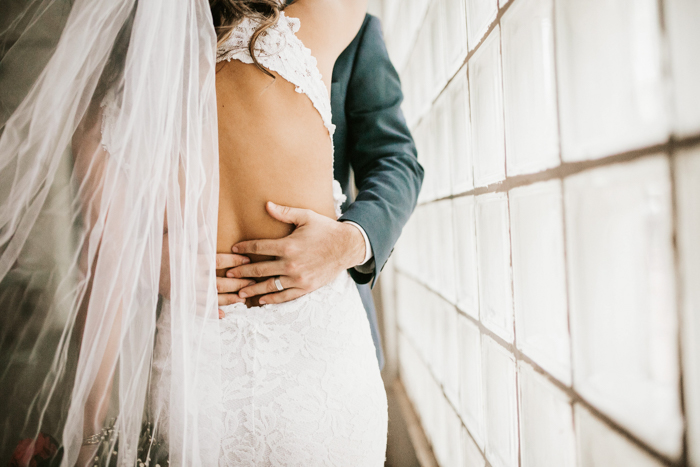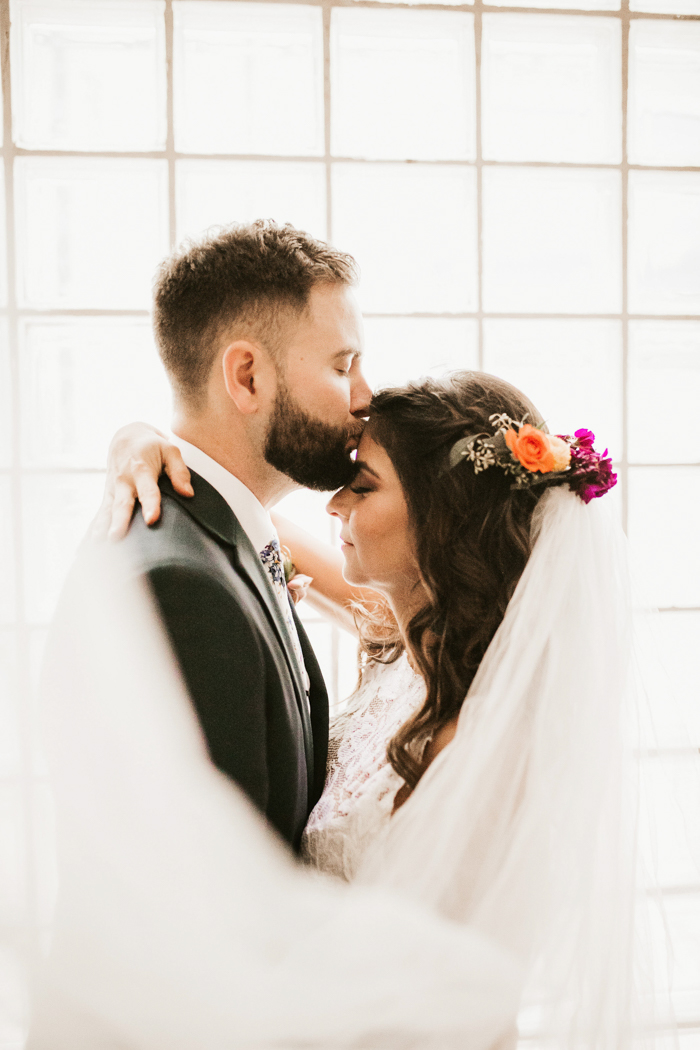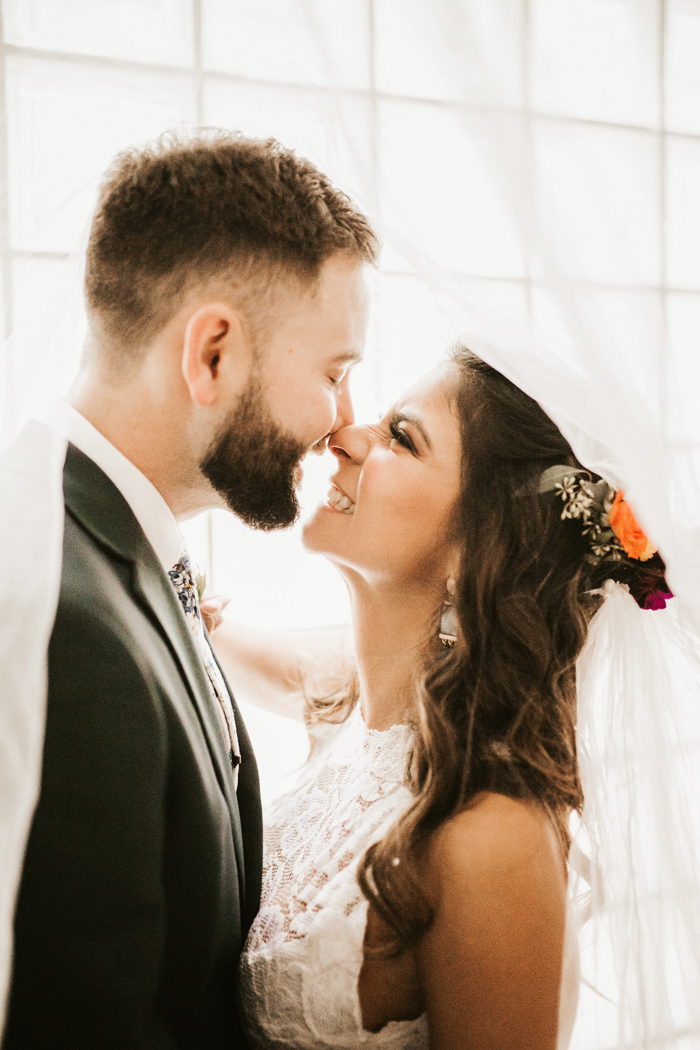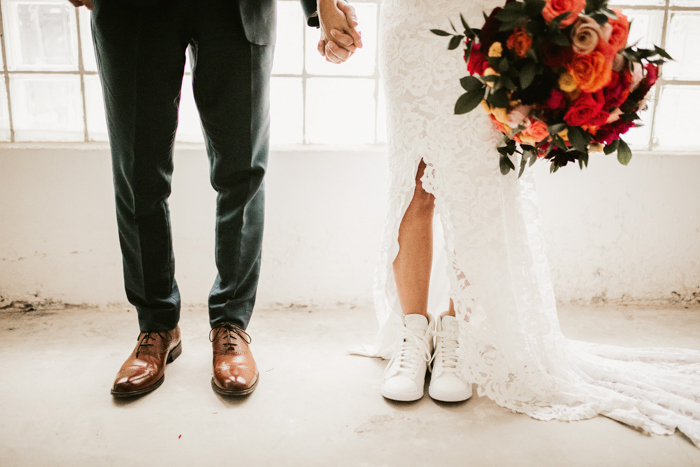 We did not want to have a rustic wedding and wanted more of a unique, eclectic feel. Jenna's father was from Mexico and her mother is Peruvian. So, colorful and warm was a must!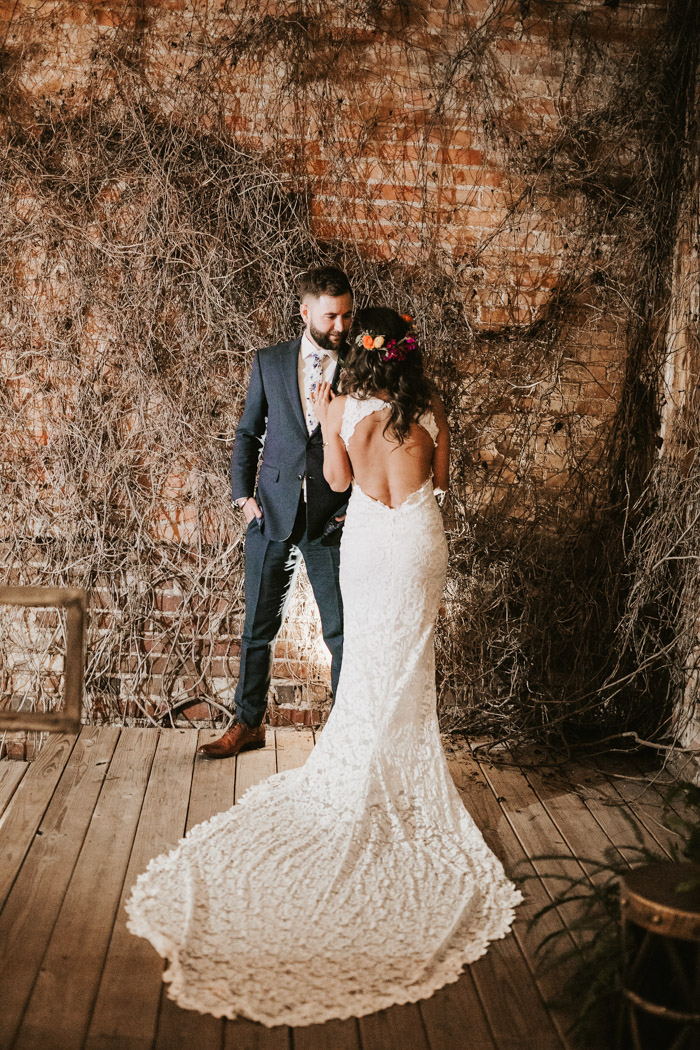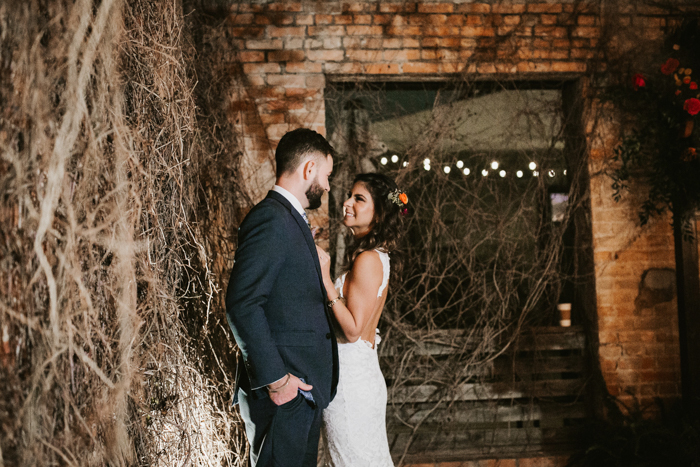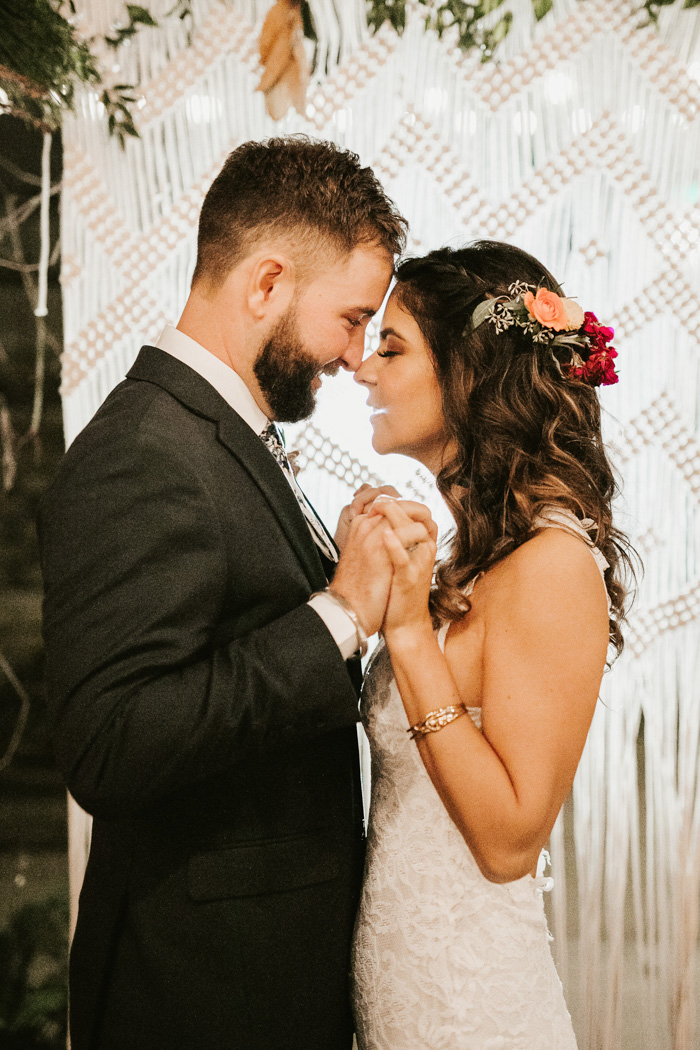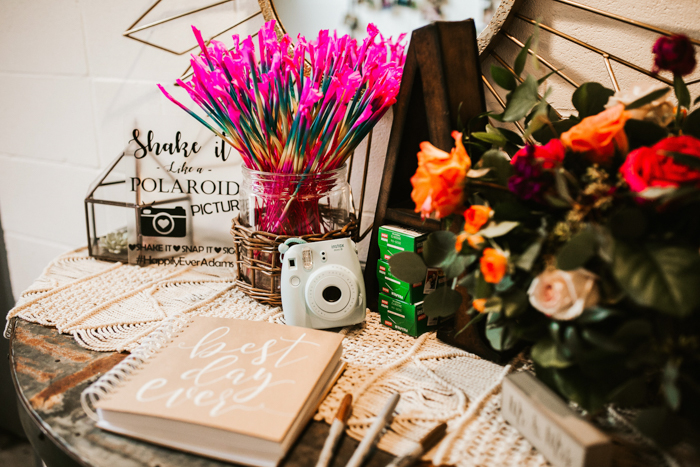 We DIY'd pretty much everything! Jenna worked tirelessly accumulating everything over an 11-month span. Our garage looked like a storage unit when it was all said and done! I questioned her often about what all she kept buying but I must admit she turned her vision into a reality. It also made for a nice way to recoup a little bit of money being able to resell a lot of the items after the wedding.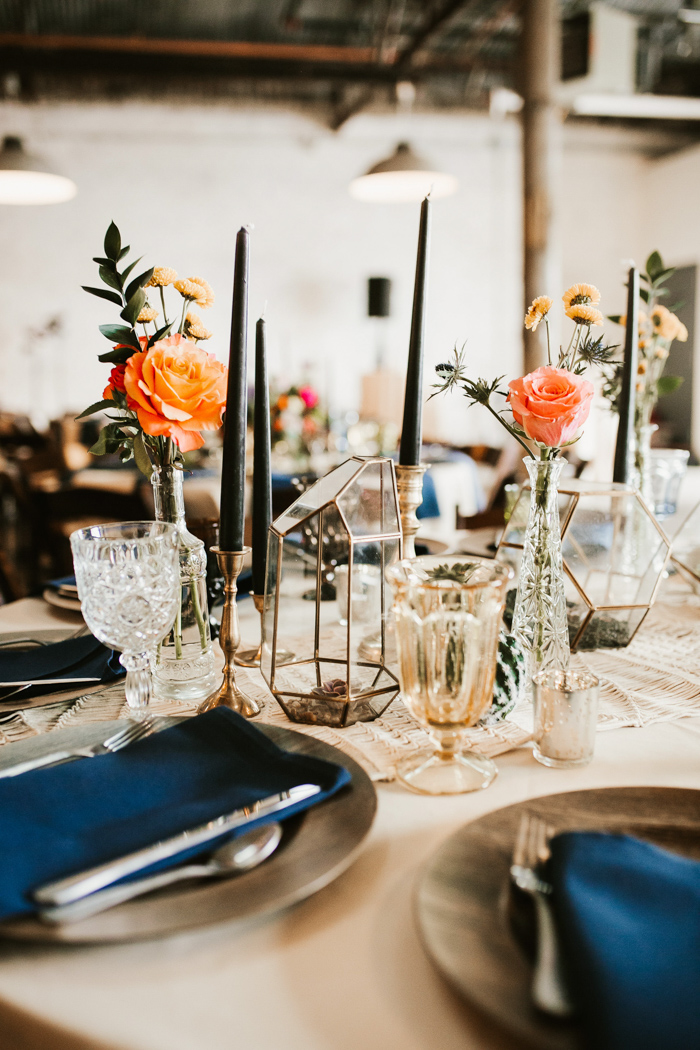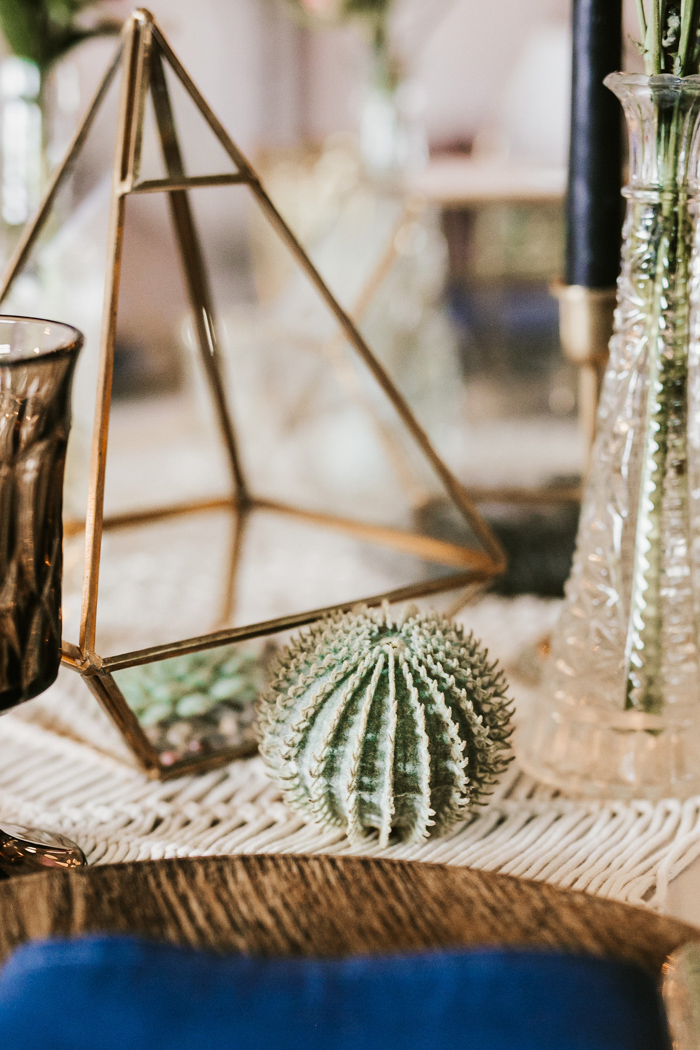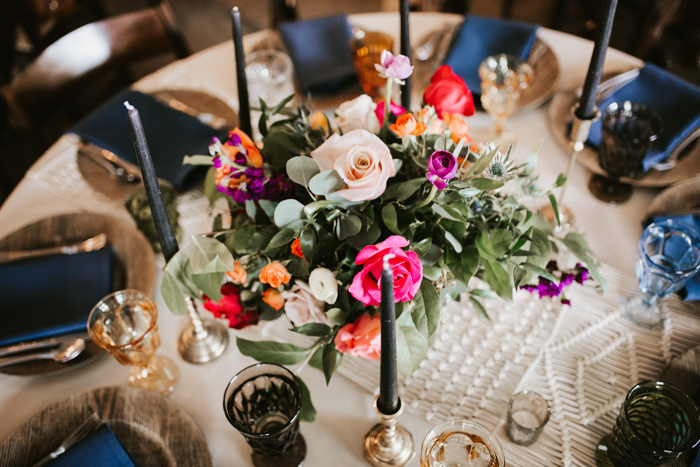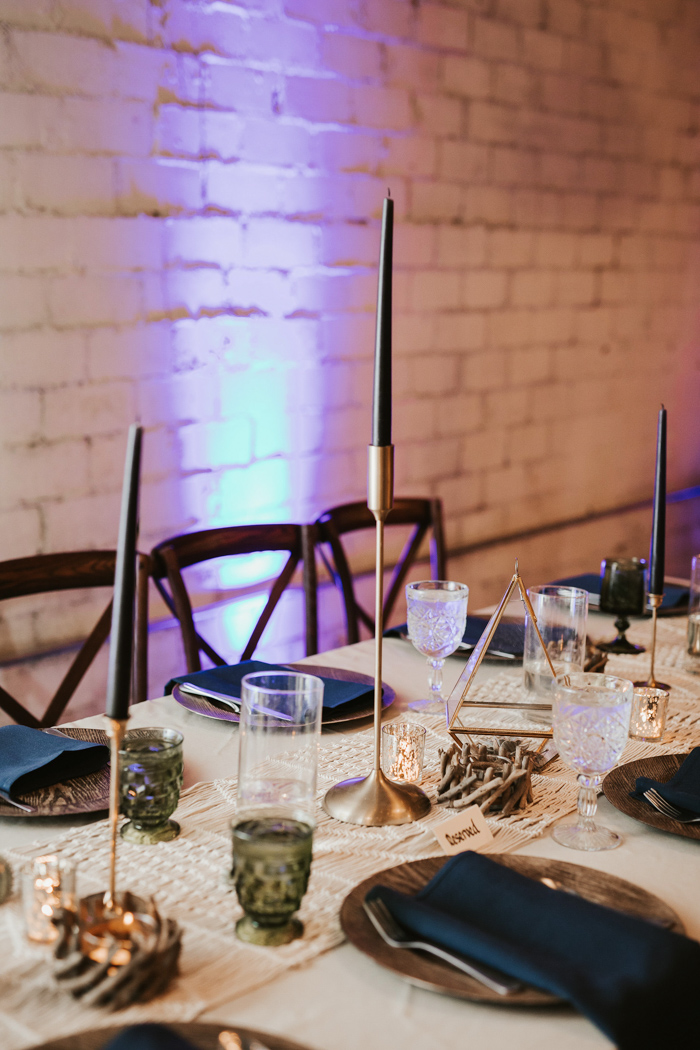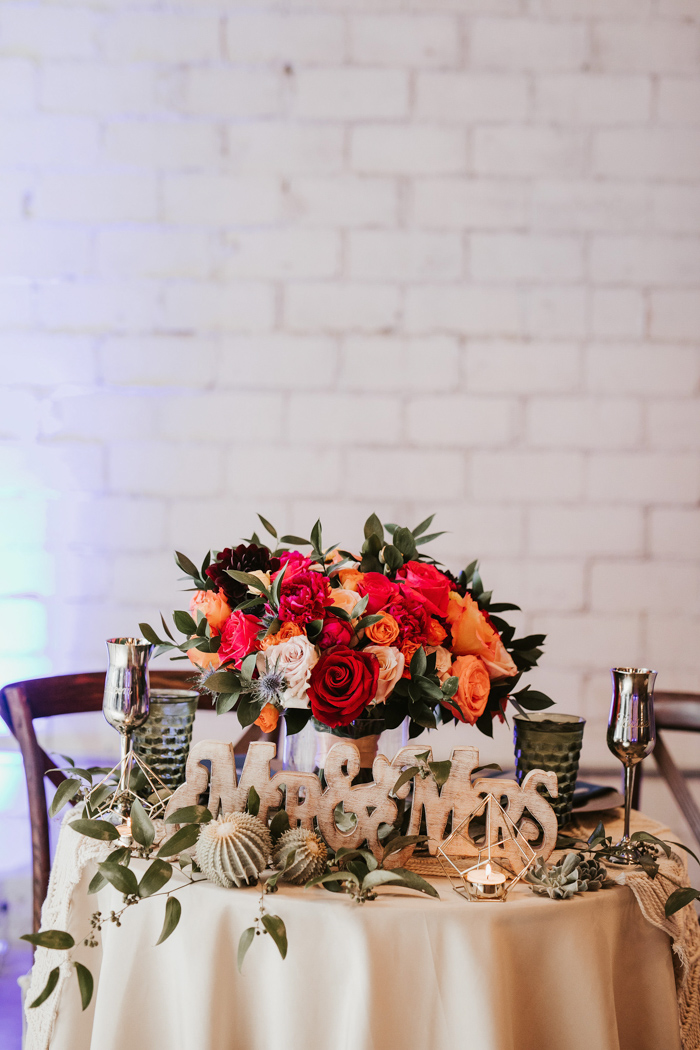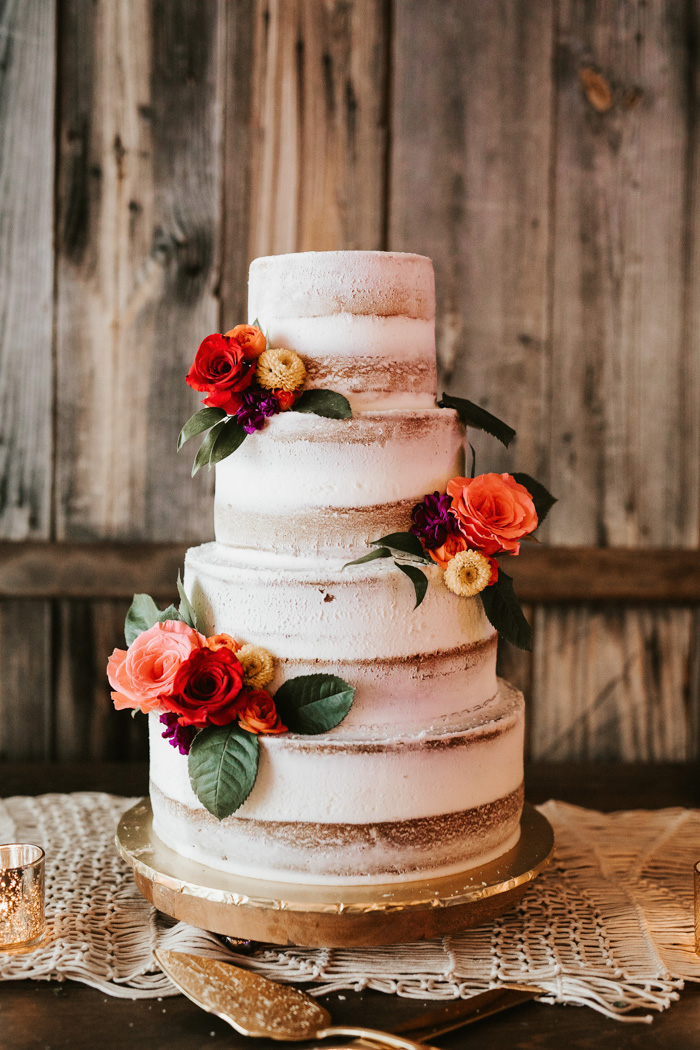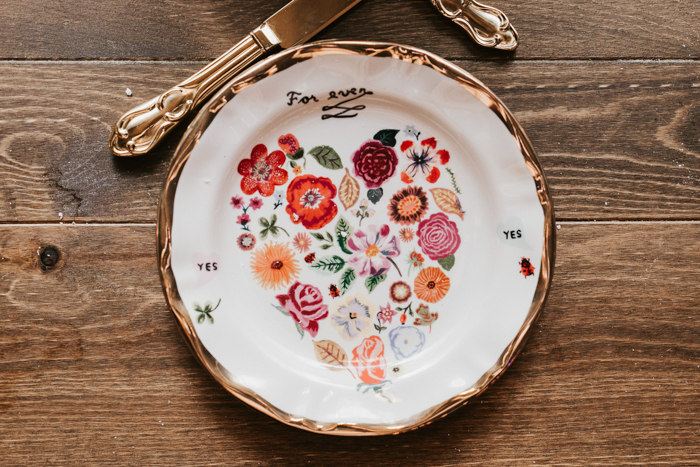 Processional – "Perfect" by Ed Sheeran (performed live by Jackie Darlene)
Recessional – "You Make My Dreams Come True" by Hall & Oates
First Dance – "Keeper of the Stars" by Tracy Byrd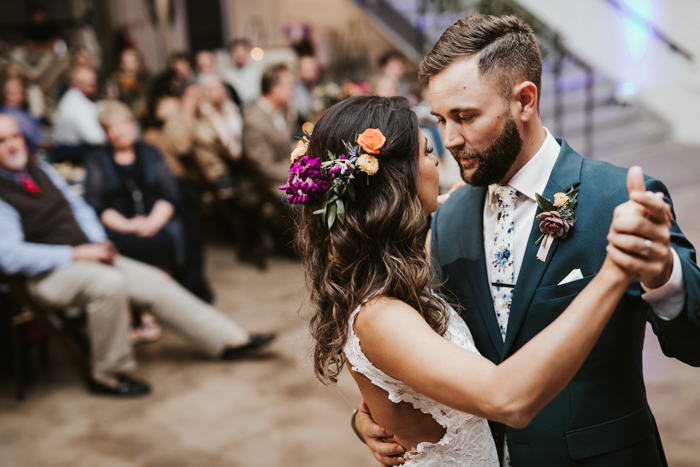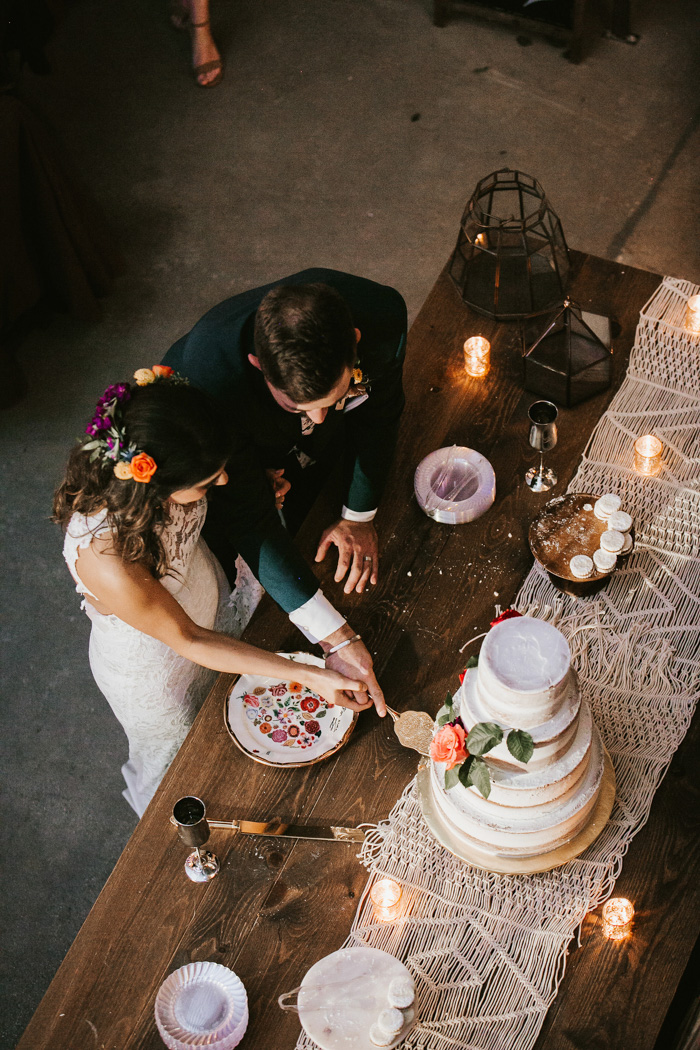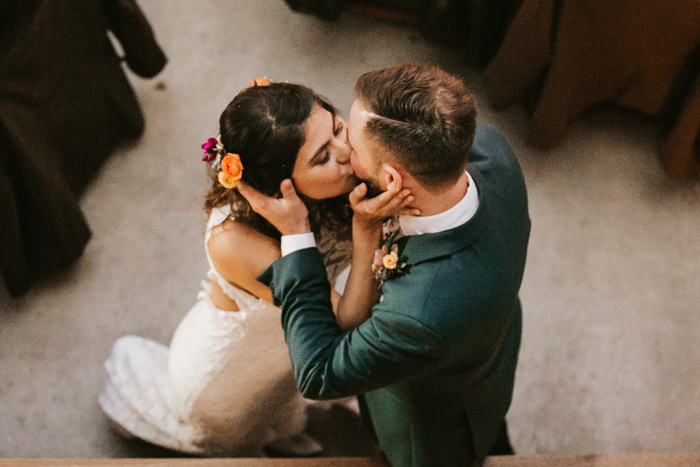 Congratulations to Jenna and Todd, and a big thanks to Brandi Allyse Photo for sharing this lovely wedding at The 4 Eleven! If you love these vibrant and jewel tones, then you have to see this colorful multicultural wedding at Château Grand Boise in the South of France!