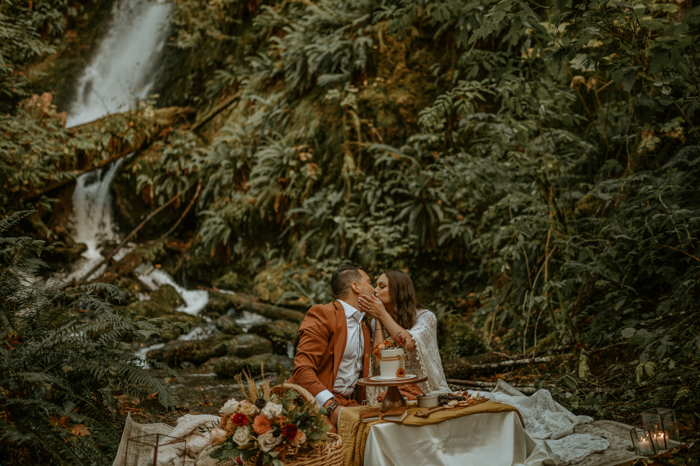 If the long lace wedding dress and terracotta-colored suit weren't enough to Pin this wedding, then the backdrop of this Pacific Northwest rainforest elopement will definitely do the trick. Chelsea and Rafael flew from Florida to the Pacific Northwest to tie the knot in the way they've always envisioned—a dreamy rainforest elopement. But when fires struck the West Coast, they began to worry. With the help of their photographer, Oshen Davidson Photo, this adventurous couple chose to rent an RV and explore the Pacific Northwest leading up to their elopement while Oshen checked the trails. Their wedding day began with getting ready at their campsite, and ended with a stunning picnic, featuring a charcuterie board and the cutest mini cake. If you're dreaming of an elopement, or are opting for one—à la the global pandemic—then let this Pacific Northwest rainforest elopement give you the push in the elopement direction.
The Couple:
Chelsea and Rafael
The Wedding:
Olympic National Forest, Quinault, Washington, USA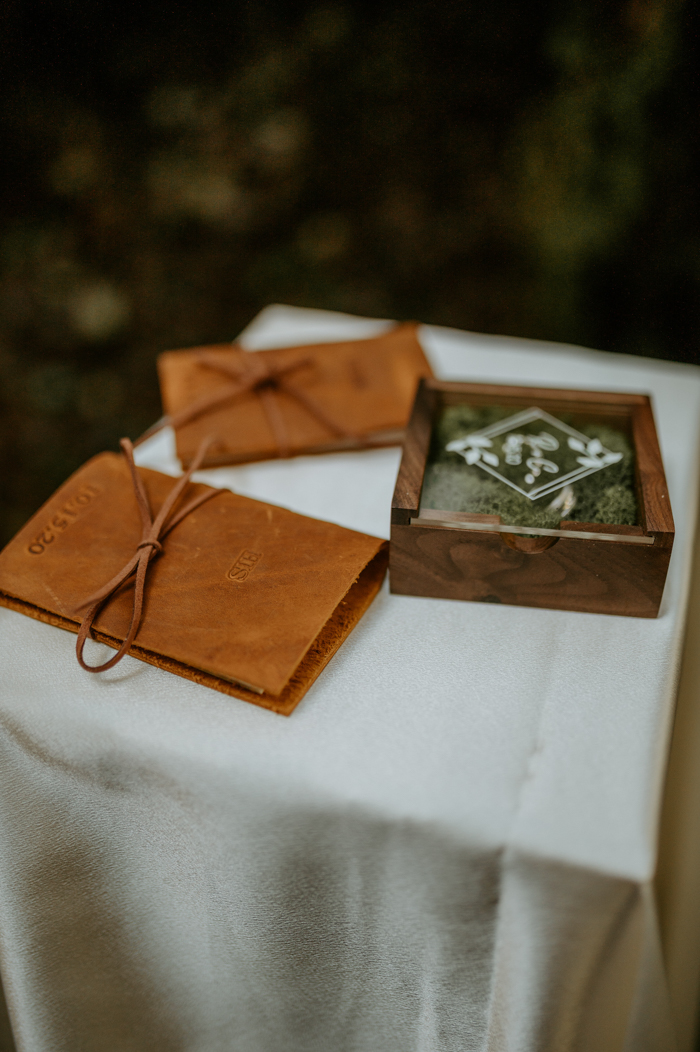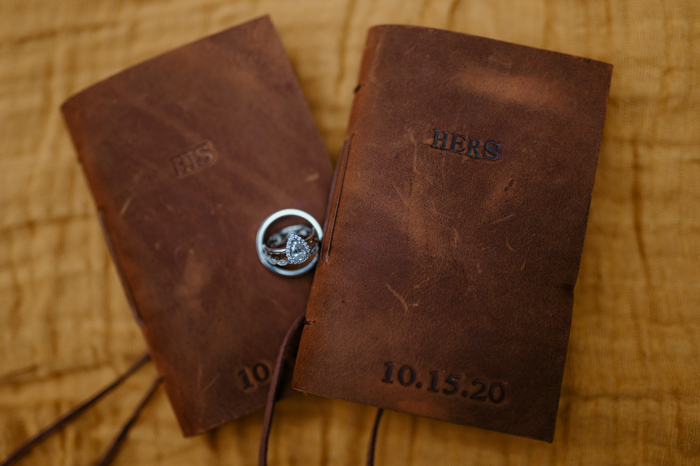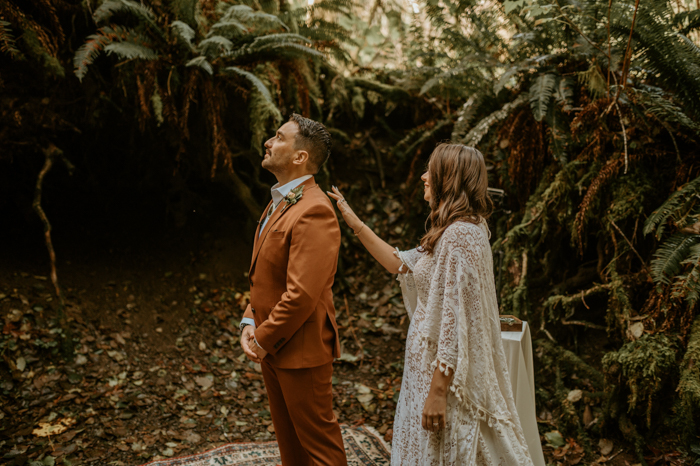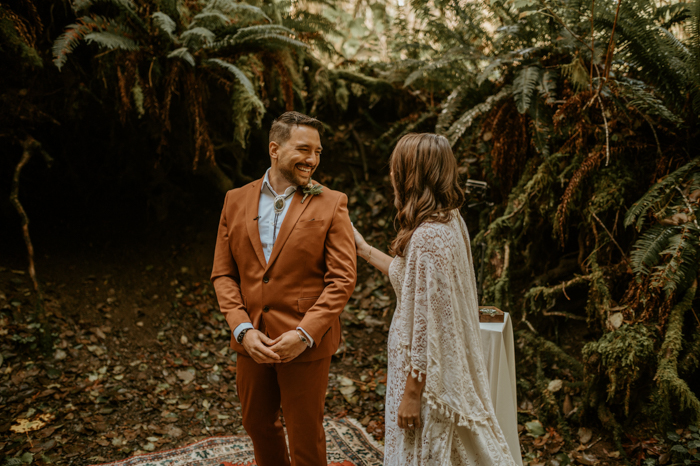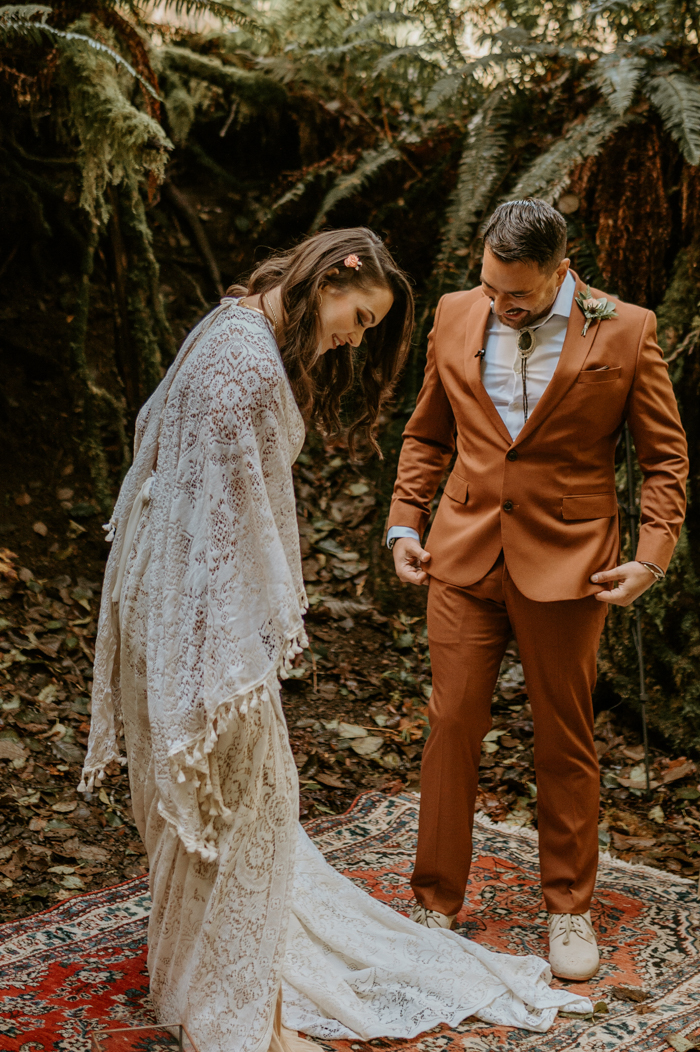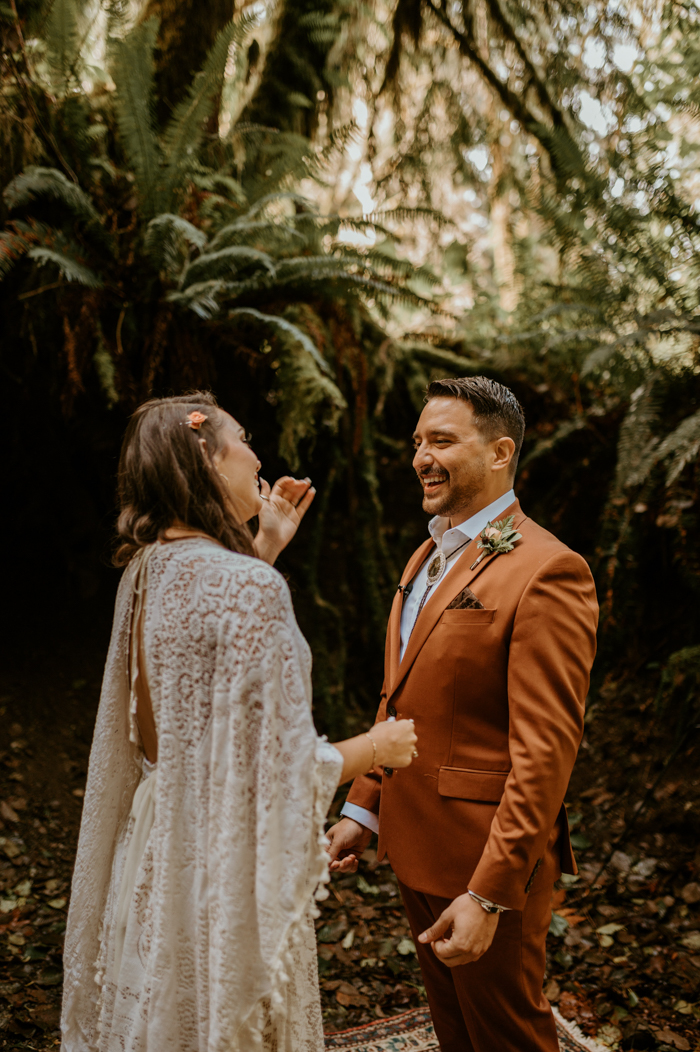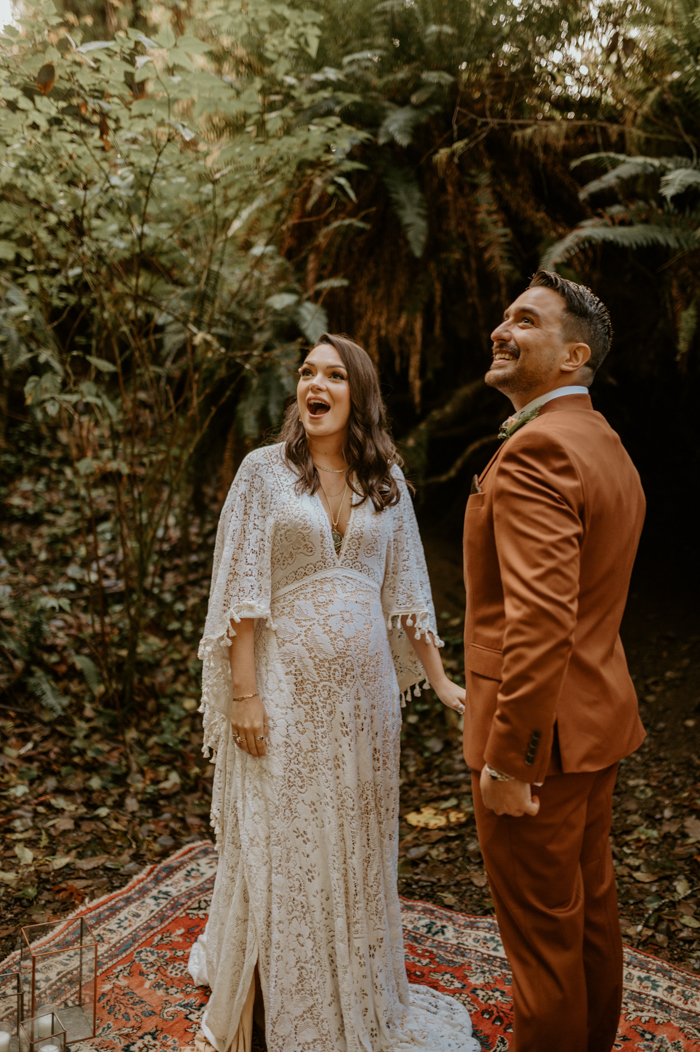 The Bride's Favorite Memory
I think it's safe to say for the both of us that there were many parts of the day we'll hold dear forever. The picnic we had beside the waterfall while we listened to all our favorite love songs is definitely up there for me. Or when we finally got back to camp, shared a beautiful dinner beneath the stars, and played dominos while drinking wine late into the night.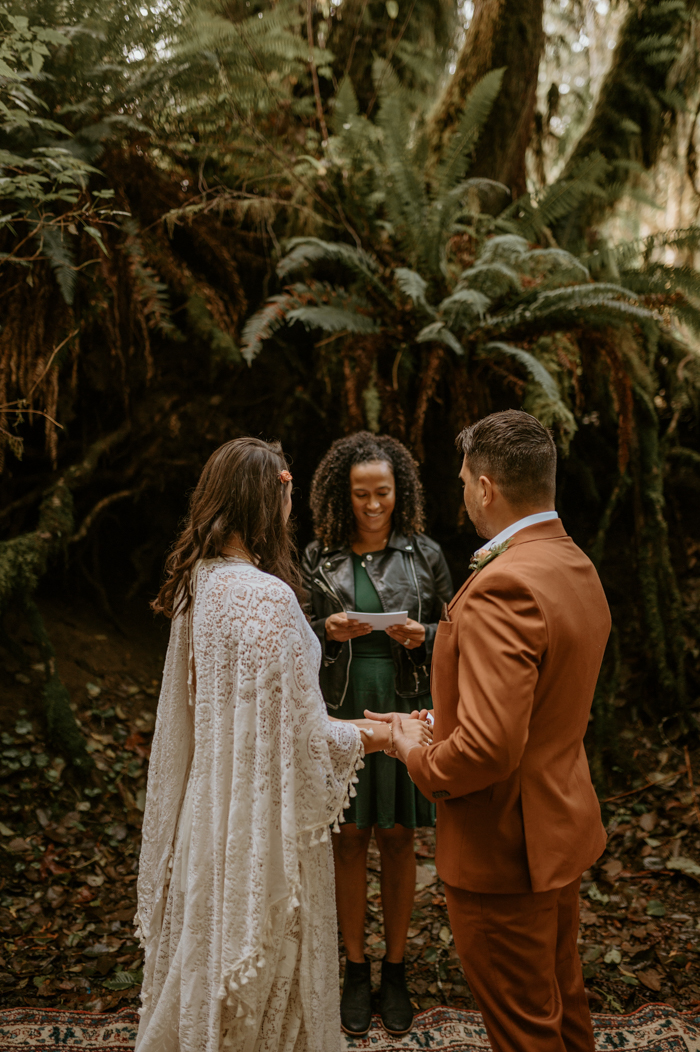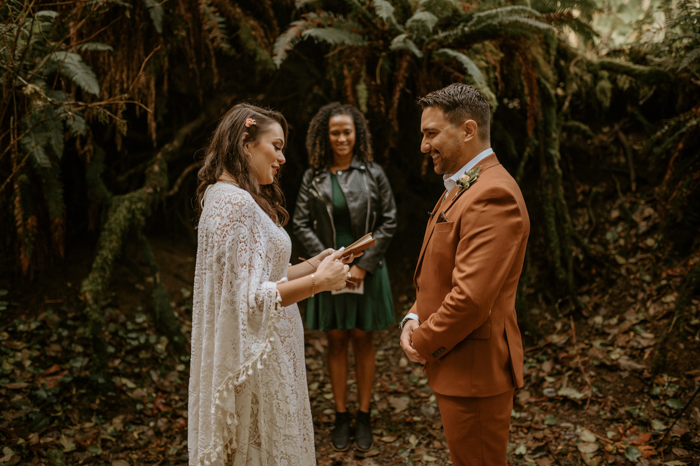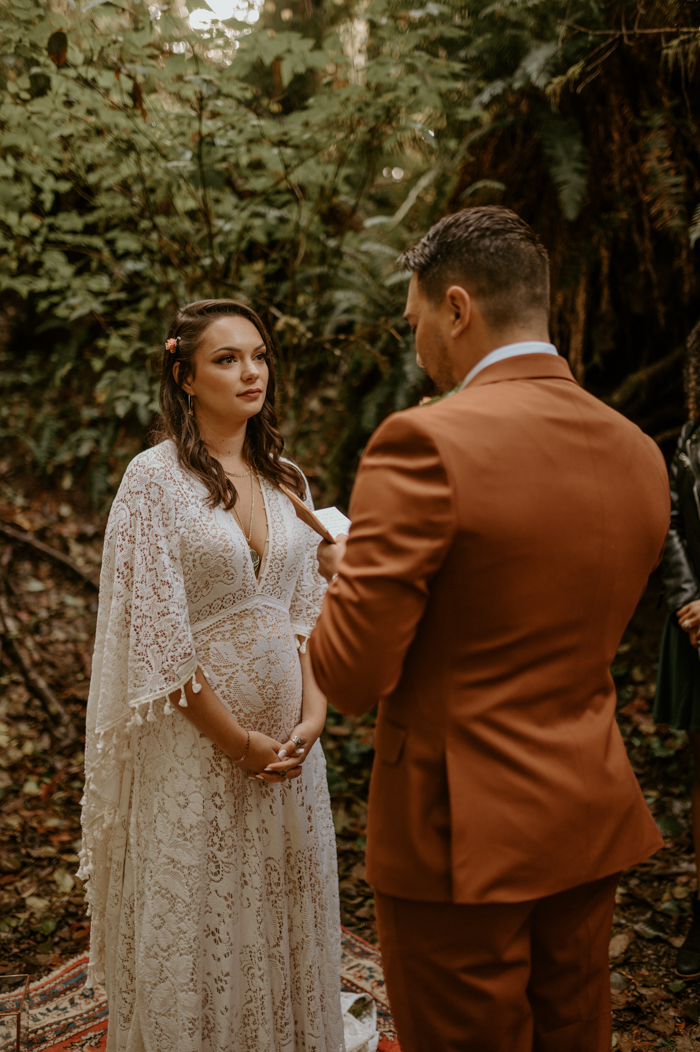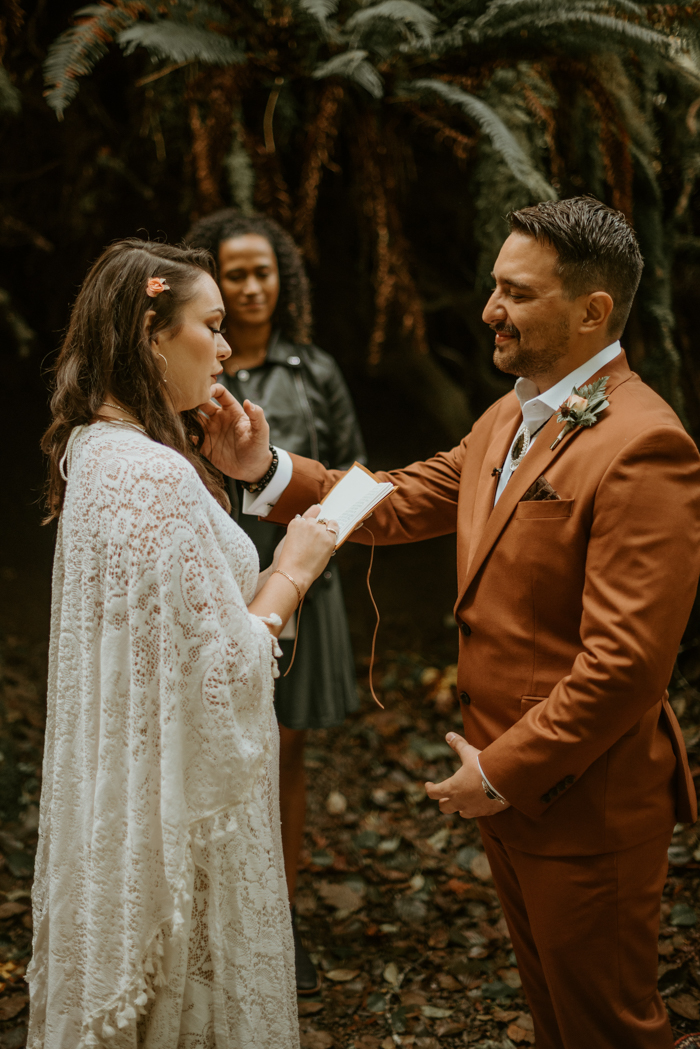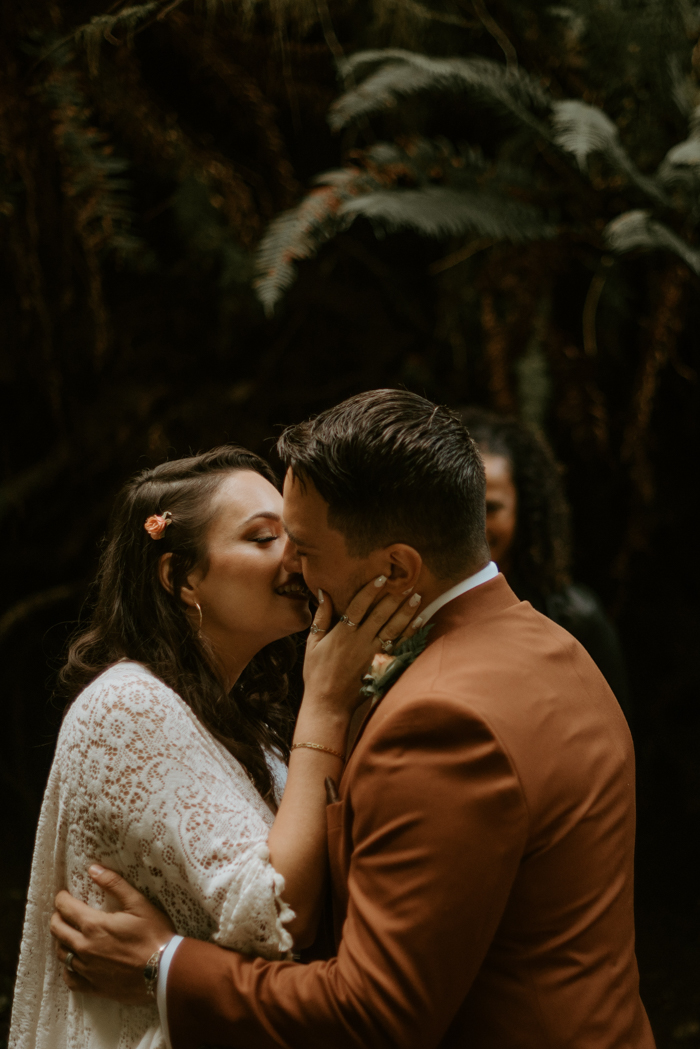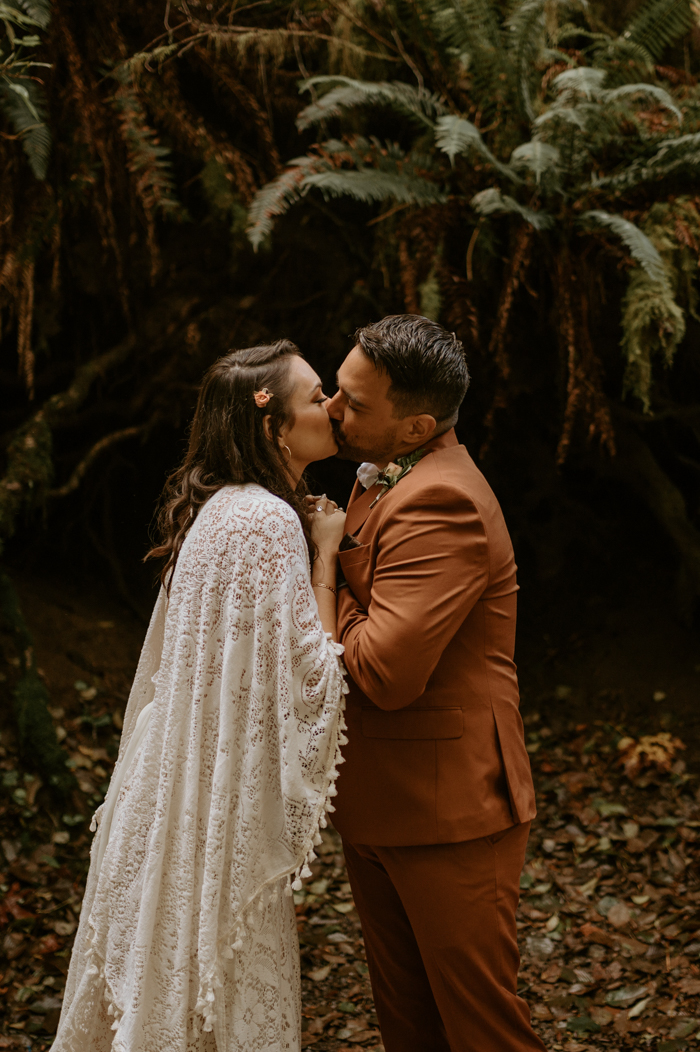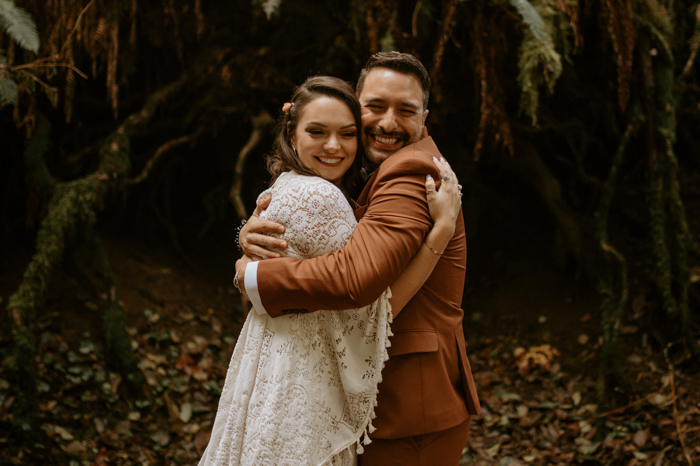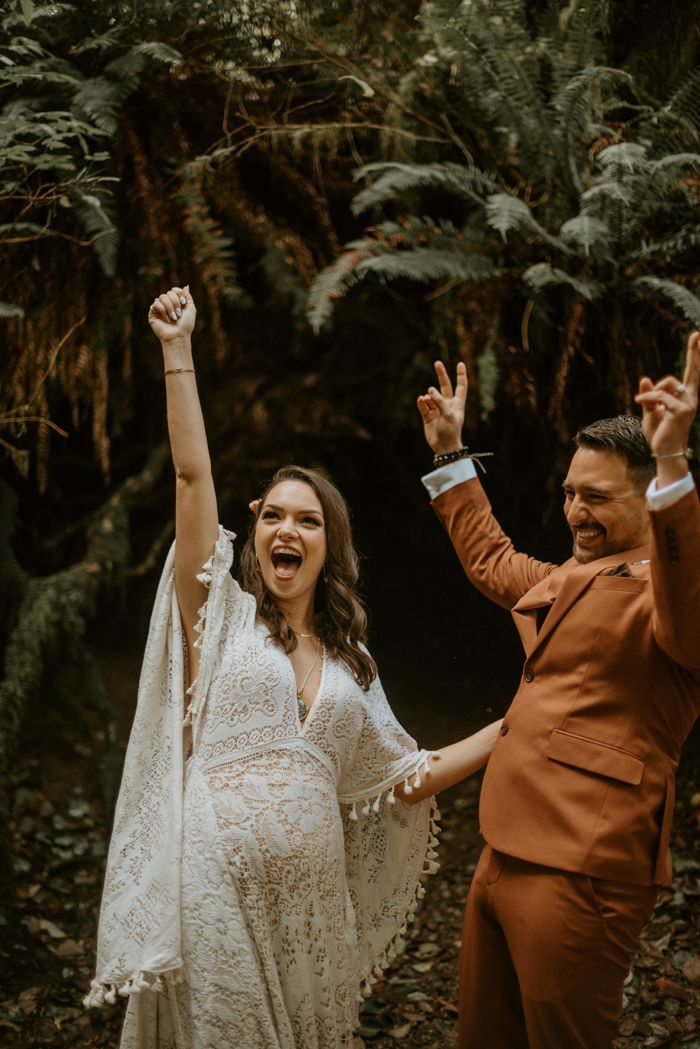 The Groom's Memorable Moments
Getting ready together was special for me. It's not traditional to get ready but I highly recommend it. Helping each other look and feel the best while listening to music gave us such a sense of peace and it was a fun start to our big day. I left before her so we could still do a first look. When she tapped me on the shoulder and I turned around to see my beautiful bride, I knew everything in the world would be alright from there.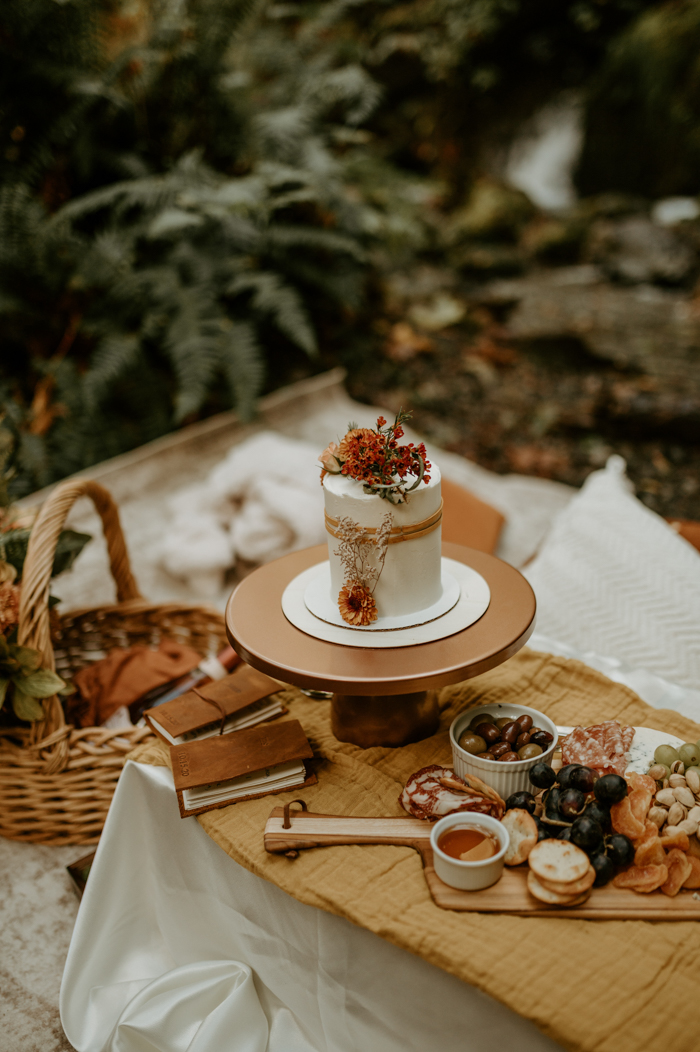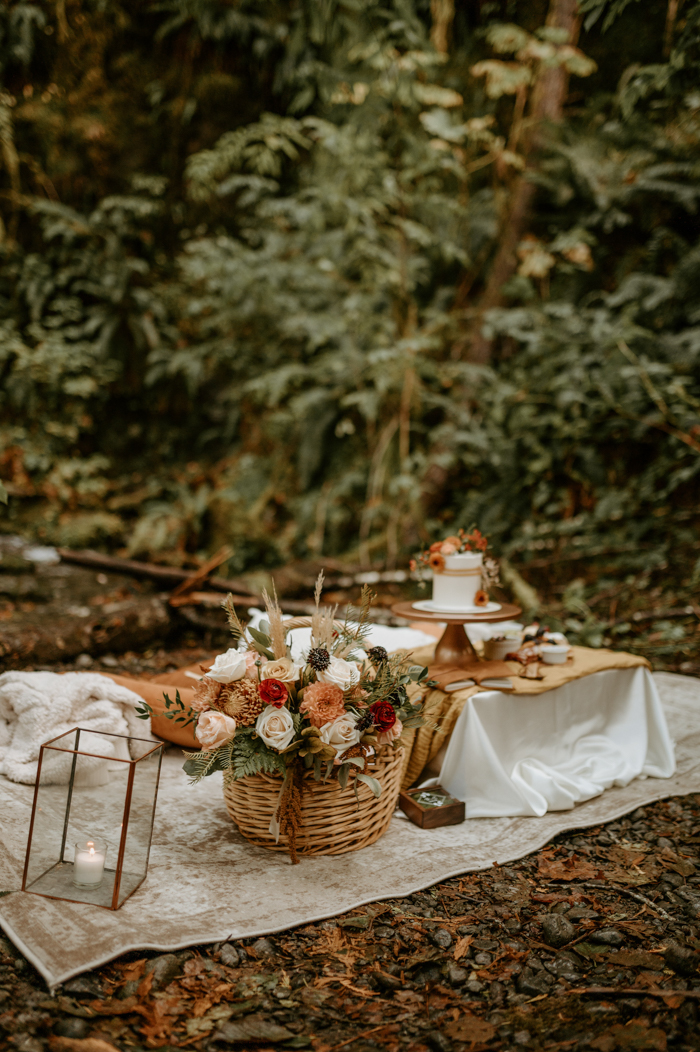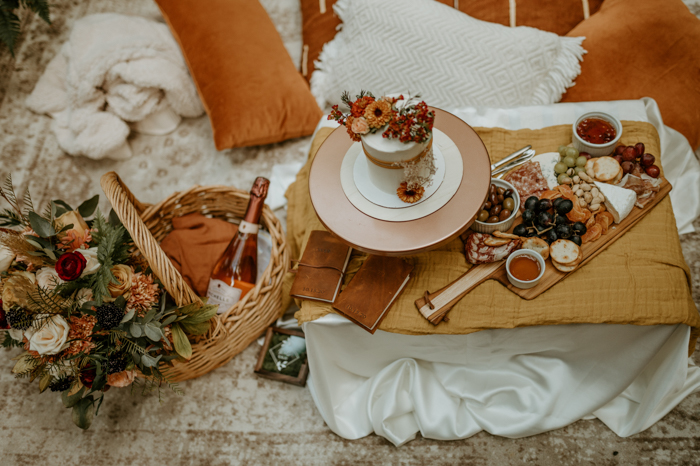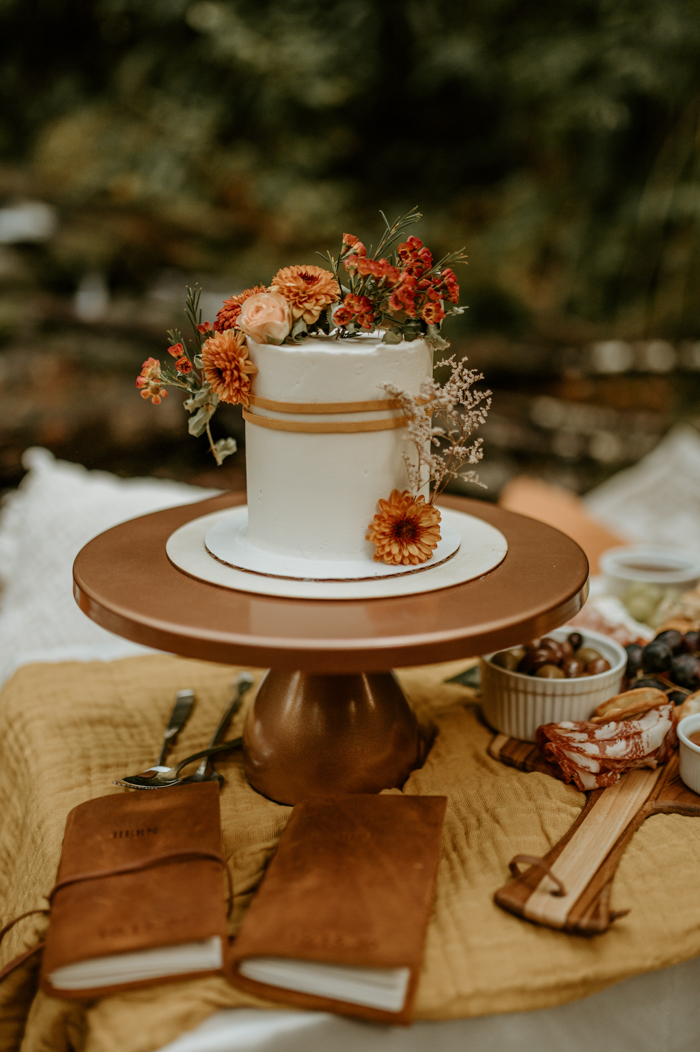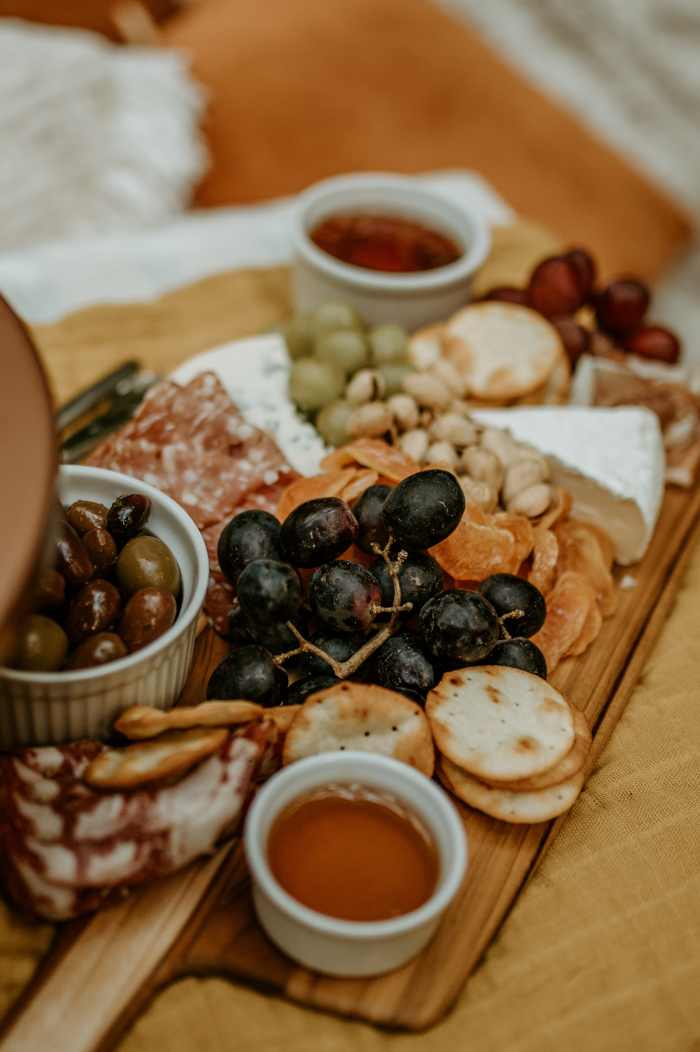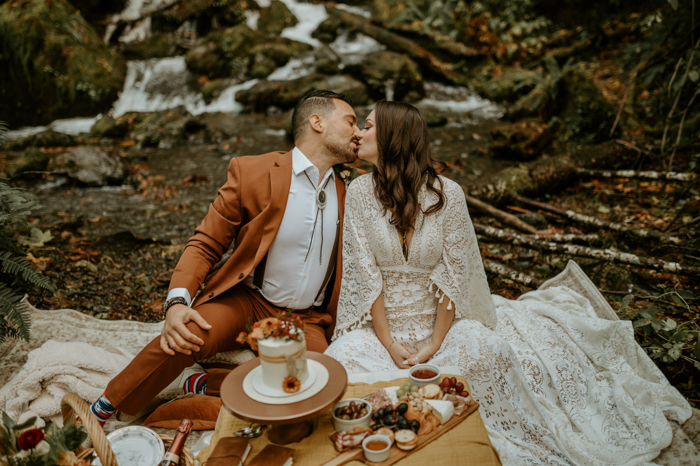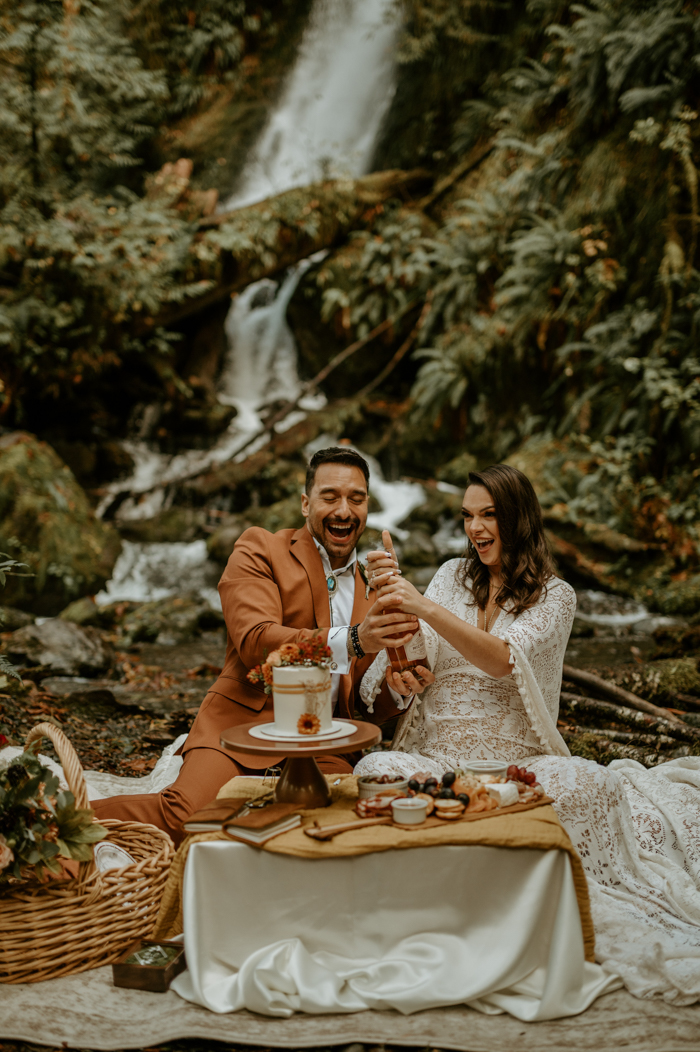 Wedding Advice For Elopers
Try not to rush the moments. We only planned for a month or so and it was gone before we could blink. Slow it down, soak it up, and enjoy it. Your day is about you and your love together. Of course we would have loved for our family to have been there and witnessed our big day, but at the end of it all, the intimate memories we created were just what we wanted our marriage to embody.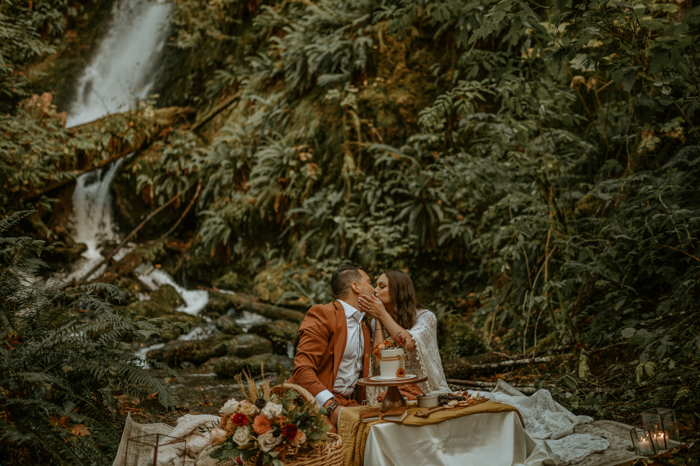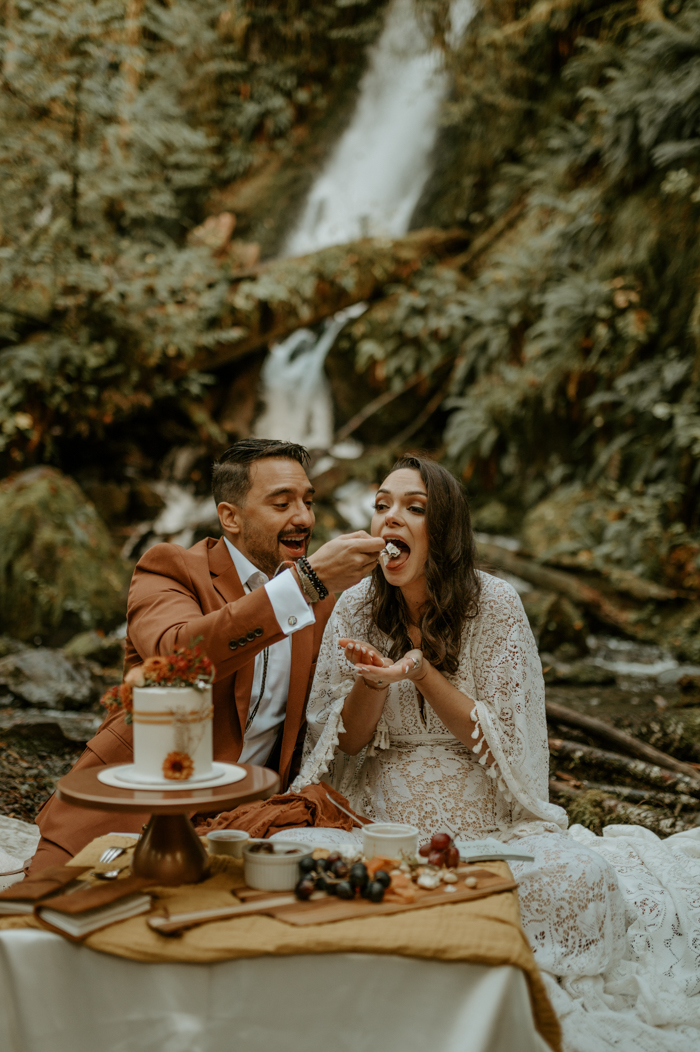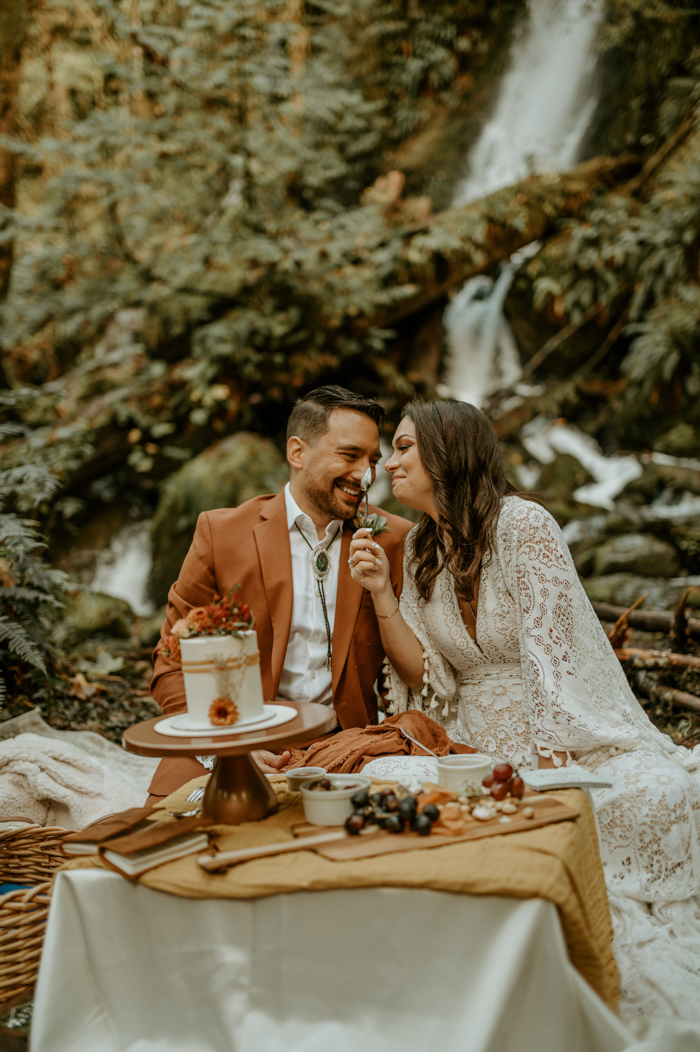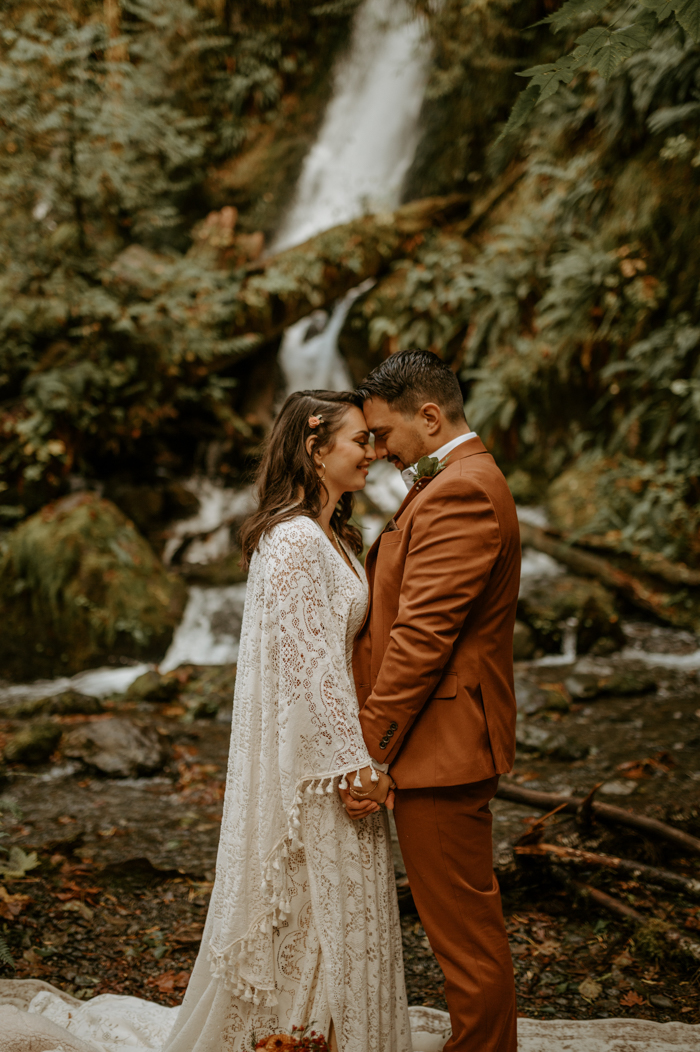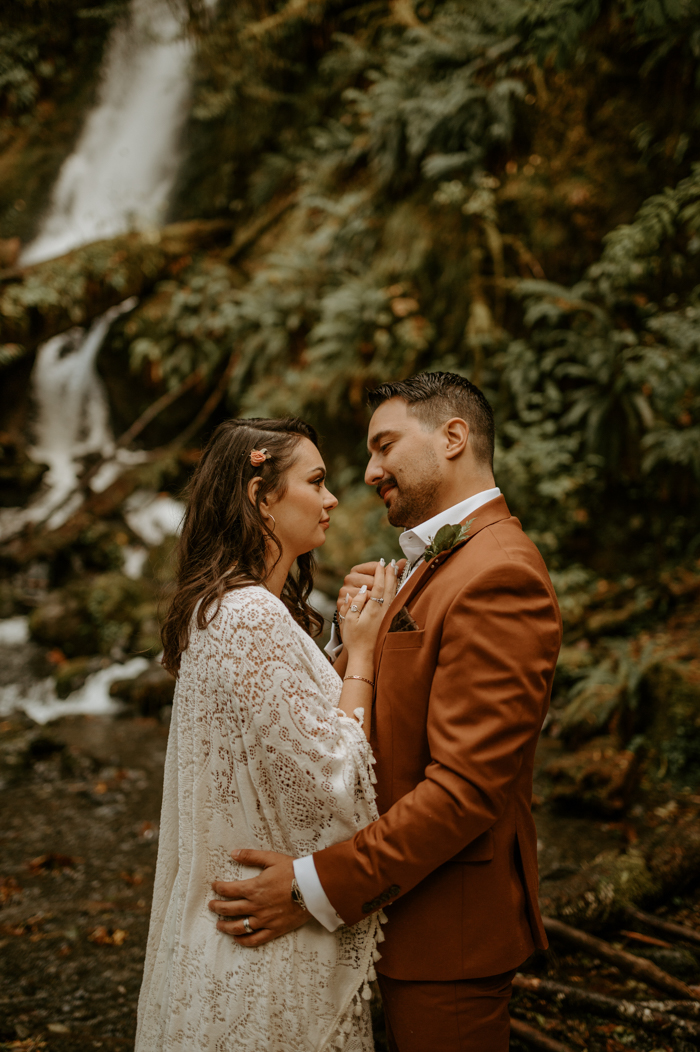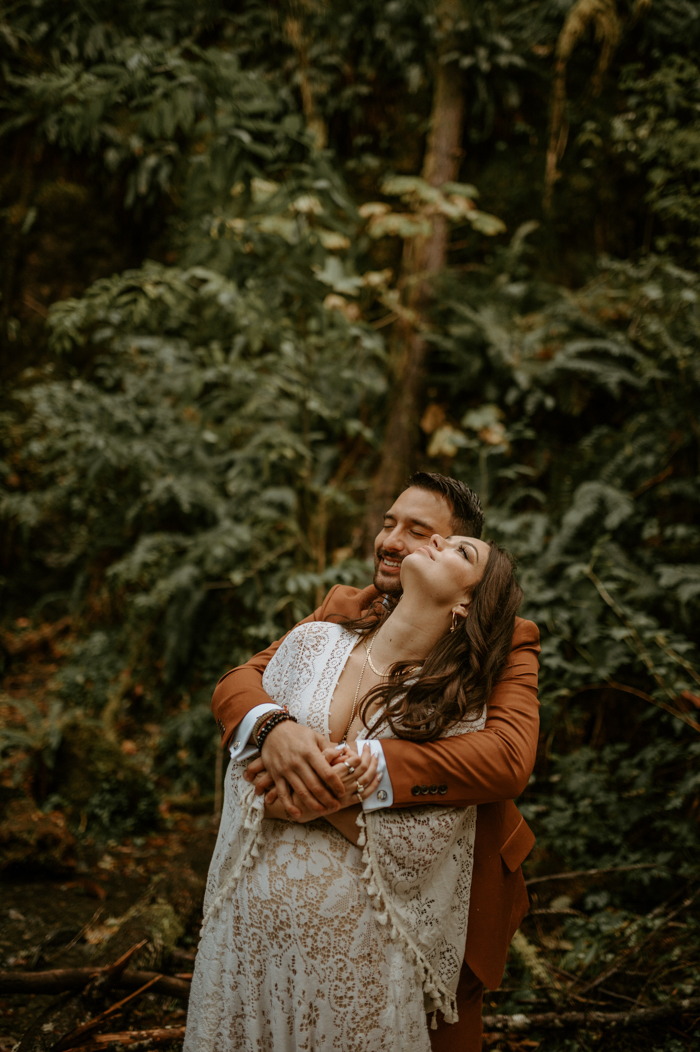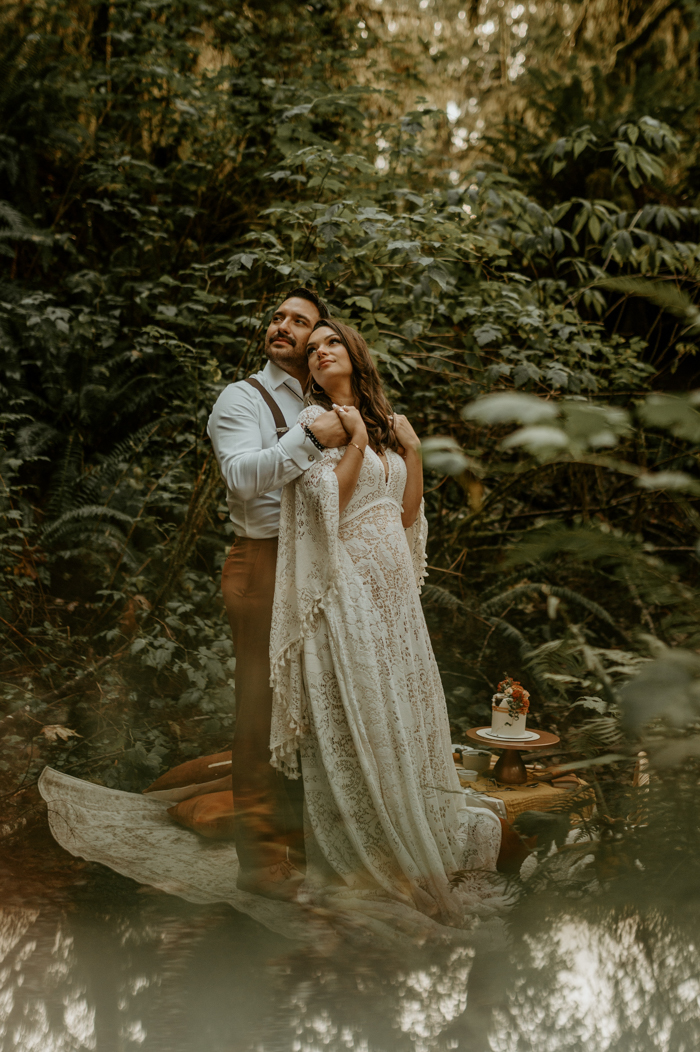 A Pacific Northwest Rainforest Elopement
I had always wanted to travel to the Pacific Northwest. It has been at the top of my list of adventures, specifically the Hoh Rainforest. When I showed Rafael, he was in awe instantly and said, "let's go!"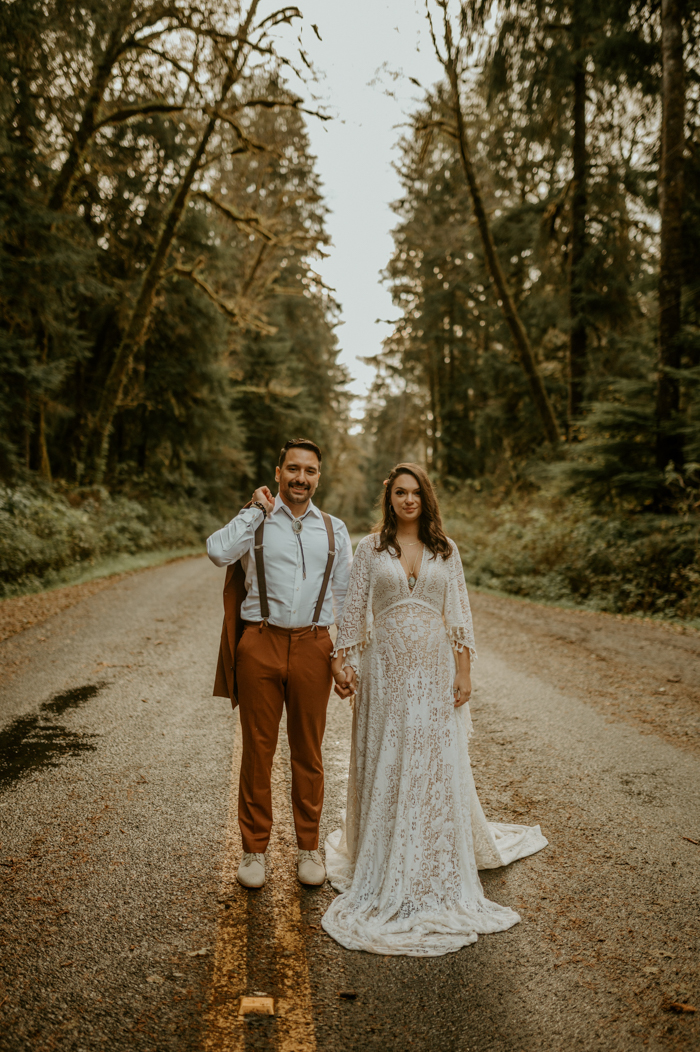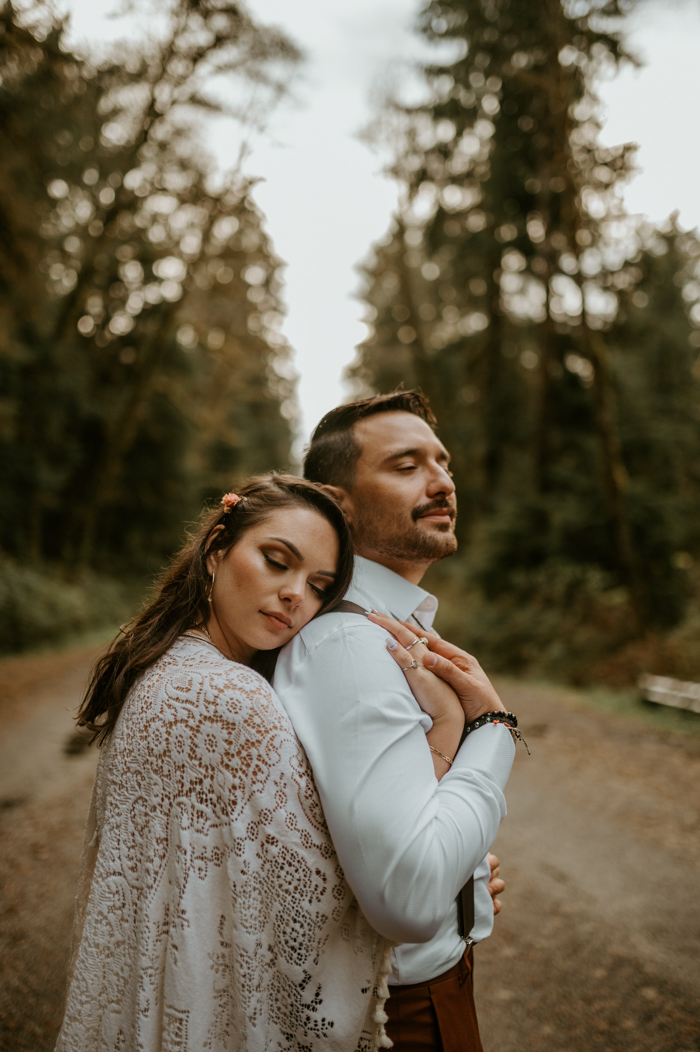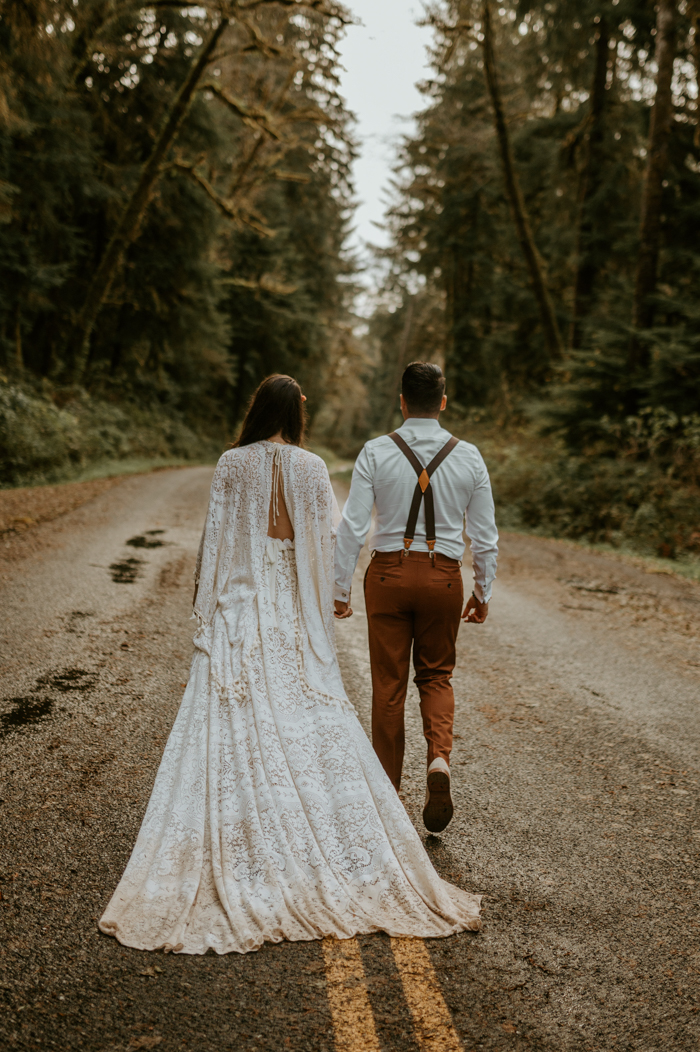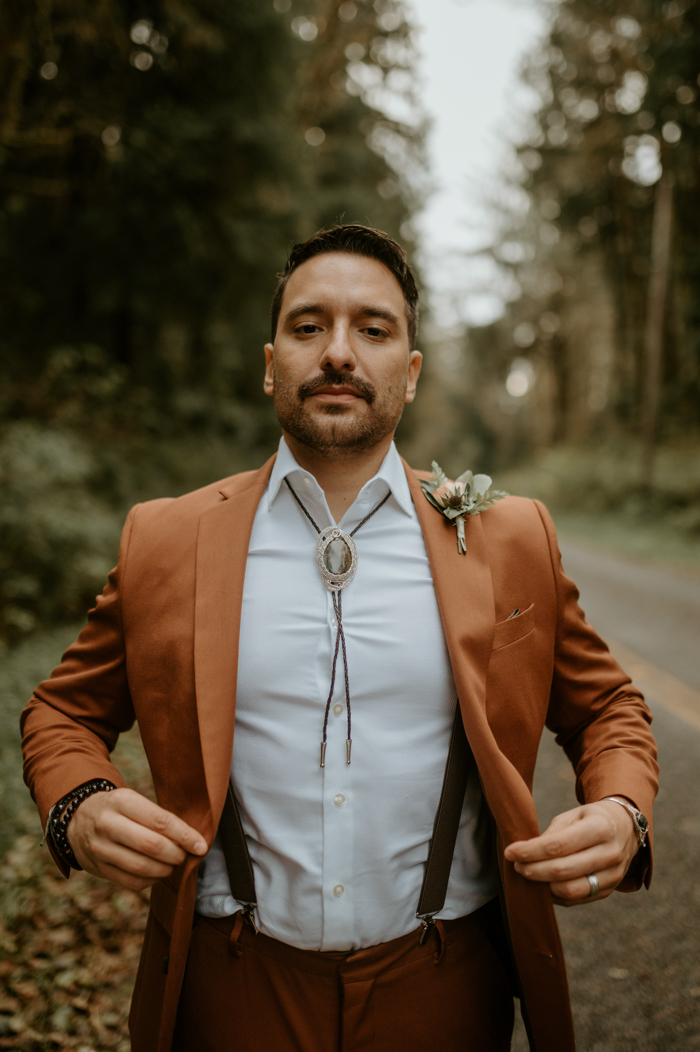 Shop similar bolo ties: Agate bolo tie ($29.99); Aquamarine bolo tie ($19); Labradorite bolo tie ($38.59)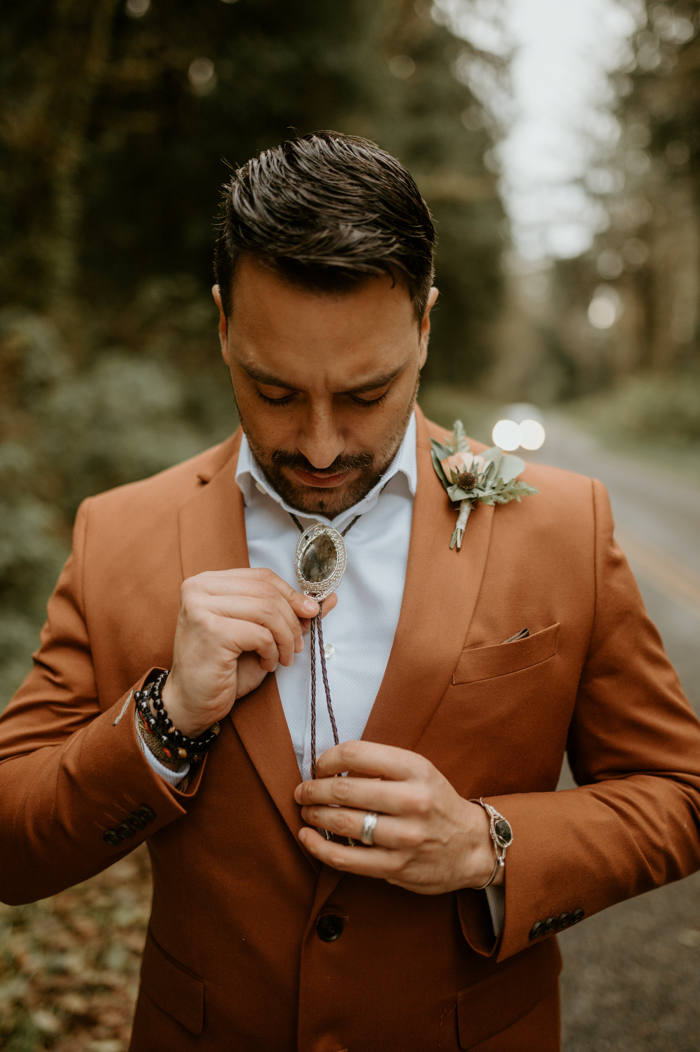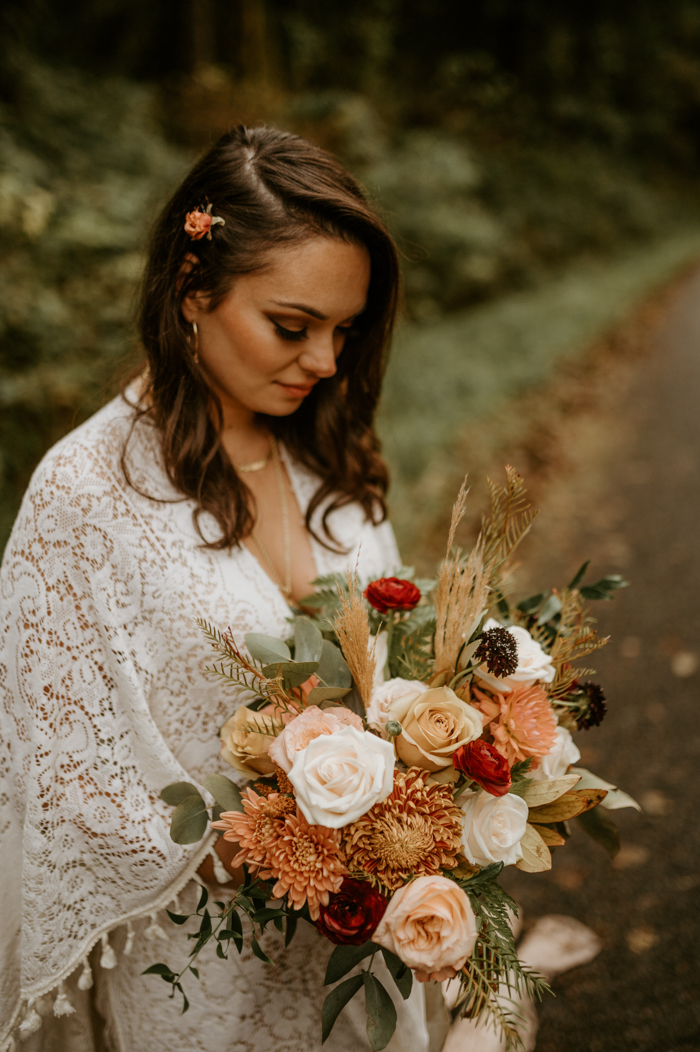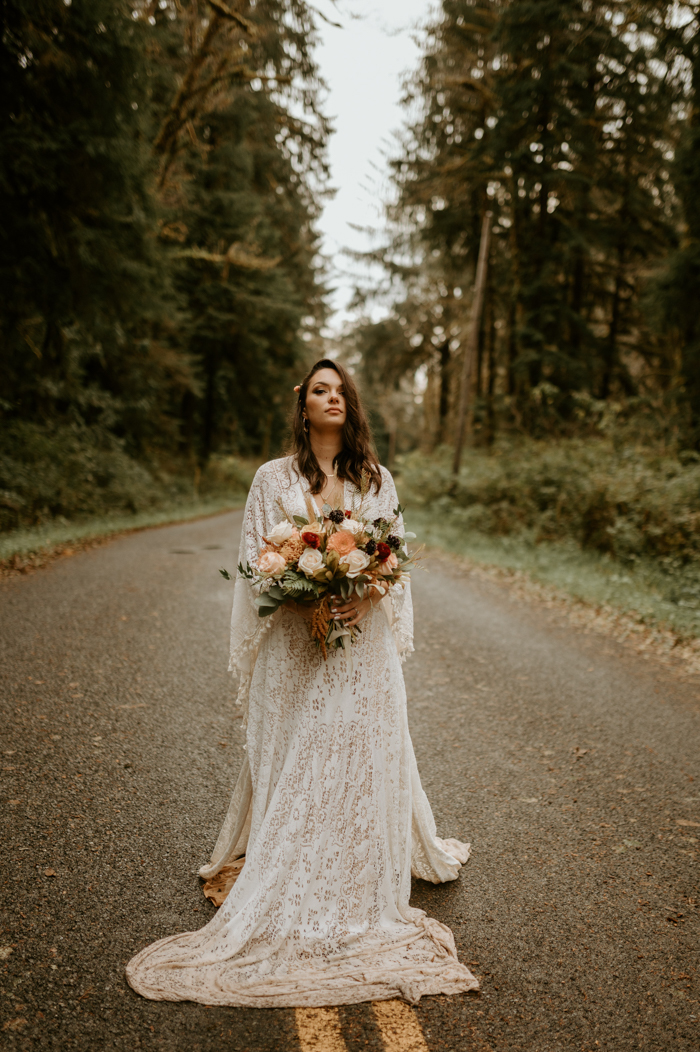 Shop similar wedding dresses: kimono sleeve wedding dress ($419); BHLDN Odalis Gown ($1,295); boho kimono style wedding dress ($199)
DIY Boho Accessories
Given our boho fashion choices for the day, he didn't want to wear a traditional tie. I had mentioned wearing a bolo tie so he decided to make one! He then surprised me with a beautiful necklace as well. Both our accessories have precious gems inside of labradorite and ruby-zoisite. It's something we can hold on to forever.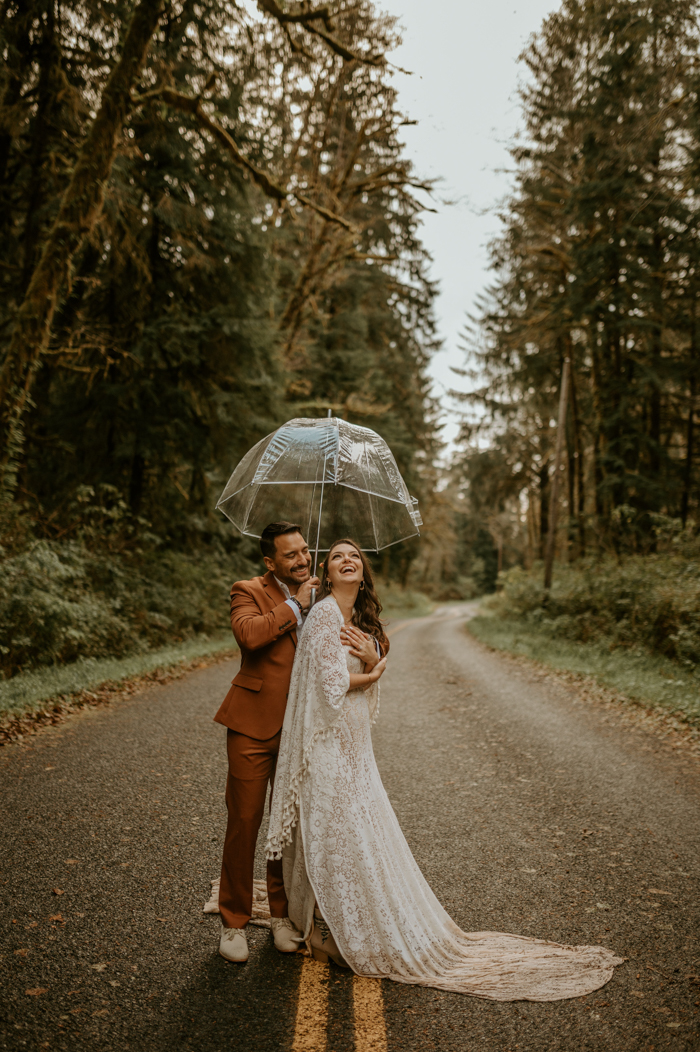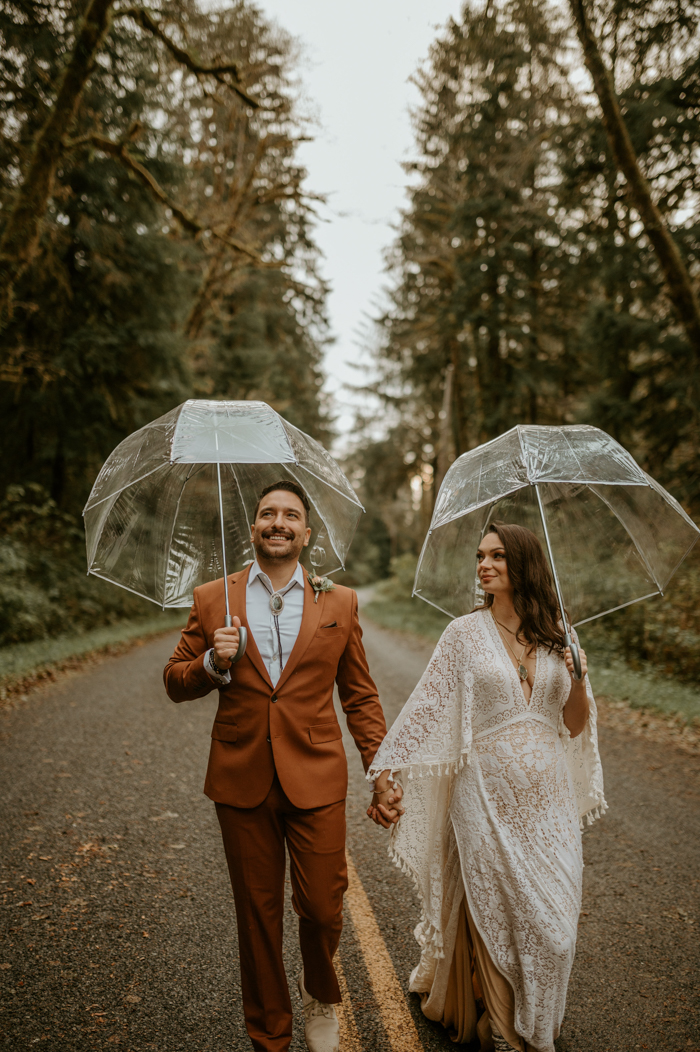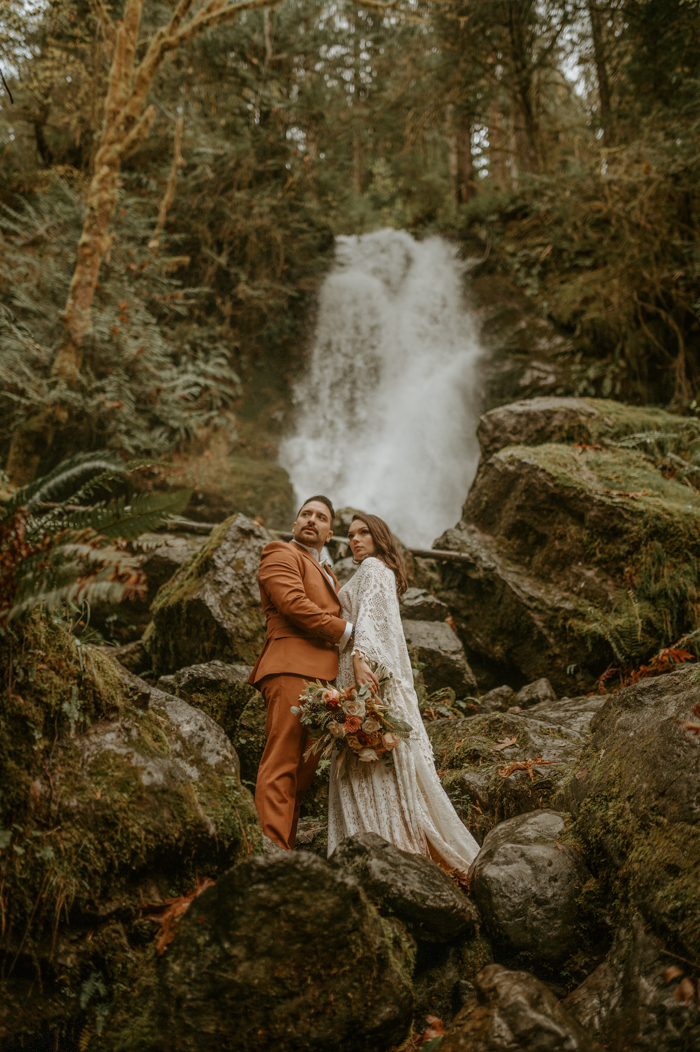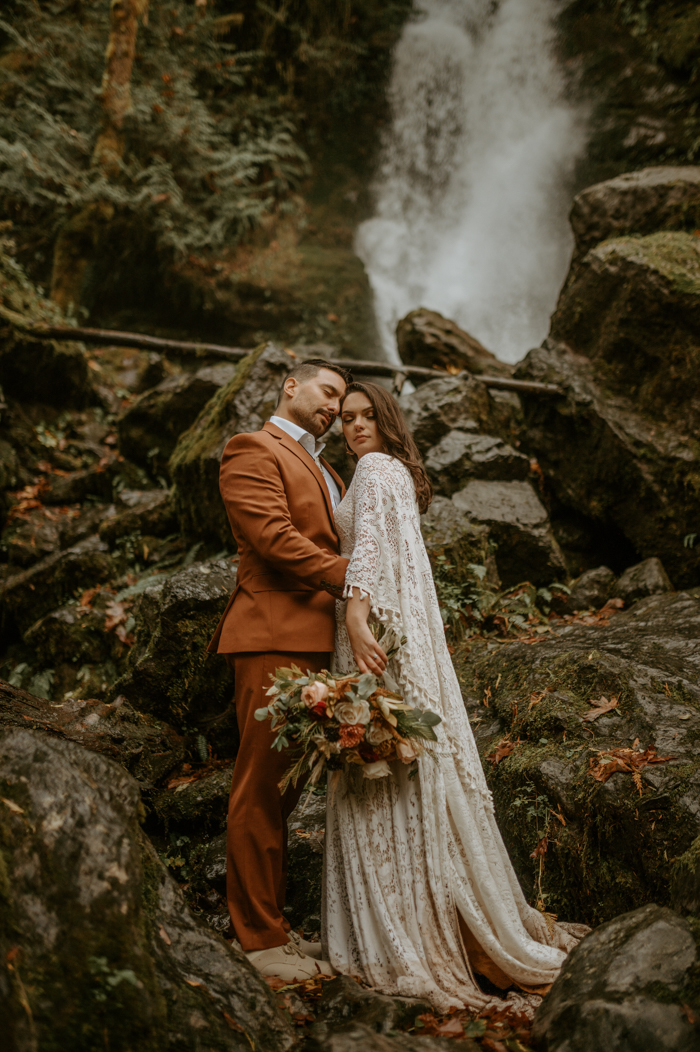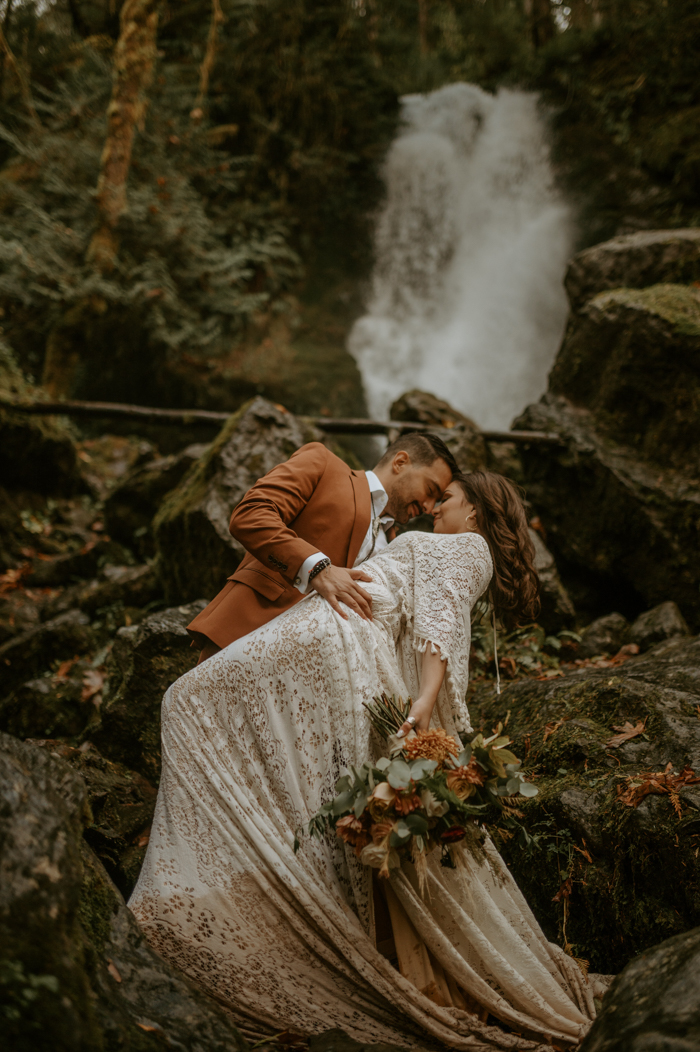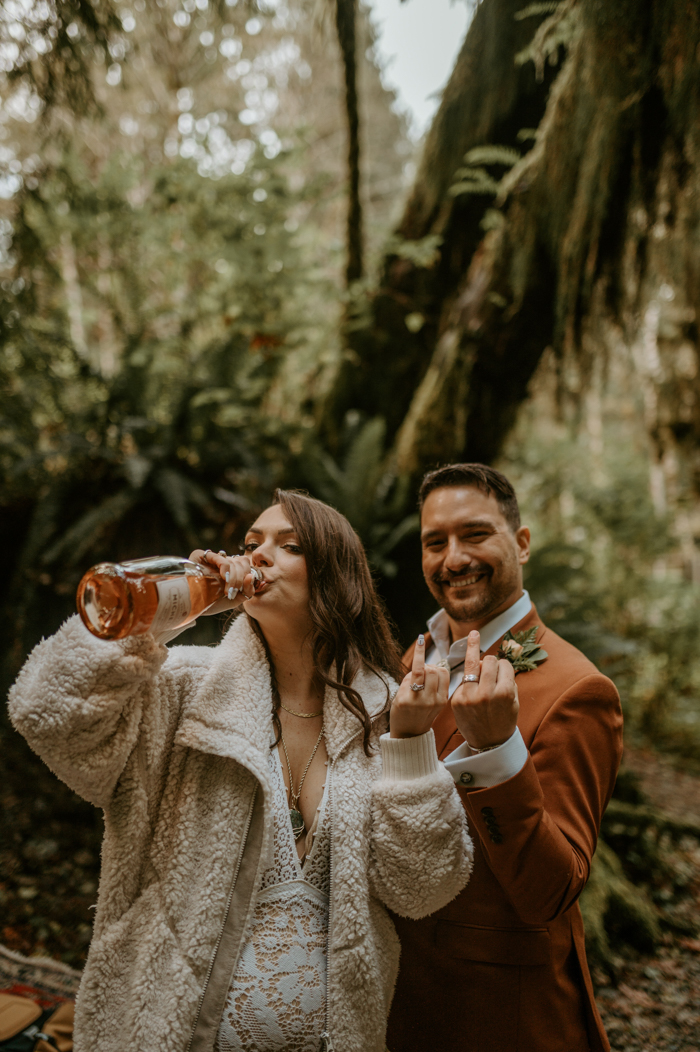 Congratulations to Chelsea and Rafael on their gorgeous Pacific Northwest rainforest elopement. And a major shoutout to Oshen Davidson for capturing and sharing this day with us. If you're ready to elope now, check out our ultimate elopement planning checklist to get started!