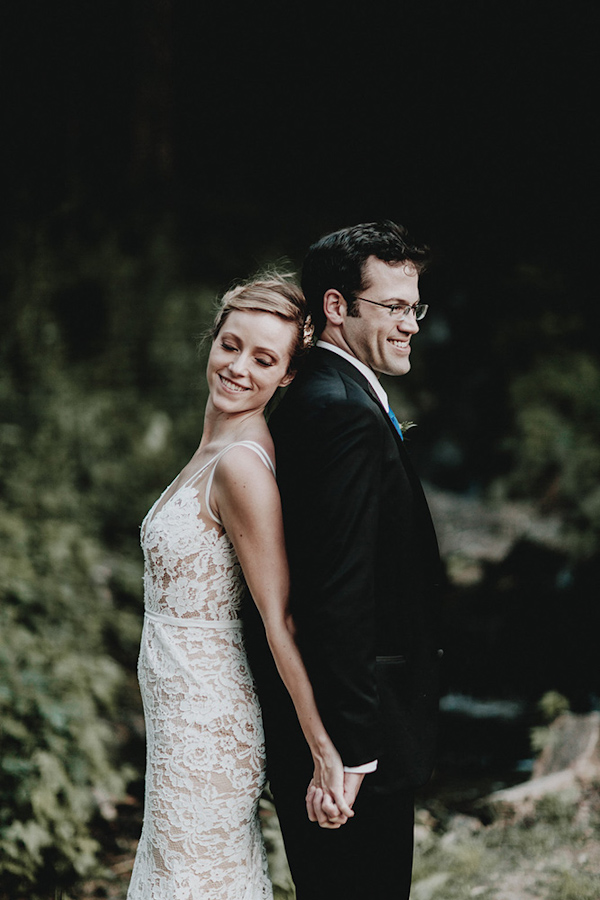 After we obsessed over Dorothy and Mac's breathtaking Austin garden wedding, we were dying to know how they met and fell in love. We adore them even more after hearing about how Mac told Dorothy he had a "crush" on her…
How They Met –
Dorothy: We met while we were living in Manhattan! I am from Austin, Mac is from Houston and went to University of Texas in Austin… and we met in New York.
How They Fell in Love –
Dorothy: For two years we were friends – growing steadily closer – this is how long it took Mac to work up the courage to tell me how he felt.
I got a text from Mac one day: 'Hey, do you want to check out the weirdest bar in Murray Hill?' Of course I did. Then he asked if I wanted to grab a bite to eat first. He had found a solid Tex-Mex dive. (As Texans living in New York, this is an accomplishment)… so off we went. After lots of tequila and very little food (we never could eat around each other! No appetite at all!) we stumbled off to the Pine Tree Lodge. Amid cowhide furniture, red velvet banquettes, animal heads everywhere, and a Buckhunter video game machine, we sat and drank more… until, in a brief silence, he looked at me and said, 'I fully expect this to ruin our friendship, but I can't hold it in any more. I…. have a bit of a crush on you.' In that moment I realized that I felt the same way, and apparently had all along.

The Proposal –
Dorothy: He proposed in Central Park on Cedar Hill, overlooking the Met Museum. We were laying on a blanket. He presented me with a gorgeous art deco ring that had been in his family since the 20s, and said, 'I was wondering… if you would marry me?'
I Always Think of my Partner When… –
Dorothy: I see pictures of New York. Unknowingly, we moved there within a month of each other. We lived there for three years before we met, and five years afterwards. It is such a privilege to have had the experience of living and falling in love there.
Thank you so much to Dorothy and Mac for sharing their beautiful story with us. We wish you the absolute best!
We also want to thank Bradford Martens for the beautiful photos, which you can see more of by heading on over to Dorothy and Mac's Real Wedding!