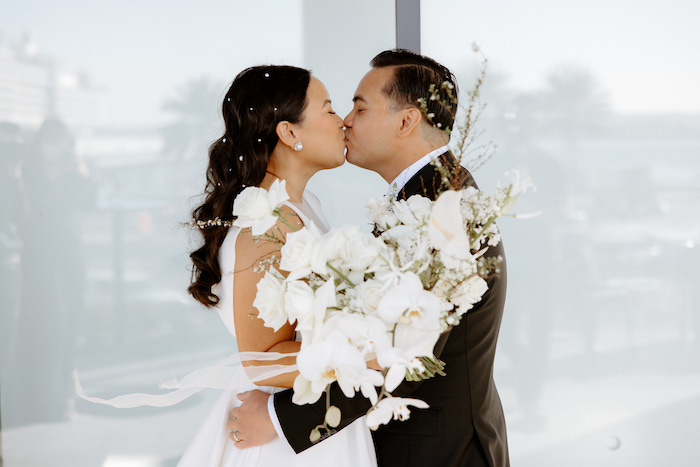 Despite the pandemic affecting their wedding plans, Justinne and Gerie decided to keep their original wedding date and tied the knot in a private ceremony followed by an intimate backyard reception. The silver lining, however, was having the opportunity to have a bigger second celebration with their family and friends. And with the help of their planner Jessica Russell Black, boy did they deliver! An impressive venue featuring views of the bay, a classic monochromatic color palette, delicate florals, and understated decor—their minimalist San Diego wedding celebration was the epitome of timeless modern elegance, where less was definitely more.
The ceremony was set on the terrace of The Lane overlooking the San Diego Harbor. The asymmetrical backdrop adorned with airy florals by Arturo Ramirez served as a dreamy focal point and was then repurposed for their sweetheart table. Meanwhile, the interconnected indoor space was the perfect blank canvas for the chic aesthetic of their reception. The sleek theme carried over into their tablescapes, which featured floral clusters with a mix of glass-enclosed black taper candles and votives.
From the DIY seating chart to the bride's pearl beaded hairstyle, every detail was intentionally and beautifully executed. This celebration proves that it only takes a little to elevate your minimalistic wedding style. Scroll through these photos captured by Junebug member Carmen Lopez Photography for all the inspiration you need.
The Couple:
Justinne and Gerie
The Wedding:
The Lane, San Diego, California, United States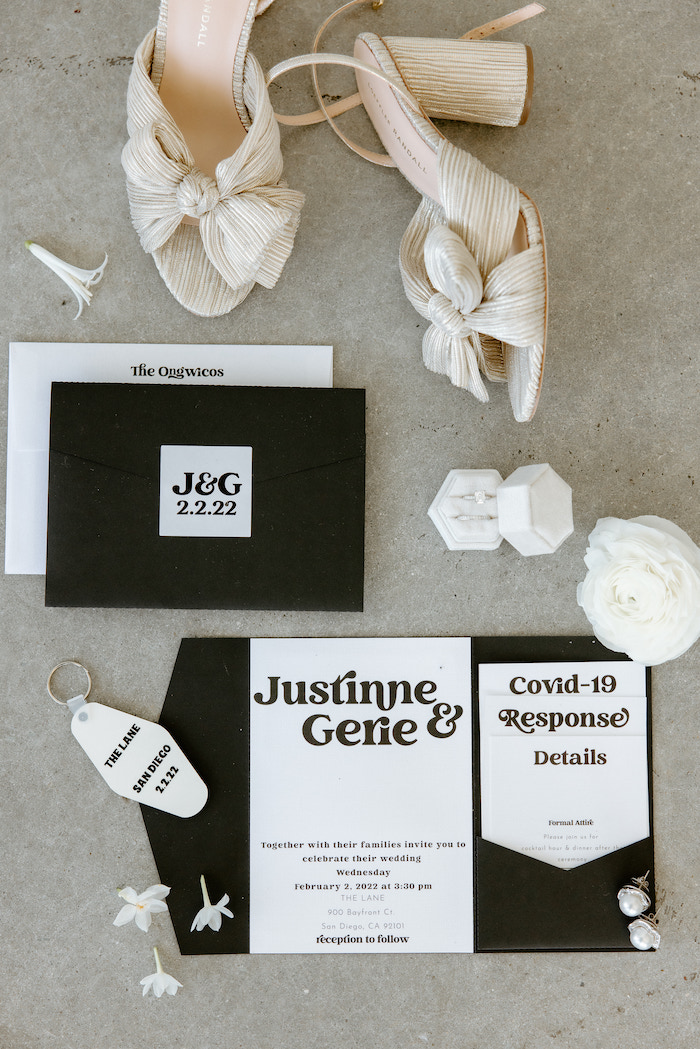 Shop similar shoes: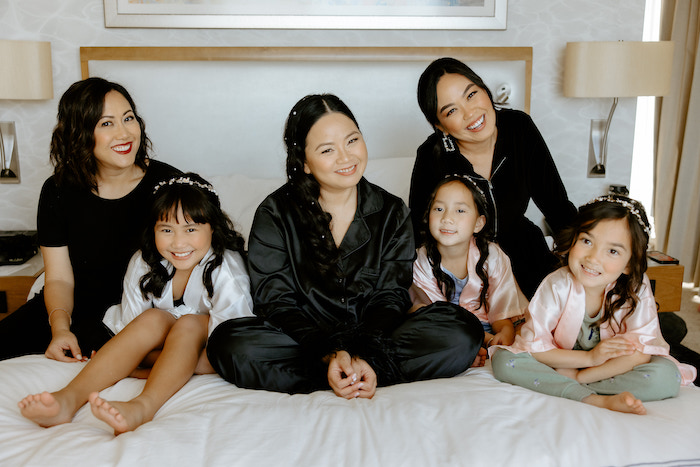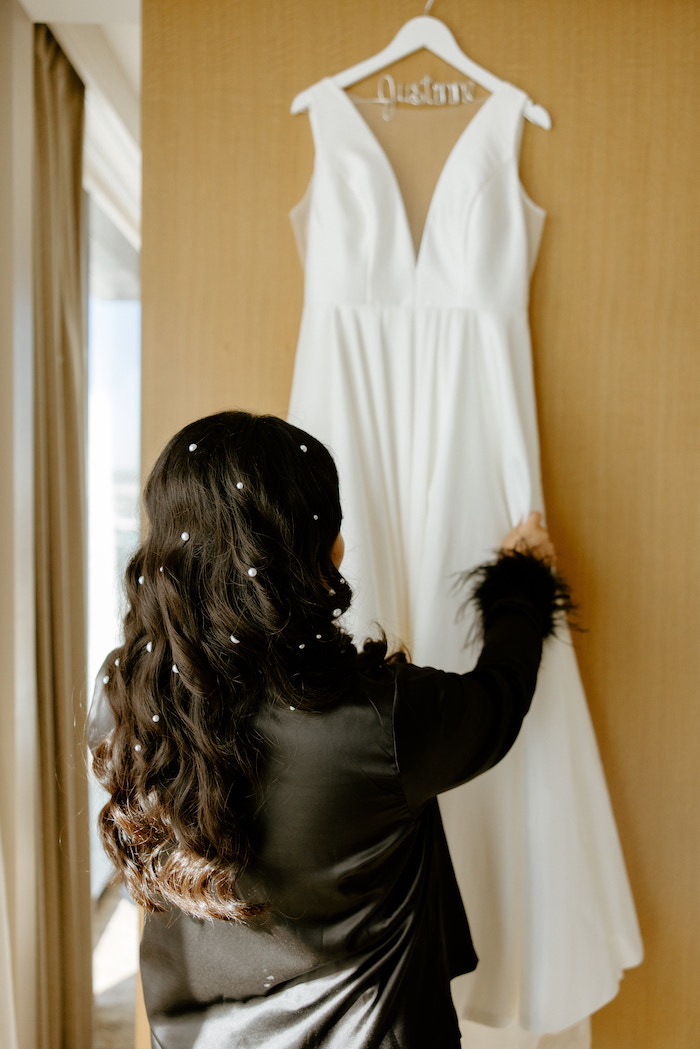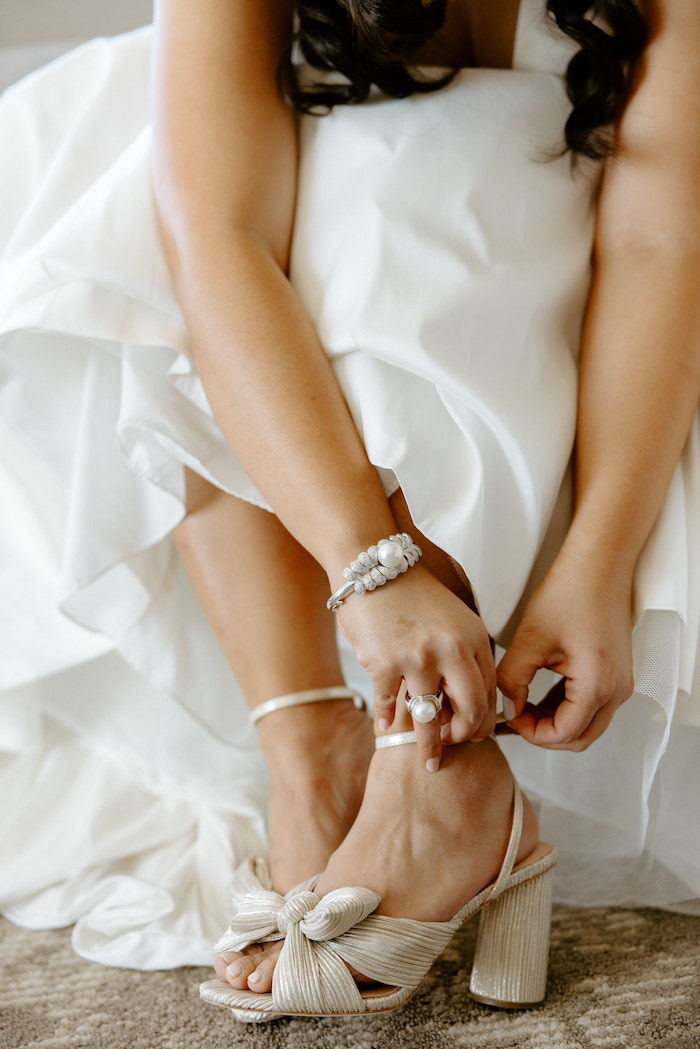 Junebug Member Carmen Lopez Photography's Thoughts On This Minimalist San Diego Wedding
This event was the chic, modern, and minimalist wedding of the year, in my opinion. From the baby's breath ceremony arch repurposed at the reception to the DIY seating chart and the pearls individually glued in Justinne's hair—there were so many trends from this wedding day that I think will inspire a lot of what we see in future weddings. This couple absolutely nailed the modern and clean aesthetic.




They Booked Another Venue But Switched To The Right One
We originally booked another amazing venue with Moniker pre-pandemic. While scrolling through Instagram, I came across The Lane and realized it was part of Moniker. Something about that place was calling out to us, but we had already booked Bldg 177. We shifted our plans due to the pandemic, so we visited The Lane before it was even ready and again once it was complete. The choice to go with it felt so right. Ally of Moniker was beyond gracious to let us move venues.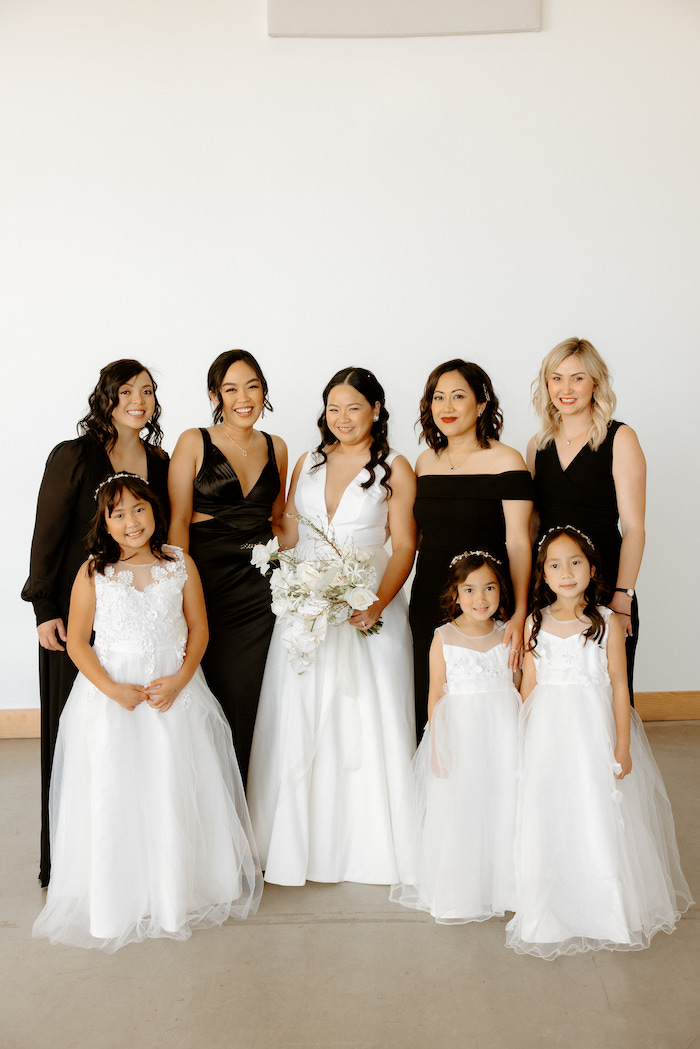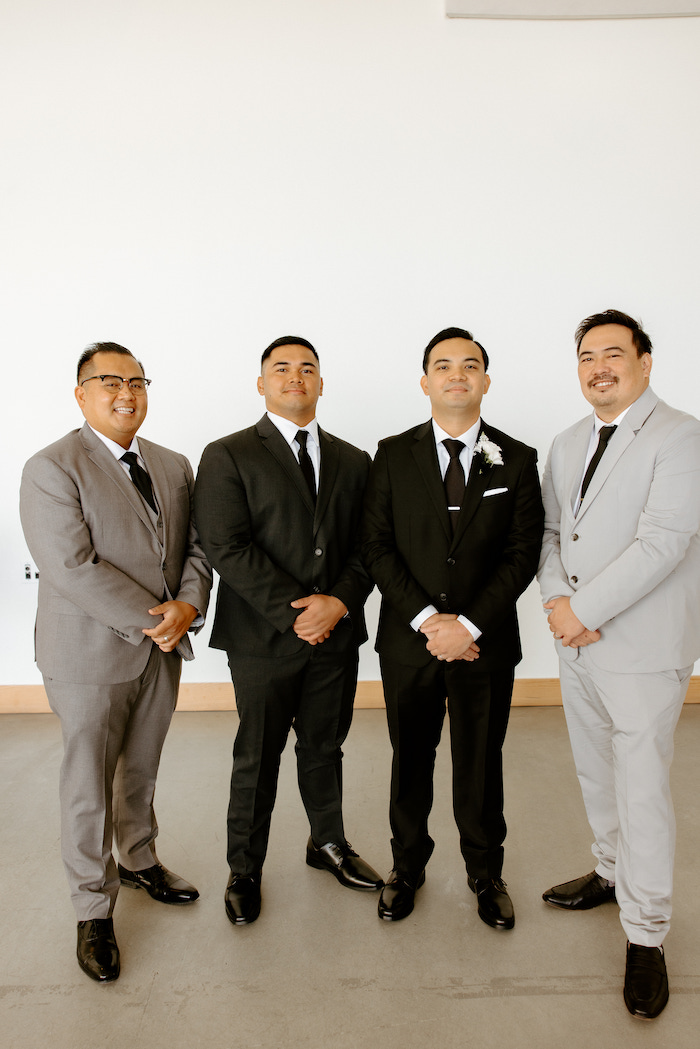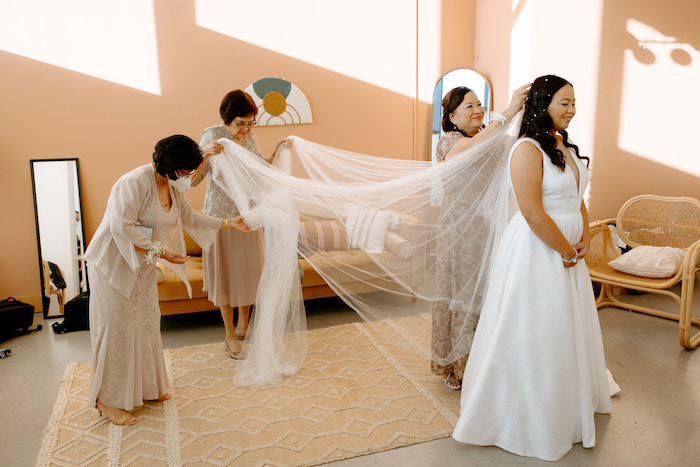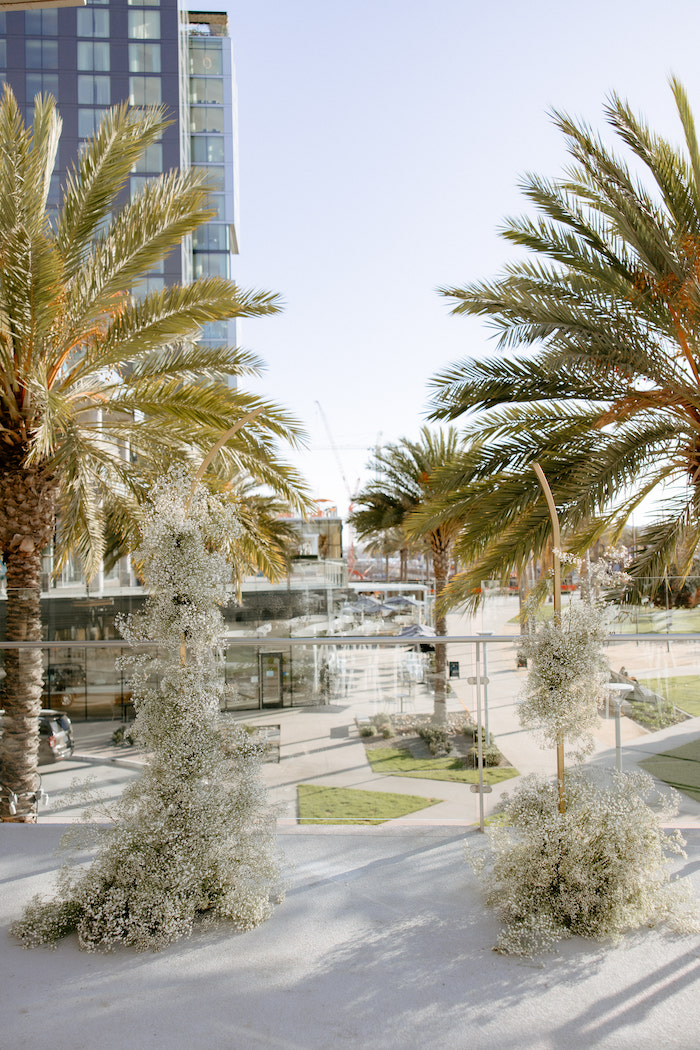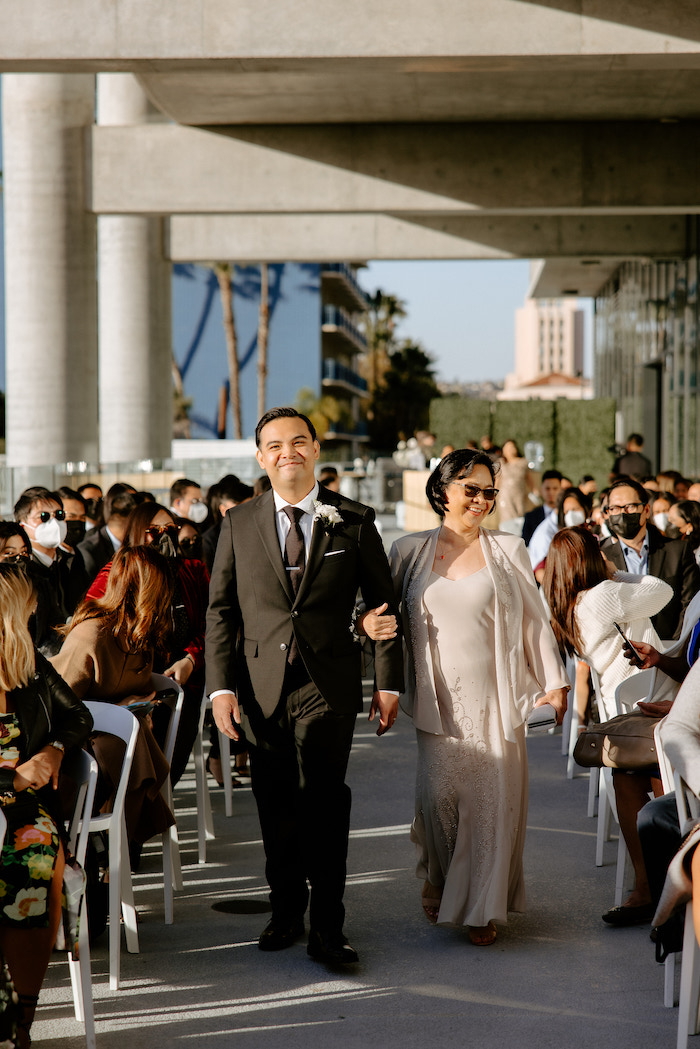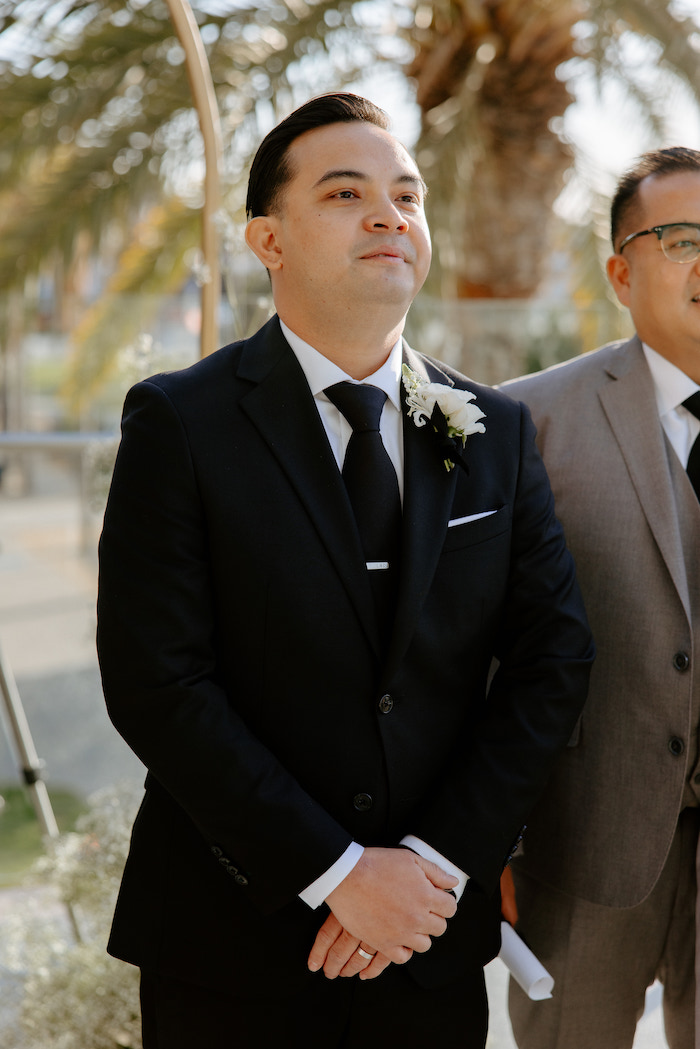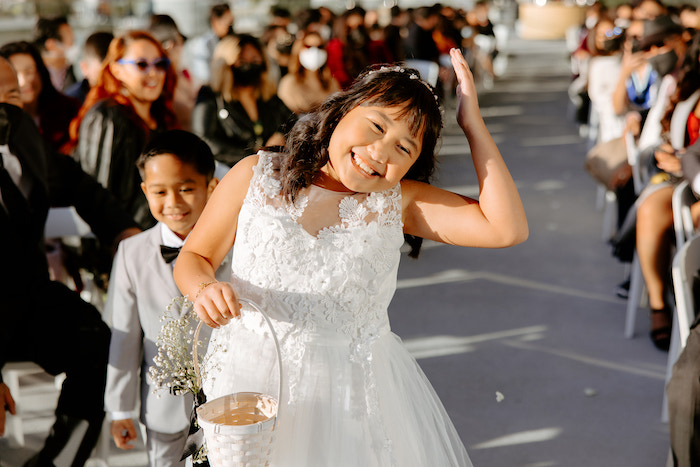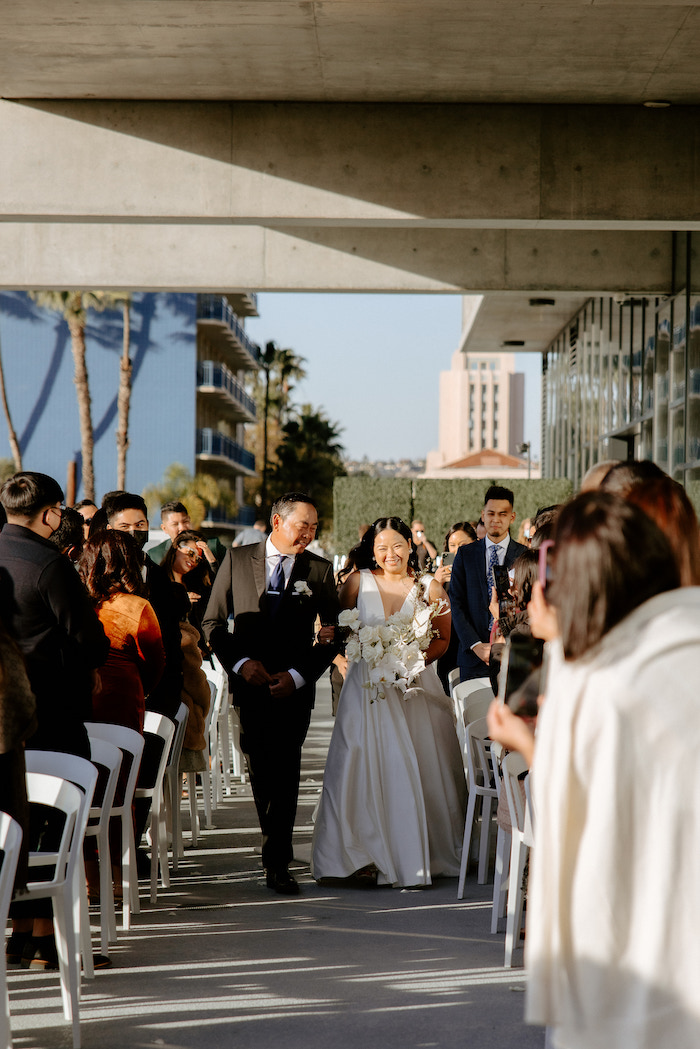 Personalizing Their Ceremony By Writing Their Own Vows And Having Their Cousins Officiate
Since we already had our official ceremony back in October, we had our cousins be the officiants for the second ceremony. They came up with their own script, which had our guests laughing. We also had the opportunity to write our own vows–a bonus since we had a traditional ceremony before.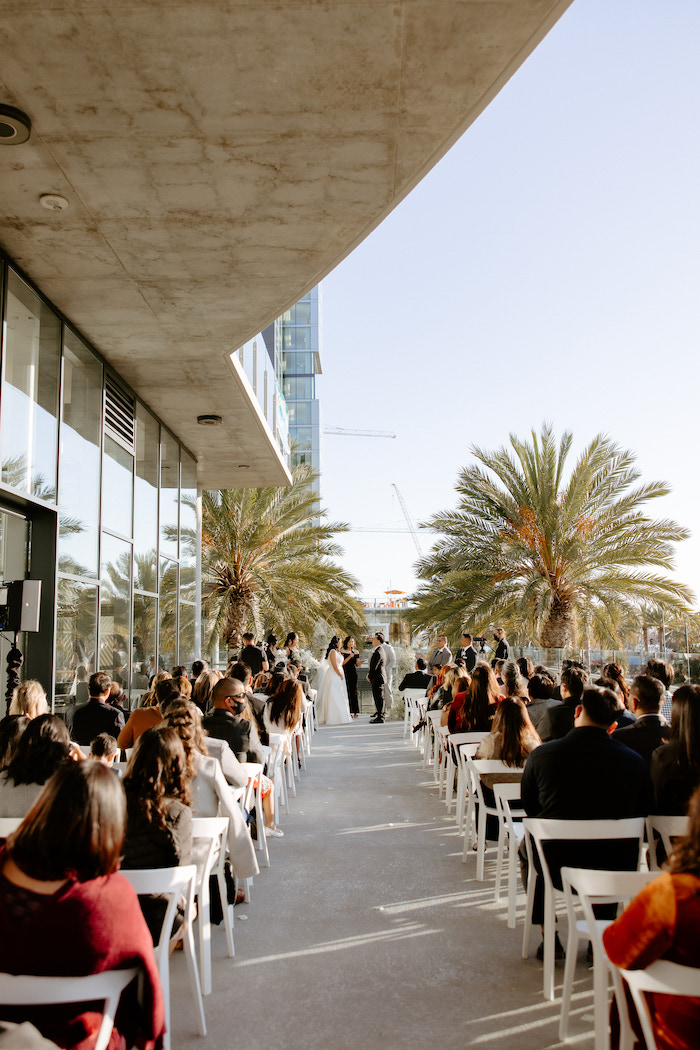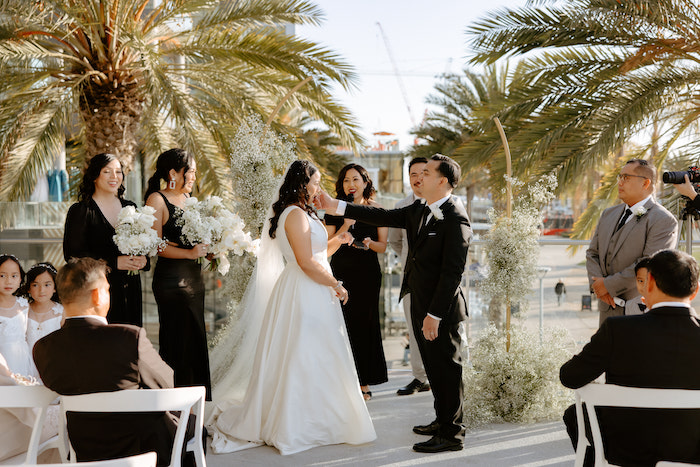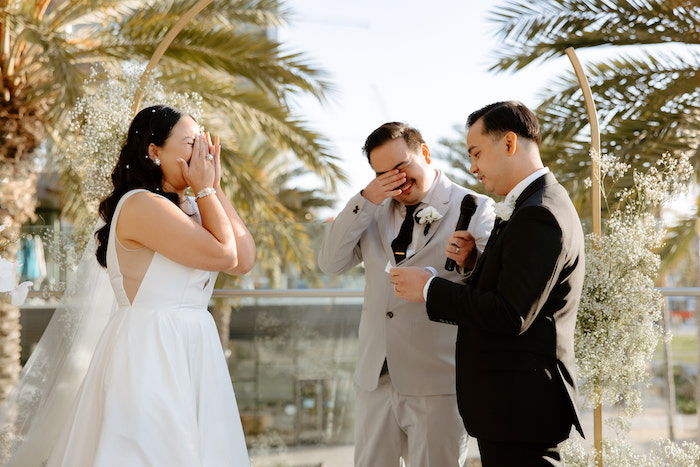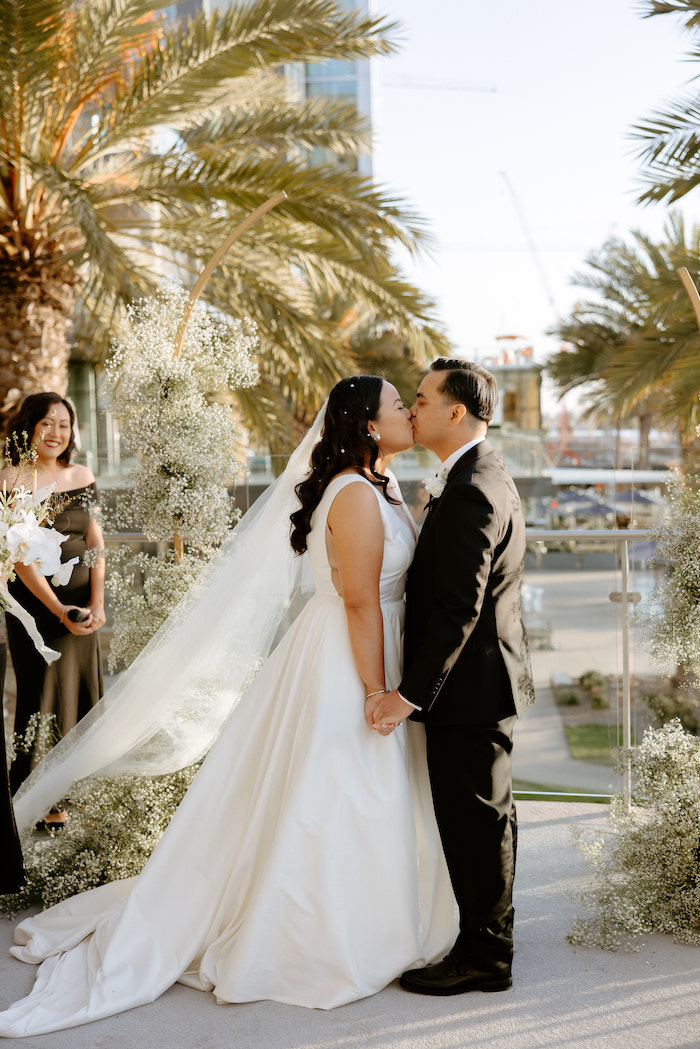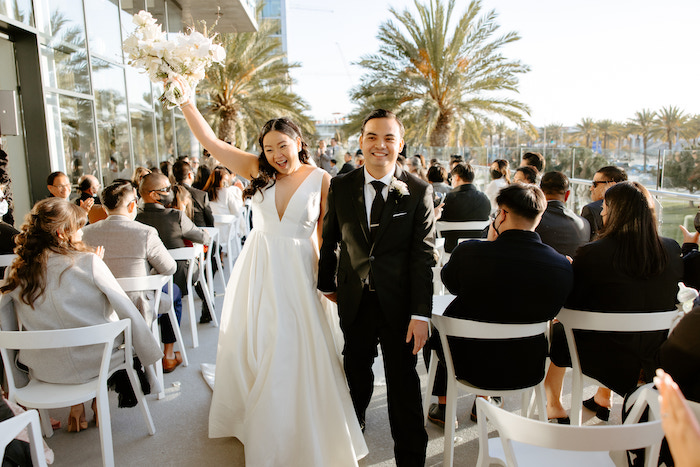 They Had A Great Experience Working With Junebug Member Carmen Lopez Photography
We've been on this journey with Carmen since 2019. And to have her as our photographer was such a gift. When we first met her in Joshua Tree for our engagement photos, she was nothing but the best hype woman. She has been with us through the re-scheduling, and on the day, it felt really like just hanging with your friend.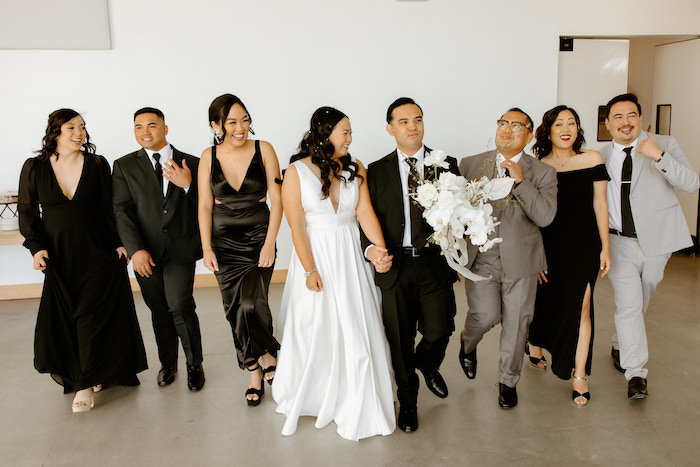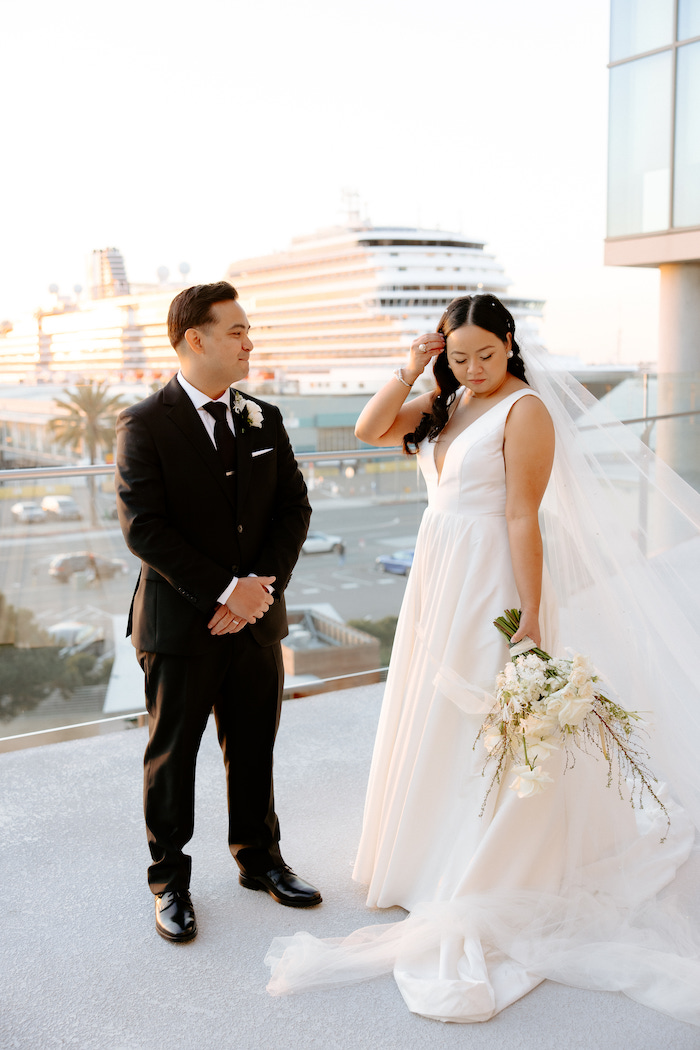 Advice From The Couple: Create A Celebration That Feels Right For You And Your Partner
Enjoy the process and do what feels right with you and your partner. We're most proud that we had a wedding that reflected us and our personalities. As cliche as it sounds, the entire day was memorable. It was the best day–from having the opportunity to have our dream wedding after so many postponements and cancellations to finally celebrating with all our family and friends. Time flies so fast, so enjoy every moment.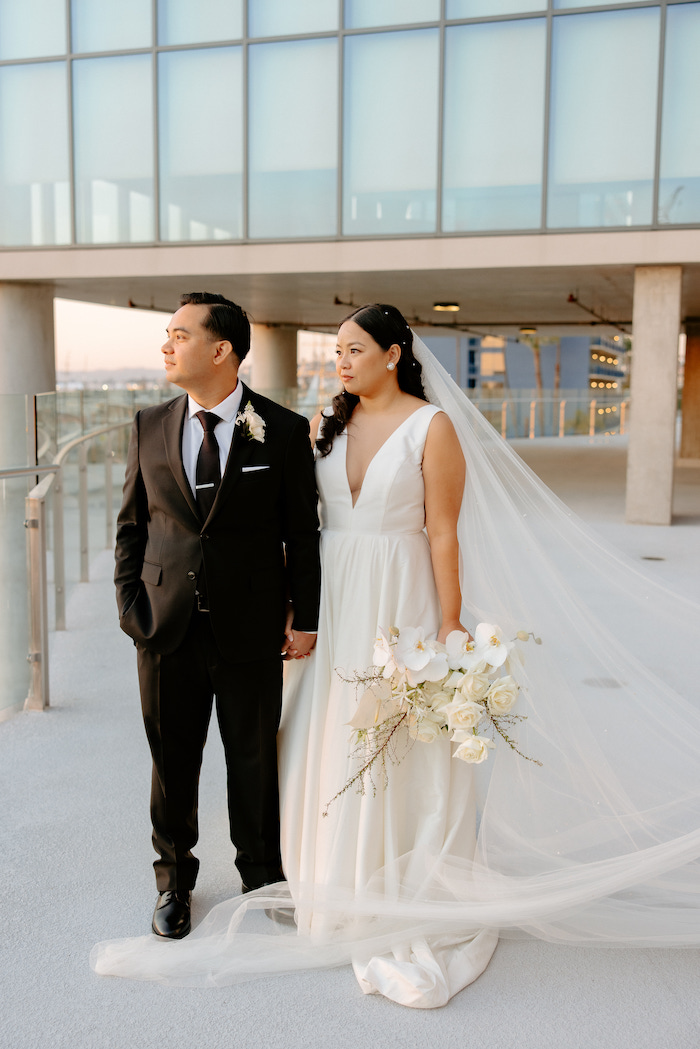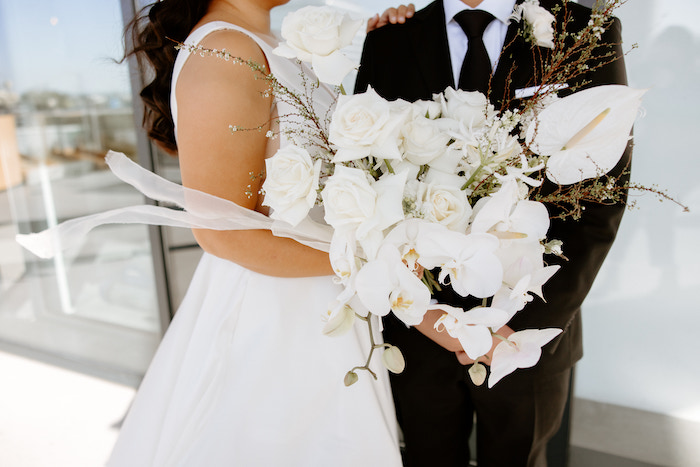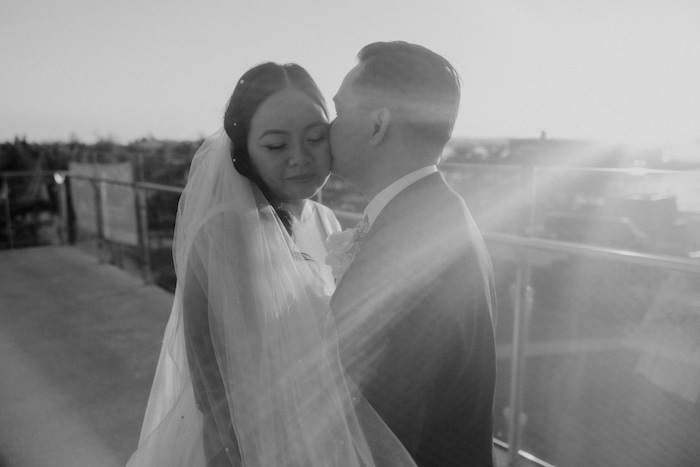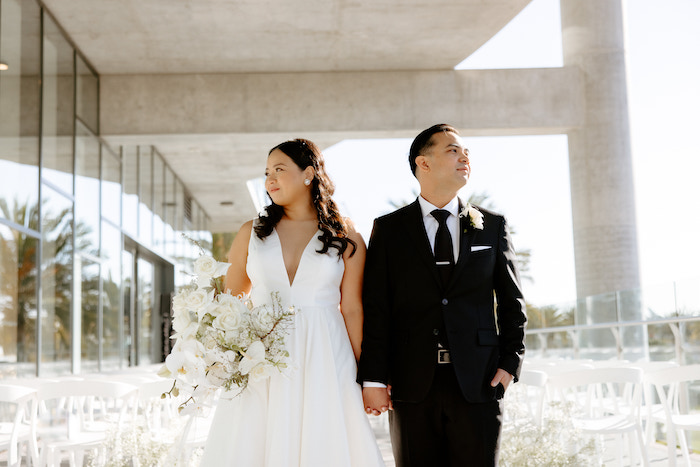 DIY Seating Chart And Invitations To Cut Costs
We created retro motel keychains for our seating chart for all our guests. Gerie and his dad built a wood panel that served as our backdrop and a place to hang the keys. It's similar to what you'd find if you were checking into a motel. Then we customized each keychain with our guests' names and printed them on vinyl. We also DIY'd our invitations with the help of some amazing Etsy vendors. I purchased the templates through Sincerely By Nicole, and I got to customize the paper goods. We also DIY'd the wedding invite pocket with the help of Cricut to save some money.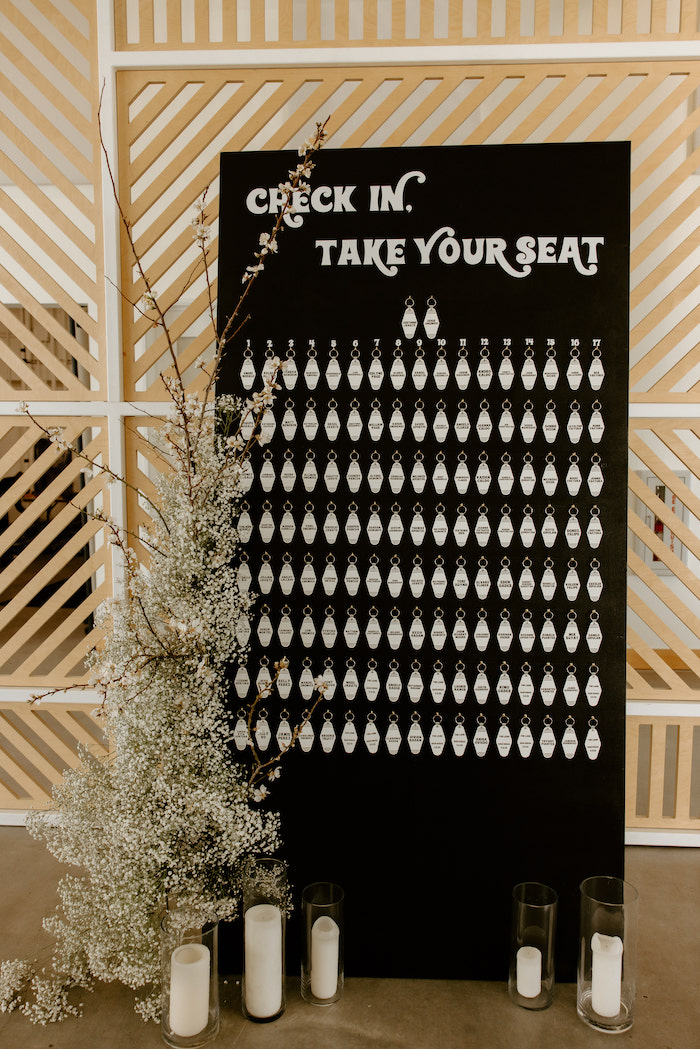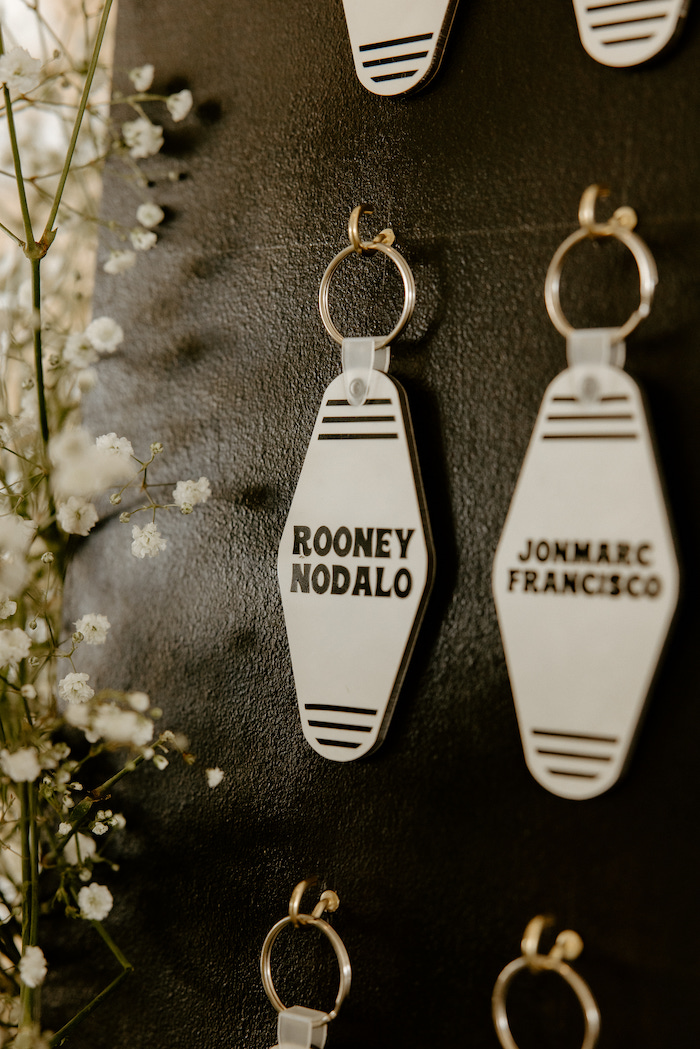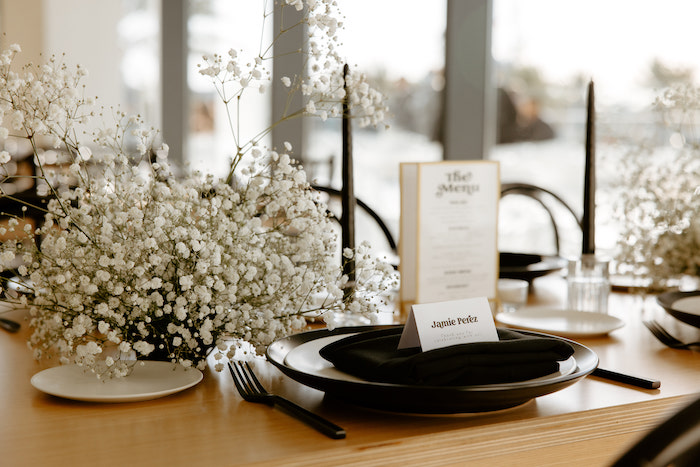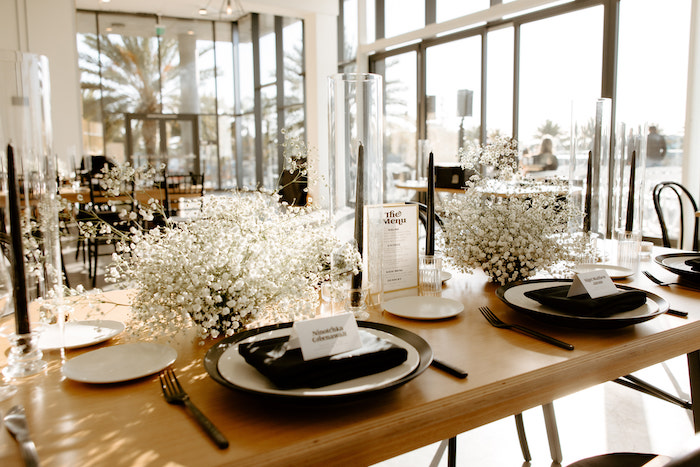 They Treated Their Guests To Locally Sourced Food
We had truffle sliders, mini avocado toasts, tacos, and a charcuterie table for appetizers. For dinner, we all enjoyed tri-tip with bbq sauce, salmon with pesto aioli, roasted veggies and potatoes, salad, and dinner rolls that were all locally sourced. Our guests loved the truffle sliders that we had picked out as one of our appetizers. We wish we got to eat more of that ourselves. We also ordered pizza from Pizzeria Luigi and had it delivered to our venue as a late-night bite after all the dancing.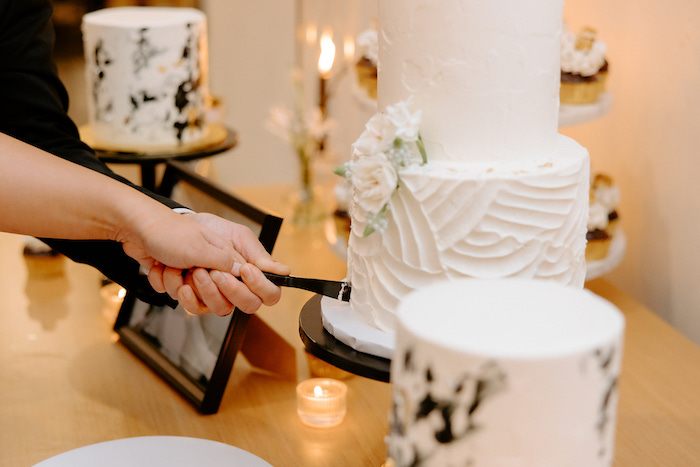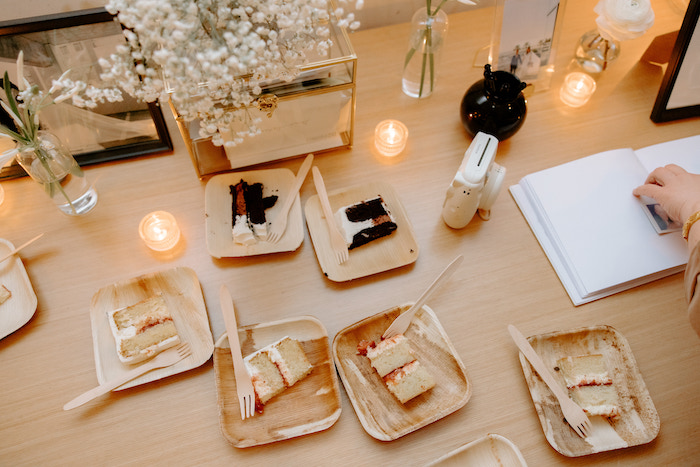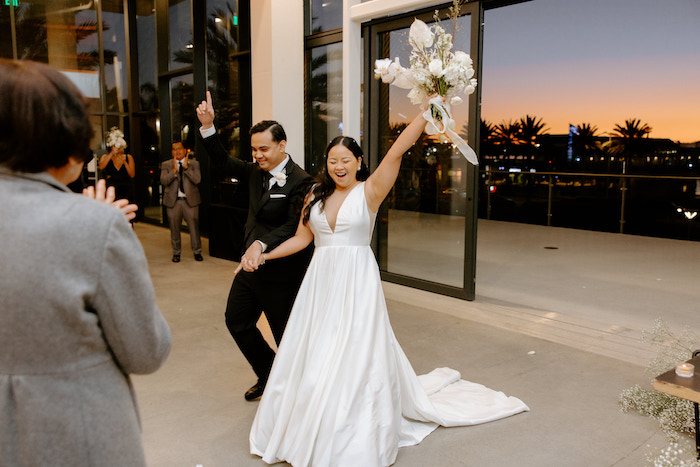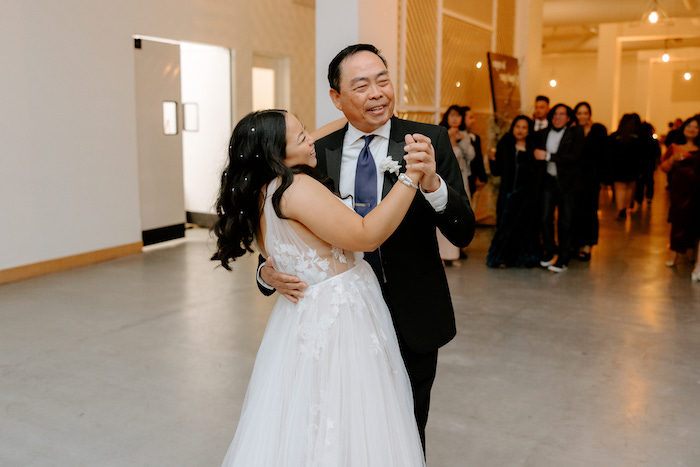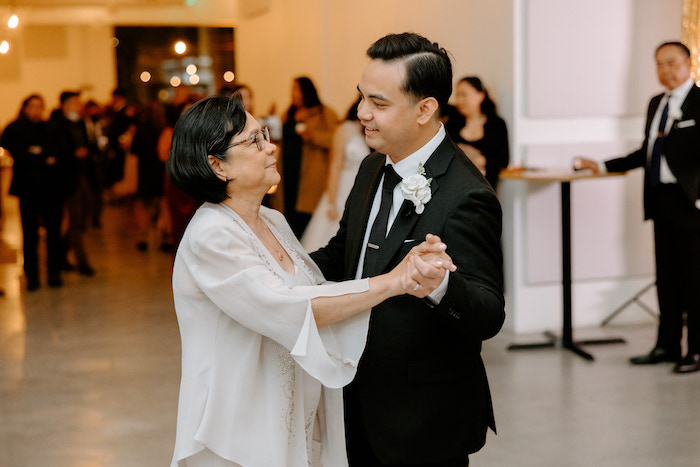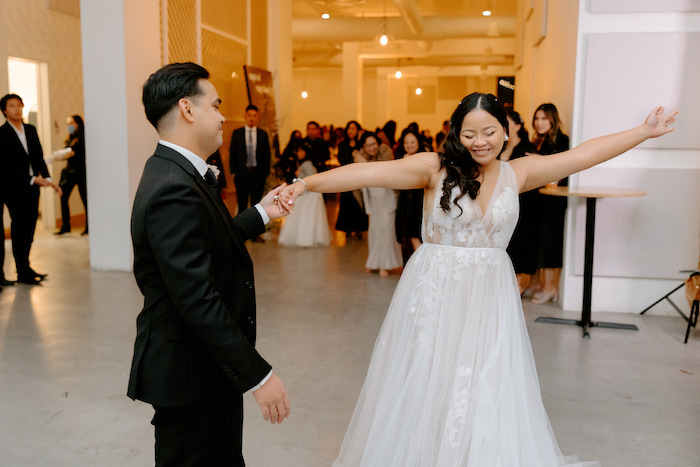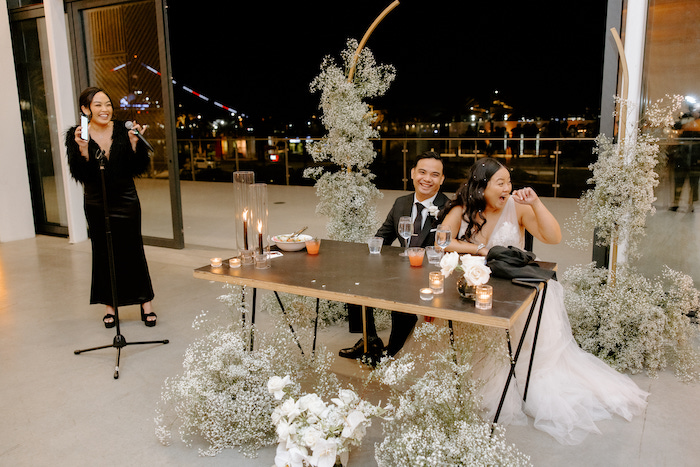 Congratulations to Justinne and Gerie on their chic, modern, and minimalist San Diego wedding. And big thanks to Junebug member Carmen Lopez Photography for capturing all the moments and details that made this celebration unforgettable. To see more of her talent, check out her profile in our directory of expert photographers from around the world.
Whether you're drawn to a classic palette or prefer a more festive one, the color palette you choose is critical to ensuring that your big day looks on-theme and cohesive. But sometimes, choosing your colors may not be as straightforward. Don't worry, we've got you covered! Check out our guide on selecting your color palette, along with a list of trends you can use for inspiration to find a combo that'll bring your own celebration to life.