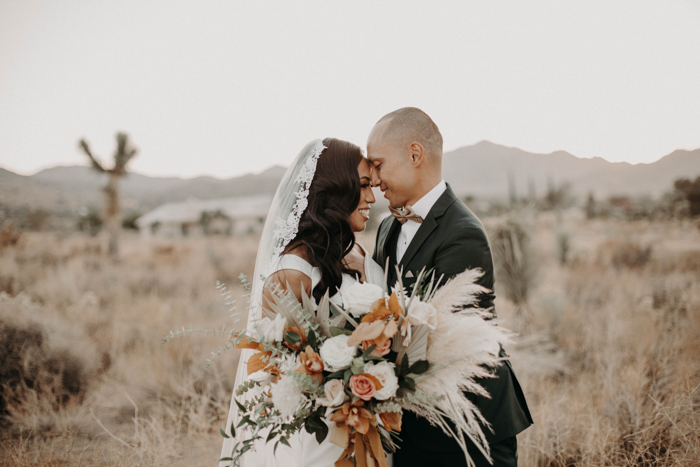 This couple originally planned a Bali destination wedding, but then transformed their plans. Instead, their destination wedding turned into a California desert Airbnb ranch micro wedding fully prioritized intimate moments. The change couldn't be more perfect. Mahalia and Nathan let fate play its course in the planning of their wedding—happy with any twists and turns their wedding planning took, as long as they were doing it together.
With the help of event planner Blush and Bloom Events, the couple brought to life their dream COVID-conscious wedding day—packed full of intentionality and fun. The beautiful neutral-toned floral arrangements, by Fleurish, complimented the naturally muted desert backdrop. Remember, large over-the-top wedding venues aren't what make weddings memorable. Masaya Desert Ranch—and Airbnb nestled in the foothills of Joshua National park—proved to be the perfect ceremony and reception space for an intimate micro-wedding.
Photographer Tayler Ashley captured every moment that made Mahalia and Nathan's micro-wedding one for the books. If you're searching for inspiration for planning an unforgettable Airbnb wedding, keep scrolling. You've come to the right place.
The Couple:
Mahalia and Nathan
The Wedding:
Joshua Tree, California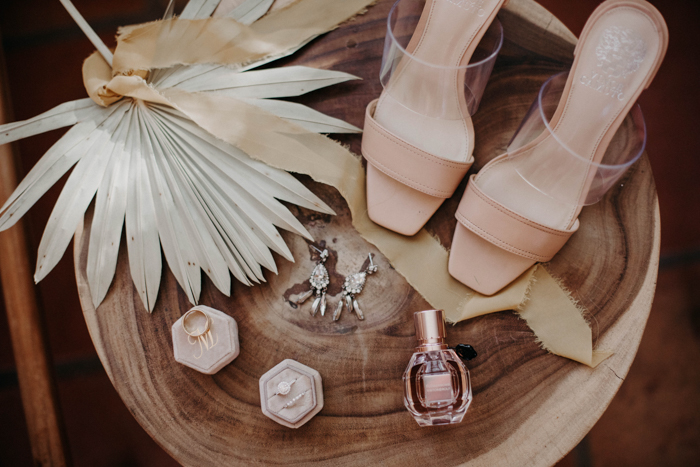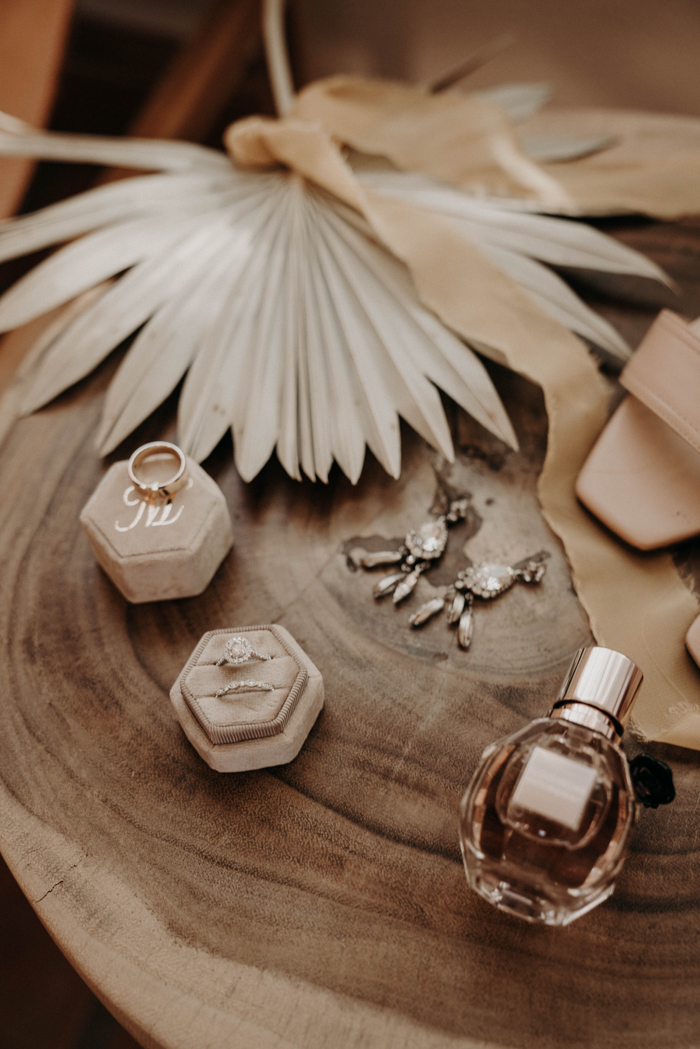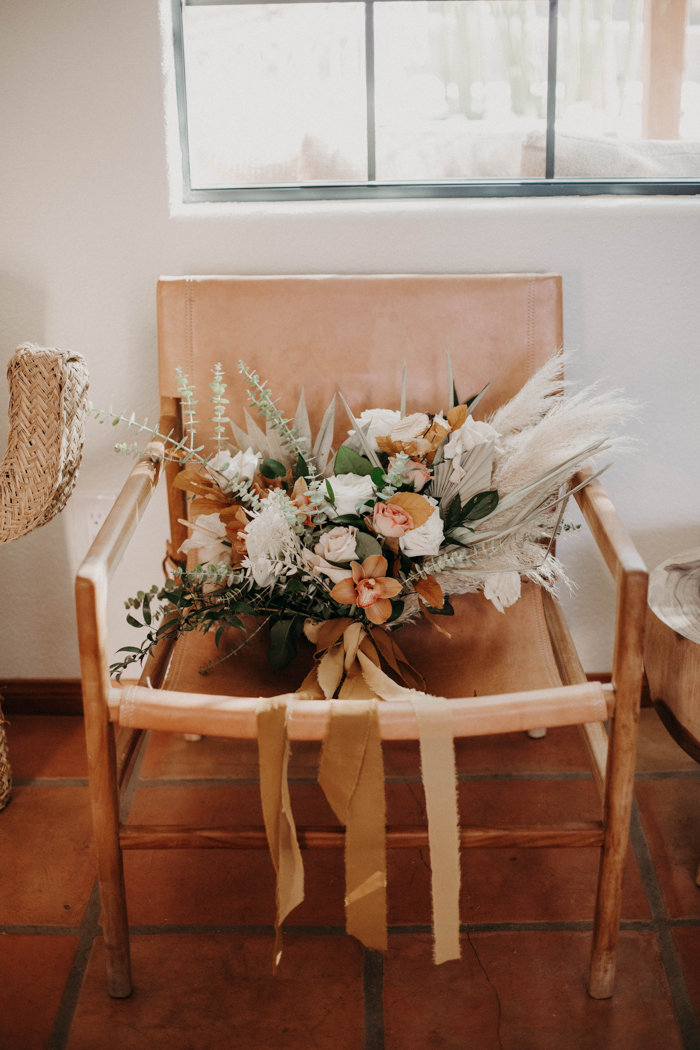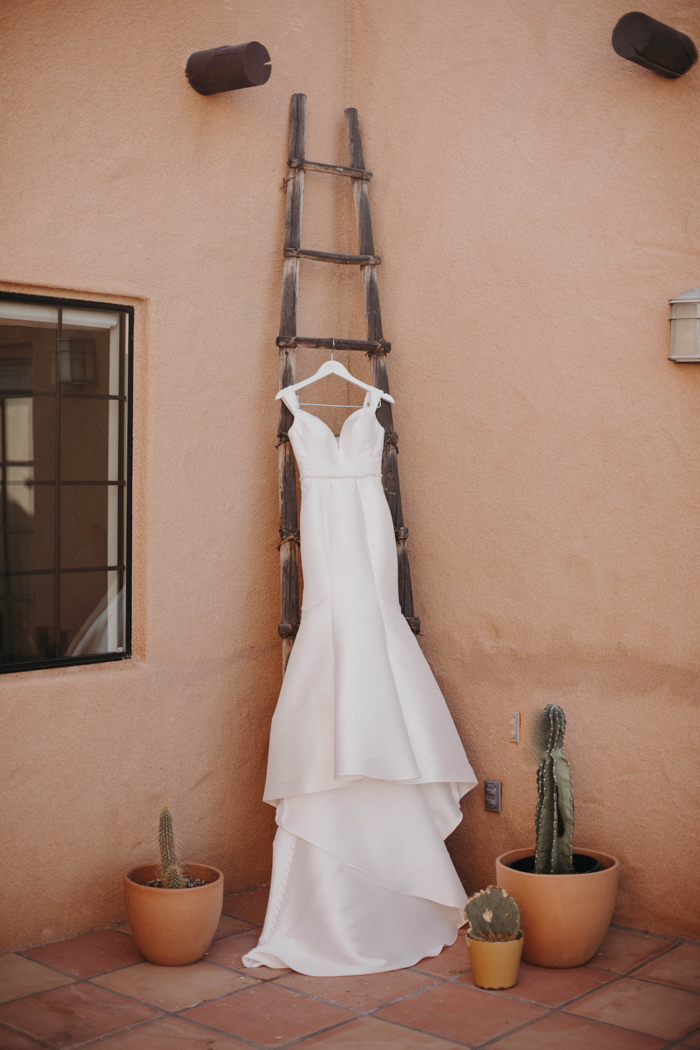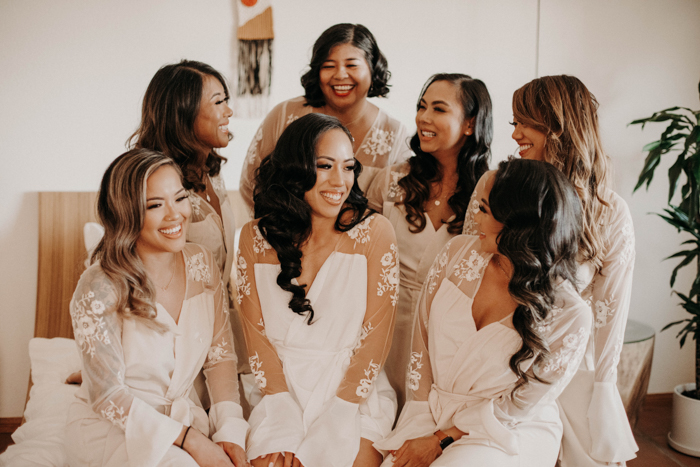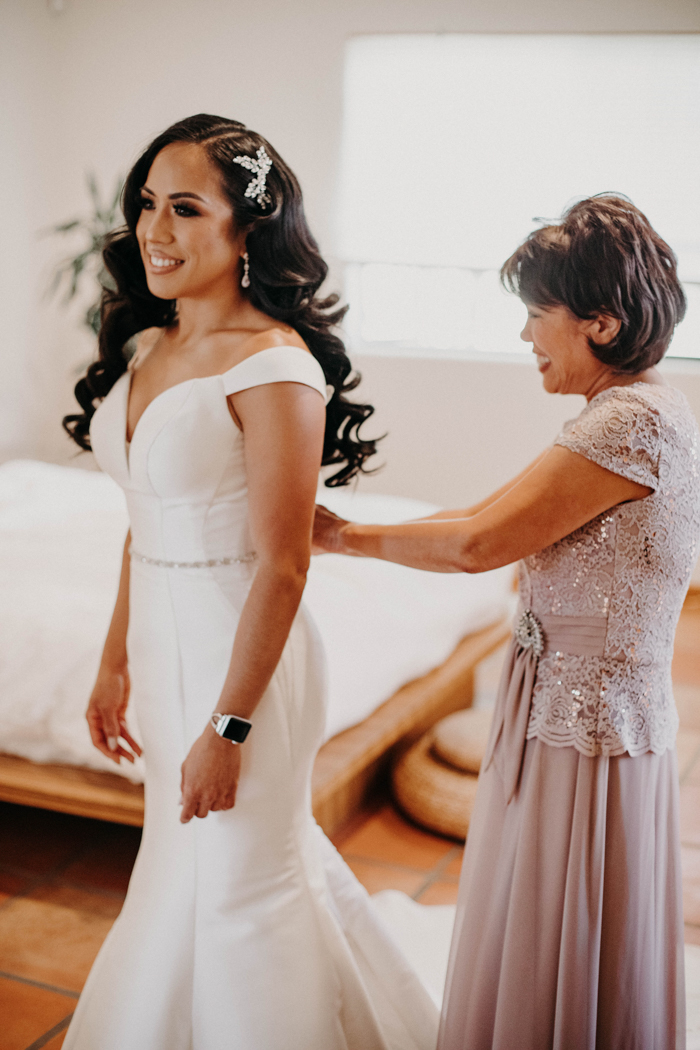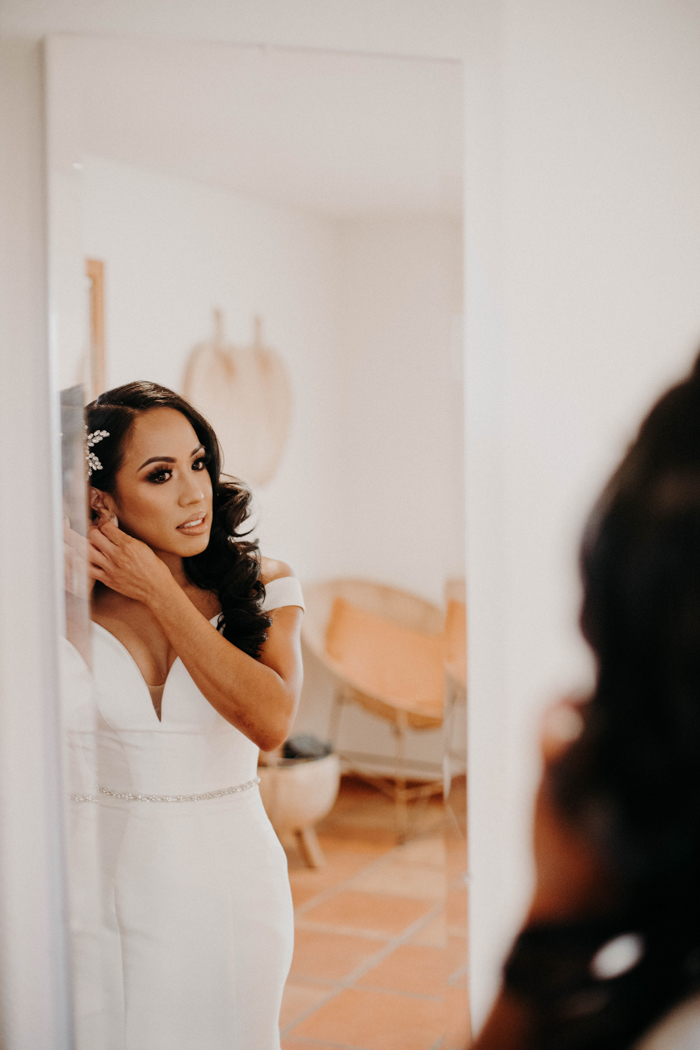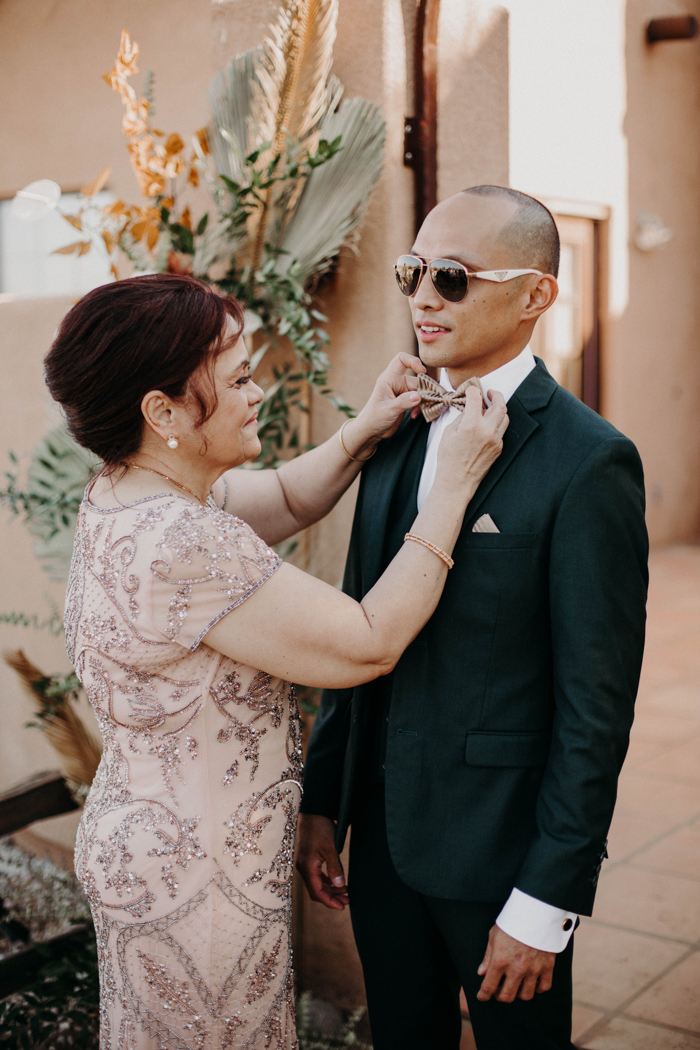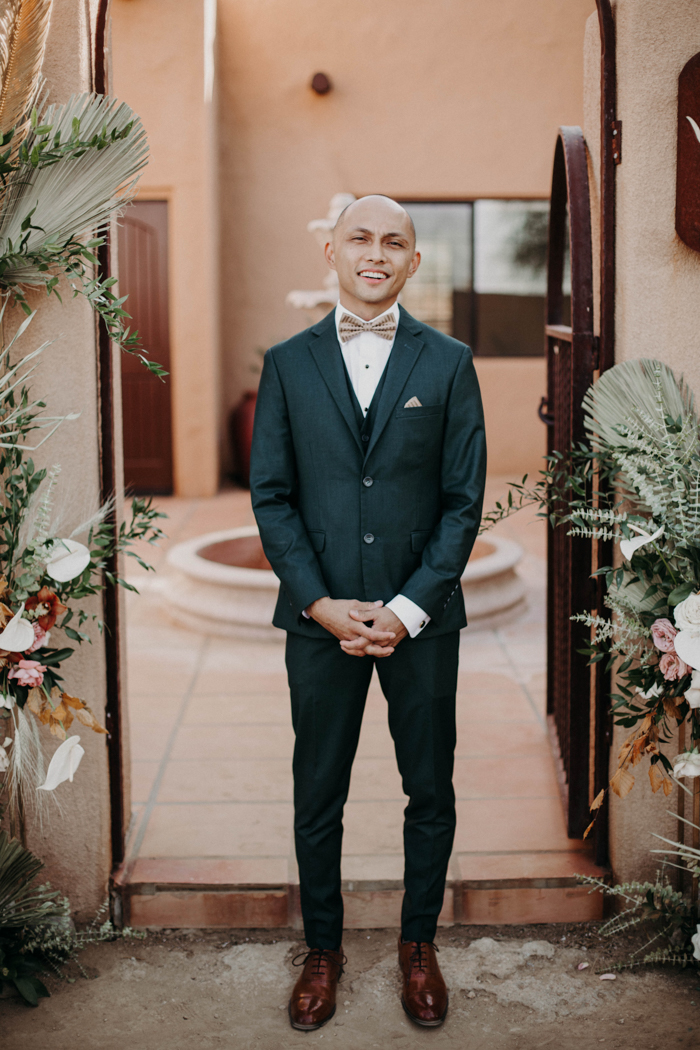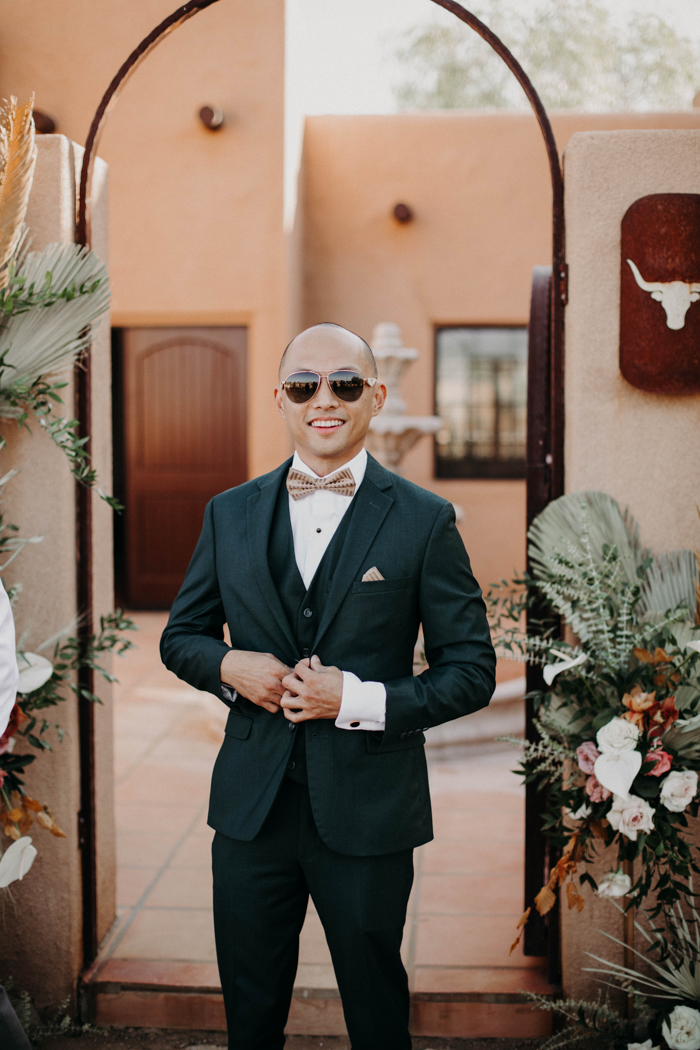 Prioritizing Love In This COVID-Conscious Wedding
The most important thing when it came to planning our COVID-conscious wedding was the intimacy of the overall day. We wanted to make sure that our guests—along with ourselves—truly felt nothing but love.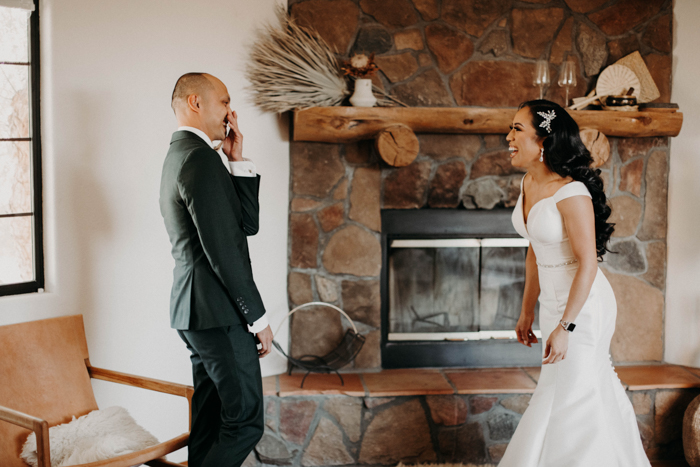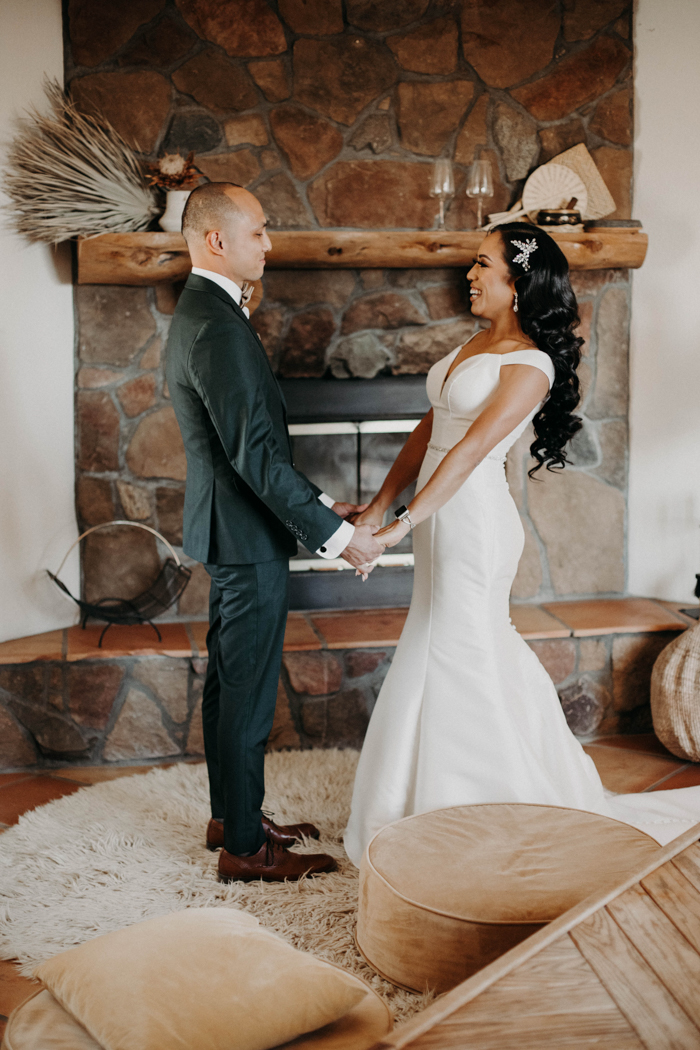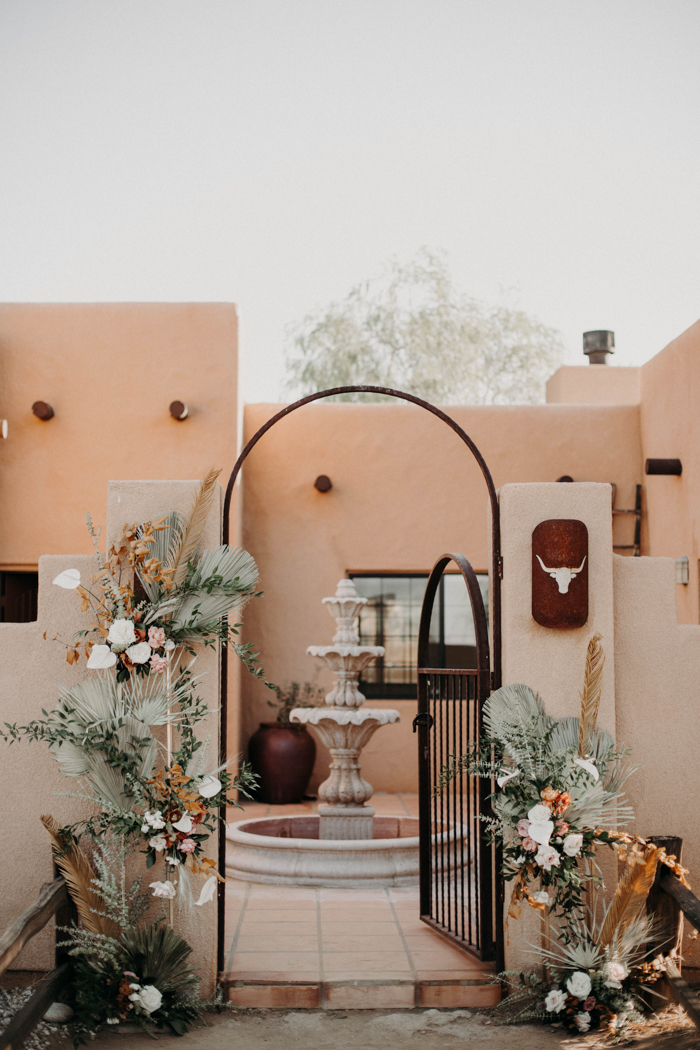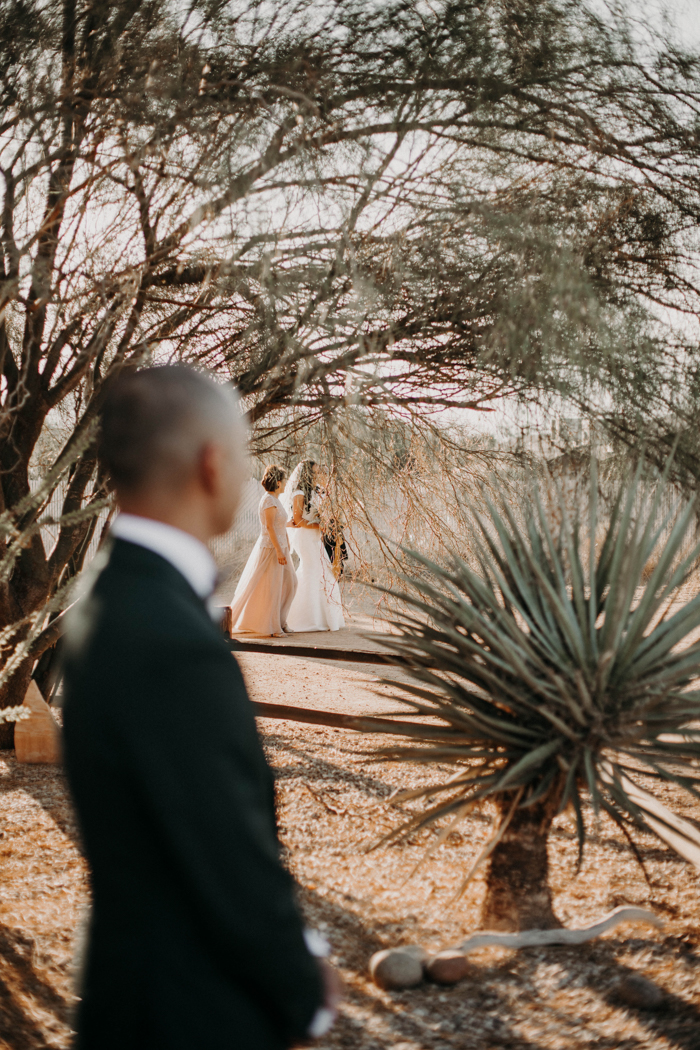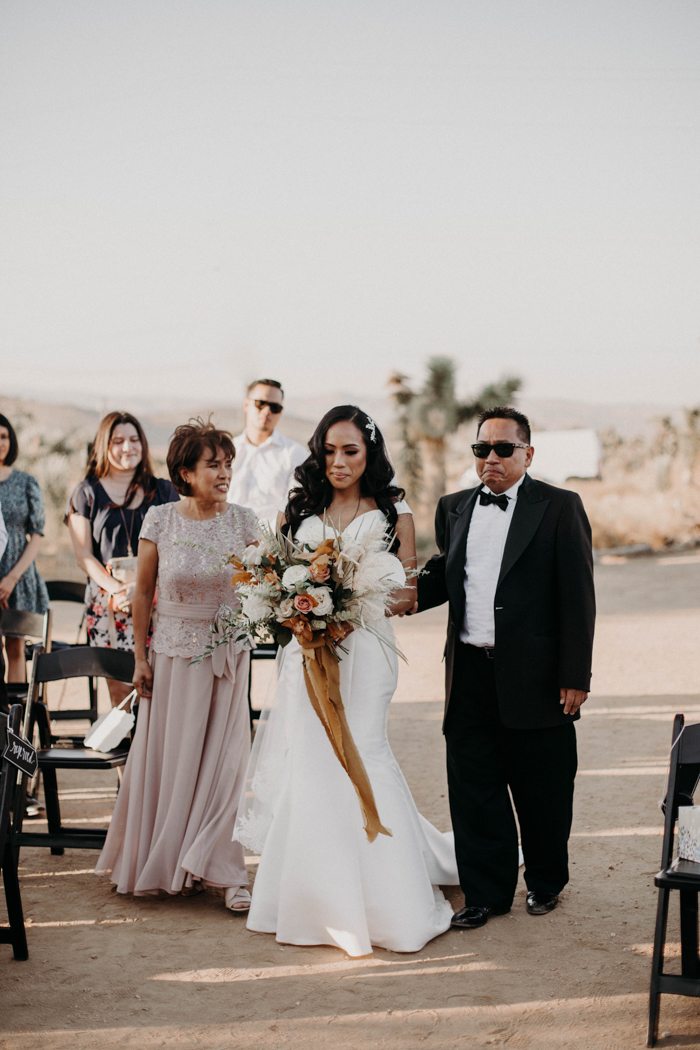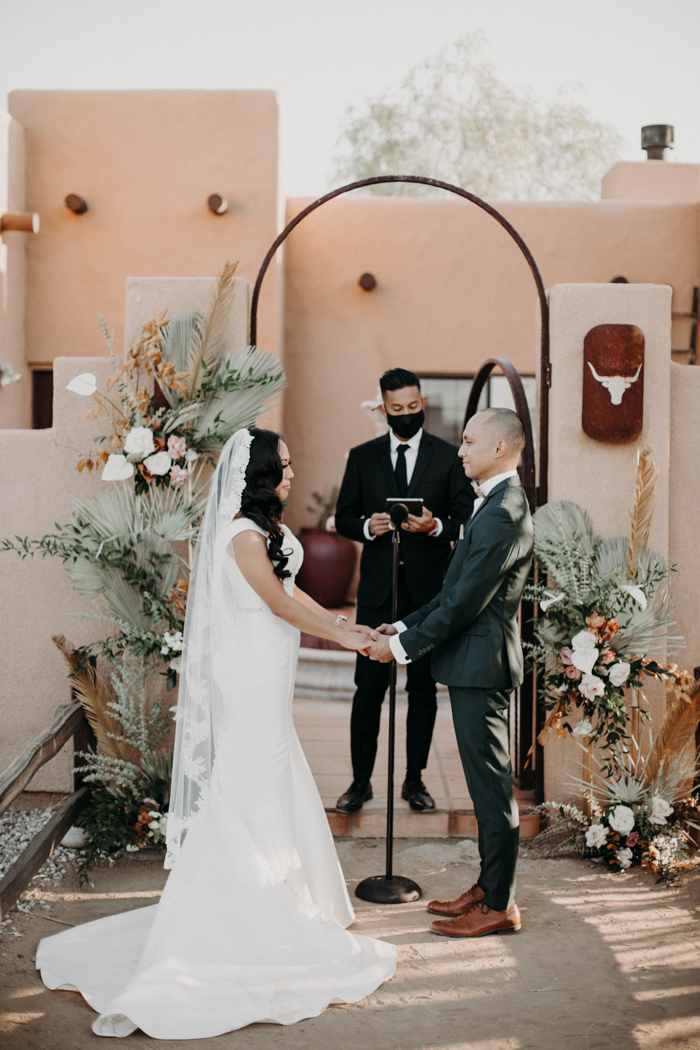 Memorable Hand-Written Vows
Our vows were without a doubt the most memorable aspect of the day. We're pretty private people, so it was a life-changing moment for both of us to place our hearts in a vulnerable place for all our closest friends and family to hear. Also, our dog, Simba, was an essential part of our wedding as well. He wore his bow tie and got to celebrate on the dance floor with us.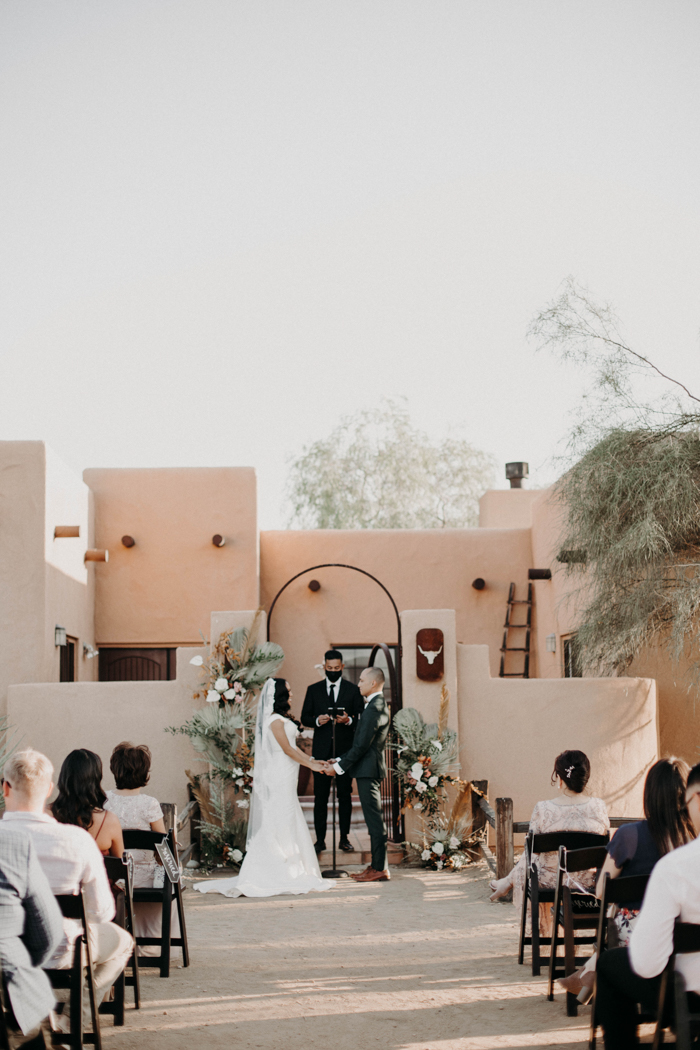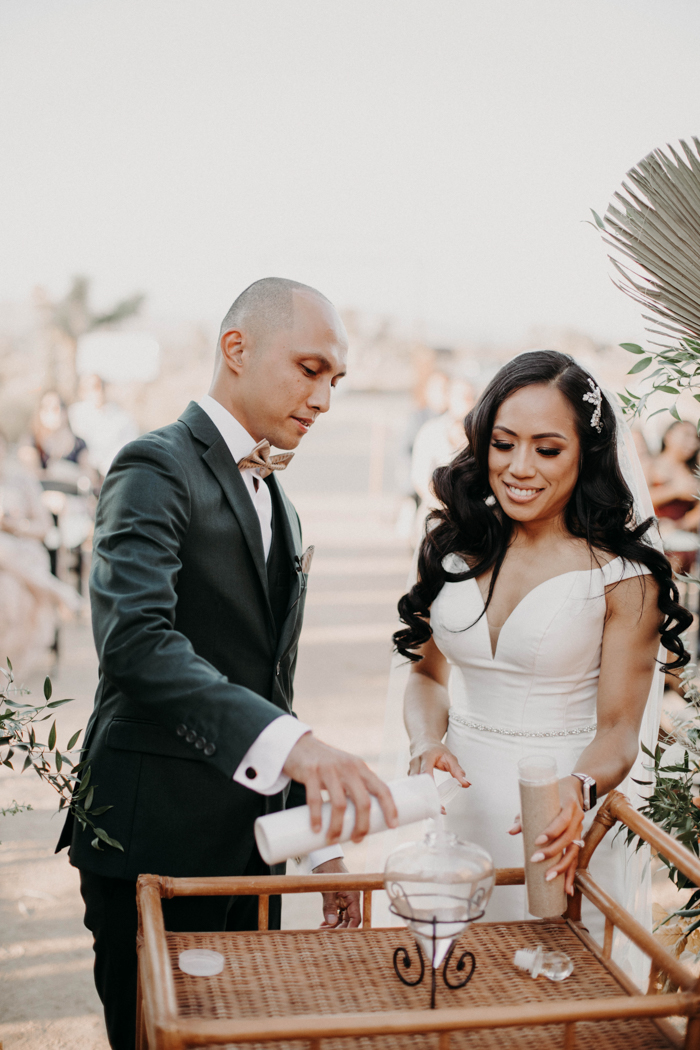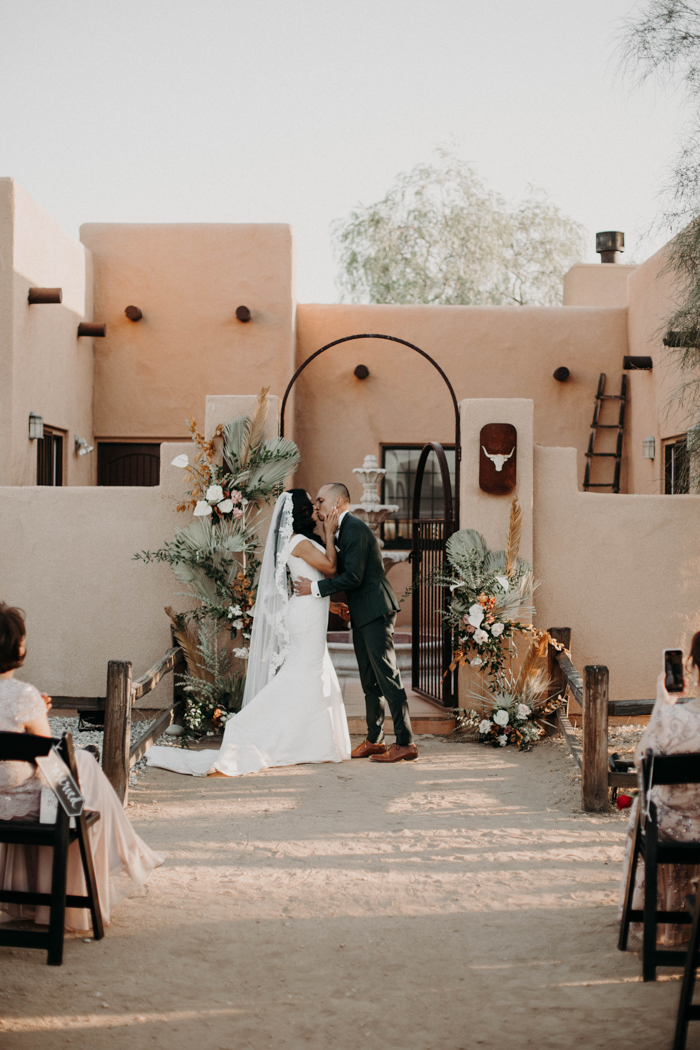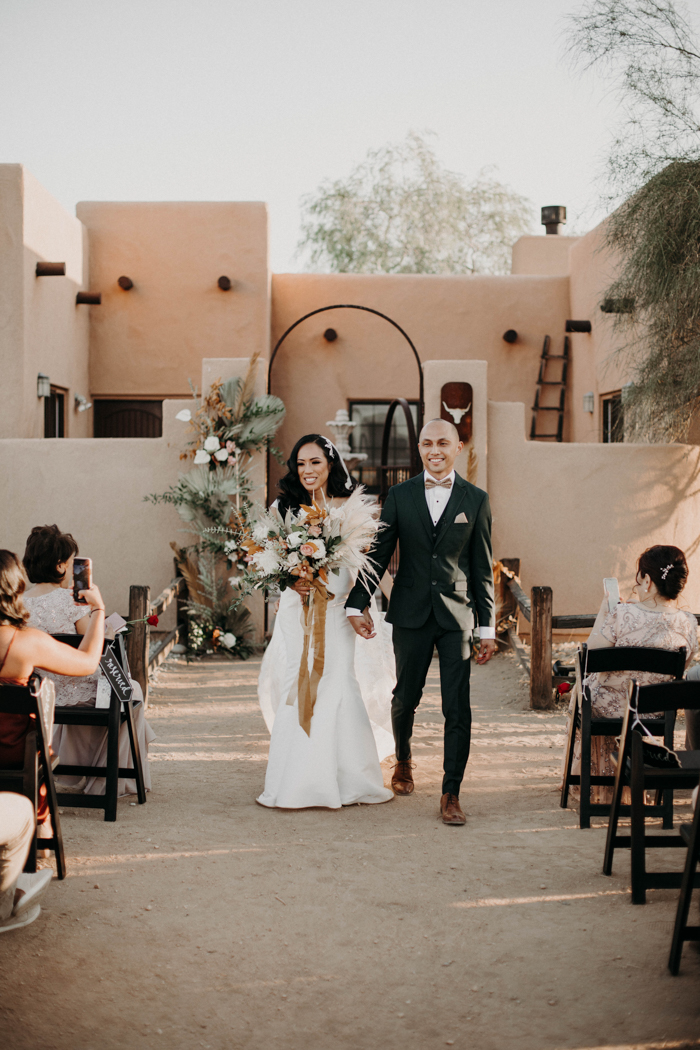 Airbnb Ranch Wedding Venue
We found Masaya Desert Ranch on Airbnb, and once it popped up on our phones, we knew we had found our place. Masaya Desert Ranch has a beautiful outdoor space, and that pretty much sold us. It was beautiful, soothing, and romantic. Everything there, from the setting and the seating to that incredible backdrop of the house, is immaculate!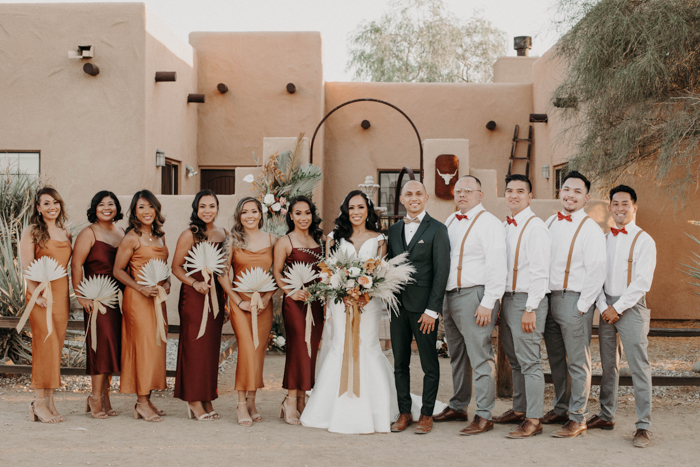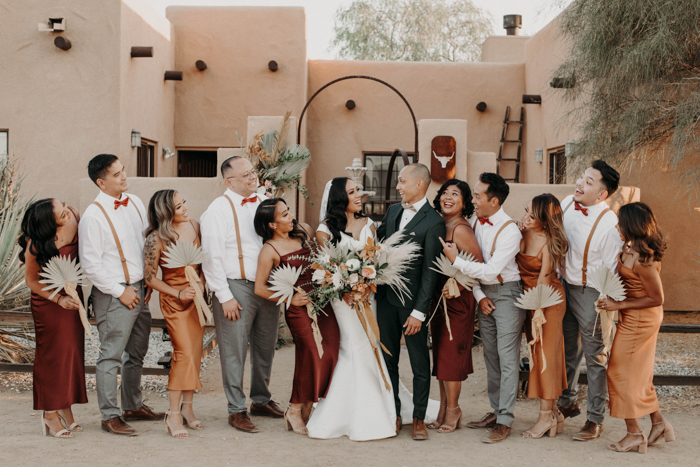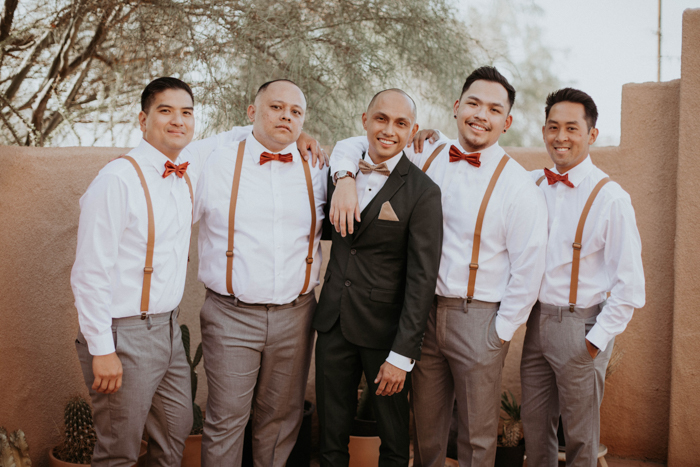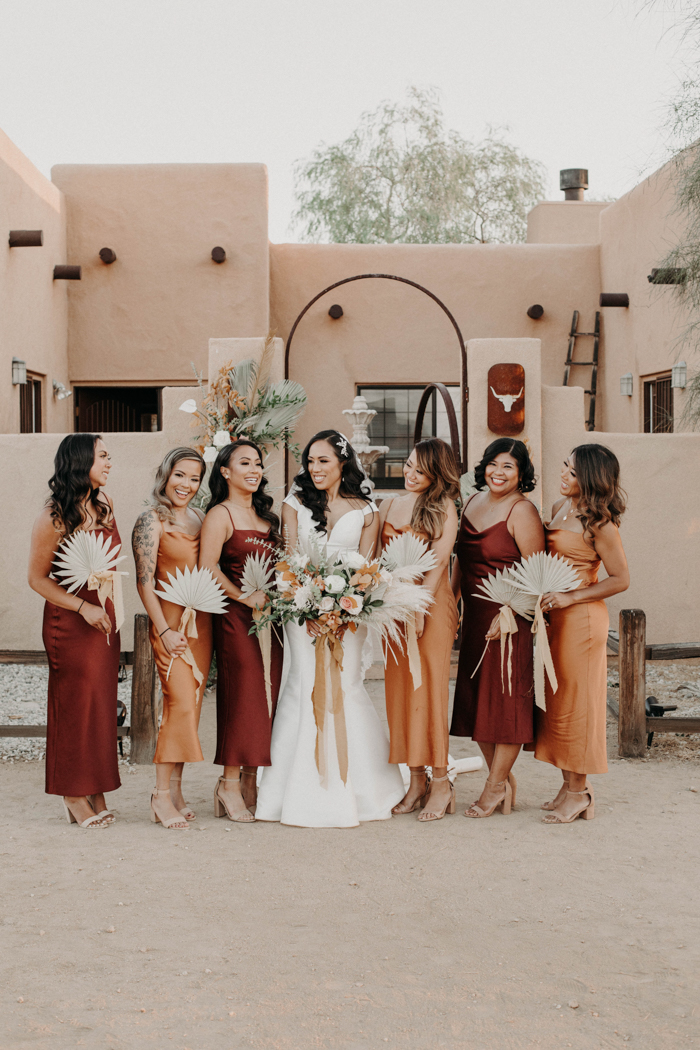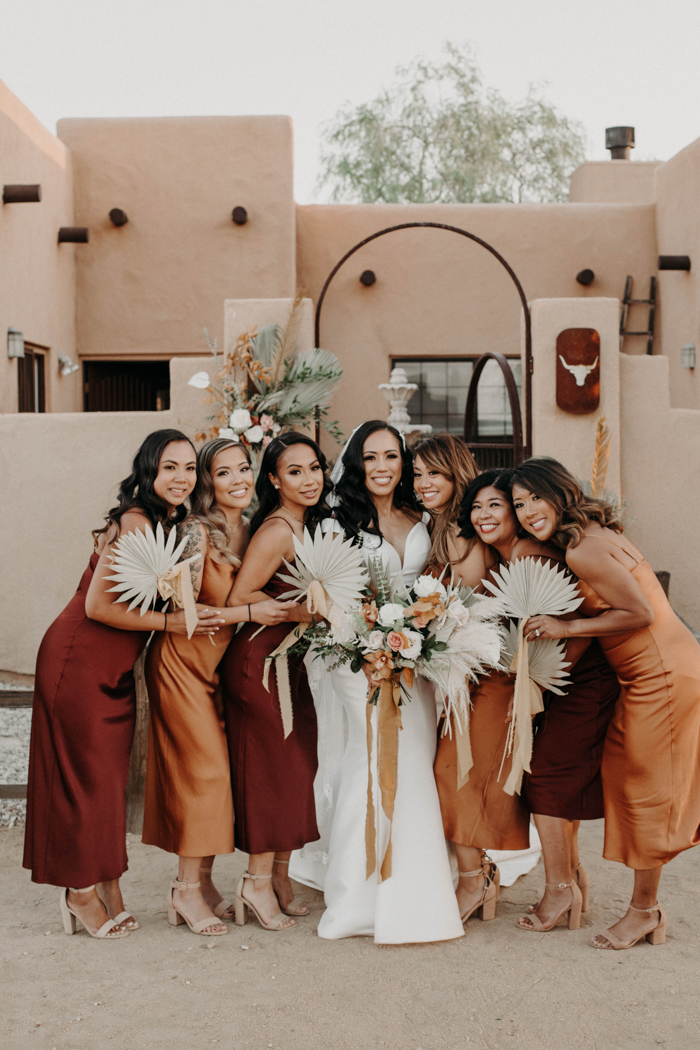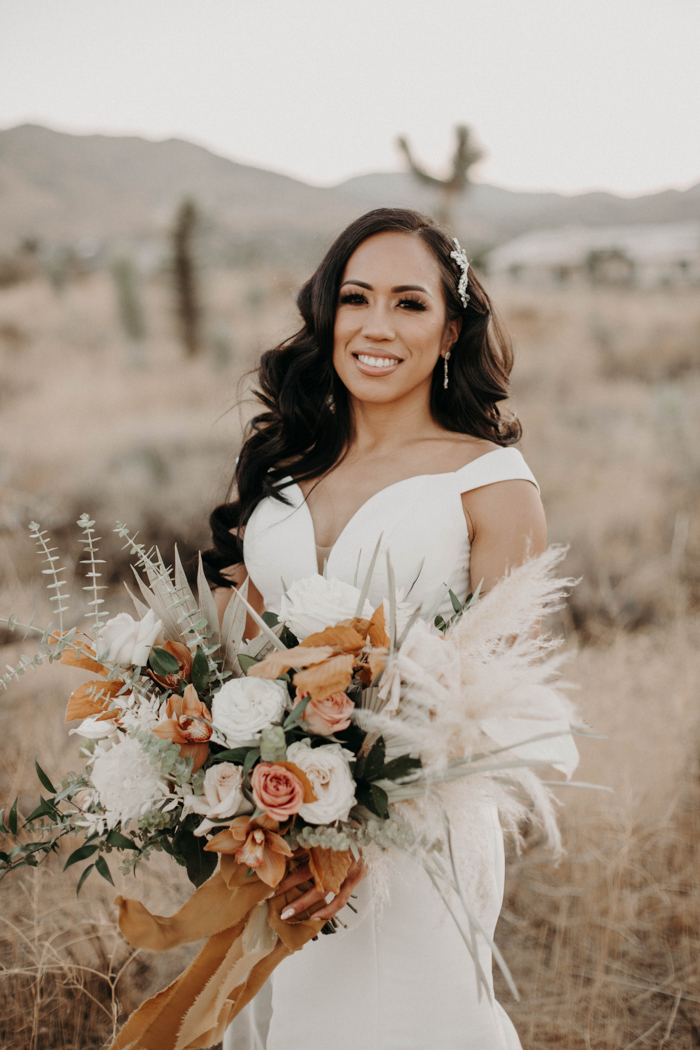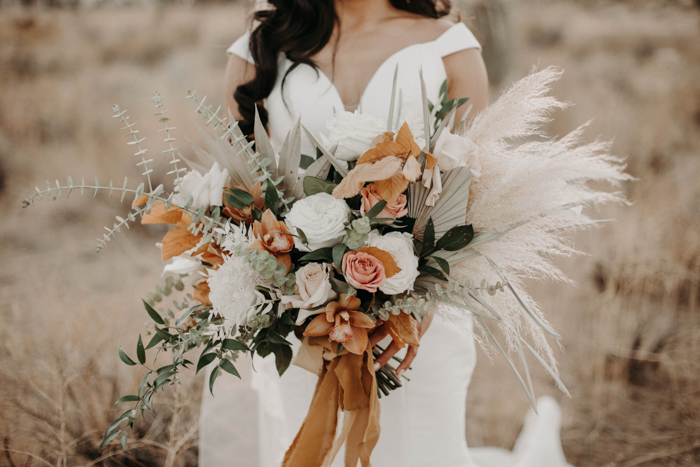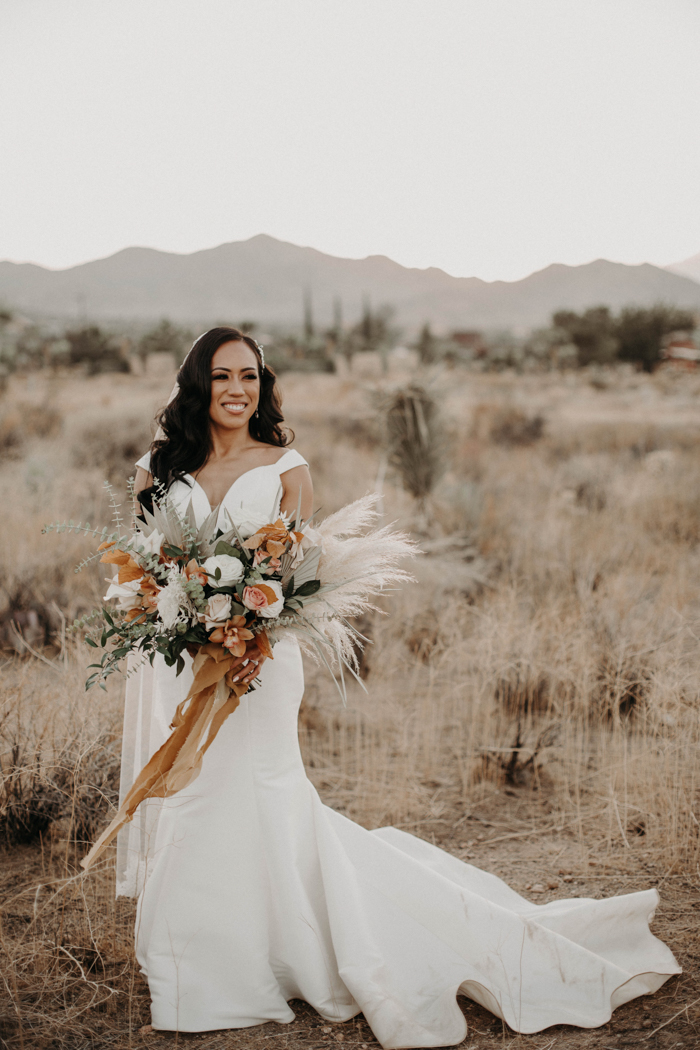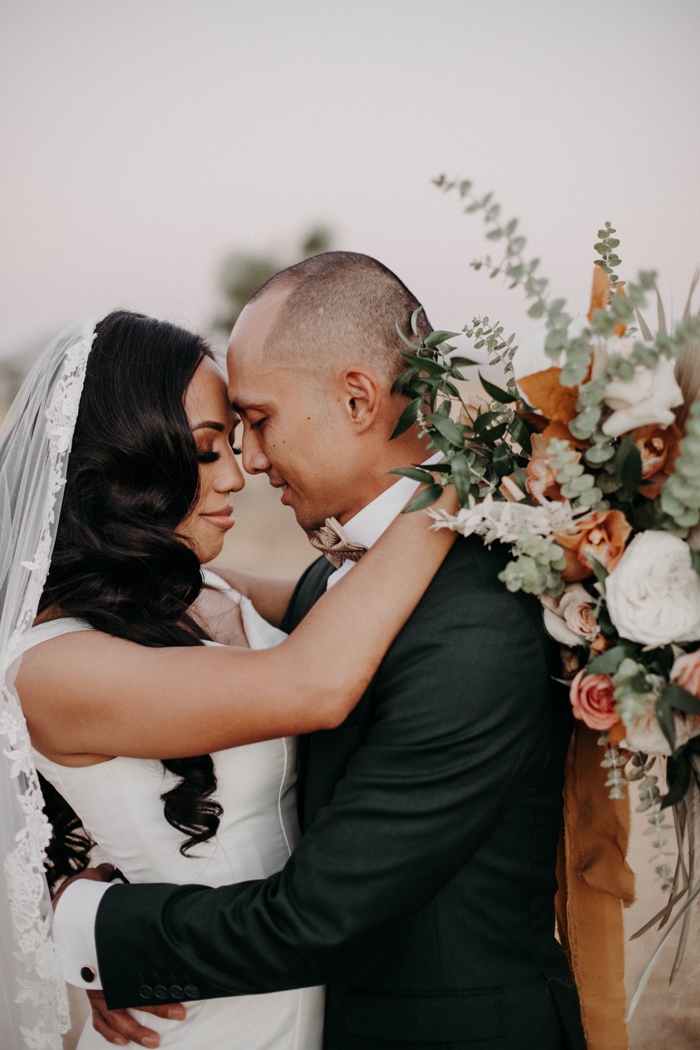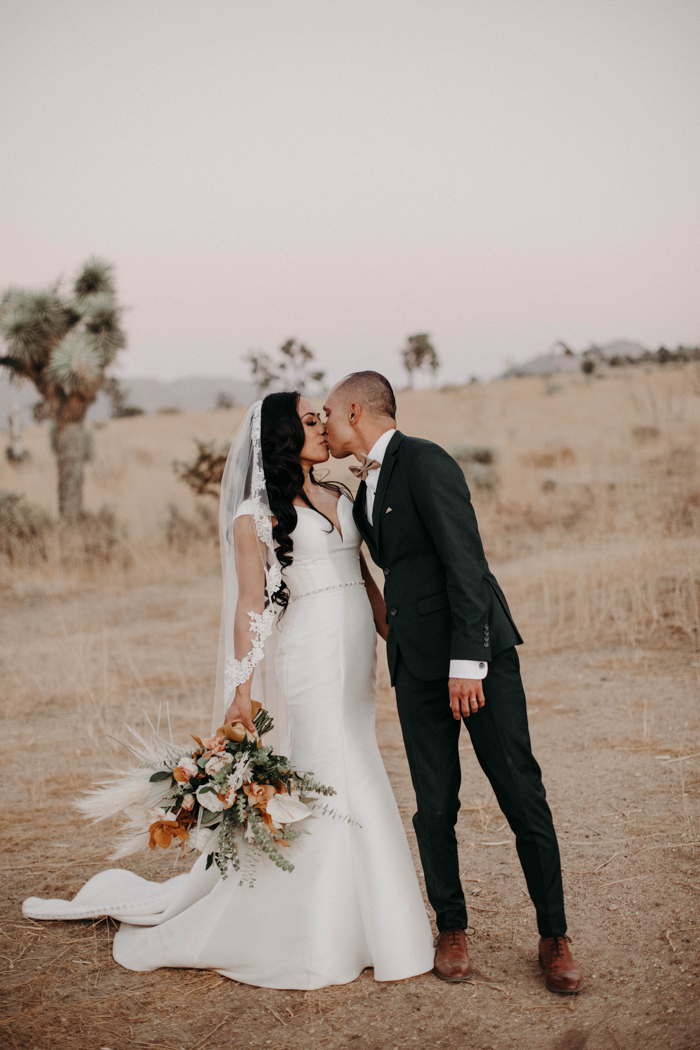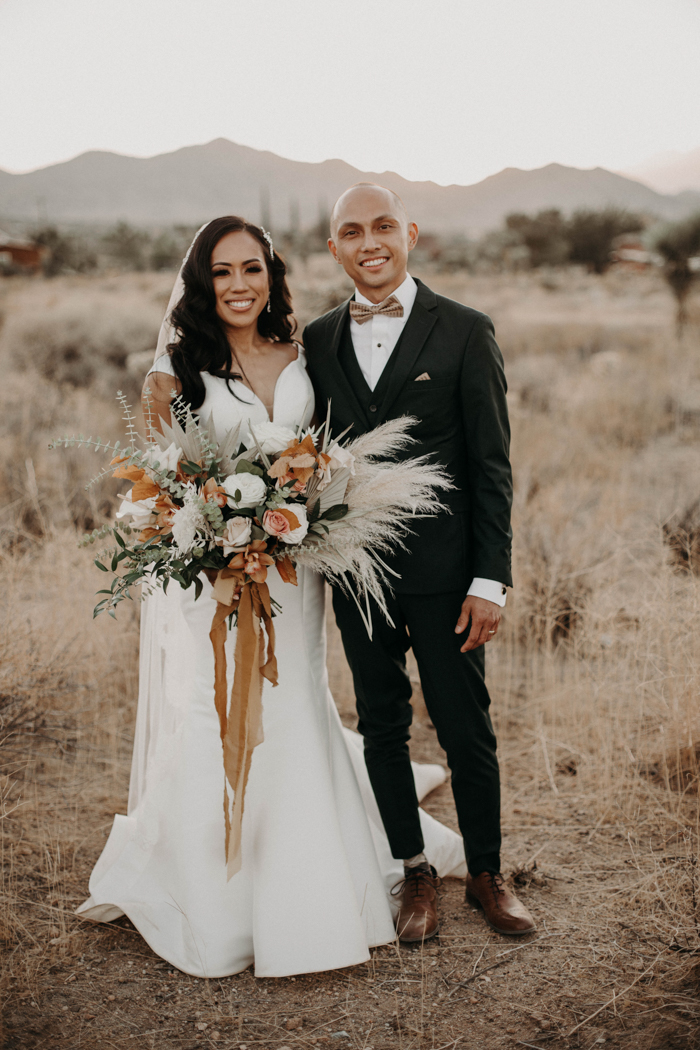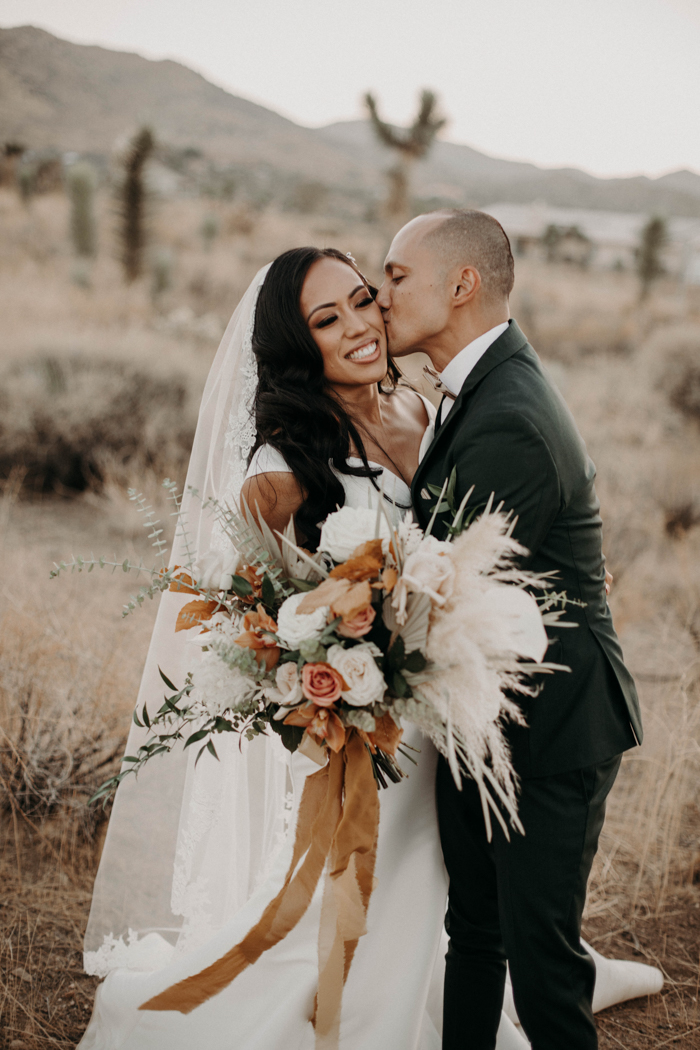 Embracing The Unexpected During The Planning Process
Take out all of the other people and wedding planning lists and ask yourself what it could be if it were just you and your partner. Go from there. Think of what you enjoy doing and what you want to share with your guests—you can't go wrong. Having a micro-wedding was much easier to plan, and you can genuinely add your panache to it! If any changes need to be made, roll with it. You just never know where you might end up and how cool it will be. Instead of a destination wedding in Bali, I ended up in the middle of the desert in a gorgeous Airbnb and dreamy sceneries. I loved the sound of anything as long as I was going to do it with Nate.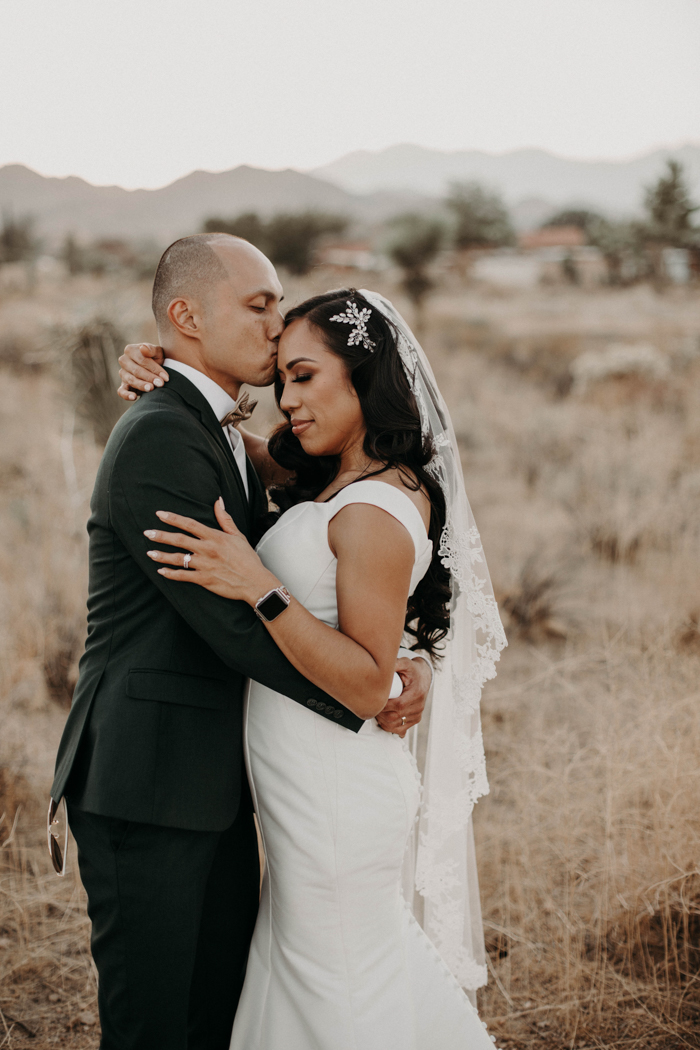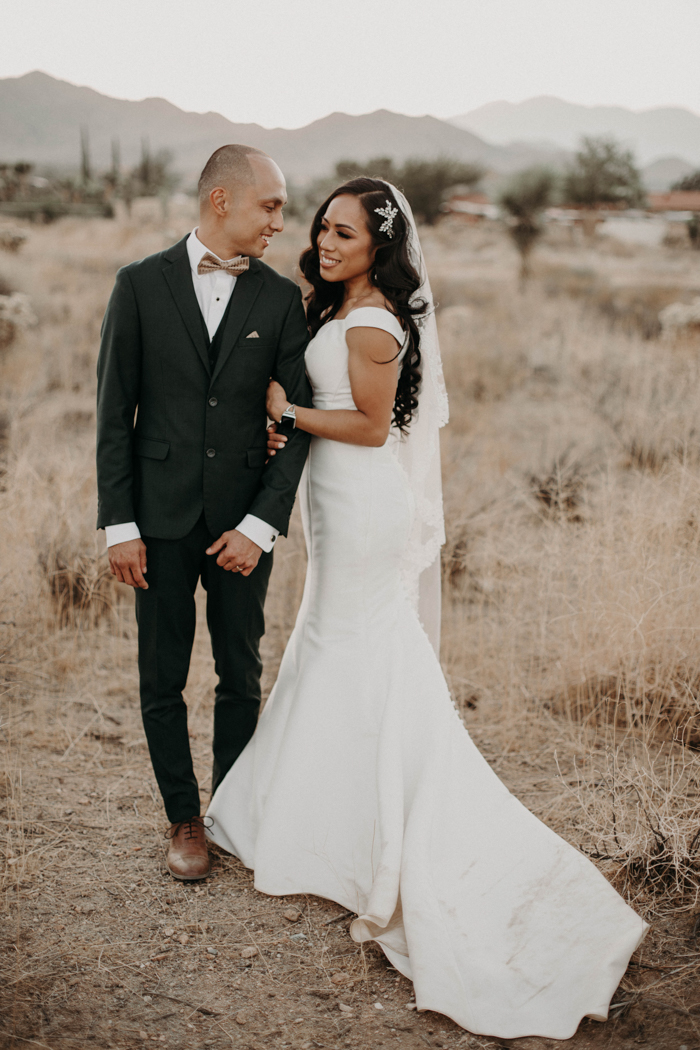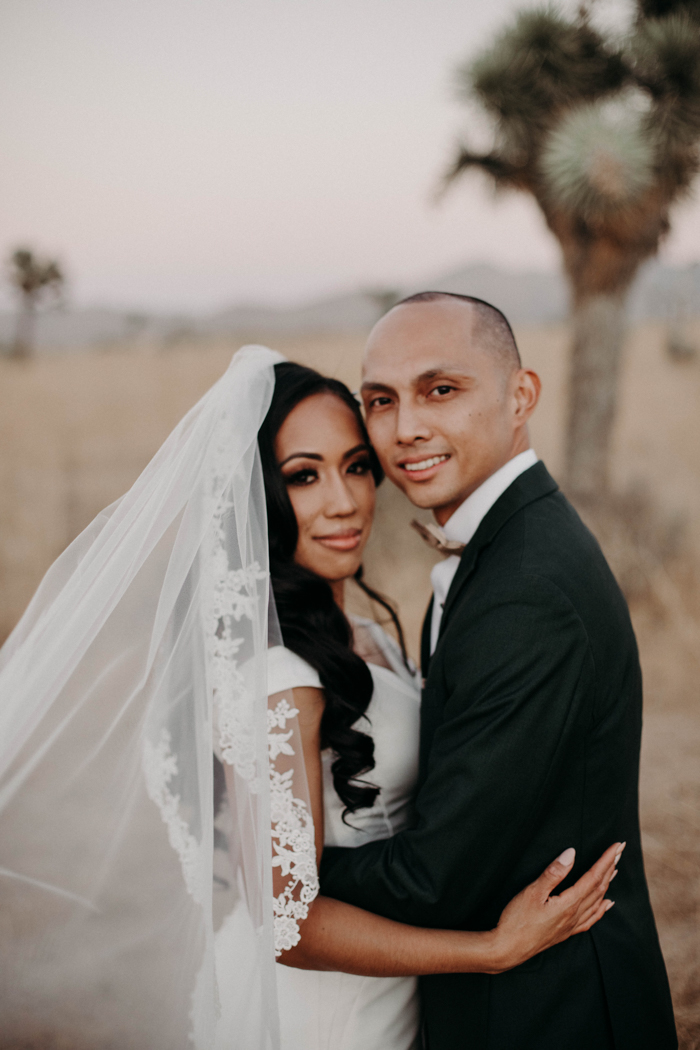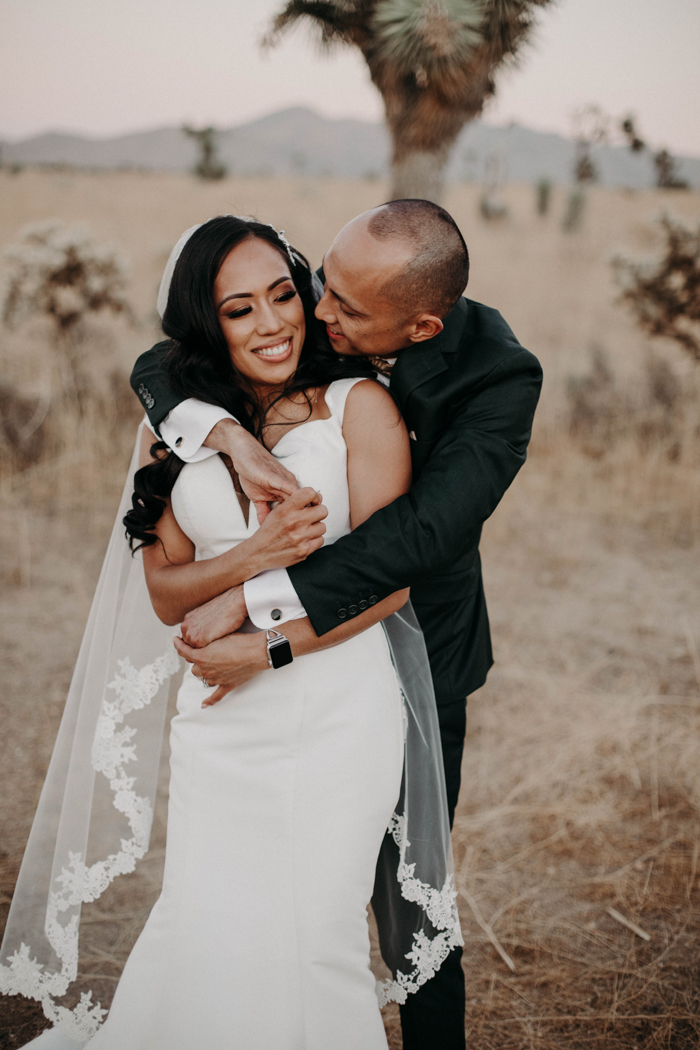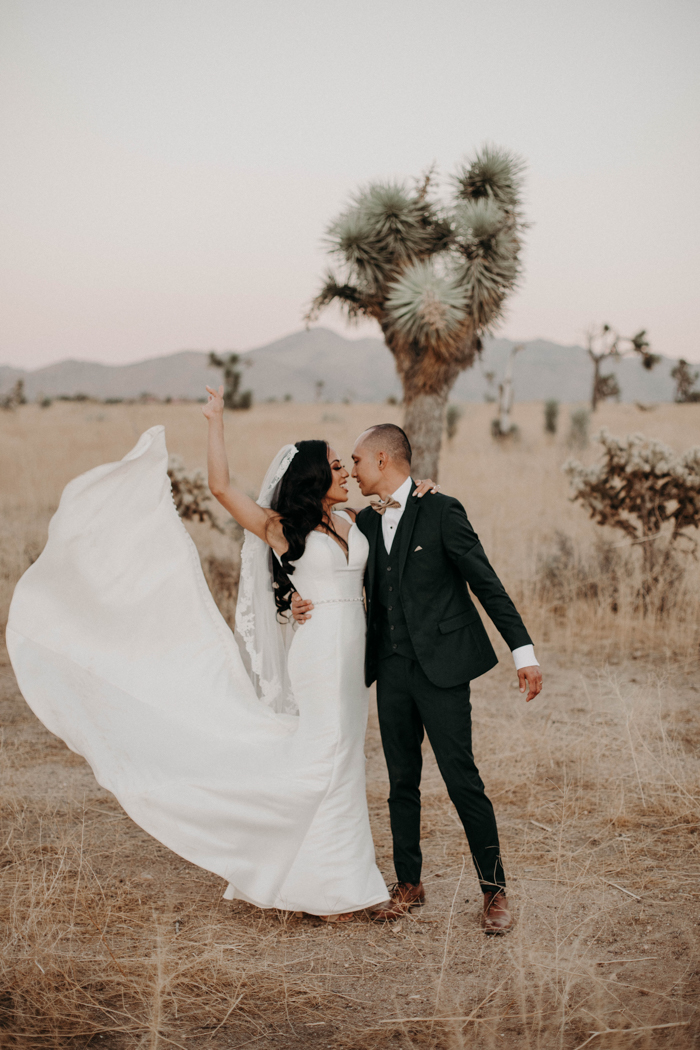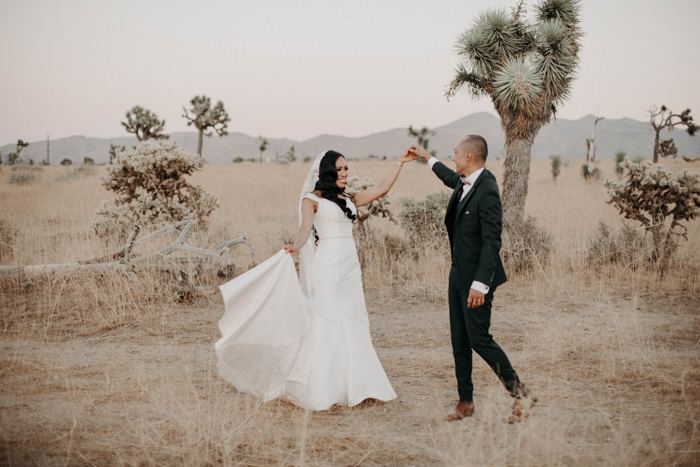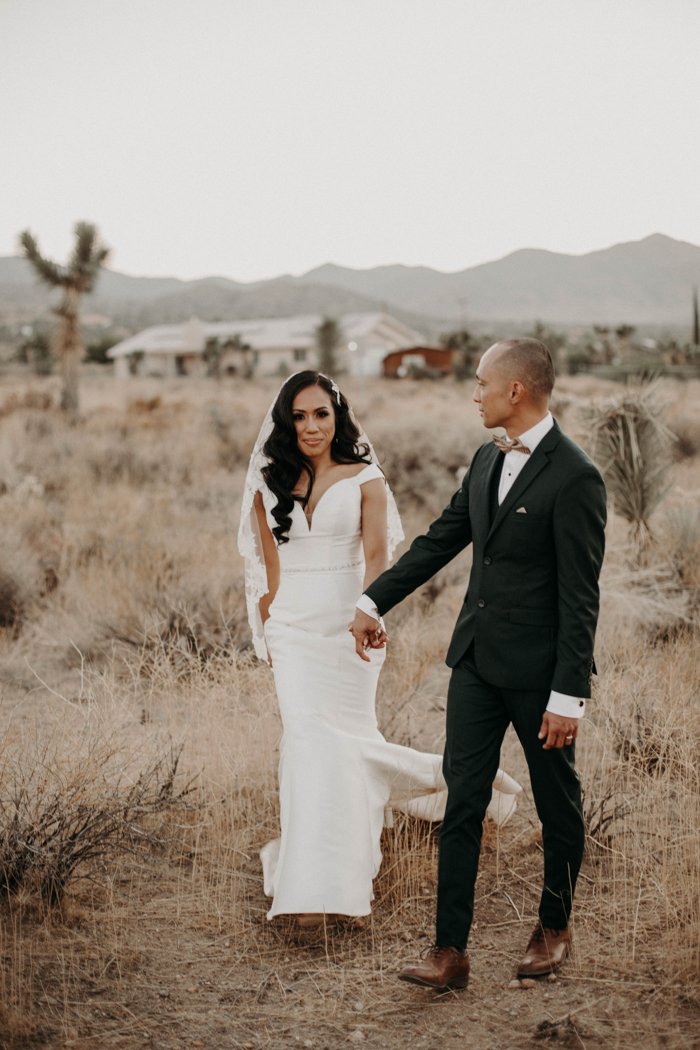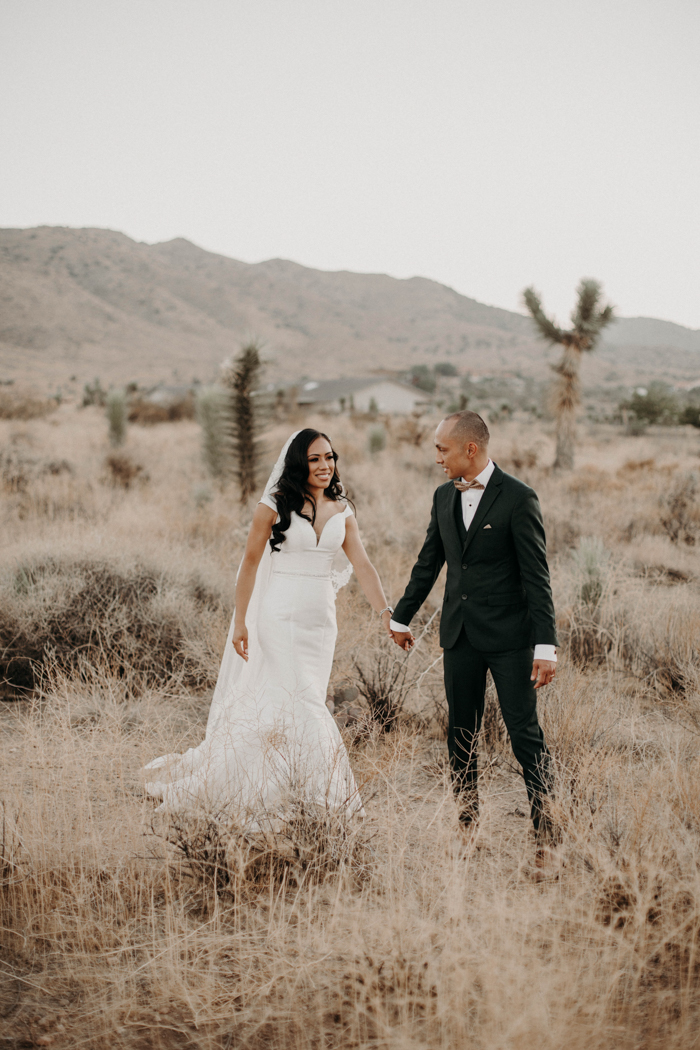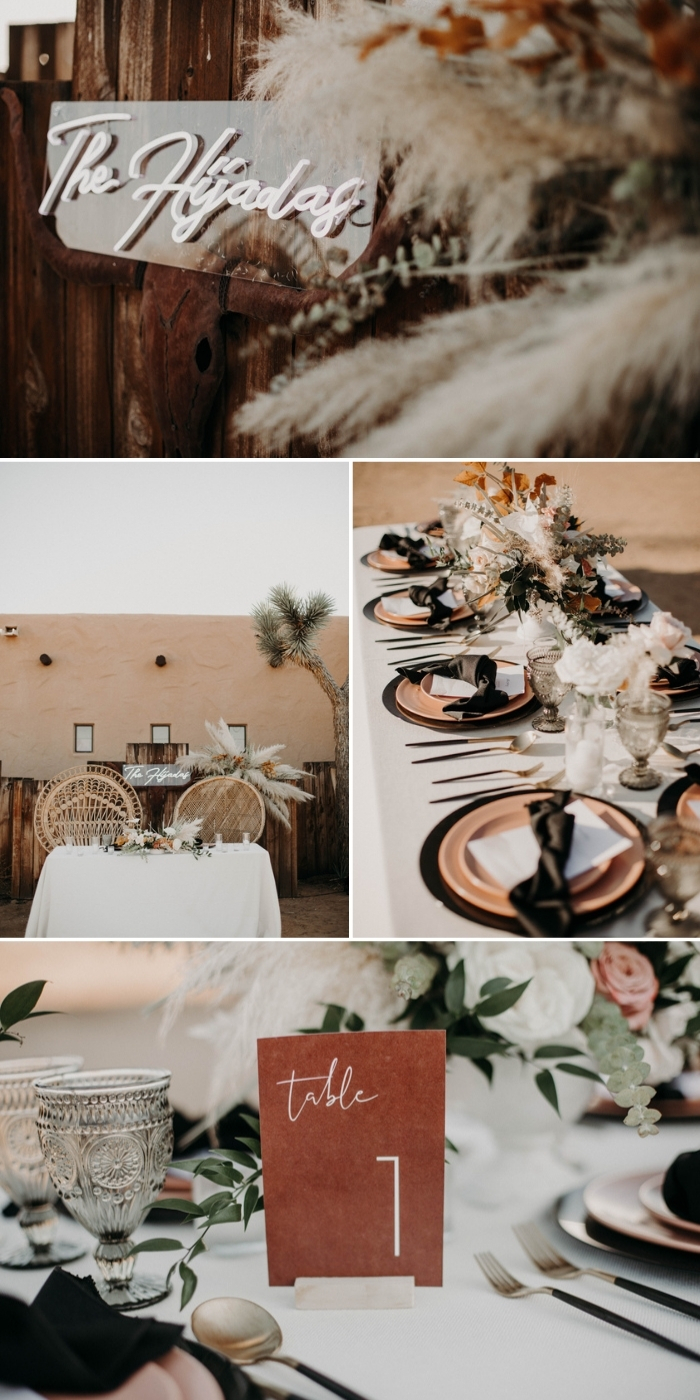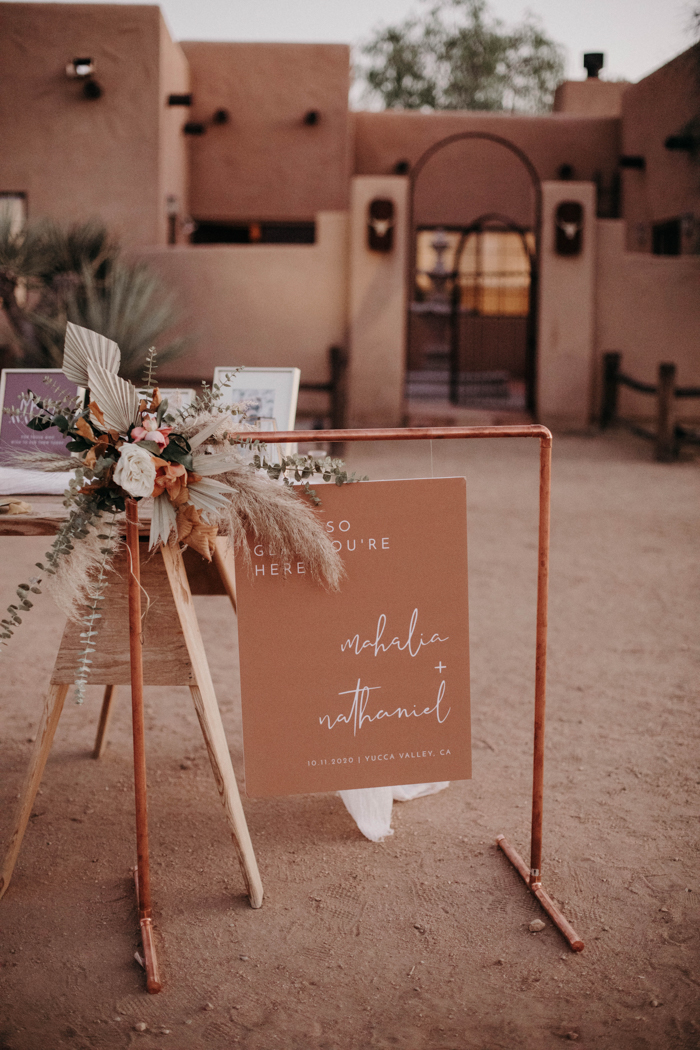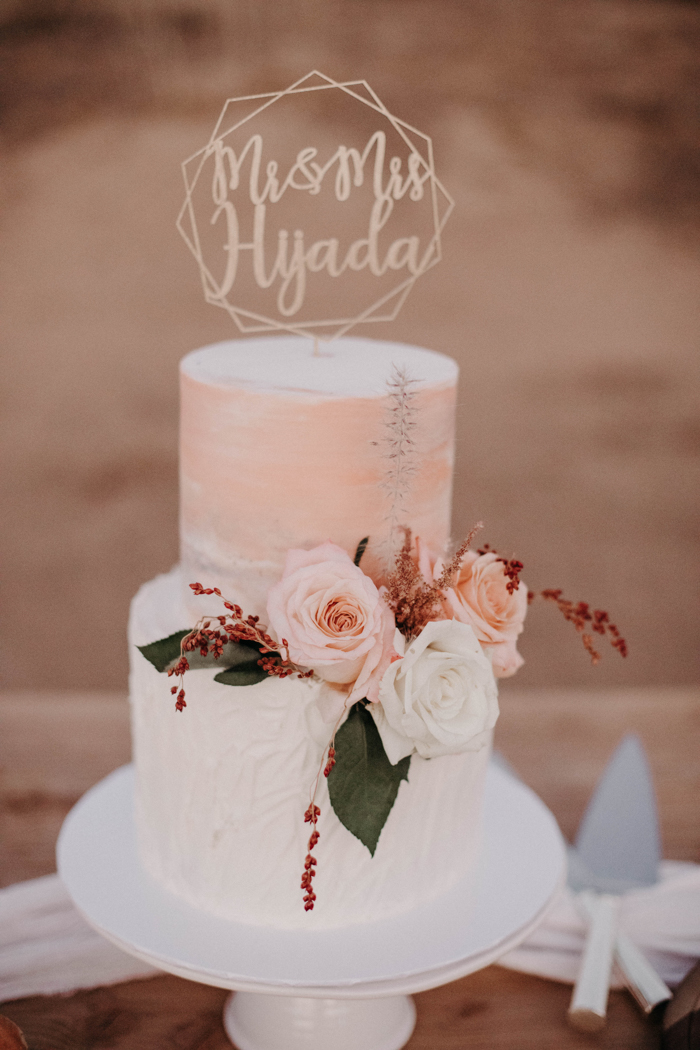 Including Loved Ones Through Music
My good friend, James, is incredibly talented, and I asked him to create an instrumental piece of Pink Floyd's "Wish You Were Here" for our unity sand ceremony. It meant the world to Nate because he grew up listening to Pink Floyd. My friend is honestly remarkably talented, like goosebumps-up-your-arms good, and he contributed something beautiful to our unity ceremony!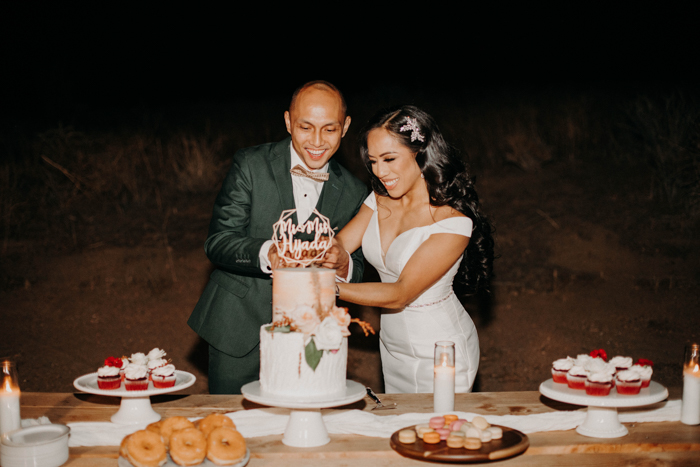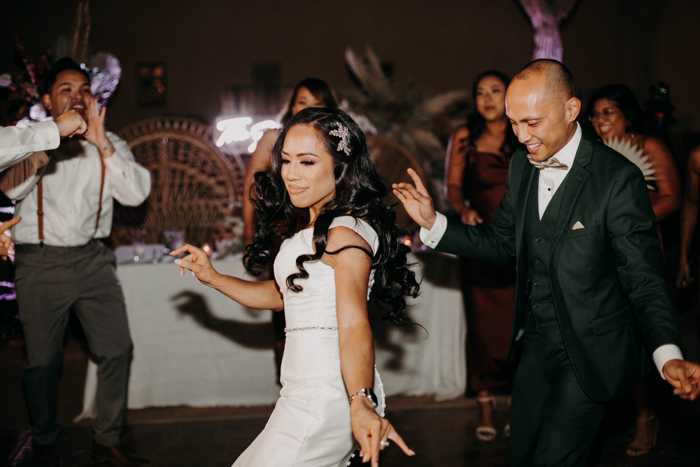 Congratulations to Mahalia and Nathan, and big thanks to photographer Tayler Ashley for the dreamy inspo-worthy images that made us feel a part of their beautiful Airbnb ranch wedding.
Weddings in 2021 are getting smaller and intentionality is quickly becoming the top priority. If you're feeling inspired to trade your over-the-top wedding venue for an intimate Airbnb, check out the top wedding Airbnb venues in every state.