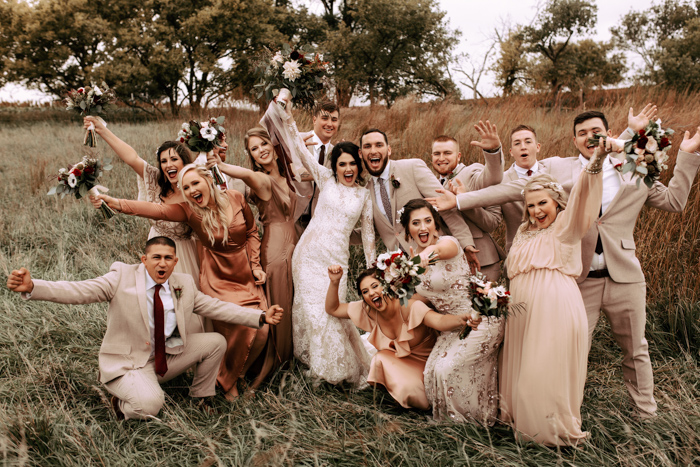 photo by Monique Serra Photography
Neutral-colored weddings are having a major moment and to say we're here for it would be the understatement of the year! Don't get us wrong, we still love vibrant palettes but there's something inherently classy and classic about neutral tones that make them so captivating. Now, most people think a neutral-colored wedding means you have to use lots of brown and tan. But we're here to assure you that's not true! You can actually base your neutral palette around any color you love! The key is to pick hues that add a subtle and soft layer of color. Need some inspiration? These 5 neutral-colored weddings will show you how it's done!
Chelsea and Garrett's Race & Religious Wedding

photos by Rebecca Taylor Photography, venue: Race & Religious, floral design by La Paris Floral Designs; see more from this wedding here!
Rhiannon and John's Solitaire Homestead Wedding

photos by Shannon Stent Images, venue: Solitaire Homestead, floral design by Lily + Leather, wedding dress by Rue De Seine see more from this wedding here!
Hannah and James' The Market at Grelen Wedding

photos by Alex Mari Photography, event design by Brousseau Events, venue: The Market at Grelen, floral design by Urban Flora, wedding dress by BHLDN, rentals by Nations Brand; see more from this wedding here!
Mandy and Nate's Dairyland Wedding

photos by Allison Harp Photography, event planning by Pacific Engagements, venue: Dairyland, floral design by Juniper Flowers, wedding dress by Sarah Seven; see more from this wedding here!
Gabriella and Preston's Spain Ranch Wedding

photos by Chelsea Reece and Susan Alyse Photography, event planning by Nicole Allen Events, venue: Spain Ranch, floral design by Anthousai, wedding dress by Prescott Bridal, rentals by Party Pro Rents, draping by Daniel Weir Design, farm table rentals by J&L Tables; see more from this wedding here!
Planning a neutral-colored wedding and looking for perfect bridesmaids dresses? These neutral bridesmaids dresses are subtle showstoppers!