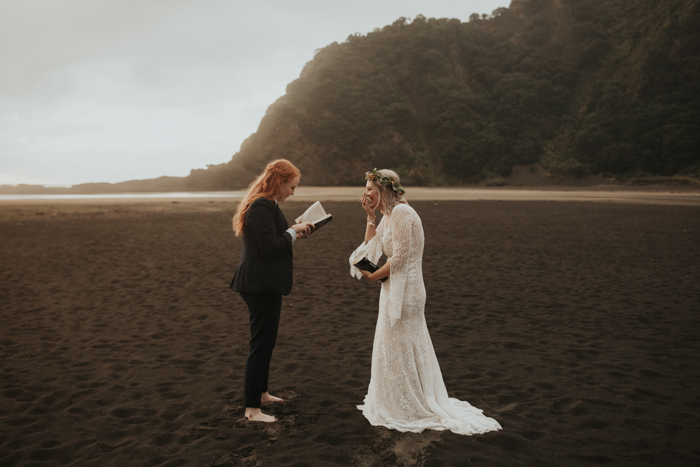 photo by Dawn Photo
It's our favorite time of year! Every December, our team loves looking back at the weddings we've had the honor of sharing over the past 12 months — and 2019 was a spectacular year. We swooned over hundreds of rad ceremony locations, sentimental moments, and killer style. It wasn't easy narrowing down this list of our favorite weddings from 2019!
Thank you to all of the vendors who trusted us with sharing their hard work, and cheers to our happy couples who tied the knot this year!
MEGAN AND CAMERON'S SNOWY LOVELAND PASS ELOPEMENT
Where it took place: Loveland Pass, Rocky Mountains, Colorado
Why we love it: Megan and Cameron's incredible, wintry Loveland Pass elopement proves that good things come to those who wait! After a whirlwind romance and an epic engagement, this adventurous couple wouldn't settle for anything less than an exquisite setting for their special day, which made the snow-covered Rockies the perfect choice. The couple's day included a self-solemnized ceremony, a champagne toast, and a cake cutting on the back of their tailgate — and that simplicity couldn't have been more charming!
See the full feature here!


photos by Amy Bluestar Photography
LOUISE AND JAMES' VOW EXCHANGE AMONG 100s OF HOT AIR BALLOONS
Where it took place: Sultan Cave Suites, Cappadocia, Turkey
Why we love it: We can't imagine a more romantic, picturesque place to exchange vows than with hundreds of colorful hot air balloons floating in the background as the sun rises over the Cappadocia landscapes. Louise and James wanted their outfits to match the scenery — and we're obsessed with how they pulled it off!
See the full feature here!


photos by Phan Tien
ASHLEIGH AND EMMANUEL'S ORGANIC WEDDING AT EMILY MOON RIVER LODGE
Where it took place: Emily Moon River Lodge, Plettenberg Bay, South Africa
Why we love it: Ashleigh and Emmanuel's special day was essentially a master class in creating DIY wedding magic! The couple hand-crafted and curated every single element, from the dried flowers to the feathers to the coconut welcome drinks, ensuring that their love of sunset palettes, their bohemian vibes, and their organic way of life were reflected in every inch of their celebration. Ashleigh even made her own wedding dress — and, spoiler alert, it was flawless!
See the full feature here!


photos by Page & Holmes Photography
YOON AND AKI'S COLORFUL KONA WEDDING
Where it took place: Kona Beach Houses, Kona, Hawaii
Why we love it: Yoon and Aki are a creative duo who DIY-ed nearly every detail of their special day, including an impressive array of florals that included every tropical flower imaginable. Their stunning, tropical outdoor ceremony and reception highlighted the beauty of the Hawaiian island, as well as their vibrant personalities. Both Yoon and Aki rocked hues of blue for the ceremony, which looked positively stunning against the rainbow of florals and landscaping!
See the full feature here!


photos by Melia Lucida
LAUREN AND MELISSA'S WILD AND FREE NEW ZELAND ELOPEMENT
Where it took place: Auckland Courthouse and Piha Beach, New Zealand
Why we love it: Lauren and Melissa's elopement was a wild and free celebration in one of the most beautiful landscapes in the world! The couple truly spent day-to-night celebrating their love. Lauren and Melissa chose to do their first look backed by an epic view of the sea and couples portraits by an stunning waterfall. Then they headed to the courthouse to officially tie the knot and immediately headed for the black sands of Piha Beach to exchange vows and take the most stunning sunset photos! In case there was any doubt fairytales can come true, this elopement is proof that they most certainly do!
See the full feature here!


photos by Dawn Photo
MEGHAN AND JIMMY'S WESTERN BUXTON HALL WEDDING
Where it took place: Buxton Hall, Asheville, North Carolina
Why we love it: Meghan and Jimmy's wedding is total goals for every country-loving, fashion-forward couple! The couple put their personalities on full display for their guests, showcasing the venue's vintage design with minimal, retro decor and drawing inspiration from the general vibe of Asheville, their love of BBQ, and country music. This wedding is unlike any southern wedding we've ever seen!
See the full feature here!


photos by Sarah Murray Photography
AVALON AND GUNNER'S 70s-INSPIRED BACKYARD CELEBRATION
Where it took place: Loloma Lodge, McKenzie Bridge, Oregon
Why we love it: We love a good backyard wedding, and we fell head over heels for Avalon and Gunnar's day! The couple created the coziest day in the woods, complete with picnic tables, bunting, wildflowers designed, and campy details. Avalon fully embraced the woodsy feel with a forest-fairy-inspired ballgown and romantic accessories, while Gunnar opted for a retro brown and yellow tweed suit that perfectly matched their '70s vibe!
See the full feature here!


photos by Victoria Carlson Photography
STEPH AND BOBBY'S FABULOUS FEMINIST WEDDING AT ACE PROP HOUSE + STUDIO
Where it took place: Ace Prop House + Studios, Miami, Florida
Why we love it: Steph and Bobby broke tradition in the most awesome of ways for their funky and feminine wedding in Miami, Florida. The couple hired all woman-owned businesses as their vendors. Talk about a rockstar move! We're in awe with how they made an already fun venue even cooler with food trucks, disco balls, and tropical floral creations!
See the full feature here!


photos by Fox & Film Photography
JODI AND ZACH'S EMOTIONAL CAIRNGORMS NATIONAL PARK ELOPEMENT
Where it took place: Cairngorms National Park and Inshriach House, Scottish Highlands, United Kingdom
Why we love it: Jodi and Zach's elopement in the Scottish Highlands had everything we love about adventure elopements: breathtaking scenery, unique style, and sentimental details. The couple and their guests spent an entire week bonding and falling even more in love with Scotland. Then, on their actual wedding day, they all trekked deep into the lush forests and fully embraced the unpredictability of Mother Nature as they exchanged vows, sang, and danced their way into married life!
See the full feature here!


photos by The Kitcheners
We sincerely hope you all enjoyed seeing our favorite weddings from 2019! Here's to looking forward to a spectacular 2020! If you can't get enough wedding inspiration and are planning your own special day next year, we think you'll love this post about the 6 wedding themes that are trending in 2020.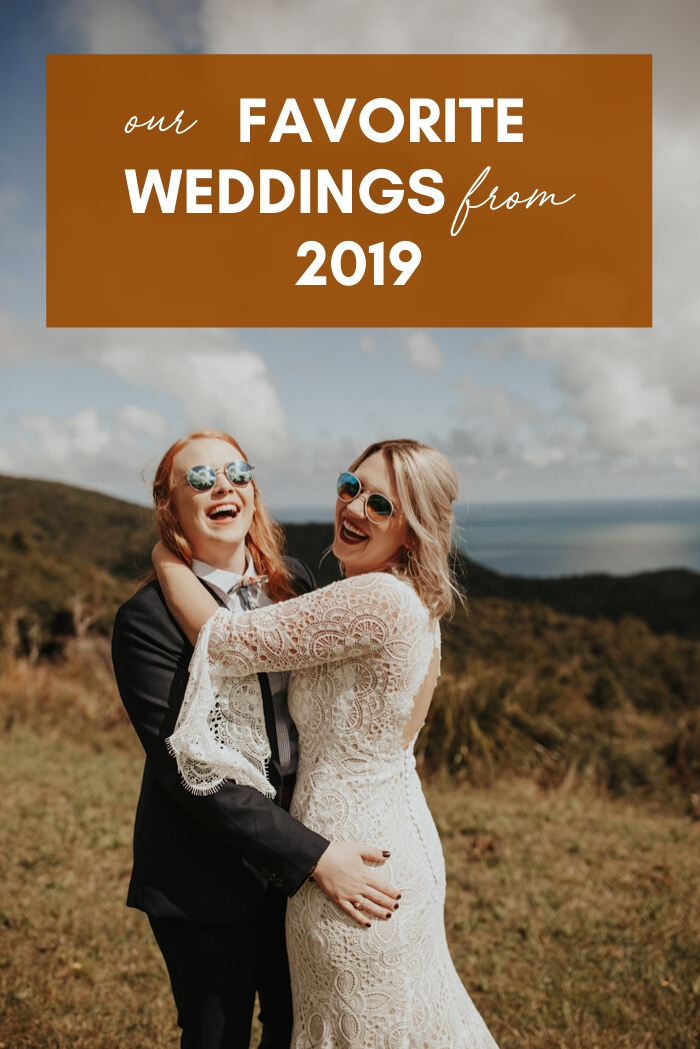 photo by Dawn Photo