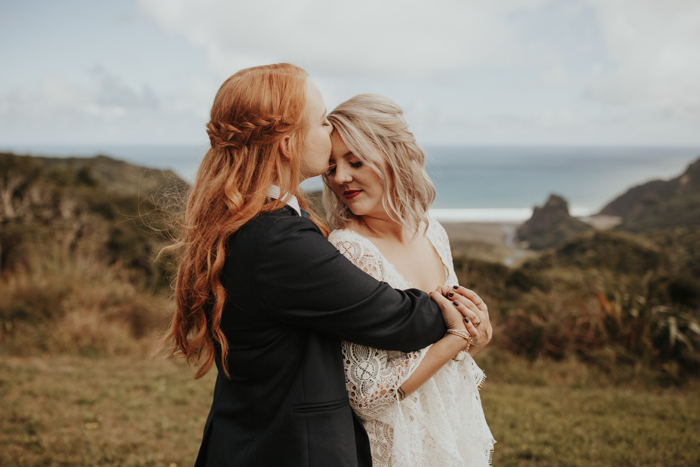 Lauren and Melissa's New Zealand elopement was a wild and free celebration in one of the most beautiful landscapes in the world! Even before exchanging vows, Dawn Photo captured the dreamiest photos of the couple seeing each other for the first time, backed by an epic view of the sea, and then cuddling in the forest, backed by an even more epic waterfall. The couple officially tied the knot at the courthouse but then immediately headed for the black sands of Piha Beach to exchange vows and take the most stunning sunset photos! In case there was any doubt fairytales can come true, this elopement is proof that they most certainly do!
The Couple:
Lauren and Melissa
The Wedding:
Auckland Courthouse and Piha Beach, New Zealand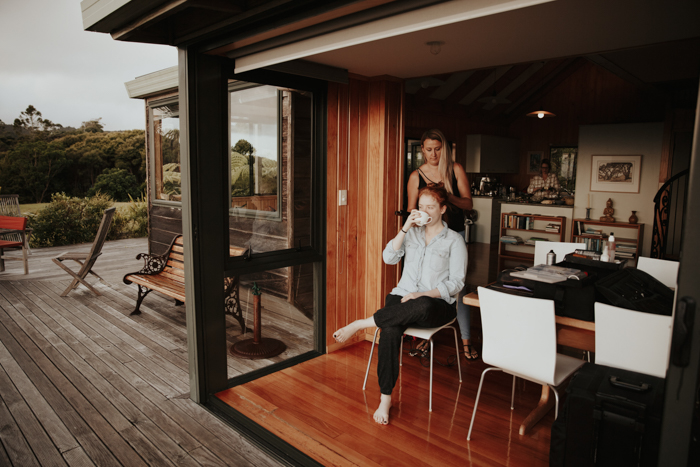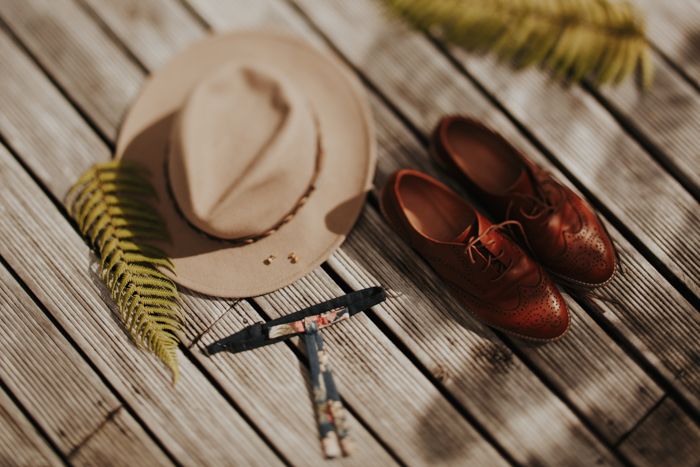 We always knew that a traditional wedding was not for us — small and intimate was much more our style. After spending a few weeks contemplating a "destination wedding," in which a small number of friends and family would attend, we totally scrapped the idea when the search for a location alone riddled us both with anxiety. We decided an elopement was exactly what we wanted. An epic, private, carefree adventure!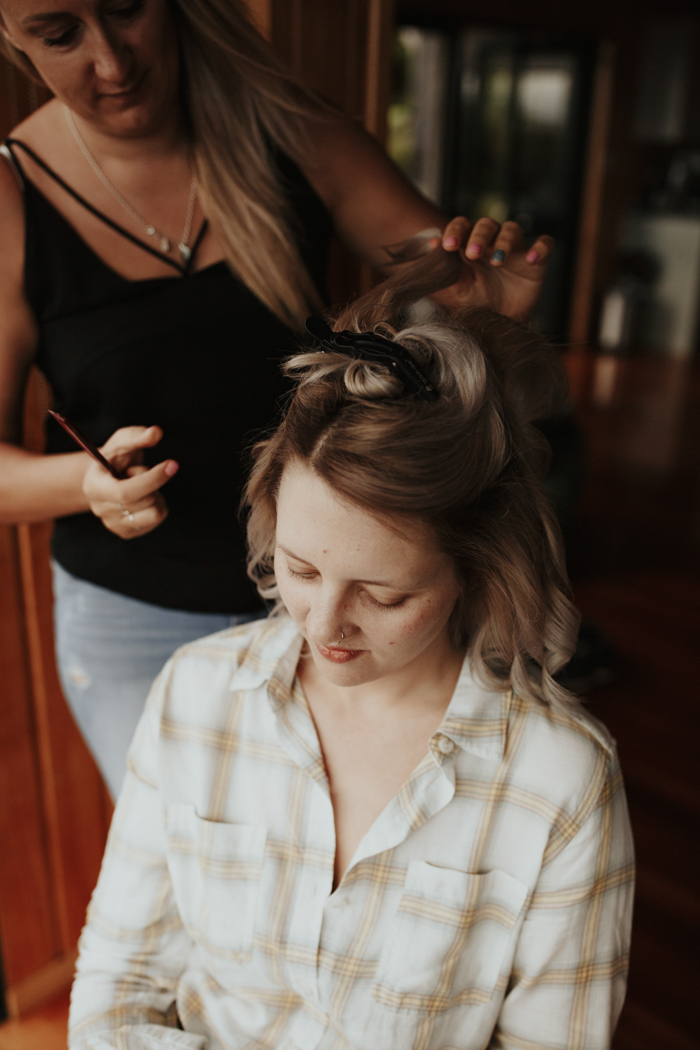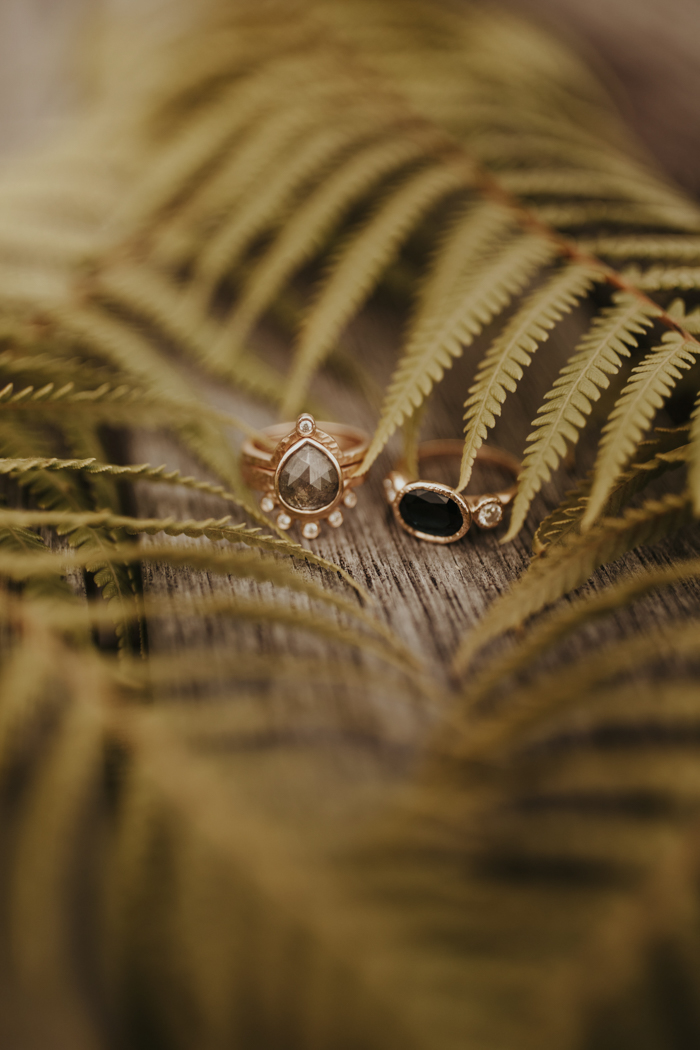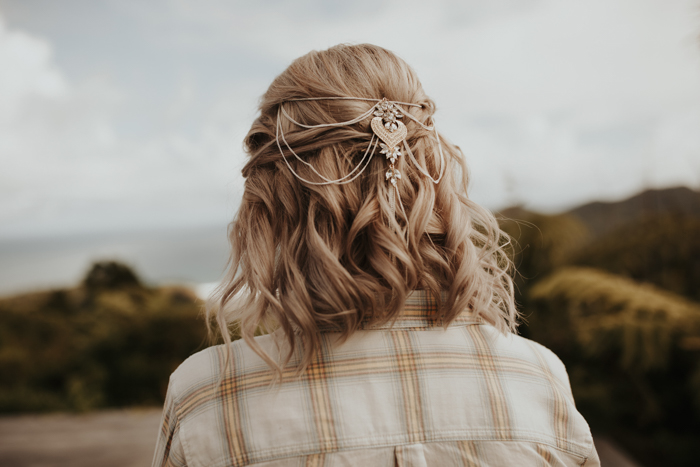 We wanted our wedding to reflect our love and the incredible country we chose. We wanted wild, unexpected, and unique, and we got just that. It was a once-in-a-lifetime experience that couldn't have been more genuine and magical!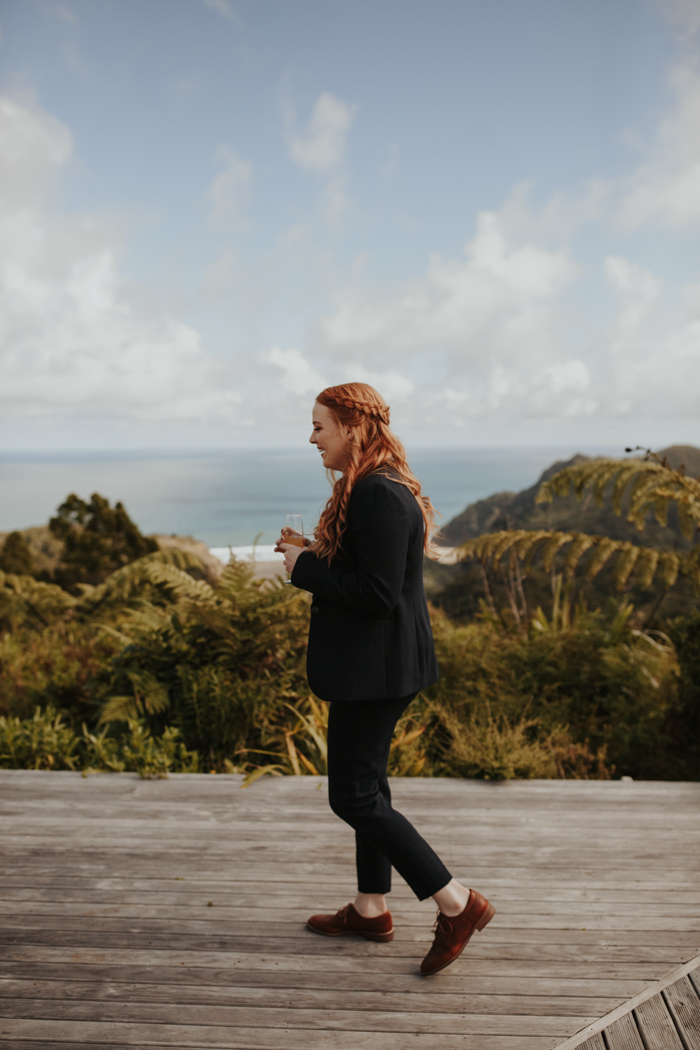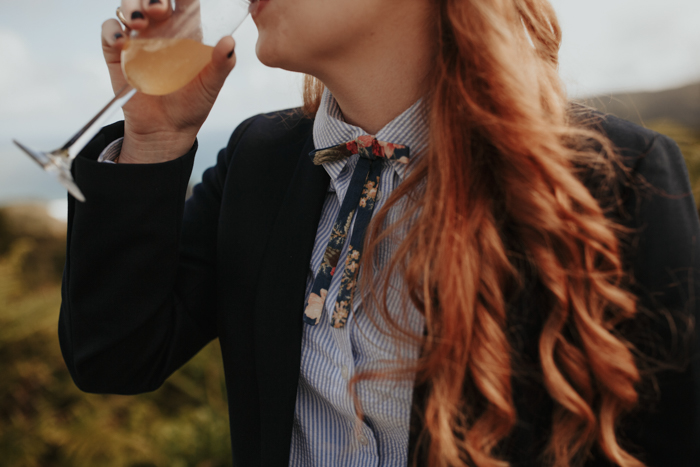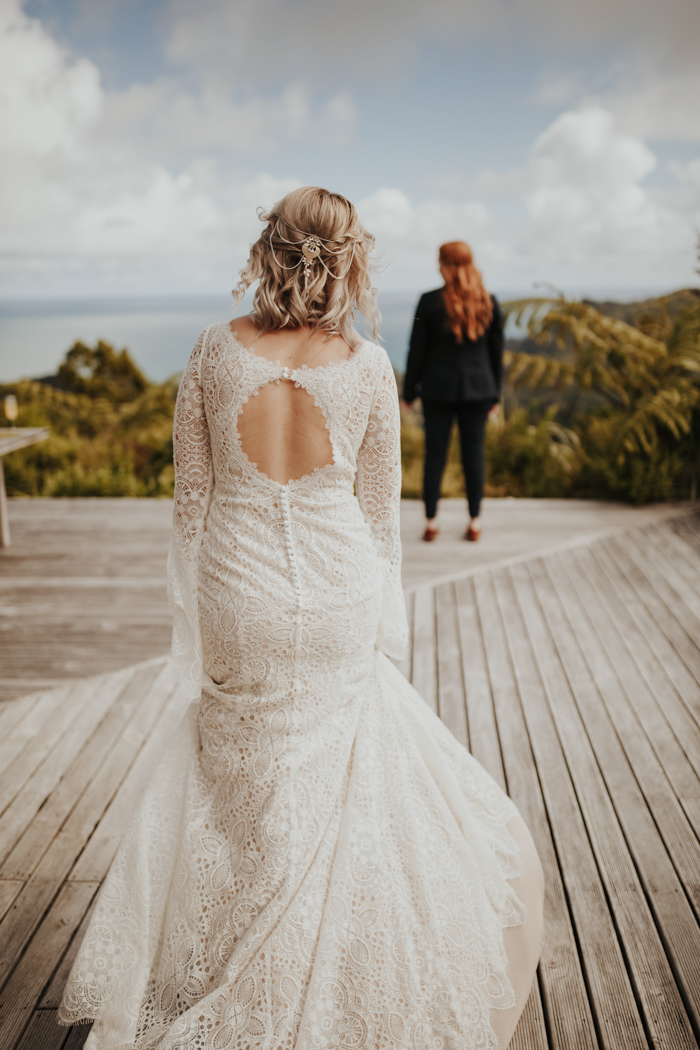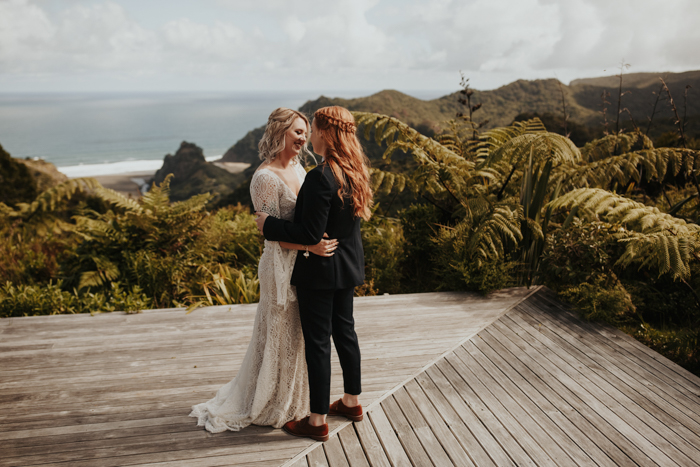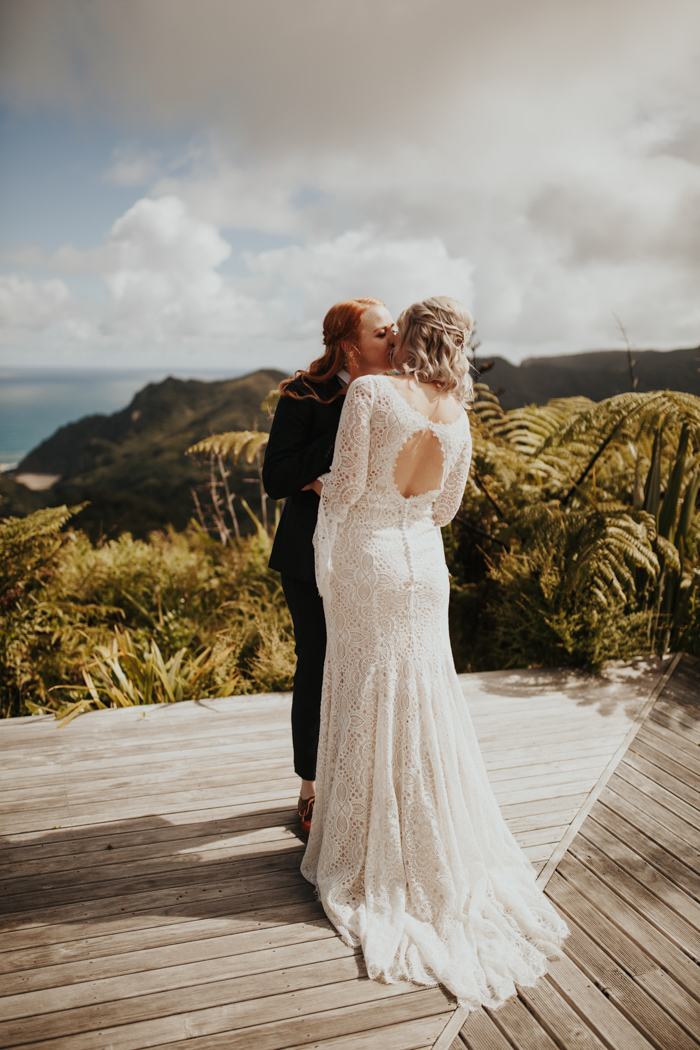 The beauty of our elopement was there was no theme. No time constraints, no schedule. Just us, our love, and all things spontaneous. Because of that, as opposed to the usual "it went by in a flash" feeling, we remember every single moment. The ease of it all allowed us to savor each second.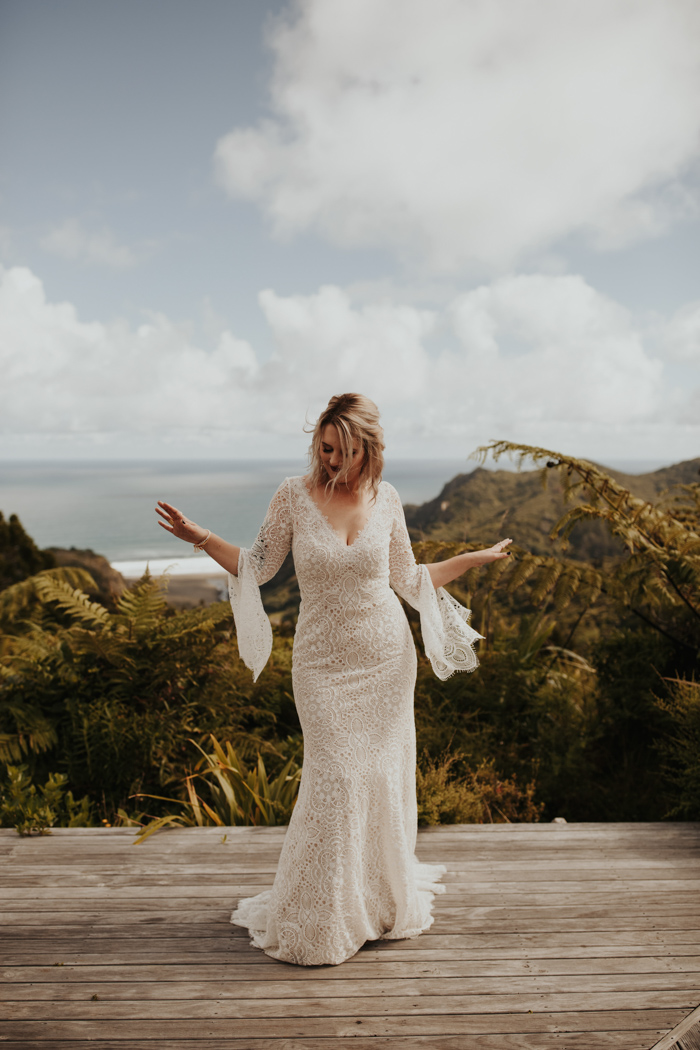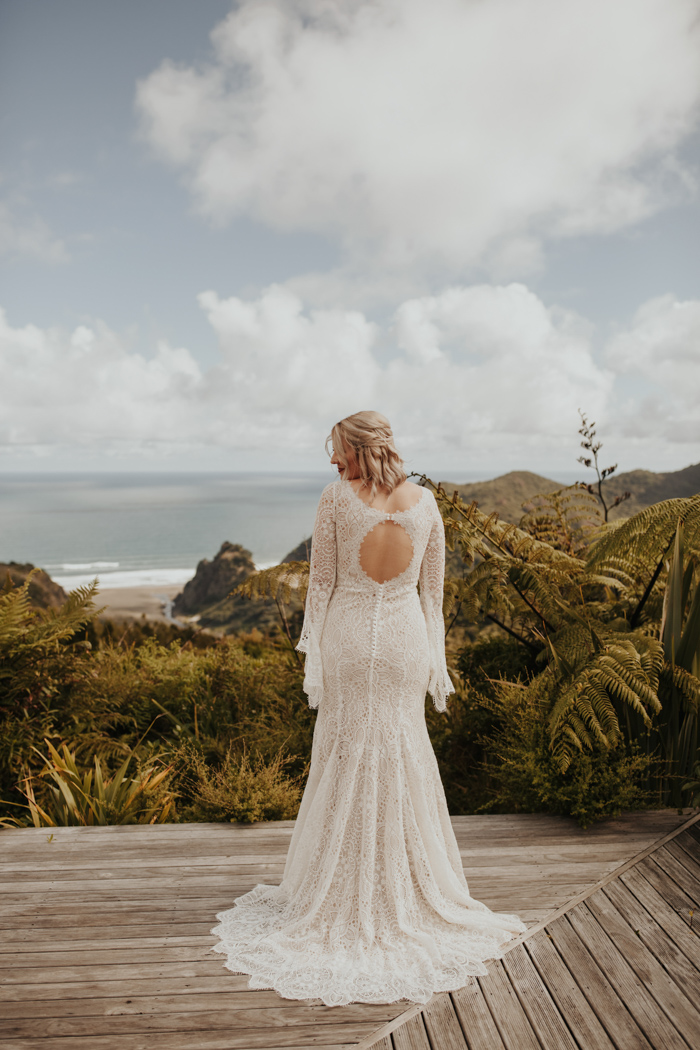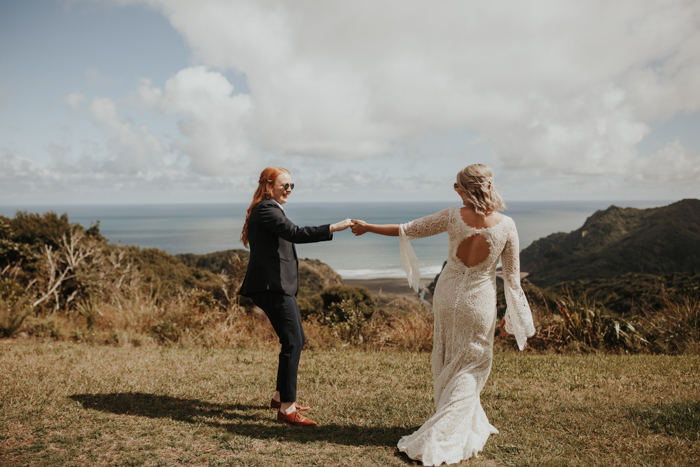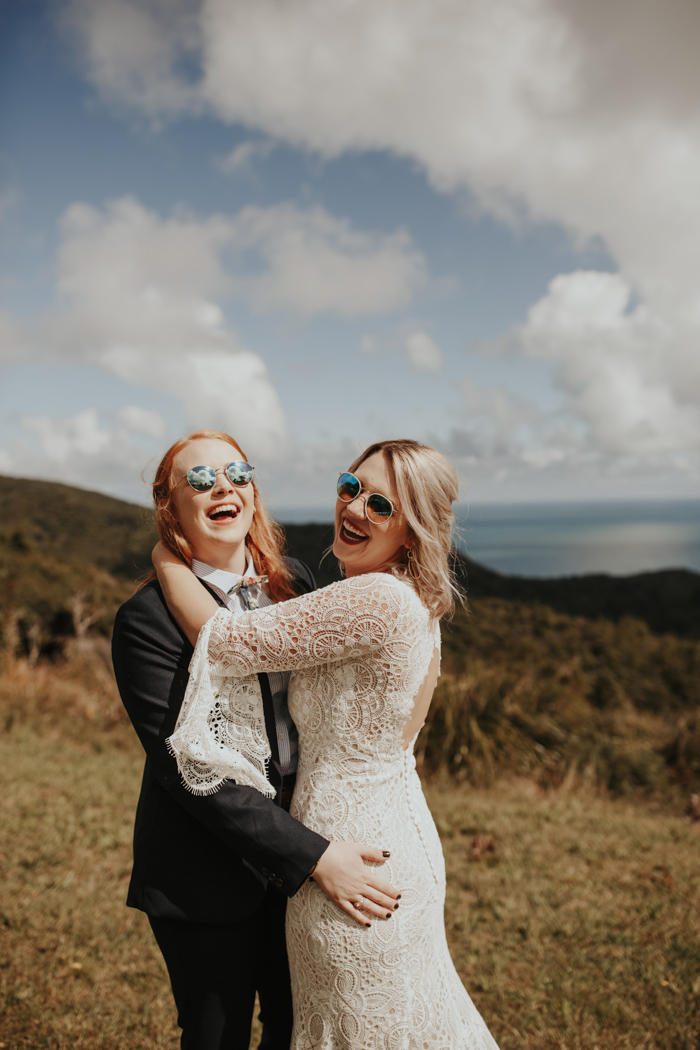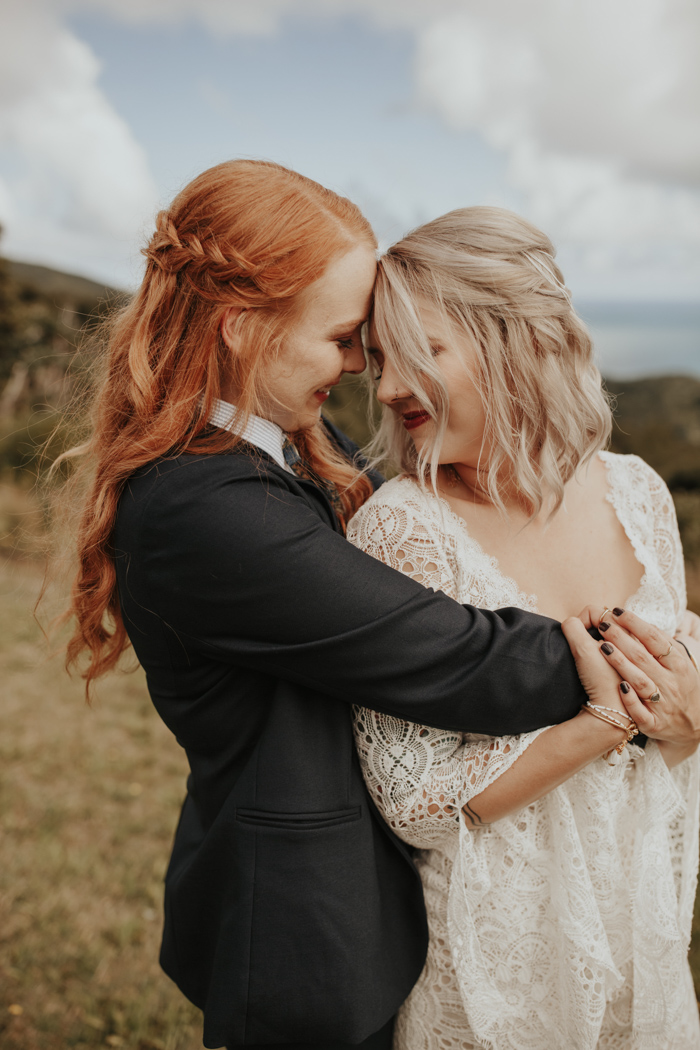 There are two moments that stick out most in our minds. The first was immediately after officially getting hitched at the Auckland County Courthouse, we walked the downtown streets in our wedding attire and stumbled upon an American-style pub. We immediately stopped. We shared gourmet hotdogs, IPAs, and the best french fries we'd ever had with two of our new lifelong friends, Dawn and her fantastic hubby Dustin!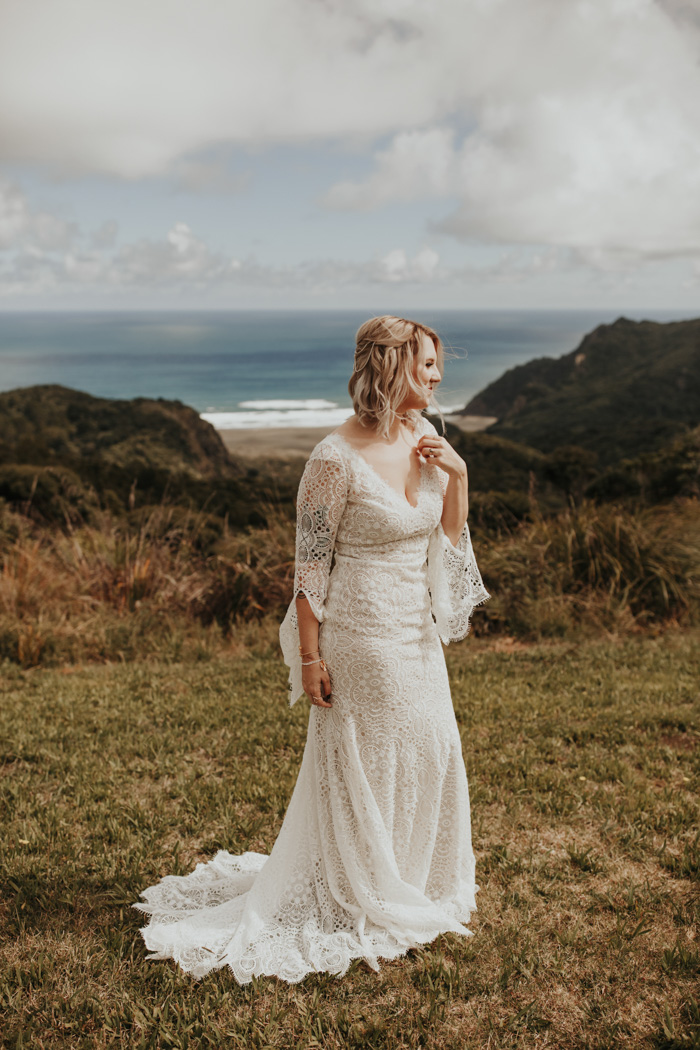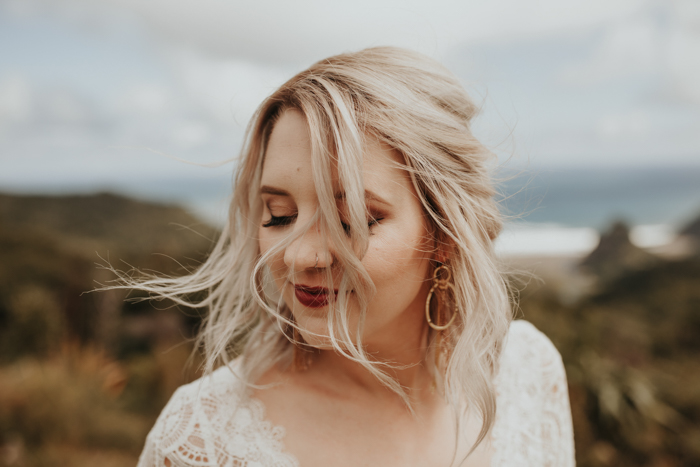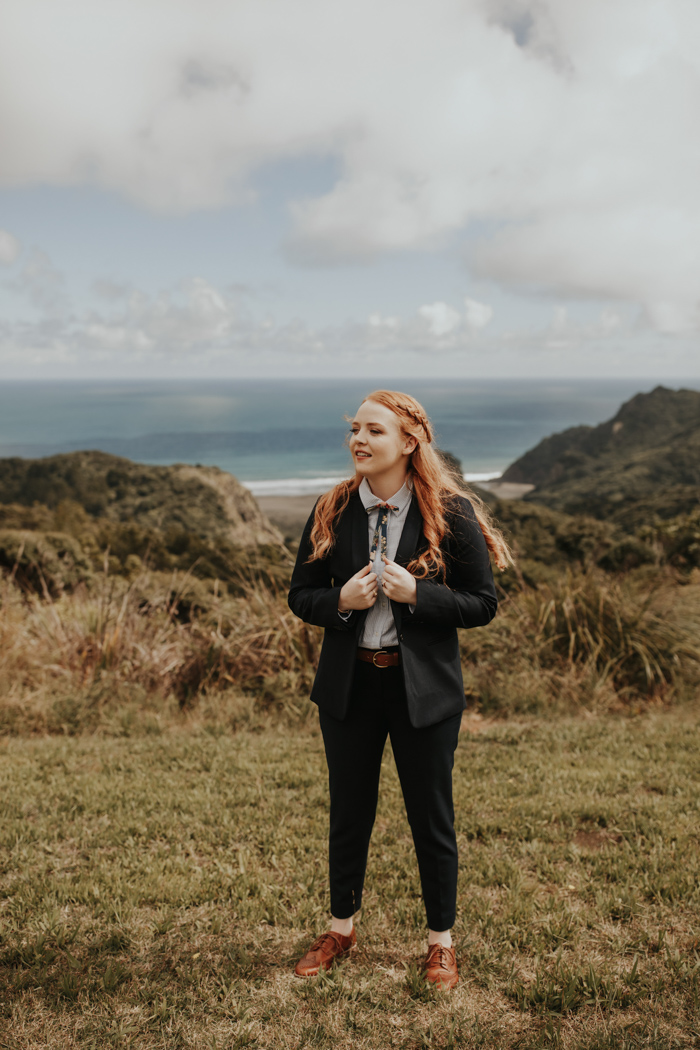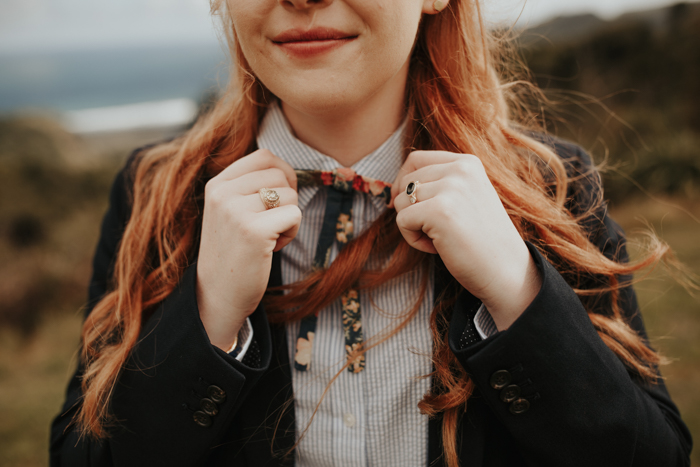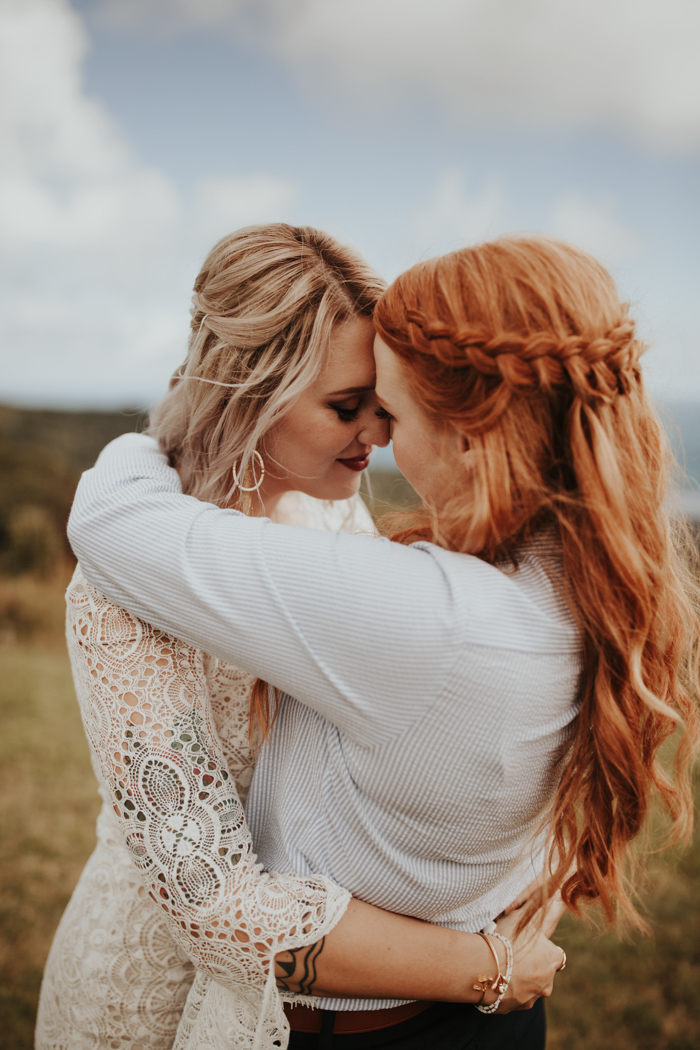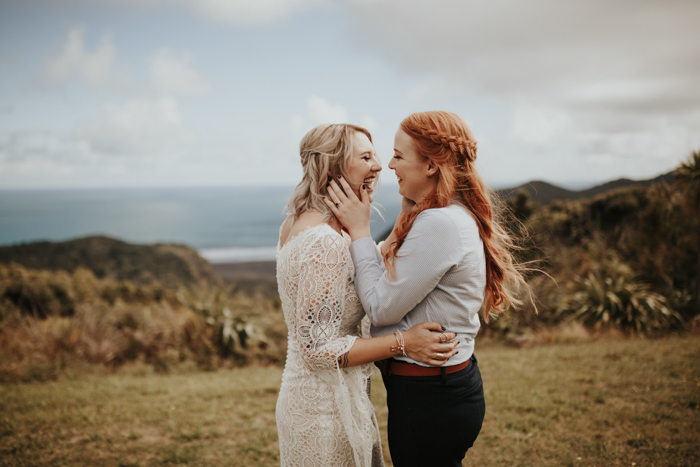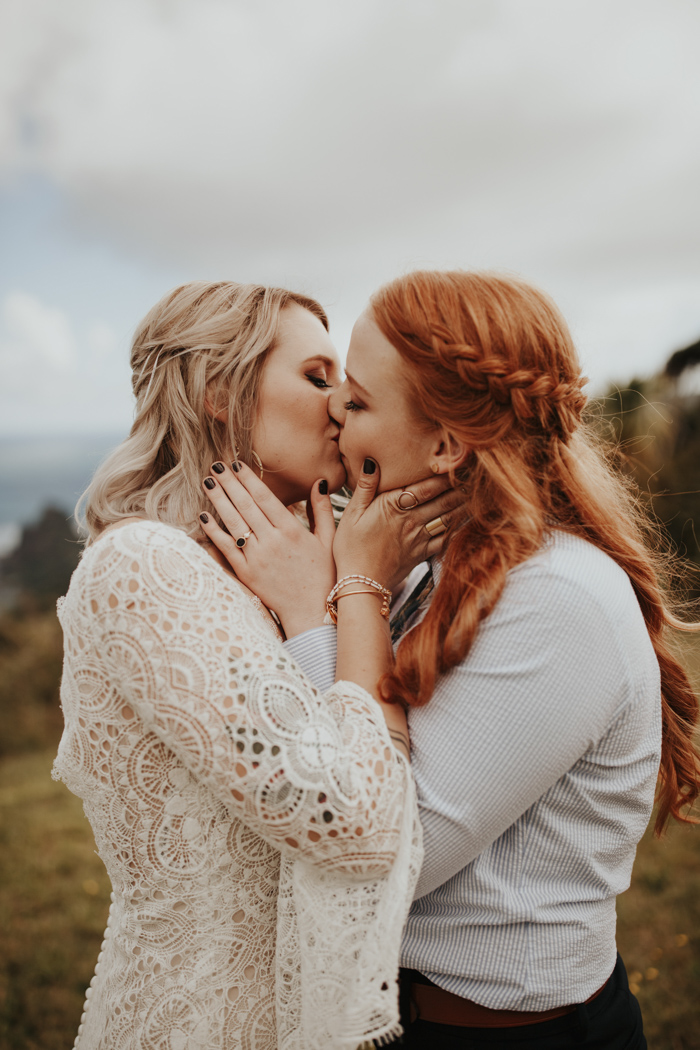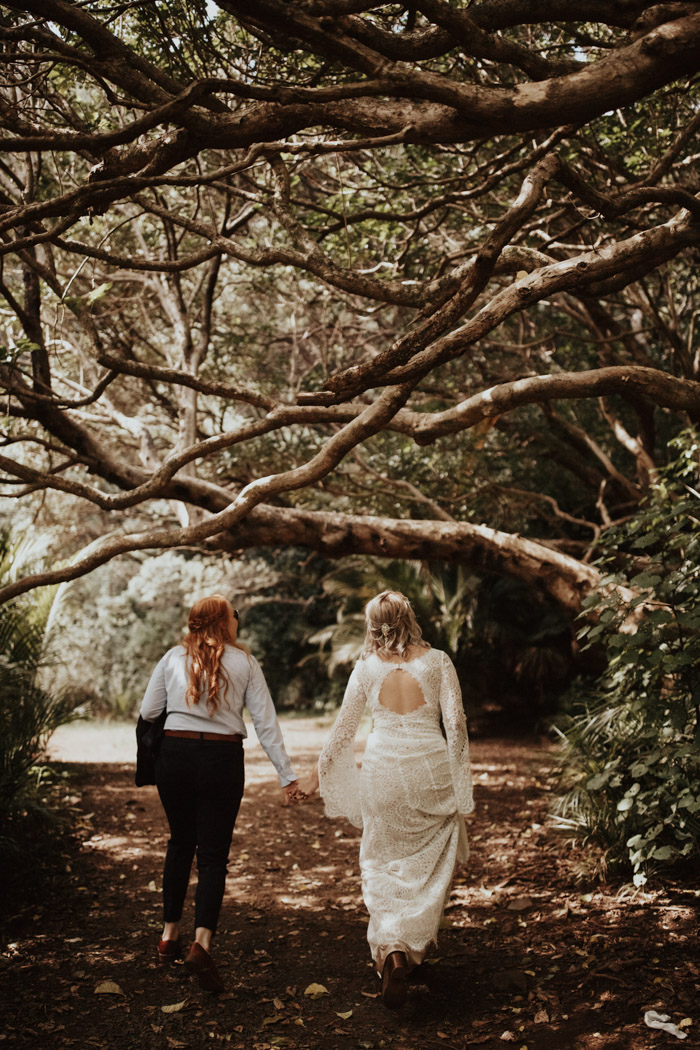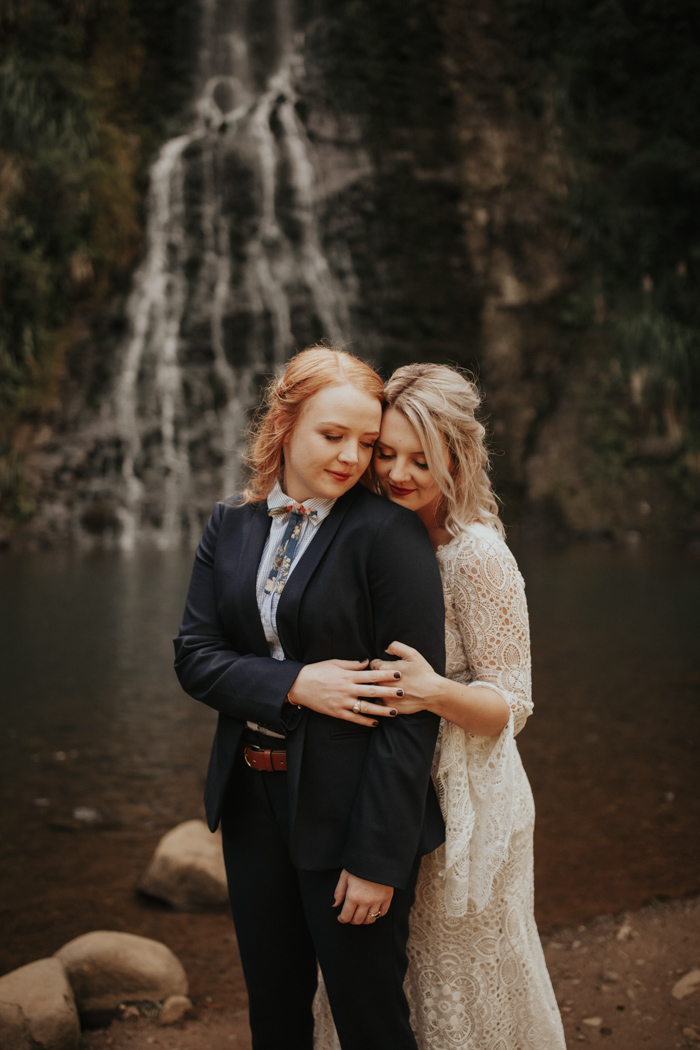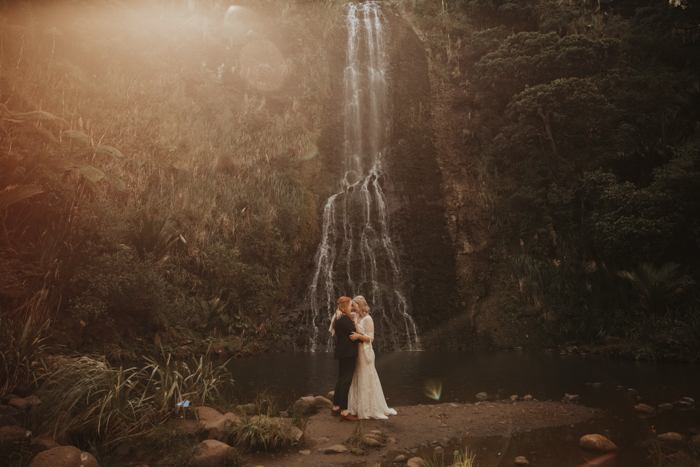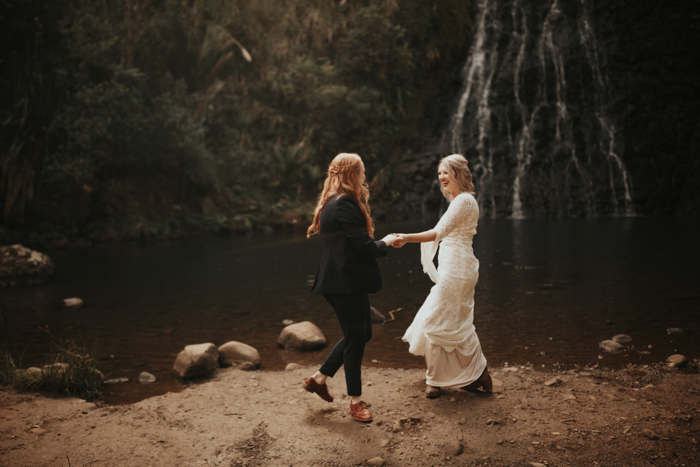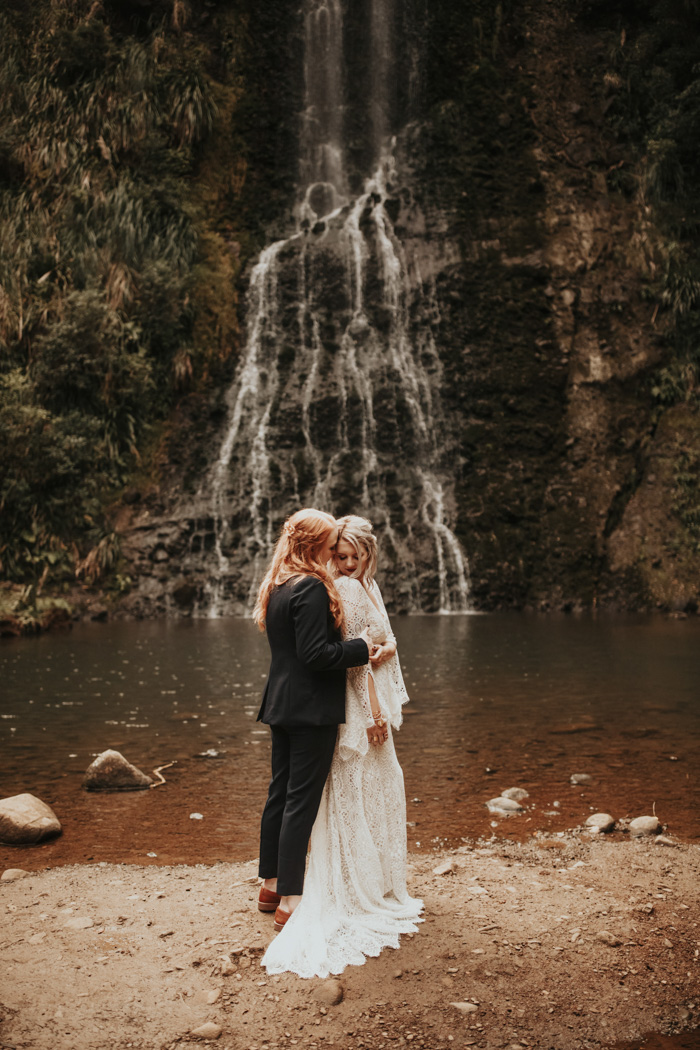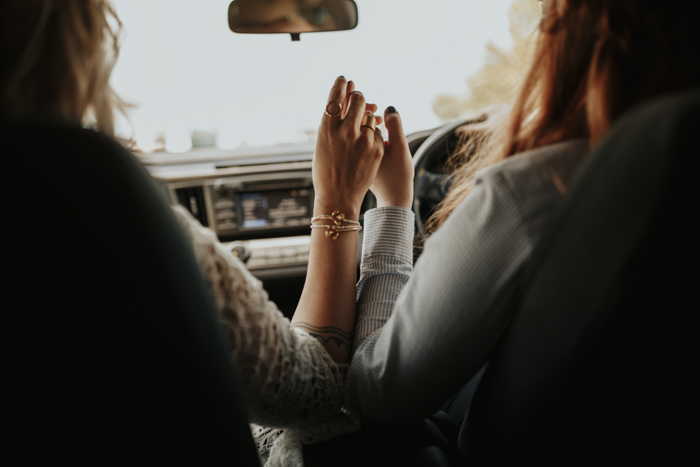 We had always planned to do the official stuff at the courthouse but make it out to the coast for vows and photos. My heart has always belonged to the sea. It felt so right to give it to my wife, forever there. The only thing that didn't go as planned happened next.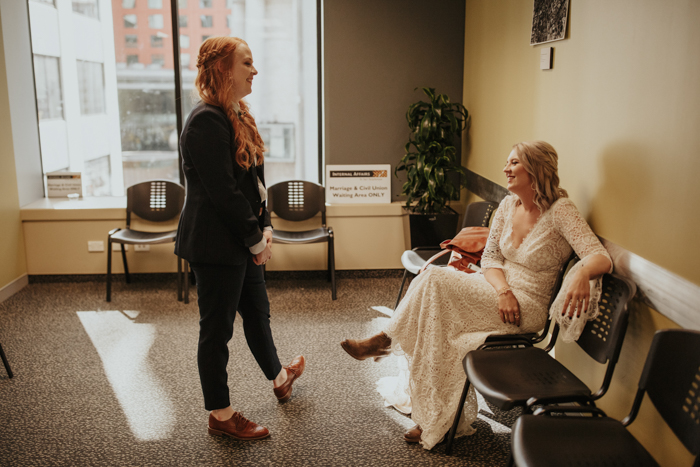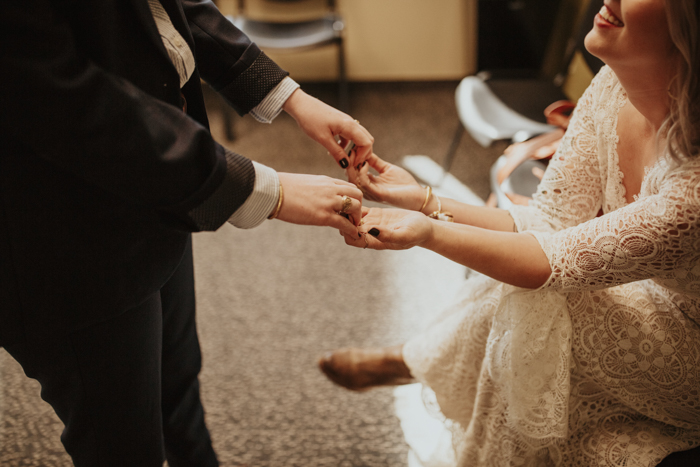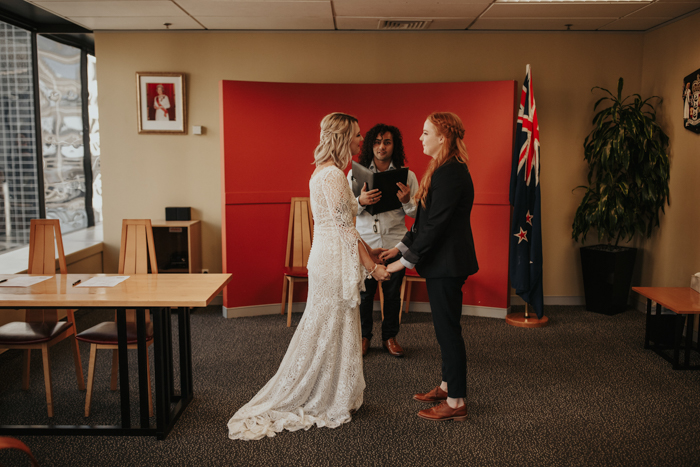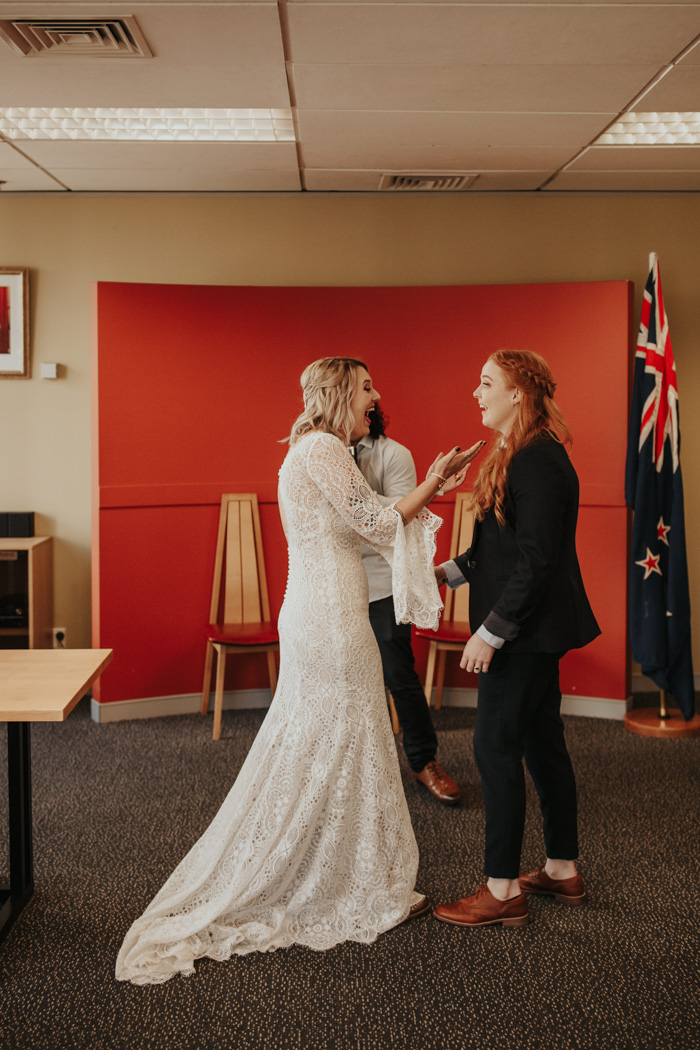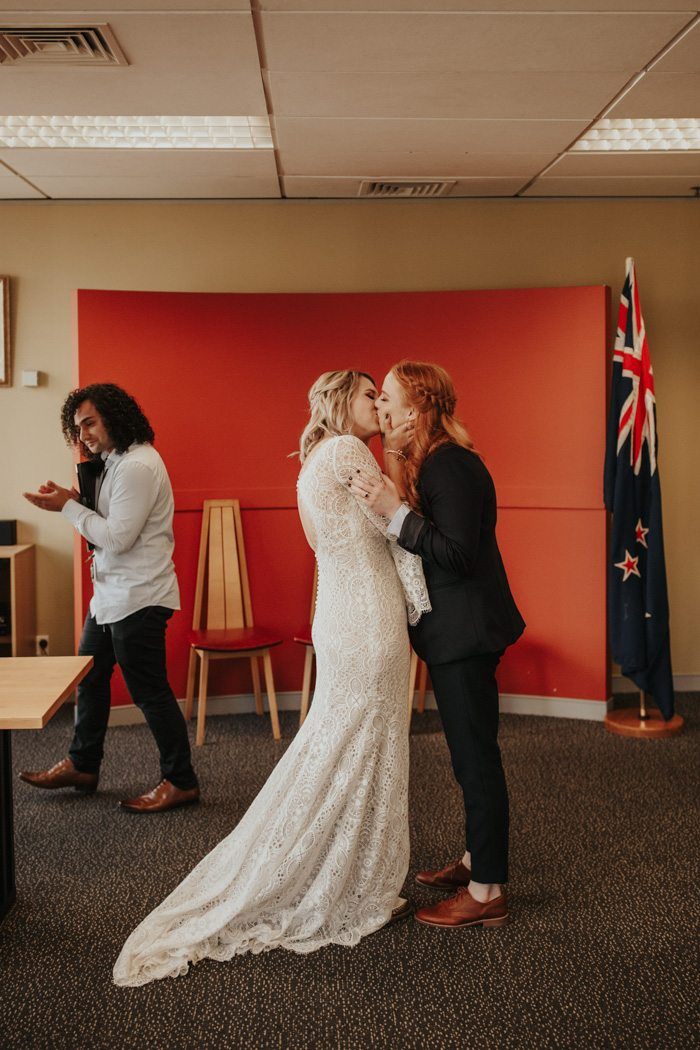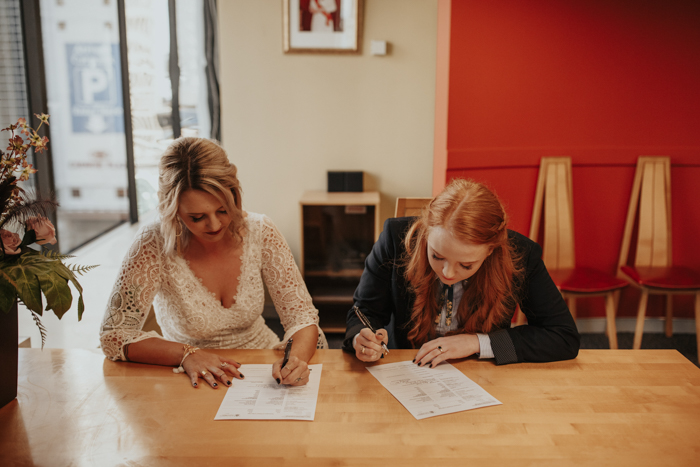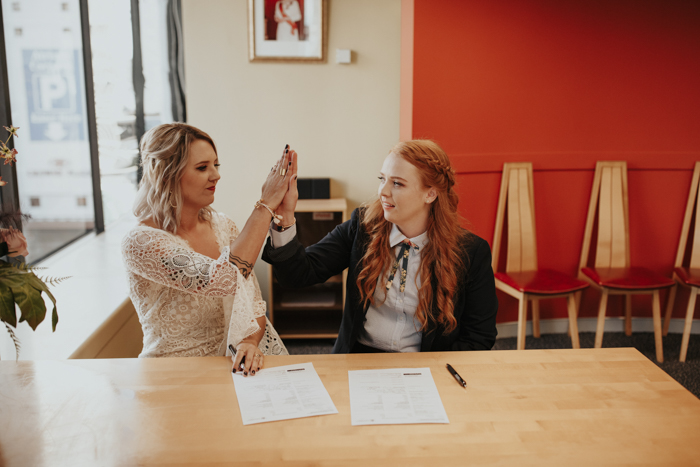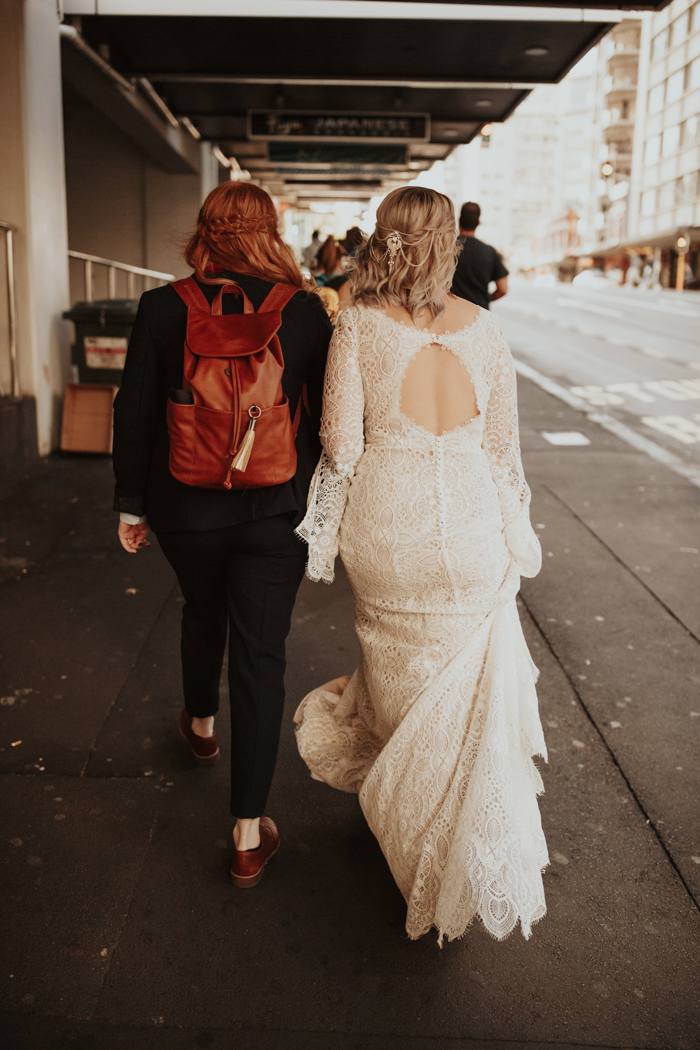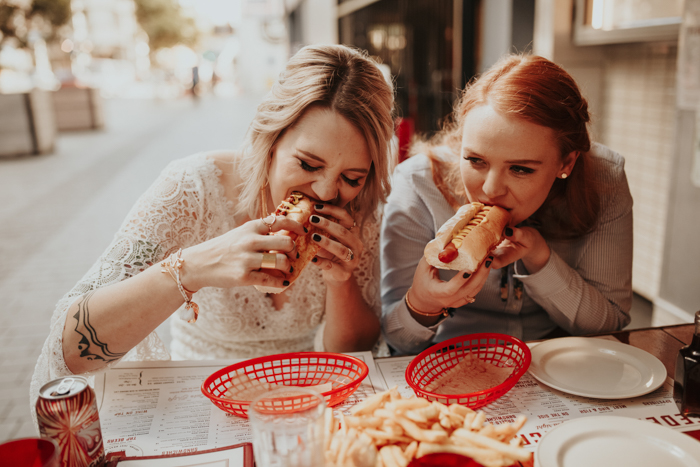 The entire drive from Auckland to the coast it poured down rain. I'm talking, black skies, high-speed wipers, downpour. I kept saying over and over, "There's no way we will get photos in this," to which Dawn always replied, "It's going to be fine!" In true photography expert form, she was right. Just as we pulled up to Karekare Beach, the sun came out over the water, and we had the entire beach to ourselves.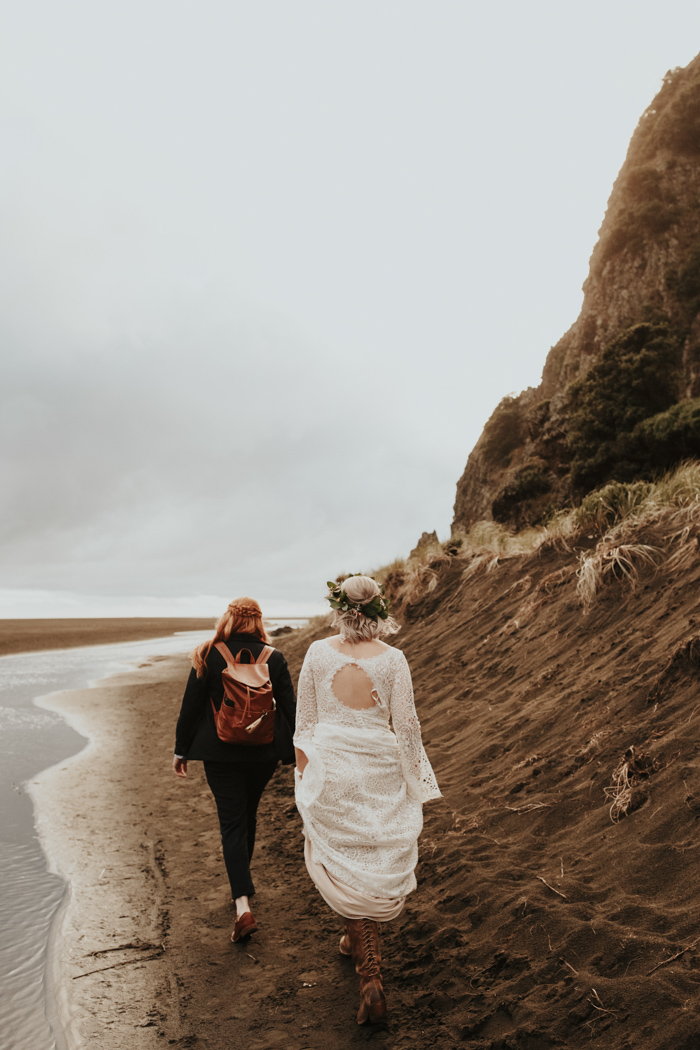 The sand was like black glass and the sun burned brilliant orange behind us as we read vows to each other from the pages of my beloved novels, The Hobbit and Lord of the Rings. Rain sprinkled lightly on us as we popped a bottle of champagne and celebrated our first moments as wives. It was truly something from a fairytale, an adventurous little gay fairytale!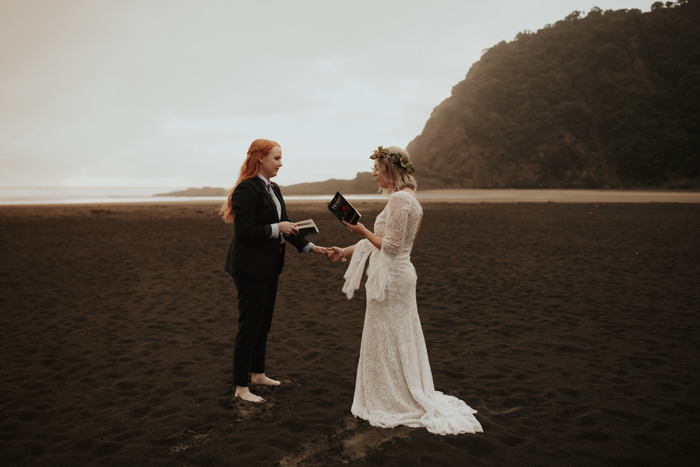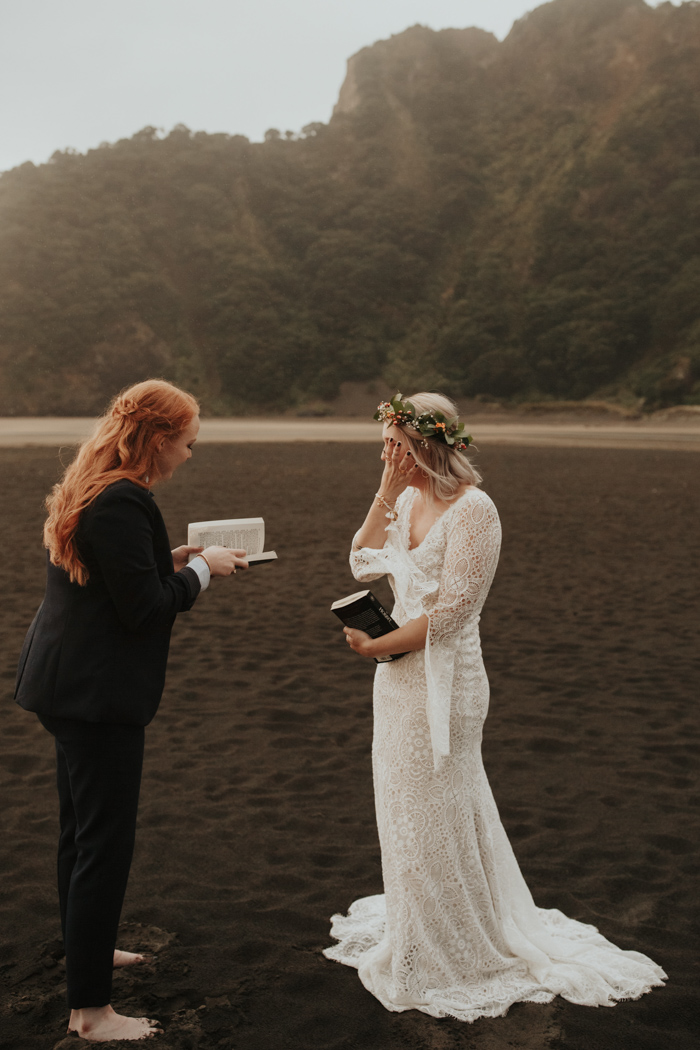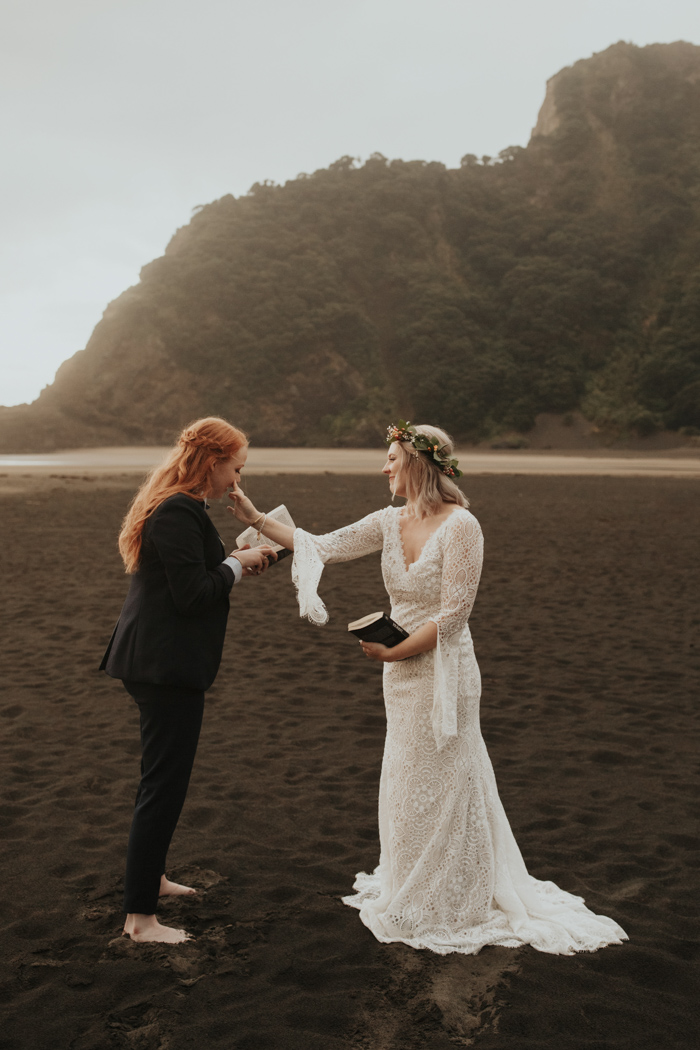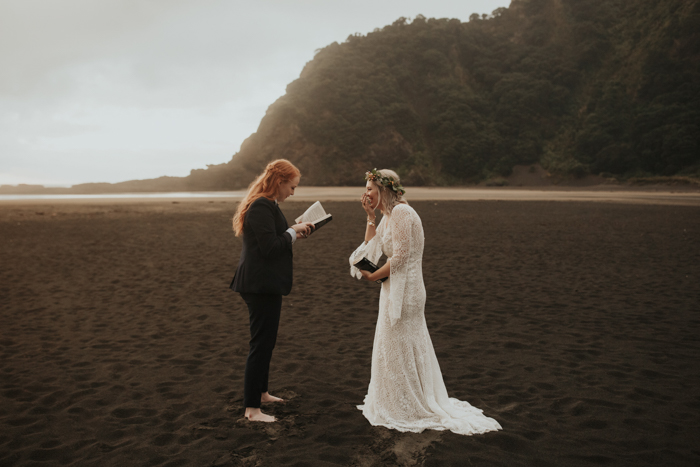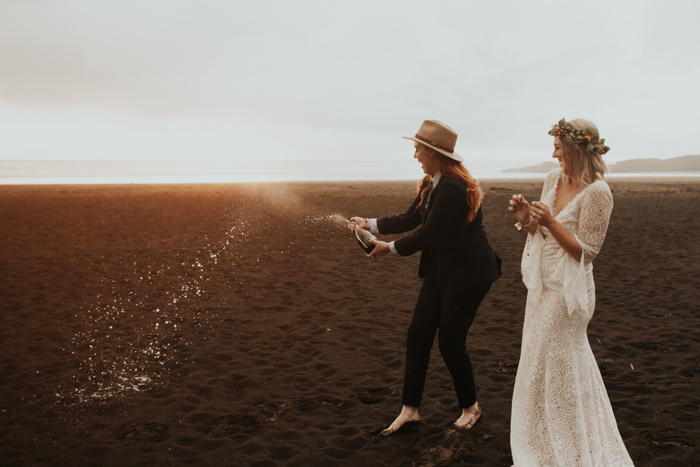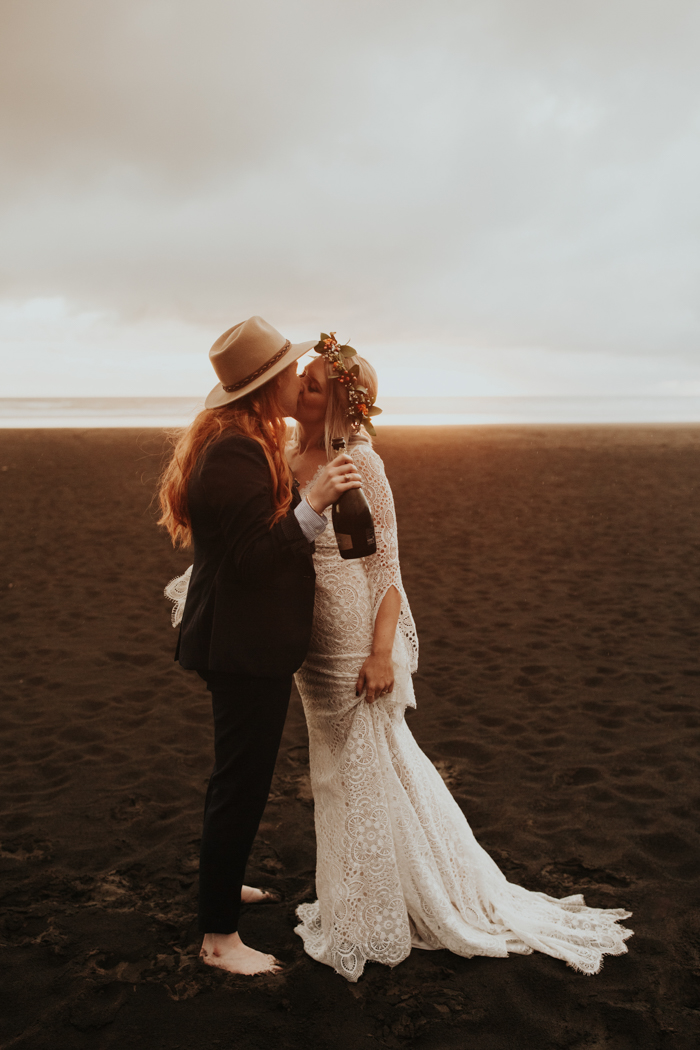 Our love of all things hiking and the outdoors played a huge role in the decision to cross the seas to New Zealand. Neither Melissa or I had ever visited, though I have been fantasizing of the lands of Rivendale, The Shire, and Mordor since I was in middle school! It was an easy choice when we asked ourselves what our ultimate vacation would be. To save on costs, we went to the officiant at the courthouse and then said our vows on a beautiful beach. Piha Beach was an easy choice with its black volcanic sand and rugged coastline. It honestly looks like something from another world!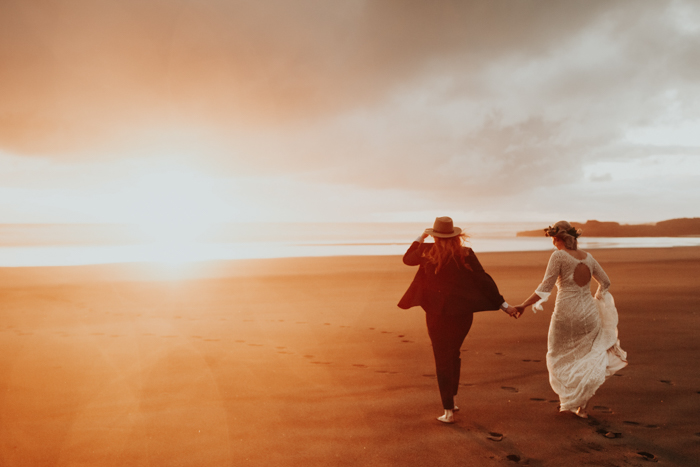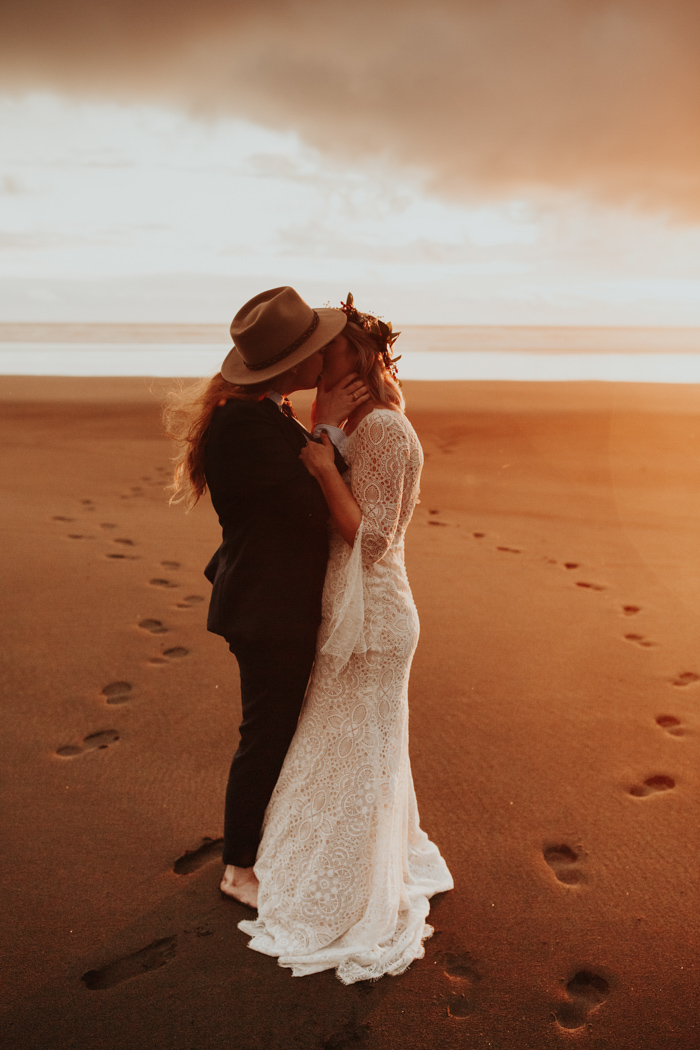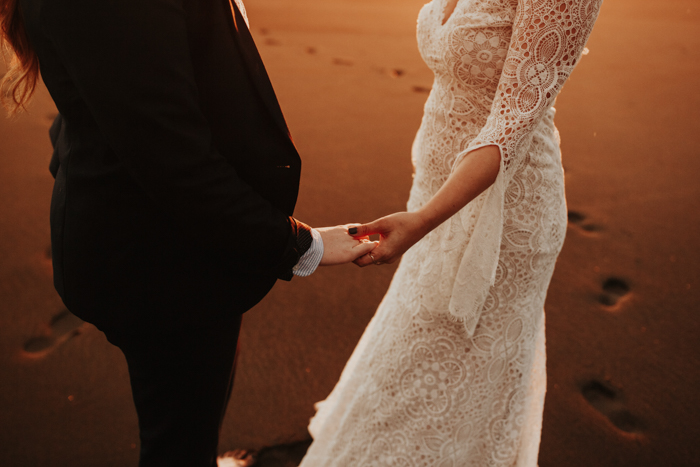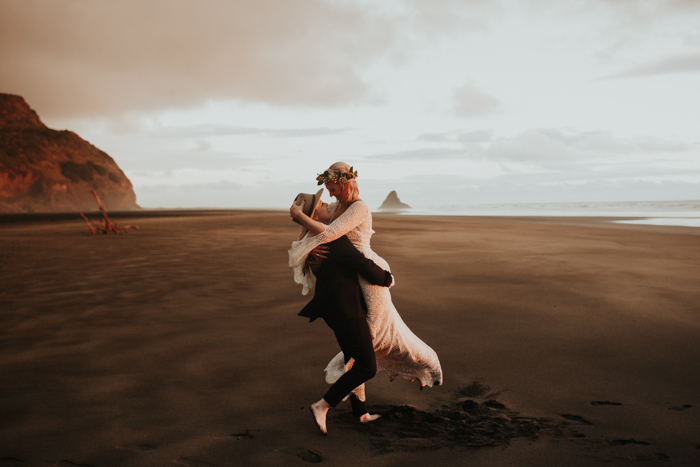 We honestly feel like the stars aligned when we booked Dawn Photo, and man it just continued to get better and better! We became immediate friends and it made the day of not only a breeze but oh so fun. She made us feel so comfortable in front of the camera. And, I mean, do we even need to mention the photo quality?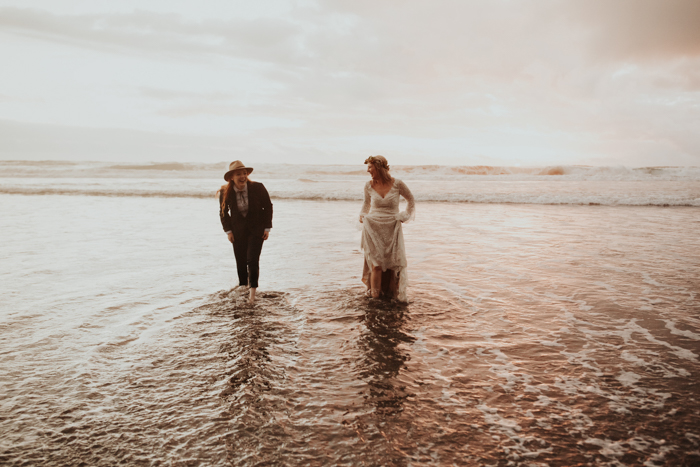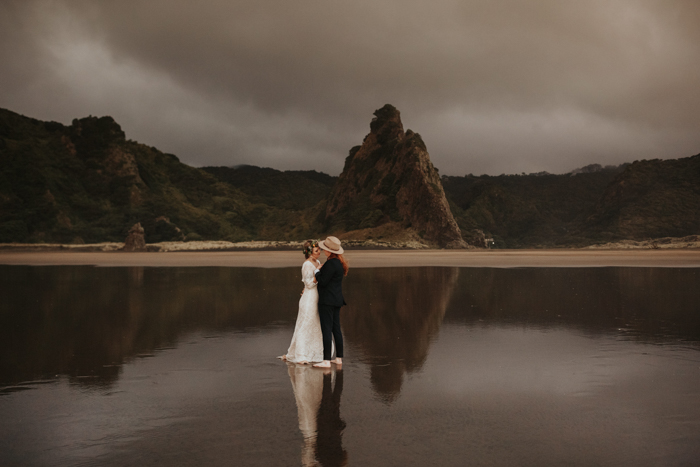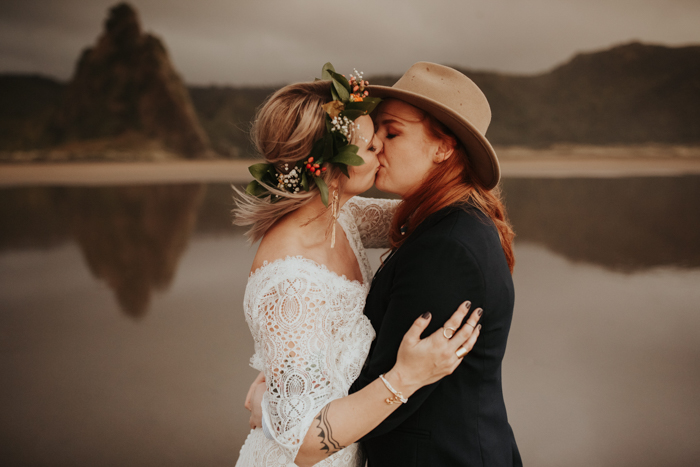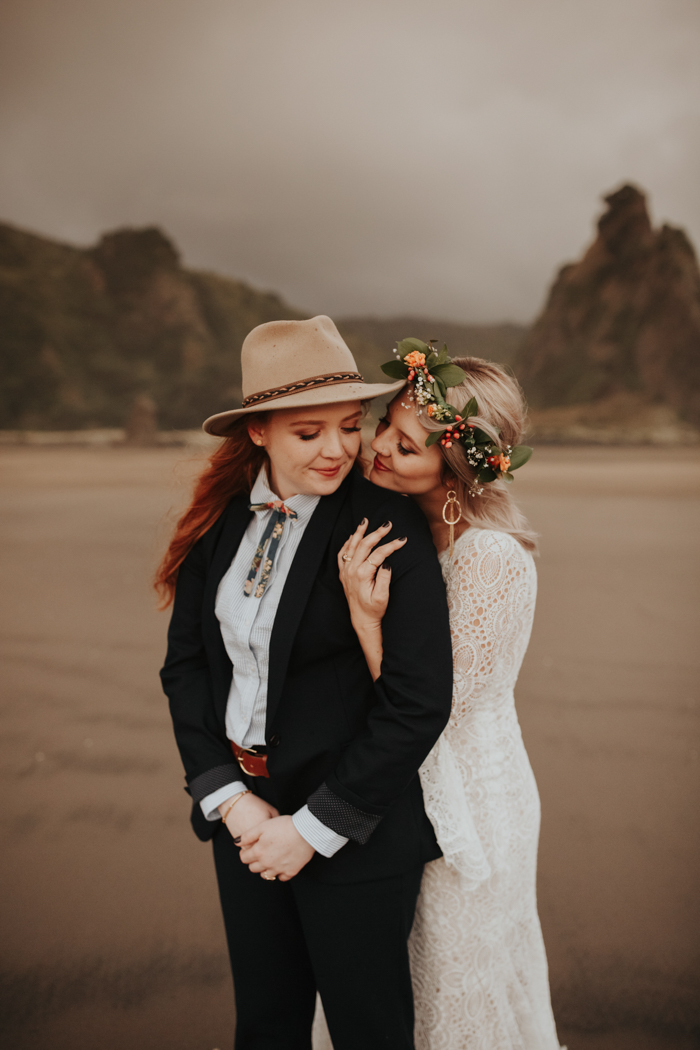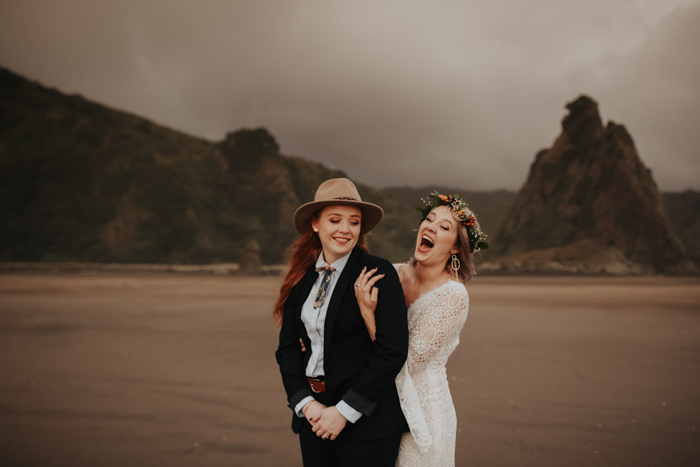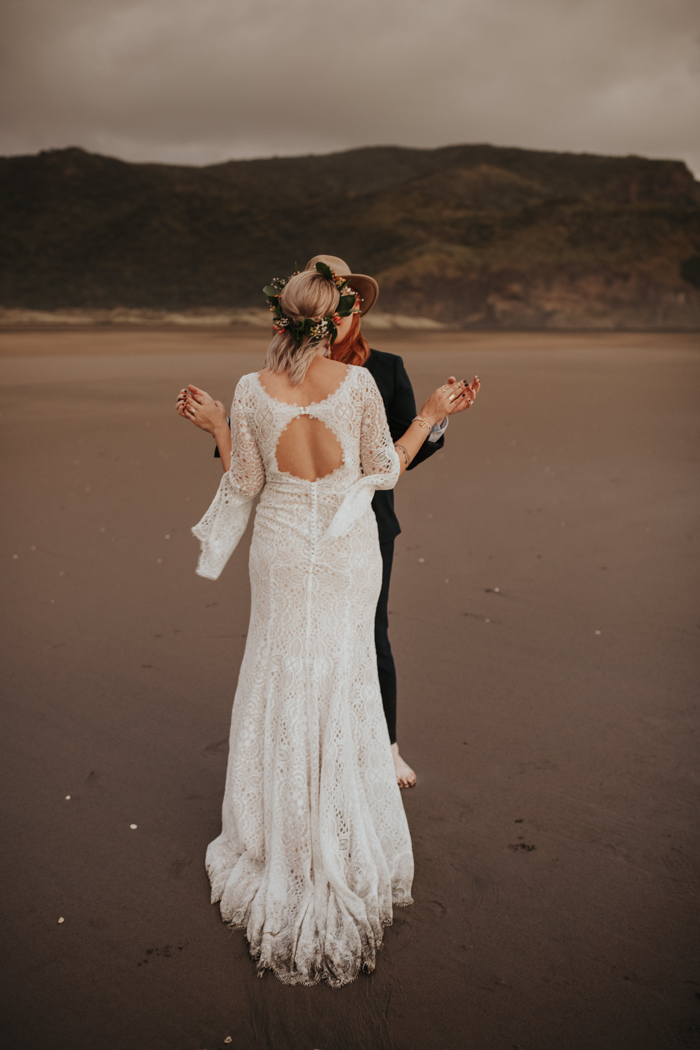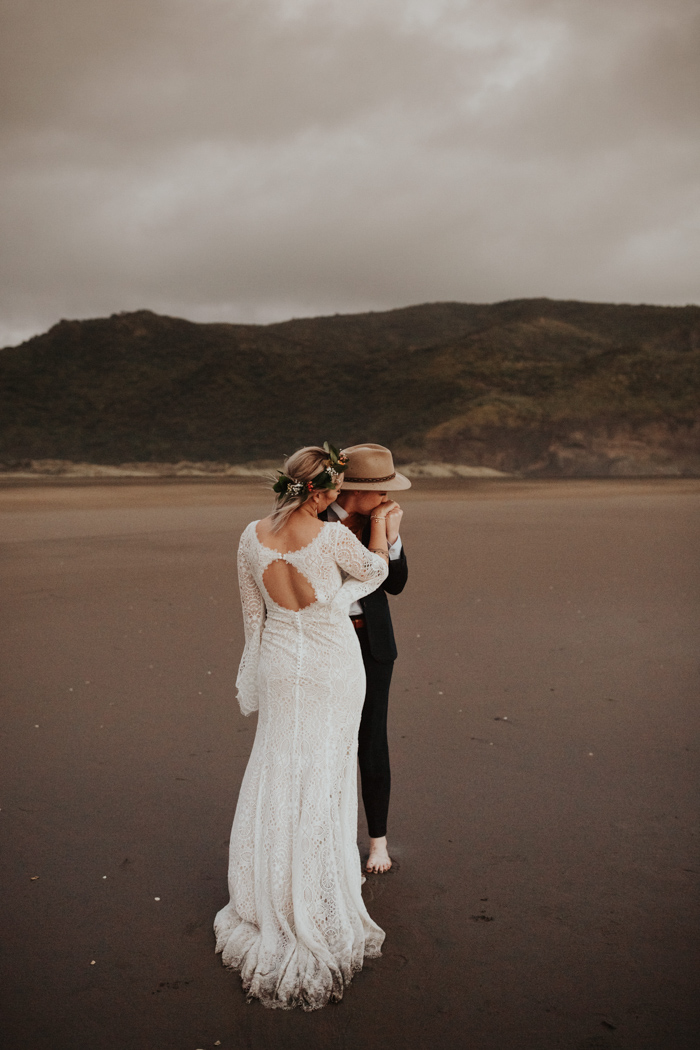 Our biggest congratulations and thanks to Lauren and Melissa for sharing this incredible New Zealand elopement with Junebug! Want to see more dreamy elopement inspiration? This simple Snoqualmie Pass elopement will give you plenty to smile about!