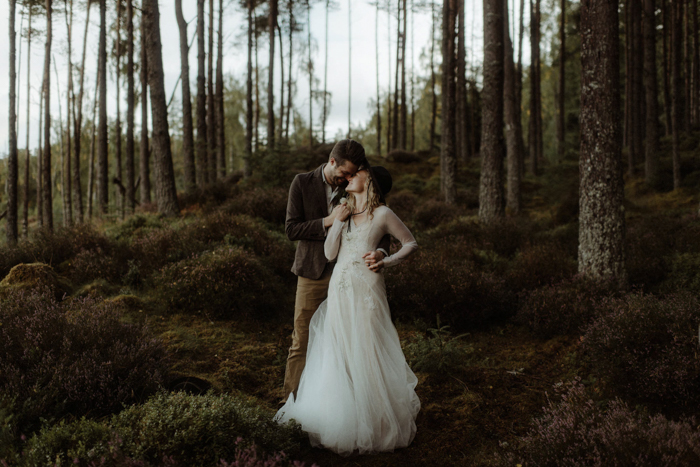 Jodi and Zach's Cairngorms National Park elopement in the Scottish Highlands had everything we love about adventure elopements: breathtaking scenery, unique style, and sentimental details. As adventure wedding and elopement photographers themselves, it comes as no surprise that Jodi and Zach (aka The Camerados) had an intense focus on creating a day representative of their carefree spirits, and bringing everyone they love into the fold. They and their guests spent an entire week bonding and falling even more in love with Scotland. Then, on their actual wedding day, they all trekked deep into the lush forests and fully embraced the unpredictability of Mother Nature as they exchanged vows, sang, and danced their way into married life! We're seriously deep in our feelings because of the emotions The Kitcheners captured in both their pre-wedding film and every single elopement day photo.
The Couple:
Jodi and Zach
The Wedding:
Cairngorms National Park and Inshriach House, Scottish Highlands, United Kingdom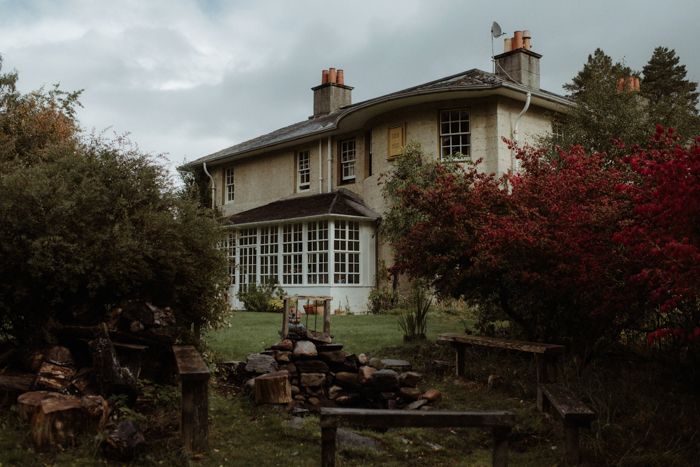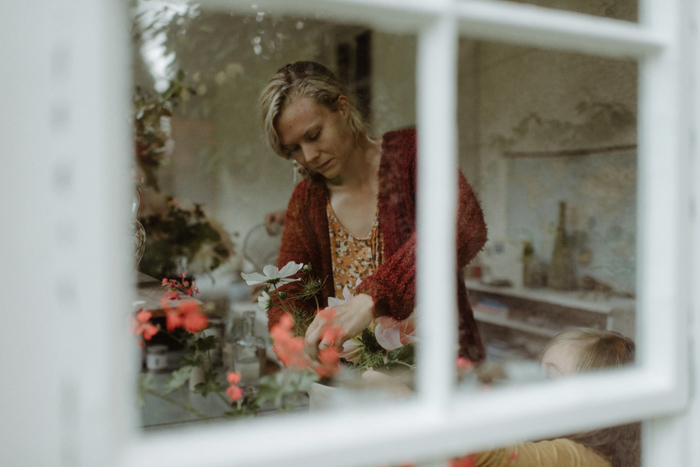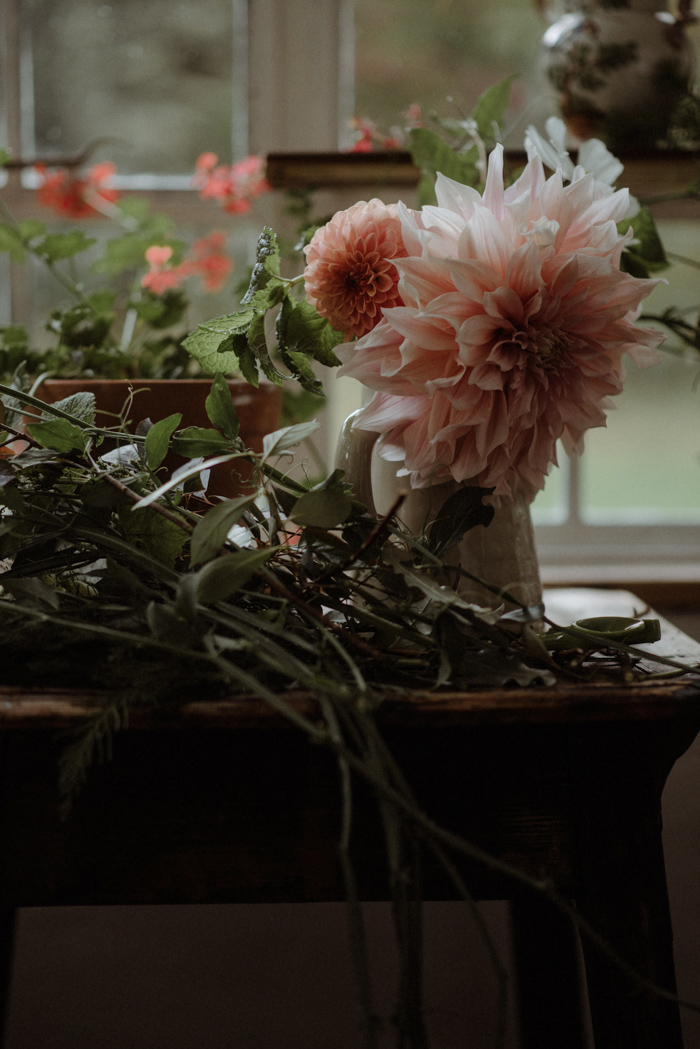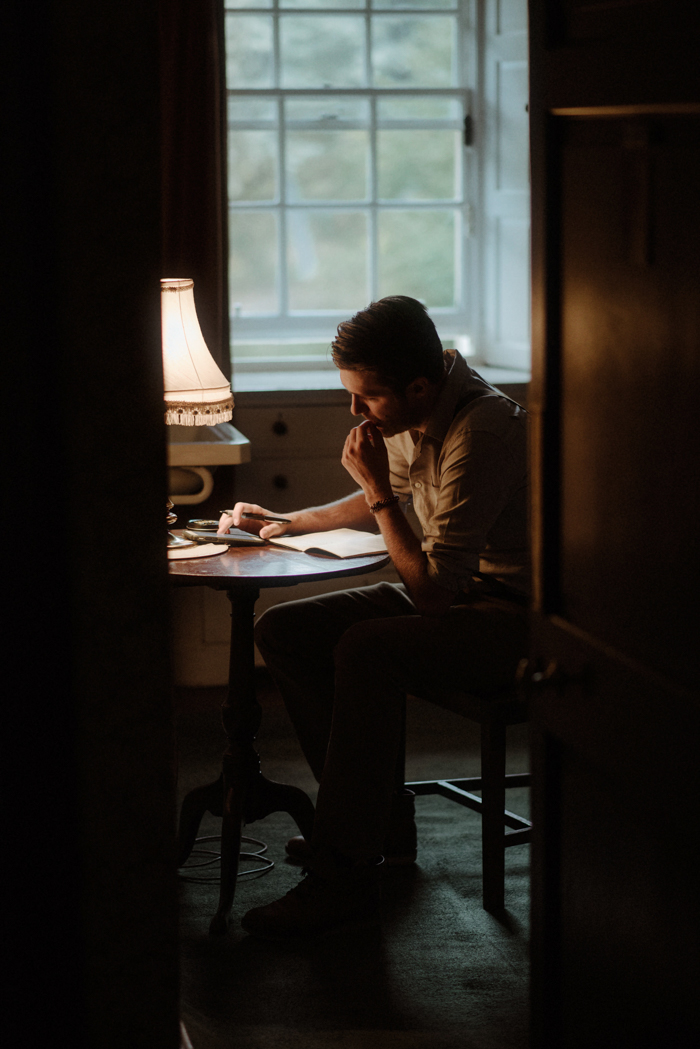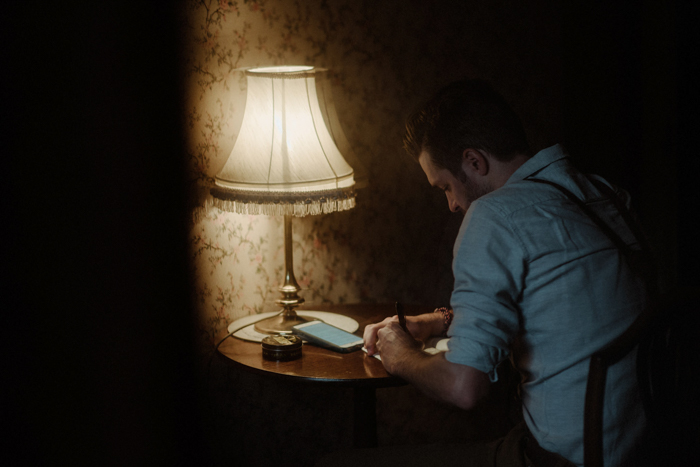 Honestly, we didn't do a lot of planning for the actual day, but we did do a ton of planning in the logistics for the week. We eloped with our family and a few close friends in the Scottish Highlands at Cairngorms National Park. The most important part of our wedding was making sure everyone could spend at least a week with us leading up to the day – so that we could create a community between our guests. We love Scotland (we not so secretly want to someday live there) and we selfishly wanted everyone else to fall in love with it, too.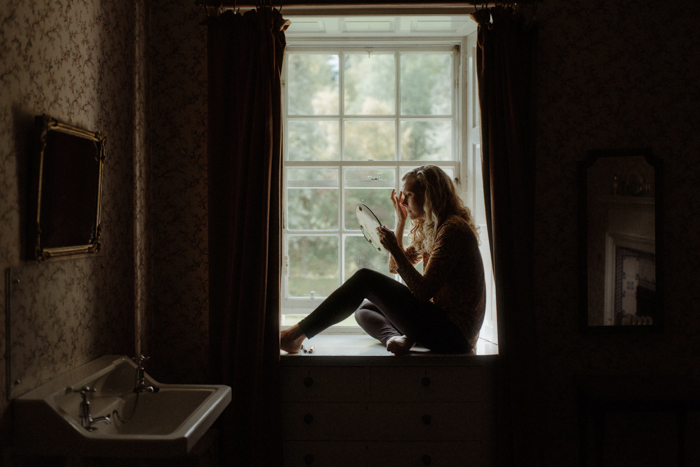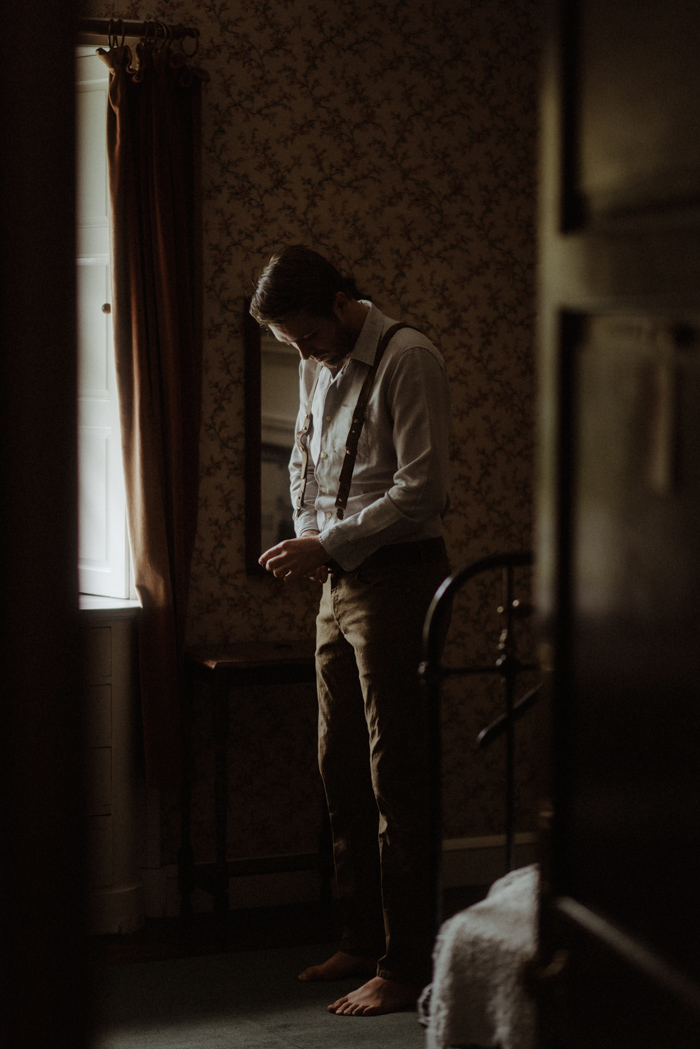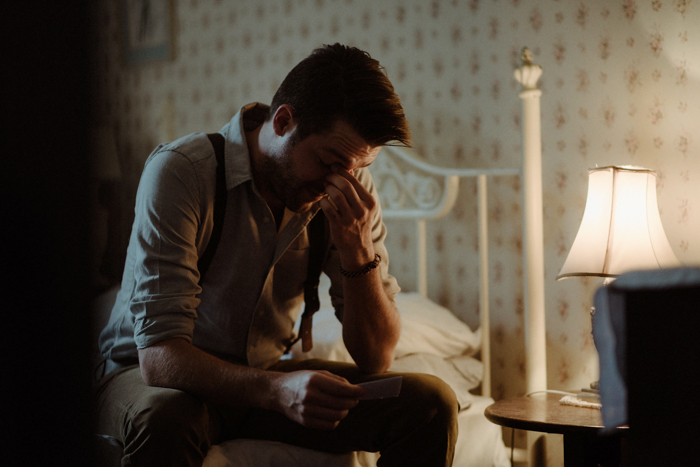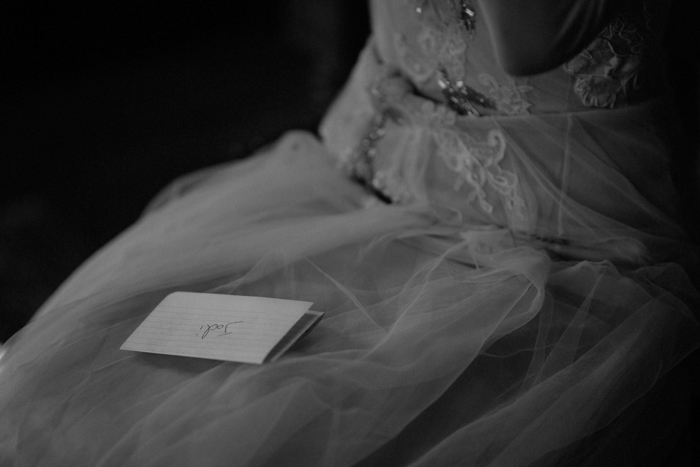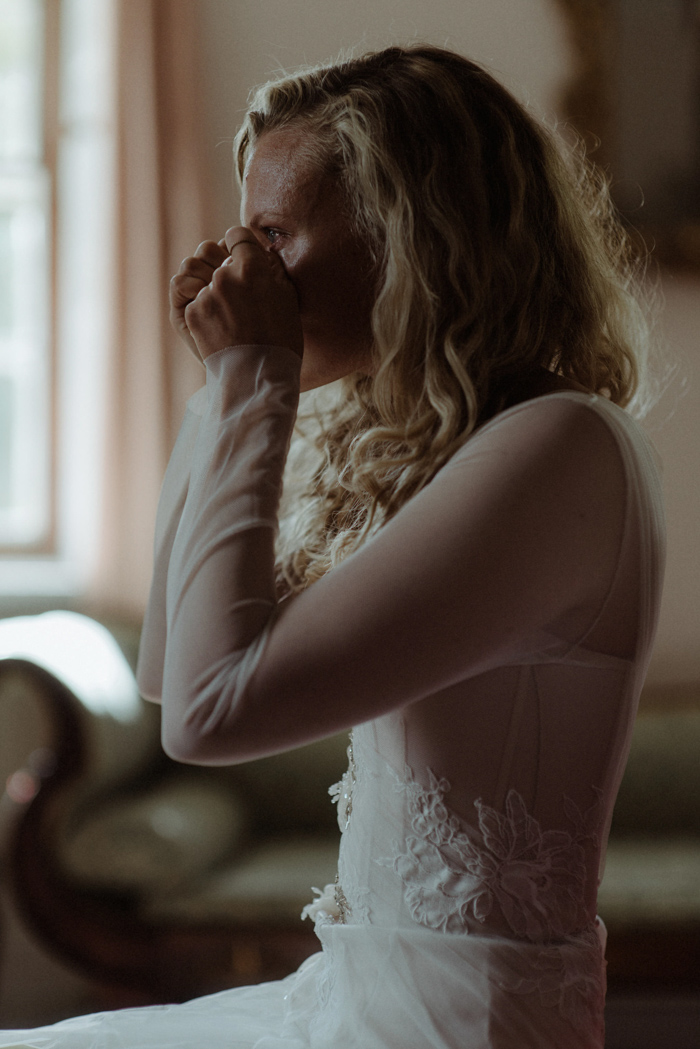 On our wedding day, it rained, the sun shone, and then it was foggy and overcast. What we love about Scotland was how fickle the weather is, but each type of weather illuminates something new in the landscape. We were going to get married looking over this mountain but, with the sun shining, it was harsher light. So we switched last minute to a nearby forest with a spongy ground. We thought we wanted something with an impressive view but the tall trees created a cozy, quiet space that ended up being perfect for the ceremony.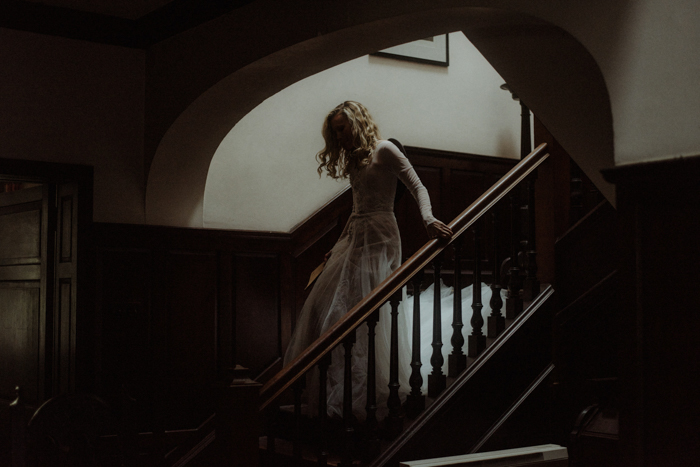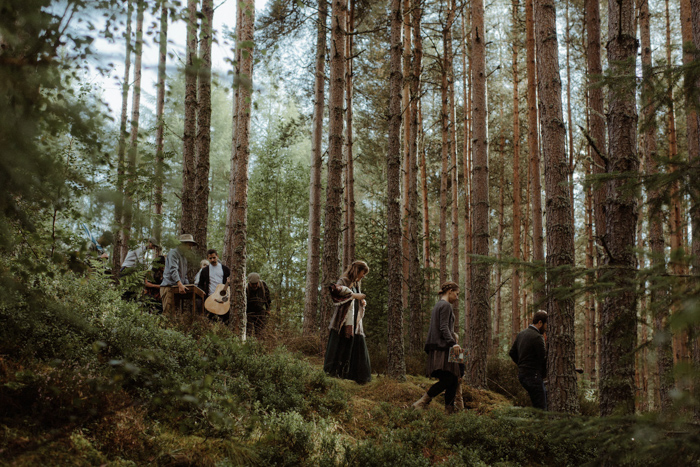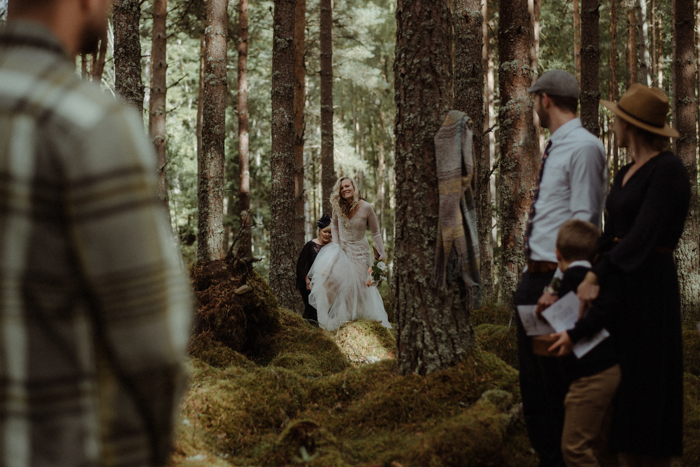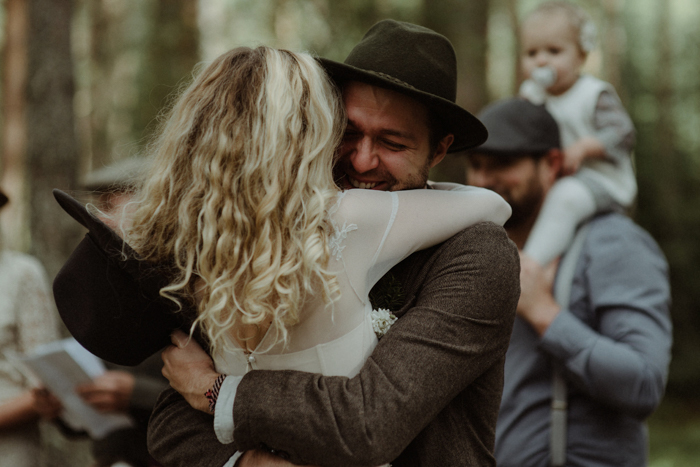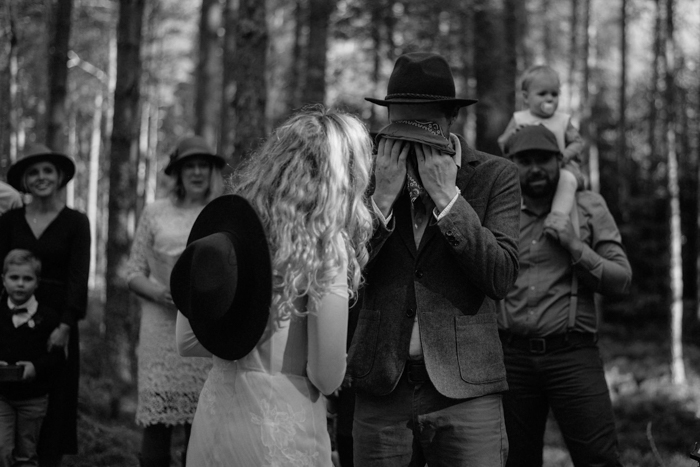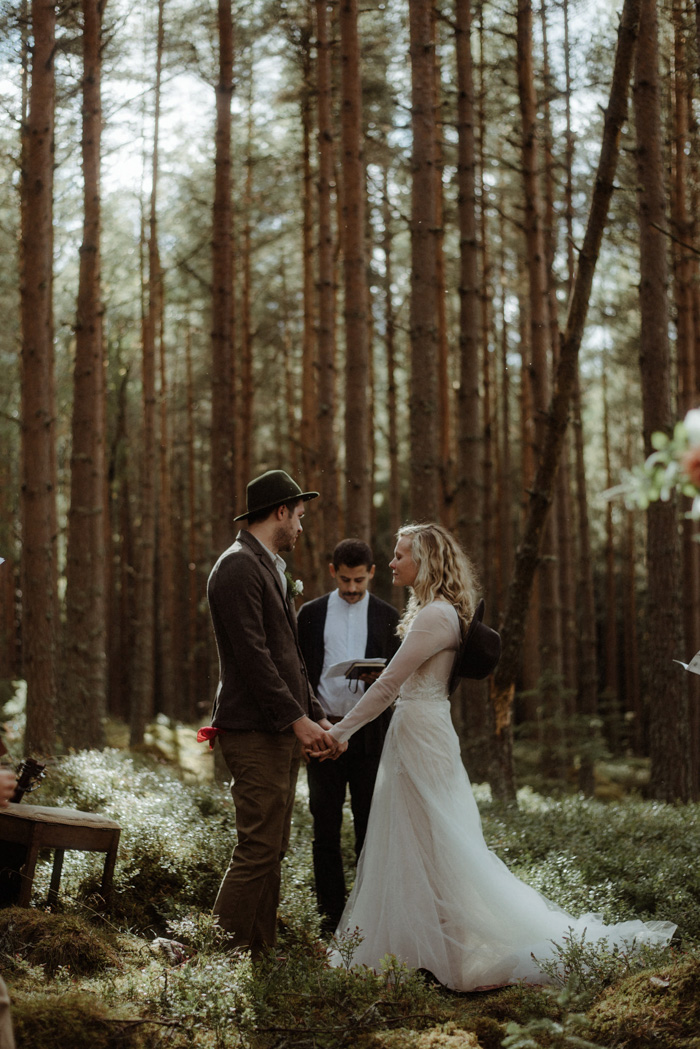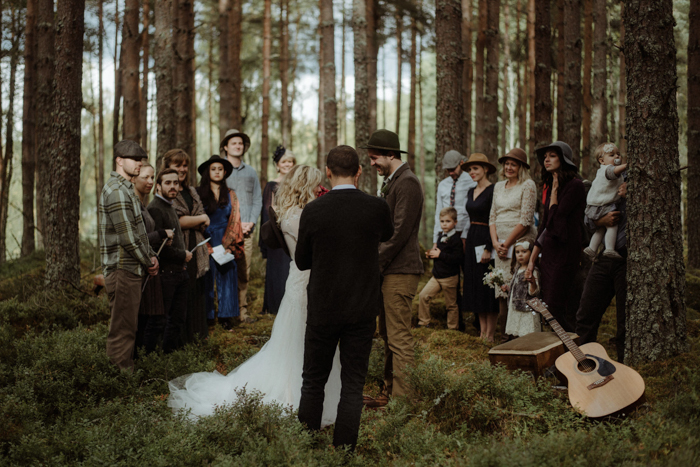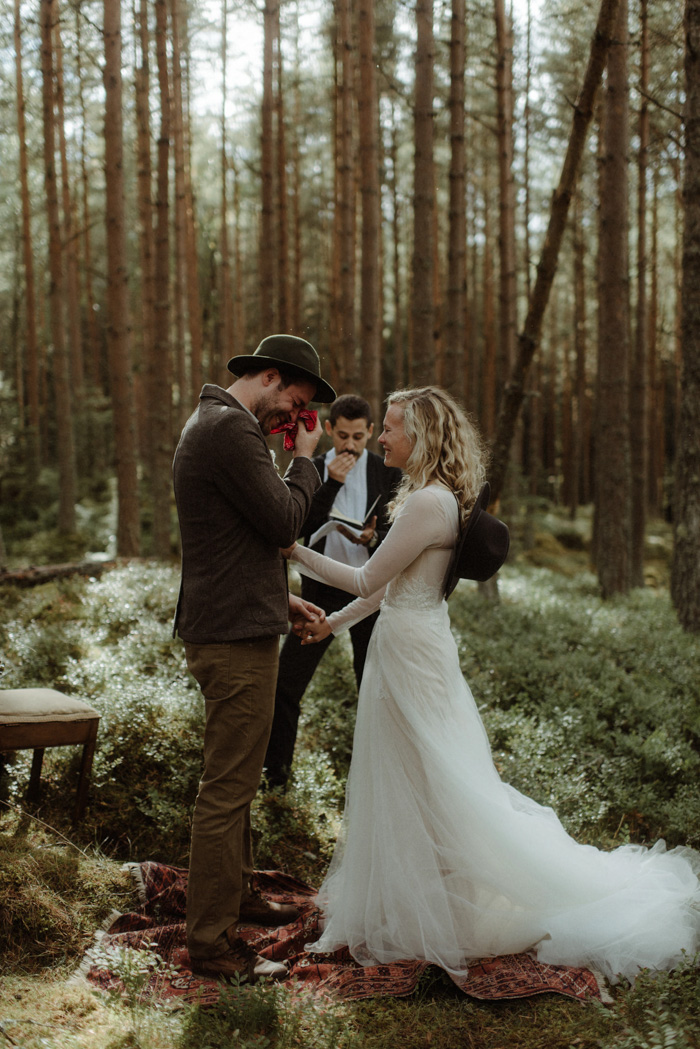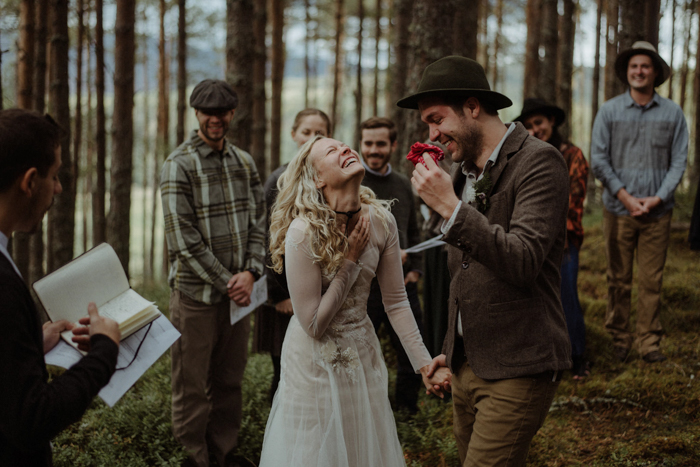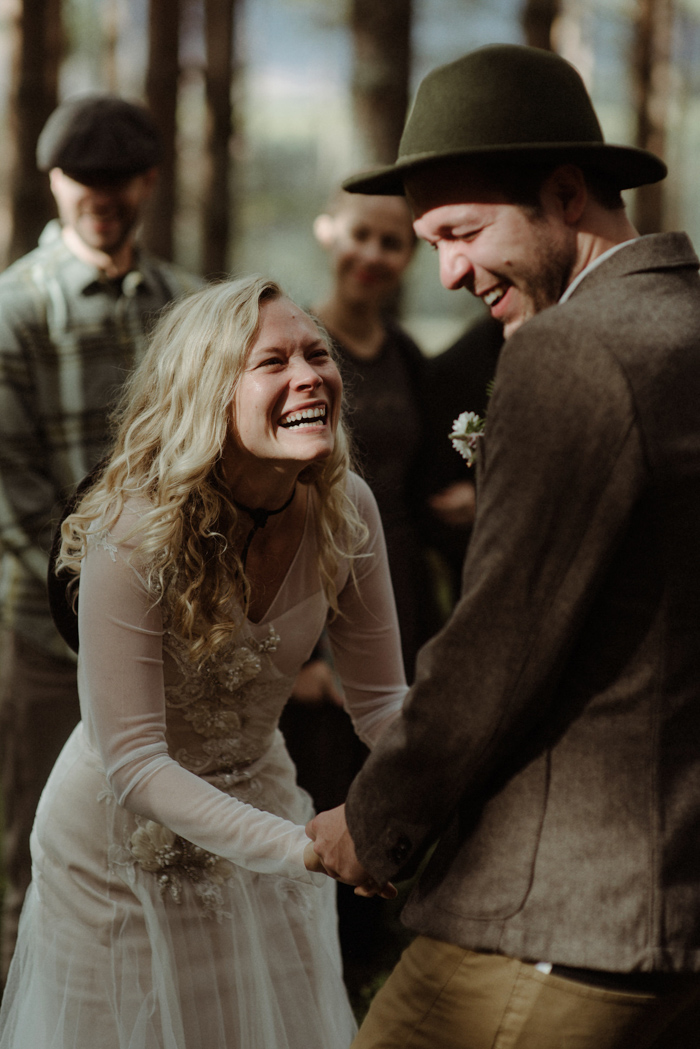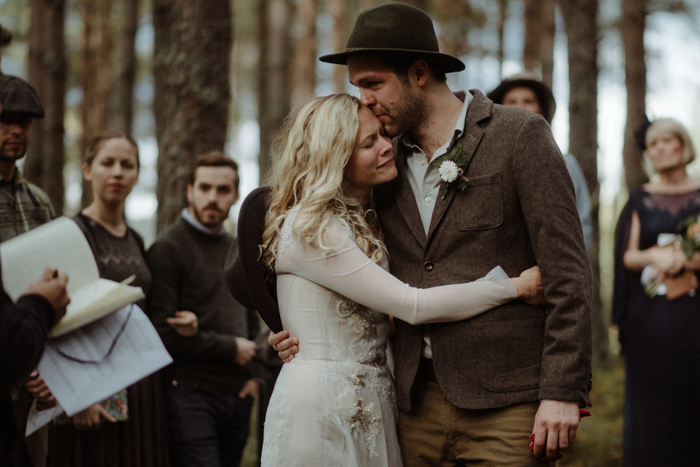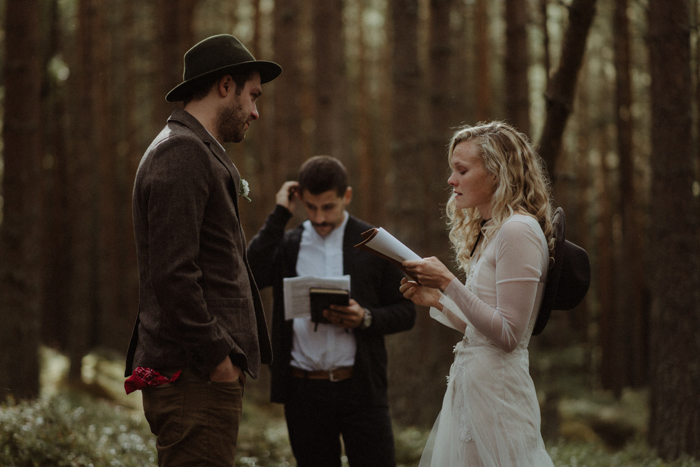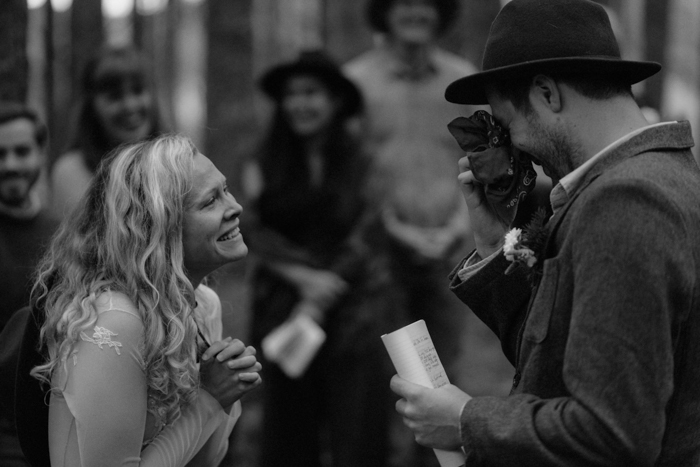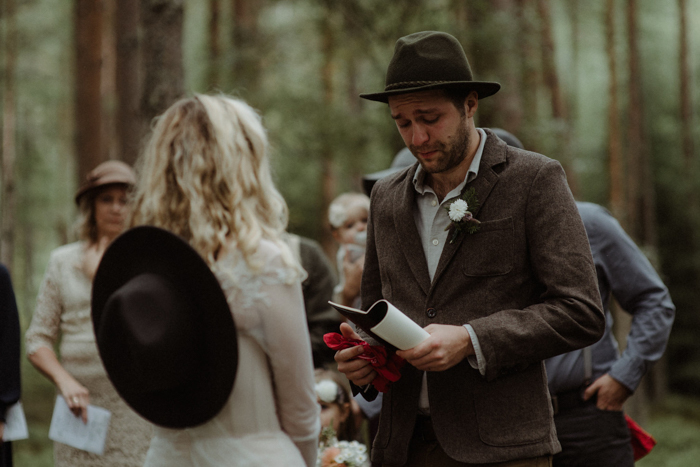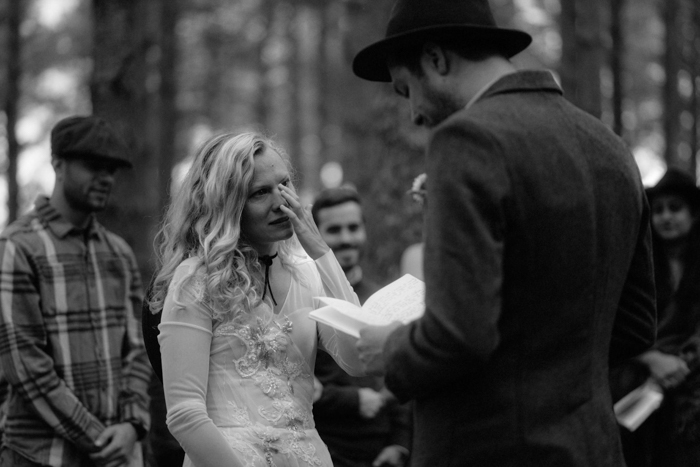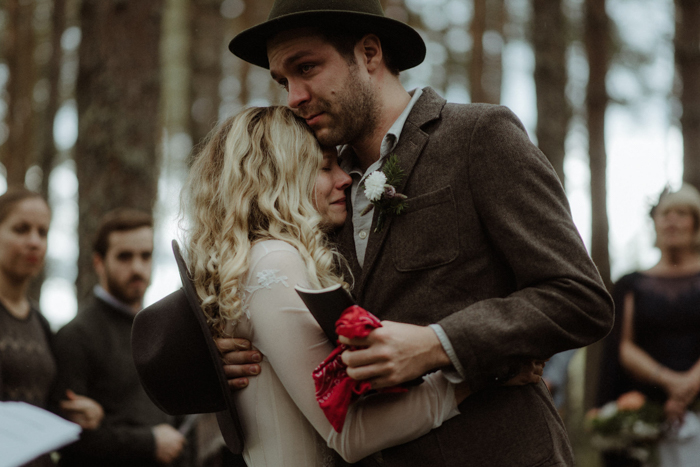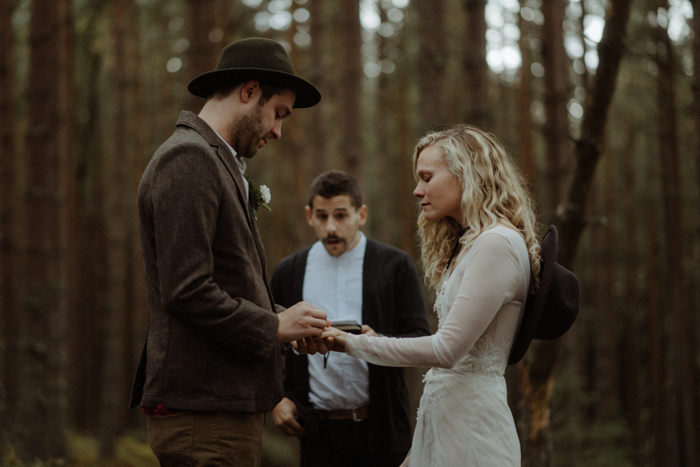 During our ceremony, we played a song on ukuleles for our guests and it started raining as we began playing — not crazy hard, just a pitter-patter of droplets on our shoulders. It felt magical, sitting in a forest in Scotland with our best friend and the people who will be supporting our love for the rest of our lives, as if Mother Nature wanted to play the tune with us, adding her perfect percussion.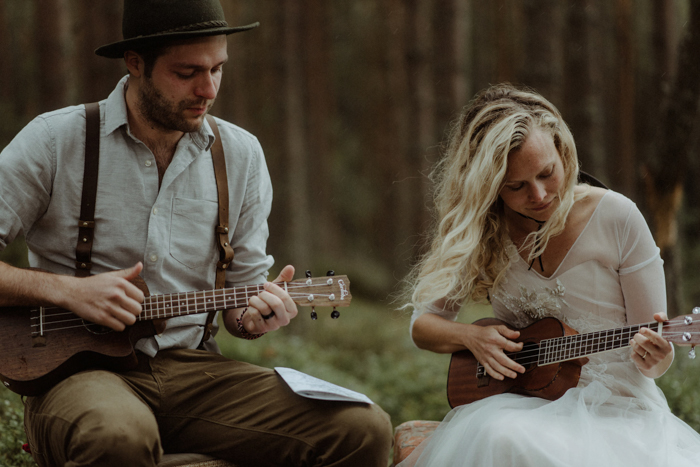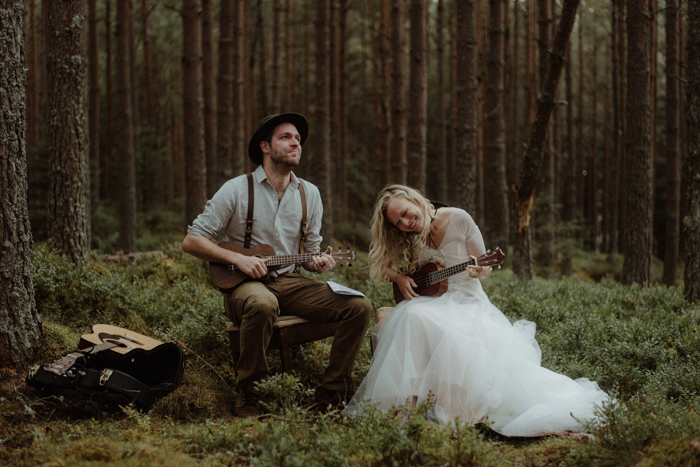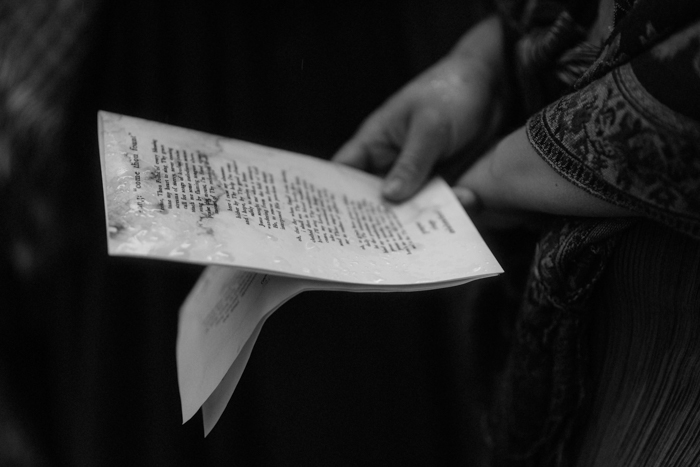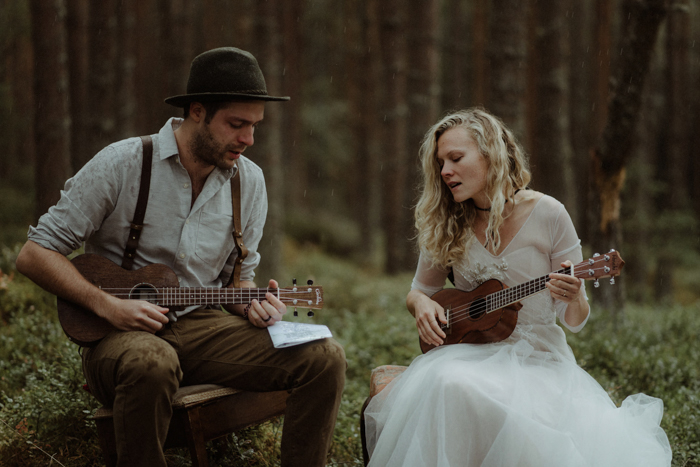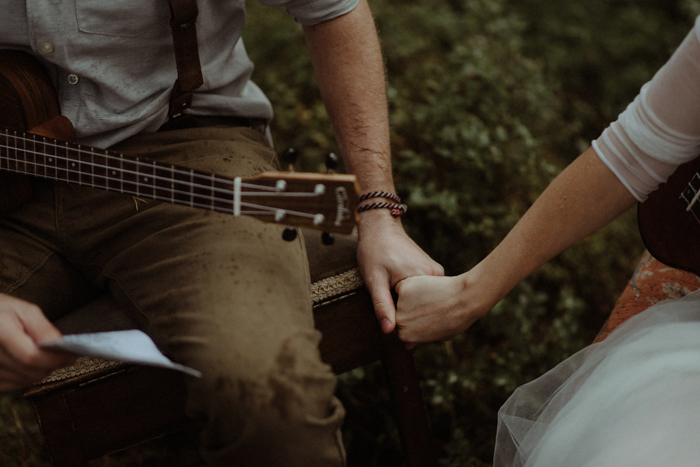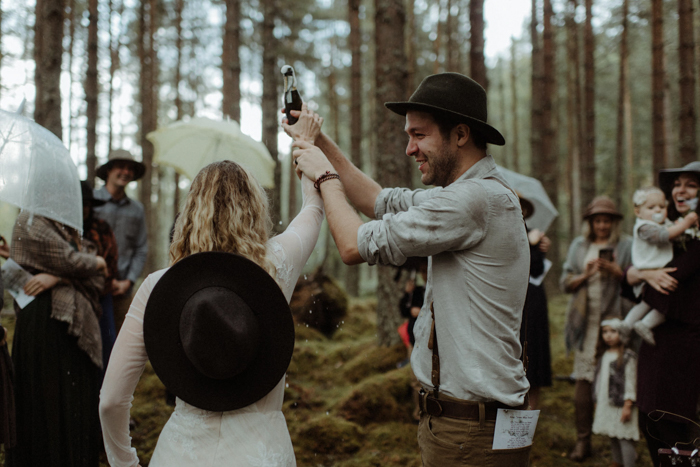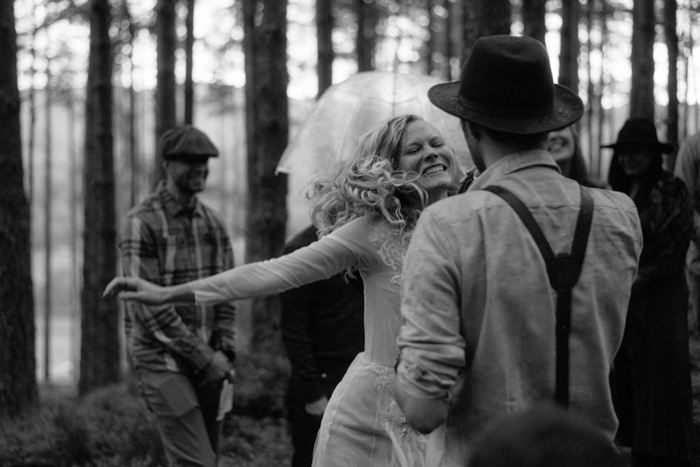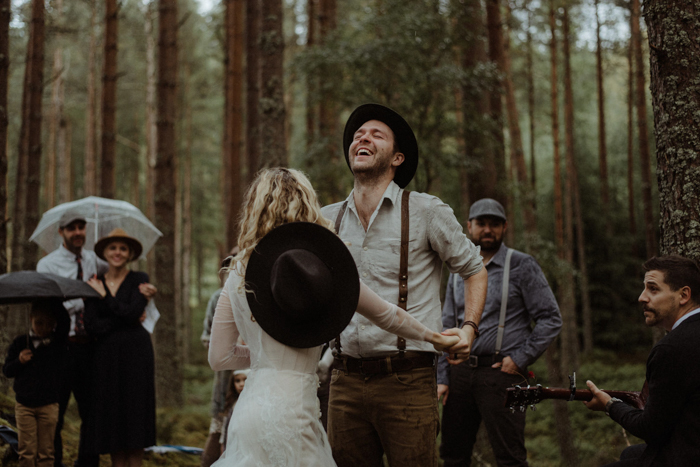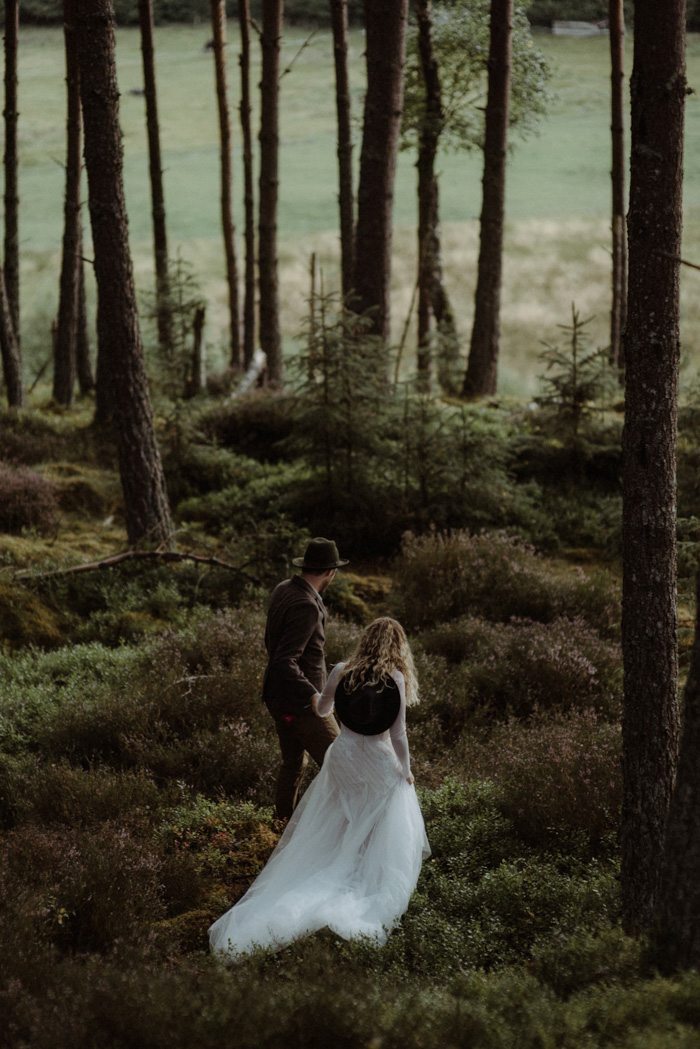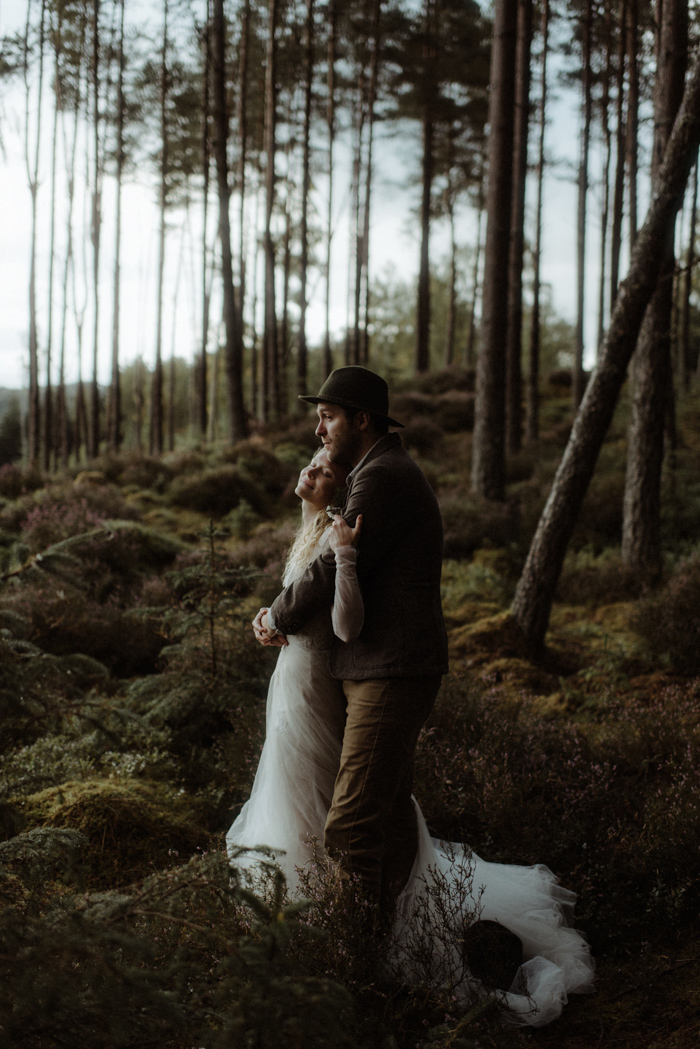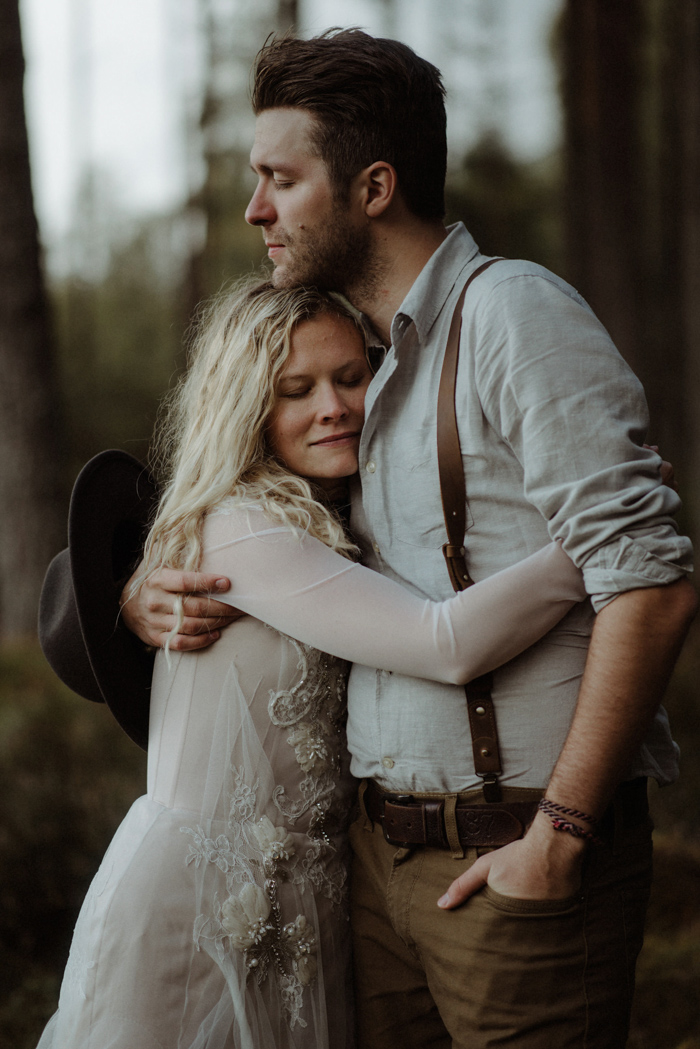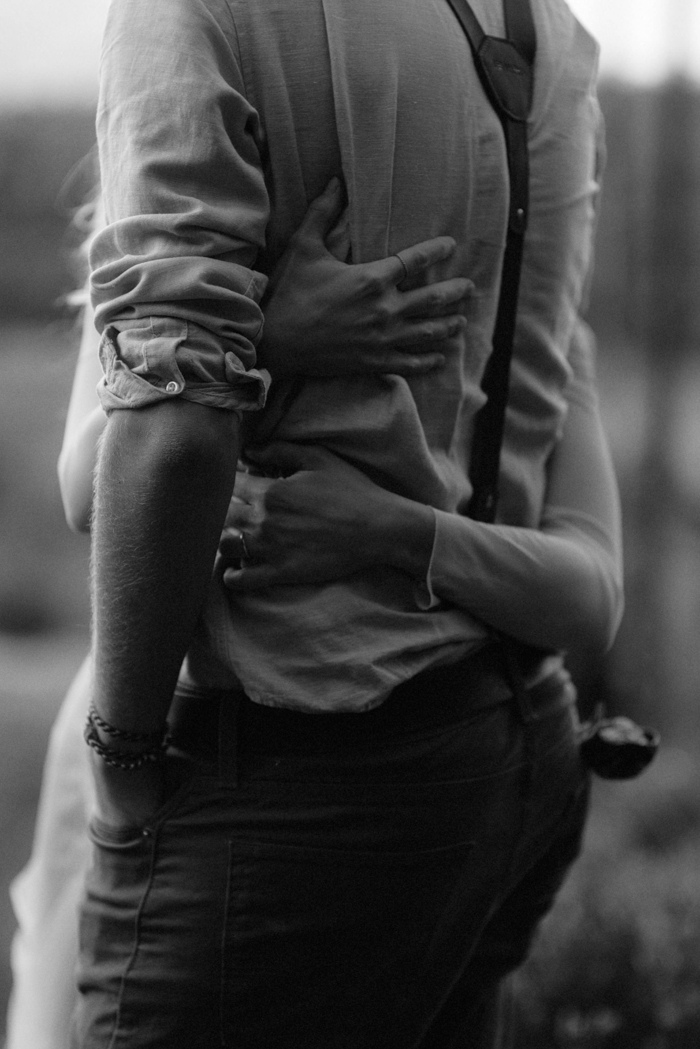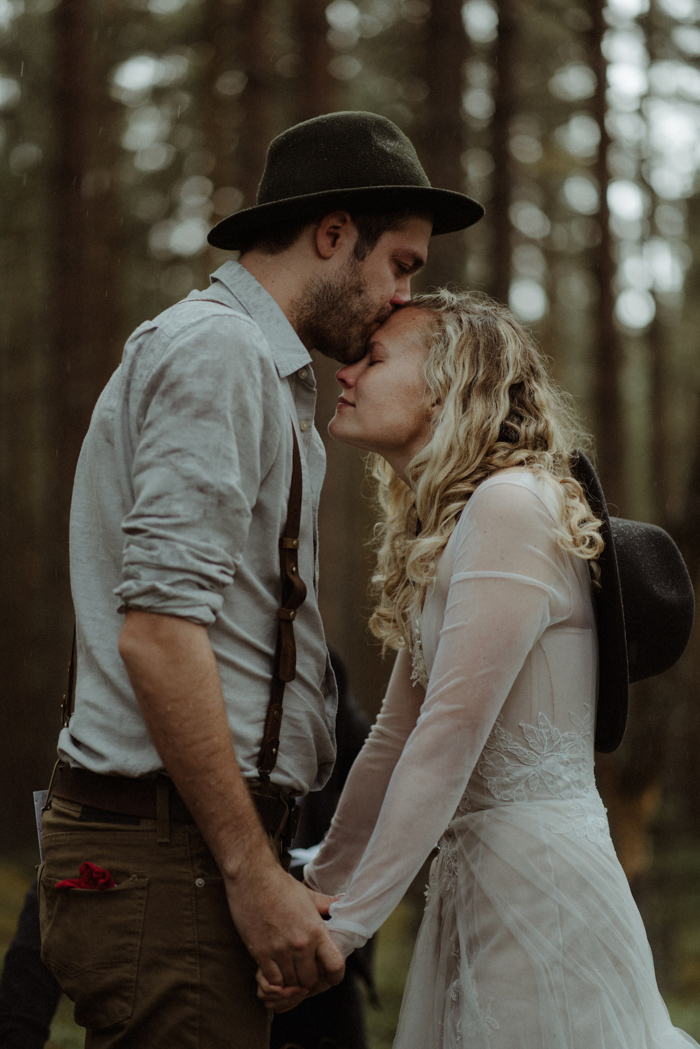 Our best advice is that, if you're eloping, make it easy on your guests. Either hire someone to help or, if you're like me and obsessed with planning travel, spend more time making sure no one has to land at 11 pm in a new country. Give people tons of support — emails with what to remember, how to pack, etc — and then give yourself time to be in the place. Also, weddings get expensive because they can involve a lot of moving parts. It's okay to not DIY something if you'd rather be drinking whiskey with your friends, but it's also okay to tell your mom that you are going to bake your own cake with local plums because you love to bake! Also, spend money on your photographer and on the people who will keep you from being stressed. Stress has been proven to shorten lives. Money doesn't make you immortal.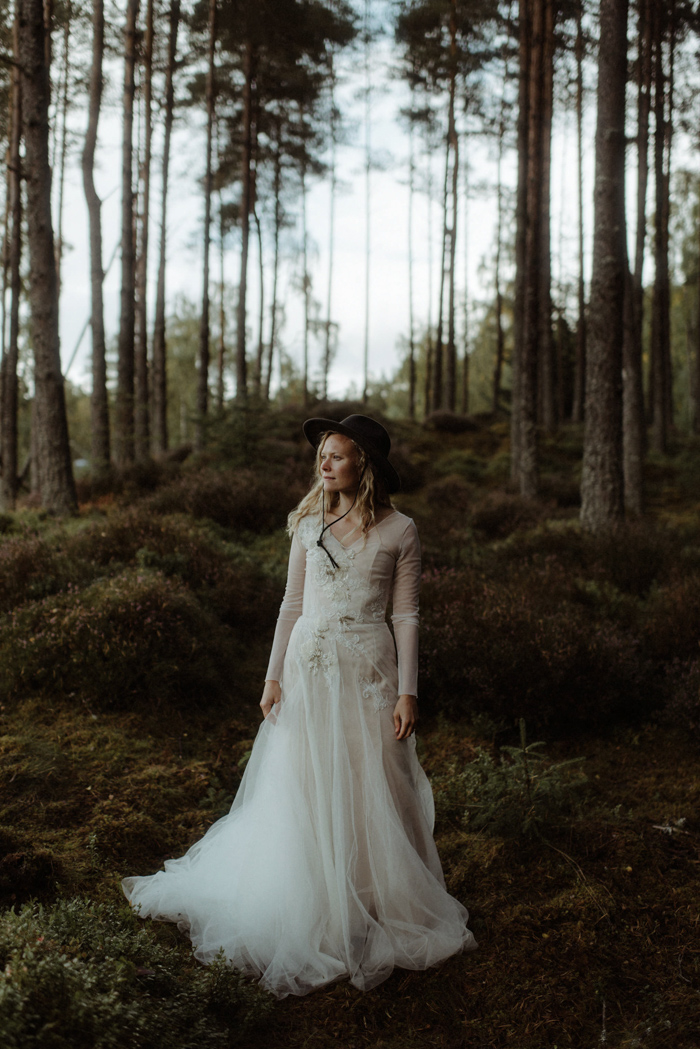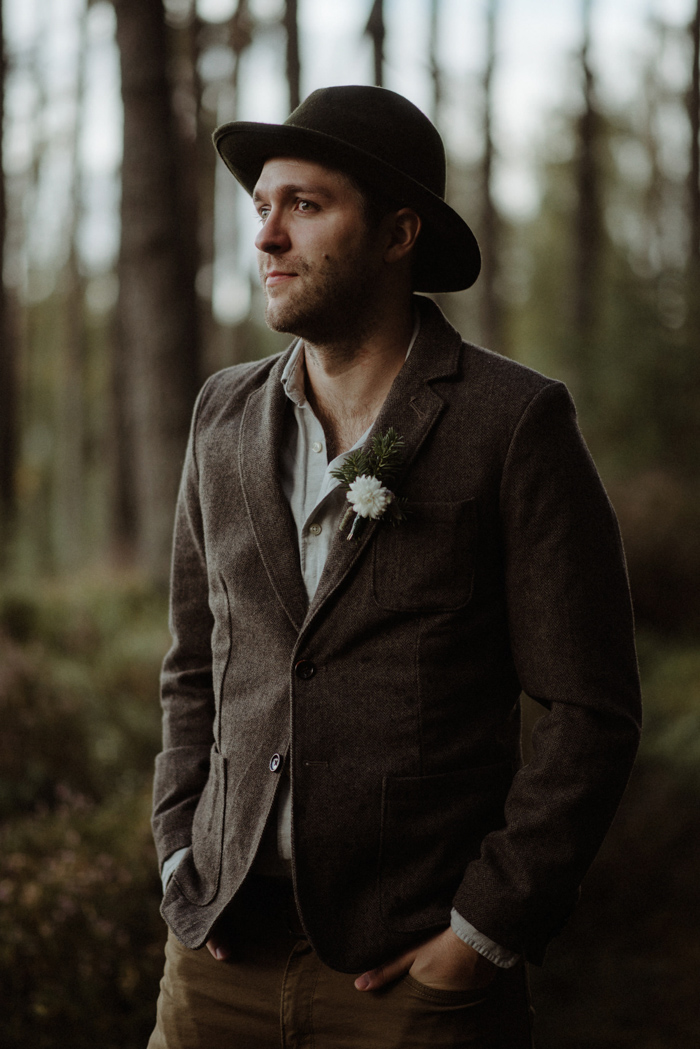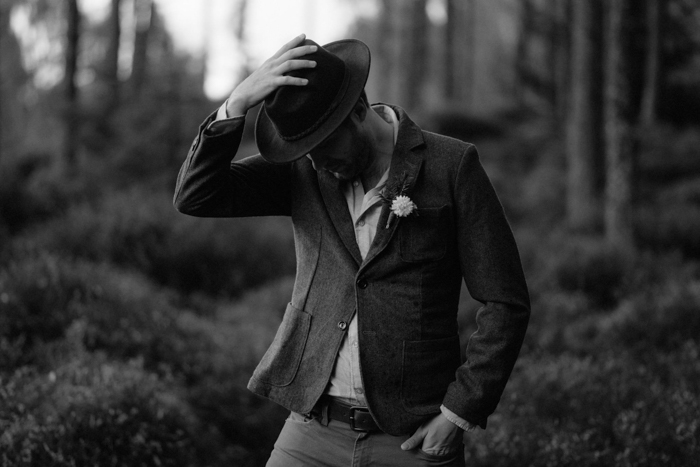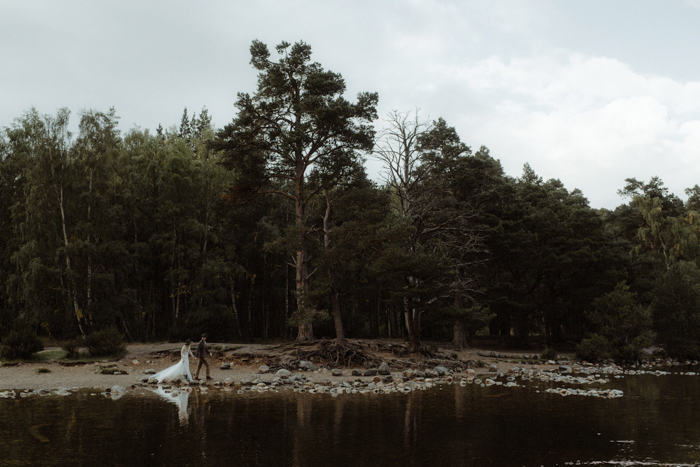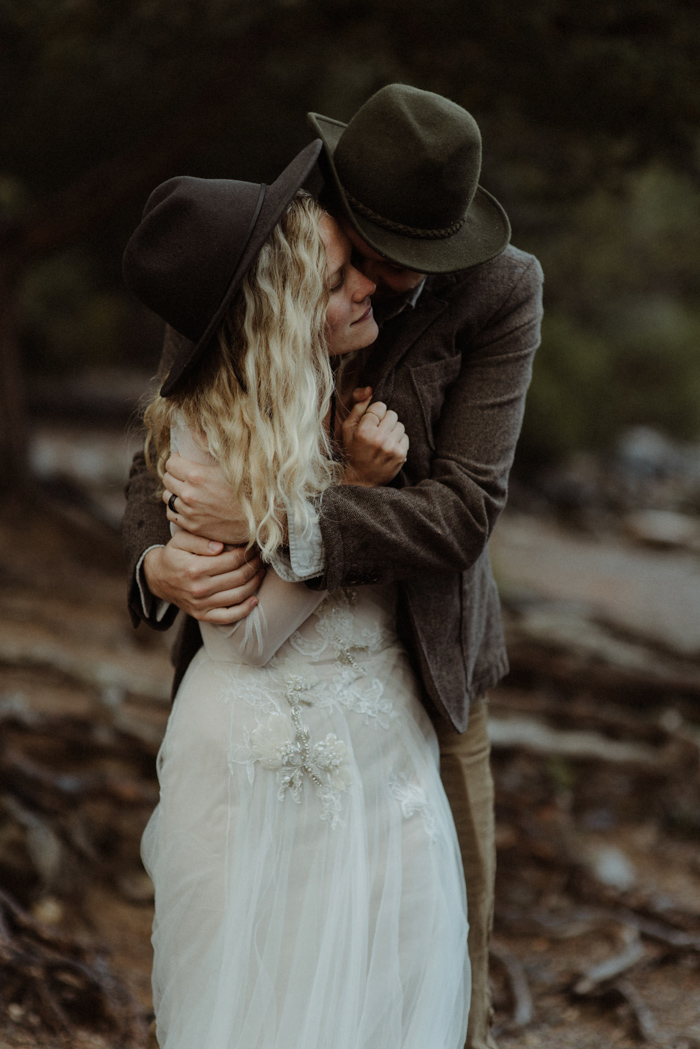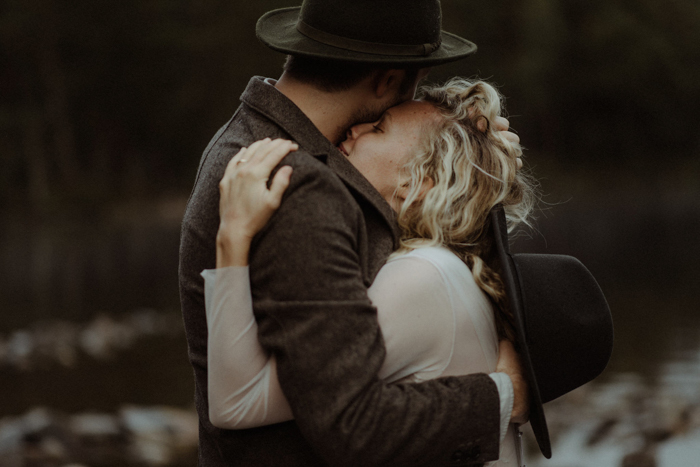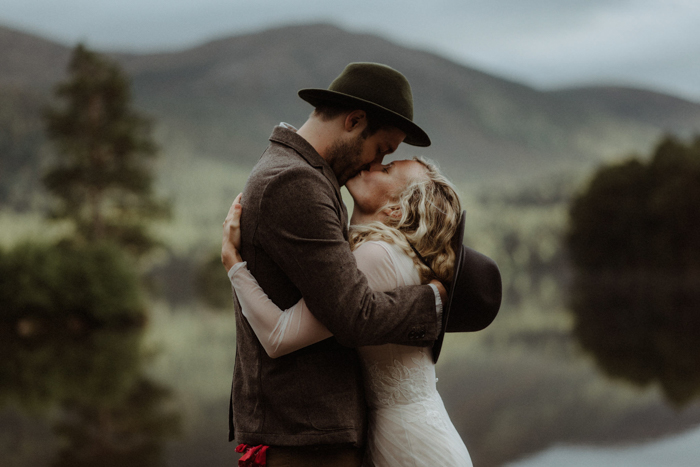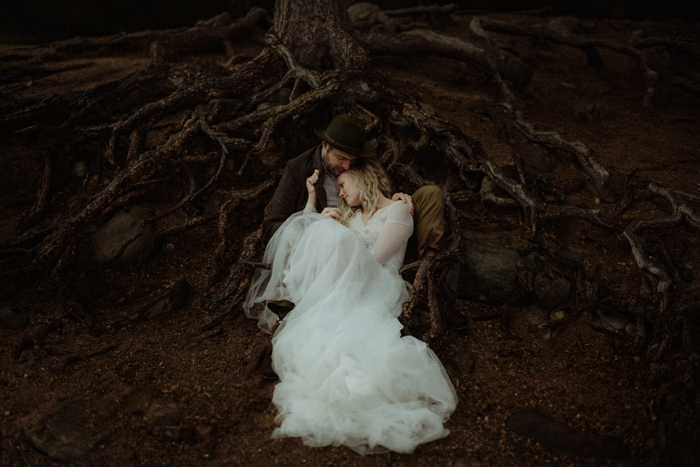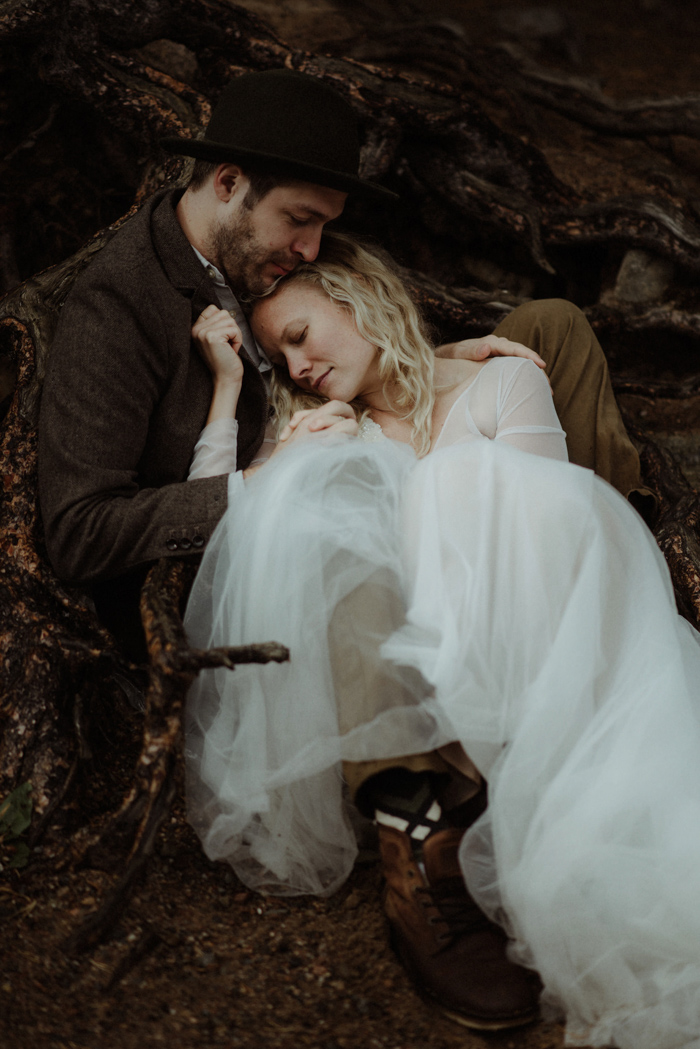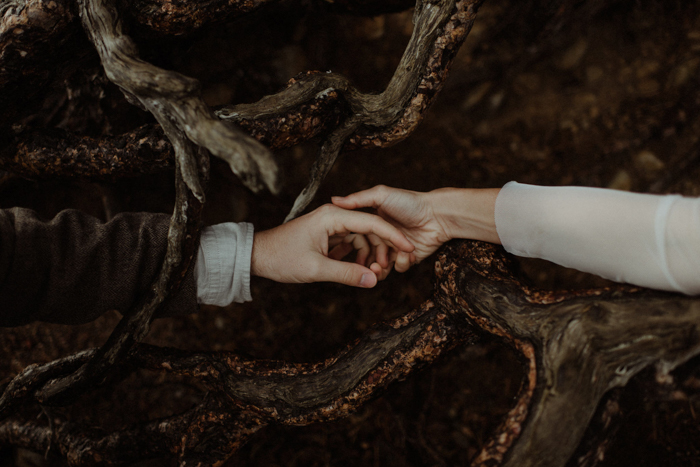 We're kind of dirtbag gypsies who still enjoy a good hot shower, so our wedding vibe just flowed from that. We also knew we wanted to wear fun hats…so we made most of our guests wear fun hats, too!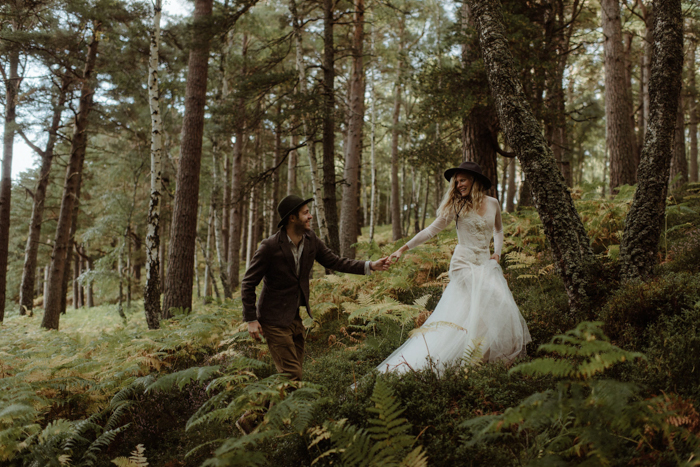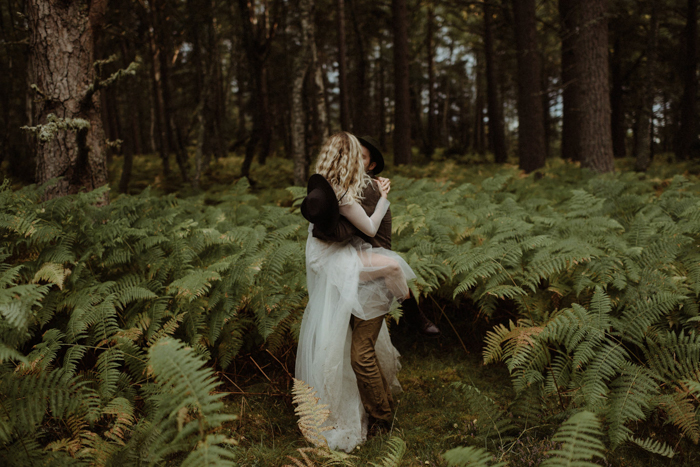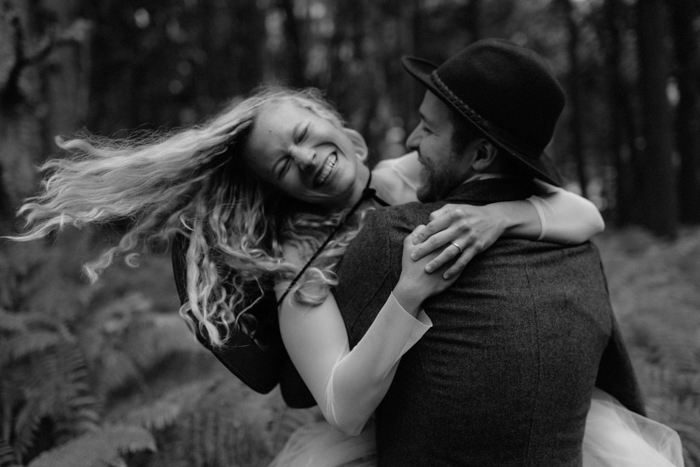 We did not actually have colors per se, but I worked with a local farm, The Teeny Weeny Farm, to determine what florals would be in season and we designed everything around the season. Browns, greens, pops of salmon, and cream made up our palette.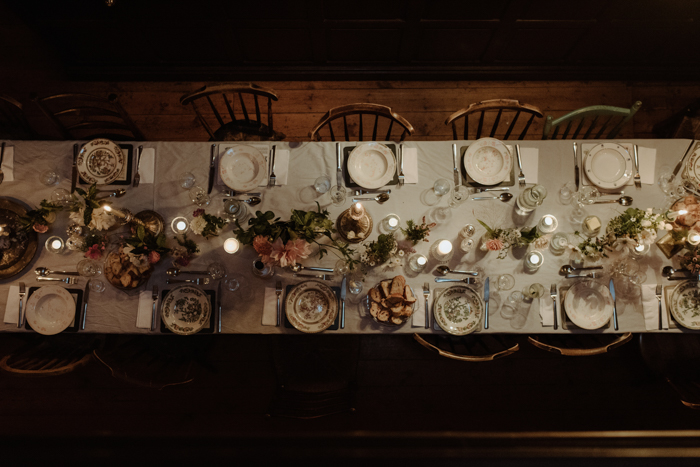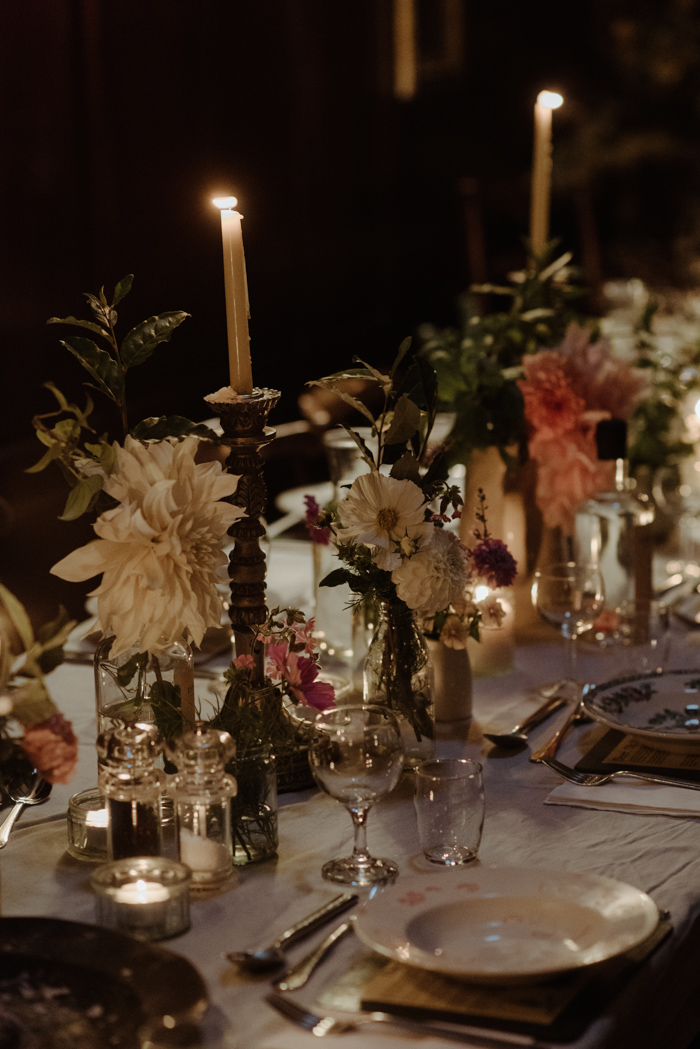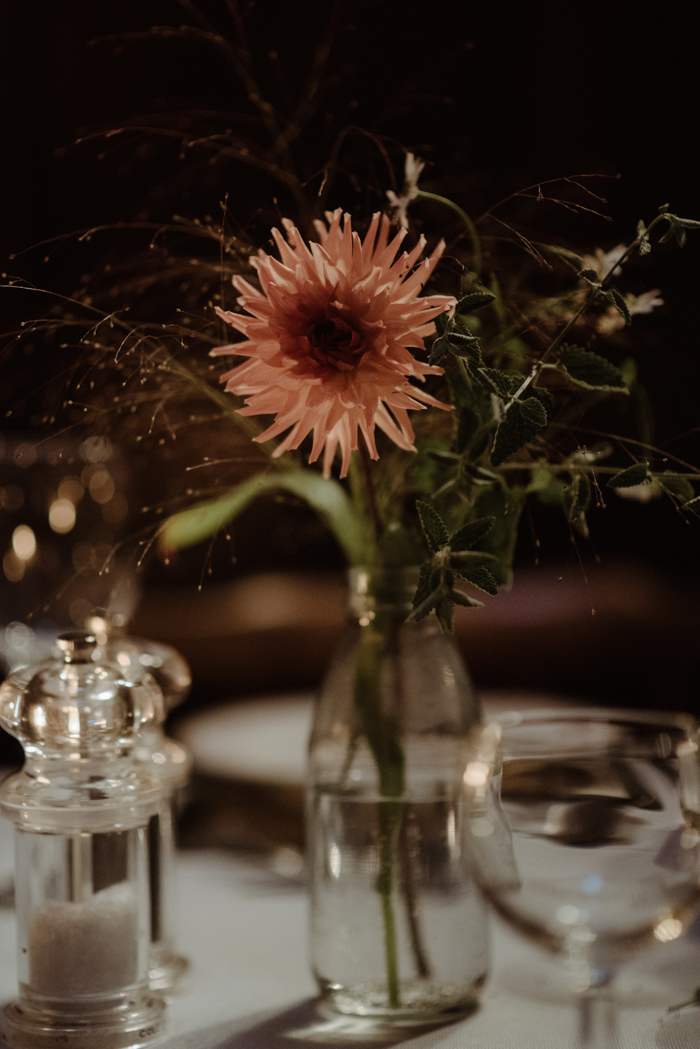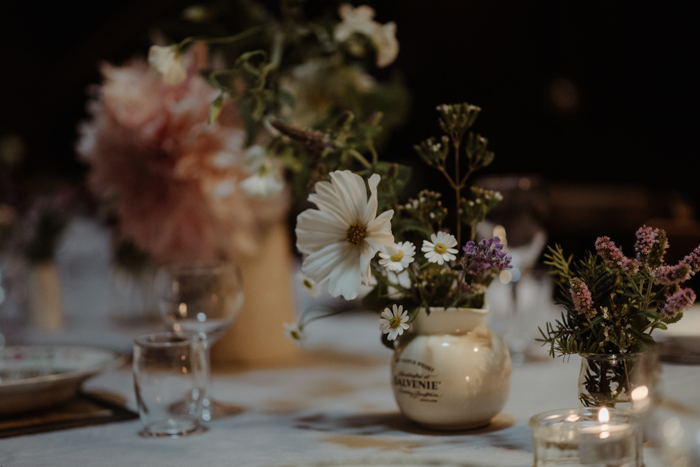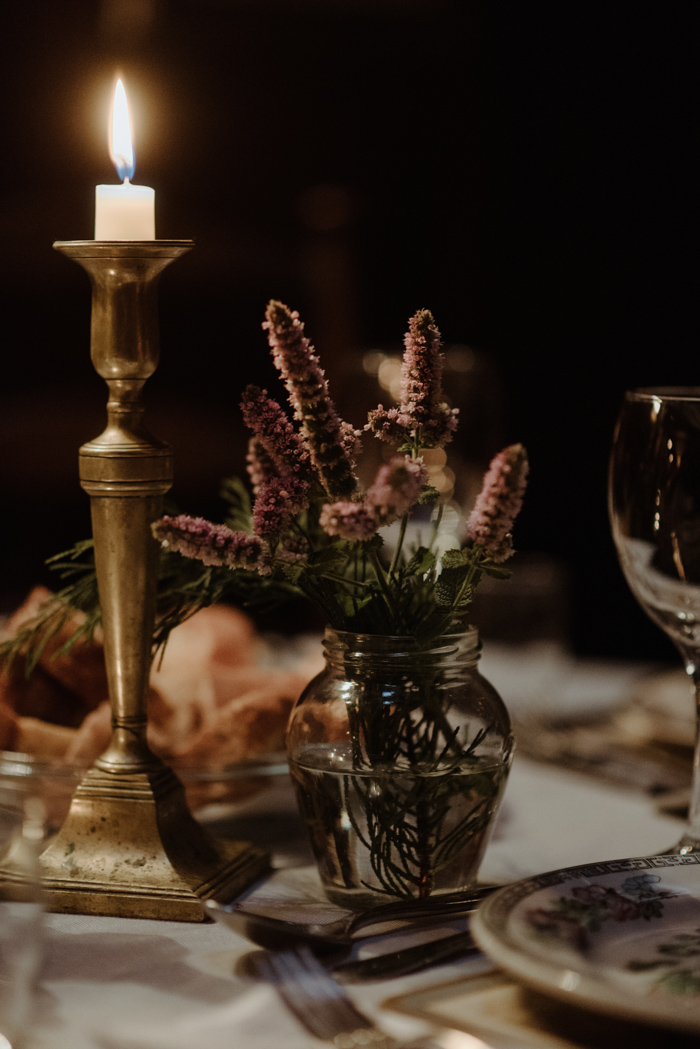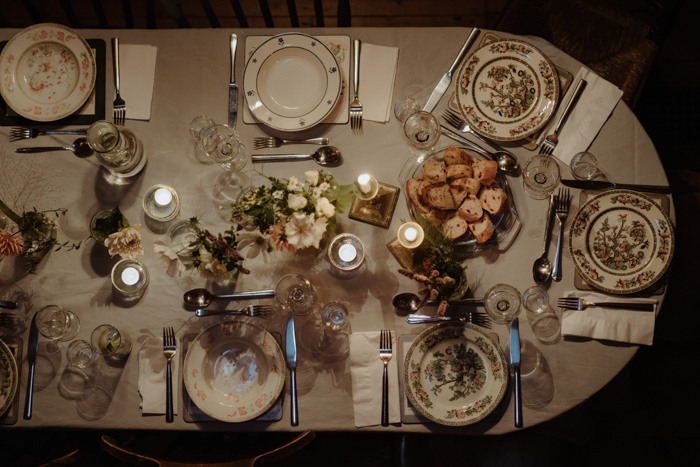 Our biggest congratulations to Jodi and Zach, and an extra special thanks to The Kitcheners for sharing this unforgettable Cairngorms National Park elopement with Junebug! Want to see more from this talented photography duo? We guarantee your jaw is going to drop looking at this incredible Transylvania wedding!