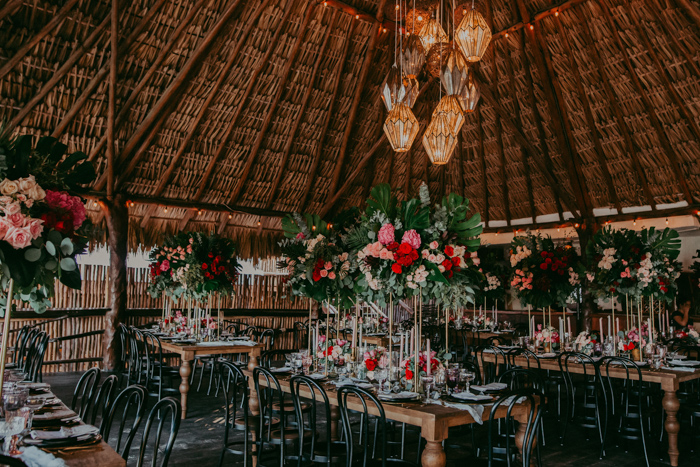 photo by Button Up Photography
As hard as it is to believe, 2020 is just around the corner! And do you know what that means? A whole new crop of incredible wedding themes, of course! Couples continue to get more and more creative each year, putting unique twists on old favorites and elevating current themes to fit a more modern look. From desert chic to tropical opulence (or "tropulence"), these six wedding themes will be everywhere in 2020.
Desert Chic
Desert chic is a perfect theme for boho brides who want to add elegance to a desert landscape. This theme is all about enhancing the natural surroundings with colors that either complement or make a bold statement to stand out. It's a little less Southwest-inspired and more city-inspired but with a totally organic feel.

photos by Sarah Linda Photography, planning by Heartthrob Weddings and Events, venue:The Ruin Venue, floral design by Tropic of Flowers, wedding dress by Rue De Seine and LoversLand, rentals from Signature Party Rentals and Circa Vintage Rentals; see more from this wedding here!

photo by SambaJoy Photo & Art, planning by Wild Heart Events, venue: 29 Palms Inn, floral design by Idlewild Floral, rentals from Folklore Vintage Rentals; see more from this wedding here!
Moroccan
Moroccan has been trending for a very long time, and we're not seeing it slowing down anytime soon! The best part of choosing a Moroccan theme (besides the fact that it's stunning) is that you can really go all-out or keep it subtle. Maximalism is definitely haven't a moment right now, which is ideal for Moroccan themes. But minimalist Moroccan is still very much a thing and is ideal for couples who want a theme without overwhelming their venue.

photos by Tali Photography, planning and venue: Villa Taj Marrakech, floral design by Catherine Villier, wedding dress by One Day Bridal, rentals from Maev Weddings; see more from this wedding here!

photos by Jordan Voth Photography, planning by Crosby & Jon, venue: Rancho Las Lomas, floral design by Soiree Floral Design, wedding dress by Galia Lahav, rentals from Archive Rentals; see more from this wedding here!
California Cool
California cool can mean so many different things to different people. So, for 2020 weddings, we're seeing California cool as fresh and elegant. Elegant winery settings, all-white weddings attire and decor, and luxurious floral designs are all part of creating this look. So, it's elegant without all the fuss.

photos by Anna's Photography, planning by So Eventful, venue: Viansa Winery, wedding dress by Ines Di Santo, rentals from Encore Events; see more from this wedding here!

photos by Britt Crowe, planning and floral design by Hitched Planning + Floral, wedding dress by Anomalie; see more from this wedding here!
Wanderlust
When we say a "wanderlust" themed wedding, we don't just mean adding travel-inspired decor. (That is, of course, a beautiful option that we still love!) The wanderlust theme for 2020 will be less about the decor and more about embracing an epic locale. Think weddings on cliffs, overlooking mountains, or in the heart of downtown city streets. These are the weddings that, when you see photos, instantly make you want to jump on a plane to anywhere. It speaks to the experiences-over-materials trend that's growing in every aspect of life, and it's definitely producing some seriously swoon-worthy weddings!

photos by Lighthouse Photography, planning by Santorini Glam Weddings, reception venue: Kamares Apartments, floral design by Betty Flowers Santorini, wedding dress by Grace Loves Lace, arch rental from Weddings & Whimsy; see more from this wedding here!

photos by Nisha Ravji Photography, ceremony venue: The Medici Fountain, reception venue: Ellsworth, floral design by L'Artisan Fleuriste, wedding dress by Grace Loves Lace, groom's apparel by De Fursac; see more from this wedding here!
'70s Rock and Roll
Don't worry, retro weddings are still very much a thing! But couples are adding a rock and roll edge to their '70s-inspired weddings, and we are here for it! In addition to retro palettes, they are combining vintage and country decor, nudie and leather details, and classic elements to evoke this golden era of time and music.

photos by Sarah Murray Photography, venue: Buxton Hall, floral design by Springvine Design, wedding dress by Morgane Le Fay, bridal party jackets by Rusty Cuts, groom's apparel by Union Western Clothing, rentals from East West Vintage and East Fork; see more from this wedding here!

photos by Hana Alsoudi Photography
Tropical Opulence aka Tropulence
You heard it here first: tropical opulence is going to be such a huge trend for weddings in 2020 that it needed its own word! So, what is tropulence exactly? It's luxurious and lavish with a tropical twist. So, while the organic and natural feel of boho tropical weddings will never go out of style, tropical opulence takes it one step further with gold accents, lush florals, and luxurious textures.

photos by Button Up Photography

photos by Kathrin Krok Photography, Tracy Krapf, venue: Wolkenburg, floral design by Shabby Chic Events, wedding dress by Eddy K; see more from this wedding here!
Looking for more planning advice and decor inspiration? We've got all the best wedding planning articles right here!