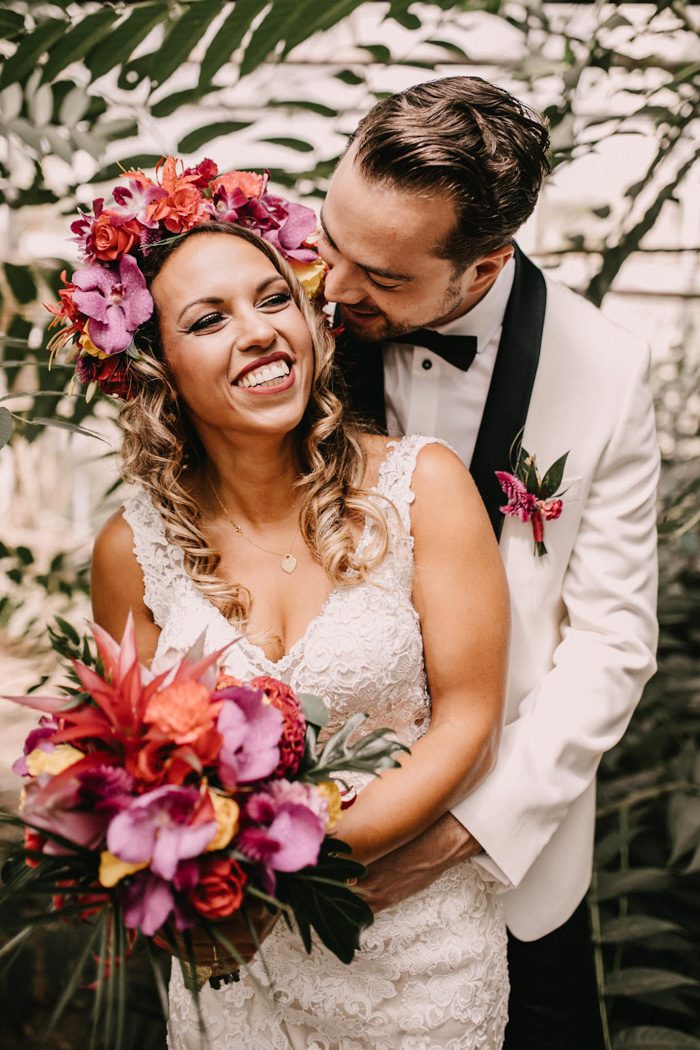 We've seen quite a few Gatsby-inspired weddings in our days, and the tropical twist Tracy and Michael put on their big day at Wolkenburg is one of our favorites! The bride, who designed and planned the entire affair, laid the foundation with glamorous 1920s black, white, and gold decor then layered on Brazilian-inspired flair with vibrant pink, coral, purple, and yellow florals from Shabby Chic Events. Their outdoor pavilion ceremony was picture-perfect with palm trees, gold pineapples, a lush floral backdrop, and a vintage velvet couch. Their indoor reception was the epitome of Gatsby glam with gold place settings, larger-than-life centerpieces, and tropical birds suspended over every table. Kathrin Krok Photography had her work cut out to capture every intricate detail of this wedding, and she totally nailed it!
The Couple:
Tracy and Michael
The Wedding:
Wolkenburg, Cologne, Germany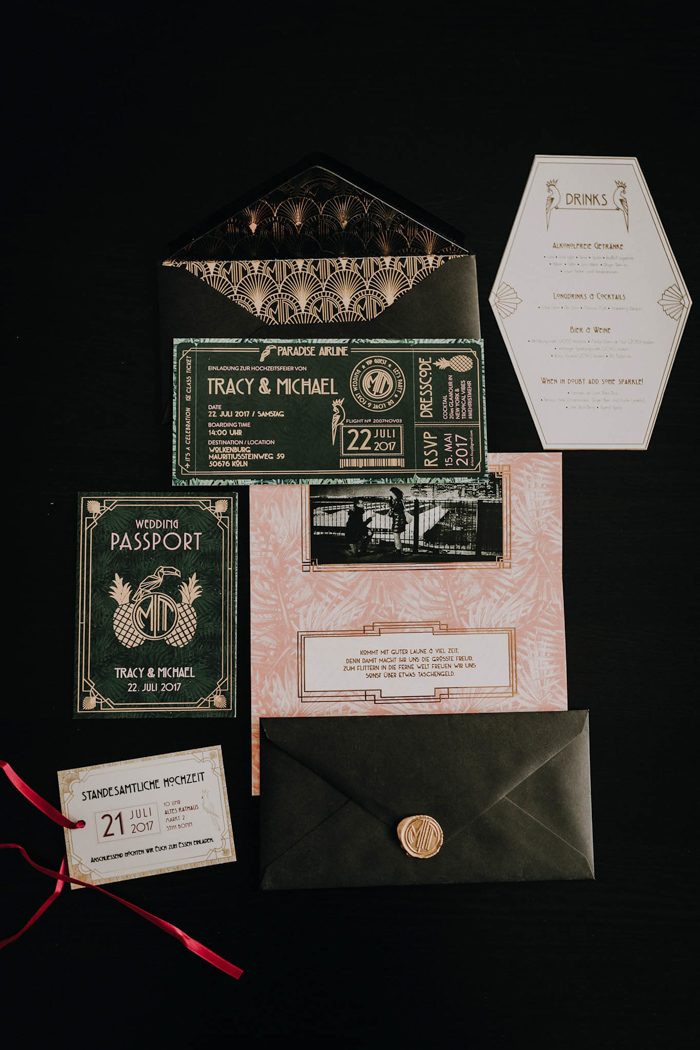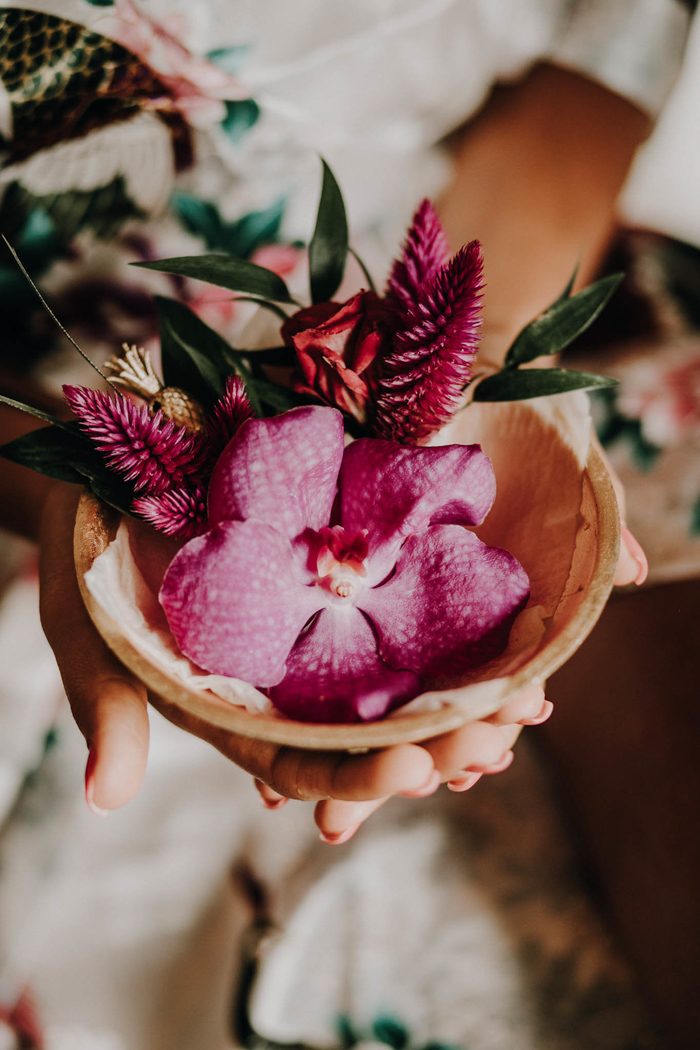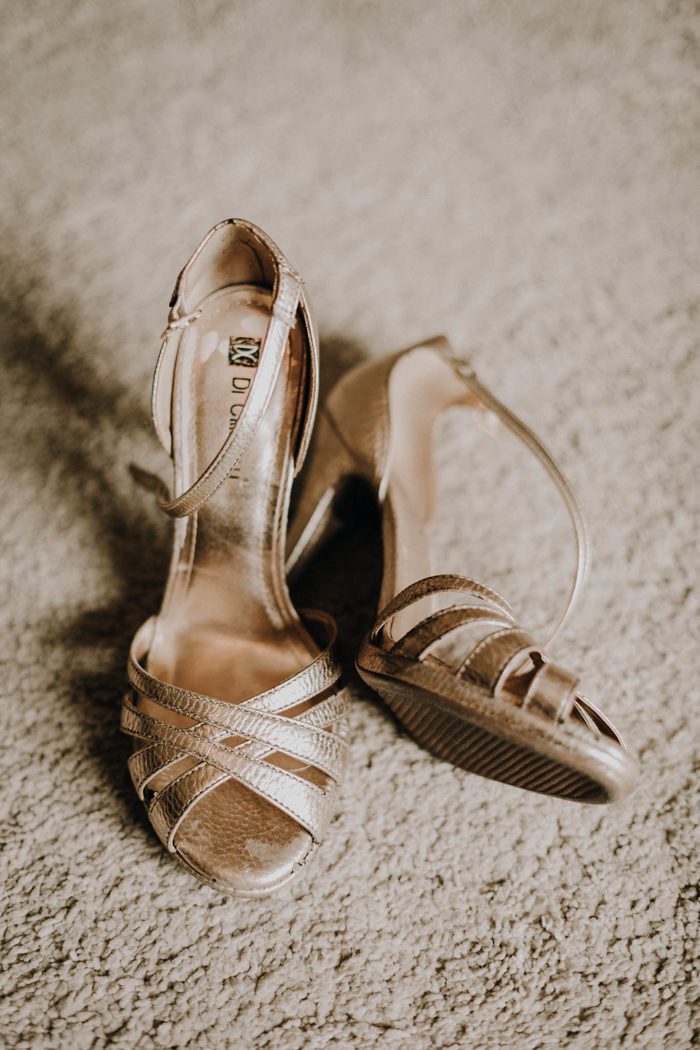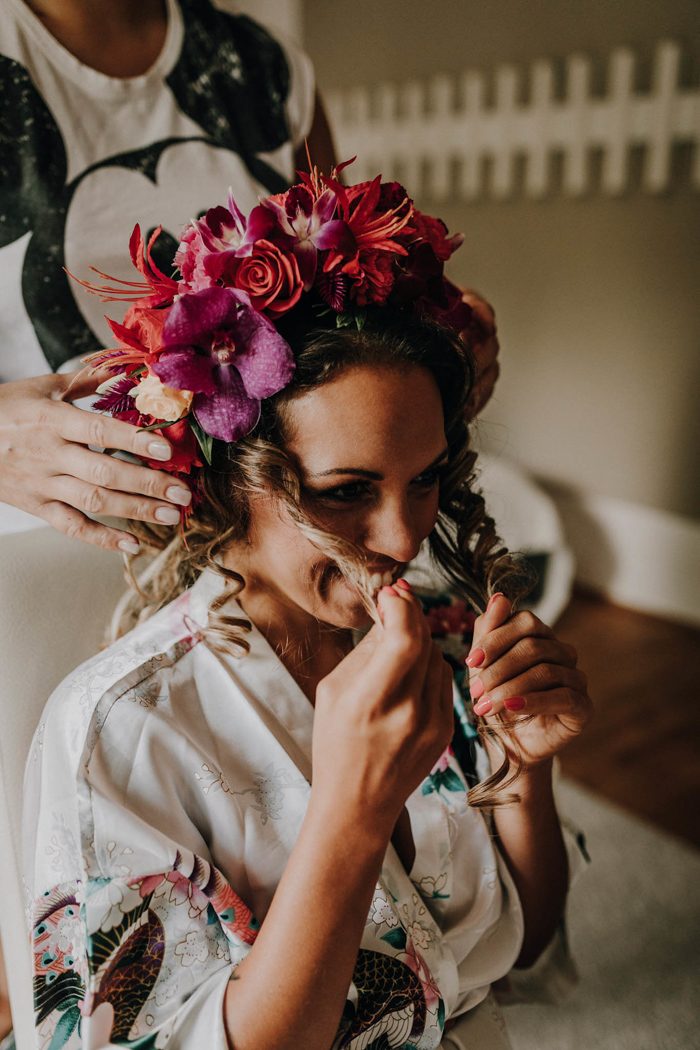 For us, the most important thing was to plan a wedding that represents our love for each other, for our family, for our friends. A wedding that brings out our personalities and our attitude towards life. A wedding that suits us as a couple. That's why we planned so much detail! Our vision was to create a very unique ceremony that can't be found as a theme on Pinterest or in any wedding planning catalogue.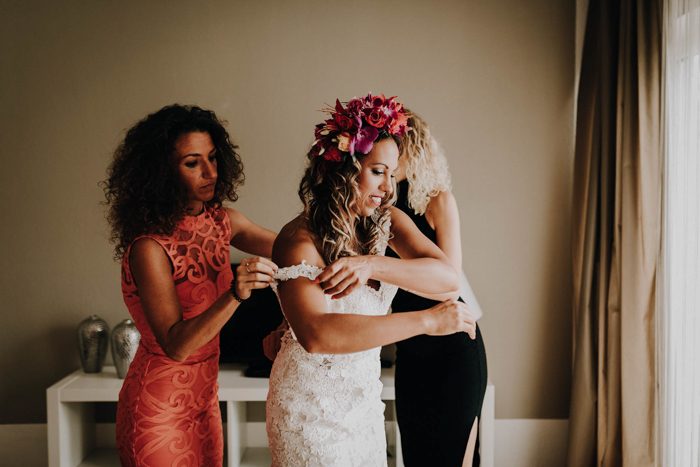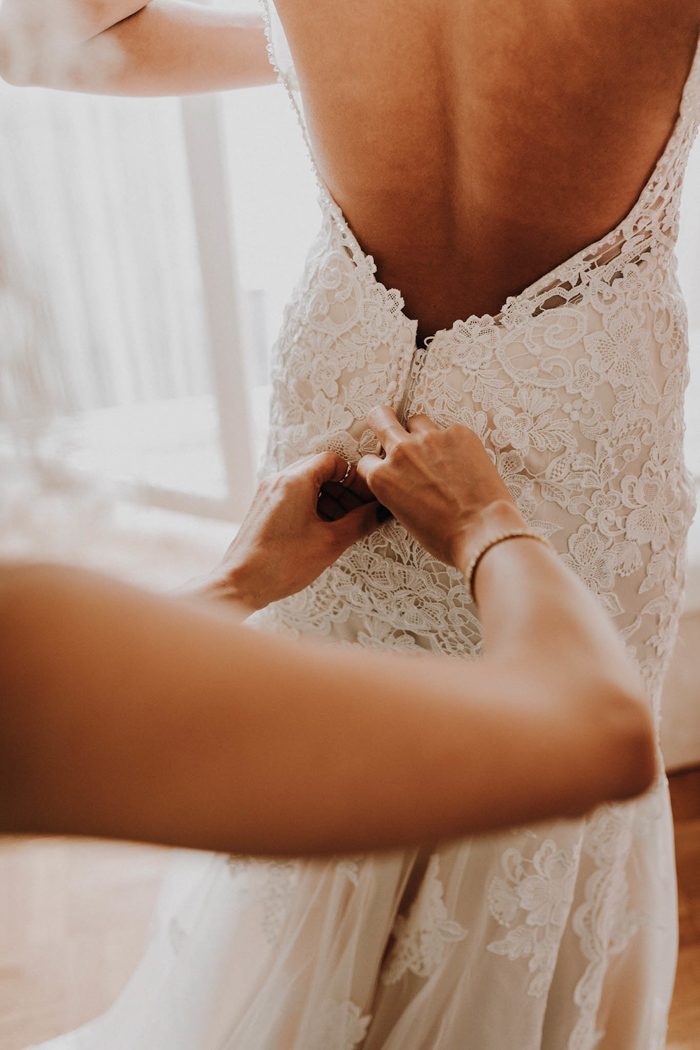 Michael proposed to me in New York. Afterwards we went to a restaurant to celebrate our engagement. When we sat down to eat they played "New York, New York" by Frank Sinatra. From that moment, we knew that we wanted to have some New York vibes. My husband Michael preferred some old glamour, noble colors. So we added the Gatsby elements: a lot of gold, black, and white as a classic combo. We didn't want a costume party but that glamorous feeling of the time.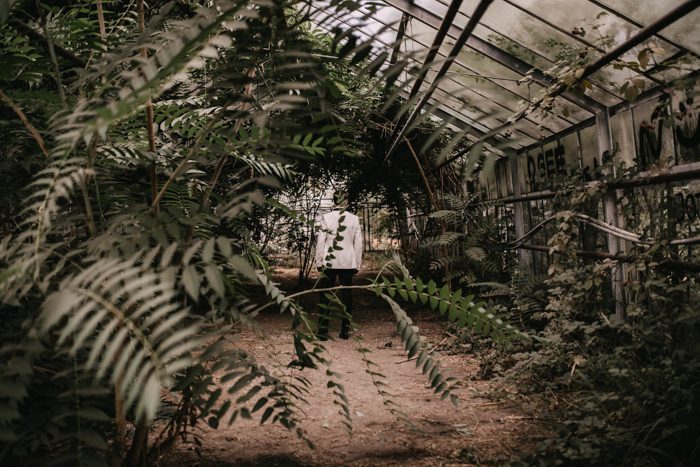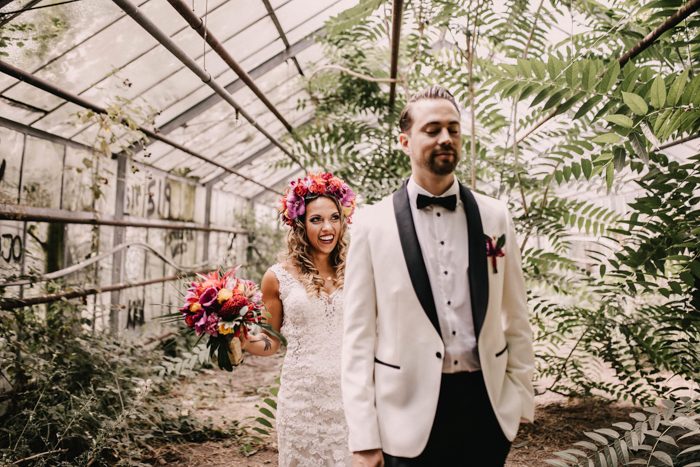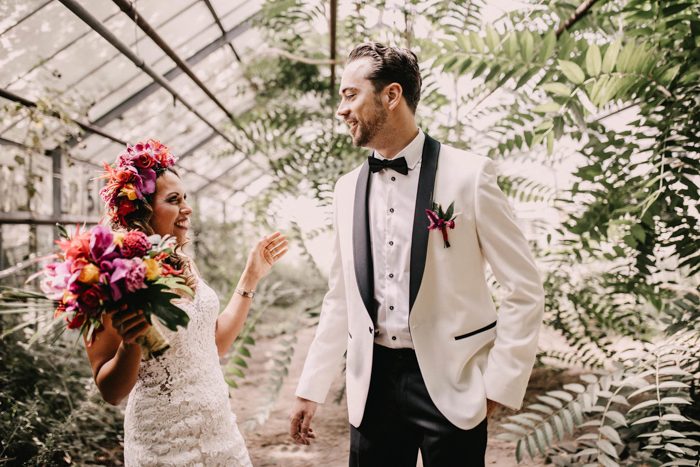 As a half Brazilian, I love exotic and tropical elements that remind us of the joy of life. The joy of love, of having beloved people in our lives. I'm a palm tree lover (also have one tattooed on my arm) and we both love to explore the world. Our favorite travel destinations are sunny and tropical getaways, like Maldives, Brazil, Hawaii, Australia, Bali, or Thailand. So that's why we planned a lot of tropical vibes and travel themes to be in our wedding.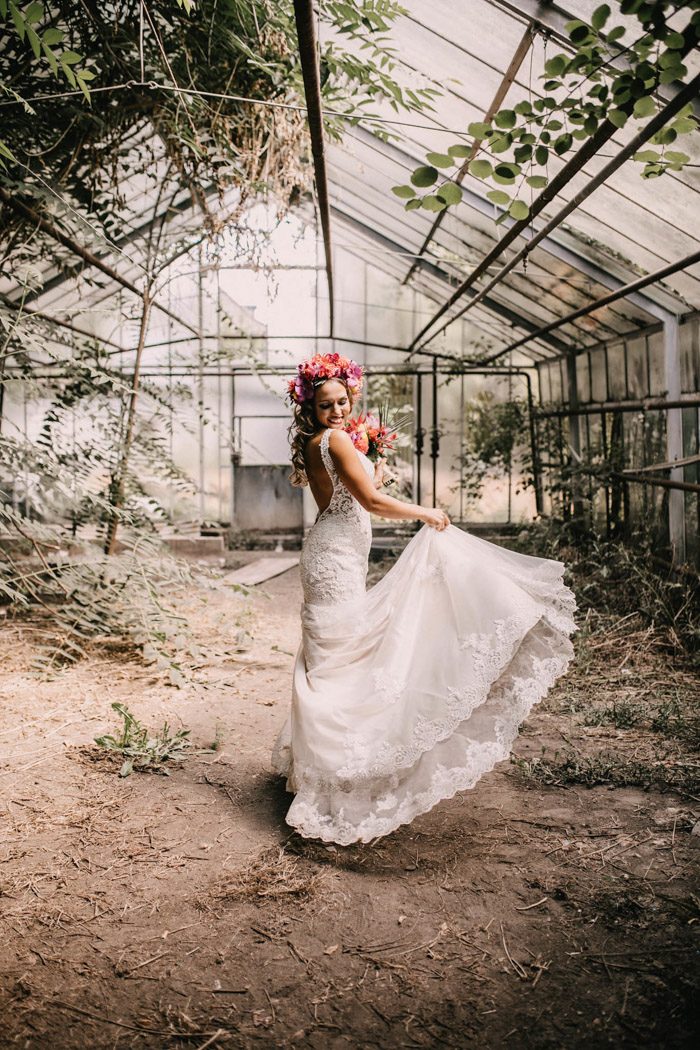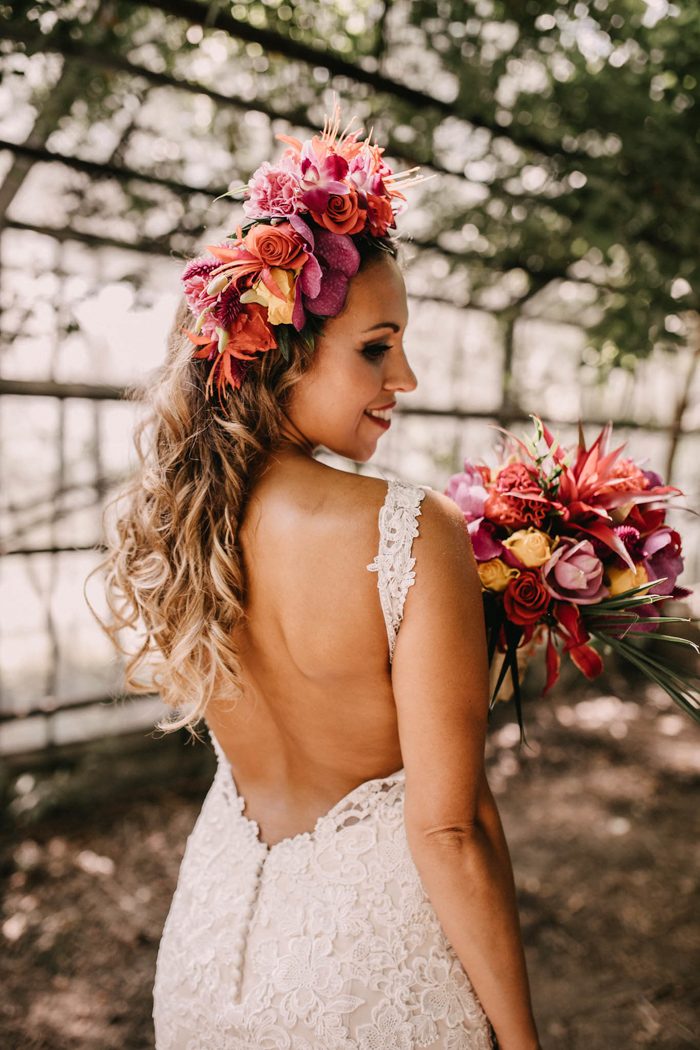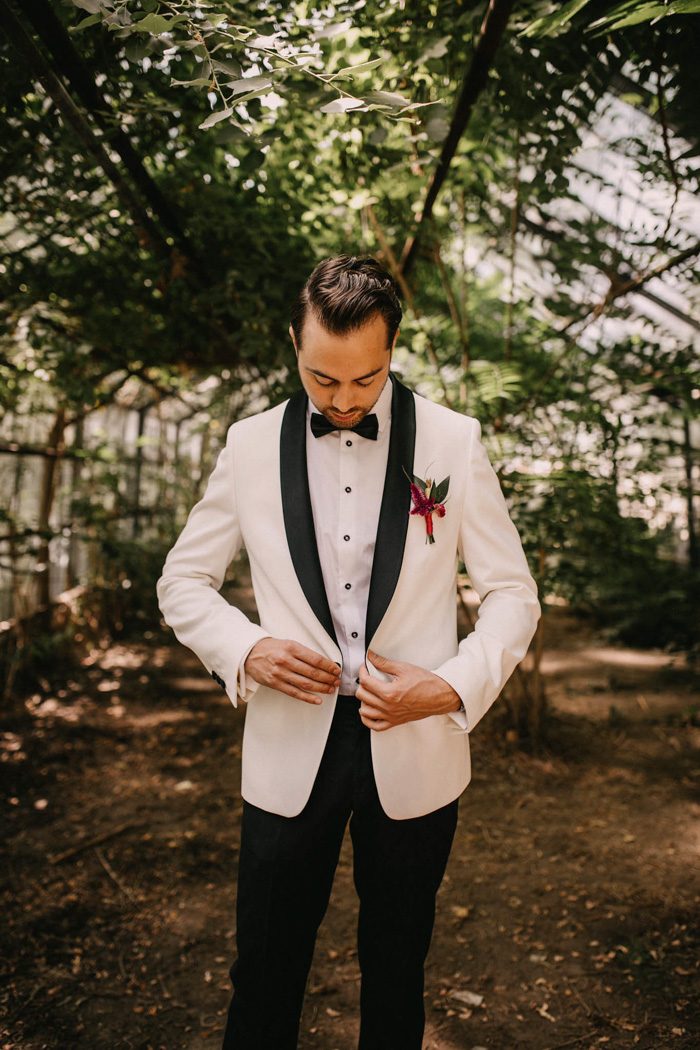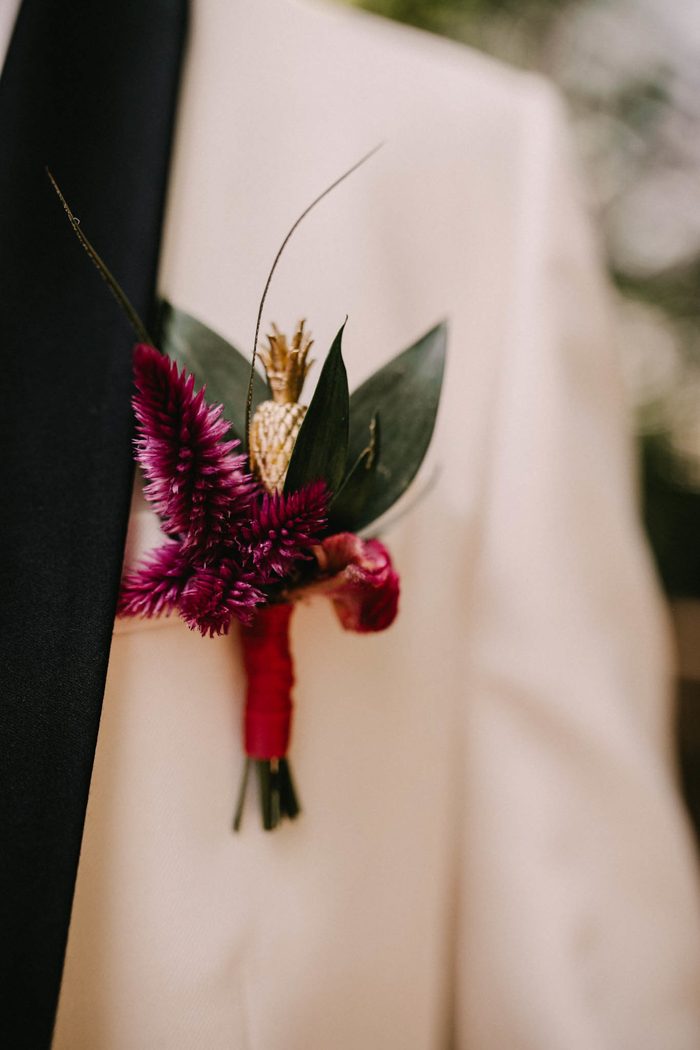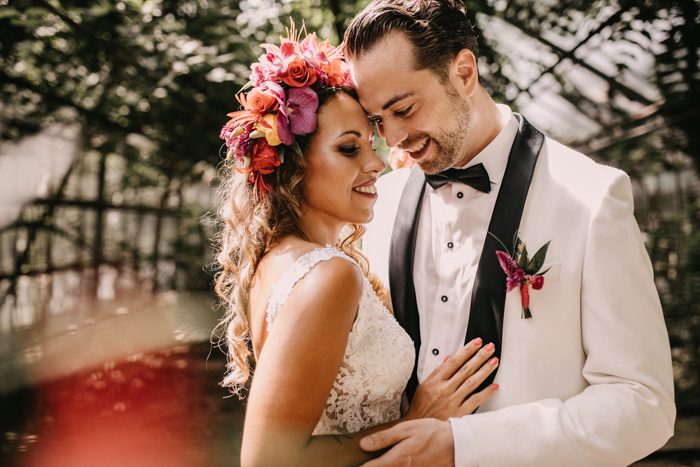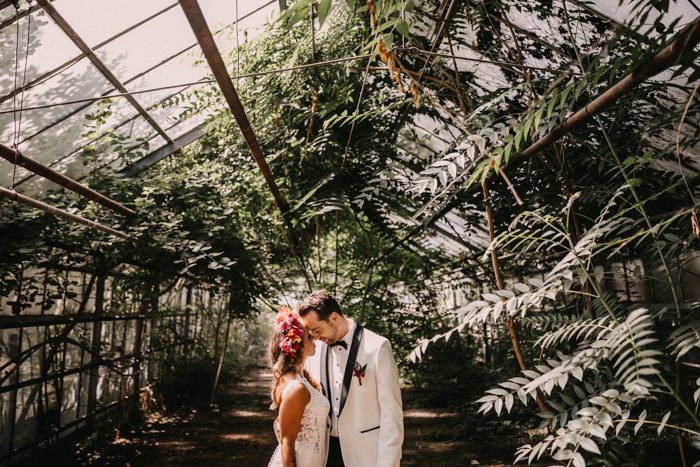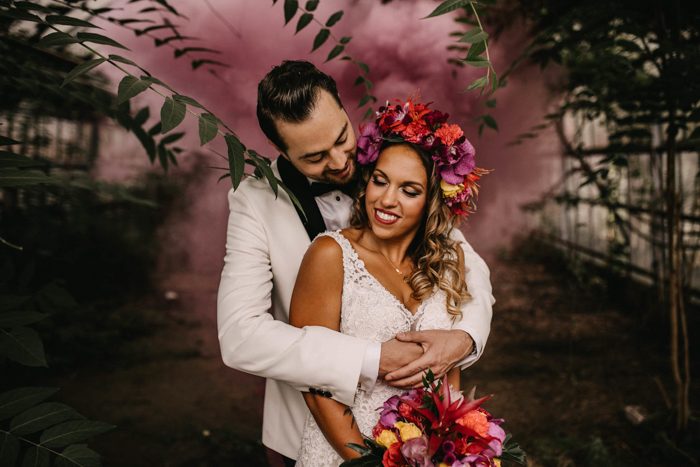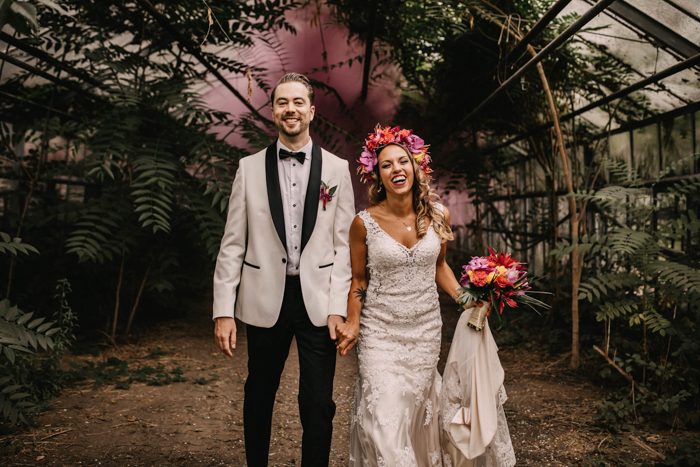 We planned so much but never imagined our wedding would be so emotional! I was overwhelmed by all the warm-hearted energy and my luck marrying my soulmate. Karo Fruhner sang "At Last" by Etta James while accompanying herself on the piano. When the gate opened, I wasn't prepared for such a wonderful moment. I couldn't see any guests at all — only the white carpet, palm trees to my left and right, and Michael waiting at the end of the aisle. My joy, my love for him, the beautiful song, and all my positive feelings overcame at that moment and moved me to tears. I will never forget that moment!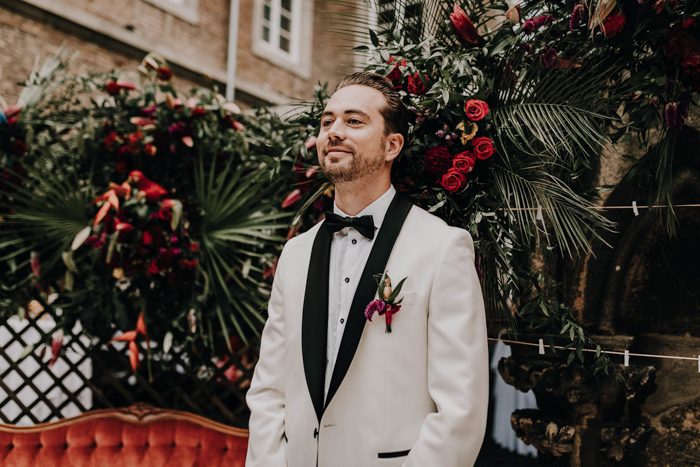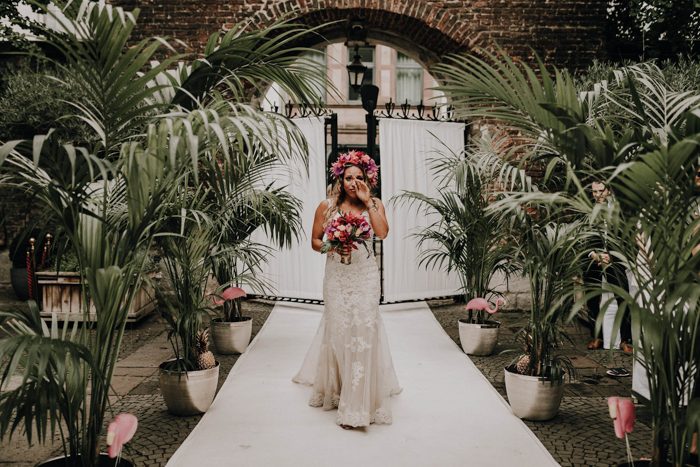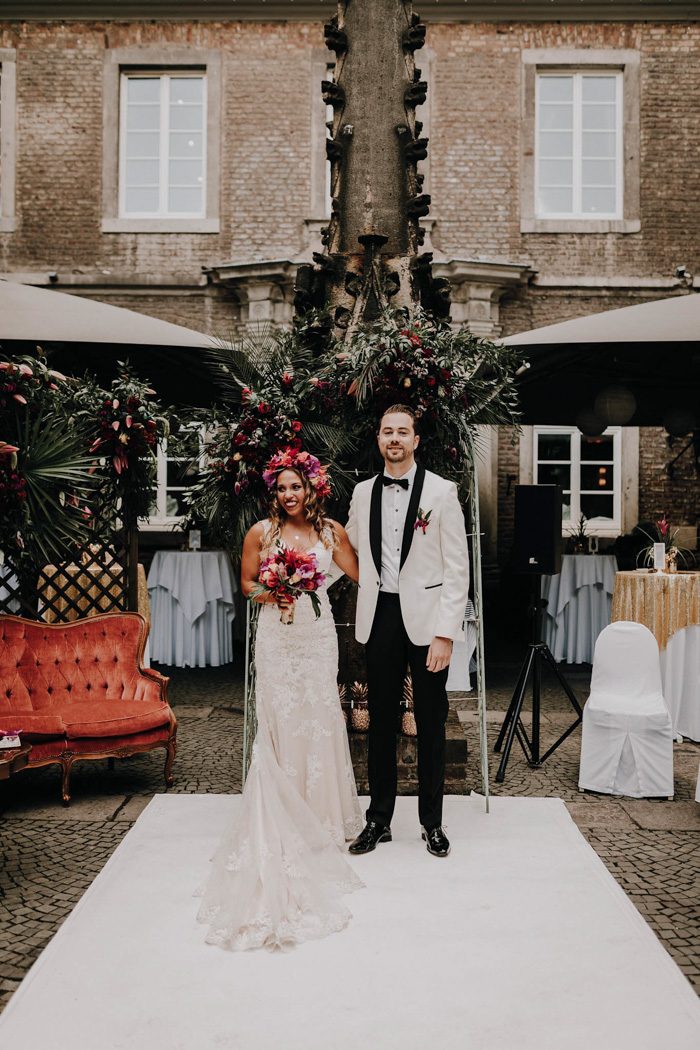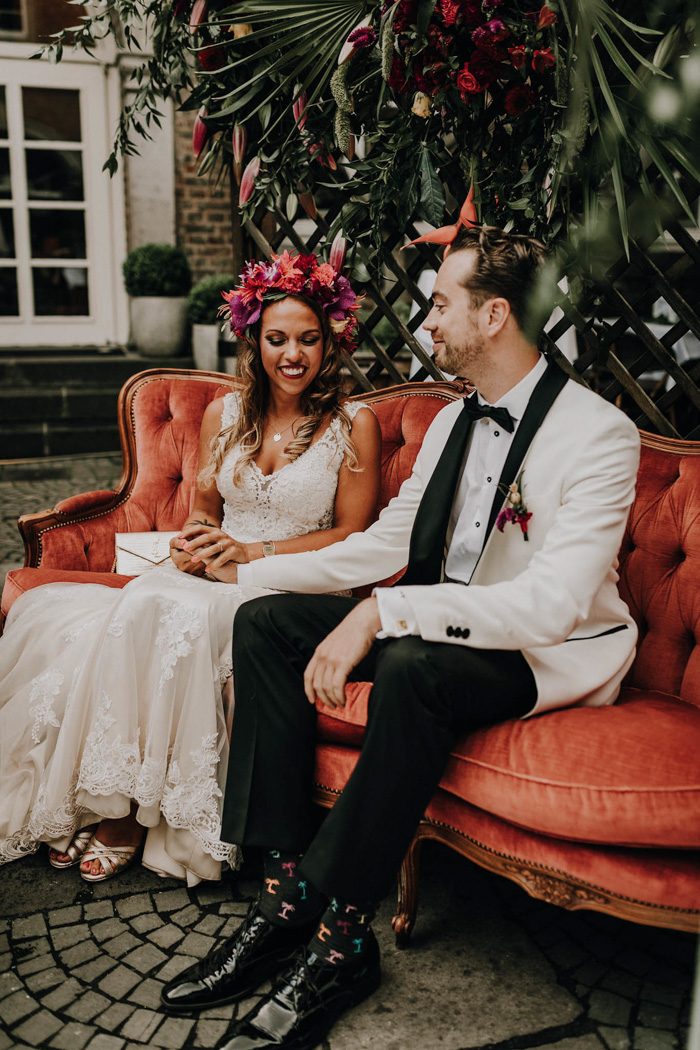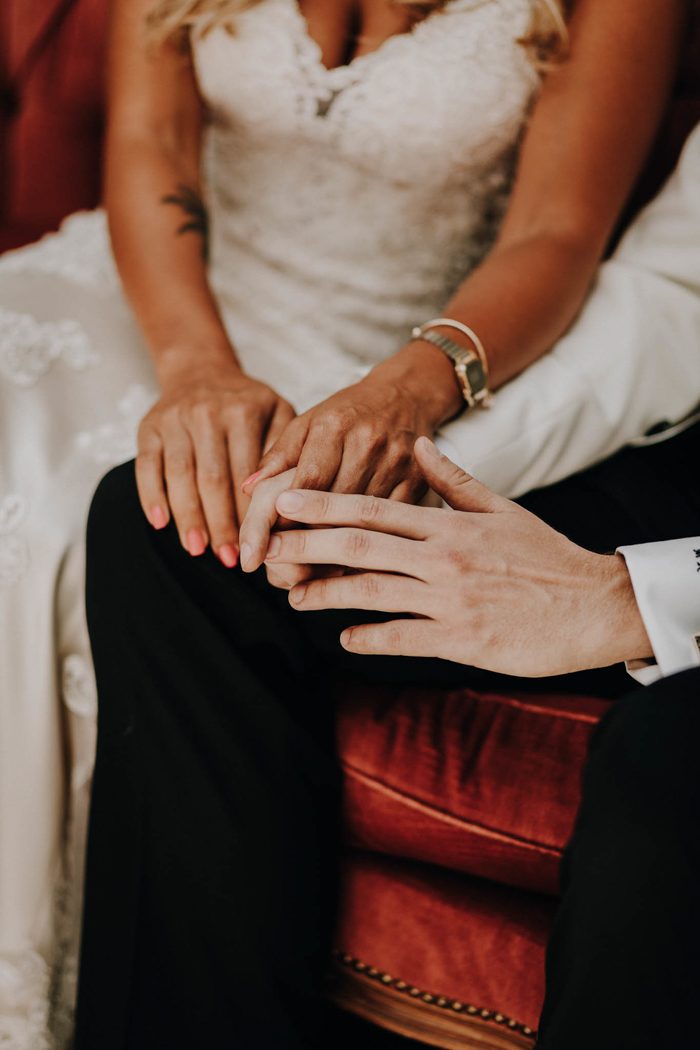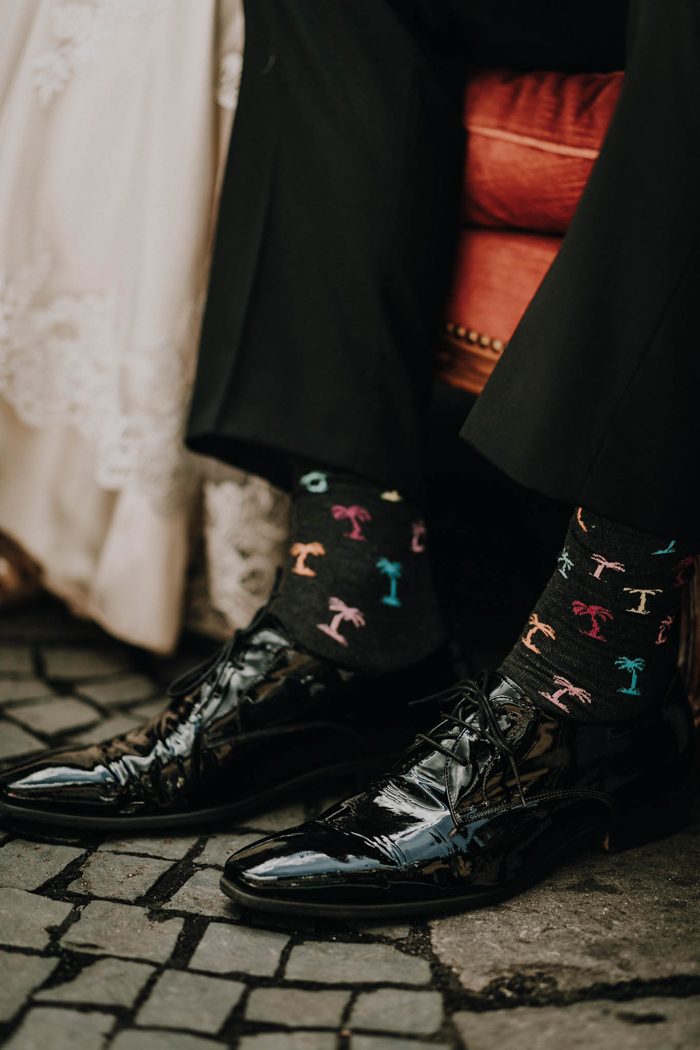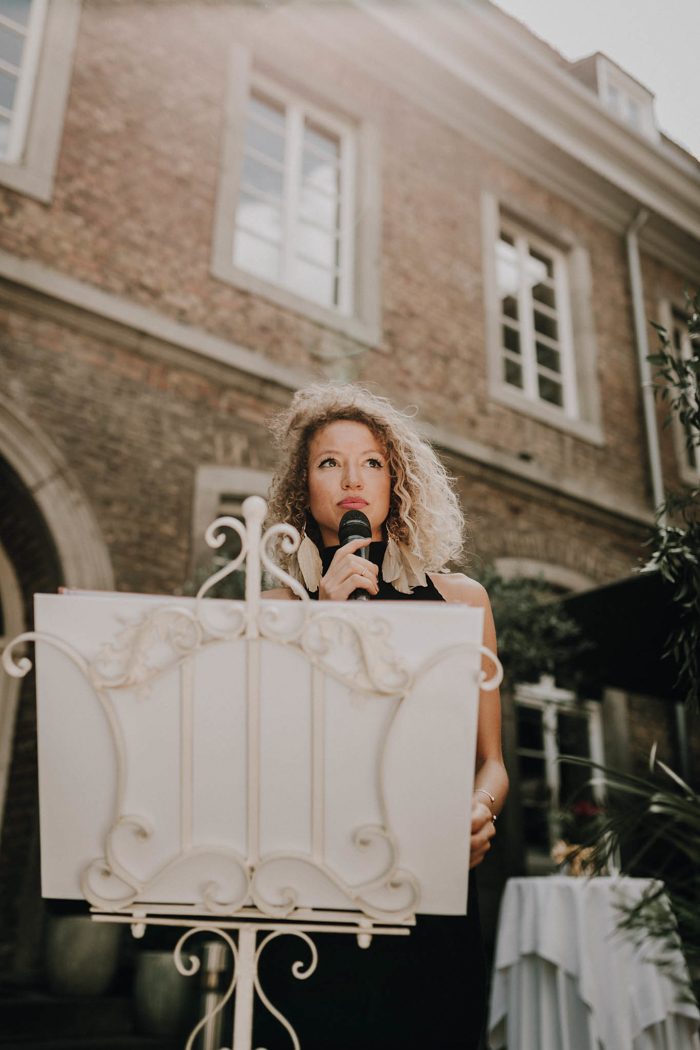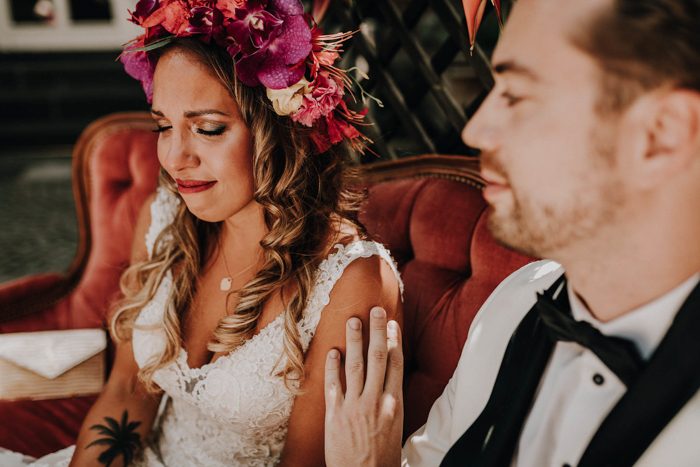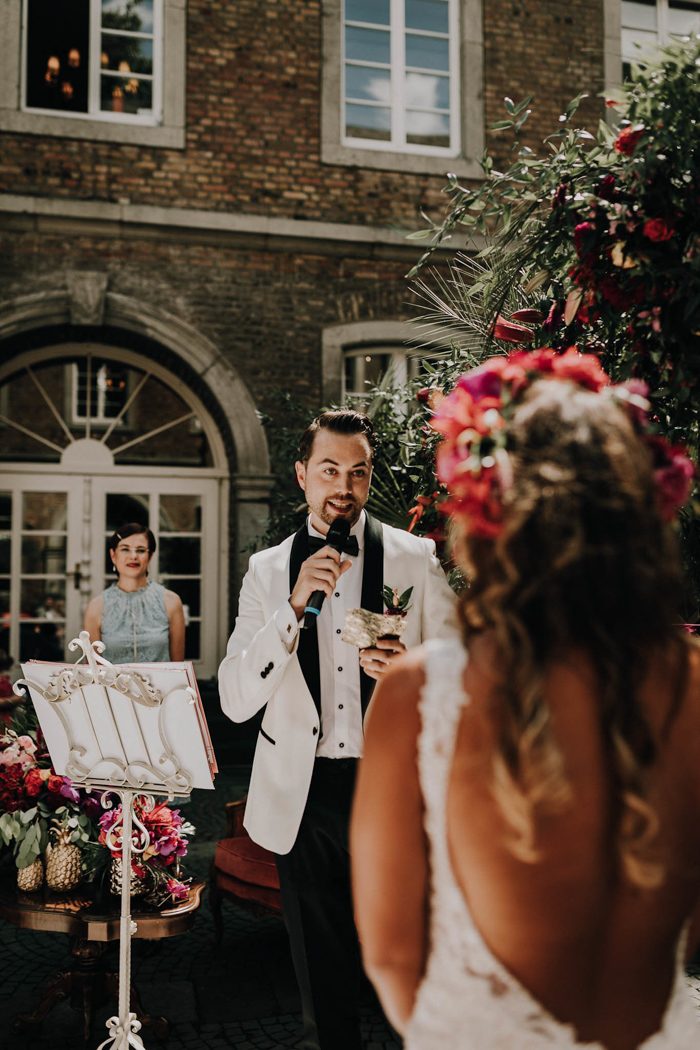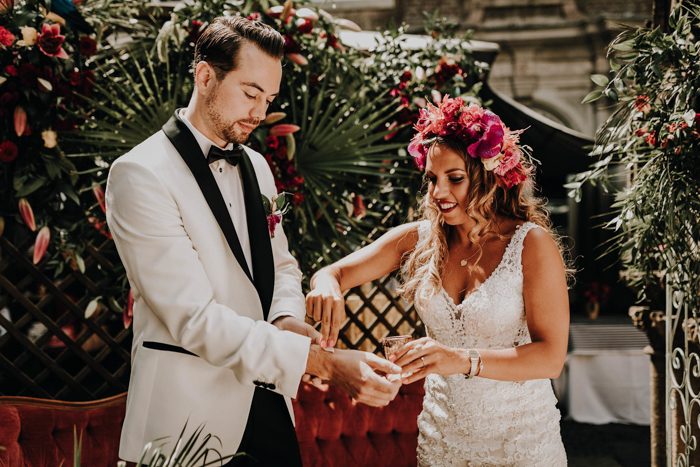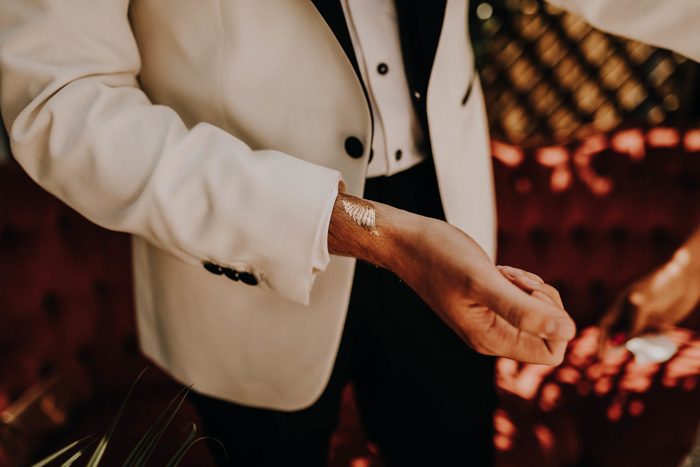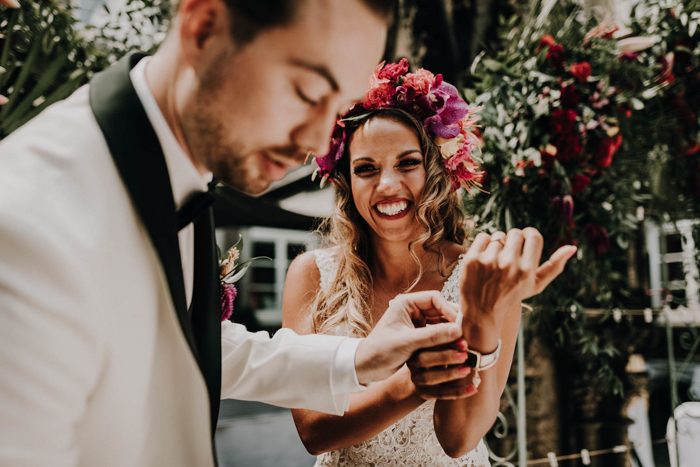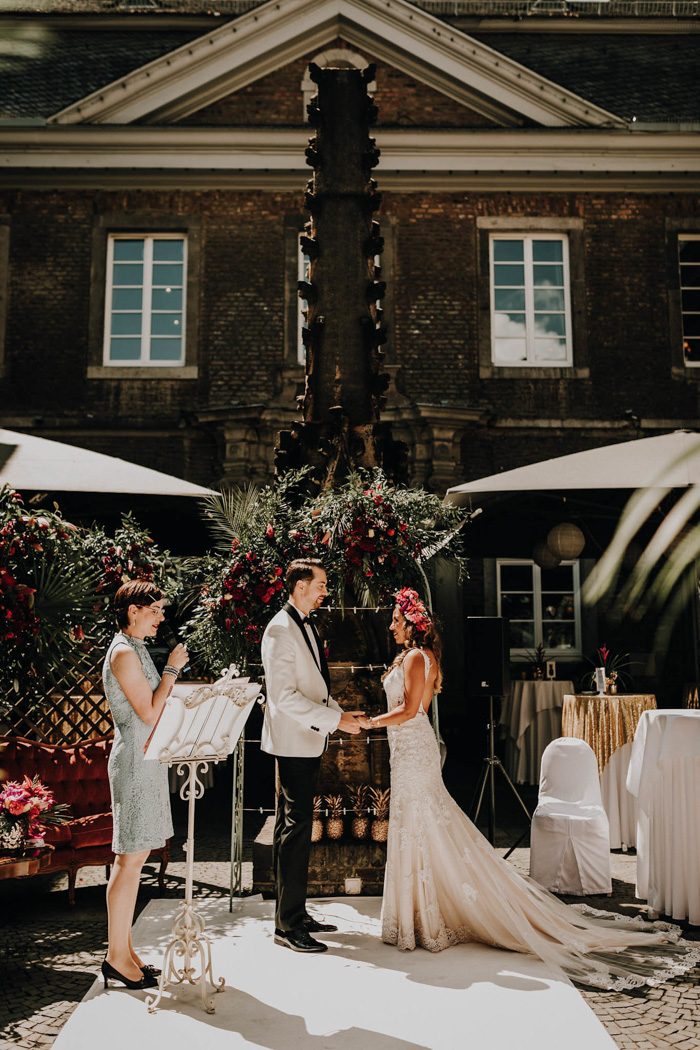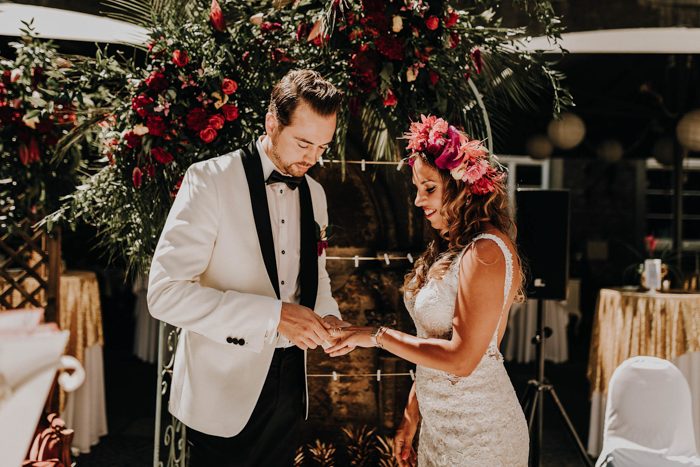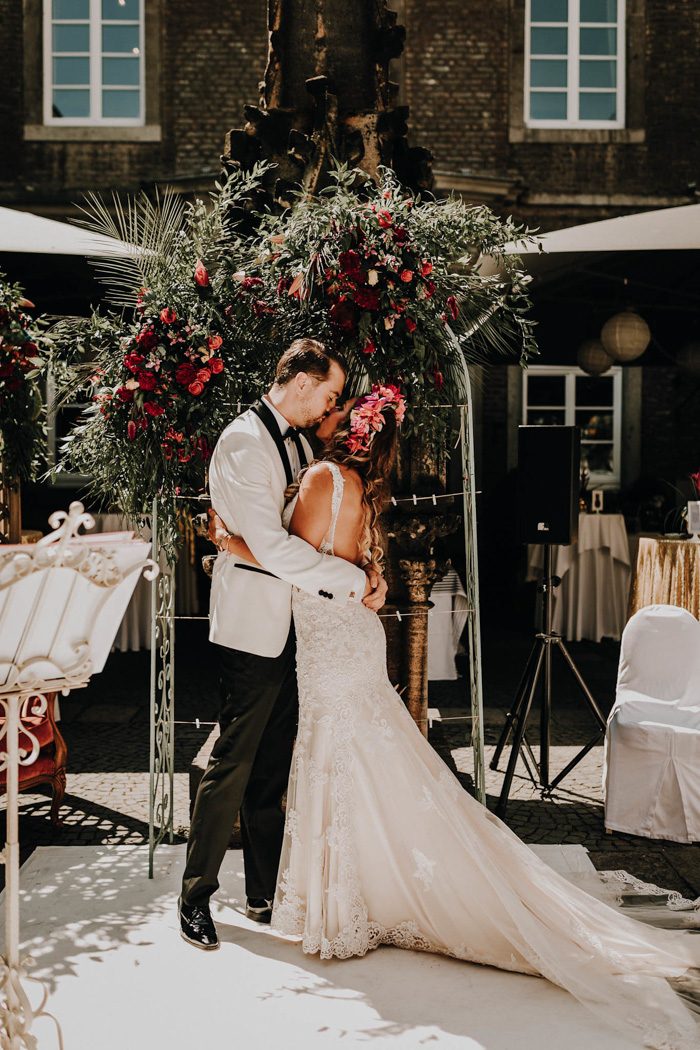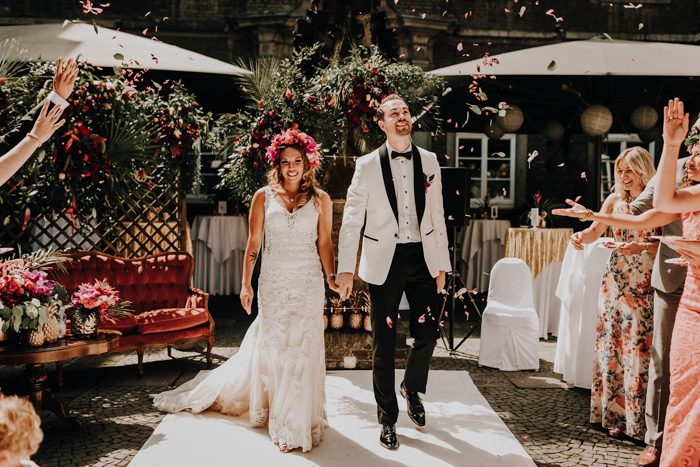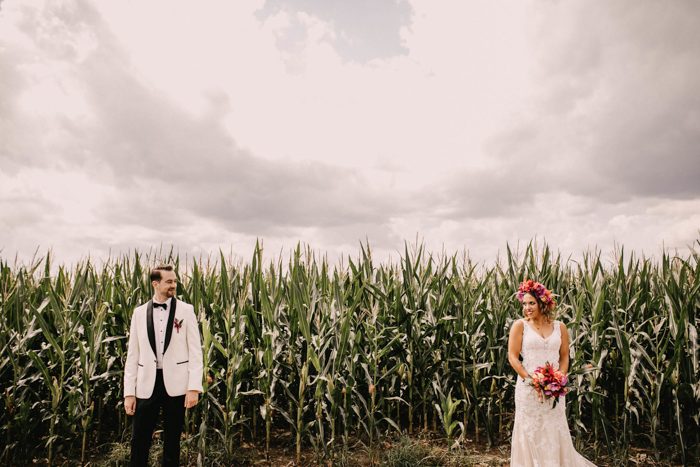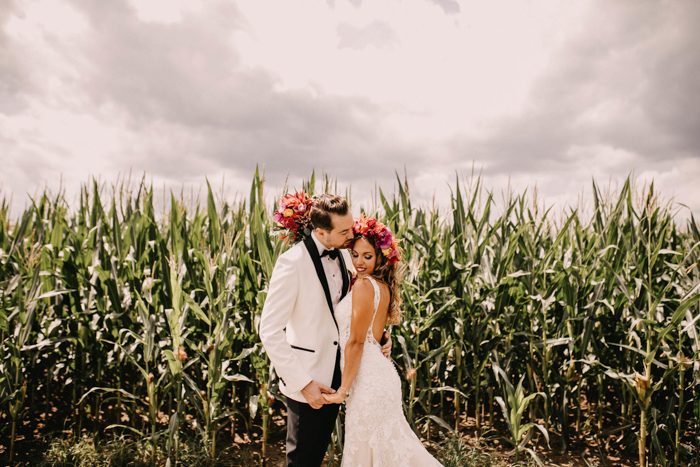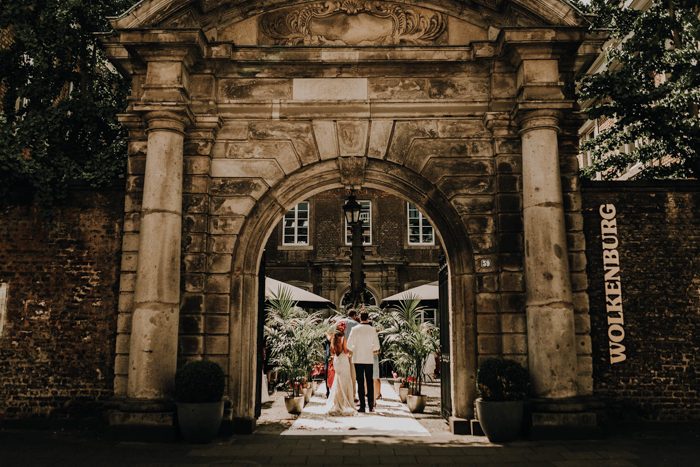 One of my favorite photos is the one of us lying on the vintage couch after the ceremony. It was one of our most romantic moments because it was so intimate. I was relieved that the ceremony went so well, realizing that we were finally celebrating our wedding and super excited about all the things that would happen later. The colors shined so bright in the sun, our relaxed faces, and that special connection between our hearts that our photographer captured in the photo.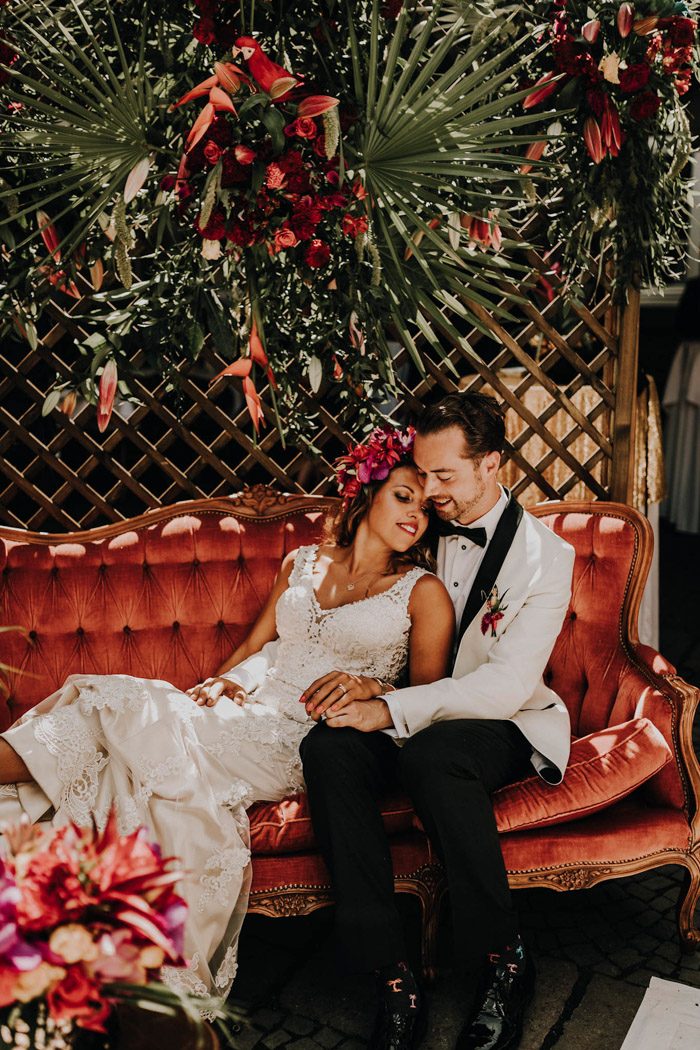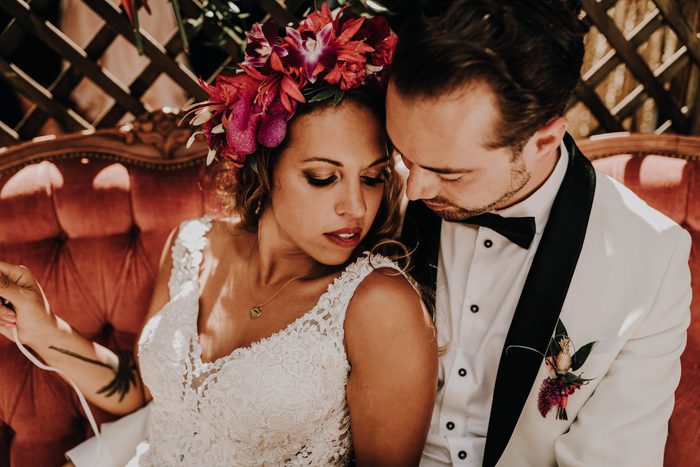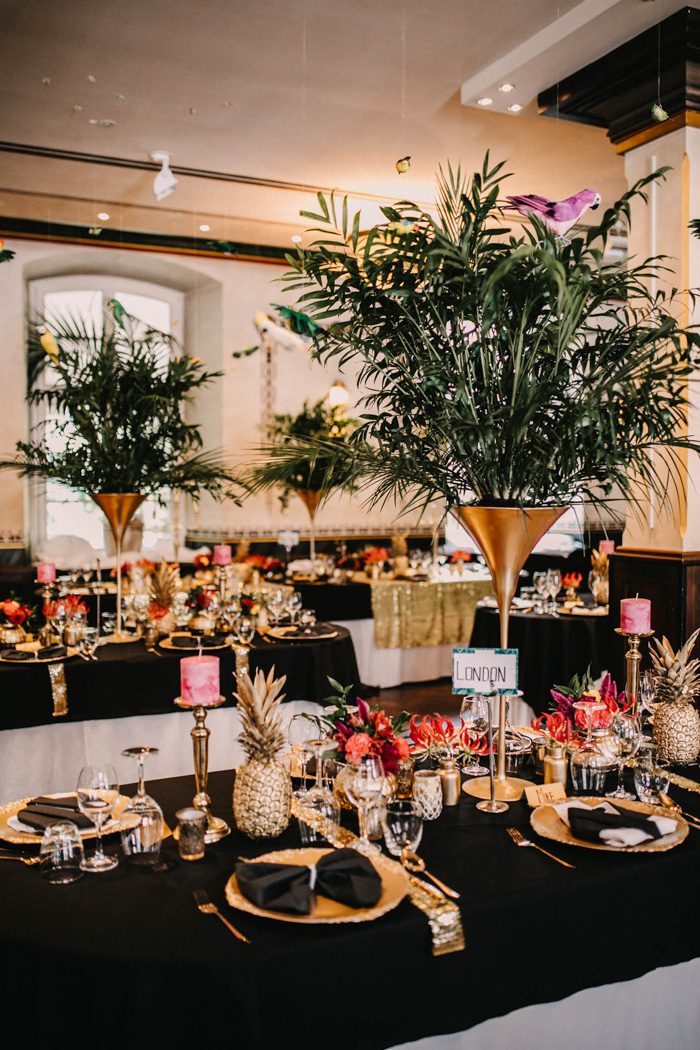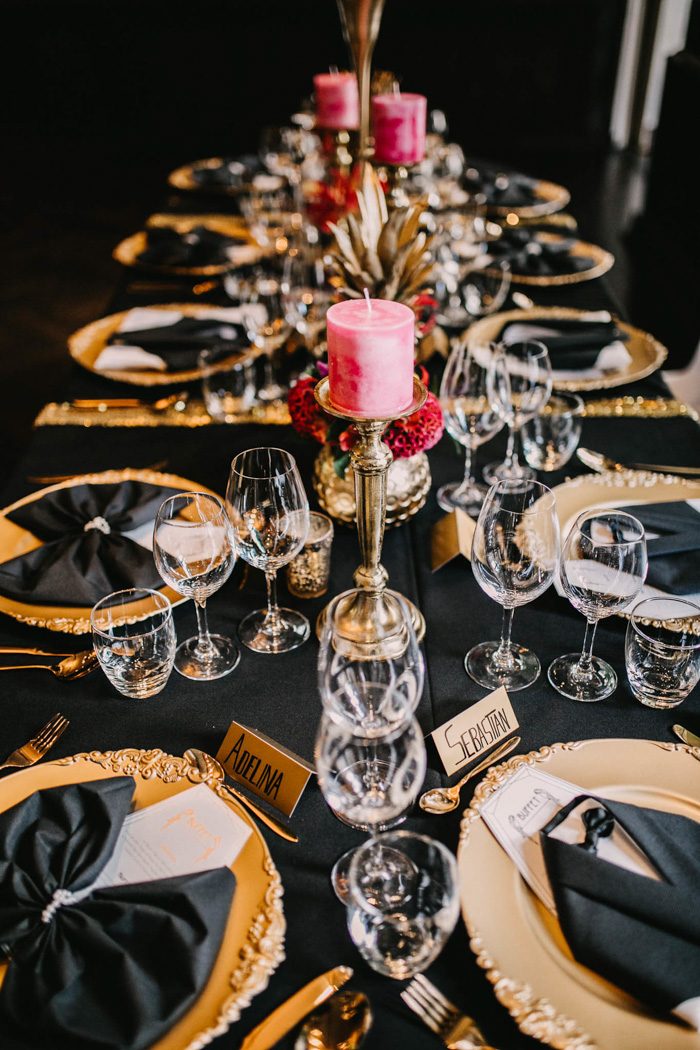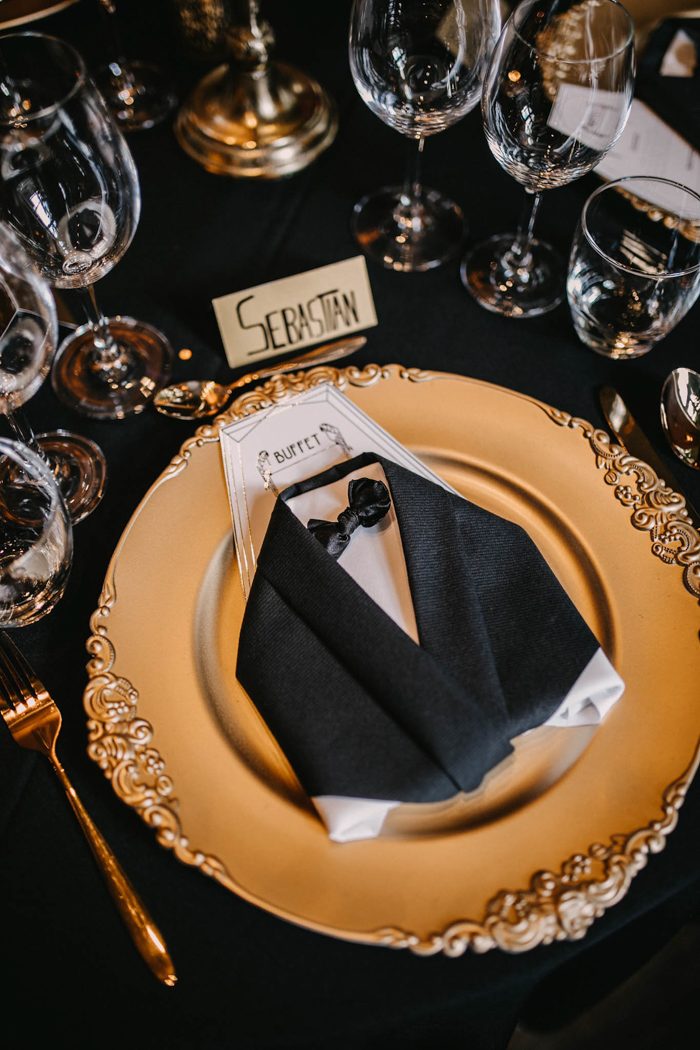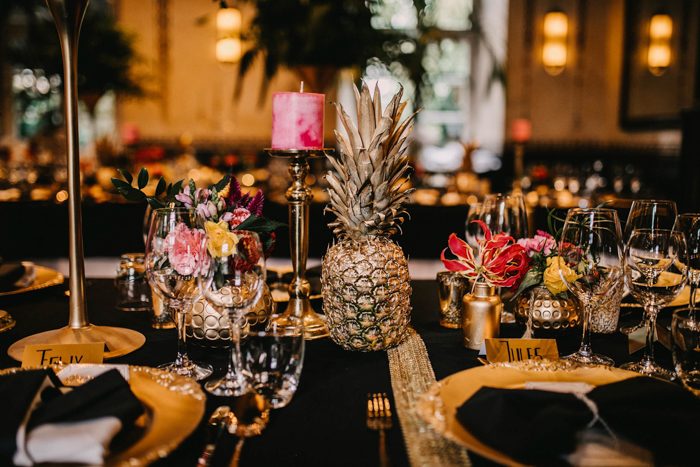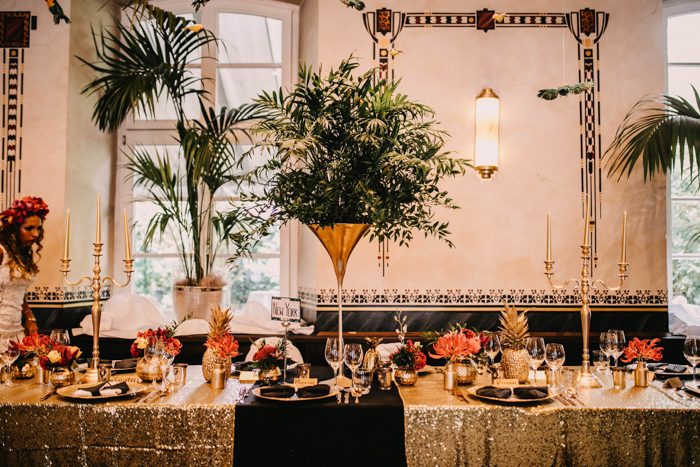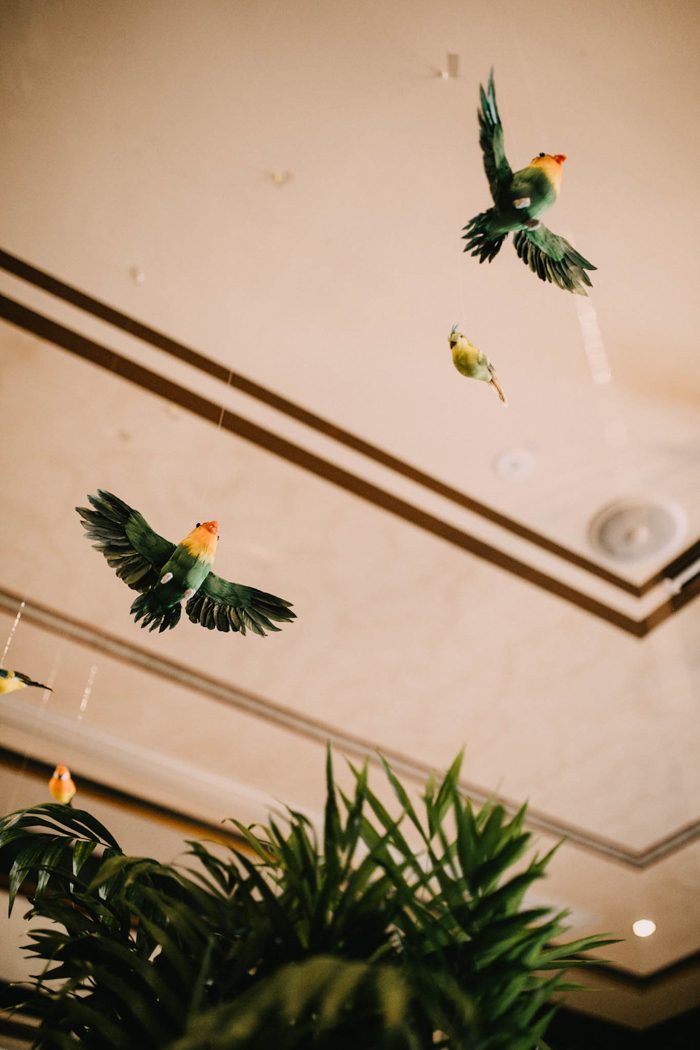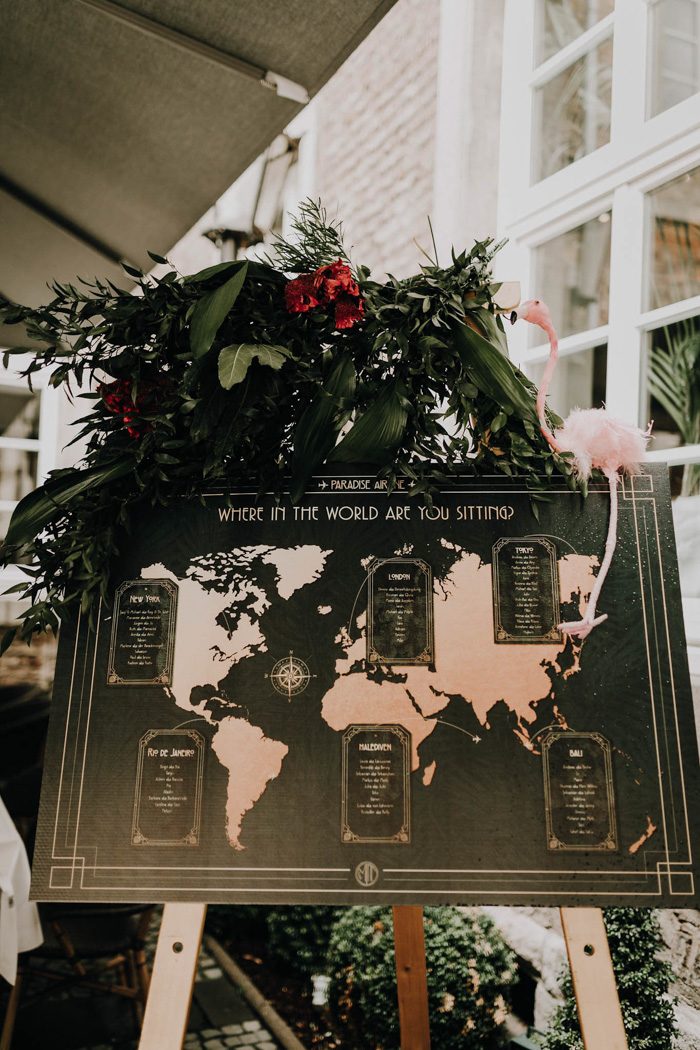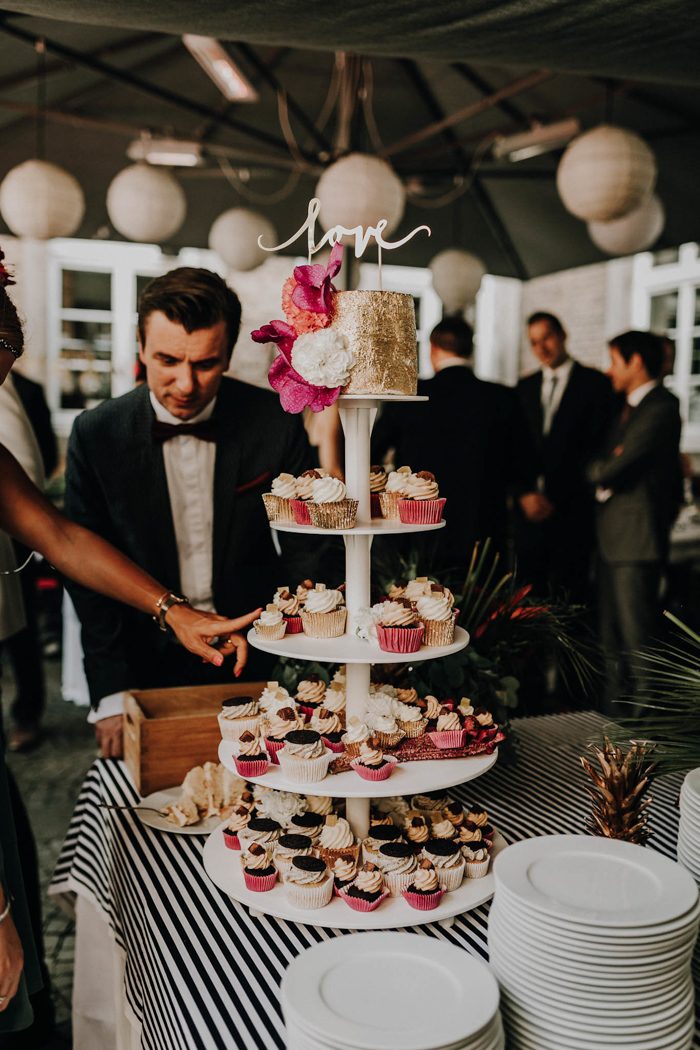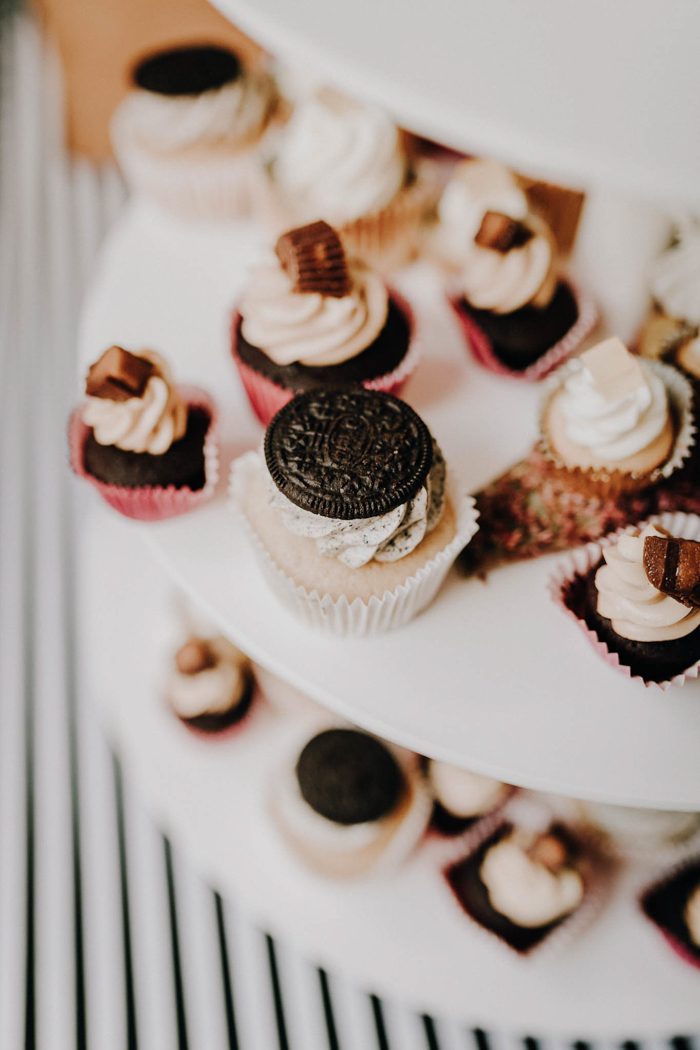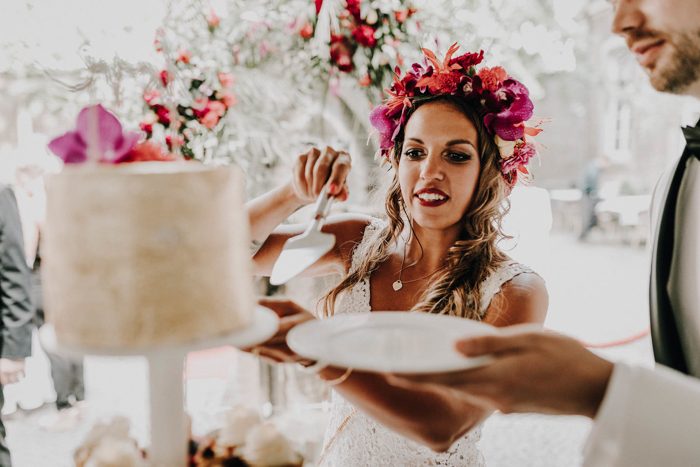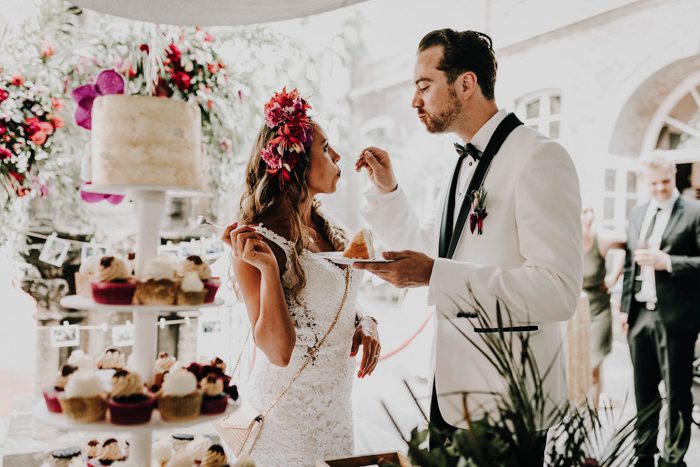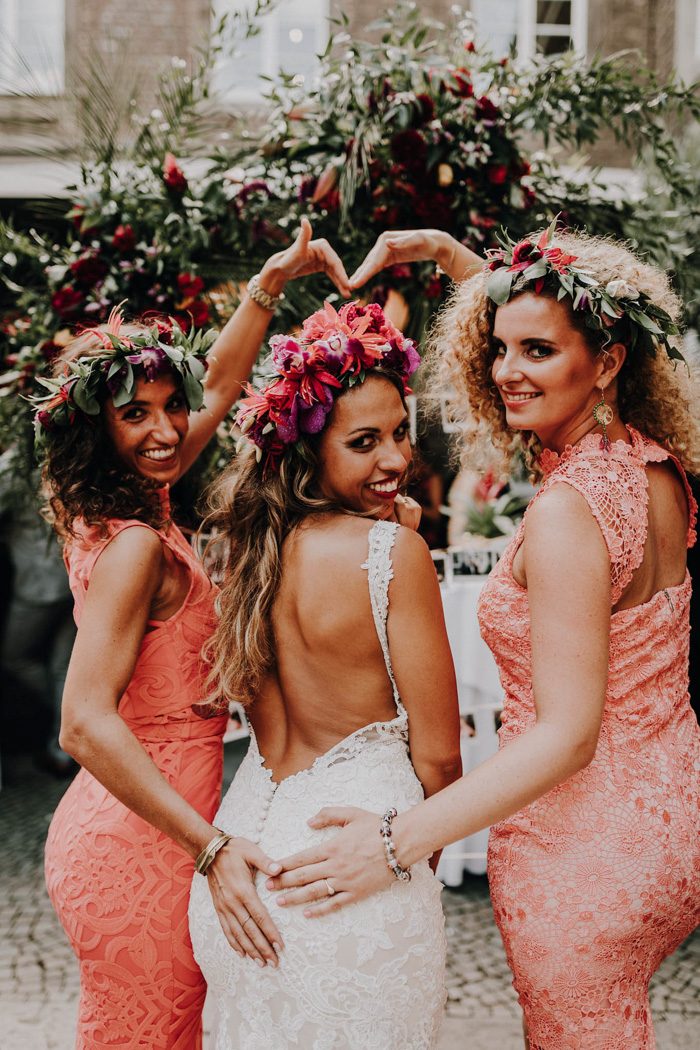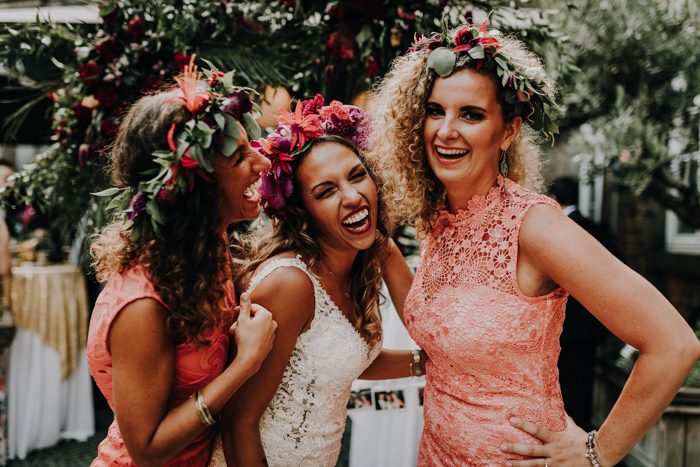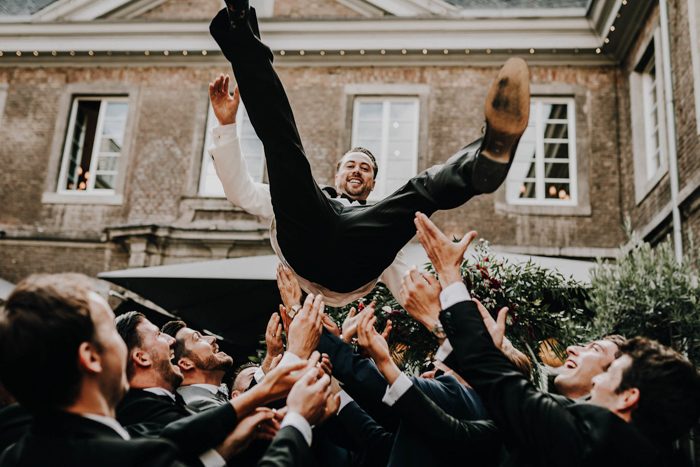 Congratulations to Tracy and Michael, and a huge thanks to Kathrin Krok Photography for sharing this incredible wedding with Junebug! Love the Gatsby theme they incorporated into their decor? We've got more where this came from with these Gatsby wedding ideas that are perfect for your glam day!