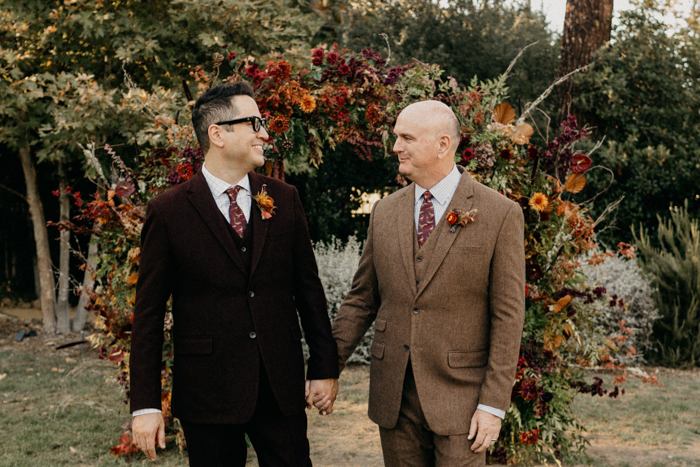 When Gabe and Steve planned their wedding, they pulled inspiration from the venue itself—a fishing and hunting lodge built in the 1920s. They wanted their Lodge at Malibou Lake wedding to have a masculine feel complete with florals and vintage touches. Since their big day would be in the fall, they chose warm colors to match the season. Most importantly, they wanted their wedding to reflect who they were as a couple and as individuals, where every aspect would mirror their unique love story.
The historic property was a stunning backdrop for their celebration. Under the shade of sycamore and oak trees, the couple tied the knot under a lush arch that perfectly framed the Santa Monica Mountain backdrop. Inside the ballroom, they carried over the fall theme with tablescapes of autumn blooms, dark accents, and gold settings that matched the foliage adorning the black chandelier and fireplace.
With the help of their trusted vendor team, the two grooms created a stunning and inviting atmosphere to enjoy special moments together. They also blended their traditions in thoughtful ways that showcased their personalities. If you want to see more, check out these beautiful photos captured by Mandy Johnson and soak in every detail of their romantic and heartfelt celebration.
The Couple:
Gabe and Steve
The Wedding:
Lodge at Malibou Lake, California, United States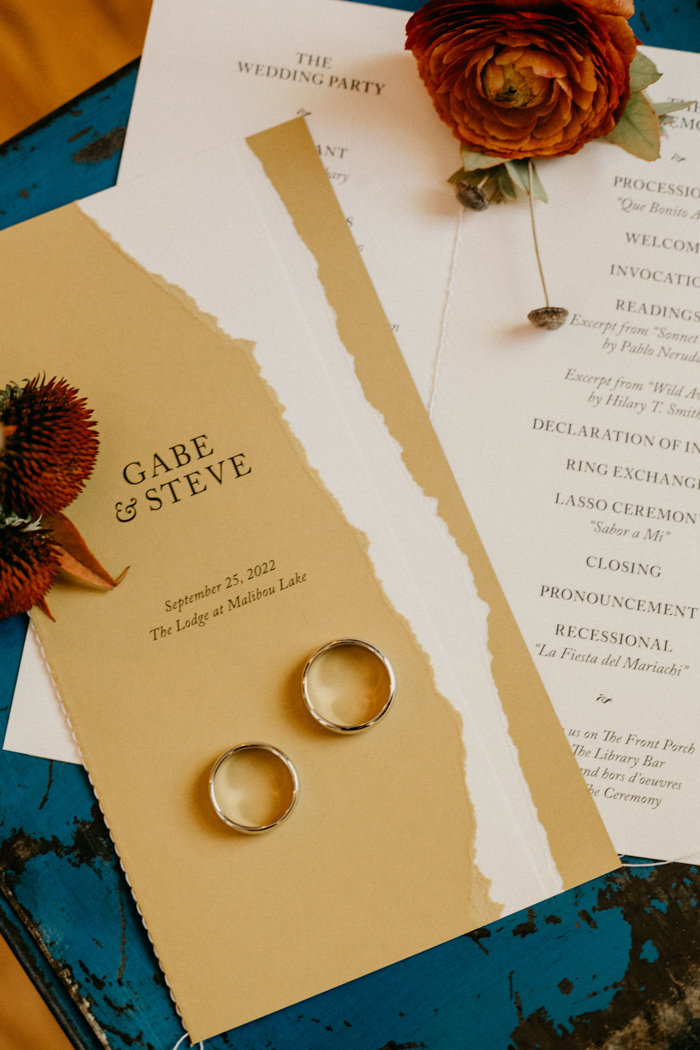 Creating Custom Wedding Stationery
We designed all the printed pieces at Gabe's business, Color Services. Then we took all those pieces home, and together we spent countless hours hand-tearing, cutting, scoring, taping, and sewing each piece. That included table menus, place cards, table numbers, bar signs, and programs. Outside of the design itself, which went through numerous iterations and prototypes, we tested several paper stocks, weights, shades, and colors, before settling on our final choices. Each place card sat in a wooden holder originally in unfinished wood, but we primed and painted each one gold to match the rest of our tablescape.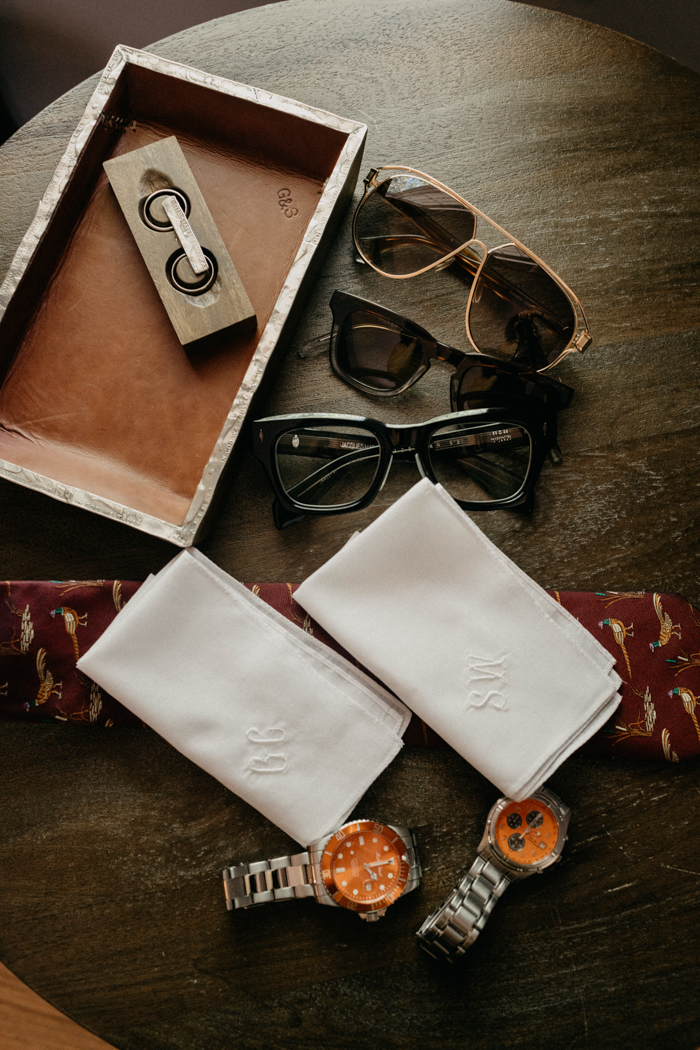 Embracing Mexican Tradition with a Mariachi Serenade
We had a mariachi for our wedding ceremony as a nod to Gabe's Mexican heritage. We engaged Mariachi Arcoiris, the world's first all LGBTQ+ mariachi troupe, who performed as our guests arrived during our ceremony and the cocktail hour. They were incredible musicians with an impressive repertoire, took requests from our guests, and lent so much magic to our ceremony. Of course, we selected some beautiful songs for our entrance. The wedding party entered with "Cien Años," a classic Pedro Infante song. My parents are no longer with us, so I walked down the aisle with my brother and sister. Gabe was walked down the aisle by both of his parents. The song "Que Bonito Amor" played during our entrance, another classic made famous by Pedro Infante. We exited the ceremony as newlyweds to the festive sounds of "La Fiesta del Mariachi, " another mariachi standard perfect for kicking off the party.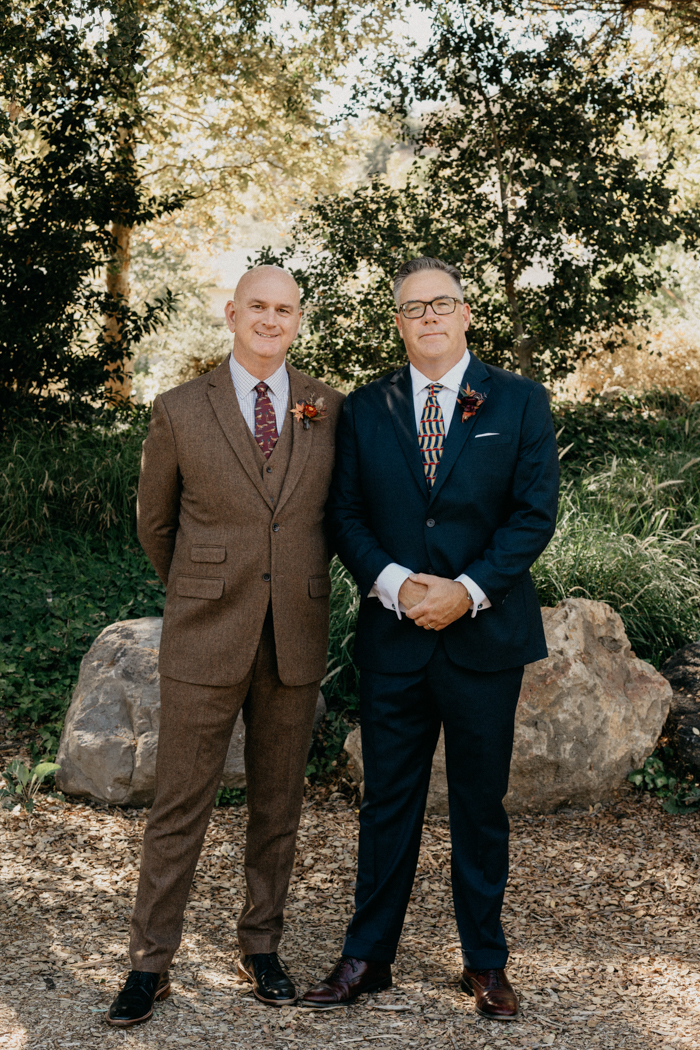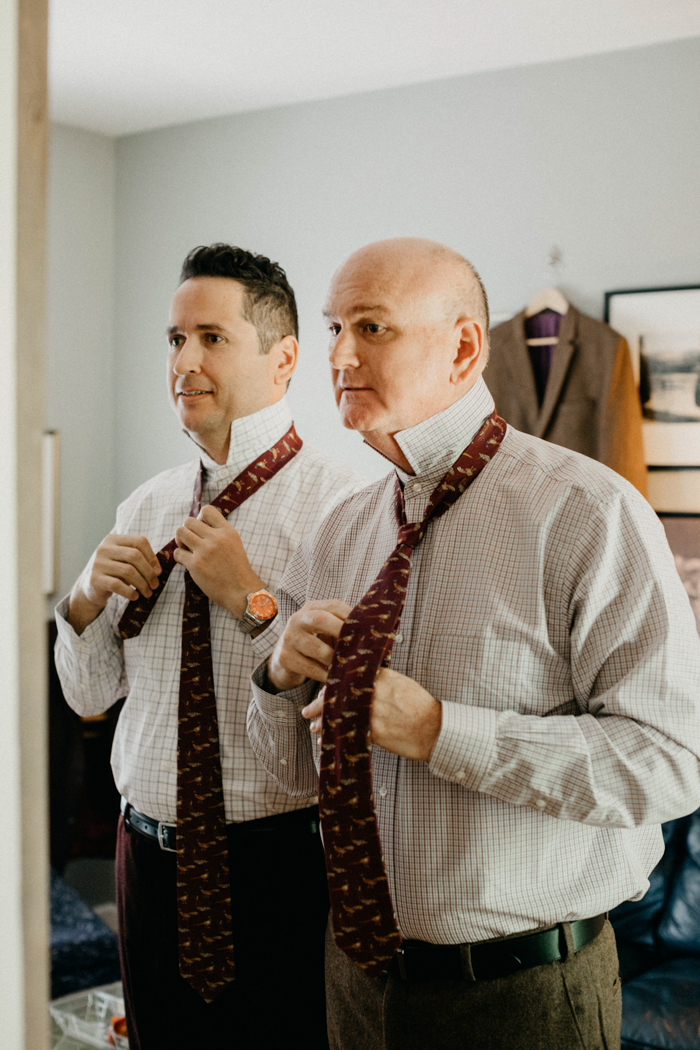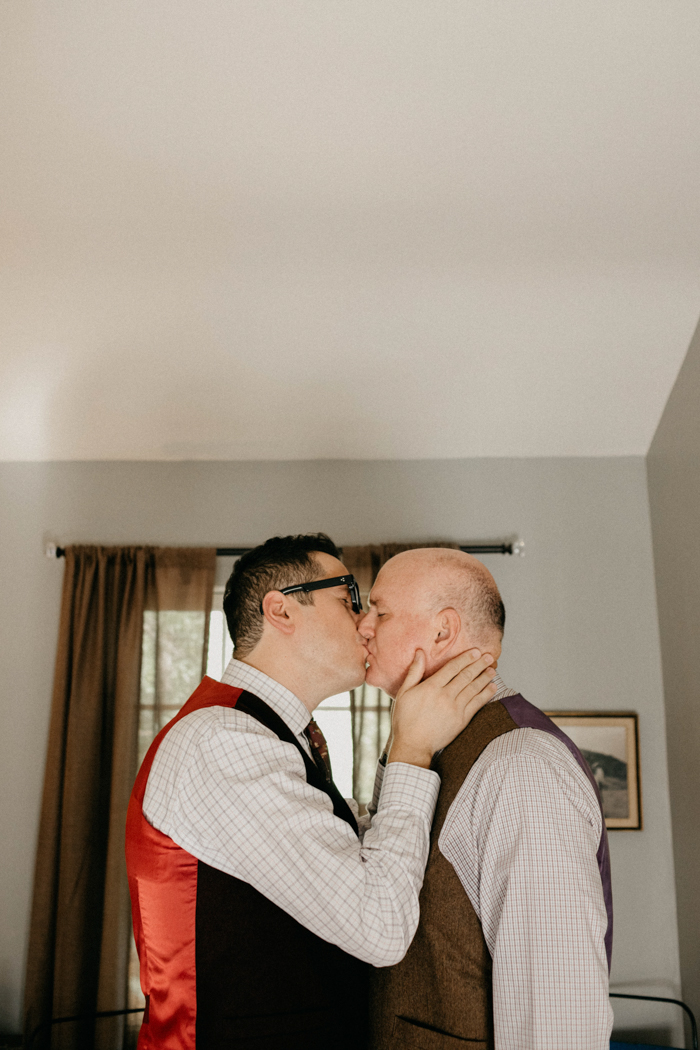 Honoring Mom's Memory During Lodge at Malibou Lake Wedding Ceremony
To honor my mom, who had recently passed, we asked the florist to include purple flowers in the lasso. My mom was famous for how much she loved the color purple. She wore it all of the time. Not long before she passed earlier that year, she had given us her blessing about getting married. This was momentous for us because she was raised in the South with a very religious upbringing. Her approval meant so much to us.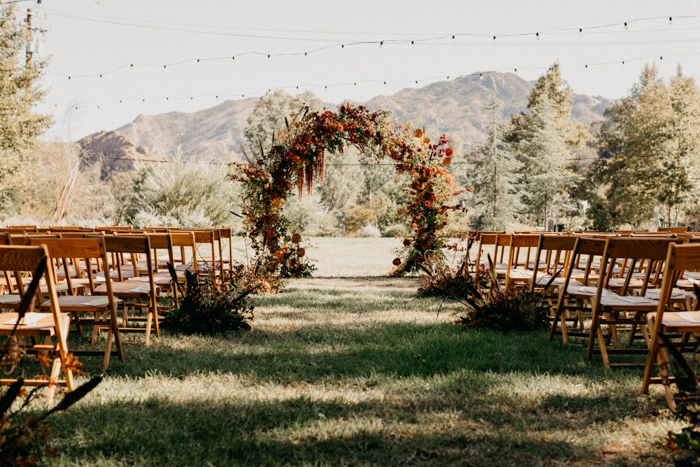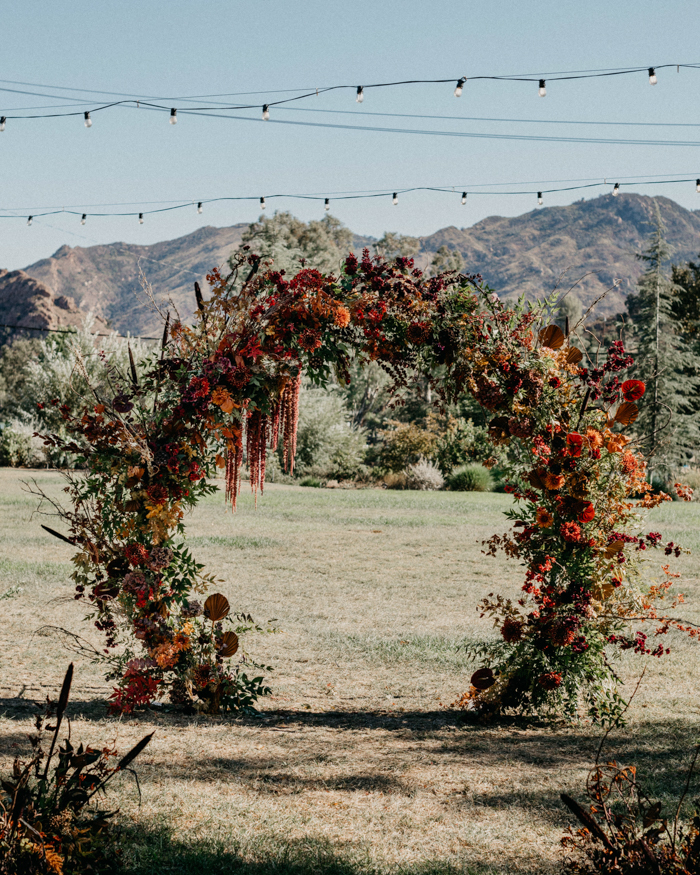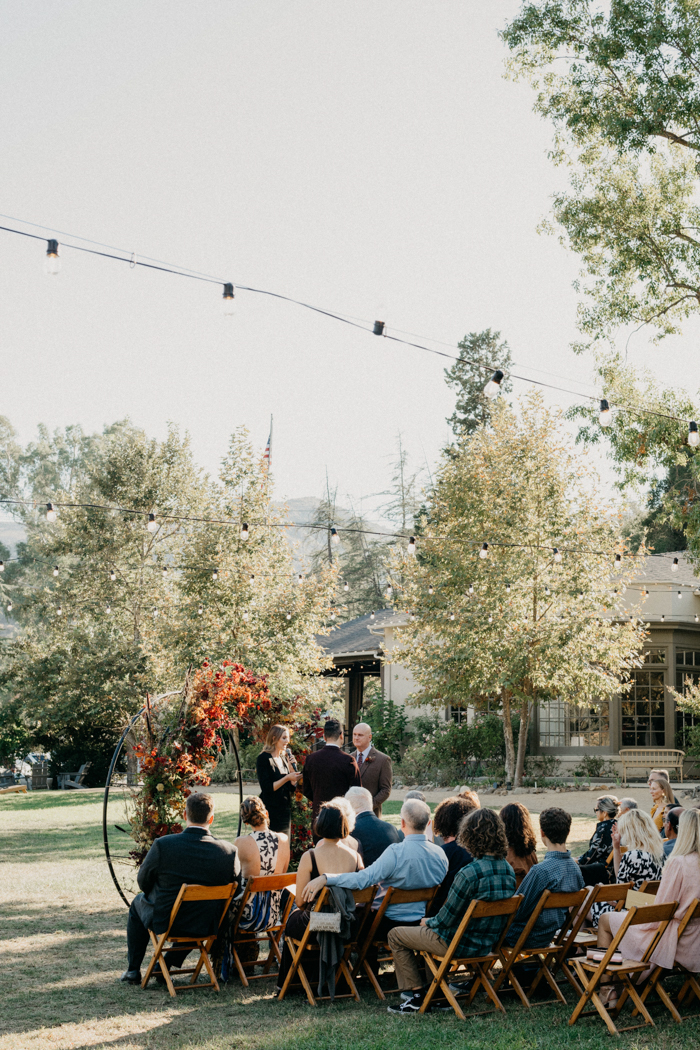 Honoring Heritage with a Beautiful Lasso Ceremony
As an additional nod to Gabe's heritage, we wanted to include an aspect of a traditional Mexican wedding in our ceremony. Gabe's parents had a lasso ceremony at their wedding, so we thought it would also be a marvelous tradition to include in ours. Our celebrant Kristin mentioned all of those considerations as part of the ceremony. We asked our dear friends to be our Padrinos de Lasso, who draped the lasso around us while Mariachi Arcoiris played "Sabor a Mi." The lasso ceremony encapsulates so much of what a wedding should be—a way to reflect the couple's love and commitment to each other by honoring and blending both families.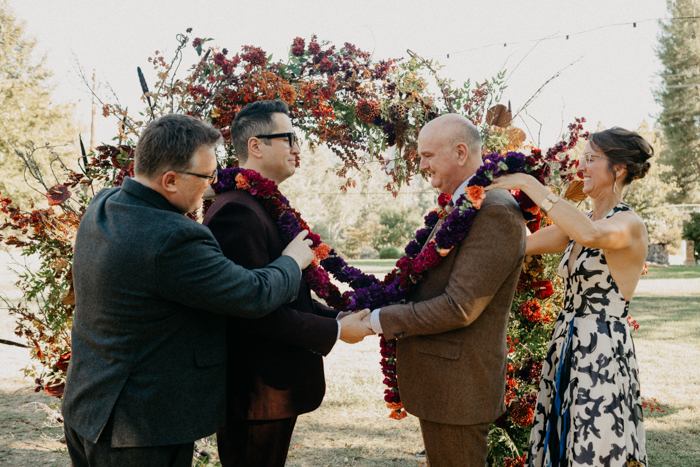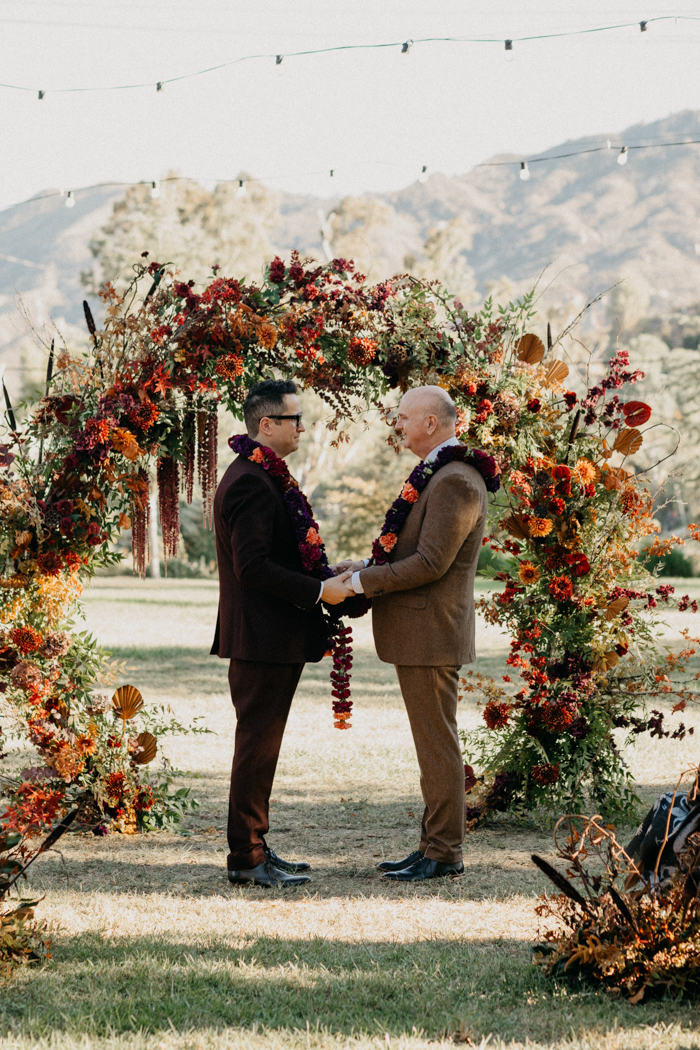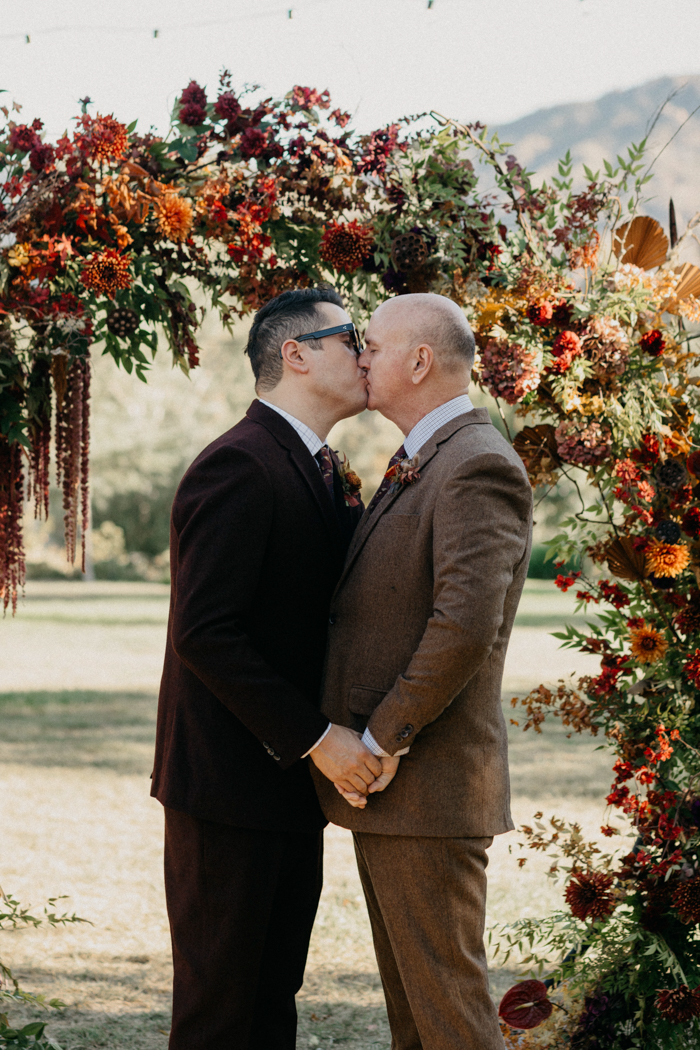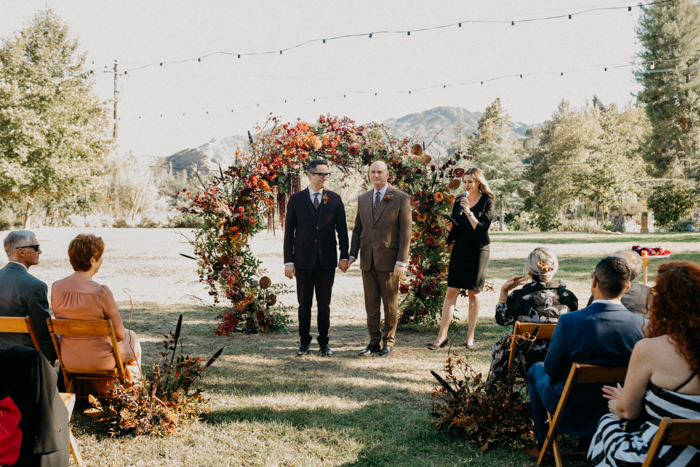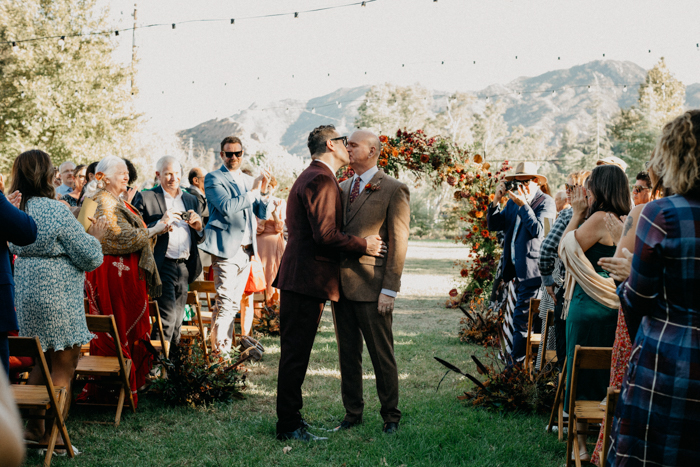 A Handcrafted and Meaningful Memento From Their Ceremony
Our Padrino de Lasso and friend, Greg Lawler, is an incredibly creative artist and maker. We asked him if he could create something special so that our ring bearer, Gabe's nephew, could carry the rings down the aisle. He created this unique valet tray that included some beautiful features. It was a leather-lined, beautifully stained wooden tray featuring stitching reminiscent of that on a baseball (a nod to our passion for the Los Angeles Dodgers). We love this piece and put our rings into it every night before going to bed.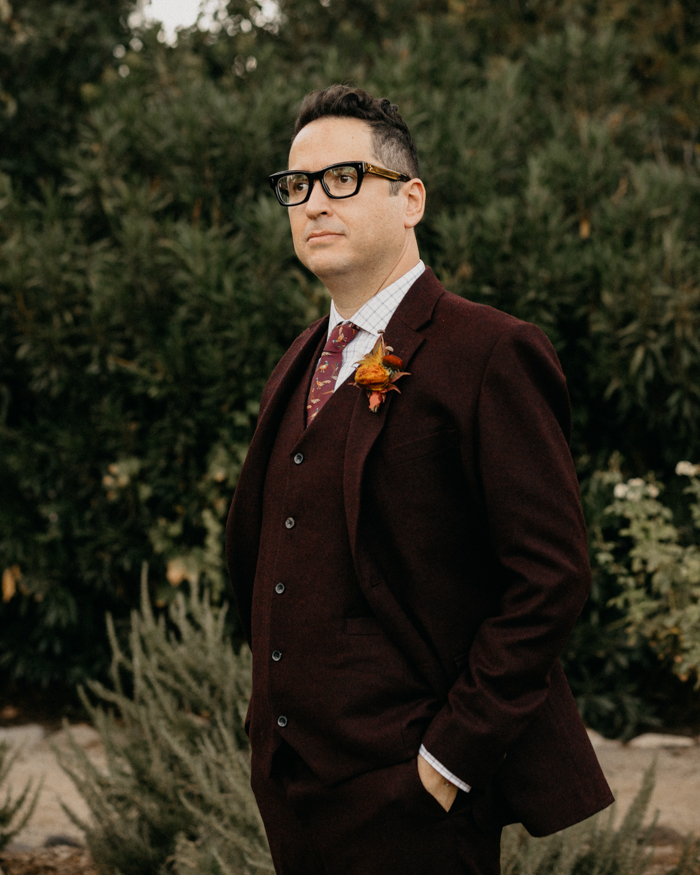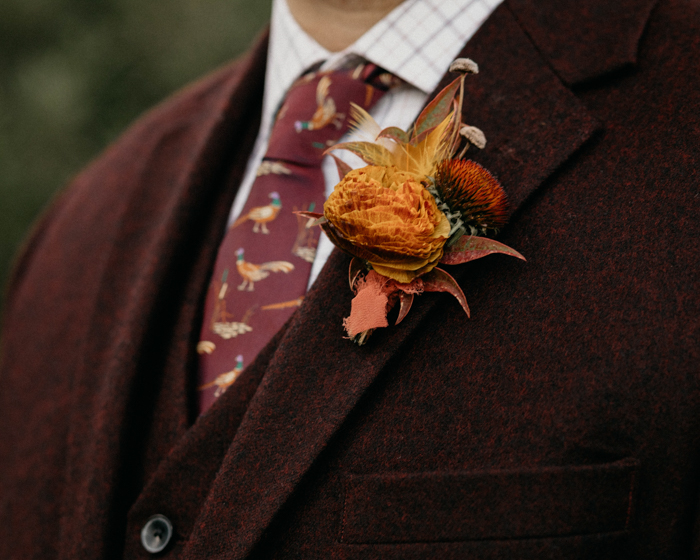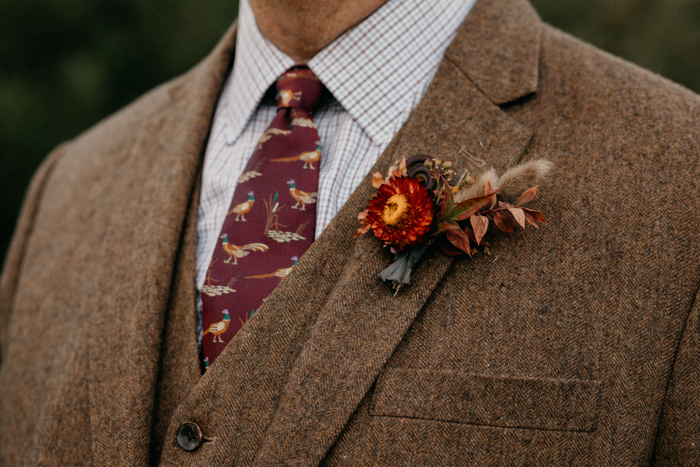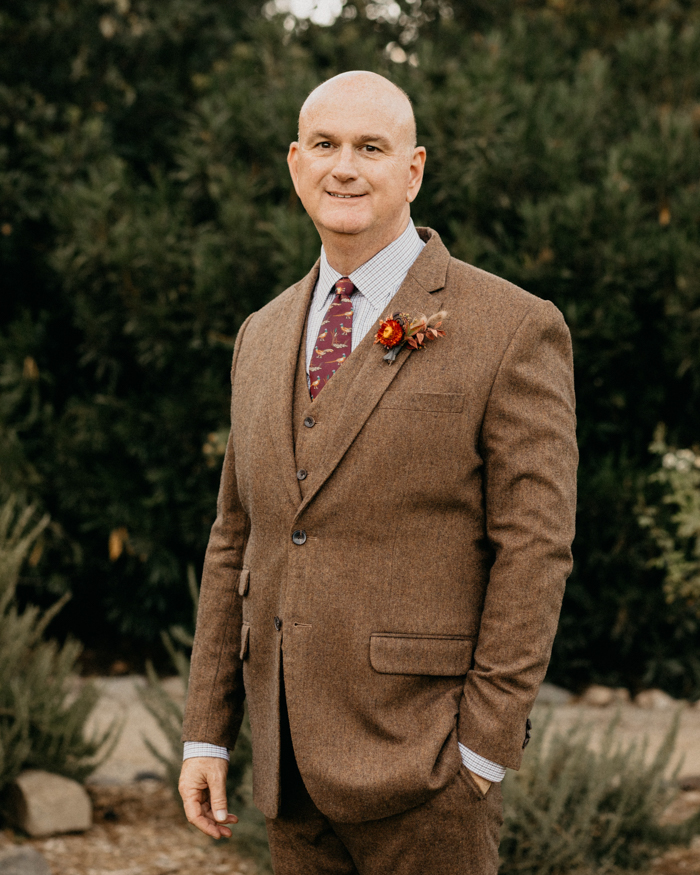 Gabe's Touching Tribute to His Parents During Their Lodge at Malibou Lake Wedding
After making our way down the aisle and just before the sendoff, Gabe delivered a beautiful and moving speech thanking his parents for a lifetime of love, support, and acceptance. Entirely in Spanish and a complete surprise to his parents, his speech acknowledged how vital their support was to us as a same-sex couple. Although times have changed, we've seen many LGBTQ friends rejected by their families. Gabe's parents are Mexican immigrants, and machismo is still a massive part of the culture, so that kind of support is still uncommon. We wanted to honor them, and this felt like the right moment for that. Gabe delivered this speech on the mic. And even though many of our guests didn't speak Spanish, there wasn't a dry eye in the house when he finished.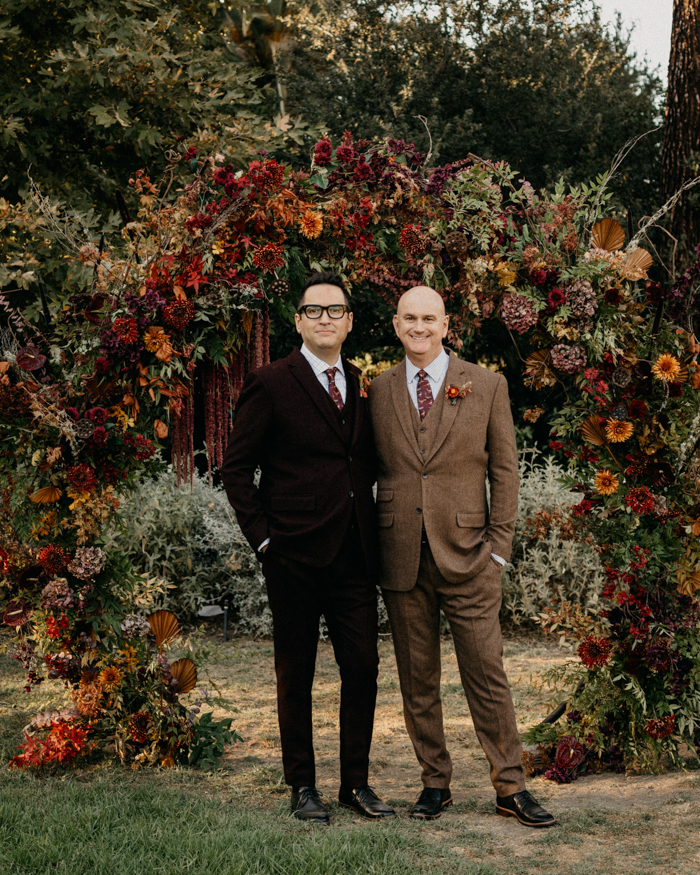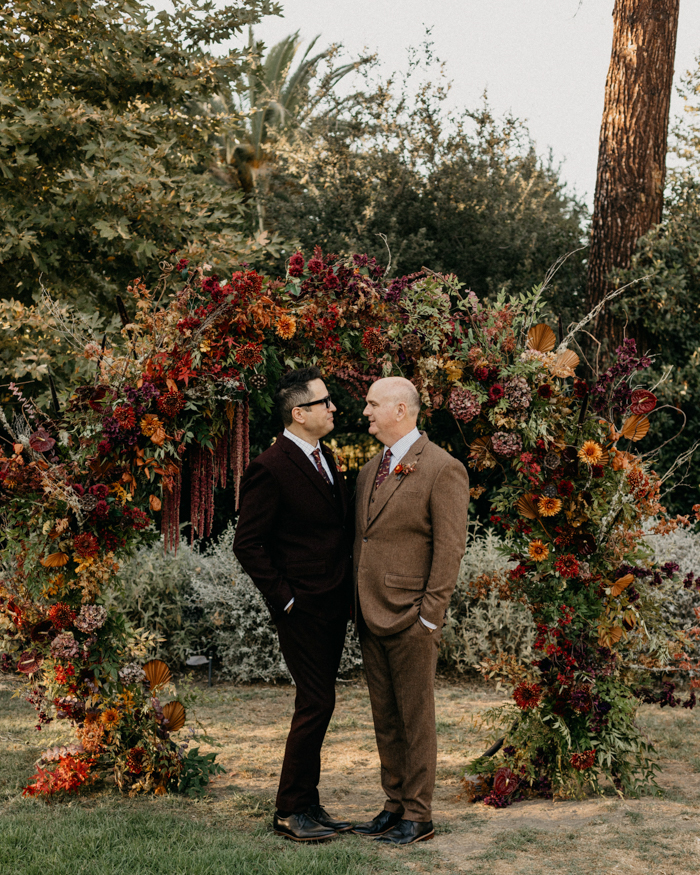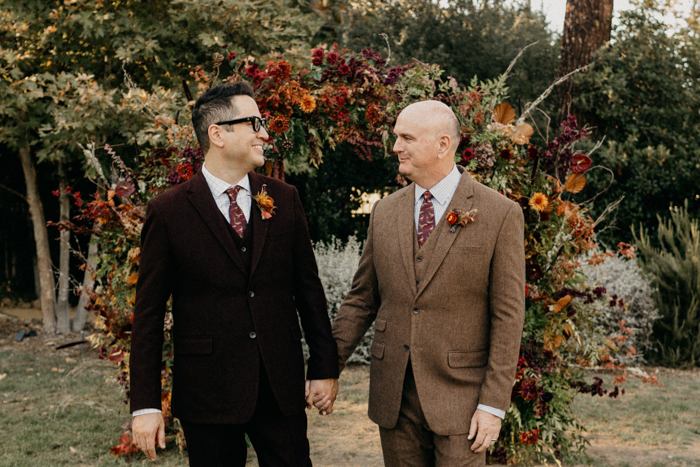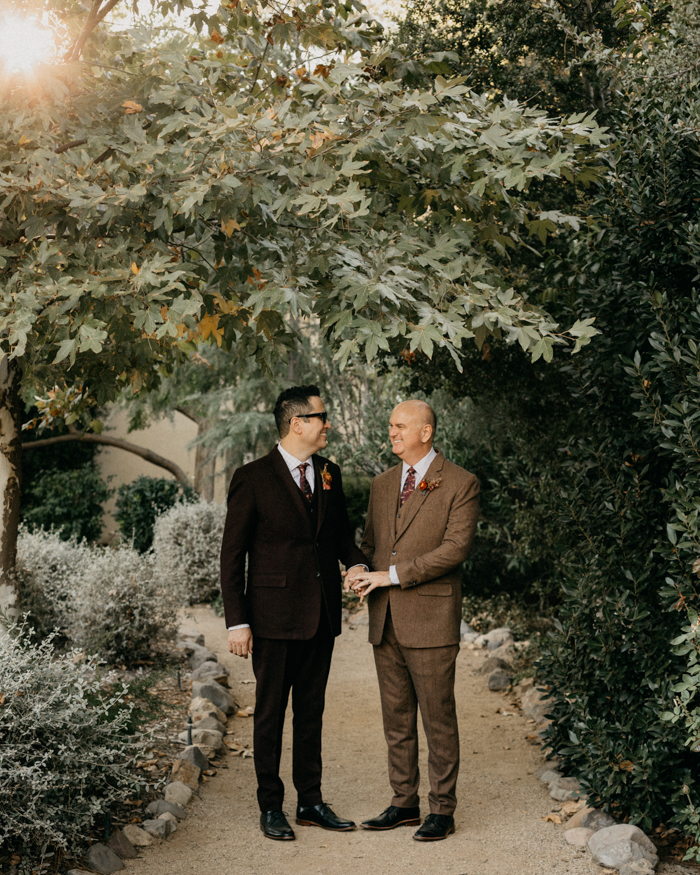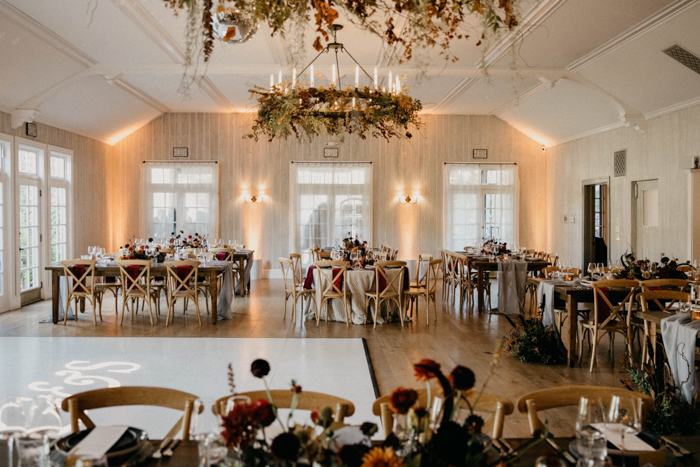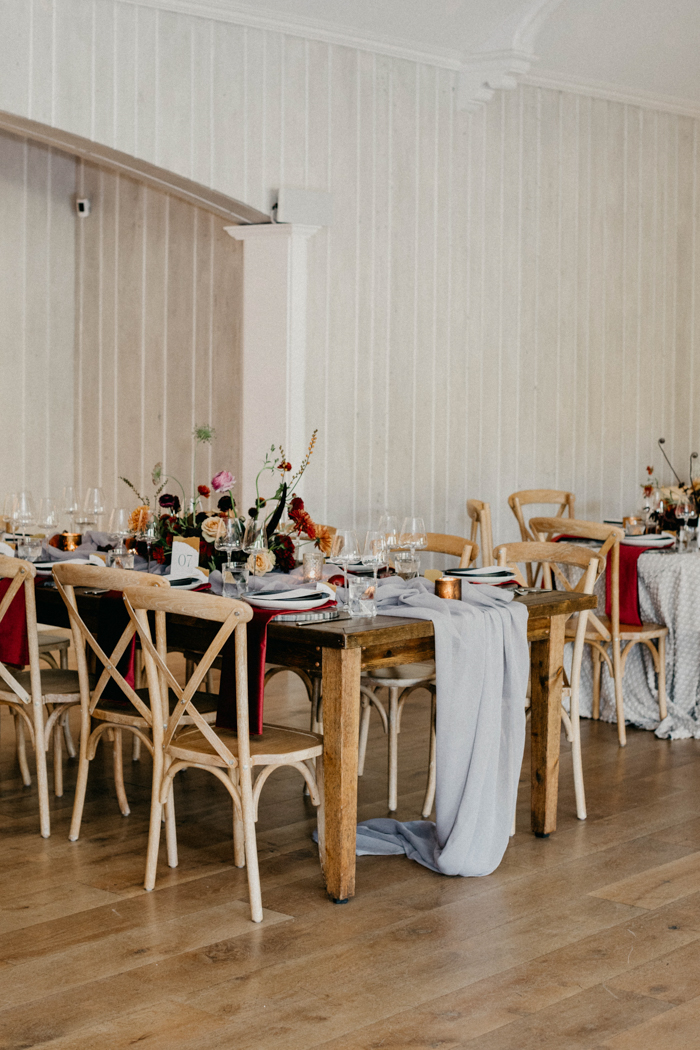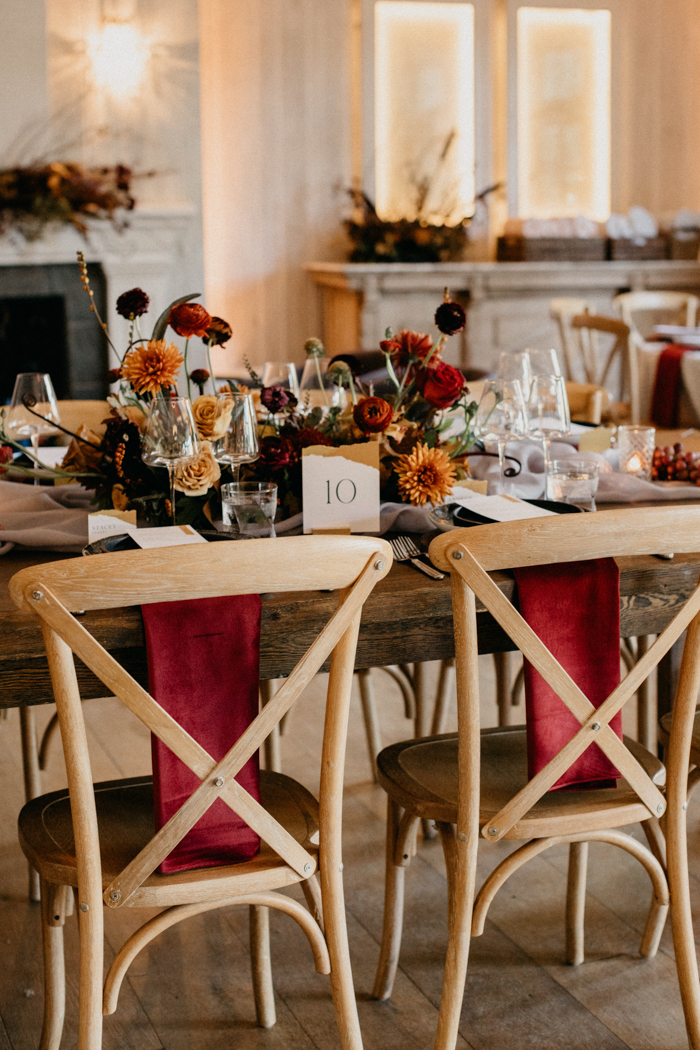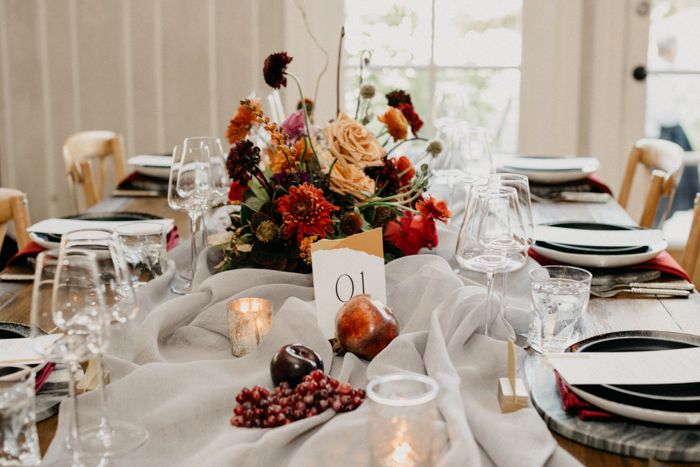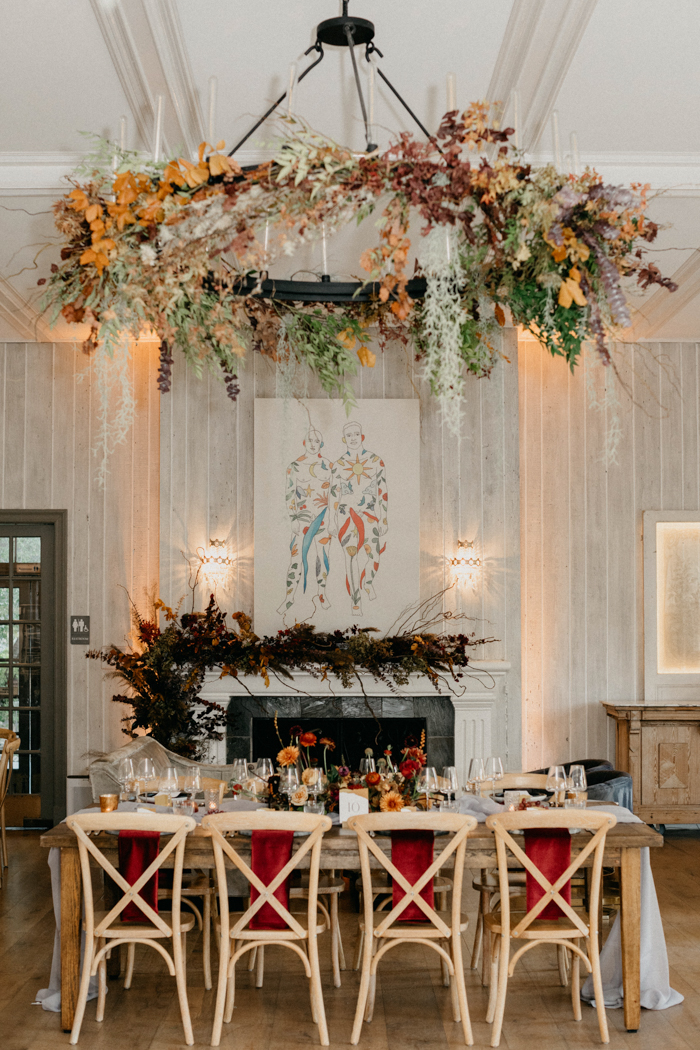 From Reception to Home: The Canvas Portrait That Became a Timeless Keepsake
We are so proud of the large canvas portrait of us above the fireplace. We commissioned an artist from Spain, Daniel Jose Cabrera Castro, also known as "El Dibujo," to do a watercolor portrait for our anniversary earlier in the year. And with his permission, Gabe at his print shop Color Services, blew this up to a life-sized scale (over 7ft tall) to place on the fireplace mantle.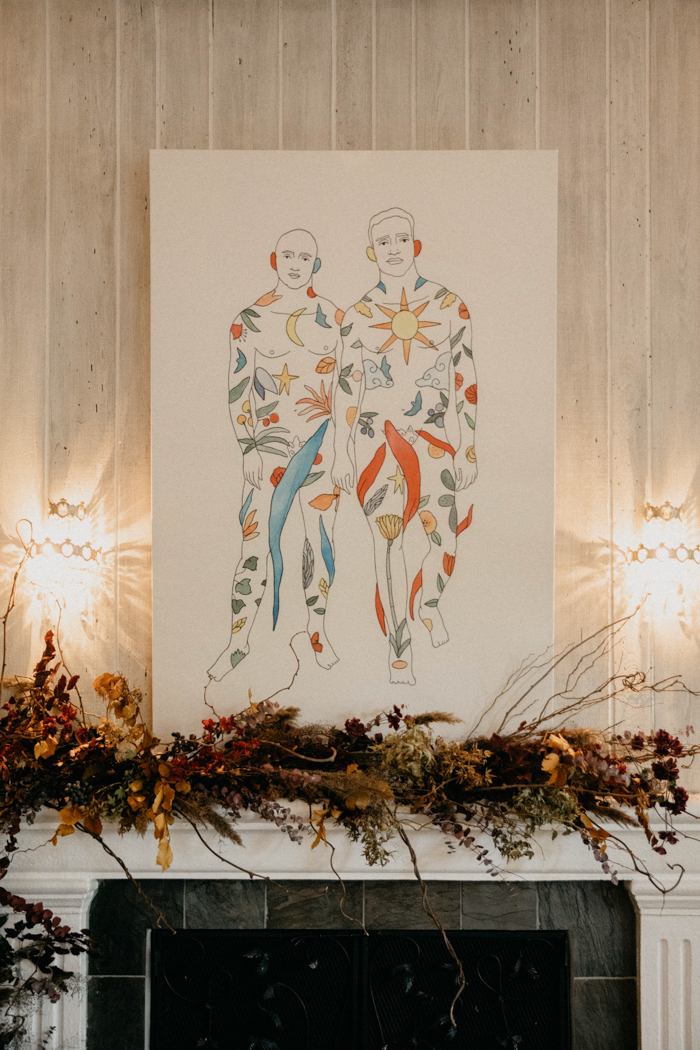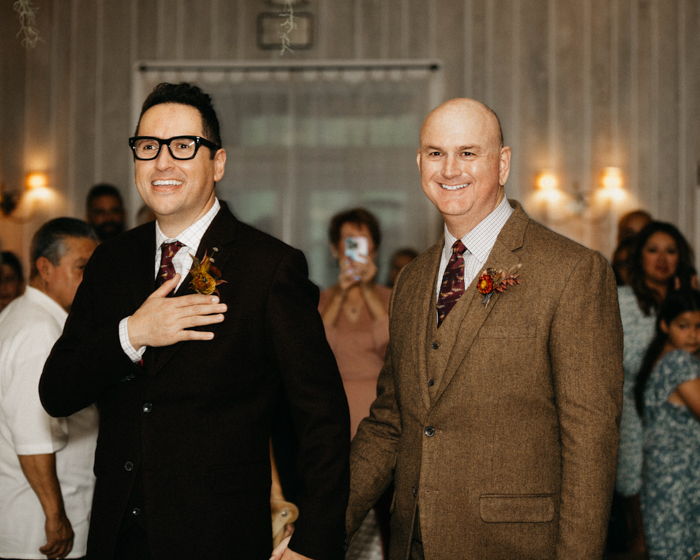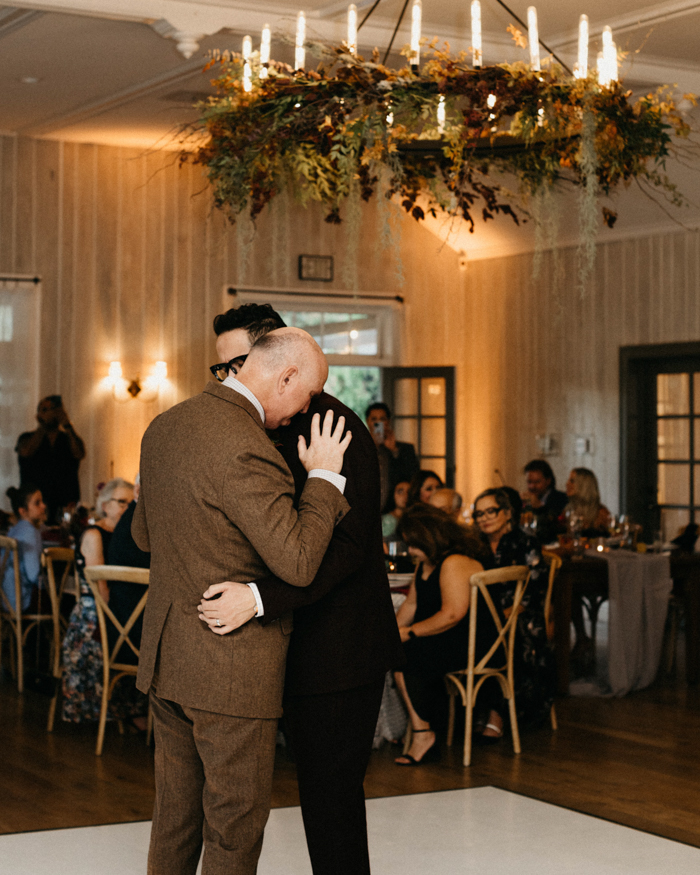 How Music and An Outfit Change Set The Party Tone
We knew from the start we wanted people to dance, so the music was critical. We spent months coming up with suggestions for the reception playlist. Before dinner was served, we went into a 20-minute dance set to loosen up our guests and prepare them for a fun night. This was a brilliant idea by our planner and the perfect way set the tone of the evening. While we loved our suits, having a big outfit change for the after-party was fun. We slipped away from the ballroom just a few minutes before the party was going to end, ran upstairs to our dressing suite, and donned our party clothes—bold shirts, pants, shoes, and beautiful hats, completely different from our wedding suits. We made it back to the dance floor just as the beat kicked in for our last dance. Song of choice? Duh, we're gay! It had to be "Last Dance" by Donna Summer!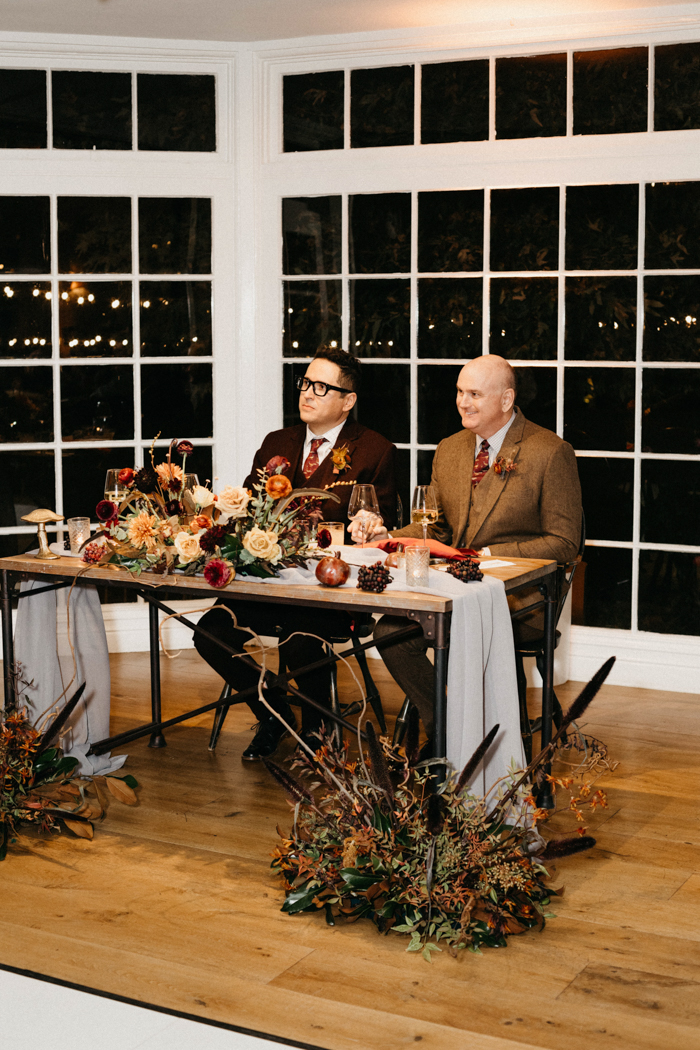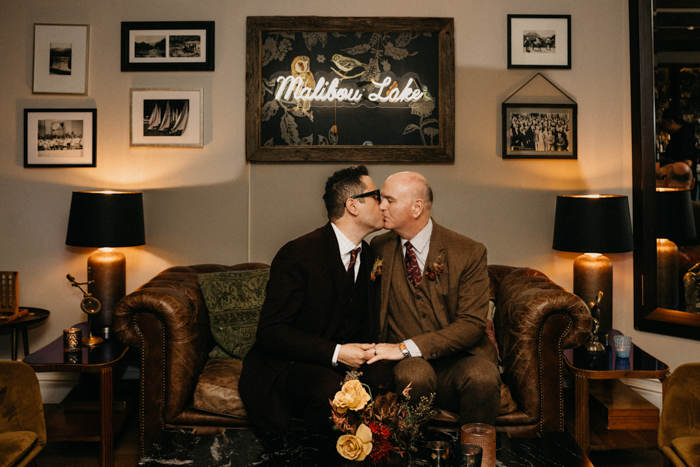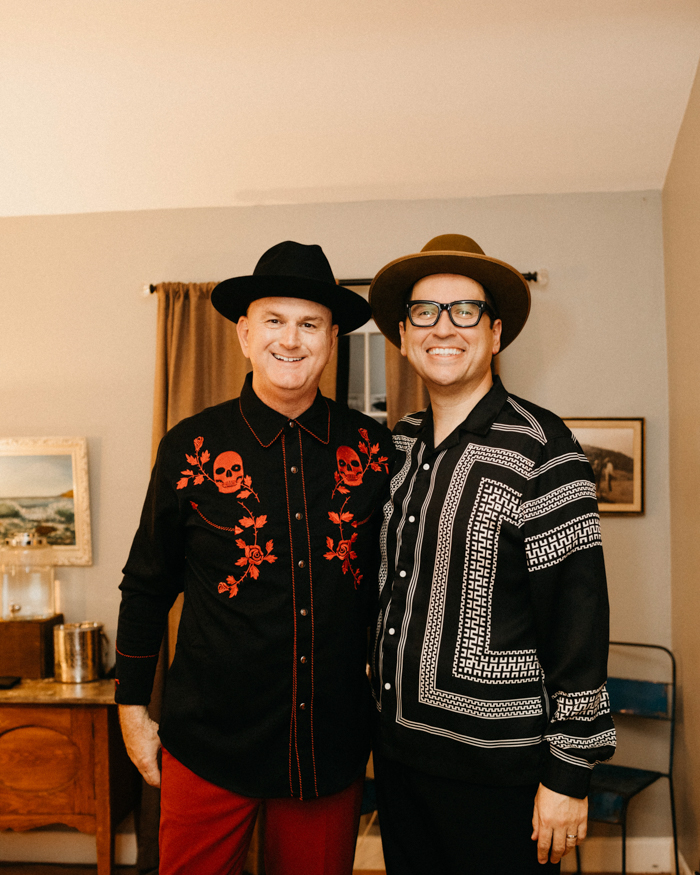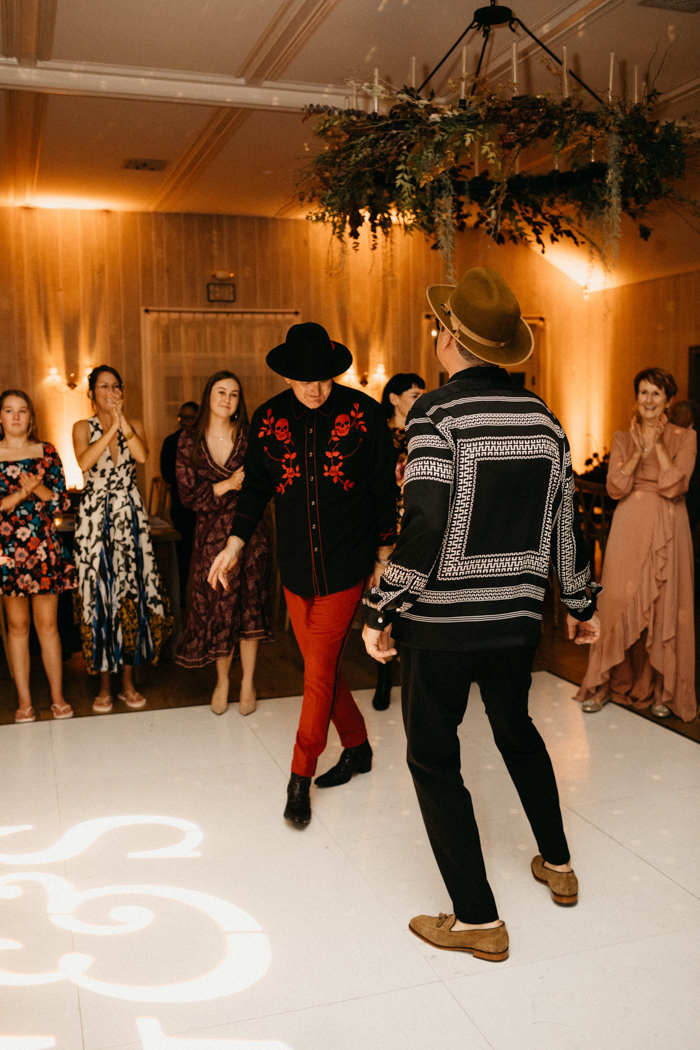 Wedding Planning Advice: Embracing the Process Together
Cherish the time you have together planning and do as much of the planning together as you possibly can. We spent ten months poring over the details independently and with our wedding planner. And when the day is done, you'll still have wonderful memories of the time you put into it yourselves to make the day magical. Don't just hand off all the details to someone else, you'll miss out on so much.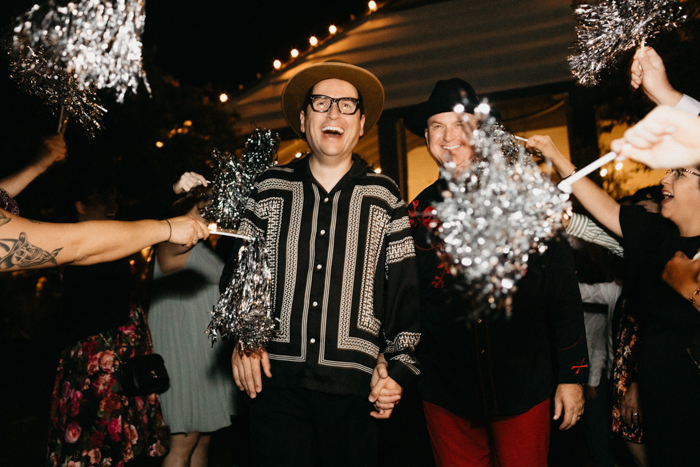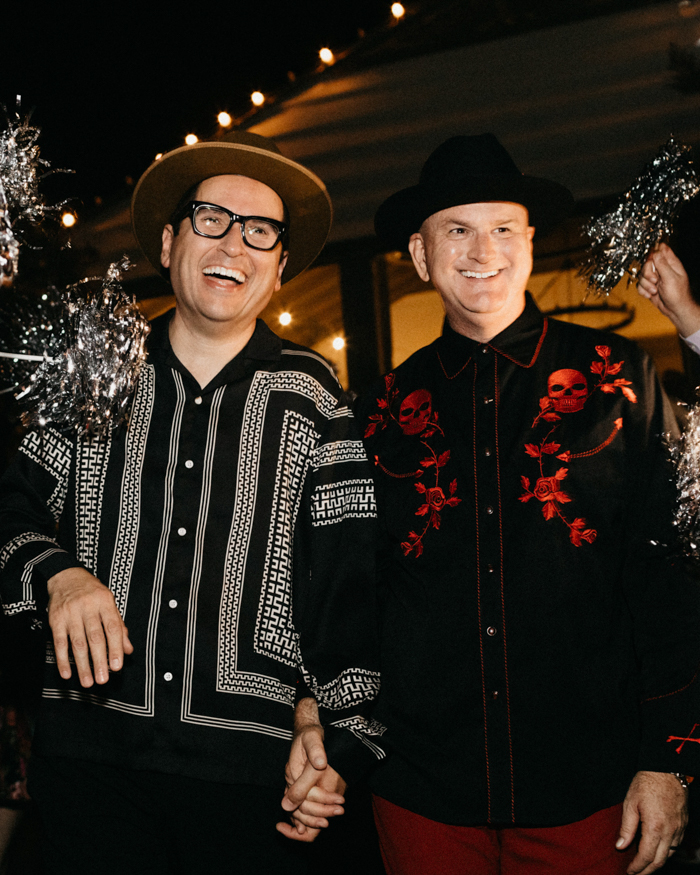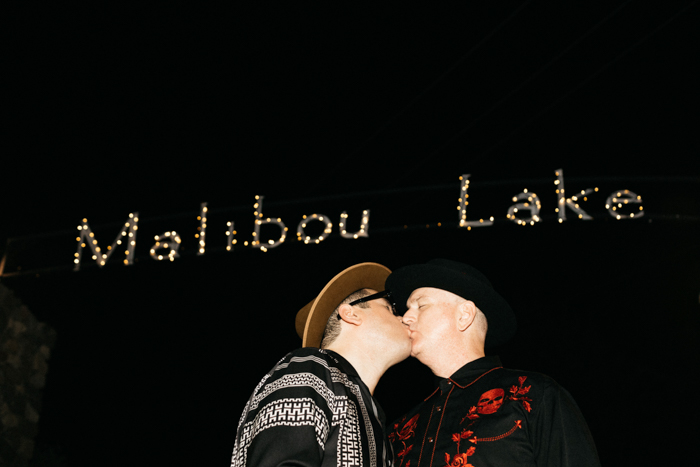 Congratulations to Gabe and Steve on their exquisitely moody and romantic Lodge at Malibou Lake wedding. A big thank you goes out to the talented Mandy Johnson for beautifully capturing every stunning detail and special moment, which will undoubtedly inspire many other couples.
With autumn's warm colors and enchanting ambiance, make your celebration magical by adding cozy ideas. Use seasonal colors, themed invitations, and signature cocktails to elevate your love-filled wedding. And don't forget to follow our wedding planning checklist for an unforgettable and meaningful day.