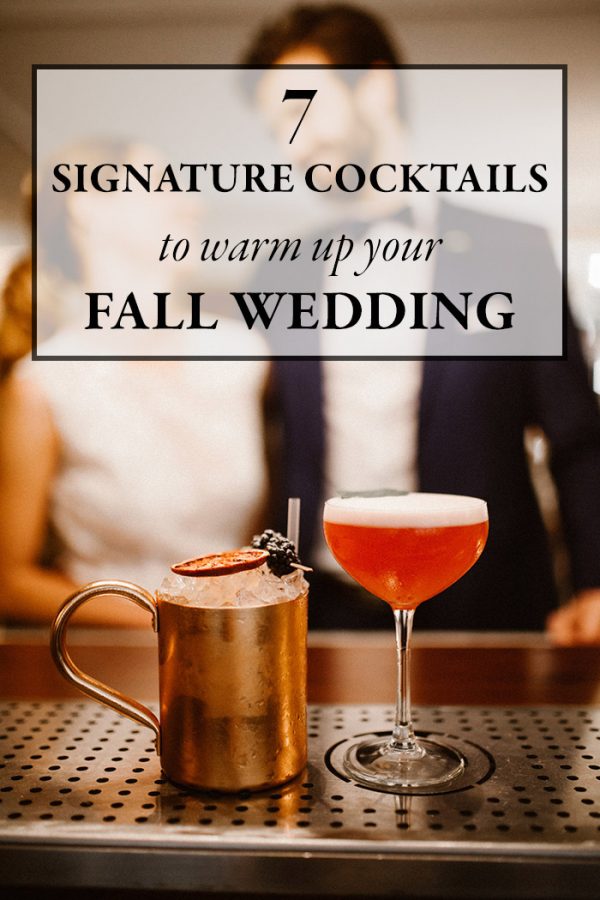 photo by Heartmade Weddings
Signature cocktails tend to get overlooked in the wedding planning process. So, we're here to remind you why they should be near the top of your list when deciding on your reception menu! You know we're all about showing your personality throughout your wedding day, and having signature cocktails is a fun (and delicious) way to do that. If you each have a favorite alcohol, you could have two different drinks to show off each person's unique taste. Or, if there you have specific cocktails that are important to you as a couple, you could include that story on your bar menu to add a more personal touch. Even if you just want to serve your guests something they've never tried before, you really can't go wrong as long as it's something you love.
When choosing signature cocktails, start with the alcohol(s) you like and then consider the seasonal flavors that are relevant and available. Fall is all about coziness, so rich flavors such as cinnamon, vanilla, and allspice pair perfectly with seasonal fruits/berries such as apples, pears, and cranberries to create warm and comforting combinations. Because we know there are so many cocktail options out there, we collected seven unique recipes that incorporate some of the best flavors of fall — from spiced apples to Earl Grey tea and, of course, a little bit of pumpkin. Each of these cocktails starts with a simple base, which is key when serving a large group of people, and has a creative, fall-inspired twist to add a little something special that will wow your guests!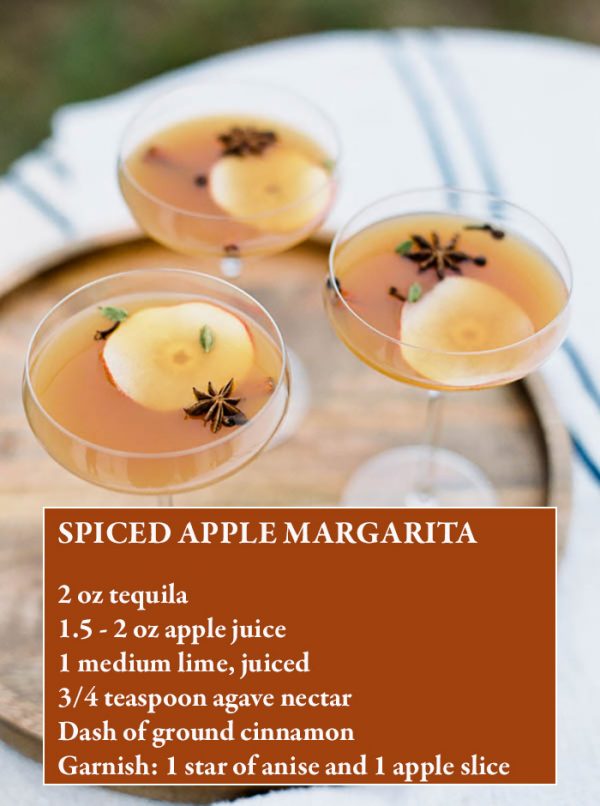 photo by Jenna McElroy | recipe by Cookie and Kate
Spiced Apple Margarita
Ingredients:
2 oz tequila
1.5 – 2 oz apple juice
1 medium lime, juiced
3/4 teaspoon agave nectar
Dash of ground cinnamon
Garnish: 1 star of anise and 1 apple slice
*Additional optional garnish: sugar, salt, and cinnamon blend for the rim
Directions:
Fill a cocktail shaker with ice. Pour in the tequila, apple juice, lime juice, agave nectar, and cinnamon. Put a lid on and shake for about 20 seconds. Strain the cocktail into the prepared glass and add a star anise and apple slice to garnish.
photo by Heartmade Weddings | recipe by Maker's Mark
Kentucky Mulled Cider
Ingredients:
1.25 oz Maker's Mark Bourbon
Hot apple cider
Dash of allspice
Cinnamon stick
Lemon slice
Lemon juice
Tonic
Directions:
Add bourbon to a mug. Fill the mug with hot apple cider and sprinkle with a dash of allspice. Garnish with a cinnamon stick and lemon slice.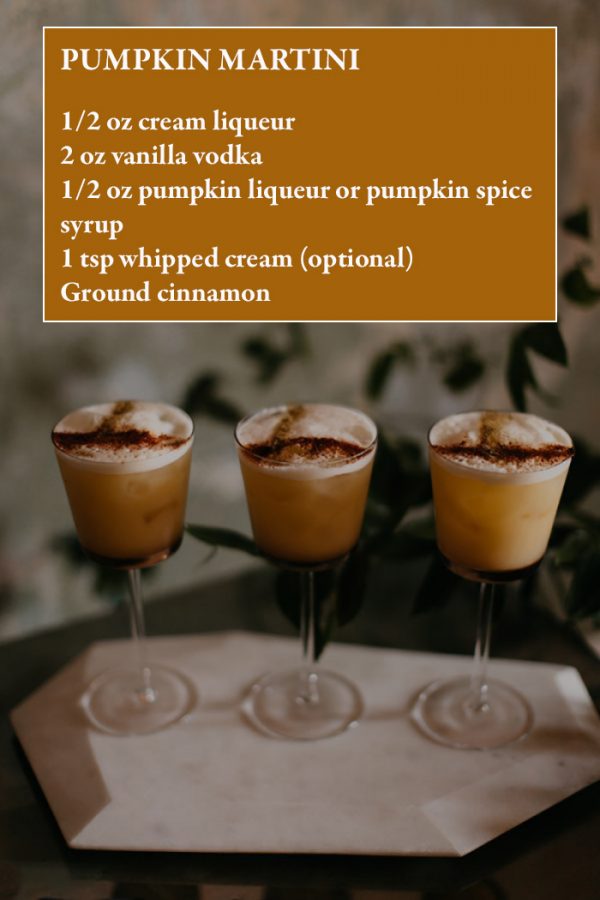 photo by Cody & Allison Photography | recipe by The Spruce
Pumpkin Martini
Ingredients:
1/2 oz cream liqueur
2 oz vanilla vodka
1/2 oz pumpkin liqueur or pumpkin spice syrup
1 tsp whipped cream (optional)
Ground cinnamon
Directions:
Pour the cream liqueur and vodka into a cocktail shaker filled with ice. Shake well. Add the pumpkin liqueur or syrup. Shake again. Strain into a chilled cocktail glass. Top with a teaspoon of whipped cream and sprinkle with ground cinnamon.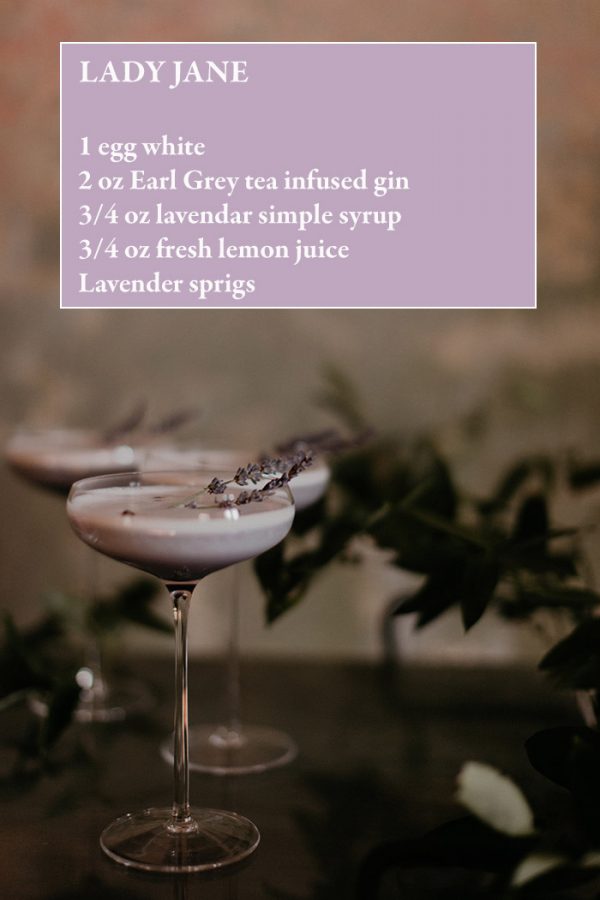 photo by Cody & Allison Photography | recipe by One Martini
Lady Jane
Ingredients:
1 egg white
2 oz Earl Grey tea infused gin*
3/4 oz lavender simple syrup
3/4 oz fresh lemon juice
Lavender sprigs
Directions:
Add all ingredients except garnish to a cocktail shaker and shake without ice. Open shaker, fill with ice, and shake again. Double strain into a chilled coupe glass and garnish with a lavender flower.
*To make the Earl Grey tea infused gin: Combine 1 Earl Grey tea bag with 2 cups gin and let sit for 2 hours. Strain into a glass bottle and use as desired.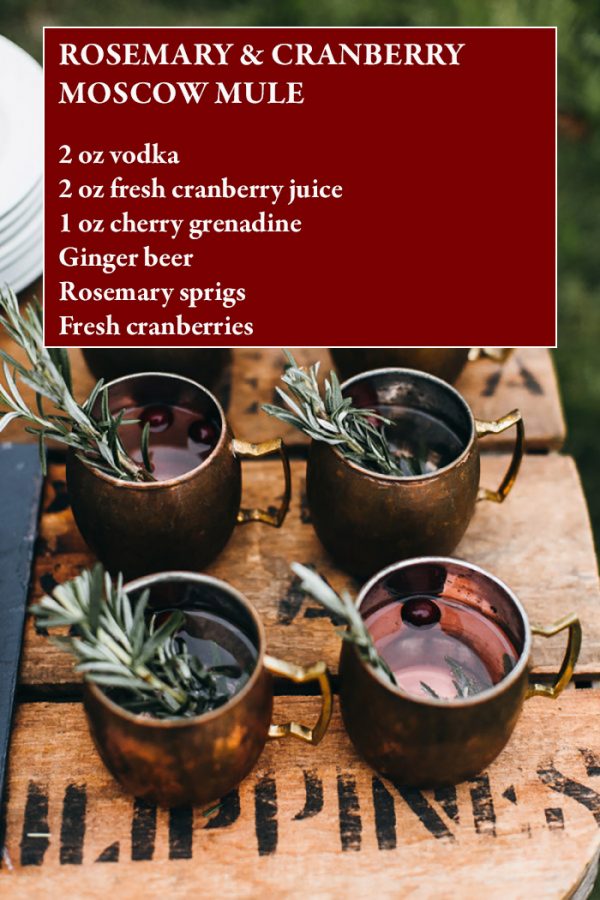 photo by Emily Kirke Photography | recipe by Major Hoff Takes a Wife
Rosemary and Cranberry Moscow Mule
Ingredients:
2 oz vodka
2 oz cranberry juice
1 oz cherry grenadine
Ginger beer
Rosemary sprigs
Fresh cranberries
Directions:
Combine the vodka, cranberry juice, and cherry grenadine in a martini shaker. Add in a sprig of rosemary and top with ice. Shake for 30-60 seconds. Strain the mixture into a copper Moscow Mule mug. Slowly add in the ginger beer, filling to the top. Garnish with fresh cranberries and rosemary sprigs.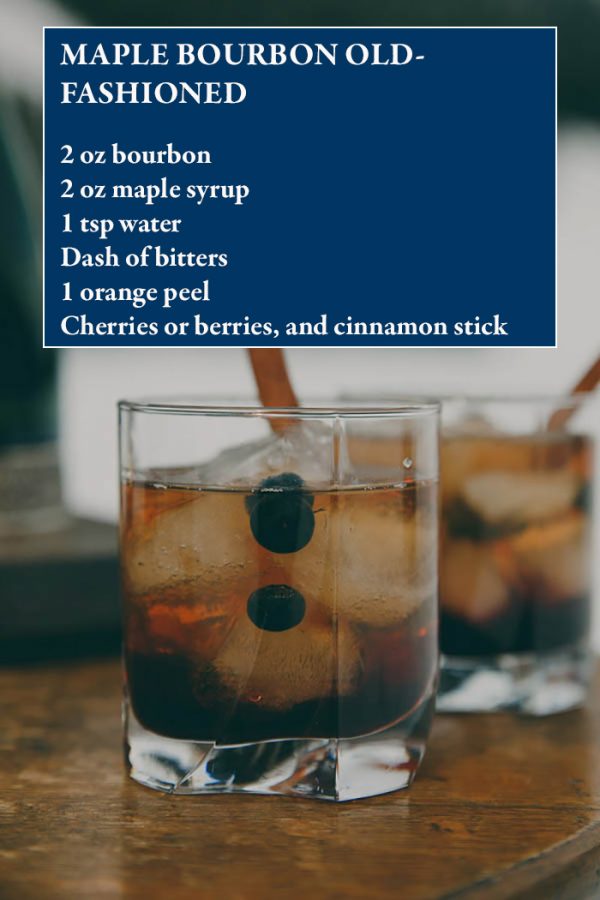 photo by Lolo & Noa Photography | recipe by Delish
Maple Bourbon Old-Fashioned
Ingredients:
2 oz bourbon
2 oz maple syrup
1 tsp water
Dash of bitters
1 orange slice
1 cherry (or your favorite seasonal berry)
1 cinnamon stick
Directions:
Combine maple syrup, water, and bitters in a glass, stirring until well blended. Add a few blocks of ice and the orange peel then pour bourbon on top. Garnish with a cherry (or your berry of choice) and a cinnamon stick.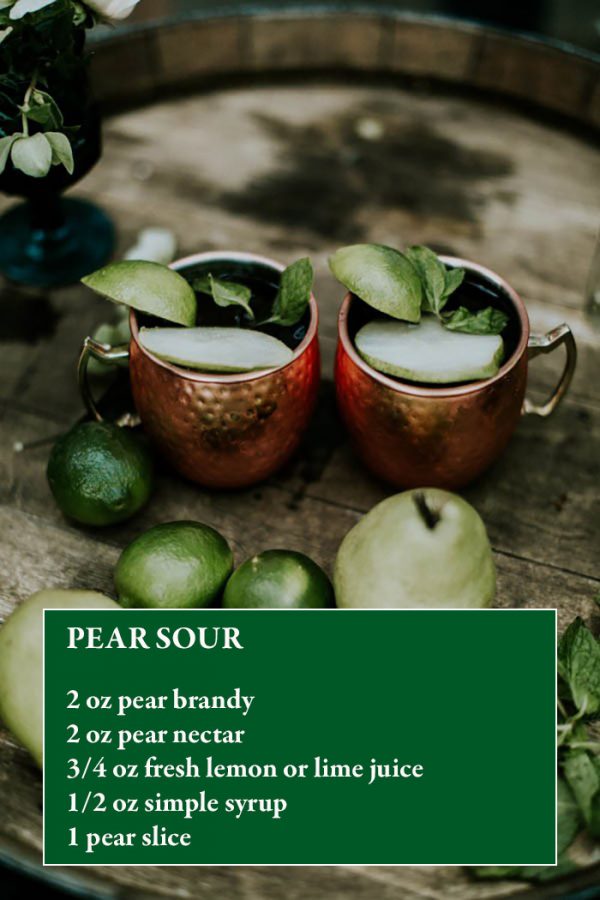 photo by Jessie Schultz Photography | recipe by Food & Wine
Pear Sour
Ingredients:
2 oz pear brandy
2 oz pear nectar
3/4 oz fresh lemon or lime juice
1/2 oz simple syrup
1 pear slice
Directions:
Fill a cocktail shaker with ice and add all of the remaining ingredients except the pear slice. Shake well, strain into a chilled glass, and garnish with the pear slice.
Now that you have the perfect signature cocktails for your fall wedding, check out these 9 creative wedding drink stations for inspiration on how to style your bar!