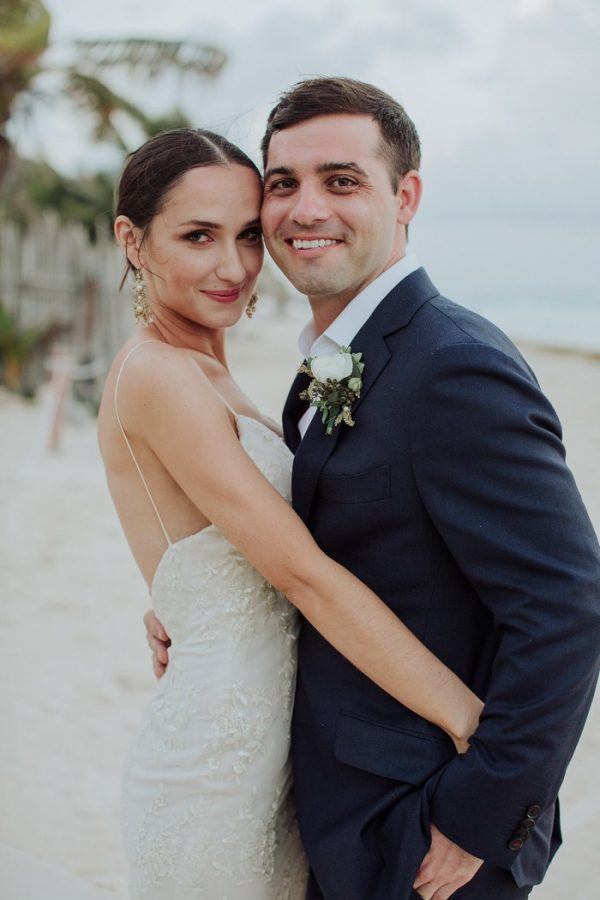 Tulum is quickly emerging as one of the coolest places to get hitched in Mexico, so it's no wonder Cass and Brendan chose to have their incredible destination wedding there! Cass and Brendan's wedding began with a welcome party featuring an open bar and endless tacos, then was followed by their ceremony that bucked tradition by forgoing a bridal party and featuring songs that spoke to them. From Cass's Marchesa gown to her Christian Louboutin wedge sandals, her bridal look was a true show-stopper. Button Up Photography captured every elegant moment of Cass and Brendan's Tulum beach wedding perfectly, including their breathtaking reception tent in the sand!
The Couple:
Cass and Brendan
The Wedding:
Tulum, Mexico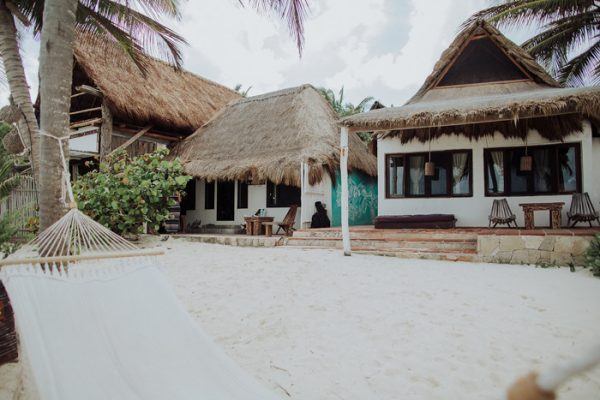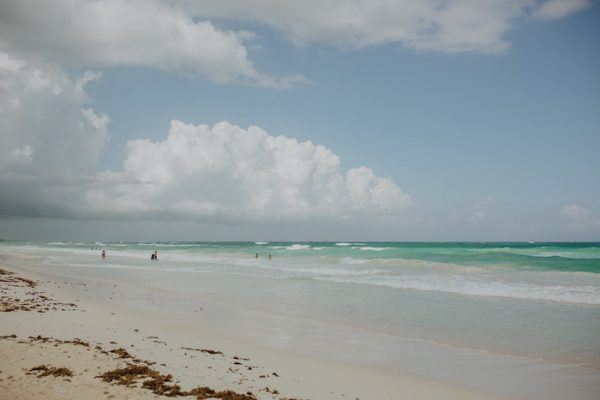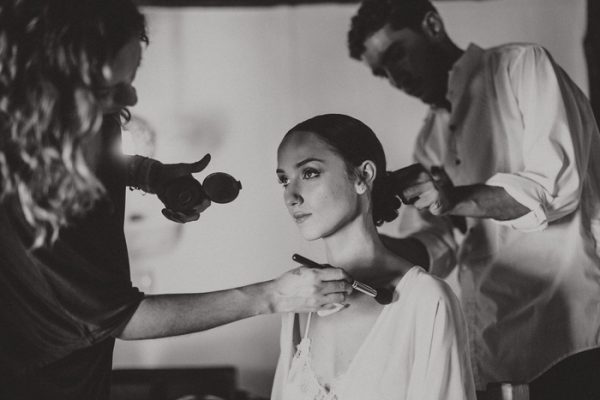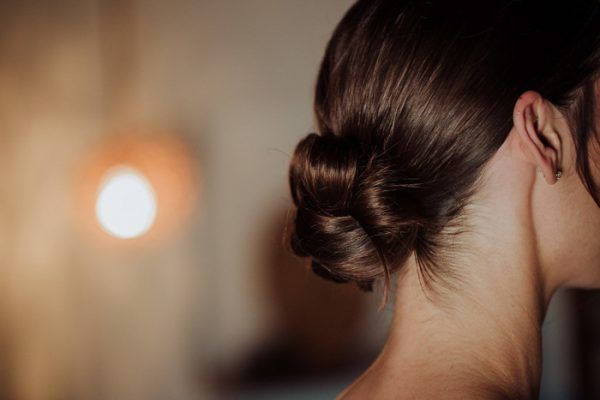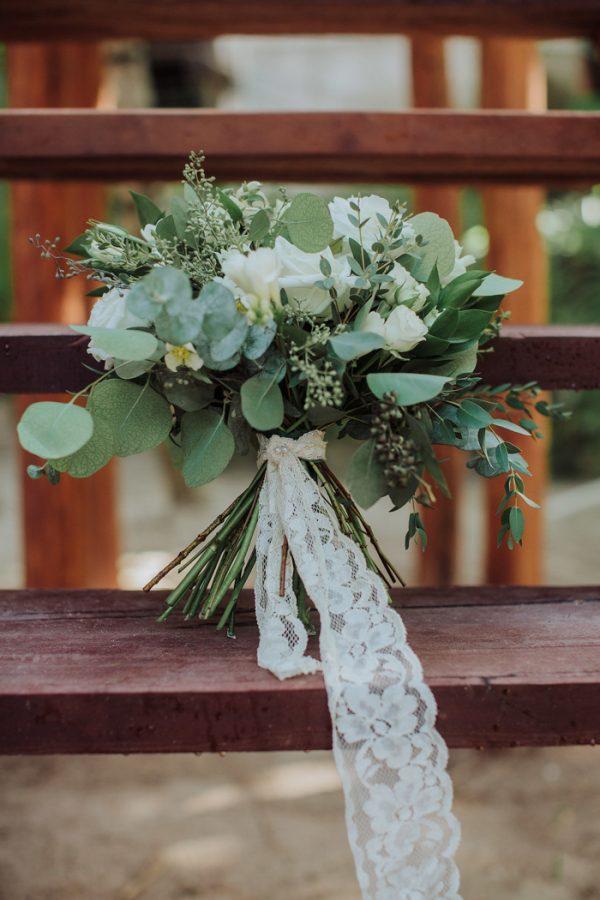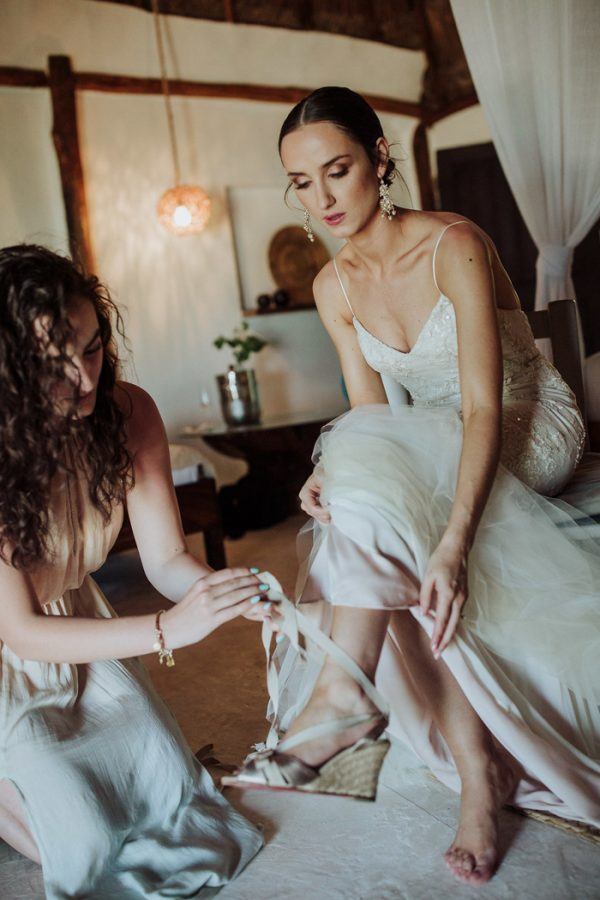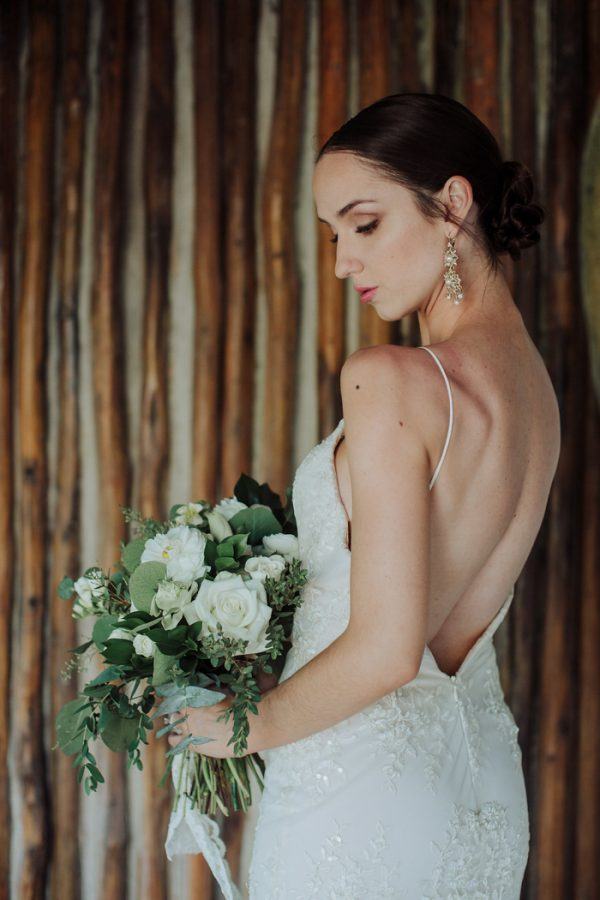 My dress found me really. My wedding dress was a Marchesa sample that I purchased at a boutique in downtown Manhattan completely by chance. Mostly, I loved the color, and the mixed blush tones underneath the tulle that really looked amazing as the sun set. The slight shimmer was also perfect for the copious amount of candlelight. Because of the sand, I had to have a wedge, and so I went with an easy Christian Louboutin from an previous season.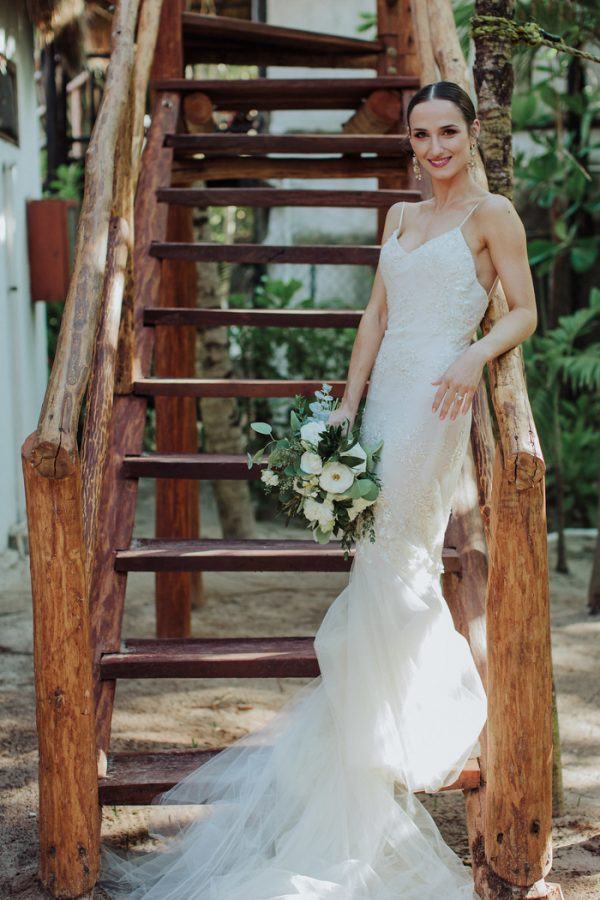 My beauty look was initially inspired by Dolce and Gabbana Spring 2014, but after not finding the perfect head piece, I opted for the statement earrings also by Marchesa which ended up being ideal for me. The makeup wasn't fussy, and felt like me, which I loved. My hair was not initially going to be parted, but my stylist Daniel did a look for my rehearsal that I ended up loving and the rest is history. I'm still wearing a center part and low bun these days!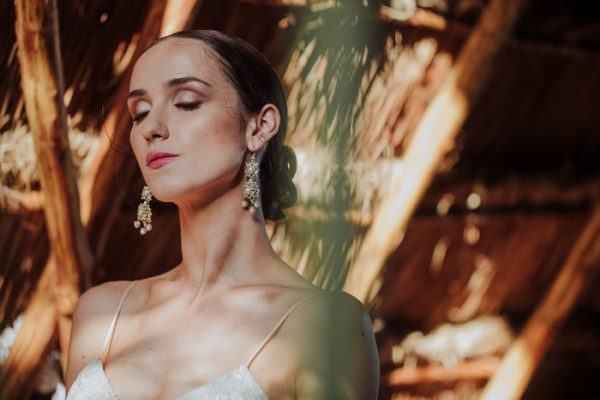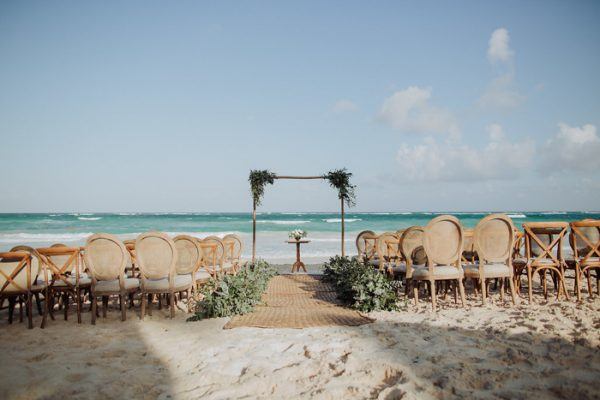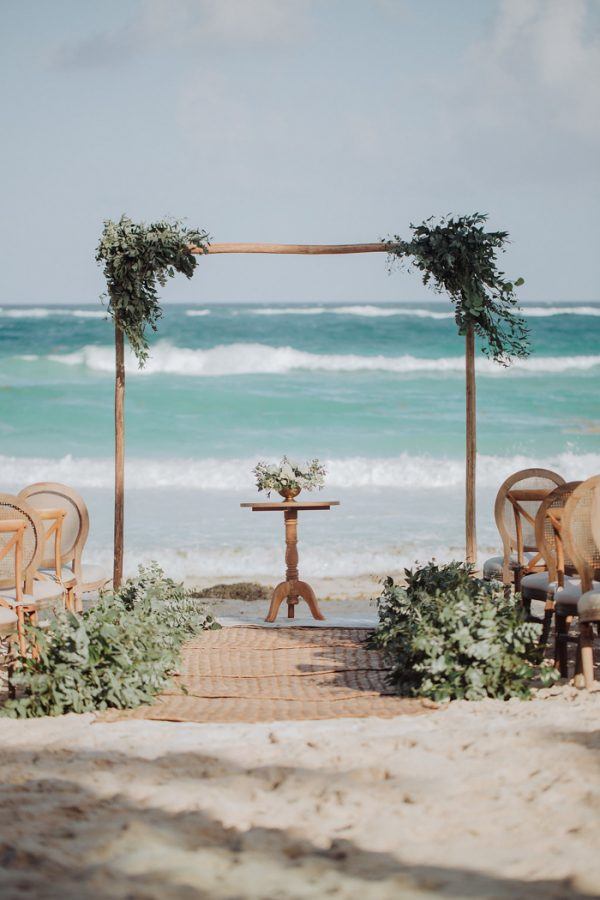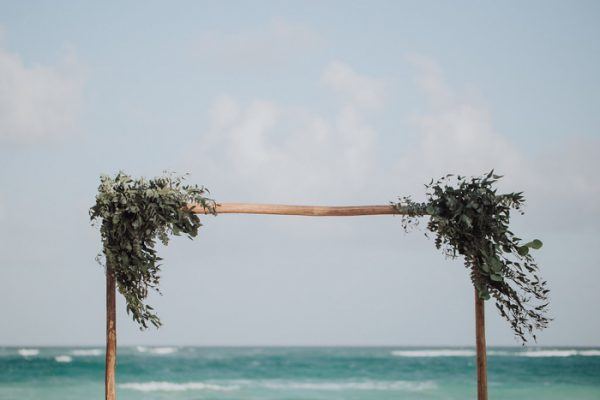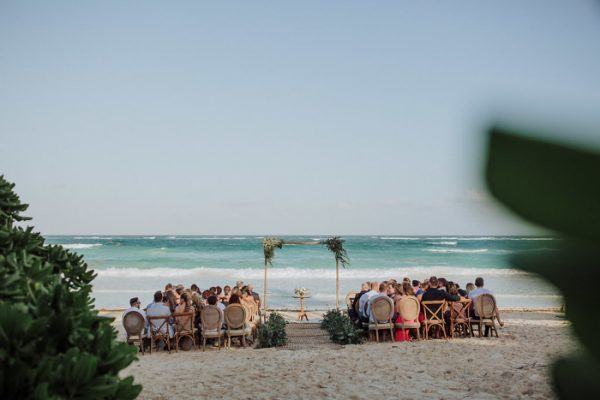 It's such an emotional and truthfully overwhelming day, we both forget a lot and are reminded only by our photos. I do remember meeting Brendan at the altar and reaching out to hug him and in doing so I nearly knocked over the table. It was such a natural reaction, but not what the bride is supposed to do.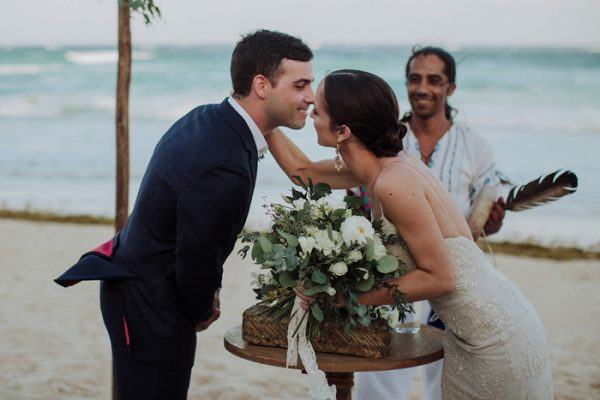 We really bucked tradition, which not everyone loved, but felt just right for us. We skipped bridal parties as our wedding was already an intimate group. We chose a non-traditional processional and recession because music was is so central to our relationship, we had to include songs that meant something to us. We also had an amazing Welcome Party at La Eufemia on the beach with an open bar and endless tacos, which was a big hit, especially with our friends.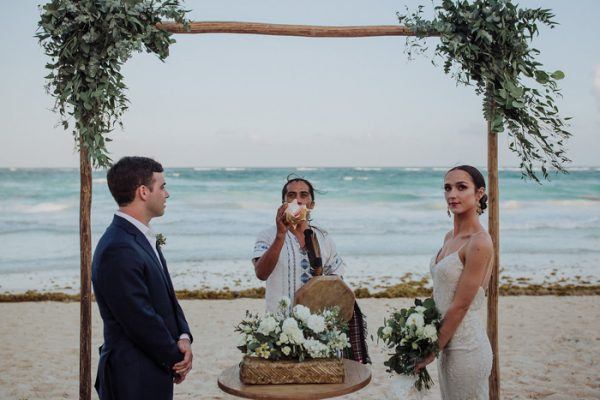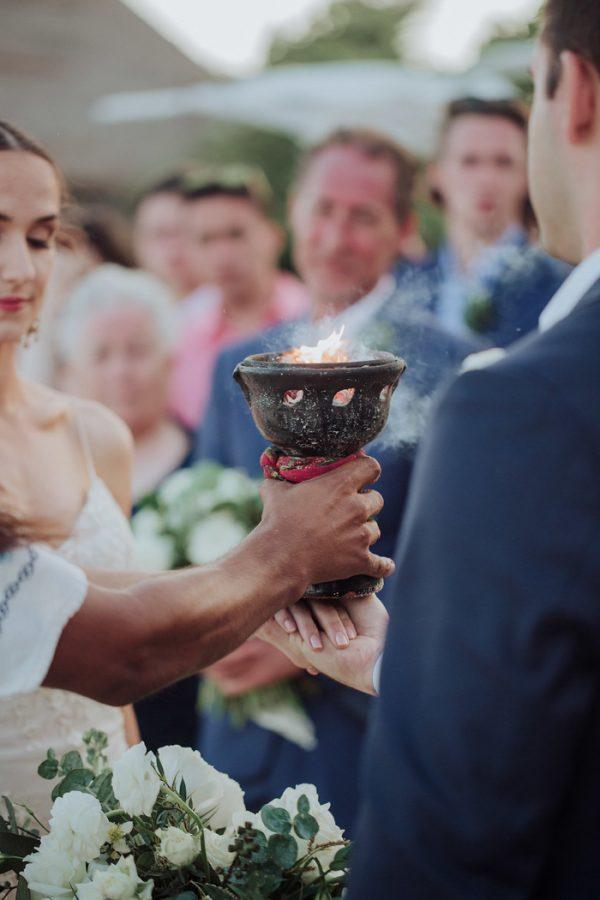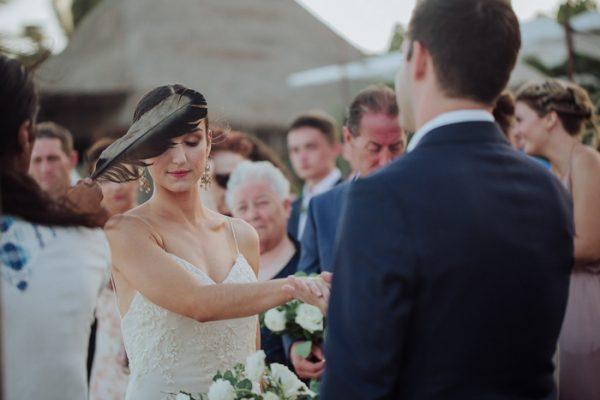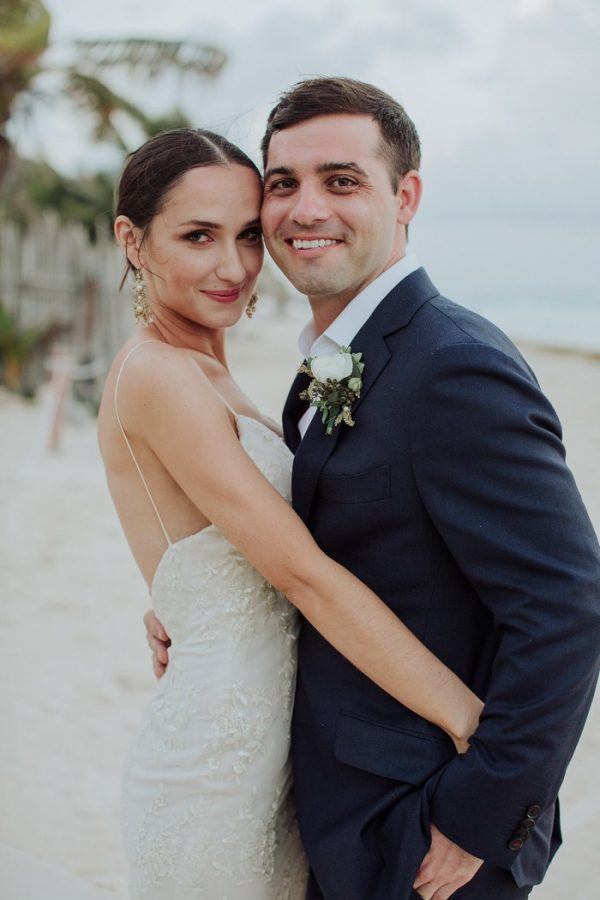 Our photographer Hideki knew that I was completely overwhelmed and just did his thing, it was really nice for me because I just couldn't think. I think he's pretty good at anticipating what type of person you're going to be on your wedding day and he just adjusts and does an amazing job.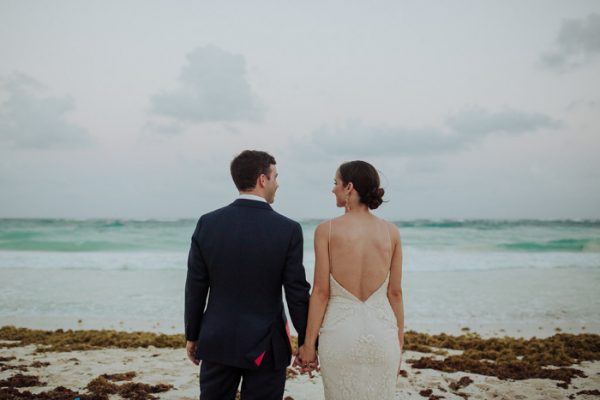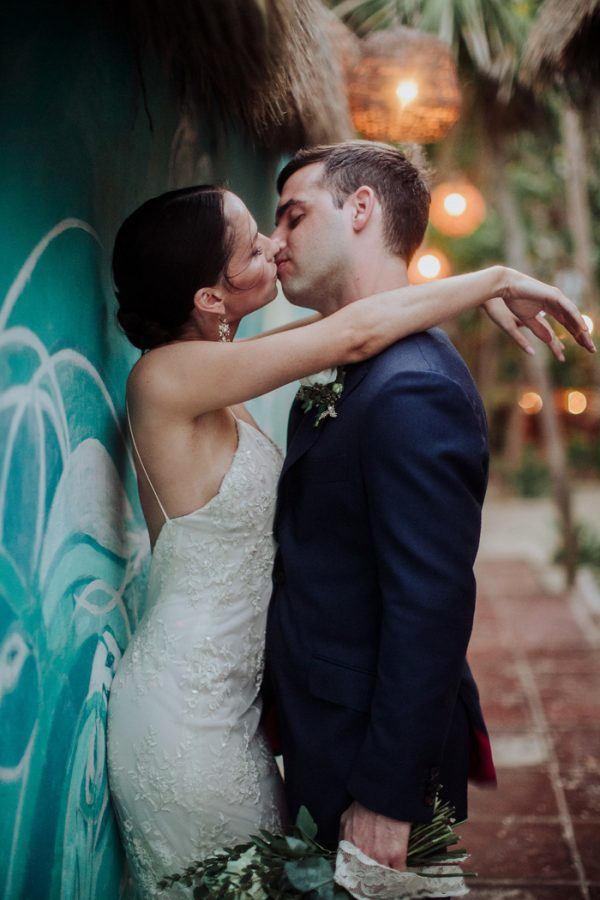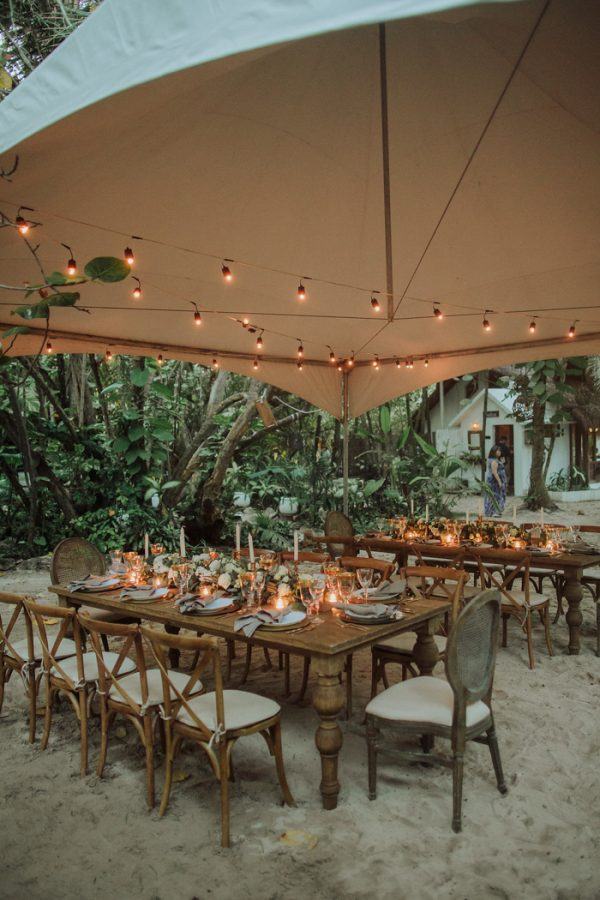 We're both minimalists and love a good clean design, we knew exactly what we didn't want, and that was a great start. We ultimately wanted the wedding to feel like an al fresco dinner party with amazing food, drinks, and friends and not necessarily a wedding. Most importantly we didn't want to spoil the location's natural beauty with too much additional details. It's so beautiful there, you could do nothing and it would feel special.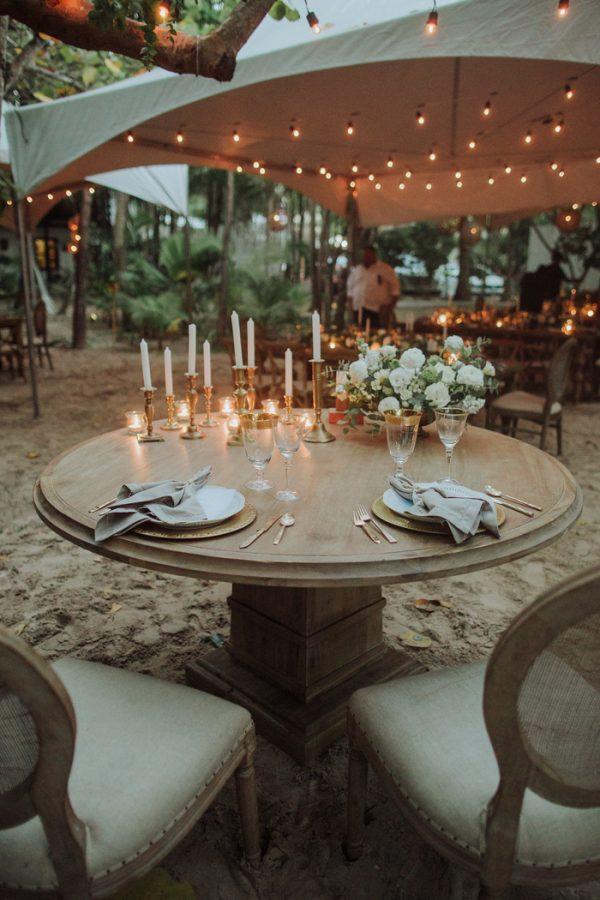 Our advice: Hire a dedicated planner, especially for a destination wedding. Your venue may have someone who helps you along the way, but they work for the venue, not you. Your wedding is one day, and it goes by so fast, you want to be able to completely immerse yourself in the experience and not worry about a thing.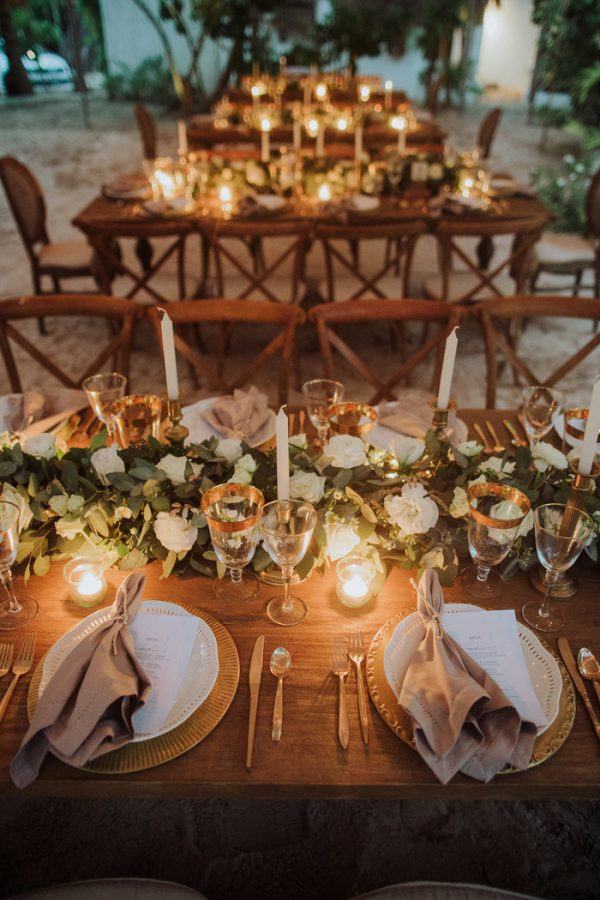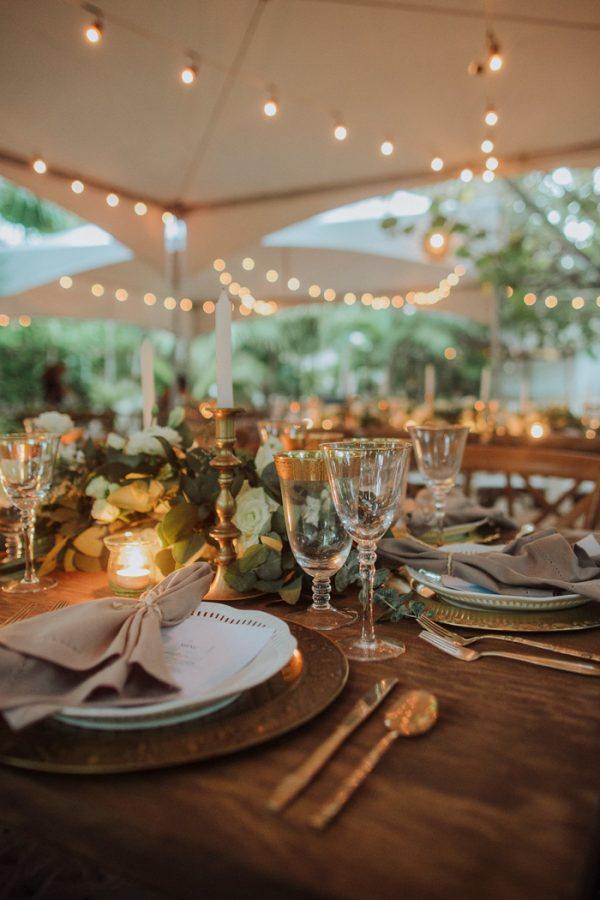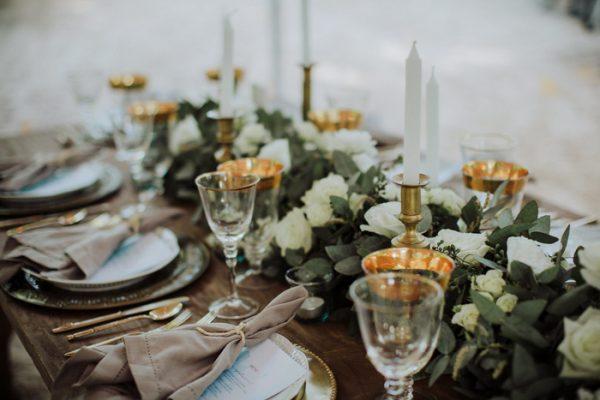 Our menu was true to Tulum and the food that we love there which is pretty healthy. Starters included fresh ceviche, zucchini carpaccio, and guacamole. The main course featured local whole fish, skirt steak, and chicken and plenty of vegetables served family style so that everyone could sample a little of everything. For dessert we skipped the cake and offered a selection of desserts. Later on in the night we served pizzas to our hard-dancing (and drinking) friends and family.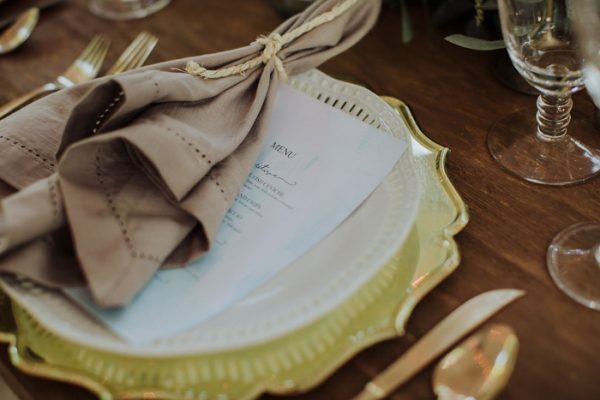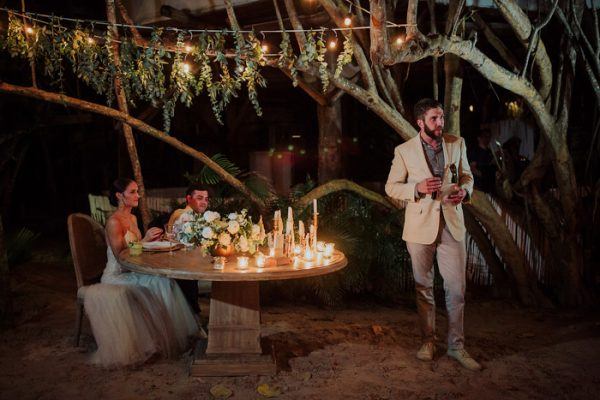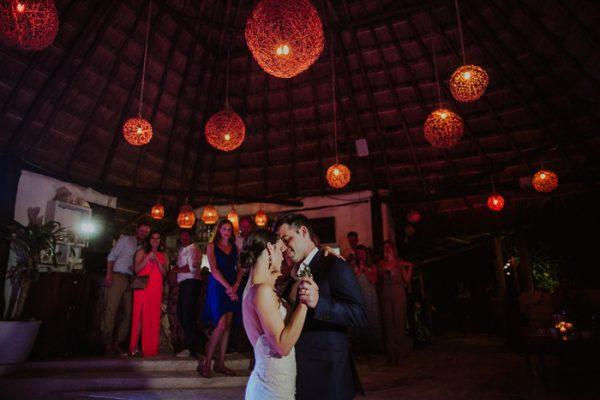 Processional: "Big Jet Plane" Angus & Julia Stone
Recessional: "Love Like a Sunset Part II" by Phoenix
First Dance: "I Got You" by Jack Johnson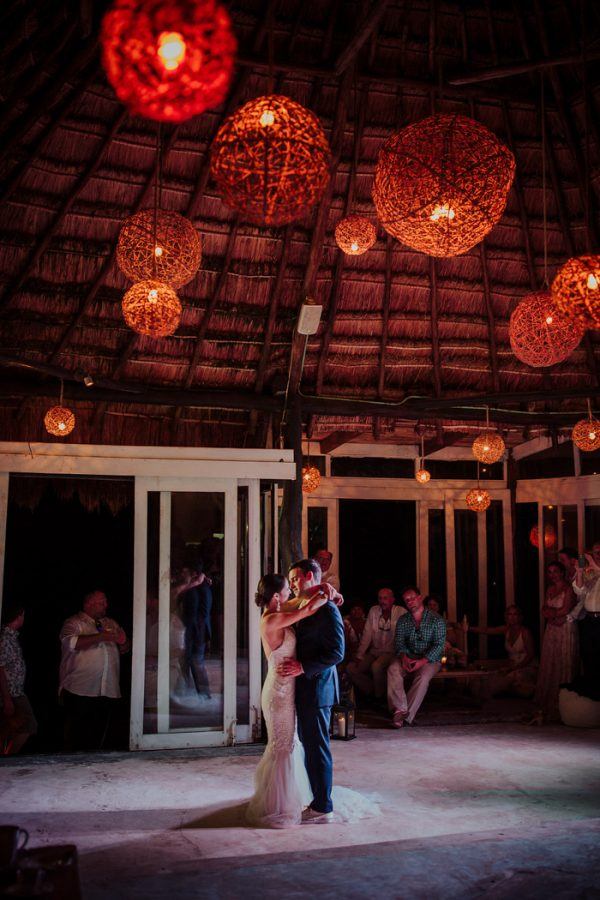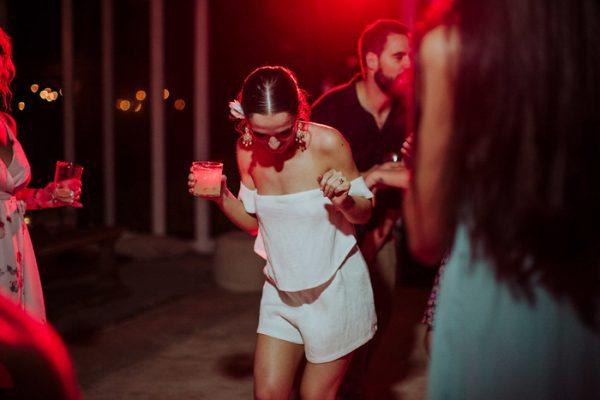 Congratulations to Cass and Brendan, and a special thanks to Junebug member Button Up Photography for sharing their day with us. Love this wedding's naturally elegant vibes? Take a look at this elegant Tulum destination wedding in black and white!