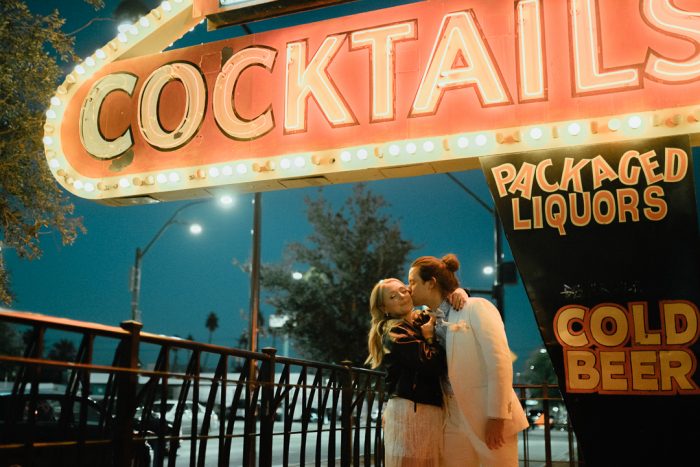 With a maximalist dress code, a showgirl officiant, a dive bar reception venue, and disco balls galore–Kami and Nick's Las Vegas chapel wedding is giving us all the iconic Sin City wedding vibes! The pair set out to throw the best party ever with their closest loved ones, and they accomplished exactly that, and then some.
For a true "Vegas experience," the couple tied the knot at the Sure Thing Chapel with a lit heart-shaped backdrop framing the moment they said their "I dos." After the ceremony, their small group made their way to Atomic Liquors where they munched on tacos, danced to jukebox music, and hit the open bar all night long.
Their big day reflected their fun-loving and stylish nature, and thankfully, Junebug member Madeline Barr was there to capture everything. And with the bride being a photographer (and Junebug member) herself, you can absolutely expect epic photo moments! So follow the call of disco balls and keep scrolling to see all the details of this unconventional love affair.
The Couple:
Kami and Nick
The Wedding:
Sure Thing Chapel, Las Vegas, Nevada, United States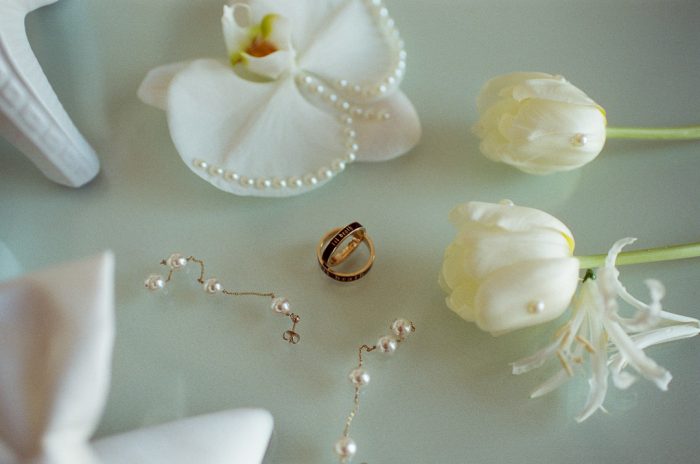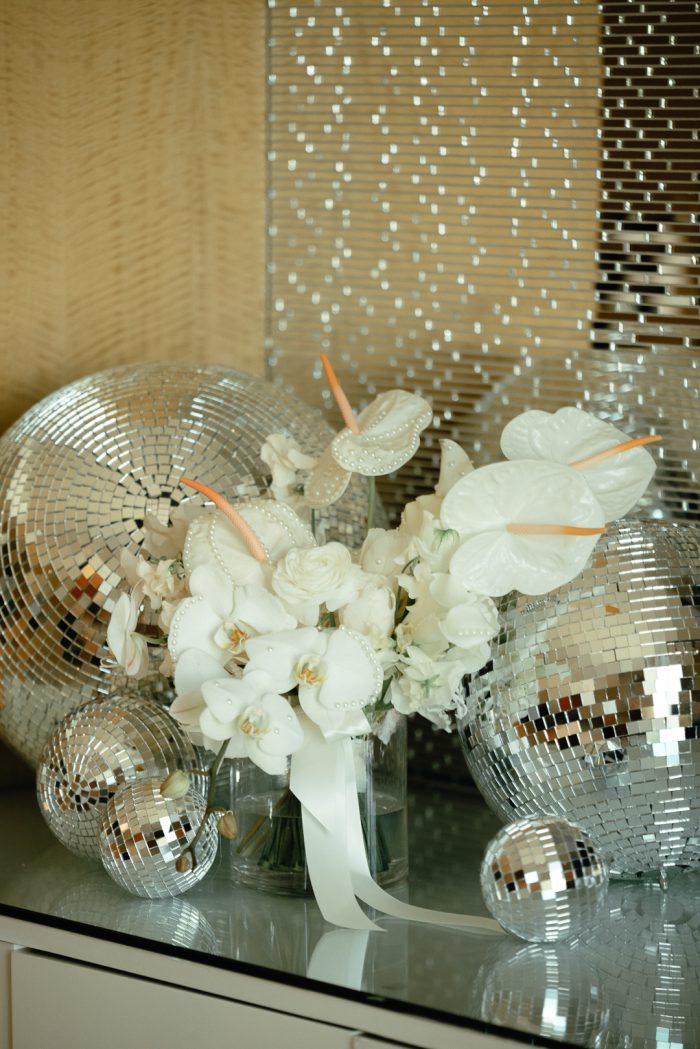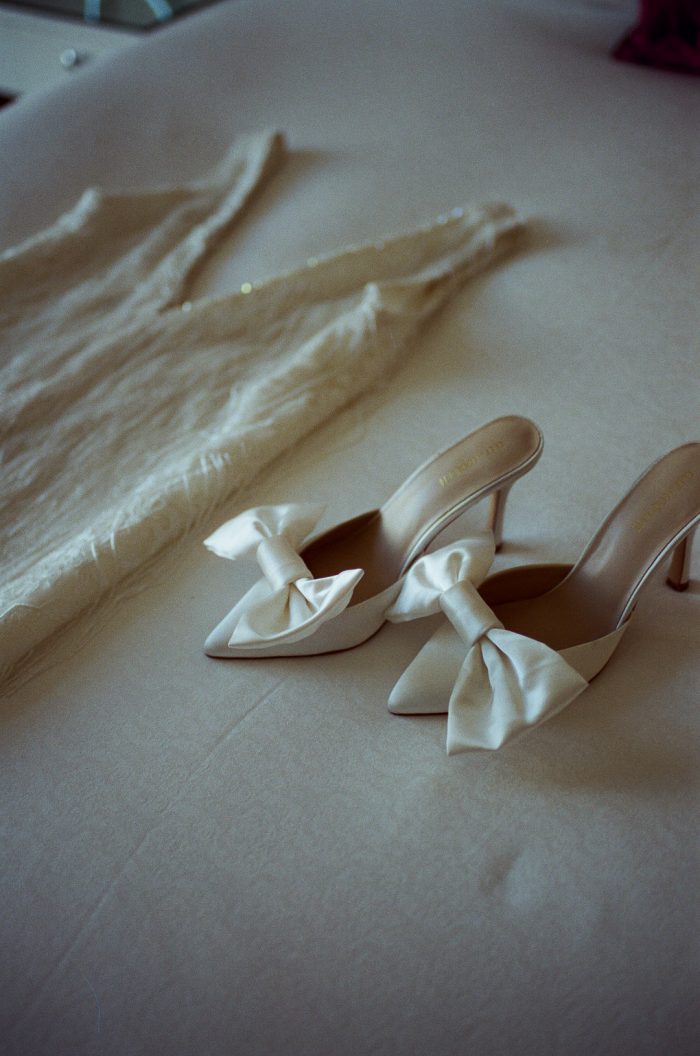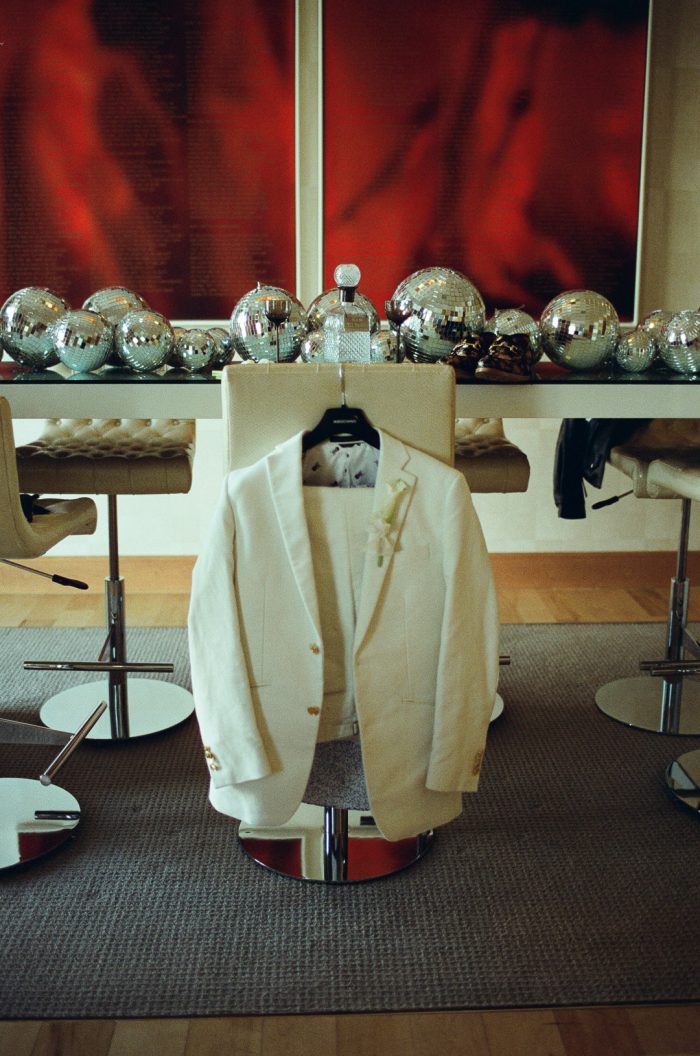 The Inspiration Behind Their Las Vegas Chapel Wedding
In a lot of ways, our vibe, style, and design came together by accident. We didn't really set out to achieve a certain aesthetic, we just started making decisions that were purely us and that made us excited. We considered eloping but then realized we didn't want to exclude our favorite people. So we thought of what our dream elopement day would look like and then just invited people to join us. Then my florist and one of my good friends just said, "Let me make you a very Vegas bouquet and I promise it won't be tacky." I trusted him fully and saw nothing about it until the day of. There were so many things like that where we didn't plan anything on purpose. We just made decisions that felt like us, and it all ended up coming together so cohesively, which honestly surprised us. We just wanted to have a good time.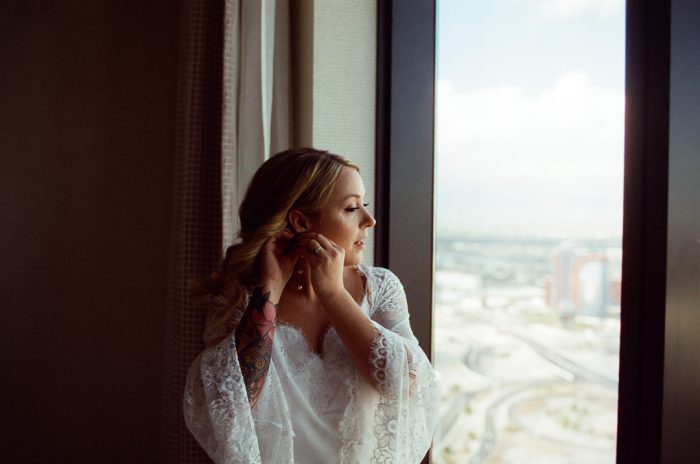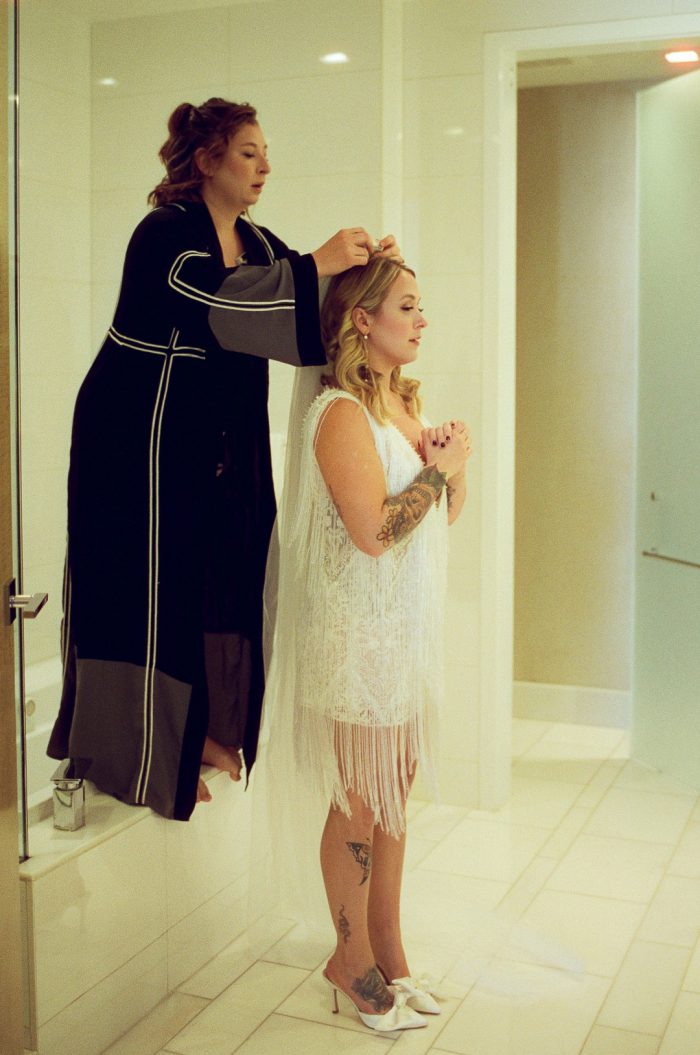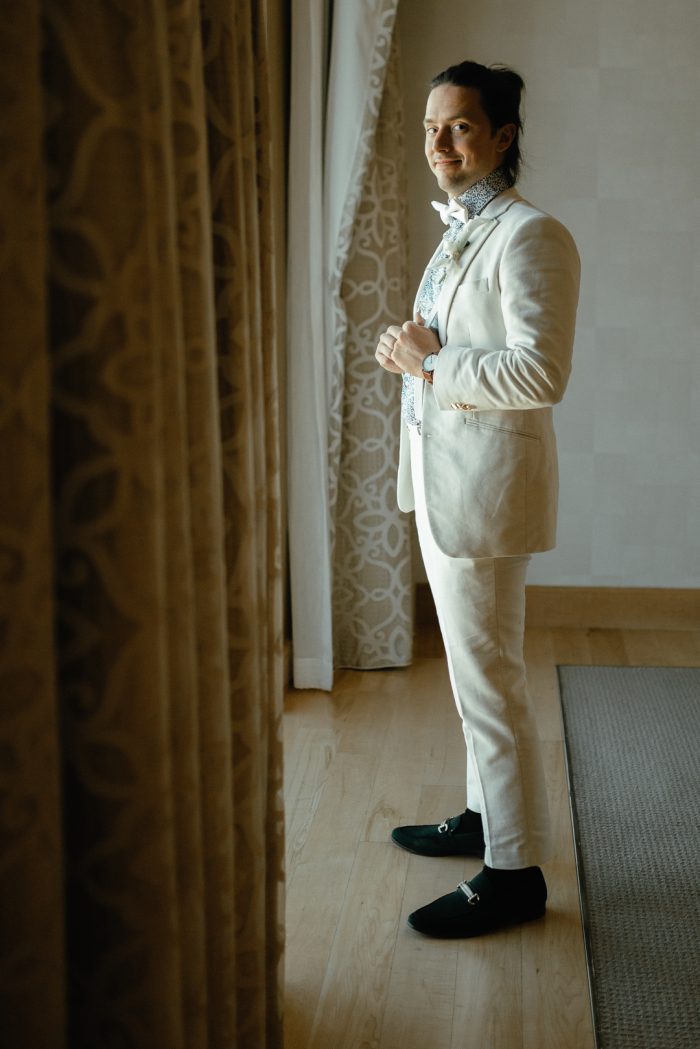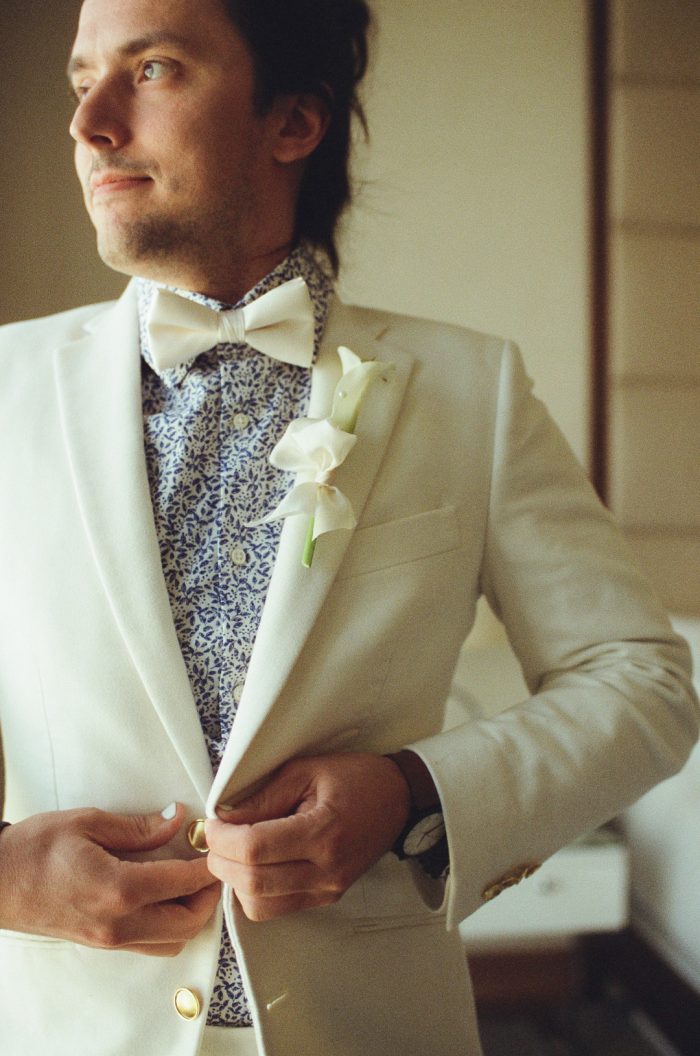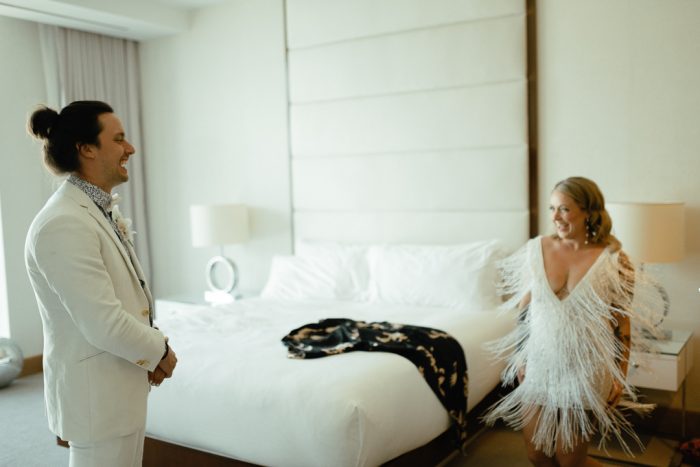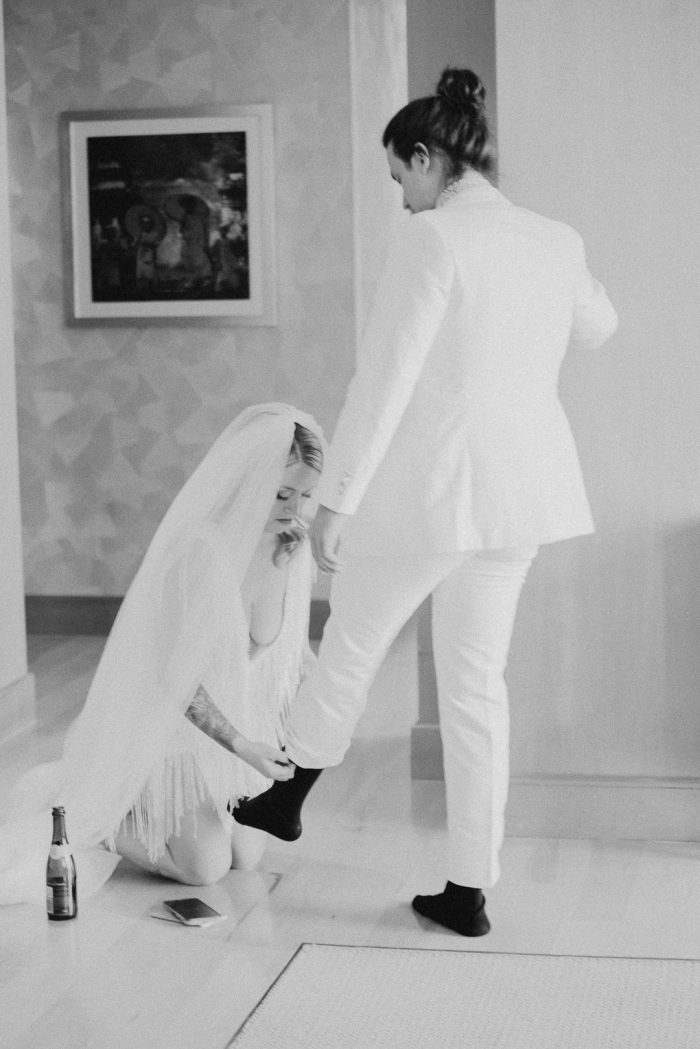 Why A Disco Ball-Filled Las Vegas Chapel Wedding
I'm a wedding photographer myself, and at a lot of the weddings I was shooting early in the year, I was seeing a lot of disco balls. That got me excited, I even bought a whole bunch of disco balls from one of my brides in the spring before we were even engaged. In our heads, we were just picturing a penthouse hotel party with disco balls everywhere. We drove the disco balls all the way from San Diego so we could have them in our room for photos.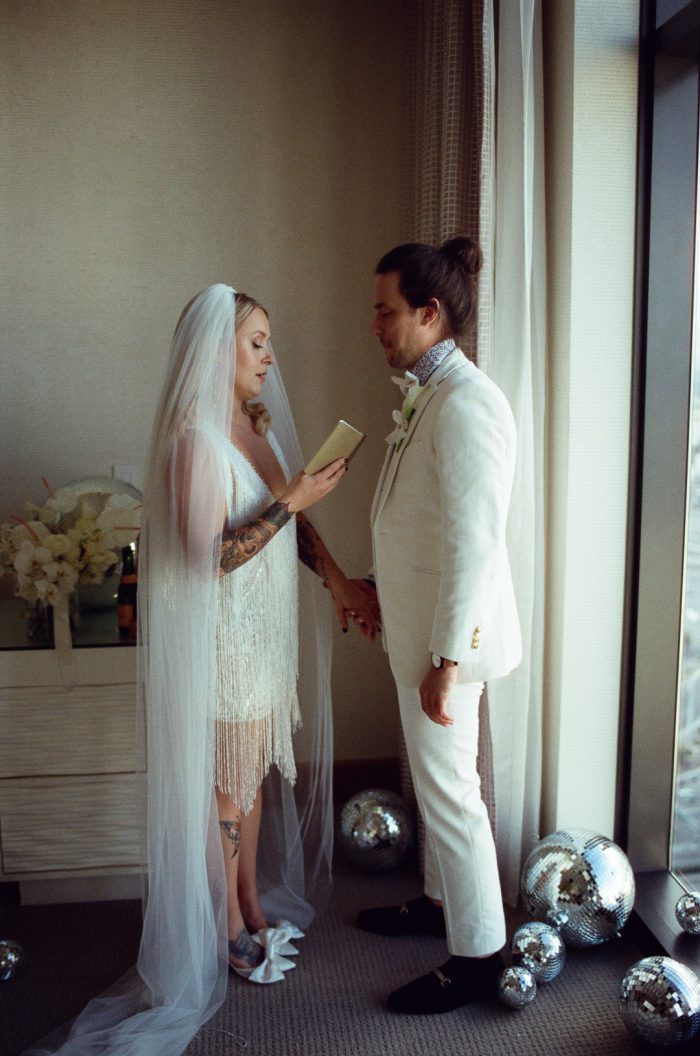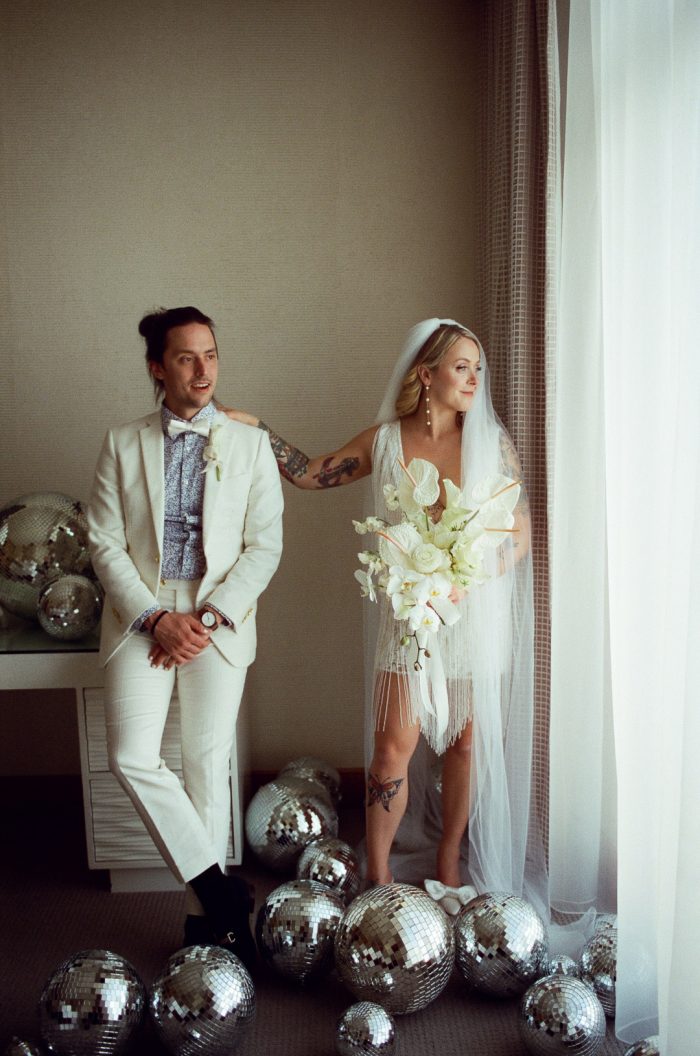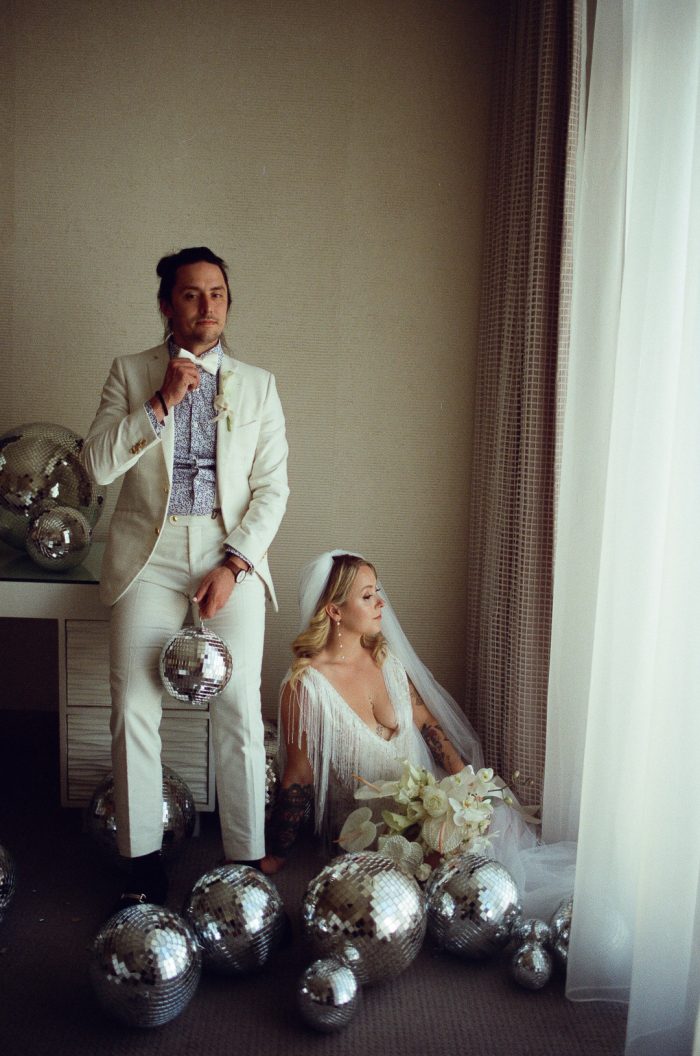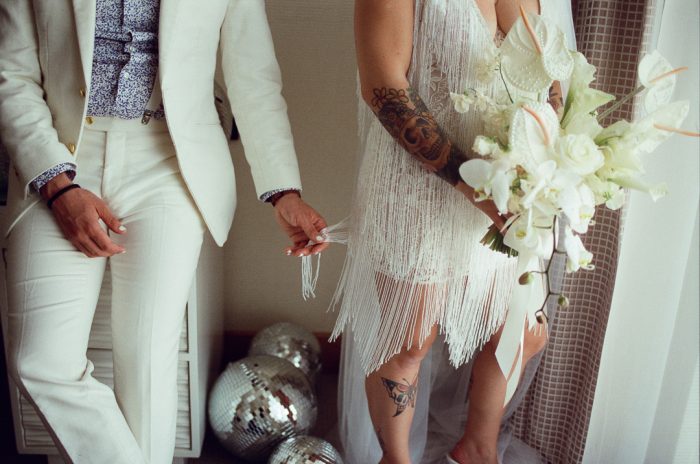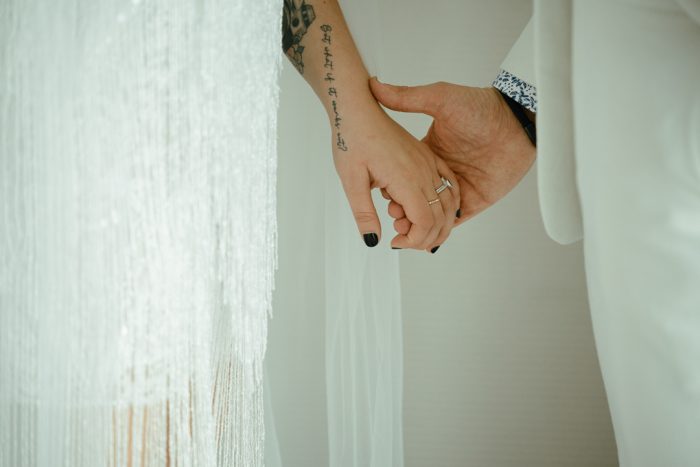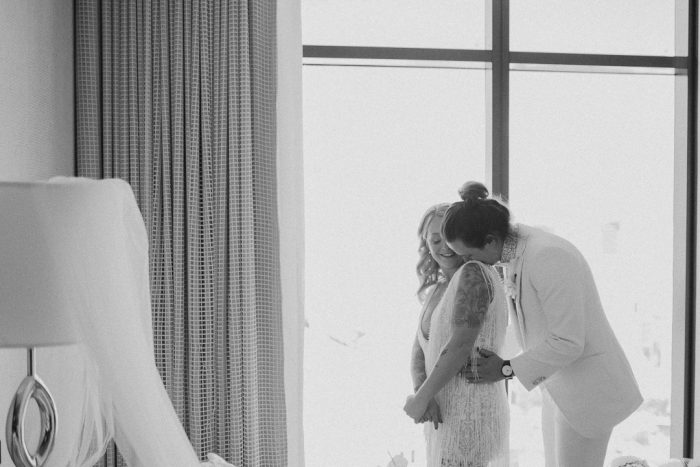 How They Landed On Their Chapel Venue
We were looking for an iconic Las Vegas Chapel wedding, and when I came across Sure Thing Chapel, I was obsessed. It was so cute, photogenic, and the true "Vegas experience" for our guests. As a female wedding photographer, I love that it is a female-run chapel, and one of the owners is a photographer herself, so of course, it is set up for maximum-photo potential. And it ended up being a walking distance from our reception venue, which was the iconic downtown dive bar, Atomic Liquors. Having the dive bar reception was everything we dreamt of and more. It was casual, we could play our own music, we had an open bar, they kept the tacos coming all night, and everyone just let loose in the best way. It couldn't have been more us.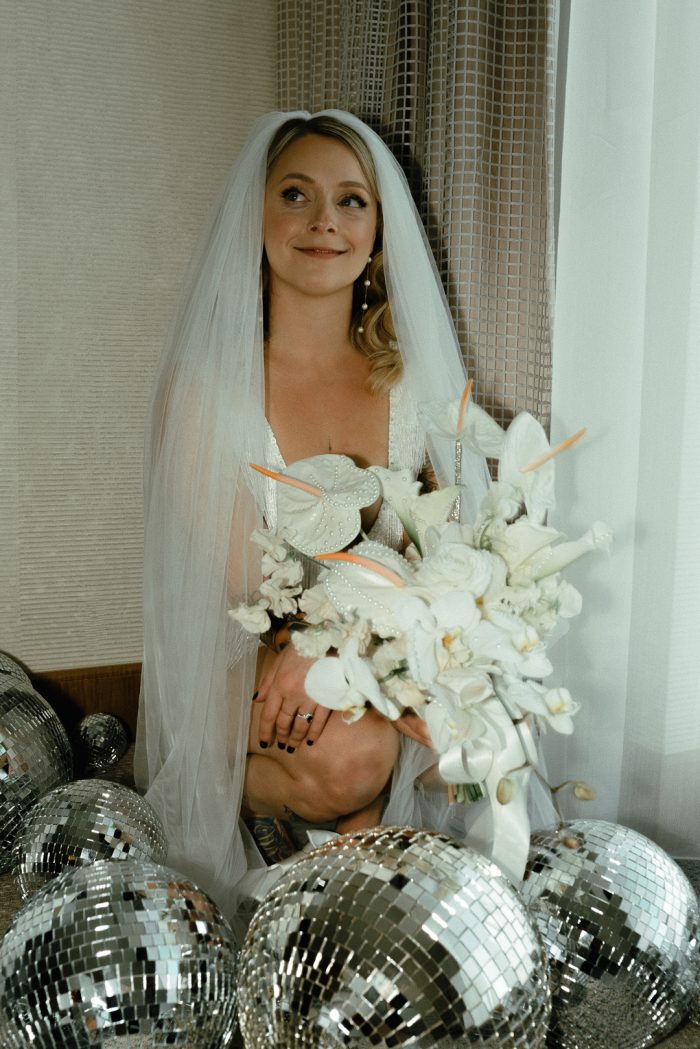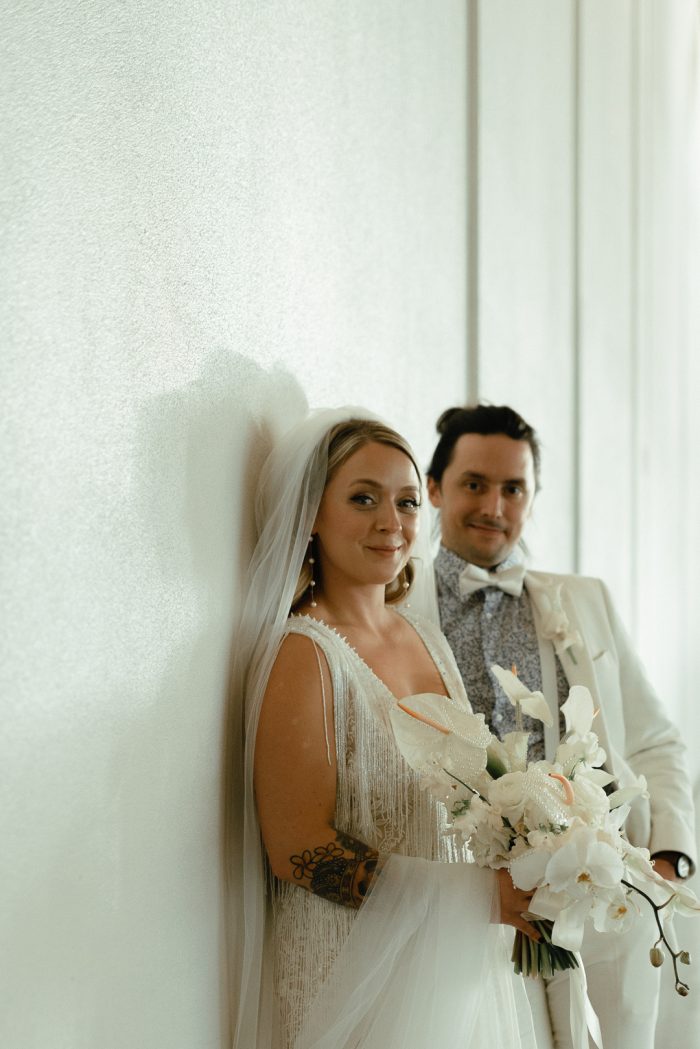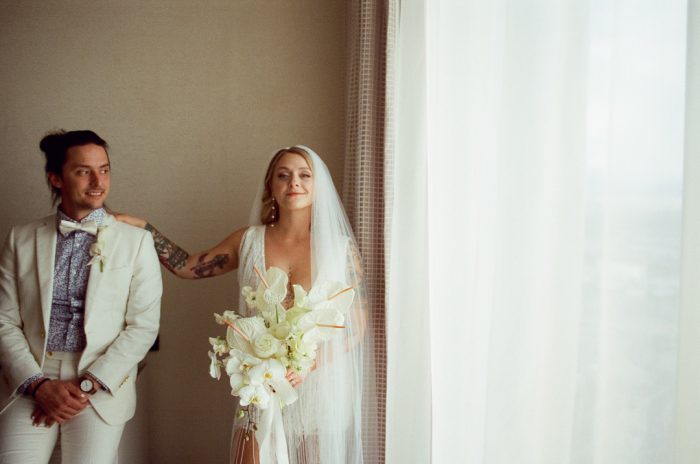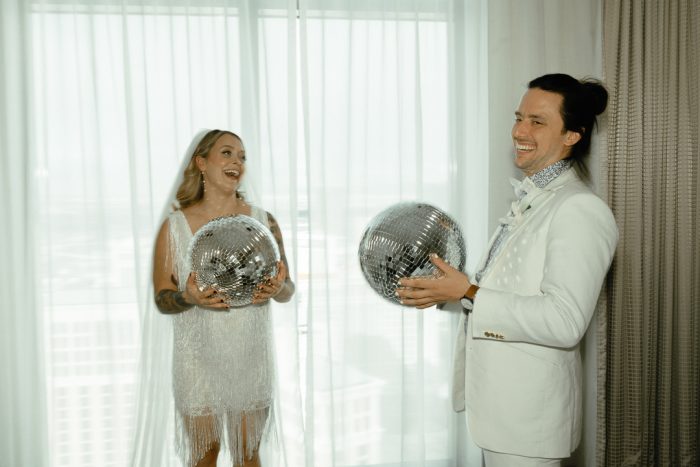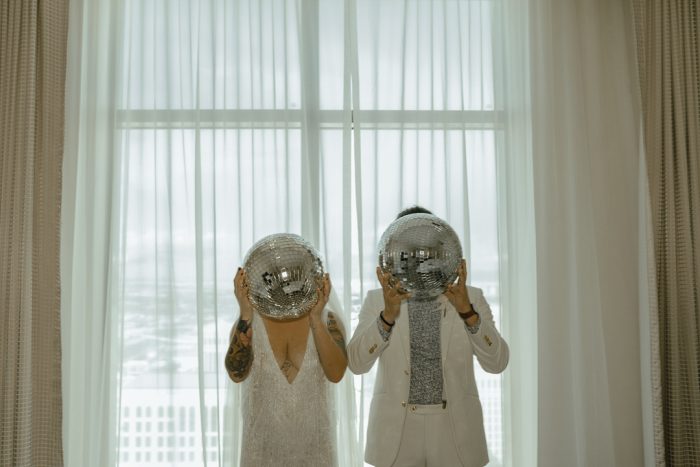 Carving Out Intentional Private Time To Take It All In
We got ready together and read our vows for the first time together privately before we shared them with everyone. Not being stimulated or overwhelmed, while we were hearing them for the first time, really let us stay present and let them sink in. We were so much more emotional when it was just us, and it was the best decision. We also had our friend and co-officiant Alyssa read to us what she prepared for our ceremony in private before we got dressed. It was an extremely special and personal ceremony script, and hearing it for the first time just us was the perfect way for us to be present and absorb it all to start the day. Those are the moments we remember most vividly because the rest of the day was such a blur!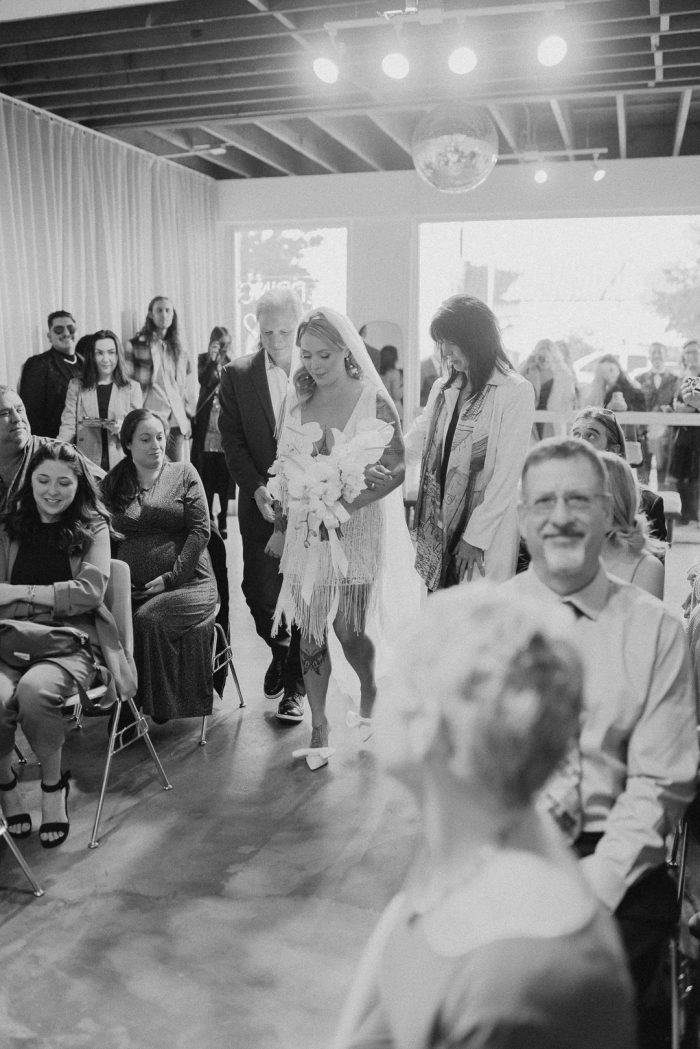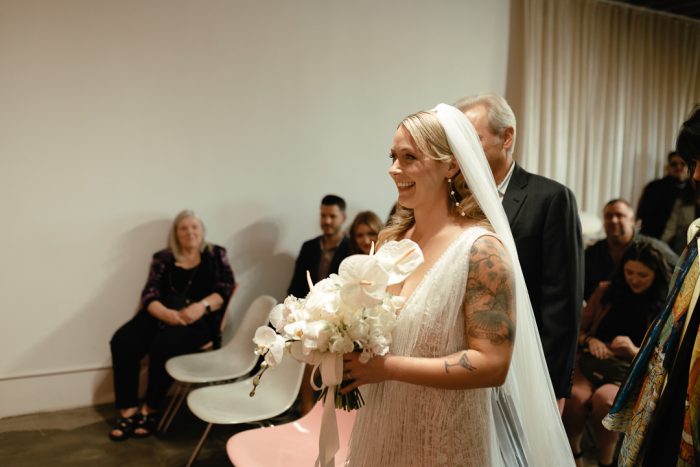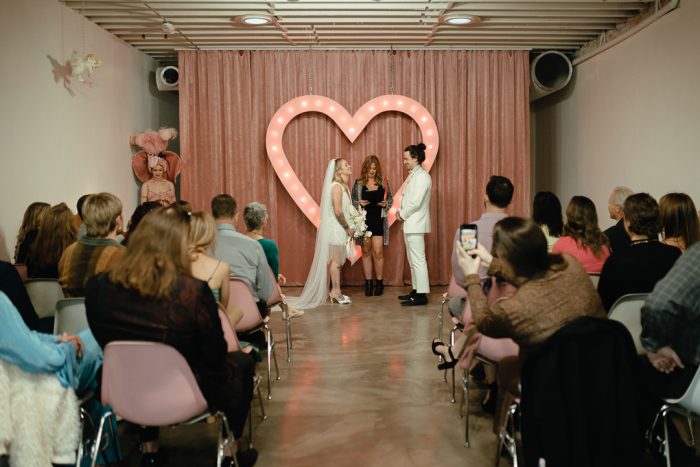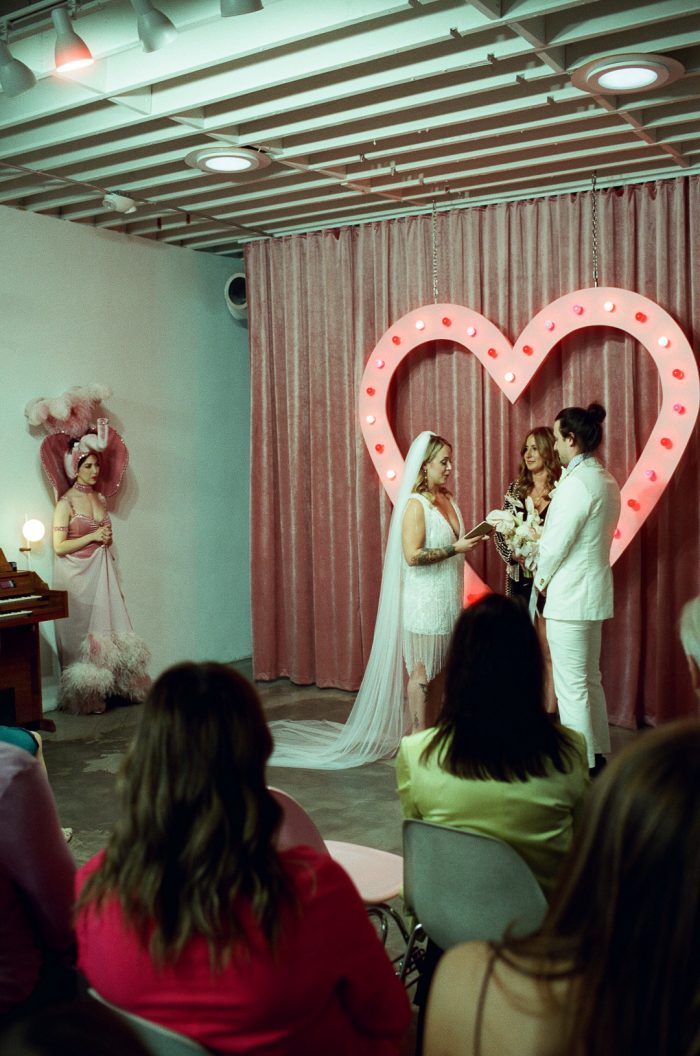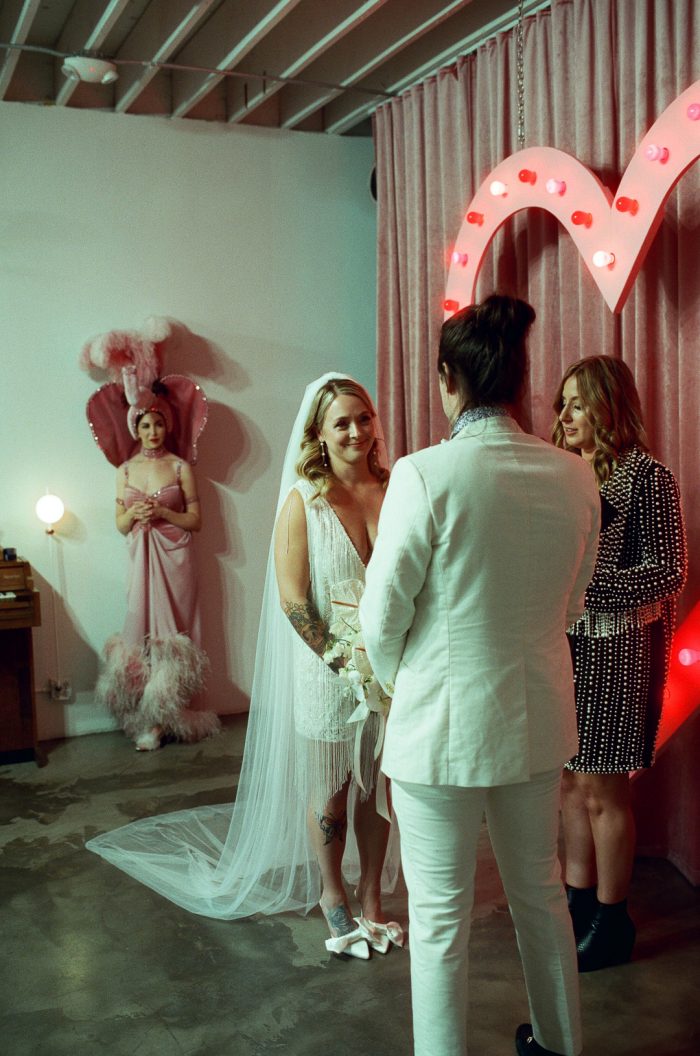 Creating A Ceremony That Reflected Their Love Story And A Show Girl Surprise
Personalizing our ceremony was important to us. We wanted the ceremony to be a peek into our relationship for our family and friends. Our friend Alyssa co-officiated with Surely the Showgirl, so she was able to read a really special opening speech based on questions she had asked us a few months before. It was so beautiful and meaningful. Then we read our own vows we had written before Surely the Showgirl stepped in to finish the ceremony. I tried my absolute hardest to keep that surprise as long as I could. It was so entertaining for our guests and felt so us. We could tell how much fun everyone was having and that meant the world to us. And how epic to say a showgirl married us.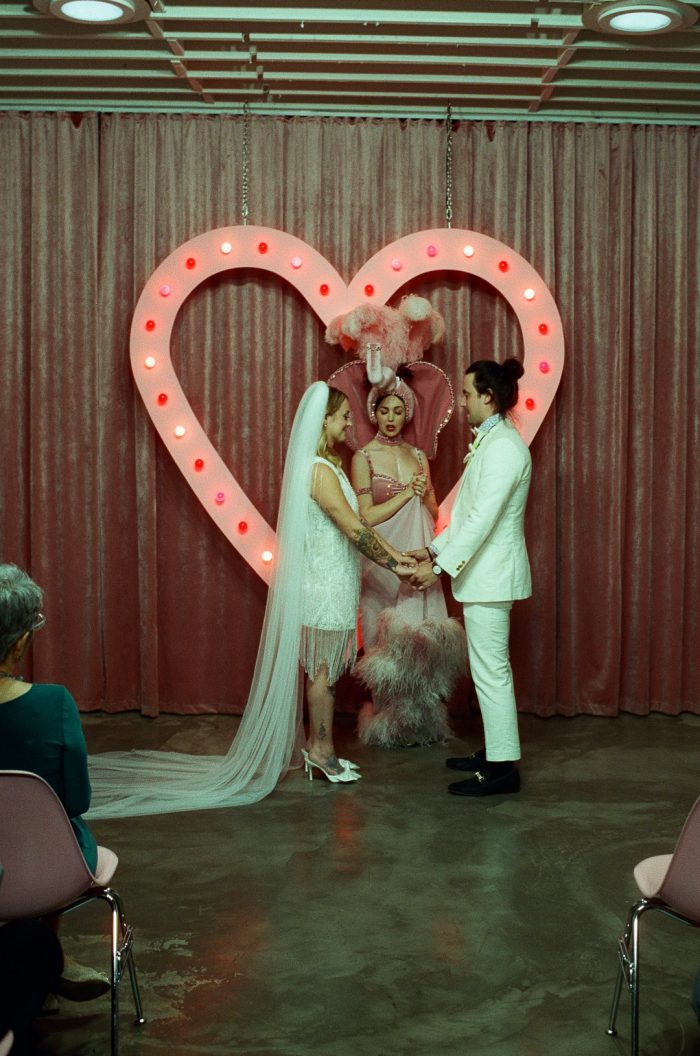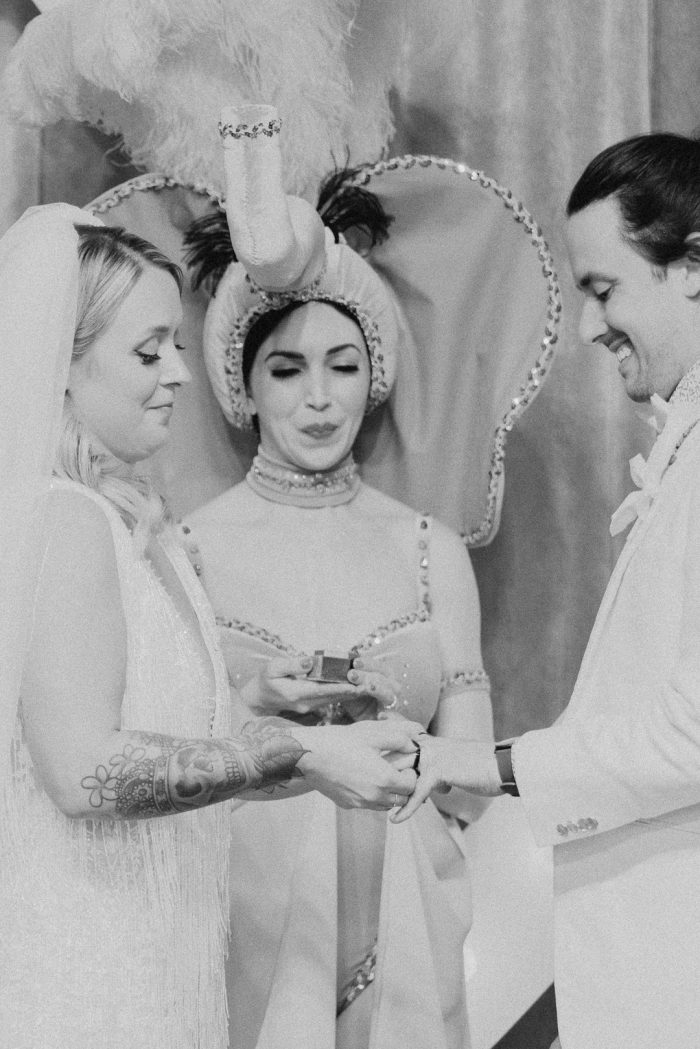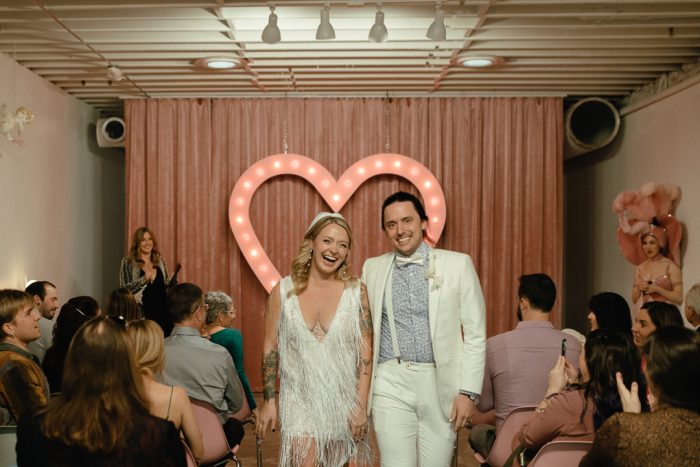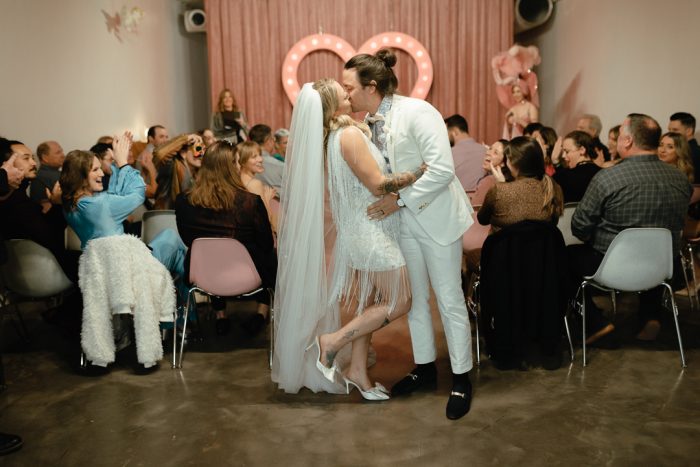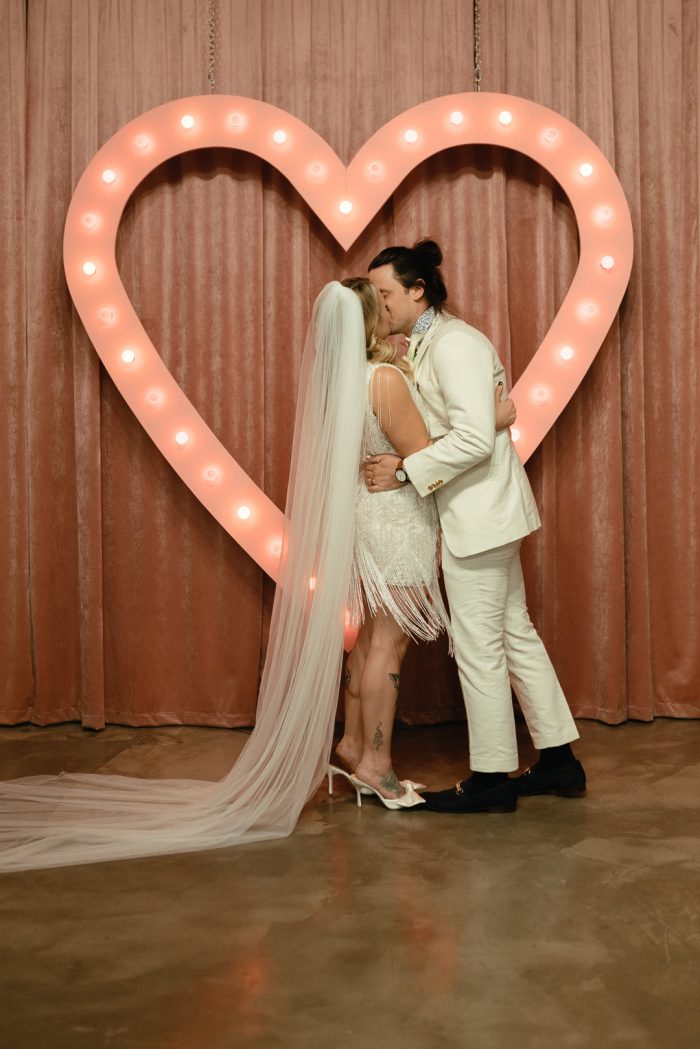 Having A Fun Wedding Experience Was A Top Priority
For us, our top priorities were that people had fun and looked good while doing it. We kept it simple and only did what we truly wanted and ditched what we didn't. We are so proud of how much fun people had. We set out to throw the best party anyone has ever been to, and we feel like we absolutely accomplished that. It also ended up being the best-dressed event anyone had ever been to. A couple of months before the wedding, our florist and friend Arturo said we should call the dress code "Vegas maximalism". And our friends and family just ran with it.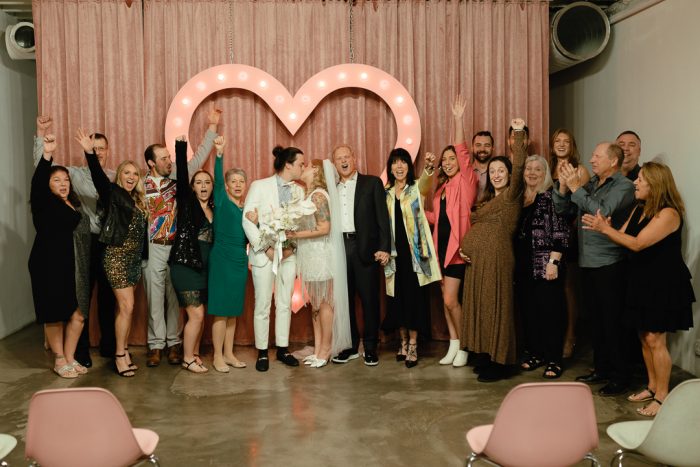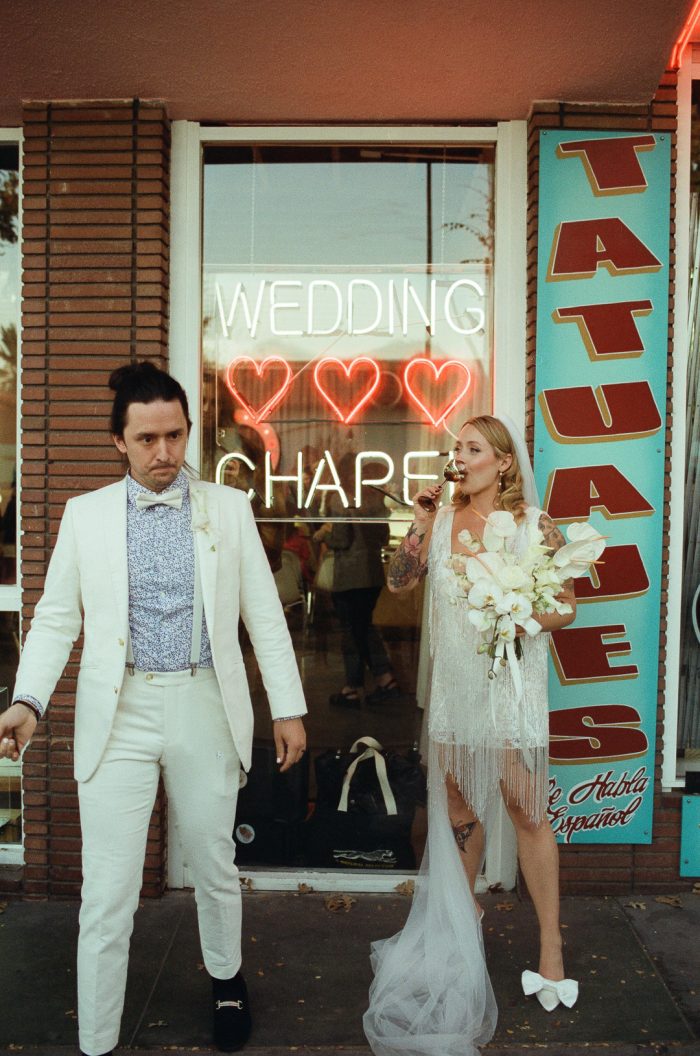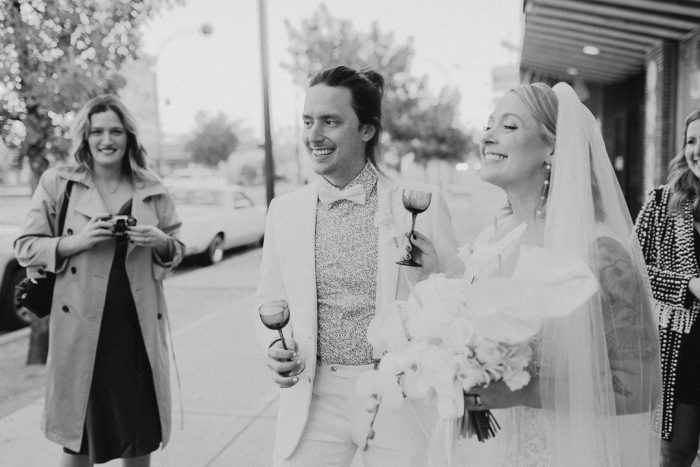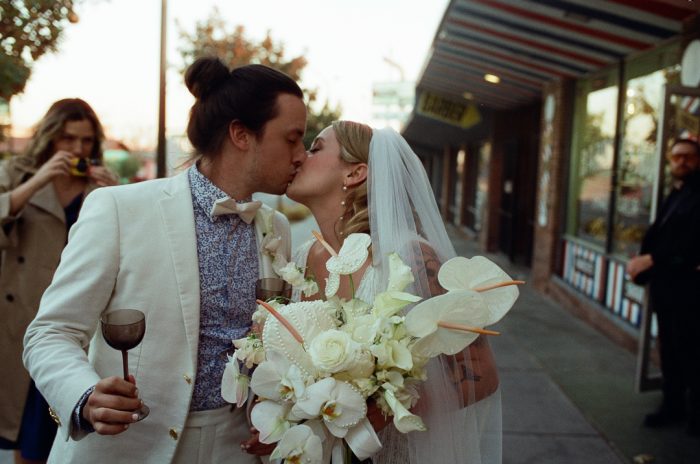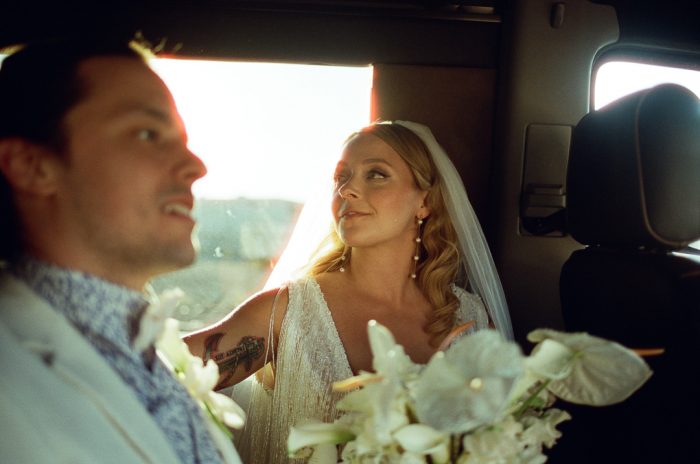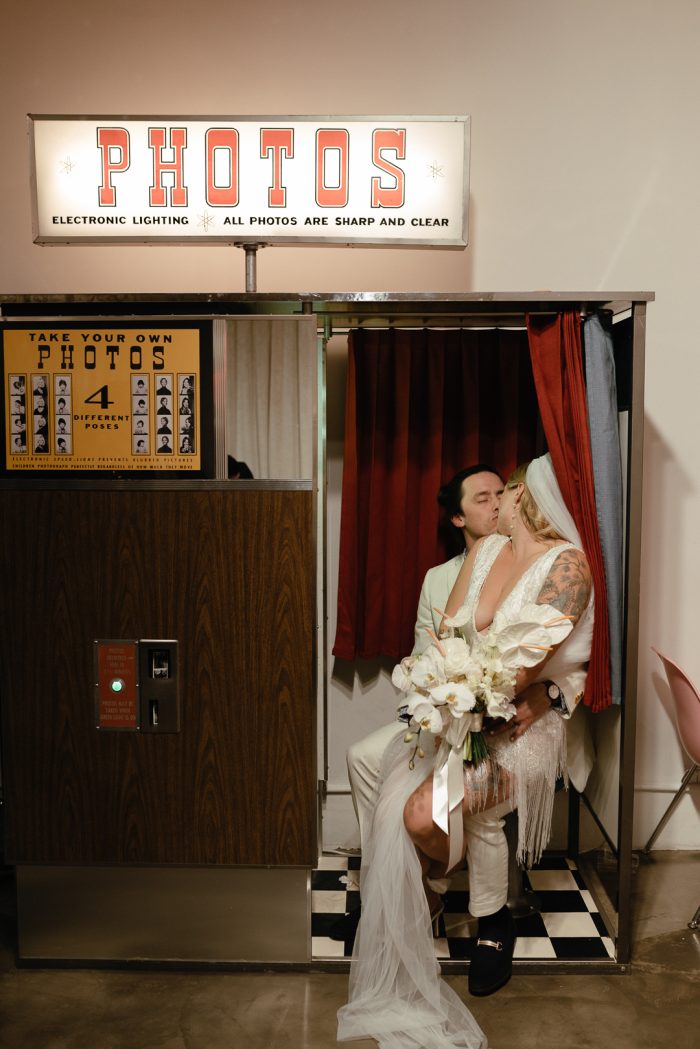 Setting A Fun Wedding Dress Code
Our dress code was Vegas maximalism. We let guests interpret that however they wanted, and it was so fun seeing everyone's wedding looks come together. We didn't have a color palette or dress code, we were both in white, so we let everyone wear whatever they wanted, and it was so amazing. There were sequins and fringe and jumpsuits and pantsuits and crazy colors and everything in between. We loved seeing how people showed up and took the dress code to the next level. A few of our guests were even approached by fashion influencers for interviews in the lobby while waiting to go to the wedding, it was pretty epic!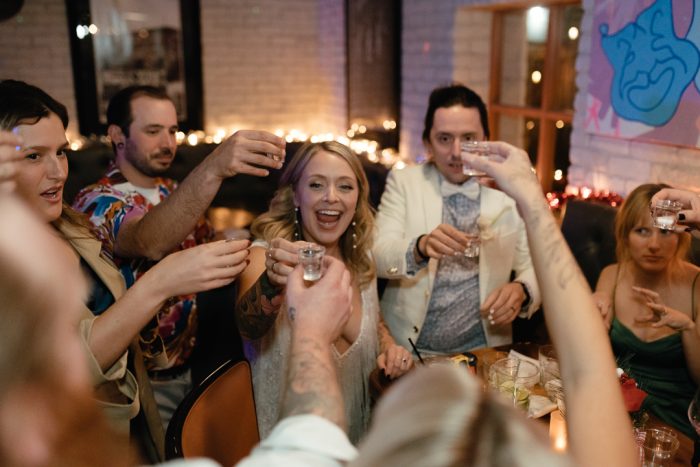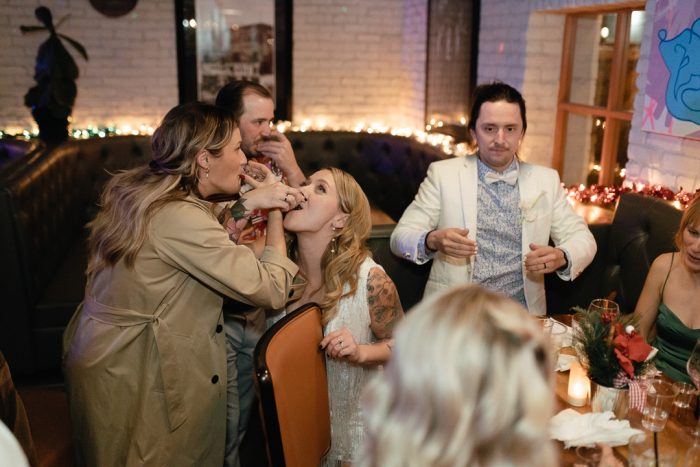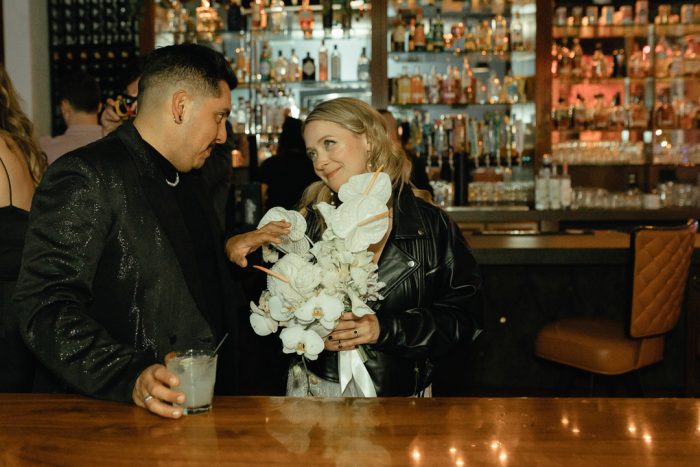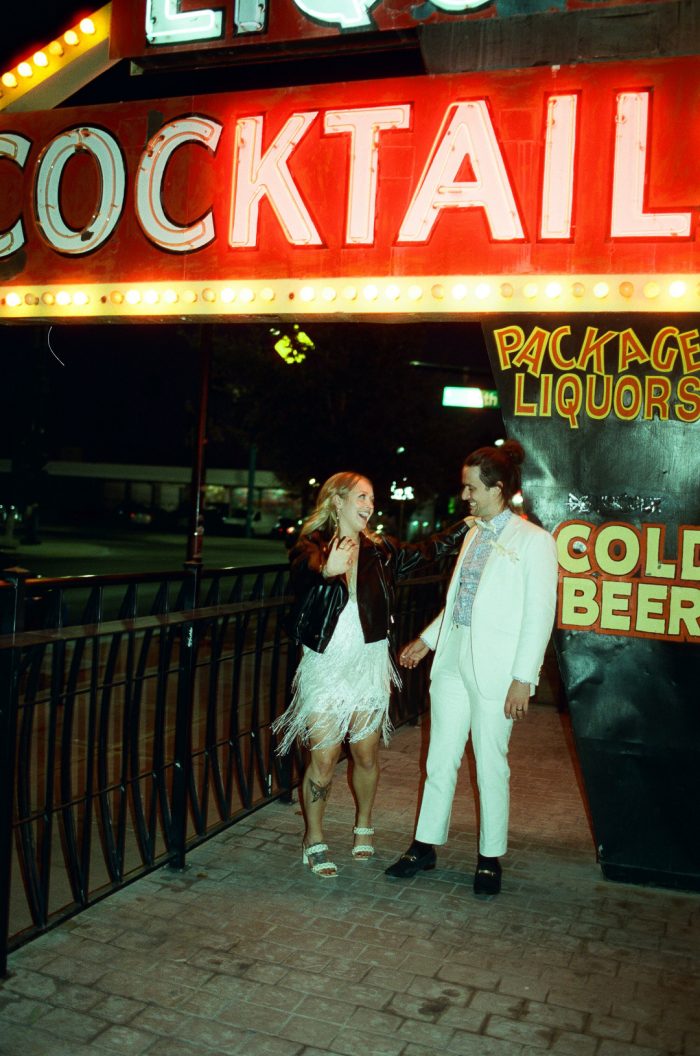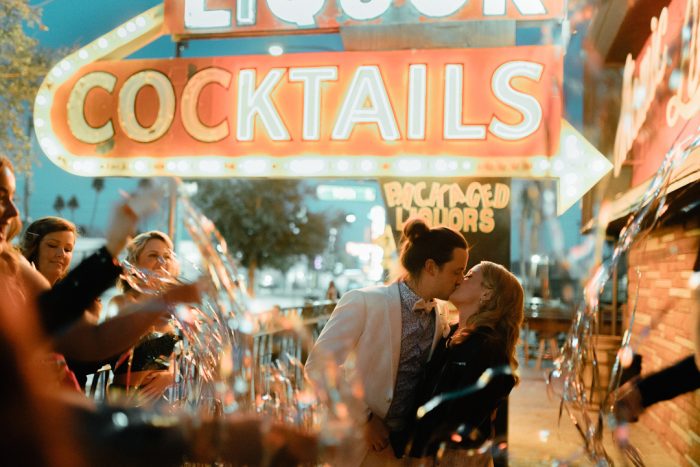 Congratulations to Kami and Nic on their iconic and disco ball-filled Las Vegas chapel wedding. And a special thank you to Junebug member Madeline Barr for capturing all the unforgettable moments. To see more unconventional celebrations, be sure to check out her profile in our directory of the world's best photographers.
This couple's main piece of advice is to set goals before you get carried away with all the wedding planning possibilities. It'll allow you to focus on what's truly important. And if one of your goals is to create the most authentic experience for you and your guests, but you're not sure where to start? Begin by building your dream team, and then check our guide for ideas to make your celebration unique and unforgettable.