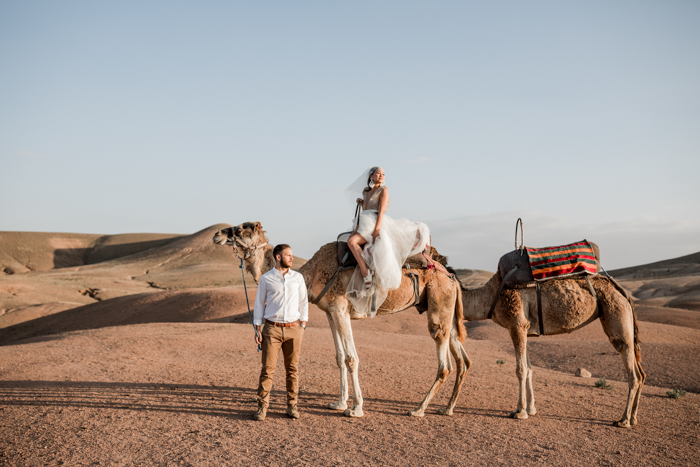 Our hearts can barely handle the incredible colors and unbelievable setting of Stella and Stirling's Moroccan destination wedding at La Pause Marrakech! This adventurous couple had never even been to Morocco before booking their venue, but they had fallen in love from afar with the vibrancy, the textures, and the energy of Marrakech, so they took a leap — and it paid off big time. Their photographer and event planner, Lilly Red Creative, was instrumental not only in capturing every dreamy angle of this wedding but also in setting up the most romantic ceremony in the desert with a Moroccan rug and red Italian drapery over a wooden frame. The only things that could outshine this surreal location were the bride's stunning — and we mean stunning — Zahavit Tshuba dresses, which combined chic and whimsical in ways we've never seen before!
The Couple:
Stella and Stirling
The Wedding:
La Pause Marrakech, Morocco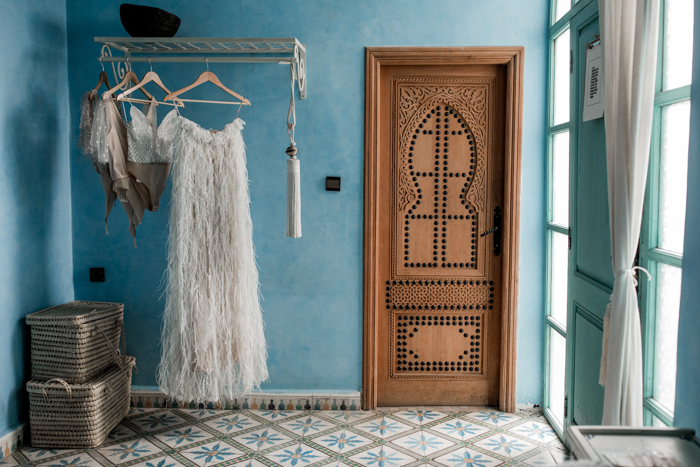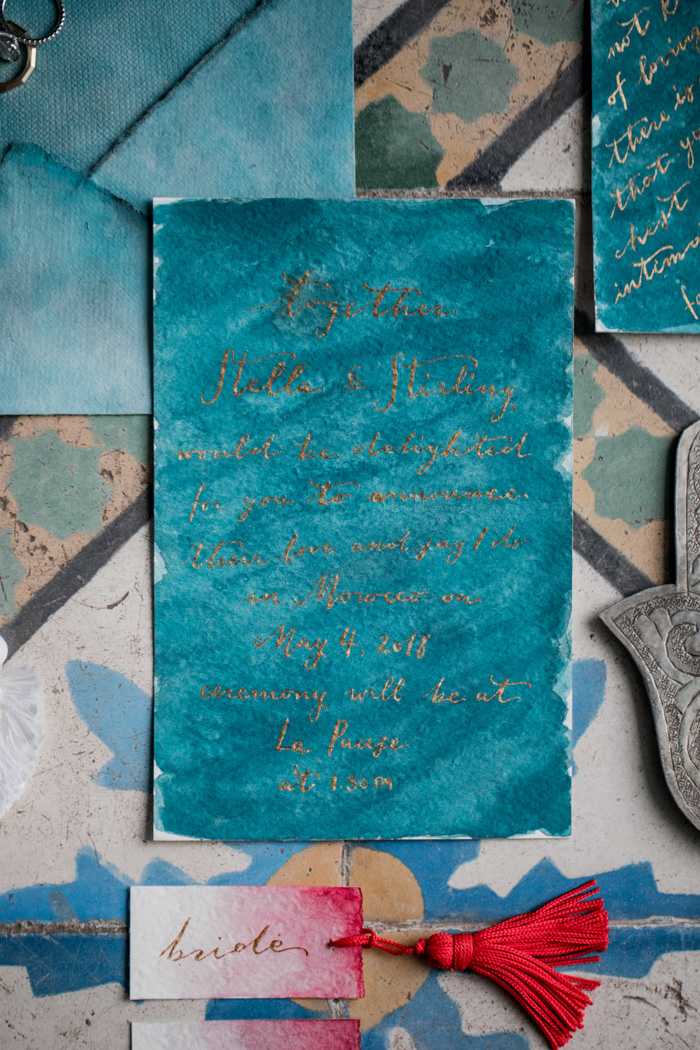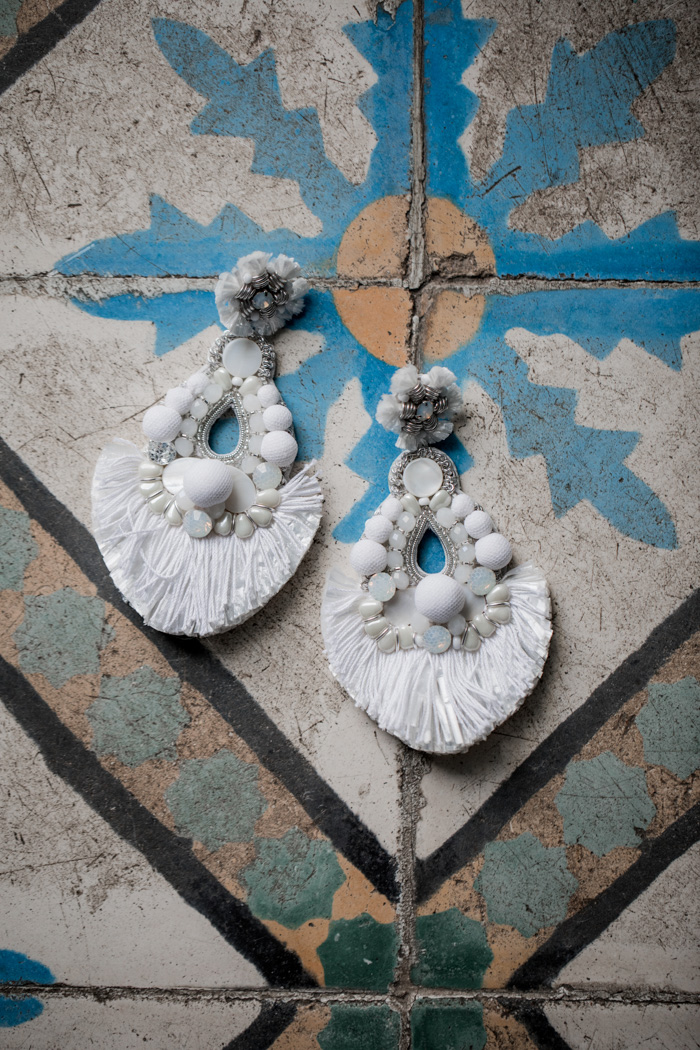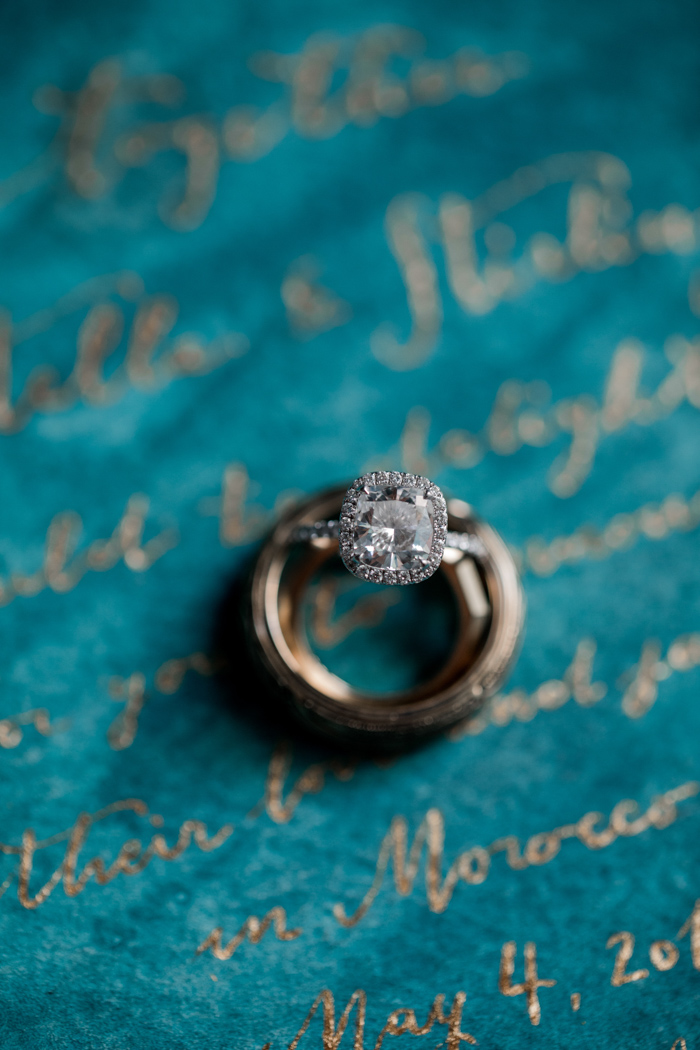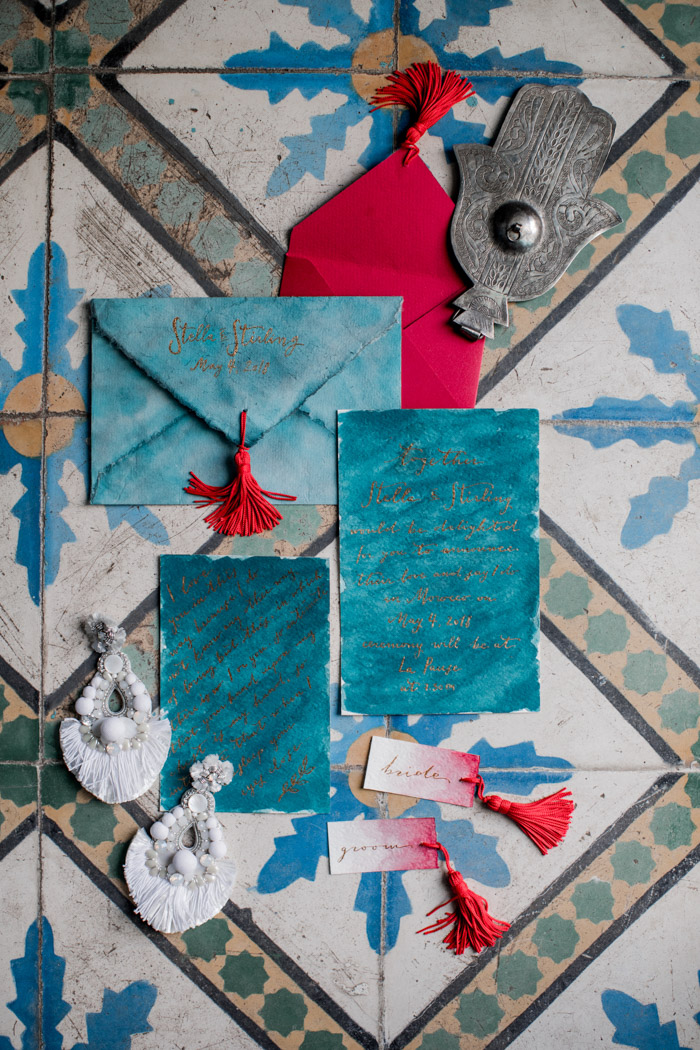 Planning an elopement is so much more different than planning a wedding; it was a lot of letting go of the details and allowing the spontaneity of choosing to elope in a foreign country take over. So in essence, the most important part of planning was to not plan! We had never traveled to Morocco and we had no idea what to expect, so we decided that whatever happened, happened.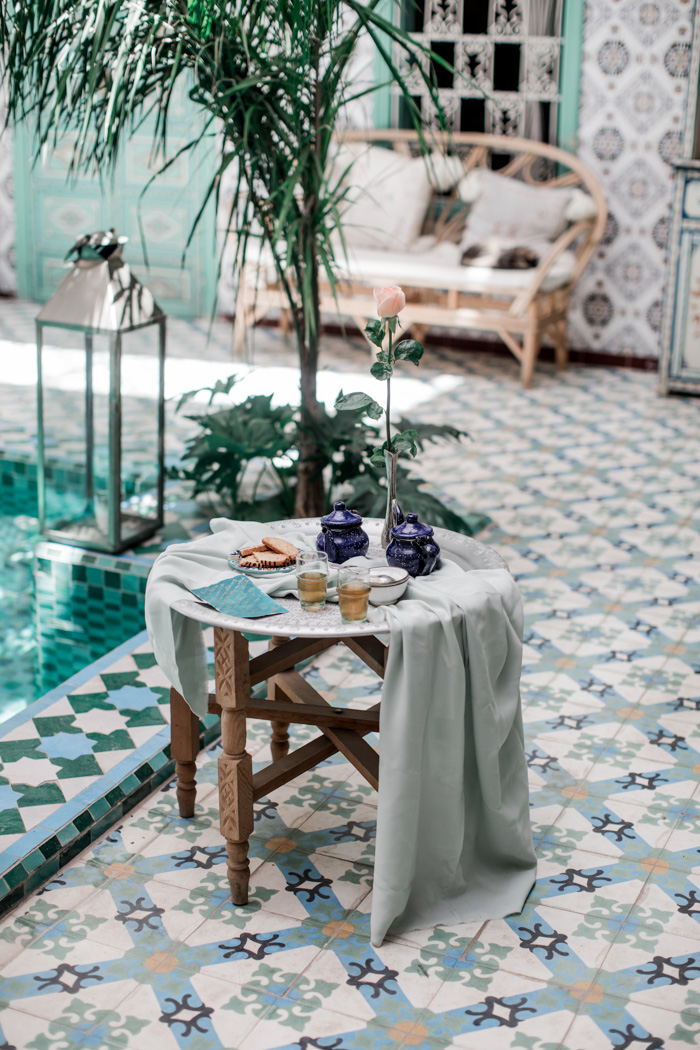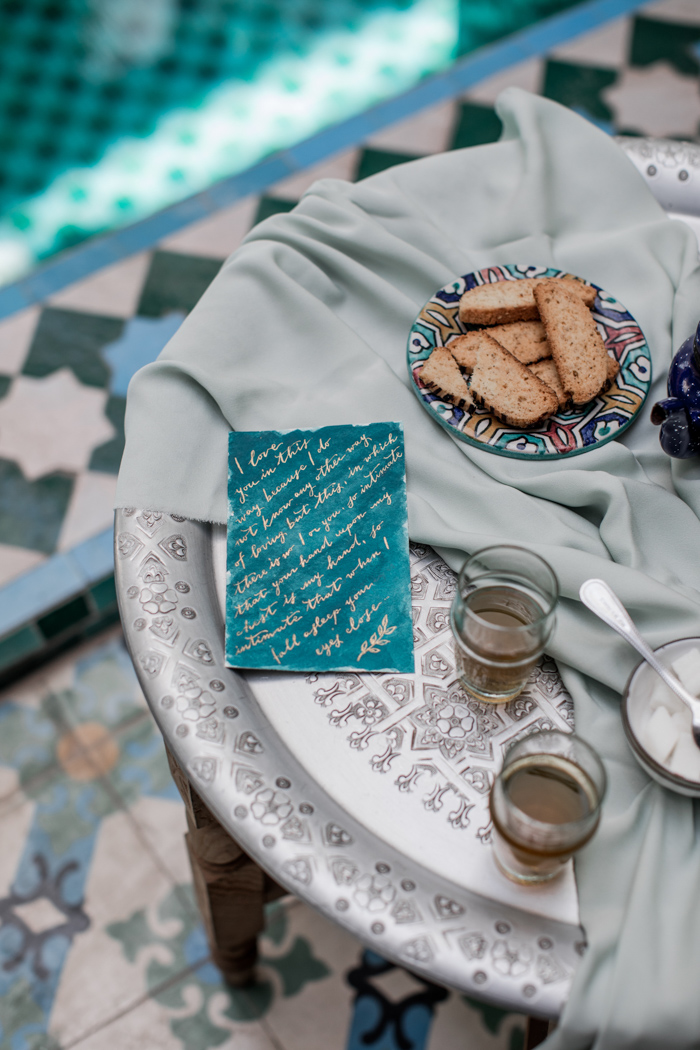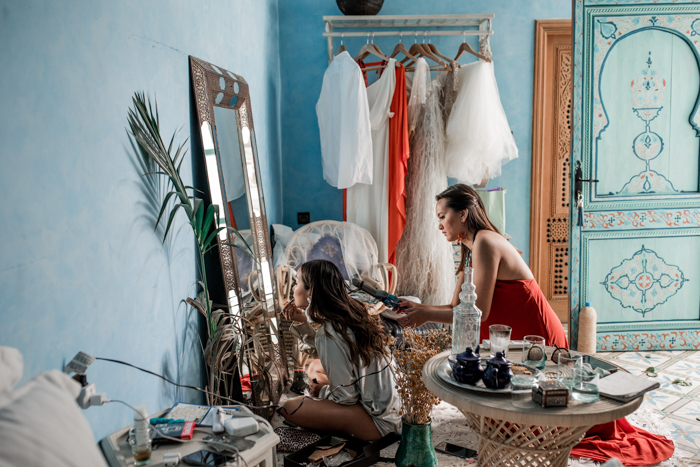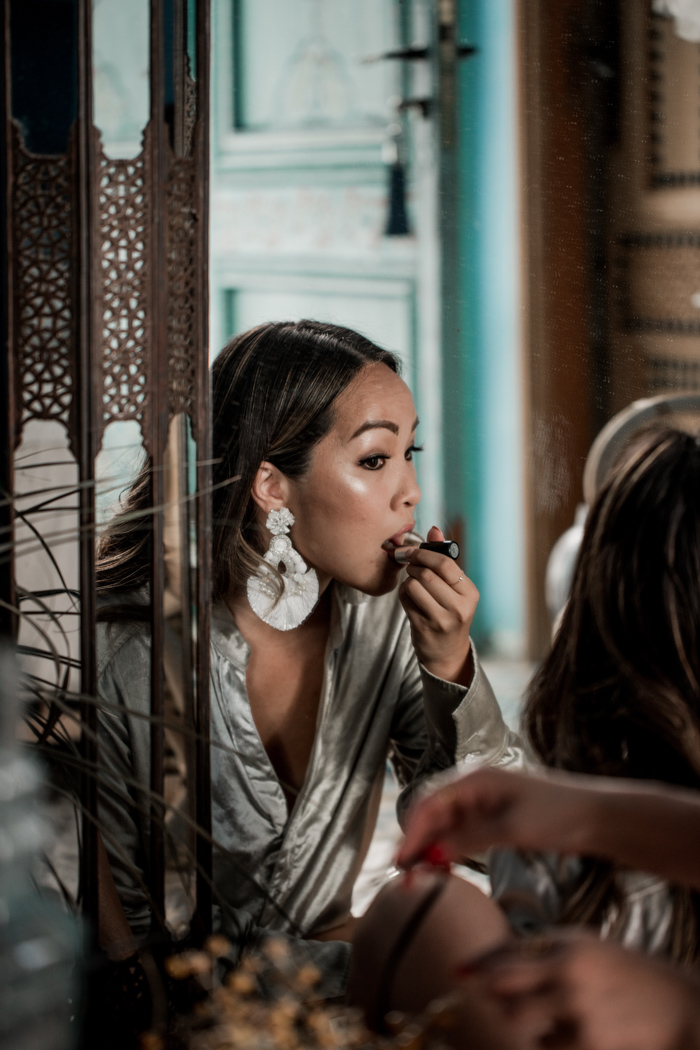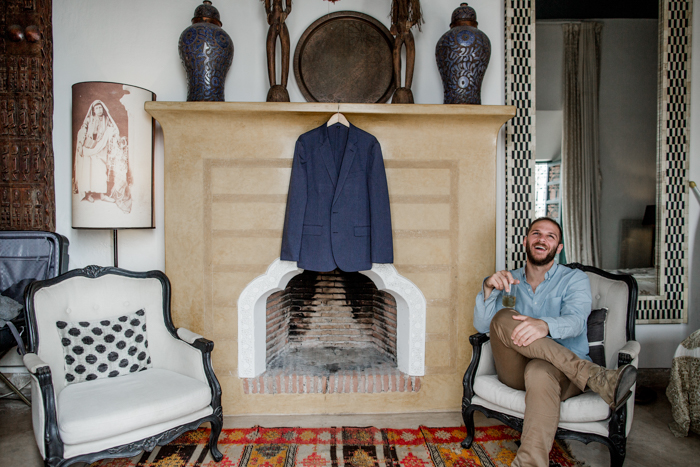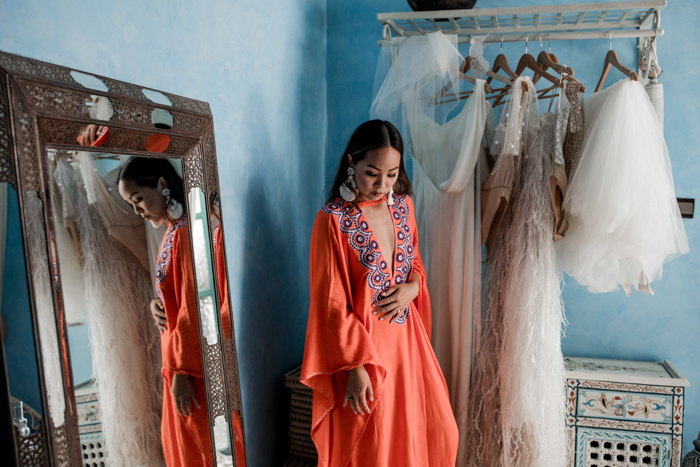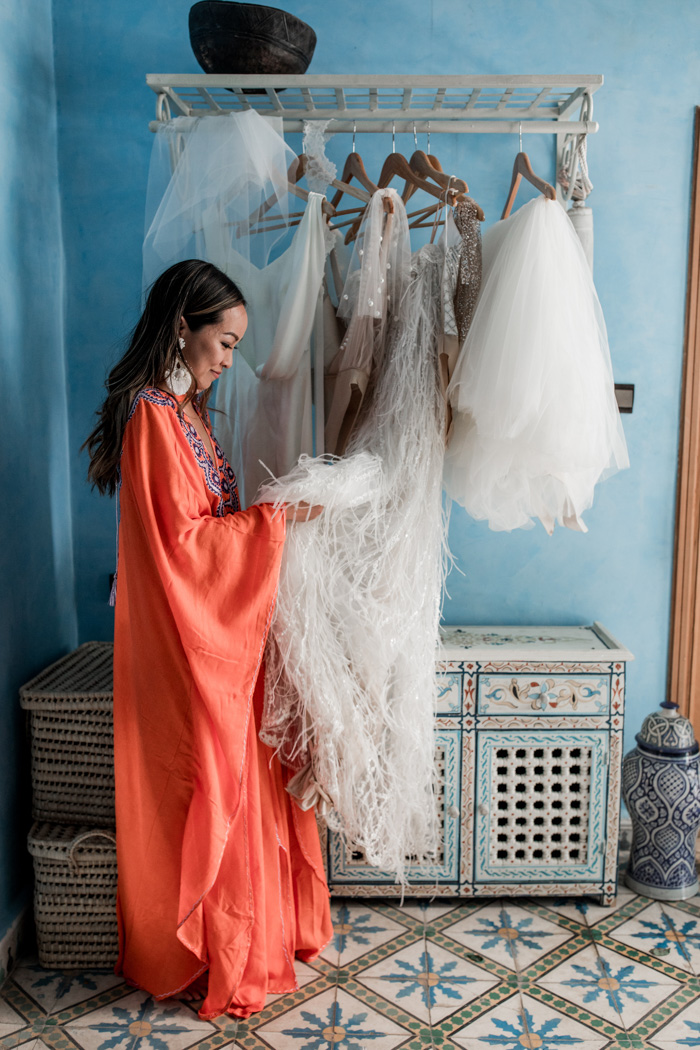 Our ceremony took place in the Agafay stone desert, an hour outside of Marrakech at an oasis called Le Pause. I'm talking Moroccan textile pillows and throws on the floor, fire pits, sheltered by giant canvases allowing you to see the vast sky speckled stars. As chaotic as all wedding days were, I remember the moment after our ceremony when Stirling and I walked off hand in hand and watched the sunset. Aside from basking in bliss, we were running off of a natural high that everything timed perfectly as we took in the last bit of sunlight on our final night in Morocco.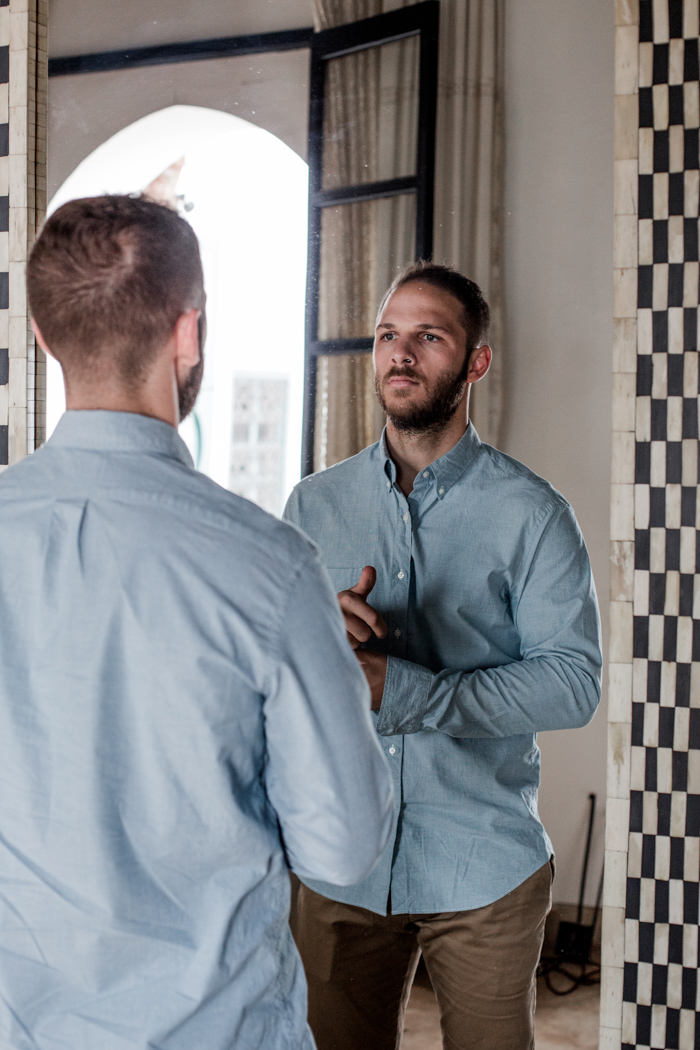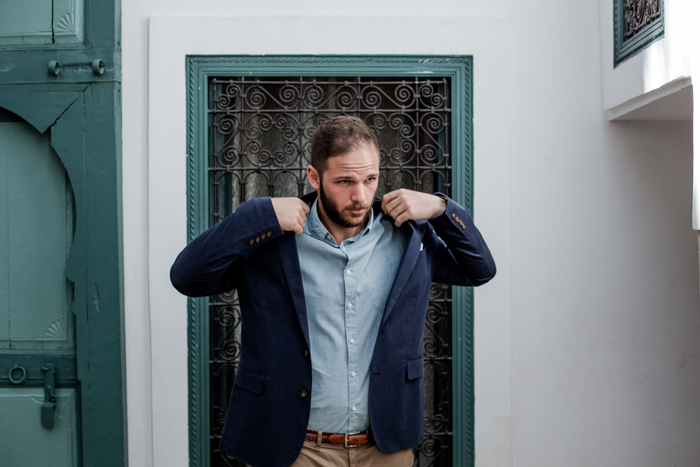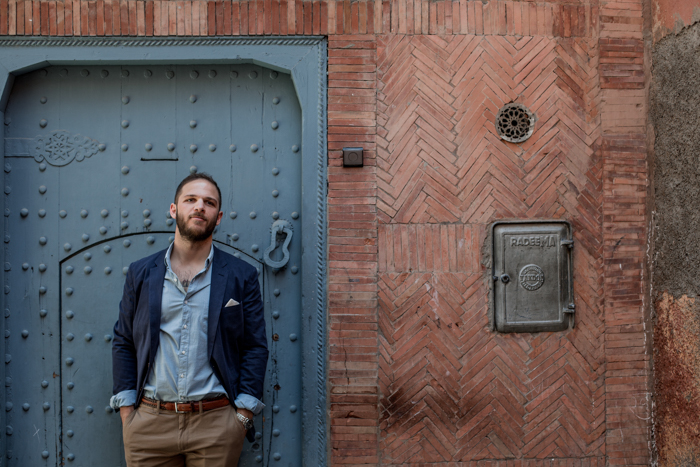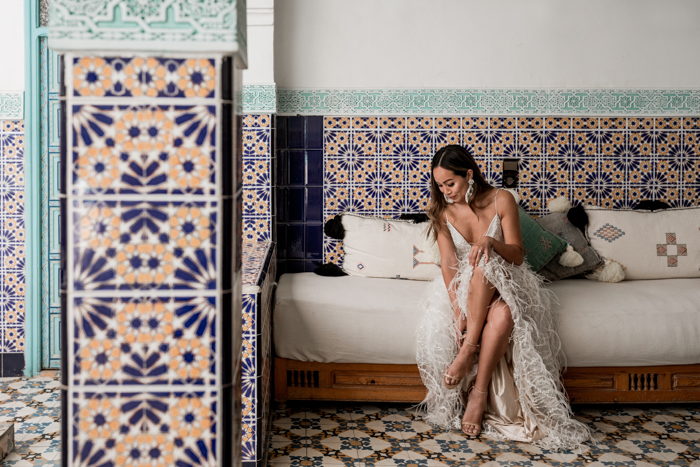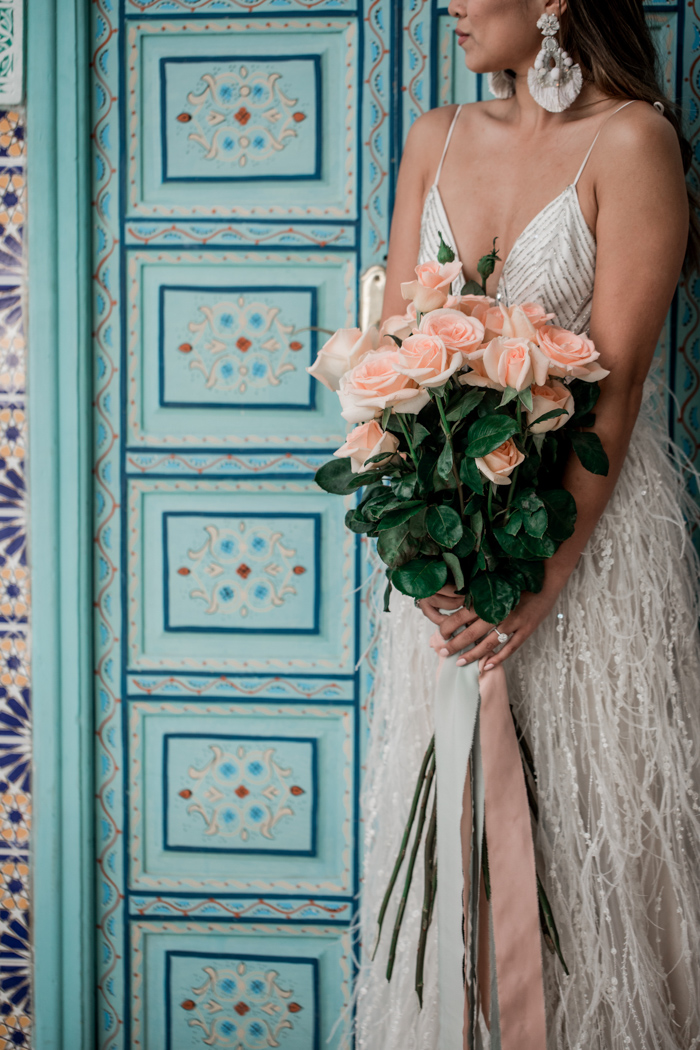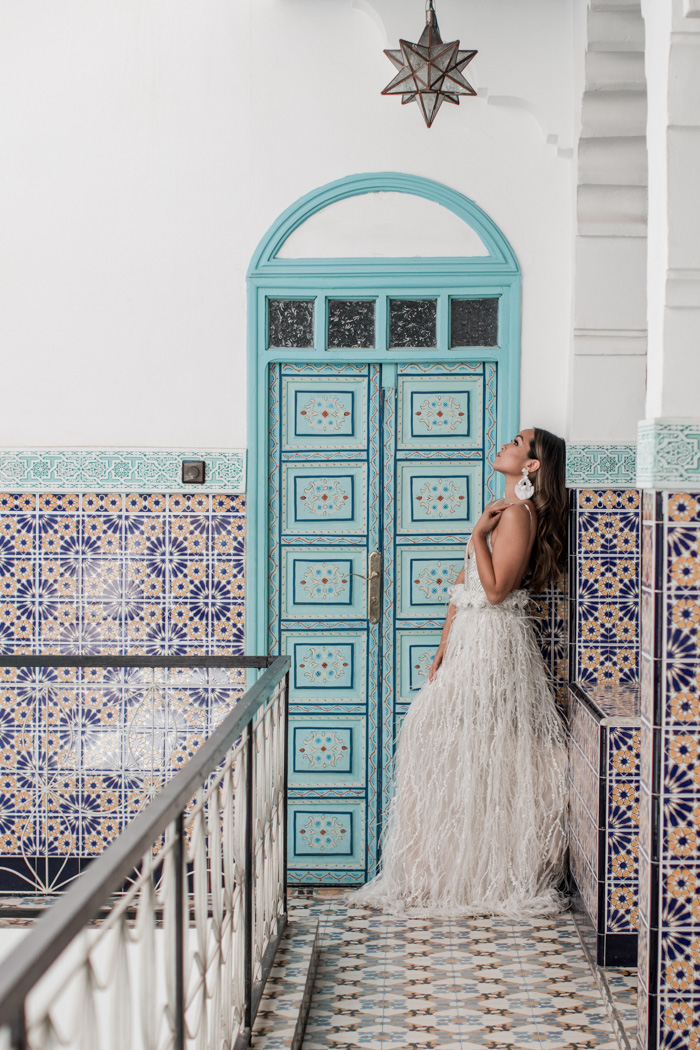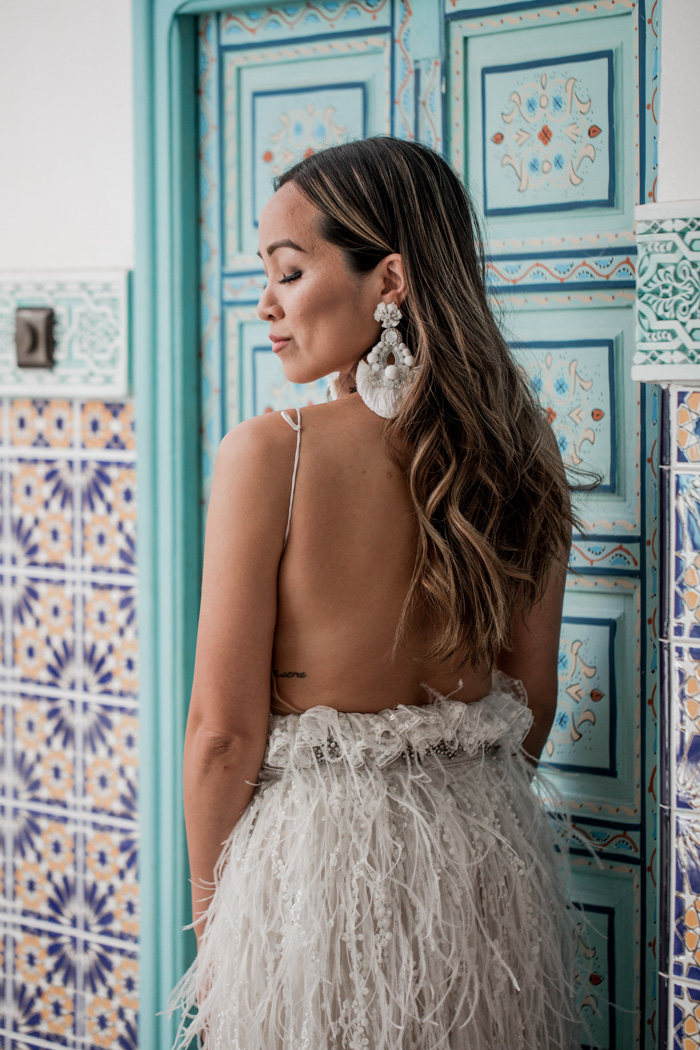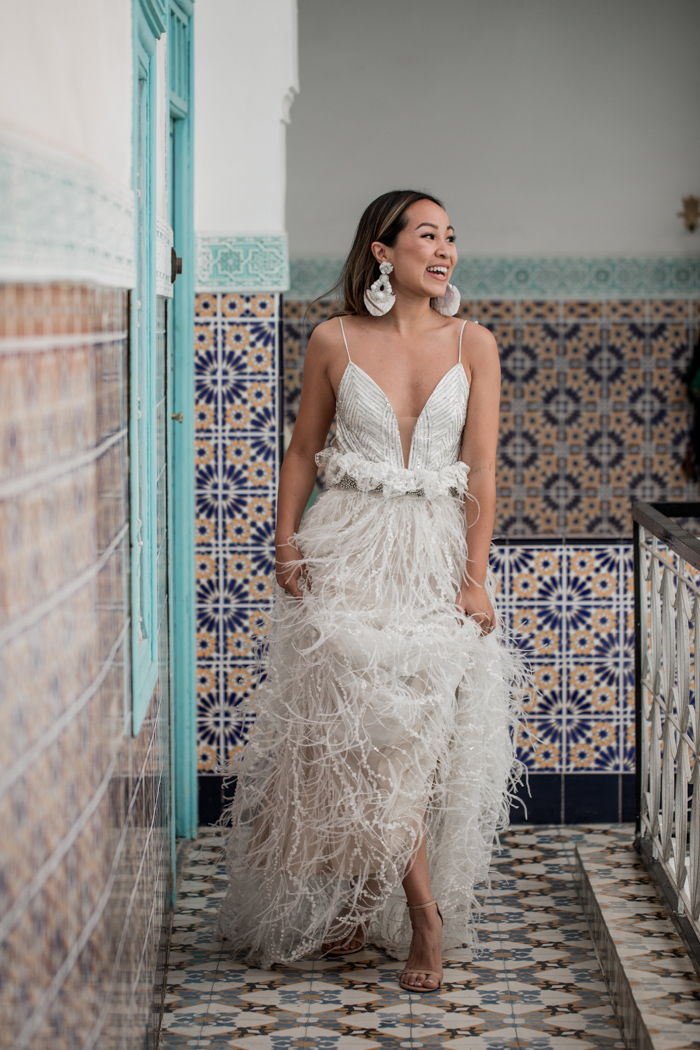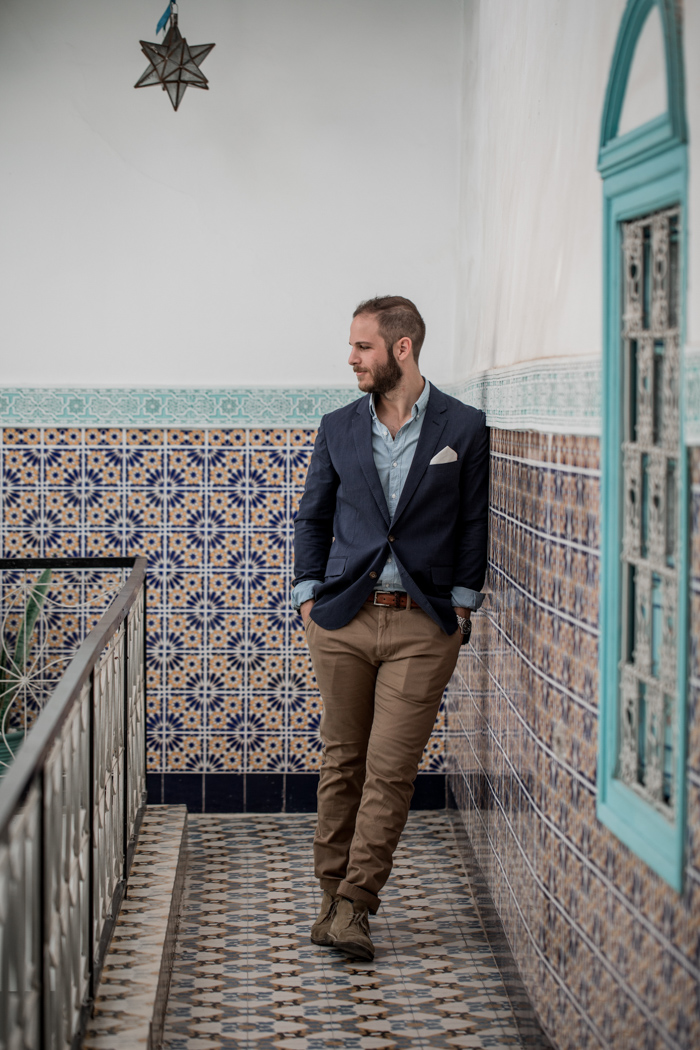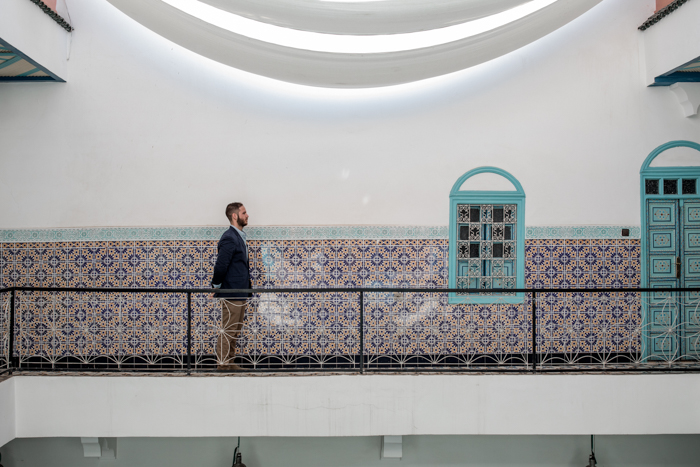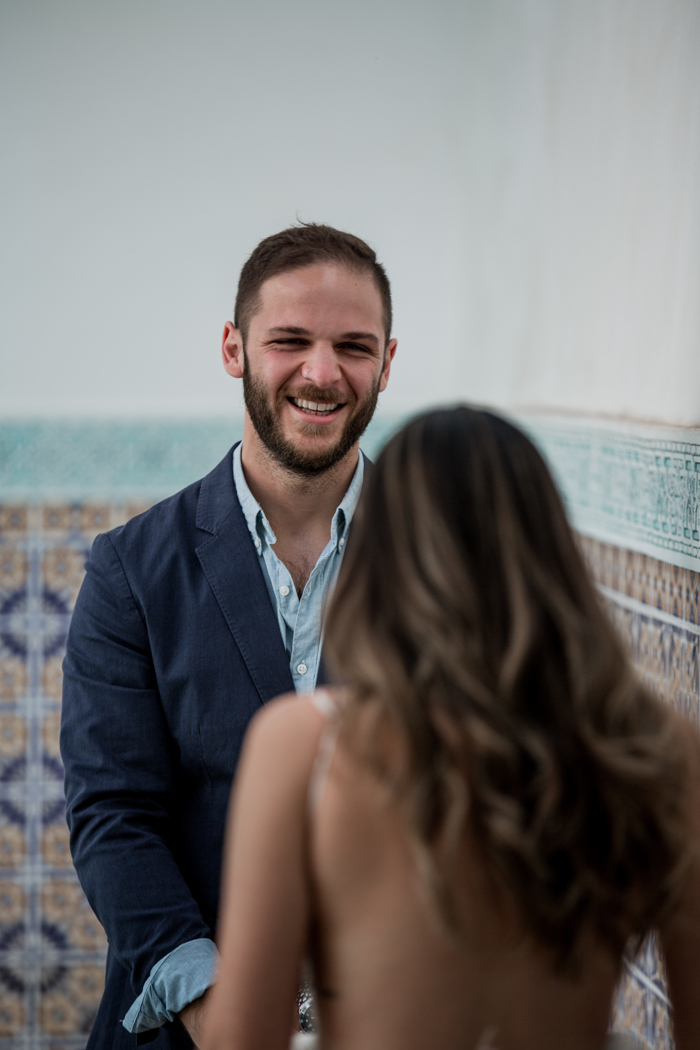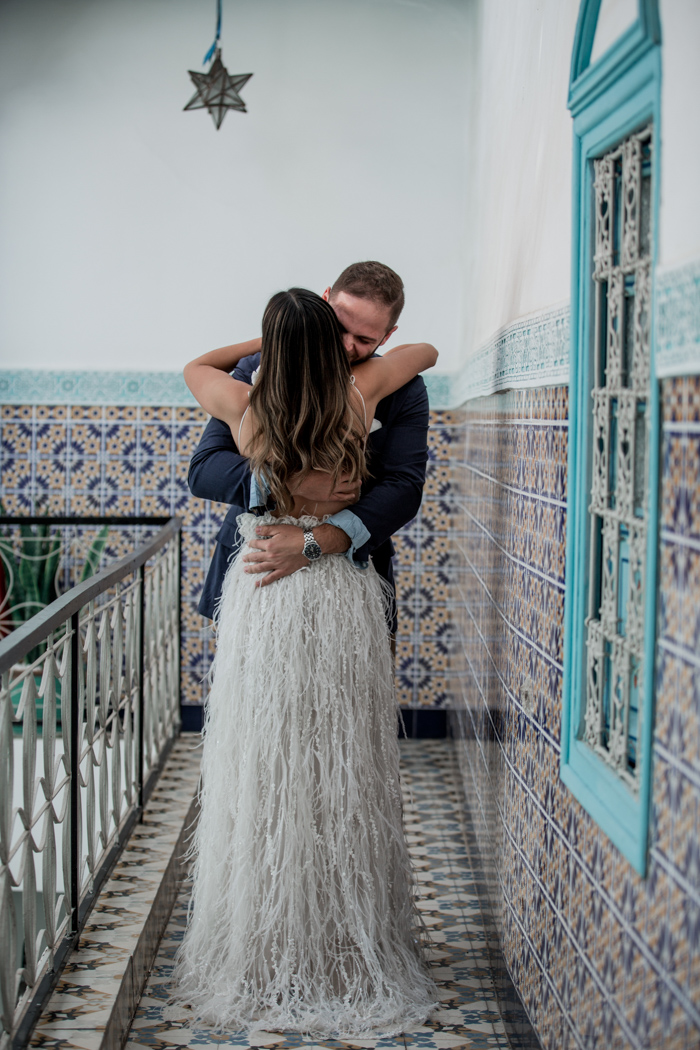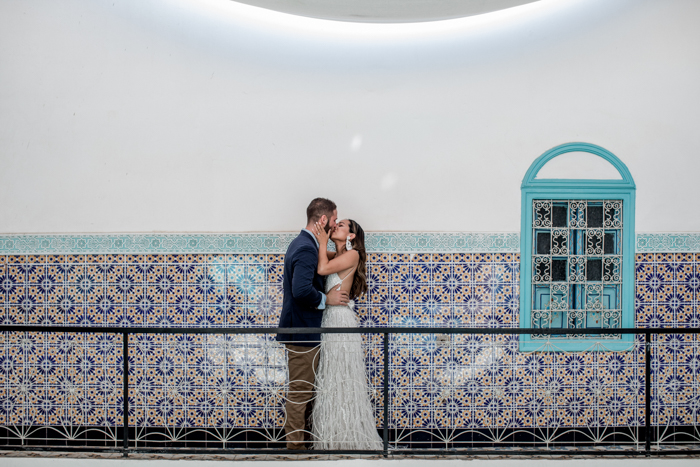 From across the world, I had already loved how rich in culture and color Morocco was. Yves Saint Laurent once said, "A visit to Marrakech was a shock to me. This city taught me color". Stirling and I have an affinity towards nature, and the desert most of all; that paired with the romantic architecture of the city, every corner with tile design more intricate than the next, it seemed like such an exotic place to recite our vows. Because the destination was so lively and photogenic, we barely had to bring anything with us to decorate.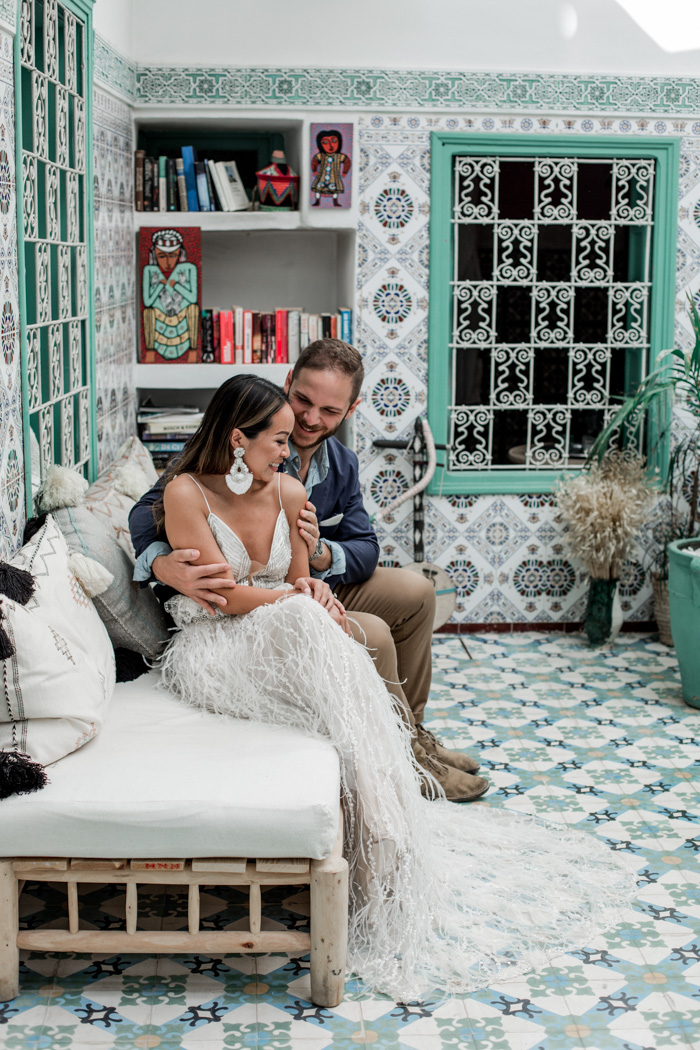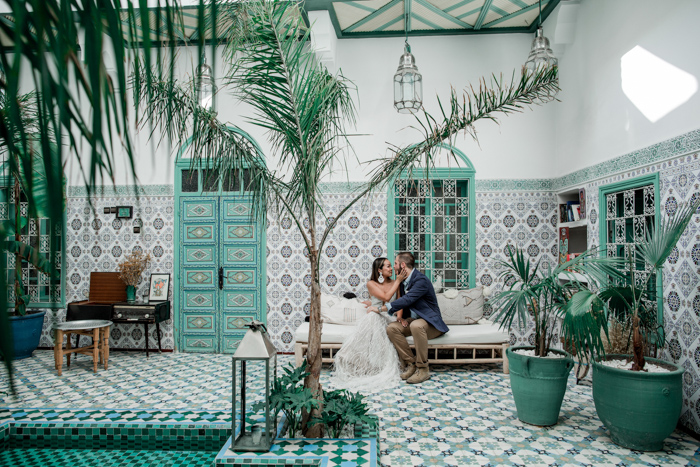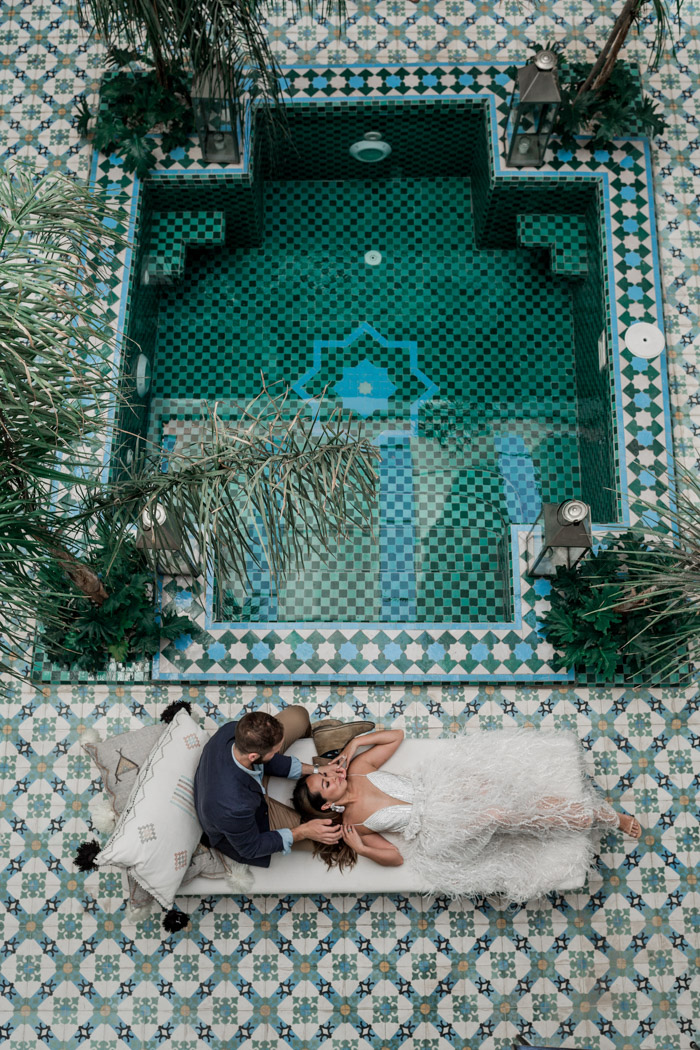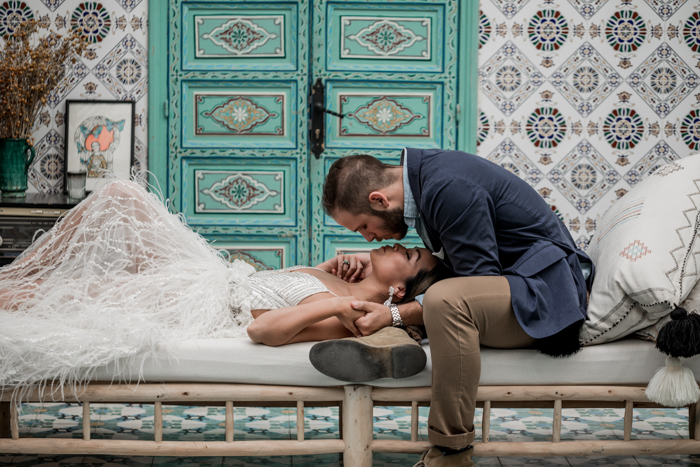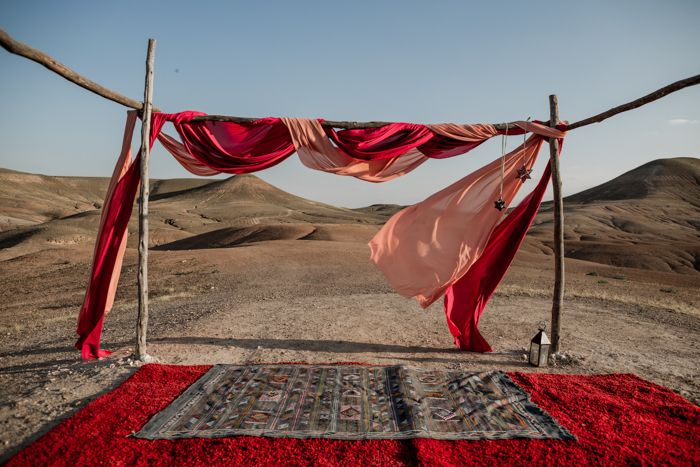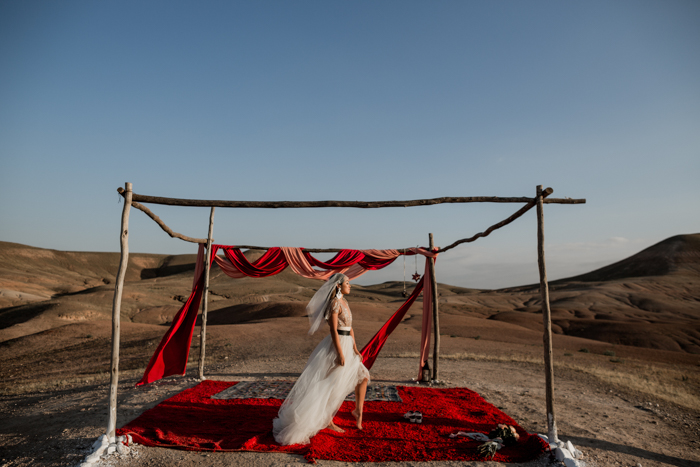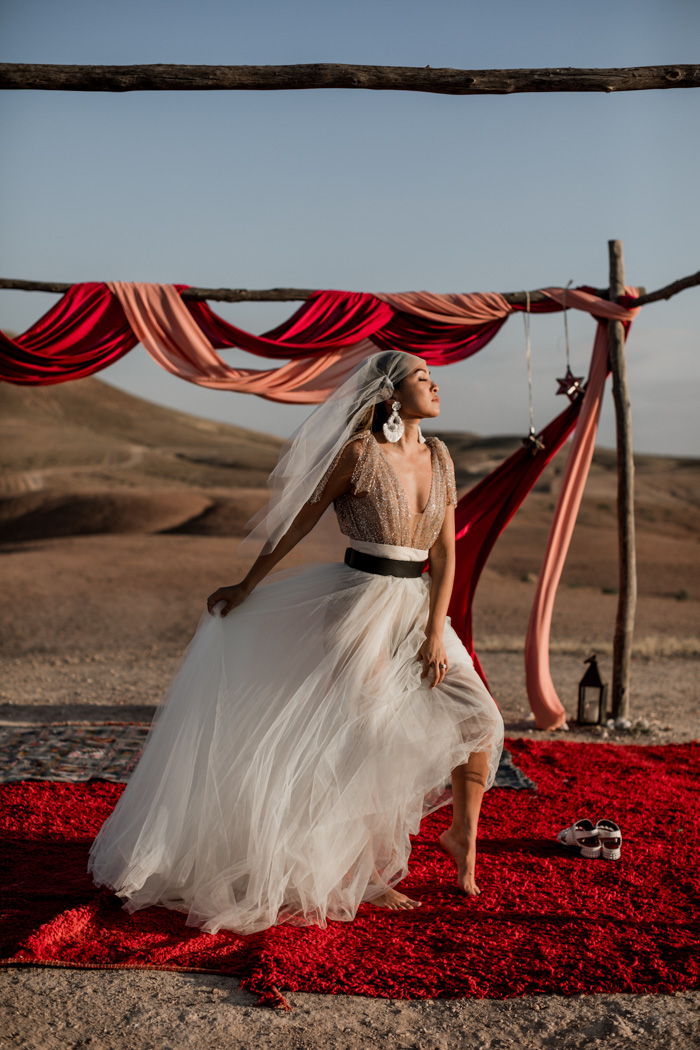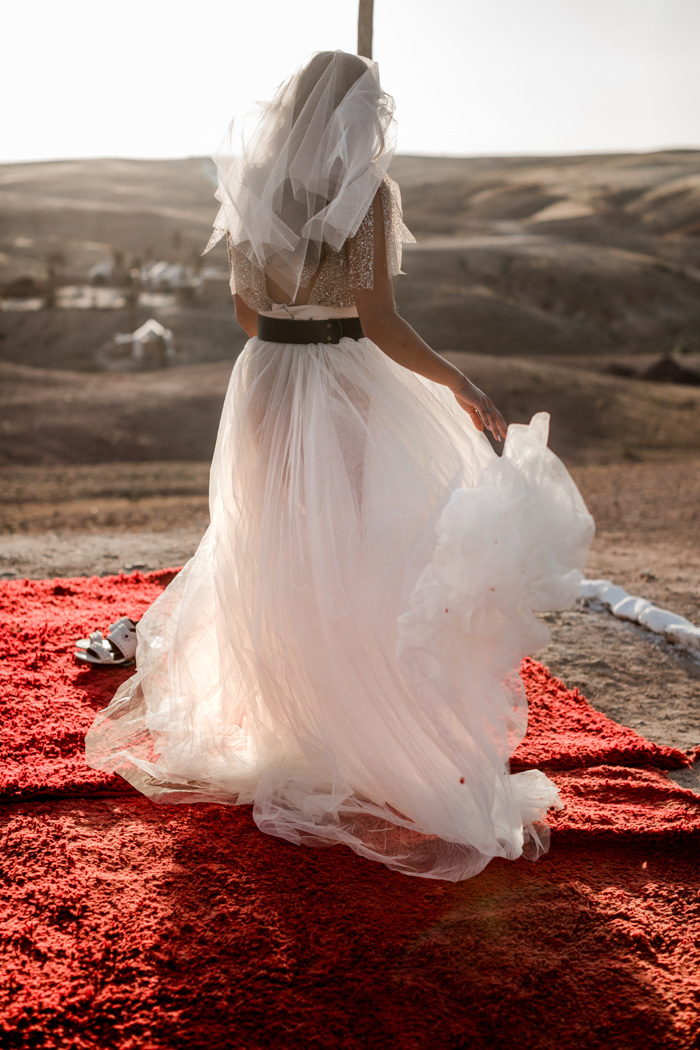 A few days prior to our ceremony, Stirling and I made a trek out to the Sahara, riding camels out to glamp in the middle of the desert! Along the way, we bought a rug that we decided we would stand on, reciting our vows, to become husband and wife. That rug is now in our bedroom, a piece from that day that we would pass down to our kids. We both share a love for film scores and brought a portable speaker (as there is no electricity out in the desert) and had a playlist of our favorite instrumental songs during the ceremony. To be noted, we serendipitously got married on May the Fourth (be with you!) and I walked down the aisle to John William's "Across the Stars" from Star Wars — Stirling's favorite movies. Lilly and Vic also bought lanterns from the Moroccan medina and beautiful silks from Italy to drape on the wooden arch for the ceremony. Lastly, my Parisian aunt flew in last minute and officiated our wedding — with my mother translating from French to English — and my sister was our ring bearer.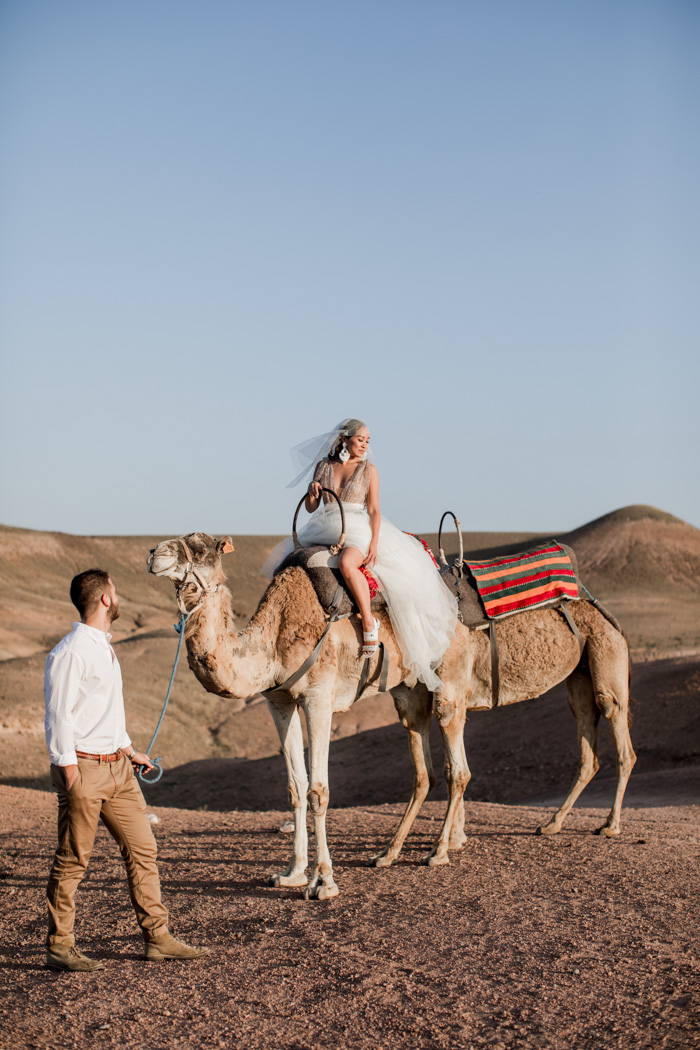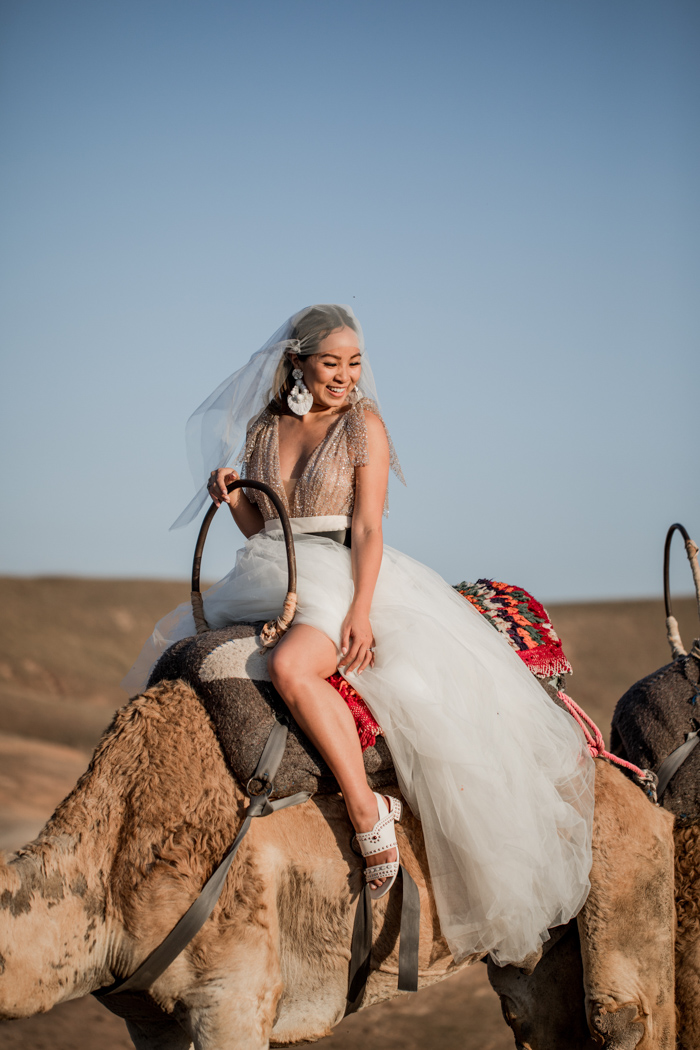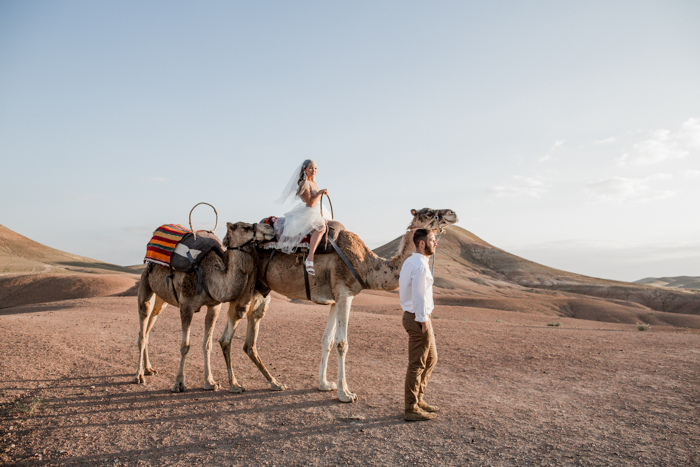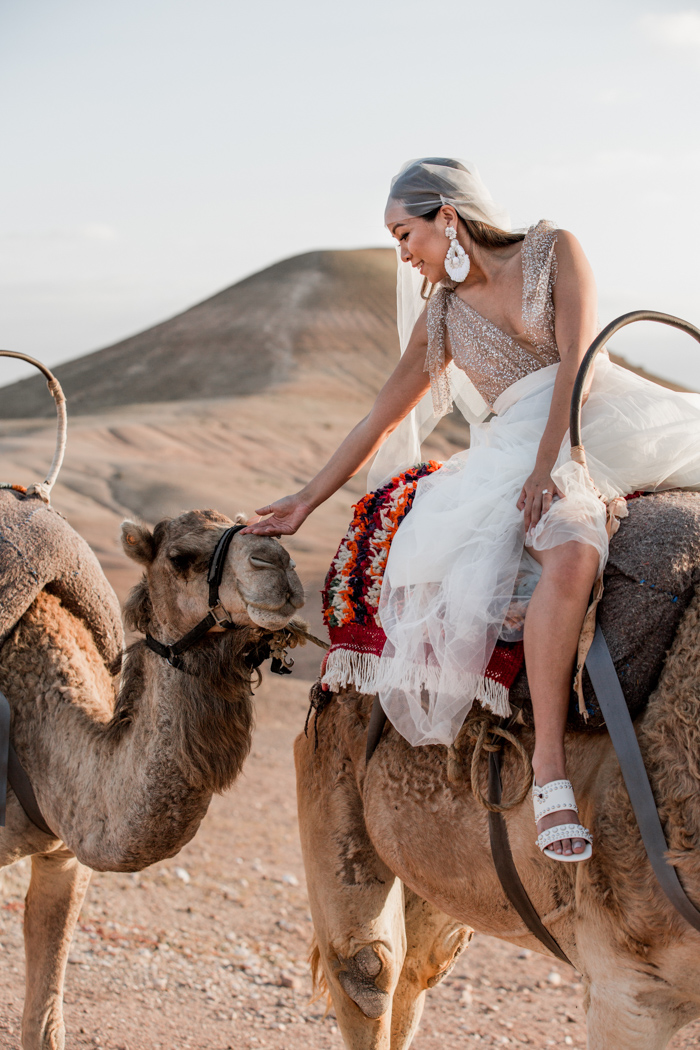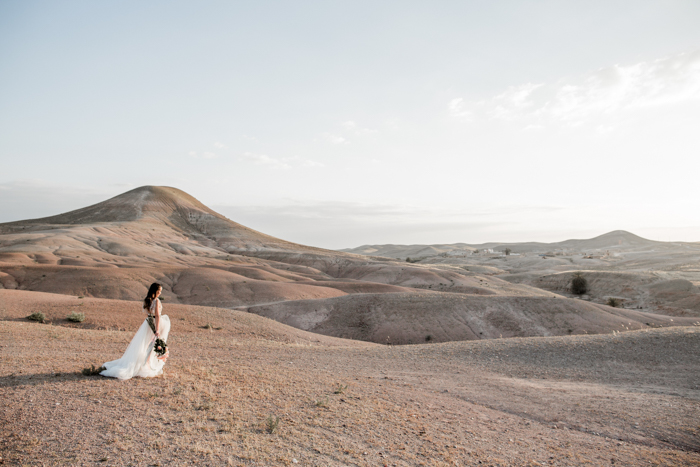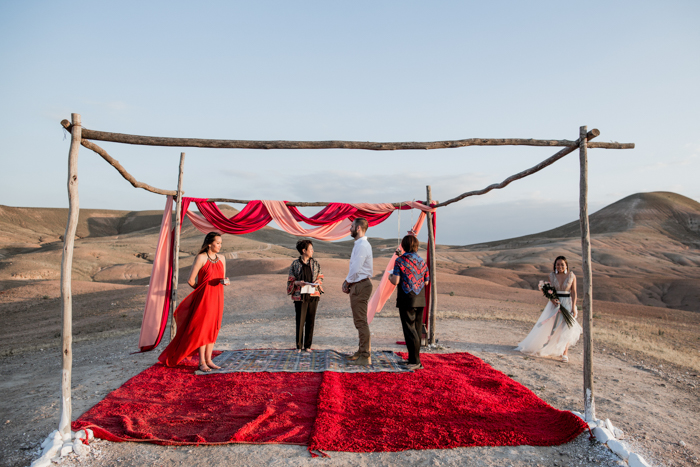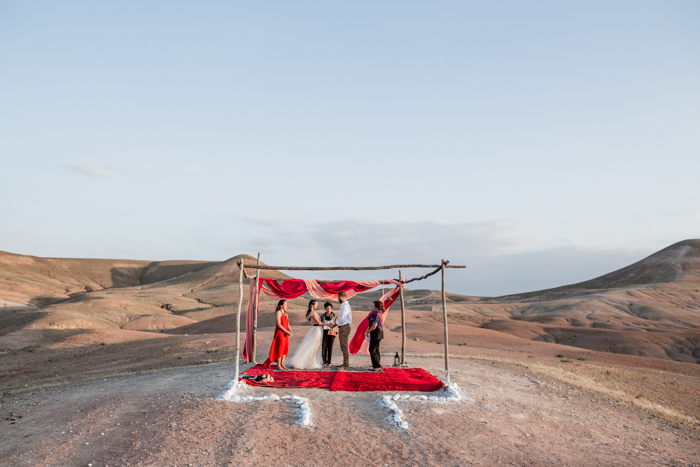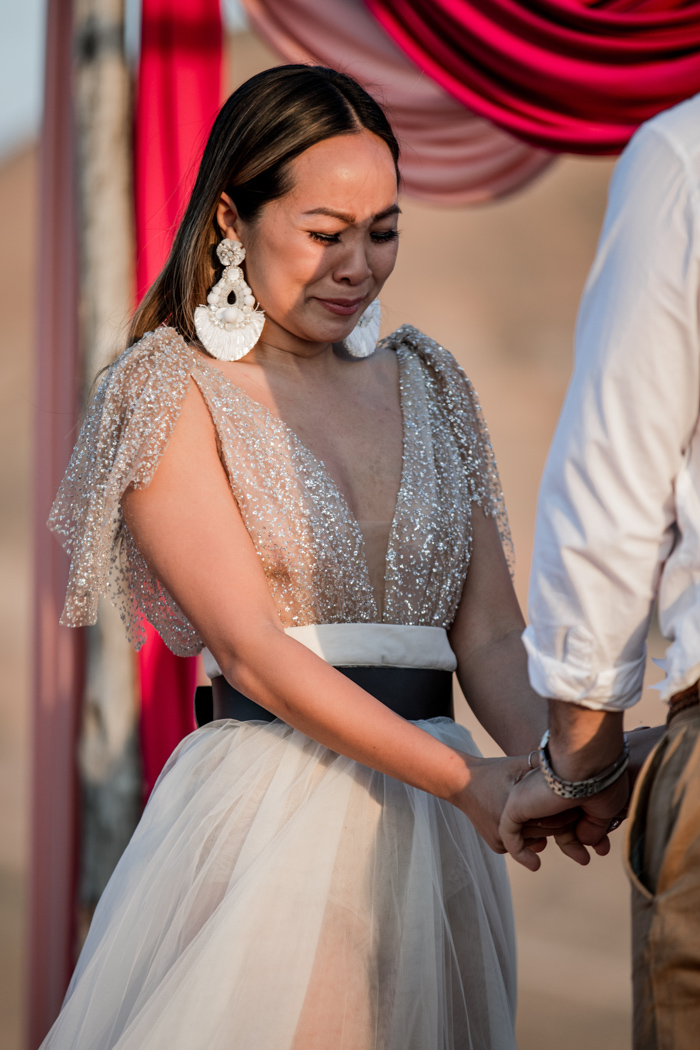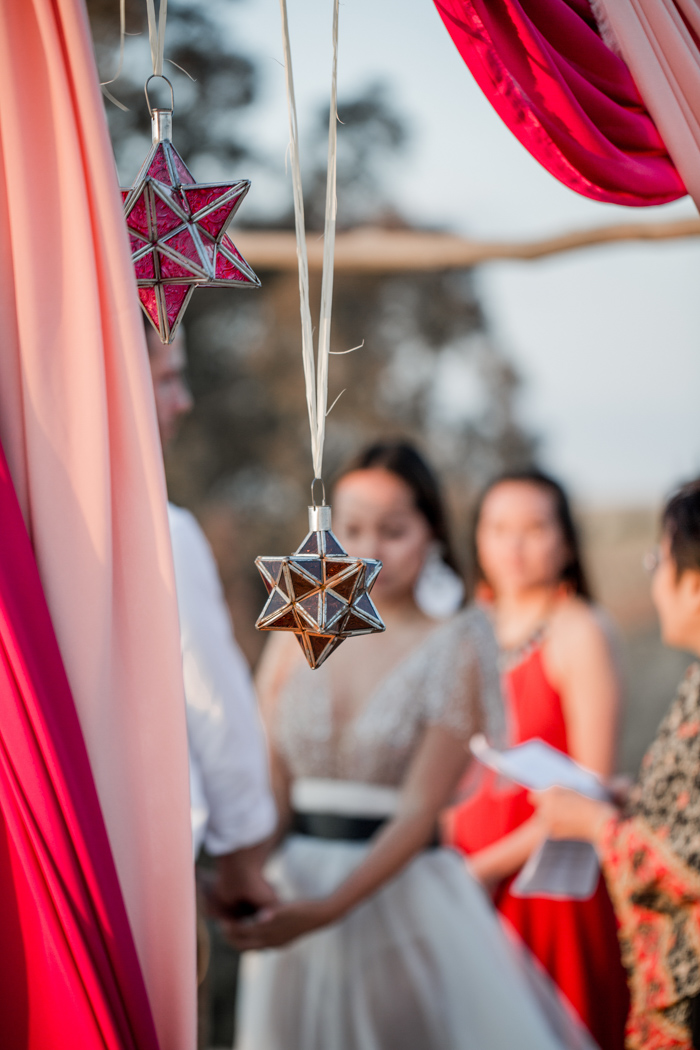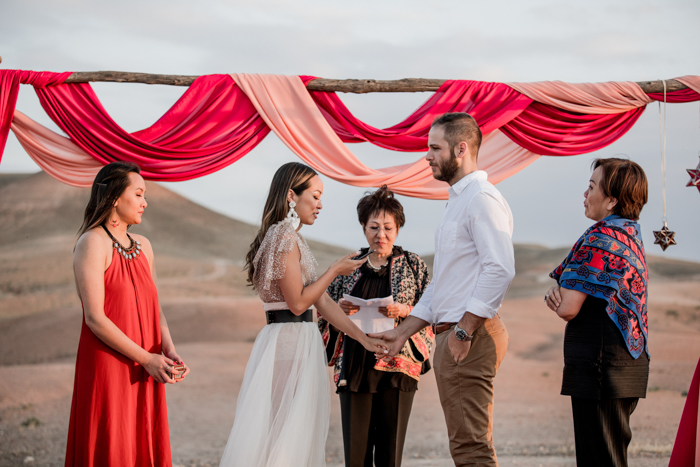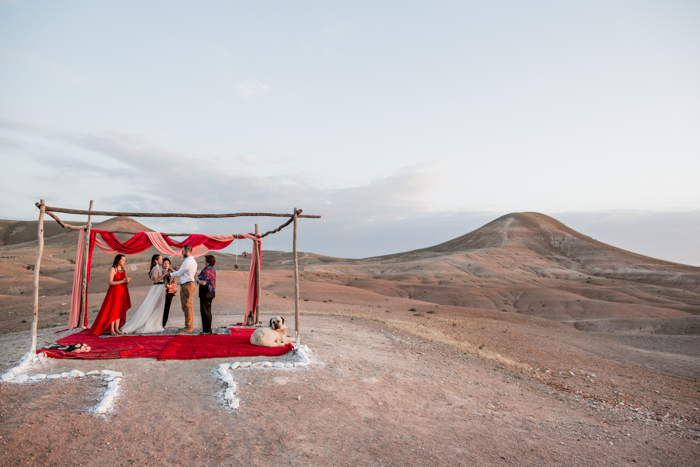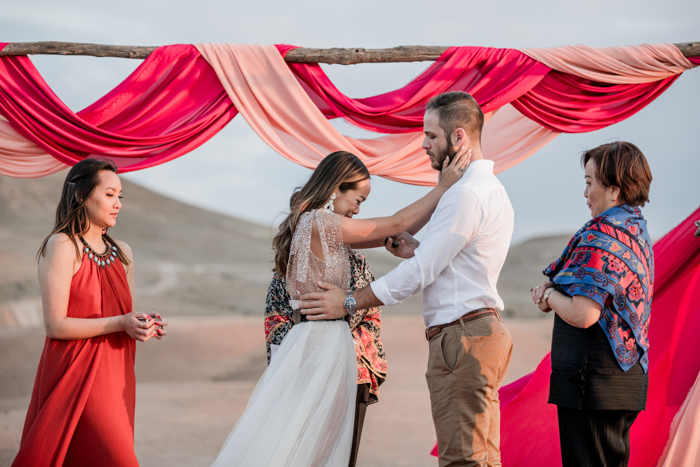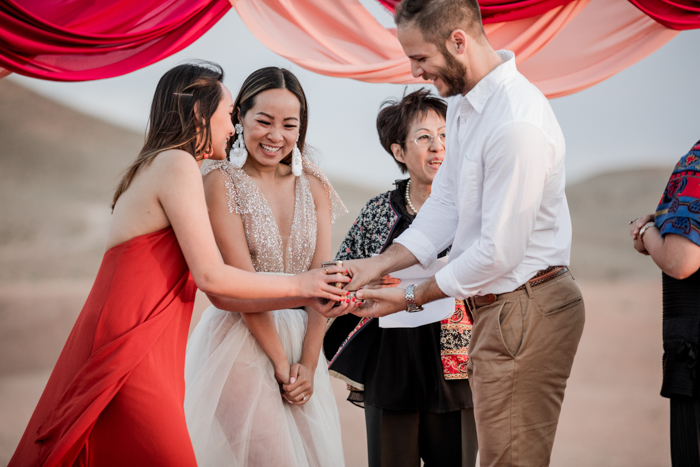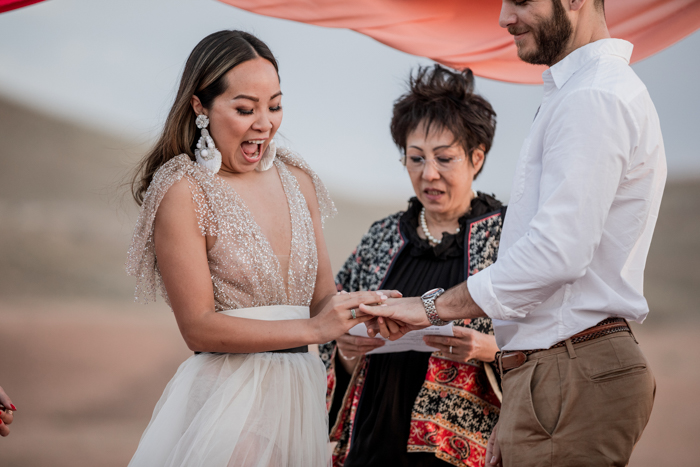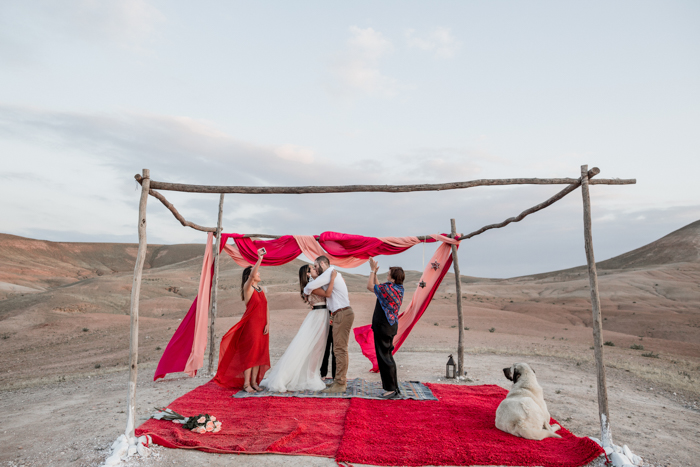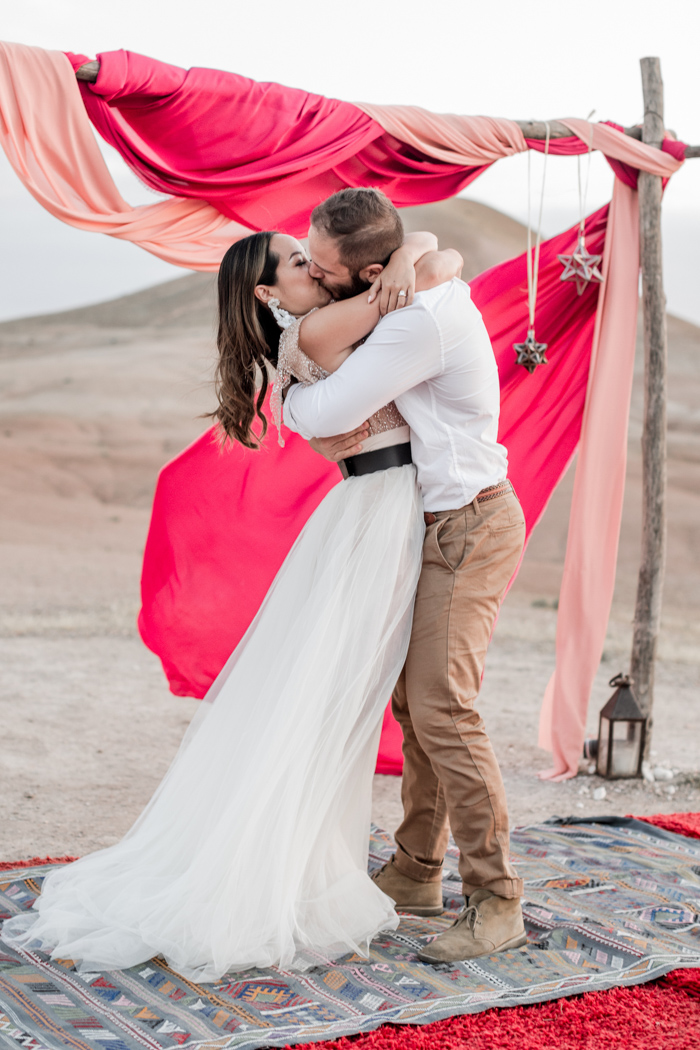 I had not seen my dresses until the morning of the wedding; my only criteria was that they have a lot of movement and fabric and was see through to allow the natural light to pass through. Lilly had hand-carried a few beautiful Zahavit Tshuba pieces from Italy and, when I arrived at our first look Riad, I tried them on. It was that meant-to-be happy moment when they all fit like a glove! The only things I was sure of were my accessories: beautiful and ornate statement earrings by Ranjana Khan, studded 3.1 Phillip Lim sandals, and a custom boho style veil by Julie Harris Designs. I chose these things to complement our destination. To relieve any wedding day pressures, I also did my own hair and makeup and loved that it wasn't perfect, but it was effortlessly me.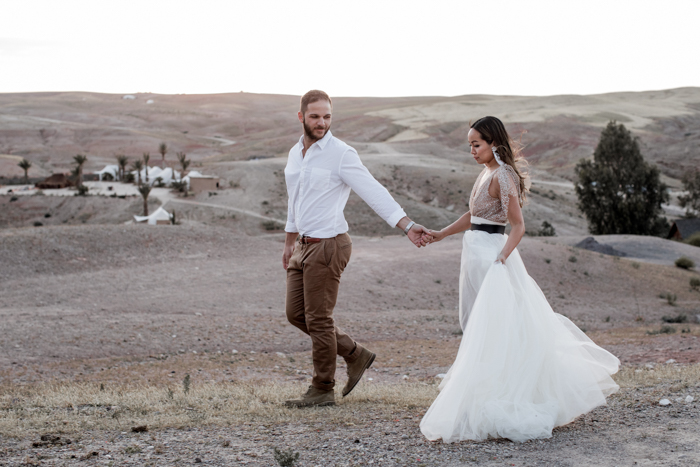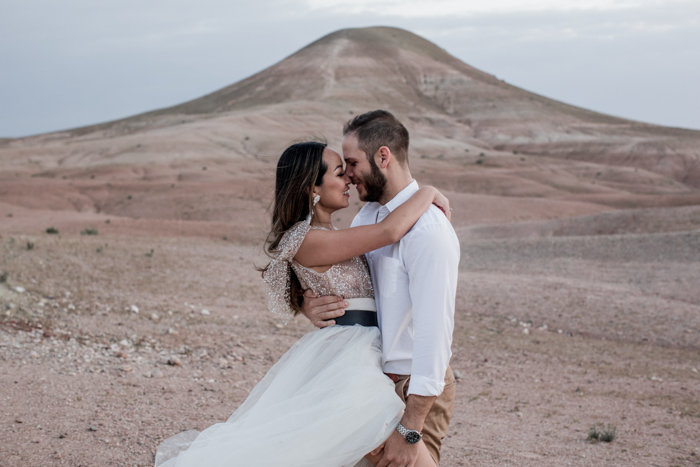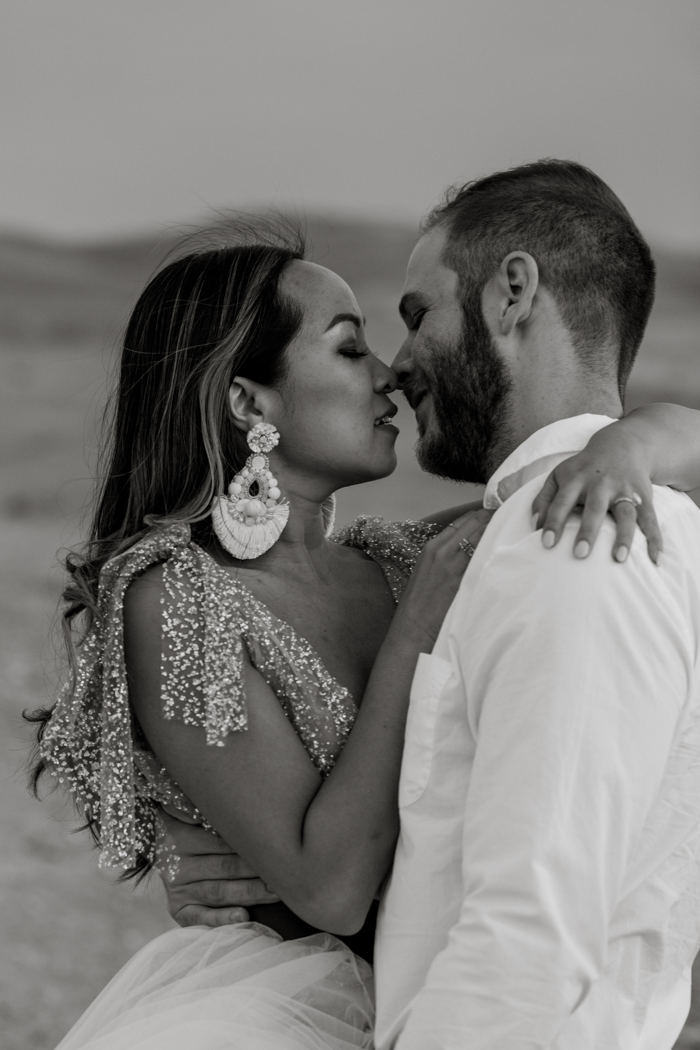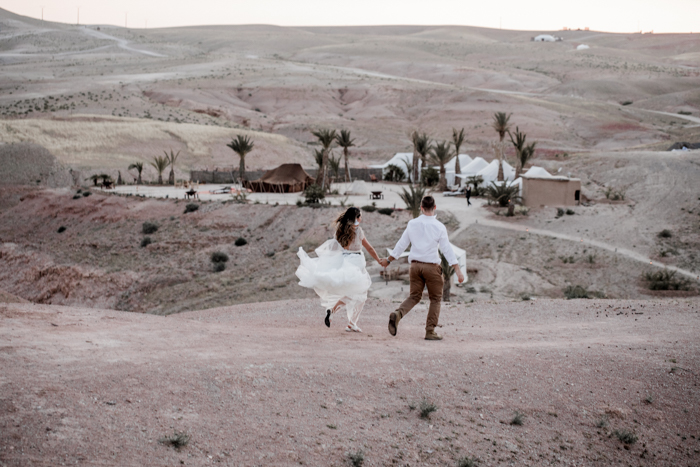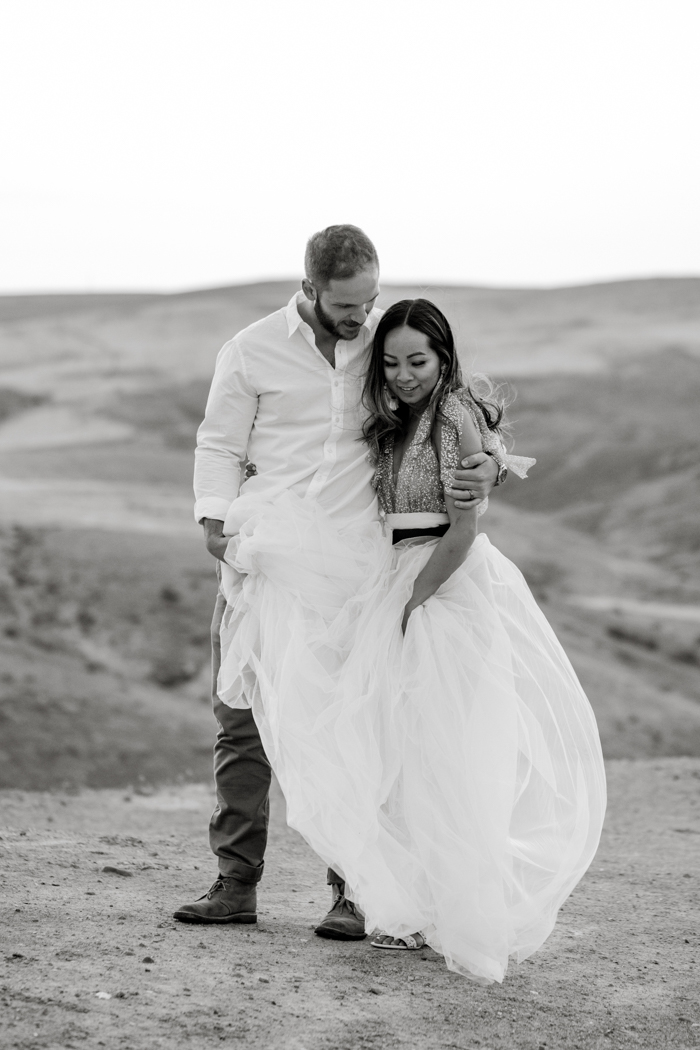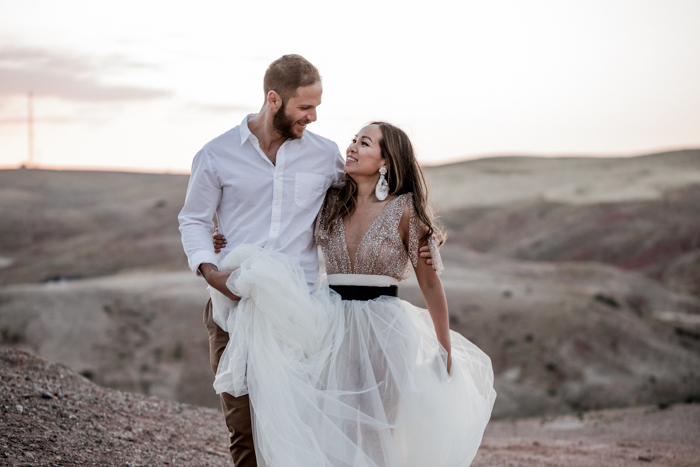 Congratulations to Stell and Stirling and our biggest thanks to Junebug member photographer Lilly Red Creative for sharing this incredible La Pause Marrakech wedding! Want to see more wedding magic from Lilly? This Vibrant San Miguel de Allende Elopement Inspiration Highlights Your New Favorite Destination Spot!