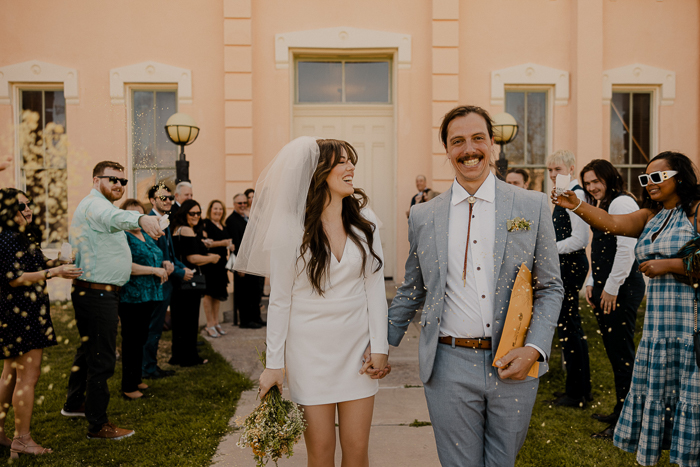 Heather and Jordan got engaged during their very first visit to Marfa in June 2022, so when it came time to start planning their wedding, they knew they wanted to share this special place with their loved ones. They cared about ensuring their guests had a great time, especially since many were coming from different parts of the country. From the welcome party to the sunset stargazing and every moment in between, their intimate Marfa wedding was just that.
Their big day began with a simple and beautiful courthouse ceremony. As unique as the artsy town of Marfa itself, the couple's portraits around town showcased a mix of cool minimalist art and culture. Following that, they threw an El Cosmico reception that brought together the Wild West with a desert festival twist. But the fun didn't stop there. It kept going all through the night with an epic karaoke after-party.
If your wedding vibe is artistic with a touch of Texan charm, you're in for a treat as you browse through these remarkable photos skillfully captured by Eyeronic Love. Be sure to take notes on the creative and unique ways they personalized their big day to reflect their love story, as these ideas can inspire your own upcoming celebration.
The Couple:
Heather and Jordan
The Wedding:
El Cosmico, Marfa, Texas, United States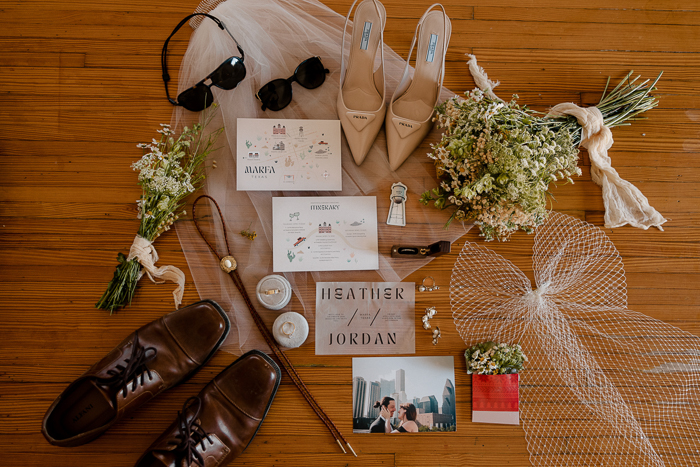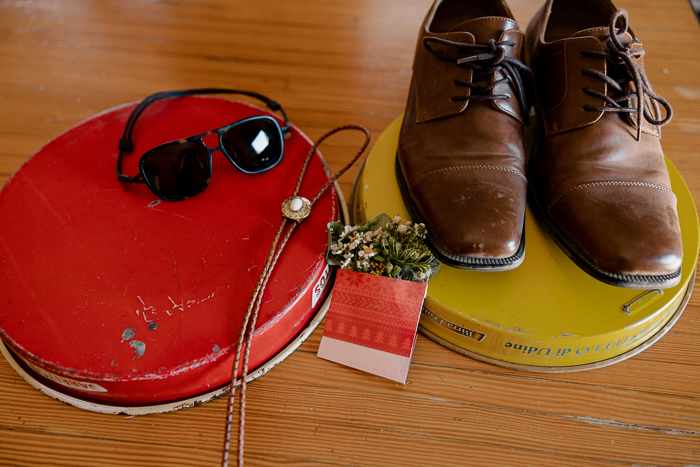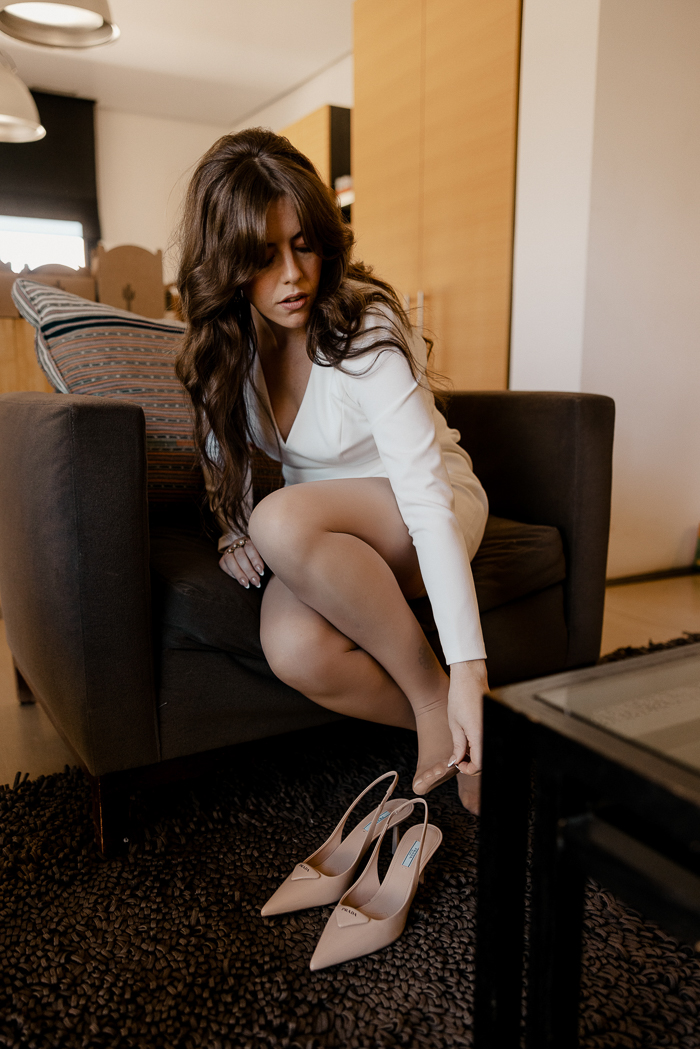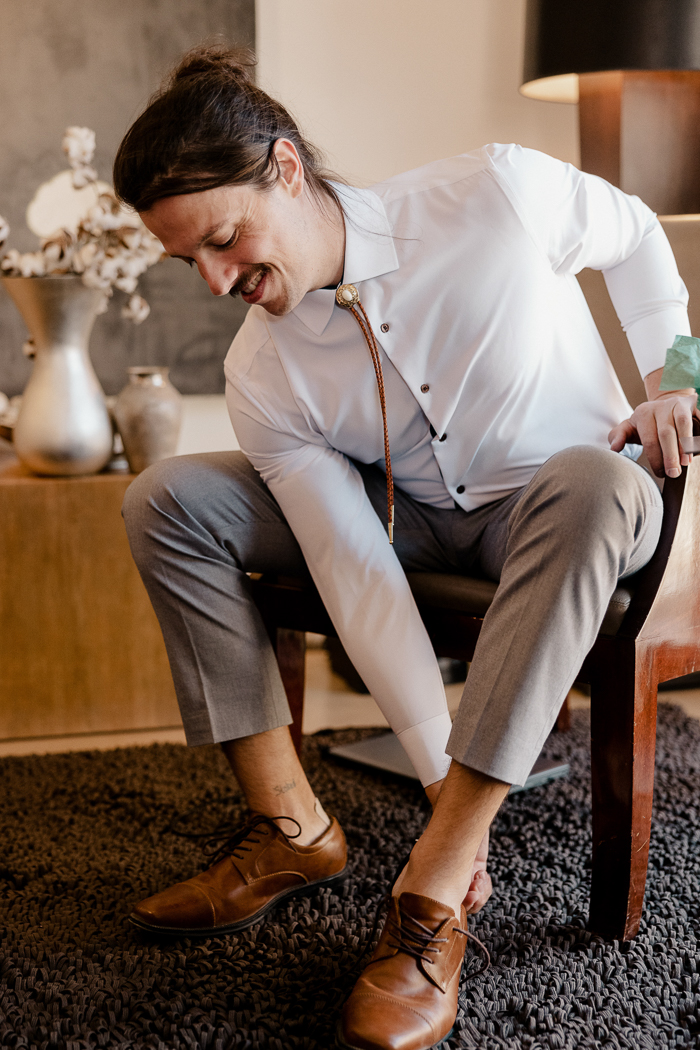 Utilizing the Desert Aesthetic at Their Intimate Marfa Wedding
A lot of our wedding took shape out of inspiration from the local landscape, art, and culture of Marfa. Jordan and I got engaged on our first trip to Marfa in June 2022. Once we began wedding planning, it became clear that bringing our loved ones to this special place would make for an unforgettable event. At the outset, we knew we wanted to create an experience for all that was both fun and joyful. We wanted our guests to soak in their surroundings and feel like an important part of our celebrations. Our goal was to create an environment that felt natural but not "boho." We wanted to work with the desert by utilizing wildflowers and tumbleweed.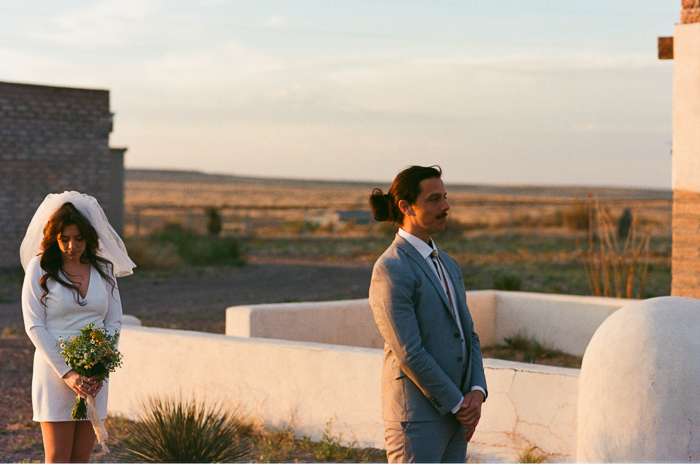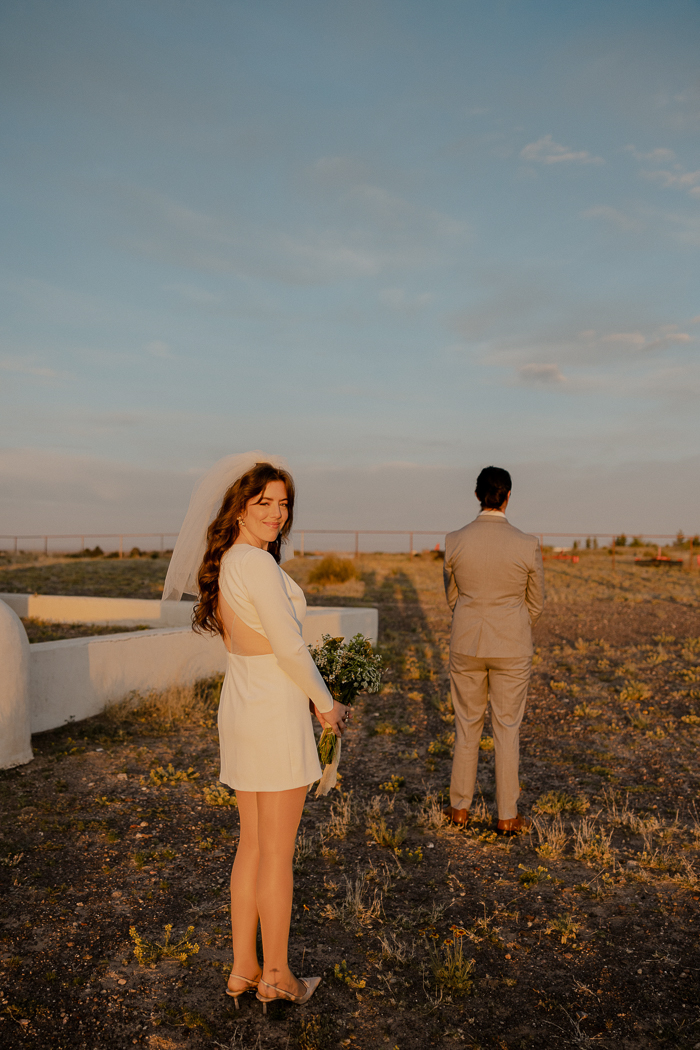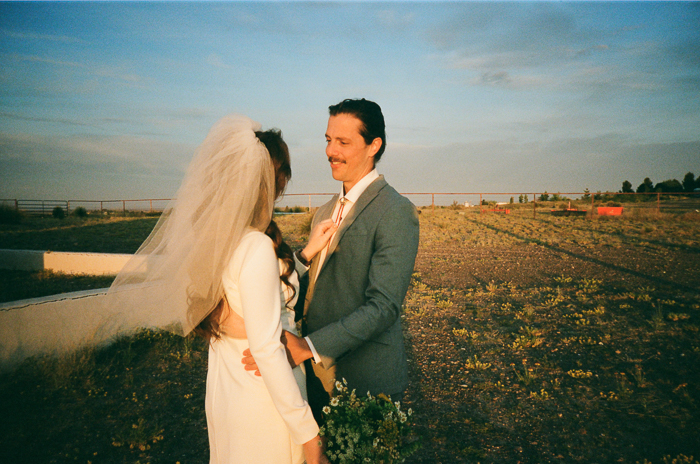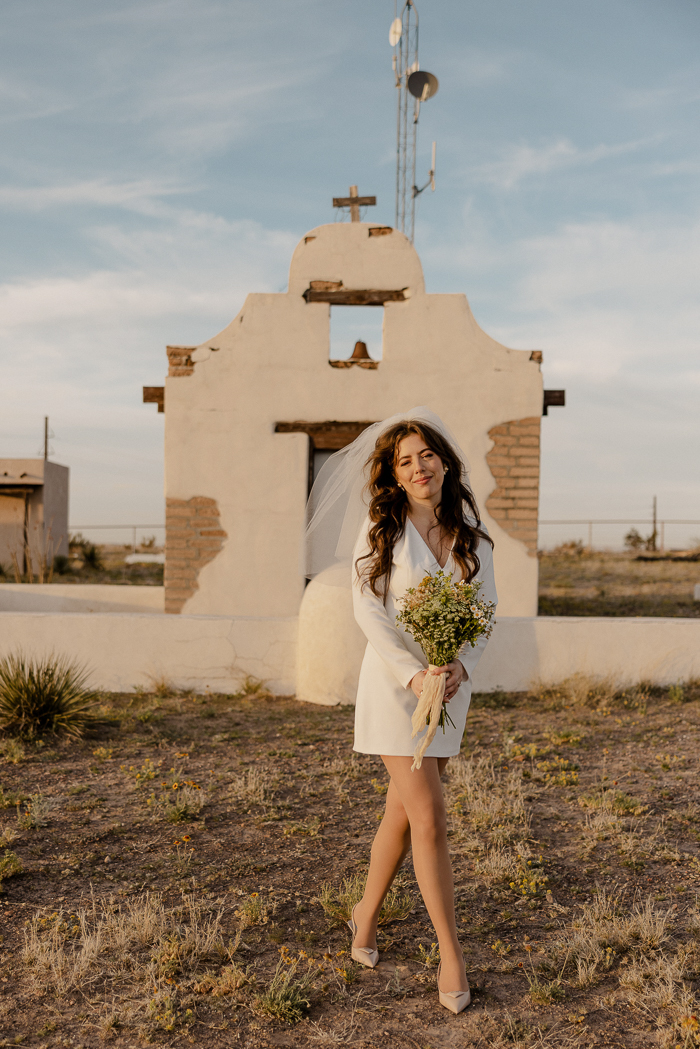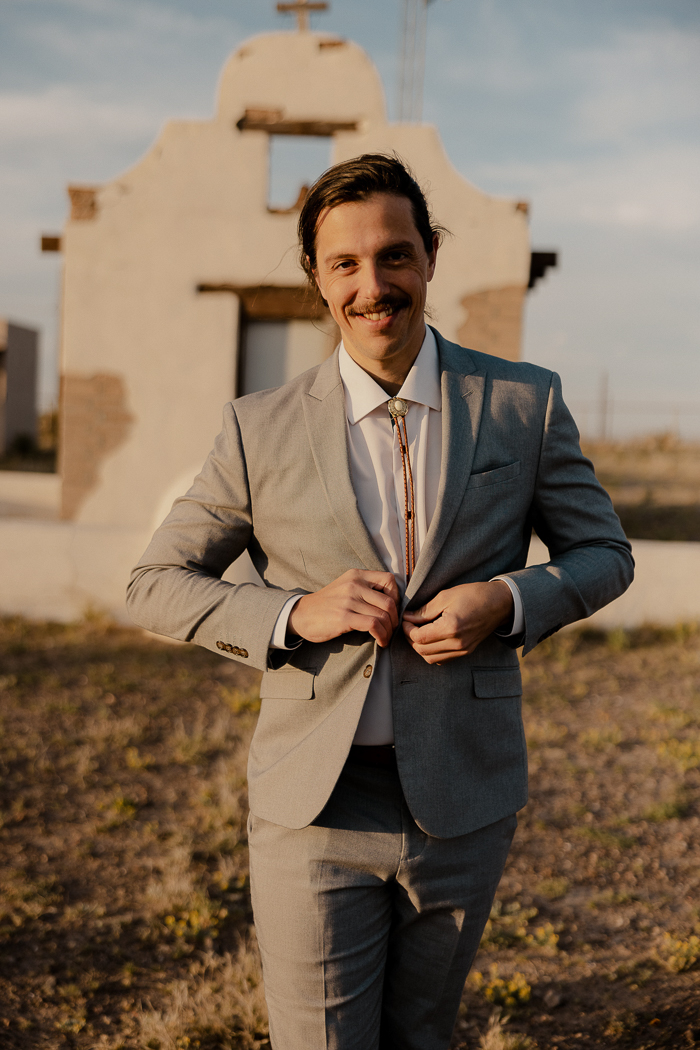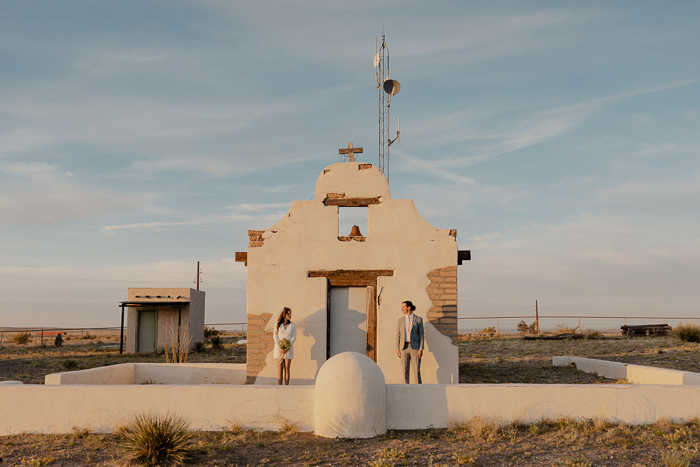 Carving Out Quiet Moments Just for the Two of Them at Their Intimate Marfa Wedding
Having our friends and family (some meeting each other for the first time) come from all over the country to be with us on our wedding day was something we will always treasure. However, the most memorable part of our wedding day for me was not the amazing welcome BBQ, leather-stamping, or the after-party karaoke, but the moments before our ceremony. It was the quiet moments of her getting ready and us walking hand in hand up to the courthouse to start the next chapter of our lives. We decided to have a private reading of our vows before the ceremony. During that, I felt so connected to Heather and overtaken with love and passion for her. And just beyond proud of us and everything we accomplished to get to that moment.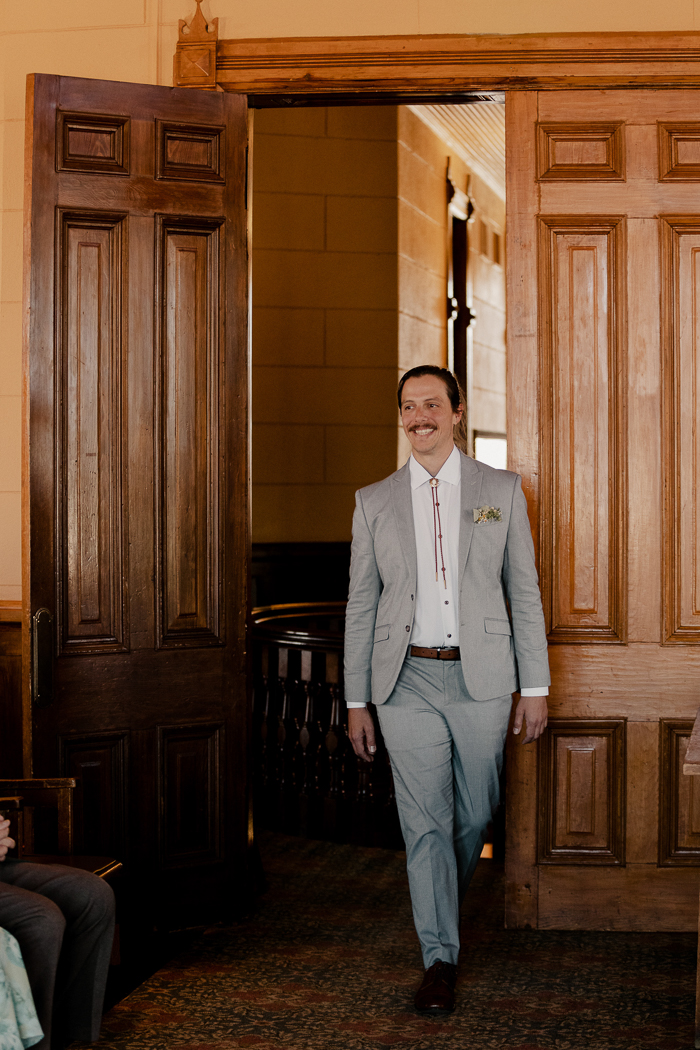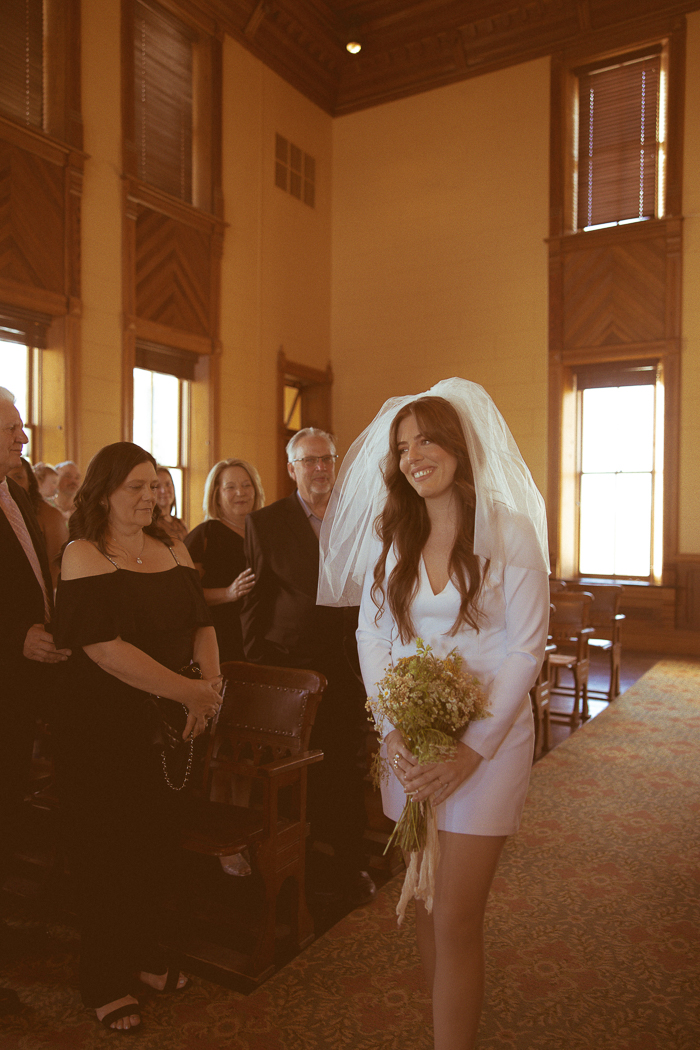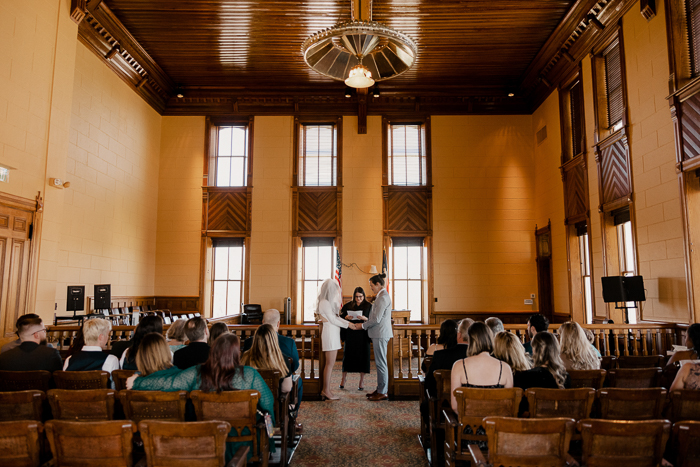 The Perfect Blend of Tradition and Authenticity at Their Courthouse Ceremony
A courthouse ceremony perfectly solved our problem of balancing formality and tradition with authenticity. Our wedding ceremony was held at the historic Presidio County Courthouse. I walked down the aisle to Florence & the Machine's "Stand By Me" cover, and my grandpa told people to put their phones away during the "social media minute." It was all absolutely perfect.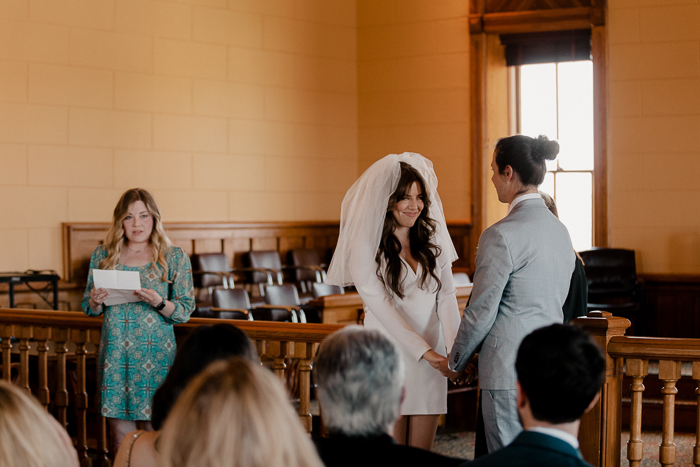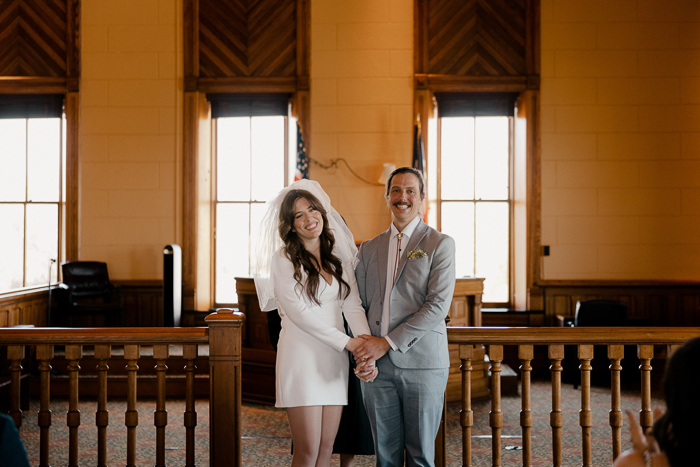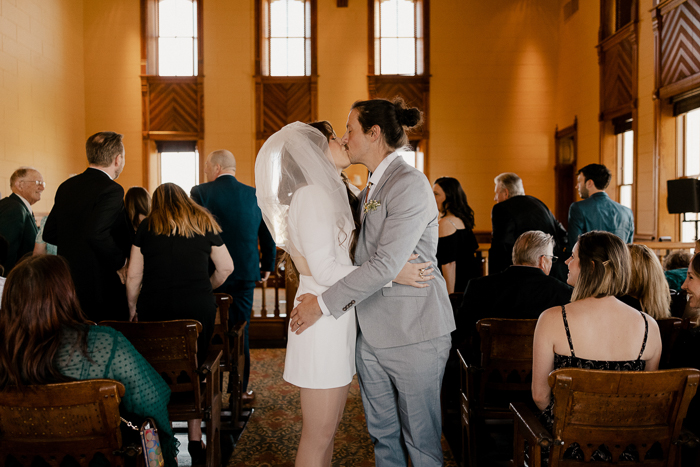 A Flower-Filled Courthouse Exit Made for the Couple's Favorite Photos
As Jordan and I took portraits in the dome of the courthouse, my woman of honor worked to corral our guests outside and disperse small bags of flower petals. As we exited the courthouse and our guests showered us with jasmine flowers, I felt absolutely overcome with love and celebration. All of our wedding photos are stunning, but these were the ones that immediately brought tears to my eyes. The love and joy from our wedding are beautifully captured in these photos and this memory.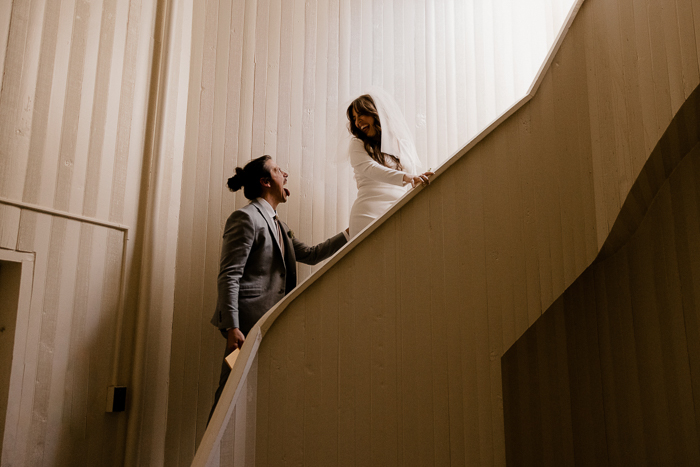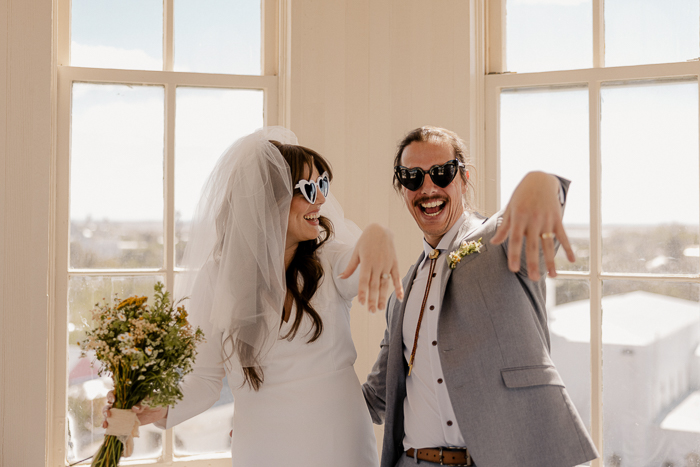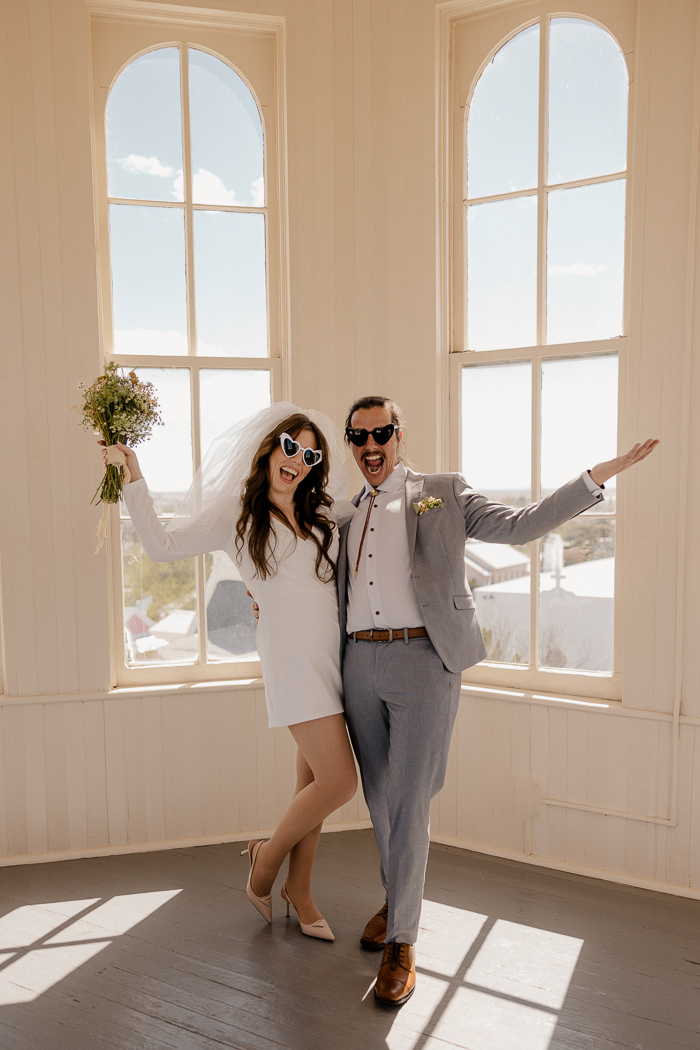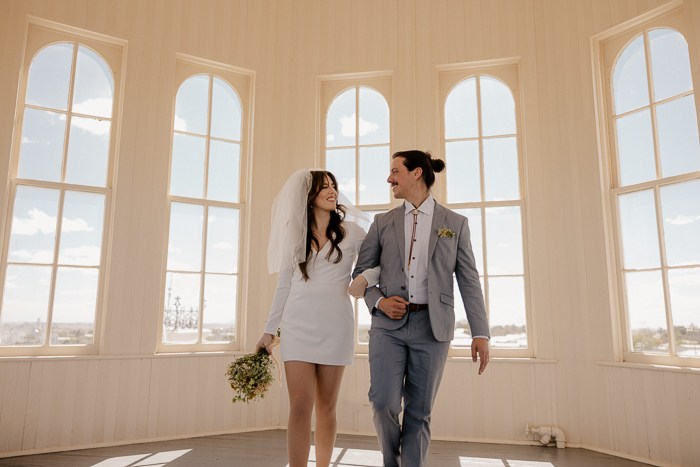 Wedding Advice: Set Wedding Expense Priorities
My advice is to work with your partner to identify your top wedding priorities early on. Almost every step of the process will cost more than you expect. If you have already decided that certain things are or are not worth the splurge, you can handle the surprises better.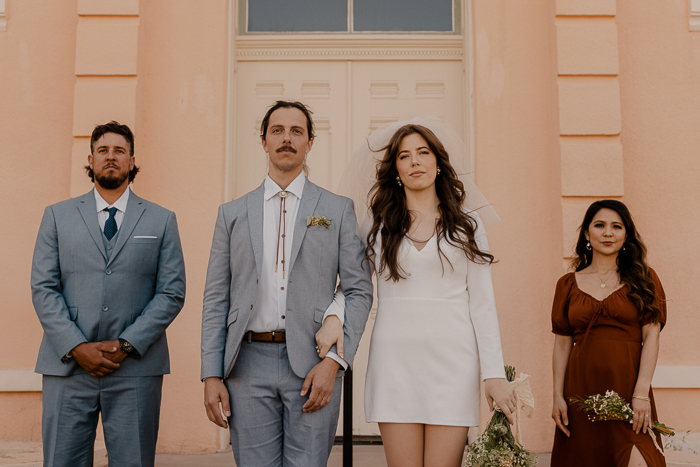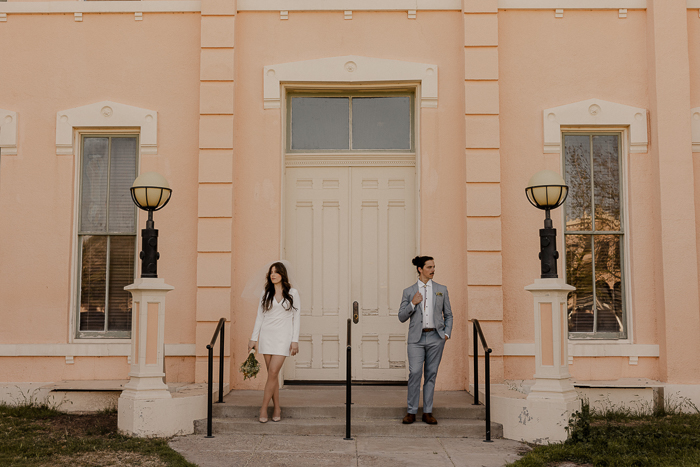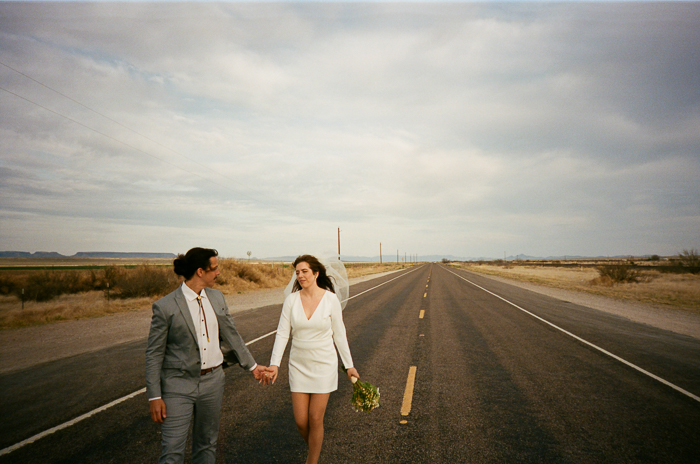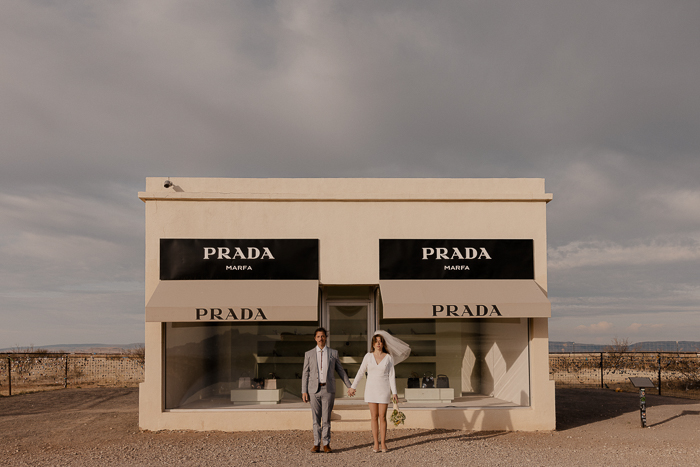 Keeping Their Guests Entertained Throughout Their Wedding Weekend With Leather Crafting, Karaoke & Stargazing
Our reception was a classic drinks, dinner, and dancing just down the road at El Cosmico. We also decided to bring in a vendor that does leather crafting. The crew from Artisan Oddities was so friendly and helped our guests create handmade mementos with Texan flair. Our guest list was quite small, so we knew we'd have to get creative to build up the party vibe we were going for. After the reception dance party ended at 10 P.M., we invited everyone out to a karaoke after-party. And they showed up! Karaoke with our guests was an absolute highlight. We were watching the videos back and laughing about everyone's song choices is so fun. We took it easy the next day and invited everyone out for stargazing at sundown. West Texas has some of the darkest sky in North America, and everyone was looking for the famed Marfa Lights.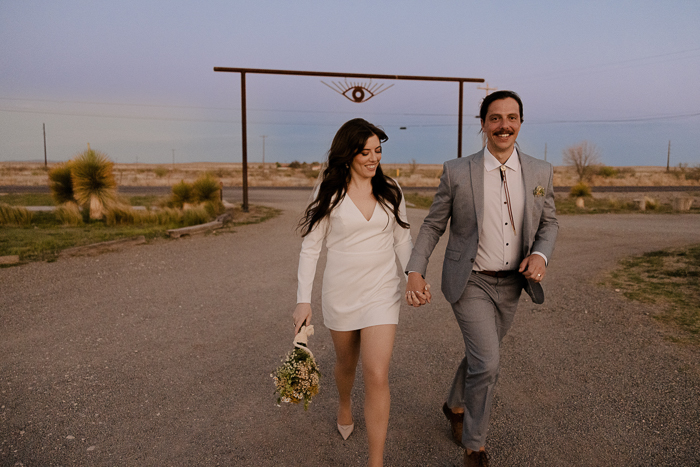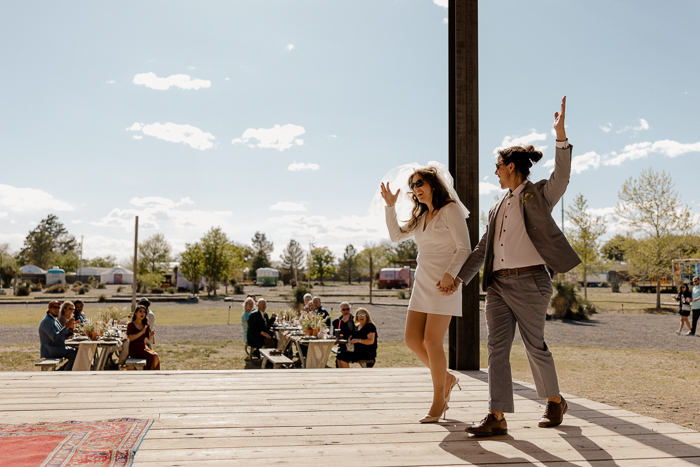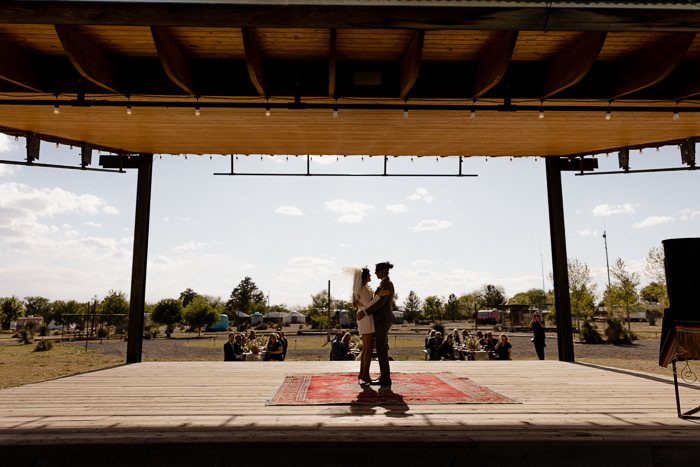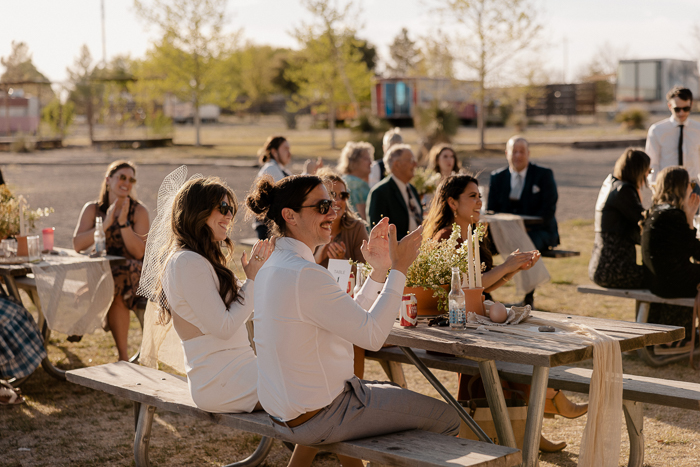 Guest Experience was Their Top Priority at Their Intimate Marfa Wedding
Most of our guests had to fly to El Paso and then rent a car for a three-hour road trip to arrive at our wedding venue. So we wanted them to leave with fond memories of our ceremony, reception, Marfa, and the larger Trans-Pecos region. We kicked things off with a welcome party to get everyone acquainted. As guests departed, we returned them to their hotels and Airbnb with welcome boxes filled with a few of our favorite things. Our wedding was an absolute dream and felt so authentic to us. Where most wedding celebrations span an afternoon or evening, we were fortunate to celebrate with our loved ones over a few days in the Far West Texas desert.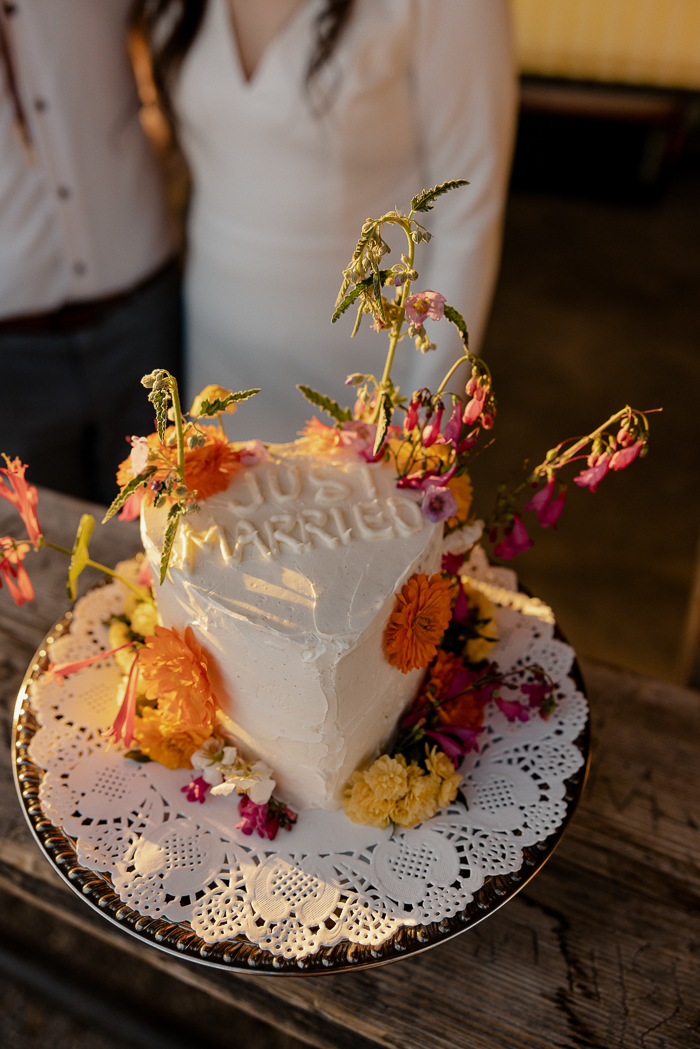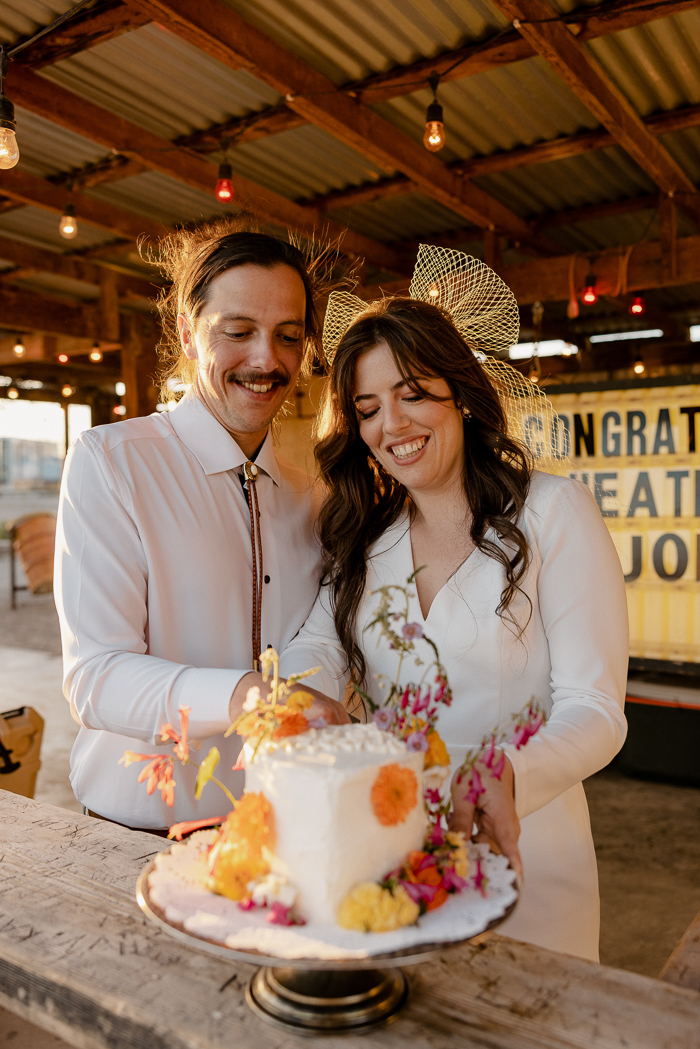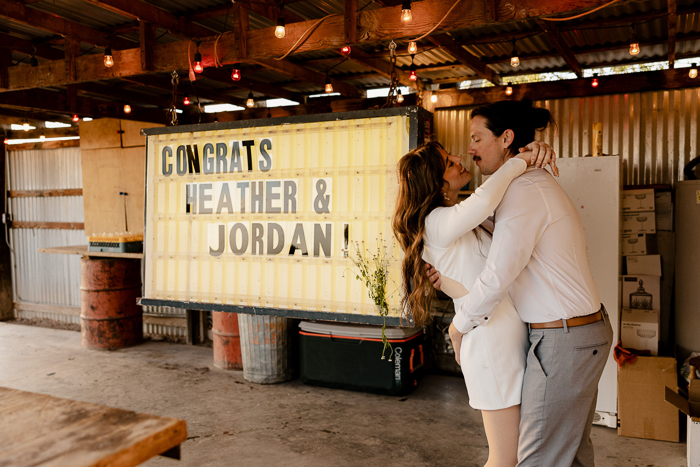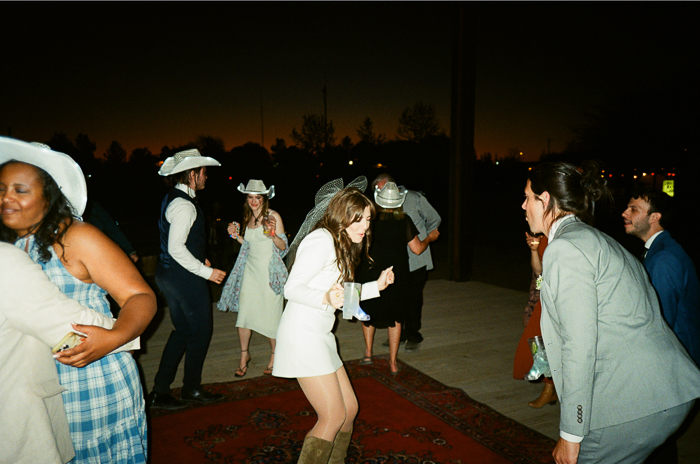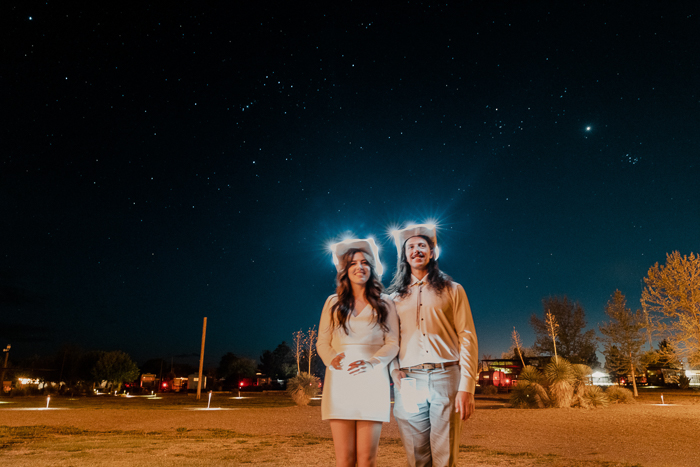 Congratulations to Heather and Jordan on their eccentric and intimate Marfa wedding. And a big thank you to Eyeronic Love for capturing all the unique touches and unforgettable moments on the happiest day of their lives.
Going to a wedding can be a big commitment for guests in terms of both time and money. So, why not make it a memorable experience for your loved ones, just as this couple did. Adding little touches like a warm welcome celebration, some fun entertainment, and an exciting after-party can make your guests feel extra special. It's all about making the day not just about you and your partner. But also about celebrating your love with the people who mean the most to you.