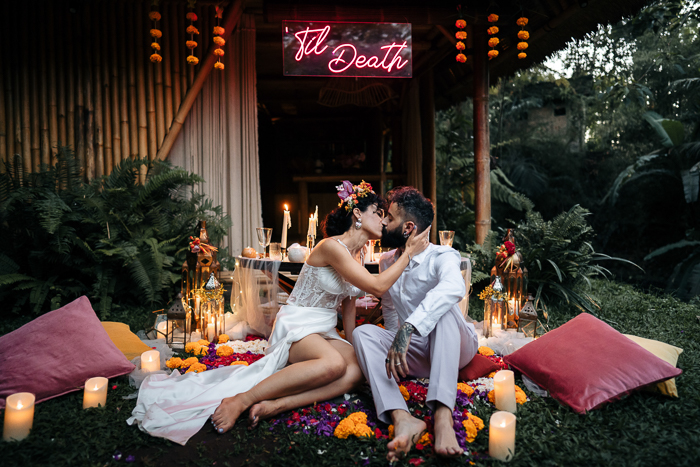 Fania and Charis always knew that a getaway adventure and tying the knot in nature was the right fit for them. With that in mind, they found the perfect paradise for their "I do's." Set on the grounds of a hidden bamboo house, deep in the lush mountain forest, with vibrant tropical florals and eye-catching decor—their Bali jungle elopement was a breathtaking intimate celebration just for two.
Seamlessly blending the exotic natural setting with romantic elements, a floral mandala created a sacred spot for their vow exchange. After the ceremony, they turned the same spot into a romantic and cozy picnic with a low-seated table, pillows, and lots of candles. And tying everything together was the couple's fashion-forward attire. Charis rocked a stylish lavender suit, while Fania was a stunner in her custom gown featuring a corseted bodice and satin ruched skirt, completing the look with a floral crown.
To top it all off, the pair added handmade touches throughout their special day, from the stationery and dinner setup design to their handcrafted wedding rings. If you and your partner feel like the tropical jungle is calling out your names, then this Bali jungle elopement is for you. Keep on scrolling and draw inspiration from these spectacular images captured by The Duo Photography.
The Couple:
Charis and Fania
The Wedding:
Hideout Eco Bali House, Indonesia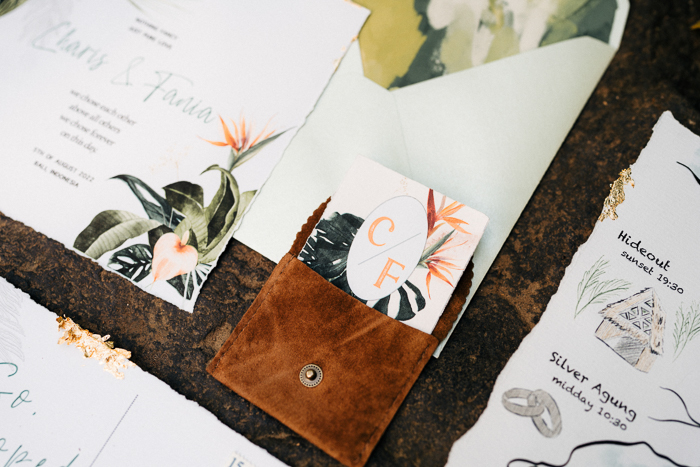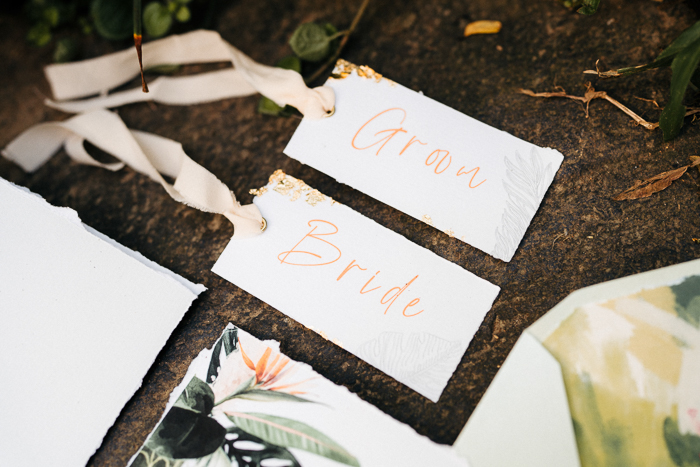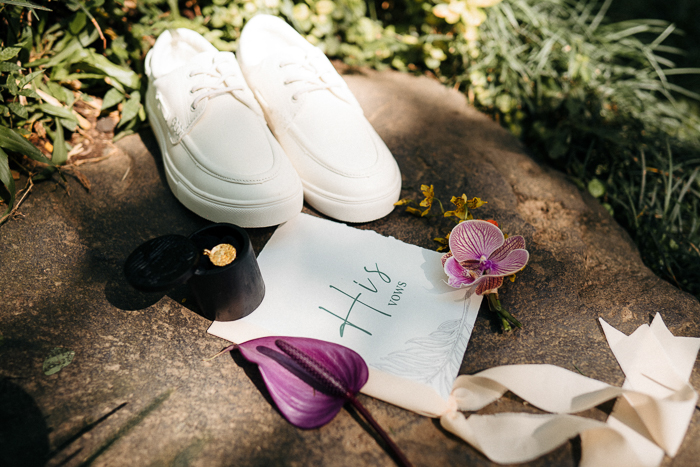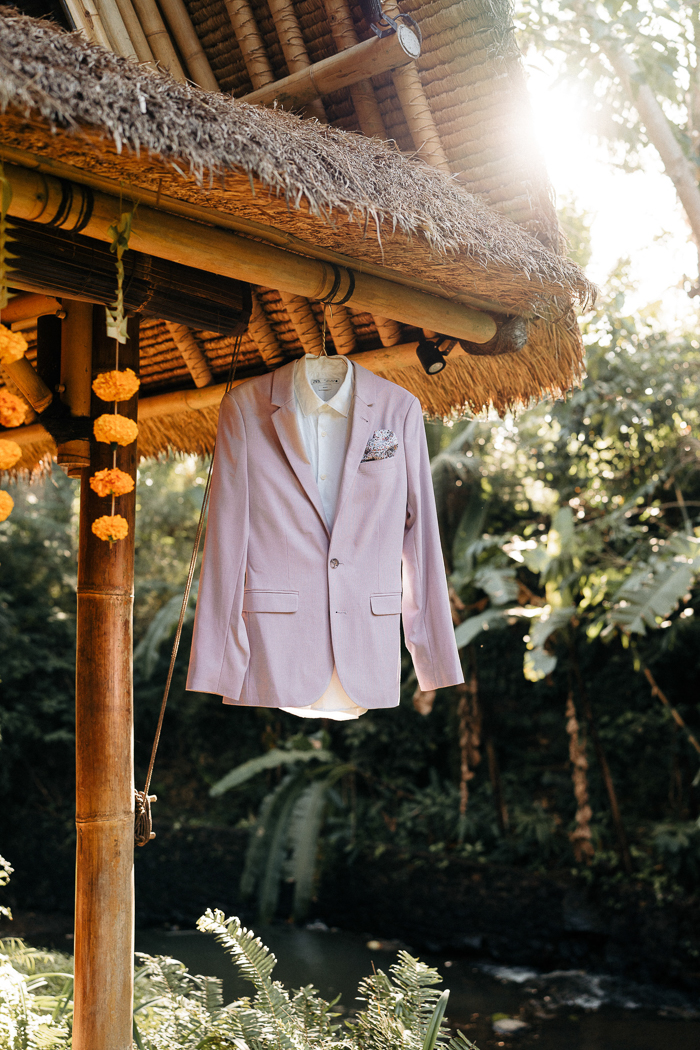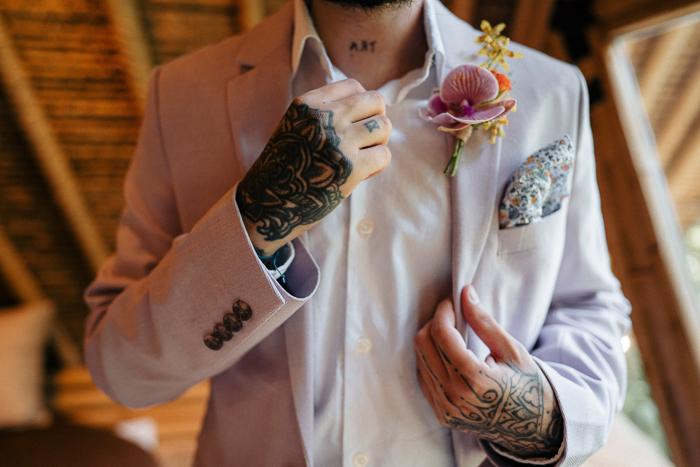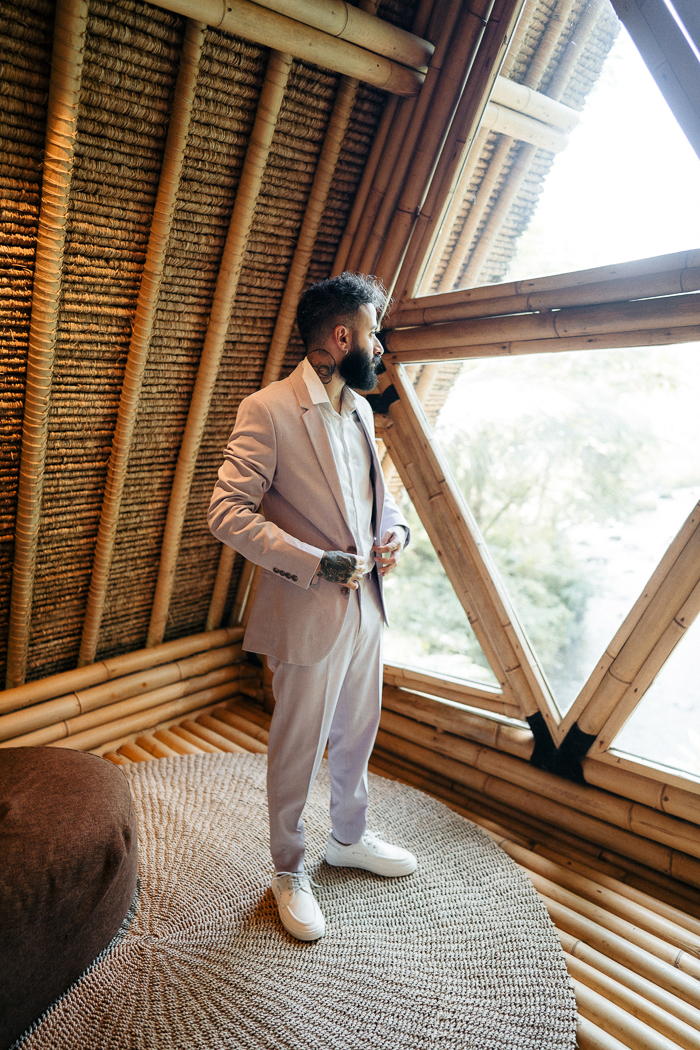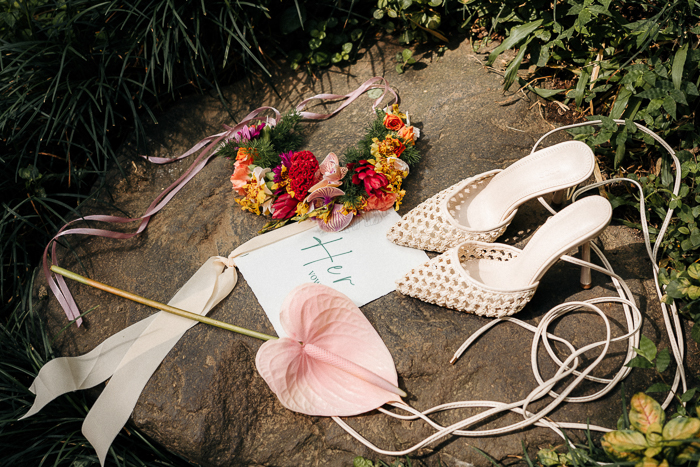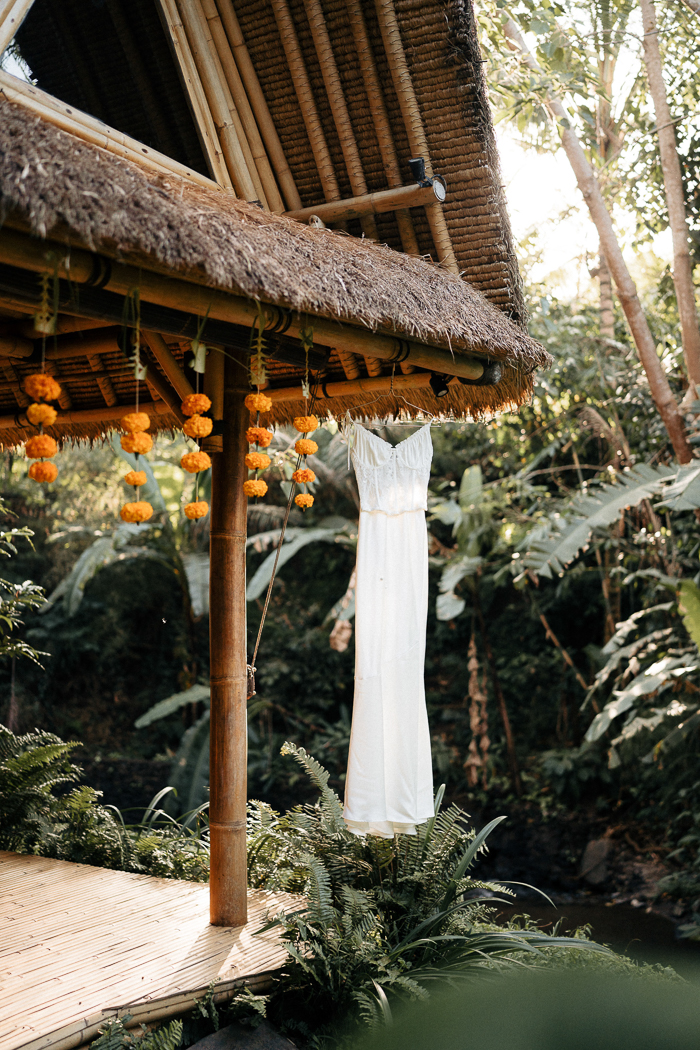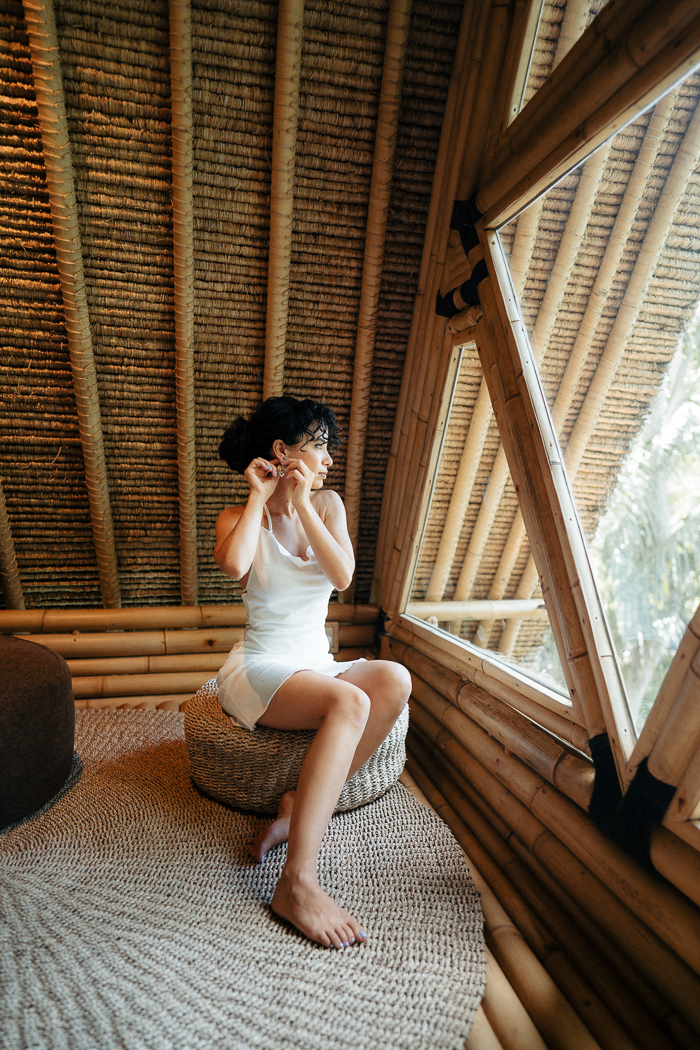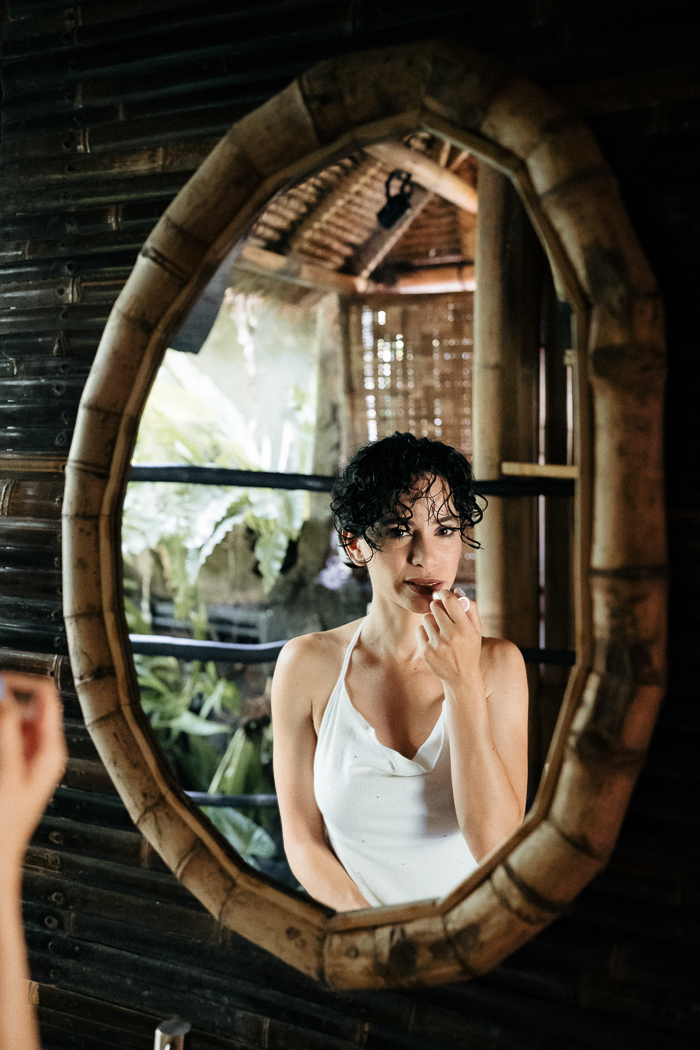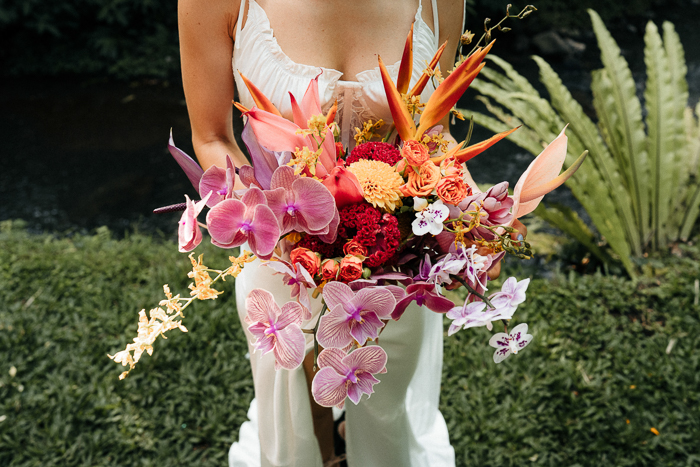 How Their Bali Jungle Elopement Came To Be
We wanted a day that would feel completely our own without fulfilling someone else's expectations. Mother Nature has always been our inspiration, so it felt only natural to tailor our dream day and celebrate our love outdoors. Something laid-back, whimsical, enchanting, and uniquely romantic. All of these words immediately spoke Bali to us! One day, while innocently scrolling through Instagram, we found the perfect spot where we hosted our elopement in Bali, the Hideout Eco Bali House. It was the most idyllic hideout in the mountains of Gunung Agung. Imagine a river flowing next to a lovely small bamboo house, nestled in the middle of the jungle, and having complete intimacy. Our hearts were immediately swept away and captivated by this tropical allure, and we couldn't imagine our elopement happening elsewhere.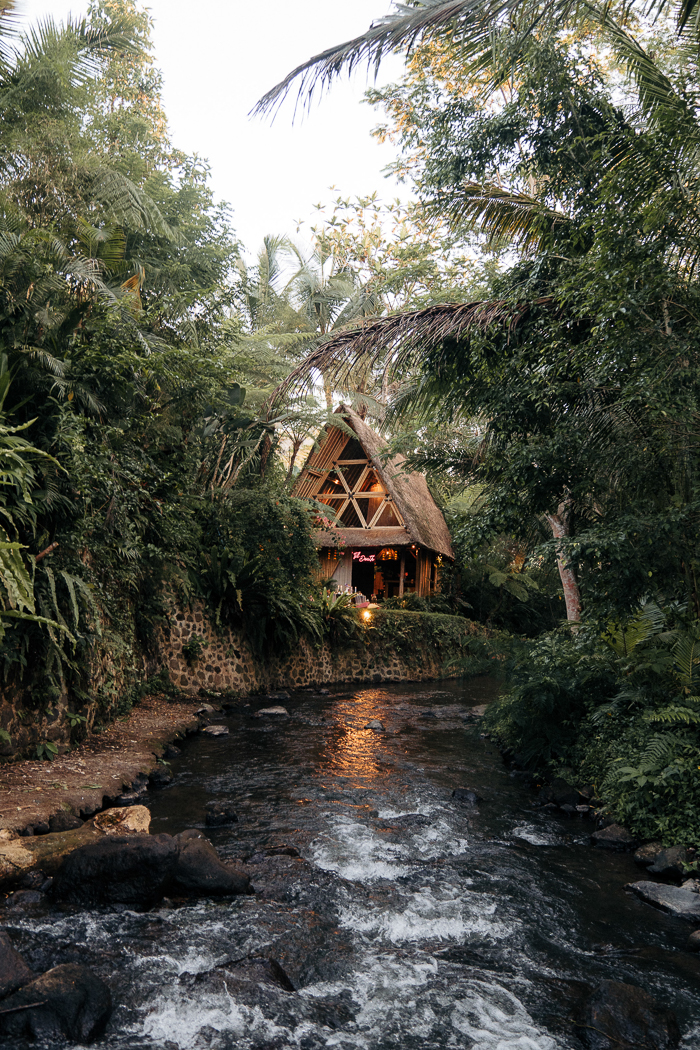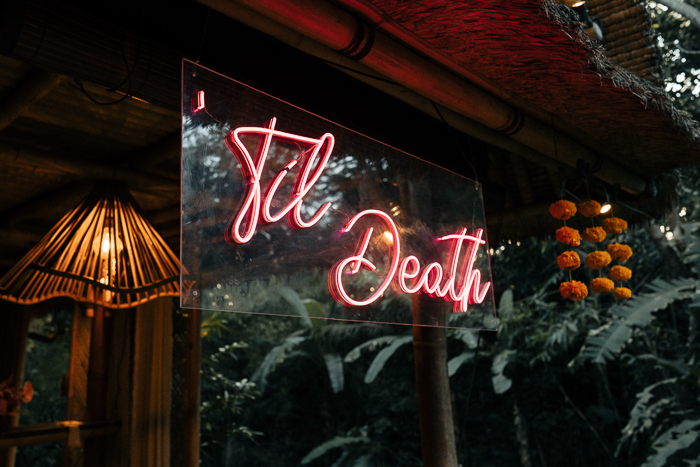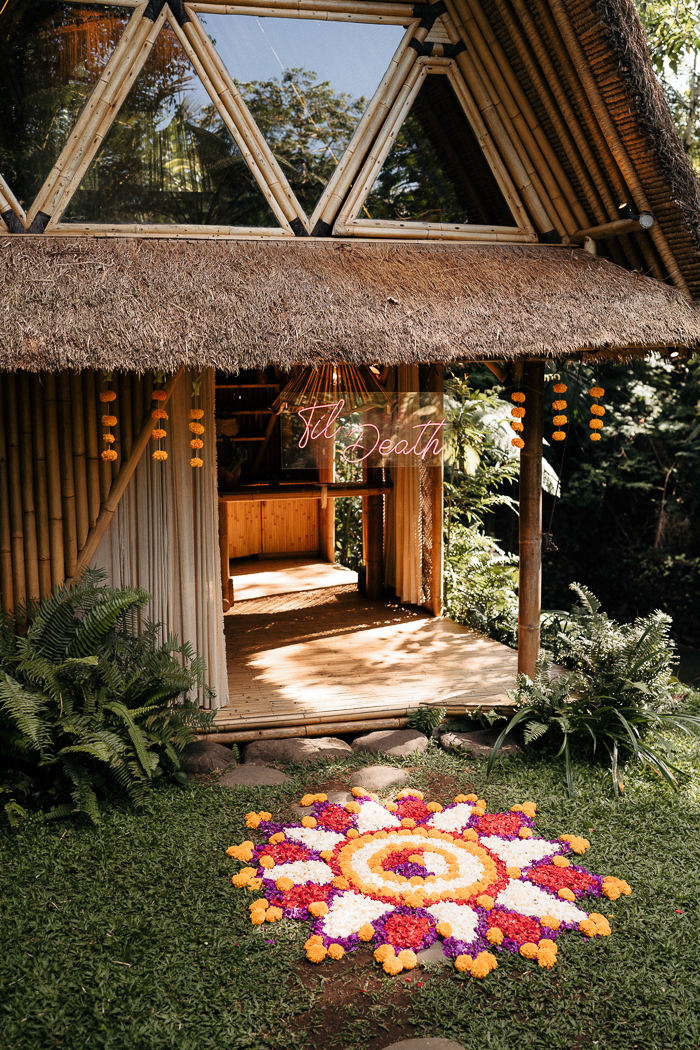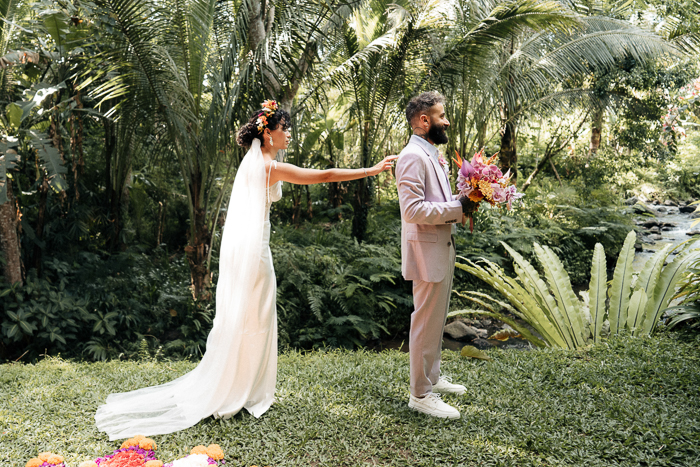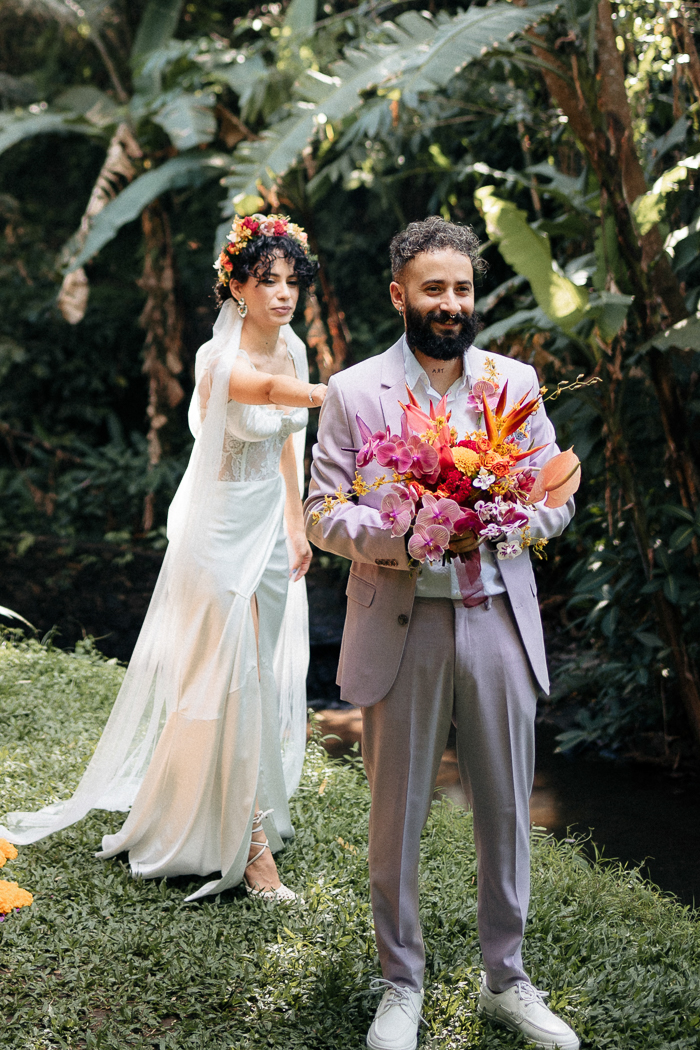 Mandala-Inspired Tropical Color Palette
When it came to our color palette, the first thing that came to mind was the flower mandala that the people from these lands consider sacred. Regarding the whole aesthetic of our elopement in Bali, everything embodied the colors of this flower mandala—red, purple, pink, yellow, and orange tones. It was a lovely contrast to the lavish tropical greenery surrounding us.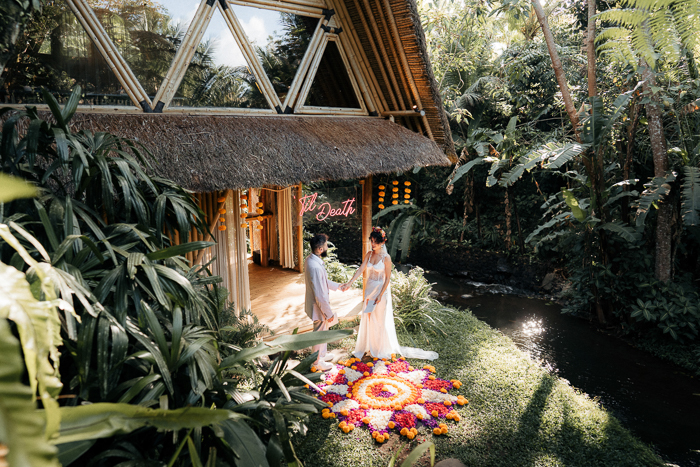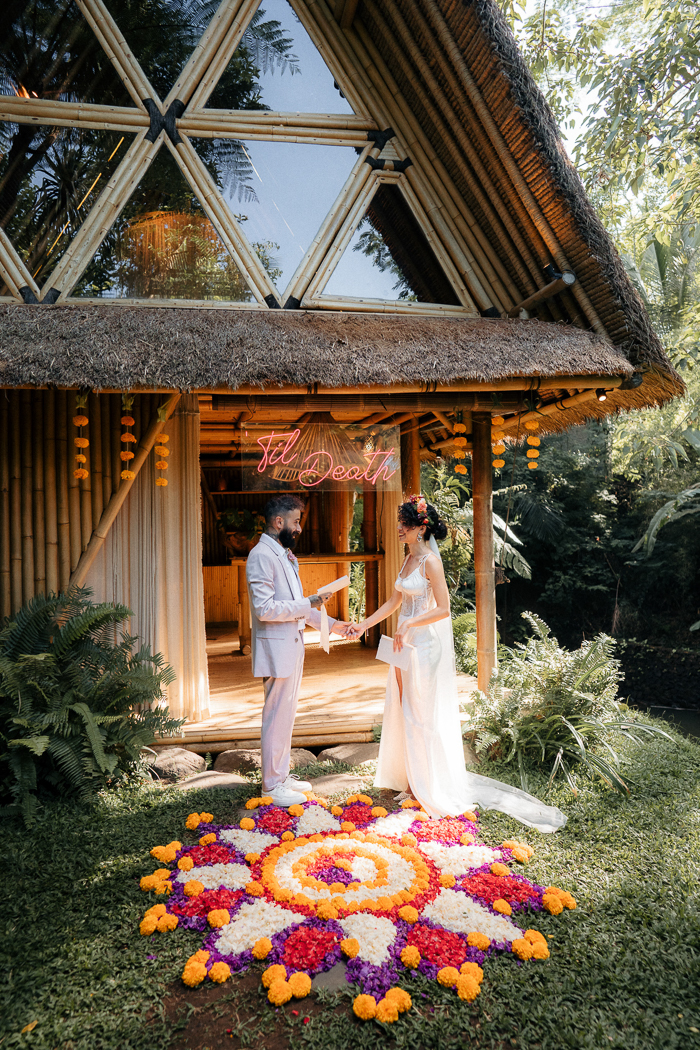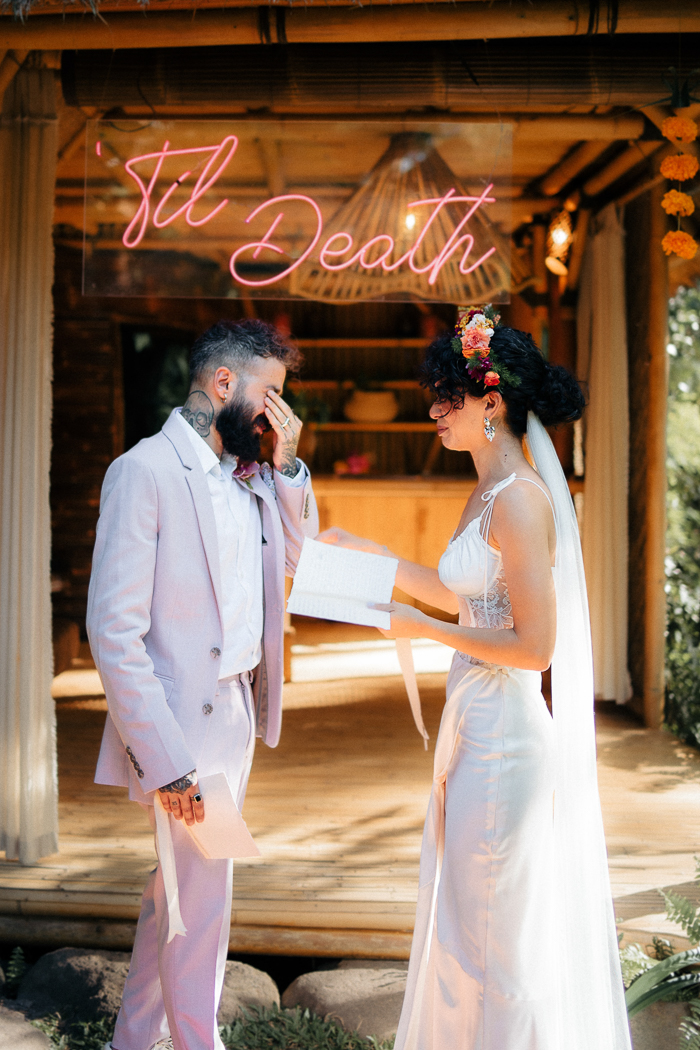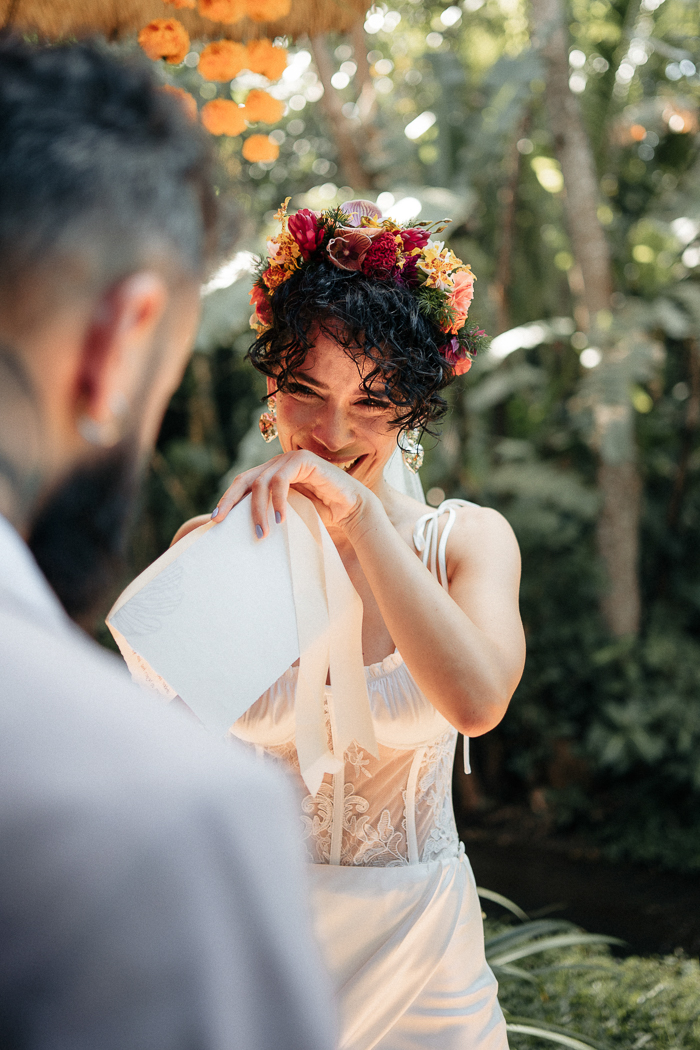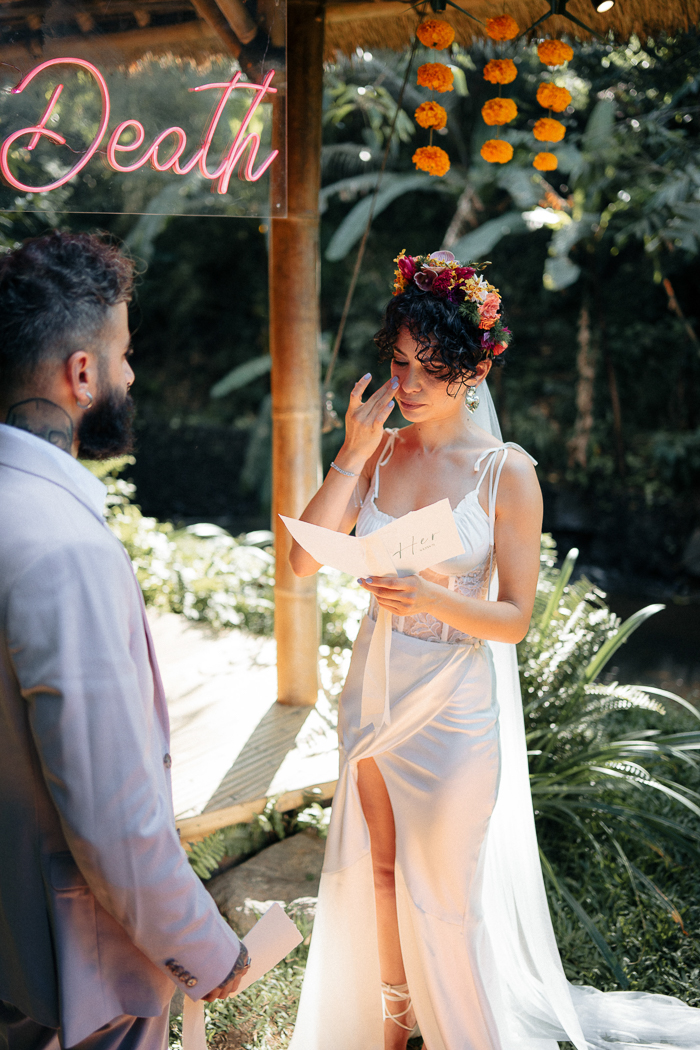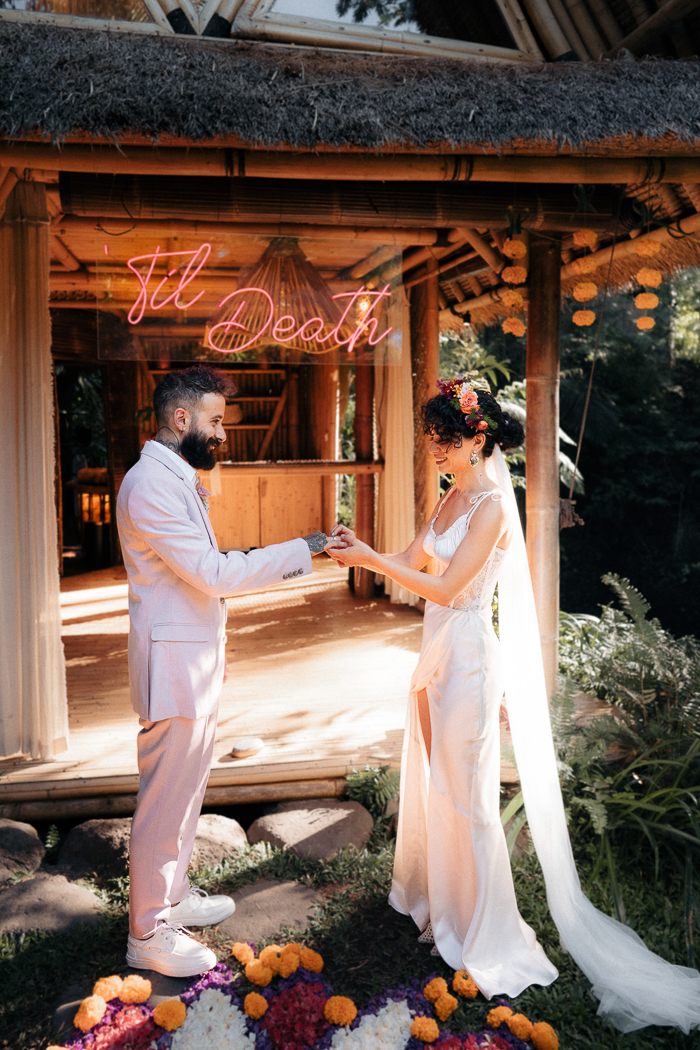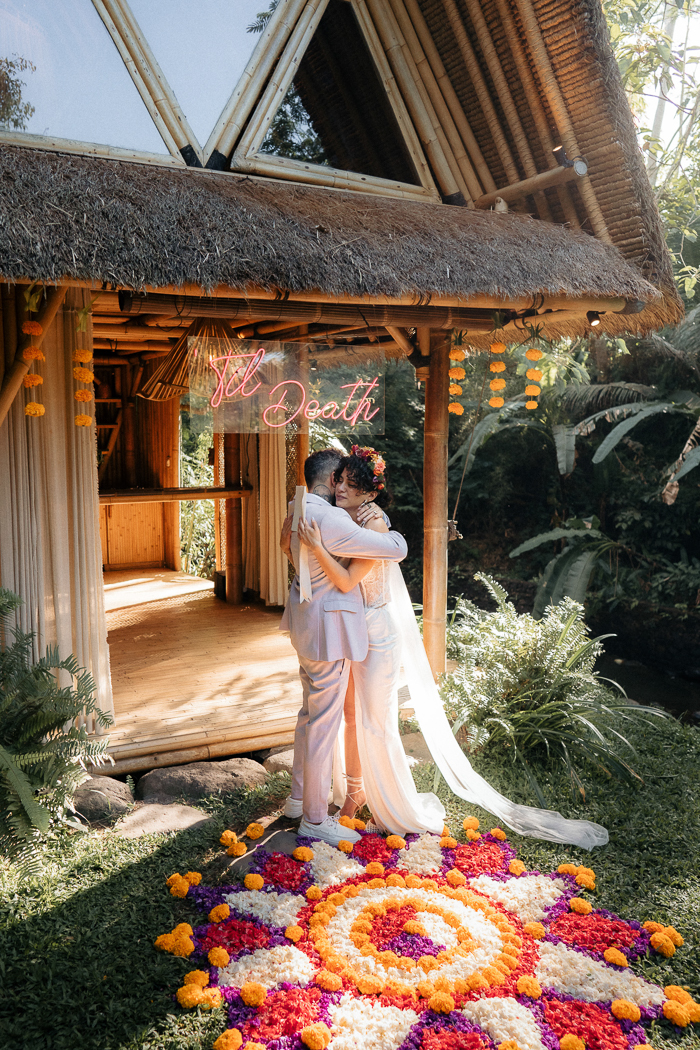 Exchanging Private Vows Surrounded By Nature
The most memorable part of our special day was definitely the moment we started reading our vows to each other. When it was time for our ceremony, we approached the colorful mandala, and our worlds collided into one. Overwhelmed by our emotions, we allowed our happy tears to flow freely. We were alone, and we could be ourselves.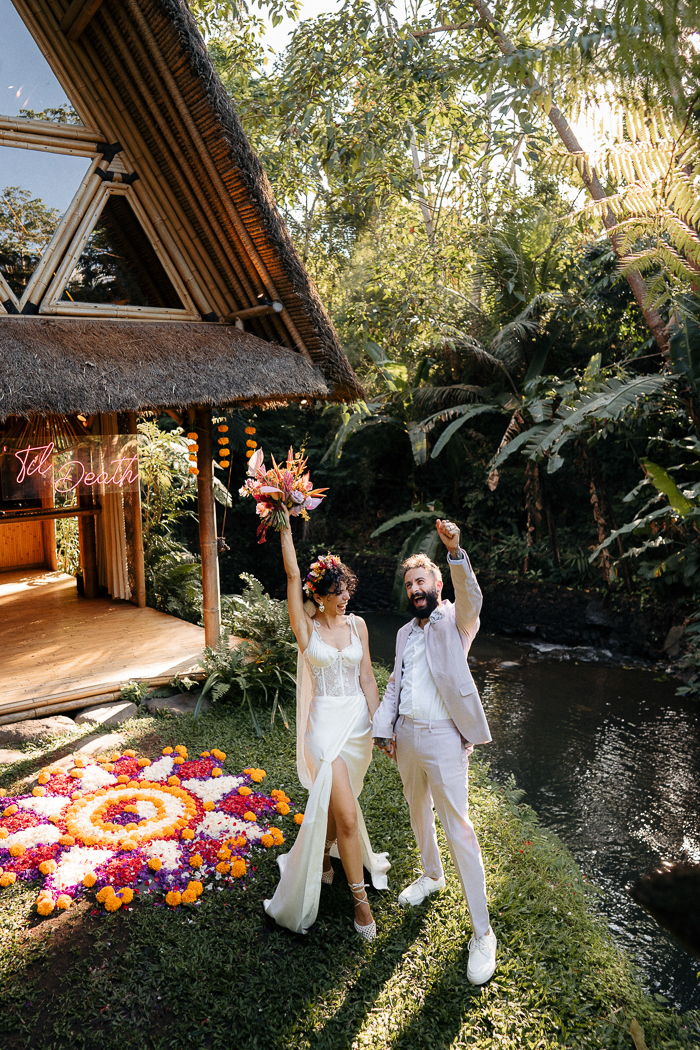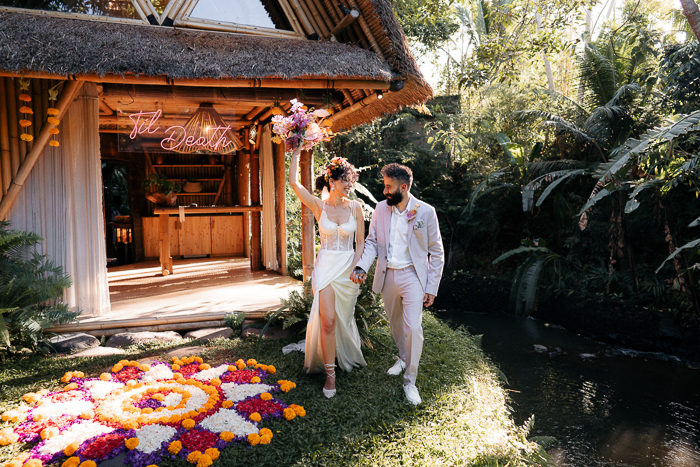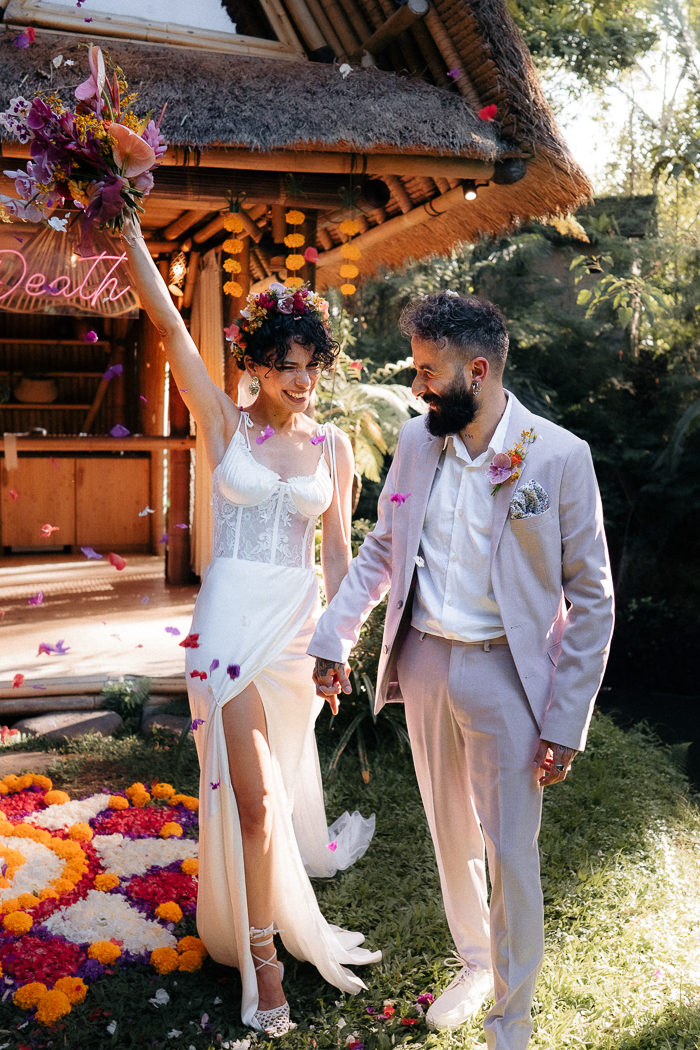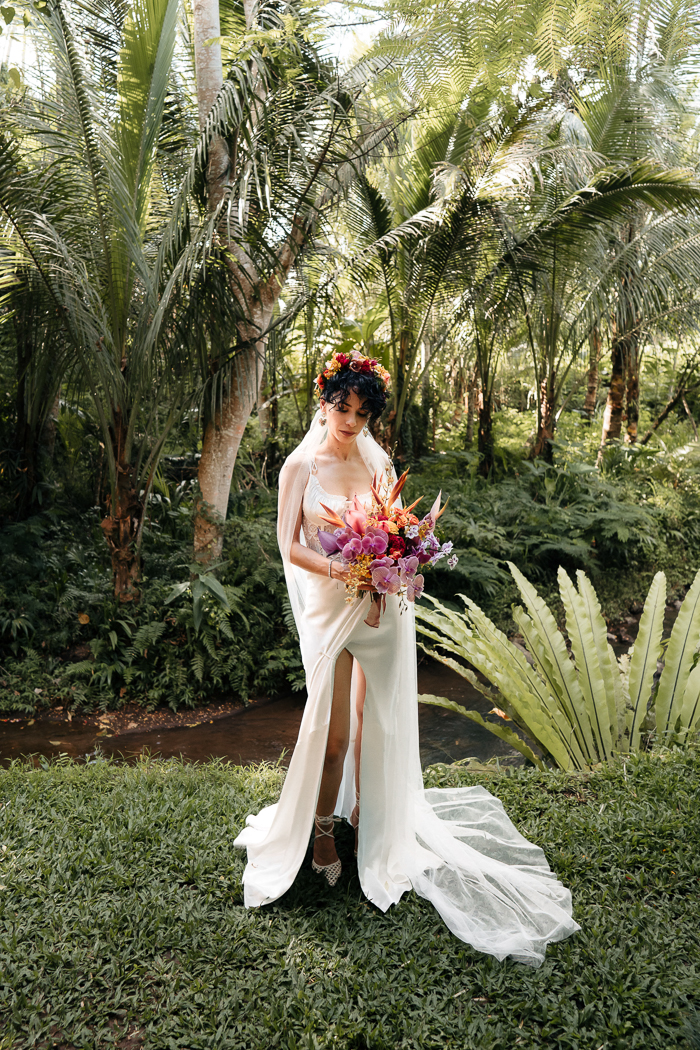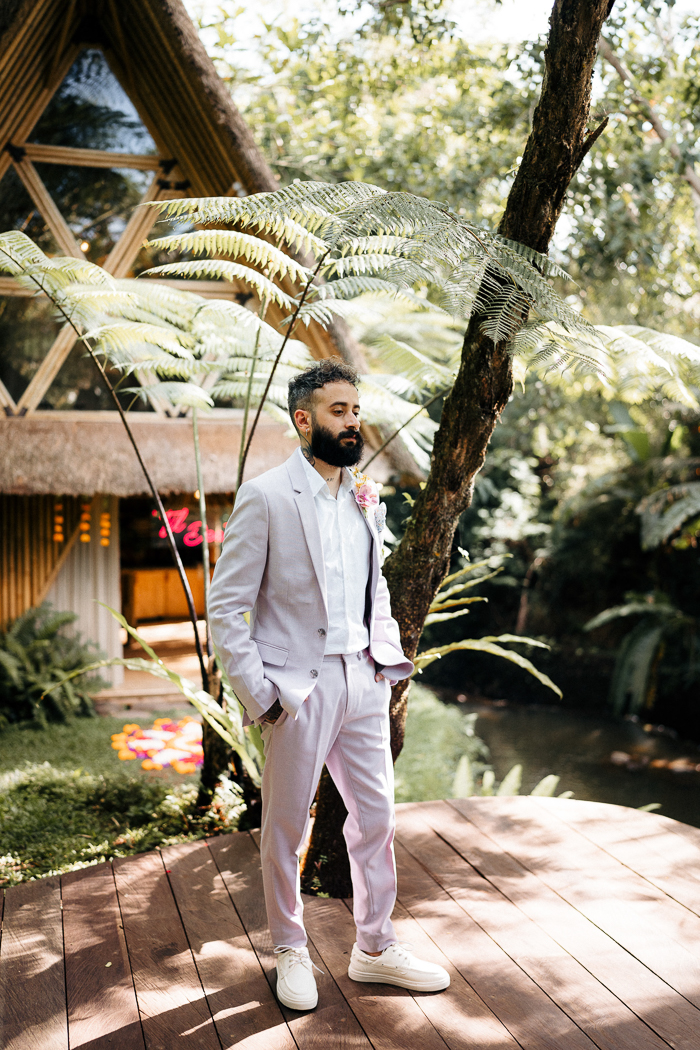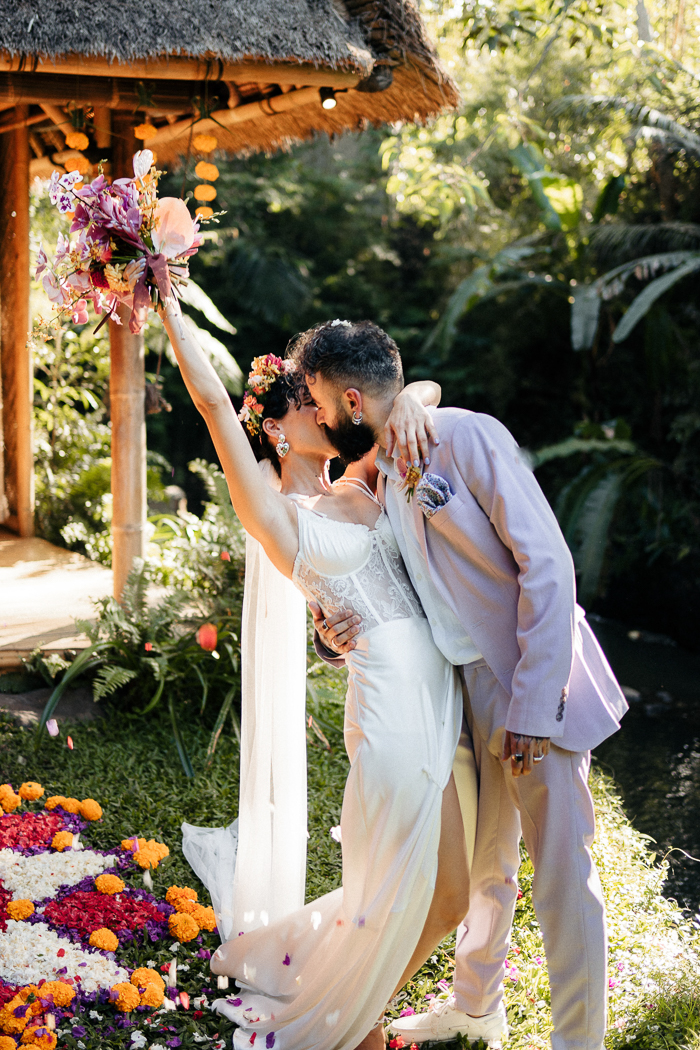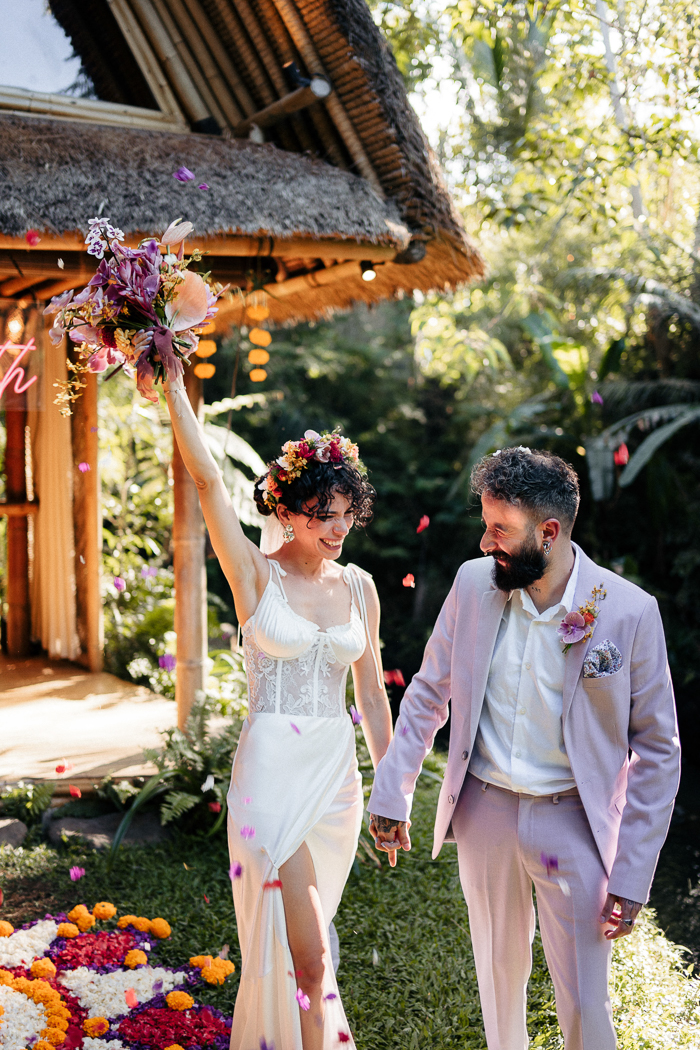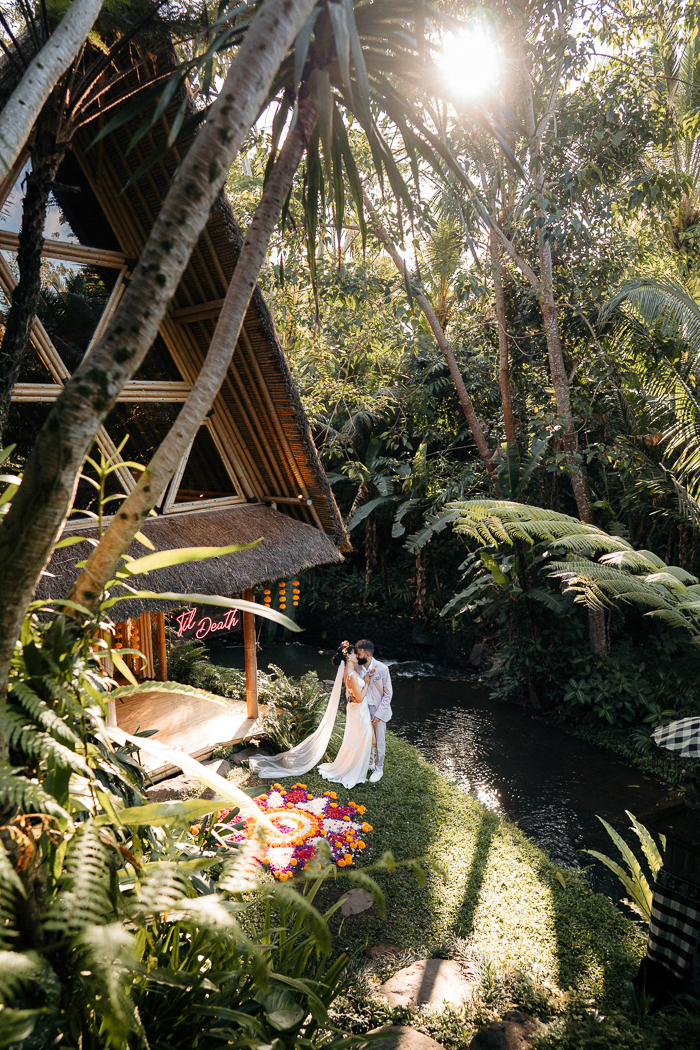 Advice: Work With Professionals For A Seamless And Stress-Free Experience
Even though we designed and planned the ceremony and picnic setup in a couple of months on our own, we still needed some assistance from some talented vendors to curate everything seamlessly. With so much on your plate, stressing about every detail without help is difficult, and it doesn't let you enjoy your special day as you should. Carefully selecting the right professionals will help you realize your dream wedding.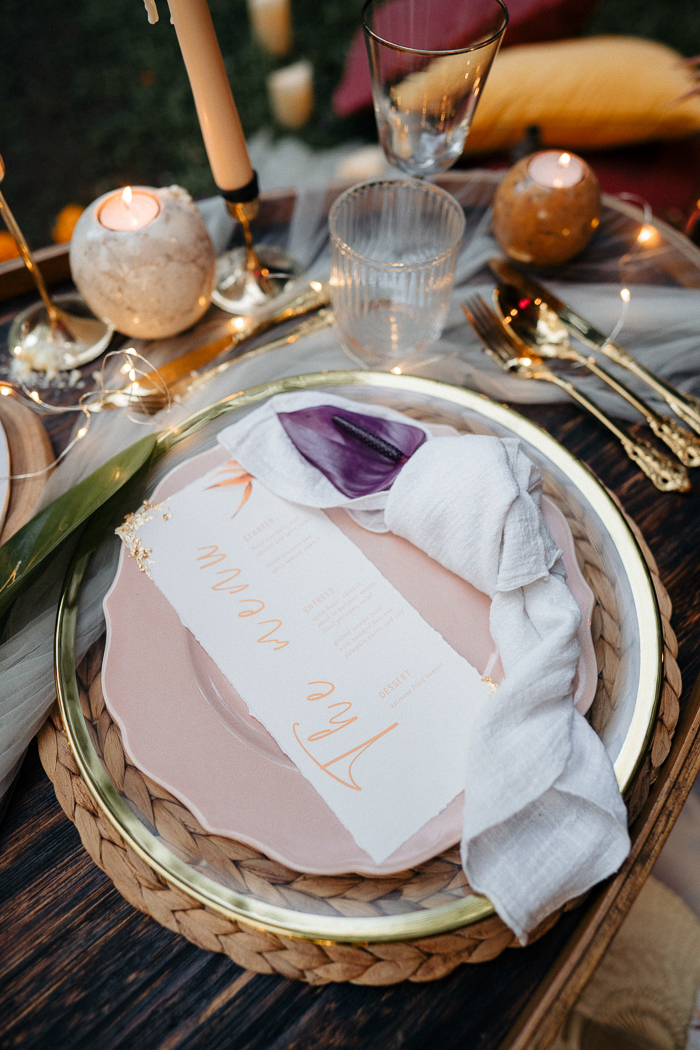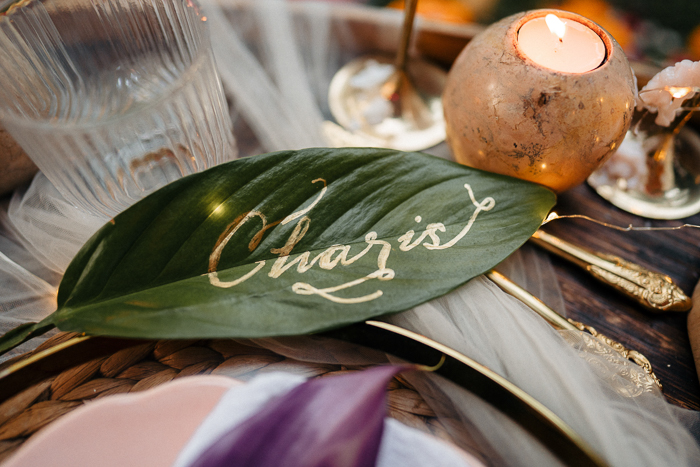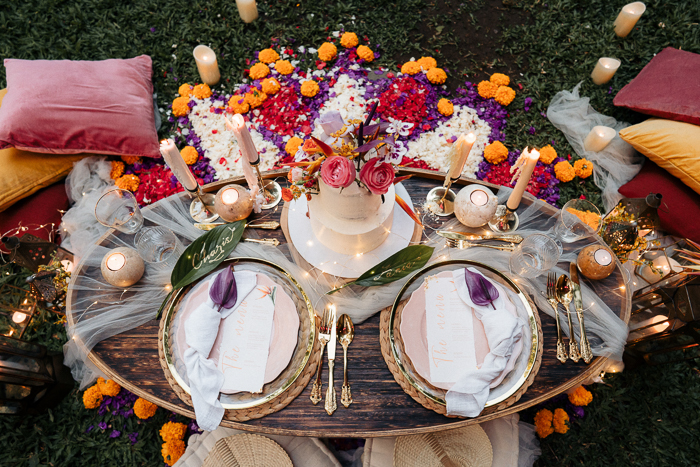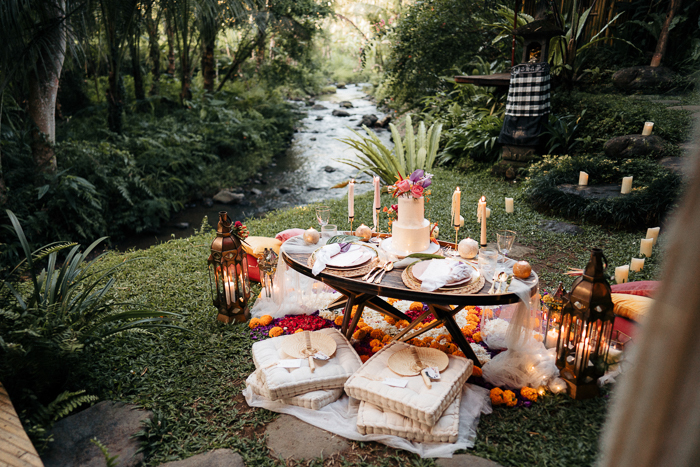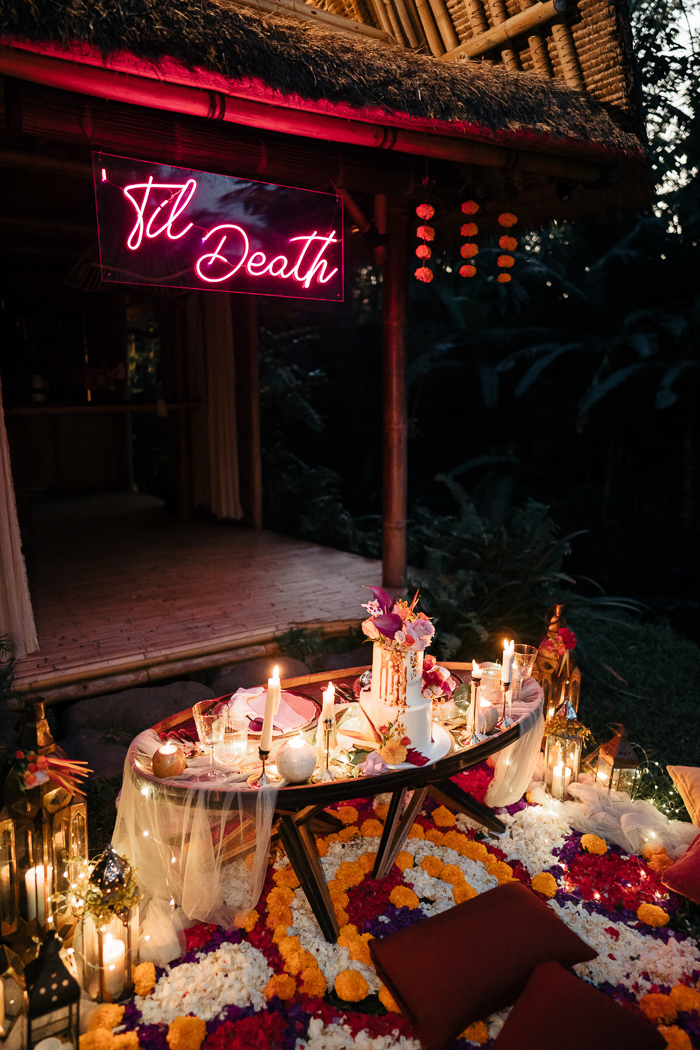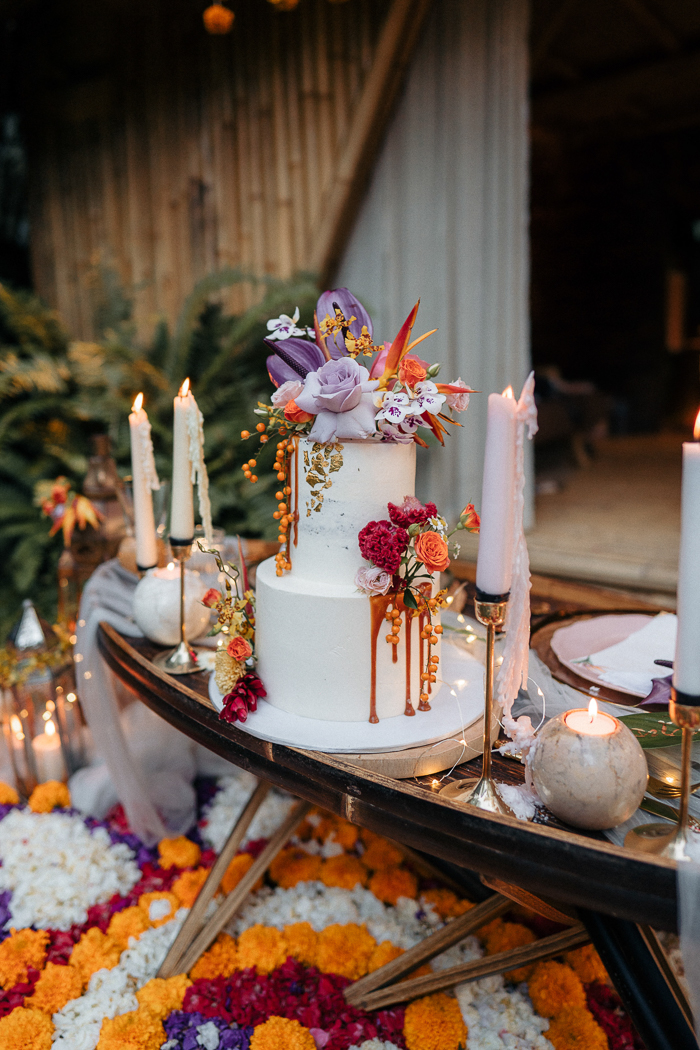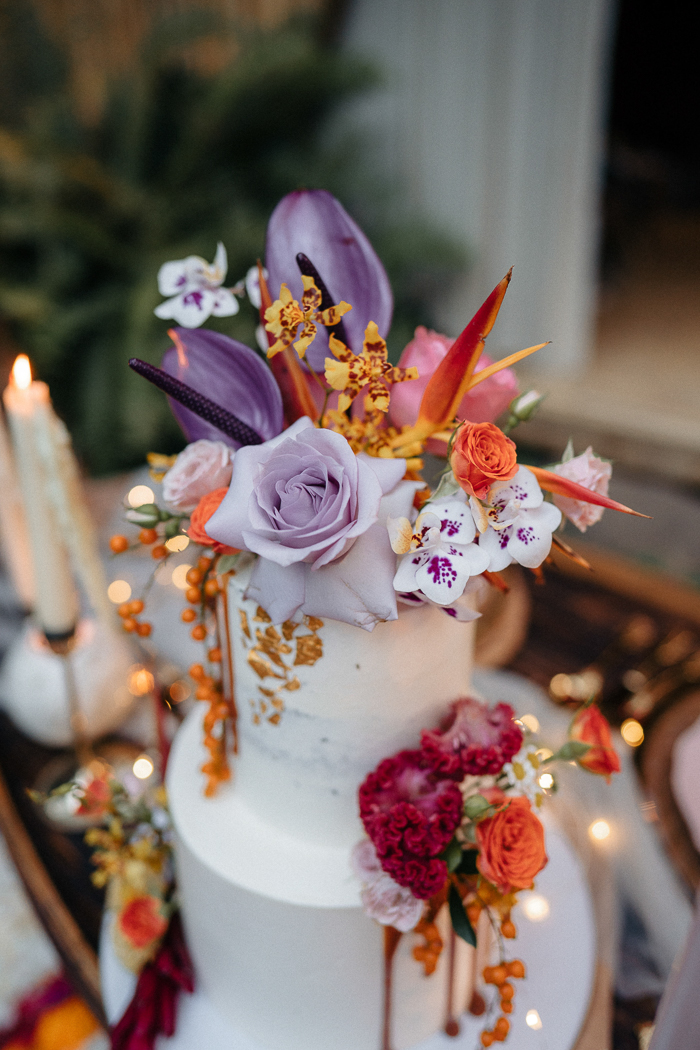 They Hand-Carved Their Own Wedding Bands
Our elopement in Bali was a beautiful medley of DIY projects. Each one was curated with so much love and reflected our personalities—from the stationery and wedding bands to the dinner setup design. But the most meaningful one was the workshop we attended, where we patiently worked on hand-carving our wedding bands. The fact that our celebration was small didn't have anything to do with the determination to put so much thought into every detail, and we're really proud of the overall result and for translating our dream into reality.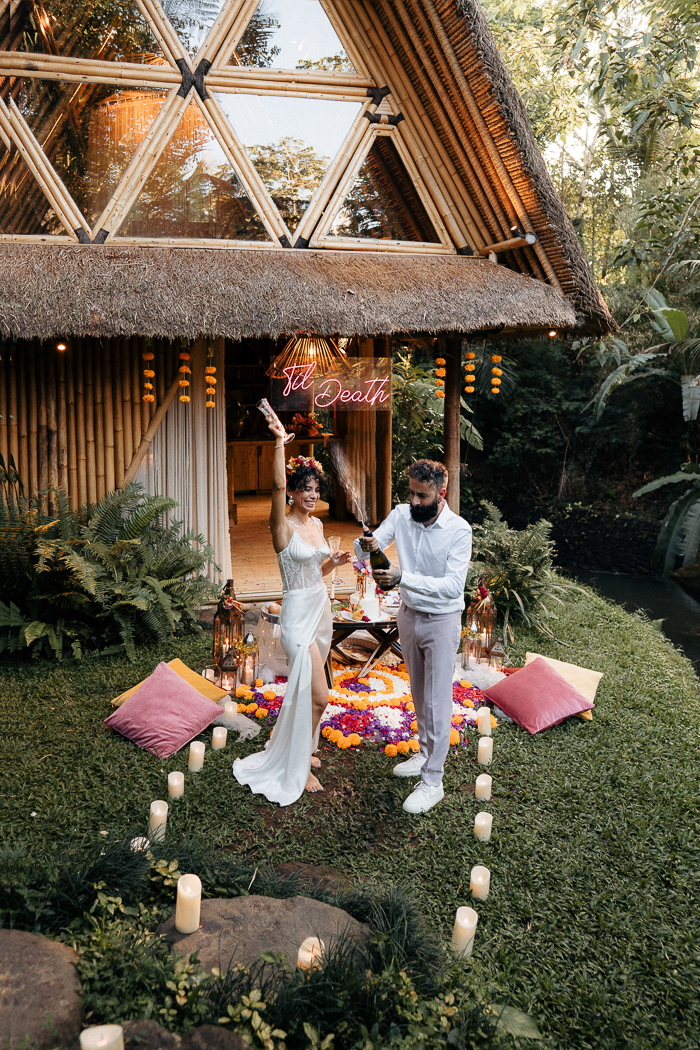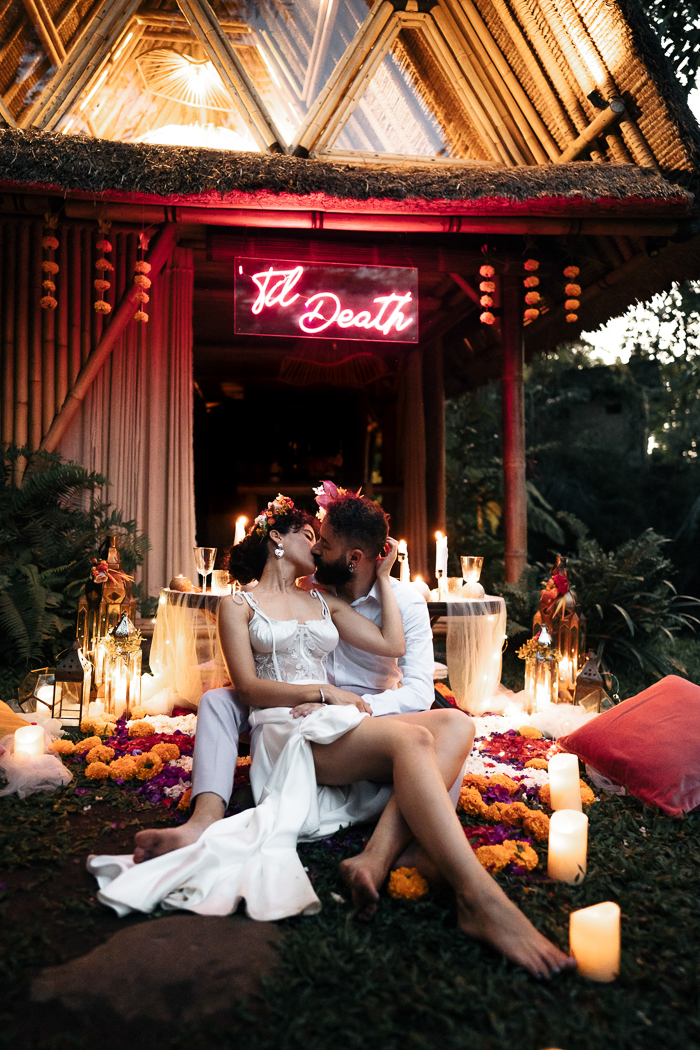 Congratulations to Fania and Charis on their uniquely enchanting Bali jungle elopement. The Duo Photography did an amazing job capturing every swoon-worthy detail couples can use as inspiration for their own intimate getaway adventure.
While the meaning of eloping has evolved over the years, many couples are choosing to tie the knot in a faraway location. And without a big reception to worry about, the whole world is open for the taking. Ready to start exploring destinations? Before you do, be sure to check out our destination planning and budget guides.