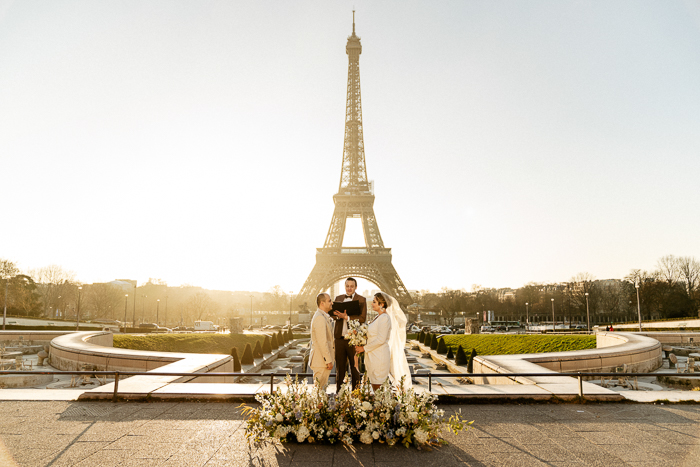 Choosing to embrace intimacy, Valeh and Mehdi decided on a Paris elopement to capture the essence of their relationship. With a vision for something simple and understated, they effortlessly crafted a remarkable and heartfelt celebration that will forever hold a special place in their hearts.
Their choice of destination couldn't have been more romantic. Just imagine exchanging heartfelt vows with the magnificent Eiffel Tower as their backdrop—it was truly a dream come true! After the ceremony, they took leisurely strolls along charming streets, pausing to capture stunning café portraits. Later, they found solace in a century-old chateau, where they savored a private lunch in their cozy hotel room. They shared stories and laughter and embraced their own unique way of commemorating their love.
From the exquisite florals to the chic fashion choices, we are absolutely captivated by the beautiful understated details that perfectly complemented the vibe of their special day! If you've ever dreamt of getting lost in the romance of the city of love with your future spouse, scroll through and be prepared to fall in love with these breathtaking photos by Junebug member Through The Glass.
The Couple:
Valeh and Mehdi
The Wedding:
Paris, France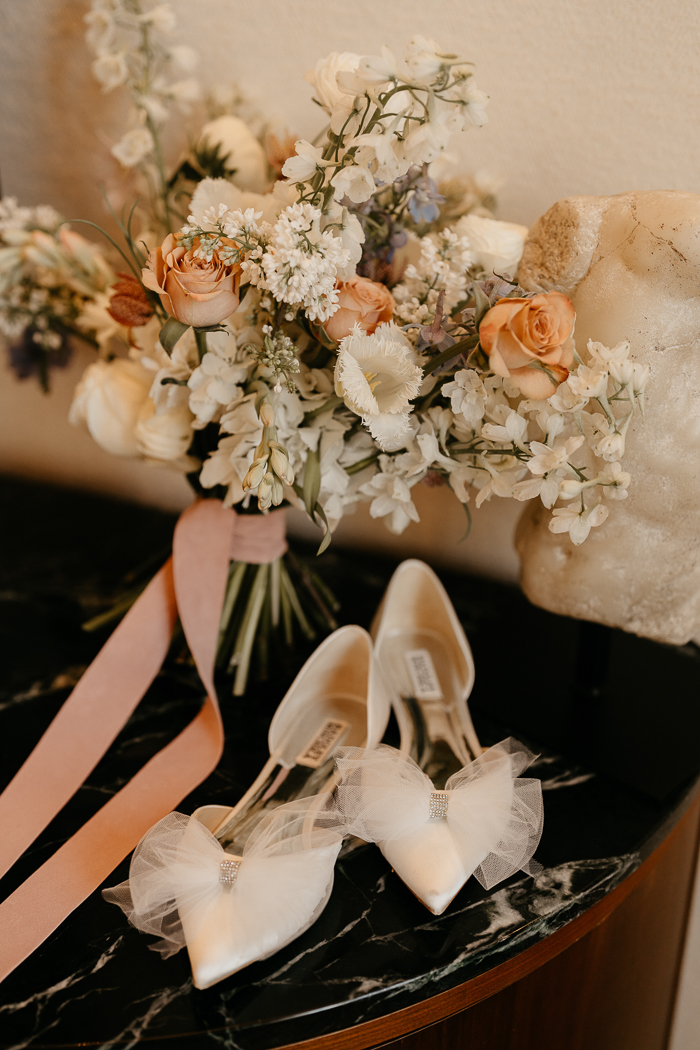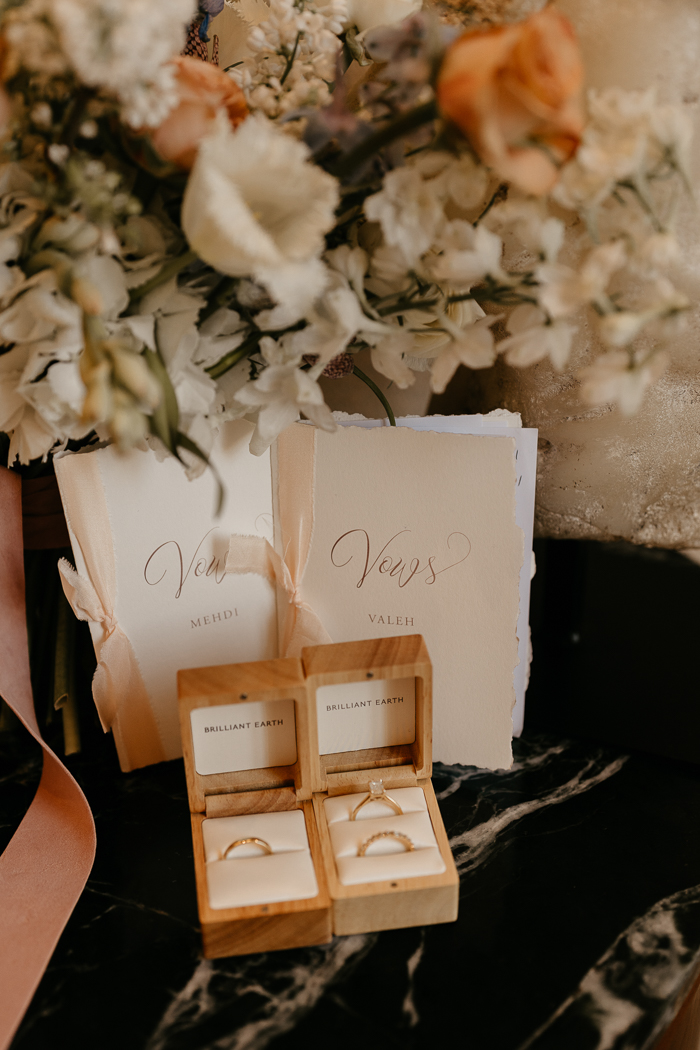 Shop Similar Vow Books: 1. Personalized Handmade Paper Booklets 2. Wedding Vow Books Set of 2 3. Personalized Vows with Silk Ribbons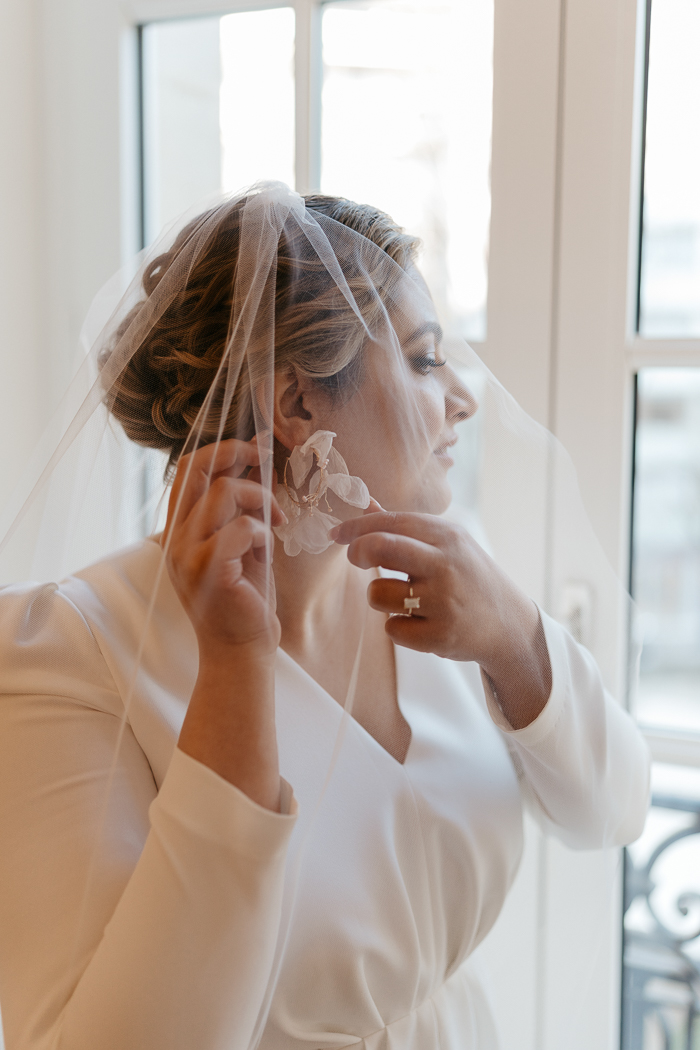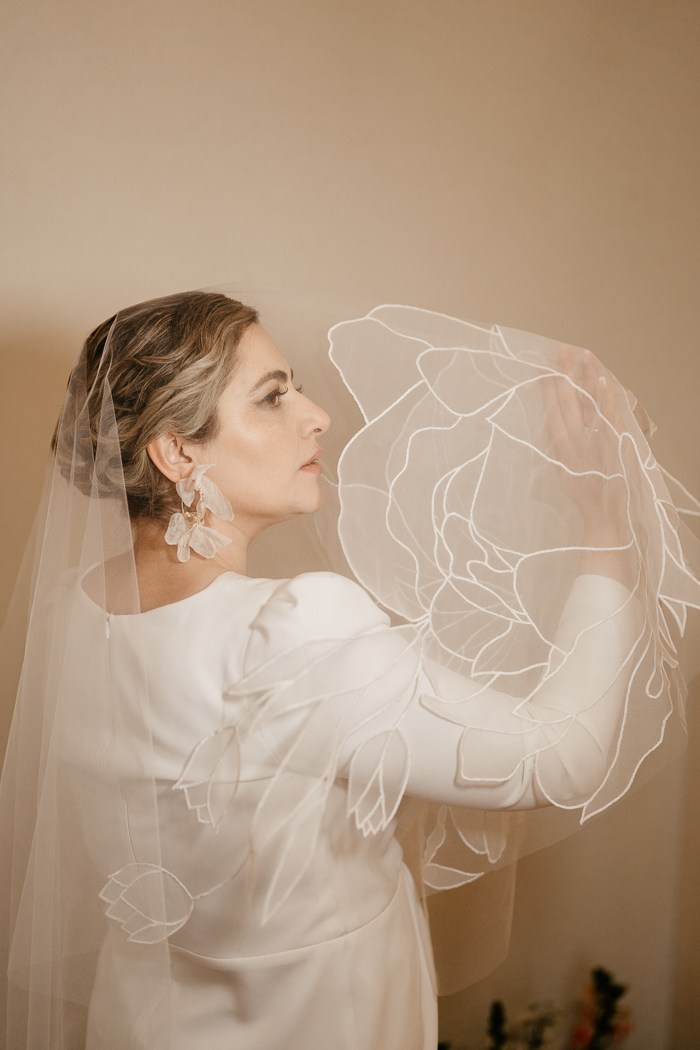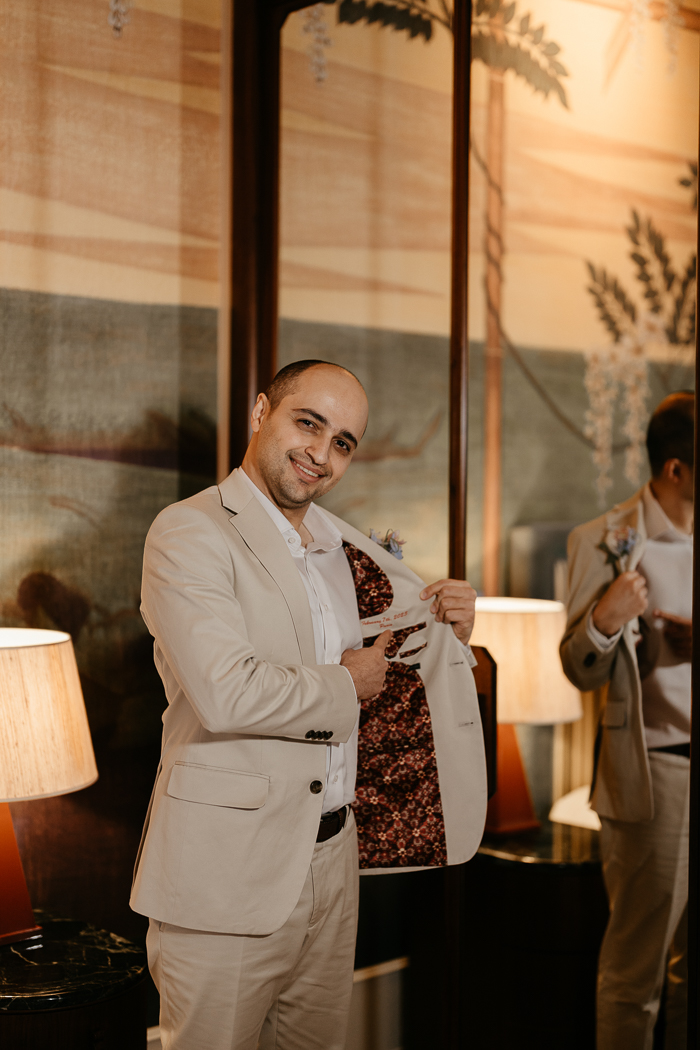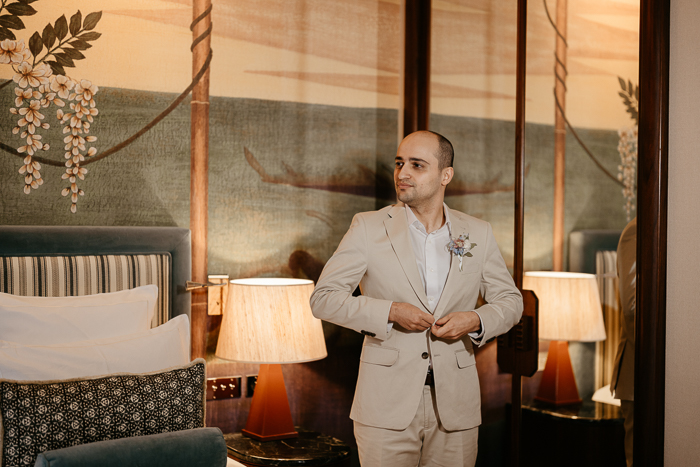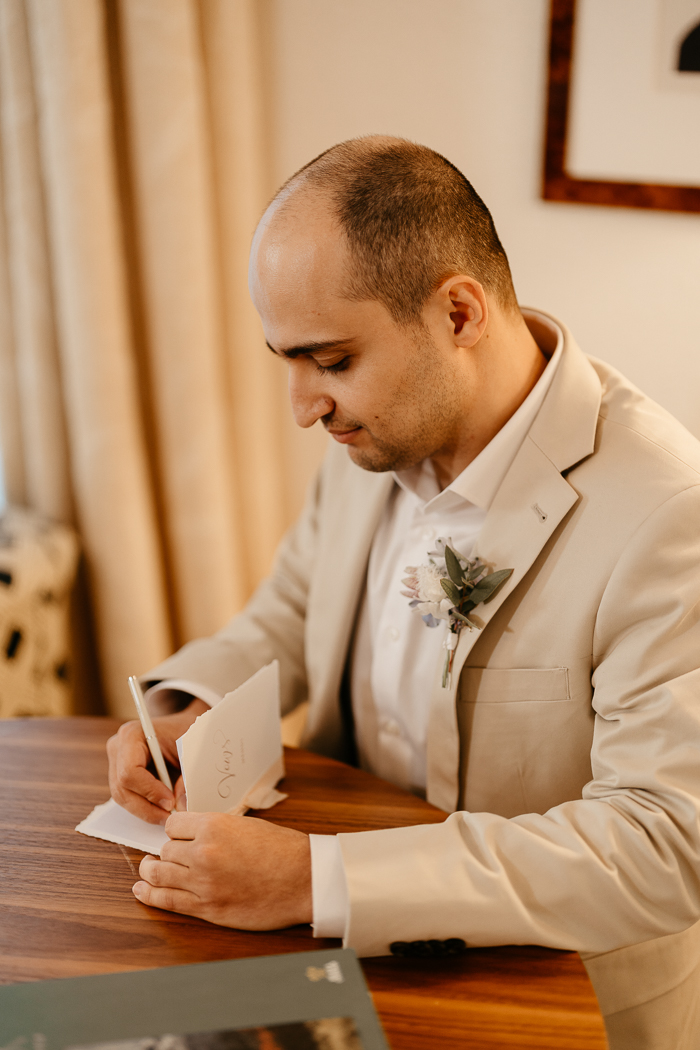 How Their Paris Elopement Came to Be
As two graduate students from Iran studying at the University of California, we started as close friends and built our relationship from there. We wanted our wedding to be a cherished moment that celebrated our bond and marked the beautiful beginning of our love story. Our Paris elopement truly represented who we are as a couple, celebrating love, freedom, and simplicity. We created a meaningful experience that allowed us to focus on each other and celebrate the beautiful journey we had embarked upon.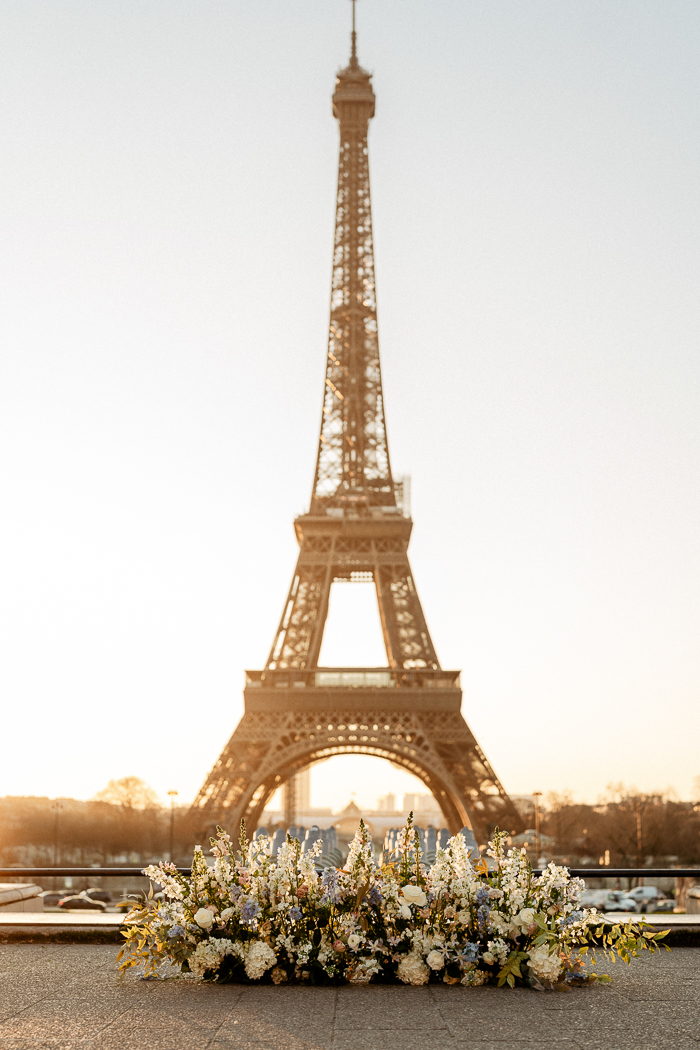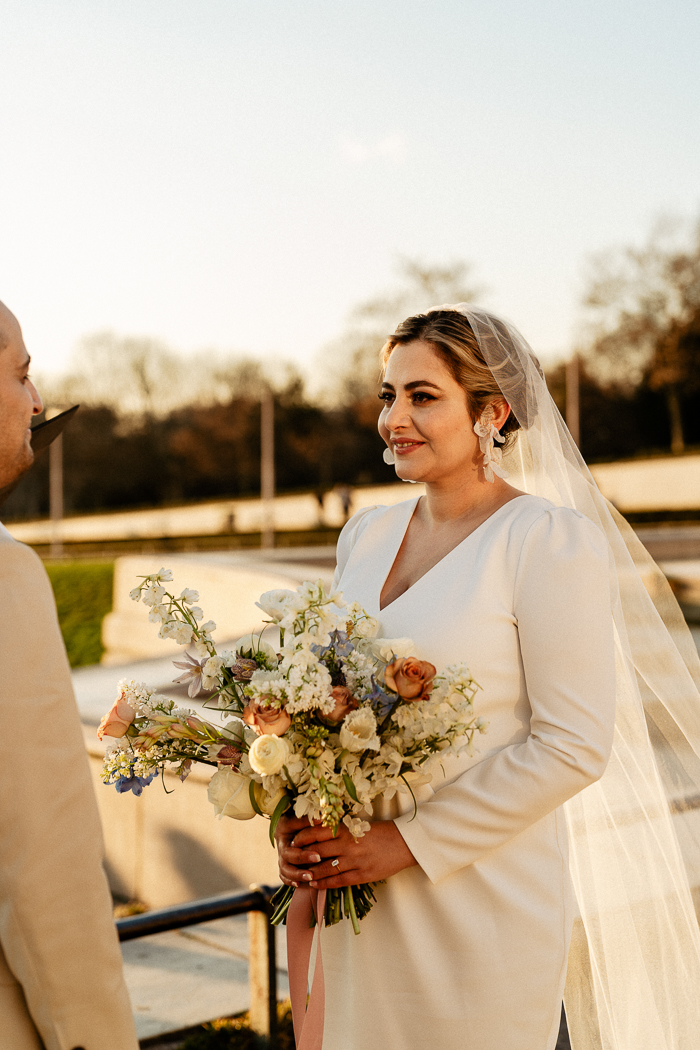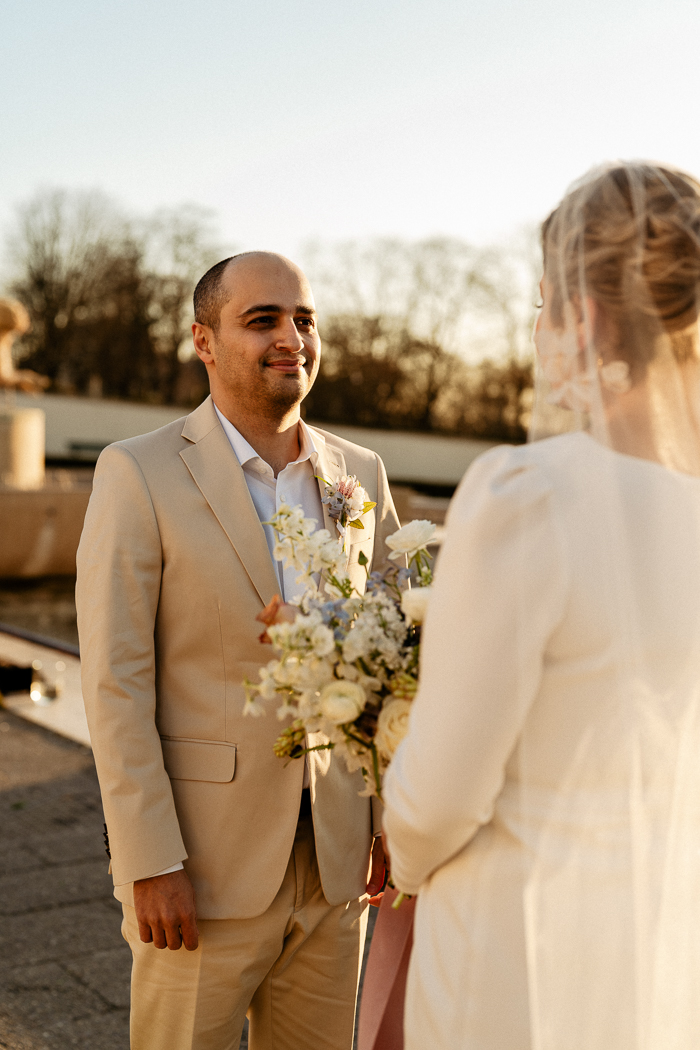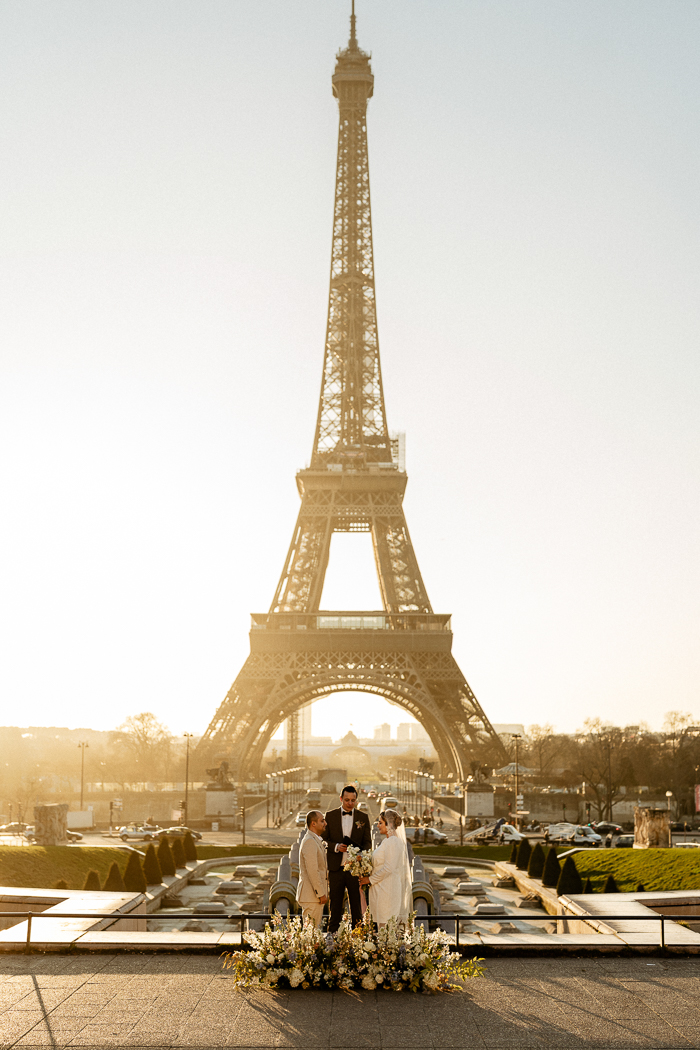 Exchanging Vows Against The Eiffel Tower
Undoubtedly, the ceremony was the most memorable part of our wedding day. The romantic backdrop of the Eiffel Tower in Paris was the perfect choice for us. We aimed to infuse a Middle Eastern vibe by incorporating pastel flowers into our color palette. These flowers added a subtle pop of color while maintaining a soft and romantic ambiance. It was a truly magical moment in Paris, with the February sun illuminating the Eiffel Tower as we exchanged our vows. The officiant did an incredible job of narrating our love story. As we stood there, tears of joy filled our eyes, and we couldn't help but feel overwhelmed by the sheer romance of the moment. It was a truly enchanting experience, and we feel immensely grateful to have had such a special and romantic ceremony in the city of love.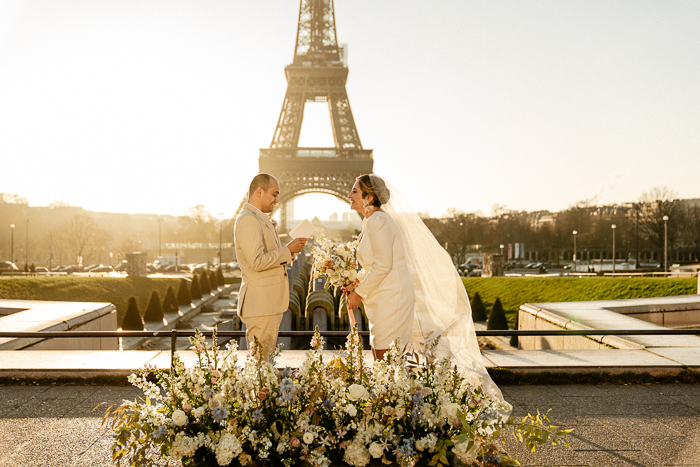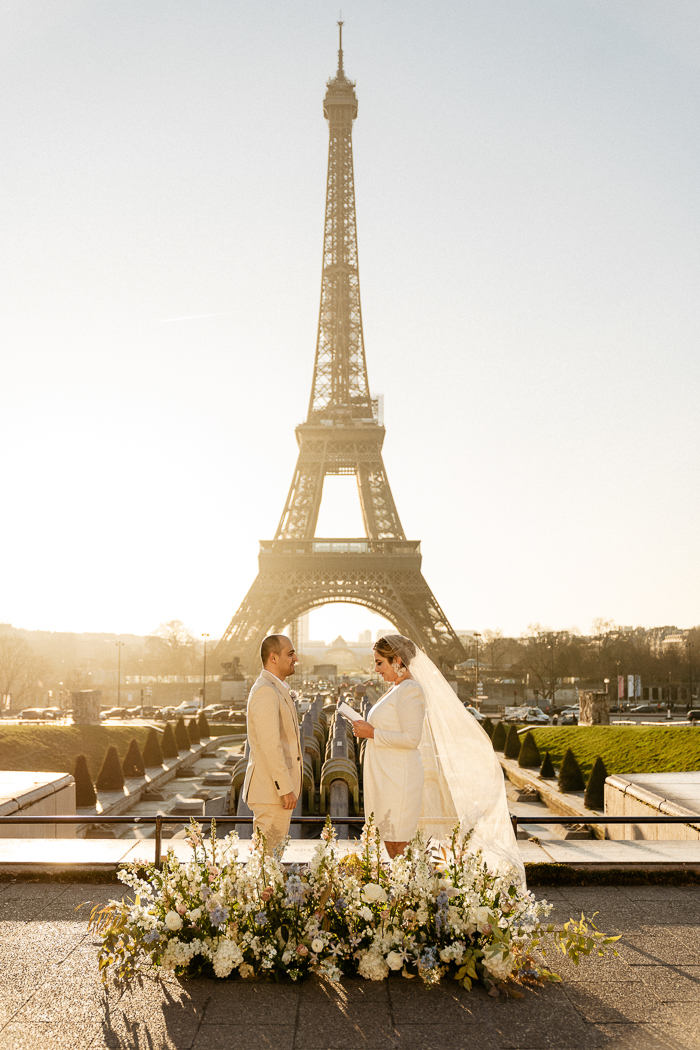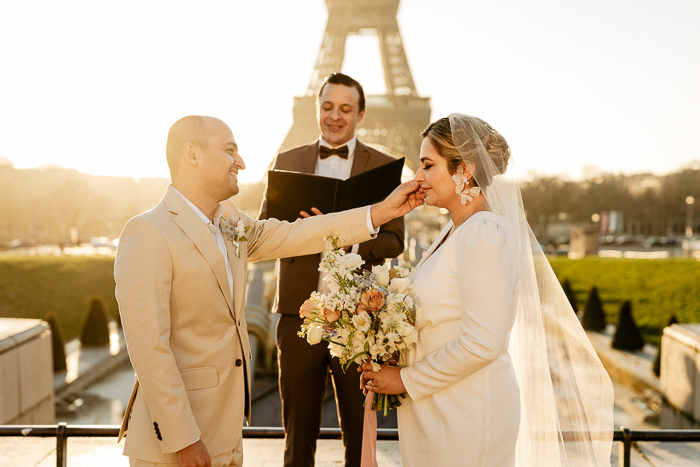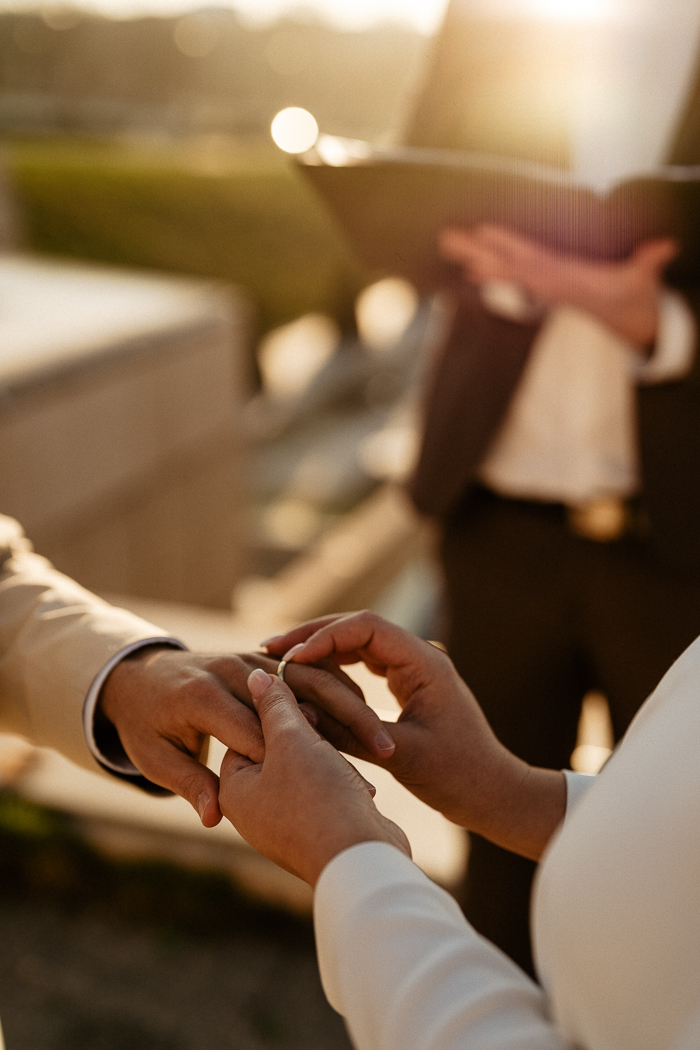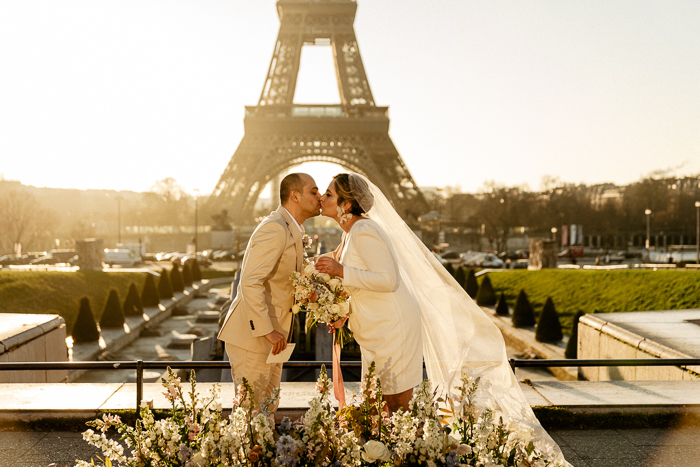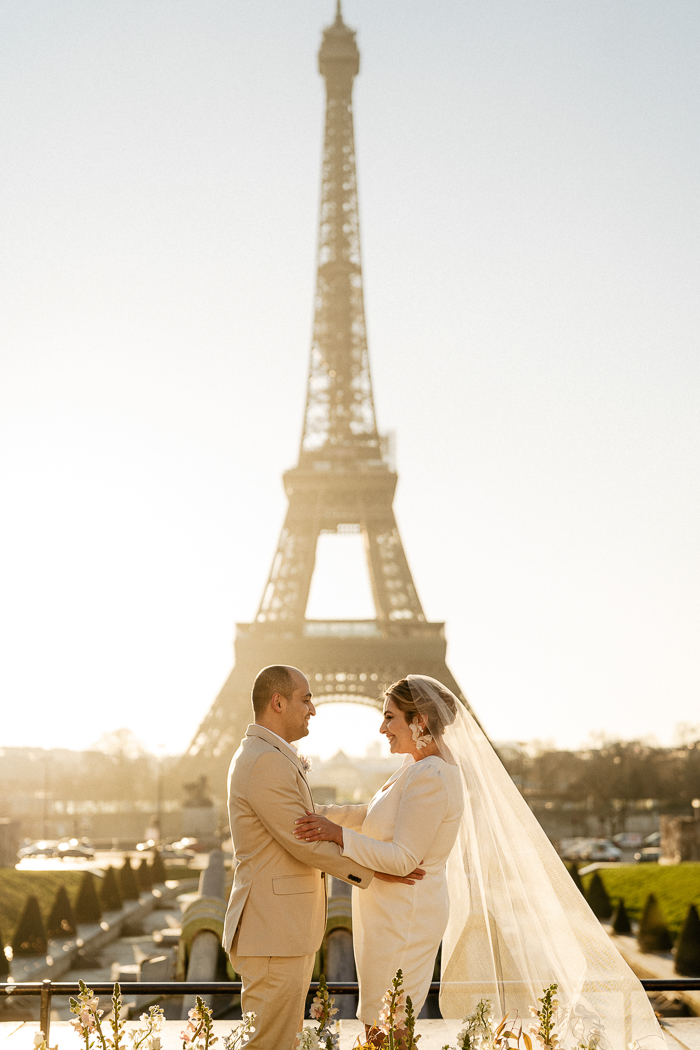 A Simple and Comfortable Wedding Look To Match Their Laidback Wedding
We envisioned a wedding that was simple and minimalist, so I chose a short white dress instead of a traditional gown. We intentionally kept the makeup and hairstyle minimal and simple, emphasizing natural beauty. A delicate veil added a touch of romance to my look. In keeping with the theme of freedom and comfort, my partner wore a cream suit without a tie.We wanted to feel free and comfortable and radiate happiness on our special day.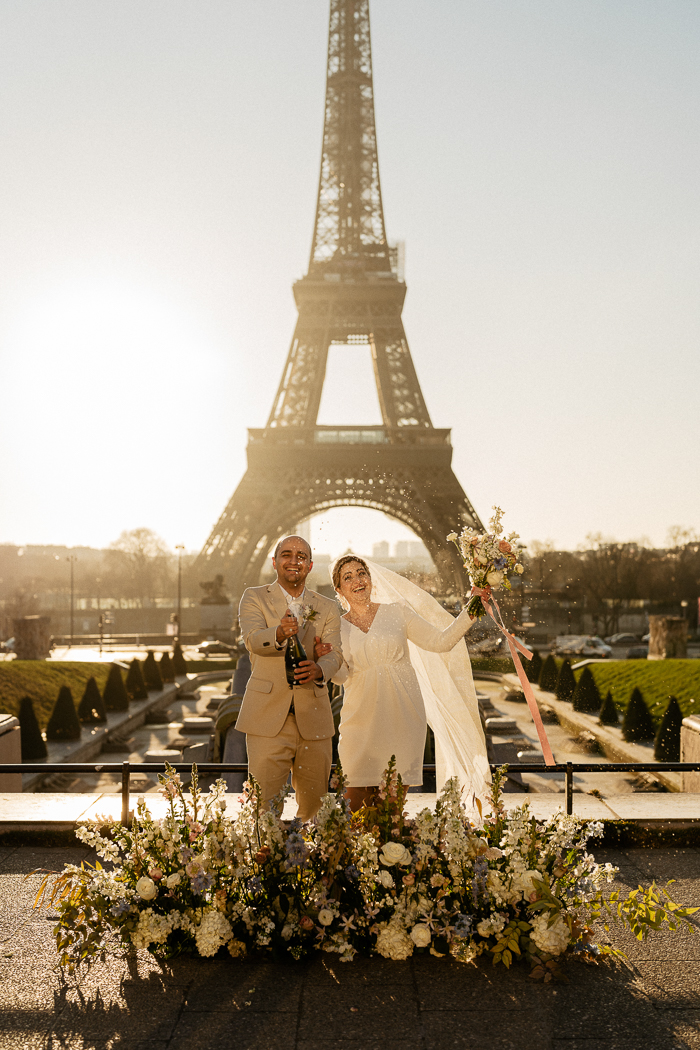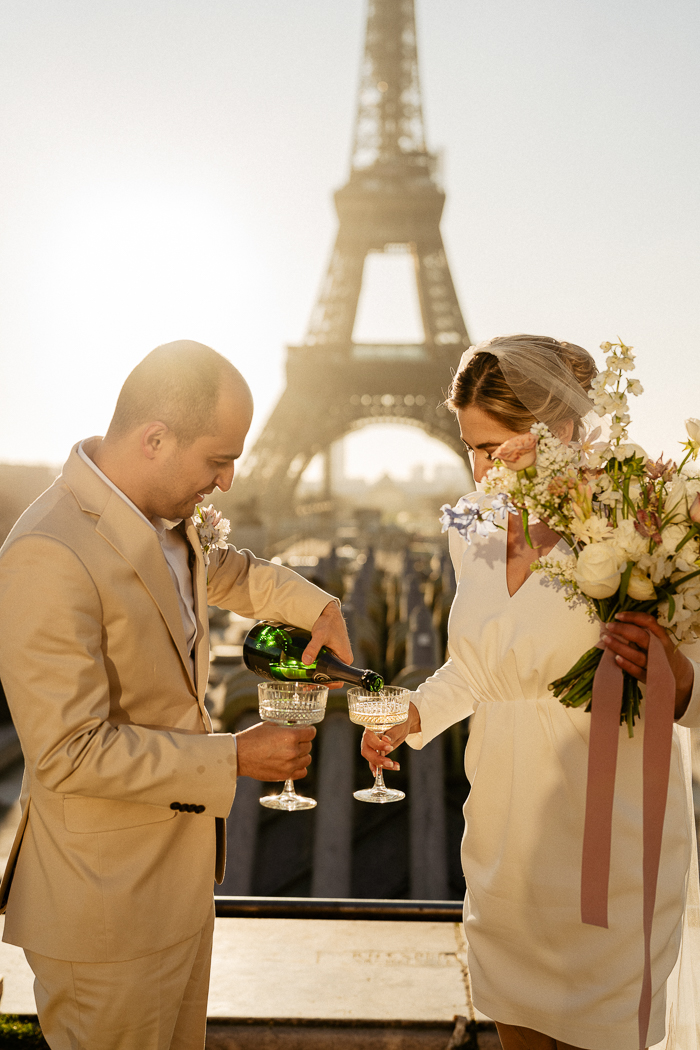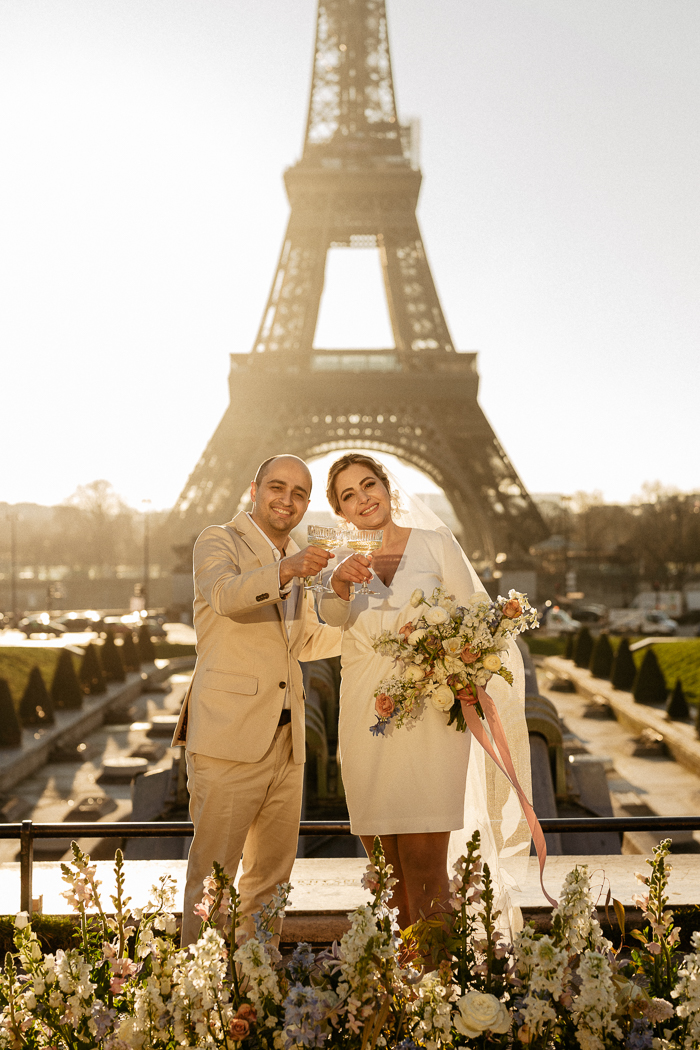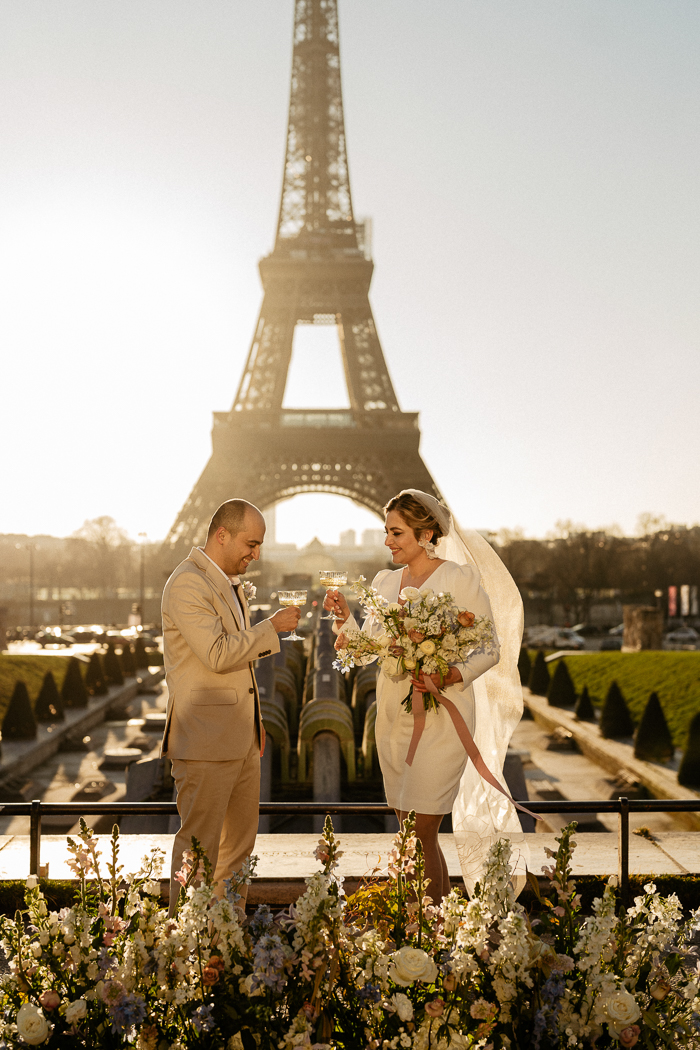 Capturing Memories Beyond the Lens by Forgoing A Videographer
We consciously decided to forgo videography to maximize our time together and escape the need for additional posing on our special day. After the ceremony, we retreated to our chosen hotel, Saint James Paris. This charming 100-year-old château nestled in its private garden provided an intimate and peaceful environment for us to celebrate our union. We treasured our moments together, enjoying a private lunch in our hotel room, sharing stories, and celebrating in our own unique way.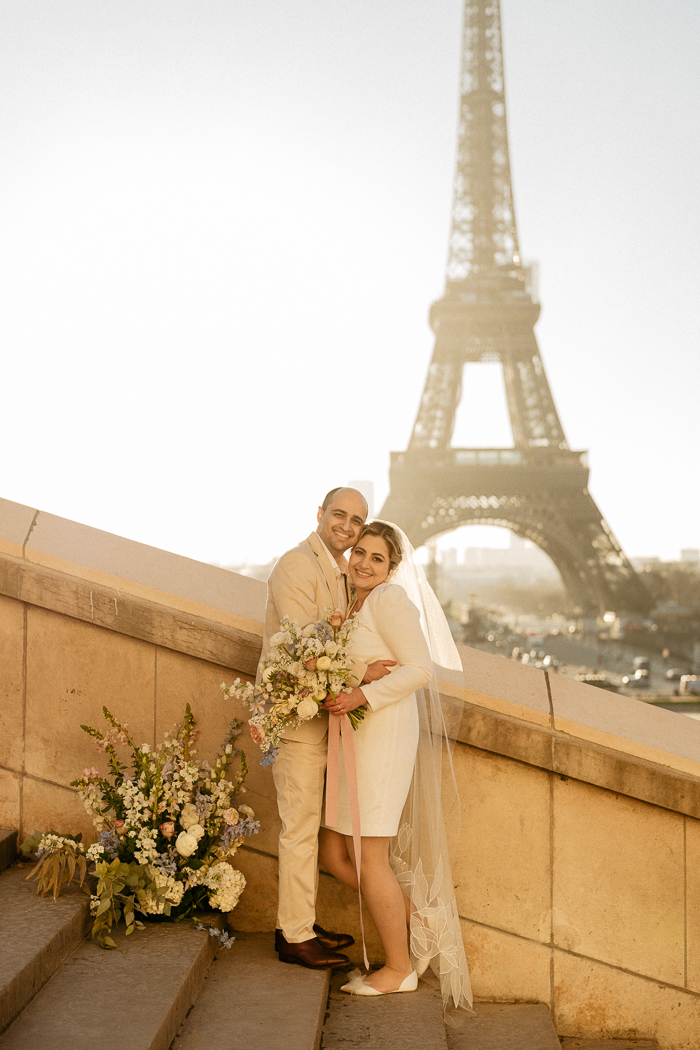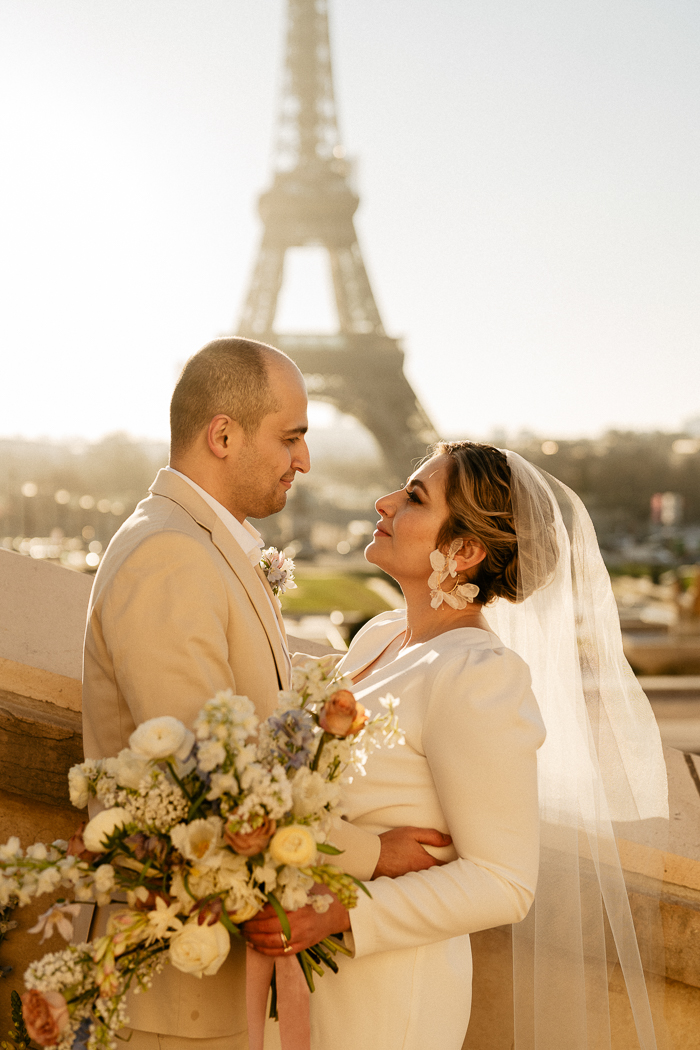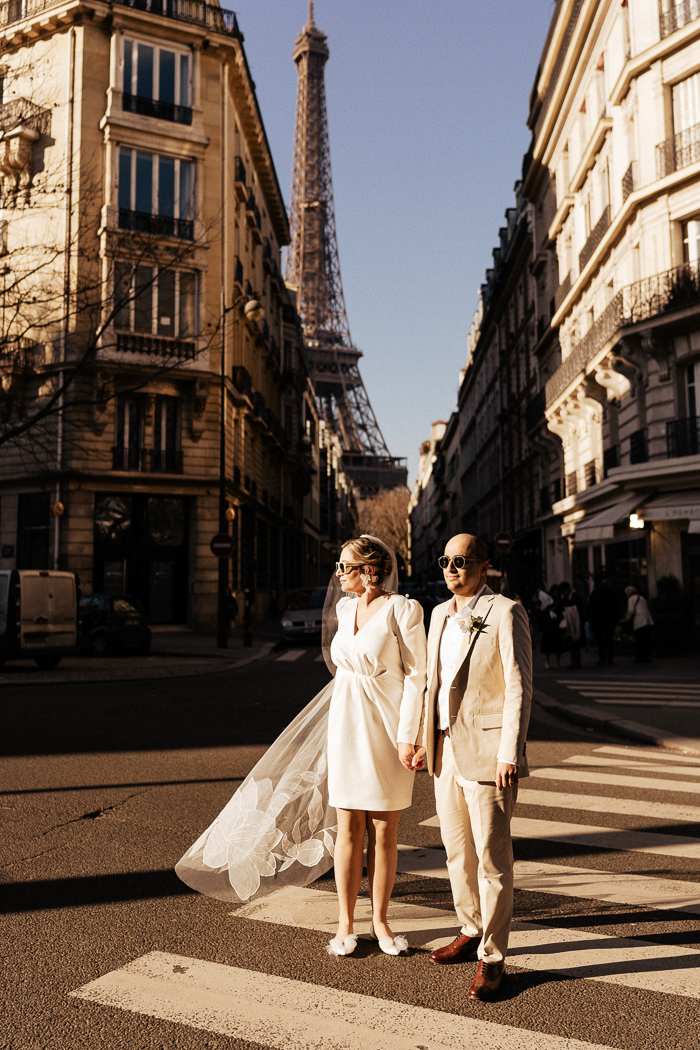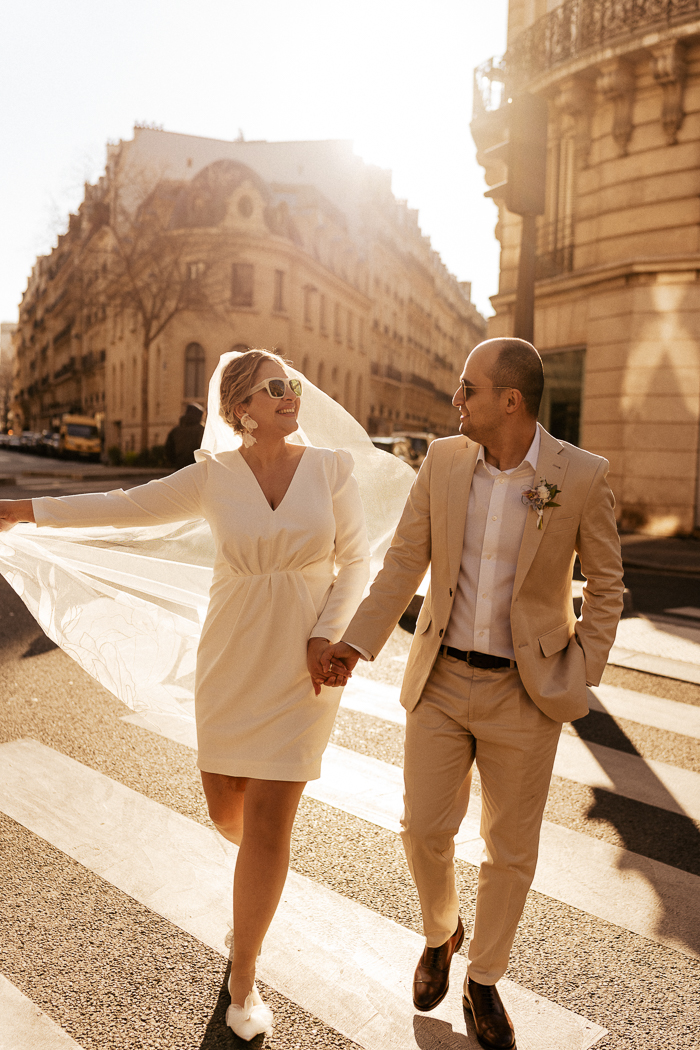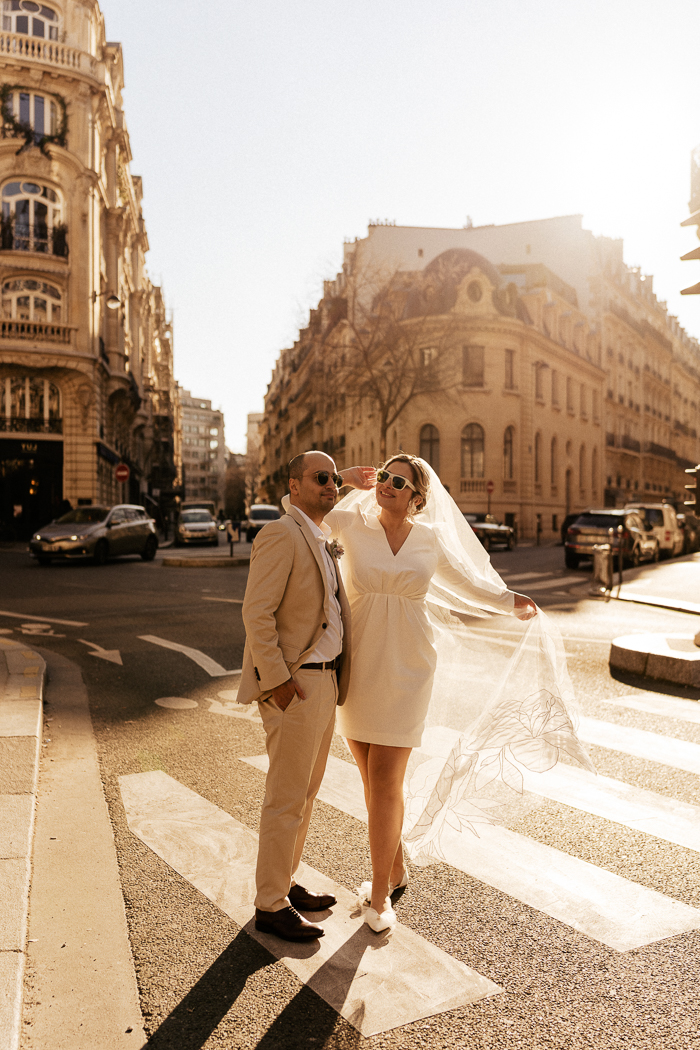 Trusting Your Instincts: Crafting an Authentic and Meaningful Wedding Experience
When it comes to wedding planning advice, it is crucial to prioritize your feelings and desires. Remember, every couple is unique, and your wedding should reflect your love and personality. Amidst the excitement, take the time on your special day to find moments for yourselves. Find a quiet spot, sit together, and bask in the joy of your love. Cherish the opportunity to have intimate conversations and create memories that will last a lifetime. Hold each other's hands and savor the significance of this day as a symbol of your lifelong journey together. By focusing on what truly matters to both of you, you will create an authentic and meaningful wedding experience. This is your special day, so fill it with moments that celebrate your love and the bond you share. Trust your instincts, stay true to yourselves, and let your wedding day be a reflection of the beautiful love story you have created.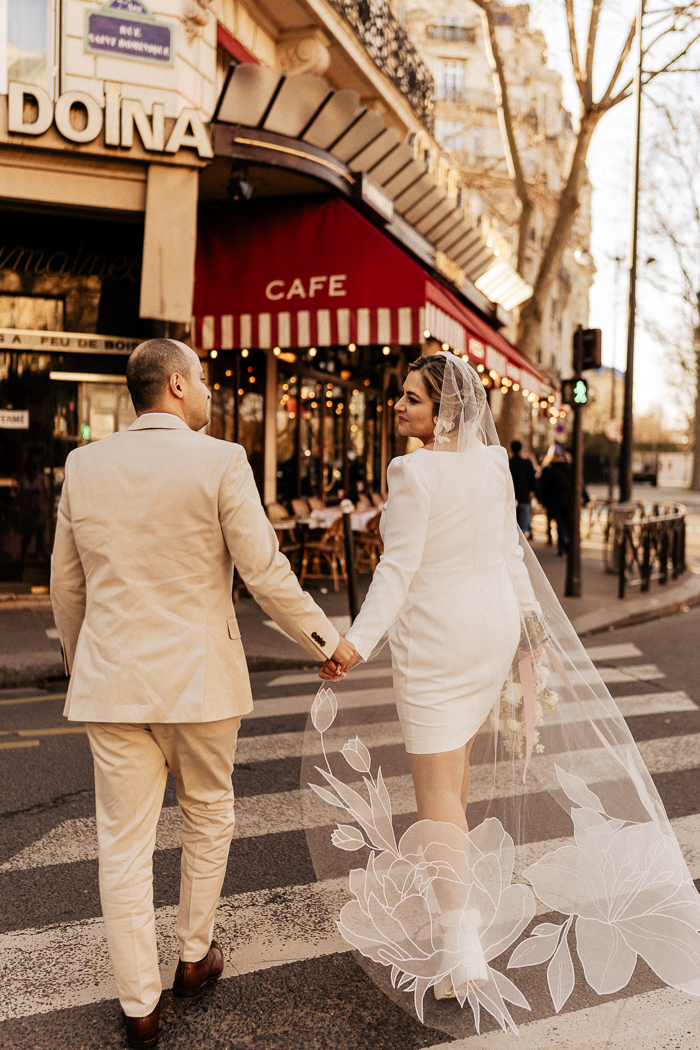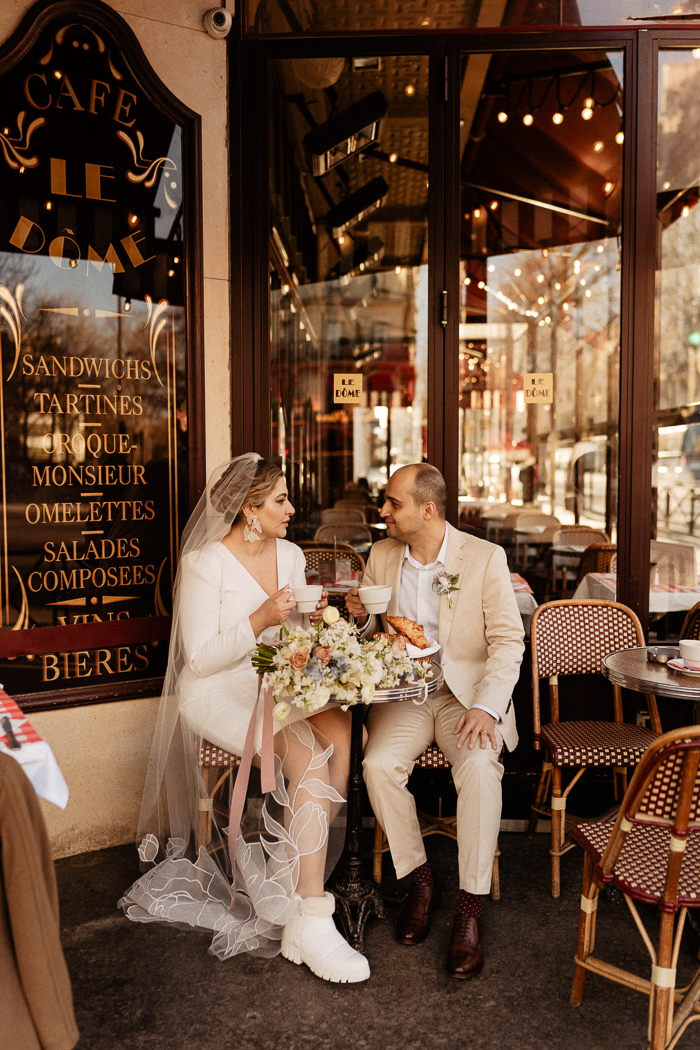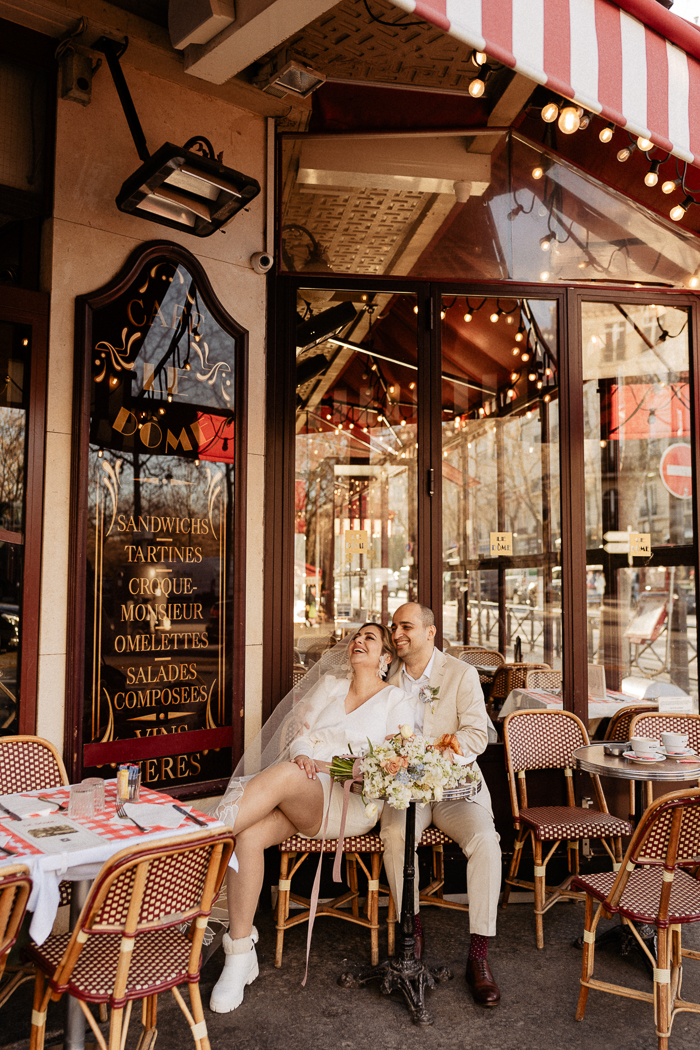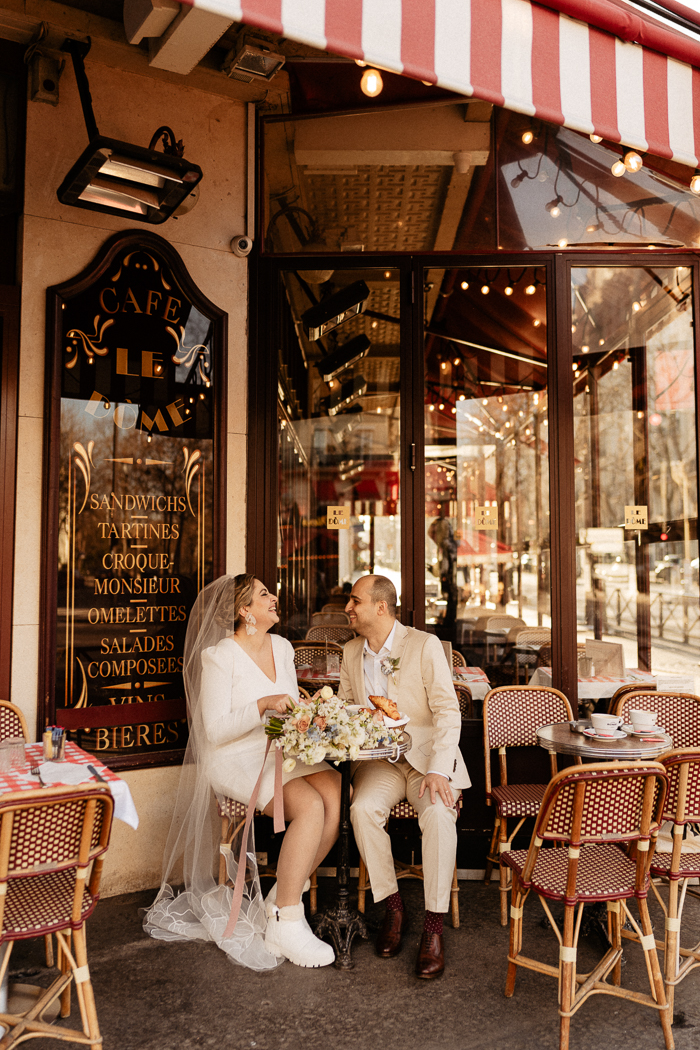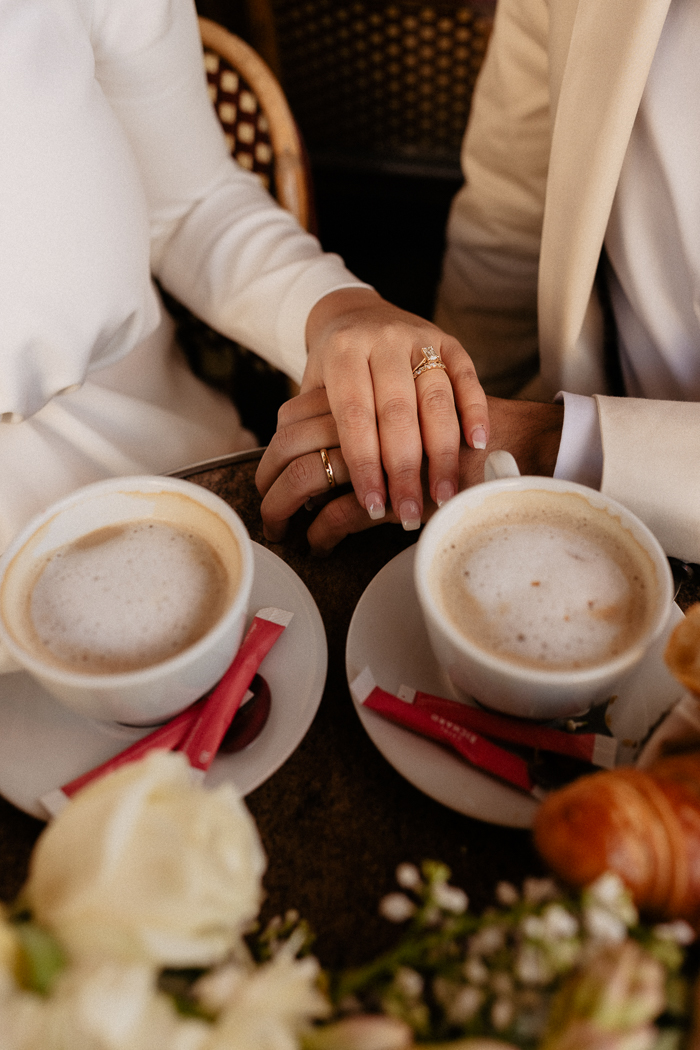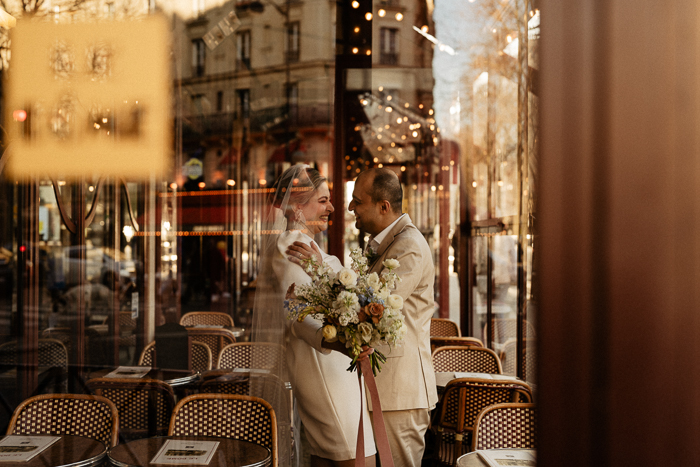 How Choosing the Right Vendors Helped Make Their Dream Paris Elopement Come to Life
We take great pride in setting aside others' expectations and judgments to create a wedding that is truly our own. It was liberating for us to follow our hearts and make decisions based on what truly mattered to us as a couple. We're particularly proud of our choice to work with an exceptional event planner and photographer, who played a crucial role in capturing the essence of our special day and preserving every moment beautifully. The expertise and talent of the team allowed us to relive the magic of their wedding through stunning photographs and flawless execution. Having the right team by our side made all the difference, and we're grateful for their dedication and professionalism.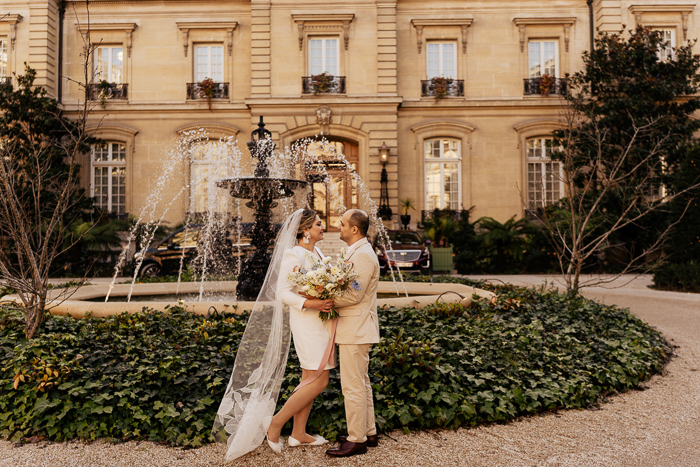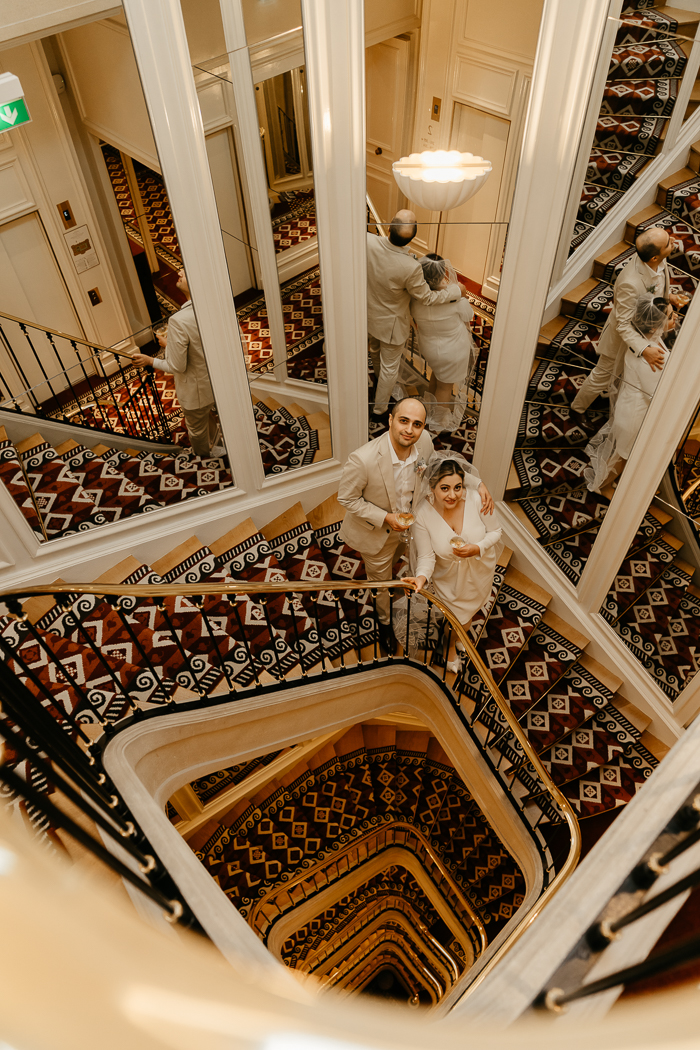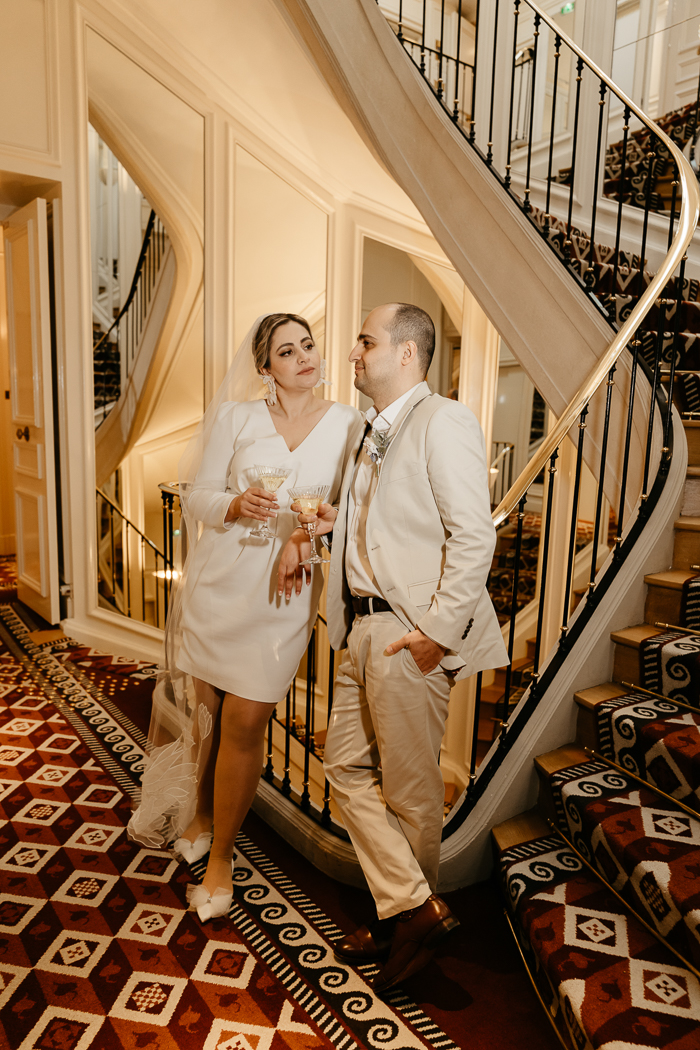 Congratulations to Valeh and Mehdi on their Paris elopement. And a big thank you to Junebug member Through The Glass for capturing all the beautiful moments. To see more spectacular celebrations that make you want to book a flight to France asap, check out their profile in our directory of the world's best wedding photographers.
After looking through these inspiring photos, you might want to elope, and we totally get it. If so, begin your planning journey by exploring our elopement planning guide. It includes the best locations, vendors, and inspiration that show how, sometimes, simplicity is all you need.